Acting roles are competitive and getting noticed in this industry can be really tough.
So along with the right headshots, classes and a good CV, you also need a cover letter that reads like a flawlessly captivating script.
But you're an actor, not a writer, so how do you go about creating such a strong application? Well, you can start by checking out our step-by-step guide and acting cover letter examples below.

Acting cover letter example 1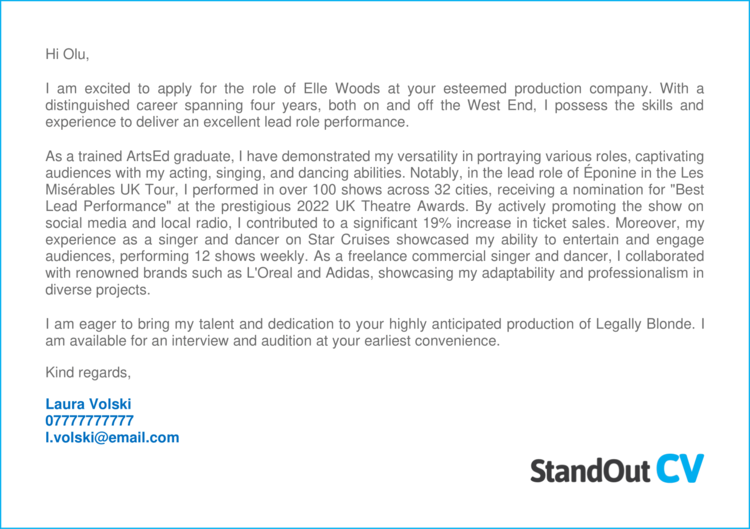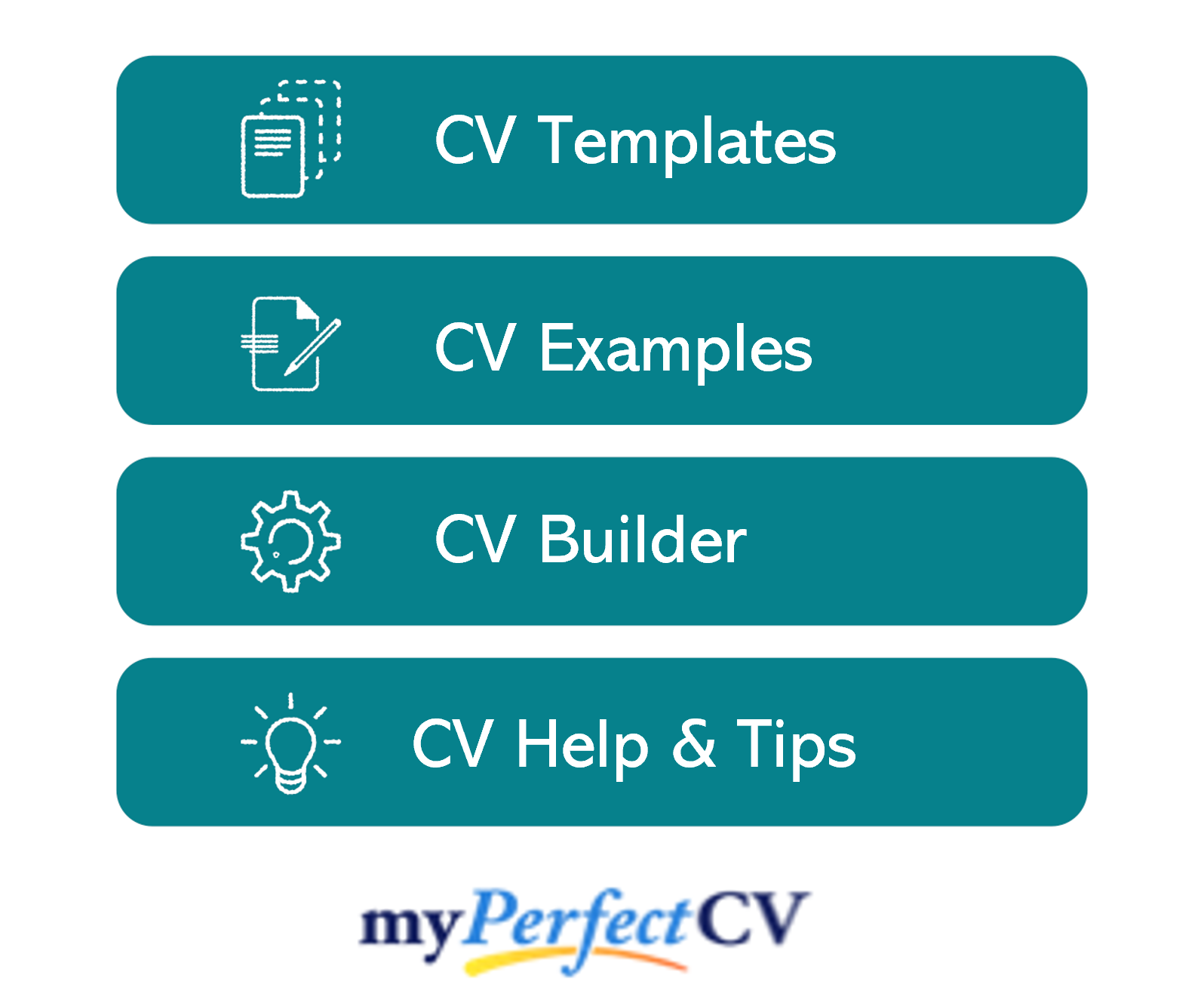 Acting cover letter example 2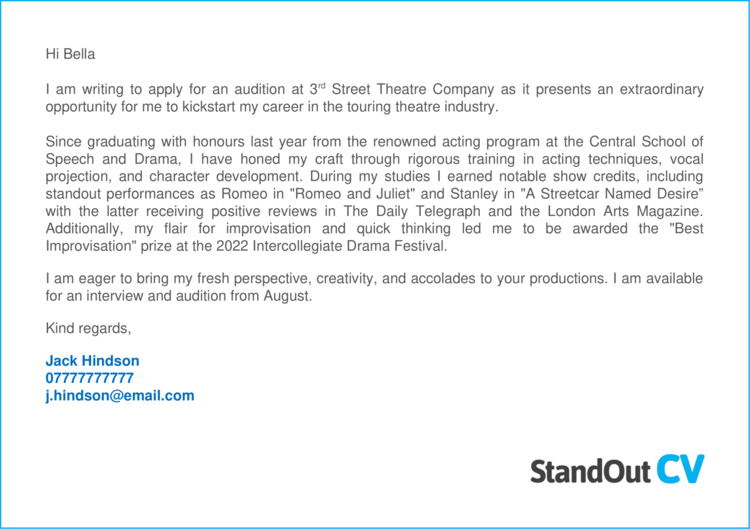 Acting cover letter example 3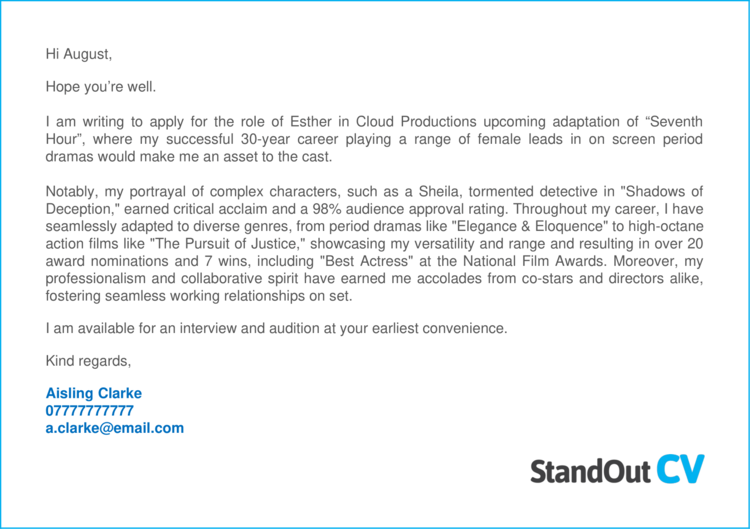 These 3 Acting cover letter examples should provide you with a good steer on how to write your own cover letter, and the general structure to follow.
Our simple step-by-step guide below provides some more detailed advice on how you can craft a winning cover letter for yourself, that will ensure your CV gets opened.
How to write an Acting cover letter
A simple step-by-step guide to writing your very own winning cover letter.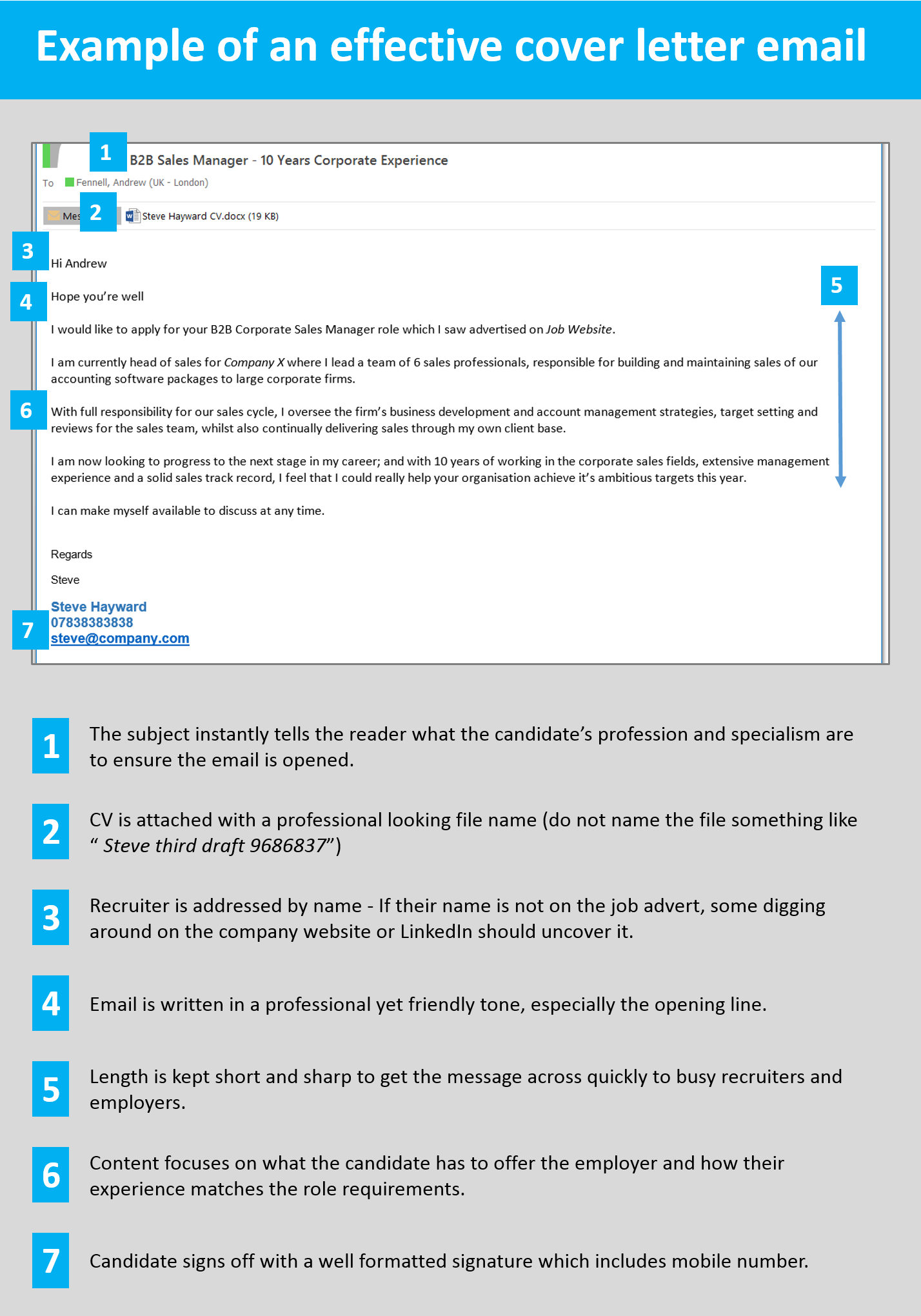 Write your cover letter in the body of an email/message
When you send a cover letter with a job application, you should always write your message into the body of your email – or the body of the messaging system if you are sending via a job website.
Why do this?
Simply because you want to get your message seen as soon as the recruiter opens your application.
If you attach the cover letter as a separate item, this means the recipient will have to open it before they can read it – slowing down the process and potentially causing frustration along the way.
So, write your cover note in the body of your email/message to ensure you make an instant connection with the reader.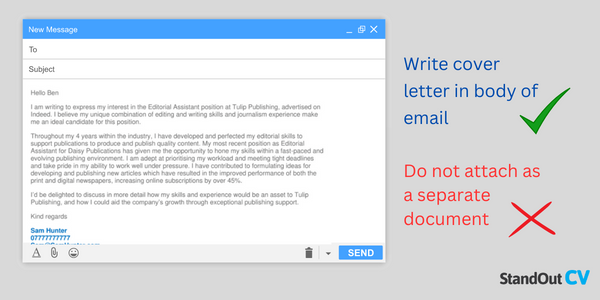 Start with a friendly greeting

To build an instant connection with the recruiter reading your cover letter, start with a warm greeting.
It should be friendly but not casual – keeping it professional at all times.
Hi, hope you're well
Hi [insert recruiter name]
Hi [insert department/team name]
Avoid overly formal greetings like "Dear sir/madam" unless applying to very traditional companies.
How to find the contact's name?
Addressing the recruitment contact by name is an excellent way to start building a strong relationship. If it is not listed in the job advert, try these methods to find it.
Check out the company website and look at their About page. If you see a hiring manager, HR person or internal recruiter, use their name. You could also try to figure out who would be your manager in the role and use their name.
Head to LinkedIn, search for the company and scan through the list of employees. Most professionals are on LinkedIn these days, so this is a good bet.
Identify the role you are applying for
Once you've opened up the cover letter with a warm greeting to start building a relationship, it is time to identify which role you want to apply for.
Recruiters are often managing multiple vacancies, so you need to ensure you apply to the correct one.
Be very specific and use a reference number if you can find one.
I am interested in applying for the position of *Acting role* with your company.
I would like to apply for the role of Sales assistant (Ref: 406f57393)
I would like to express my interest in the customer service vacancy within your retail department
I saw your advert for a junior project manager on Reed and would like to apply for the role.
Highlight your suitability
The bulk of your cover letter should be focused around highlighting your suitability for the job you are applying to.
Doing this will show the recruiter that you are suitable candidate and encourage them to open your CV.
The best way to do this, is by studying the job advert you are applying to, and find out what the most important skills and knowledge are.
Once you know the most important requirements, you then need to highlight your matching skills to the recruiter. In a few sentences, tell them exactly why you are a good fit for the job and what you can offer the company.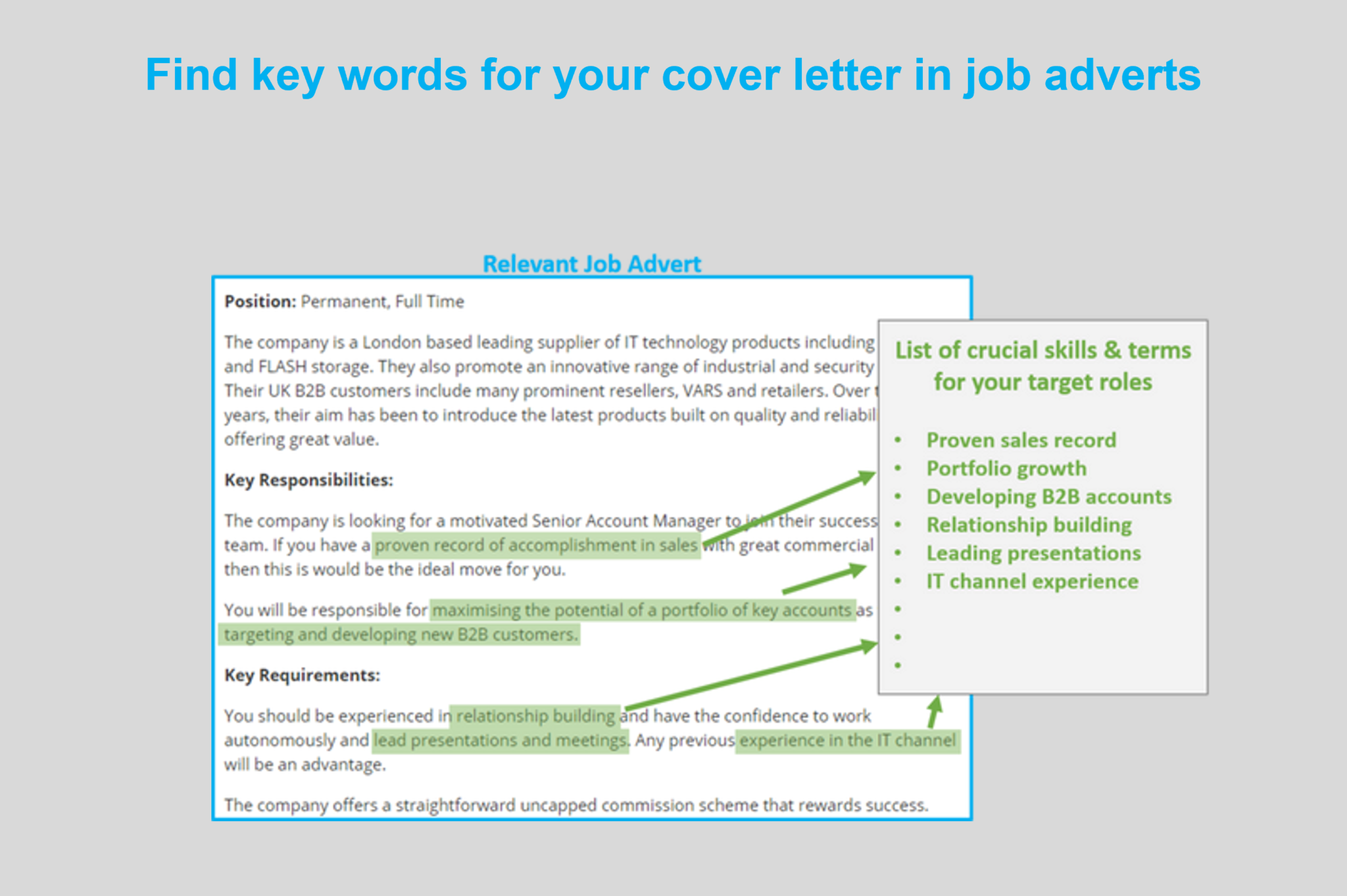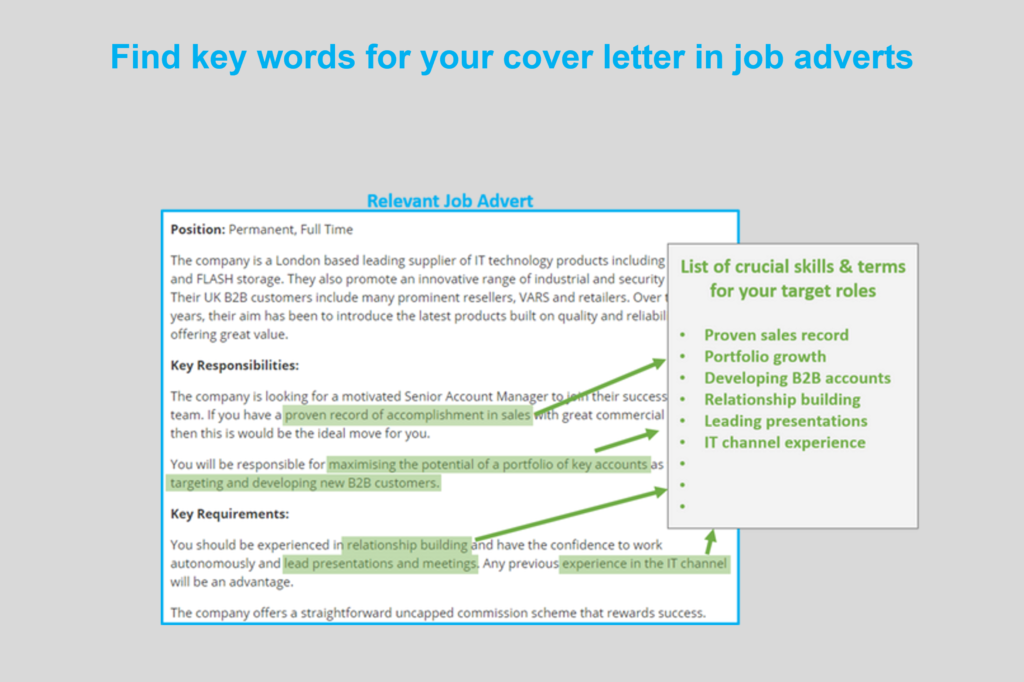 Keep it short and sharp
When sending a job application to a recruiter or hiring manager, it is important to remember that they will normally be very busy and pushed for time.
Therefore, you need to get you message across to them quickly (in a matter of seconds ideally). So, keep your cover letter short and to-the-point. A long waffling cover letter will overwhelm recruiters when they are running through hundreds of emails in there inbox, but a concise one will get their attention.
So, keep your cover letter to just a few sentences long, and save the extensive detail for your CV.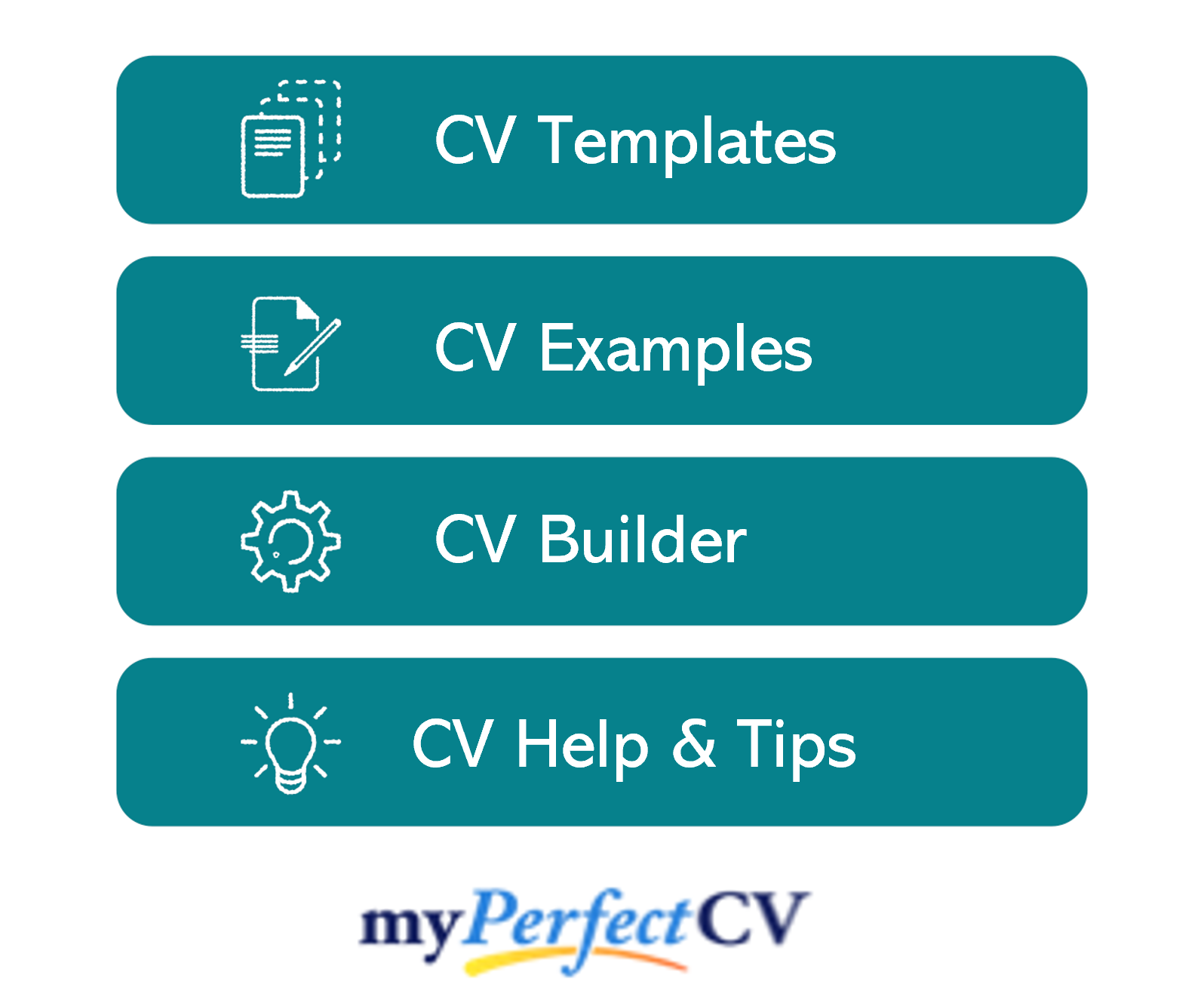 Sign off professionally
To finish off your cover note, add a professional signature to the bottom, stating your important contact details and information.
This not only provides recruiters with multiple means of contacting you, but it also adds a nice professional appearance to the cover letter, which shows that you know how to conduct yourself in the workplace.
Include the following points;
A friendly sign off – e.g. "Warm regards"
Your full name
Phone number (one you can answer quickly)
Email address
Optional
Profession title
Professional social network – e.g. LinkedIn
Here is an example signature;
Warm regards,
Aaron Smith
Customer service professional
075557437373
Aaron@smith.com
LinkedIn
Quick tip: To save yourself from having to write your signature every time you send a job application, you can save it within your email drafts, or on a separate document that you could copy in.

What to include in your Acting cover letter
So, what type of information should you write about in your Acting cover letter?
The specifics will obviously depend on your profession and the jobs you are applying to, but these are the key areas you should be covering.
Your industry experience – Tell recruiters the types of companies you have been working for and the roles you have held in the past.
Your qualifications – Highlight your most important relevant qualifications to show employers you are qualified to do the roles you are applying for.
The impact you have made – Demonstrate the positive impact you have made for employers in previous jobs. Have you saved money? Improved processes? Made customers happy?
Your reasons for moving – Employers will want to know why you are leaving your current/previous role, so provide them with a brief explanation here.
Your availability – When will you be able to start a new job? Check your current contract to find out your notice period if you are in a position already.
Acting cover letter templates
Copy and paste these Acting cover letter templates to get a head start on your own.
Template 1
Hi Olu,
I am excited to apply for the role of Elle Woods at your esteemed production company. With a distinguished career spanning four years, both on and off the West End, I possess the skills and experience to deliver an excellent lead role performance.
As a trained ArtsEd graduate, I have demonstrated my versatility in portraying various roles, captivating audiences with my acting, singing, and dancing abilities. Notably, in the lead role of Éponine in the Les Misérables UK Tour, I performed in over 100 shows across 32 cities, receiving a nomination for "Best Lead Performance" at the prestigious 2022 UK Theatre Awards. By actively promoting the show on social media and local radio, I contributed to a significant 19% increase in ticket sales. Moreover, my experience as a singer and dancer on Star Cruises showcased my ability to entertain and engage audiences, performing 12 shows weekly. As a freelance commercial singer and dancer, I collaborated with renowned brands such as L'Oreal and Adidas, showcasing my adaptability and professionalism in diverse projects.
I am eager to bring my talent and dedication to your highly anticipated production of Legally Blonde. I am available for an interview and audition at your earliest convenience.
Kind regards,
Laura Volski ¦ 07777777777 ¦ l.volski@email.com
Template 2
Hi Bella
I am writing to apply for an audition at 3rd Street Theatre Company as it presents an extraordinary opportunity for me to kickstart my career in the touring theatre industry.
Since graduating with honours last year from the renowned acting program at the Central School of Speech and Drama, I have honed my craft through rigorous training in acting techniques, vocal projection, and character development. During my studies I earned notable show credits, including standout performances as Romeo in "Romeo and Juliet" and Stanley in "A Streetcar Named Desire" with the latter receiving positive reviews in The Daily Telegraph and the London Arts Magazine.
Additionally, my flair for improvisation and quick thinking led me to be awarded the "Best Improvisation" prize at the 2022 Intercollegiate Drama Festival.
I am eager to bring my fresh perspective, creativity, and accolades to your productions. I am available for an interview and audition from August.
Kind regards,
Jack Hindson ¦ 07777777777 ¦ j.hindson@email.com
Template 3
Hi August,
Hope you're well.
I am writing to apply for the role of Esther in Cloud Productions upcoming adaptation of "Seventh Hour", where my successful 30-year career playing a range of female leads in on screen period dramas would make me an asset to the cast.
Notably, my portrayal of complex characters, such as a Sheila, tormented detective in "Shadows of Deception," earned critical acclaim and a 98% audience approval rating. Throughout my career, I have seamlessly adapted to diverse genres, from period dramas like "Elegance & Eloquence" to high-octane action films like "The Pursuit of Justice," showcasing my versatility and range and resulting in over 20 award nominations and 7 wins, including "Best Actress" at the National Film Awards. Moreover, my professionalism and collaborative spirit have earned me accolades from co-stars and directors alike, fostering seamless working relationships on set.
I am available for an interview and audition at your earliest convenience.
Kind regards,
Aisling Clarke ¦ 07777777777 ¦ a.clarke@email.com
Writing an impressive cover letter is a crucial step in landing a Acting job, so taking the time to perfect it is well worth while.
By following the tips and examples above you will be able to create an eye-catching cover letter that will wow recruiters and ensure your CV gets read – leading to more job interviews for you.
Good luck with your job search!