While your accounting CV might look like an inventory of industry jargon, acronyms, qualifications and job titles, your cover letter provides you with a chance to go into more detail.
But if you're not sure how to narrow it down to the most relevant information and highlight what makes you the ideal candidate, you've come to the right place.
Check out our step-by-step writing guide and accounting cover letter examples below to shape your own application.

Accounting cover letter example 1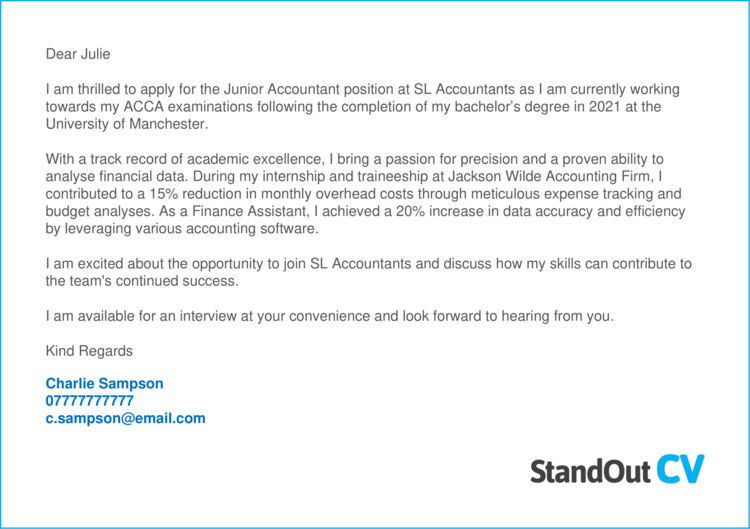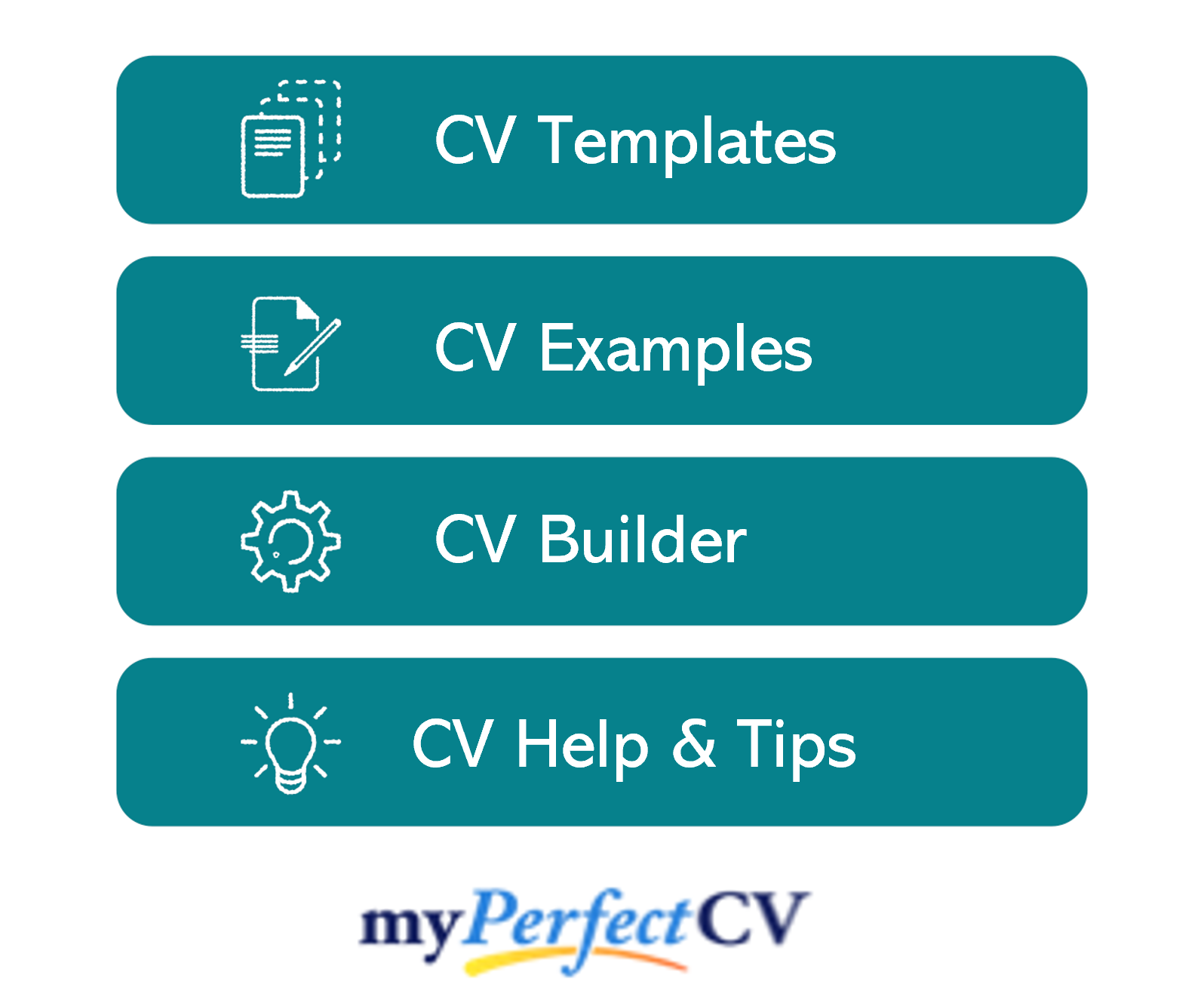 Accounting cover letter example 2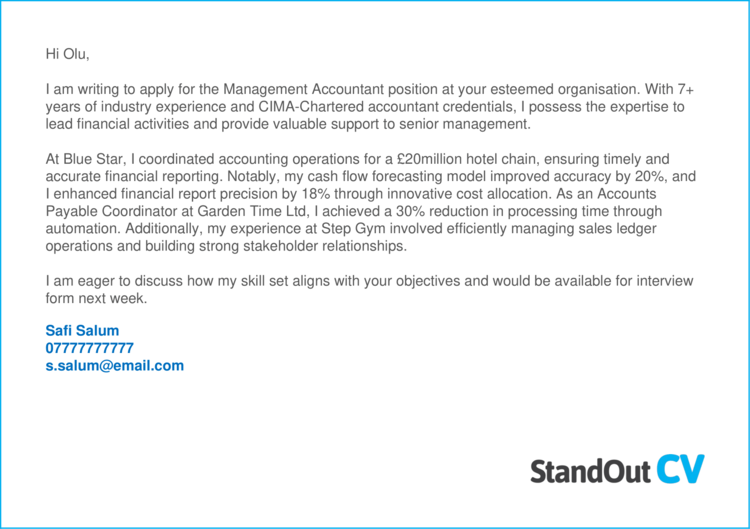 Accounting cover letter example 3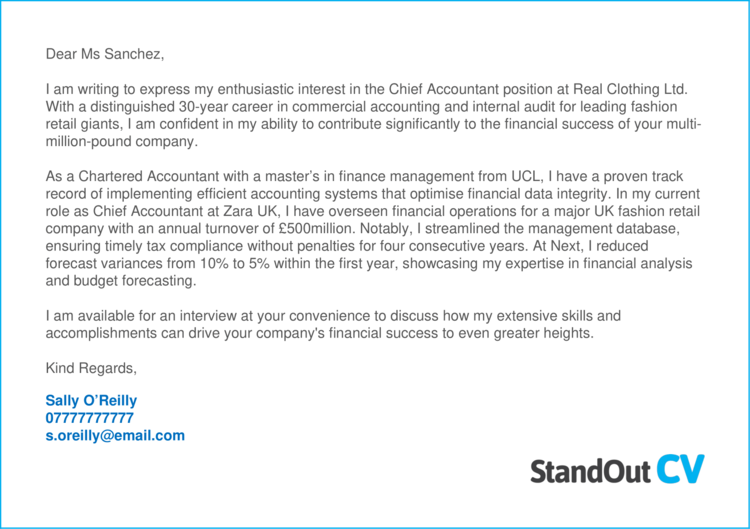 These Accounting cover letter examples provide you with some guidance and inspiration for writing a cover letter that gets noticed and ensures your CV will get opened.
But if you really want to master the art of writing a winning cover letter, then follow our step-by-step cove letter writing guide below.
How to write an Accounting cover letter
A simple step-by-step guide to writing your very own winning cover letter.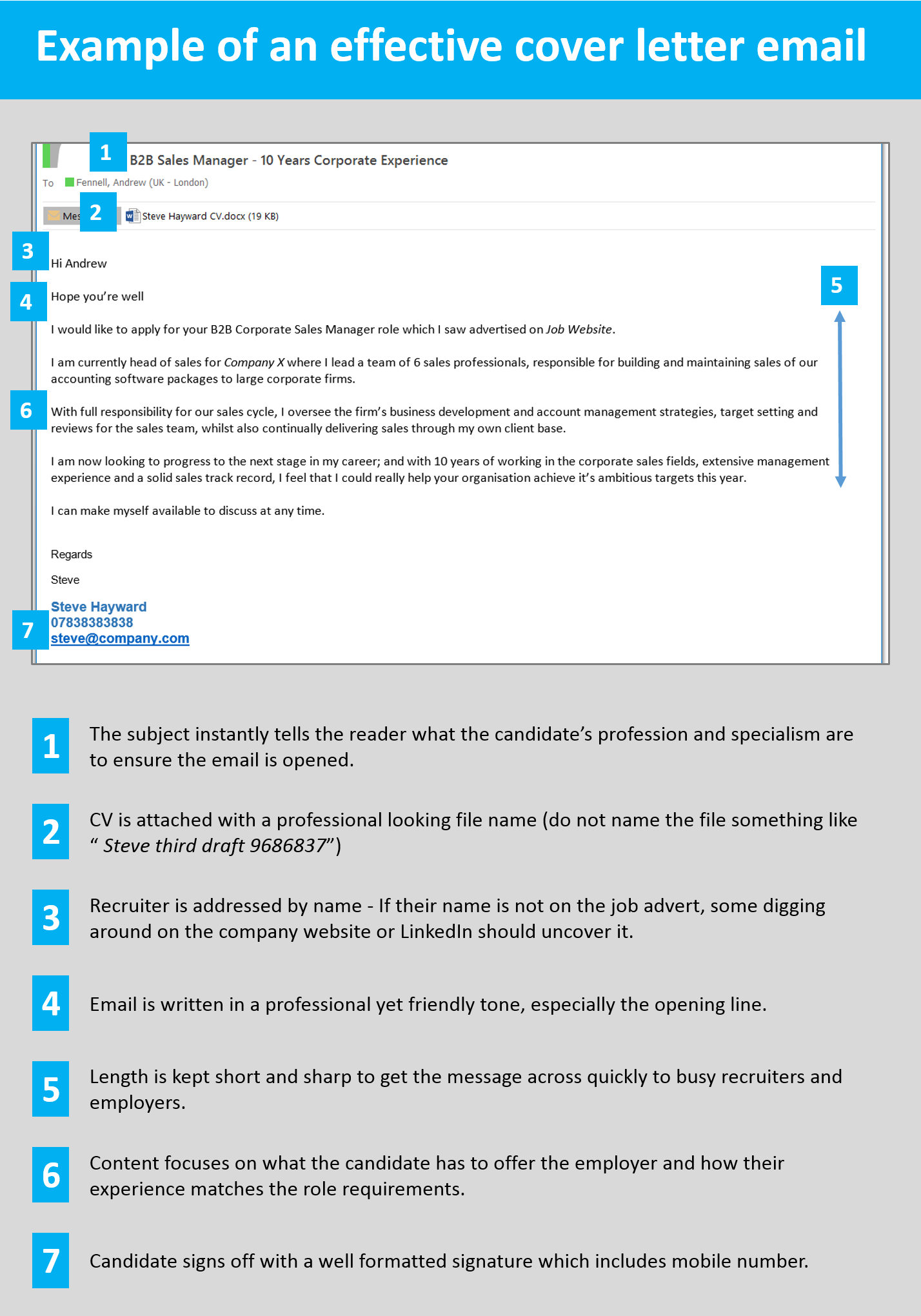 Write your cover letter in the body of an email/message
When you send a cover letter with a job application, you should always write your message into the body of your email – or the body of the messaging system if you are sending via a job website.
Why do this?
Simply because you want to get your message seen as soon as the recruiter opens your application.
If you attach the cover letter as a separate item, this means the recipient will have to open it before they can read it – slowing down the process and potentially causing frustration along the way.
So, write your cover note in the body of your email/message to ensure you make an instant connection with the reader.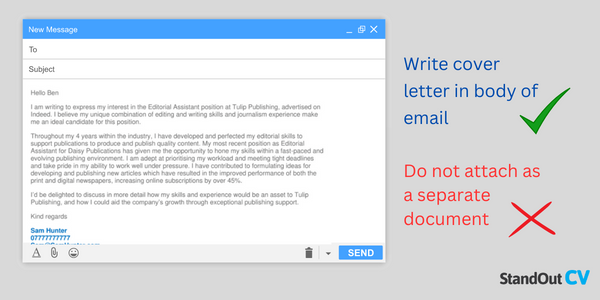 Start with a friendly greeting

To kick your cover letter off, start with a friendly greeting to build rapport with the recruiter instantly.
Your greeting should be personable but professional. Not too casual, but not too formal either
Go with something like…
Hi
Hi [insert recruiter name]
Hi [insert department/team name]
Avoid old-fashioned greetings like "Dear sir/madam" unless applying to very formal companies.
How to find the contact's name?
Addressing the recruitment contact by name is an excellent way to start building a strong relationship. If it is not listed in the job advert, try these methods to find it.
Check out the company website and look at their About page. If you see a hiring manager, HR person or internal recruiter, use their name. You could also try to figure out who would be your manager in the role and use their name.
Head to LinkedIn, search for the company and scan through the list of employees. Most professionals are on LinkedIn these days, so this is a good bet.
Identify the role you are applying for
Now that you have warmed the recruiter up with a friendly greeting, firstly you need to let them know which role you are applying for.
Sometimes a recruitment consultant will be juggling 10 or 10 vacancies, so it's important to specify which one you are applying to.
Give us much detail as possible (team/department, role title etc.) and paste in the reference number if you have one.
Here are some examples you can use.
I am interested in applying for the role of *Accounting Position* with your company.
I would like to apply for the role of Sales assistant (Ref: 40f57393)
I would like to express my interest in the customer service vacancy within your retail department
I saw your advert for an IT project manager on Reed and would like to apply for the role.
Highlight your suitability
The sole objective of your cover letter is to motivate recruiters into to opening your CV. And you achieve this by quickly explaining your suitability to the roles you are applying for.
Take a look at the job descriptions you are applying to, and make note of the most important skills and qualifications being asked for.
Then, when crafting your cover letter, make your suitability the central focus.
Explain why you are the best qualified candidate, and why you are so well suited to carry out the job.
This will give recruiters all the encouragement they need to open your CV and consider you for the job.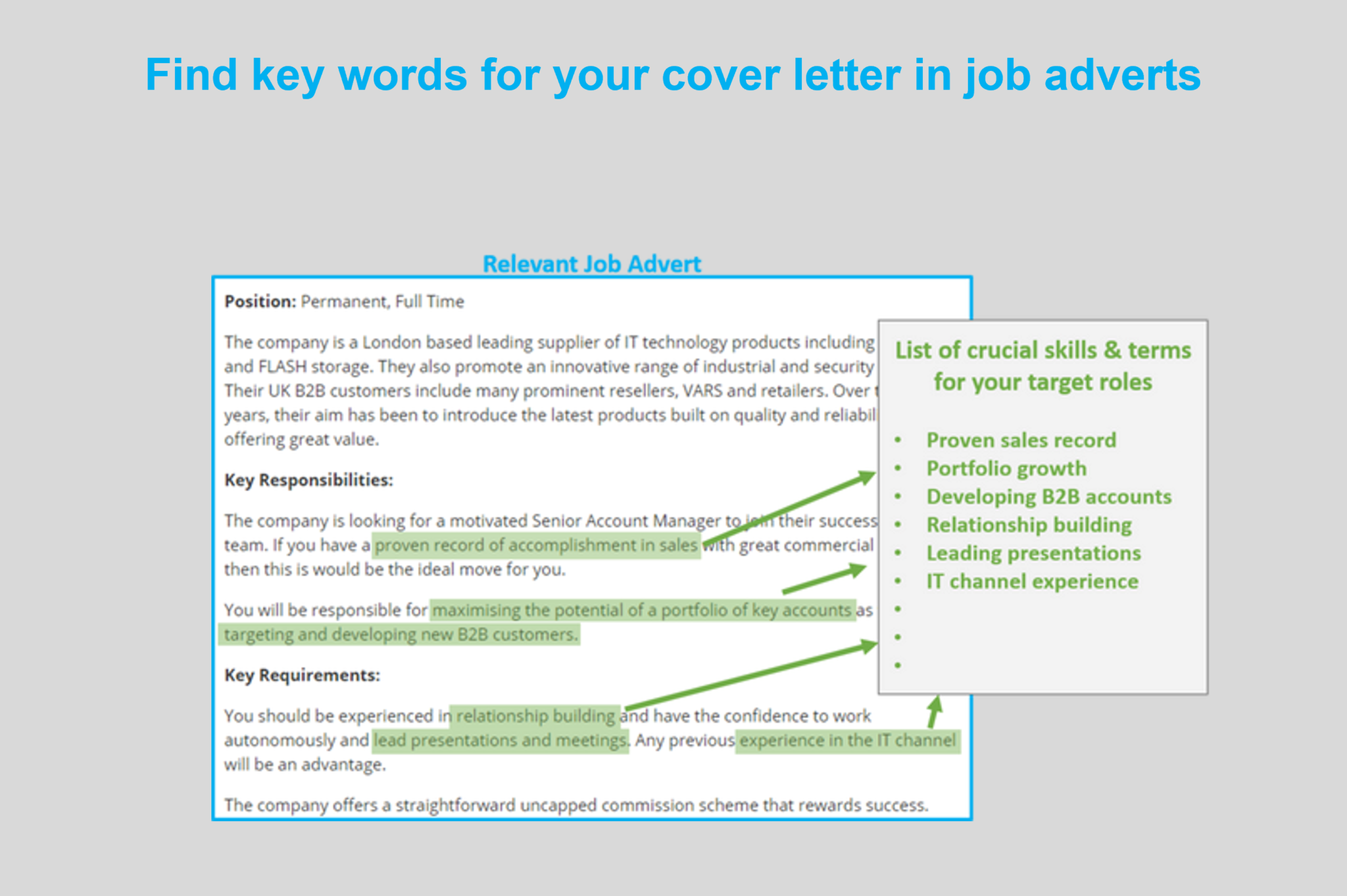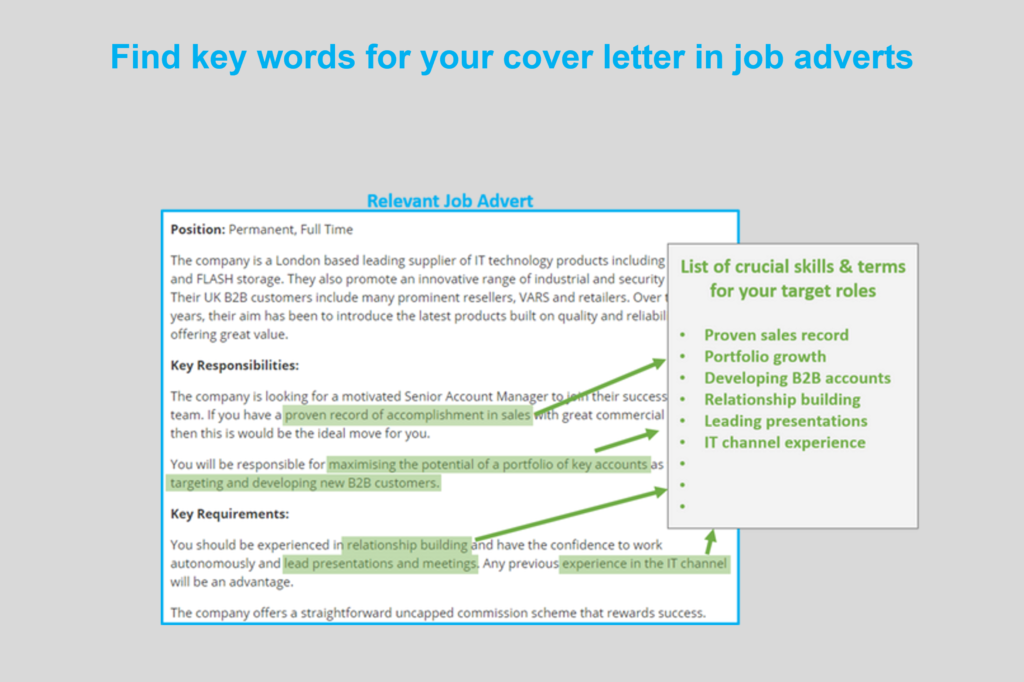 Keep it short and sharp
A good cover letter is short and sharp, getting to the point quickly with just enough information to grab the attention of recruiters.
Ideally your cover letter should be around 4-8 sentences long – anything longer will risk losing the attention of time-strapped recruiters and hiring managers.
Essentially you need to include just enough information to persuade the reader to open up your CV, where the in-depth details will sit.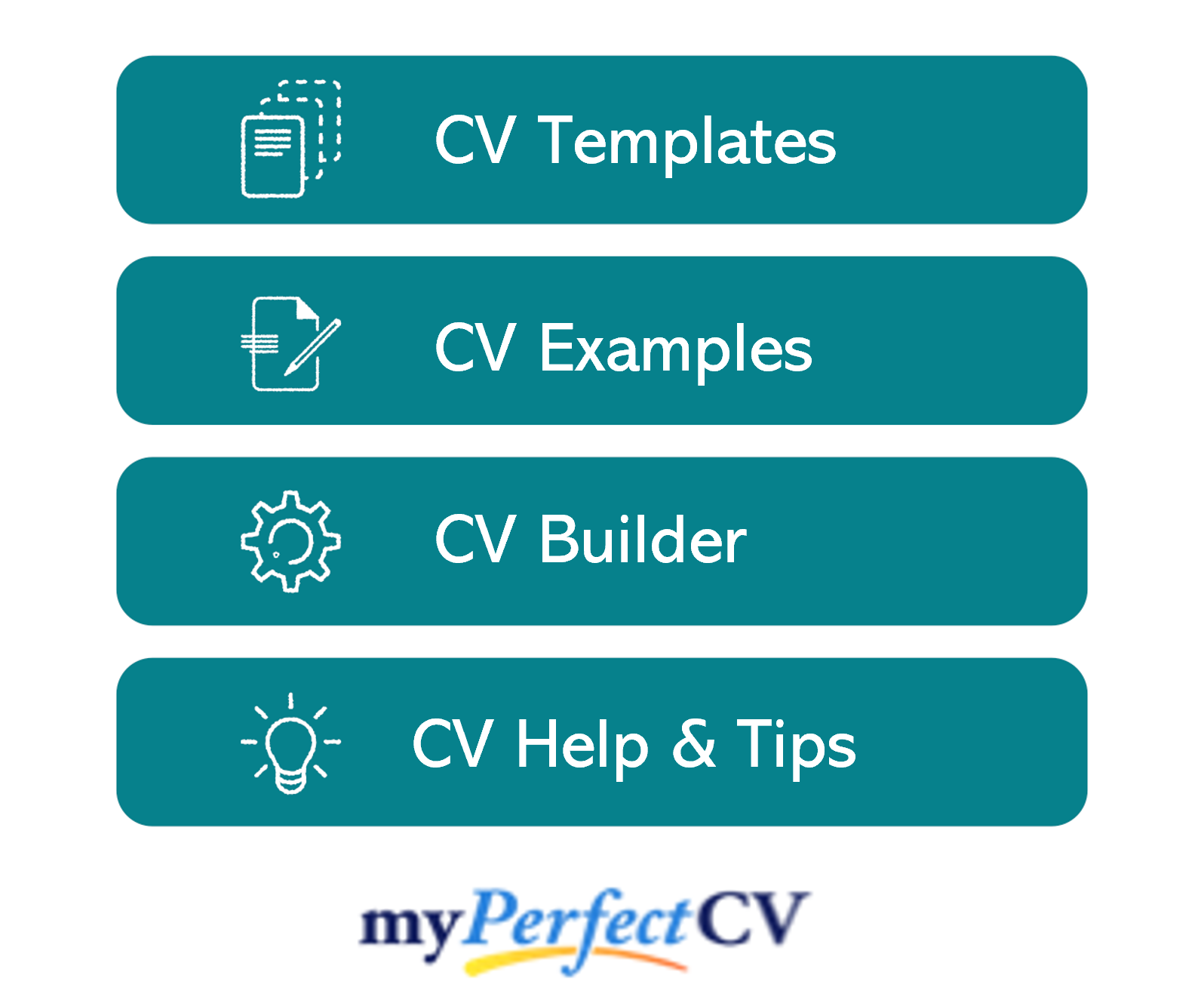 Sign off professionally
To finish off your cover note, add a professional signature to the bottom, stating your important contact details and information.
This not only provides recruiters with multiple means of contacting you, but it also adds a nice professional appearance to the cover letter, which shows that you know how to conduct yourself in the workplace.
Include the following points;
A friendly sign off – e.g. "Warm regards"
Your full name
Phone number (one you can answer quickly)
Email address
Optional
Profession title
Professional social network – e.g. LinkedIn
Here is an example signature;
Warm regards,
Aaron Smith
Customer service professional
075557437373
Aaron@smith.com
LinkedIn
Quick tip: To save yourself from having to write your signature every time you send a job application, you can save it within your email drafts, or on a separate document that you could copy in.

What to include in your Accounting cover letter
So, what type of information should you write about in your Accounting cover letter?
The specifics will obviously depend on your profession and the jobs you are applying to, but these are the key areas you should be covering.
Your industry experience – Tell recruiters the types of companies you have been working for and the roles you have held in the past.
Your qualifications – Highlight your most important relevant qualifications to show employers you are qualified to do the roles you are applying for.
The impact you have made – Demonstrate the positive impact you have made for employers in previous jobs. Have you saved money? Improved processes? Made customers happy?
Your reasons for moving – Employers will want to know why you are leaving your current/previous role, so provide them with a brief explanation here.
Your availability – When will you be able to start a new job? Check your current contract to find out your notice period if you are in a position already.
Accounting cover letter templates
Copy and paste these Accounting cover letter templates to get a head start on your own.
Template 1
Dear Julie
I am thrilled to apply for the Junior Accountant position at SL Accountants as I am currently working towards my ACCA examinations following the completion of my bachelor's degree in 2021 at the University of Manchester.
With a track record of academic excellence, I bring a passion for precision and a proven ability to analyse financial data. During my internship and traineeship at Jackson Wilde Accounting Firm, I contributed to a 15% reduction in monthly overhead costs through meticulous expense tracking and budget analyses. As a Finance Assistant, I achieved a 20% increase in data accuracy and efficiency by leveraging various accounting software.
I am excited about the opportunity to join SL Accountants and discuss how my skills can contribute to the team's continued success.
I am available for an interview at your convenience and look forward to hearing from you.
Kind Regards
Charlie Sampson ¦ 07777777777 ¦ c.sampson@email.com
Template 2
Hi Olu,
I am writing to apply for the Management Accountant position at your esteemed organisation. With 7+ years of industry experience and CIMA-Chartered accountant credentials, I possess the expertise to lead financial activities and provide valuable support to senior management.
At Blue Star, I coordinated accounting operations for a £20million hotel chain, ensuring timely and accurate financial reporting. Notably, my cash flow forecasting model improved accuracy by 20%, and I enhanced financial report precision by 18% through innovative cost allocation. As an Accounts Payable Coordinator at Garden Time Ltd, I achieved a 30% reduction in processing time through automation. Additionally, my experience at Step Gym involved efficiently managing sales ledger operations and building strong stakeholder relationships.
I am eager to discuss how my skill set aligns with your objectives and would be available for interview form next week.
Kind regards
Safi Salum ¦ 07777777777 ¦ s.salum@email.com
Template 3
Dear Ms Sanchez,
I am writing to express my enthusiastic interest in the Chief Accountant position at Real Clothing Ltd. With a distinguished 30-year career in commercial accounting and internal audit for leading fashion retail giants, I am confident in my ability to contribute significantly to the financial success of your multimillion-pound company.
As a Chartered Accountant with a master's in finance management from UCL, I have a proven track record of implementing efficient accounting systems that optimise financial data integrity. In my current role as Chief Accountant at Zara UK, I have overseen financial operations for a major UK fashion retail company with an annual turnover of £500million. Notably, I streamlined the management database, ensuring timely tax compliance without penalties for four consecutive years. At Next, I reduced forecast variances from 10% to 5% within the first year, showcasing my expertise in financial analysis and budget forecasting.
I am available for an interview at your convenience to discuss how my extensive skills and accomplishments can drive your company's financial success to even greater heights.
Kind Regards,
Sally O'Reilly ¦ 07777777777 ¦ s.oreilly@email.com
Writing an impressive cover letter is a crucial step in landing a Accounting job, so taking the time to perfect it is well worth while.
By following the tips and examples above you will be able to create an eye-catching cover letter that will wow recruiters and ensure your CV gets read – leading to more job interviews for you.
Good luck with your job search!