You've worked hard and you've got some pretty impressive academic achievements under your metaphorical belt. Now you just need to prove it to the recruiter.
Sure, you can outline your studies on your CV, but a cover letter gives you a better chance to provide detailed facts and figures that showcase why you're perfect for the position.
But if you need some help getting started, study our top tips and academic cover letter examples in the writing guide below.

Academic cover letter example 1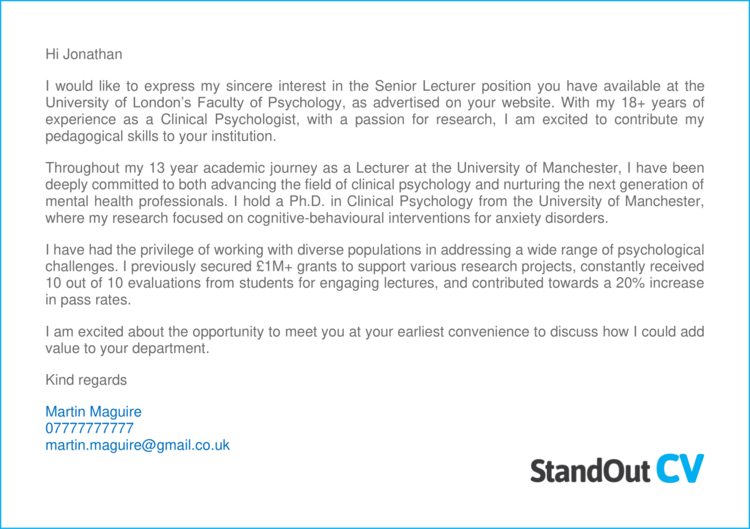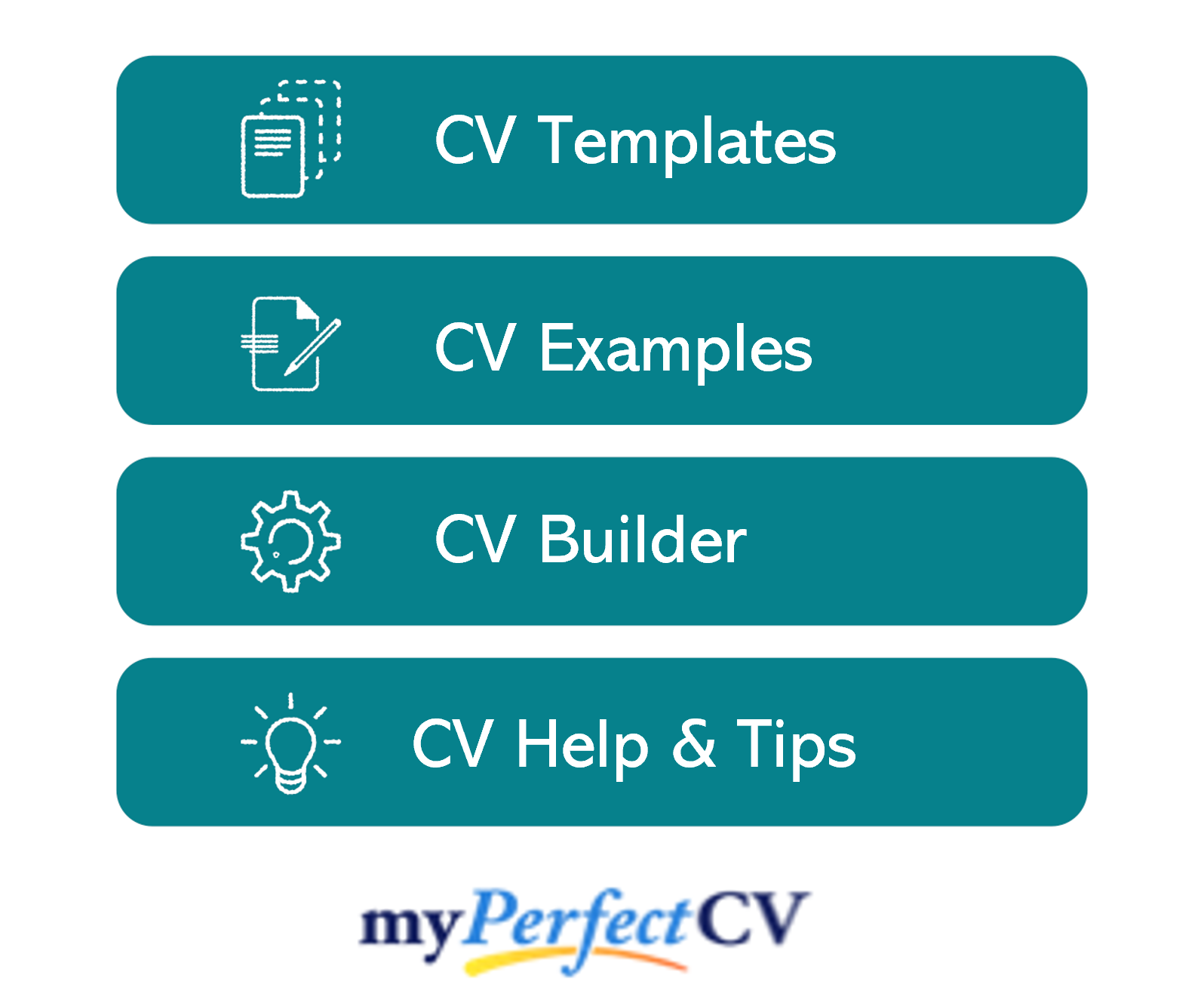 Academic cover letter example 2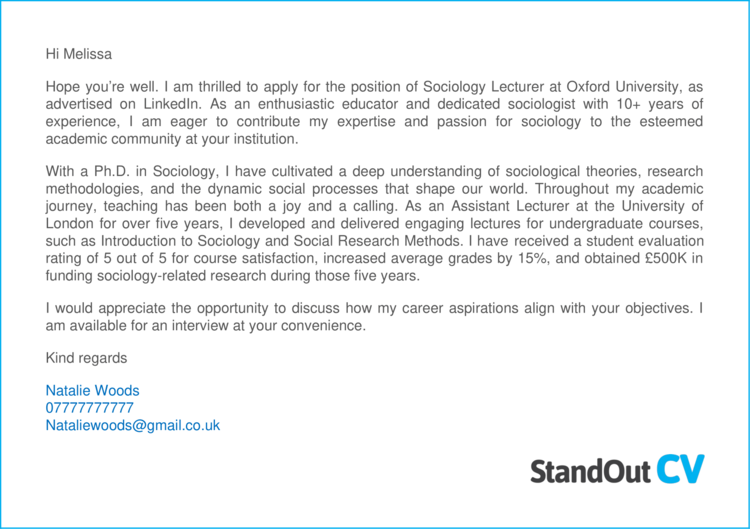 Academic cover letter example 3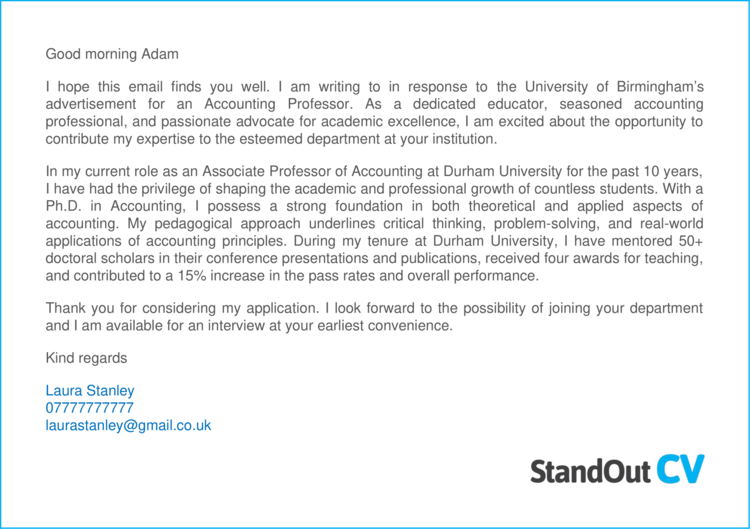 These Academic cover letter examples provide you with some guidance and inspiration for writing a cover letter that gets noticed and ensures your CV will get opened.
But if you really want to master the art of writing a winning cover letter, then follow our step-by-step cove letter writing guide below.
How to write an Academic cover letter
Here's how to write your own winning Academic cover letter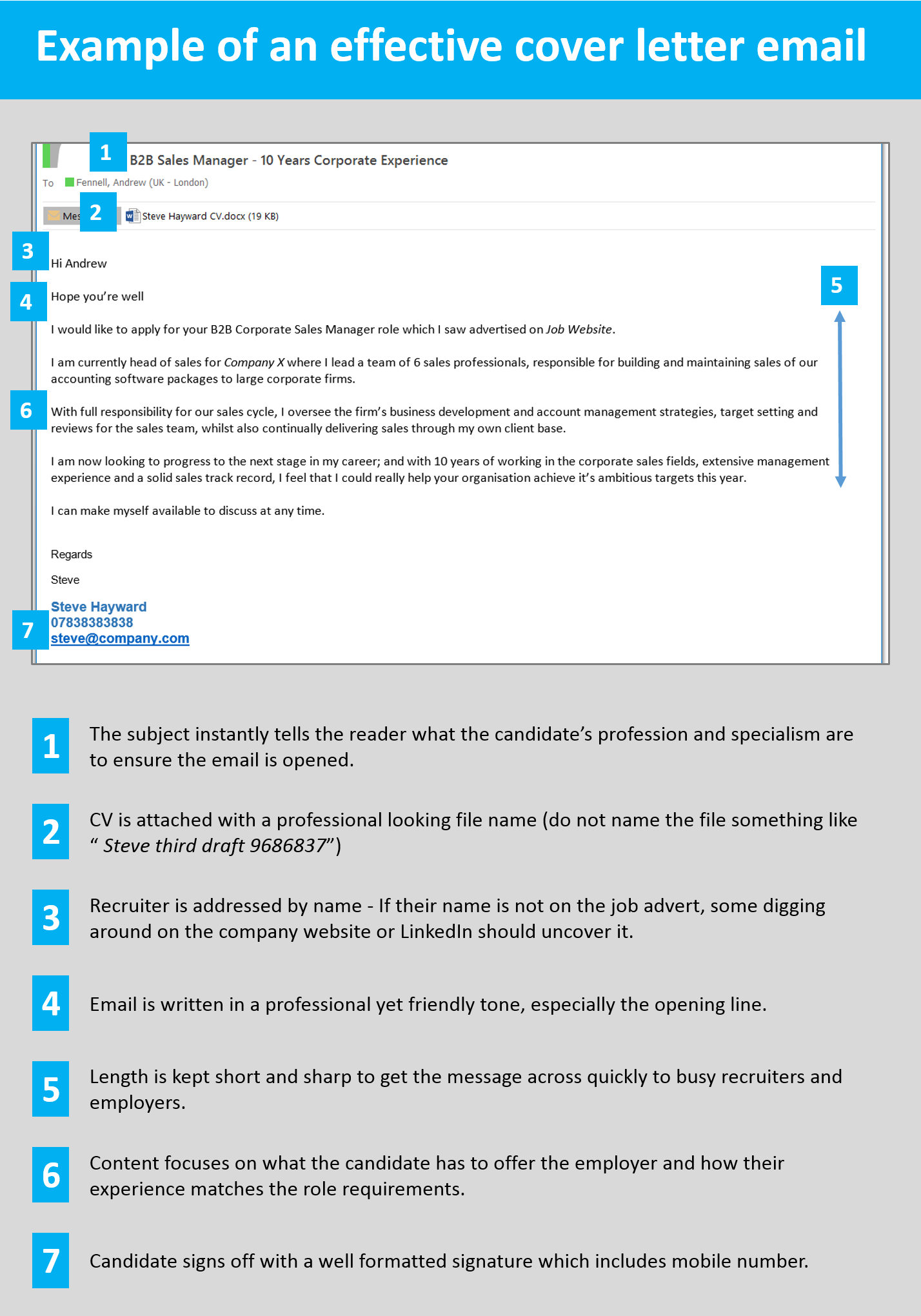 Write your cover letter in the body of an email/message
Type the content of your cover letter directly into the email you are sending, or if you are applying via a job board, directly into their messaging system.
The reason for doing this it to ensure that your cover letter gets seen instantly and you can start connecting with the recruiter as soon as they open your message.
If you attach your cover letter as a separate document, the recipient will have to open up the document, which will slow the process down, or make them less likely to even open your cover letter – which could mean your application gets skipped over.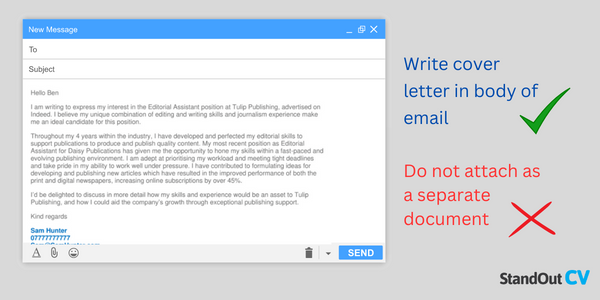 Start with a friendly greeting

Start you cover letter with a greeting that is professional but friendly.
This will build rapport with the recruiter whilst showing your professionalism.
Hi, hope you're well
Hi [insert recruiter name]
Hi [insert department/team name]
Avoid overly formal greetings like "Dear sir/madam" unless applying to very traditional companies.
How to find the contact's name?
Addressing the recruitment contact by name is an excellent way to start building a strong relationship. If it is not listed in the job advert, try these methods to find it.
Check out the company website and look at their About page. If you see a hiring manager, HR person or internal recruiter, use their name. You could also try to figure out who would be your manager in the role and use their name.
Head to LinkedIn, search for the company and scan through the list of employees. Most professionals are on LinkedIn these days, so this is a good bet.
Identify the role you are applying for
Once you've opened up the cover letter with a warm greeting to start building a relationship, it is time to identify which role you want to apply for.
Recruiters are often managing multiple vacancies, so you need to ensure you apply to the correct one.
Be very specific and use a reference number if you can find one.
I am interested in applying for the position of *Academic job role* with your company.
I would like to apply for the role of Sales assistant (Ref: 406f57393)
I would like to express my interest in the customer service vacancy within your retail department
I saw your advert for a junior project manager on Reed and would like to apply for the role.
Highlight your suitability
The sole objective of your cover letter is to motivate recruiters into to opening your CV. And you achieve this by quickly explaining your suitability to the roles you are applying for.
Take a look at the job descriptions you are applying to, and make note of the most important skills and qualifications being asked for.
Then, when crafting your cover letter, make your suitability the central focus.
Explain why you are the best qualified candidate, and why you are so well suited to carry out the job.
This will give recruiters all the encouragement they need to open your CV and consider you for the job.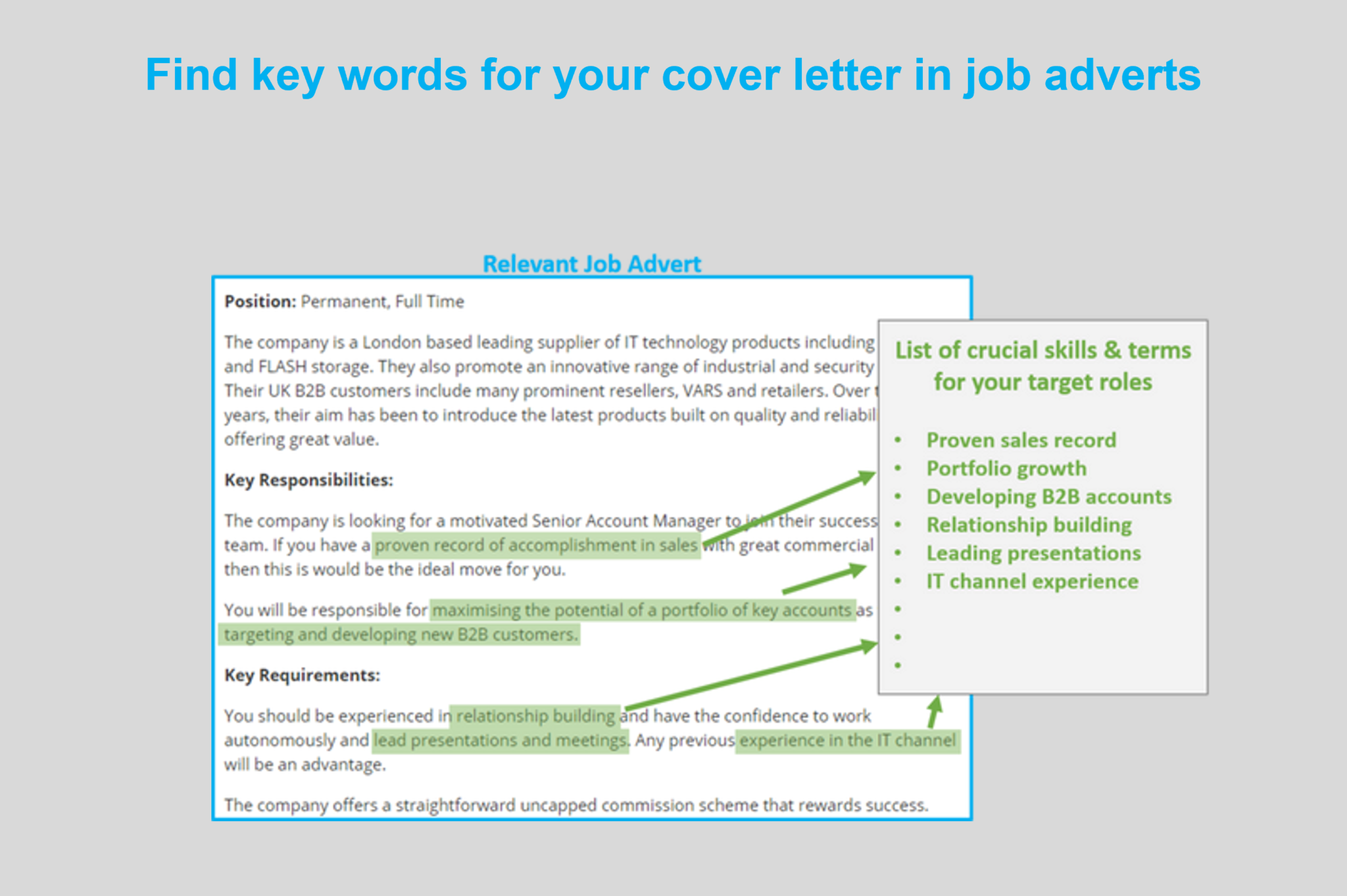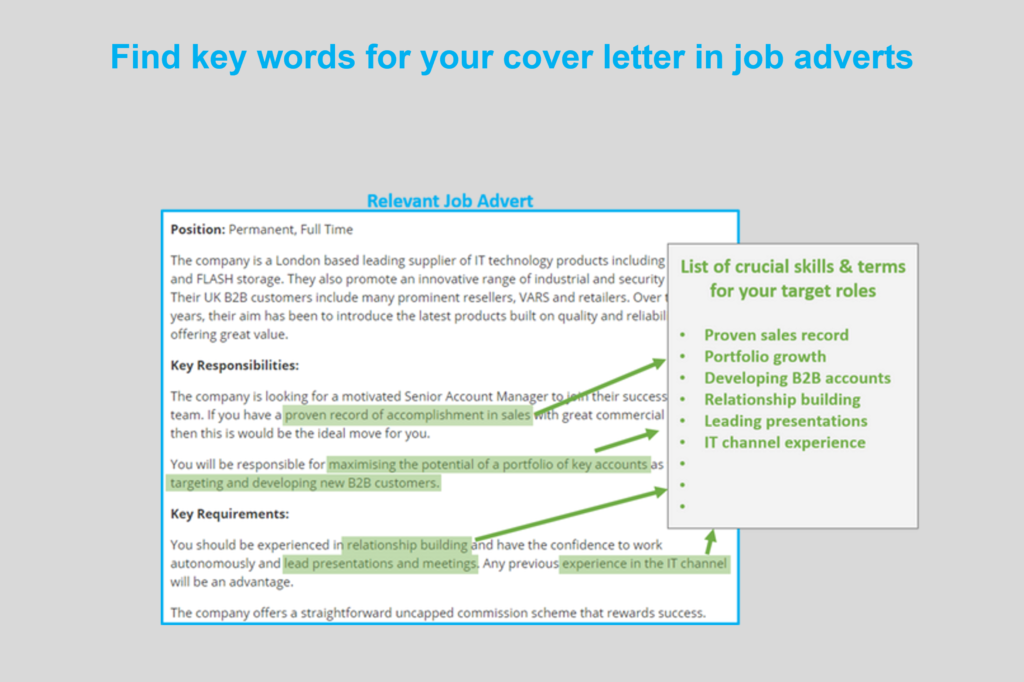 Keep it short and sharp
It is best to keep your cover letter brief if you want to ensure you hold the attention of busy recruiters and hiring managers. A lengthy cover letter will probably not get read in full, so keep yours to around 3-6 sentences and save the real detail for your CV.
Remember the purpose of your cover letter is to quickly get recruiters to notice you and encourage them to open your CV, so it only needs to include the highlights of your experience.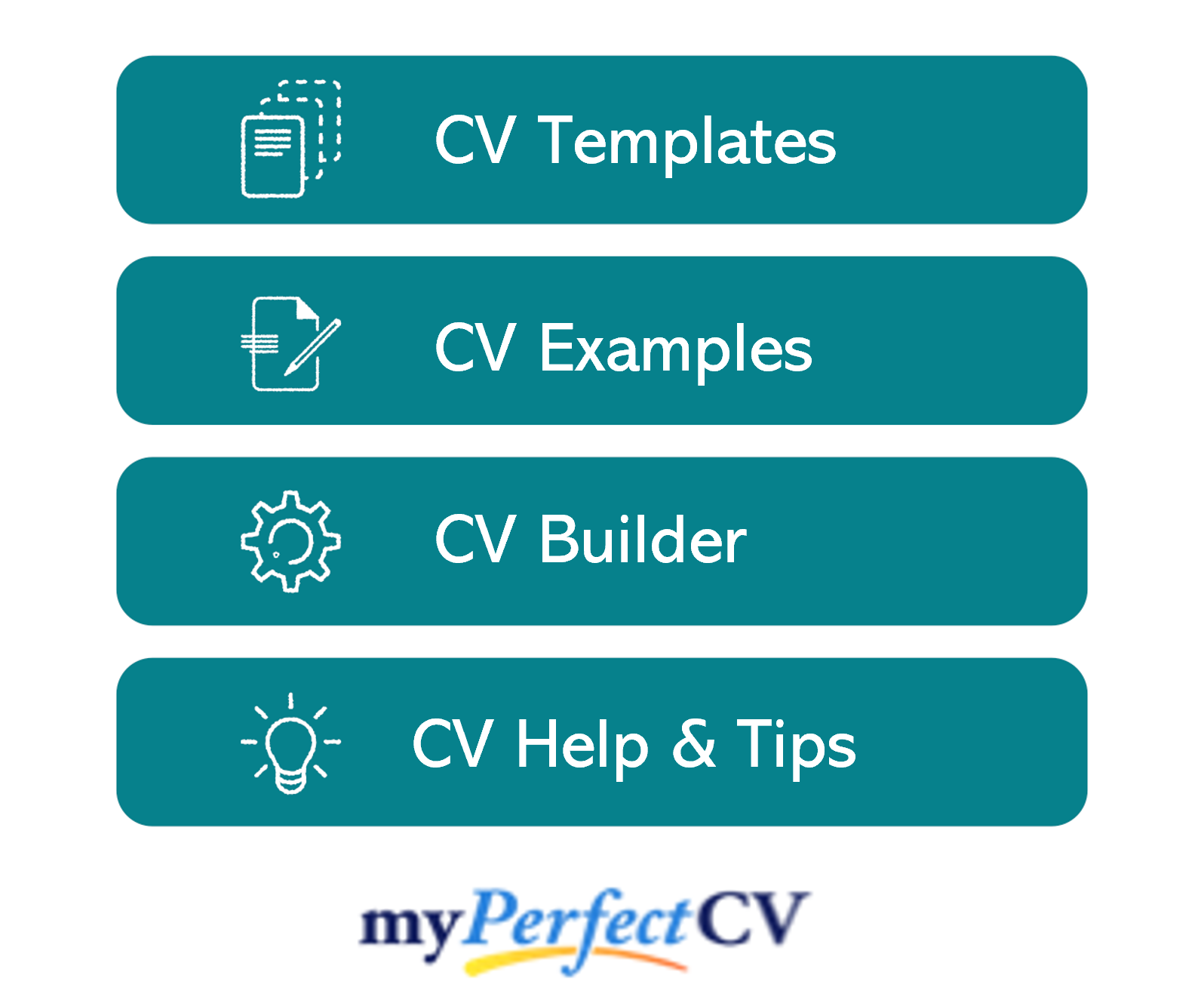 Sign off professionally
To finish off your cover note, add a professional signature to the bottom, stating your important contact details and information.
This not only provides recruiters with multiple means of contacting you, but it also adds a nice professional appearance to the cover letter, which shows that you know how to conduct yourself in the workplace.
Include the following points;
A friendly sign off – e.g. "Warm regards"
Your full name
Phone number (one you can answer quickly)
Email address
Optional
Profession title
Professional social network – e.g. LinkedIn
Here is an example signature;
Warm regards,
Aaron Smith
Customer service professional
075557437373
Aaron@smith.com
LinkedIn
Quick tip: To save yourself from having to write your signature every time you send a job application, you can save it within your email drafts, or on a separate document that you could copy in.

What to include in your Academic cover letter
Here's what kind of content you should include in your Academic cover letter…
The exact info will obviously depend on your industry and experience level, but these are the essentials.
Your relevant experience – Where have you worked and what type of jobs have you held?
Your qualifications – Let recruiters know about your highest level of qualification to show them you have the credentials for the job.
The impact you have made – Show how your actions have made a positive impact on previous employers; perhaps you've saved them money or helped them to acquire new customers?
Your reasons for moving – Hiring managers will want to know why you are leaving your current or previous role, so give them a brief explanation.
Your availability – When can you start a new job? Recruiters will want to know how soon they can get you on board.
Don't forget to tailor these points to the requirements of the job advert for best results.
Academic cover letter templates
Copy and paste these Academic cover letter templates to get a head start on your own.
Template 1
Hi Jonathan
I would like to express my sincere interest in the Senior Lecturer position you have available at the University of London's Faculty of Psychology, as advertised on your website. With my 18+ years of experience as a Clinical Psychologist, with a passion for research, I am excited to contribute my pedagogical skills to your institution.
Throughout my 13-year academic journey as a Lecturer at the University of Manchester, I have been deeply committed to both advancing the field of clinical psychology and nurturing the next generation of mental health professionals. I hold a Ph.D. in Clinical Psychology from the University of Manchester, where my research focused on cognitive-behavioural interventions for anxiety disorders.
I have had the privilege of working with diverse populations in addressing a wide range of psychological challenges. I previously secured £1M+ grants to support various research projects, constantly received 10 out of 10 evaluations from students for engaging lectures and contributed towards a 20% increase in pass rates.
I am excited about the opportunity to meet you at your earliest convenience to discuss how I could add value to your department.
Kind regards
Martin Maguire ¦ 07777777777 ¦ martin.maguire@gmail.co.uk
Template 2
Hi Melissa
Hope you're well. I am thrilled to apply for the position of Sociology Lecturer at Oxford University, as advertised on LinkedIn. As an enthusiastic educator and dedicated sociologist with 10+ years of experience, I am eager to contribute my expertise and passion for sociology to the esteemed academic community at your institution.
With a Ph.D. in Sociology, I have cultivated a deep understanding of sociological theories, research methodologies, and the dynamic social processes that shape our world. Throughout my academic journey, teaching has been both a joy and a calling. As an Assistant Lecturer at the University of London for over five years, I developed and delivered engaging lectures for undergraduate courses, such as Introduction to Sociology and Social Research Methods. I have received a student evaluation rating of 5 out of 5 for course satisfaction, increased average grades by 15%, and obtained £500K in funding sociology-related research during those five years.
I would appreciate the opportunity to discuss how my career aspirations align with your objectives. I am available for an interview at your convenience.
Kind regards
Natalie Woods ¦ 07777777777 ¦ Nataliewoods@gmail.co.uk
Template 3
Good morning, Adam
I hope this email finds you well. I am writing to in response to the University of Birmingham's advertisement for an Accounting Professor. As a dedicated educator, seasoned accounting professional, and passionate advocate for academic excellence, I am excited about the opportunity to contribute my expertise to the esteemed department at your institution.
In my current role as an Associate Professor of Accounting at Durham University for the past 10 years, I have had the privilege of shaping the academic and professional growth of countless students. With a Ph.D. in Accounting, I possess a strong foundation in both theoretical and applied aspects of accounting. My pedagogical approach underlines critical thinking, problem-solving, and real-world applications of accounting principles. During my tenure at Durham University, I have mentored 50+ doctoral scholars in their conference presentations and publications, received four awards for teaching, and contributed to a 15% increase in the pass rates and overall performance.
Thank you for considering my application. I look forward to the possibility of joining your department and I am available for an interview at your earliest convenience.
Kind regards
Laura Stanley ¦ 07777777777 ¦ laurastanley@gmail.co.uk
Writing a strong attention-grabbing cover letter is a vital step in landing a good Academic job.
Use the tips, strategies and examples above to get more responses from you job applications and start lining job interview up.
Good luck with your job search!