CV stands for Curriculum Vitae, which means "course of life" in Latin, or in modern terms; a summary of your work experience and knowledge.
Job seekers have used CVs for hundreds of years, and although the design and format may have changed, the overall function has remained the same – a written document sent to an employer to sell yourself and land the job.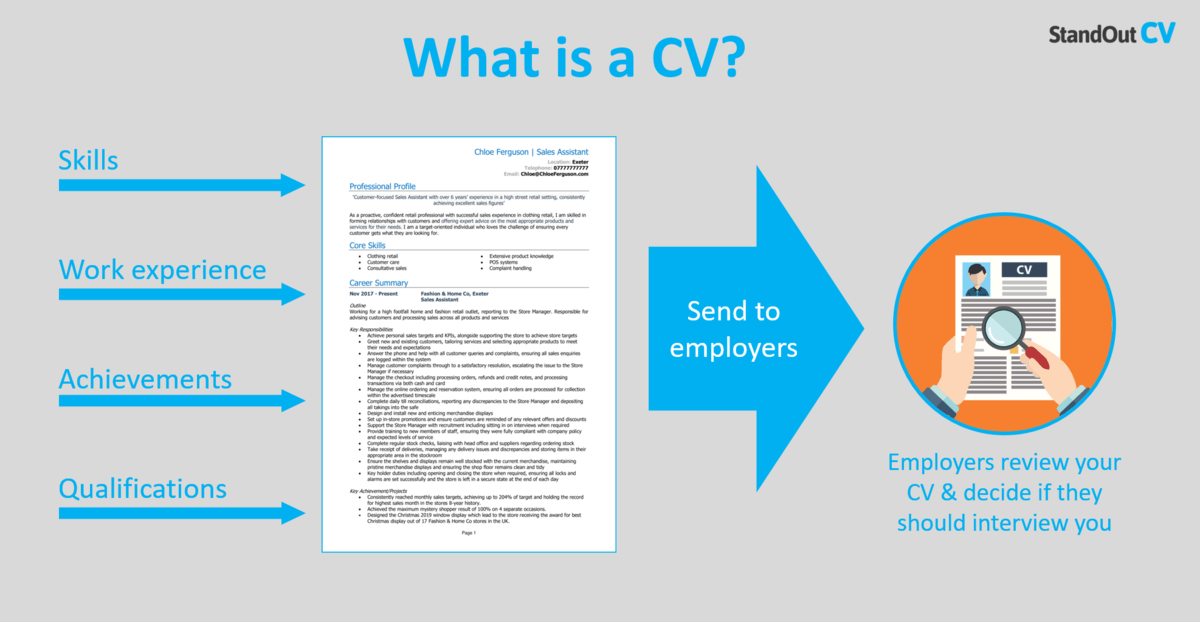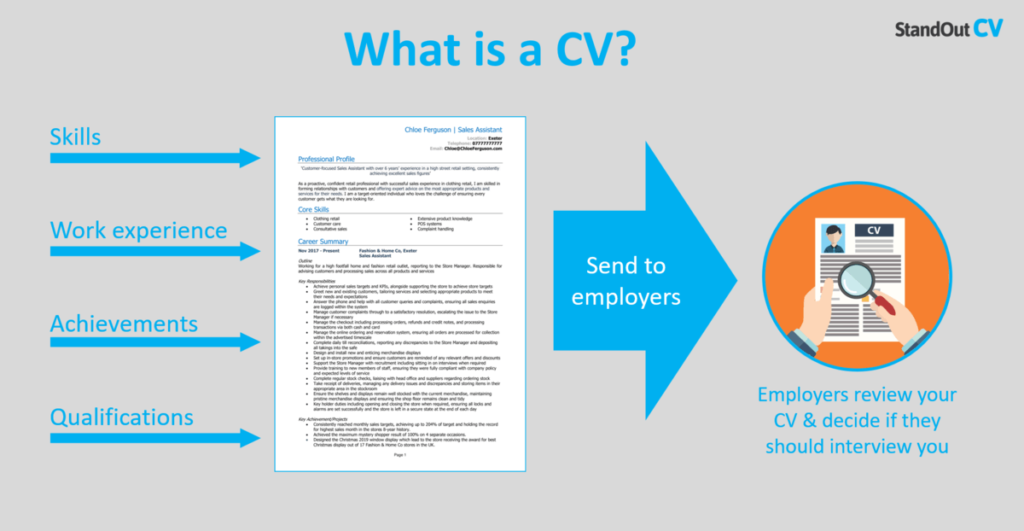 What is a CV?
A CV is a written overview of your skills, work experience and education. It is used to apply for jobs and show employers that you are well-suited to the role and secure an interview.

What does a CV look like?
A CV should be a 1-2 page document that looks professional is easy for busy recruiters to read.
Simple font and colours – a basic colour scheme and a clean and crisp font should be used for ease of reading.
Clearly divided sections – So that recruiters can quickly find the info they are looking for, the page should be divided into clear sections with bold headings. These headings should be a few sizes larger than your paragraph text. Subheadings are also great to use under main headings to further break up the reading experience
Avoid using photos and images – these take up space and do not add value to the CV.
Bullet points make CV's much easier to read, with potential employers being able to pick out the information they need from quick skim reading.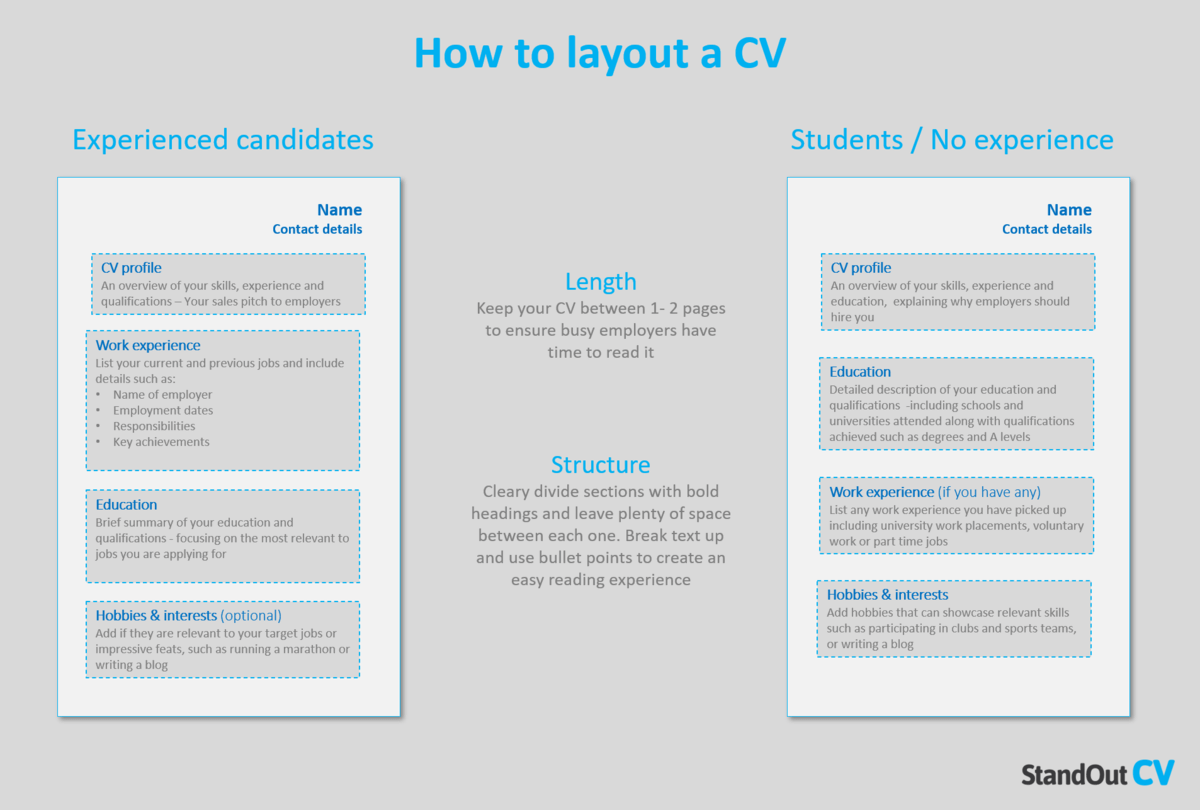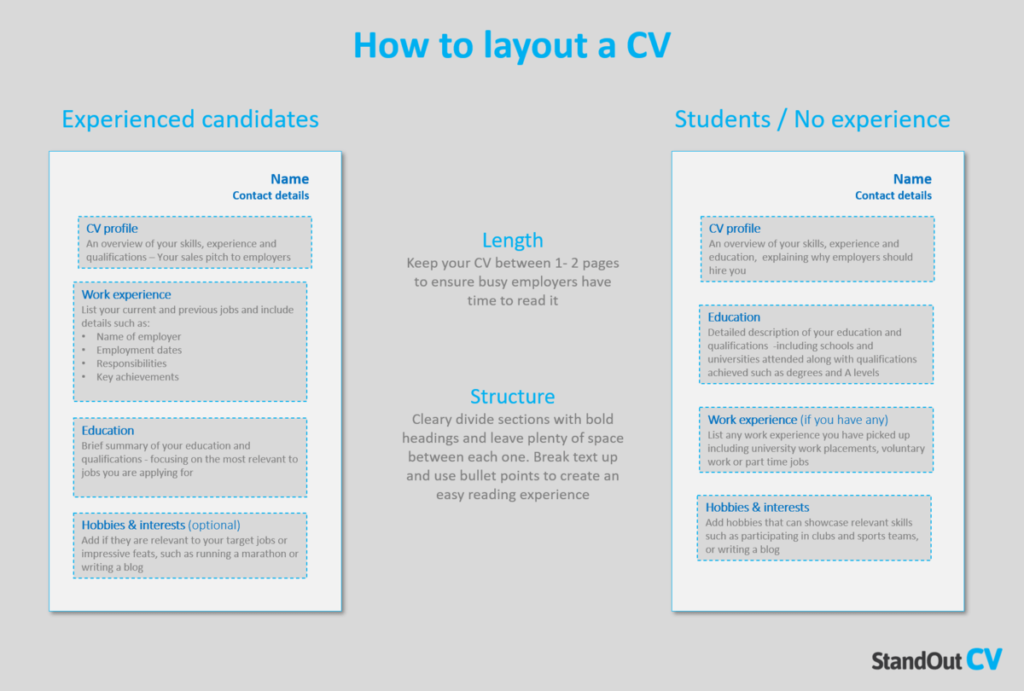 What is the purpose of a CV?
The ultimate purpose of the CV is to land the jobseeker an interview with the company whose job they are applying for.  This is achieved by providing a pleasant reading experience and highlighting the most relevant skills and knowledge for the target job.
What should be included in a CV?
A CV should contain the following sections to provide recruiters and employers with the information they need.
Name and contact details
These include your full name, a professional title if you have one, telephone number, email address and location. This gives employers a general idea of where you are based and how to contact you.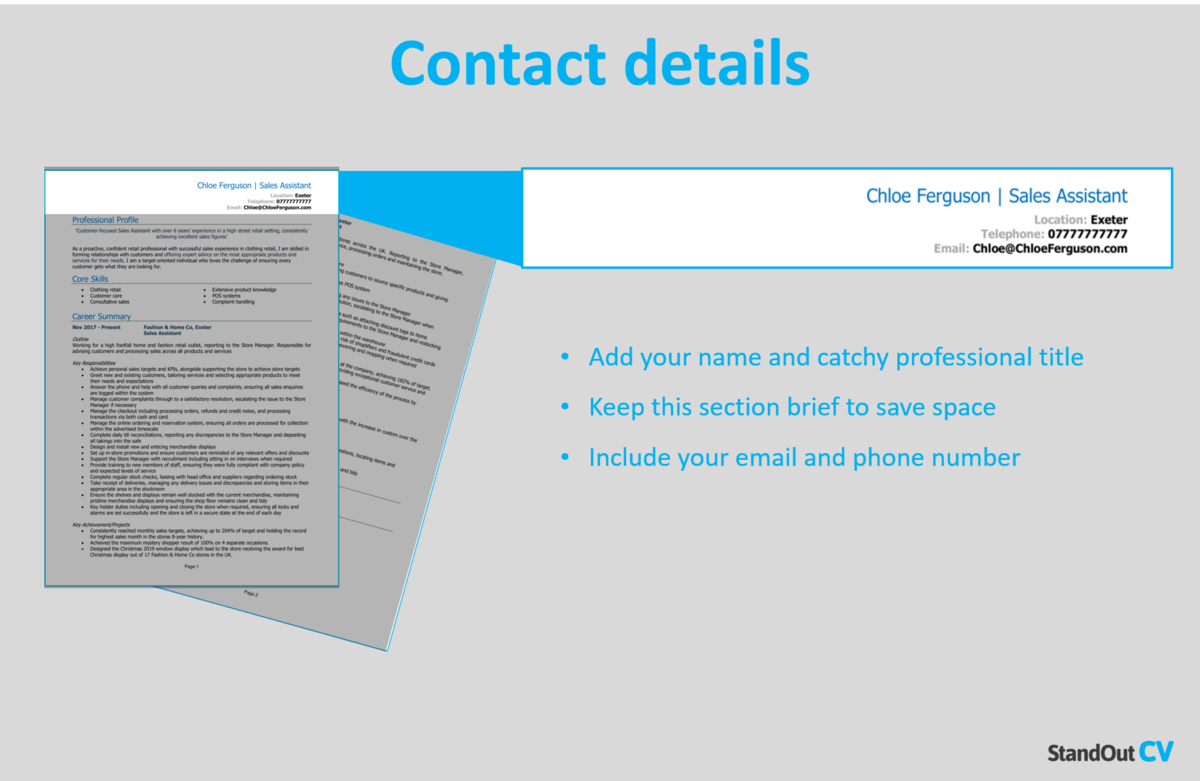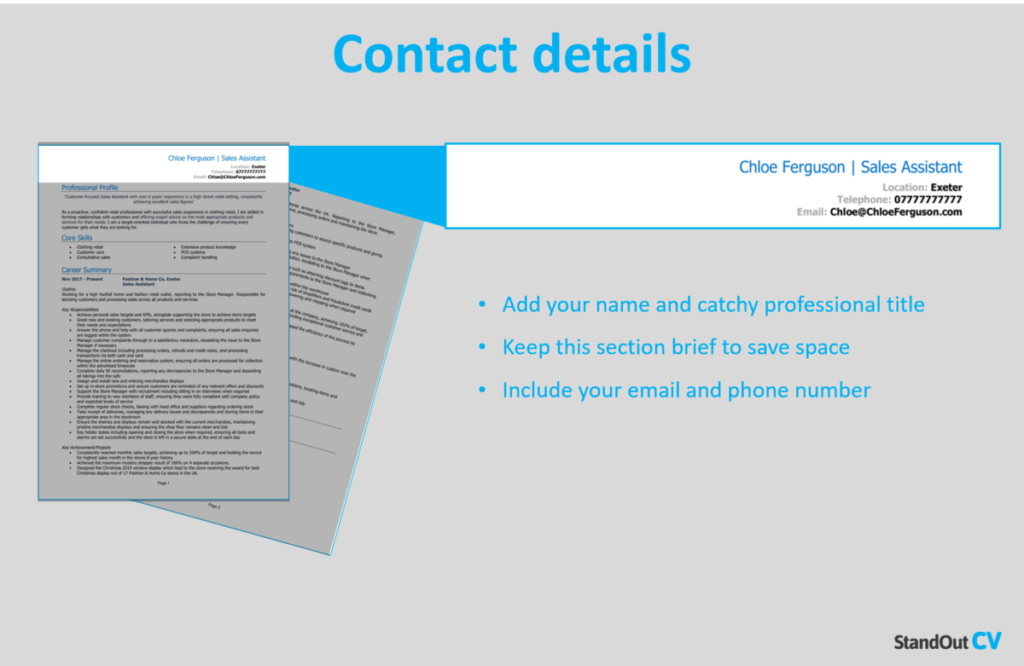 CV profile
A profile is an introductory statement that should be placed at the top of your CV underneath your contact details. This feature is designed to summarise your skills, experience and qualifications and show why you are perfect for the role – enticing recruiters to read more.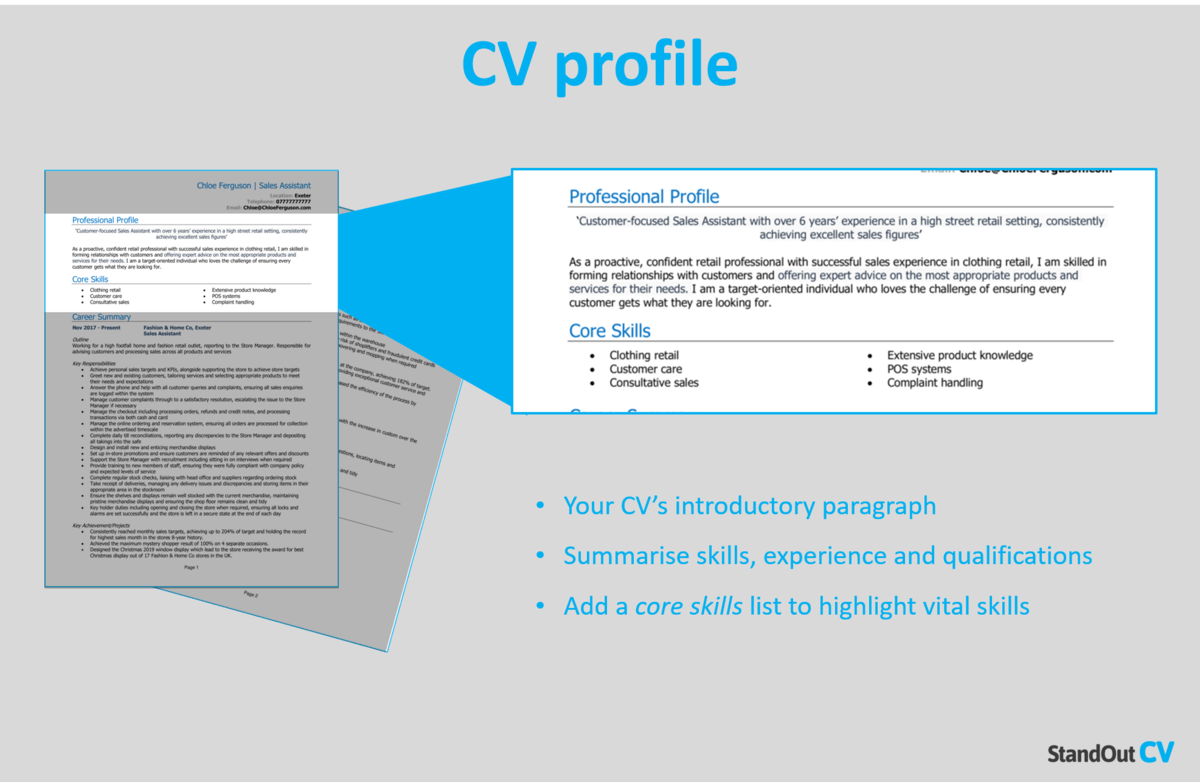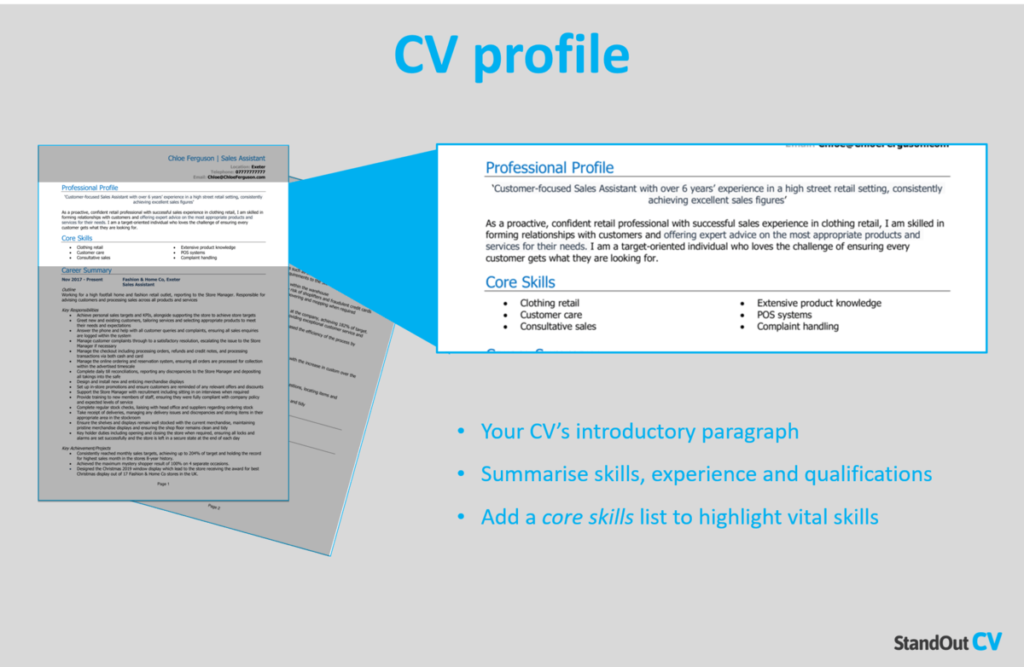 Work experience
The work experience section is the place to list both your current and previous jobs and what skills you gained from these roles. This section should be listed in reverse chronological order as employers will be most interested in your more recent work. If you have any relevant voluntary work or placements that you think might make a difference to your application, they can also be included here.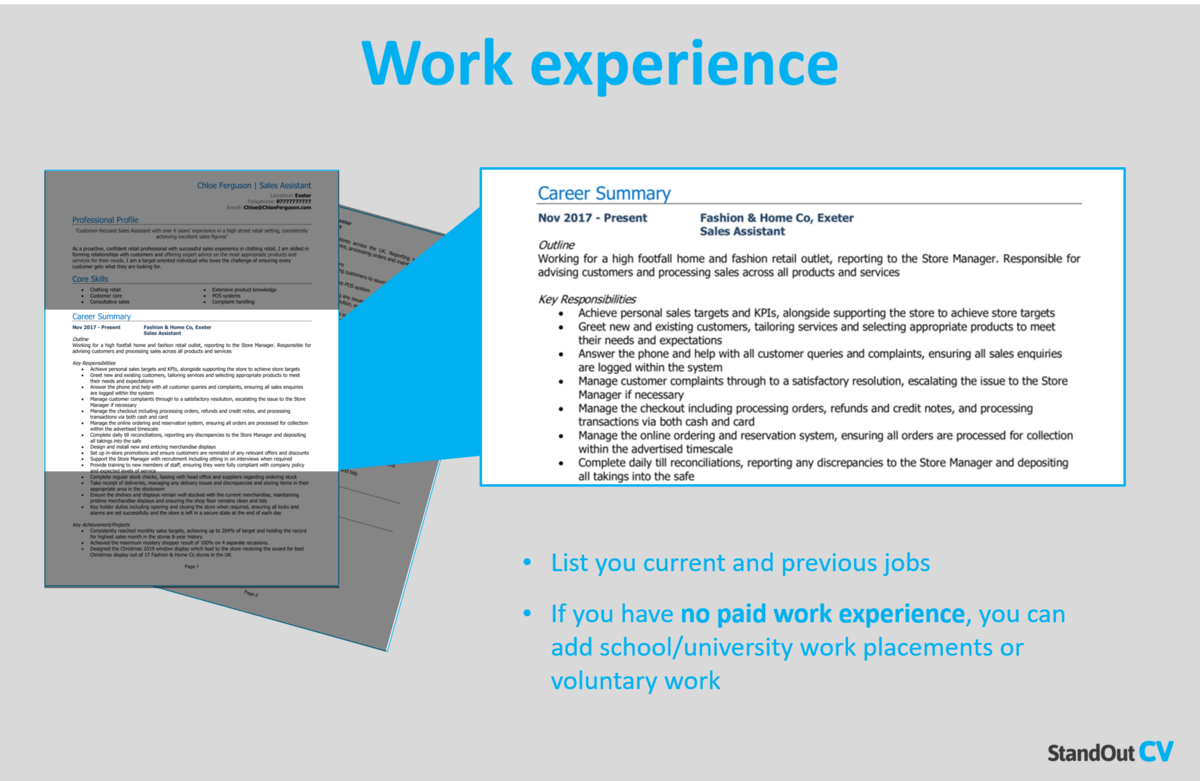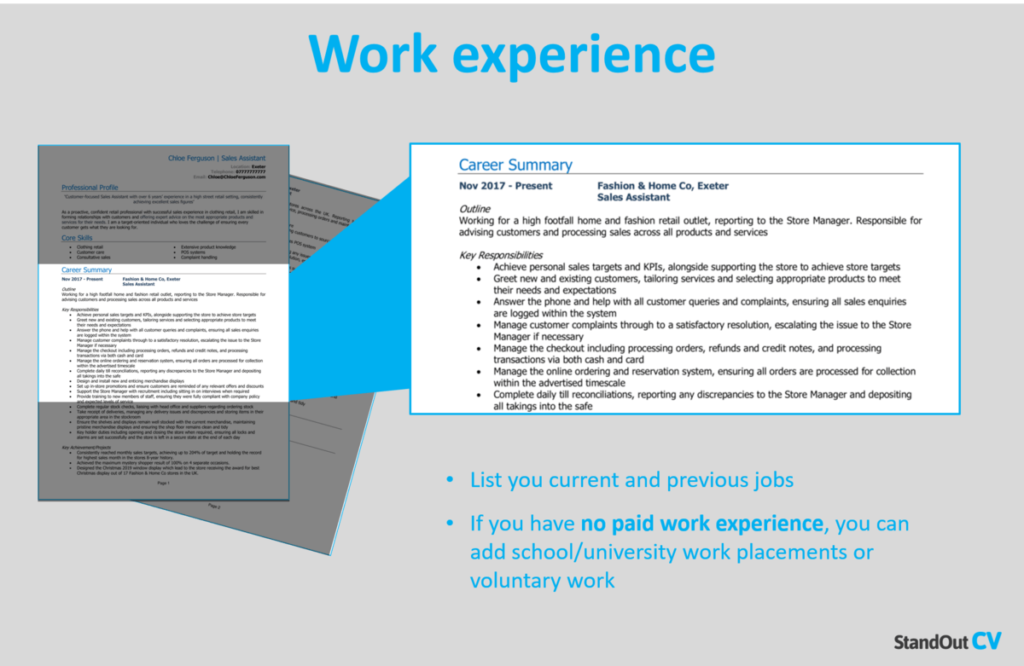 Education and qualifications
An education section should share a brief summary of your qualifications and achievements. Less experienced candidates should give more detail here to make up for lack of work exposure.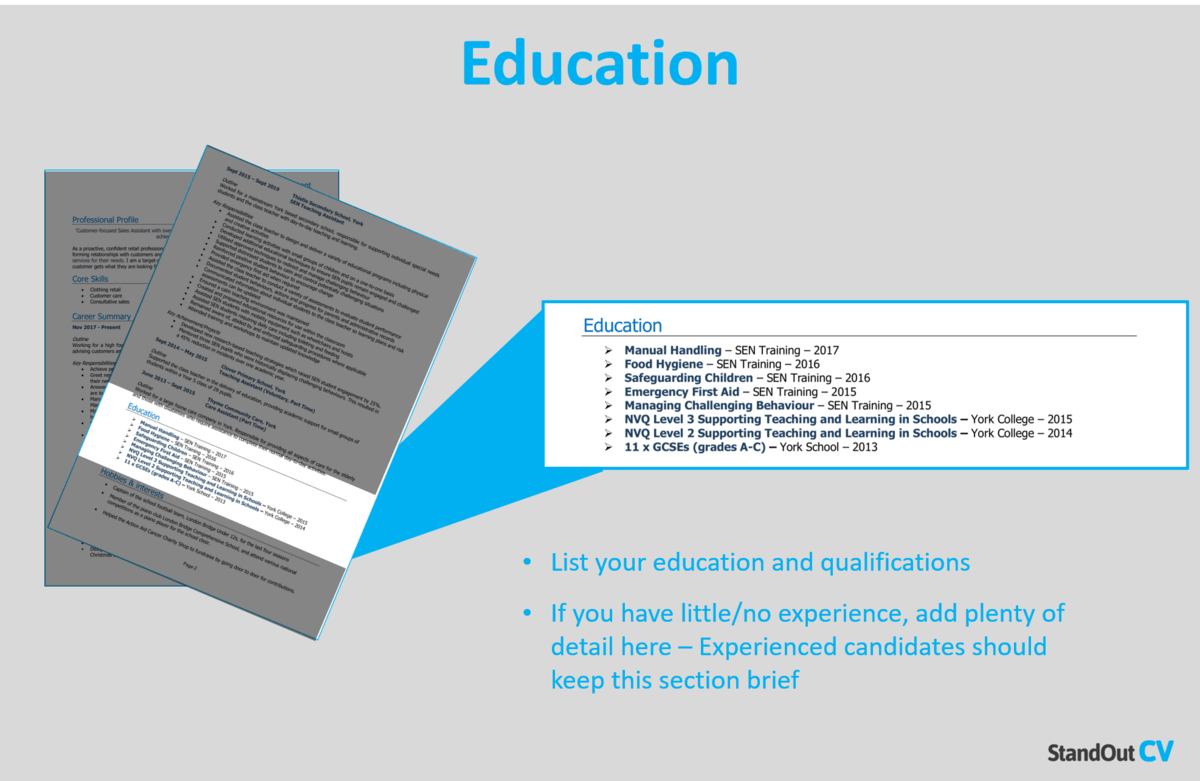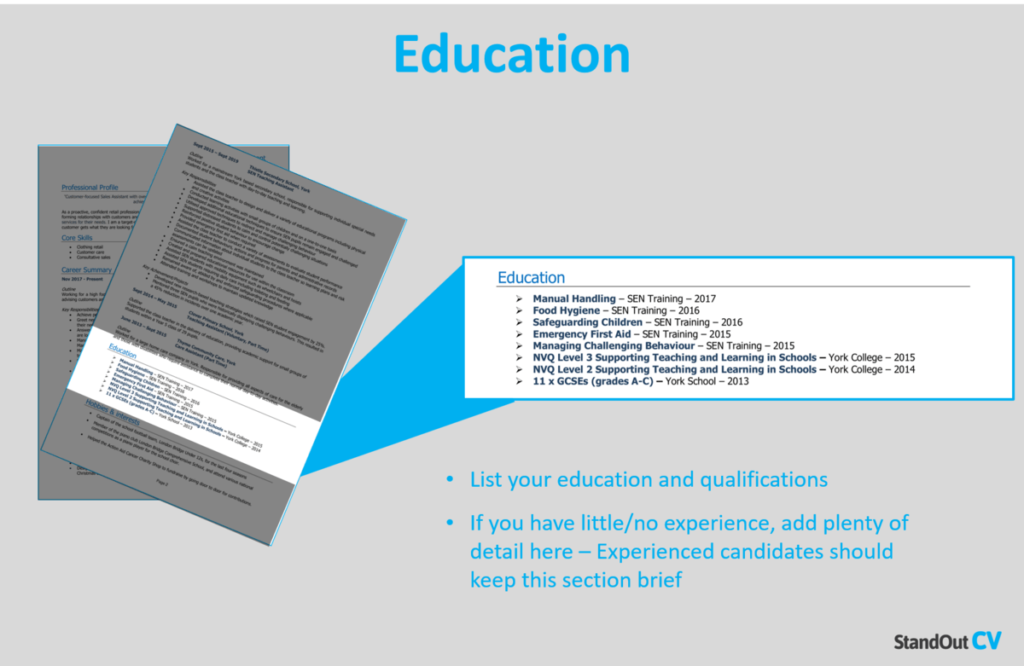 Hobbies and interests (optional)
If you have any relevant hobbies or interests to the role, these can be good to include – especially if you have little or no suitable experience.
What do employers look for in a CV?
Employers review CVs to determine whether or not the candidate is suitable for the job, and if they should invite them to interview. Employers look for a number of positive signals within every CV they review to make this decision
These include:
A professional appearance to the document
Well-formatted information that is easy to read and navigate
Roles you have held and responsibilities you have held
Relevant educational qualifications
Skills that are relevant to the role
Relevant achievements that have made an impact on previous employers
Facts and figures that back up claims made (e.g. sales figures, financial savings etc.)
Employers will also check to see if there are any inconsistencies within the document. These might be spelling errors, timing errors or time lapses that have not been explained.
CV VS resume
A resume is simply another word for CV. The term CV is used in the UK and mainland Europe, whereas "resume" is used in the USA, Canada, Australia and New Zealand
Resumes and CVs both contain the same vital information (profile, job history, education) and follow the same rules for length and format. Both are provided in written documents, basic and simple in colour scheme and font. They are both used for job applications in the same way, by sending them to employers or recruiters.
History of the Curriculum Vitae
The Curriculum Vitae takes its name from the Latin for 'course of life'. It has had quite a long life of its own so far. The history of the curriculum vitae is truly quite interesting.
First created by Leonardo da Vinci back in the 1400s for the Duke of Milan
Submitted in the 1940s with information such as weight and gender
Hobbies and interests make an appearance in the Sixties
The internet provides multiple opportunities to upload or add CV's to various job websites
Leonardo da Vinci has been credited with creating the first professional CV back in the 1400s. He is said to have prepared a list of his skills and achievements for the Duke of Milan. The Duke was searching for military engineers, and he had the relevant skillset.
CV's were used throughout the 20th century, with applicants submitting them in a similar manner to now. However, they looked much different in the early 20th century and included plenty of irrelevant information. These included such things as weight and gender.
It wasn't until the 1960's that the hobbies and interests section became popular to include. Around this time, weight, gender, and other irrelevant information ceased to be included.
With the popularity of the World Wide Web, CV's changed once again. With the invention of job websites such as Monster and LinkedIn came the opportunity to include a CV. These are often formatted as per the site's standards and may not look the same as a standard CV.