If you're looking for your first medical role, or want to take a step up the ladder, you need to write an attention-grabbing CV.
In order to land an interview, your CV has to be flawless and seamlessly showcase your relevant medical experience, skills and capabilities.
To help you do that, I've compiled 6 medical CV examples as well as a downloadable medical CV template and some handy CV tips and tricks.
Whether you're a dentist, doctor, nurse, or any other medical professional, this guide has got everything you need to create a top-quality medical CV.

Medical nurse CV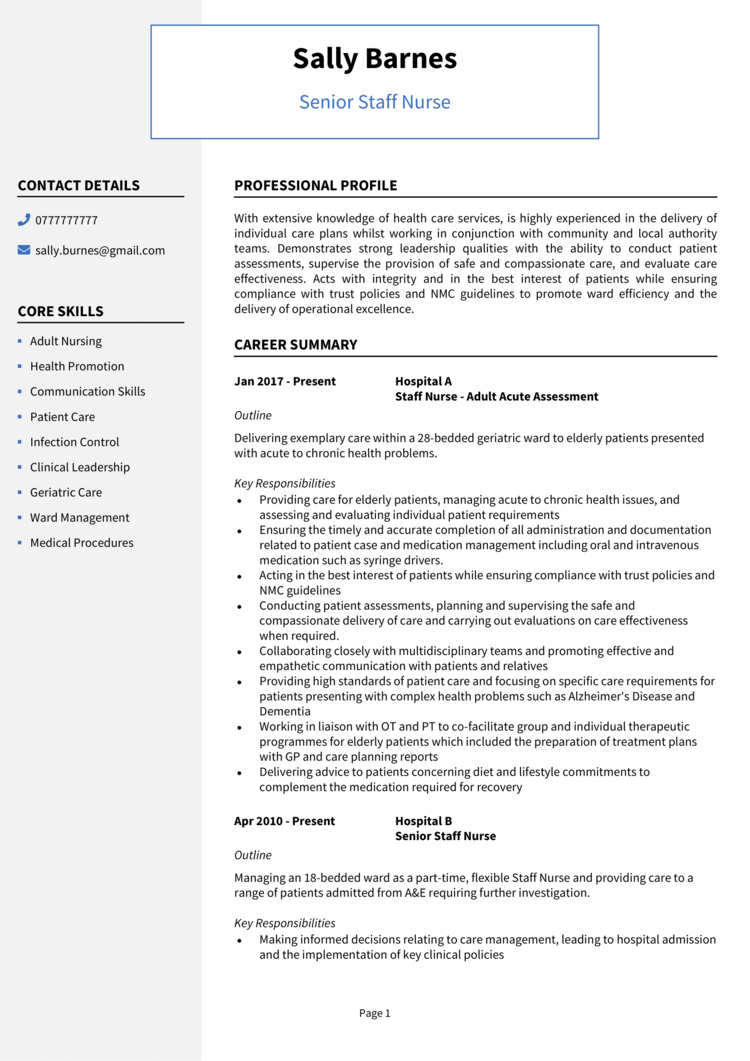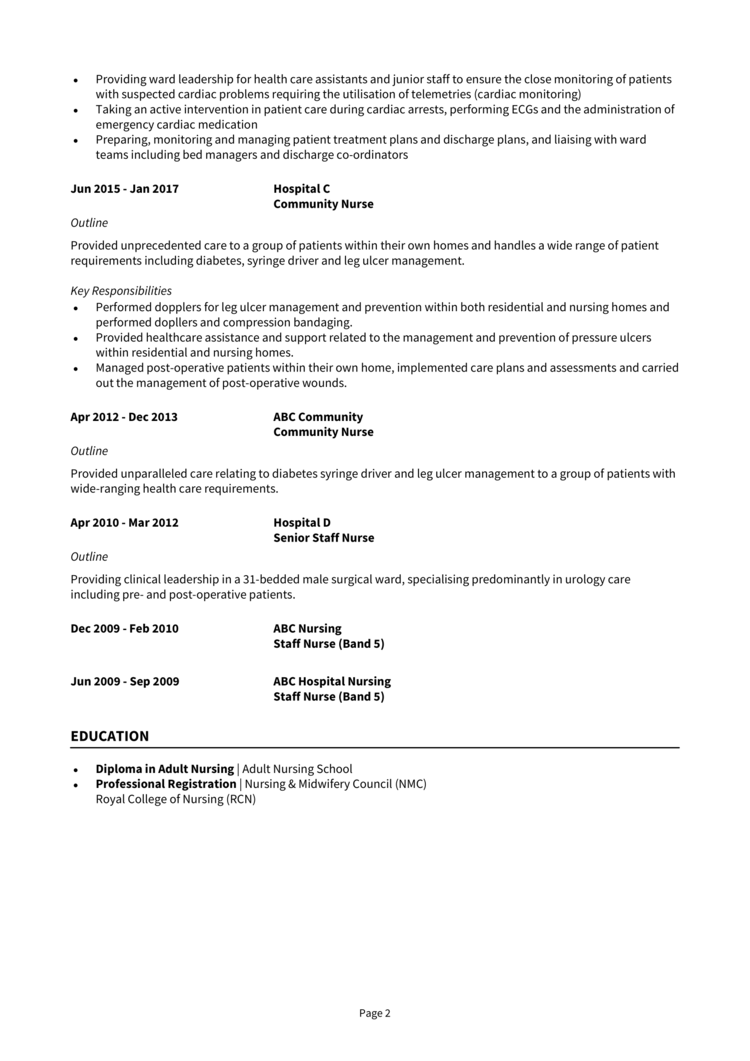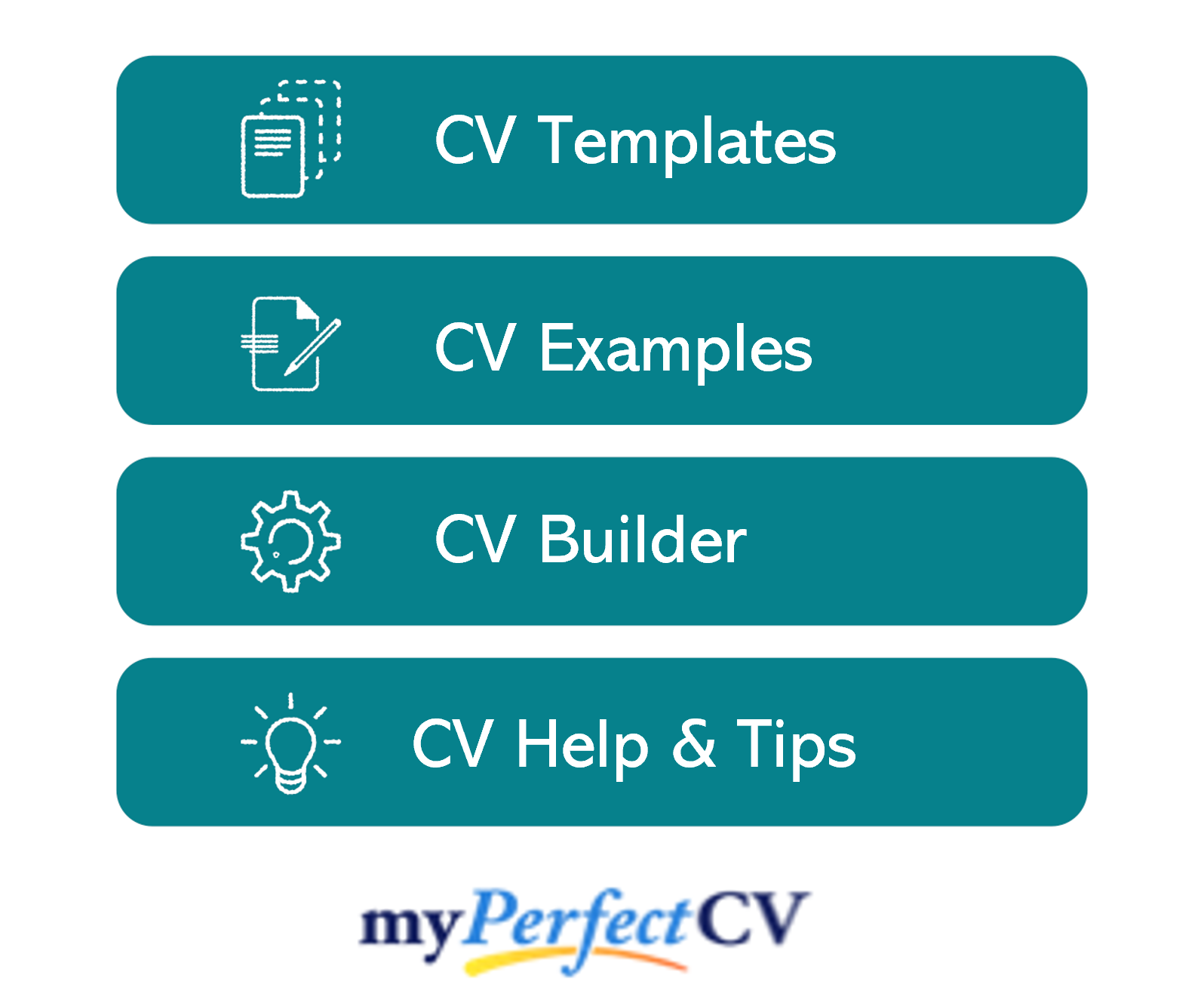 What makes this a good nurse CV?
A powerful CV profile
This nurse has crafted a punchy profile which gives recruiters a short and snappy summary of what they've got to offer.
They've given a high-level overview of their nursing experience, qualifications and skills, as well as the type of nursing environments they've worked in.
This will help busy medical recruiters to quickly gauge that they've got the necessary experience to carry out the role.
Quick tip: A poorly written CV will fail to impress recruiters and employers. Use our partner's CV builder to create a winning CV in minutes with professional templates and pre-written content for every industry.
An attention-grabbing core skills section
It goes without saying that nurses require a very specific set of skills, so a core skills section is absolutely vital.
Here, the candidate has matched up their skills with the ones listed in the job advertisement, allowing recruiters to see that they're the ideal candidate at a glance.
Often, recruiters only read the top section of a CV to make the initial shortlist. This core skills section, in combination with the profile, means the candidate immediately proves their value and would easily sail through a skim-read.
A well-structured career history
Nurses have countless duties and responsibilities, but the candidate has managed to keep this section organised and easy to navigate.
They've started with a brief outline of each nursing role, detailing the type of care they provided and the size of the ward that they worked on.
Then, they've used short, sharp and to-the-point bullet points to list their key duties, allowing the reader to skim through with ease.
In this particular example, the candidate also provided more detail on the roles more relevant to the job they're applying for and shortened it down for other, less-applicable experience.
Doctor CV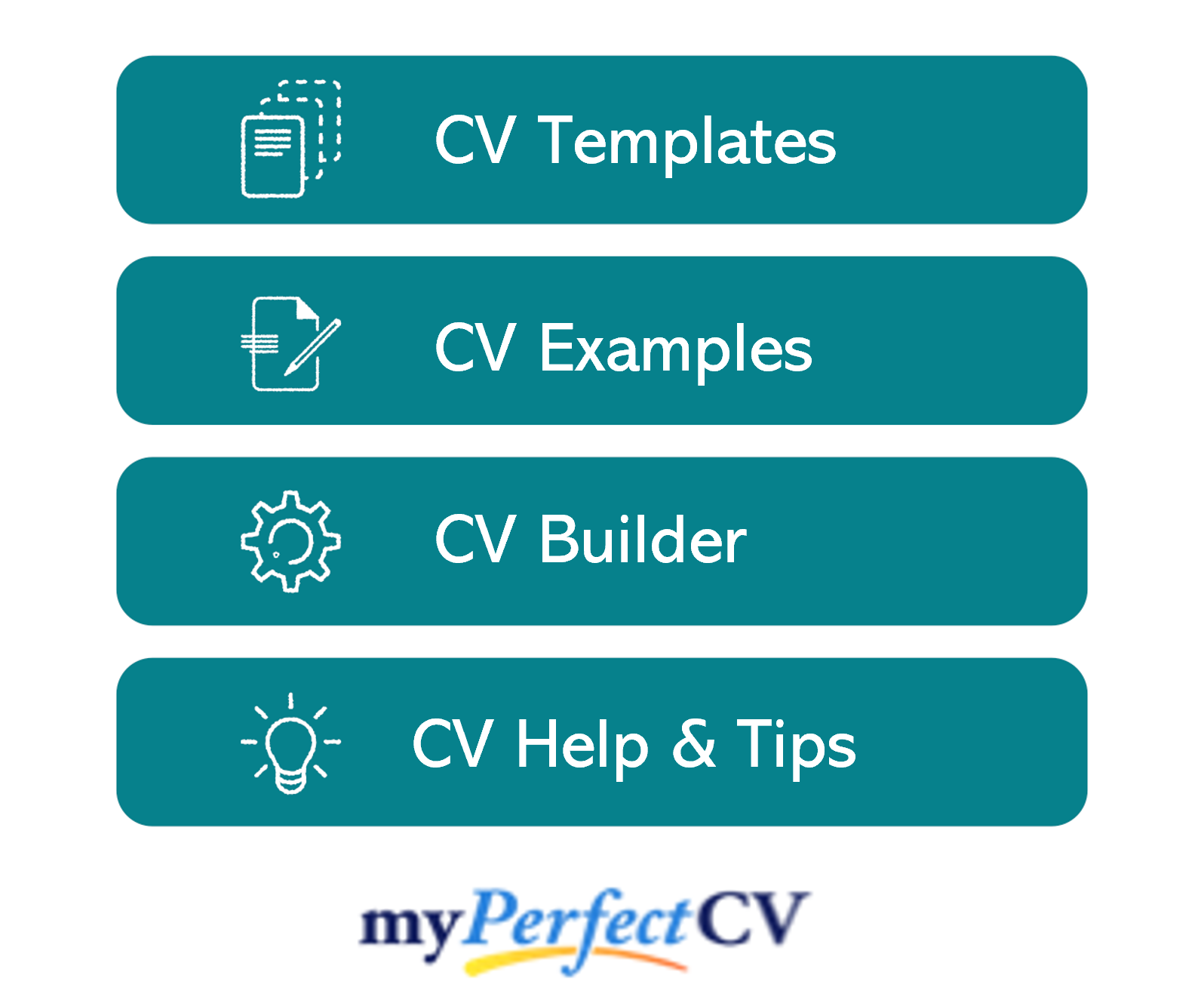 What makes this a good doctor CV?
A powerful CV profile
This doctor CV starts with a strong personal profile (which is called a personal statement for junior doctors) which grabs the reader's attention.
It provides an overview of the candidate's top skills, such as patient assessments and effective treatment, whilst also providing a brief summary of their experience.
The profile provides just enough detail to convince recruiters that the candidate is well-matched to the role, but stays high-level enough to entice them to delve deeper into the CV.
An attention-grabbing core skills section
The candidate follows their profile with a snappy core skills section, which adds further impact to the top section of the CV.
Even if busy medical recruiters only skim-read CV's to begin with, their eyes are sure to be drawn to this list, allowing the candidate to stand out amongst the competition.
By tailoring the skills to the ones listed in the role advertisement, the candidate has seamlessly proved that they'd make an ideal hire.
A well-structured career history
Despite having several years of experience as a doctor, this candidate's work experience section is easy on the eye and wouldn't overwhelm recruiters.
The structure is simple but highly-effective, providing an outline of the role, a bullet-pointed list of their duties and a few key achievements to add extra impact.
They've also made sure to give some well-rounded context to each role; describing the size of the team they were part of, the type of organisation they worked at and who they reported to.
Quick tip: No matter how experienced you are, your CV shouldn't be more than 2 pages of A4 in length.
Key achievements
At the end of their most recent roles, this doctor has proved the impact they had on the organisation and its patient by listing 1-3 achievements.
They've also backed these up with hard facts and figures, such as winning an award and decreasing spend by 20%, to back up their claims.
This proves to recruiters that the candidate can provide an excellent standard of care.
Dentist CV
What makes this a good dentist CV?
A powerful CV profile
This dentist has made a great start to their CV, by summarising their dentistry knowledge and experience in a short, snappy profile section.
They have made sure to highlight relevant hard skills, such as diagnosis of dental problems, correction of bite problems and teeth whitening, to sell themselves to recruiters.
On top of this, they've added in their academic credentials and qualifications to further prove their suitability to the role.
An attention-grabbing core skills section
The candidate has added a core skills section just underneath their profile, which succinctly lists their relevant dental skills and almost jumps off the page at recruiters!
They've also tailored these skills to the desired candidate requirements listed in the job description, which immediately proves their suitability for the job.
A well-structured career history
A seasoned dentist's work experience can be vast, but this candidate has presented theirs in a way which is easy to read and emphasises their potential.
They've done so by starting with a brief outline of each role to provide context, which includes the type and size of the team they worked in, who they reported to and a very high-level overview of their duties.
Then, they followed up with a snappy, bullet-pointed list of their key duties and rounded up with 1 or 2 key achievements made in the role.
This simple yet effective structure provides a great reading experience for recruiters.
Key achievements
The candidate made sure the reader could understand the value they could bring to the employer, by incorporating achievements into their CV.
They add extra impact by quantifying their examples with metrics, such as 'increased monthly revenue by 17k'.
Pharmacist CV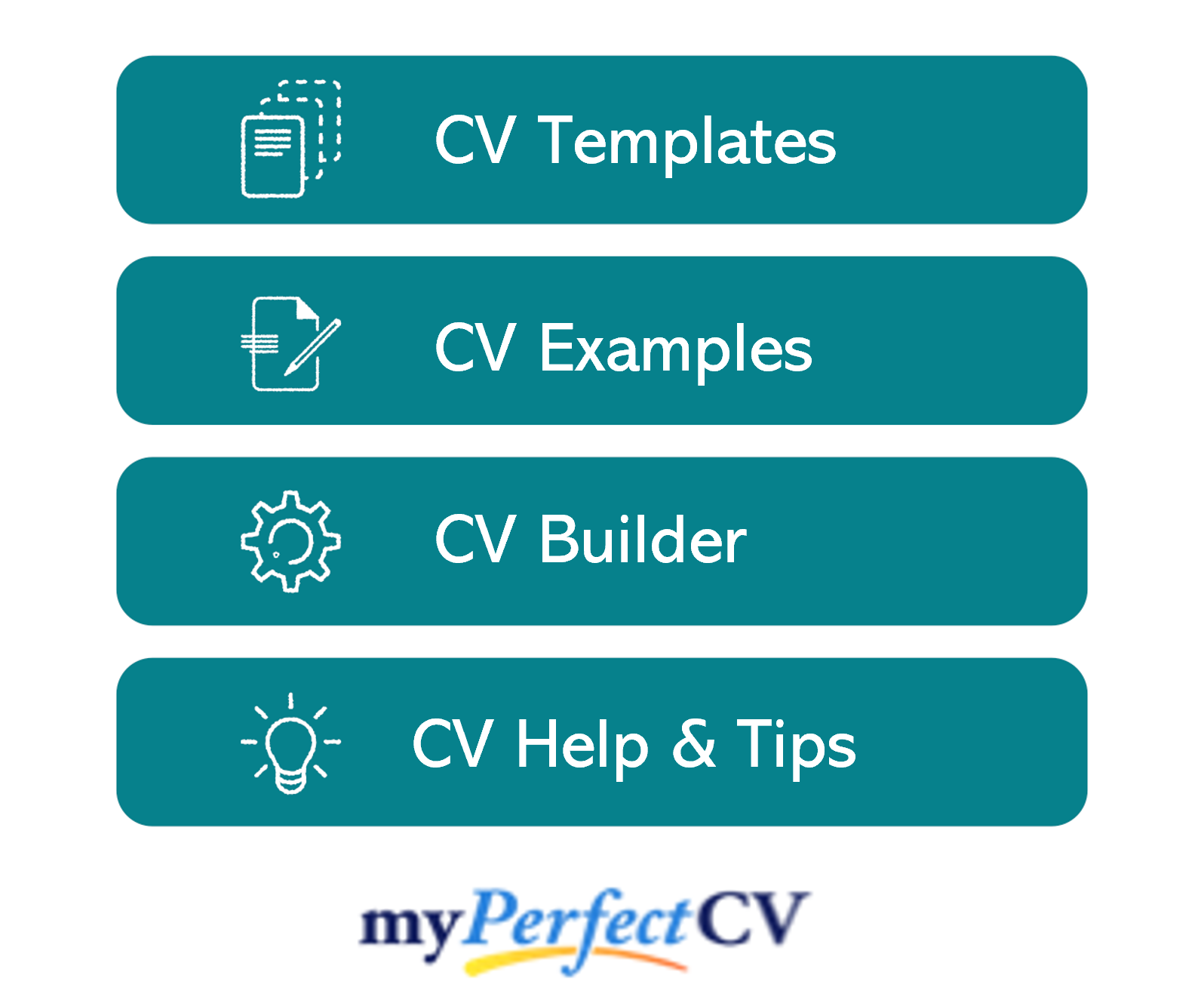 What makes this a good pharmacist CV?
A powerful CV profile
This pharmacist candidate has got one of the most crucial CV sections, the profile, spot on.
They've summarised their level of experience, relevant qualifications and incorporated some hard skills, such as dispensary of medication, to reel employers in and show them they're a top candidate.
Considering the profile is the first thing most recruiters read, they've done the right thing by keeping it short and punchy to really spark their attention.
An attention-grabbing core skills section
To boost the top section of their CV even more, this social worker has created a snappy core skills section, which forces their key skills to stand out on the page.
They made sure to cross-reference their skills with those listed in the job description and ensured they listed their most relevant skills first.
A well-structured career history
Despite having a lot of relevant work experience, this pharmacist has used savvy formatting and structure tricks to ensure it's easy for recruiters to navigate through the roles.
For each entry, they gave a brief overview of the position, then use bullet points for their key duties to facilitate ease of reading.
Lastly, they finished with a bang by picking 1-3 of their key achievements made within the role.
Key achievements
This candidate has successfully proven that they're capable of having a positive effect on both their patients and the wider running of the business.
Where possible, they've quantified their achievements by including facts and figures, such as 'Increased prescription count by an average of 17% year on year'.
This backs up the claims and adds further emphasis to the statement.
Phlebotomist CV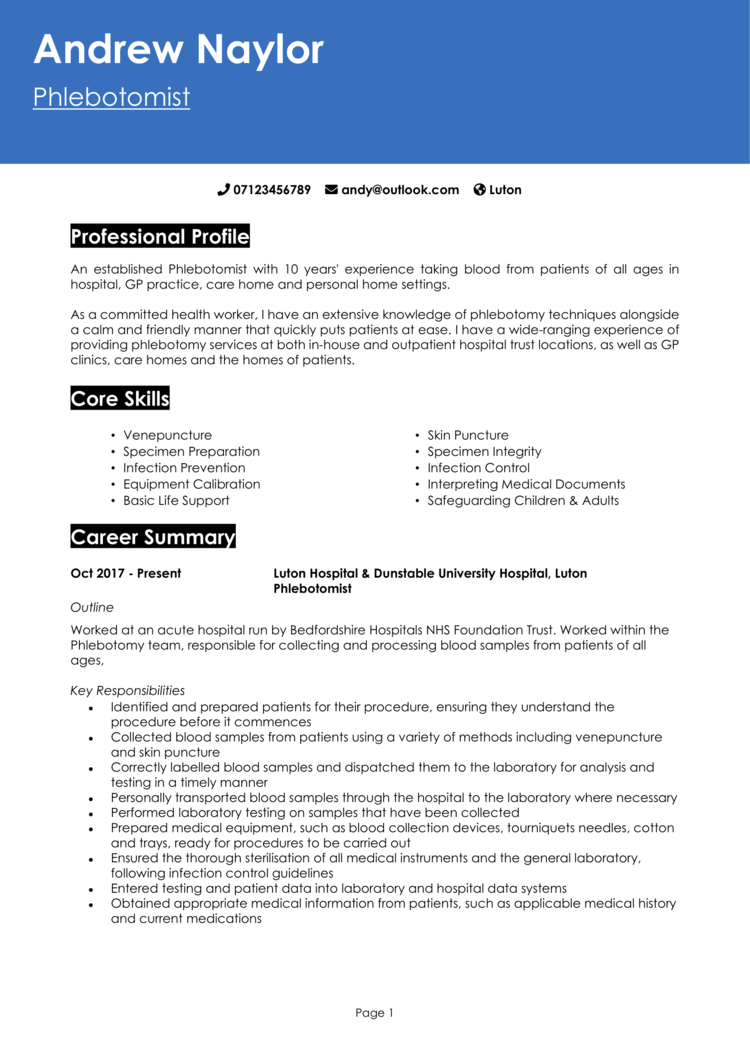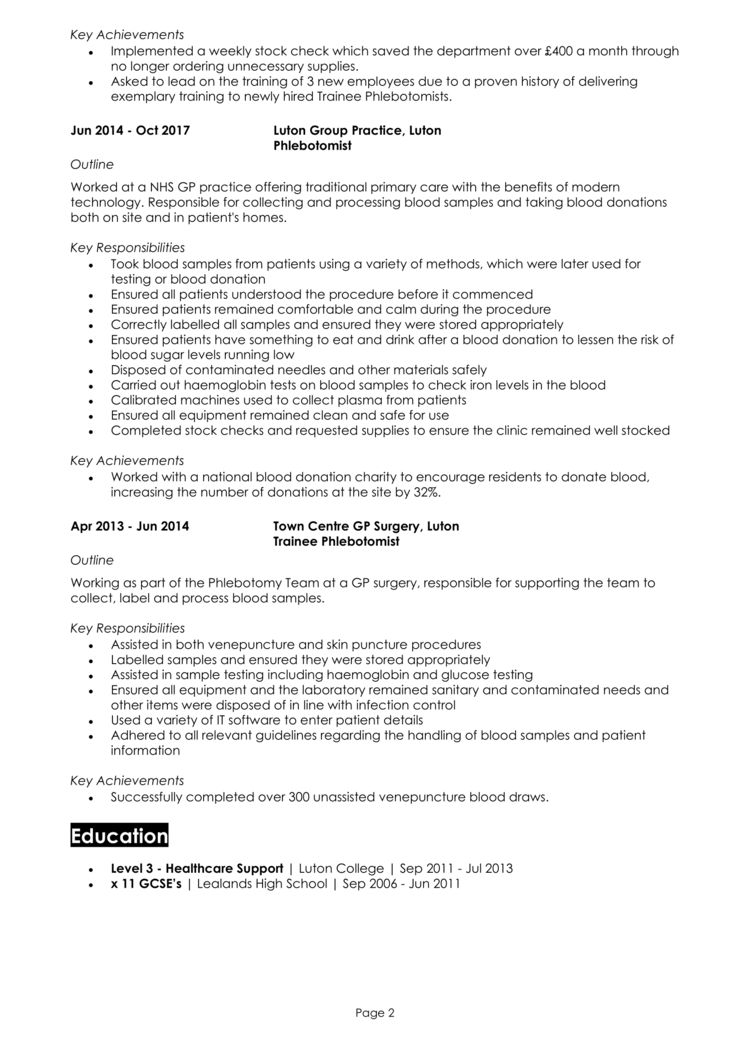 Medical advisor CV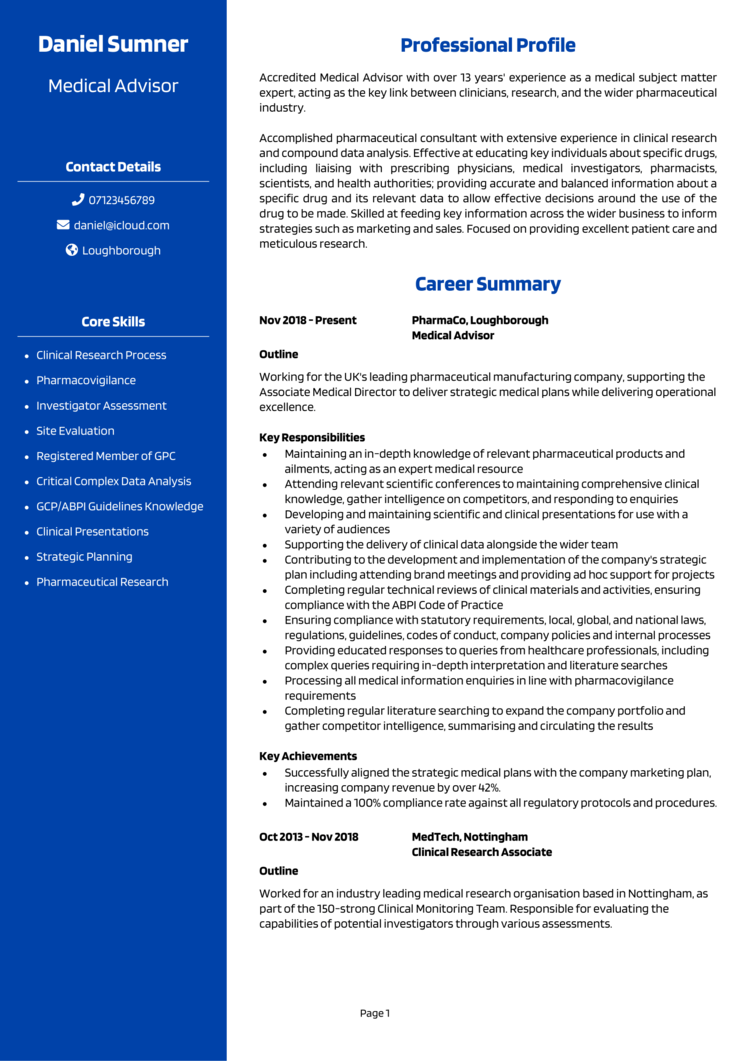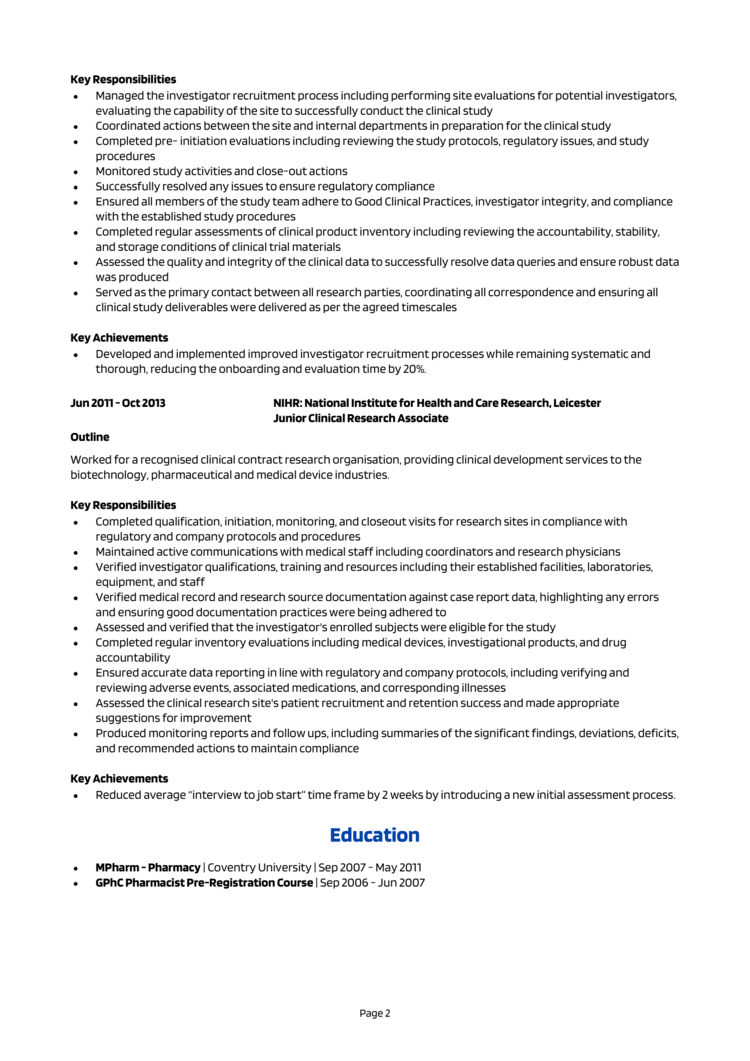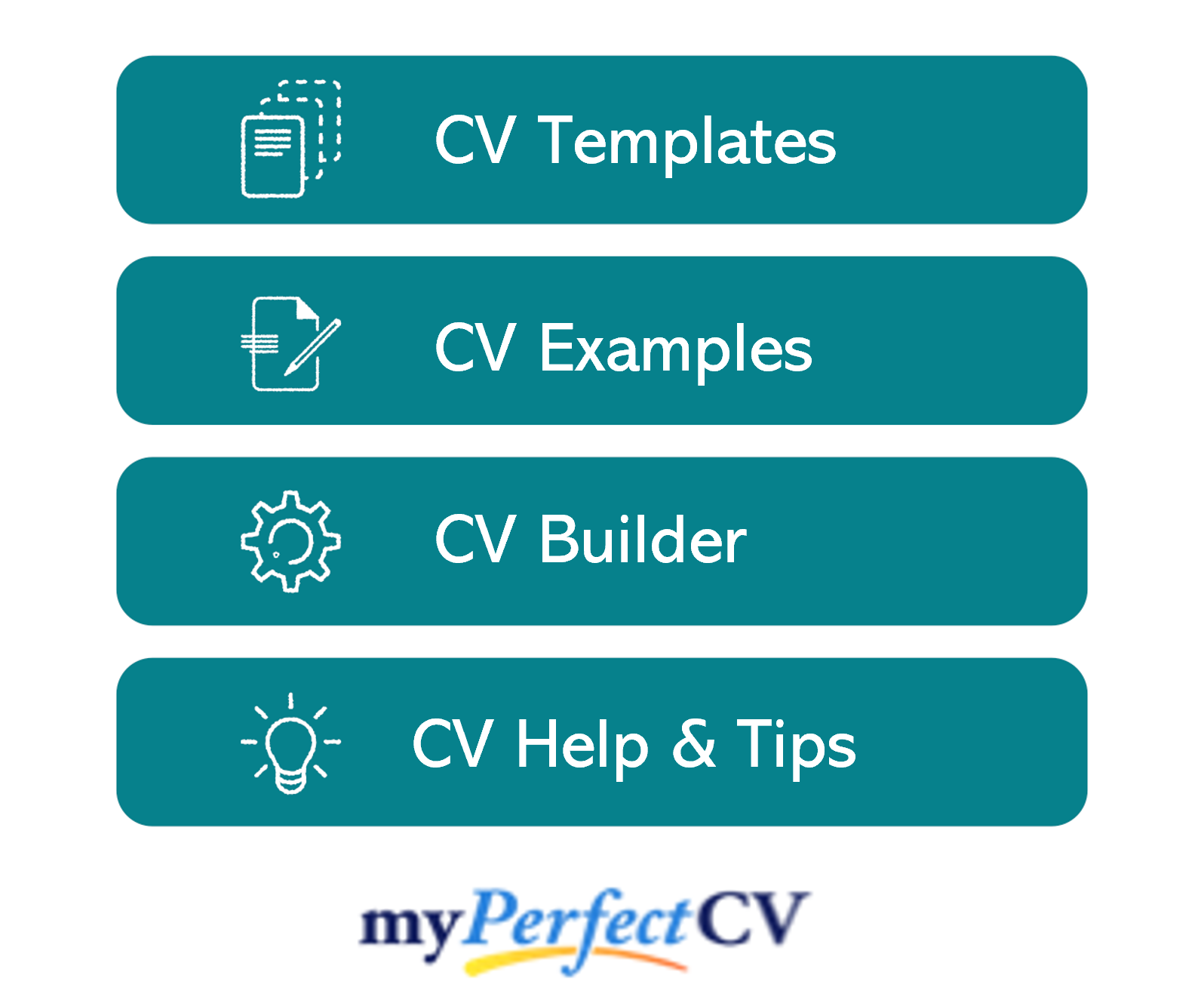 Healthcare assistant CV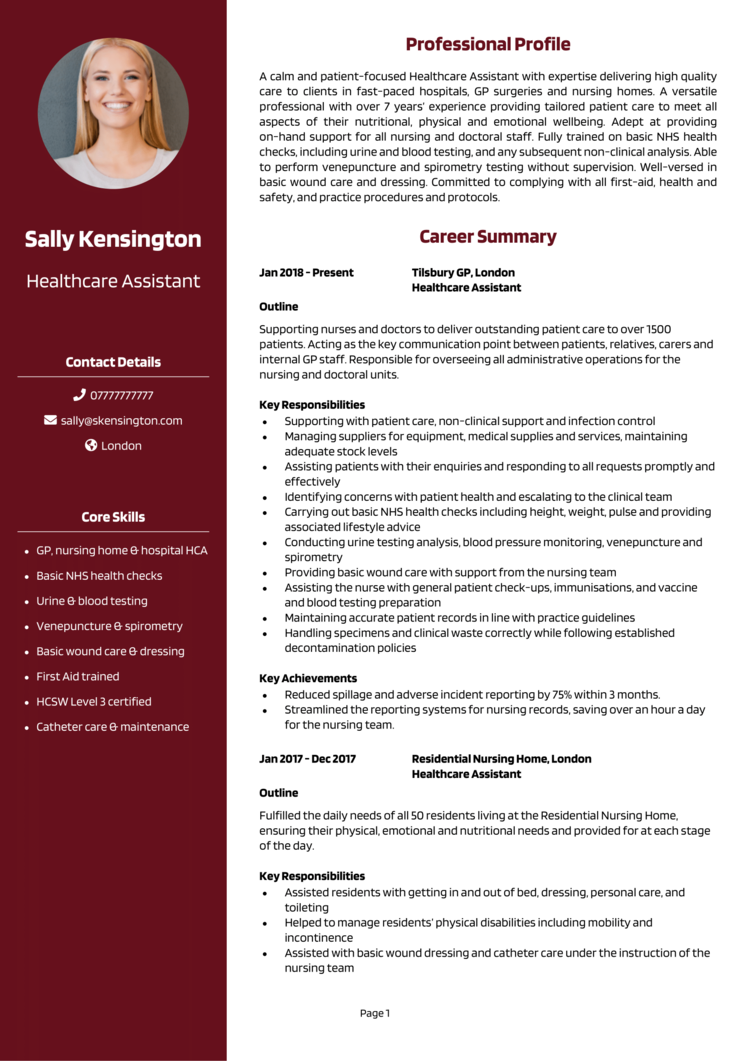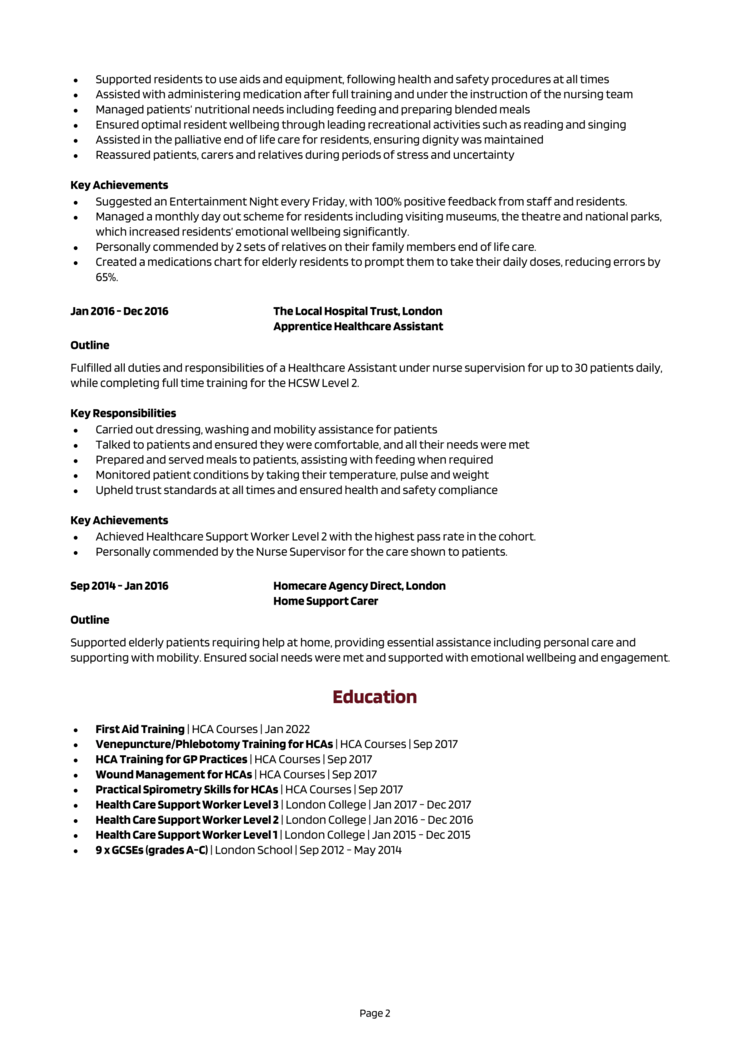 Medical student CV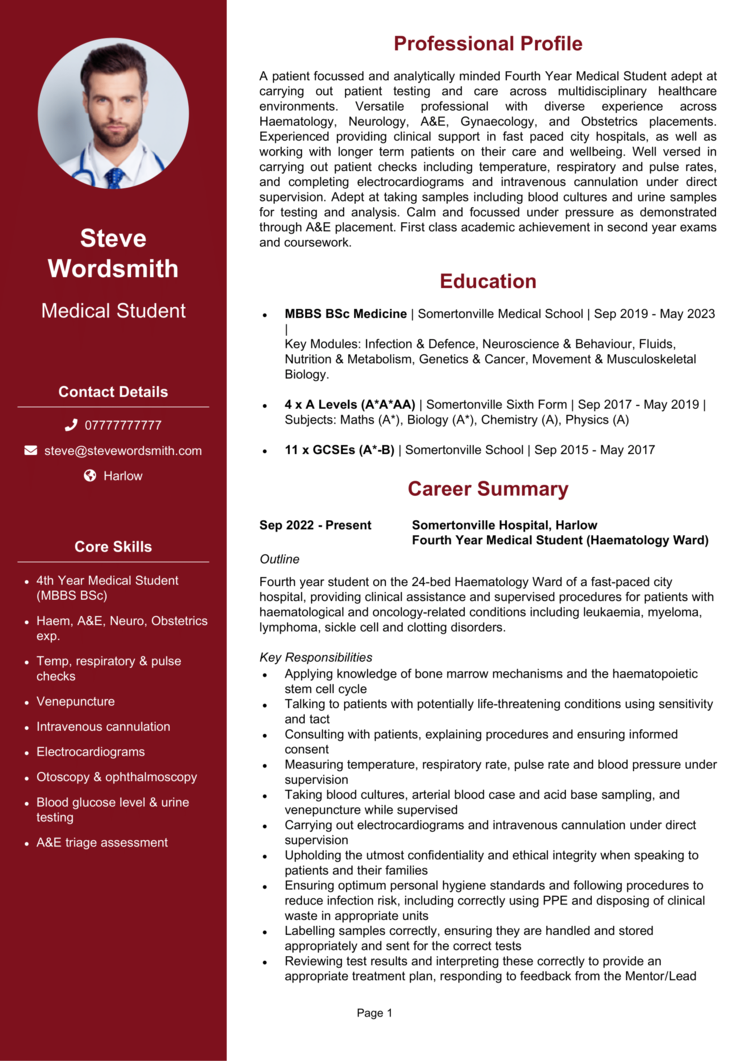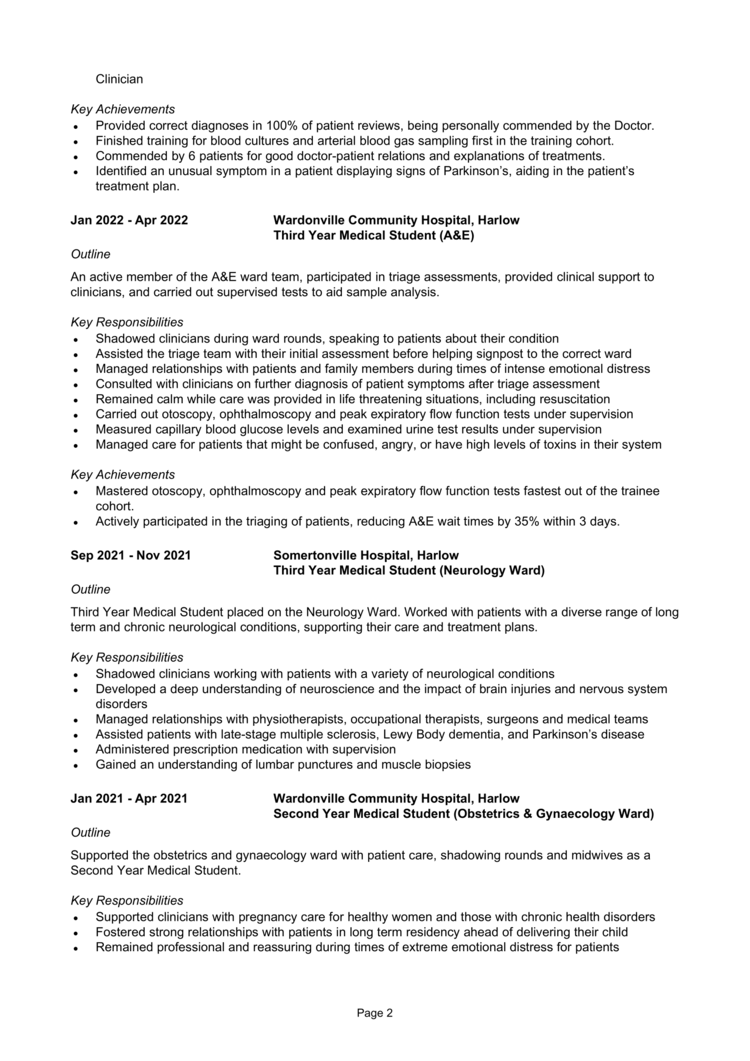 Social worker
What makes this a good social worker CV?
A powerful CV profile
The candidate effectively kicks off their CV with an attention-grabbing summary of their key assets. They confidently detail their Masters in Social Work qualification, sum-up their relevant experience and demonstrate their social work skills, such as the ability to demonstrate respect and empathy towards clients.
This is sure to catch recruiters' eye, making it clear they're a candidate worth considering and enticing them to read further into the CV.
An attention-grabbing core skills section
This social worker used the job description and sector research to figure out which of their skills would be most valued by the employer. Then, they worked these into a columned and bullet-pointed core skills section.
This means that recruiters' would gauge that the candidate holds the necessary skills, even if they were merely skim reading the application.
A well-structured career history
This candidate has done a great job of detailing her university placements and work history, in a way which easily-digestible and well-organised.
To do this, they headed each role with a brief introduction, which contains an overview of the role and the type of care provided. Then, they added depth by listing their key responsibilities and proved their value by rounding off with 1-3 key achievements.
This allows recruiters' to easily navigate the section and understand the impact made within each role.
Key achievements
This candidate is at the beginning of their career, but they've effectively drawn out key achievements from their university placements, to show they're capable of outstanding work.
For example, they stated that they 'consistently transformed the BRAG level five cases to level two', proving they made a real difference to the organisation they worked for.
In your own profile, highlight your value by detailing your achievements, making sure to back them up with hard facts and figures.
Administrator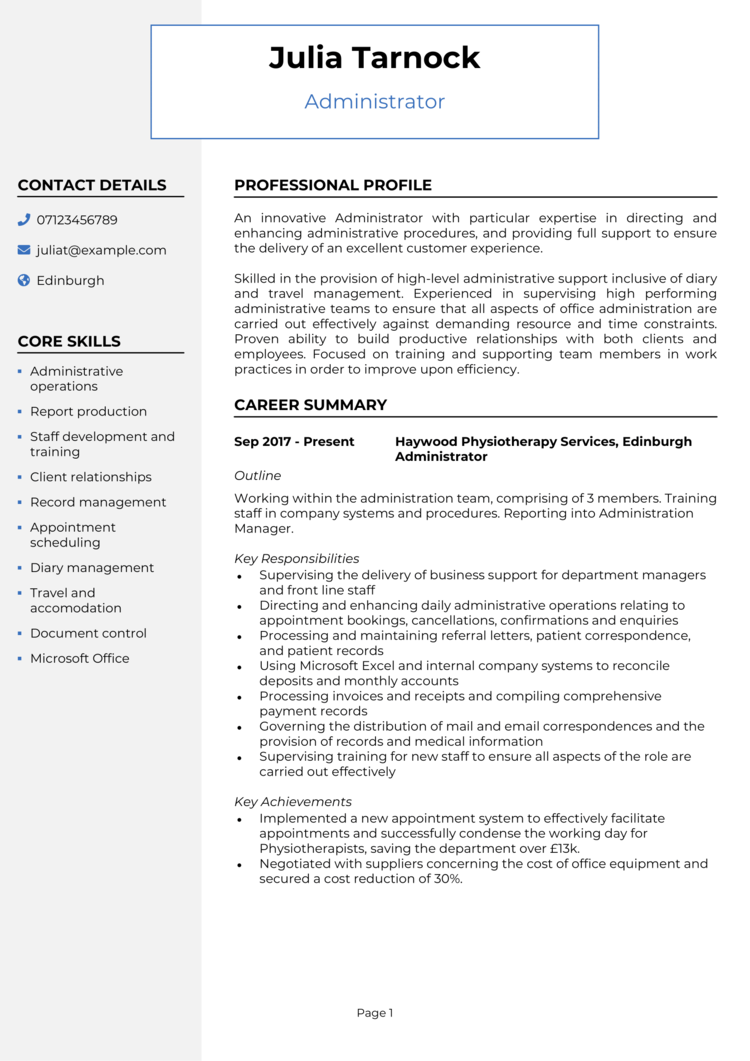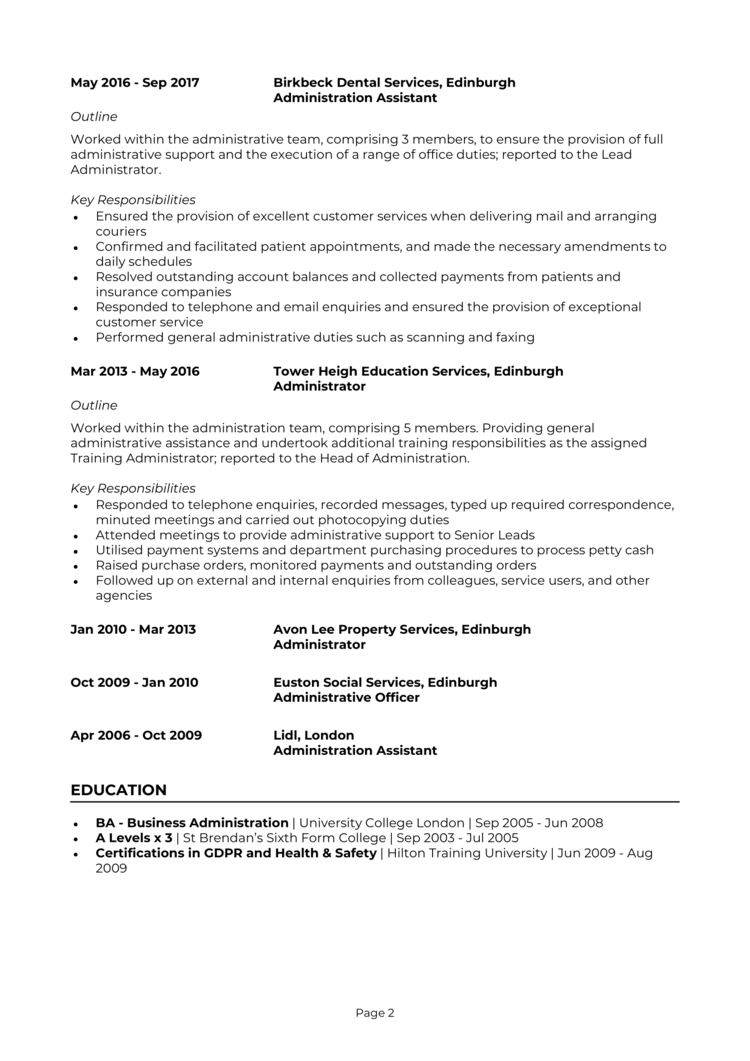 What makes this a good admin CV?
A powerful CV profile
This experienced administrator has started their CV with a sales-pitch style summary which puts across their key selling points.
As admin roles often get lots of applications, this is sure to help them stand out from the crowd when recruiters are skimming through CVs – after all, it's probably the first thing they'll read.
They've made a point of putting across some hard skills, such as data collection and presentation, which is sure to catch employer's eyes.
An attention-grabbing core skills section
The candidate has boosted the top section of their CV even more by creating a bullet-pointed list of key skills, which has been formatted into columns to help them stand out.
This gives recruiters a great snapshot of their suitability for the role, even if they're only quickly glancing through a pile of applications.
A well-structured career history
This administrator has been super savvy with their work experience section.
They have plenty of experience in customer service roles but has chosen to keep these sections short and, instead, focus on their more relevant administrator experience.
Using a simple structure, which includes an overview, a list of duties and 1-3 key achievements has ensured the section is pleasant to read.
Key achievements
As an experienced administrator, a recruiter would be keen to see the impact this candidate has had in their previous roles.
By including a couple of key achievements at the end of the relevant roles, the candidate has made it clear that they can generate great results.
They boosted these achievements further by backing them up with facts and figures, for example, 'Secured valuable contracts typically earning £50k pa with renowned companies'.
Medical CV template – making it work for you
Now that you've got a good idea of what makes a great medical CV, you'll be able to create your own and secure those interviews.
To make the process easier, make sure to download this CV template. It's already structured and formatted, so all you have to do is fill it in with interview-winning content.
If you focus on optimising the top part of your CV with a powerful profile and eye-catching core skills section and include plenty of quantified achievements, you're sure to leave a lasting impression on recruiters.
Good luck with your job search!