Lab technicians are the backbone of any scientific research project, and this is the ideal role for anyone with vast scientific knowledge who wants to be part of something special.
What's more, lab techs can work in a range of exciting industries, and the demand for these professionals is on the rise, making salaries more competitive and job security even higher!
So, if you're hoping to sell yourself on your CV and bag your next role as a lab technician, you can do so using our example lab technician CV and top tips below.
Guide contents
Lab Technician CV example
Structuring and formatting your CV
Writing your CV profile
Detailing work experience
Your education
Skills required for your Lab Technician CV

Lab Technician CV example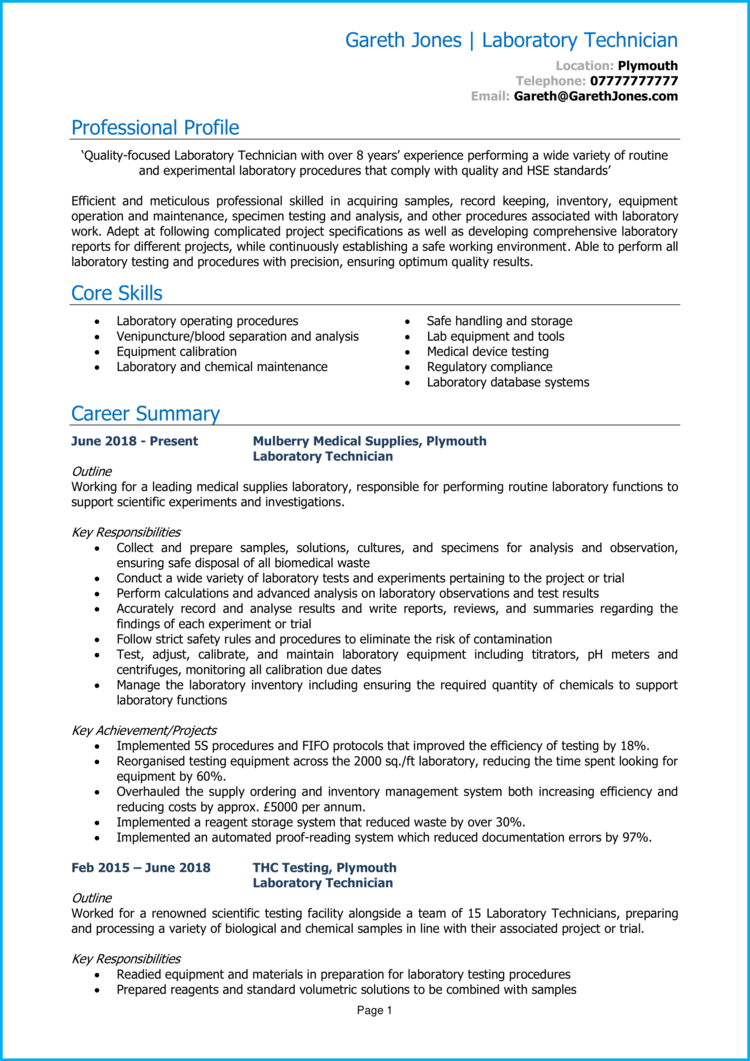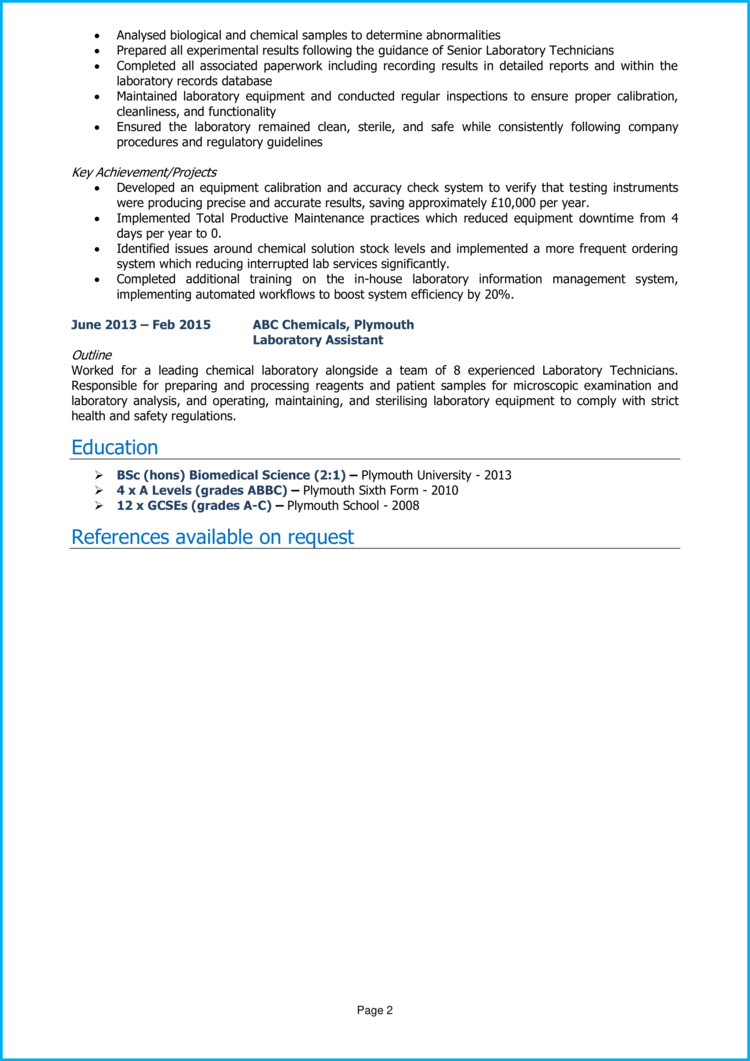 Before you start writing your own CV, take a look at the example Lab Technician CV above to give yourself a basic understanding of the style and format that recruiters and hiring managers prefer to see.
Also, take note of the type of content that is included to impress recruiters, and how the most relevant information is made prominent.
Lab Technician CV structure and format
First impressions count, so a sloppy, disorganised and difficult-to-read CV won't do you any favours.
Instead, perfect the format and structure of your CV by working to a pre-defined structure and applying some simple formatting tricks to ease readability.
Don't underestimate the importance of this step; if your CV lacks readability, your written content won't be able to shine through.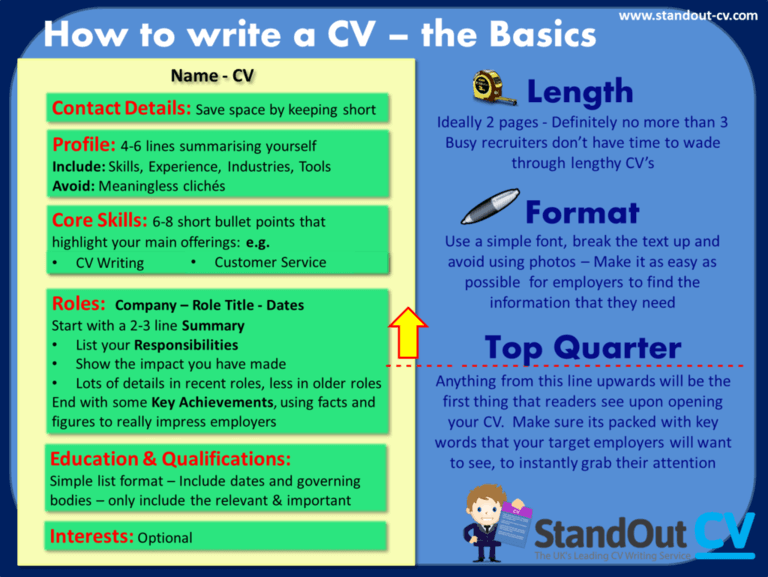 Formatting Tips
Length: Think that submitting a five page CV will impress recruiters? You're wrong! Even if you've got tons of experience to brag about, recruiters don't have time to read through overly detailed CVs. Keep it short, concise and relevant – a CV length of 2 sides of A4 pages or less is perfect.
Readability: Columns, lists, bullet points, bold text and subtle colour can all help to aid the readability of your CV. Your overarching goal should be to make the content as easy to read and navigate as possible, whilst also aiming to make your key skills and achievements stand out.
Design: It's generally best to stick to a simple CV design, as funky or elaborate designs rarely add any value to your application. A clear, modern font and a subtle colour scheme work perfectly and allow your skills, experience and achievements to speak for themselves.
Avoid photos: Logos, profile photos or other images aren't necessary and rarely add any value – save the space for written content, instead!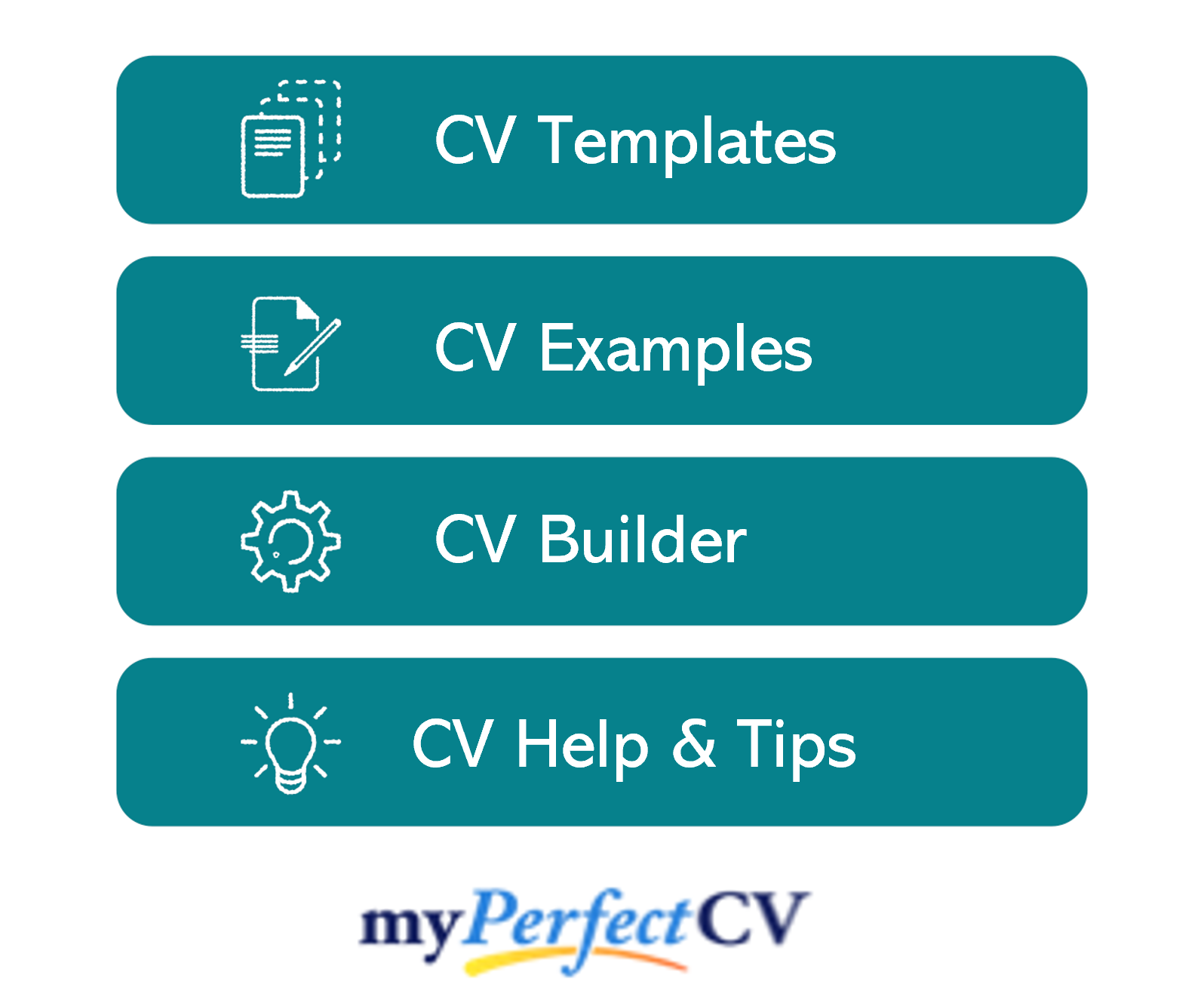 Structuring your CV
When writing your CV, break up the content into the following key sections, to ensure it can be easily digested by busy recruiters and hiring managers:
Contact details – Always list these at the very top of your CV – you don't want them to be missed!
Profile – An introductory paragraph, intended to grab recruiters attention and summarise your offering.
Work experience / career history – Working from your current role and working backwards, list your relevant work experience.
Education – Create a snappy summary of your education and qualifications.
Interest and hobbies – An optional section to document any hobbies that demonstrate transferable skills.
Now I'll guide you through exactly what you should include in each CV section.
CV Contact Details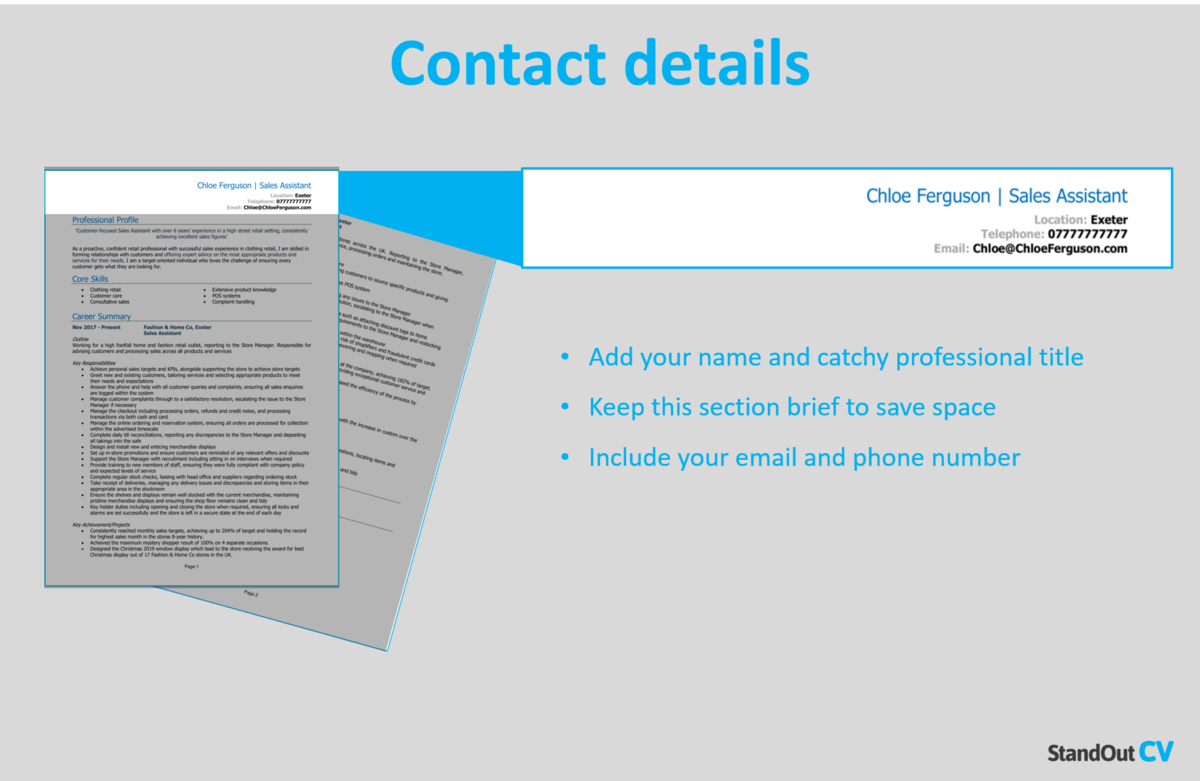 Begin by sharing your contact details, so it's easy for employers to give you a call.
Keep to the basics, such as:
Mobile number
Email address – It should sound professional, with no slang or nicknames. Make a new one for your job applications if necessary.
Location – Simply share your vague location, for example 'Manchester', rather than a full address.
LinkedIn profile or portfolio URL – Remember to update them before you send your application.
Lab Technician CV Profile
Your CV profile (or personal statement, if you're an entry-level applicant) provides a brief overview of your skills, abilities and suitability for a position.
It's ideal for busy recruiters and hiring managers, who don't want to waste time reading unsuitable applications.
Think of it as your personal sales pitch. You've got just a few lines to sell yourself and prove you're a great match for the job – make it count!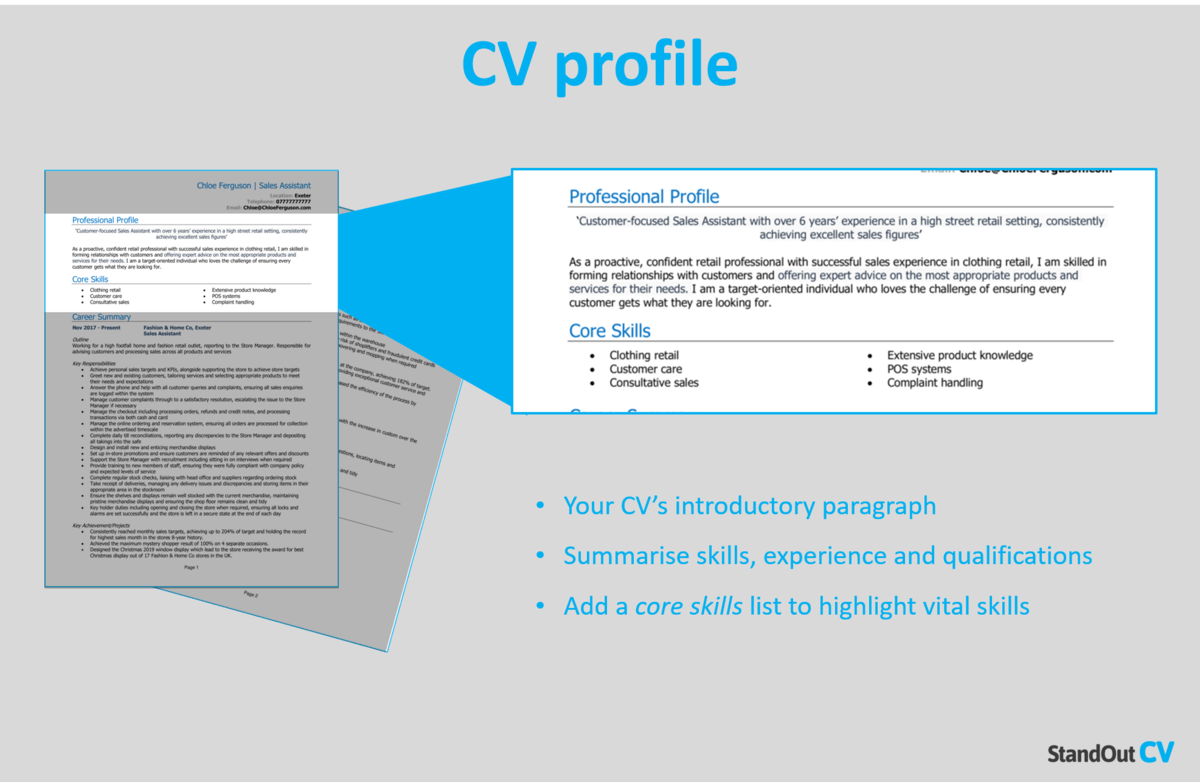 Tips for creating an impactful CV profile:
Keep it brief: Recruiters are busy, so to ensure your profile is actually read, it's best to keep it short and snappy. 3-5 punchy lines makes for the perfect profile.
Tailor it: If recruiters don't see your suitability within a few seconds, they may close your CV straight away. Your CV profile should closely match the essential requirements listed in the job ad, so make sure to review them before you write it.
Don't add an objective: Want to talk about about your career goals and objectives? While the profile may seem like a good space to do so, they're actually much better suited to your cover letter.
Avoid cliches: Clichés like "blue-sky thinker with a go-getter attitude" might sound impressive to you, but they don't actually tell the recruiter much about you. Concentrate on highlighting hard facts and skills, as recruiters are more likely to take these on board.
What to include in your Lab Technician CV profile?
Summary of experience: Recruiters will want to know what type of companies you've worked for, industries you have knowledge of, and the type of work you've carried out in the past, so give them a summary of this in your profile.
Relevant skills: Employers need to know what skills you can bring to their organisation, and ideally they want to see skills that match their job vacancy. So, research your target roles thoroughly and add the most important Lab Technician skills to your profile.
Essential qualifications: Be sure to outline your relevant Lab Technician qualifications, so that anyone reading the CV can instantly see you are qualified for the jobs you are applying to.
Quick tip: Your CV is your first impression on recruiters, so it's vital to avoid spelling and grammar mistakes if you want to appear professional. Use our partner's CV builder to add pre-written content that has been crafted by recruitment experts.
Core skills section
Next, you should create a bullet pointed list of your core skills, formatted into 2-3 columns.
Here, you should focus on including the most important skills or knowledge listed in the job advertisement.
This will instantly prove that you're an ideal candidate, even if a recruiter only has time to briefly scan your CV.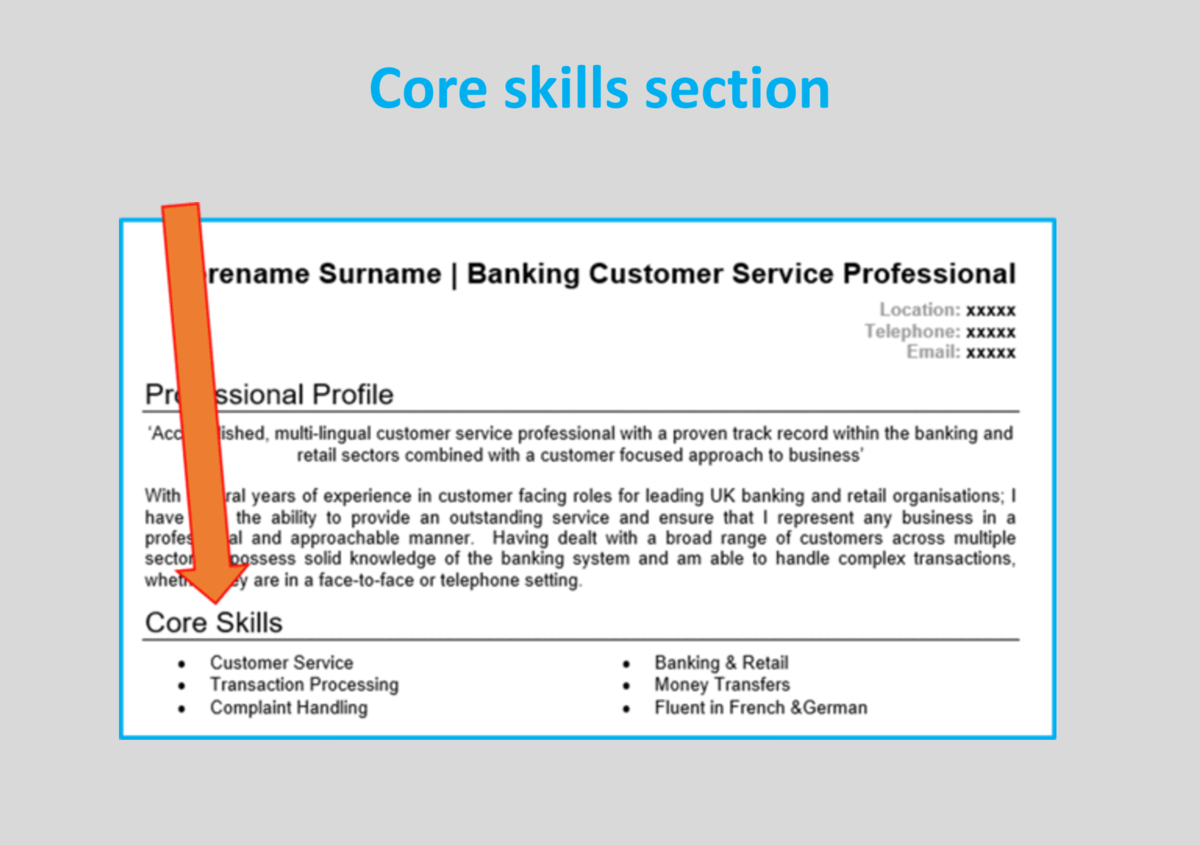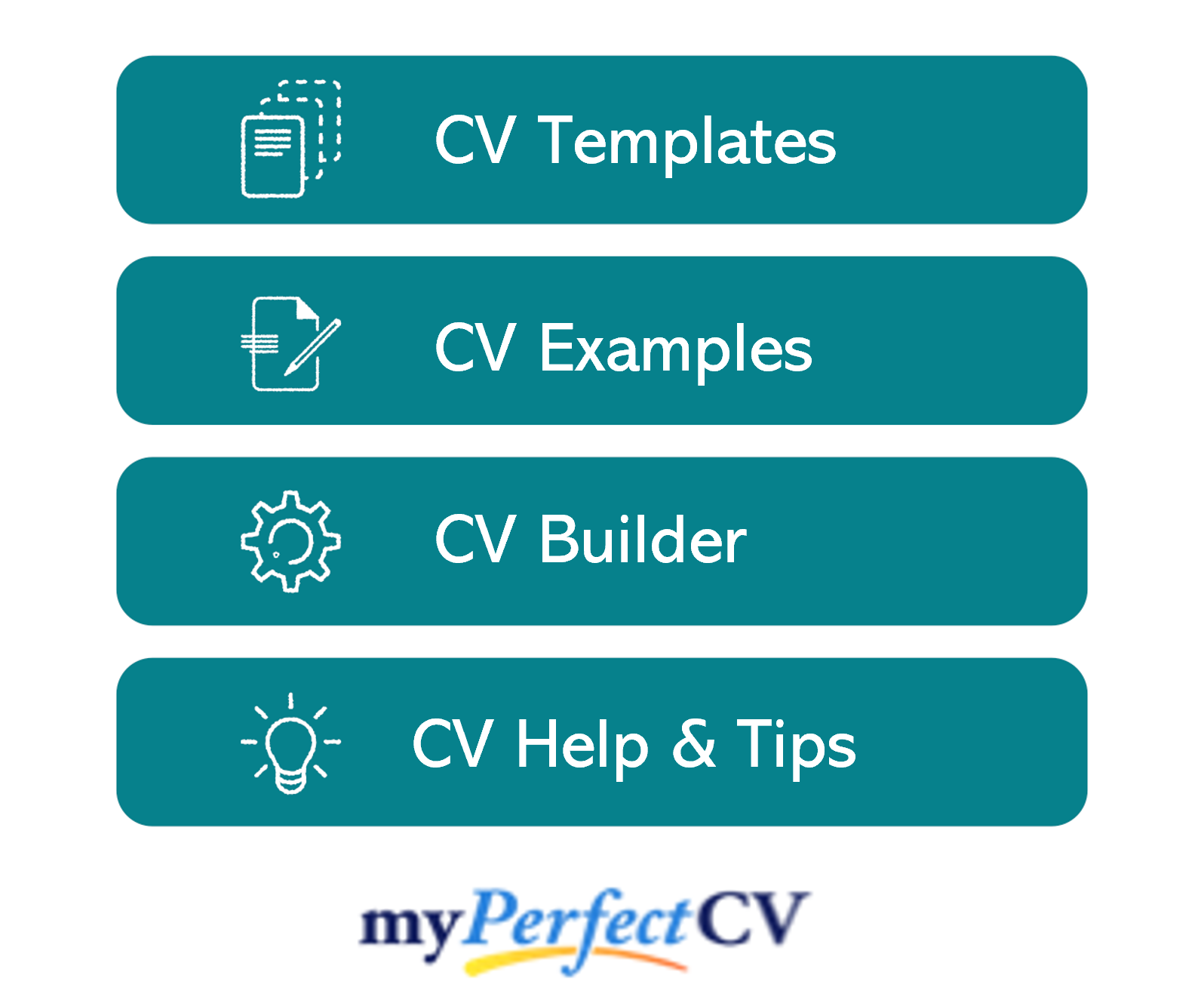 Work experience/Career history
Recruiters will be itching to know more about your relevant experience by now.
Kick-start this section with your most recent (or current) position, and work your way backwards through your history.
You can include voluntary and freelance work, too – as long as you're honest about the nature of the work.
Structuring your roles
Whilst writing your CV, it's essential to look at it from the eyes of a recruiter.
If they're met with giant blocks of text which are impossible to navigate, they might get frustrated and skip onto the next CV.
Instead, make use of the 3-step structure shown below, to give them a pleasant reading experience.
Outline
Provide a brief overview of the job as a whole, such as what the overriding purpose of your job was and what type of company you worked for.
Key responsibilities
Using easy-to-read bullet points, note down your day-to-day responsibilities in the role.
Make sure to showcase how you used your hard sector skills and knowledge.
Key achievements
Finish off by showcasing 1-3 key achievements made within the role.
This could be anything that had a positive effect on your company, clients or customers, such as saving time or money, receiving exemplary feedback or receiving an award.
Education
At the bottom of your CV is your full education section. You can list your formal academic qualifications, such as:
As well as any specific Lab Technician qualifications that are essential to the jobs you are applying for.
Note down the name of the qualification, the organisation at which you studied, and the date of completion.
Interests and hobbies
This section is entirely optional, so you'll have to use your own judgement to figure out if it's worth including.
If your hobbies and interests could make you appear more suitable for your dream job, then they are definitely worth adding.
Interests which are related to the industry, or hobbies like sports teams or volunteering, which display valuable transferable skills might be worth including.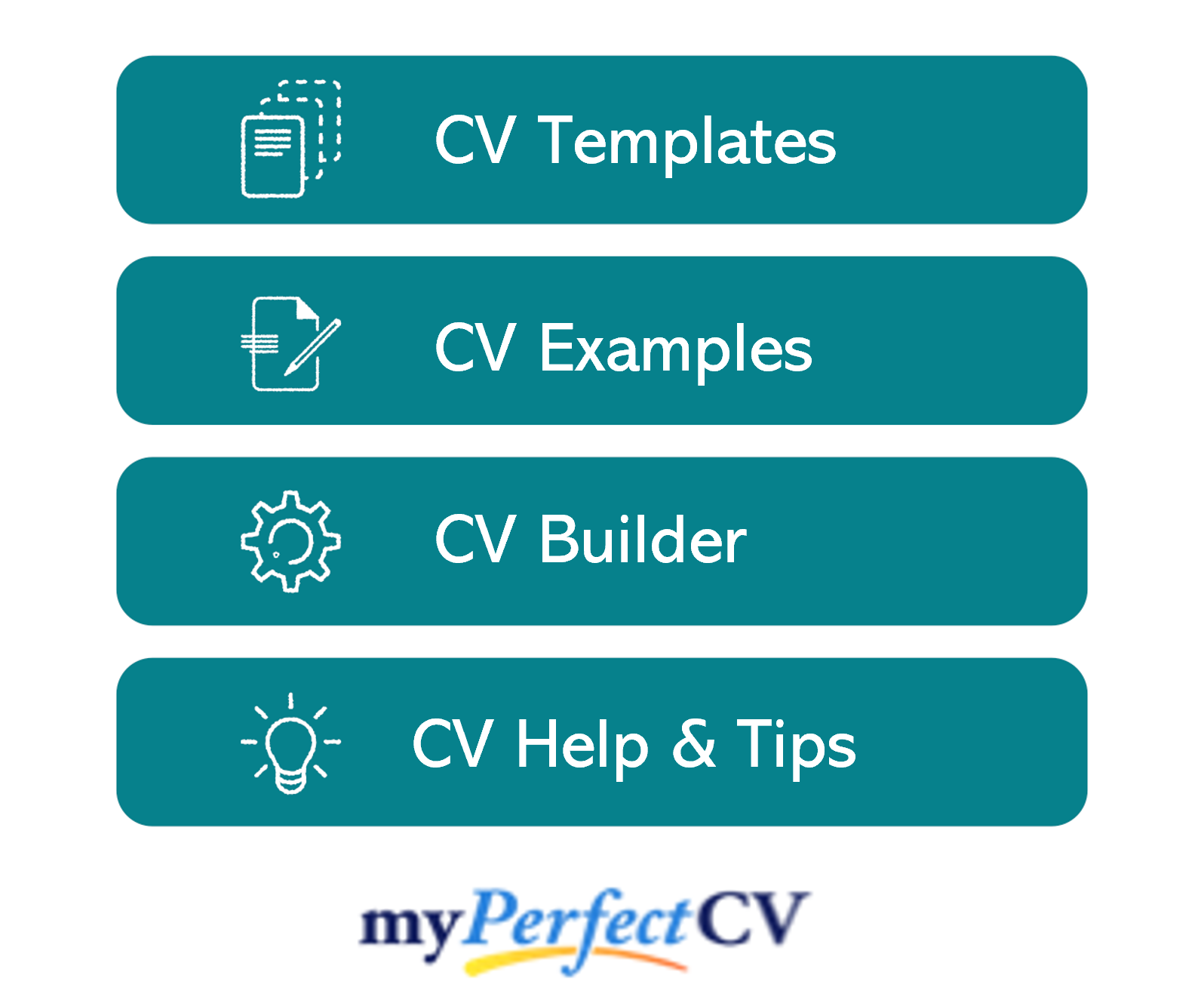 Essential skills for your Lab Technician CV
Tailoring your CV to the roles you are applying for is key to success, so make sure to read through the job descriptions and tailor your skills accordingly.
However, commonly desired Lab Technician skills include:
Scientific knowledge: In order to run experiments and take detailed notes, you need to have a strong understanding of chemistry, biology and anything else relevant to your chosen field
Experimentation: One of the most important parts of being a lab tech is planning, supporting and conducting controlled experiments or trials; therefore, you need to understand every stage of the process
Data analysis and reporting: When you're helping run tests or experiments, you need to be able to take detailed notes, analyse your findings and turn these into helpful reports
Health and safety: As a lab tech, you'll be working around lots of different materials and chemicals, and you need to know how to handle and dispose of them safely
Attention to detail: The research projects you work on will contain lots of smaller projects, data collection and experiments, meaning attention to detail is crucial to make sure that your findings are accurate
Writing your Lab Technician CV
Once you've written your Lab Technician CV, you should proofread it several times to ensure that there are no typos or grammatical errors.
With a tailored punchy profile that showcases your relevant experience and skills, paired with well-structured role descriptions, you'll be able to impress employers and land interviews.
Good luck with your next job application!