Your CV is your way of marketing yourself in your job search.
Think of it like a leaflet for the services you provide to companies as an employee.
Hiring managers will read it and make an instant decision as to whether they want to interview you or not.
So, you need to sell yourself in your CV, if you want to land a top job.
Here's how to do it in 6 simple steps.

Add a sales-pitch-style CV profile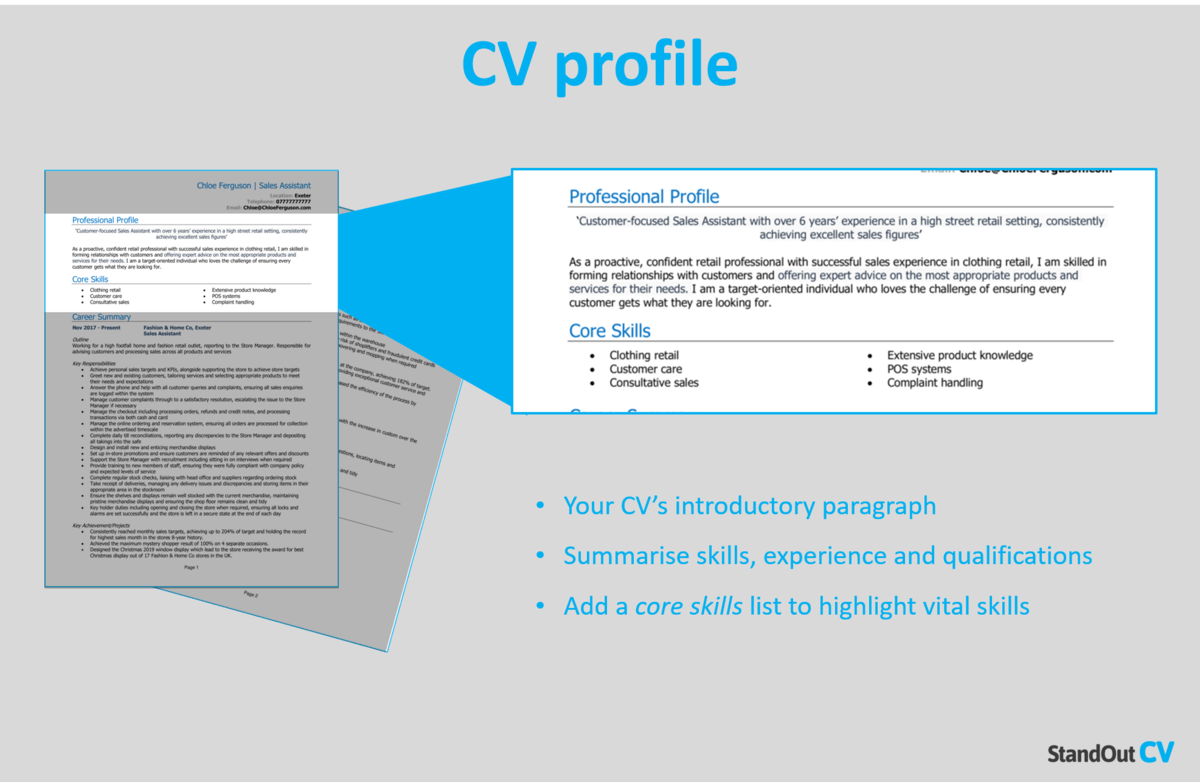 The CV profile is the introductory paragraph at the top of your CV and is one of it's most critical sections, as it serves as your elevator pitch to the hiring manager.
Get it wrong and tons of recruiters will skip past your CV – Get it right, and you will start seeing the interviews roll in.
To sell yourself effectively, you must give a high-level overview of your experience and skills, but you must also explain the benefits an employer will get from hiring you.
Benefits are what YOU can do for THEM.
For example, will you help them to generate more revenue? or are you a whizz at solving their biggest IT problems, saving them time and money?
By demonstrating how you will benefit potential employers, you will make yourself a much more attractive hire.
Example CV profiles
Admin
Detail-oriented Account Coordinator with 13+ years' experience cultivating and maintaining client accounts and relationships for internal and external marketing teams. Certified Google Analytics Professional highly skilled in monitoring project progress and implementing optimisation strategies. Highly organised individual with demonstrated success in coordinating paperwork compliance and end-to-end post-sales support for high-value accounts.
Sales
Strategic Software Sales Executive with a successful 17+ year career conducting B2B and B2C outbound sales for established and start up software developers. Experienced in conducting domestic and international business and securing high-value contracts from prospects and existing clients. Certified PSN with proven skill in driving revenue growth and acquiring new business.
Junior
Recent university graduate majoring in aquatic and marine biology. Gained significant experience in local conservation efforts as a volunteer for the Charleston City Government Sustainability Department, alongside undertaking a yearlong internship in Greece providing critical conservation efforts to preserve and protect the vital habitat of the Loggerhead turtle. Seeking to leverage 3.8 GPA and 80 aquatic and marine biology related classroom hours to pursue a position as a Junior Marine Biologist at a leading US research institution.
Remember, the goal is to grab the employer's attention and make them want to learn more about you, so be concise, persuasive, and authentic in your approach. By crafting a compelling CV profile, you can set yourself apart from the competition and increase your chances of landing an interview.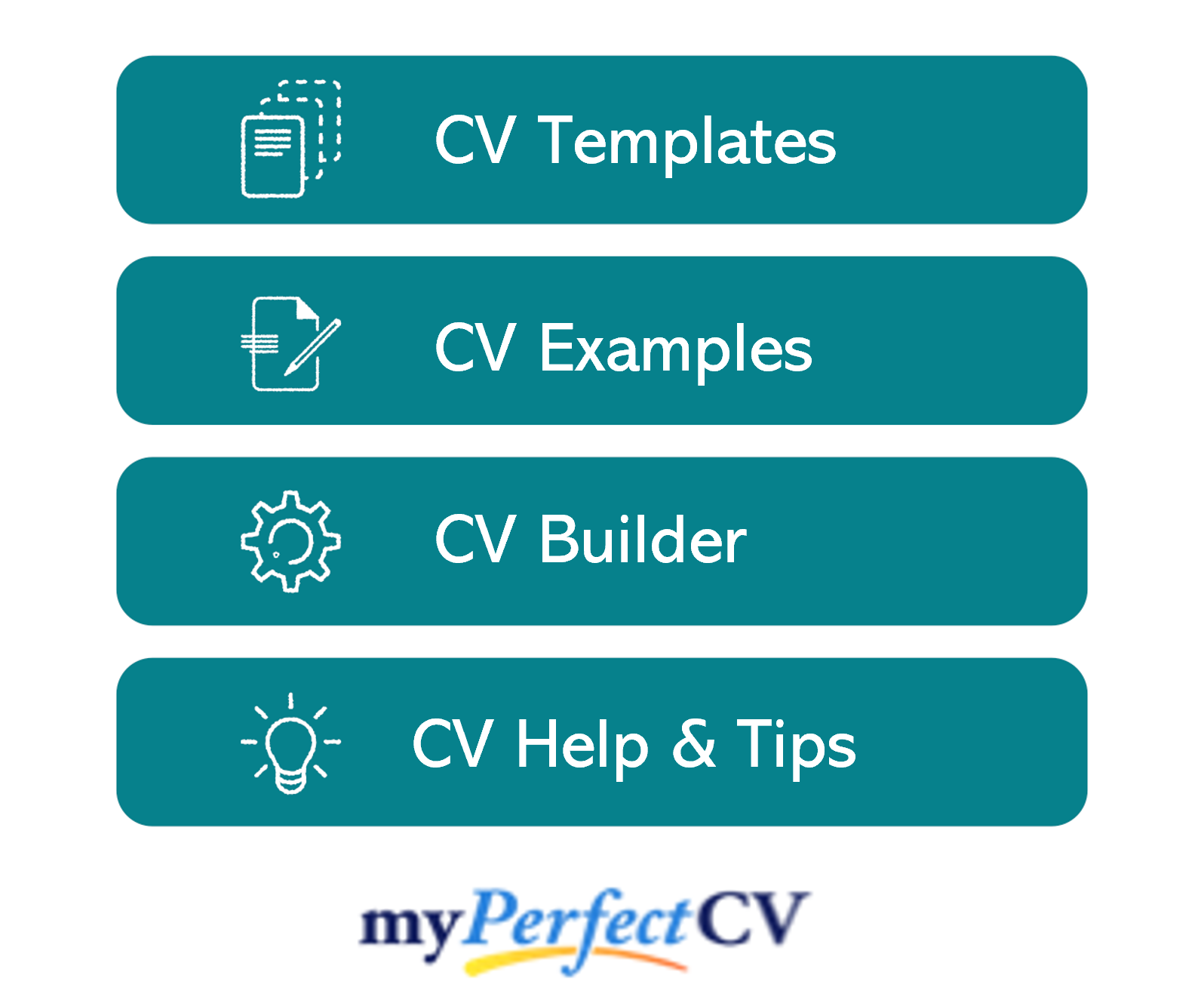 Highlight in-demand skills at the top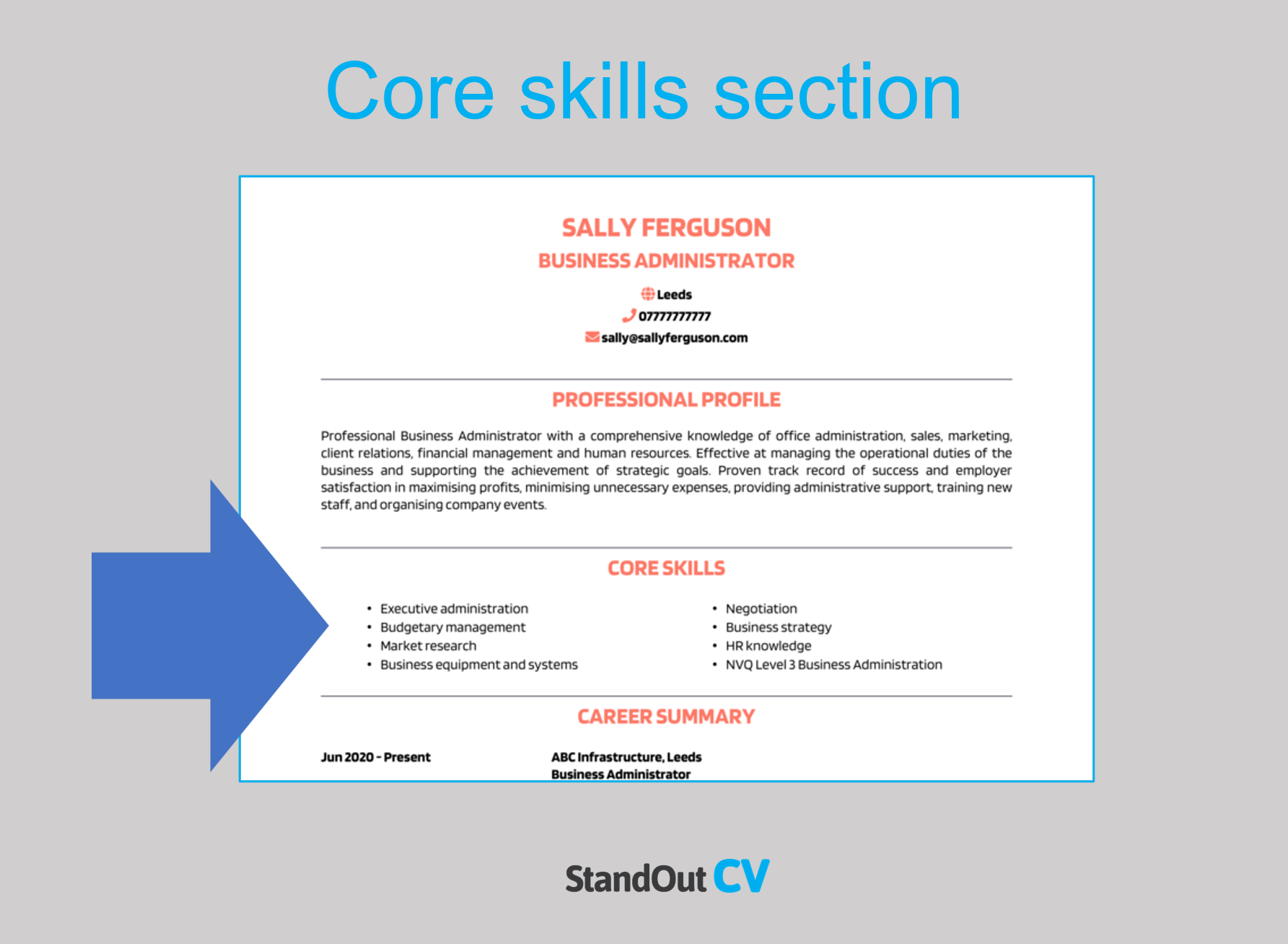 If you really want to sell yourself in your CV, try adding a core skills section underneath the profile.
This section is essentially a bullet-pointed list of skills and knowledge that directly relate to the requirements sought by your potential employers.
Each point will jump out of the page at the reader, demonstrating that you are a good fit for the role, even with just a quick glance at your CV.
This approach helps to create an instant impact when your CV is opened, increasing your chances of receiving a response from job applications.
Relevant skills to include can range from IT skills and industry knowledge to education results and achievements. Just be sure they are pertinent to the roles you are applying for by researching relevant job advertisements.
Use power verbs
When crafting your CV, it is essential to incorporate powerful verbs.
Verbs are words that describe your actions, thus demonstrating what you actually do in the workplace – this is key to showing what you personal contribute to a company's success.
Here are some example power verbs, along with how you can add them to your CV.
Managed – "Managed a 6-month project to improve customer retention levels."
Optimised – "Optimised delivery driver routes to avoid overlap and ensure efficient service."
Delivered – "Delivered the project two months ahead of schedule and under budget by £40,000."
Streamlined – "Streamlined the accounts payable process to improve invoice processing speed and accuracy."
Strengthened – "Strengthened brand awareness by expanding the company's online and social media presence."
Negotiated – "Negotiated with IT vendors, resulting in a monthly savings of £300K."
Oversaw – "Oversaw a team of 10 software engineers in the development of client software solutions."
Formulated – "Formulated a new performance review policy to ensure employees received regular feedback."
Executed – "Executed six projects in a year, generating a 252% increase in revenue."
Motivated – "Motivated team members to provide regular feedback, increasing overall team morale."
Powe verbs will be most useful in your role descriptions, but can be used throughout your CV.

Prove your impact with achievements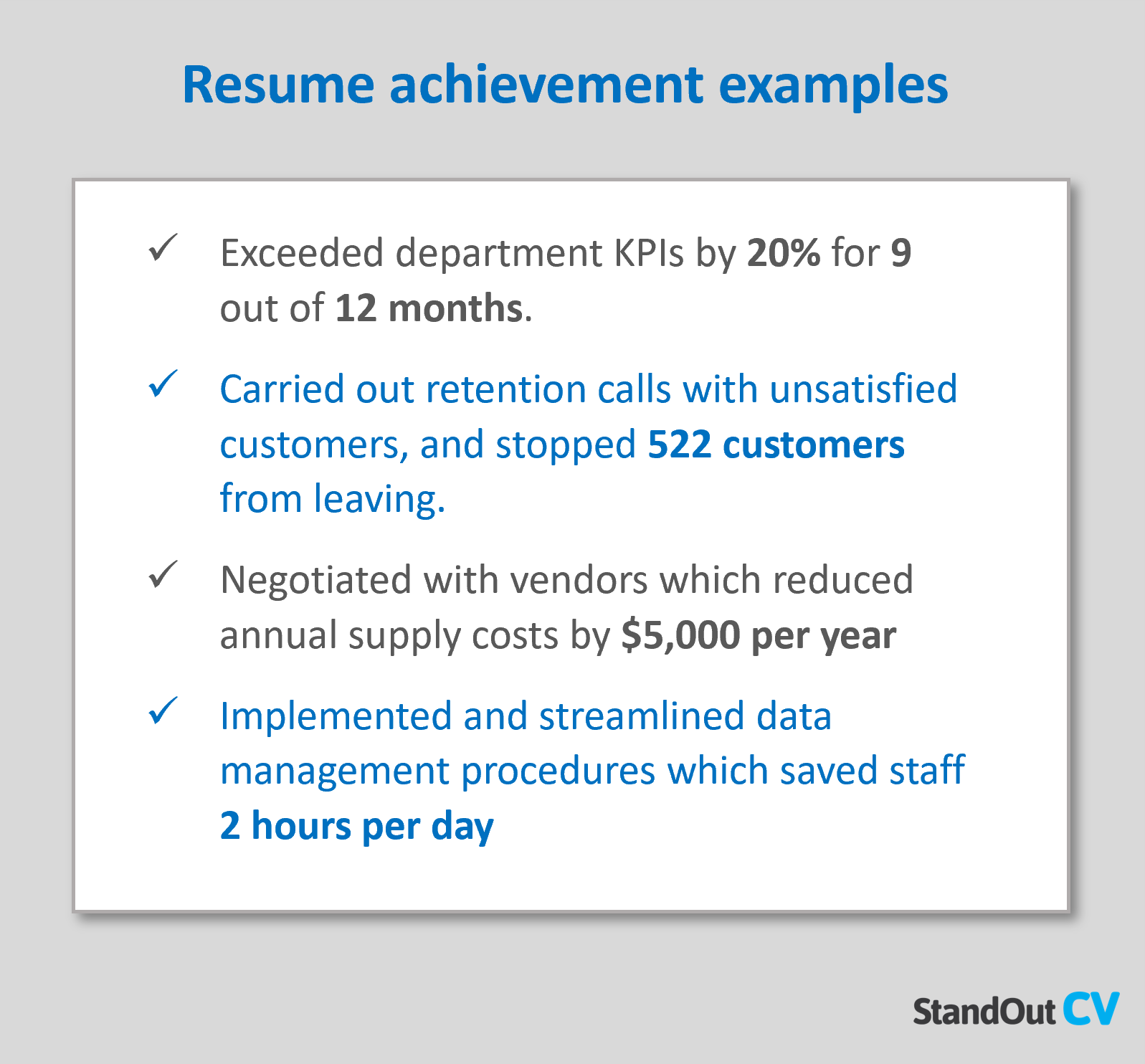 Of course you must talk about your responsibilities, buy to sell yourself effectively in your CV, it's essential to include your achievements
Achievements show the outcome your skills and experience and provide concrete evidence of your value to potential employers.
Add achievements to the end of your role descriptions to prove the impact you made at each workplace.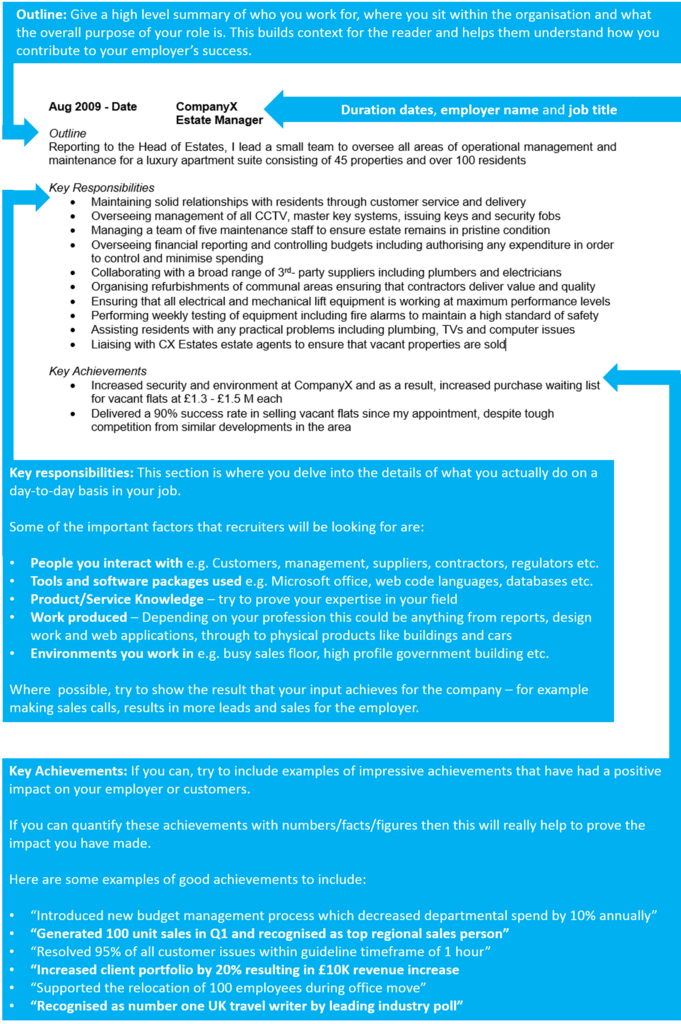 To make your achievements even more impressive to hiring managers – you should quantify them.
Quantifying your accomplishments by using numbers, percentages, or dollar amounts makes your achievements more impactful and memorable, and helps hiring managers understand the magnitude of your contributions.
Example CV achievements
Increased sales revenue by 25% through the implementation of a new marketing strategy.
Reduced operational costs by 15% through the introduction of a new inventory management system.
Generated £100,000 in new business sales by establishing partnerships with three new key clients.
Boosted website traffic by 50% through the creation of a targeted content marketing campaign.
Achieved a customer satisfaction rating of 95% by implementing a new customer service training program.
Reduced customer complaints by 75% through the development and implementation of a new complaint resolution process.
Improved product quality by 20% by introducing new quality control measures in the manufacturing process.
Increased employee retention by 30% through the implementation of a new employee engagement and recognition program.
Successfully managed a budget of £500,000 for a major project, delivering it on time and within budget.
Reduced project delivery time by 40% by implementing a new project management methodology.
Be specific, concise, and honest in your approach, and highlight achievements that demonstrate your suitability for the jobs you are targeting.
By effectively communicating your accomplishments, you can set yourself apart from other candidates and prove that hiring you will be worth while.

Use a professional format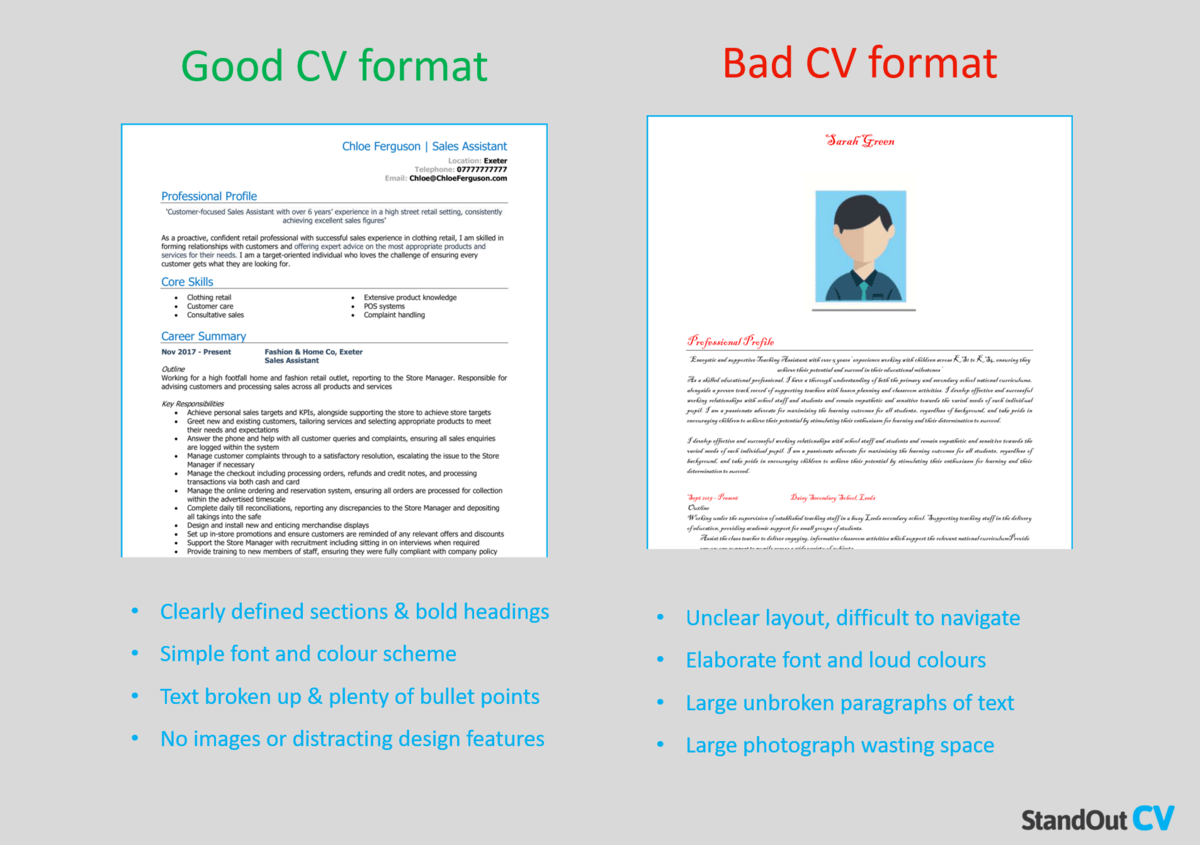 Appearance is a key tool in any type of sales process.
And using a professional-looking format is crucial when selling yourself in your CV.
A well-designed CV reflects well on you as a candidate and helps to catch the eye of busy hiring managers and make a strong first impression.
It also shows recruiters that you have put effort into presenting your skills and experience in a clear, concise, and visually appealing manner.
A professional-looking CV format also conveys attention to detail, a valuable trait in many job roles.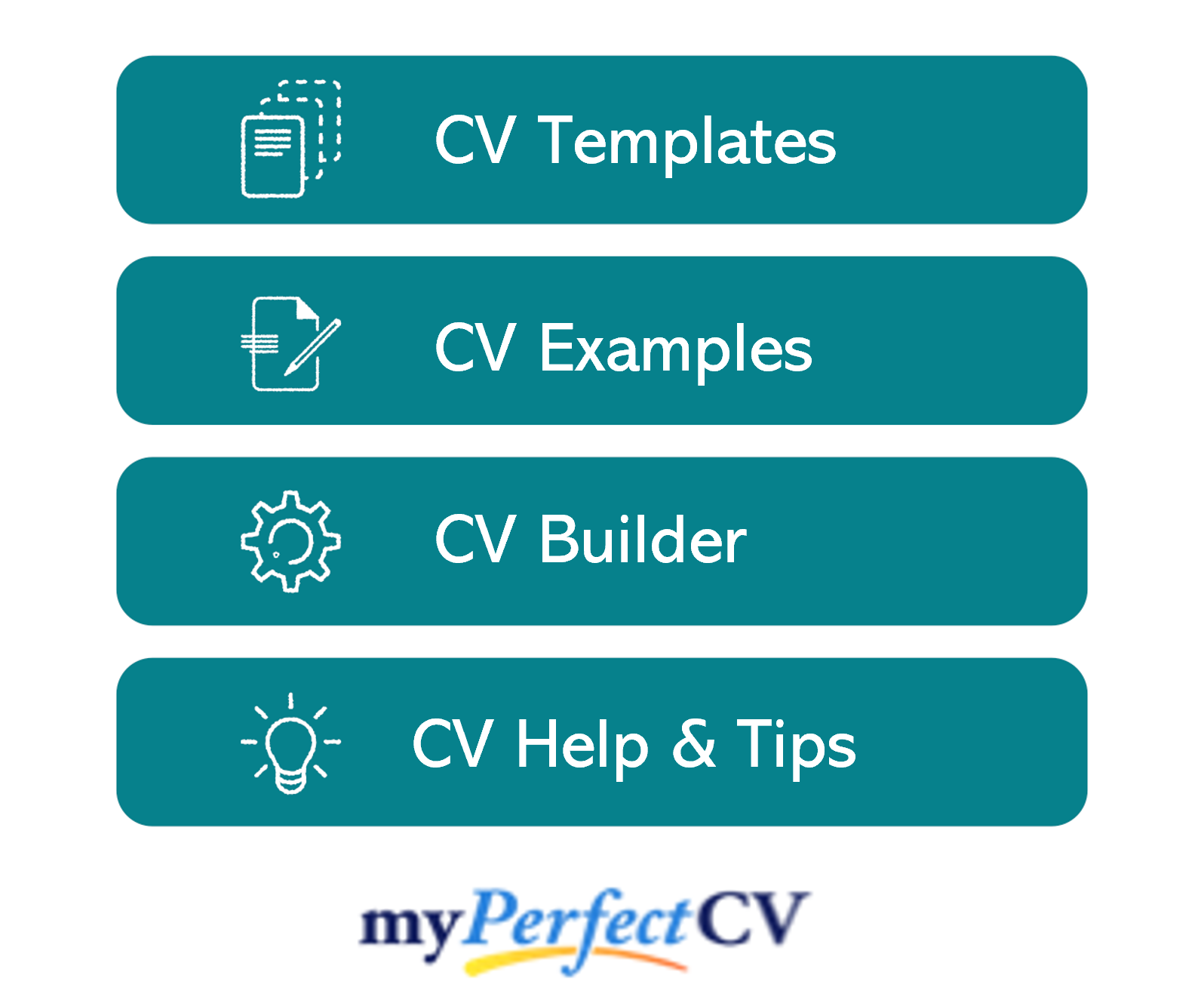 Don't forget a cover letter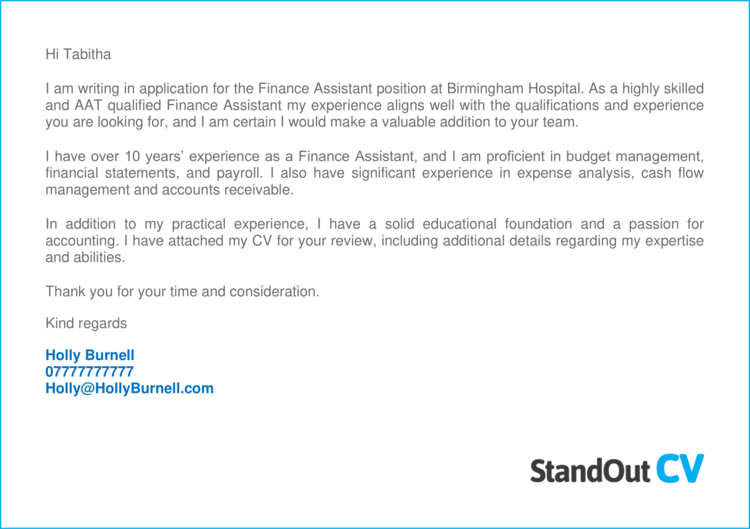 Although this is not strictly a CV tip – you must write a cover letter every time you apply for a job.
It doesn't have to be a whole page of A4, just a few sentences in the body of your application message will do the job perfectly.
The purpose of the cover letter is to encourage recruiters to open your CV in the first place.
It allows you to introduce yourself to the hiring manager, explain why you are interested in the role and the company, and highlight your relevant skills and experience.
When writing your cover letter, start with a friendly greeting, and a strong opening statement that captures the hiring manager's attention and explains why you are interested in the role.
Next, highlight your relevant skills and experience, using specific examples that demonstrate your abilities.
Be sure to customise your cover letter for each job you apply for, showing that you have researched the company and understand their needs.
Finally, close with a strong statement that emphasises your interest in the position and your willingness to get started in the job as soon as possible.