If you are struggling to land job interviews, or even get responses from your applications, your CV is likely to be the root cause of the problem.
Learn how to improve your CV with the following tips, including changes you can make to your CV right now and longer-term changes you can make to improve your overall employability.

Focus your CV towards one job or profession
If you try to make your CV appeal to everyone, it will often end up appealing to nobody.
Every industry has different core skill requirements and role expectations, so you must ensure that your CV reflects only the in-demand skills in your target field – and doesn't contain anything irrelevant.
By reading through a job posting and then editing your CV so that it directly targets the skills and experience they're seeking, you're more likely to appeal to an employer. A targeted approach ensures that you come across as the correct fit for a role.
This even extends to editing your job history. Lots of experience in sales may be great to see when applying for a sales position. However, this might not be directly relevant when applying to an engineering role. Be sure to tailor your application so that it fits in with what the job advertisement is seeking.
One easy way to do this is to search for common key words that are listed in the job description. Use these in your own CV to paint yourself as fit for the role.
Simplify the format
A CV that has crowded deign features, clashing colours or elaborate fonts will be difficult for a hiring manager to read. Similarly, if your CV contains too many sections it can be overwhelming and may cause a potential employer to skip past your CV.
By simplifying the format of your CV, you present information in a way that makes it easy for a reader to understand.
Try to incorporate the following elements into your CV:
Bold Headings – Make sure that each section is clearly defined and divided from the others
Calming Colour Scheme – Stick to professional colours like neutral blues and greens
Simple font Choice – Keep your fonts legible and professional
Small section Choice – Only have around four or five sections as to not overwhelm potential employers
No photos or images – They clutter the page and confuse readers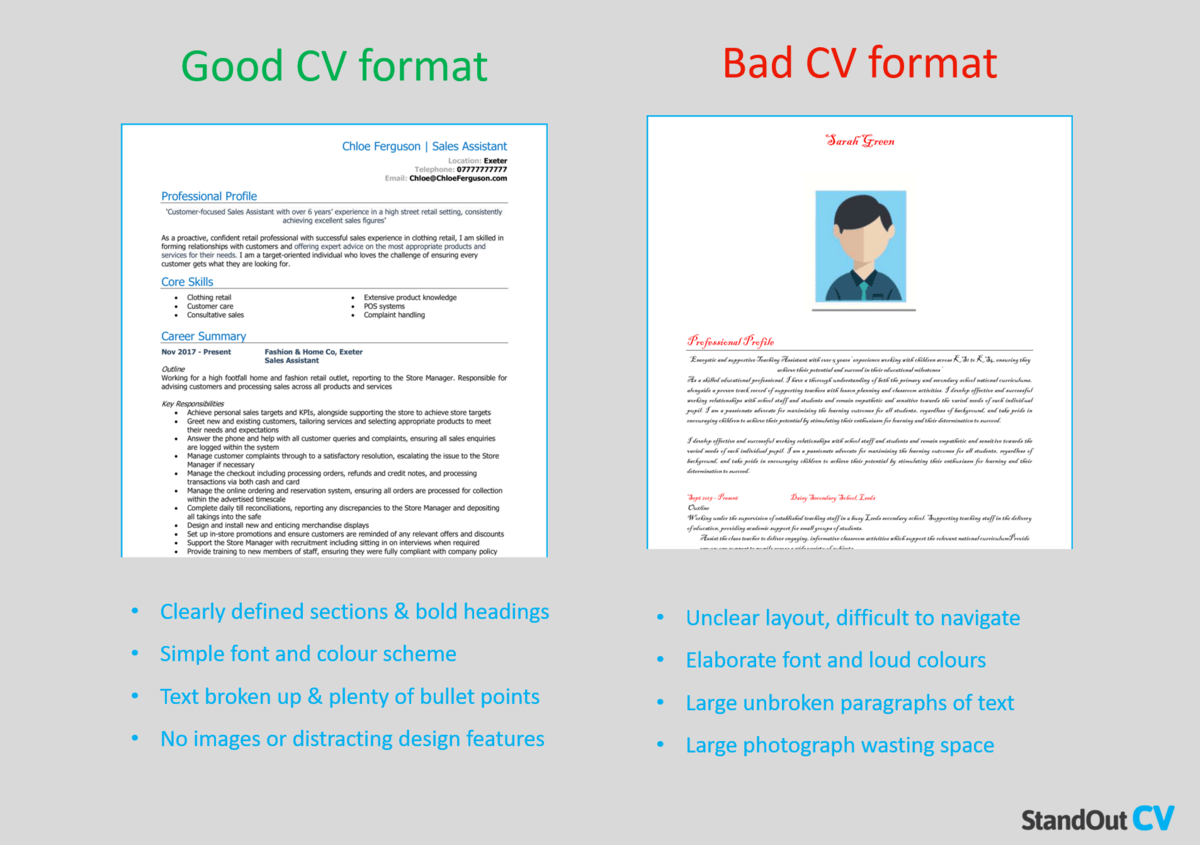 Break text up
Text that is too small, or is written in long paragraphs, becomes difficult to read. By breaking up your text, a hiring manager will more easily be able to scan through your CV and pick out your key qualities. Don't be afraid of white space between paragraphs, it makes your CV easy to skim read.
A great tip to increase how easy your CV is to read is to include more bullet points. These are easy to digest and can be scanned quickly for information. This means that a potential employer can learn a lot about you and your skills in only a few seconds.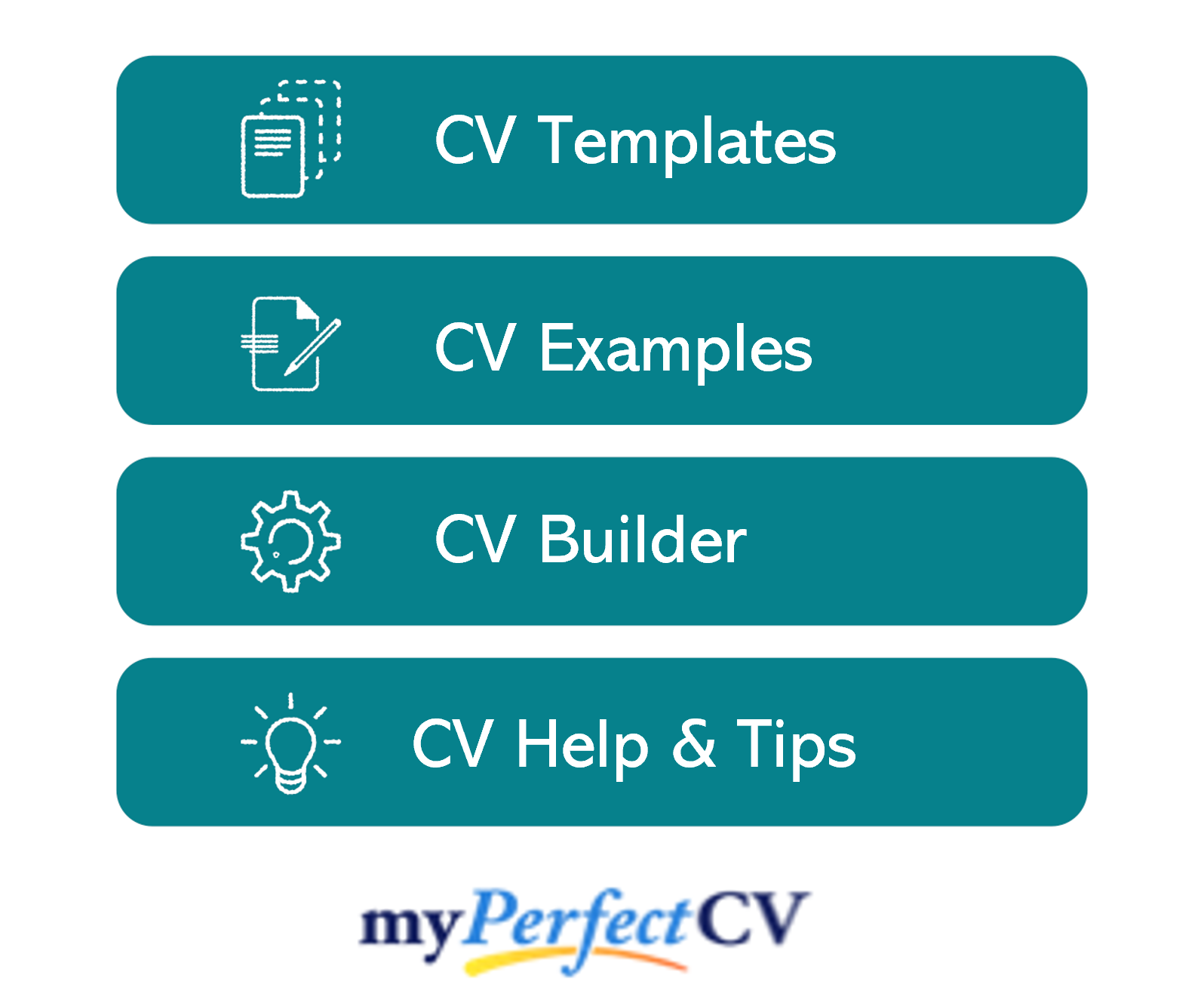 Focus on achievements
Use quantifiable achievements to display moments you succeeded on the job. Instead of just stating what your role was, use facts and figures to display what the effect of your actions were.
When structuring your role descriptions in your work experience section, be sure to include quantifiable achievements to show the impact you made.
Take a look at some examples:
Surpassed a company-wide sales record with 13 sales in a single month and total revenue of 18k
Completed all three quarterly tasks at least two weeks ahead of schedule 7 quarters in a row
Introduced a new phone script that decreased caller waiting time by 55%
Achievements will tell an employer about your contribution in a job, while also demonstrating that you were successful in that role.
Tailor your profile
When writing your profile, you only have between 5-8 sentences to sell yourself. Due to this, try not to waste time including details that are not relevant to the job posting. Make sure you understand exactly what the job posting is searching for.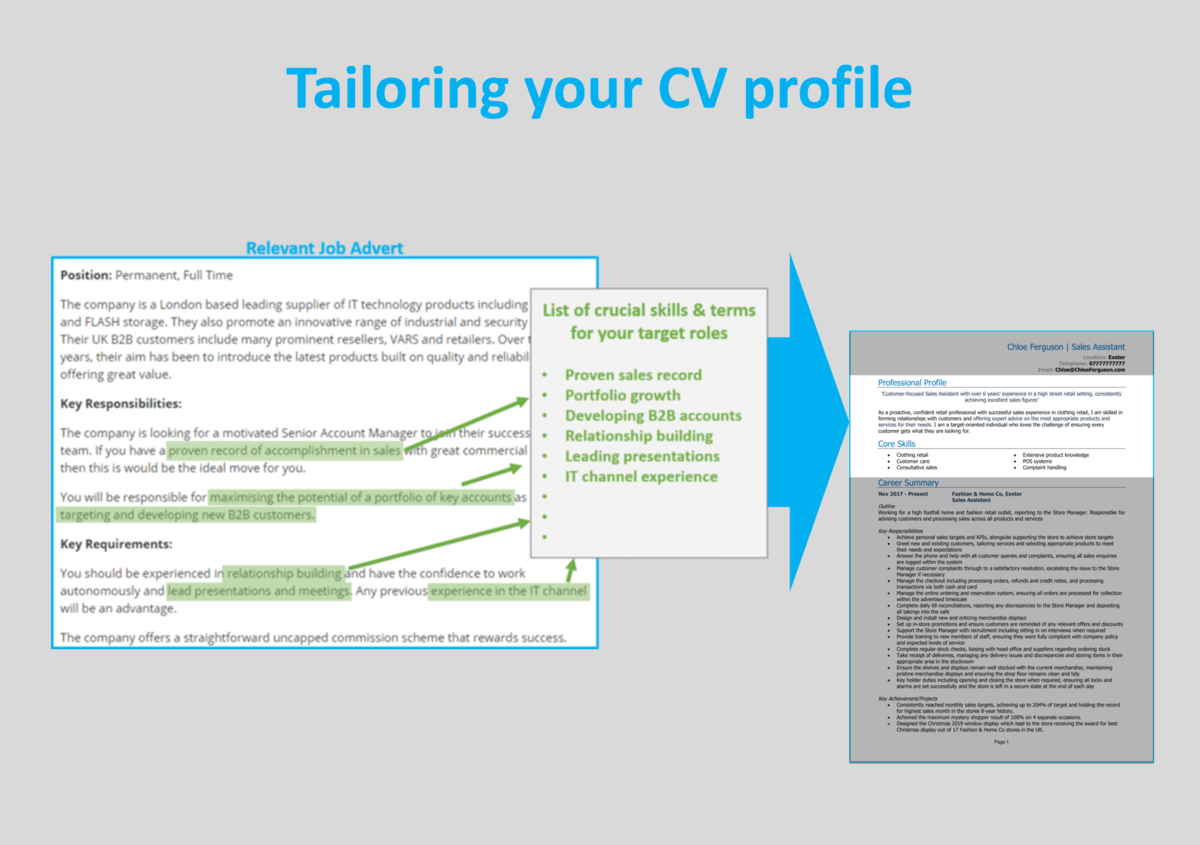 Reuse language they have used in their job description, demonstrating that you have the qualities they're searching for. Every CV you write should be distinct as every job you apply for is different.
Reduce your CV length
If your CV is over two pages, you are most likely going to overwhelm a prospective employer. You need to keep your CV short and succinct if you expect recruiters to read it in full.
Shorten or remove old and irrelevant information such as jobs form 10 years ago or qualifications that are not essential to your target jobs,
Take a look at each sentence of your CV, working out if you could shorten any of them. Try to rewrite any long sentences that have complex clauses. Keep things short, clear, and straight to the point.
If you've used any clichés like 'I'm a team player', remove them. They take up space without actually demonstrating the qualities you say you have. Show your qualities through completed tasks and your achievements, not by telling your reader that you have them.
Get some voluntary work
If you have little or no experience, you could always build up your CV by doing some voluntary work. This can be a great way of learning new skills or refining old ones. Volunteering could also allow you to get direct experience in an industry that you're interested in.
If you're based in the U.K., the government has a page you can sign up to where volunteering opportunities are posted. Alternatively, get in contact with a business you're interested in learning more about and ask if they have any internships currently running.
Take some courses
In the digital age, there are plenty of opportunities to gain qualifications online. If you're currently between jobs, taking a few of these courses can help you develop new skills, build up your CV, and shine in the eyes of employers.
Google offers a range of free courses. These span from digital marketing to the basics of consumer habits. No matter which course you take, it will demonstrate that you're committed to improving yourself and will look great on your CV.
Udemy also offer a huge range of free and cheap courses in all industries from accounting to marketing.
If you're looking to develop an entirely new skillset, an education in coding is accessible online and can be very beneficial. A great place to start would be FreeCodeCamp or CodeAcademy.
For courses that range from Engineering to English Literature, check out edX. No matter what you're interested in, there will be a course for you.
Improving your CV – conclusion
From a few simple content and style alterations right up to gaining new skills and experiences, there are a number of ways of improving your CV. Follow the tips above and you'll be landing more interviews in no time.