Ghost jobs are not a reference to the supernatural but instead, refer to an unscrupulous recruitment practice that wastes job hunters' time and effort.
It is the practice of companies advertising a job that either never existed or is no longer active. They may create a job advert and post on job boards to build a pool of candidates for future hiring, or to keep some candidates around in case the new hire doesn't work out. Some businesses will leave an old job advert live for weeks after filling it for the same reasons.
Ghost jobs can save hiring teams' time as they have a database of people to go to, but unfortunately, it can mean job hunters are wasting valuable hours tailoring their CV for a job they have zero chance of ever getting.
To find out more about this practice, we investigated over 91,300 job listings in the UK over an eight-week period to see where ghost jobs are at their worst and what industry is most guilty of doing so.
Key findings:
On average, across 20 popular jobs, over a third (34.4%) of job listings were found to be 'ghost jobs'.
Veterinary nurses looking for a new job were the most likely to find these listings on their job search, with 59.1% of vacancies posted being ghost jobs.
Software engineers were the second most likely to face ghost jobs (46.5% of listings).
The worst area for ghost jobs in the UK was the London borough of Islington where over a quarter (26.1%) of job listings were ghost jobs, followed by Southend-On-Sea (23.7%).
Recruiters can use ghost job listings to build a candidate database for future job openings or even to make a company look like they're actively hiring and growing.
What is a ghost job listing?
As we've discussed, ghost jobs are fake job listings, or old job listings that won't lead to a job interview. They're used by employers to build a candidate pool, make the company look like it's actively hiring (therefore growing), or are left by recruiters who simply forget to take them down.
As no company is going to openly admit which job listings are real and fake, in our research, we have used a proxy of when the job was posted as an indicator of it being 'ghostly'. We used the '30+ days' ago tag which some job boards label to decide whether a job was likely a ghost job or not. Andrew Fennell, the Director here at StandOut CV, is an ex-recruiter of 10 years and has guided this investigation with that knowledge.
Are ghost job ads legal?
Unfortunately there is no law against ghost job adverts in the UK, but it would not reflect well on a company if they were to be found out to be using them.
Which city is the worst for ghost jobs in the UK?
Taking the UK's 30 largest cities and boroughs as ranked by population, we compared the number of live job adverts for each city with the number of jobs that were posted 30+ days ago, that have a high probability of being ghost jobs.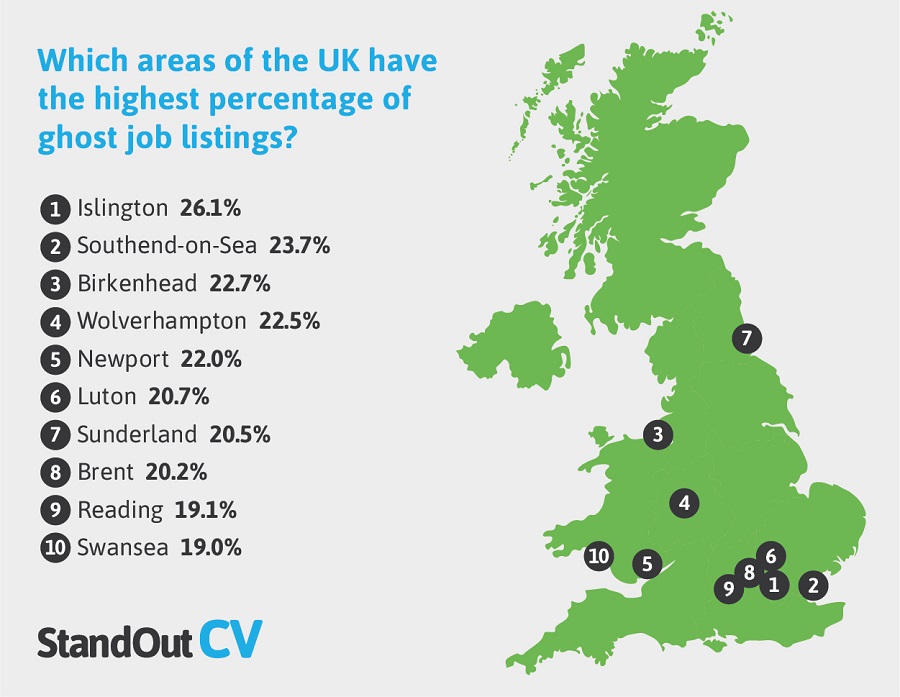 Using this data, we found that the London borough of Islington was the worst culprit, followed by Southend-On-Sea, and Birkenhead. Islington, the most populous London borough, with a bigger population than the likes of Reading or Belfast, had the highest percentage of ghost jobs (26.1%) in an average month. This means that on average, in these areas, every 1 in 4 jobs someone applies to is likely to be a ghost job and a waste of time.
Southend-On-Sea had a ghost job rate of 23.7%, followed by Birkenhead (22.7%), Wolverhampton (22.5%), and Newport (22%) to round off the top five ghost job hotspots.
UK ghost job hotspots
The below table reveals the areas where ghost jobs were most prominent, expressed as a percentage of ghost jobs compared to overall job listings active in the region.
| Rank | City / Town / Borough | Ghost Job Listings |
| --- | --- | --- |
| 1 | Islington | 26.1% |
| 2 | Southend-on-Sea | 23.7% |
| 3 | Birkenhead | 22.7% |
| 4 | Wolverhampton | 22.5% |
| 5 | Newport | 22.0% |
| 6 | Luton | 20.7% |
| 7 | Sunderland | 20.5% |
| 8 | Brent | 20.2% |
| 9 | Reading | 19.1% |
| 10 | Swansea | 19.0% |
| 10 | Kingston upon Hull | 19.0% |
| 12 | City of Westminster | 18.1% |
| 13 | Bradford | 17.8% |
| 14 | Derby | 15.1% |
| 15 | Coventry | 14.9% |
| 16 | Cardiff | 14.7% |
| 17 | Plymouth | 14.4% |
| 18 | Preston | 14.0% |
| 19 | Leeds | 13.6% |
| 20 | Leicester | 13.6% |
There is a trend in this research of larger cities having a much lower ghost job rate, London for example had the lowest percentage of ghost jobs in our analysis, with only 1 in 10 (10%) jobs in the capital being posted 30+ days ago. Edinburgh had the second lowest at 10.9%, with Bristol in third position (11.1%). This likely reflects a busier job market in these cities where jobs are filled faster, as well as a better recruiter hygiene of removing jobs from the market once they have found a successful candidate.
In July 2023, Luton had the fourth highest percentage of people claiming unemployment benefits in the UK (5.7%) and with 1 in 5 jobs online likely not being of any use to job seekers in the Bedfordshire town, it makes for a very challenging environment to find employment.
Which roles have the most ghost job listings?
As part of our research, we specifically analysed a separate dataset of almost 61,000 job listings for 20 popular jobs. From this, we were able to compare individual job roles and how many ghost job listings they had. Across the 20 jobs we analysed, the average ghost job listing rate was 34.4% and remained fairly consistent in both May (34.8%) and June (33.4%).
It turns out that veterinary nurses are the most likely to fall victim to a ghost job out of all jobs analysed, with well over half (59.1%) of job listings in the UK in that sector being ghost jobs. Second to veterinary nurses were software engineers, where 46.5% of job listings were found to be ghost jobs, followed by cybersecurity analysts (45.7%), insurance brokers (43.5%), and graphic designers (42.4%).
Top 10 roles for ghost job listings
The top 10 roles where job searchers are most likely to face ghost job listings are revealed below.
| Rank | Job | Ghost Job Listings |
| --- | --- | --- |
| 1 | Veterinary nurse | 59.1% |
| 2 | Software engineer | 46.5% |
| 3 | Cybersecurity analyst | 45.7% |
| 4 | Insurance broker | 43.5% |
| 5 | Graphic designer | 42.4% |
| 6 | Web developer | 42.3% |
| 7 | Data analyst | 38.6% |
| 8 | Pilot | 34.8% |
| 9 | Accountant | 34.0% |
| 10 | Project manager | 31.6% |
How many ghost job listings are there in the UK?
Our data analysis of 20 popular job roles indicated that 34.4% of job listings could be considered ghost jobs. The ONS estimates that there were around 344,666 job vacancies available in an average month from April to June 2023. Taking this number and our percentage of ghost job listings, there would be an estimated 118,565 active ghost jobs each month in the UK.
How can you tell if a job advert is a ghost job?
To check if a job advert is a ghost job, you should:
Check the date posted on a job board, we advise job hunters avoid anything older than 30 days without verifying it's still live. Some job boards don't indicate if a job was posted 30 or 60 days ago, they're simply labelled '30+ days'.
Head to the company's website, specifically their careers page to see if it is still active. Often they will label it as 'Accepting applications' or something similar.
Contact the hiring manager or recruiter directly on LinkedIn to ask. You can say that you are interested but want to confirm if they are still taking applications.
Review the job description for an application closing date, this may be buried right at the bottom.
Search on LinkedIn/Twitter to see if there have been posts from someone celebrating their new job which matches the role you want to apply for.
Unfortunately, if none of that works, you need to decide if it's worth your time to apply when it may not be an open opportunity anymore. It is likely better to use your time toward those job opportunities that were posted in the last week.
Methodology
A total of 91,318 job listings were scraped from Indeed jobs on 19/05/23 and again on 27/06/23, with an average taken from these two datasets. A separate dataset of 60,983 job listings was also scraped on these dates, this data specifically collected information on the 20 jobs analysed in this study. Jobs were reviewed in the 30 biggest cities/towns/boroughs in the UK by population.
Popular jobs selected were: accountant, business analyst, data analyst, graphic designer, nurse, project manager, sales assistant, software engineer, veterinary nurse, delivery driver, store manager, operations manager, web developer, cybersecurity analyst, pilot, HR manager, marketing manager, English teacher, insurance broker, midwife. This job list was compiled by reviewing existing UK rankings for popular and in-demand jobs, such as this report from Indeed.
The tag on the Indeed job board '30+ days ago' was used as a proxy for ghost job listings.

This work is licensed under a Creative Commons Attribution-ShareAlike 4.0 International License.