Do you want to support young people who have found themselves in challenging or risky situations?
Then a position as a youth worker is perfect for you. Once you've landed the job, that is.
To help you do this, we've put together all our top tips and advice, along with a youth worker CV example to guide you.
Contents
| | |
| --- | --- |
| How to write a Youth Worker CV | |

Youth Worker CV example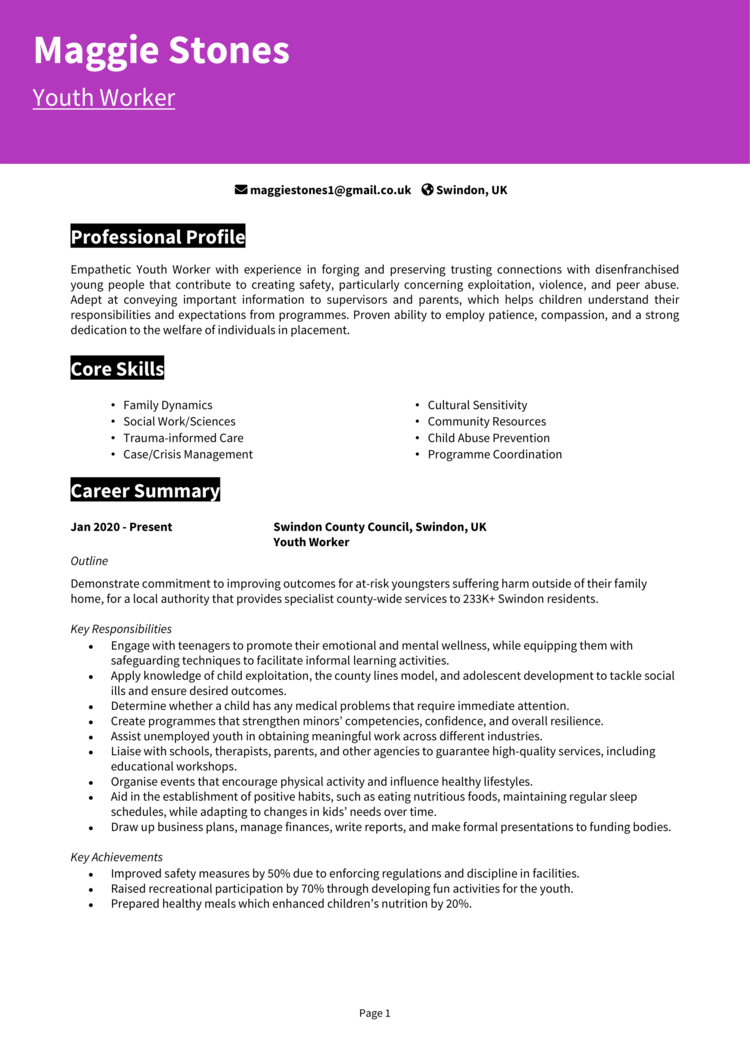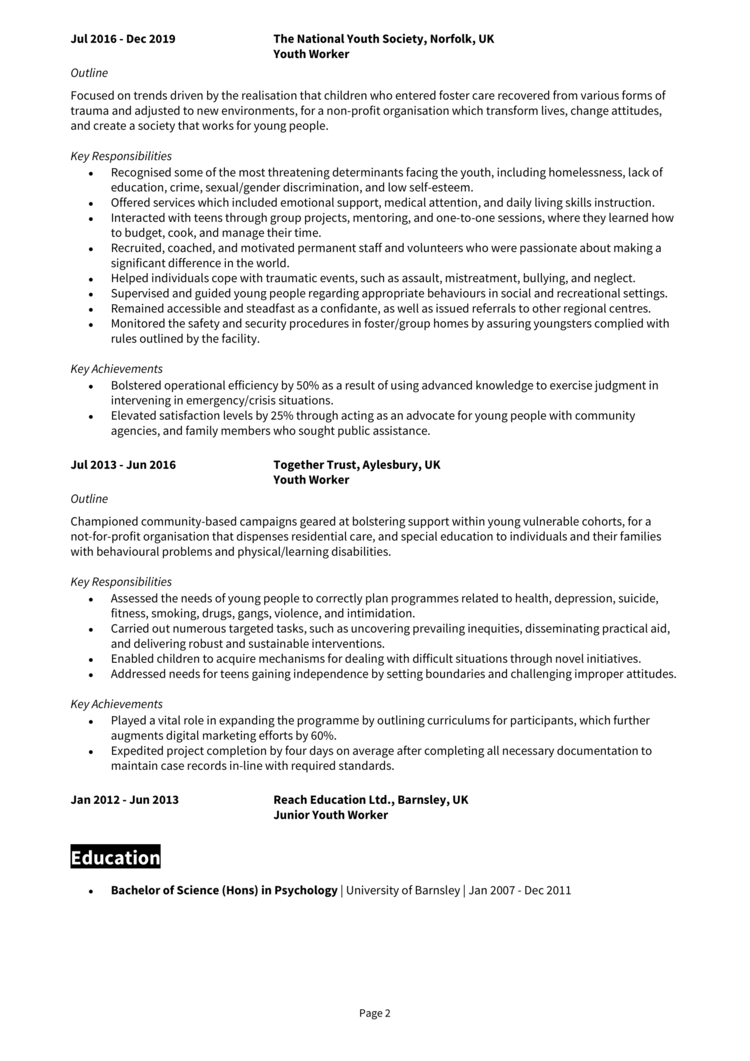 This CV example demonstrates the type of info you should be including within your Youth Worker CV, as well as how to format and layout the content in a way which looks professional and is easy for time-strapped recruiters to read.
This is the look and feel you should be aiming for, so remember to refer back to it throughout your CV writing process.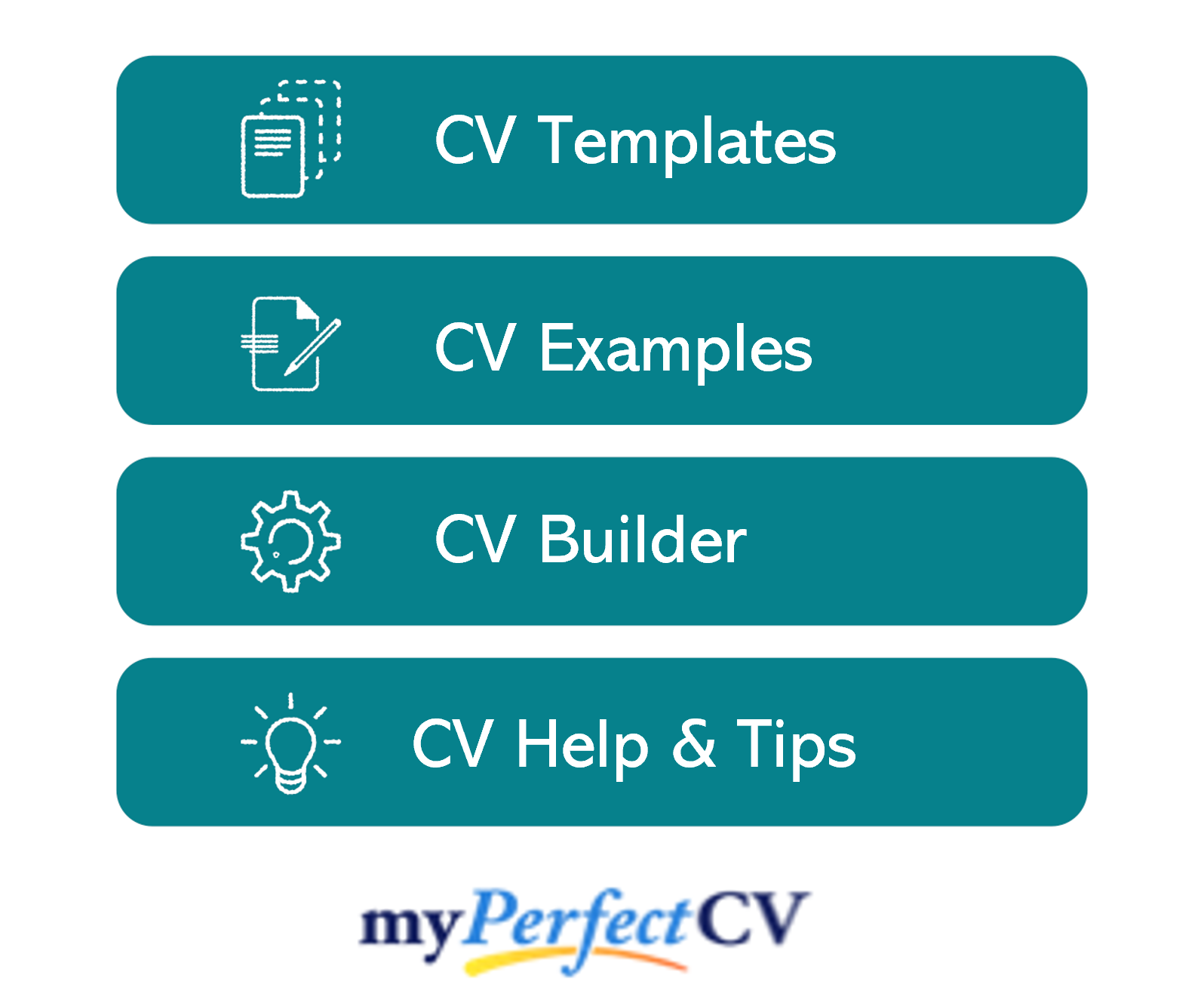 Youth Worker CV format and structure
Think your CV is just about the content within it? Think again.
Your CV needs to look professional and be easy for recruiters to read, meaning the structure and format of your CV are just as important as the written content within it.
Facilitate ease of reading by using a simple structure which allows anybody to easily navigate your experience.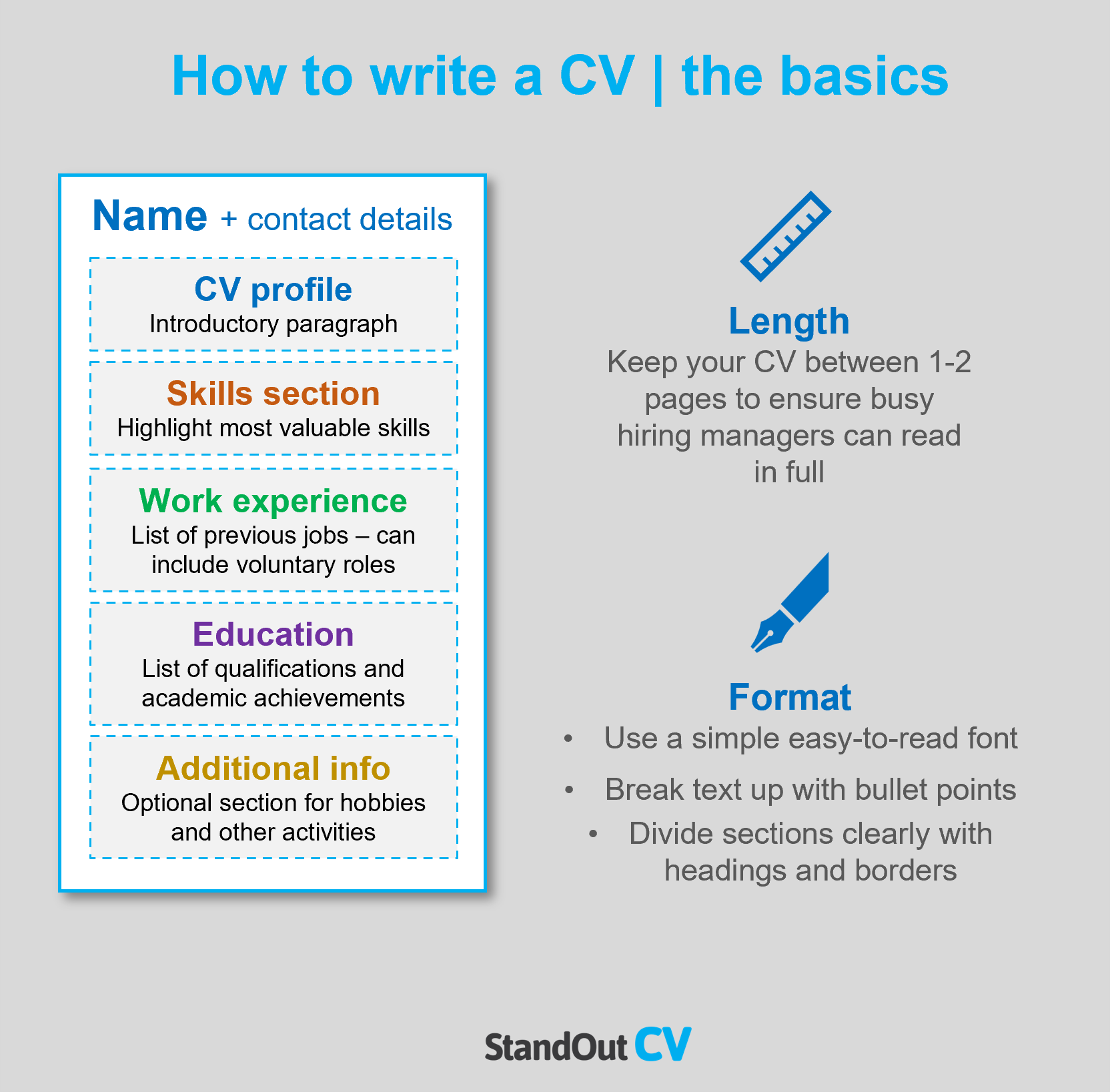 Tips for formatting your Youth Worker CV
Length: Your CV should always be limited to two sides of A4, regardless of whether you have a year or three decades of experience. With recruiters juggling multiple responsibilities, they don't have time to sift through lengthy applications.
Readability: To help busy recruiters scan through your CV, make sure your section headings stand out – bold or coloured text works well. Additionally, try to use bullet points wherever you can, as they're far easier to skim through than huge paragraphs. Lastly, don't be afraid of white space on your CV – a little breathing space is great for readability.
Design & format: While it's okay to add your own spin to your CV, avoid overdoing the design. If you go for something elaborate, you might end up frustrating recruiters who, above anything, value simplicity and clarity.
Photos: Don't add profile photos to your CV unless you work in an industry or region which prefers to see them. Most employers in the UK will not need to see one.
Quick tip: Creating a professional CV style can be difficult and time-consuming when using Microsoft Word or Google Docs. To create a winning CV quickly, try our partner's CV Builder and use one of their eye-catching professional CV templates.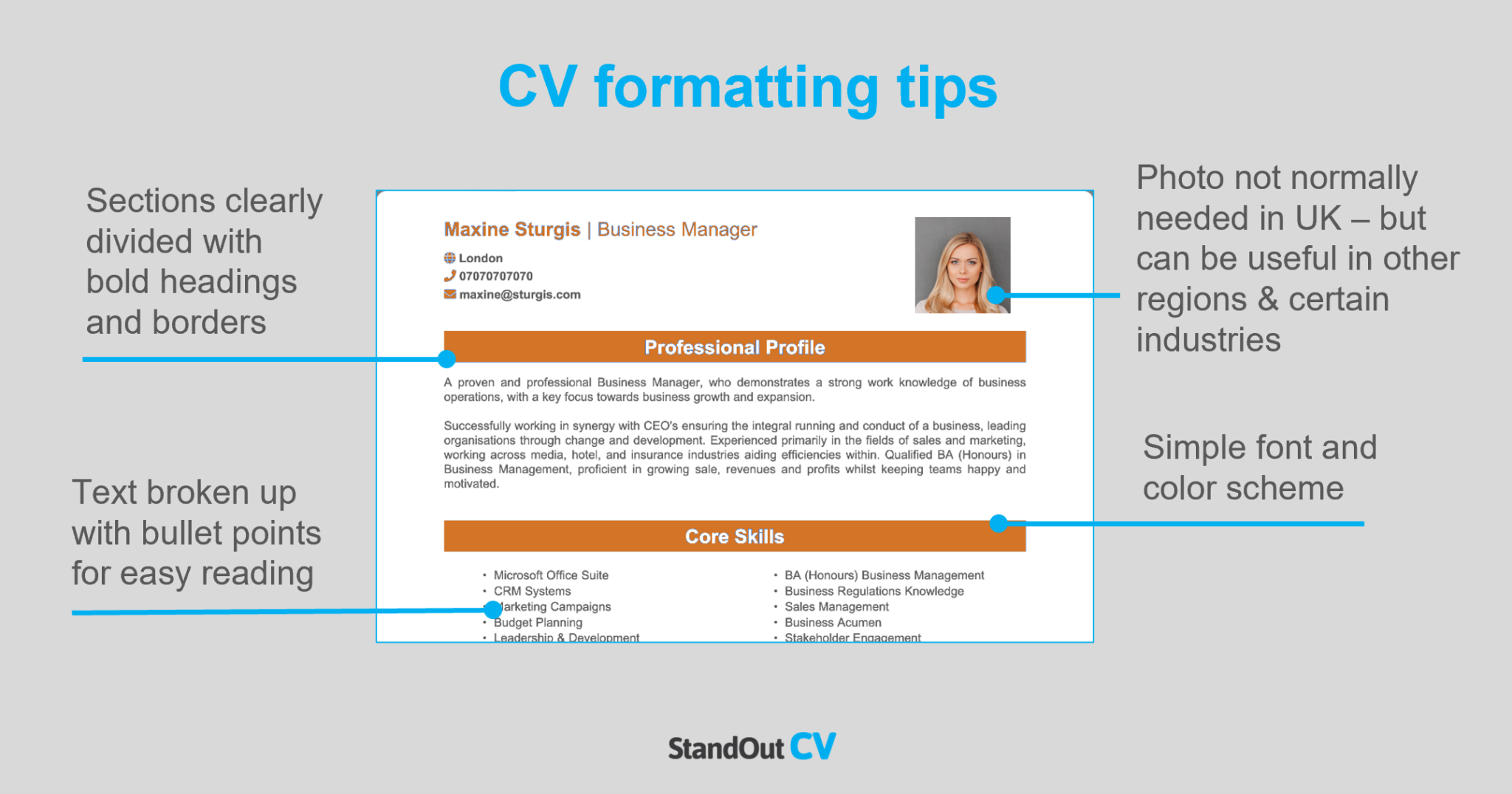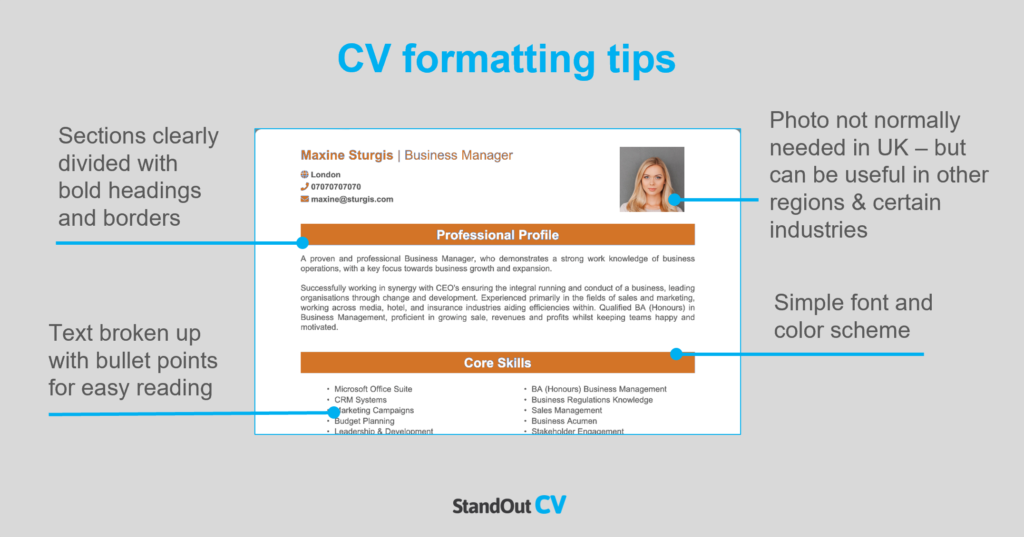 CV structure
Divide your CV into the following major sections when writing it:
Name and contact details – Head your CV with your name and contact details, to let the reader know who you are and how to contact you.
CV profile – A brief paragraph which summarises your skills and experience and highlights why you're a good match for the role.
Core skills list – A snappy, bullet-pointed list of your most relevant skills.
Work experience – A structured list of your work experience in reverse chronological order.
Education – A summary of any relevant qualifications or professional training you've completed.
Hobbies and interests – An optional section, which should only be used if your hobbies are relevant to the jobs you're applying to.
Now you understand the basic layout of a CV, here's what you should include in each section of yours.
Contact Details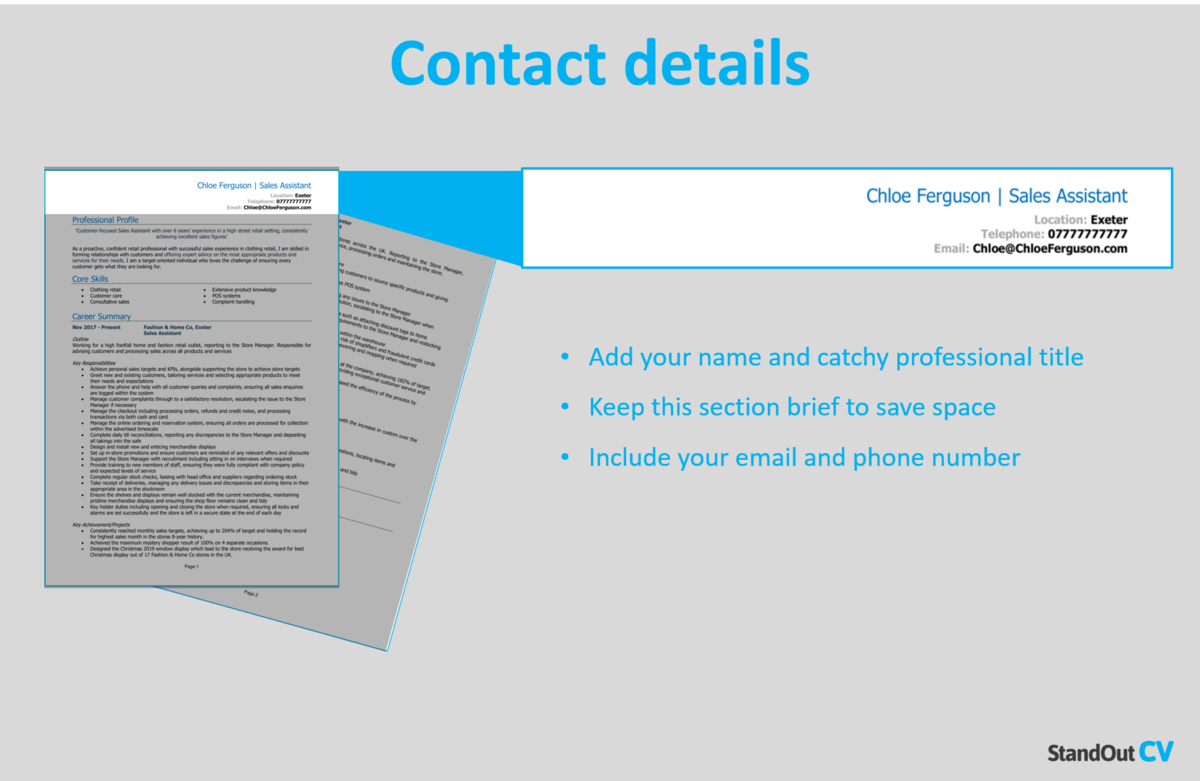 Make it easy for recruiters to get in touch, by heading your CV with your contact details.
There's no need for excessive details – just list the basics:
Mobile number
Email address – Use a professional address with no nicknames.
Location – Just write your your general location, such as 'London' or 'Cardiff' – there's no need to put your full address.
LinkedIn profile or portfolio URL
Youth Worker CV Profile
Make a strong first impression with recruiters by starting your CV with an impactful profile (or personal statement for junior applicants).
This short introduction paragraph should summarise your skills, experience, and knowledge, highlighting your suitability for the job.
It should be compelling enough to encourage recruiters to read through the rest of your CV.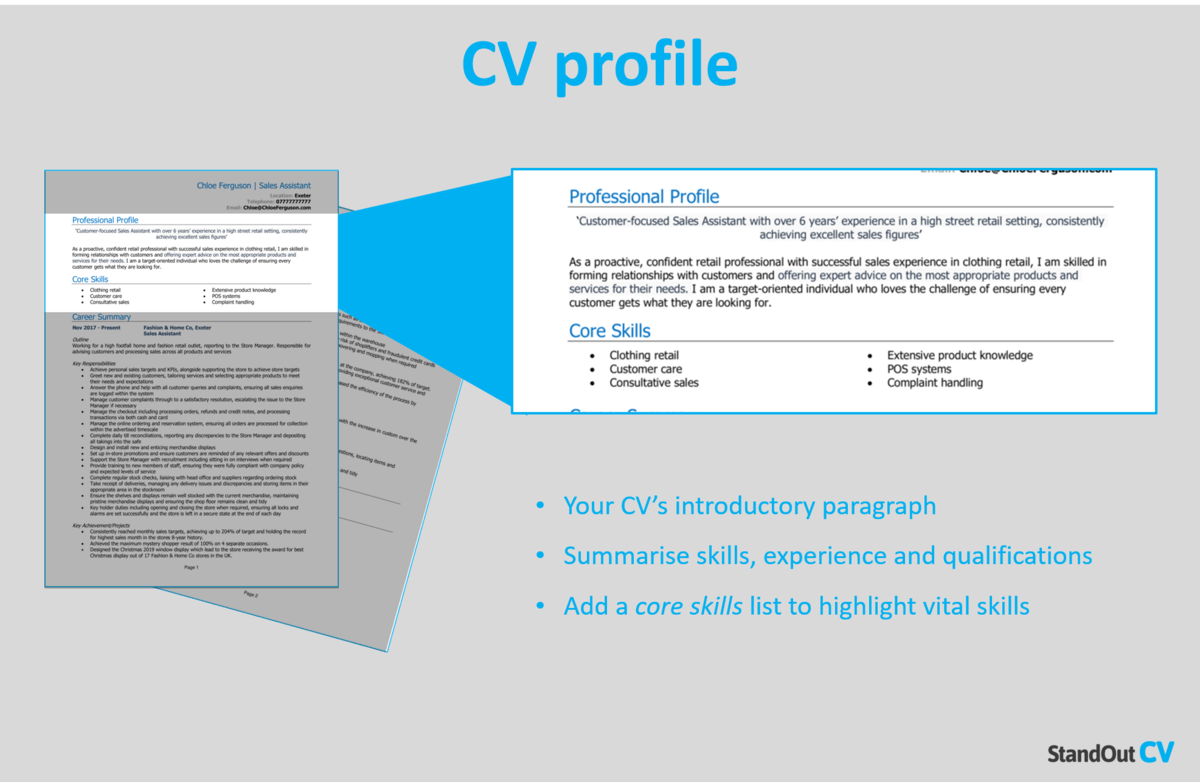 How to write a good CV profile:
Make it short and sharp: The best CV profiles are short, sharp and highly relevant to the target role. For this reason, it's best to write 3-4 lines of high-level information, as anything over might be missed.
Tailor it: The biggest CV mistake? A generic, mass-produced document which is sent out to tens of employers. If you want to land an interview, you need to tailor your CV profile (and your application as a whole) to the specific roles you're applying for. So, before you start writing, remember to read over those job descriptions and make a list of the skills, knowledge and experience the employers are looking for.
Don't add an objective: You only have a small space for your CV profile, so avoid writing down your career goals or objectives. If you think these will help your application, incorporate them into your cover letter instead.
Avoid generic phrases: Focus on fact, not fluff. Phrases like "Committed and enthusiastic thought-leader" and "Dynamic problem solver" might sound fancy, but they'll do nothing for your application. Not only do they sound cheesy, but they have no substance – stick to real skills and facts
Example CV profile for Youth Worker
Empathetic Youth Worker with experience in forging and preserving trusting connections with disenfranchised young people that contribute to creating safety, particularly concerning exploitation, violence, and peer abuse. Adept at conveying important information to supervisors and parents, which helps children understand their responsibilities and expectations from programmes. Proven ability to employ patience, compassion, and a strong dedication to the welfare of individuals in placement. 
What to include in your Youth Worker CV profile?
Experience overview: Showcase your aptitude for the job you are aiming for by giving a brief summary of your past work history, including the industries you have worked in, the kinds of employers you have served, and the roles you have held.
Targeted skills: Make your most relevant Youth Worker key skills clear in your profile. These should be tailored to the specific role you're applying for – so make sure to check the job description first, and aim to match their requirements as closely as you can.
Important qualifications: Be sure to outline your relevant Youth Worker qualifications, so that anyone reading the CV can instantly see you are qualified for the jobs you are applying to.
Quick tip: If you are finding it difficult to write an attention-grabbing CV profile, choose from hundreds of pre-written profiles across all industries, and add one to your CV with one click in our partner's CV Builder. All profiles are written by recruitment experts and easily tailored to suit your unique skillset.
Core skills section
Add a core skills section below your profile to draw attention to your most applicable skills and make them stand out to readers.
This should consist of 2-3 columns of bullet points that emphasise your relevant skills.
Before creating this section, review the job description and compile a list of any specific skills, specializations, or knowledge needed. Incorporate these findings into your list to portray yourself as the ideal candidate for the position.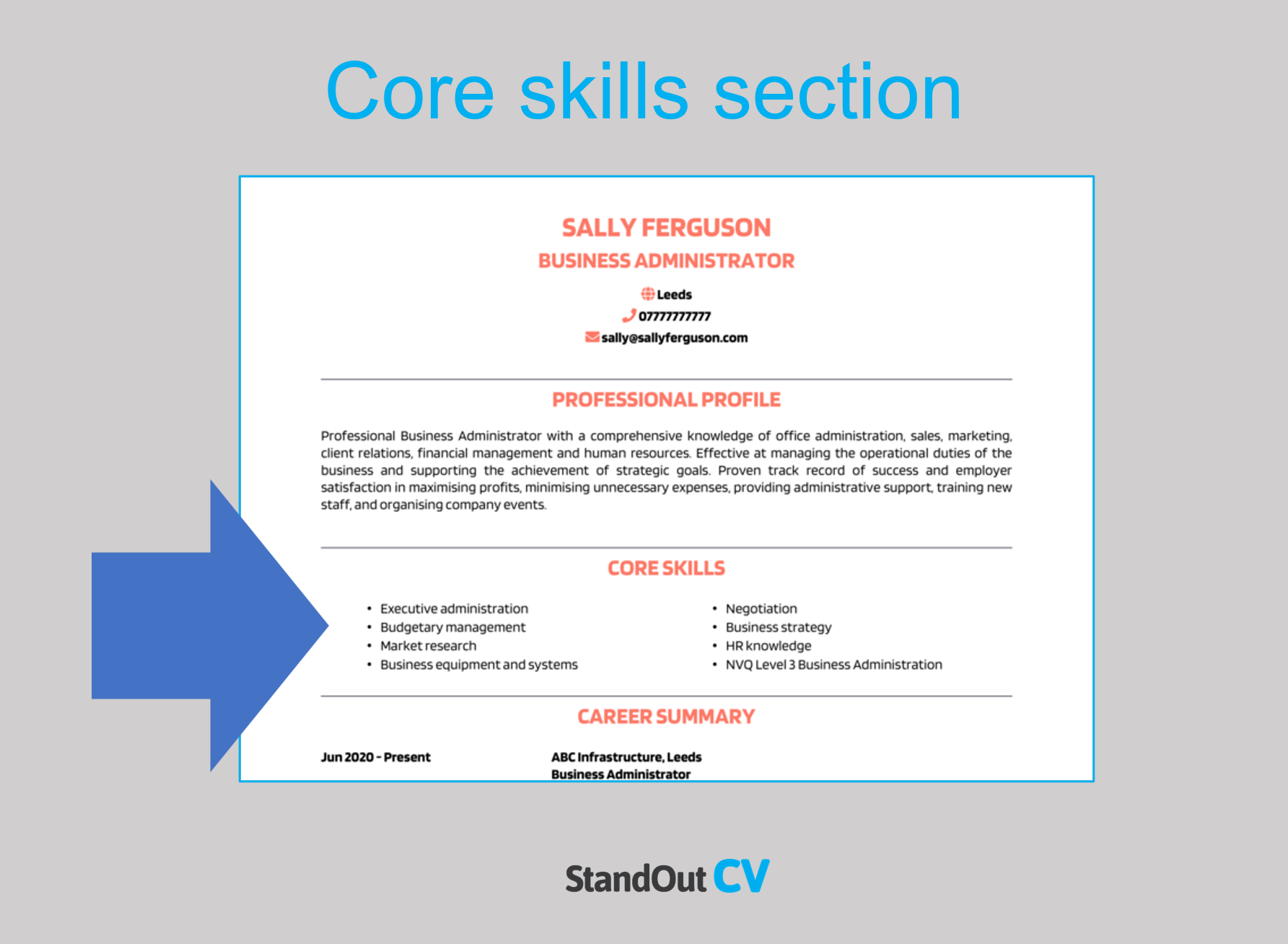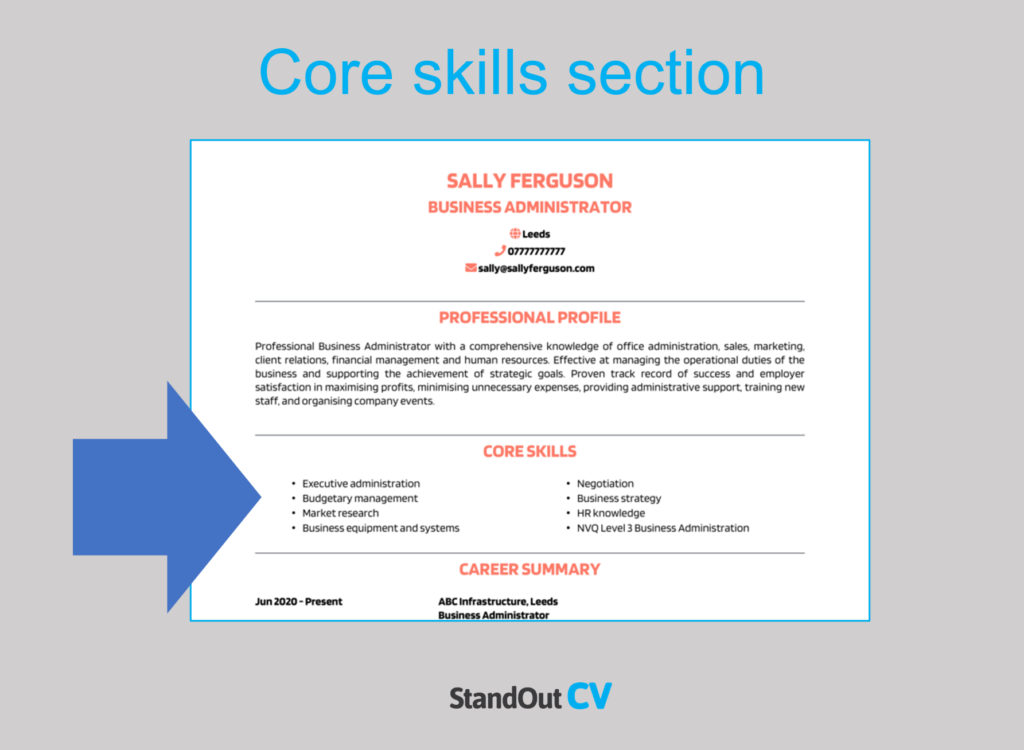 Important skills for your Youth Worker CV
Youth Development Knowledge – Utilising knowledge of youth development principles and theories to provide appropriate support and guidance to young people.
Program Planning and Implementation – Designing and implementing engaging and age-appropriate programs and activities that promote positive youth development and address specific needs and interests.
Client Communication – Effectively communicating with young people to understand their concerns, needs, and aspirations, and provide appropriate guidance and support.
Behaviour Management – Applying behaviour management strategies to maintain a positive and safe environment, manage conflicts, and address challenging behaviours.
Mentoring and Counselling – Providing mentoring and counselling support to young people, offering guidance, advice, and assistance in personal and academic matters.
Group Facilitation – Facilitating group discussions, activities, and workshops to encourage participation, collaboration, and skill development among young people.
Community Engagement – Engaging with community organisations, schools, and local authorities to create opportunities and support for young people.
Safeguarding and Child Protection – Utilising knowledge of safeguarding policies and procedures, including child protection protocols, to ensure the safety and well-being of young people.
Advocacy and Empowerment – Advocating for the needs and rights of young people, empowering them to voice their opinions and actively participate in decision-making processes.
Cultural Sensitivity and Inclusion – Creating a welcoming and inclusive environment for young people from diverse backgrounds, respecting their cultural identities and promoting equality and diversity.
Quick tip: Our partner's CV Builder has thousands of in-demand skills for all industries and professions, that can be added to your CV in seconds – This will save you time and ensure you get noticed by recruiters.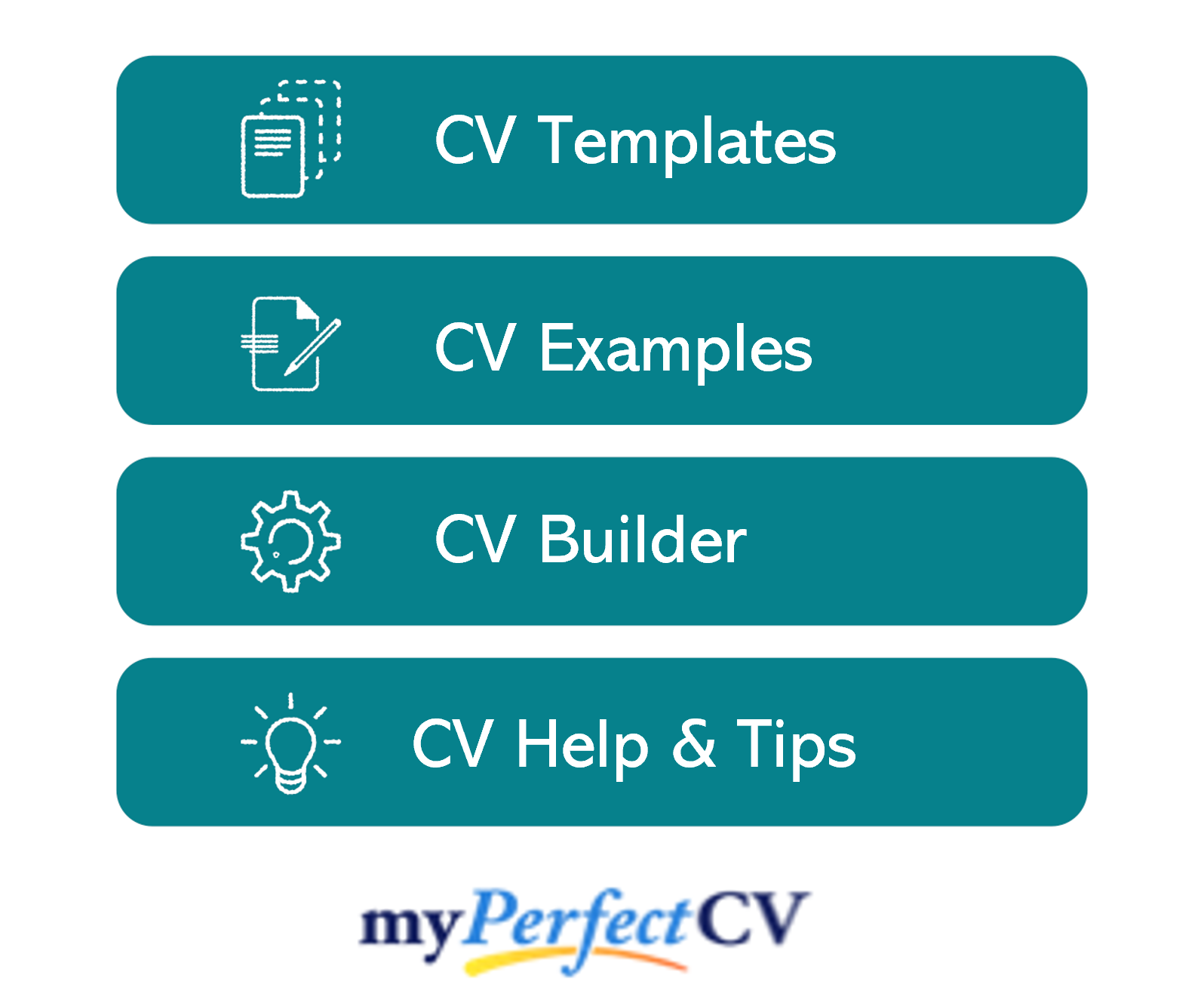 Work experience
Next up is your work experience section, which is normally the longest part of your CV.
Start with your current (or most recent) job and work your way backwards through your experience.
Can't fit all your roles? Allow more space for your recent career history and shorten down descriptions for your older roles.
Structuring each job
If you don't pay attention to the structure of your career history section, it could quickly become bulky and overwhelming.
Get in recruiters' good books by creating a pleasant reading experience, using the 3-step structure below:
Outline
Start with a solid introduction to your role as a whole, in order to build some context.
Explain the nature of the organisation you worked for, the size of the team you were part of, who you reported to and what the overarching purpose of your job was.
Key responsibilities
Use bullet points to detail the key responsibilities of your role, highlighting hard skills, software and knowledge wherever you can.
Keep them short and sharp to make them easily digestible by readers.
Key achievements
To finish off each role and prove the impact you made, list 1-3 stand out achievements, results or accomplishments.
This could be anything which had a positive outcome for the company you worked for, or perhaps a client/customer.
Where applicable, quantify your examples with facts and figures.
Sample job description for Youth Worker CV
Outline
Demonstrate commitment to improving outcomes for at-risk youngsters suffering harm outside of their family home, for a local authority that provides specialist county-wide services to 233K+ Swindon residents.
Key Responsibilities
Engage with teenagers to promote their emotional and mental wellness, while equipping them with safeguarding techniques to facilitate informal learning activities.
Apply knowledge of child exploitation, the county lines model, and adolescent development to tackle social ills and ensure desired outcomes.
Determine whether a child has any medical problems that require immediate attention.
Create programmes that strengthen minors' competencies, confidence, and overall resilience.
Quick tip: Create impressive job descriptions easily in our partner's CV Builder by adding pre-written job phrases for every industry and career stage.

Education section
Next up, you should list your education and qualifications.
This can include your formal qualifications (a degree, A-Levels and GCSEs), as well as sector-specific Youth Worker qualifications and/or training.
While school leavers and recent grads should include a lot of detail here to make up for the lack of work experience, experienced candidates may benefit from a shorter education section, as your work experience section will be more important to recruiters.
Hobbies and interests
The hobbies and interests CV section isn't mandatory, so don't worry if you're out of room by this point.
However, if you have an interesting hobby, or an interest that could make you seem more suitable for the role, then certainly think about adding.
Be careful what you include though… Only consider hobbies that exhibit skills that are required for roles as a Youth Worker, or transferable workplace skills.
There is never any need to tell employers that you like to watch TV and eat out.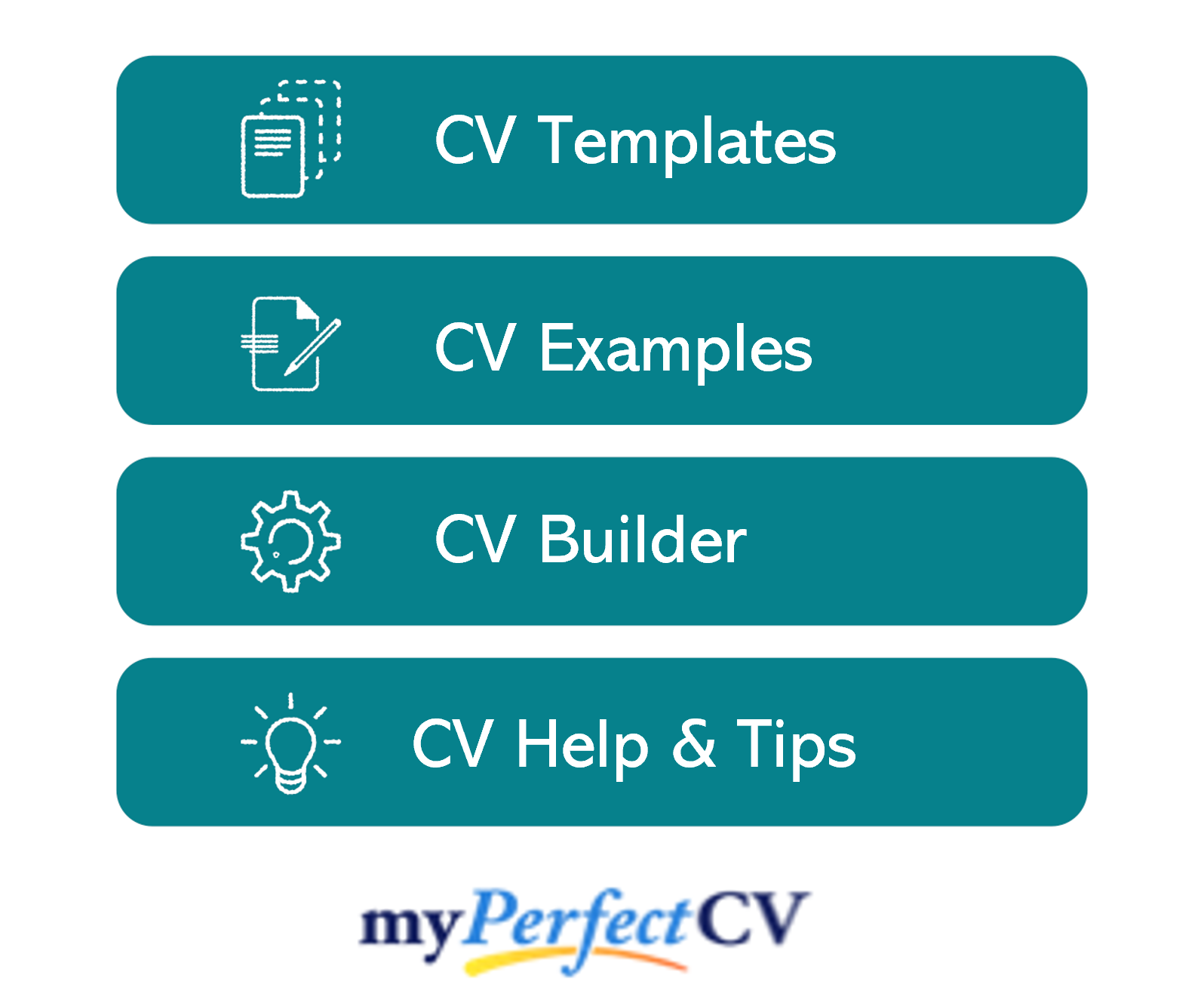 When putting together your Youth Worker CV, there are a few key points to remember.
Always tailor your CV to the target role, even if it means creating several versions for different roles.
Additionally, remember that the structure and format of your CV needs just as much attention as the content.
Good luck with your job search!