Do you want to work on a yacht, helping the guests to have a comfortable and enjoyable journey?
Then you need a CV that showcases your skills, experience and top qualities. But if you're knot all that experienced in writing applications, that's OK.
We can help you with our detailed guide below. You should also make the most of our yacht stewardess CV example to inspire your own.
Contents
| | |
| --- | --- |
| How to write a Yacht Stewardess CV | |

Yacht Stewardess CV example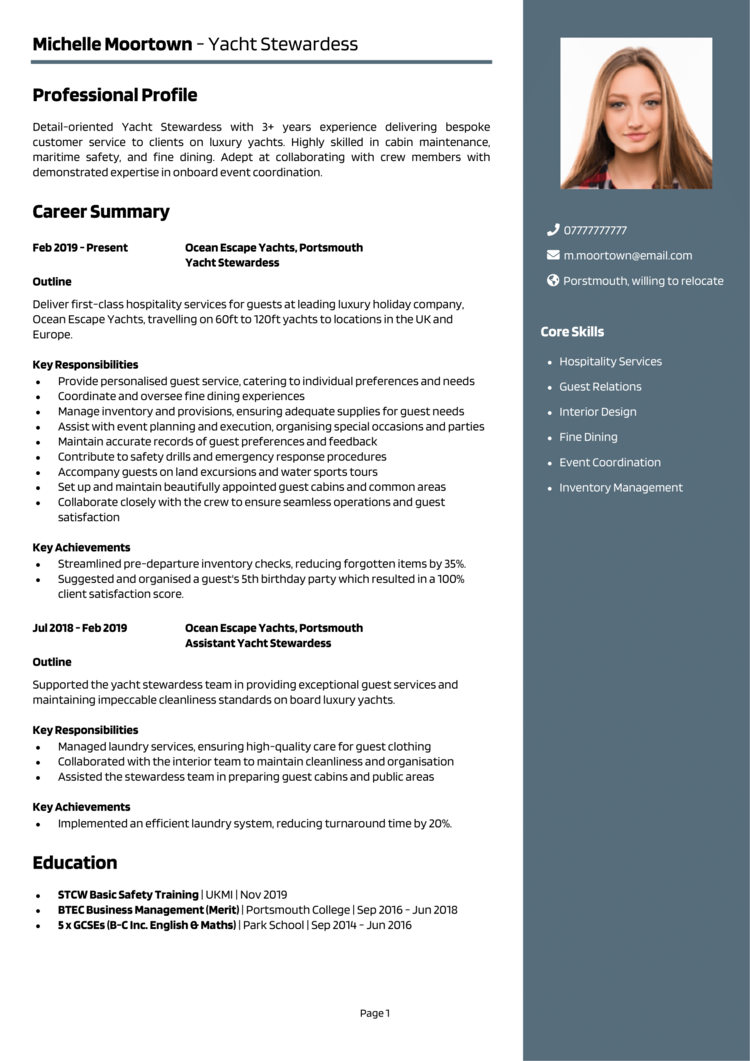 This is a good example of a Yacht Stewardess CV which contains all of the information that a hiring manager will need to be impressed, and presents it in a well- structured, easy-to-read format.
Take some time to study and understand this CV, and refer to it throughout the writing of your own CV for best results.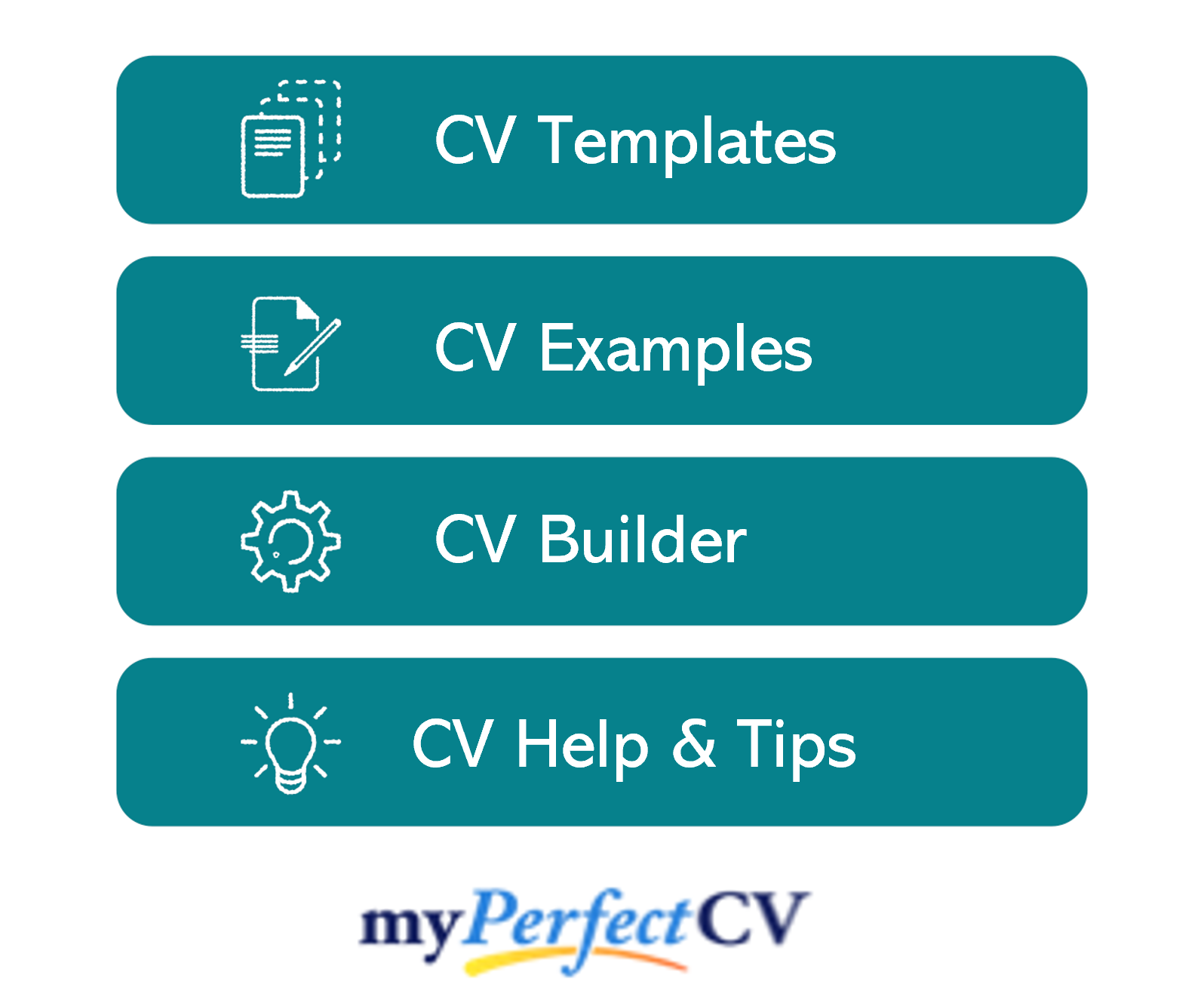 Yacht Stewardess CV format and structure
In today's fast-paced job market, recruiters and employers are often short on time. If they can't locate the information they're searching for within a few seconds, it could result in them overlooking your application.
To avoid this happening, it's critical to structure and format your CV in a way that allows them to quickly identify your key skills and offerings, even when they're pressed for time.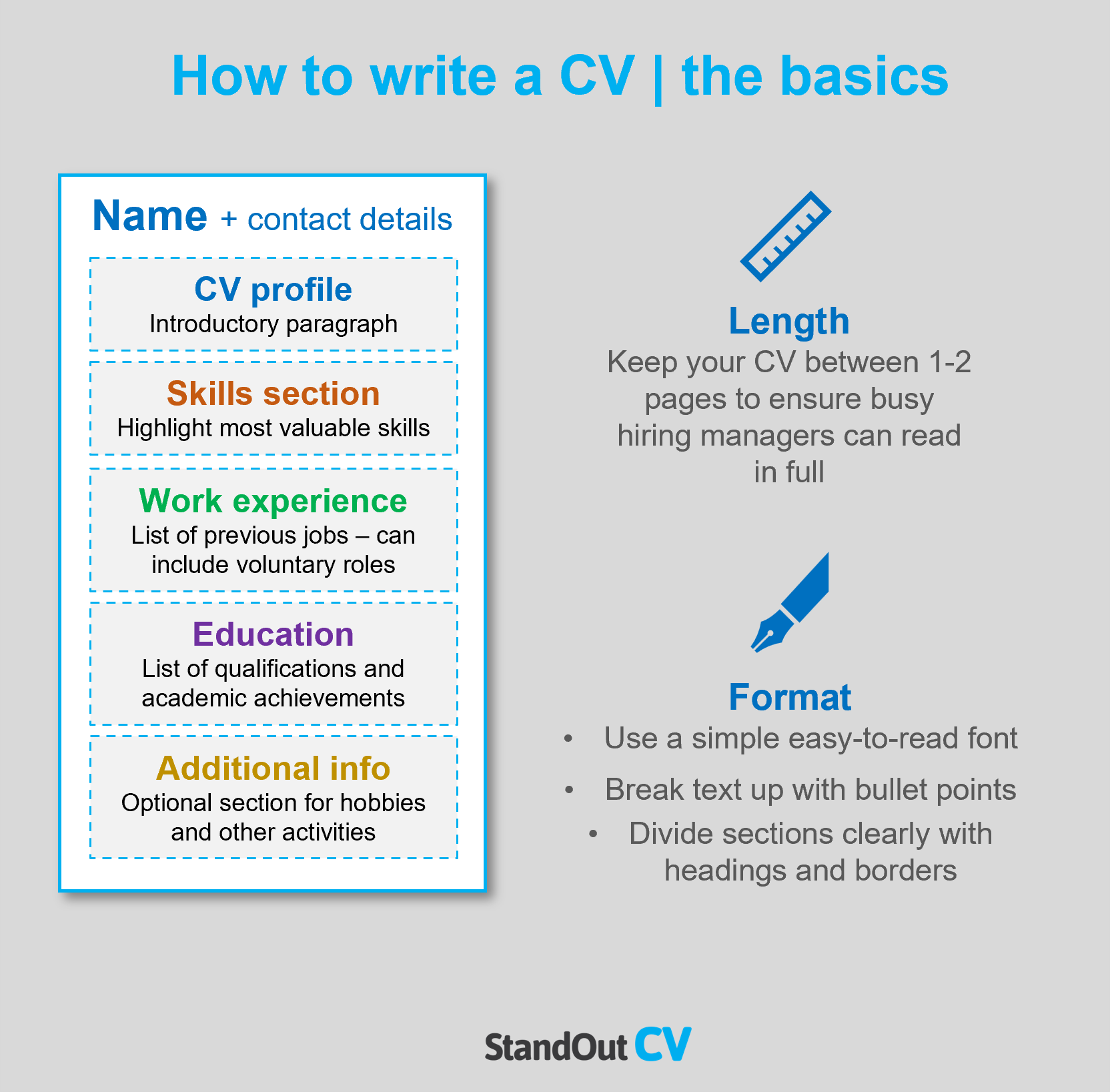 Tips for formatting your Yacht Stewardess CV
Length: If you want to hold the reader's attention and ensure your CV isn't yawn-worthy, it's best to stick to two sides of A4 or less. This is more than enough room to highlight why you're a good match for the role – anything more can quickly become tedious!
Readability: Make sure your CV is easy to read and looks professional by applying some simple formatting tricks. Bullet points are great for making large paragraphs more digestible, while formatting your headings with bold or coloured text will help the reader to find the information they need, with speed.
Design & format: While it's okay to add your own spin to your CV, avoid overdoing the design. If you go for something elaborate, you might end up frustrating recruiters who, above anything, value simplicity and clarity.
Photos: Profile photos or aren't a requirement for most industries, so you don't need to add one in the UK – but if you do, just make sure it looks professional
Quick tip: Creating a professional CV style can be difficult and time-consuming when using Microsoft Word or Google Docs. To create a winning CV quickly, try our partner's CV Builder and use one of their eye-catching professional CV templates.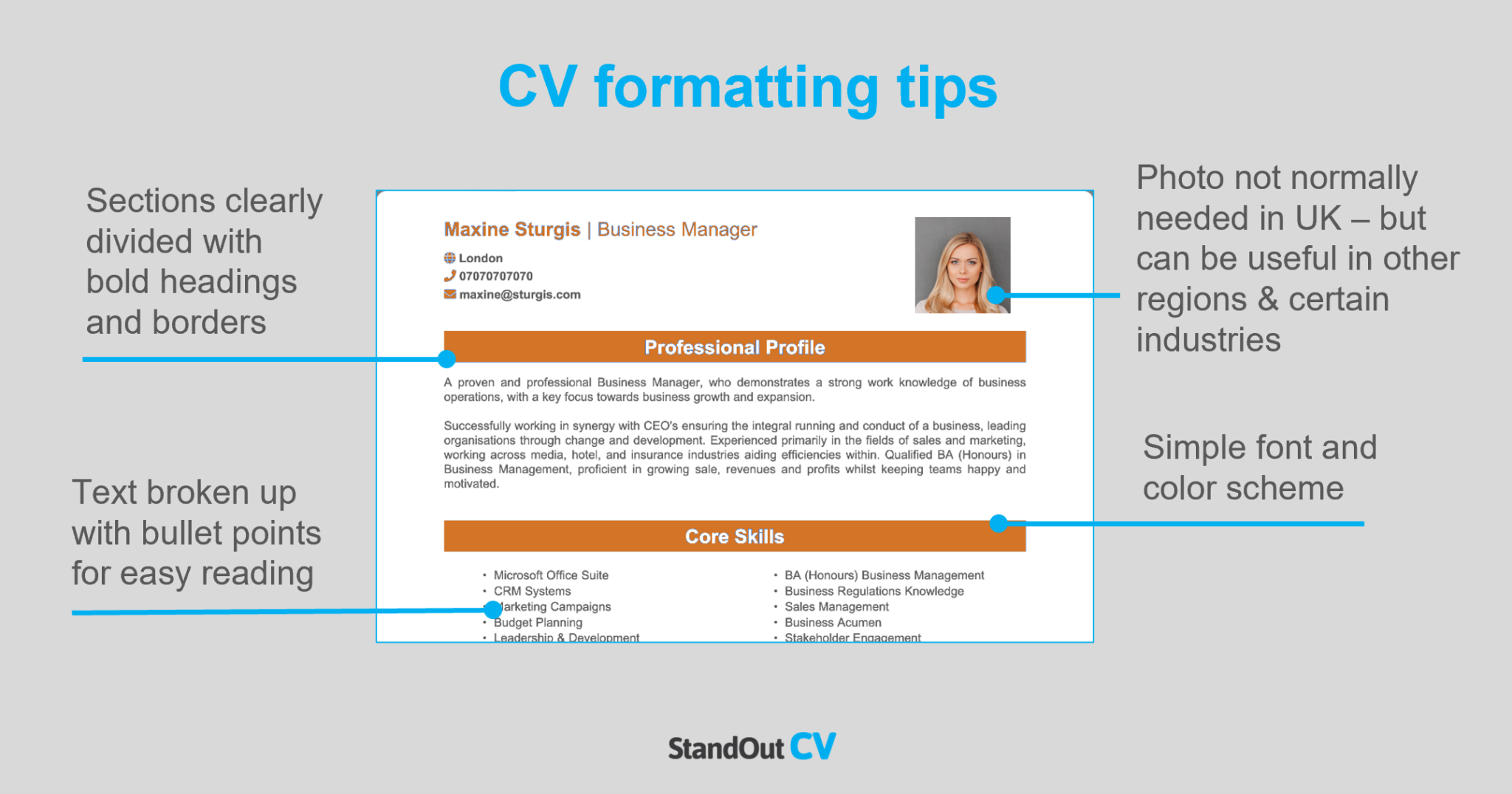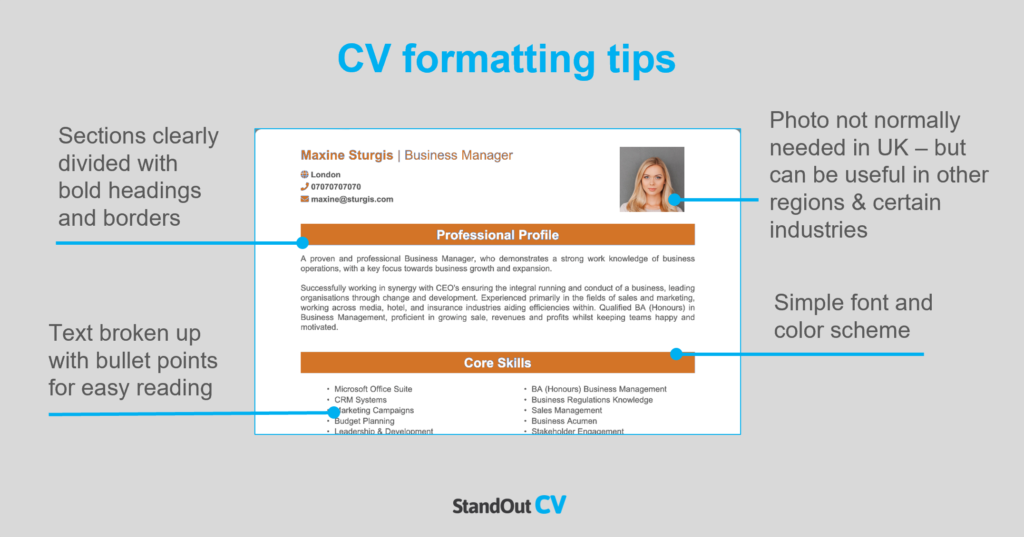 CV structure
When writing your CV, it's important to structure the content into the following key sections to ensure easy digestion by busy recruiters and hiring managers:
Contact details: List your contact details at the top of your CV to prevent them from being overlooked.
Profile: Begin with an introductory paragraph that captures recruiters' attention and summarises what you have to offer employers.
Work experience/career history: List your relevant work experience in reverse chronological order, starting with your current position.
Education: Provide a brief summary of your education and qualifications.
Interests and hobbies: An optional section to showcase any hobbies that highlight transferable skills relevant to your target jobs.
Now you understand the basic layout of a CV, here's what you should include in each section of yours.
Contact Details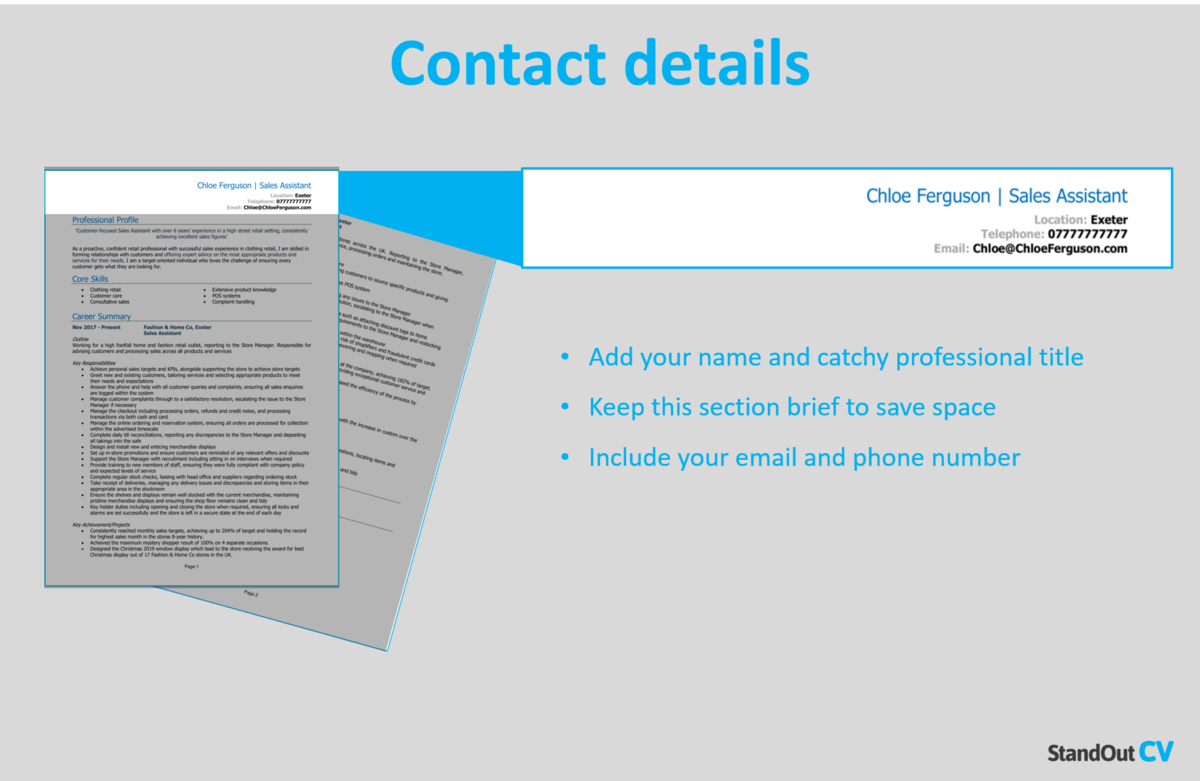 Start off your CV with a basic list of your contact details.
Here's what you should include:
Mobile number
Email address – It's often helpful to make a new email address, specifically for your job applications.
Location – Share your town or city; there's no need for a full address.
LinkedIn profile or portfolio URL – Make sure the information on them is coherent with your CV, and that they're up-to-date
Quick tip: Delete excessive details, such as your date of birth or marital status. Recruiters don't need to know this much about you, so it's best to save the space for your other CV sections.
Yacht Stewardess CV Profile
Your CV profile is the first thing recruiters will read – so your goal is to give them a reason to read onto the end of the document!
Create a short and snappy paragraph that showcases your key skills, relevant experience and impressive accomplishments.
Ultimately, it should prove to the reader that you've got what it takes to carry out the job.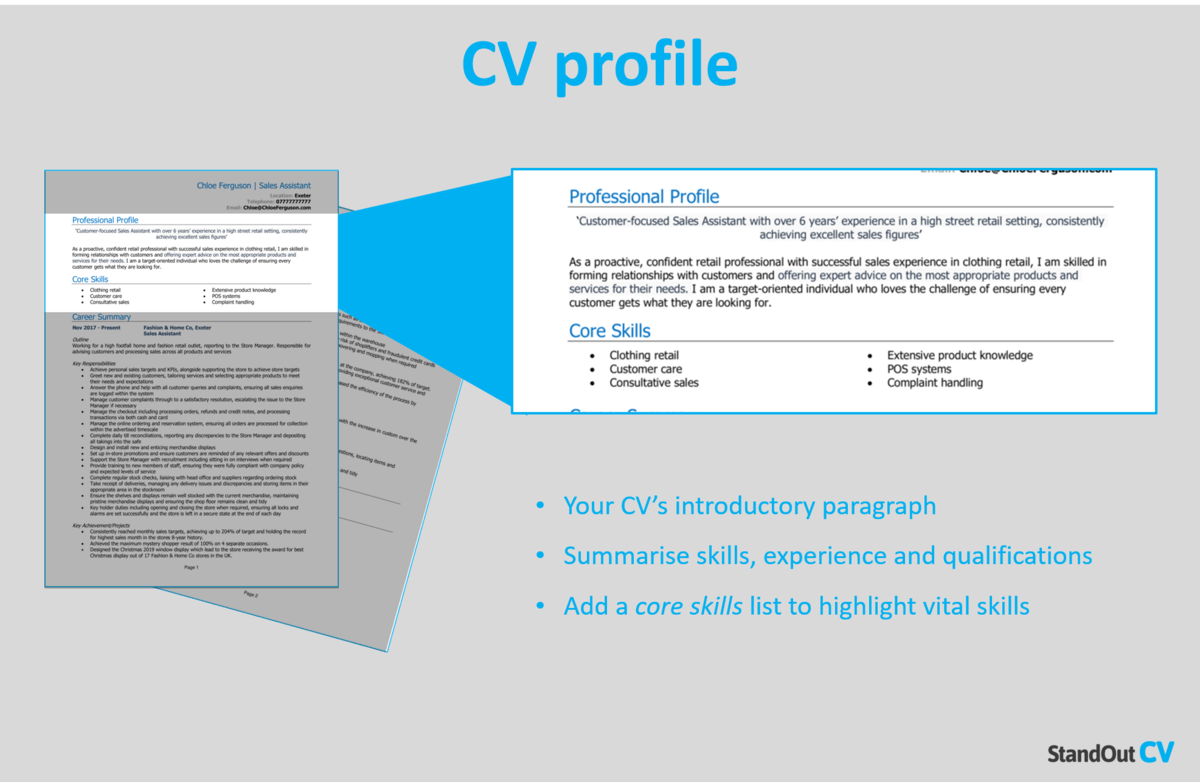 How to write a good CV profile:
Make it short and sharp: When it comes to CV profile length, less is more, as recruiters are often time-strapped. Aim for around of 3-5 persuasive lines.
Tailor it: Not tailoring your profile (and the rest of your CV) to the role you're applying for, is the worst CV mistake you could make. Before setting pen to paper, look over the job ad and make a note of the skills and experience required. Then, incorporate your findings throughout.
Don't add an objective: Career goals and objectives are best suited to your cover letter, so don't waste space with them in your CV profile.
Avoid generic phrases: If there's one thing that'll annoy a recruiter, it's a clichè-packed CV. Focus on showcasing your hard skills, experience and the results you've gained in previous roles, which will impress recruiters far more.
Example CV profile for Yacht Stewardess
Detail-oriented Yacht Stewardess with 3+ years' experience delivering bespoke customer service to clients on luxury yachts. Highly skilled in cabin maintenance, maritime safety, and fine dining. Adept at collaborating with crew members with demonstrated expertise in onboard event coordination.
What to include in your Yacht Stewardess CV profile?
Experience overview: Start with a brief summary of your relevant experience so far. How many years experience do you have? What type of companies have you worked for? What industries/sectors have you worked in? What are your specialisms?
Targeted skills: Highlight your skills which are most relevant to Yacht Stewardess jobs, to ensure that recruiters see your most in-demand skills as soon as they open your CV.
Important qualifications: If the jobs you are applying to require candidates to have certain qualifications, then you must add them in your profile to ensure they are seen by hiring managers.
Quick tip: If you are finding it difficult to write an attention-grabbing CV profile, choose from hundreds of pre-written profiles across all industries, and add one to your CV with one click in our partner's CV Builder. All profiles are written by recruitment experts and easily tailored to suit your unique skillset.
Core skills section
In addition to your CV profile, your core skills section provides an easily digestible snapshot of your skills – perfect for grabbing the attention of busy hiring managers.
As Yacht Stewardess jobs might receive a huge pile of applications, this is a great way to stand out and show off your suitability for the role.
It should be made up of 2-3 columns of bullet points and be made up of skills that are highly relevant to the jobs you are targeting.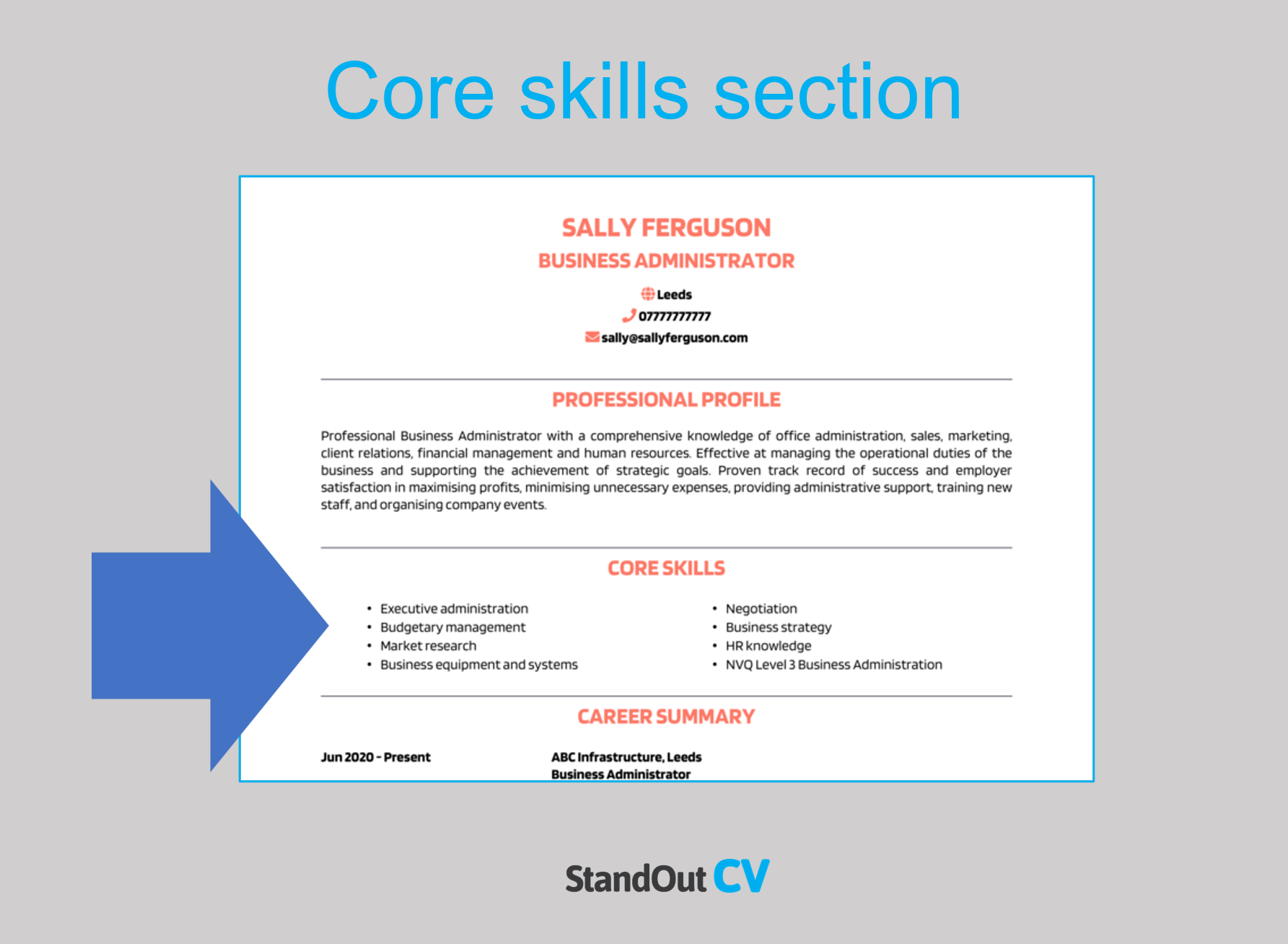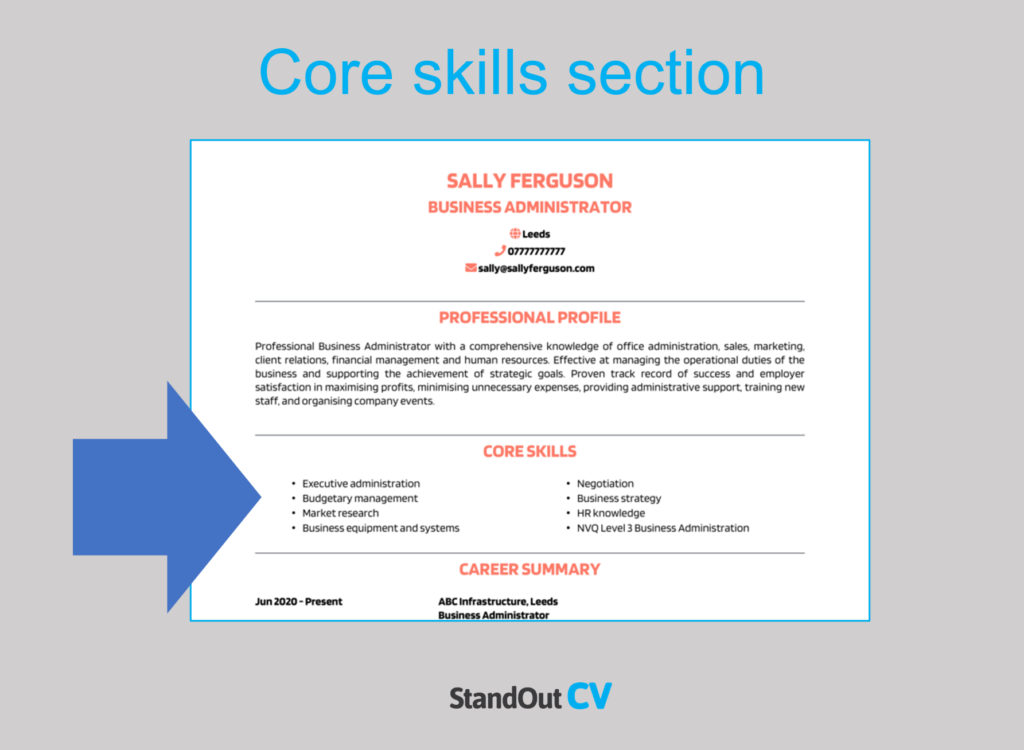 Important skills for your Yacht Stewardess CV
Hospitality and Customer Service – Providing top-notch customer service, anticipating guest needs, and ensuring a high level of satisfaction.
Housekeeping and Cleaning – Maintaining the cleanliness and tidiness of cabins, common areas, and guest quarters on the yacht, following strict hygiene and cleanliness standards.
Food and Beverage Service – Utilising proper food and beverage service techniques, including table setting, wine pairing and cocktail preparation to cater to various dietary requirements.
Safety and Emergency Procedures – Utilising knowledge of safety protocols and emergency response procedures to conduct safety drills to ensure the well-being of guests and crew in case of emergencies.
Inventory Management – Managing inventories, supplies, and provisioning for the yacht.
Event Planning and Coordination – Planning and executing events and special occasions on board, such as parties, dinners, and other entertainment activities, ensuring seamless coordination and guest satisfaction.
Communication and Language Proficiency – Interacting with guests, crew members, and other service providers, along with proficiency in languages commonly spoken by guests on board.
Etiquette and Protocol – Utilising knowledge of yacht etiquette and protocol, including proper dress code, social customs, and cultural sensitivities, to provide a refined and sophisticated guest experience.
First Aid and CPR – Maintaining up to date certifications in first aid and CPR, enabling prompt response and assistance in medical emergencies until professional medical help arrives.
Quick tip: Our partner's CV Builder has thousands of in-demand skills for all industries and professions, that can be added to your CV in seconds – This will save you time and ensure you get noticed by recruiters.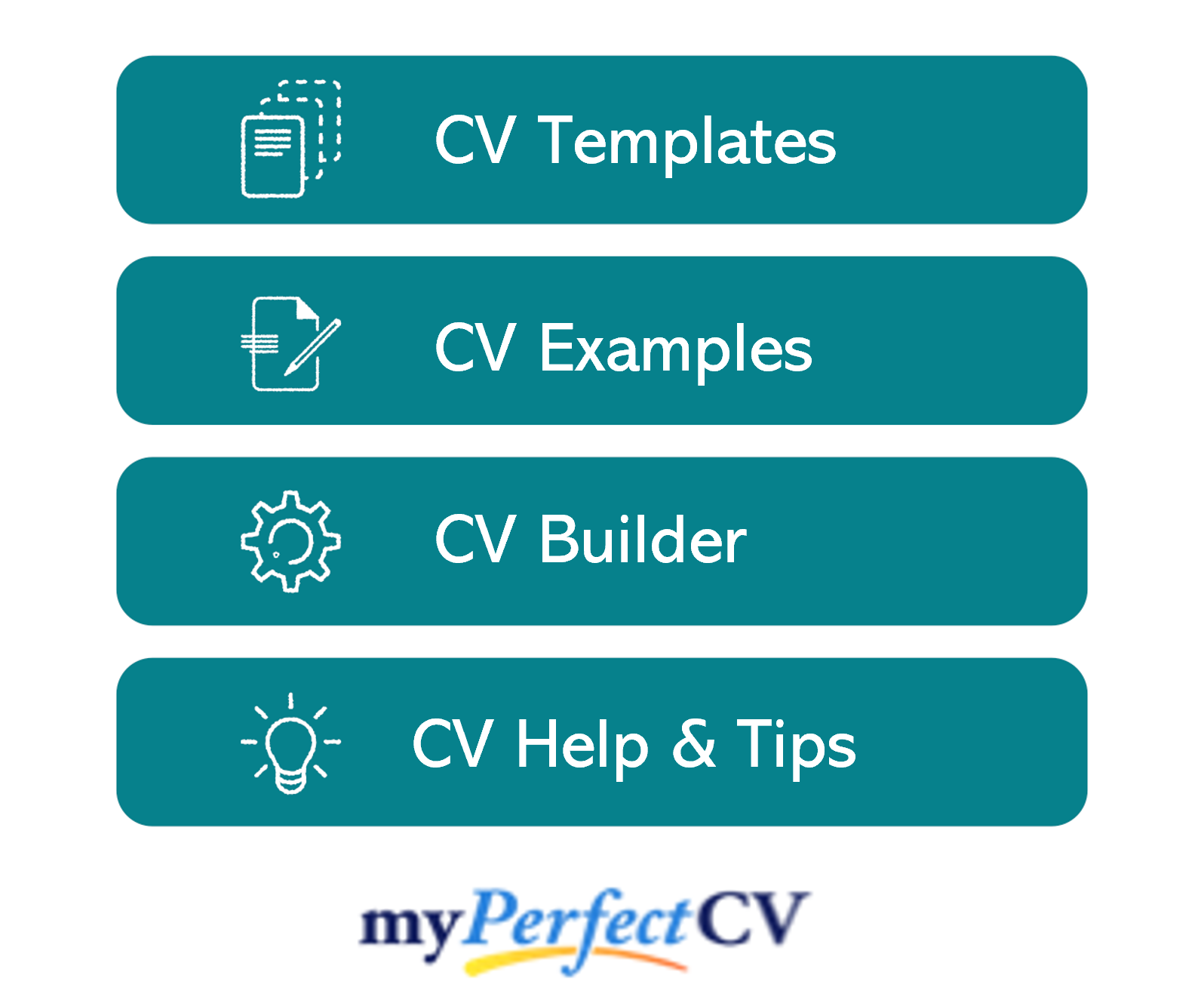 Work experience
Now that recruiters have a good overview of your skills and abilities, you need to jump into the detail of your career history.
Give them a more thorough insight into what you can do by creating a detailed list of your relevant experience.
Start with your current role, and work backwards through all the relevant positions you've held.
This could be freelance, contract or voluntary work too; as long as it's related to the role you're applying for.
Structuring each job
The structure of your work experience section can seriously affect its impact.
This is generally the biggest section of a CV, and with no thought to structure, it can look bulky and important information can get lost.
Use my 3-step structure below to allow for easy navigation, so employers can find what they are looking for:
Outline
Start with a 1-2 sentence summary of your role as a whole, detailing what the goal of your position was, who you reported to or managed, and the type of organisation you worked for.
Key responsibilities
Next up, you should write a short list of your day-to-day duties within the job.
Recruiters are most interested in your sector-specific skills and knowledge, so highlight these wherever possible.
Key achievements
Lastly, add impact by highlight 1-3 key achievements that you made within the role.
Struggling to think of an achievement? If it had a positive impact on your company, it counts.
For example, you might increased company profits, improved processes, or something simpler, such as going above and beyond to solve a customer's problem.
Sample job description for Yacht Stewardess CV
Outline
Deliver first-class hospitality services for guests at leading luxury holiday company, Ocean Escape Yachts, travelling on 60ft to 120ft yachts to locations in the UK and Europe.
Key Responsibilities
Provide personalised guest service, catering to individual preferences and needs
Coordinate and oversee fine dining experiences
Manage inventory and provisions, ensuring adequate supplies for guest needs
Assist with event planning and execution, organising special occasions and parties
Quick tip: Create impressive job descriptions easily in our partner's CV Builder by adding pre-written job phrases for every industry and career stage.

Education section
After your work experience, your education section should provide a detailed view of your academic background.
Begin with those most relevant to Yacht Stewardess jobs, such as vocational training or degrees.
If you have space, you can also mention your academic qualifications, such as A-Levels and GCSEs.
Focus on the qualifications that are most relevant to the jobs you are applying for.
Hobbies and interests
The hobbies and interests CV section isn't mandatory, so don't worry if you're out of room by this point.
However, if you have an interesting hobby, or an interest that could make you seem more suitable for the role, then certainly think about adding.
Be careful what you include though… Only consider hobbies that exhibit skills that are required for roles as a Yacht Stewardess, or transferable workplace skills.
There is never any need to tell employers that you like to watch TV and eat out.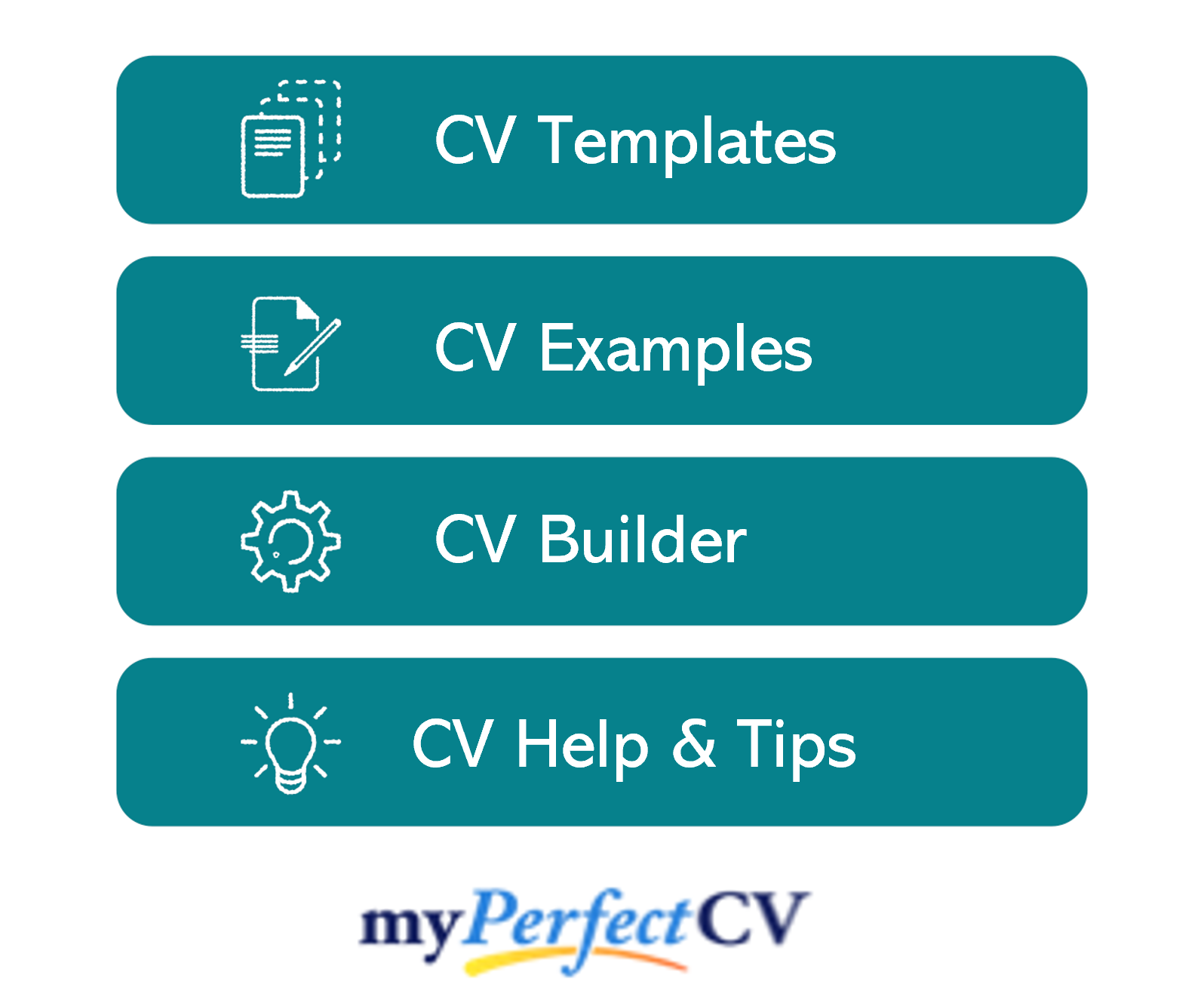 Once you've written your Yacht Stewardess CV, you should proofread it several times to ensure that there are no typos or grammatical errors.
With a tailored punchy profile that showcases your relevant experience and skills, paired with well-structured role descriptions, you'll be able to impress employers and land interviews.
Good luck with your next job application!