Are you looking for your next position as a window fitter?
Then it's clear as glass what you need to do. You need to write a standout application that's going to impress potential employers.
But that's easier said than done, which is why we have created this handy guide to help you, along with a detailed window fitter CV example.
Contents
| | |
| --- | --- |
| How to write a Window Fitter CV | |

Window Fitter CV example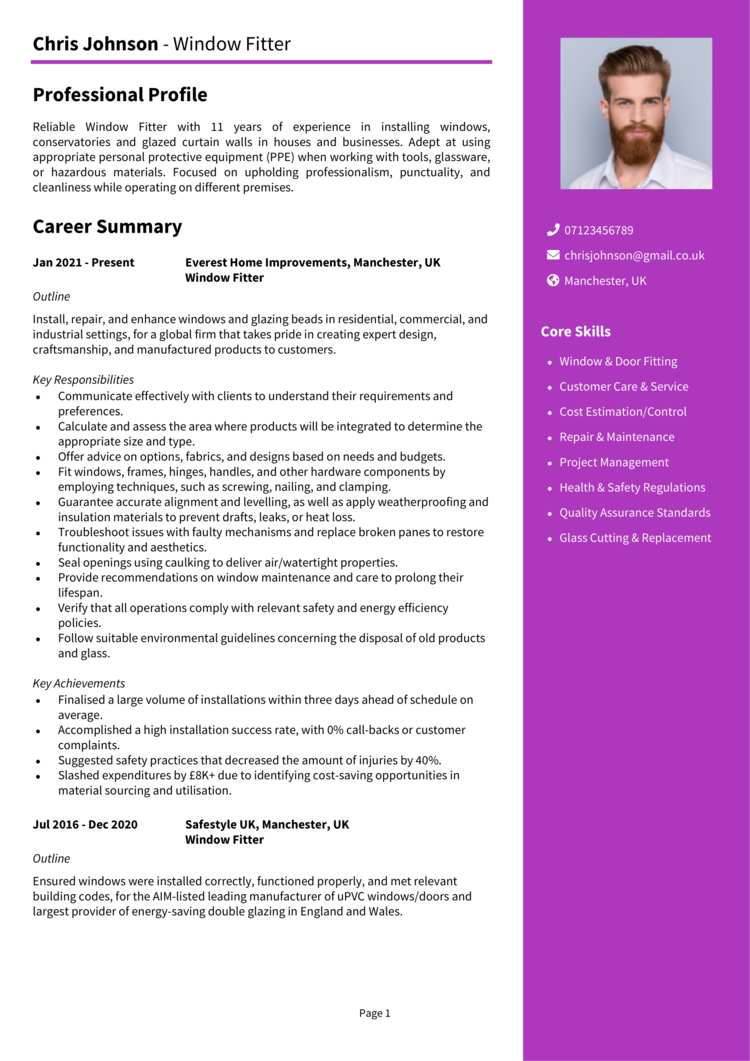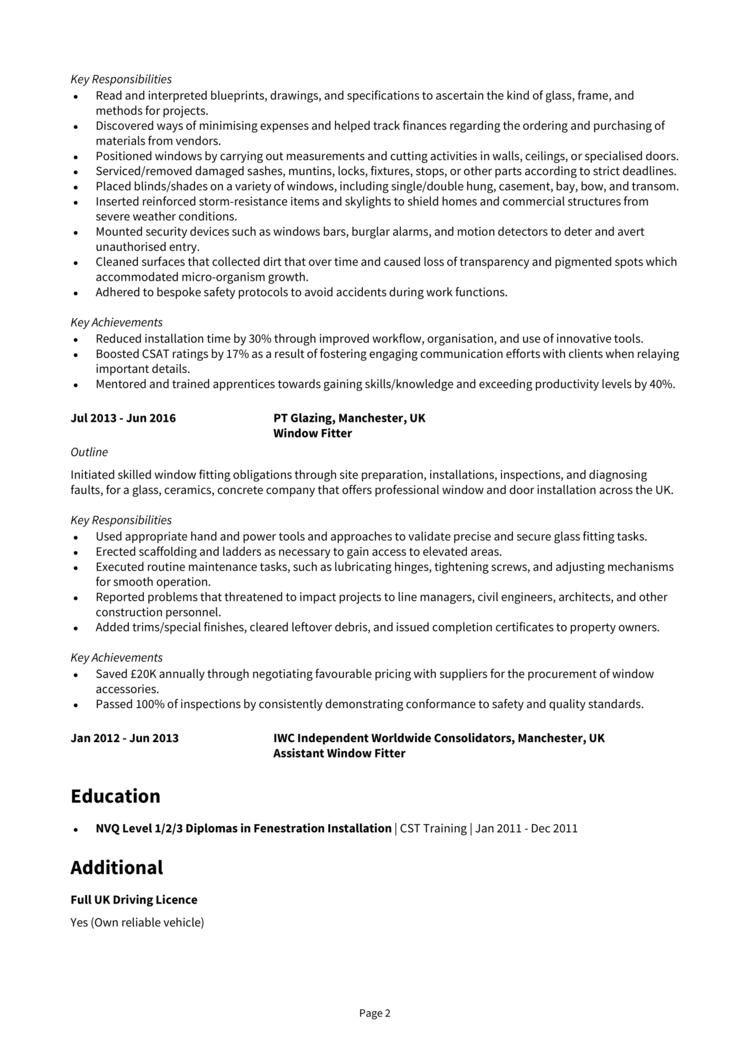 Use this CV example as a guide to formatting and structuring your Window Fitter CV, so that busy recruiters can easily digest your information and determine your suitability for the role.
It also provides some insight into the key skills, experience and qualifications you need to highlight.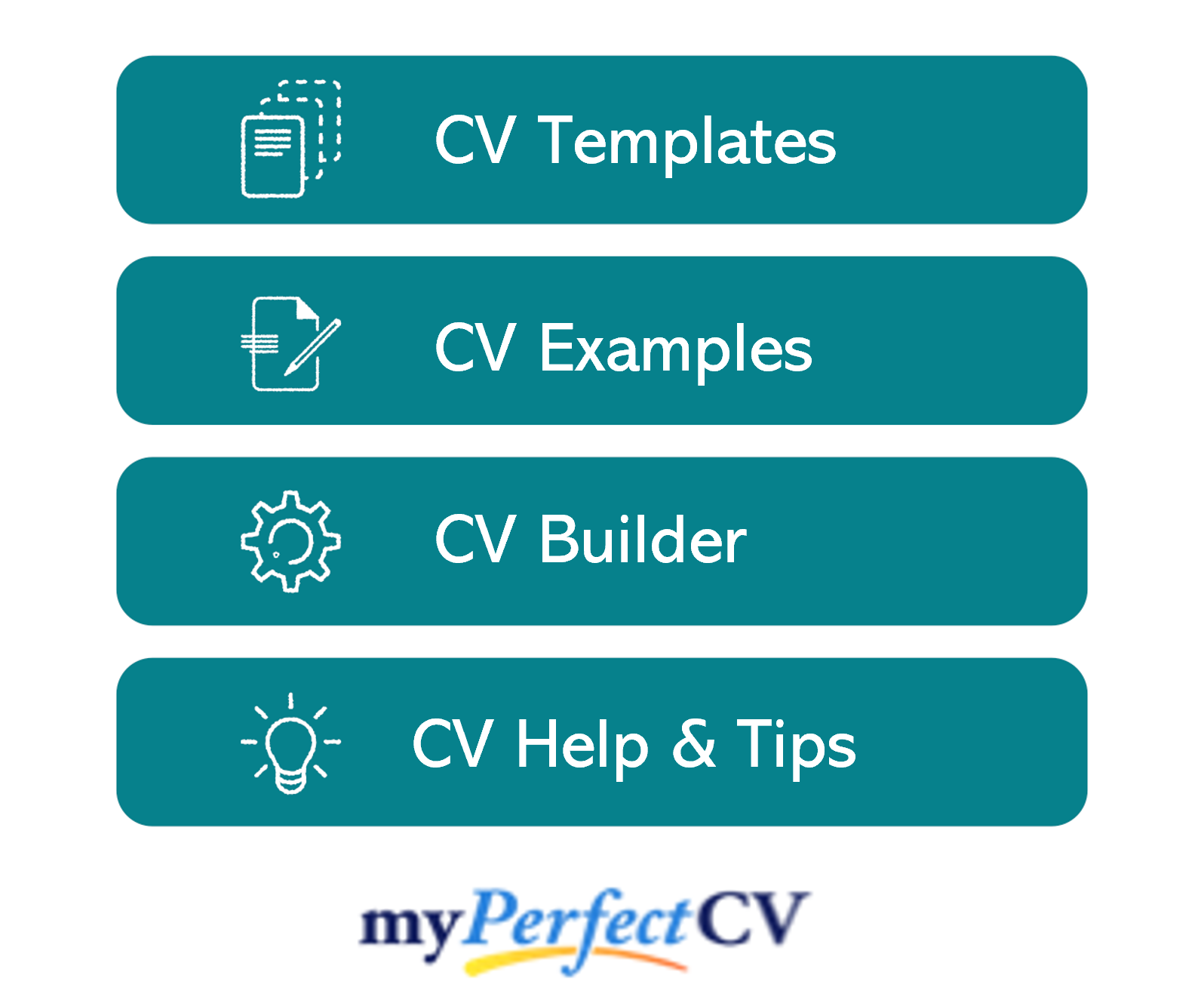 Window Fitter CV format and structure
Hiring managers and recruiters are frequently overloaded with applications, and if they can't identify the relevant information in your CV within a few seconds, your application may be overlooked.
To avoid this, it's essential to format and structure your CV in a manner that makes it simple to pick out the most important information, even if the reader is in a rush.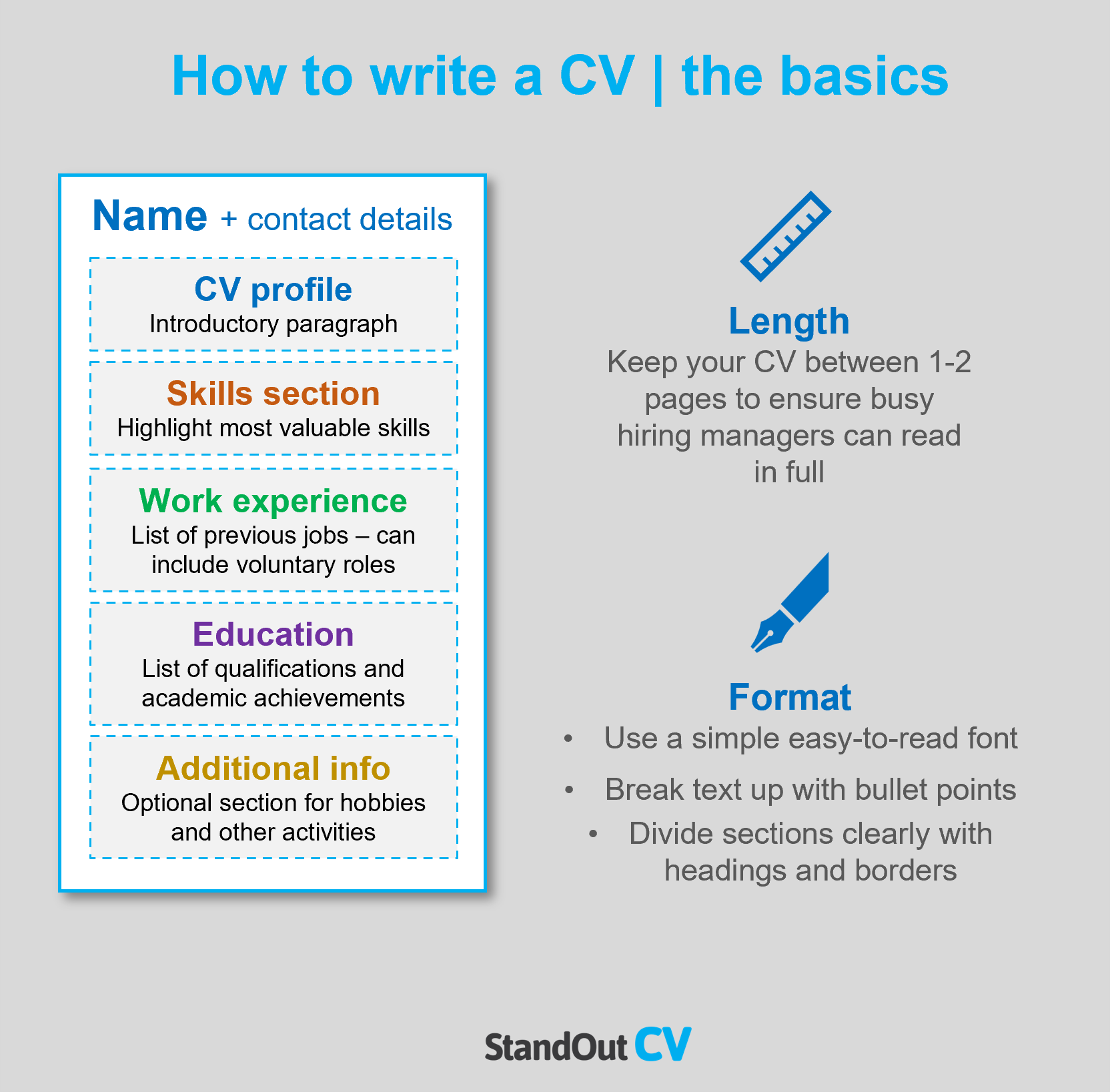 Tips for formatting your Window Fitter CV
Length: Even if you've got tons of experience to brag about, recruiters don't have time to read through overly lengthy CVs. Keep it short, concise and relevant – a CV length of 2 sides of A4 pages or less is perfect for the attention spans in today's job market.
Readability: To help recruiters quickly skim through your CV, it's important to format your section headings with bold or a different colour font and break up lengthy paragraphs into short sharp bullet points. This enables them to easily identify important information and assess your suitability.
Design & format: While it's okay to add your own spin to your CV, avoid overdoing the design. If you go for something elaborate, you might end up frustrating recruiters who, above anything, value simplicity and clarity.
Photos: Don't add profile photos to your CV unless you work in an industry or region which prefers to see them. Most employers in the UK will not need to see one.
Quick tip: Creating a professional CV style can be difficult and time-consuming when using Microsoft Word or Google Docs. To create a winning CV quickly, try our partner's CV Builder and use one of their eye-catching professional CV templates.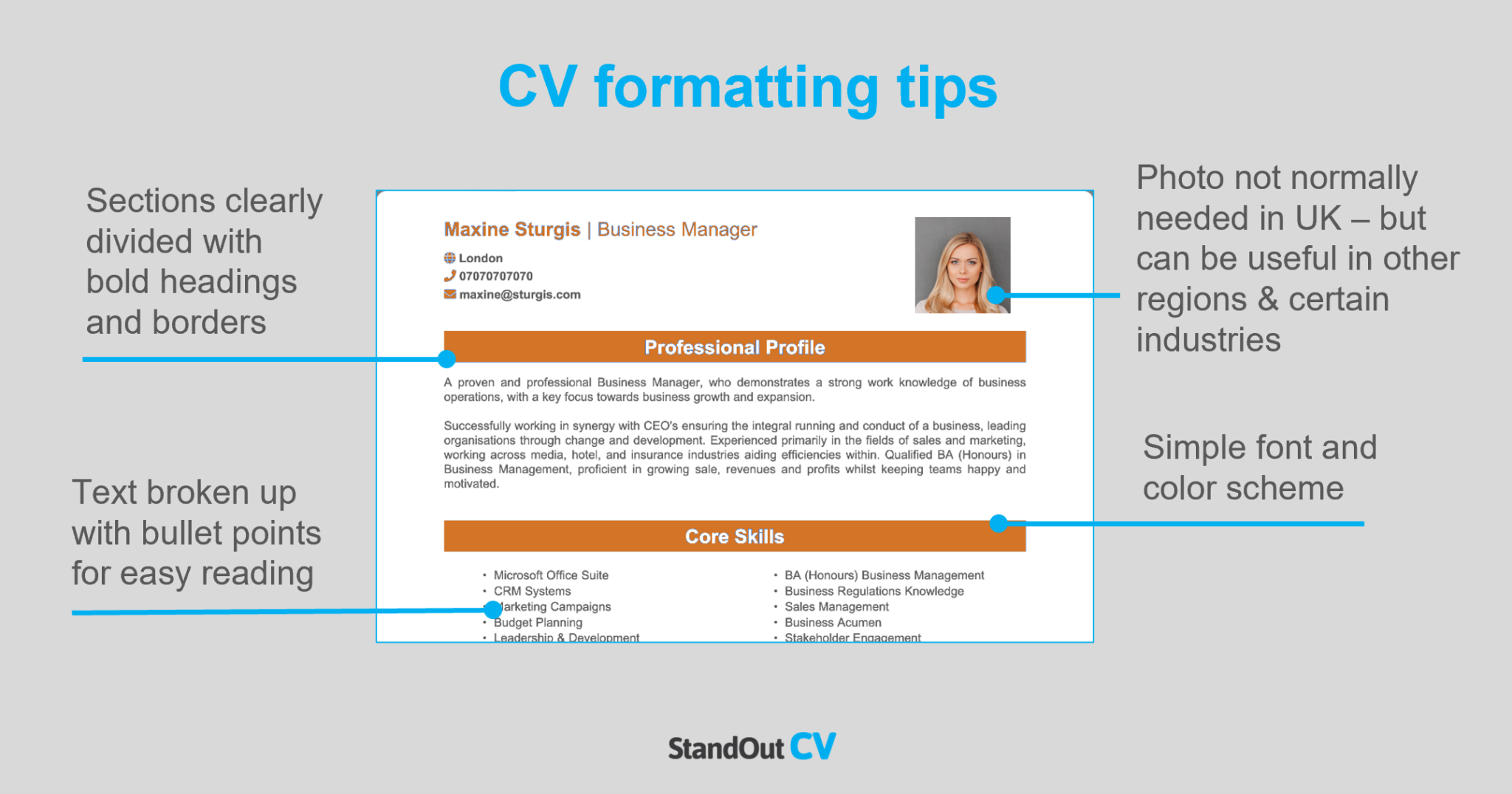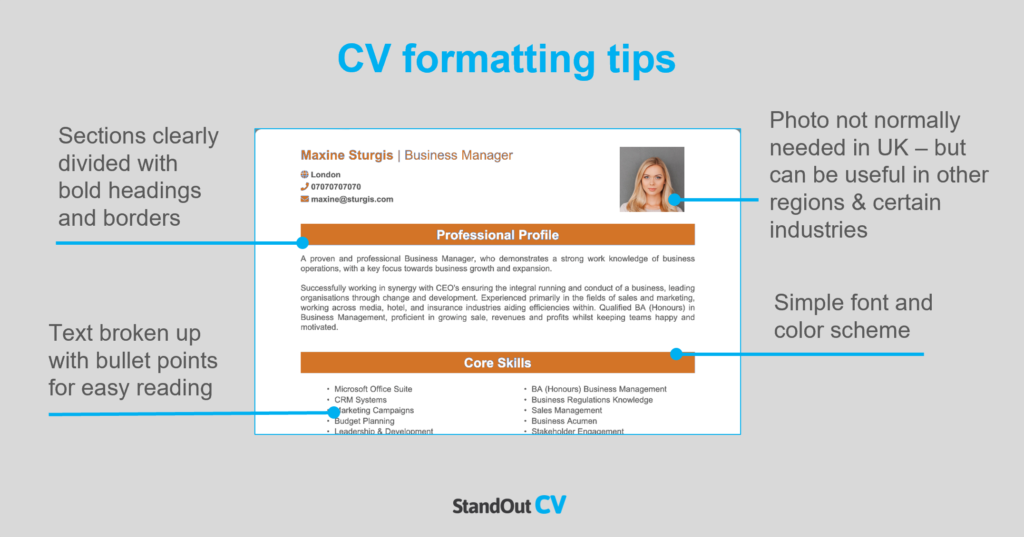 CV structure
When writing your own CV, break up your CV content into the following key sections:
Name and contact details – Place them at the top of your CV, so that employers can easily get in touch.
CV profile – A punchy sales pitch of your key experience, skills and achievements to reel readers in.
Core skills section – A bullet-pointed snapshot of your abilities.
Work experience – A well-structured list of your relevant work experience.
Education – An overview of any relevant qualifications or professional training you have.
Hobbies and interests – A short description of any relevant hobbies or interests (optional).
Now you understand the basic layout of a CV, here's what you should include in each section of yours.
Contact Details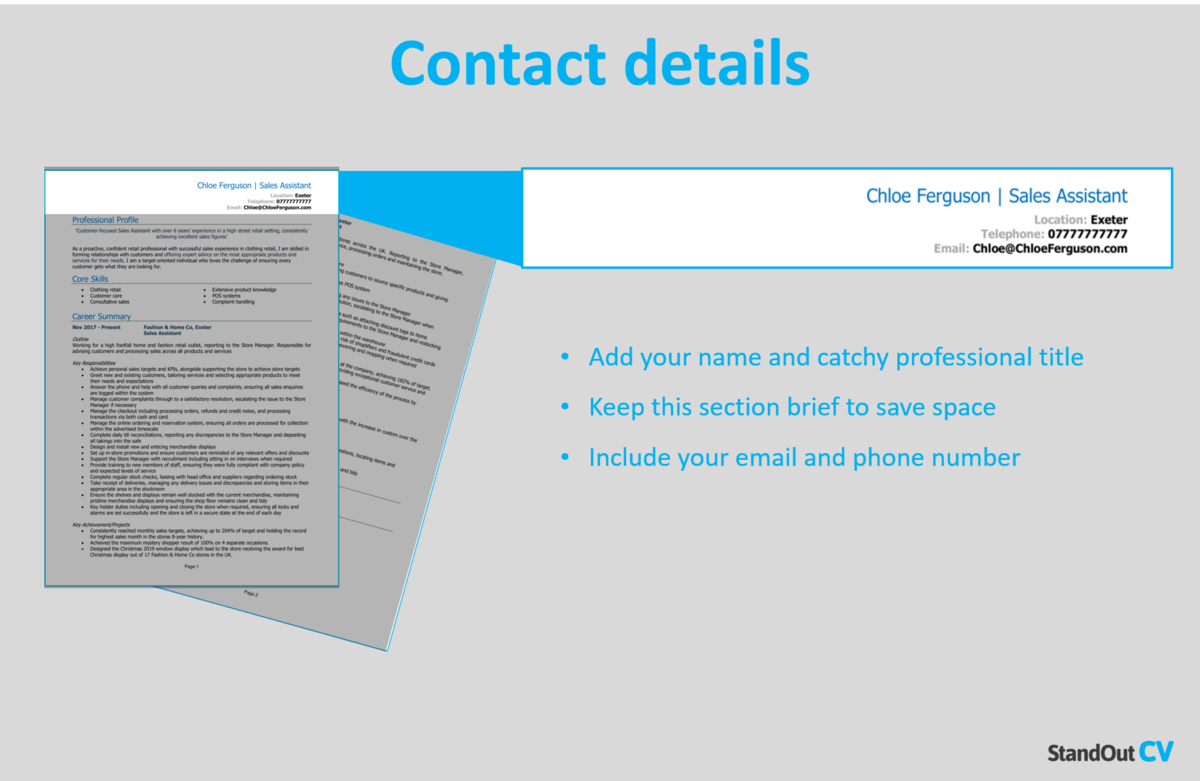 Start off your CV with a basic list of your contact details.
Here's what you should include:
Mobile number
Email address – It's often helpful to make a new email address, specifically for your job applications.
Location – Share your town or city; there's no need for a full address.
LinkedIn profile or portfolio URL – Make sure the information on them is coherent with your CV, and that they're up-to-date
Quick tip: Delete excessive details, such as your date of birth or marital status. Recruiters don't need to know this much about you, so it's best to save the space for your other CV sections.
Window Fitter CV Profile
Your CV profile is the first thing recruiters will read – so your goal is to give them a reason to read onto the end of the document!
Create a short and snappy paragraph that showcases your key skills, relevant experience and impressive accomplishments.
Ultimately, it should prove to the reader that you've got what it takes to carry out the job.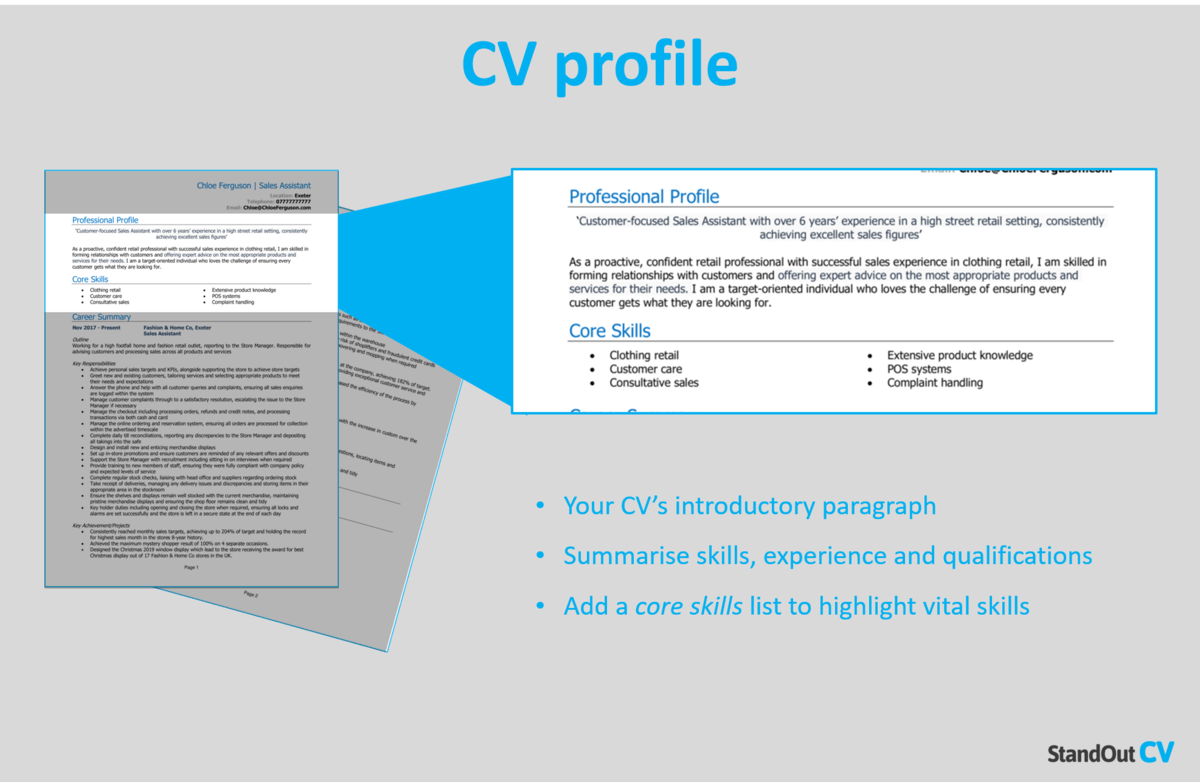 How to write a good CV profile:
Make it short and sharp: Recruiters have piles of CVs to read through and limited time to dedicate to each, so it pays to showcase your abilities in as few words as possible. 3-4 lines is ideal.
Tailor it: Before writing your CV, make sure to do some research. Figure out exactly what your desired employers are looking for and make sure that you are making those requirements prominent in your CV profile, and throughout.
Don't add an objective: Leave your career objectives or goals out of your profile. You only have limited space to work with, so they're best suited to your cover letter.
Avoid generic phrases: If your CV is riddled with clichès like "Dynamic thought-leader", hit that delete button. Phrases like these are like a broken record to recruiters, who read them countless times per day. Hard facts, skills, knowledge and results are sure to yield far better results.
Example CV profile for Window Fitter
Reliable Window Fitter with 11 years of experience in installing windows, conservatories and glazed curtain walls in houses and businesses. Adept at using appropriate personal protective equipment (PPE) when working with tools, glassware, or hazardous materials. Focused on upholding professionalism, punctuality, and cleanliness while operating on different premises.
What to include in your Window Fitter CV profile?
Experience overview: Start with a brief summary of your relevant experience so far. How many years experience do you have? What type of companies have you worked for? What industries/sectors have you worked in? What are your specialisms?
Targeted skills: Highlight your skills which are most relevant to Window Fitter jobs, to ensure that recruiters see your most in-demand skills as soon as they open your CV.
Important qualifications: If the job postings require specific qualifications, it is essential to incorporate them in your profile to ensure visibility to hiring managers.
Quick tip: If you are finding it difficult to write an attention-grabbing CV profile, choose from hundreds of pre-written profiles across all industries, and add one to your CV with one click in our partner's CV Builder. All profiles are written by recruitment experts and easily tailored to suit your unique skillset.
Core skills section
To ensure that your most relevant skills catch the eye of readers, create a core skills section below your profile.
This section should be presented in 2-3 columns of bullet points highlighting your applicable skills. Before crafting this section, carefully examine the job description and create a list of any required skills, specialisms, or knowledge.
Use this list to include the necessary information in your section and present yourself as the ideal match for the position.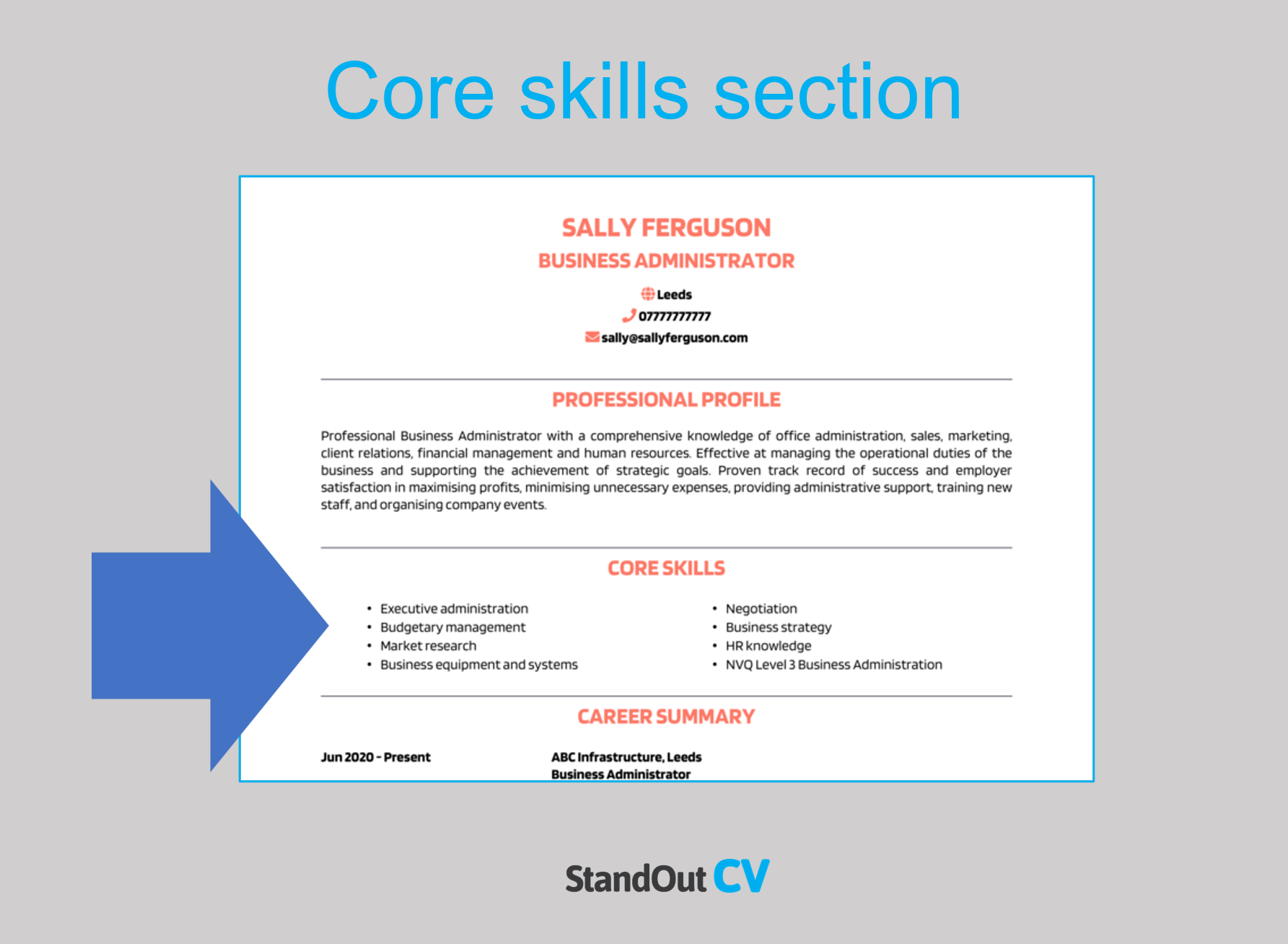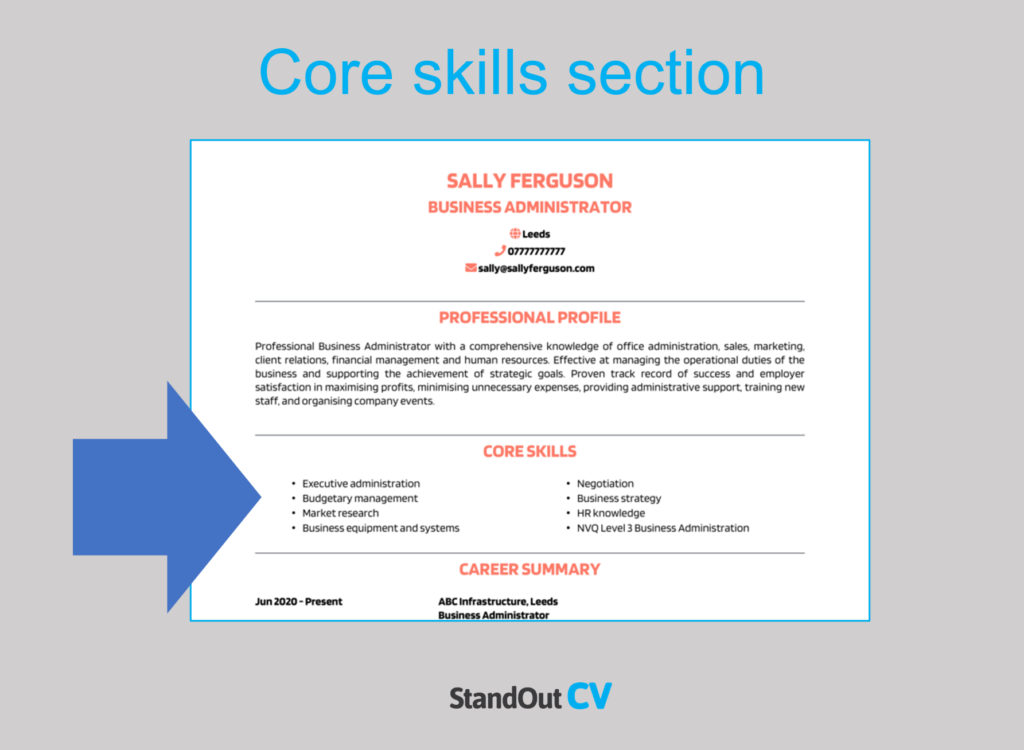 Important skills for your Window Fitter CV
Window Installation – Installing various types of windows, including casement, sash, tilt and turn, and sliding windows, ensuring proper fit, alignment, and weatherproofing.
Measurement and Accuracy – Taking precise measurements and calculations to ensure accurate window sizing and positioning for a seamless installation.
Window Knowledge – Maintaining an in-depth understanding of different window materials, such as uPVC, aluminium, and timber, as well as their specific installation requirements and best practices.
Sealing and Insulation – Utilising knowledge of sealing techniques and insulation methods to effectively seal windows against drafts, moisture, and sound, ensuring optimal energy efficiency.
Trim and Finishing Work – Trimming and finishing window installations with attention to detail, including fitting architraves, glazing beads, and other decorative elements.
Hand and Power Tools – Utilising a wide range of hand tools, power tools, and equipment specific to window fitting, ensuring safe and efficient installation processes.
Health and Safety Compliance – Utilising knowledge of health and safety regulations and practices, including working at heights, safe handling of materials, and use of personal protective equipment (PPE).
Problem Resolution – Identifying and resolving installation challenges or issues that may arise, such as uneven openings, structural limitations, or unexpected obstacles.
Customer Service – Interacting with clients professionally, addressing their concerns, and providing quality service throughout the window fitting process.
Project Management – Managing multiple window installation projects, meeting deadlines, and ensuring timely completion.
Quick tip: Our partner's CV Builder has thousands of in-demand skills for all industries and professions, that can be added to your CV in seconds – This will save you time and ensure you get noticed by recruiters.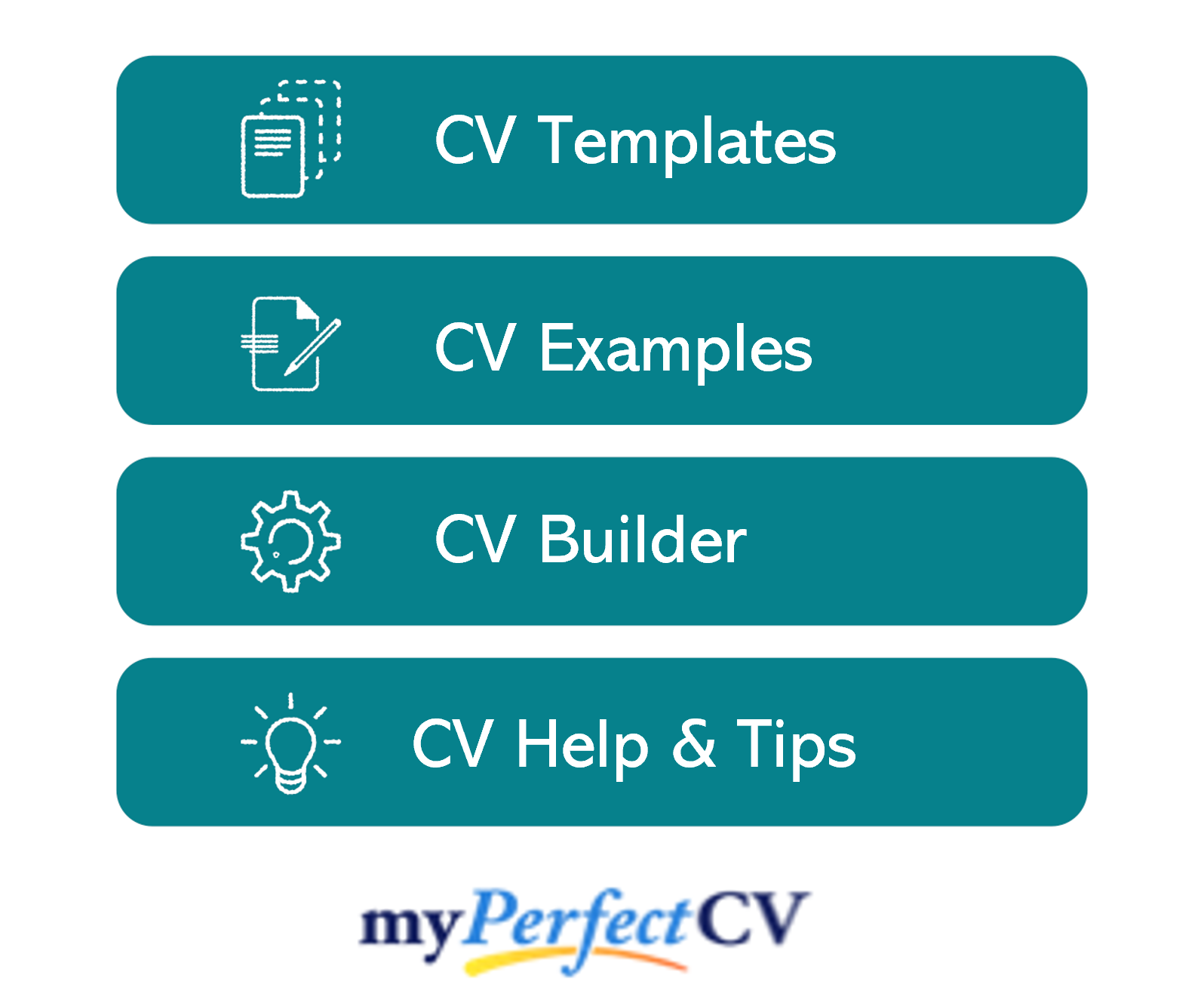 Work experience
Now it's time to get stuck into your work experience, which should make up the bulk of your CV.
Begin with your current (or most recent) job, and work your way backwards.
If you've got too much experience to fit onto two pages, prioritise space for your most recent and relevant roles.
Structuring each job
Whilst writing your CV, it's essential to look at it from the eyes of a recruiter.
If they're met with giant blocks of text which are impossible to navigate, they might get frustrated and skip onto the next CV.
Instead, make use of the 3-step structure shown below, to give them a pleasant reading experience.
Outline
Start with a solid introduction to your role as a whole, in order to build some context.
Explain the nature of the organisation you worked for, the size of the team you were part of, who you reported to and what the overarching purpose of your job was.
Key responsibilities
Follow with a snappy list of bullet points, detailing your daily duties and responsibilities.
Tailor it to the role you're applying for by mentioning how you put the target employer's desired hard skills and knowledge to use in this role.
Key achievements
Finish off by showcasing 1-3 key achievements made within the role.
This could be anything that had a positive effect on your company, clients or customers, such as saving time or money, receiving exemplary feedback or receiving an award.
Sample job description for Window Fitter CV
Outline
Install, repair, and enhance windows and glazing beads in residential, commercial, and industrial settings, for a global firm that takes pride in creating expert design, craftsmanship, and manufactured products to customers.
Key Responsibilities
Communicate effectively with clients to understand their requirements and preferences.
Calculate and assess the area where products will be integrated to determine the appropriate size and type.
Offer advice on options, fabrics, and designs based on needs and budgets.
Fit windows, frames, hinges, handles, and other hardware components by employing techniques, such as screwing, nailing, and clamping.
Quick tip: Create impressive job descriptions easily in our partner's CV Builder by adding pre-written job phrases for every industry and career stage.

Education section
Although there should be mentions of your highest and most relevant qualifications earlier on in your CV, save your exhaustive list of qualifications for the bottom.
If you're an experienced candidate, simply include the qualifications that are highly relevant to Window Fitter roles.
However, less experienced candidates can provide a more thorough list of qualifications, including A-Levels and GCSEs.
You can also dedicate more space to your degree, discussing relevant exams, assignments and modules in more detail, if your target employers consider them to be important.
Hobbies and interests
The hobbies and interests CV section isn't mandatory, so don't worry if you're out of room by this point.
However, if you have an interesting hobby, or an interest that could make you seem more suitable for the role, then certainly think about adding.
Be careful what you include though… Only consider hobbies that exhibit skills that are required for roles as a Window Fitter, or transferable workplace skills.
There is never any need to tell employers that you like to watch TV and eat out.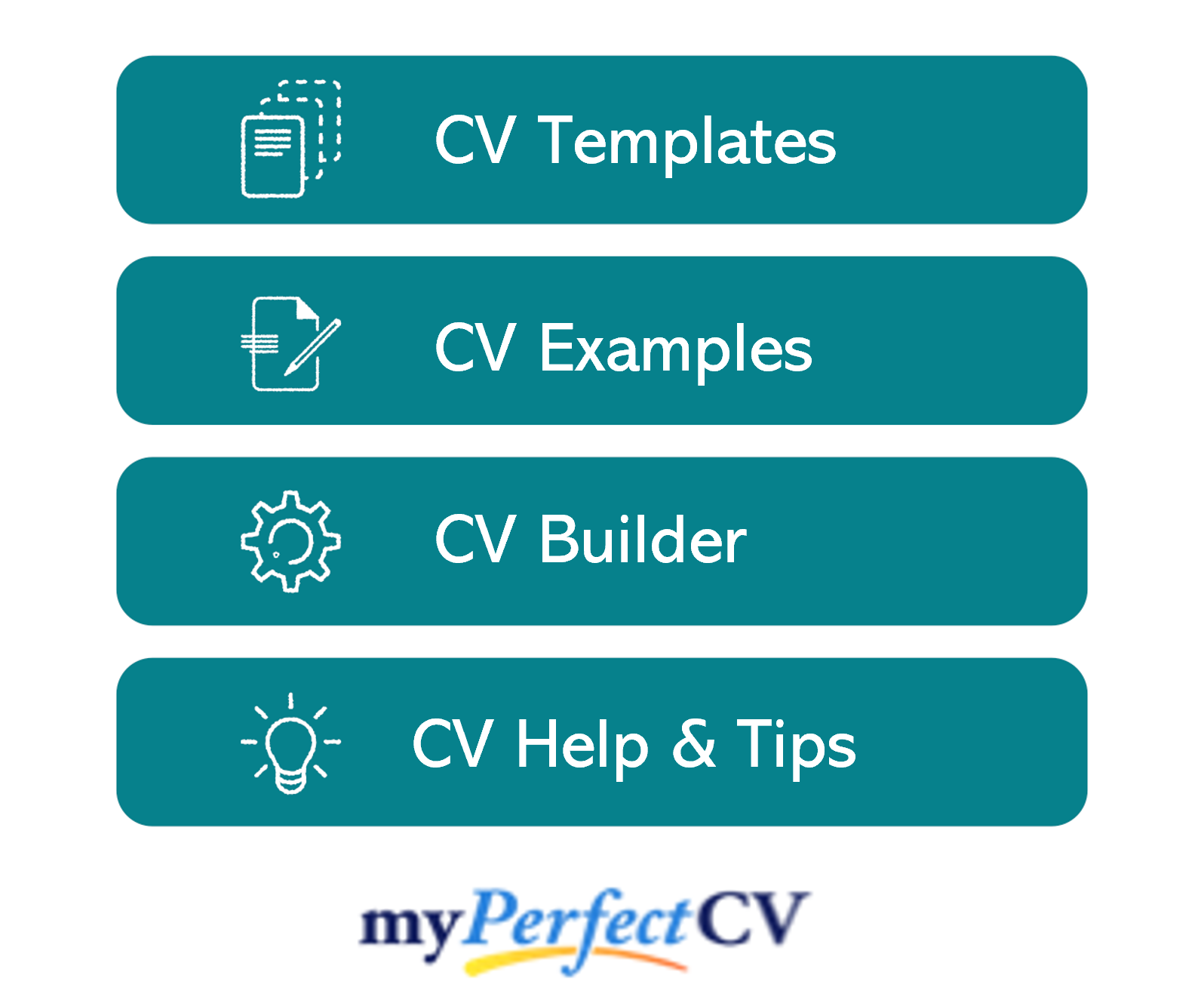 Once you've written your Window Fitter CV, you should proofread it several times to ensure that there are no typos or grammatical errors.
With a tailored punchy profile that showcases your relevant experience and skills, paired with well-structured role descriptions, you'll be able to impress employers and land interviews.
Good luck with your next job application!