Your job is to determine the profitability of a product and how well it will sell. But do you know how to effectively sell yourself on your CV?
If you could use a few pointers, you've come to the right place. To help you out, we've put together a step-by-step guide to writing an impressive application.
Check it out, along with our product analyst CV example below.
Contents
| | |
| --- | --- |
| How to write a Product Analyst CV | |

Product Analyst CV example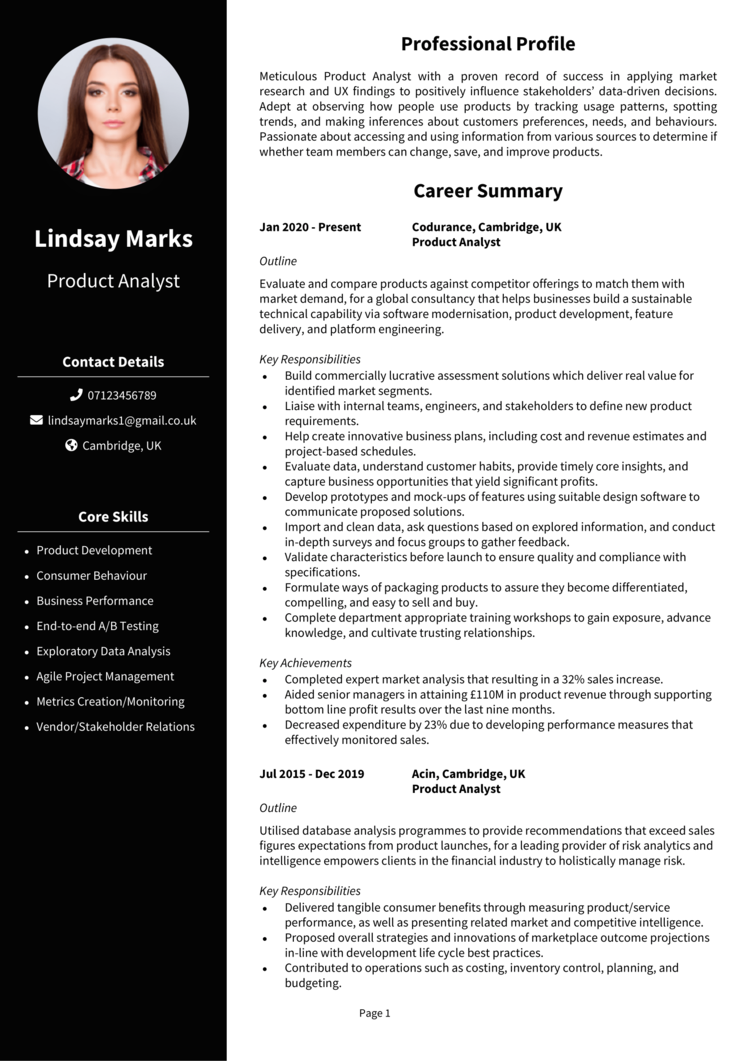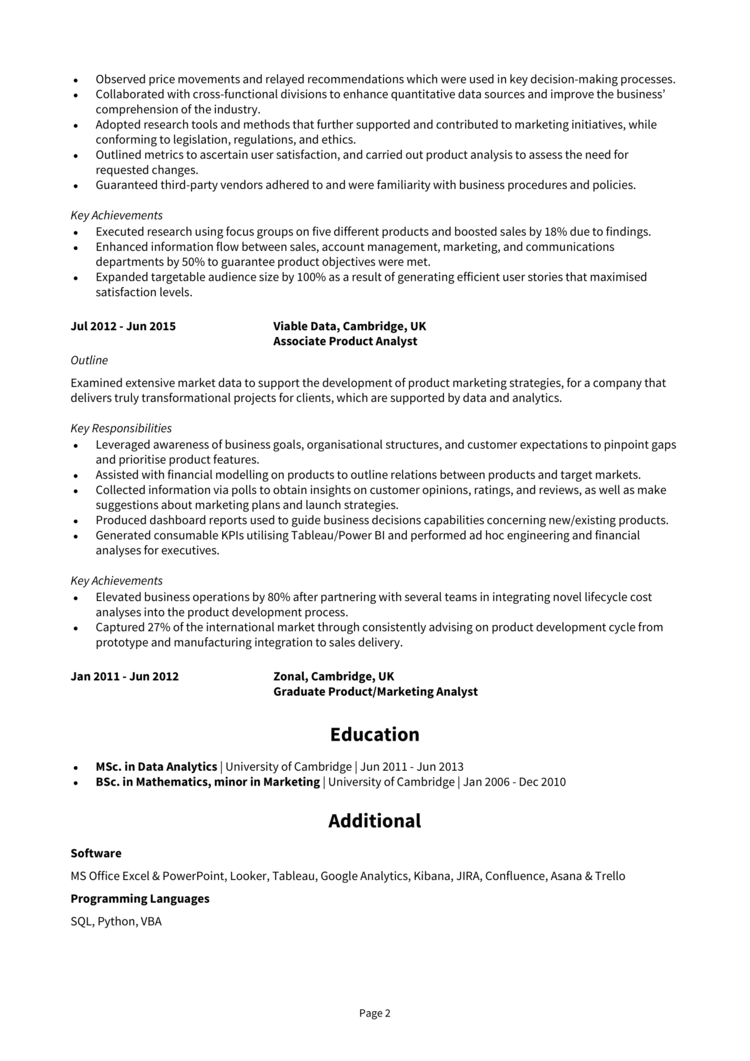 This CV example illustrates the ideal structure and format for your Product Analyst CV, making it easy for busy hiring managers to quickly identify your suitability for the jobs you're applying for,
It also gives some guidance on the skills, experience and qualifications you should emphasise in your own CV.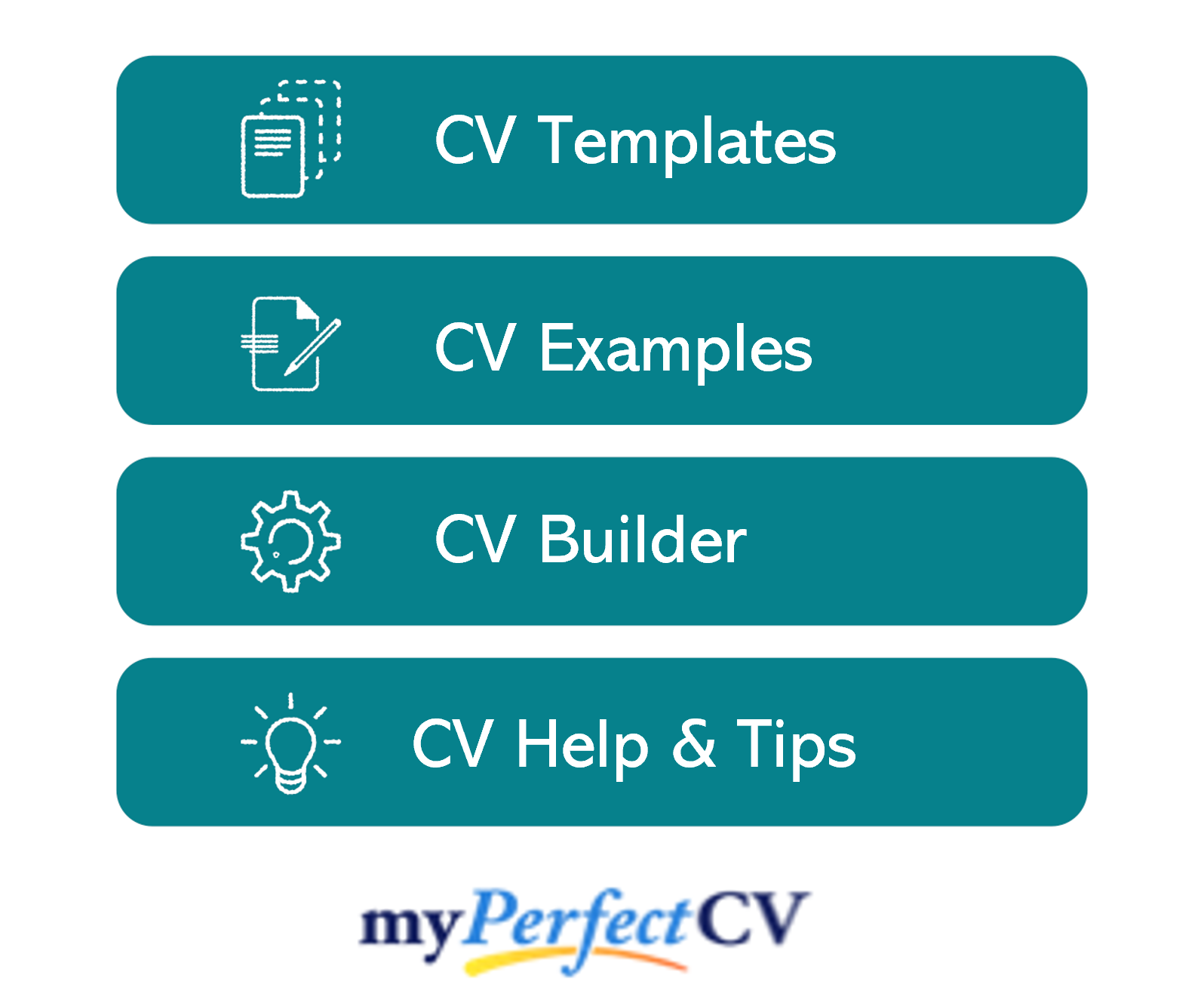 Product Analyst CV layout and format
The format and structure of your CV is important because it will determine how easy it is for recruiters and employers to read your CV.
If they can find the information they need quickly, they'll be happy; but if they struggle, your application could be overlooked.
A simple and logical structure will always create a better reading experience than a complex structure, and with a few simple formatting tricks, you'll be good to go.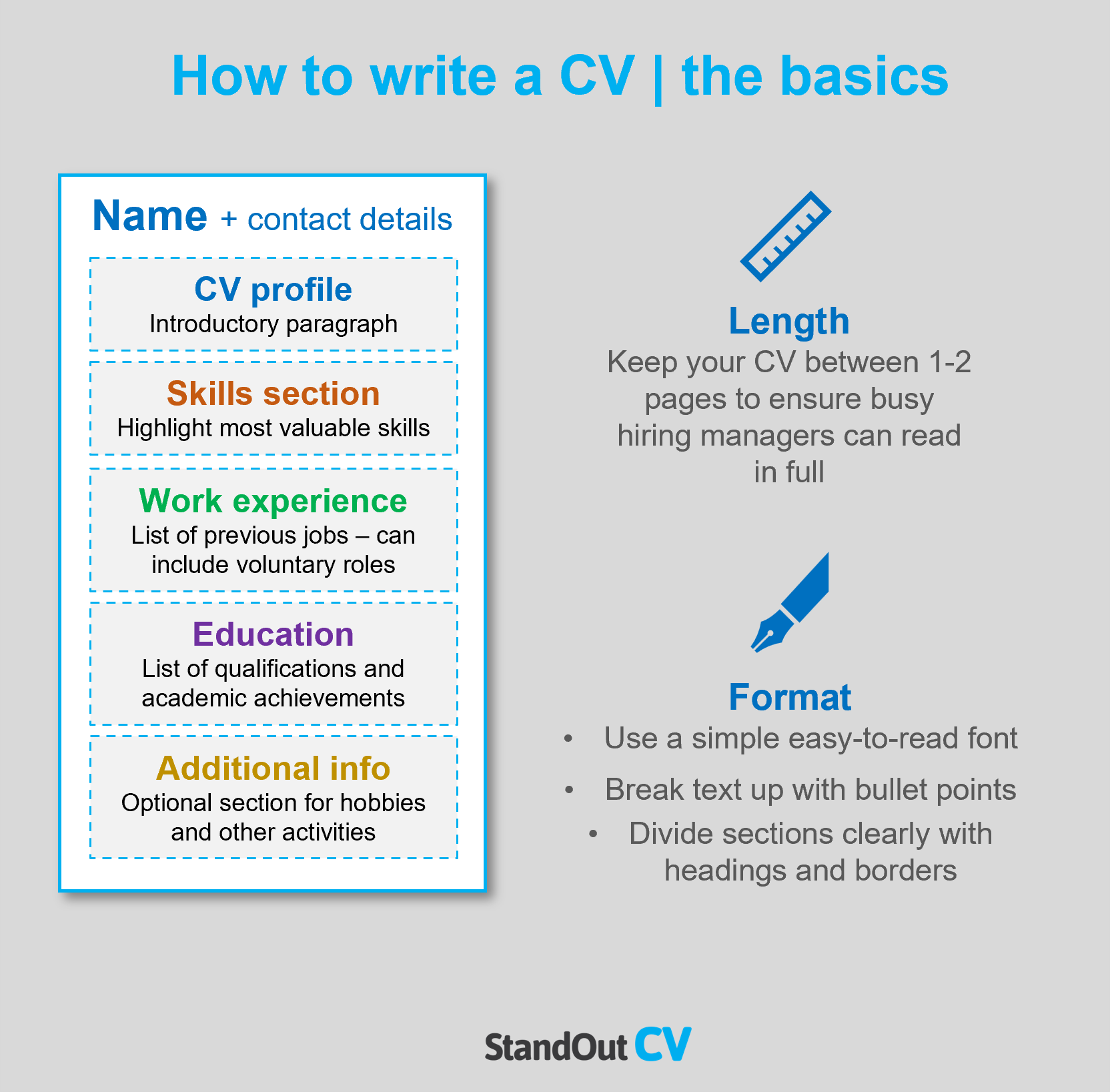 Tips for formatting your Product Analyst CV
Length: It's essential to keep your CV concise, regardless of whether you have one year or thirty years of experience. Recruiters are frequently managing multiple roles and responsibilities and do not have the luxury of reading lengthy CVs. Therefore, limit your CV to two sides of A4. If you have little industry experience, one page is sufficient.
Readability: To help recruiters quickly skim through your CV, it's important to format your section headings with bold or a different colour font and break up lengthy paragraphs into short sharp bullet points. This enables them to easily identify important information and assess your suitability.
Design: Your CV needs to look professional, sleek and easy to read. A subtle colour palette, clear font and simple design are generally best for this, as fancy designs are often harder to navigate.
Photos: Headshot photos aren't requiered in a CV by most employers, but some creative and artistic industries like to see them. If you decide to inclide one, make sure you look smart and professional in the picture.
Quick tip: Creating a professional CV style can be difficult and time-consuming when using Microsoft Word or Google Docs. To create a winning CV quickly, try our partner's CV Builder and use one of their eye-catching professional CV templates.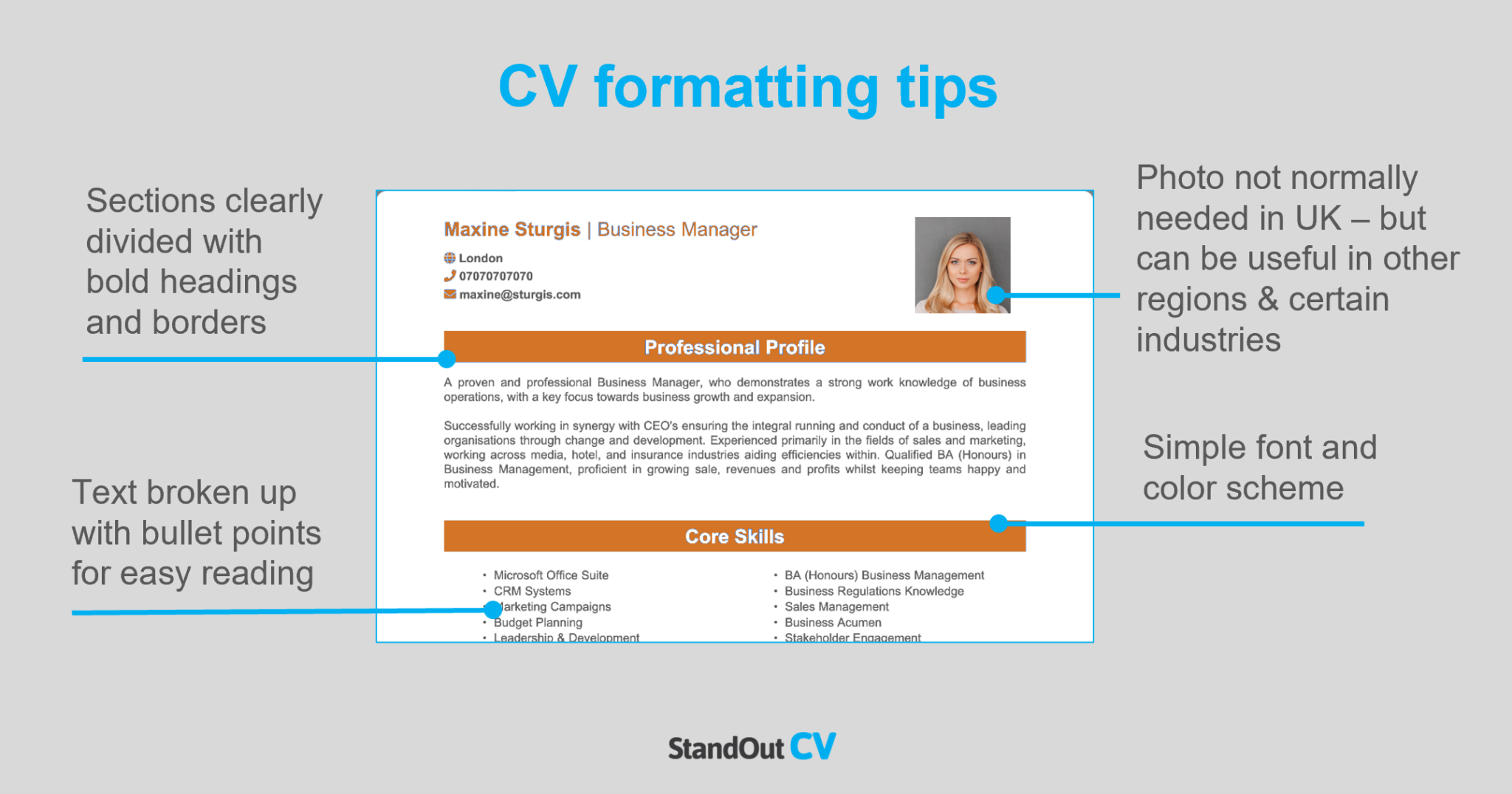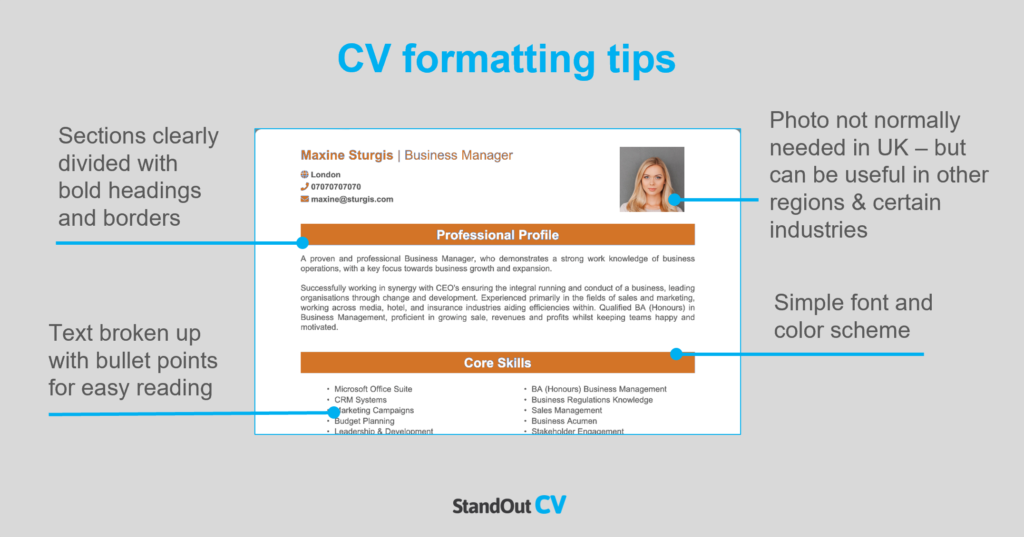 CV structure
When writing your own CV, break up your CV content into the following key sections:
Name and contact details – Place them at the top of your CV, so that employers can easily get in touch.
CV profile – A punchy sales pitch of your key experience, skills and achievements to reel readers in.
Core skills section – A bullet-pointed snapshot of your abilities.
Work experience – A well-structured list of your relevant work experience.
Education – An overview of any relevant qualifications or professional training you have.
Hobbies and interests – A short description of any relevant hobbies or interests (optional).
Now you understand the basic layout of a CV, here's what you should include in each section of yours.
Contact Details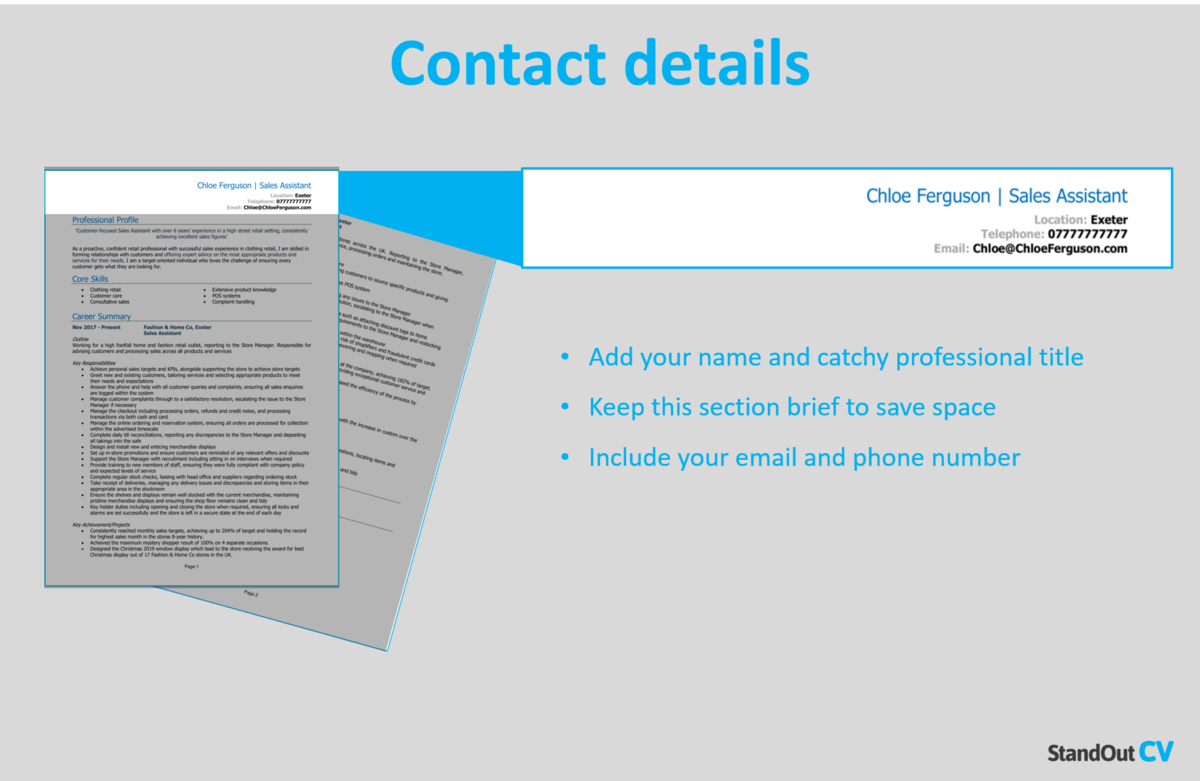 Write your contact details in the top corner of your CV, so that they're easy to find but don't take up too much space.
You only need to list your basic details, such as:
Mobile number
Email address
Location – Don't list your full address. Your town or city, such as 'Norwich' or 'Coventry' is perfect.
LinkedIn profile or portfolio URL – Remember to update these before listing them on an application.
Product Analyst CV Profile
Your CV profile is basically a short introductory paragraph, which summarises your key selling points and highlights why you'd make a good hire.
So, write a well-rounded summary of what you do, what your key skills are, and what relevant experience you have.
It needs to be short, snappy and punchy and, ultimately, entice the reader to read the rest of your CV.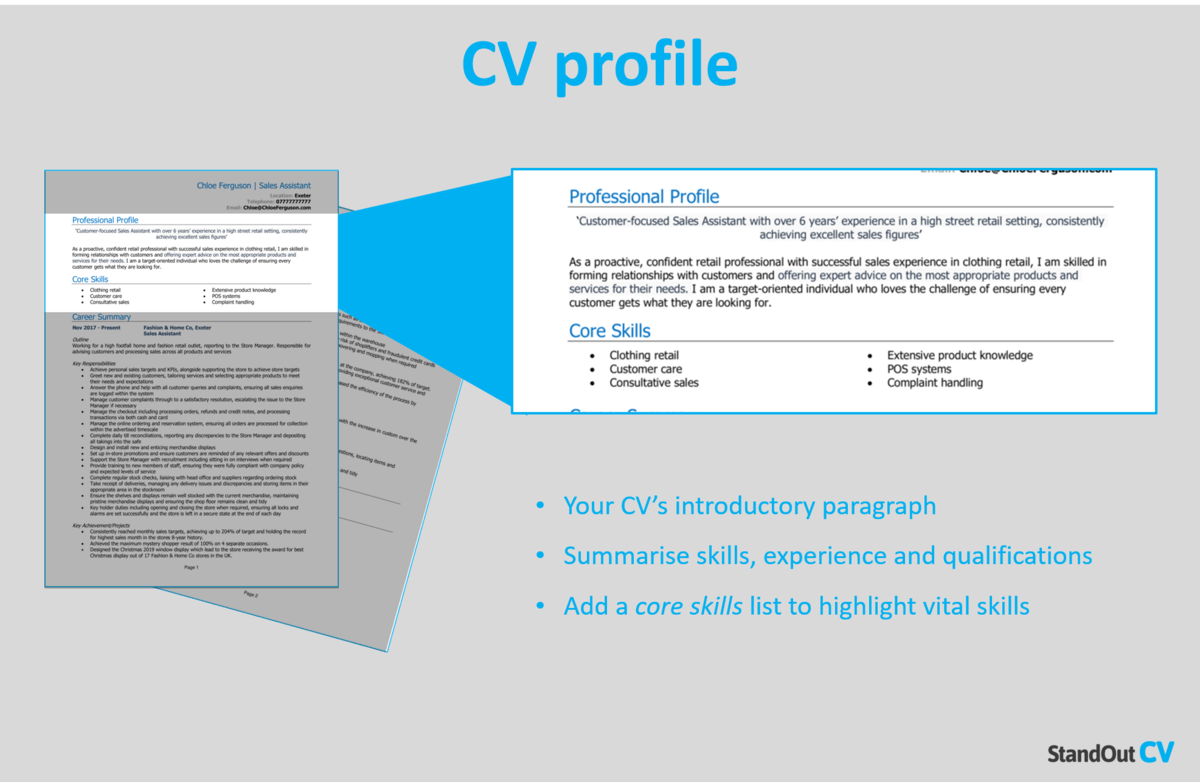 CV profile writing tips:
Make it short and sharp: It might be tempting to submit a page-long CV profile, but recruiters won't have the time to read it. To ensure every word gets read, it's best to include high-level information only; sticking to a length of 3-5 lines.
Tailor it: Recruiters can spot a generic, mass-produced CV at a glance – and they certainly won't be impressed! Before you write your profile (and CV as a whole), read through the job advert and make a list of any skills, knowledge and experience required. You should then incorporate your findings throughout your profile and the rest of your CV.
Don't add an objective: You only have a small space for your CV profile, so avoid writing down your career goals or objectives. If you think these will help your application, incorporate them into your cover letter instead.
Avoid generic phrases: If your CV is riddled with clichès like "Dynamic thought-leader", hit that delete button. Phrases like these are like a broken record to recruiters, who read them countless times per day. Hard facts, skills, knowledge and results are sure to yield far better results.
Example CV profile for Product Analyst
Meticulous Product Analyst with a proven record of success in applying market research and UX findings to positively influence stakeholders' data-driven decisions. Adept at observing how people use products by tracking usage patterns, spotting trends, and making inferences about customers preferences, needs, and behaviours. Passionate about accessing and using information from various sources to determine if whether team members can change, save, and improve products.
What to include in your Product Analyst CV profile?
Experience overview: Start with a brief summary of your relevant experience so far. How many years experience do you have? What type of companies have you worked for? What industries/sectors have you worked in? What are your specialisms?
Targeted skills: Employers need to know what skills you can bring to their organisation, and ideally they want to see skills that match their job vacancy. So, research your target roles thoroughly and add the most important Product Analyst skills to your profile.
Key qualifications: If the job postings require specific qualifications, it is essential to incorporate them in your profile to ensure visibility to hiring managers.
Quick tip: If you are finding it difficult to write an attention-grabbing CV profile, choose from hundreds of pre-written profiles across all industries, and add one to your CV with one click in our partner's CV Builder. All profiles are written by recruitment experts and easily tailored to suit your unique skillset.
Core skills section
Underneath your profile, write a core skills section to make your most relevant skills jump off the page at readers.
It should be made up of 2-3 columns of bullet points of your relevant skills.
Before you do this, look over the job description and make a list of any specific skills, specialisms or knowledge required.
Then, make sure to use your findings in your list. This will paint you as the perfect match for the role.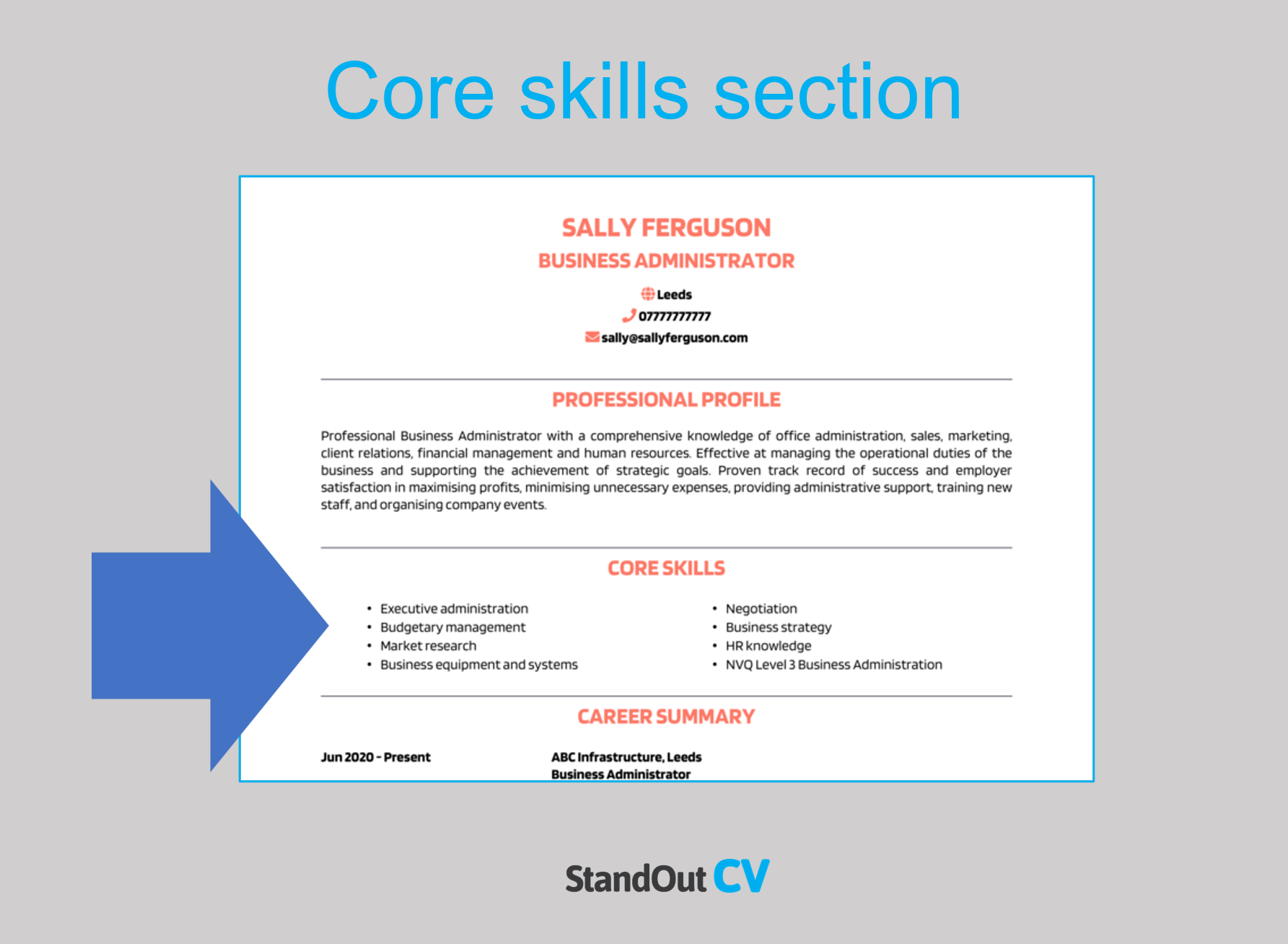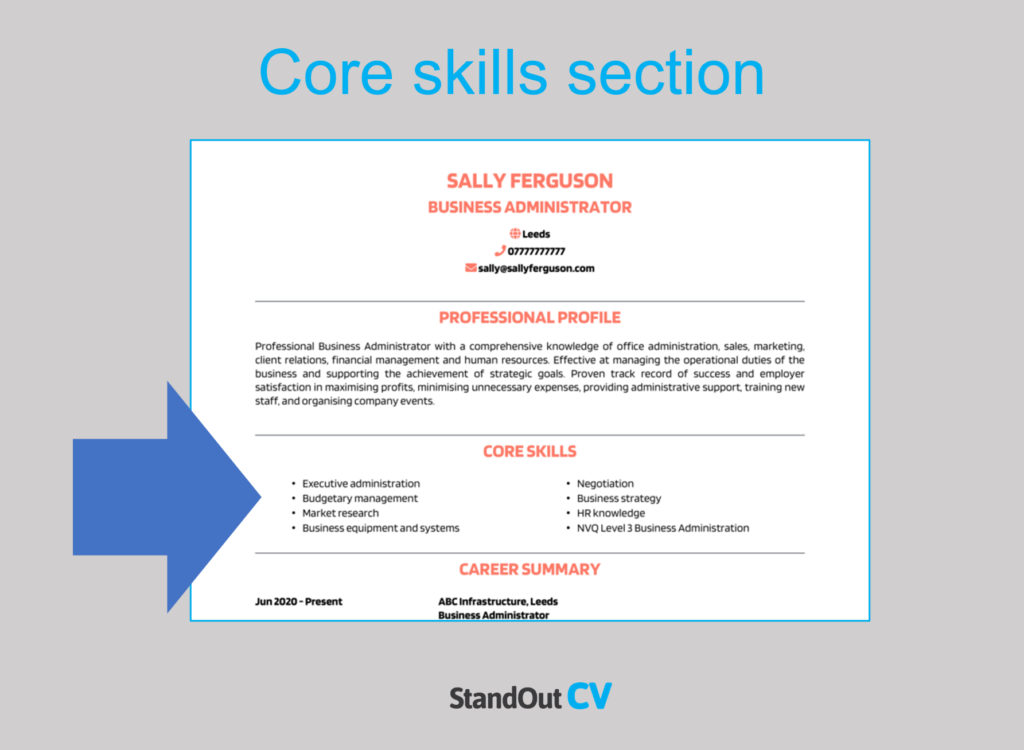 Important skills for your Product Analyst CV
Data Analysis – Analysing and interpreting large sets of data using statistical and data analysis tools and techniques.
Market Research – Conducting research on industry trends, customer preferences and competitive landscape to inform product development decisions.
Product Development – Driving product development from ideation to launch by working cross-functionally with engineering, design, and other stakeholders.
Project Management – Coordinating and managing product development projects, ensuring they are delivered on time, within budget, and meet stakeholder requirements.
Agile Methodology – Working within an Agile development environment, utilising methodologies such as Scrum or Kanban to ensure efficient and effective delivery.
User Experience – Understanding and applying user-centred design principles to ensure that products are intuitive and easy to use.
Business Acumen – Utilising knowledge of business operations, financial modelling, and pricing strategies to ensure that products are commercially viable.
Data Visualisation – Communicating complex data insights through compelling and informative data visualisations.
Cross-functional Collaboration – Liaising with cross-functional teams, articulating product vision and requirements, and managing stakeholder expectations.
Problem Resolution – Identifying and solving complex problems in a logical and structured way, using data and evidence to inform decision-making.
Quick tip: Our partner's CV Builder has thousands of in-demand skills for all industries and professions, that can be added to your CV in seconds – This will save you time and ensure you get noticed by recruiters.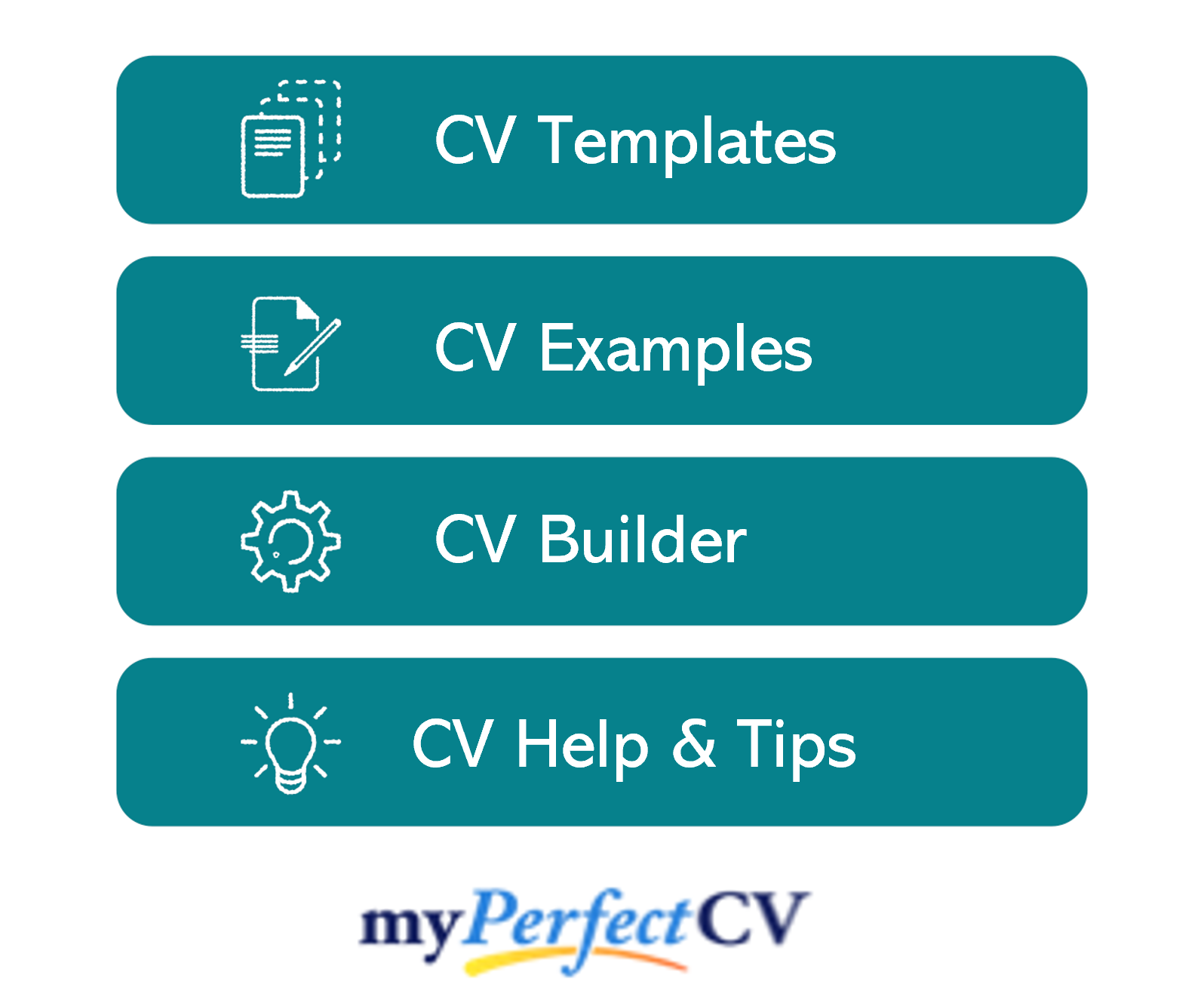 Work experience section
Next up is your work experience section, which is normally the longest part of your CV.
Start with your current (or most recent) job and work your way backwards through your experience.
Can't fit all your roles? Allow more space for your recent career history and shorten down descriptions for your older roles.
Structuring each job
The structure of your work experience section can seriously affect its impact.
This is generally the biggest section of a CV, and with no thought to structure, it can look bulky and important information can get lost.
Use my 3-step structure below to allow for easy navigation, so employers can find what they are looking for:
Outline
Provide a brief overview of the job as a whole, such as what the overriding purpose of your job was and what type of company you worked for.
Key responsibilities
Follow with a snappy list of bullet points, detailing your daily duties and responsibilities.
Tailor it to the role you're applying for by mentioning how you put the target employer's desired hard skills and knowledge to use in this role.
Key achievements
Round up each role by listing 1-3 key achievements, accomplishments or results.
Wherever possible, quantify them using hard facts and figures, as this really helps to prove your value.
Sample job description for Product Analyst CV
Outline
Evaluate and compare products against competitor offerings to match them with market demand, for a global consultancy that helps businesses build a sustainable technical capability via software modernisation, product development, feature delivery, and platform engineering.
Key Responsibilities
Build commercially lucrative assessment solutions which deliver real value for identified market segments.
Liaise with internal teams, engineers, and stakeholders to define new product requirements.
Help create innovative business plans, including cost and revenue estimates and project-based schedules.
Evaluate data, understand customer habits, provide timely core insights, and capture business opportunities that yield significant profits.
Quick tip: Create impressive job descriptions easily in our partner's CV Builder by adding pre-written job phrases for every industry and career stage.

Education and qualifications
Next up, you should list your education and qualifications.
This can include your formal qualifications (a degree, A-Levels and GCSEs), as well as sector-specific Product Analyst qualifications and/or training.
While school leavers and recent grads should include a lot of detail here to make up for the lack of work experience, experienced candidates may benefit from a shorter education section, as your work experience section will be more important to recruiters.
Hobbies and interests
Although this is an optional section, it can be useful if your hobbies and interests will add further depth to your CV.
Interests which are related to the sector you are applying to, or which show transferable skills like leadership or teamwork, can worth listing.
On the other hand, generic hobbies like "going out with friends" won't add any value to your application, so are best left off your CV.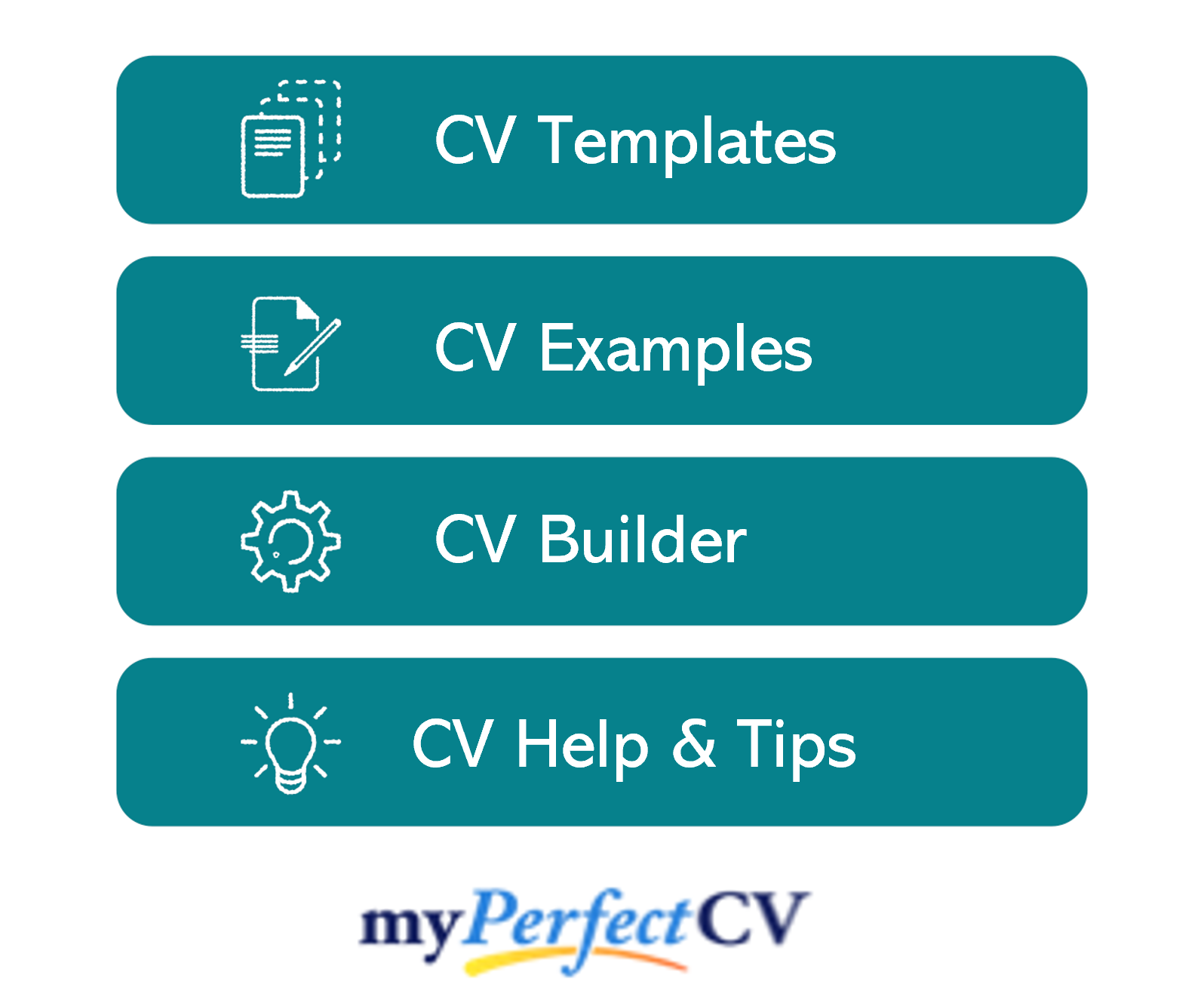 Creating a strong Product Analyst CV requires a blend of punchy content, considered structure and format, and heavy tailoring.
By creating a punchy profile and core skills list, you'll be able to hook recruiter's attention and ensure your CV gets read.
Remember that research and relevance is the key to a good CV, so research your target roles before you start writing and pack your CV with relevant skills.
Best of luck with your next application!