You've spent years studying and training, and now you're ready to take the next step towards becoming a junior doctor; don't let a poor CV hold you back!
If you're worried that your CV writing skills are on the weaker side, we've got the cure.
In this guide, we'll teach you how to craft a great CV, and you can make the most of our junior doctor CV example to boost your application.
Contents
| | |
| --- | --- |
| How to write a Junior Doctor CV | |

Junior Doctor CV example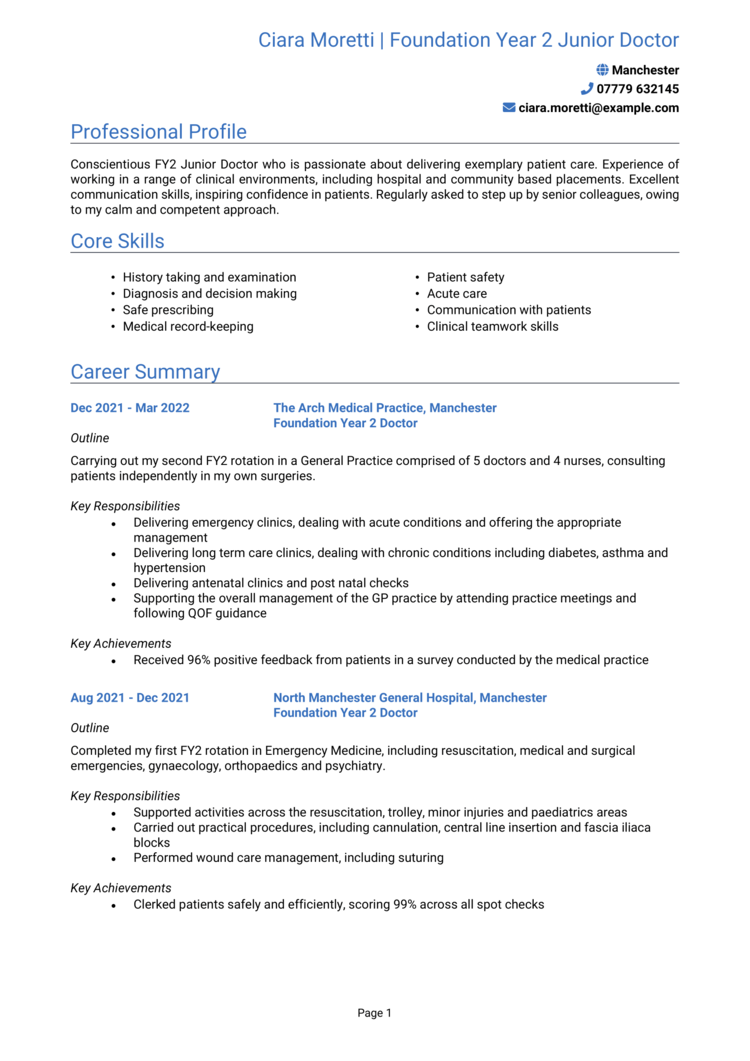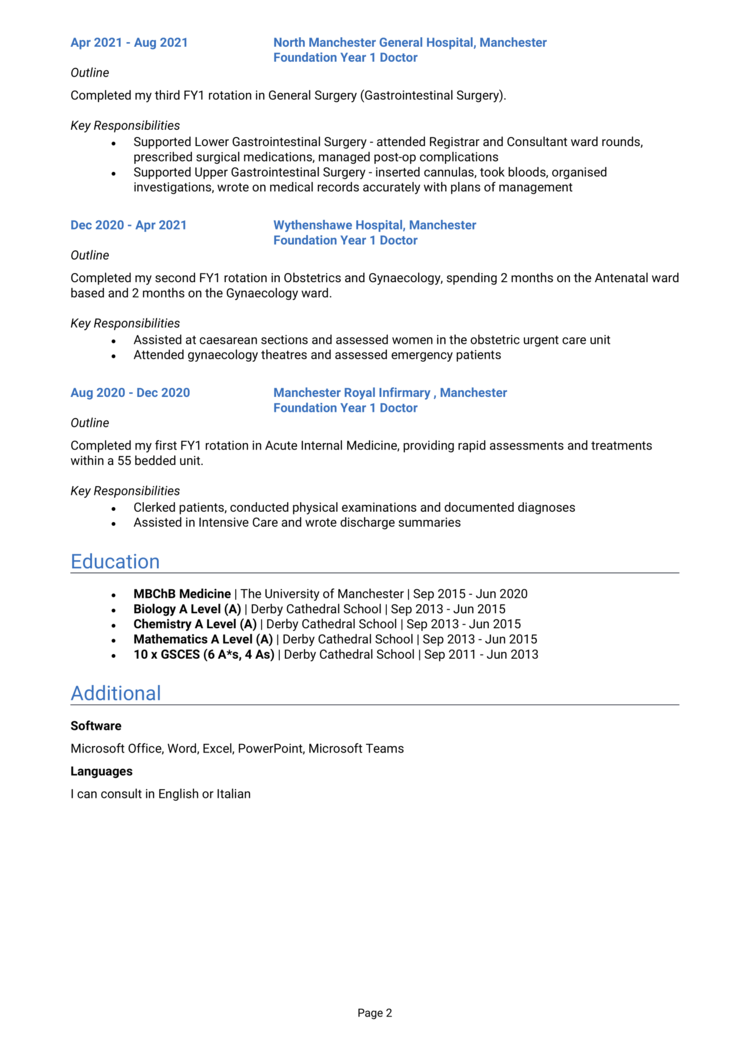 This example CV demonstrates how to structure and format your own Junior Doctor CV, so that it can be easily digested by busy hiring managers, and quickly prove why you are the best candidate for the jobs you are applying to.
It also gives you a good idea of the type of skills, experience and qualifications that you need to be making prominent in your own CV.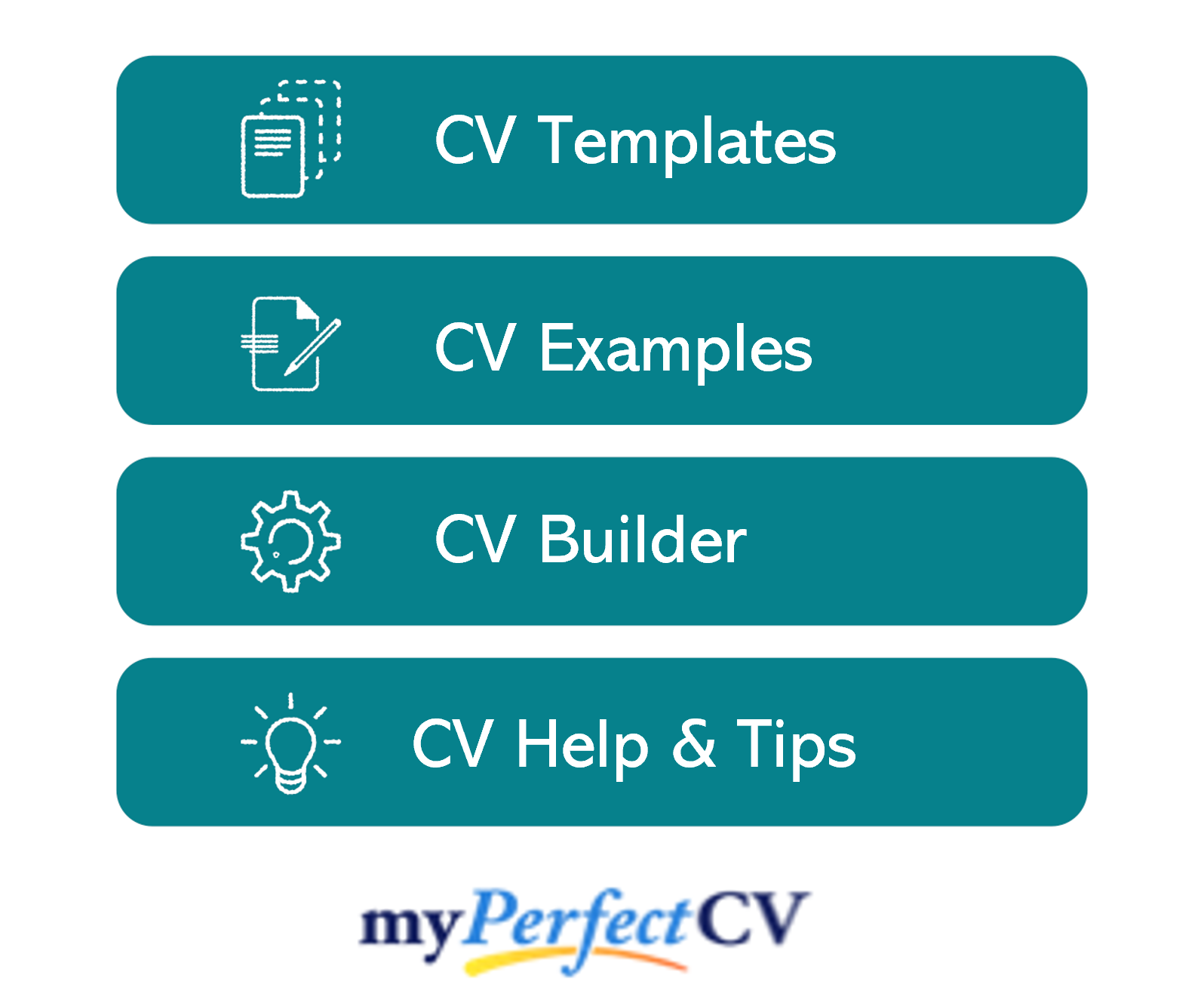 Junior Doctor CV layout and format
First impressions count, so a sloppy, disorganised CV may cause your CV to be overlooked..
Instead, perfect the format and structure of your CV by working to a clear logical structure and applying some simple formatting tricks to ease readability.
Don't underestimate the importance of this step; if your CV lacks readability, your written content won't even be seen.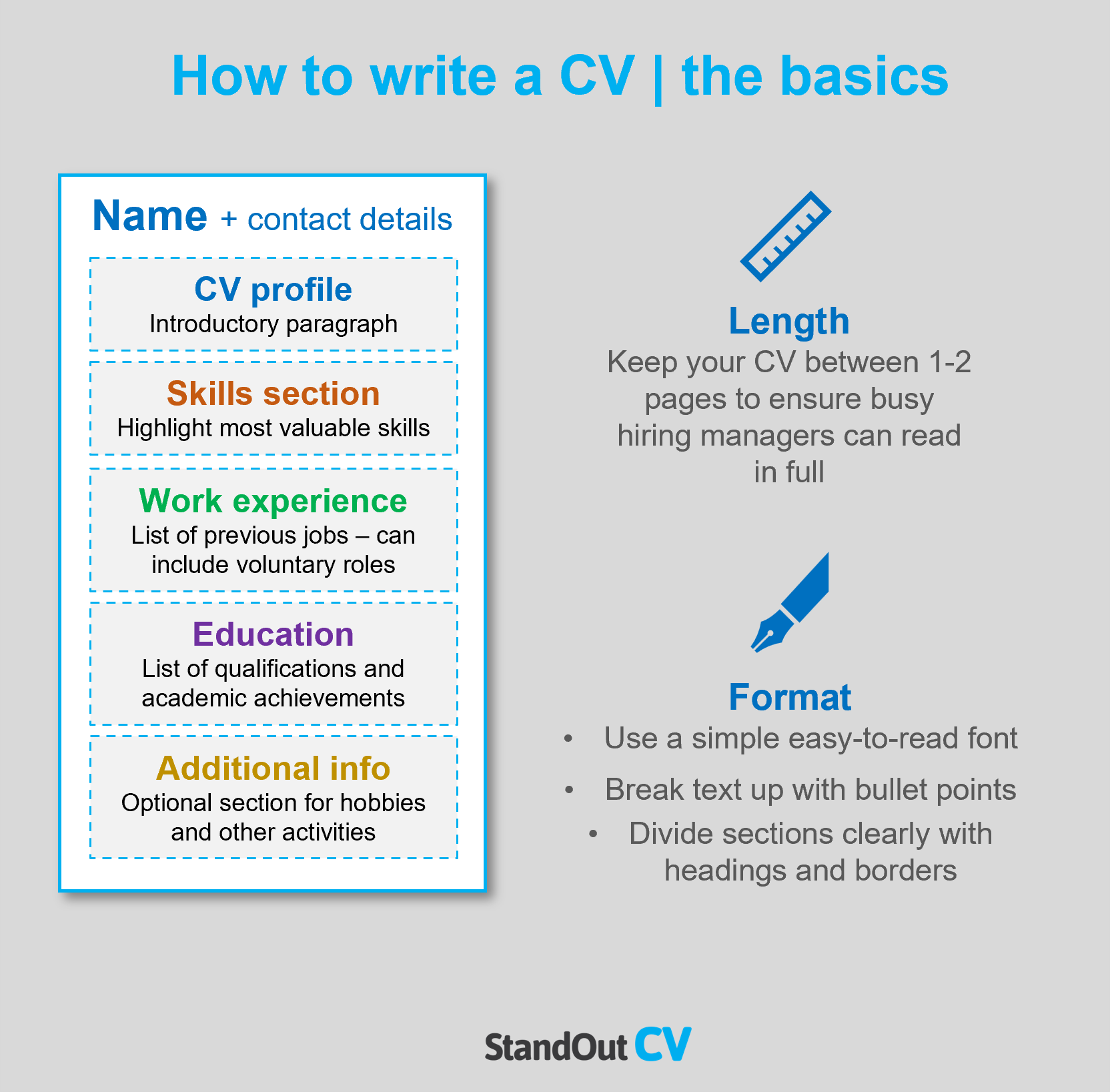 CV formatting tips
Length: Whether you've got one year or three decades of experience, your CV should never be more than two sides of A4. Recruiters are busy people who're often juggling numerous roles and tasks, so they don't have time to read lengthy applications. If you're a recent graduate or don't have much industry experience, one side of A4 is fine.
Readability: By clearly formatting your section headings (bold, or a different colour font, do the trick) and breaking up big chunks of text into snappy bullet points, time-strapped recruiters will be able to skim through your CV with ease.
Design: The saying 'less is more' couldn't be more applicable to CVs. Readability is key, so avoid overly complicated designs and graphics. A subtle colour palette and easy-to-read font is all you need!
Avoid photos: Recruiters can't factor in appearance, gender or race into the recruitment process, so a profile photo is totally unnecessary. Additionally, company logos or images won't add any value to your application, so you're better off saving the space to showcase your experience instead.
Quick tip: Formatting your CV to look professional can be difficult and time-consuming when using Microsoft Word or Google Docs. If you want to create an attractive CV quickly, try our partner's CV builder and use one of their eye-catching professional CV templates.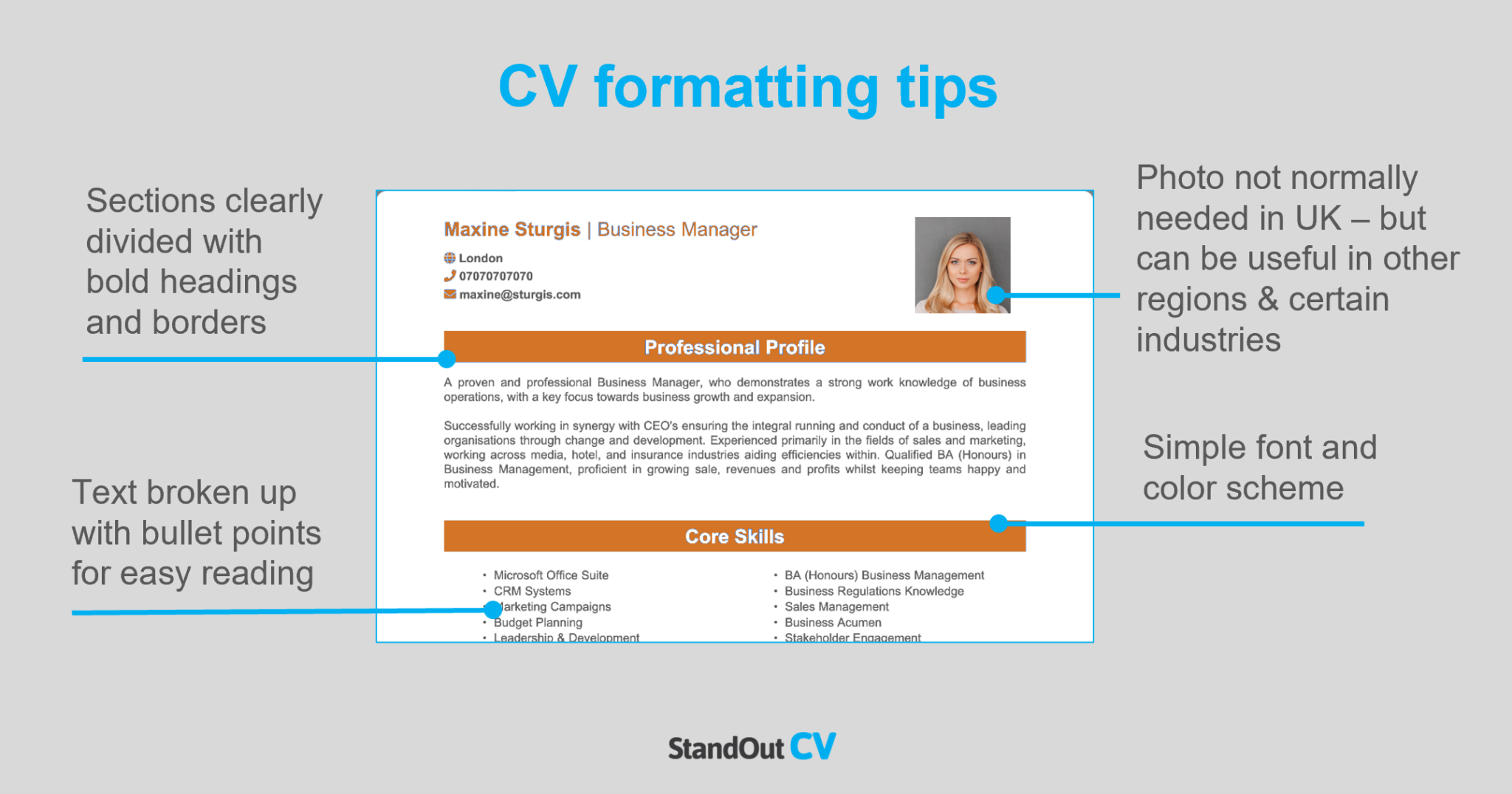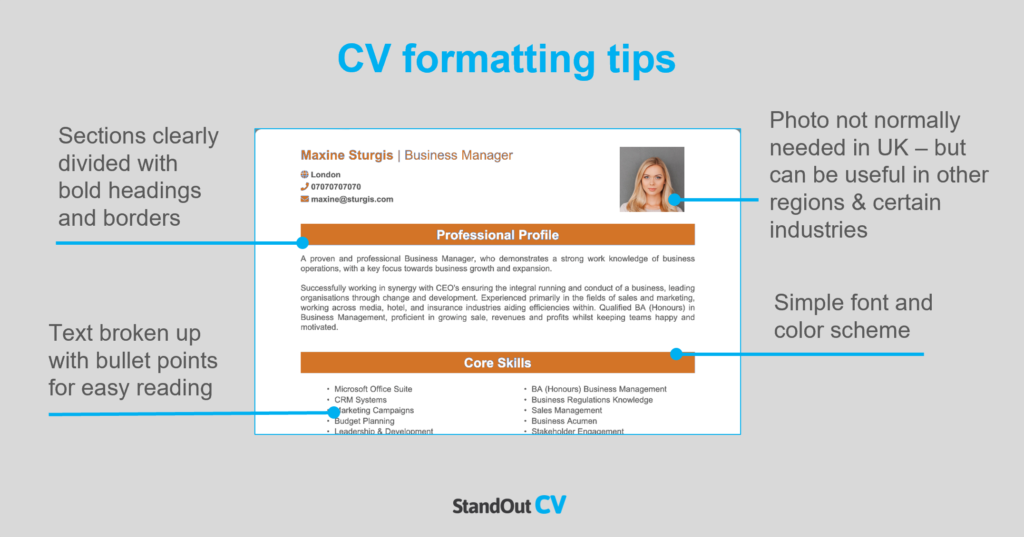 CV structure
As you write your CV, work to the simple but effective structure below:
Name and contact details – Pop them at the top of your CV, so it's easy for recruiters to contact you.
CV profile – Write a snappy overview of what makes you a good fit for the role; discussing your key experience, skills and accomplishments.
Core skills section – Add a short but snappy list of your relevant skills and knowledge.
Work experience – A list of your relevant work experience, starting with your current role.
Education – A summary of your relevant qualifications and professional/vocational training.
Hobbies and interests – An optional sections, which you could use to write a short description of any relevant hobbies or interests.
Now I'll tell you exactly what you should include in each CV section.
CV Contact Details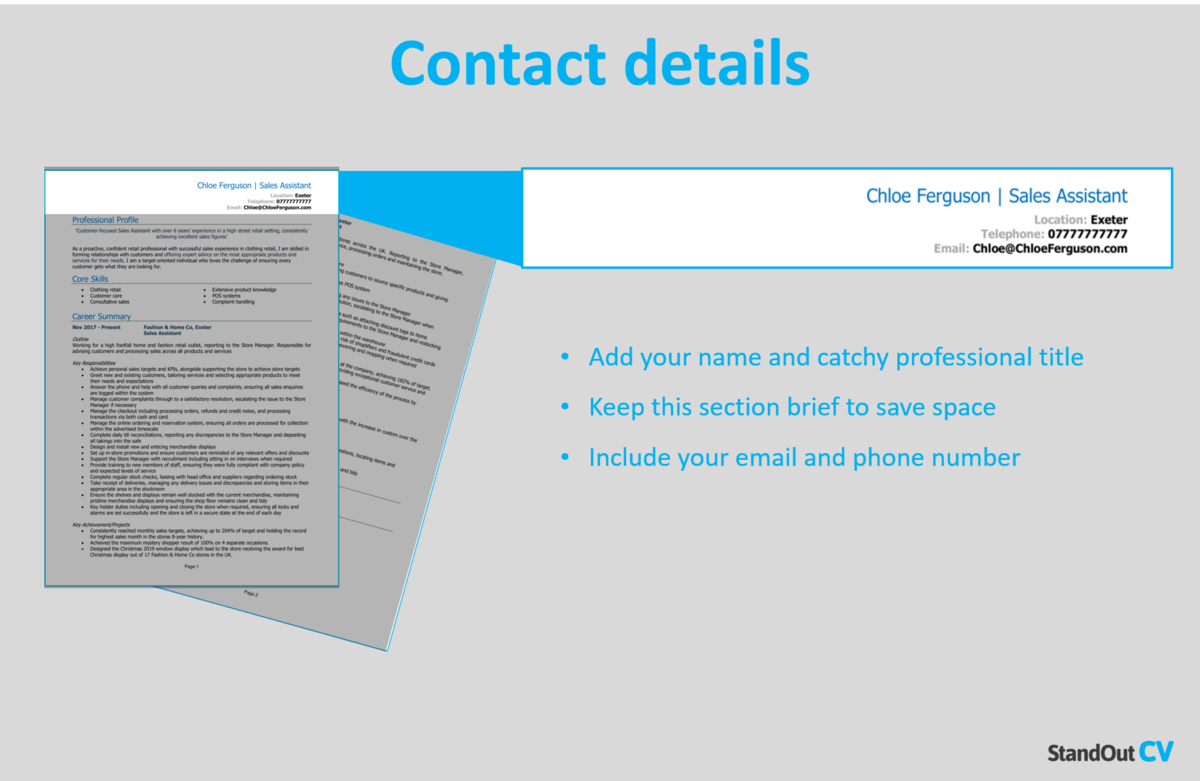 Start off your CV with a basic list of your contact details.
Here's what you should include:
Mobile number
Email address – It's often helpful to make a new email address, specifically for your job applications.
Location – Share your town or city; there's no need for a full address.
LinkedIn profile or portfolio URL – Make sure the information on them is coherent with your CV, and that they're up-to-date
Quick tip: Delete excessive details, such as your date of birth or marital status. Recruiters don't need to know this much about you, so it's best to save the space for your other CV sections.
Junior Doctor CV Profile
Grab the reader's attention by kick-starting your CV with a powerful profile (or personal statement, if you're a junior applicant).
This is a short introduction paragraph which summarises your skills, knowledge and experience.
It should paint you as the perfect match for the job description and entice recruiters to read through the rest of your CV.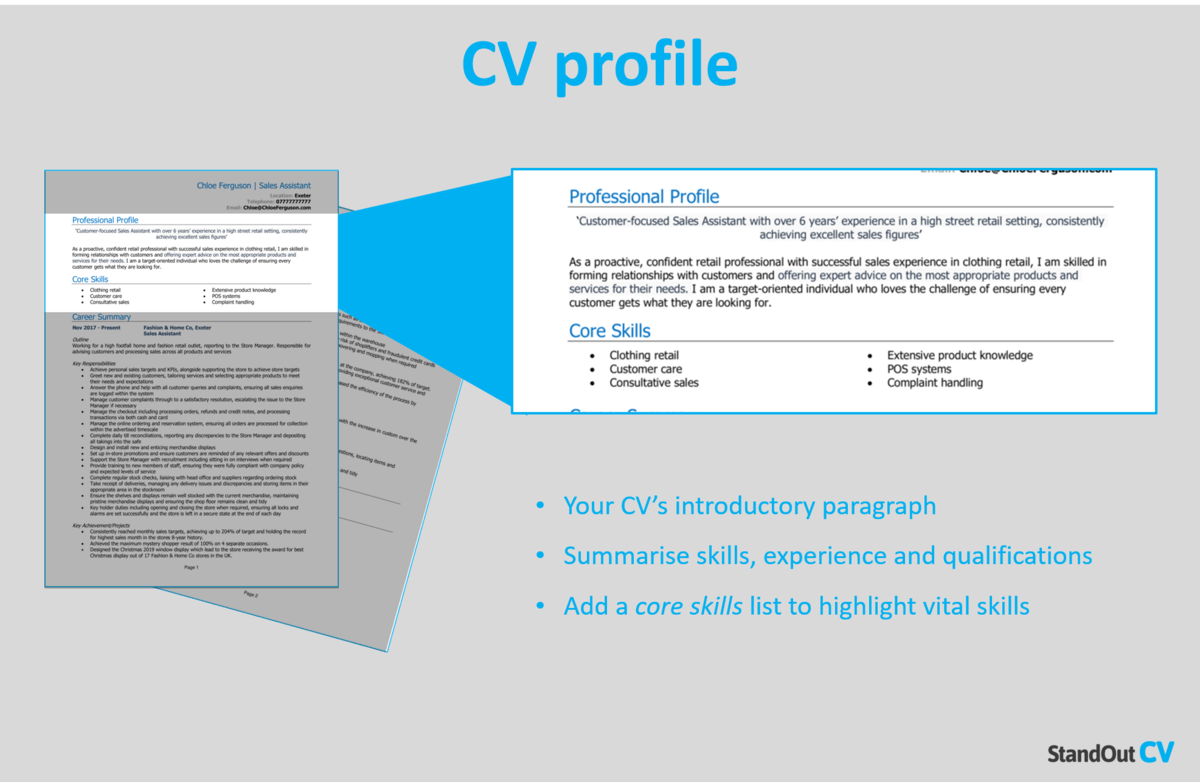 Tips for creating an strong CV profile:
Keep it concise: Recruiters are busy, so to ensure your profile is actually read, it's best to keep it short and snappy. 3-5 punchy lines makes for the perfect profile.
Tailor it: Before writing your CV, make sure to do some research. Figure out exactly what your desired employers are looking for and make sure that you are making those requirements prominent in your CV profile, and throughout.
Don't add an objective: Want to talk about about your career goals and objectives? While the profile may seem like a good space to do so, they're actually much better suited to your cover letter.
Avoid cliches: Focus on fact, not fluff. Phrases like "Committed and enthusiastic thought-leader" and "Dynamic problem solver" might sound fancy, but they'll do nothing for your application. Not only do they sound cheesy, but they have no substance – stick to real skills and facts
Example CV profile for Junior Doctor
Conscientious FY2 Junior Doctor who is passionate about delivering exemplary patient care. Experience of working in a range of clinical environments, including hospital and community-based placements. Excellent communication skills, inspiring confidence in patients. Regularly asked to step up by senior colleagues, owing to my calm and competent approach.
What to include in your Junior Doctor CV profile?
Summary of experience: Demonstrate your suitability for your target jobs by giving a high level summary of your previous work work experience, including the industries you have worked in, types of employer, and the type of roles you have previous experience of.
Relevant skills: Highlight your skills which are most relevant to Junior Doctor jobs, to ensure that recruiters see your most in-demand skills as soon as they open your CV.
Essential qualifications: If you have any qualifications which are highly relevant to Junior Doctor jobs, then highlight them in your profile so that employers do not miss them.
Quick tip: Struggling to write a powerful profile? Choose from hundreds of pre-written profiles across all industries, and add one to your CV with one click in our partner's CV builder. All written by recruitment experts and easily tailored to suit your unique skillset.
Core skills section
Next, you should create a bullet pointed list of your core skills, formatted into 2-3 columns.
Here, you should focus on including the most important skills or knowledge listed in the job advertisement.
This will instantly prove that you're an ideal candidate, even if a recruiter only has time to briefly scan your CV.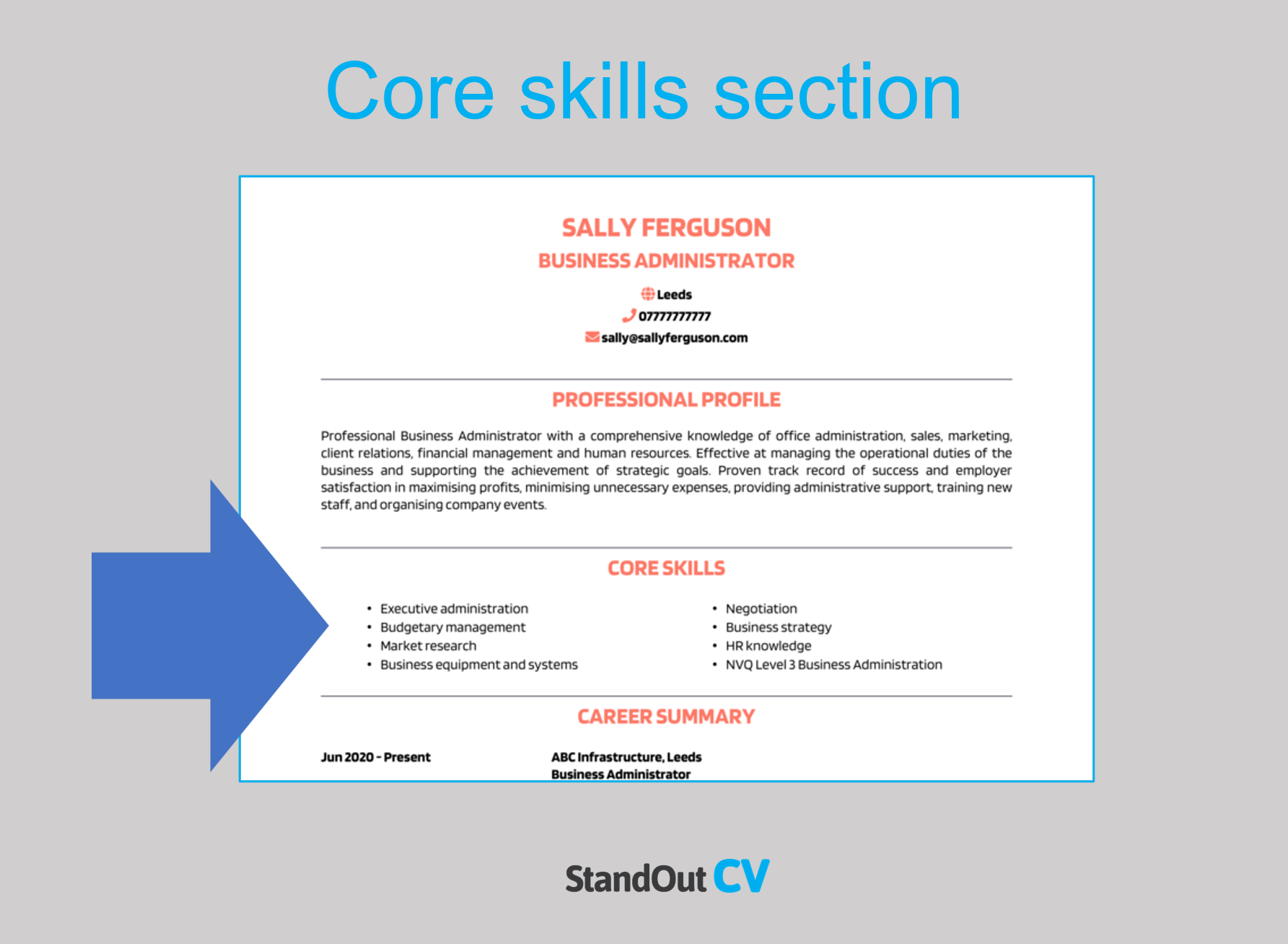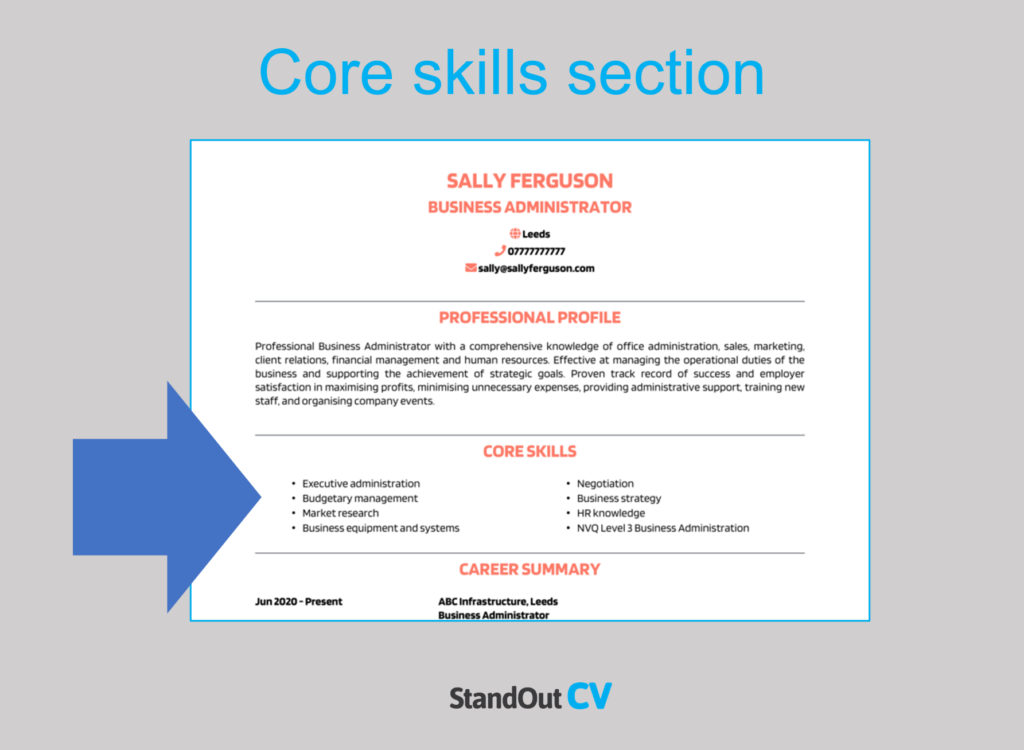 Top skills for your Junior Doctor CV
History taking and examination – discussing the patient's understanding of their condition and completing an examination to check for any possible medical signs or symptoms of a medical condition.
Diagnosis and decision making – correctly identifying a disease, condition, or injury from its signs and symptoms and implementing an appropriate treatment plan.
Acute care – providing active but short-term treatment for a severe injury or episode of illness, an urgent medical condition, or during recovery from surgery.
Safe prescribing – prescribing appropriate medicines for the condition being treated at the right dose for the patient.
Medical record-keeping – keeping detailed information about a patient, their condition and their treatment to ensure all key information is available during each appointment.
Quick tip: Our partner's CV builder contains thousands of in-demand skills for every profession that can be added to your CV in seconds – saving you time and greatly improving your chances of landing job interviews.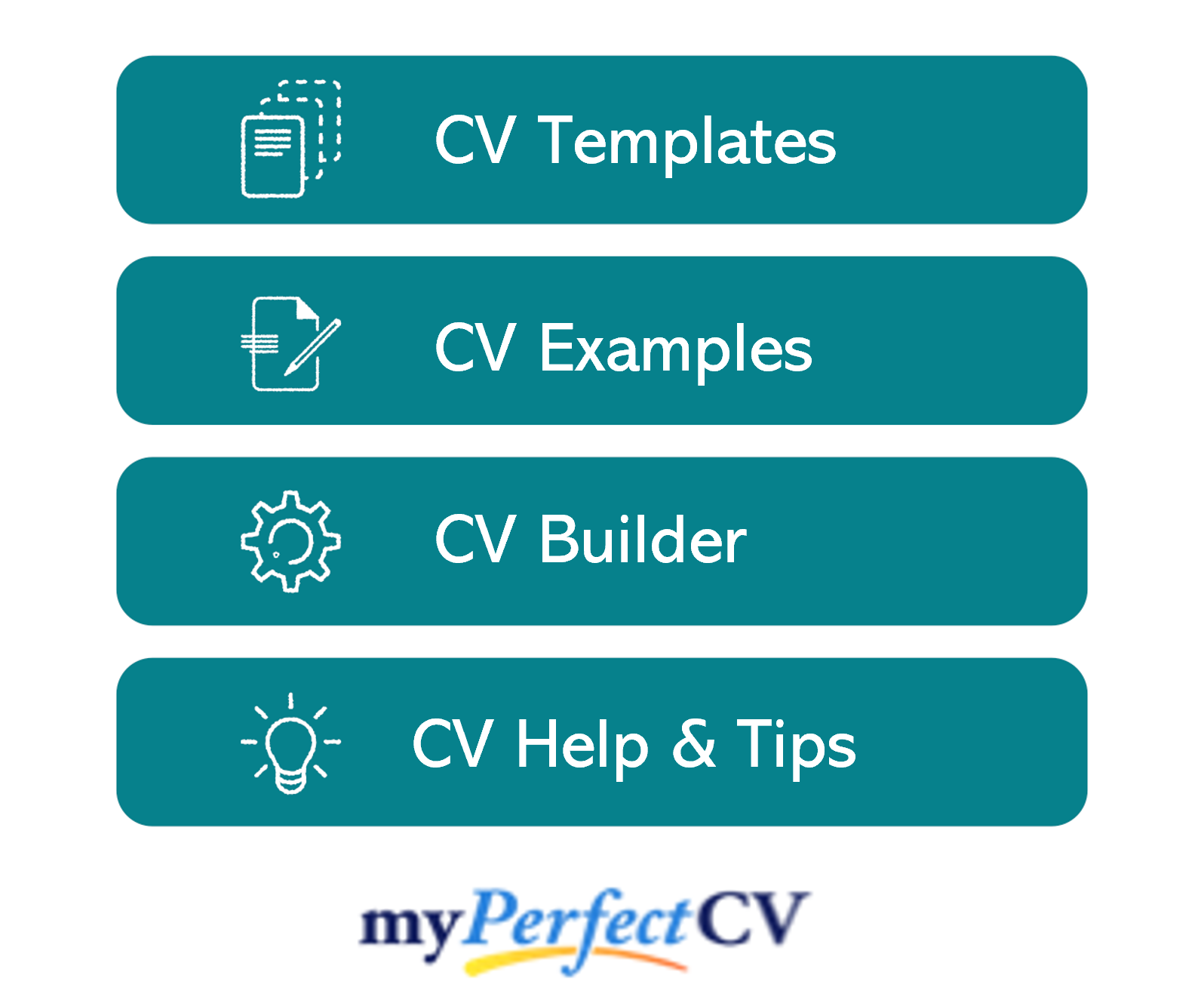 Work experience/Career history
By this point, employers will be keen to know more detail about you career history.
Starting with your most recent role and working backwards, create a snappy list of any relevant roles you've held.
This could be freelance, voluntary, part-time or temporary jobs too. Anything that's relevant to your target role is well-worth listing!
Structuring your roles
The structure of your work experience section can seriously affect its impact.
This is generally the biggest section of a CV, and with no thought to structure, it can look bulky and important information can get lost.
Use my 3-step structure below to allow for easy navigation, so employers can find what they are looking for:
Outline
Start with a 1-2 sentence summary of your role as a whole, detailing what the goal of your position was, who you reported to or managed, and the type of organisation you worked for.
Key responsibilities
Use bullet points to detail the key responsibilities of your role, highlighting hard skills, software and knowledge wherever you can.
Keep them short and sharp to make them easily digestible by readers.
Key achievements
Finish off by showcasing 1-3 key achievements made within the role.
This could be anything that had a positive effect on your company, clients or customers, such as saving time or money, receiving exemplary feedback or receiving an award.
Example job for Junior Doctor CV
Outline
Carrying out my second FY2 rotation in a General Practice comprised of 5 doctors and 4 nurses, consulting patients independently in my own surgeries.
Key Responsibilities
Delivering emergency clinics, dealing with acute conditions and offering the appropriate management
Delivering long term care clinics, dealing with chronic conditions including diabetes, asthma and hypertension
Delivering antenatal clinics and post-natal checks
Supporting the overall management of the GP practice by attending practice meetings and following QOF guidance
Quick tip: Create impressive job descriptions easily in our partner's CV builder by adding pre-written job phrases for every industry and career stage.

Education section
Next up, you should list your education and qualifications.
This can include your formal qualifications (a degree, A-Levels and GCSEs), as well as sector-specific Junior Doctor qualifications and/or training.
While school leavers and recent grads should include a lot of detail here to make up for the lack of work experience, experienced candidates may benefit from a shorter education section, as your work experience section will be more important to recruiters.
Interests and hobbies
This section is entirely optional, so you'll have to use your own judgement to figure out if it's worth including.
If your hobbies and interests could make you appear more suitable for your dream job, then they are definitely worth adding.
Interests which are related to the industry, or hobbies like sports teams or volunteering, which display valuable transferable skills might be worth including.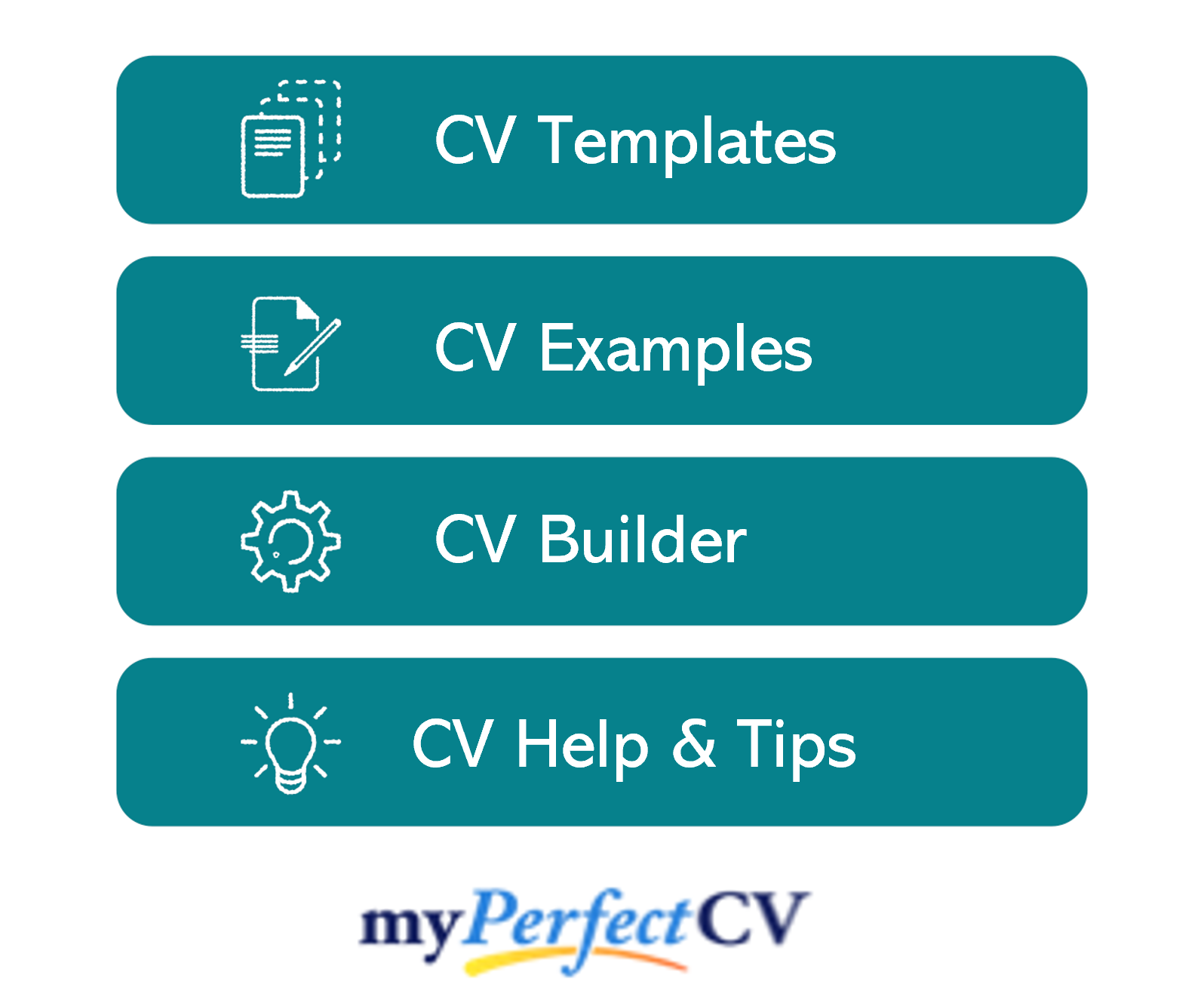 Writing your Junior Doctor CV
Creating a strong Junior Doctor CV requires a blend of punchy content, considered structure and format, and heavy tailoring.
By creating a punchy profile and core skills list, you'll be able to hook recruiter's attention and ensure your CV gets read.
Remember that research and relevance is the key to a good CV, so research your target roles before you start writing and pack your CV with relevant skills.
Best of luck with your next application!