The need for ESL teachers (English as a Second Language) is growing and the good news is there are loads of exciting job opportunities out there right now.
But if you're ready to turn your love of the English language into a full-time career, you first need to showcase both your language and teaching skills on your CV.
This is a lot to fit onto just a page or two, but we'll teach you how to do this with our step-by-step guide and ESL teacher CV example below.
Contents
| | |
| --- | --- |
| How to write an ESL Teacher CV | |

ESL Teacher CV example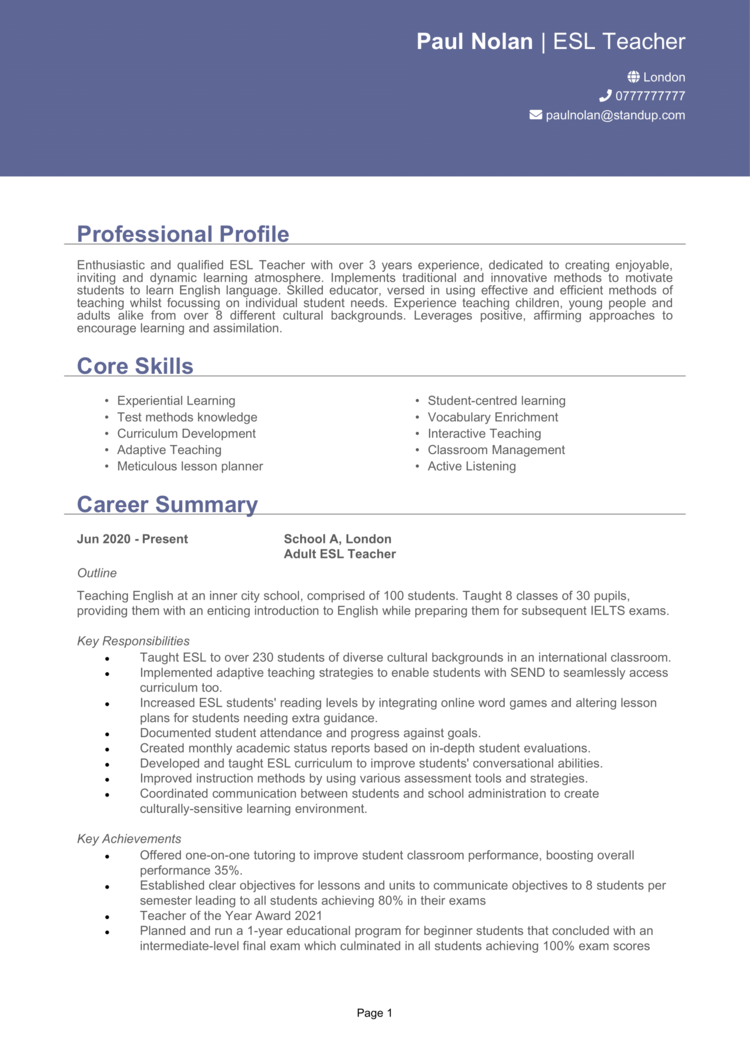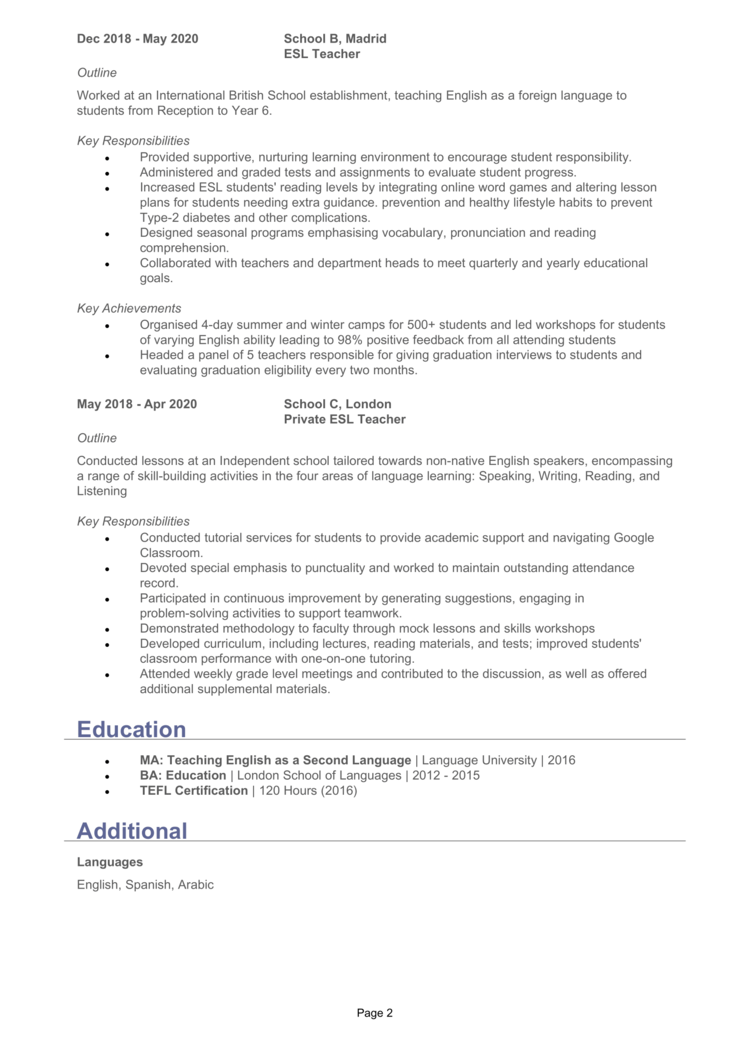 This CV example illustrates the ideal structure and format for your ESL Teacher CV, making it easy for busy hiring managers to quickly identify your suitability for the jobs you're applying for,
It also gives some guidance on the skills, experience and qualifications you should emphasise in your own CV.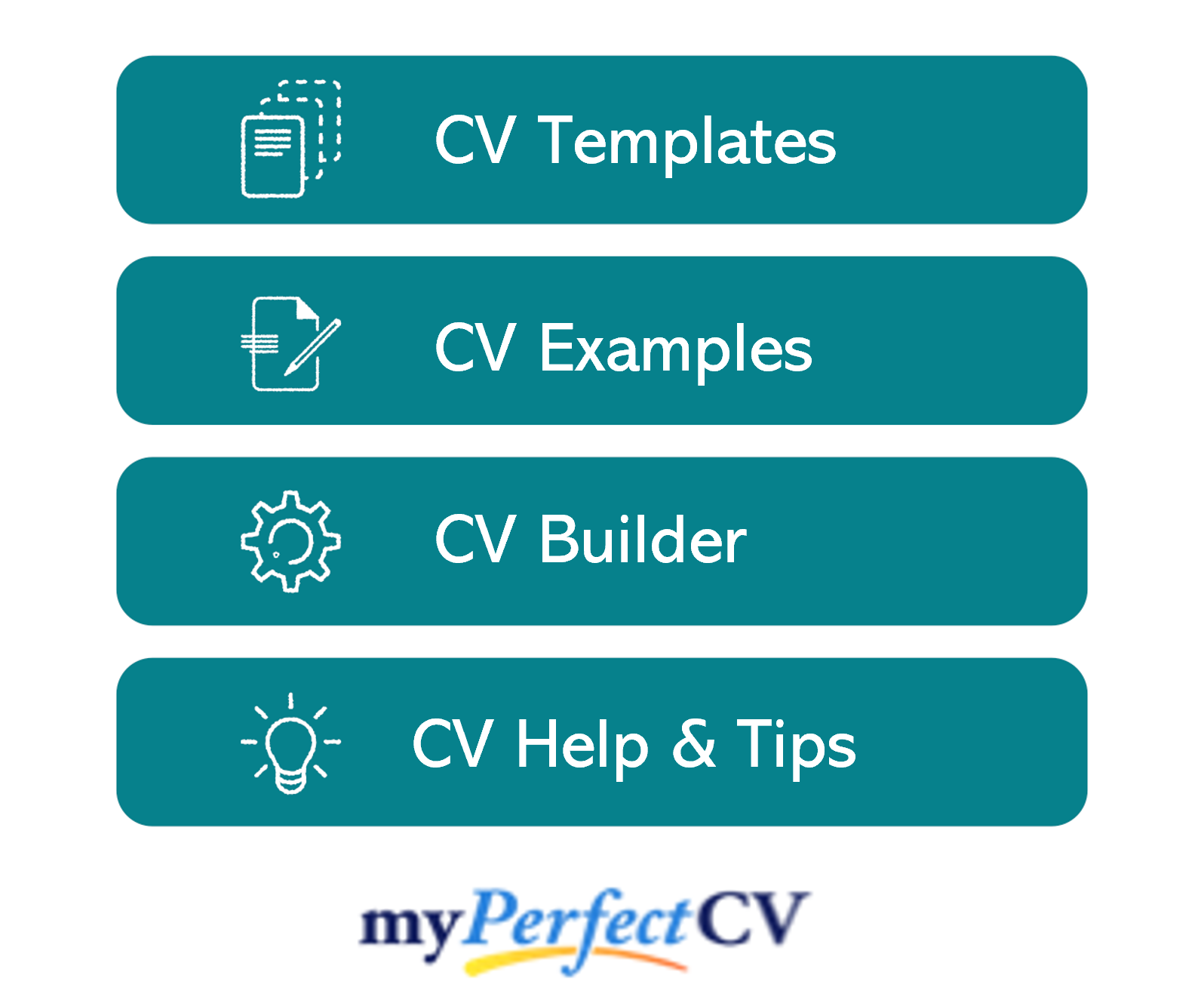 ESL Teacher CV layout and format
The format and structure of your CV is important because it will determine how easy it is for recruiters and employers to read your CV.
If they can find the information they need quickly, they'll be happy; but if they struggle, your application could be overlooked.
A simple and logical structure will always create a better reading experience than a complex structure, and with a few simple formatting tricks, you'll be good to go.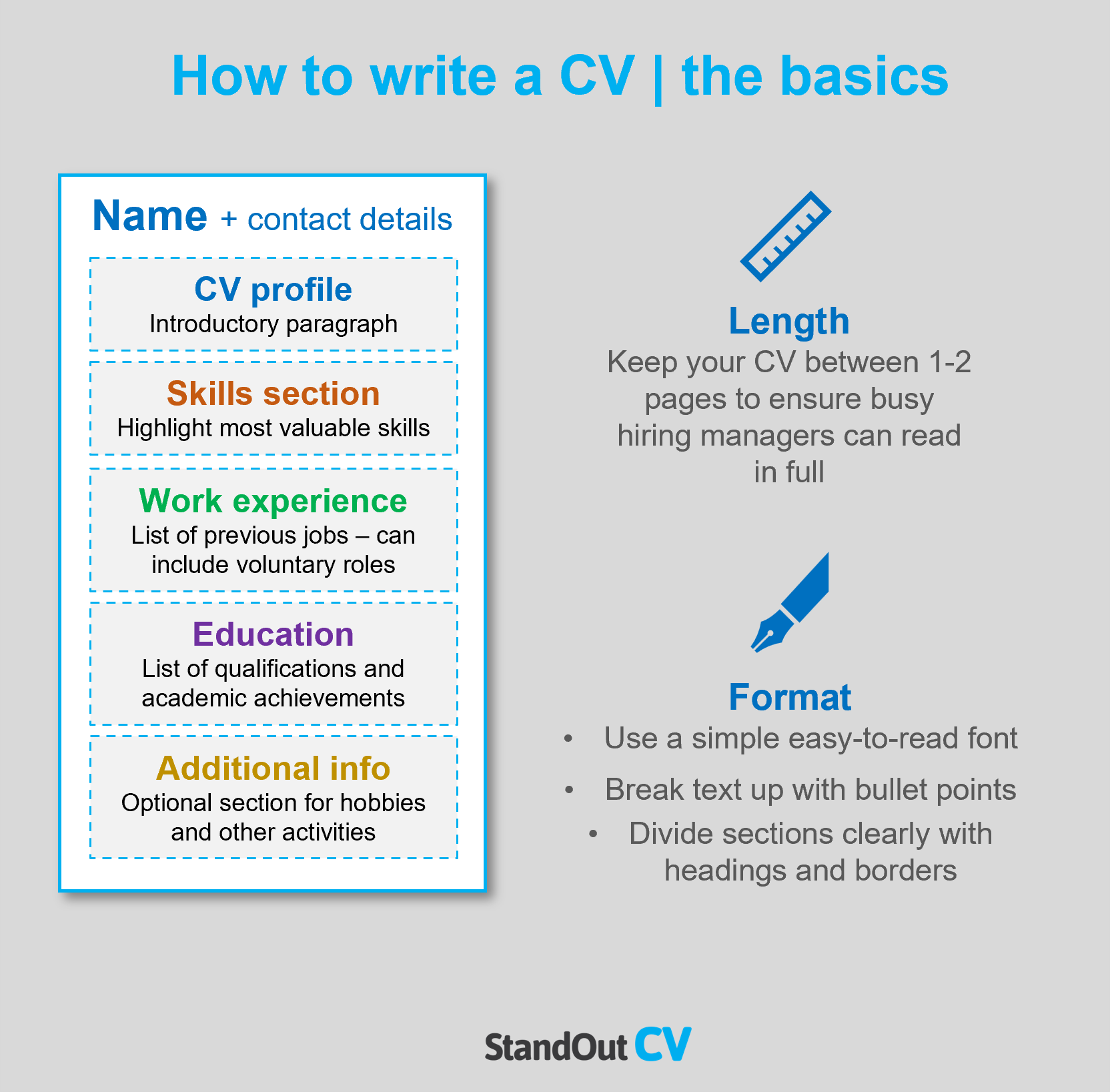 Tips for formatting your ESL Teacher CV
Length: Recruiters will be immediately put off by lengthy CVs – with hundreds of applications to read through, they simply don't have the time! Grabbing their attention with a short, snappy and highly relevant CV is far more likely to lead to success. Aim for two sides of A4 or less.
Readability: Help out time-strapped recruiters by formatting your CV for easy reading. Using lots of bullet points and lists will help them to skim through your info, while clearly formatted headings will allow them to navigate towards the content which is most useful to them.
Design: It's generally best to stick to a simple CV design, as funky or elaborate designs rarely add any value to your application. A clear, modern font and a subtle colour scheme work perfectly and allow your skills, experience and achievements to speak for themselves.
Photos: You can add a profile photo to your CV, if you want to add some personality to it, but they are not a requirement the UK, so you don't have to.
Quick tip: Creating a professional CV style can be difficult and time-consuming when using Microsoft Word or Google Docs. To create a winning CV quickly, try our partner's CV Builder and use one of their eye-catching professional CV templates.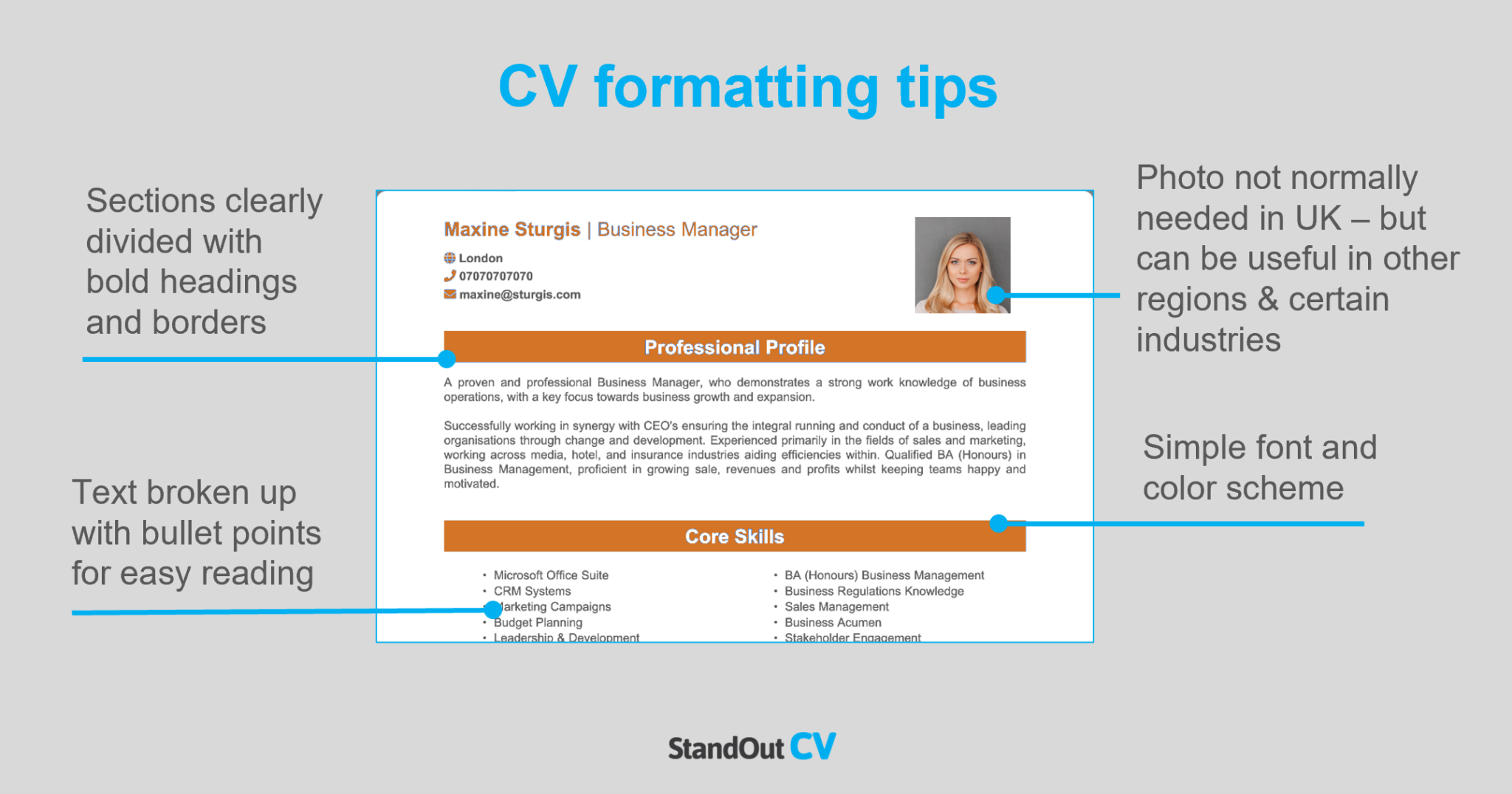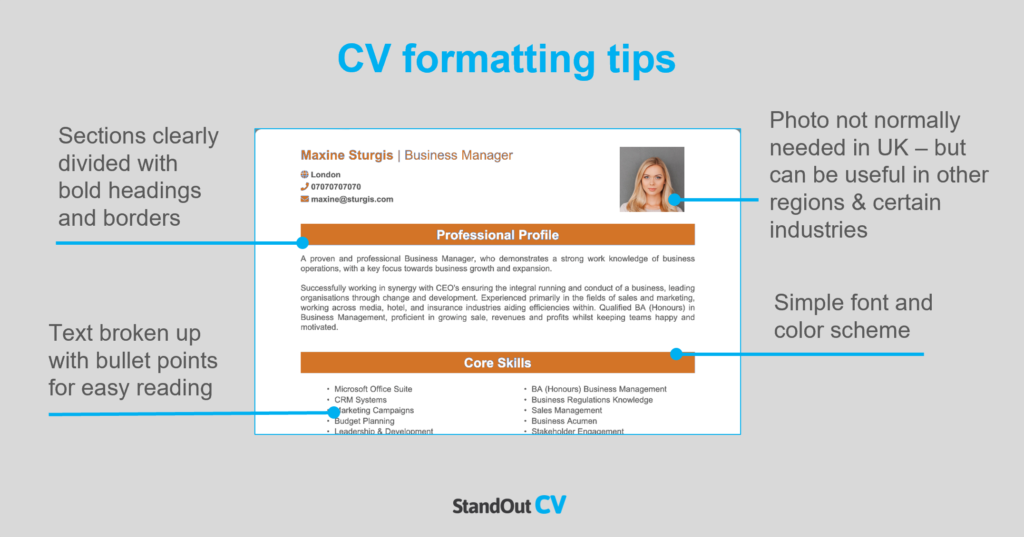 CV structure
When writing your CV, it's important to structure the content into the following key sections to ensure easy digestion by busy recruiters and hiring managers:
Contact details: List your contact details at the top of your CV to prevent them from being overlooked.
Profile: Begin with an introductory paragraph that captures recruiters' attention and summarises what you have to offer employers.
Work experience/career history: List your relevant work experience in reverse chronological order, starting with your current position.
Education: Provide a brief summary of your education and qualifications.
Interests and hobbies: An optional section to showcase any hobbies that highlight transferable skills relevant to your target jobs.
Now you understand the basic layout of a CV, here's what you should include in each section of yours.
Contact Details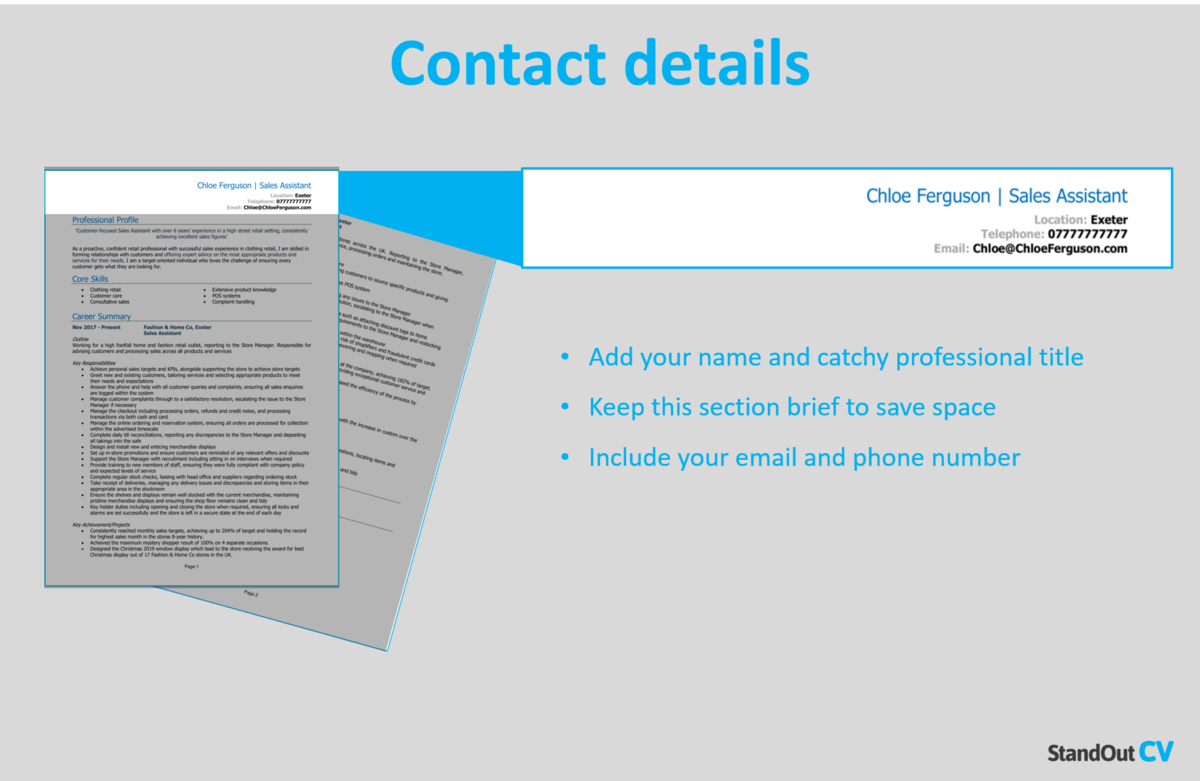 Start off your CV with a basic list of your contact details.
Here's what you should include:
Mobile number
Email address – It's often helpful to make a new email address, specifically for your job applications.
Location – Share your town or city; there's no need for a full address.
LinkedIn profile or portfolio URL – Make sure the information on them is coherent with your CV, and that they're up-to-date
Quick tip: Delete excessive details, such as your date of birth or marital status. Recruiters don't need to know this much about you, so it's best to save the space for your other CV sections.
ESL Teacher CV Profile
To immediately capture the attention of recruiters, begin your CV with a powerful profile (or personal statement for junior applicants).
This is a brief introductory paragraph that summarises your skills, experience, and knowledge.
It should position you as the ideal candidate for the job and encourage recruiters to read on.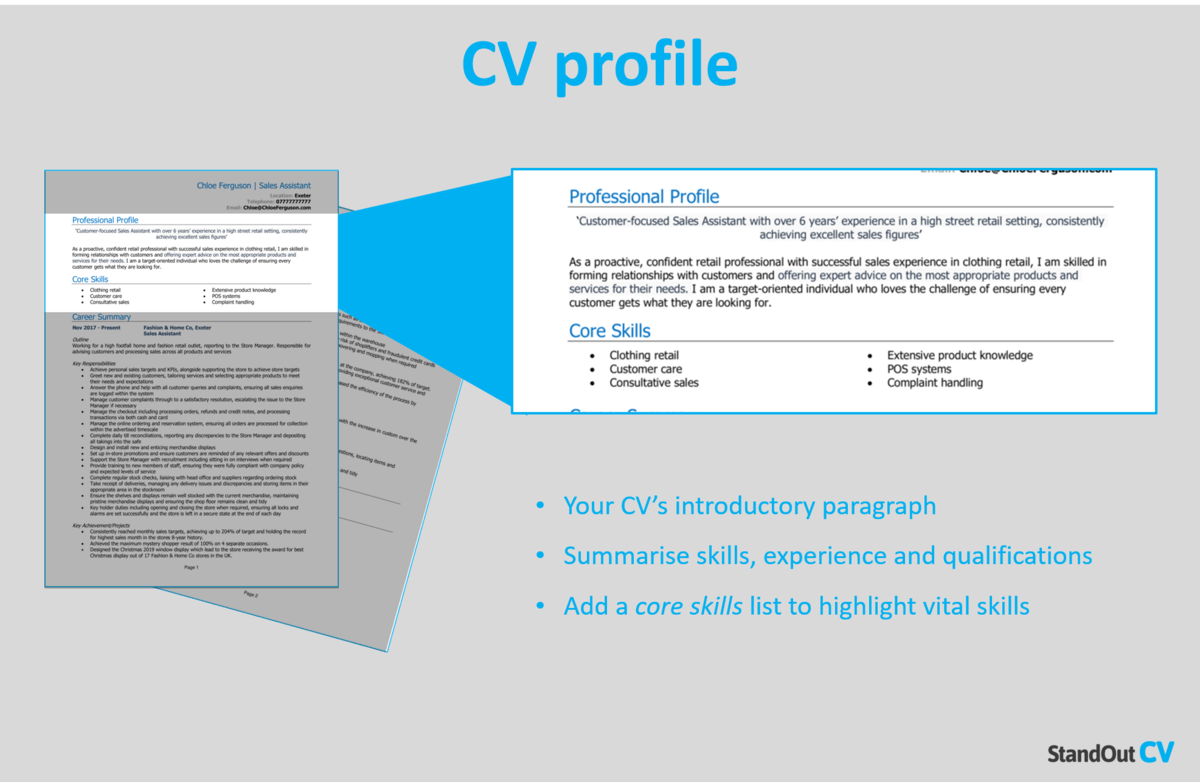 CV profile writing tips:
Make it short and sharp: When it comes to CV profile length, less is more, as recruiters are often time-strapped. Aim for around of 3-5 persuasive lines.
Tailor it: Not tailoring your profile (and the rest of your CV) to the role you're applying for, is the worst CV mistake you could make. Before setting pen to paper, look over the job ad and make a note of the skills and experience required. Then, incorporate your findings throughout.
Don't add an objective: Avoid discussing your career goals in your CV profile – if you think they're necessary, briefly mention them in your cover letter instead.
Avoid generic phrases: If there's one thing that'll annoy a recruiter, it's a clichè-packed CV. Focus on showcasing your hard skills, experience and the results you've gained in previous roles, which will impress recruiters far more.
Example CV profile for an ESL Teacher
Enthusiastic and qualified ESL Teacher with over 3 years' experience, dedicated to creating enjoyable, inviting, and dynamic learning atmosphere. Implements traditional and innovative methods to motivate students to learn English language. Skilled educator, versed in using effective and efficient methods of teaching whilst focussing on individual student needs. Experience teaching children, young people, and adults alike from over 8 different cultural backgrounds. Leverages positive, affirming approaches to encourage learning and assimilation.
What to include in your ESL Teacher CV profile?
Experience overview: Start with a brief summary of your relevant experience so far. How many years experience do you have? What type of companies have you worked for? What industries/sectors have you worked in? What are your specialisms?
Targeted skills: Ensure that your profile highlights your key skills that are most relevant to your ESL Teacher, and tailor them to match the specific job you are applying for. To do this, refer to the job description to closely align your skills with their requirements.
Key qualifications: If you have any qualifications which are highly relevant to ESL (English as a Second Language) Teacher jobs, then highlight them in your profile so that employers do not miss them.
Quick tip: If you are finding it difficult to write an attention-grabbing CV profile, choose from hundreds of pre-written profiles across all industries, and add one to your CV with one click in our partner's CV Builder. All profiles are written by recruitment experts and easily tailored to suit your unique skillset.
Core skills section
Next, you should create a bullet pointed list of your core skills, formatted into 2-3 columns.
Here, you should focus on including the most important skills or knowledge listed in the job advertisement.
This will instantly prove that you're an ideal candidate, even if a recruiter only has time to briefly scan your CV.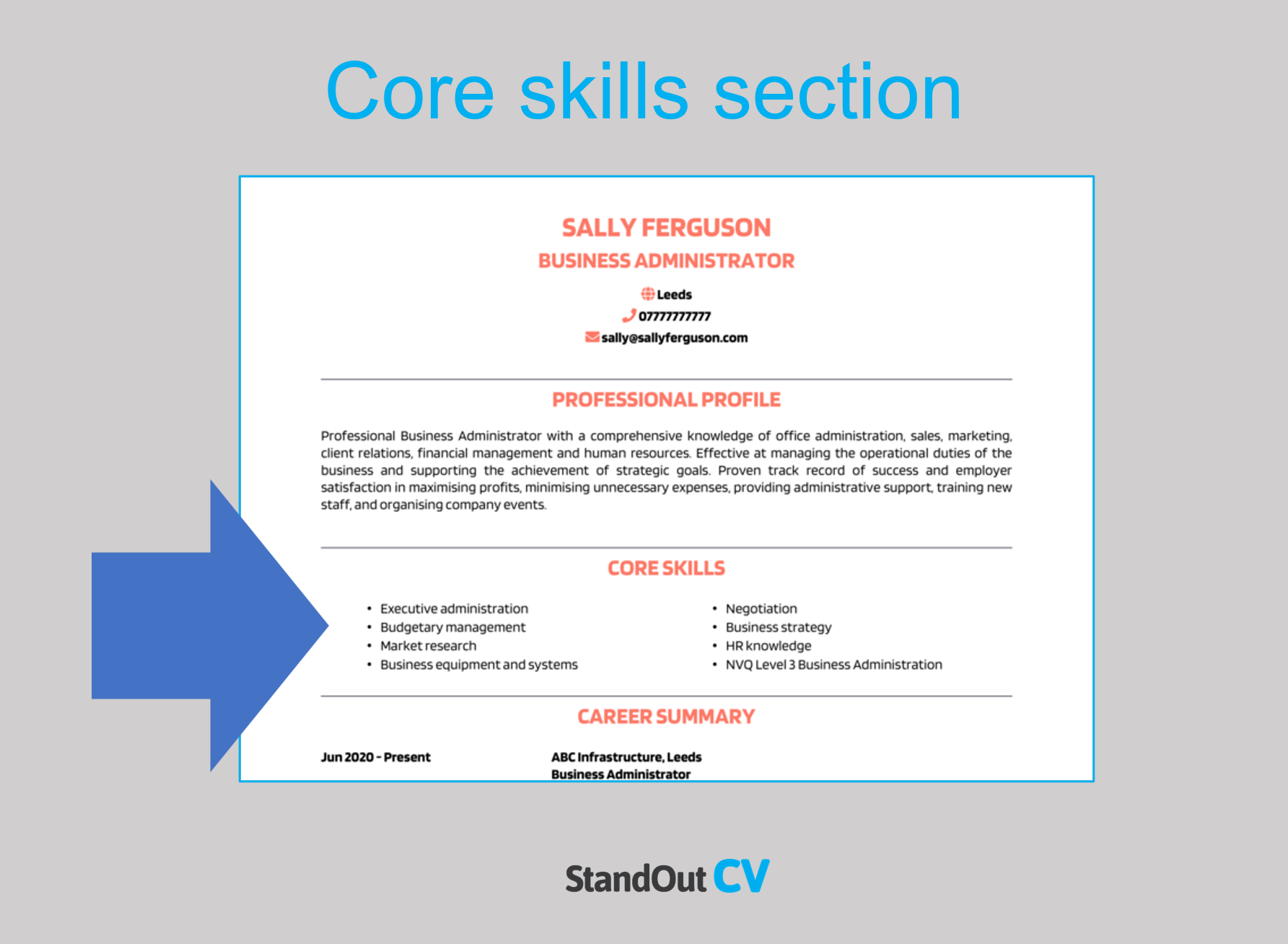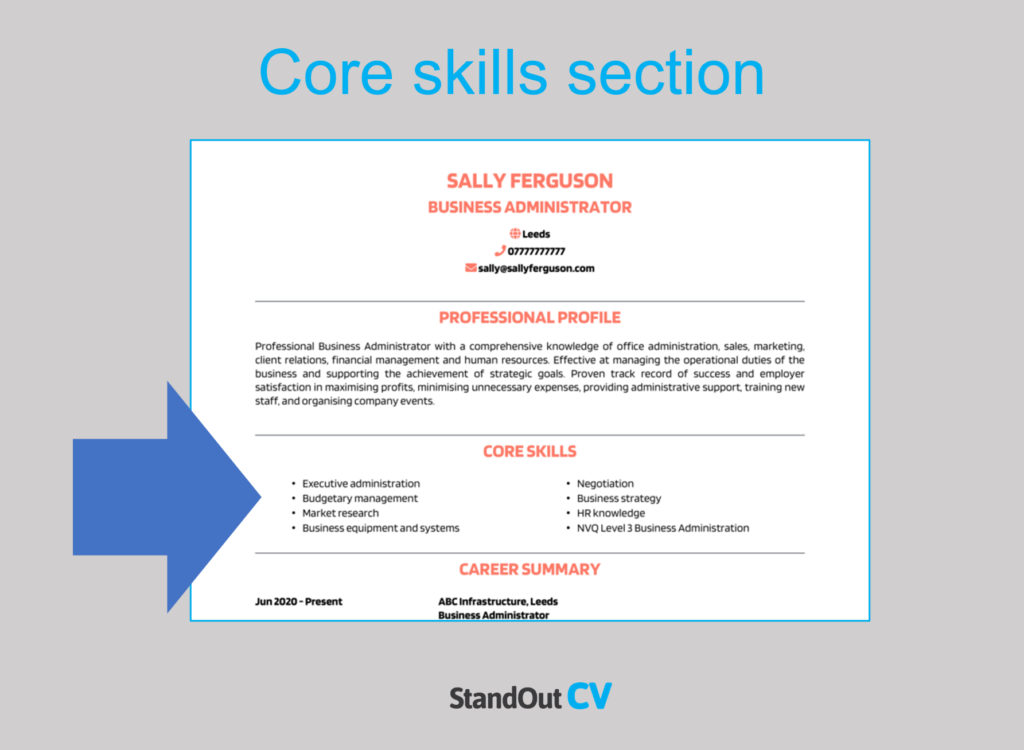 Important skills for your ESL Teacher CV
English Language Proficiency – Demonstrating native-level proficiency in English language to communicate effectively with students and assist them in language acquisition.
Classroom Management – Creating a conducive learning environment, maintaining discipline, engaging students in learning, and managing time effectively in a classroom setting.
Lesson Planning – Developing and delivering well-structured lesson plans that align with curriculum standards, cater to diverse learning styles, and achieve learning objectives.
Assessment and Evaluation – Creating, administering, and evaluating student assessments, tests, and assignments to monitor progress and identifying areas that need improvement.
Pedagogy – Utilising different teaching approaches and methodologies, such as communicative language teaching, task-based language learning and content and language integrated learning.
Technology Integration – Incorporating technology effectively in classroom instruction and use technology tools, such as interactive whiteboards, educational software, and online learning platforms.
Differentiated Instruction – Catering to the unique needs of diverse learners and use various instructional strategies, including using visual aids, hands-on activities, and group work, to help students comprehend and retain information.
Cultural Competence – Utilising knowledge of cultural differences and ability to create an inclusive classroom environment that respects and values students' cultural backgrounds.
Professional Development – Committing to ongoing professional development, staying up to date with latest teaching trends and techniques and participation in relevant workshops, conferences and courses.
Quick tip: Our partner's CV Builder has thousands of in-demand skills for all industries and professions, that can be added to your CV in seconds – This will save you time and ensure you get noticed by recruiters.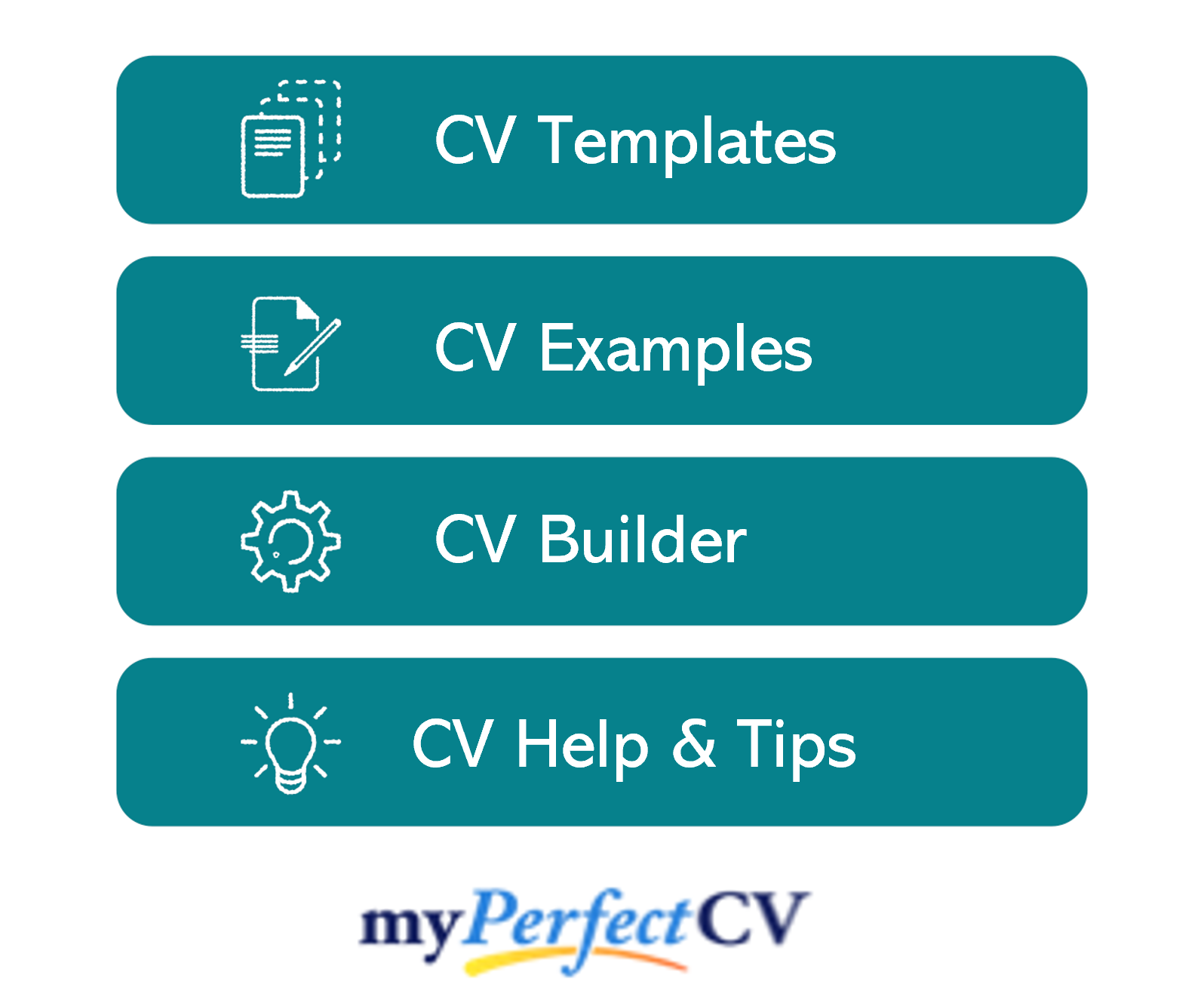 Work experience section
Next up is your work experience section, which is normally the longest part of your CV.
Start with your current (or most recent) job and work your way backwards through your experience.
Can't fit all your roles? Allow more space for your recent career history and shorten down descriptions for your older roles.
Structuring each job
Recruiters will be keen to gain a better idea of where you've worked and how you apply your skill-set in the workplace.
However, if they're faced with huge, hard-to-read paragraphs, they may just gloss over it and move onto the next application.
To avoid this, use the simple 3-step role structure, as shown below:
Outline
Provide a brief overview of the job as a whole, such as what the overriding purpose of your job was and what type of company you worked for.
Key responsibilities
Next up, you should write a short list of your day-to-day duties within the job.
Recruiters are most interested in your sector-specific skills and knowledge, so highlight these wherever possible.
Key achievements
Finish off by showcasing 1-3 key achievements made within the role.
This could be anything that had a positive effect on your company, clients or customers, such as saving time or money, receiving exemplary feedback or receiving an award.
Sample job description for an ESL Teacher CV
Outline
Teaching English at an inner-city school, comprised of 100 students. Taught 8 classes of 30 pupils, providing them with an enticing introduction to English while preparing them for subsequent IELTS exams.
Key Responsibilities
Taught ESL to over 230 students of diverse cultural backgrounds in an international classroom.
Implemented adaptive teaching strategies to enable students with SEND to seamlessly access curriculum too.
Increased ESL students' reading levels by integrating online word games and altering lesson plans for students needing extra guidance.
Documented student attendance and progress against goals.
Quick tip: Create impressive job descriptions easily in our partner's CV Builder by adding pre-written job phrases for every industry and career stage.

Education and qualifications
Although there should be mentions of your highest and most relevant qualifications earlier on in your CV, save your exhaustive list of qualifications for the bottom.
If you're an experienced candidate, simply include the qualifications that are highly relevant to ESL Teacher roles.
However, less experienced candidates can provide a more thorough list of qualifications, including A-Levels and GCSEs.
You can also dedicate more space to your degree, discussing relevant exams, assignments and modules in more detail, if your target employers consider them to be important.
Hobbies and interests
The hobbies and interests CV section isn't mandatory, so don't worry if you're out of room by this point.
However, if you have an interesting hobby, or an interest that could make you seem more suitable for the role, then certainly think about adding.
Be careful what you include though… Only consider hobbies that exhibit skills that are required for roles as an ESL Teacher, or transferable workplace skills.
There is never any need to tell employers that you like to watch TV and eat out.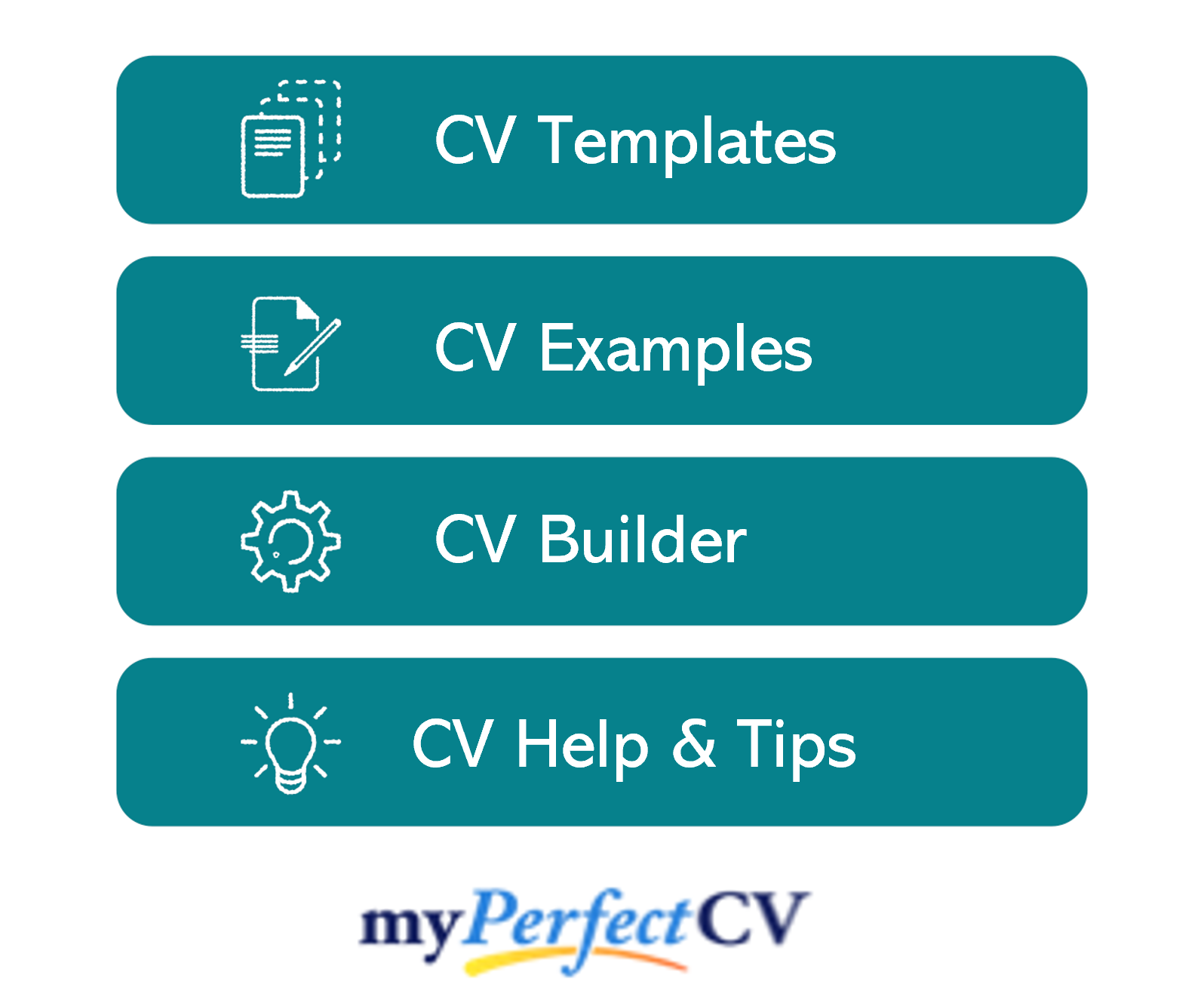 When putting together your ESL (English as a Second Language) Teacher CV, there are a few key points to remember
Always tailor your CV to the target role, even if it means creating several versions for different roles.
Additionally, remember that the structure and format of your CV needs just as much attention as the content.
Good luck with your job search!