Whether TV or radio, you make broadcasting possible and ensure that everything is running smoothly.
Now it's time to prove this on your application. We can help you keep your job search running smoothly with our detailed step-by-step writing guide.
We'll also share a broadcast engineer CV example to inspire you. Check it out below.
Contents
| | |
| --- | --- |
| How to write a Broadcast Engineer CV | |

Broadcast Engineer CV example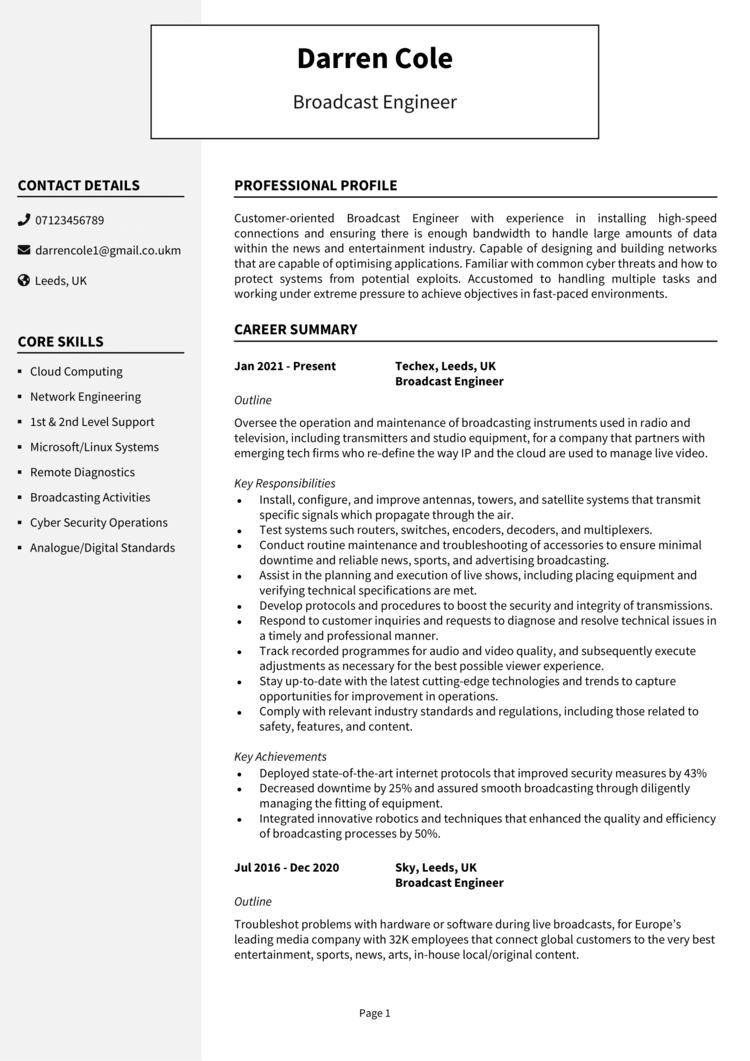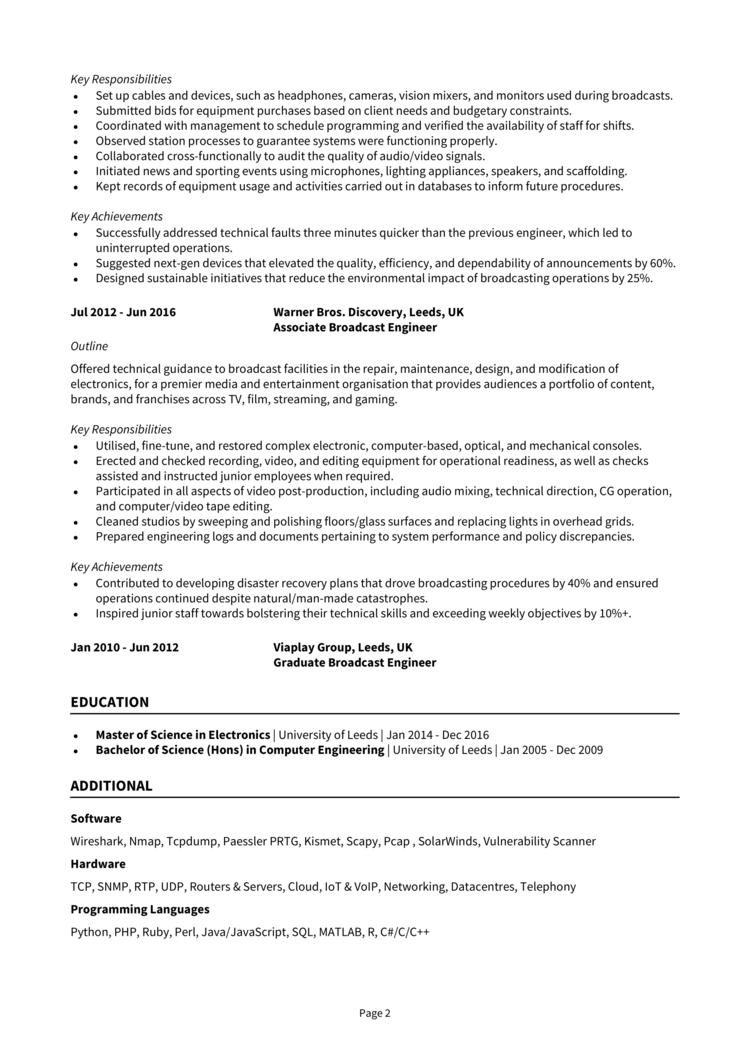 This CV example illustrates the ideal structure and format for your Broadcast Engineer CV, making it easy for busy hiring managers to quickly identify your suitability for the jobs you're applying for,
It also gives some guidance on the skills, experience and qualifications you should emphasise in your own CV.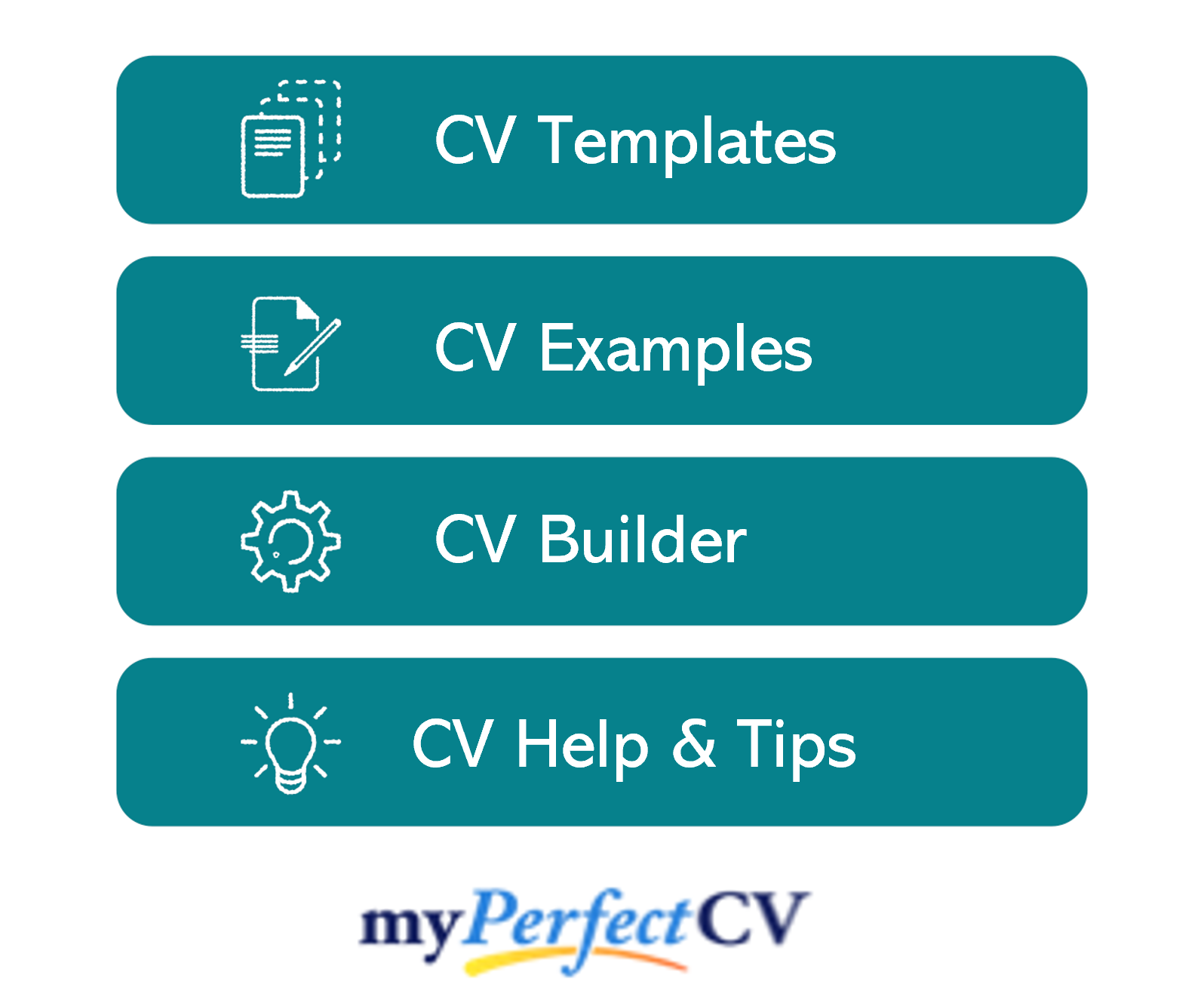 Broadcast Engineer CV format and structure
In today's fast-paced job market, recruiters and employers are often short on time. If they can't locate the information they're searching for within a few seconds, it could result in them overlooking your application.
To avoid this happening, it's critical to structure and format your CV in a way that allows them to quickly identify your key skills and offerings, even when they're pressed for time.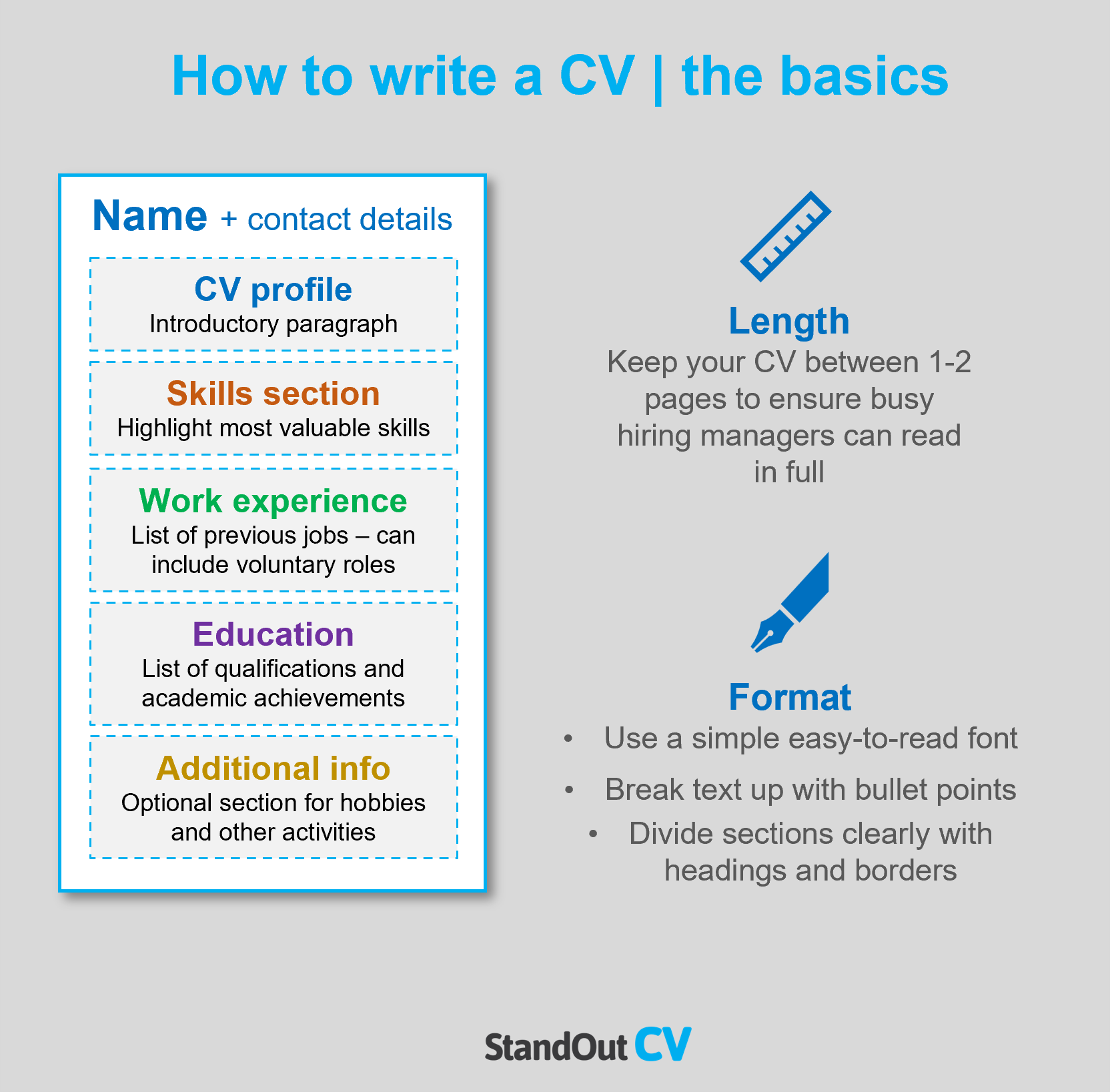 Tips for formatting your Broadcast Engineer CV
Length: Your CV should always be limited to two sides of A4, regardless of whether you have a year or three decades of experience. With recruiters juggling multiple responsibilities, they don't have time to sift through lengthy applications.
Readability: Recruiters appreciate CVs that they can quickly scan through without trouble. Ensure yours makes the cut by formatting your headings for attention (bold or coloured fonts should do the trick) and breaking up long paragraphs into smaller chunks or short, snappy bullet points.
Design & format: The saying 'less is more' couldn't be more applicable to CVs. Readability is key, so avoid overly complicated designs and graphics. A subtle colour palette and easy-to-read font is all you need!
Photos: You can add a profile photo to your CV, if you want to add some personality to it, but they are not a requirement the UK, so you don't have to.
Quick tip: Creating a professional CV style can be difficult and time-consuming when using Microsoft Word or Google Docs. To create a winning CV quickly, try our partner's CV Builder and use one of their eye-catching professional CV templates.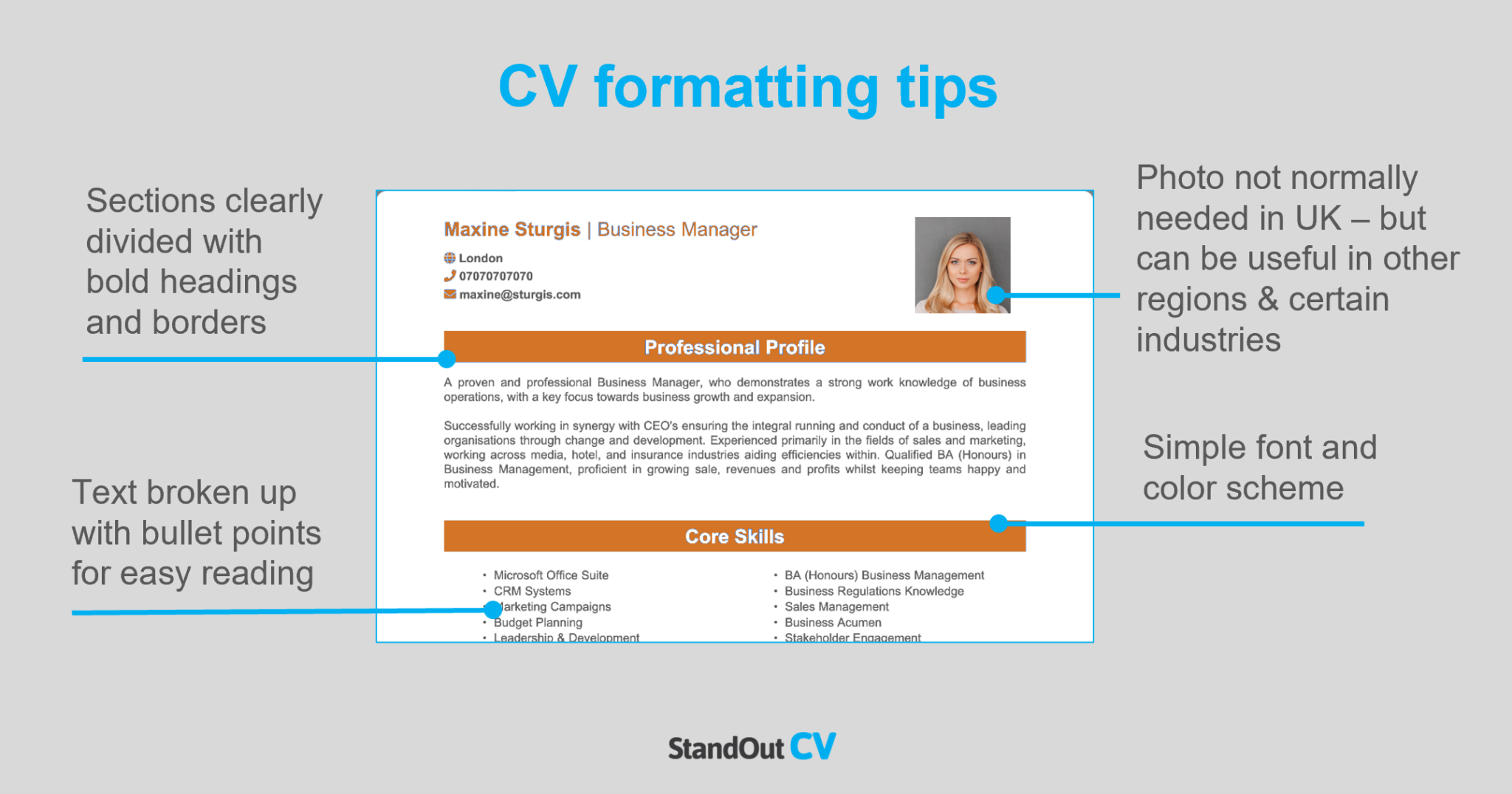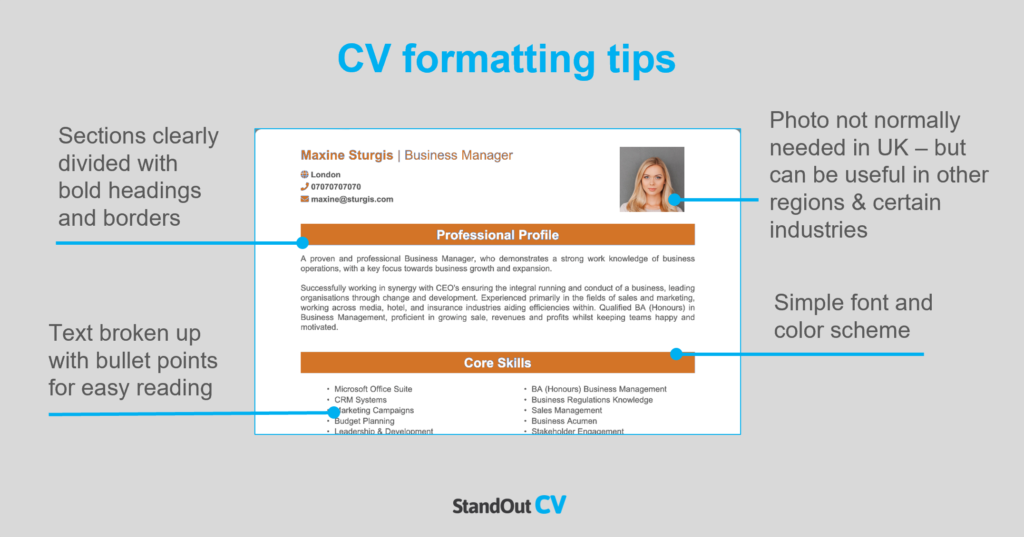 CV structure
To make it easy for busy recruiters and hiring managers to digest your CV, divide the content into several key sections when writing it:
Contact details: Always list your contact details at the very top to avoid them being missed.
Profile: Start with an introductory paragraph that catches recruiters' attention and summarises your offerings.
Work experience/career history: List your relevant work experience in reverse chronological order, starting with your current position.
Education: Provide a concise summary of your education and qualifications.
Interests and hobbies: You can include an optional section to showcase any hobbies that demonstrate transferable skills.
Now you understand the basic layout of a CV, here's what you should include in each section of yours.
Contact Details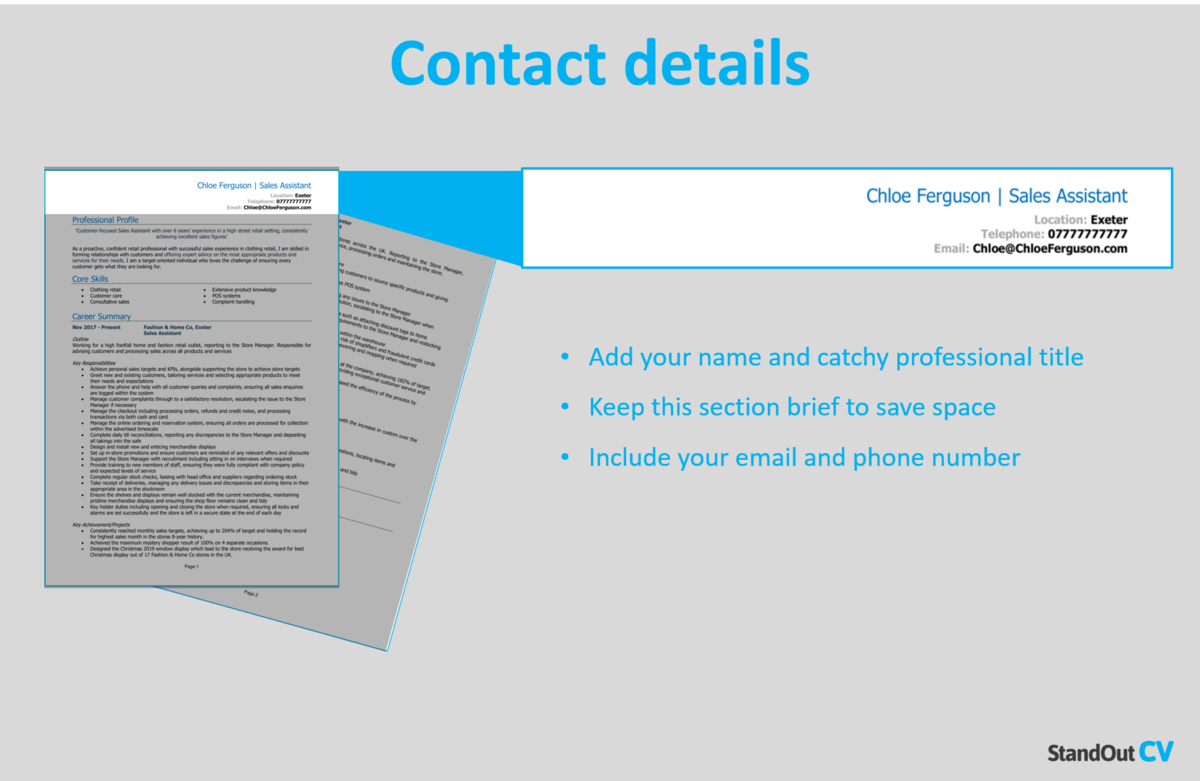 Begin by sharing your contact details, so it's easy for employers to give you a call.
Keep to the basics, such as:
Mobile number
Email address – It should sound professional, with no slang or nicknames. Make a new one for your job applications if necessary.
Location – Simply share your vague location, for example 'Manchester', rather than a full address.
LinkedIn profile or portfolio URL – Remember to update them before you send your application.
Broadcast Engineer CV Profile
Grab the reader's attention by kick-starting your CV with a powerful profile (or personal statement, if you're a junior applicant).
This is a short introduction paragraph which summarises your skills, knowledge and experience.
It should paint you as the perfect match for the job description and entice recruiters to read through the rest of your CV.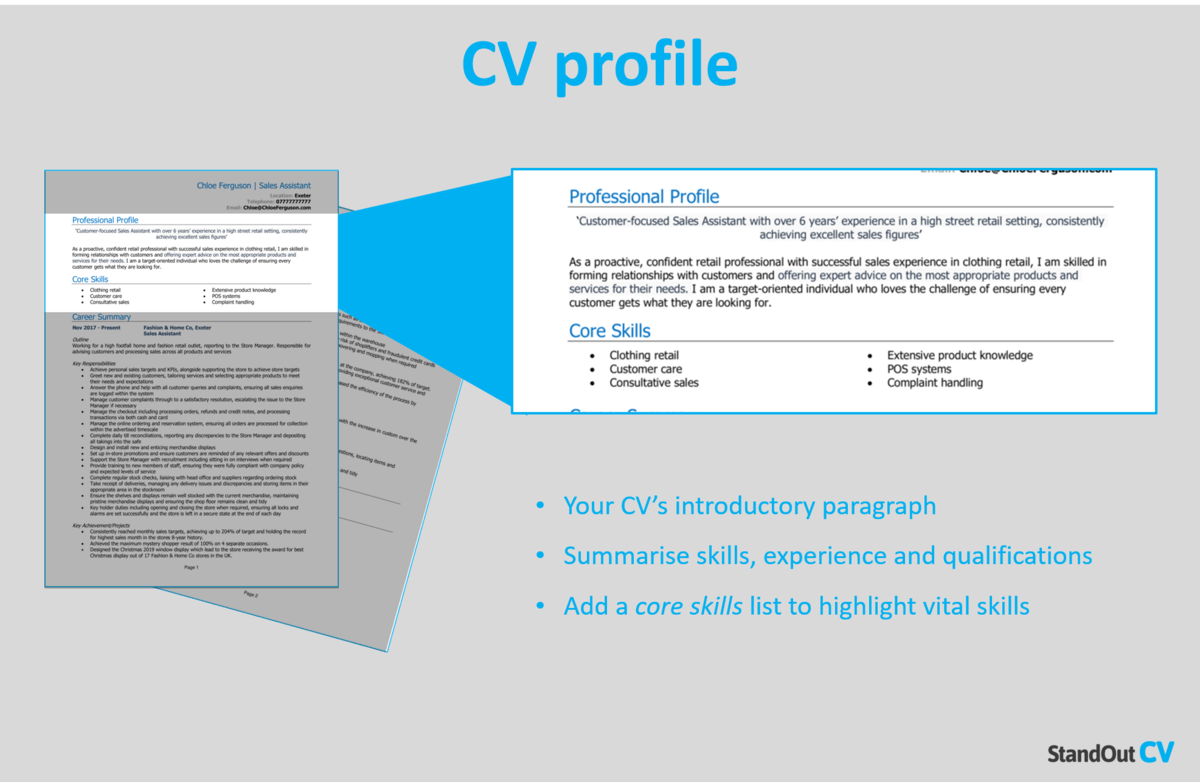 How to write a good CV profile:
Make it short and sharp: Recruiters have piles of CVs to read through and limited time to dedicate to each, so it pays to showcase your abilities in as few words as possible. 3-4 lines is ideal.
Tailor it: If recruiters don't see your suitability within a few seconds, they may close your CV straight away. Your CV profile should closely match the essential requirements listed in the job ad, so make sure to review them before you write it.
Don't add an objective: Leave your career objectives or goals out of your profile. You only have limited space to work with, so they're best suited to your cover letter.
Avoid generic phrases: Cheesy clichès and generic phrases won't impress recruiters, who read the same statements several times per day. Impress them with your skill-set, experience and accomplishments instead!
Example CV profile for Broadcast Engineer
Customer-oriented Broadcast Engineer with experience in installing high-speed connections and ensuring there is enough bandwidth to handle large amounts of data within the news and entertainment industry. Capable of designing and building networks that are capable of optimising applications. Familiar with common cyber threats and how to protect systems from potential exploits. Accustomed to handling multiple tasks and working under extreme pressure to achieve objectives in fast-paced environments.
What to include in your Broadcast Engineer CV profile?
Experience overview: Start with a brief summary of your relevant experience so far. How many years experience do you have? What type of companies have you worked for? What industries/sectors have you worked in? What are your specialisms?
Targeted skills: Make your most relevant Broadcast Engineer key skills clear in your profile. These should be tailored to the specific role you're applying for – so make sure to check the job description first, and aim to match their requirements as closely as you can.
Important qualifications: If the job postings require specific qualifications, it is essential to incorporate them in your profile to ensure visibility to hiring managers.
Quick tip: If you are finding it difficult to write an attention-grabbing CV profile, choose from hundreds of pre-written profiles across all industries, and add one to your CV with one click in our partner's CV Builder. All profiles are written by recruitment experts and easily tailored to suit your unique skillset.
Core skills section
In addition to your CV profile, your core skills section provides an easily digestible snapshot of your skills – perfect for grabbing the attention of busy hiring managers.
As Broadcast Engineer jobs might receive a huge pile of applications, this is a great way to stand out and show off your suitability for the role.
It should be made up of 2-3 columns of bullet points and be made up of skills that are highly relevant to the jobs you are targeting.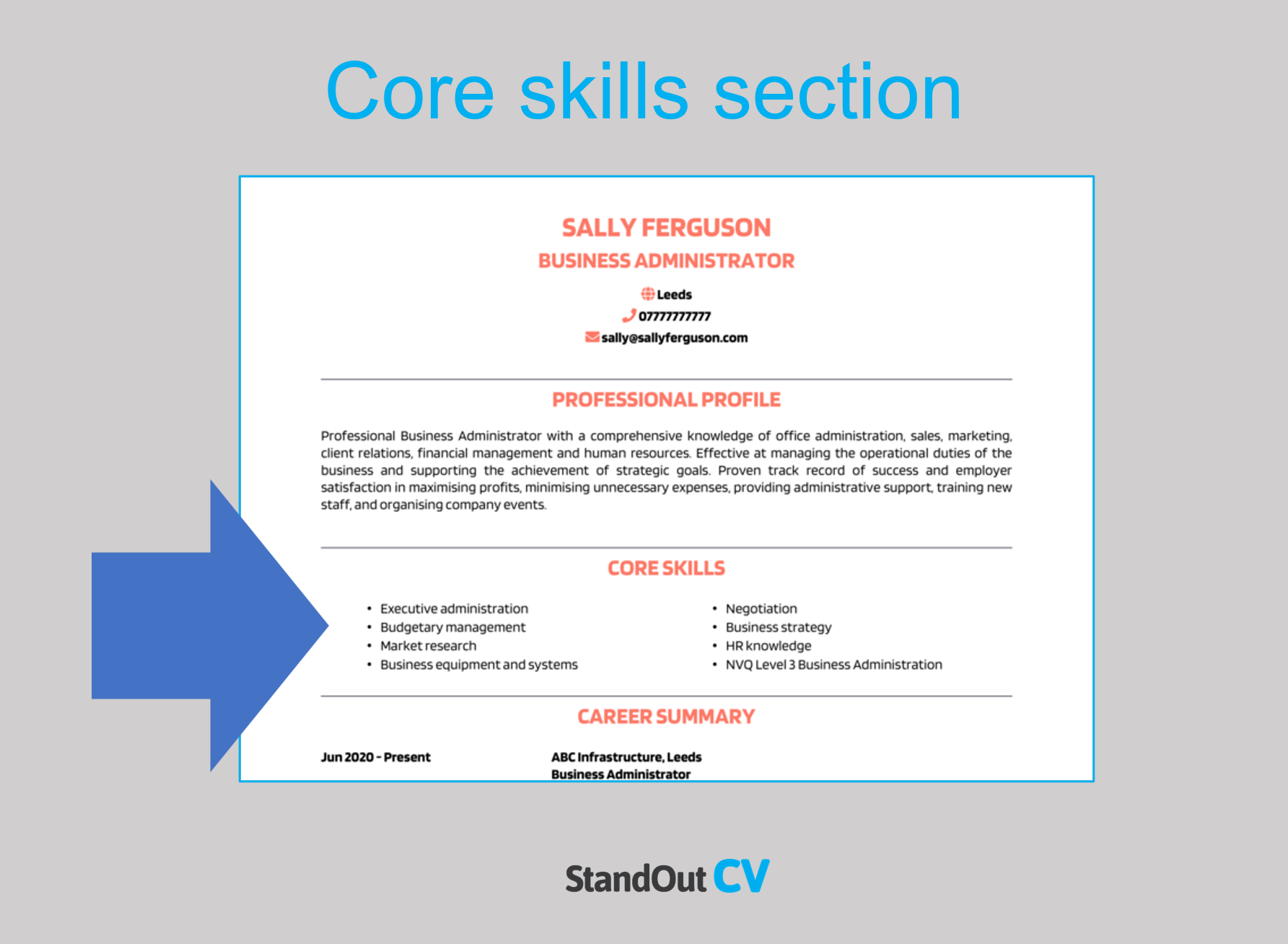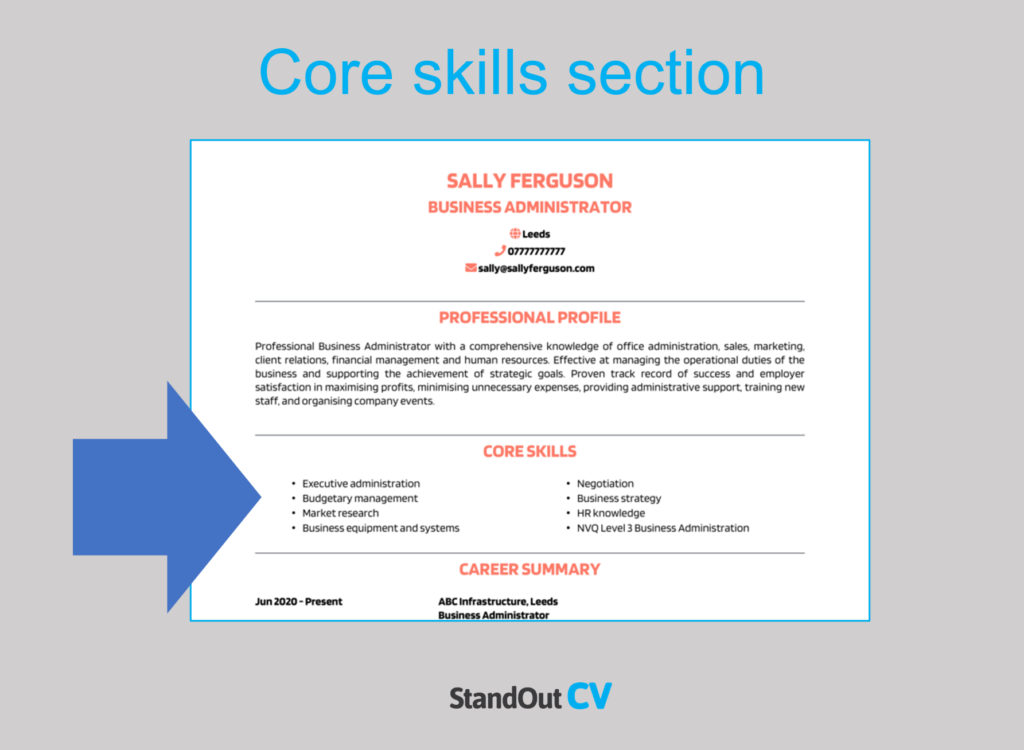 Important skills for your Broadcast Engineer CV
Technical Expertise – Maintaining in-depth knowledge of broadcast equipment, systems, and technologies used in television and radio broadcasting.
Broadcast Signal Processing – Handling and optimising audio and video signals through various processing techniques, such as audio mixing, encoding, decoding, and compression.
Broadcast Transmission – Utilising knowledge of broadcast transmission systems, including satellite, fibre optic, and terrestrial transmission, to ensure the smooth and reliable delivery of content.
Broadcast Studio Operations – Setting up, configuring, and operating broadcast studio equipment, including cameras, microphones, lighting, and control systems.
Broadcast Automation Systems – Utilising broadcast automation software and systems for scheduling, playout, and managing content in a broadcast environment.
Broadcast Troubleshooting – Diagnosing and resolving technical issues that may arise during live broadcasts, including audio/video synchronisation, signal dropouts, and equipment malfunctions.
Broadcast Standards and Regulations – Utilising knowledge of broadcasting regulations, industry standards, and compliance requirements to ensure adherence to quality, safety, and legal guidelines.
IT and Network Management – Maintaining knowledge of computer networks, IP-based broadcasting, and IT infrastructure used in broadcast operations, including network troubleshooting and configuration.
Project Management – Managing and coordinating broadcast projects, including planning, budgeting, resource allocation, and timeline management.
Communication and Collaboration – Effectively collaborating with production teams, clients, and stakeholders, ensuring smooth coordination and successful execution of broadcast operations.
Quick tip: Our partner's CV Builder has thousands of in-demand skills for all industries and professions, that can be added to your CV in seconds – This will save you time and ensure you get noticed by recruiters.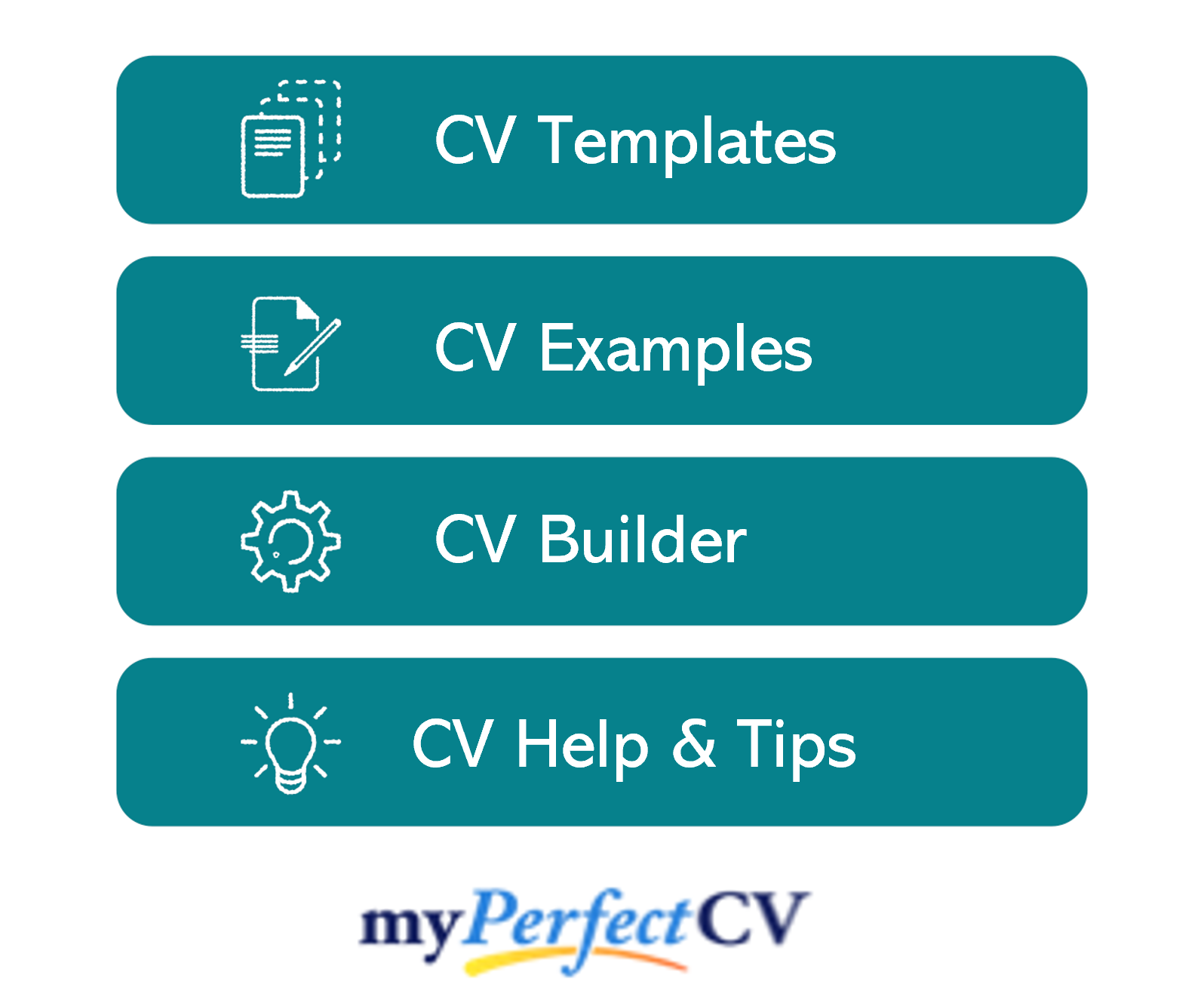 Work experience
Now it's time to get stuck into your work experience, which should make up the bulk of your CV.
Begin with your current (or most recent) job, and work your way backwards.
If you've got too much experience to fit onto two pages, prioritise space for your most recent and relevant roles.
Structuring each job
The structure of your work experience section can seriously affect its impact.
This is generally the biggest section of a CV, and with no thought to structure, it can look bulky and important information can get lost.
Use my 3-step structure below to allow for easy navigation, so employers can find what they are looking for:
Outline
Start with a solid introduction to your role as a whole, in order to build some context.
Explain the nature of the organisation you worked for, the size of the team you were part of, who you reported to and what the overarching purpose of your job was.
Key responsibilities
Follow with a snappy list of bullet points, detailing your daily duties and responsibilities.
Tailor it to the role you're applying for by mentioning how you put the target employer's desired hard skills and knowledge to use in this role.
Key achievements
Finish off by showcasing 1-3 key achievements made within the role.
This could be anything that had a positive effect on your company, clients or customers, such as saving time or money, receiving exemplary feedback or receiving an award.
Sample job description for Broadcast Engineer CV
Outline
Oversee the operation and maintenance of broadcasting instruments used in radio and television, including transmitters and studio equipment, for a company that partners with emerging tech firms who re-define the way IP and the cloud are used to manage live video.
Key Responsibilities
Install, configure, and improve antennas, towers, and satellite systems that transmit specific signals which propagate through the air.
Test systems such routers, switches, encoders, decoders, and multiplexers.
Conduct routine maintenance and troubleshooting of accessories to ensure minimal downtime and reliable news, sports, and advertising broadcasting.
Assist in the planning and execution of live shows, including placing equipment and verifying technical specifications are met.
Quick tip: Create impressive job descriptions easily in our partner's CV Builder by adding pre-written job phrases for every industry and career stage.

Education section
Although there should be mentions of your highest and most relevant qualifications earlier on in your CV, save your exhaustive list of qualifications for the bottom.
If you're an experienced candidate, simply include the qualifications that are highly relevant to Broadcast Engineer roles.
However, less experienced candidates can provide a more thorough list of qualifications, including A-Levels and GCSEs.
You can also dedicate more space to your degree, discussing relevant exams, assignments and modules in more detail, if your target employers consider them to be important.
Hobbies and interests
Although this is an optional section, it can be useful if your hobbies and interests will add further depth to your CV.
Interests which are related to the sector you are applying to, or which show transferable skills like leadership or teamwork, can worth listing.
On the other hand, generic hobbies like "going out with friends" won't add any value to your application, so are best left off your CV.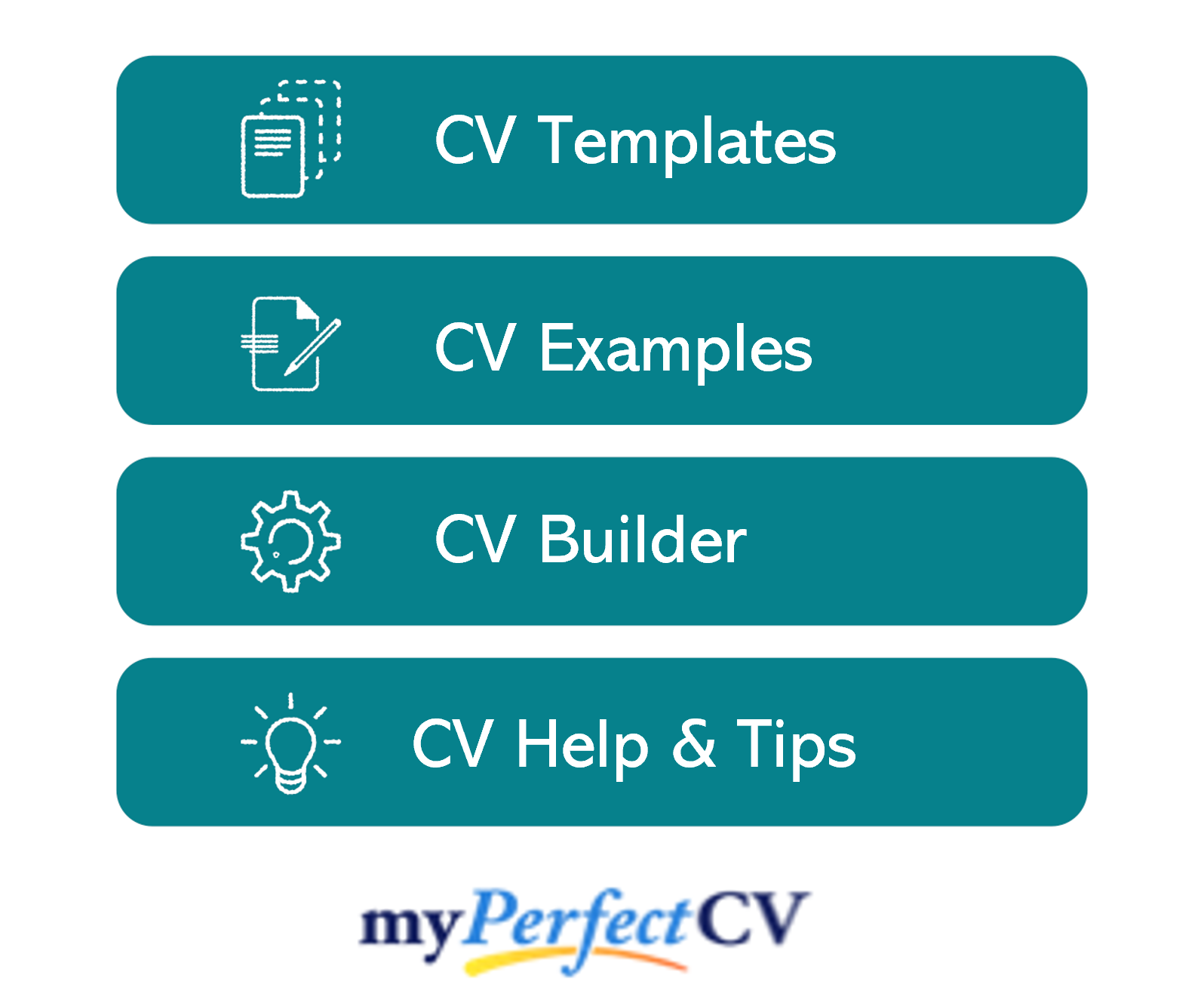 Once you've written your Broadcast Engineer CV, you should proofread it several times to ensure that there are no typos or grammatical errors.
With a tailored punchy profile that showcases your relevant experience and skills, paired with well-structured role descriptions, you'll be able to impress employers and land interviews.
Good luck with your next job application!