If you're hoping to land your next role as an audio engineer, you need to create an application that amplifies your skills and experience.
But if you're used to producing sounds and not CVs, you've come to the right place.
In the guide below, we've put together all our top tips and advice, along with an audio engineer CV example to help you.
Contents
| | |
| --- | --- |
| How to write a Audio Engineer CV | |

Audio Engineer CV example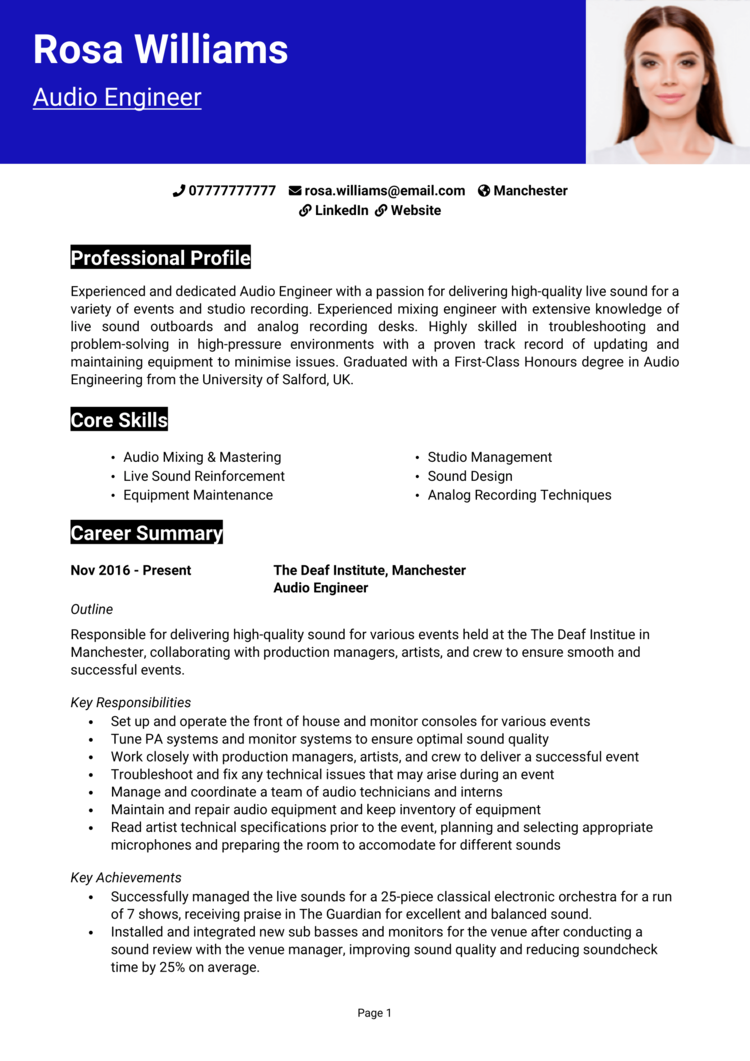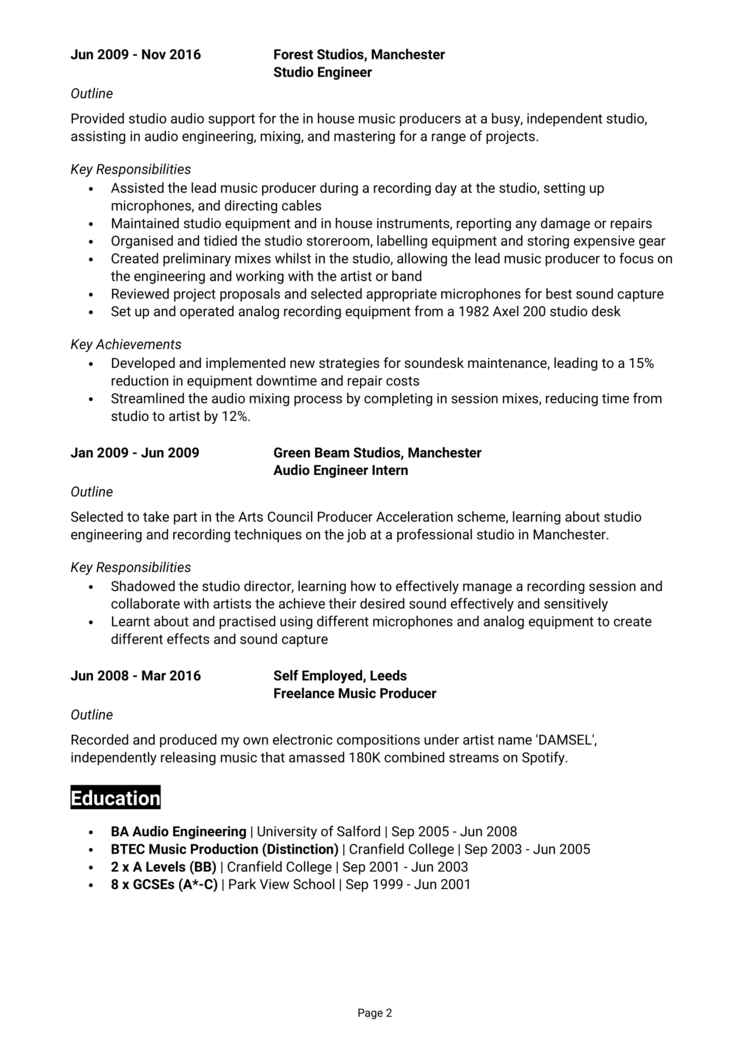 This example CV demonstrates how to structure and format your own Audio Engineer CV, so that it can be easily digested by busy hiring managers, and quickly prove why you are suitable for the jobs you are applying to.
It also gives you a good idea of the type of skills, experience and qualifications that you need to be highlighting in your CV.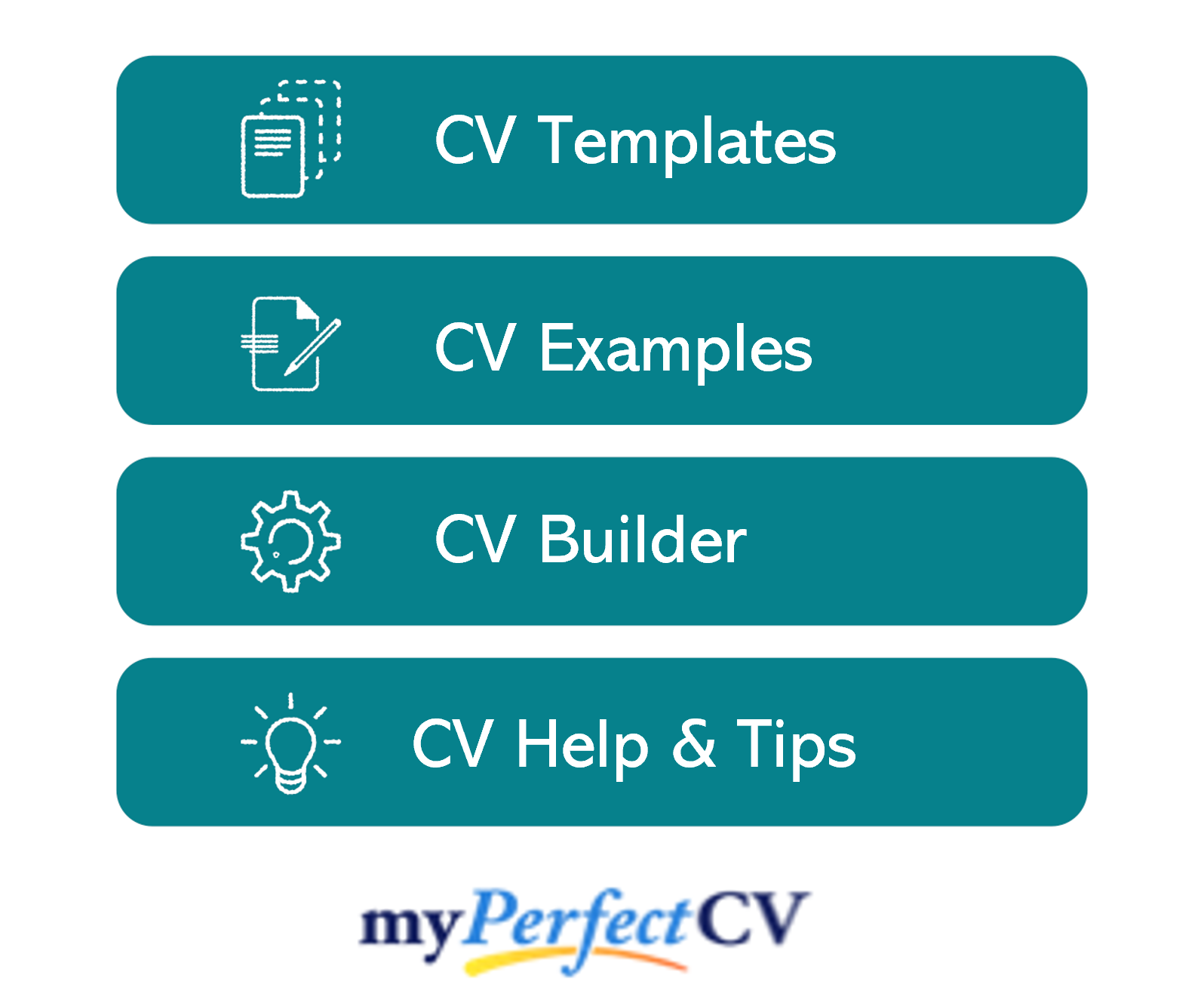 Audio Engineer CV format and structure
If you focus purely on the written content of your CV but ignore the style and layout, your efforts could end up wasted.
No matter how suitable you are for the role, no recruiter wants to spend time squinting and trying to navigate a badly designed and disorganised CV.
Instead, make sure to organise your content into a simple structure and spend some time formatting it for ease of reading – it will ensure every recruiter and hiring manager can read your CV with ease.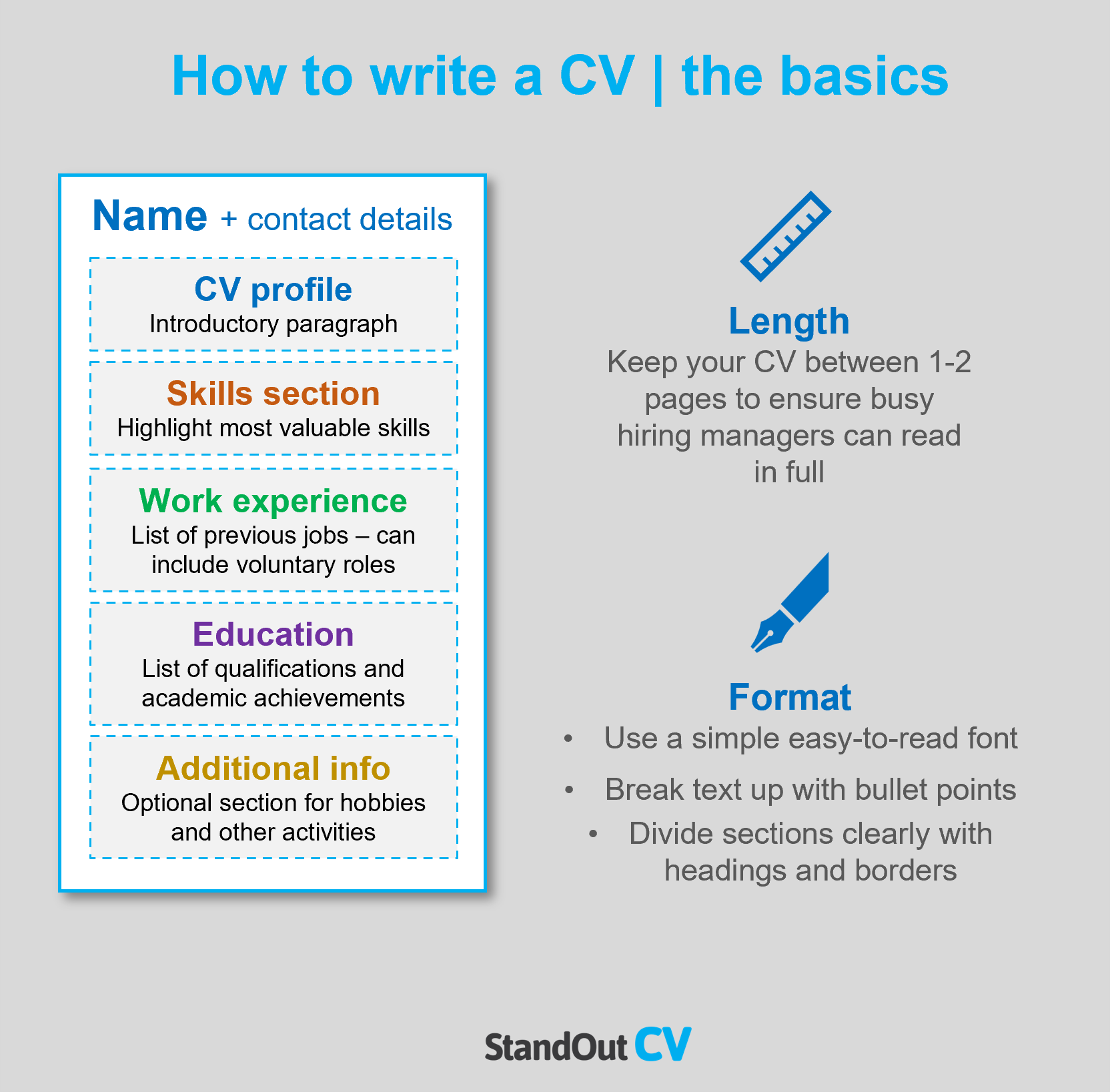 Tips for formatting your Audio Engineer CV
Length: Your CV should always be limited to two sides of A4, regardless of whether you have a year or three decades of experience. With recruiters juggling multiple responsibilities, they don't have time to sift through lengthy applications.
Readability: To help busy recruiters scan through your CV, make sure your section headings stand out – bold or coloured text works well. Additionally, try to use bullet points wherever you can, as they're far easier to skim through than huge paragraphs. Lastly, don't be afraid of white space on your CV – a little breathing space is great for readability.
Design & format: While it's important that your CV design looks good, it also needs to be functional (which means easy for recruiters to read) Keep the design simple to achieve a good balance between looking good and reading well.
Photos: Headshot photos aren't requiered in a CV by most employers, but some creative and artistic industries like to see them. If you decide to inclide one, make sure you look smart and professional in the picture.
Quick tip: Creating a professional CV style can be difficult and time-consuming when using Microsoft Word or Google Docs. To create a winning CV quickly, try our partner's CV Builder and use one of their eye-catching professional CV templates.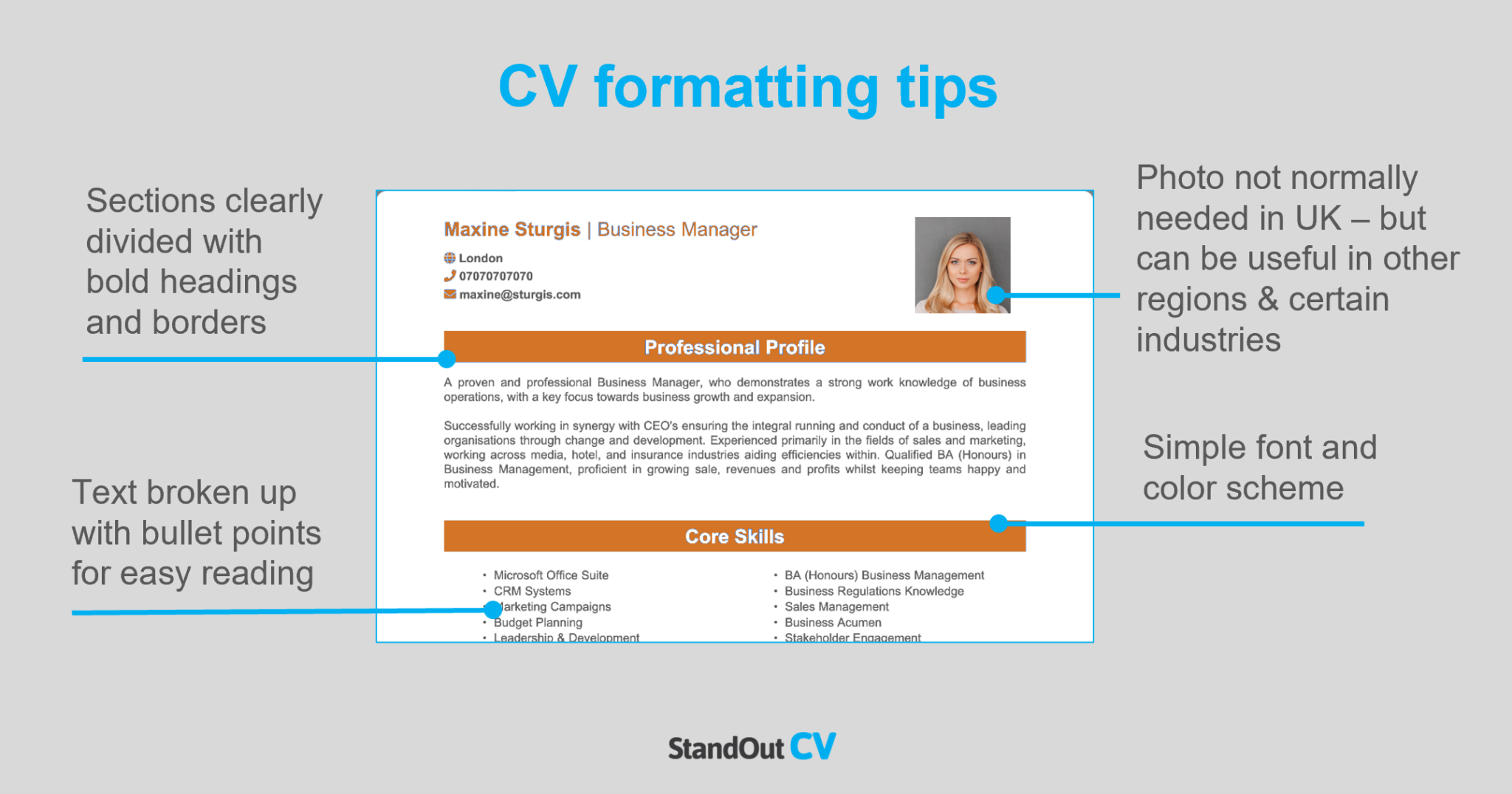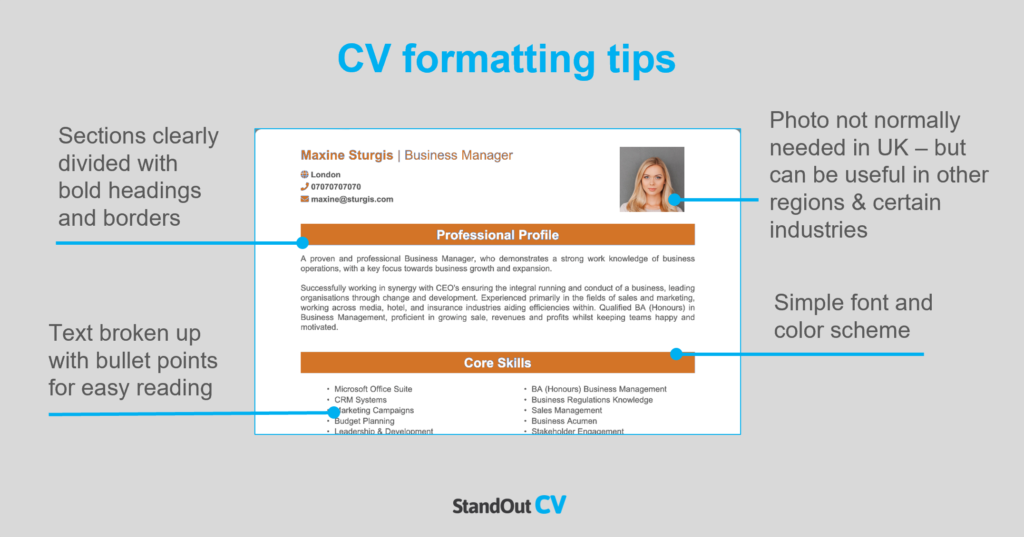 CV structure
Divide your CV into the following major sections when writing it:
Name and contact details – Head your CV with your name and contact details, to let the reader know who you are and how to contact you.
CV profile – A brief paragraph which summarises your skills and experience and highlights why you're a good match for the role.
Core skills list – A snappy, bullet-pointed list of your most relevant skills.
Work experience – A structured list of your work experience in reverse chronological order.
Education – A summary of any relevant qualifications or professional training you've completed.
Hobbies and interests – An optional section, which should only be used if your hobbies are relevant to the jobs you're applying to.
Now you understand the basic layout of a CV, here's what you should include in each section of yours.
Contact Details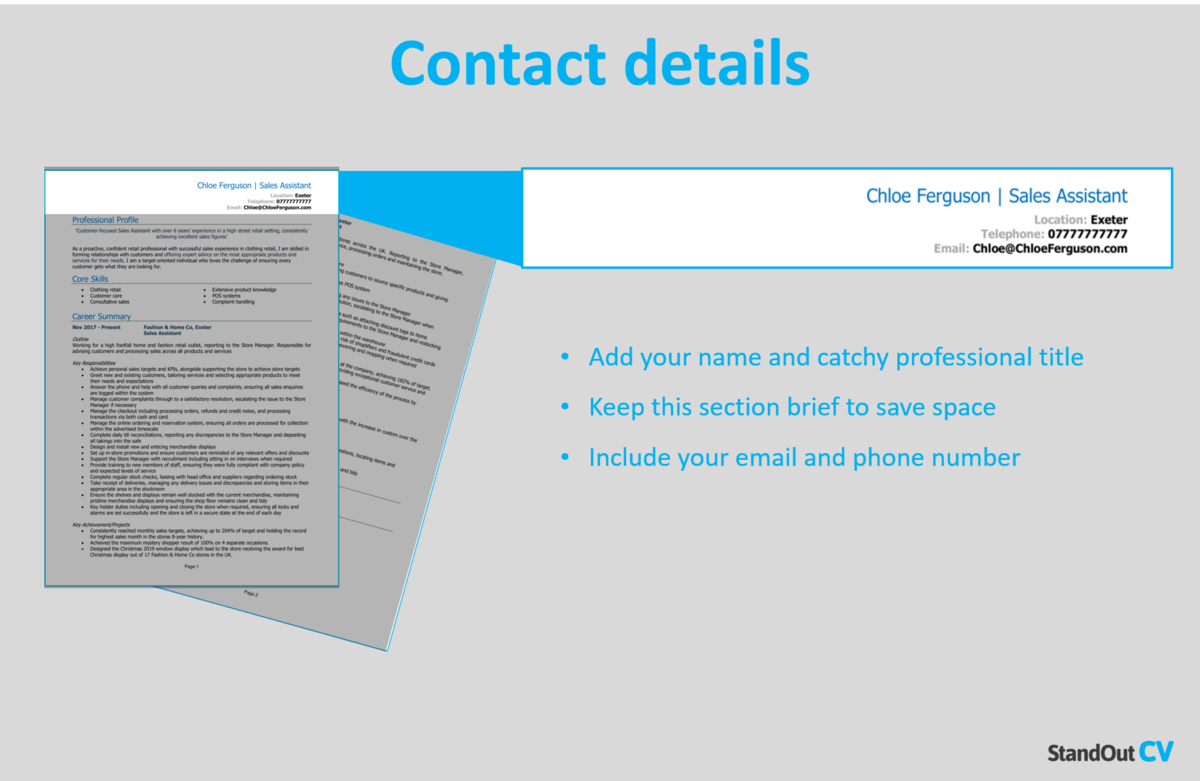 Make it easy for recruiters to get in touch, by heading your CV with your contact details.
There's no need for excessive details – just list the basics:
Mobile number
Email address – Use a professional address with no nicknames.
Location – Just write your your general location, such as 'London' or 'Cardiff' – there's no need to put your full address.
LinkedIn profile or portfolio URL
Audio Engineer CV Profile
Recruiters and hiring managers are busy, so it's essential to catch their attention from the get-go.
A strong introductory profile (or personal statement, for junior candidates) at the top of the CV is the first thing they'll read, so it's a great chance to make an impression.
It should be a short but punchy summary of your key skills, relevant experience and accomplishments.
Ultimately, it should explain why you're a great fit for the role you're applying for and inspire recruiters to read the rest of your CV.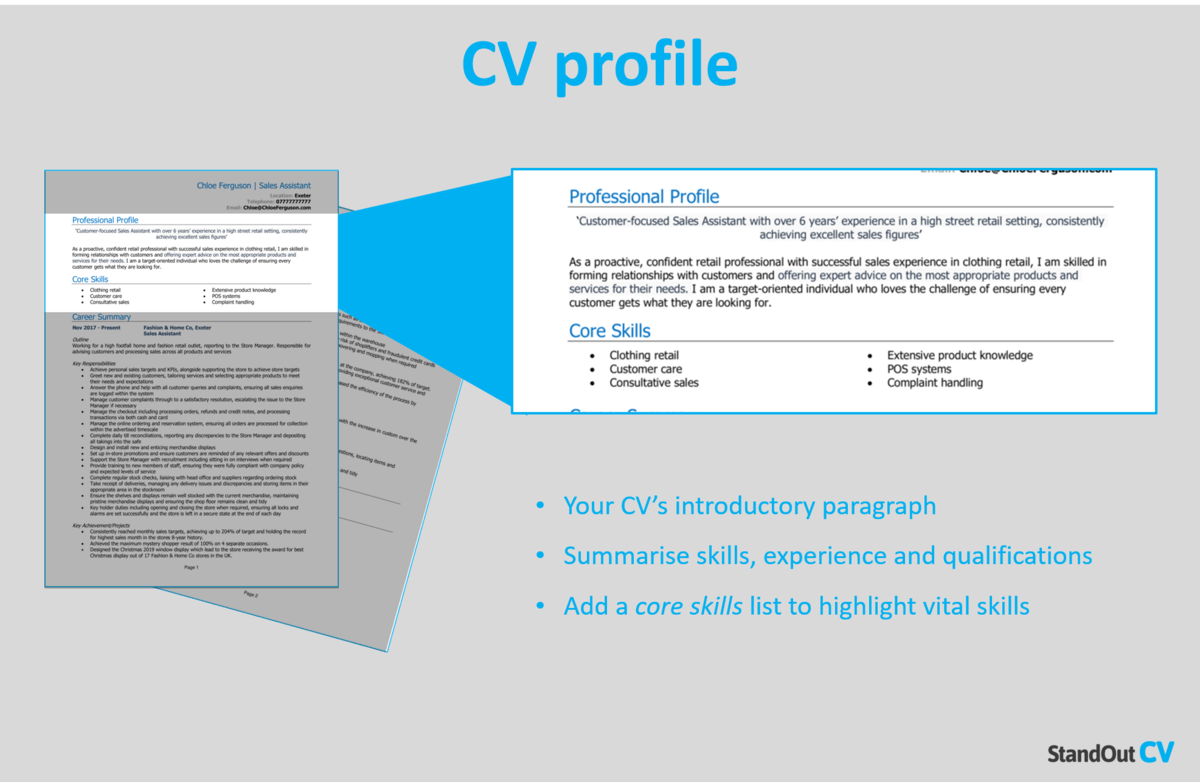 How to write a good CV profile:
Make it short and sharp: When it comes to CV profile length, less is more, as recruiters are often time-strapped. Aim for around of 3-5 persuasive lines.
Tailor it: If recruiters don't see your suitability within a few seconds, they may close your CV straight away. Your CV profile should closely match the essential requirements listed in the job ad, so make sure to review them before you write it.
Don't add an objective: Career goals and objectives are best suited to your cover letter, so don't waste space with them in your CV profile.
Avoid generic phrases: Focus on fact, not fluff. Phrases like "Committed and enthusiastic thought-leader" and "Dynamic problem solver" might sound fancy, but they'll do nothing for your application. Not only do they sound cheesy, but they have no substance – stick to real skills and facts
Example CV profile for Audio Engineer
Experienced and dedicated Audio Engineer with a passion for delivering high-quality live sound for a variety of events and studio recording. Experienced mixing engineer with extensive knowledge of live sound outboards and analogue recording desks. Highly skilled in troubleshooting and problem-solving in high-pressure environments with a proven track record of updating and maintaining equipment to minimise issues. Graduated with a First-Class Honours degree in Audio Engineering from the University of Salford, UK. 
What to include in your Audio Engineer CV profile?
Experience overview: Demonstrate your suitability for your target jobs by giving a high level summary of your previous work work experience, including the industries you have worked in, types of employer, and the type of roles you have previous experience of.
Targeted skills: Highlight your skills which are most relevant to Audio Engineer jobs, to ensure that recruiters see your most in-demand skills as soon as they open your CV.
Important qualifications: If the jobs you are applying to require candidates to have certain qualifications, then you must add them in your profile to ensure they are seen by hiring managers.
Quick tip: If you are finding it difficult to write an attention-grabbing CV profile, choose from hundreds of pre-written profiles across all industries, and add one to your CV with one click in our partner's CV Builder. All profiles are written by recruitment experts and easily tailored to suit your unique skillset.
Core skills section
Add a core skills section below your profile to draw attention to your most applicable skills and make them stand out to readers.
This should consist of 2-3 columns of bullet points that emphasise your relevant skills.
Before creating this section, review the job description and compile a list of any specific skills, specializations, or knowledge needed. Incorporate these findings into your list to portray yourself as the ideal candidate for the position.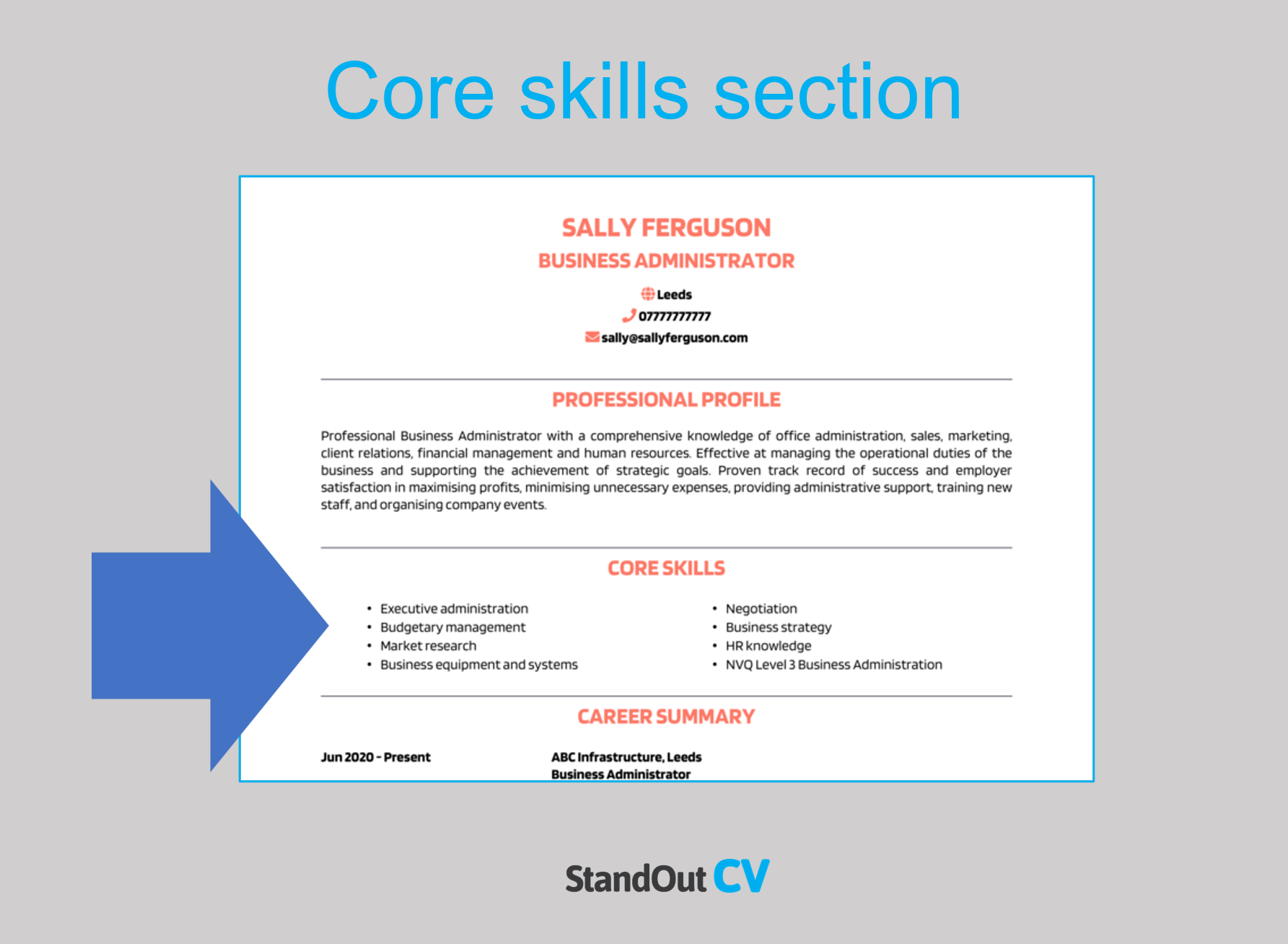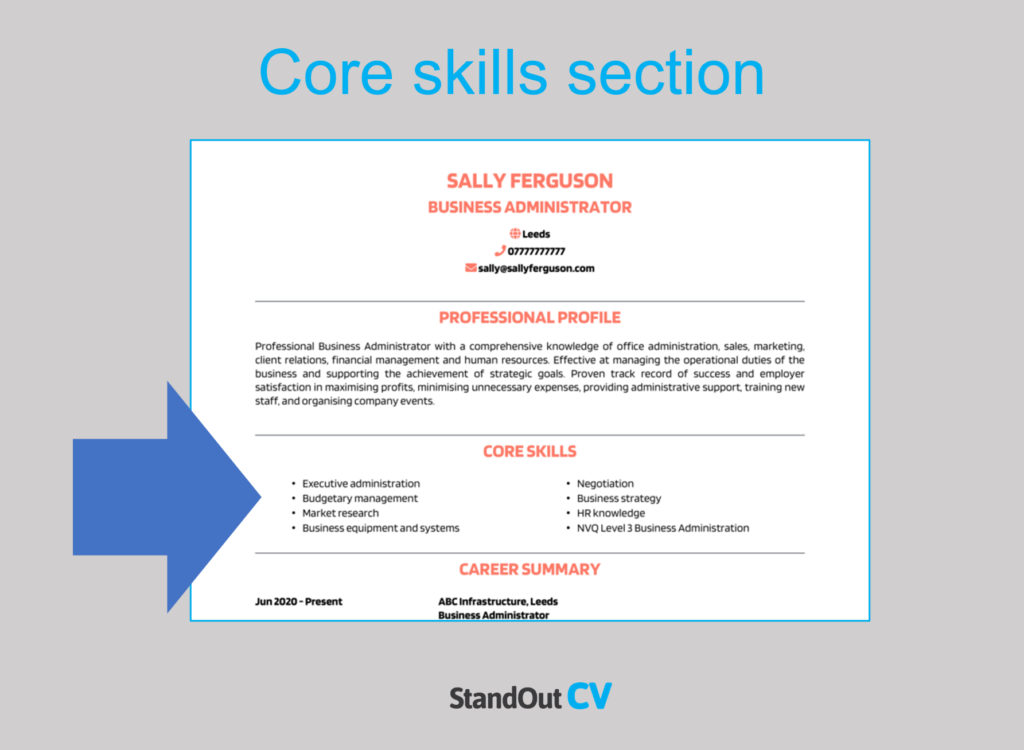 Important skills for your Audio Engineer CV
Sound Recording and Mixing – Capturing and mixing audio using various recording equipment and software to achieve high-quality sound production.
Audio Editing – Editing audio files, including removing background noise, adjusting levels, applying effects, and ensuring seamless transitions.
Studio Setup and Equipment Knowledge – Setting up and configuring audio equipment, including microphones, amplifiers, mixers, and speakers, to optimise sound quality and performance.
Acoustics and Sound Design – Utilising knowledge of acoustics principles to manipulate sound to create specific effects or atmospheres in different environments.
Signal Processing – Utilising audio signal processors, such as compressors, equalizers, and reverbs, to enhance and shape audio recordings.
Live Sound Reinforcement – Setting up and operating sound systems for live performances, including microphone placement, monitor mixing, and troubleshooting technical issues.
DAW Proficiency – Utilising Digital Audio Workstations (DAWs), such as Pro Tools, Logic Pro, or Ableton Live, to record, edit, and mix audio tracks.
Audio Equipment Maintenance – Utilising knowledge of audio equipment maintenance procedures, including troubleshooting common issues and performing routine maintenance to ensure optimal performance.
Music Theory and Audio Production Techniques – Utilising knowledge of music theory, arrangement, and production techniques to enhance musical recordings and achieve desired artistic outcomes.
Quick tip: Our partner's CV Builder has thousands of in-demand skills for all industries and professions, that can be added to your CV in seconds – This will save you time and ensure you get noticed by recruiters.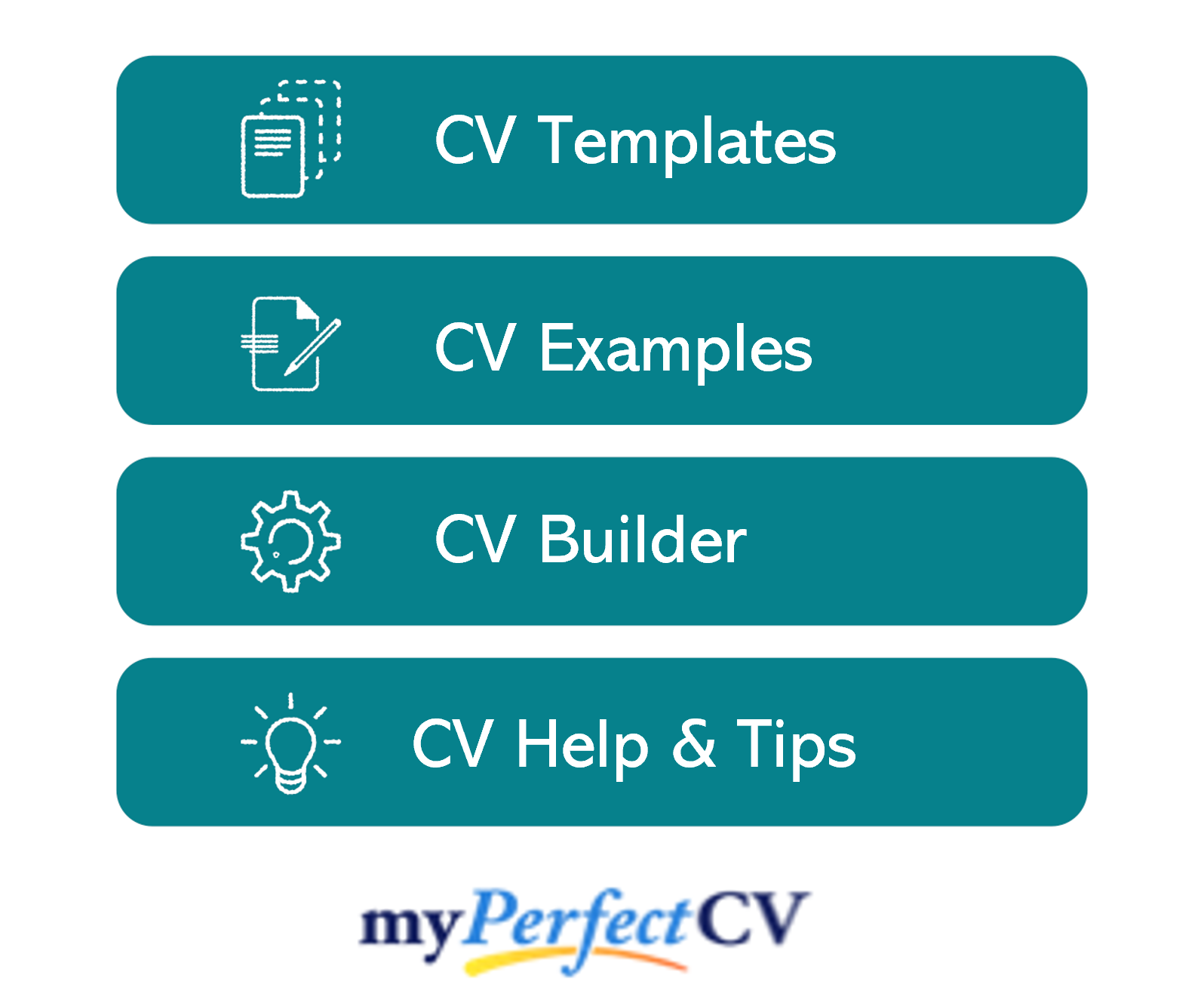 Work experience
Now that recruiters have a good overview of your skills and abilities, you need to jump into the detail of your career history.
Give them a more thorough insight into what you can do by creating a detailed list of your relevant experience.
Start with your current role, and work backwards through all the relevant positions you've held.
This could be freelance, contract or voluntary work too; as long as it's related to the role you're applying for.
Structuring each job
If you don't pay attention to the structure of your career history section, it could quickly become bulky and overwhelming.
Get in recruiters' good books by creating a pleasant reading experience, using the 3-step structure below:
Outline
Start with a 1-2 sentence summary of your role as a whole, detailing what the goal of your position was, who you reported to or managed, and the type of organisation you worked for.
Key responsibilities
Using easy-to-read bullet points, note down your day-to-day responsibilities in the role.
Make sure to showcase how you used your hard sector skills and knowledge.
Key achievements
Finish off by showcasing 1-3 key achievements made within the role.
This could be anything that had a positive effect on your company, clients or customers, such as saving time or money, receiving exemplary feedback or receiving an award.
Sample job description for Audio Engineer CV
Outline
Responsible for delivering high-quality sound for various events held at the The Deaf Institute in Manchester, collaborating with production managers, artists, and crew to ensure smooth and successful events.
Key Responsibilities
Set up and operate the front of house and monitor consoles for various events
Tune PA systems and monitor systems to ensure optimal sound quality
Work closely with production managers, artists, and crew to deliver a successful event
Troubleshoot and fix any technical issues that may arise during an event
Quick tip: Create impressive job descriptions easily in our partner's CV Builder by adding pre-written job phrases for every industry and career stage.

Education section
Next up, you should list your education and qualifications.
This can include your formal qualifications (a degree, A-Levels and GCSEs), as well as sector-specific Audio Engineer qualifications and/or training.
While school leavers and recent grads should include a lot of detail here to make up for the lack of work experience, experienced candidates may benefit from a shorter education section, as your work experience section will be more important to recruiters.
Hobbies and interests
The hobbies and interests CV section isn't mandatory, so don't worry if you're out of room by this point.
However, if you have an interesting hobby, or an interest that could make you seem more suitable for the role, then certainly think about adding.
Be careful what you include though… Only consider hobbies that exhibit skills that are required for roles as a Audio Engineer, or transferable workplace skills.
There is never any need to tell employers that you like to watch TV and eat out.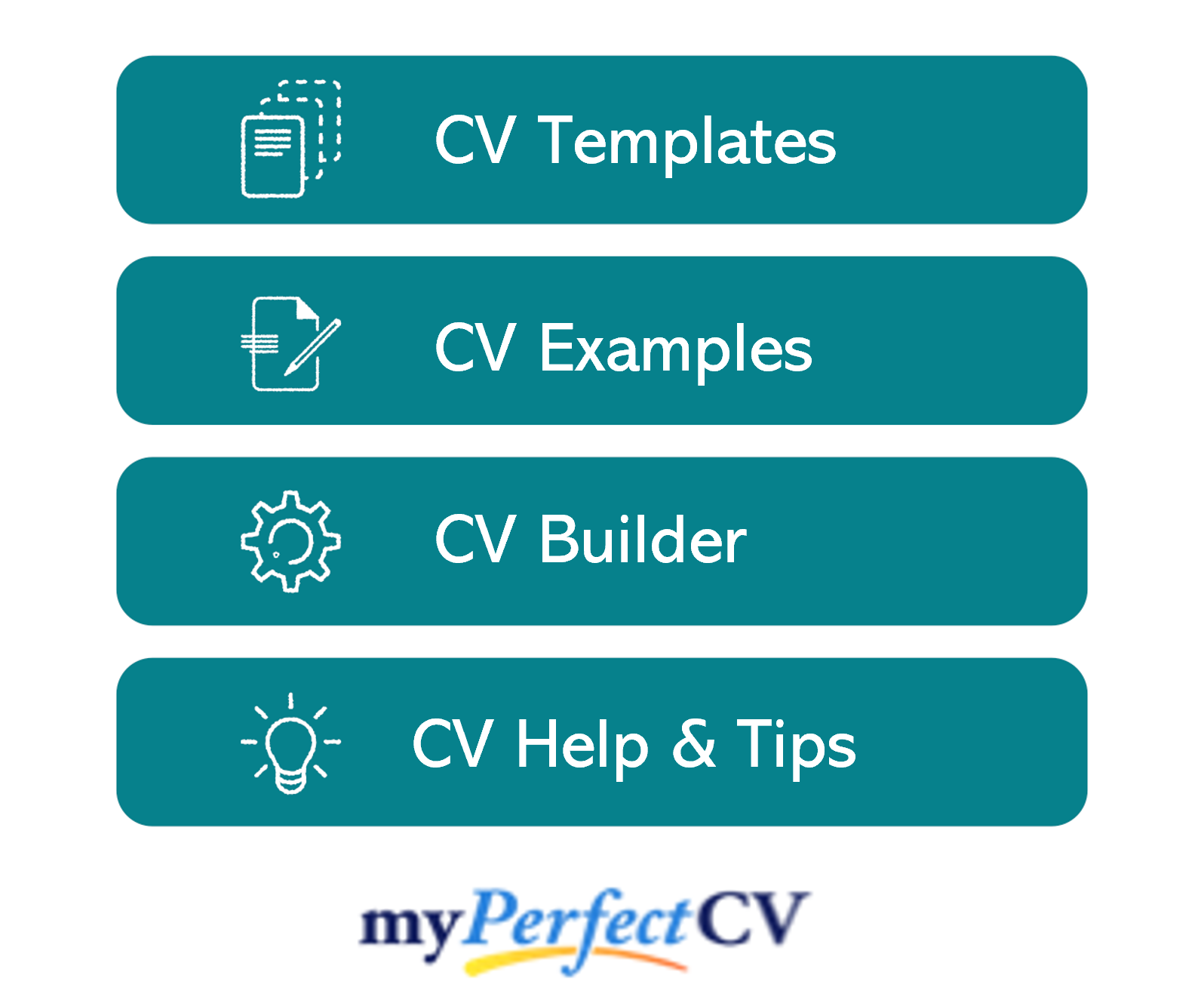 Creating a strong Audio Engineer CV requires a blend of punchy content, considered structure and format, and heavy tailoring.
By creating a punchy profile and core skills list, you'll be able to hook recruiter's attention and ensure your CV gets read.
Remember that research and relevance is the key to a good CV, so research your target roles before you start writing and pack your CV with relevant skills.
Best of luck with your next application!