The role of an aeronautical engineer is an extremely important one and therefore employers need to know you've got what it takes to succeed.
This requires a carefully constructed CV that showcases your key qualifications and experience.
In this guide, we've put together a blueprint for writing an impressive application, complete with an aeronautical engineer CV example for extra support.
Contents
| | |
| --- | --- |
| How to write a Aeronautical Engineer CV | |

Aeronautical Engineer CV example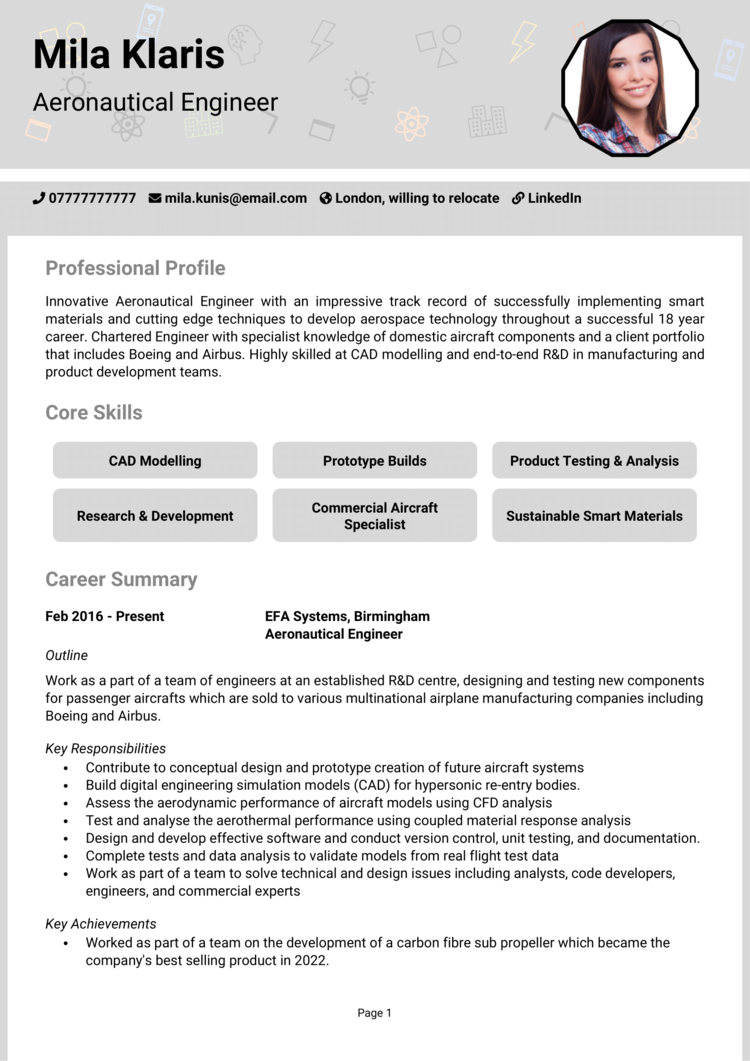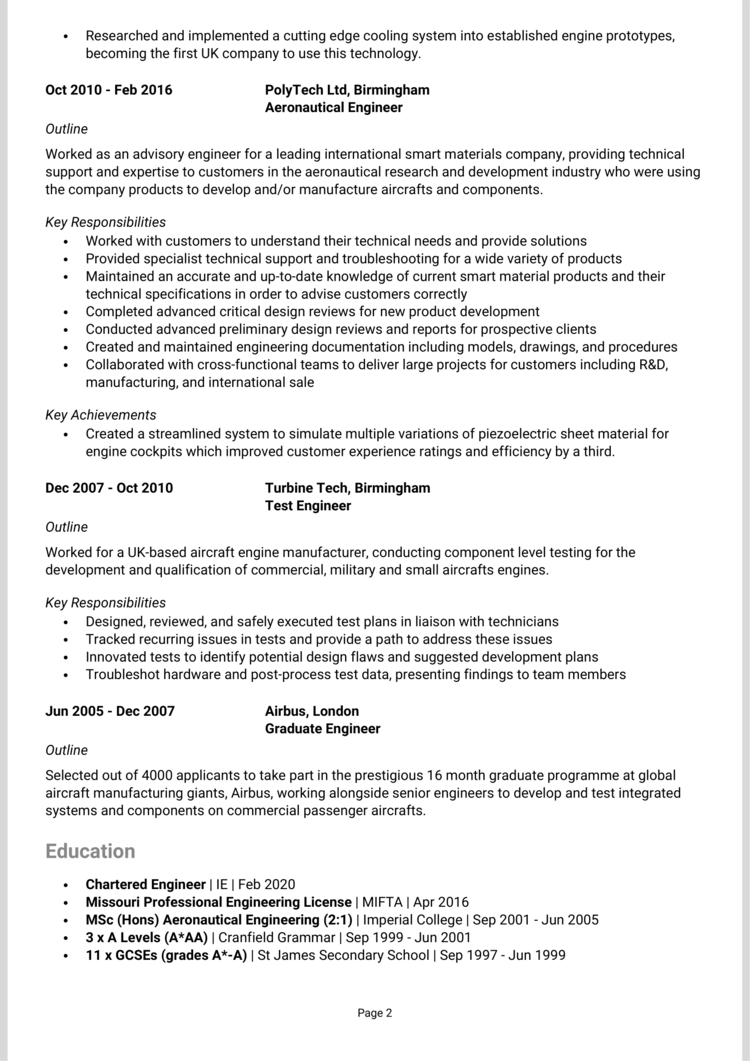 Unsure of what your Aeronautical Engineer CV should look like?
Have a look at the CV example above to get familiar with the structure, layout and format of a professional CV.
As you can see, it provides plenty of relevant information about the applicant but is still very easy to read, and brief – which will please busy recruiters and hiring managers.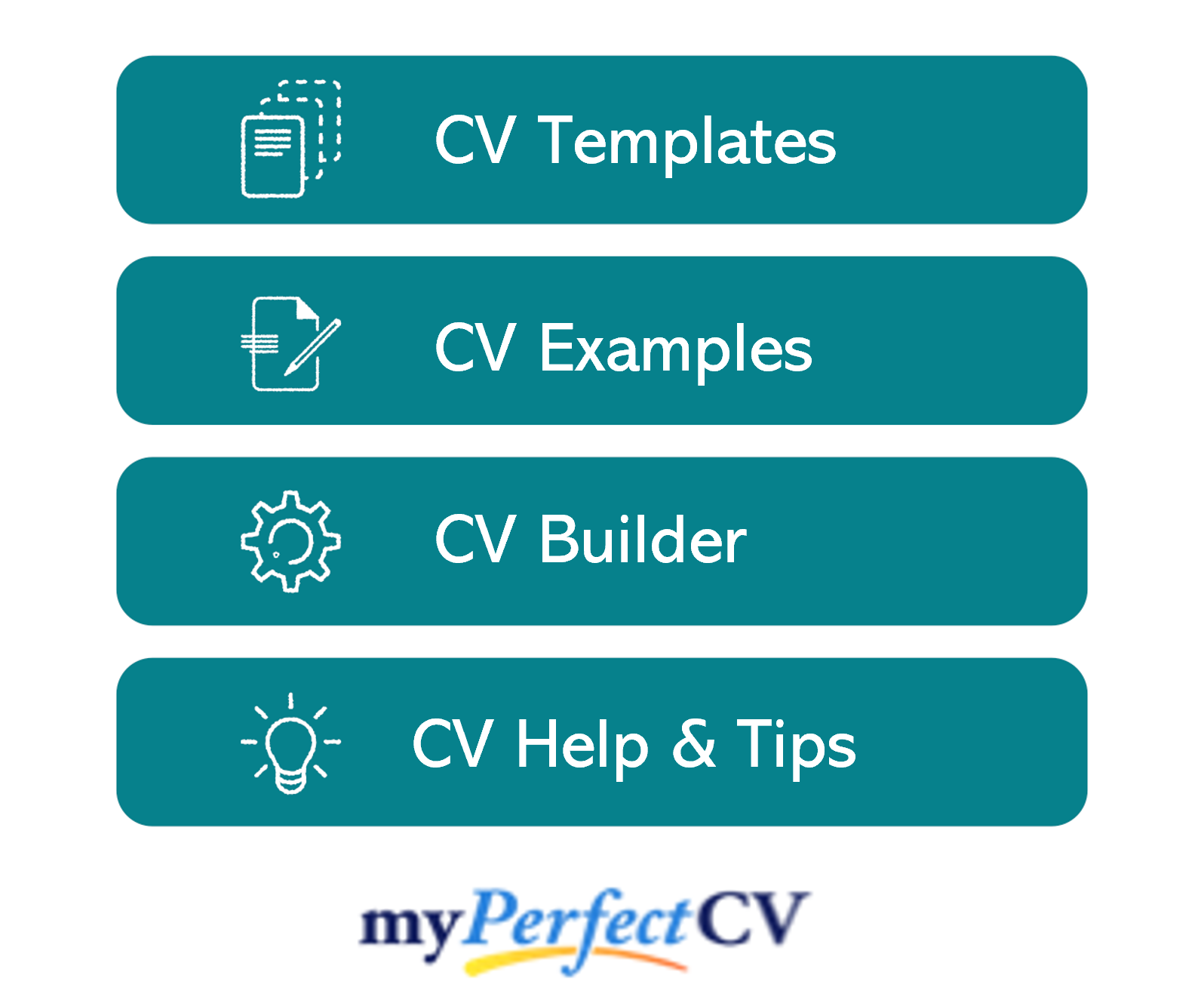 Aeronautical Engineer CV format and structure
Your CV is the first impression you'll make on anybody who reads it.
A disorganised, cluttered and barely-readable CV could seriously decrease your chances of landing interviews, so it's essential to make sure yours is slick, professional and easy to navigate.
You can do this by using a clear structure and formatting your content with some savvy formatting techniques – check them out below: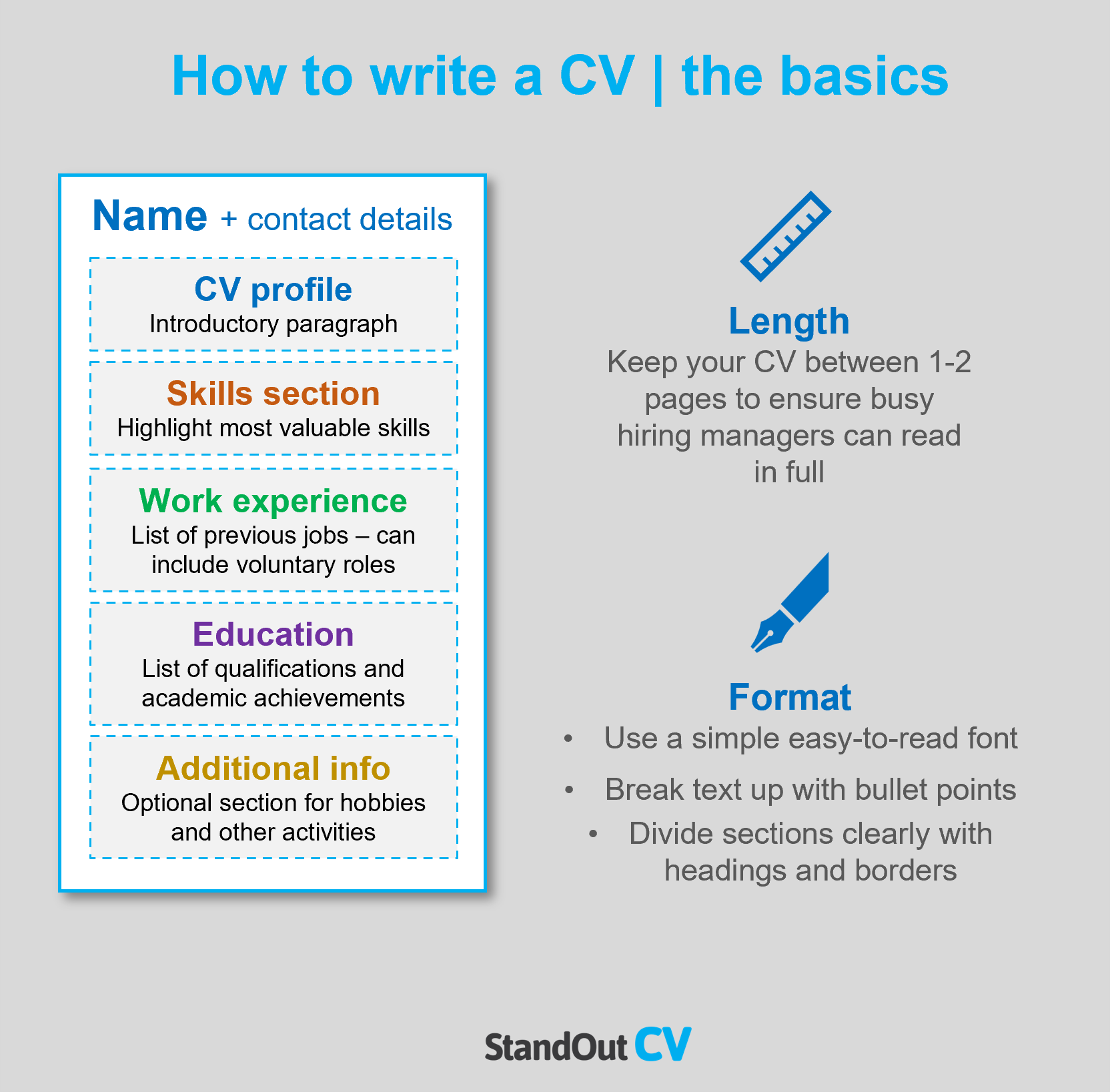 Tips for formatting your Aeronautical Engineer CV
Length: Even if you've got tons of experience to brag about, recruiters don't have time to read through overly lengthy CVs. Keep it short, concise and relevant – a CV length of 2 sides of A4 pages or less is perfect for the attention spans in today's job market.
Readability: By clearly formatting your section headings (bold, or a different colour font, do the trick) and breaking up big chunks of text into snappy bullet points, time-strapped recruiters will be able to skim through your CV with ease.
Design & format: While it's okay to add your own spin to your CV, avoid overdoing the design. If you go for something elaborate, you might end up frustrating recruiters who, above anything, value simplicity and clarity.
Photos: Profile photos or aren't a requirement for most industries, so you don't need to add one in the UK – but if you do, just make sure it looks professional
Quick tip: Creating a professional CV style can be difficult and time-consuming when using Microsoft Word or Google Docs. To create a winning CV quickly, try our partner's CV Builder and use one of their eye-catching professional CV templates.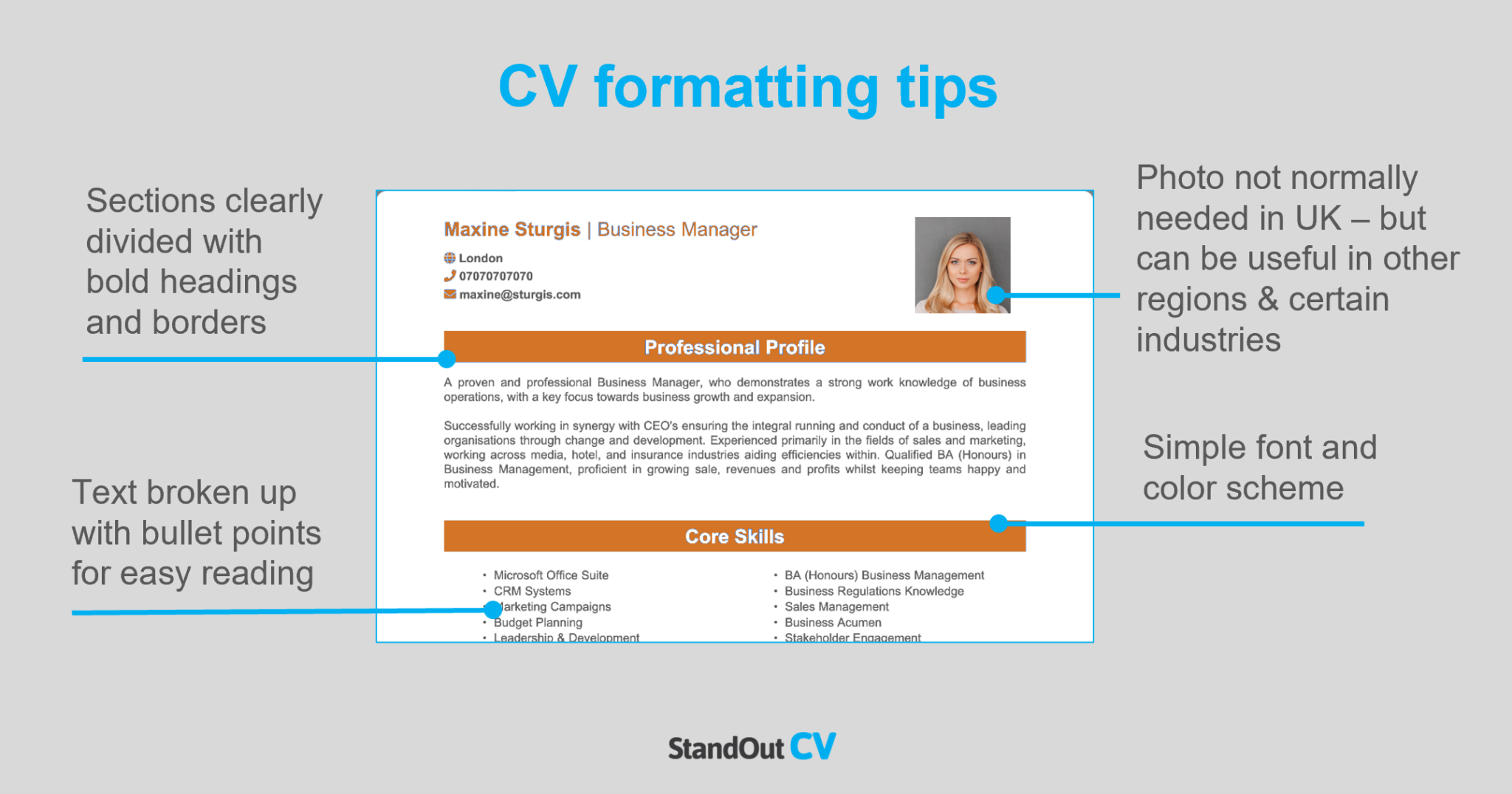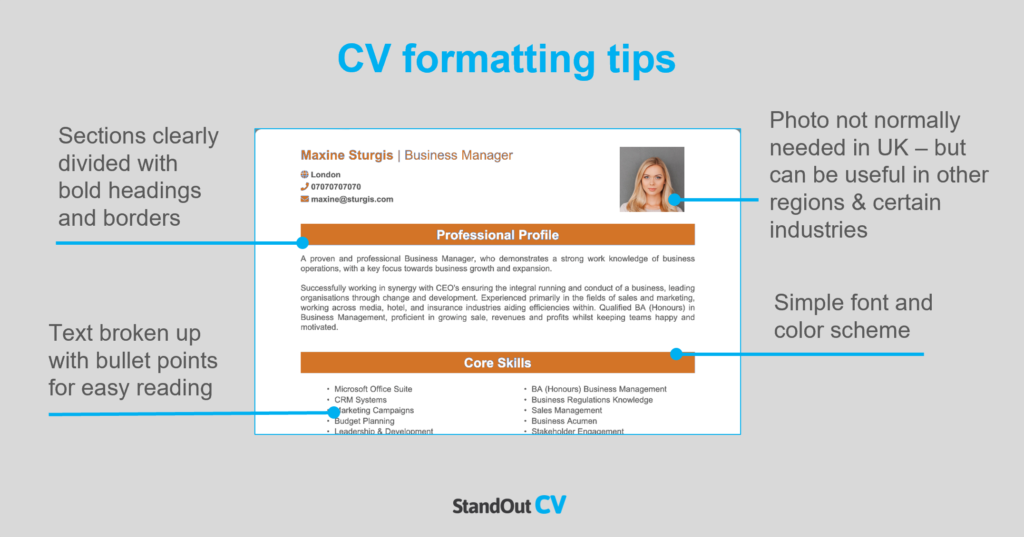 CV structure
For easy reading, write your CV to the following CV structure:
Contact details – Make it easy for recruiters to get in touch with you by listing your contact details at the top of your CV.
Profile – A short and snappy summary of your experience and skills, showcasing what makes you a good fit for the position.
Work experience / career history – Note down all your work history, with your current position first, then working backwards.
Education – A short list of your academic background and professional/vocational qualifications.
Interest and hobbies – This is an optional section, which you can use to highlight any relevant hobbies or interests.
Now you understand the basic layout of a CV, here's what you should include in each section of yours.
Contact Details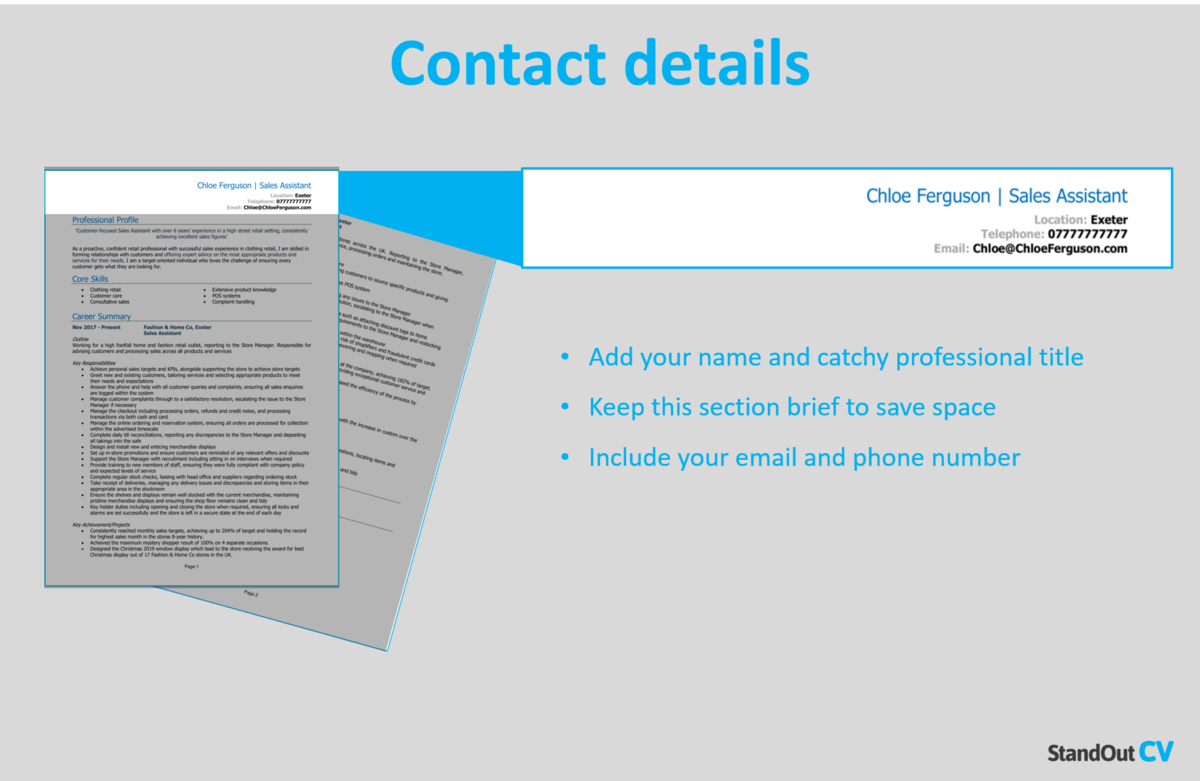 Make it easy for recruiters to get in touch, by heading your CV with your contact details.
There's no need for excessive details – just list the basics:
Mobile number
Email address – Use a professional address with no nicknames.
Location – Just write your your general location, such as 'London' or 'Cardiff' – there's no need to put your full address.
LinkedIn profile or portfolio URL
Aeronautical Engineer CV Profile
To immediately capture the attention of recruiters, begin your CV with a powerful profile (or personal statement for junior applicants).
This is a brief introductory paragraph that summarises your skills, experience, and knowledge.
It should position you as the ideal candidate for the job and encourage recruiters to read on.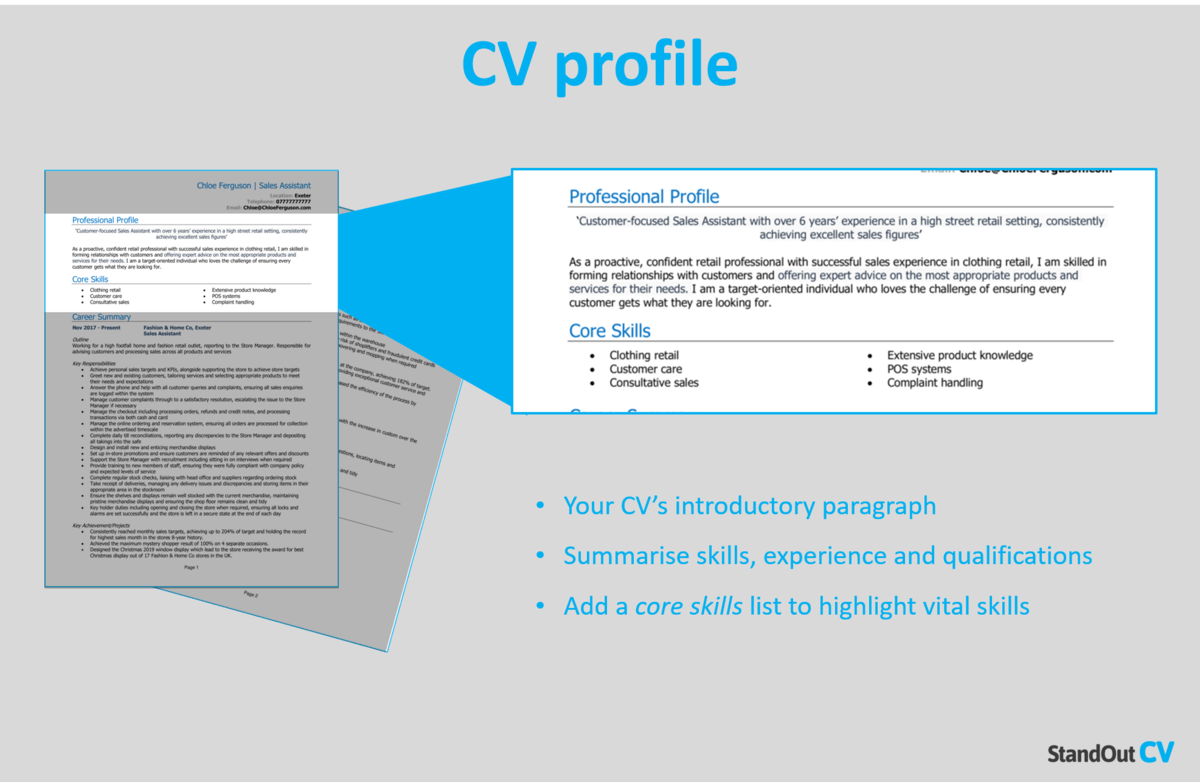 How to write a good CV profile:
Make it short and sharp: It might be tempting to submit a page-long CV profile, but recruiters won't have the time to read it. To ensure every word gets read, it's best to include high-level information only; sticking to a length of 3-5 lines.
Tailor it: Not tailoring your profile (and the rest of your CV) to the role you're applying for, is the worst CV mistake you could make. Before setting pen to paper, look over the job ad and make a note of the skills and experience required. Then, incorporate your findings throughout.
Don't add an objective: Avoid discussing your career goals in your CV profile – if you think they're necessary, briefly mention them in your cover letter instead.
Avoid generic phrases: If there's one thing that'll annoy a recruiter, it's a clichè-packed CV. Focus on showcasing your hard skills, experience and the results you've gained in previous roles, which will impress recruiters far more.
Example CV profile for Aeronautical Engineer
Innovative Aeronautical Engineer with an impressive track record of successfully implementing smart materials and cutting-edge techniques to develop aerospace technology throughout a successful 18-year career. Chartered Engineer with specialist knowledge of domestic aircraft components and a client portfolio that includes Boeing and Airbus. Highly skilled at CAD modelling and end-to-end R&D in manufacturing and product development teams.
What to include in your Aeronautical Engineer CV profile?
Experience overview: Start with a brief summary of your relevant experience so far. How many years experience do you have? What type of companies have you worked for? What industries/sectors have you worked in? What are your specialisms?
Targeted skills: Make your most relevant Aeronautical Engineer key skills clear in your profile. These should be tailored to the specific role you're applying for – so make sure to check the job description first, and aim to match their requirements as closely as you can.
Important qualifications: Be sure to outline your relevant Aeronautical Engineer qualifications, so that anyone reading the CV can instantly see you are qualified for the jobs you are applying to.
Quick tip: If you are finding it difficult to write an attention-grabbing CV profile, choose from hundreds of pre-written profiles across all industries, and add one to your CV with one click in our partner's CV Builder. All profiles are written by recruitment experts and easily tailored to suit your unique skillset.
Core skills section
In addition to your CV profile, your core skills section provides an easily digestible snapshot of your skills – perfect for grabbing the attention of busy hiring managers.
As Aeronautical Engineer jobs might receive a huge pile of applications, this is a great way to stand out and show off your suitability for the role.
It should be made up of 2-3 columns of bullet points and be made up of skills that are highly relevant to the jobs you are targeting.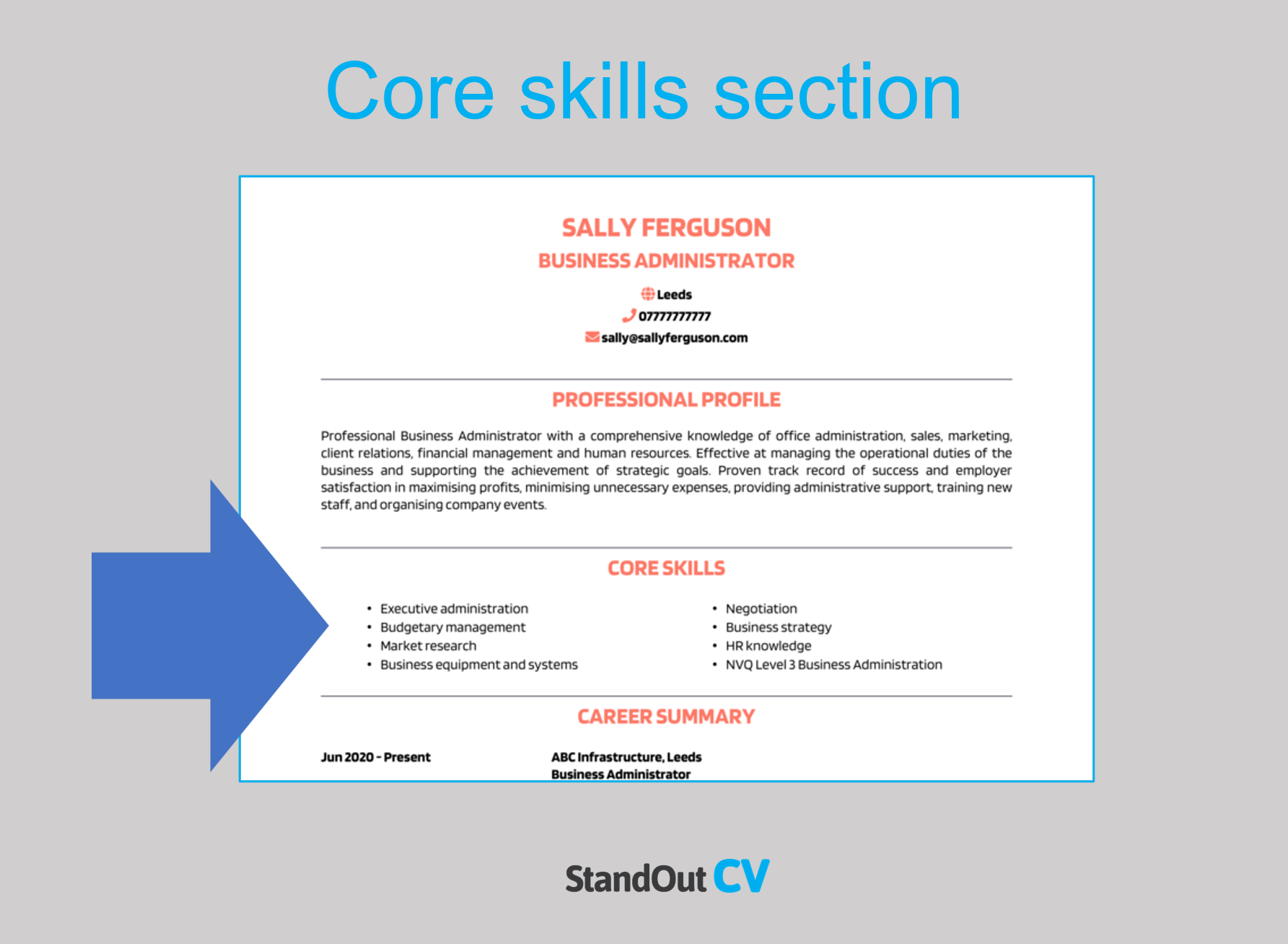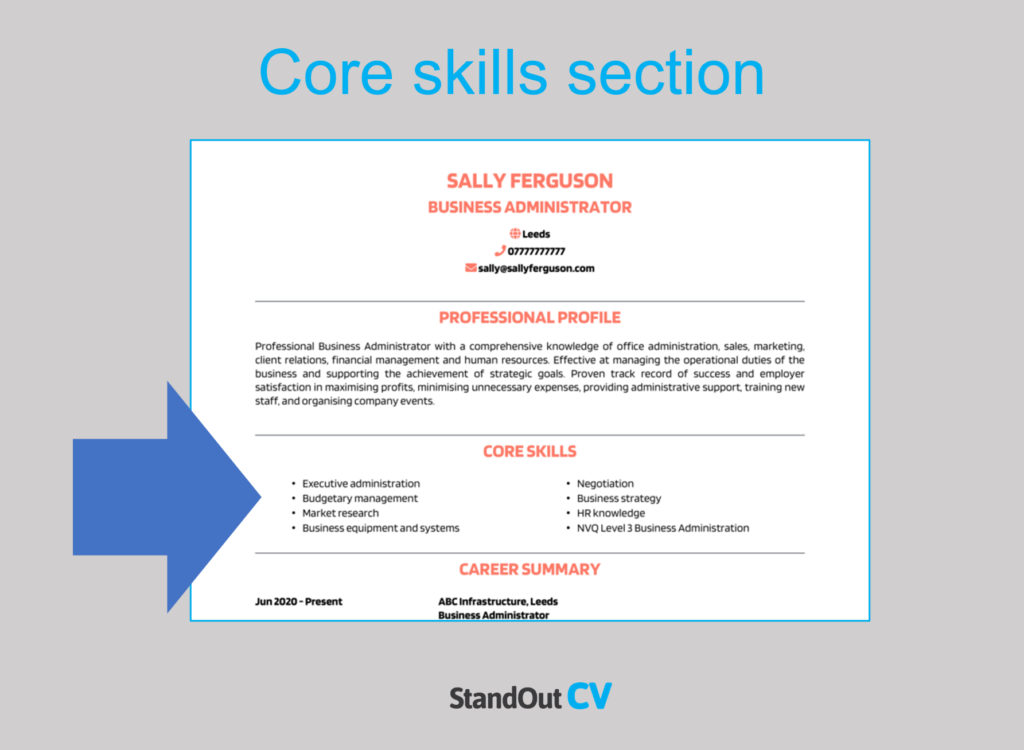 Important skills for your Aeronautical Engineer CV
Aircraft design – Designing and developing aircraft structures, systems, and components, considering factors like aerodynamics, structural integrity, and performance.
Aerodynamics – Utilising in-depth knowledge of the principles and theories of aerodynamics to optimise aircraft performance, stability, and fuel efficiency.
Flight mechanics – Utilising an understanding of flight dynamics and control systems to analyse and optimise aircraft stability, manoeuvrability, and response.
Aircraft propulsion – Utilising expertise in aircraft propulsion systems, including jet engines and propulsion technologies, to ensure efficient and reliable aircraft propulsion.
Avionics – Utilising knowledge of avionics systems, including navigation, communication, and flight control systems, to integrate and optimize the electronic systems on aircraft.
Finite Element Analysis (FEA) – Utilising FEA software to analyse and validate the structural integrity and performance of aircraft components and systems.
CAD/CAM – Utilising Computer-Aided Design (CAD) and Computer-Aided Manufacturing (CAM) software to create detailed aircraft designs and manufacturing processes.
Systems engineering – Utilising an understanding of systems engineering principles to integrate and coordinate various aircraft systems and subsystems for optimal performance and safety.
Project management – Planning, executing, and monitoring aircraft development projects, ensuring adherence to timelines, budgets, and quality standards.
Safety and regulatory compliance – Utilising knowledge of aviation safety regulations and standards, including certifications and compliance requirements, to ensure aircraft design and operations meet legal and safety requirements.
Quick tip: Our partner's CV Builder has thousands of in-demand skills for all industries and professions, that can be added to your CV in seconds – This will save you time and ensure you get noticed by recruiters.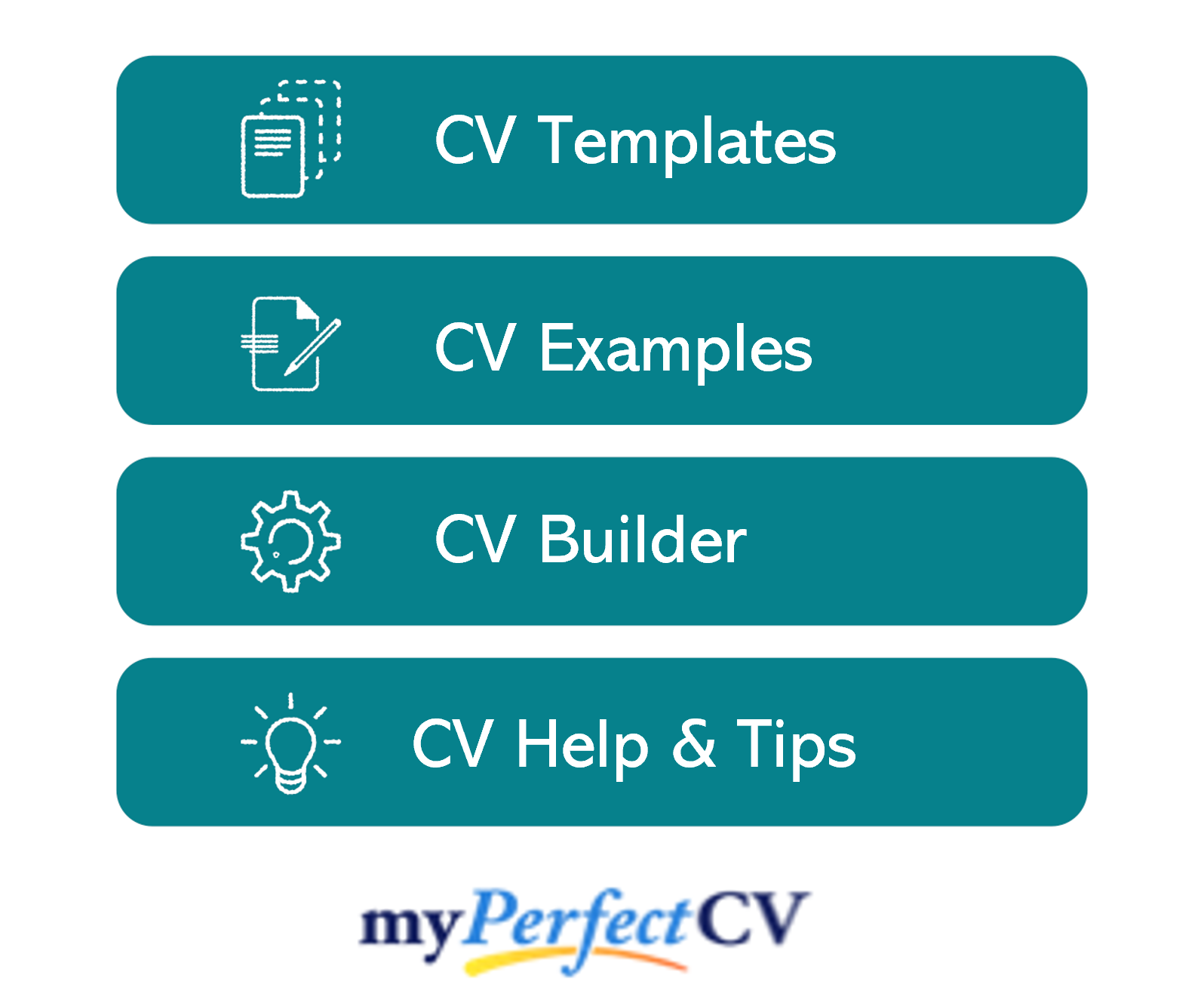 Work experience
Next up is your work experience section, which is normally the longest part of your CV.
Start with your current (or most recent) job and work your way backwards through your experience.
Can't fit all your roles? Allow more space for your recent career history and shorten down descriptions for your older roles.
Structuring each job
Whilst writing your CV, it's essential to look at it from the eyes of a recruiter.
If they're met with giant blocks of text which are impossible to navigate, they might get frustrated and skip onto the next CV.
Instead, make use of the 3-step structure shown below, to give them a pleasant reading experience.
Outline
Provide a brief overview of the job as a whole, such as what the overriding purpose of your job was and what type of company you worked for.
Key responsibilities
Using easy-to-read bullet points, note down your day-to-day responsibilities in the role.
Make sure to showcase how you used your hard sector skills and knowledge.
Key achievements
To finish off each role and prove the impact you made, list 1-3 stand out achievements, results or accomplishments.
This could be anything which had a positive outcome for the company you worked for, or perhaps a client/customer.
Where applicable, quantify your examples with facts and figures.
Sample job description for Aeronautical Engineer CV
Outline
Work as a part of a team of engineers at an established R&D centre, designing and testing new components for passenger aircrafts which are sold to various multinational airplane manufacturing companies including Boeing and Airbus.
Key Responsibilities
Contribute to conceptual design and prototype creation of future aircraft systems
Build digital engineering simulation models (CAD) for hypersonic re-entry bodies.
Assess the aerodynamic performance of aircraft models using CFD analysis
Test and analyse the aerothermal performance using coupled material response analysis
Quick tip: Create impressive job descriptions easily in our partner's CV Builder by adding pre-written job phrases for every industry and career stage.

Education section
In your education section, make any degrees, qualifications or training which are relevant to Aeronautical Engineer roles a focal point.
As well as mentioning the name of the organisation, qualification titles and dates of study, you should showcase any particularly relevant modules, assignments or projects.
Hobbies and interests
Although this is an optional section, it can be useful if your hobbies and interests will add further depth to your CV.
Interests which are related to the sector you are applying to, or which show transferable skills like leadership or teamwork, can worth listing.
On the other hand, generic hobbies like "going out with friends" won't add any value to your application, so are best left off your CV.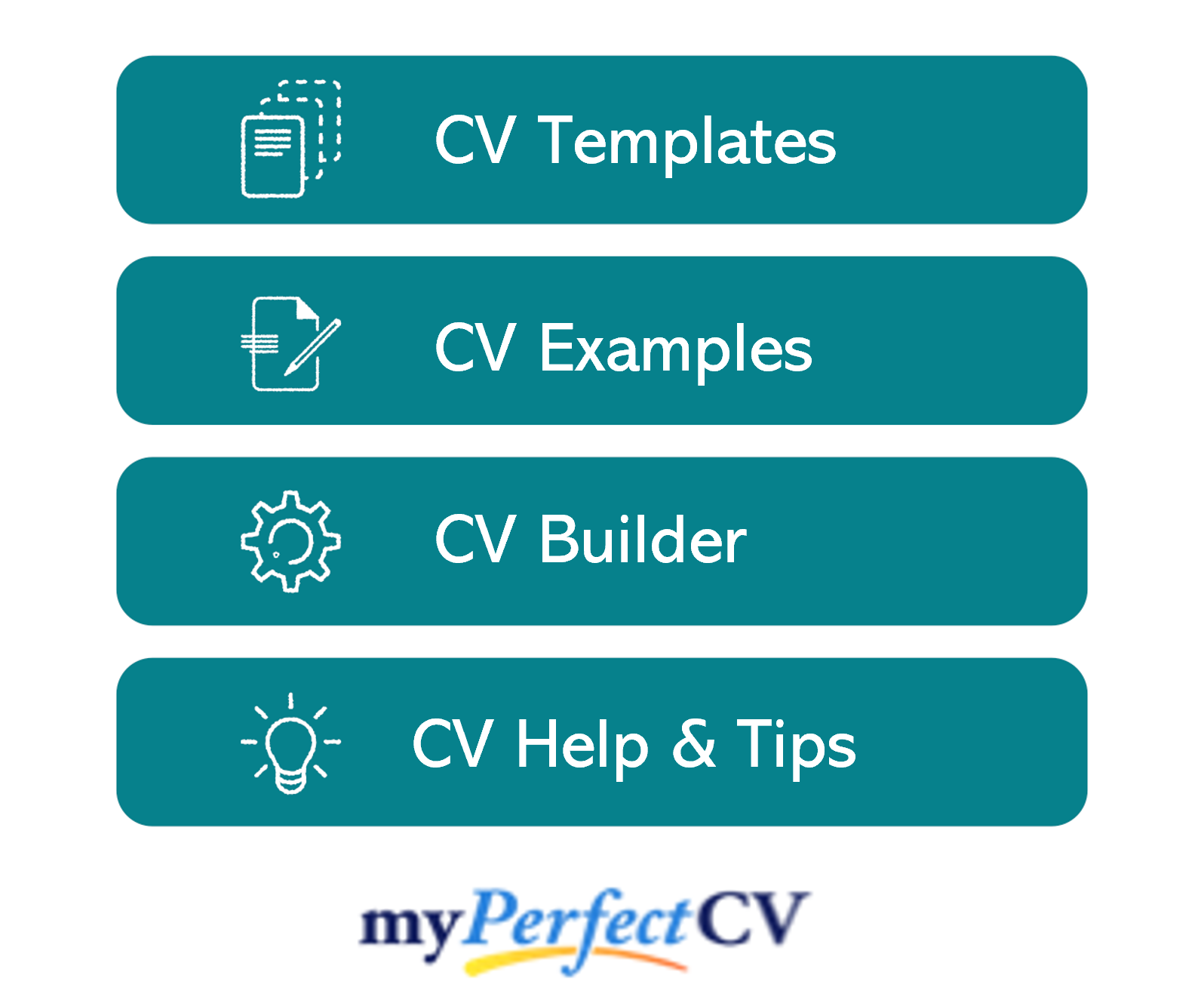 When putting together your Aeronautical Engineer CV, there are a few key points to remember
Always tailor your CV to the target role, even if it means creating several versions for different roles.
Additionally, remember that the structure and format of your CV needs just as much attention as the content.
Good luck with your job search!