Since we use automated tools to make otherwise time-consuming tasks much easier, these tools need to be fit for purpose and meet strict requirements; and that's where you come in.
You can be there to test new systems and ensure that everything is working as it should be.
But despite your skills being in demand, you still need to prove to potential employers that you've got what it takes. Find out how with our detailed guide and automation tester resume example below.
Contents
| | |
| --- | --- |
| How to write a Automation Tester resume | |

Automation Tester Resume Example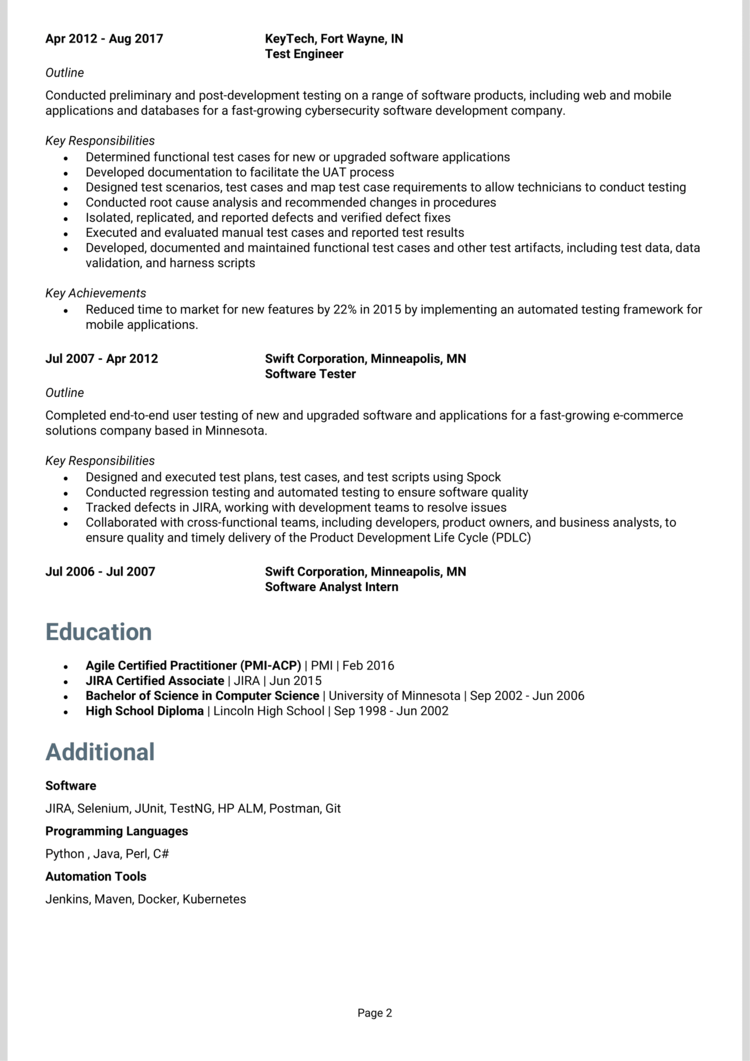 The example Automation Tester resume above shows you how a professional resume should look, along with the type of content it should contain.
You can see that the information is well-organized across the page and its easy for busy recruiters to see the candidate's important skills.
Keep this in mind when writing your own resume.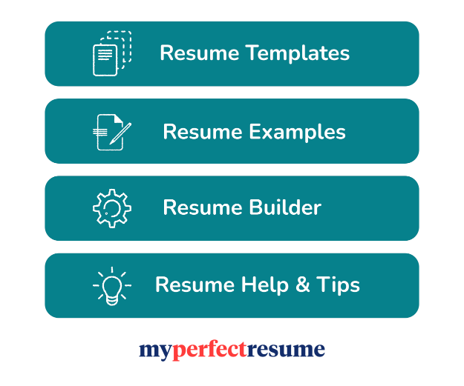 Automation Tester resume layout and format
Formatting and structuring your resume correctly is key to landing job interviews.
Your resume needs to look attractive, but more importantly it needs to be easy for recruiters and hiring managers to read and digest the information.
These tips will help you to do that: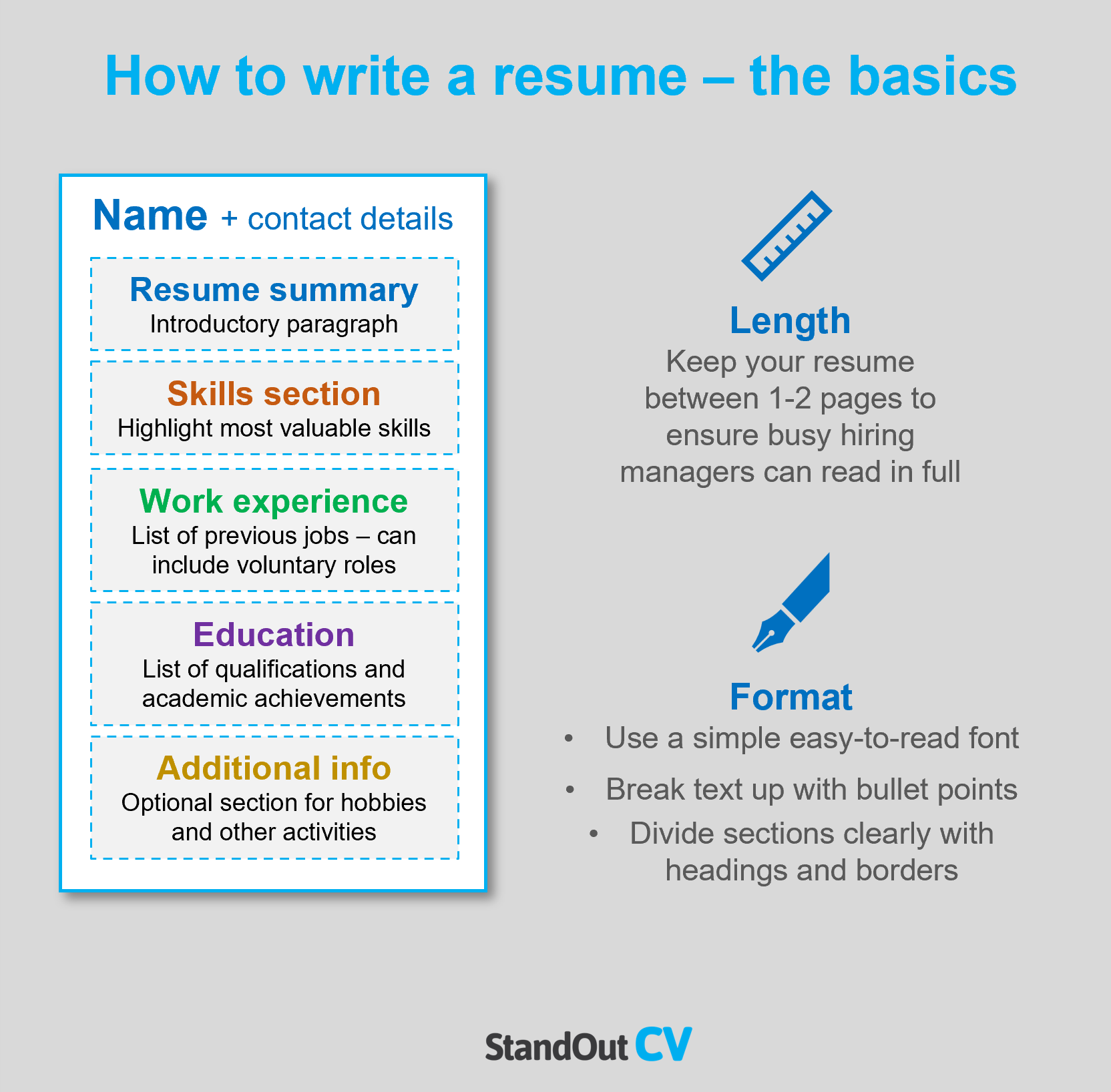 Formatting your resume
Length: To ensure that your resume gets proper attention from recruiters, it is best to keep it at 2 pages or less. Recruiters are often inundated with hundreds of resumes to review on a daily basis, so they want to read each one quickly as possible.
Font & readability: Complex fonts are a readers' worst nightmare and will leave recruiters struggling to understand your message. Use a clear simple lean font in a color that stands out against the page, and break your text up with bullet points to make the content easily digestible.
Layout & Structure: Go with a resume design that looks good, but also allows for easy reading and navigation for employers. Ensure the page is clearly split up into sections by adding large font headings and dividing borders. Keep the color scheme simple and don't overcrowd the page.
Photos: Although it's not mandatory to include a photo on your resume in the United States, it may be a good idea to do so in certain regions and industries where it is preferred.
Quick tip: Achieving a professional look for your resume can be difficult and time-consuming. If you want to create an attractive resume quickly, try our partner's Resume Builder and use one of their eye-catching resume templates.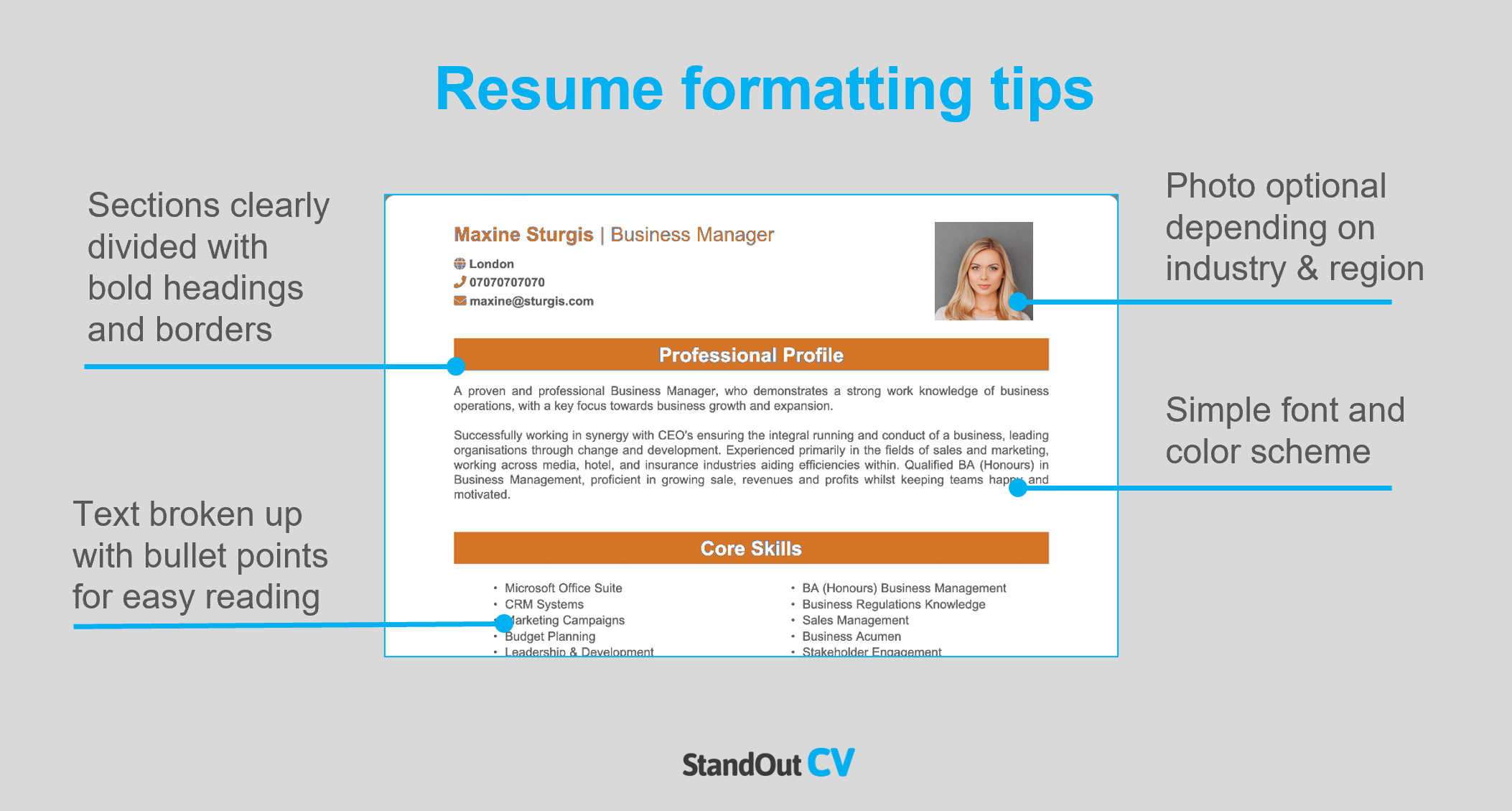 Resume layout
When writing your resume, you should always include the following sections:
Name and Contact Details – Place this information at the top of your resume to make it easy for employers to contact you.
Resume Summary – Write a brief introductory paragraph at the top of your resume summarizing why you are the best candidate for the job.
Skills Section – Create a concise list of your most important skills that can be quickly skimmed over by potential employers.
Work Experience – List your previous jobs in reverse chronological order, including volunteer work and college placements if you have no paid experience.
Education – List your educational qualifications and any professional training you have received.
Additional Information – This is an optional section for including details about hobbies, interests, or any other relevant information that may help distinguish you from other candidates.
Here's what to include in each part of your resume.
Contact Details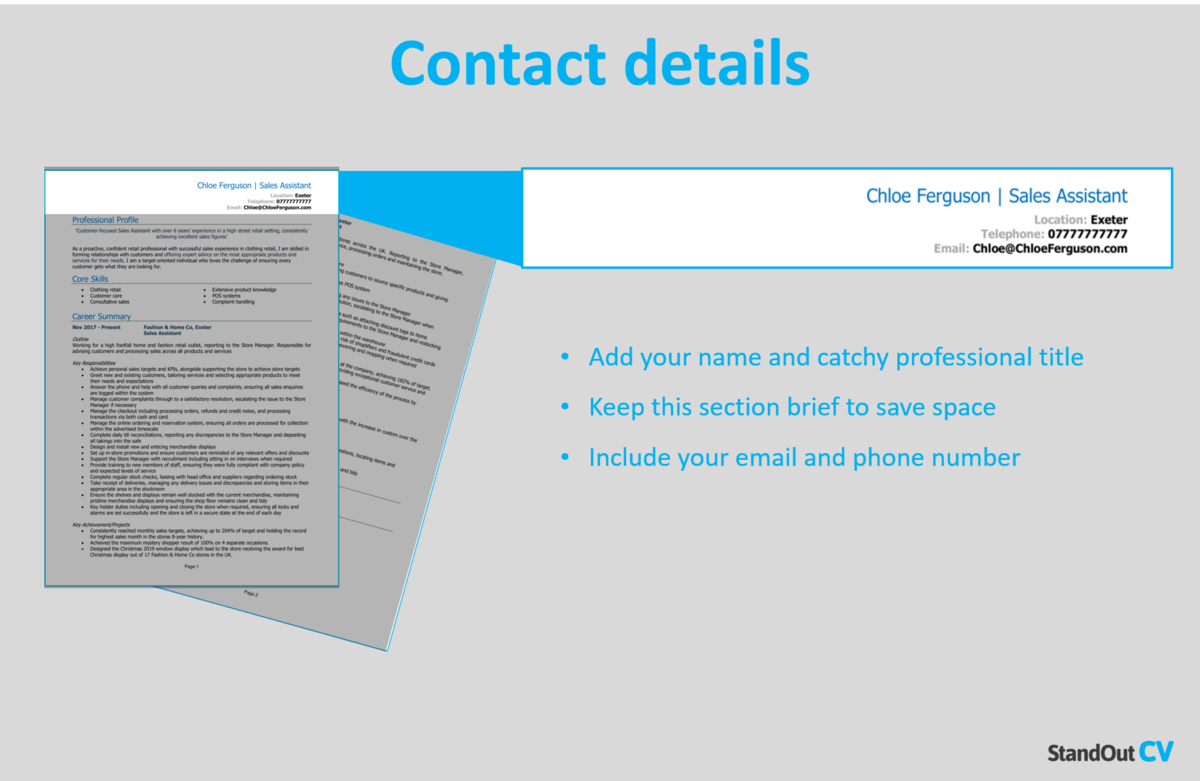 Keep your contact details short to save resume space and include the following.
Name and profession title
Cell phone number
Location – Add your local area such as Silicon Valley or New York, unless you are looking for work in a different location
Email address – Keep it professional and don't use an old address that you thought was cool in high school, but now looks a bit embarrassing.
You can add a link to your LinkedIn profile if you have one – you do not need to include personal details like date of birth or marital status.
Automation Tester Resume Summary
Start your resume with a bang by adding a powerful summary to the top, summarizing your most valuable skills and experience.
This short paragraph is your chance to show recruiters why you are a perfect fit for the job and encourage them to read more of your resume.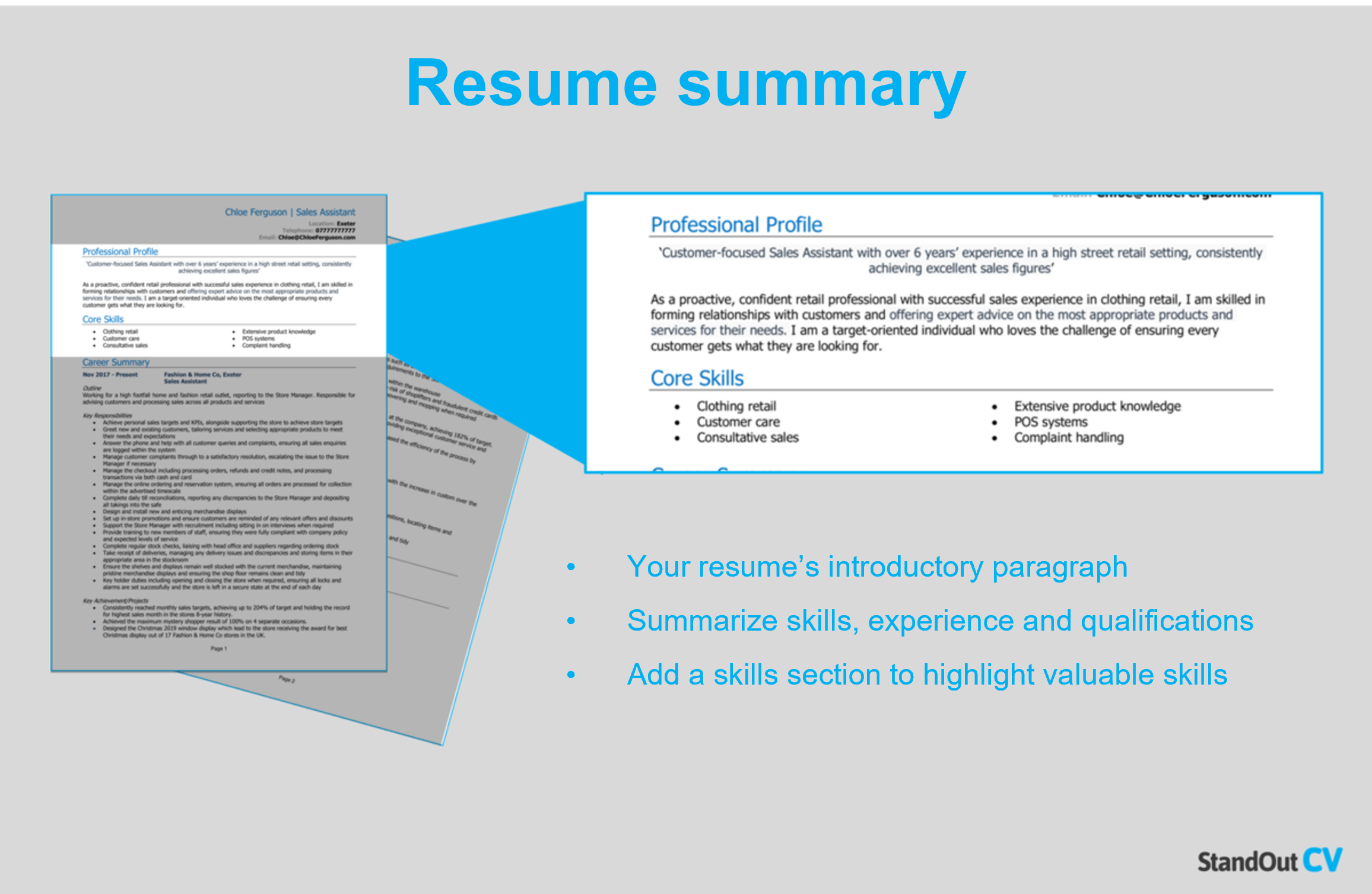 How to create a resume summary that will excite recruiters:
Keep it short: A concise and focused resume summary is essential for capturing a recruiter's attention and keeping them engaged. Limiting your summary to 4-7 lines ensures that you make a strong impression in the first few seconds of them opening the document.
Tailor to target jobs: To tailor your resume to your target jobs, it's essential to closely analyze the job description and include as many relevant skills as possible.
Avoid using cliches: You might be a "highly motivated go-getter who thinks outside the box" but generic meaningless cliches like that don't tell employers much about you – stick to factual information in your summary.
Automation Tester resume summary example
Detail-oriented Automation Tester with over 17 years of experience in software testing automation for leading technology and software development companies. JIRA Certified Associate with a proven track record of improving and streamlining performance testing strategies to optimize resources and reduce testing time. Extensive knowledge of the Software Development Life Cycle and Agile methodologies with extensive experience of executing accurate and efficient testing plans on time and within budget.
What to include in your Automation Tester resume summary?
Summary of your experience: Summarize the type of work you have done in the past and the benefits you have delivered for the organizations you worked at.
Relevant skills: Incorporate your highly relevant skills for Automation Tester jobs to exhibit your suitability as soon as your resume is opened.
Qualifications: If your job requires any qualifications such as a professional course or a college degree, mention it briefly in your summary.
Quick tip: Choose from hundreds of pre-written summaries across all industries, and add one to your resume with one-click in our partner's Resume Builder. All written by recruitment experts and easily tailored to suit your unique skillset and style.
Core skills section
Your core skills section, positioned just below your resume summary, provides recruiters with a quick glance at 4-10 of your most in-demand skills.
For Automation Tester jobs, where hiring managers may receive hundreds of applications, this section can help you stand out and immediately grab their attention.
To be effective, this section should consist of 2-3 columns of bullet points that highlight attributes that are highly relevant to the jobs you are targeting.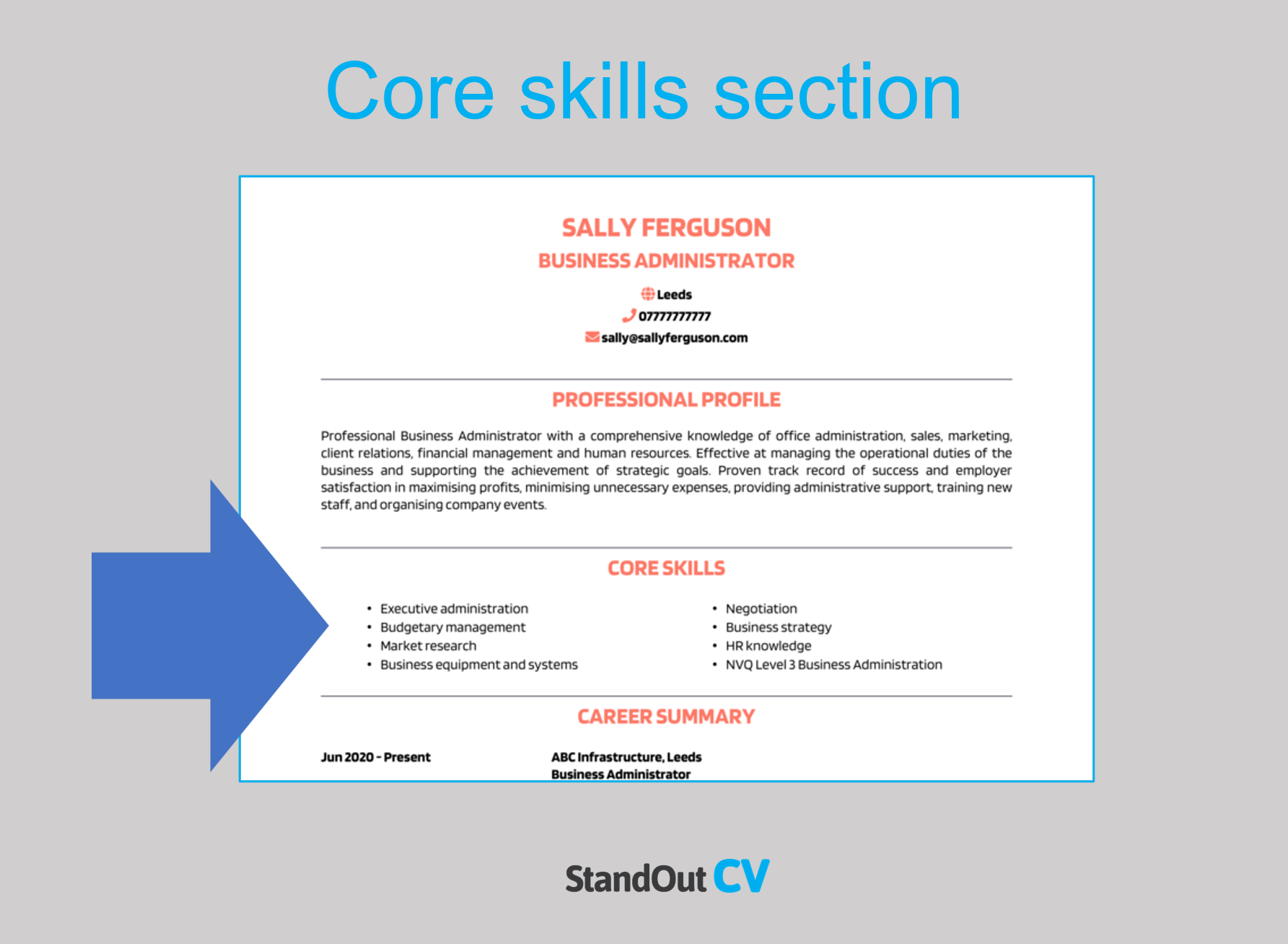 Best skills for your Automation Tester resume
Test Automation Tools – Utilizing popular test automation tools such as Selenium, Appium, or Cucumber to automate test cases and ensure efficient and accurate software testing.
Programming Languages – Utilizing programming languages commonly used for test automation, such as Java, Python, or JavaScript, to write automation scripts and perform test automation tasks.
Test Frameworks – Utilizing knowledge of test frameworks like TestNG or JUnit that provide a structured approach to organizing and running automated tests, including test suites and test reporting.
Web Technologies – Utilizing web technologies such as HTML, CSS, and JavaScript to effectively interact with web elements and perform browser automation testing.
API Testing – Testing application programming interfaces (APIs) using tools like Postman or SOAPUI to send requests, validate responses, and automate API tests.
Test Planning and Design – Planning and designing test scenarios and test cases to ensure comprehensive test coverage and efficient execution of automated tests.
Test Debugging and Troubleshooting – Identifying and resolving issues encountered during test automation, including debugging scripts, investigating failures, and troubleshooting automation frameworks.
Continuous Integration/Continuous Delivery (CI/CD) – Utilizing knowledge of CI/CD practices and tools like Jenkins or GitLab CI to integrate test automation into the development and deployment pipelines, ensuring automated tests are executed regularly.
Test Data Management – Managing test data effectively, including generating or retrieving test data, creating data-driven test scenarios, and handling data dependencies for automated tests.
Agile Testing – Utilizing knowledge of Agile software development principles and practices, including working in Agile teams, participating in sprint planning, and adapting test automation to Agile methodologies.
Quick tip: Our partner's Resume Builder contains thousands of in-demand skills for every profession that can be added to your resume in seconds – saving you time and greatly improving your chances of landing job interviews and getting hired.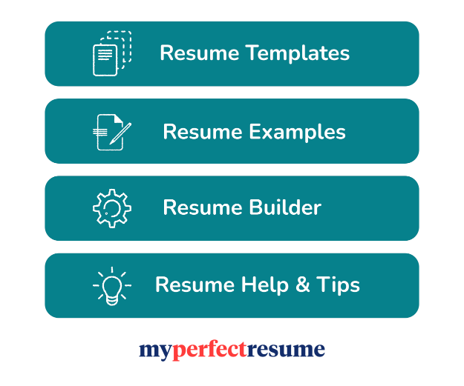 Work experience
Once you've got recruiters interested with your impactful summary, your work experience is where the real detail will lie.
Lay out your previous jobs from current to oldest, detailing what you contributed and achieved in each one.
If you're highly experienced you can cut this section down to your most recent few years of work, but if you are junior you can bulk this up with voluntary work and college placements.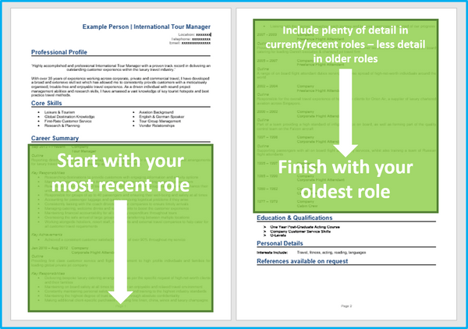 Structuring your jobs
Without a good structure, your job description can look messy and overwhelming to anyone reading them.
Make it easy for recruiters to read your work experience by structuring your roles like this.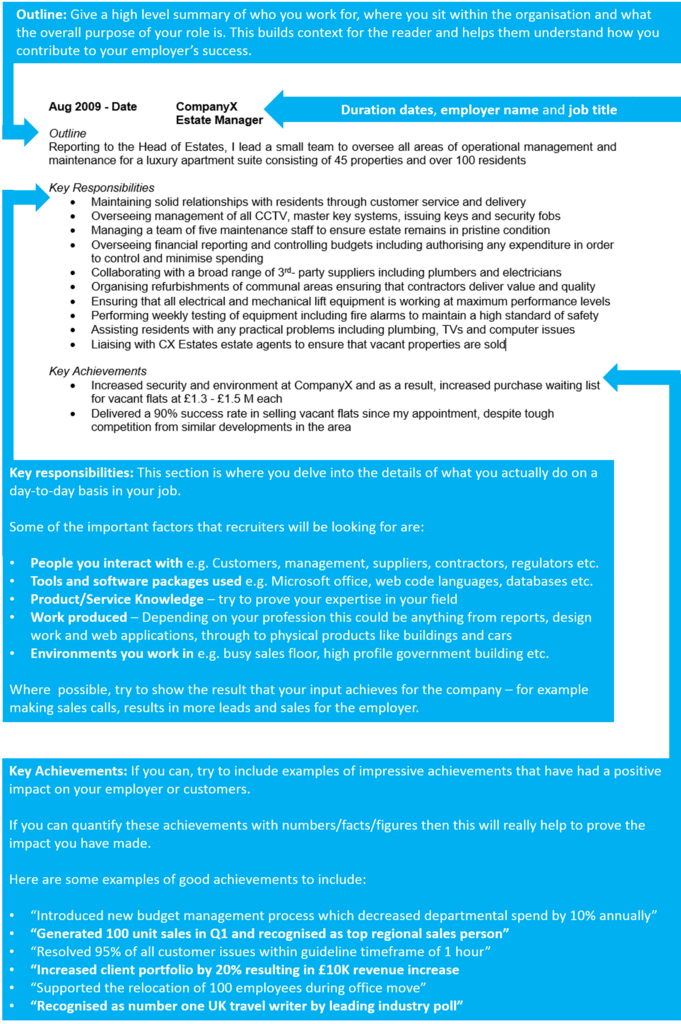 Job outline
Starting each job with a brief summary of the organization, your position within it, and the primary goal of your role can help recruiters quickly understand the context of your work.
Key responsibilities
Next, write up a punchy list of your daily duties and responsibilities, using short bullet points.
Describe how you apply your skills and contribute to the running of the employer's business – highlighting skills which are applicable to your target jobs.
Key achievements
Round off each job by adding some impressive achievements you made in the role.
Anything you've done that has made a big impact on your employer will make a good impression, think; generating revenue, saving costs, or improving a product.
Quantify your achievements with number where possible e.g. "reduced call wait time by 10%"
Example job for Automation Tester resume
Outline
Develop and execute automated test scripts to validate the functionality and performance of software applications for a leading software development company with clients in e-commerce, telecommunications, and manufacturing.
Key Responsibilities
Design and implement automated test scripts using Selenium WebDriver, Java, and TestNG
Collaborate with stakeholders to define test scenarios, acceptance criteria, and test data requirements
Execute functional, regression, and integration tests to identify defects and ensure software stability
Perform API testing using tools like Postman and RestAssured to validate data integrity and API endpoints
Quick tip: Create impressive job descriptions easily in our partner's Resume Builder by adding pre-written job phrases for every industry and career stage.

Education section
After your work experience, add your education section.
If you are an experienced professional, you can keep this part short – adding basic details of each qualification.
If you have little or no experience, bulk this section up by adding more detail and highlight important skills and knowledge for your target jobs.
Additional information
If you have anything else to add which is relevant to the jobs you are applying for, the additional info section is the place to add it.
Perhaps you have a hobby which involves relevant skills, or maybe you have some awards or publications worth mentioning.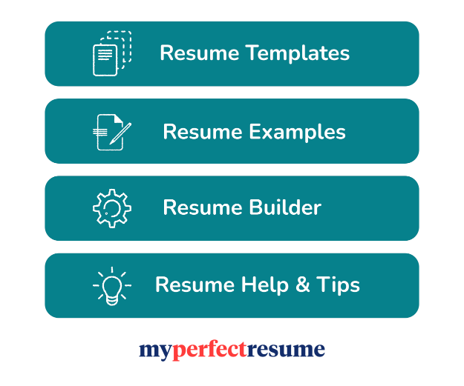 Writing your own winning Automation Tester resume
A winning Automation Tester resume should look great, read well, and sell your skillset to hiring managers.
If you follow the steps above, you should be able to bag yourself a top job in no time.
Good luck with your job search!