Retail skill are highly valuable to employers, whether you work in retail or in another industry.
So, demonstrating a strong set of retail skills can really enhance your CV, and help you land job interviews.
This guide includes 51 highly valuable retail skills for your CV and includes examples of how you can add them to your CV for best results.

Shop-floor retail skills

Shop floor retail skills are essential when working in a customer-facing role. Here are some ways to highlight your shop-floor retail skills on your CV:
Customer service – e.g. "Served customers both on the shop floor and at the checkout, processing orders and recommending products."
Complaint resolution – e.g. "Handled customer returns and complaints over the phone, resolving problems with online orders and processing refunds and returns."
Product knowledge  – e.g. "Was first point-of-contact for customers in-store, helped buyers select appropriate products while offering advice on set-up and assembly."
Transaction handling – e.g. "Processed shop floor orders working on the checkout, while also managing stock inventory and new product deliveries on an alternate basis."
Promotions – e.g. "Was responsible for encouraging customers to sign up to our loyalty card scheme while making an order, resulting in over 500 completed applications in 2 years. "
Relationship building– e.g. "Delivered personal shopping service for customers, processing orders, replacing out-of-stock items, and maintaining over 100 regular customers."
Sales – e.g. "Hit our shop's monthly sales target for 11 out of 12 months, with an average 400% increase in in-person sales during the festive period."
Visual merchandising – e.g. "Created window displays for high-end luxury boutique during peak seasons, dressing mannequins and highlighting promotions."
Stock management– e.g. "Was responsible for taking inventory, processing shipments and deliveries while also tasked with logging losses via returns, refunds and faulty products."
Communication – e.g. "Worked as a shop-floor sales assistant dealing with customer enquiries about our electronic products, while also helping customers choose the right items."
Point of sale systems – e.g. "Worked on check-out at the shop floor, processing orders on the X52 system, while also aiding with customer enquiries."
Meeting and greeting – e.g. "Managed the supermarket's customer service desk, dealing with customer complaints and handling online orders as well as store pick-ups."
Query handling – e.g. "Managed our tech help bar, dealing with customers bringing in faulty or damaged items and helping provide diagnostics."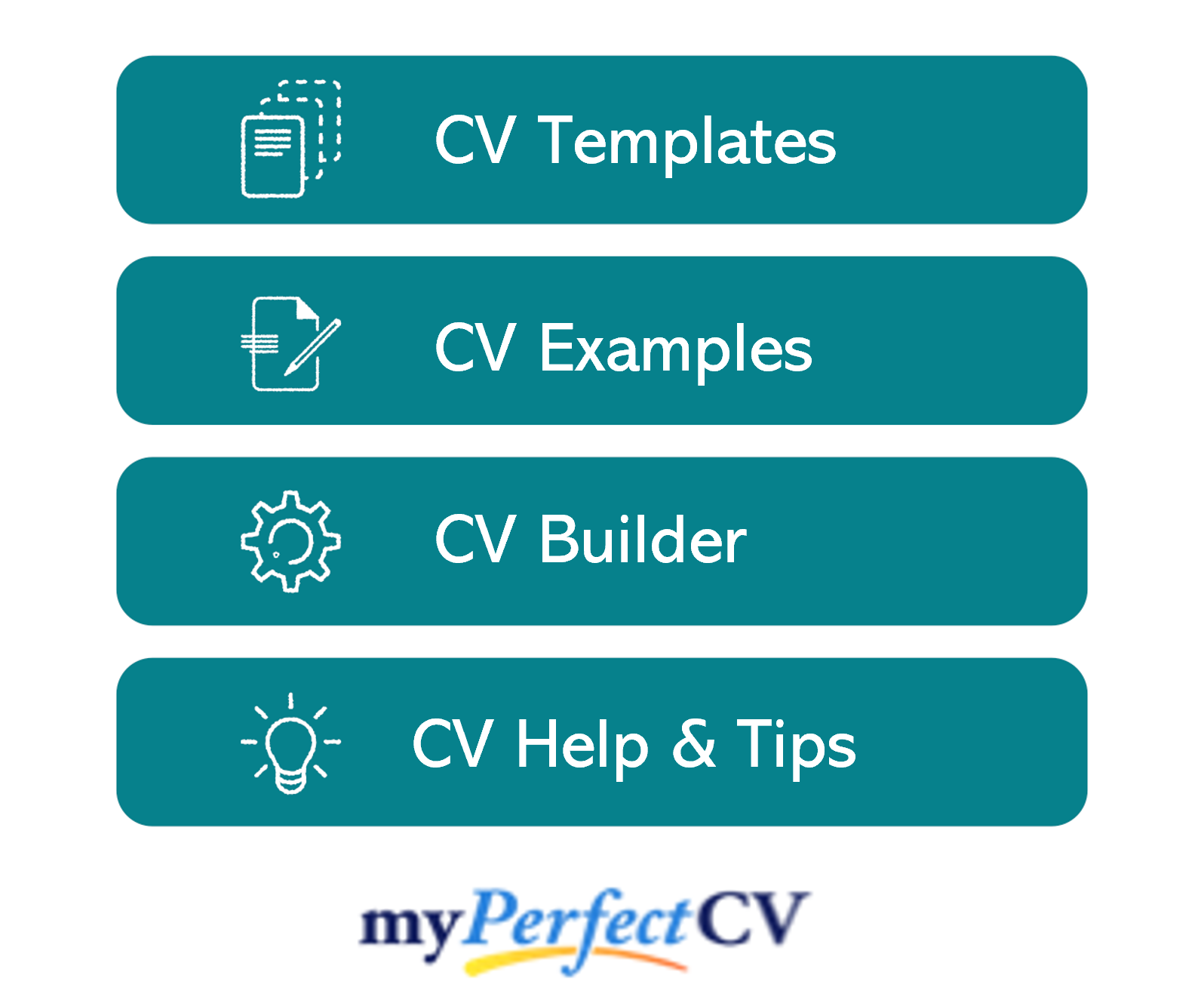 Soft skills for retail

While having good customer service skills is a major plus for any job, working in retail will also help you develop some key transferable skills or "soft skills" for any workplace. Here are a few examples of how you can demonstrate these soft skills on your CV:
Attention to detail – e.g. "Optimised our in-store promotions and outdoor merchandising in order to attract new and first-time customers."
Teamwork – e.g. "Managed a busy supermarket in the town centre, supported store manager delegating a diverse team of retail assistants."
Problem-solving – e.g. "Helped customers locate items, aisles, and handled the phone at the refunds and returns counter. "
Adaptability  – e.g. "Alternated between inventory, reductions, checkout, self-checkout and shelf-stocking on any given day."
Time Management – e.g. "Worked between the shop floor and stockroom processing orders, returning items to warehouse and stocking new products while also remaining on-hand and available to respond to any customer enquiries. "
Interpersonal Skills – e.g. "Voted employee of the month 4 times between 2012 and 2014, due to consistently high positive customer feedback."
Creative Thinking – e.g. "Helped design and assemble our promotions merchandising for the 2012-2013 festive period."
Conflict Resolution – e.g. "Handled customer complaints while alternating between the checkout and customer service help desk."
Negotiation – e.g. "Managed to upsell various products in our 2018 range, while also tasked with convincing customers to take on our brand's insurance for their purchases."
Critical Thinking – e.g. "Assembled personal shopping orders for online customers, packing orders while finding alternative products when faced with out-of-stock items."
Communication Skills – e.g. "Trained new employees on our refunds and returns process, as well as our bailer machine and inventory software."
Sales retail skills

Sales skills are important as they demonstrate how effective you are at persuasion, communication, and landing those all-important sales! Here's how you might include your sales skills on your CV:
Target achievement – e.g. "Achieved a 201% increase in online sales of our new skincare product, with a 30% increase in returning customers after 1 year."
Upselling– e.g. "Encouraged customers to buy our in-store brand's version of various digital products instead of cheaper alternatives, helped achieve brand monopoly for 4 out of our total 16 products."
Cross-selling – e.g. "Increased customer uptake of our monthly insurance system when buying one of our TVs, with a 33% success rate at EOY."
Negotiation  – e.g. "Signed up over 1000 customers to our online loyalty membership scheme when making in-store purchases."
Product recommendation– e.g. "Worked on the shop floor providing assistance to browsing customers, recommending products and promoting our brand line."
Persuasion – e.g. "Managed to sell over 1000 point-of-sale promotions while working the checkout on the shop floor."
Customer retention – e.g. "Convinced 500 unsatisfied customers to continue using our online shopping system, resulting in an increase of 19% of online orders."
Lead generation – e.g. "Obtained sales leads through cold calling and social media research via Facebook, Twitter and Instagram.."
Networking – e.g. "Helped organise company's charity dinner with local businesses, politicians and local public figures."
Referrals – e.g. "Collaborated with local businesses to enhance our brand identity and visibility in the local community."
Persistence – e.g. "Was the only sales team member to hit 1000 sales in a single month, with an additional 27% of those customers signed up to our loyalty card."
Tele sales – e.g. "Worked in a fast-paced call centre environment, making cold calls while working against the clock to make sales."

Marketing retail skills

Marketing skills are great to have on your CV if you're wanting to move up the career ladder. Here's how you can demonstrate these skills on your CV:
Advertising – e.g. "Created banner adverts to generate awareness of our promotion deals, encouraging sales of our brand-name products."
Branding– e.g. "Helped promote our new green eco product range and designed our social media brand colours to reflect the promotion."
Promotions and offers  – e.g. "Worked on our outdoor promotion stand, offering information about our discounts and distributing leaflets to passers-by and customers"
Online marketing – e.g. "Managed the shop's Facebook and Instagram pages, promoting deals, offers and new products, increasing our social media following by 34% EOY."
Analytical Skills – e.g. "Collected data about our customer's shopping patterns and our most popular products in order to run effective promotions and events during quiet periods."
Written Communication Skills – e.g. "Composed emails to customers encouraging them to visit our new website and online shop."
Data Analysis & Analytics – e.g. "Used data gathered on social media to give feedback to management about new potential products, popular items and the overall customer experience."
Email Marketing – e.g. "Sent out attention-grabbing emails and newsletters detailing the company's promotions and offers, with a click-through rate of 57%."
Technical Skills – e.g. "Trained 50+ social media interns in using Instagram, Yoast, WordPress, and Twitter for our social media advertising and online strategy."
Digital Skills – e.g. "Produced a highly successful video campaign for our local shop, resulting in over 600 shares from local customers and businesses and over 80,000 total views."
Design – e.g. "Created over 500 unique Instagram posts promoting the online store using Adobe Photoshop and Canva."
Research Skills – e.g. "Created customer feedback form and integrated it into our online orders process, using the results to create data charts and reporting findings to management."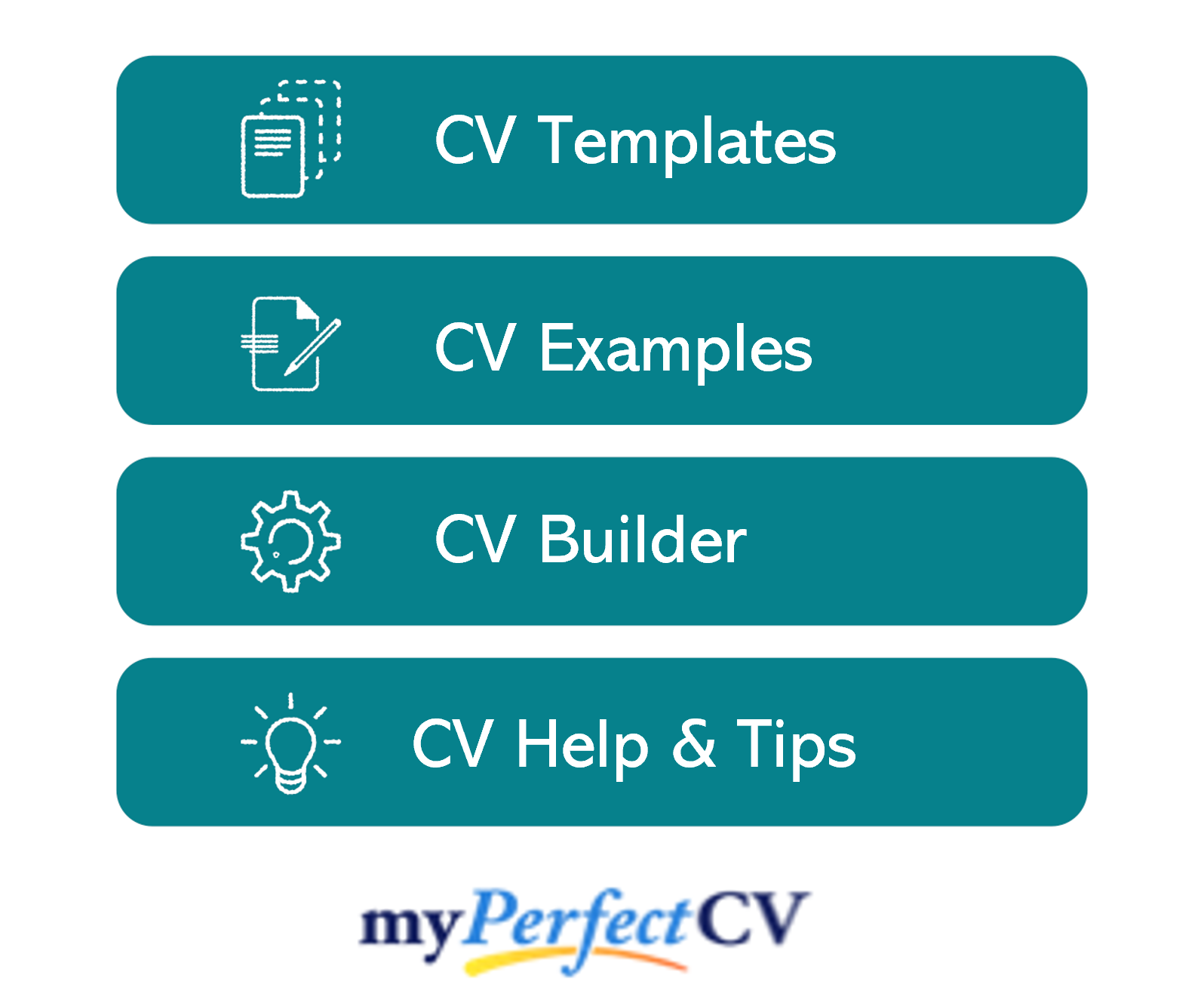 Management retail skills

Working in a busy retail environment can help to prepare you for the fast-paced world of business management. Here are some ways you can highlight your management retail skills:
Supervision – e.g. "Worked on shop floor supervising a team of 12 retail assistants, supporting the store manager and other team leaders to hit daily sales goals."
Staff scheduling– e.g. "Managed a staff Rota of 80+ employees, creating work shifts while managing sick days, holidays and staff absences."
Leadership – e.g. "Headed campaign to increase mental health support for employees, resulting in concrete initiatives being implemented for co-workers in need."
Accounting– e.g. "Handled all shop accounts, balanced budgets, organized payroll while keeping long-term relationships with suppliers."
Delegating – e.g. "Was tasked with assigning duties to all retail assistants during rush hours both in the evening and lunchtime."
Project Management – e.g. "Supported store manager and fellow team leaders in organizing initiative for a local charity, raising £8000 in one night."
Active Listening – e.g. "Conducted monthly staff meetings with employees and colleagues to discuss workflow initiatives and listen to suggestions."
Price Control – e.g. "Kept store prices competitive with a 3% price increase and adjustments for inflation."
Organisational Skills – e.g. "Scheduled deliveries, assigned shifts to part-time workers while remaining on-hand to help out on shop floor during peak periods."
Motivational Skills – e.g. "Implemented bonus initiatives for colleagues with high-performing sales records, resulting in a 43% increase in sales in one month."
Recruitment – e.g. "Hired over 100 employees both part-time and full-time, conducted interviews and carried out assessment tasks with candidates."
Verbal Communication Skills – e.g. "Was first point-of-contact for suppliers, clients and customers, helping to secure deals and welcome new clients."
What are retail skills?
Retail skills include any skill that you might learn in a retail environment, aka an environment where you're selling products. Whether you're processing sales at the checkout, handling refunds, supervising a team or working in the marketing aspect of the business, you're working in retail.
Retail skills can also include "soft skills", which are skills that can be learned while working in retail and applied to almost any profession. "Soft" retail skills include time-management, adaptability, communication skills and organisational skills.
Having a strong set of retail skills can help you to land a retail role, or even branch into several careers, including digital marketing, advertising and management.
Why are retail skills important?
Retail skills are important because they demonstrate your ability to work effectively with customers and within a team.
Almost all businesses deal with clients or customers in some way or another, so having a solid retail skillset is going to be beneficial not just in helping you to land jobs, but also in performing them to a high standard.
In addition to this, retail environments can often be highly unpredictable, competitive and fast-paced, so having retail skills proves to an employer that you can handle a stressful, ever-changing work environment.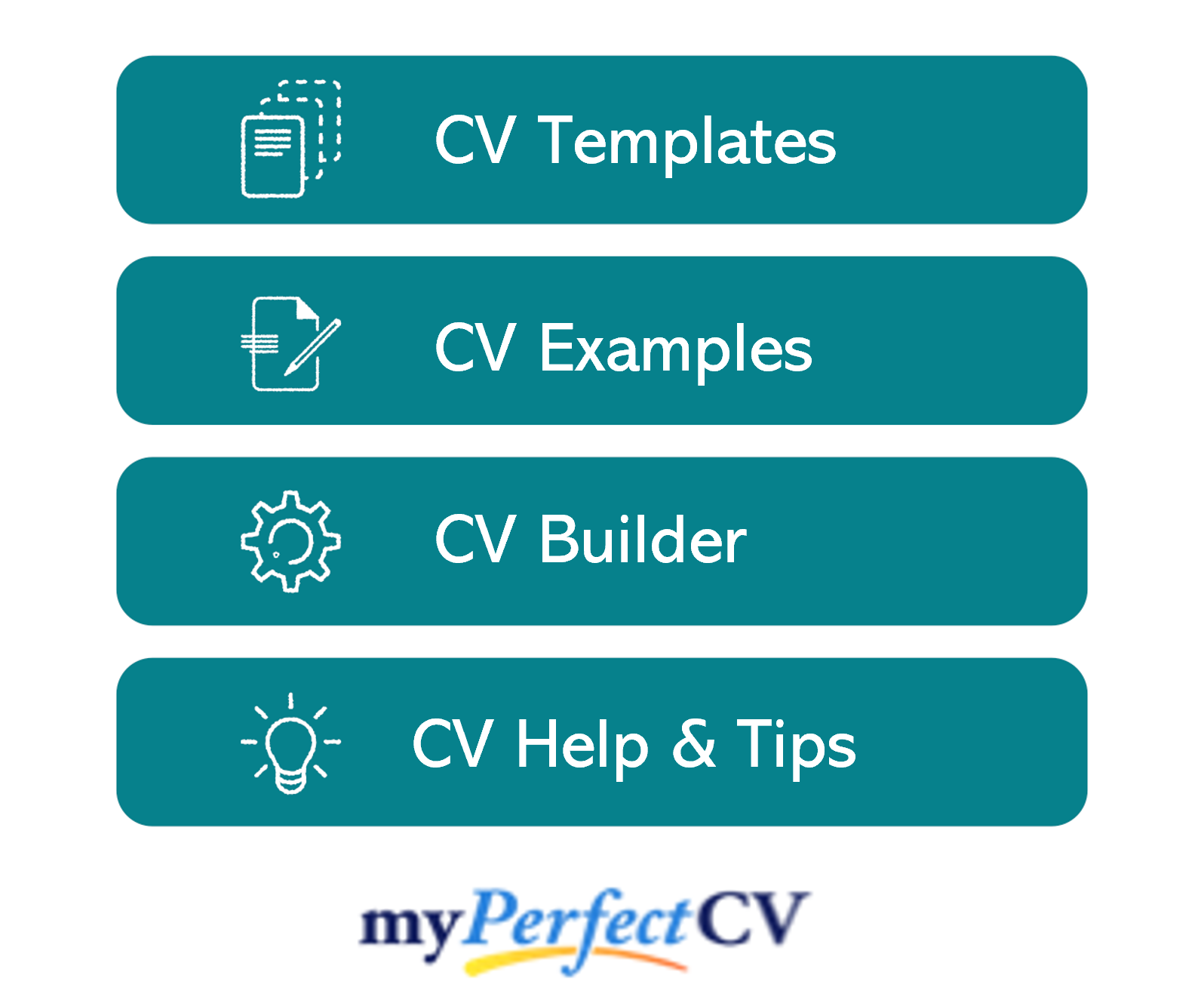 How to include retail skills on your CV
There are two ways to include retail skills on your CV. You can list some of your retail skills in your CV profile, and you can elaborate further by including your retail skills in the work experience section of your CV.
In your CV profile
If you want your CV to emphasise that you have a retail background, you can add some of your retail skills to your CV profile. Adding retail skills to your CV profile is a good idea if you're looking to branch into a new role within the retail industry and wish to highlight both your experience and professional ambitions.
Your CV profile is going to be the first thing any recruiter sees when they look at your CV, so it's essential to grab their attention by listing the skills and experience relevant to the job you're applying for. A CV profile with generic soft skills isn't going to excite a recruiter and encourage them to keep reading, but a CV profile with detailed skills relevant to the role will.
If you want to add your retail skills to your CV profile, you can do so in the format shown in the image below:


In your jobs
You can also include your retail skills in the work experience section of your CV, as demonstrated in the examples below. This is a good idea if your general CV profile isn't geared towards retail, but you still want to show off some of the retail skills you've picked up throughout your professional life.
While employers do care about experience, it's important to show off the skills that you learned in your previous roles, in particular your achievements and successes. At the end of the day, all employers are looking for a candidate with a track record of providing value, so don't be nervous to show off your skills and achievements.
If you want to add your retail skills to your CV profile, you can do so in the format shown in the image below: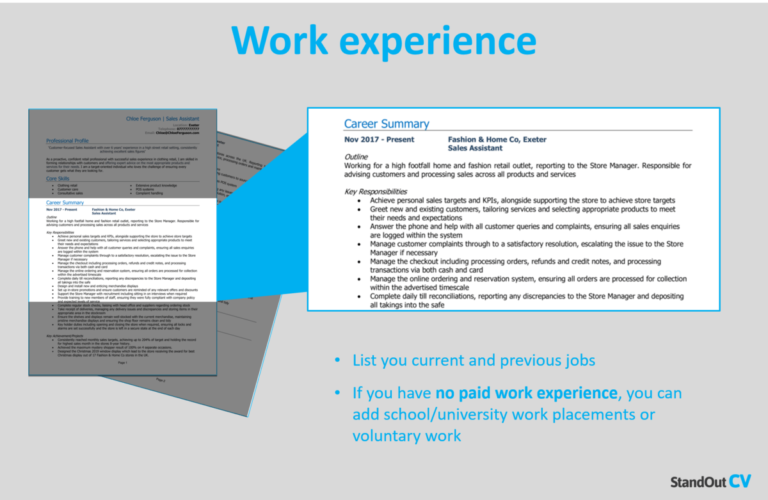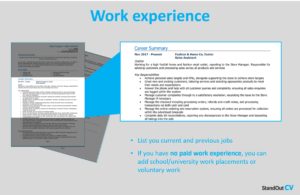 What to avoid
When you're writing out your retail skills on your CV, avoid generic cliche phrases and buzzwords. Telling an employer that you have "good customer service skills" won't make your CV stand out from your competitors. Instead, give concrete examples of your skills and achievements within these roles and demonstrate how they'd be useful to a future employer. Put simply, demonstrate how you provided skills and value to your previous roles.
Also, try to avoid being too general. Saying that you have "retail experience" can mean anything, so the key is to be precise about what area of retail you worked in and give relevant examples.
Someone who worked in the marketing and merchandising section of retail has different skills than someone who worked in the customer service aspect of retail. Make your skills clear, either in your core profile or when writing your job descriptions, to show your unique skillset to employers.