There is a high level of competition in radiology, and employers only want to hire the very best people.
So, you need to write a radiologist CV that demonstrates that your skills and experience in a way that grabs the attention of recruiters and hiring managers.
Our real-life radiologist CV example along with step-by-step CV writing guide will give you all the tools you need to stand out and land your dream job.
Guide contents
Radiologist CV example
Structuring and formatting your CV
Writing your CV profile
Detailing work experience
Your education
Skills required for your Radiologist CV

Radiologist CV example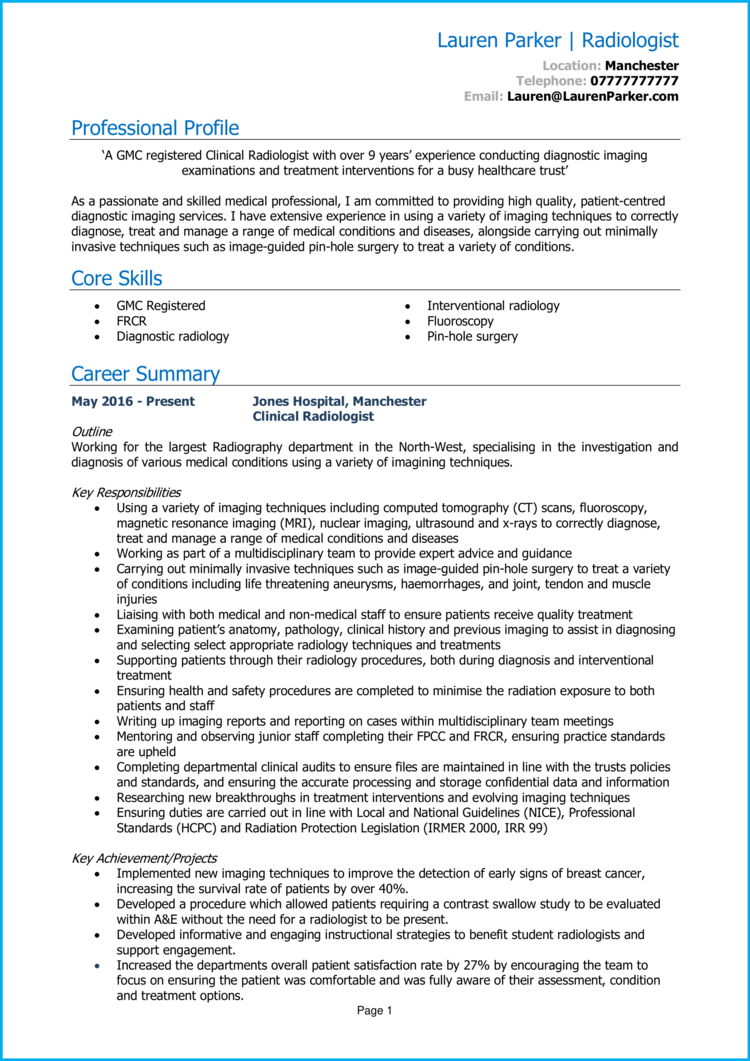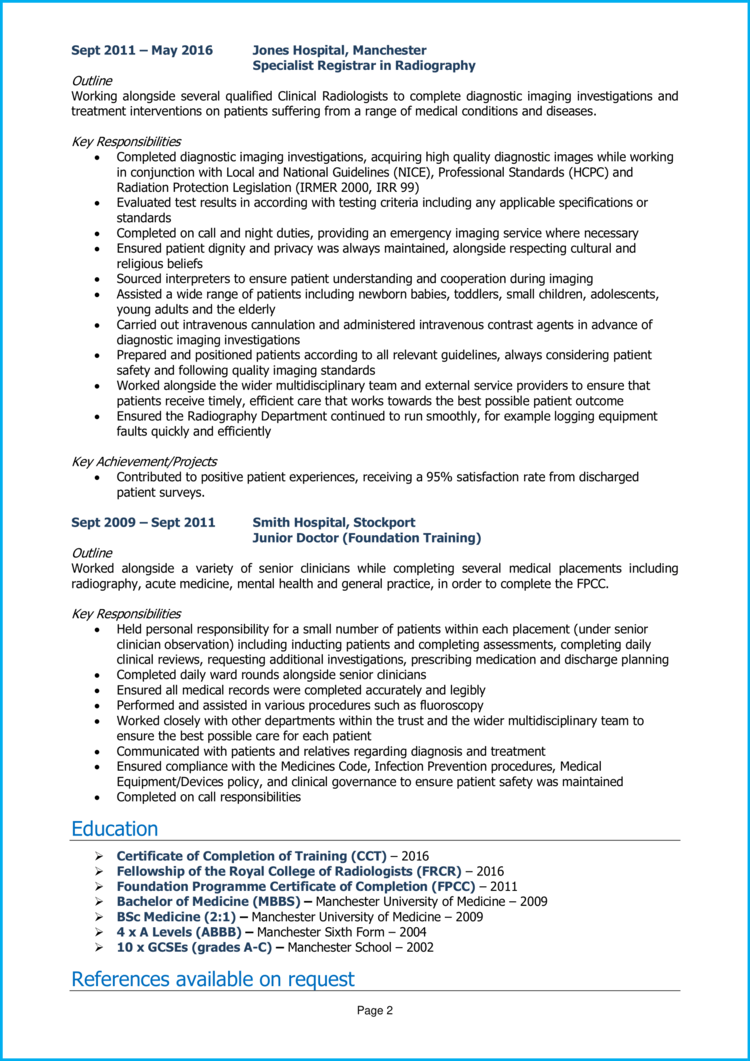 Unsure of what your Radiologist CV should look like?
Take a good look at the CV example above to get familiar with the structure, layout and format of a professional CV.
As you can see, it provides plenty of relevant information about the applicant but is still very easy to read, which will please busy recruiters.
Radiologist CV structure and format
The format and structure of your CV is important because it will determine how easy it is for recruiters and employers to read your CV.
If they can find the information they need quickly, they'll be happy; but if they struggle, your application could be overlooked.
A simple and logical structure will always create a better reading experience than a complex structure, and with a few simple formatting tricks, you'll be good to go.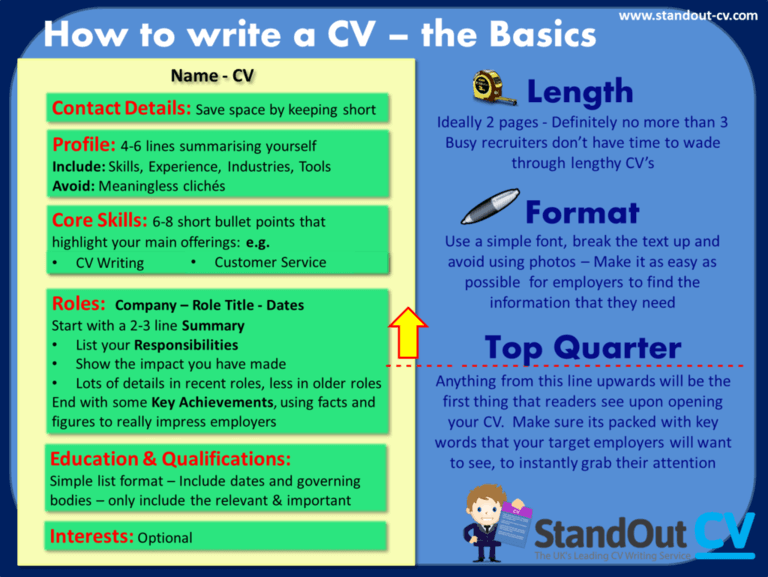 Formatting Tips
Length: While there's no 'official' CV length rule, the majority of recruiters agree that less is more. Aim for two pages of A4 or less. This is just enough room to showcase your suitability to the role, without overwhelming recruiters with irrelevant or excessive content.
Readability: Recruiters appreciate CVs that they can quickly scan through without trouble. Ensure yours makes the cut by formatting your headings for attention (bold or coloured fonts should do the trick) and breaking up long paragraphs into smaller chunks or short, snappy bullet points.
Design: It's generally best to stick to a simple CV design, as funky or elaborate designs rarely add any value to your application. A clear, modern font and a subtle colour scheme work perfectly and allow your skills, experience and achievements to speak for themselves.
Avoid photos: Recruiters can't factor in appearance, gender or race into the recruitment process, so a profile photo is totally unnecessary. Additionally, company logos or images won't add any value to your application, so you're better off saving the space to showcase your experience instead.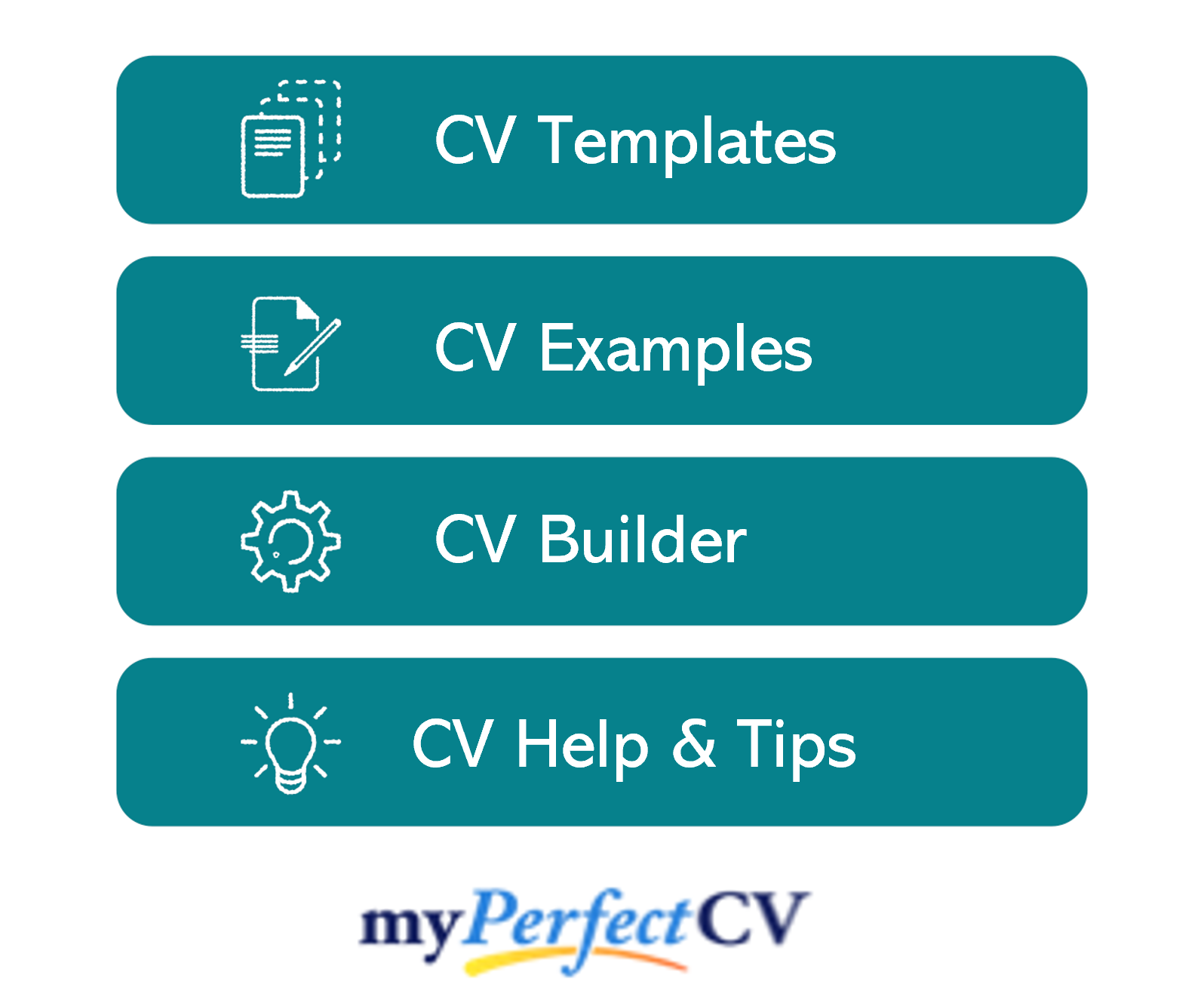 Structuring your CV
When writing your CV, break up the content into the following key sections, to ensure it can be easily digested by busy recruiters and hiring managers:
Contact details – Always list these at the very top of your CV – you don't want them to be missed!
Profile – An introductory paragraph, intended to grab recruiters attention and summarise your offering.
Work experience / career history – Working from your current role and working backwards, list your relevant work experience.
Education – Create a snappy summary of your education and qualifications.
Interest and hobbies – An optional section to document any hobbies that demonstrate transferable skills.
Now I'll guide you through exactly what you should include in each CV section.
CV Contact Details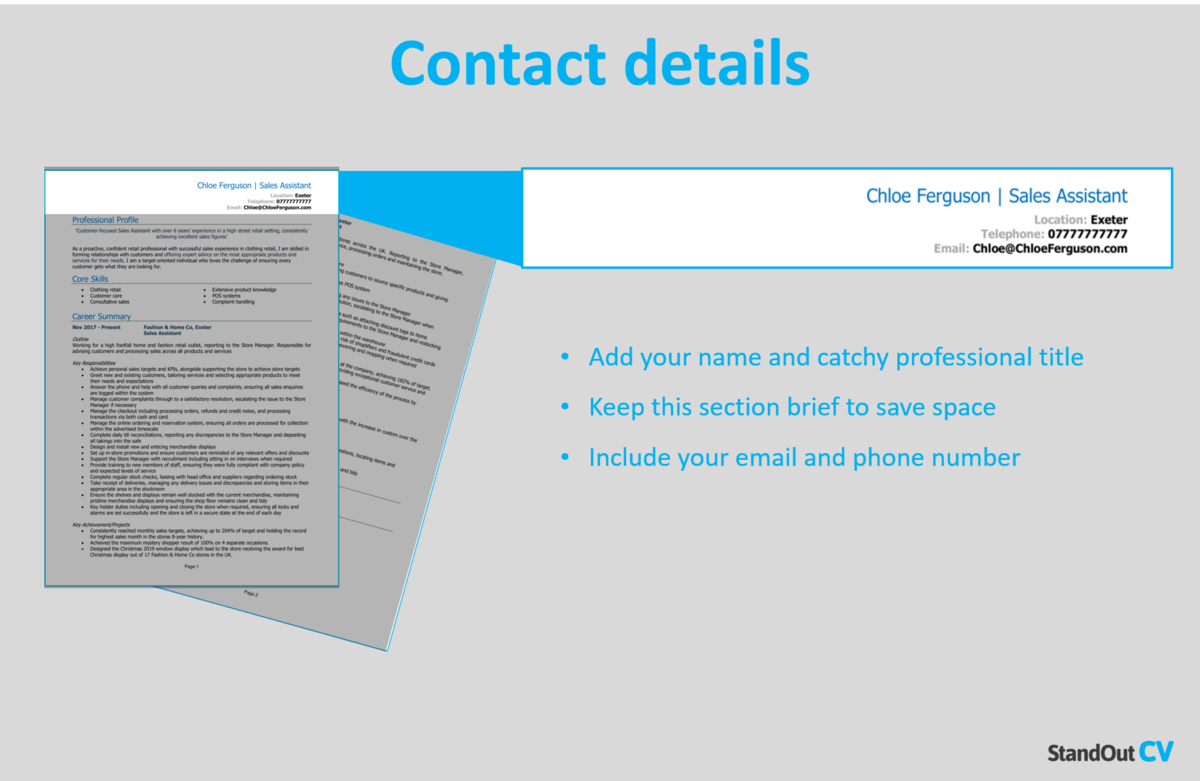 Write your contact details in the top corner of your CV, so that they're easy to find but don't take up too much space.
You only need to list your basic details, such as:
Mobile number
Email address
Location – Don't list your full address. Your town or city, such as 'Norwich' or 'Coventry' is perfect.
LinkedIn profile or portfolio URL – Remember to update these before listing them on an application.
Radiologist CV Profile
Recruiters and hiring managers are busy, so it's essential to catch their attention from the get-go.
A strong introductory profile (or personal statement, for junior candidates) at the top of the CV is the first thing they'll read, so it's a great chance to make an impression.
It should be a short but punchy summary of your key skills, relevant experience and accomplishments.
Ultimately, it should explain why you're a great fit for the role you're applying for and inspire recruiters to read the rest of your CV.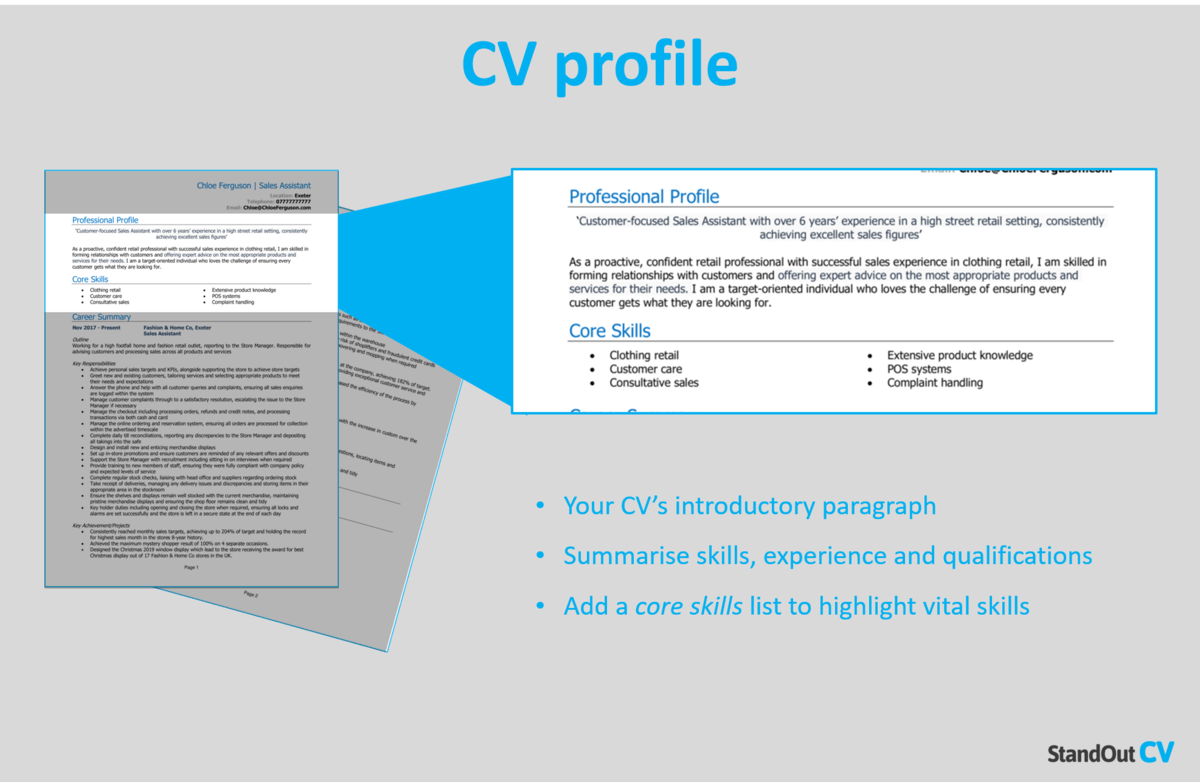 Tips for creating an impactful CV profile:
Keep it brief: The best CV profiles are short, sharp and highly relevant to the target role. For this reason, it's best to write 3-4 lines of high-level information, as anything over might be missed.
Tailor it: The biggest CV mistake? A generic, mass-produced document which is sent out to tens of employers. If you want to land an interview, you need to tailor your CV profile (and your application as a whole) to the specific roles you're applying for. So, before you start writing, remember to read over those job descriptions and make a list of the skills, knowledge and experience the employers are looking for.
Don't add an objective: Avoid discussing your career goals in your CV profile – if you think they're necessary, briefly mention them in your cover letter instead.
Avoid cliches: "Determined team player who always gives 110%" might seem like a good way to fill up your CV profile, but generic phrases like this won't land you an interview. Recruiters hear them time and time again and have no real reason to believe them. Instead, pack your profile with your hard skills and tangible achievements.
What to include in your Radiologist CV profile?
Summary of experience: Recruiters will want to know what type of companies you've worked for, industries you have knowledge of, and the type of work you've carried out in the past, so give them a summary of this in your profile.
Relevant skills: Make your most relevant Radiologist key skills clear in your profile. These should be tailored to the specific role you're applying for – so make sure to check the job description first, and aim to match their requirements as closely as you can.
Essential qualifications: If the jobs you are applying to require candidates to have certain qualifications, then you must add them in your profile to ensure they are seen by hiring managers.
Quick tip: Even the best of writers can overlook typos and spelling mistakes. Use our partner's CV builder to add pre-written content that has been created by recruitment experts, and proofread by our team.
Core skills section
Next, you should create a bullet pointed list of your core skills, formatted into 2-3 columns.
Here, you should focus on including the most important skills or knowledge listed in the job advertisement.
This will instantly prove that you're an ideal candidate, even if a recruiter only has time to briefly scan your CV.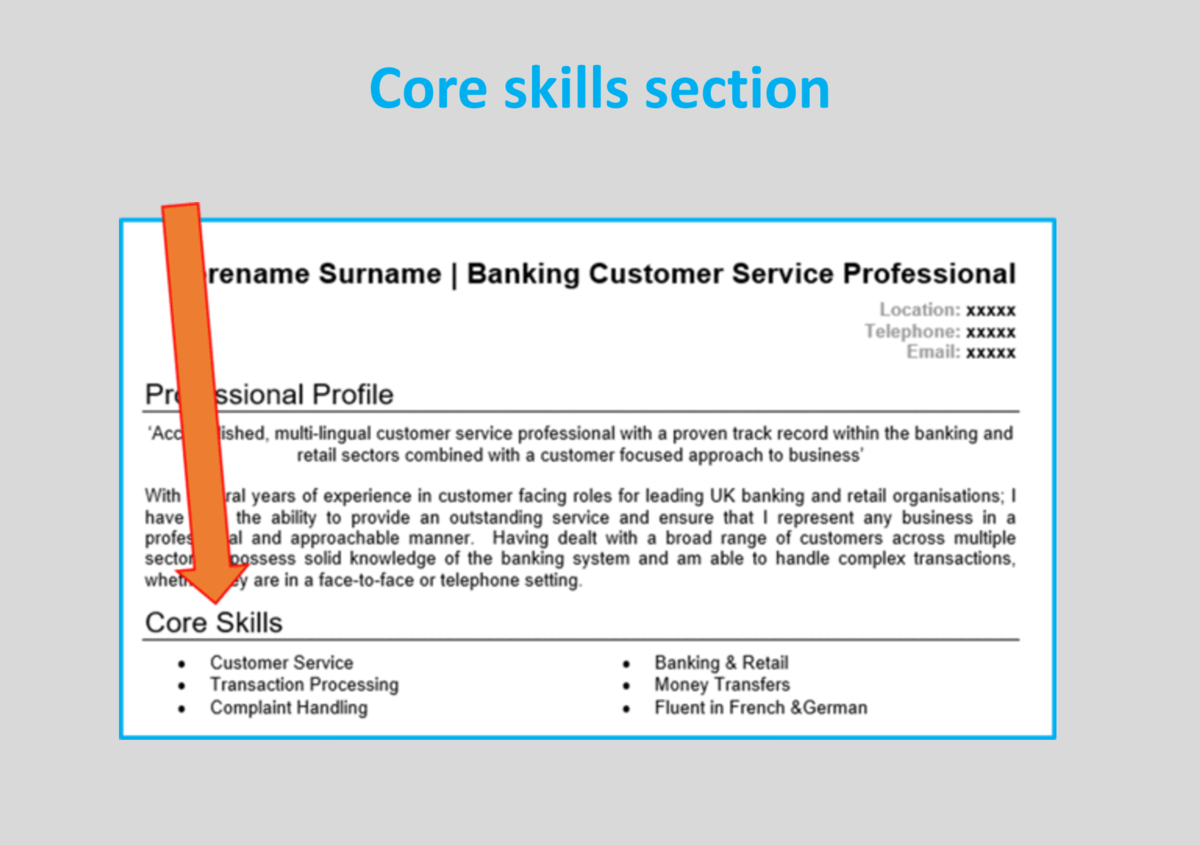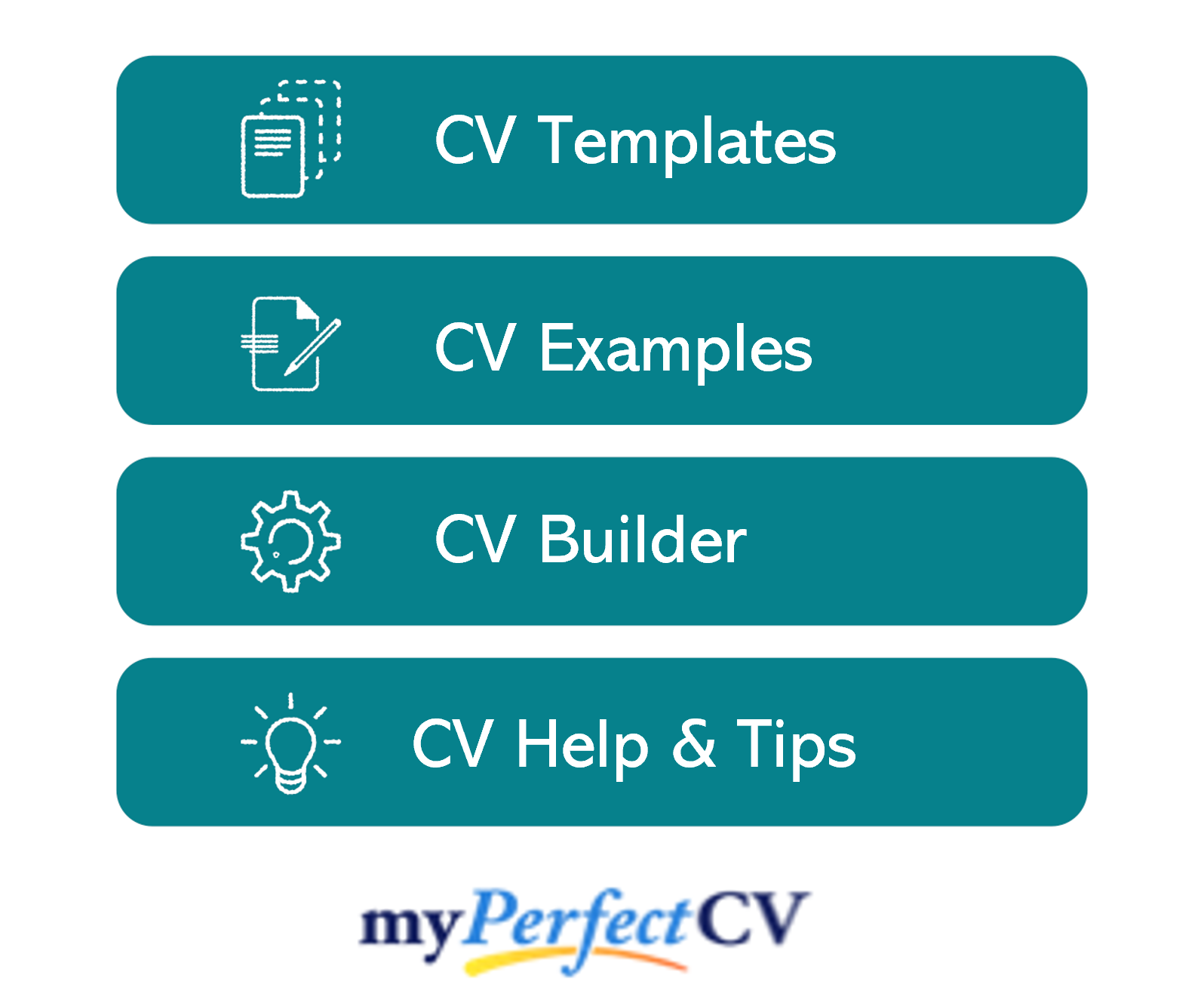 Work experience/Career history
By now, you'll have hooked the reader's attention and need to show them how you apply your skills and knowledge in the workplace, to benefit your employers.
So, starting with your most recent role and working backwards to your older roles, create a thorough summary of your career history to date.
If you've held several roles and are struggling for space, cut down the descriptions for your oldest jobs.
Structuring your roles
Whilst writing your CV, it's essential to look at it from the eyes of a recruiter.
If they're met with giant blocks of text which are impossible to navigate, they might get frustrated and skip onto the next CV.
Instead, make use of the 3-step structure shown below, to give them a pleasant reading experience.
Outline
Start with a 1-2 sentence summary of your role as a whole, detailing what the goal of your position was, who you reported to or managed, and the type of organisation you worked for.
Key responsibilities
Next up, you should write a short list of your day-to-day duties within the job.
Recruiters are most interested in your sector-specific skills and knowledge, so highlight these wherever possible.
Key achievements
Lastly, add impact by highlight 1-3 key achievements that you made within the role.
Struggling to think of an achievement? If it had a positive impact on your company, it counts.
For example, you might increased company profits, improved processes, or something simpler, such as going above and beyond to solve a customer's problem.
Education
In your education section, make any degrees, qualifications or training which are relevant to Radiologist roles a focal point.
As well as mentioning the name of the organisation, qualification titles and dates of study, you should showcase any particularly relevant modules, assignments or projects.
Interests and hobbies
Although this is an optional section, it can be useful if your hobbies and interests will add further depth to your CV.
Interests which are related to the sector you are applying to, or which show transferable skills like leadership or teamwork, can worth listing.
On the other hand, generic hobbies like "going out with friends" won't add any value to your application, so are best left off your CV.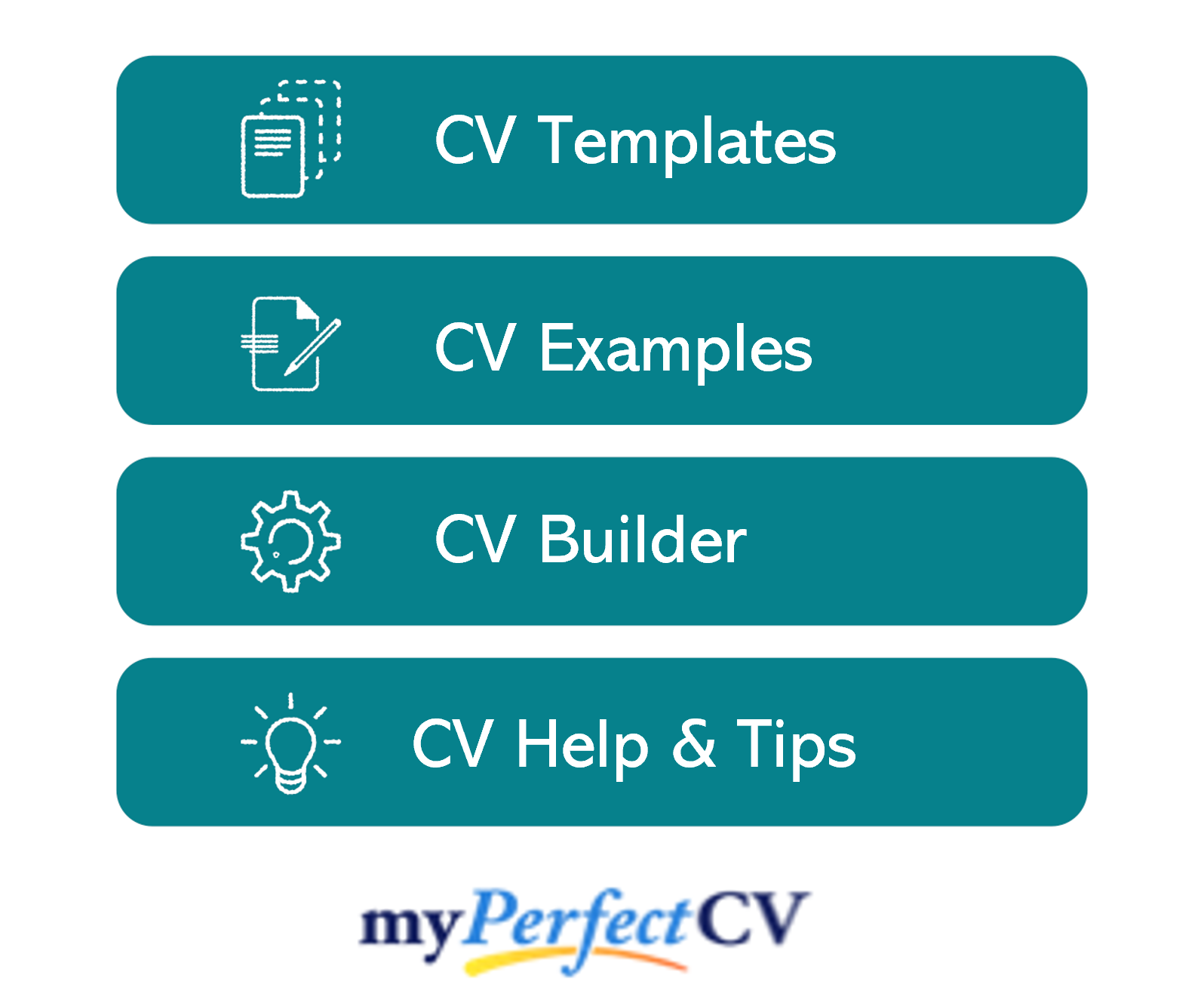 Essential skills for your Radiologist CV
Tailoring your CV to the roles you are applying for is key to success, so make sure to read through the job descriptions and tailor your skills accordingly.
However, commonly desired Radiologist skills include:
Radiology skills – You need to showcase your medical skills and application in radiology.
Critical thinking – Your radiologist CV needs to give evidence that you can assess different scenarios and problem solve.
Attention to detail – You need to make it clear that you have unwavering commitment to spotting and interpreting the tiniest details with consistency.
Collaboration – Prove on your CV that you can work with a varied medical team to contribute to patient care, diagnosis and treatment.
Communication – Demonstrate that you can communicate with a range of people, particularly when they are in pain or distressed.
Writing your Radiologist CV
A strong, compelling CV is essential to get noticed and land interviews with the best employers.
To ensure your CV stands out from the competition, make sure to tailor it to your target role and pack it with sector-specific skills and results.
Remember to triple-check for spelling and grammar errors before hitting send.
Good luck with the job search!