As a student, you may have created CVs in the past for work experience or part-time jobs, but when the time comes to create a finance CV for your first official role, it can feel pretty daunting.
But don't panic, we know what it takes to impress recruiters and sell your financial skills, which is why we're here to help.
Our step-by-step guide below will teach you how to create a killer application and comes complete with 2 examples of a finance student CV for additional support.
Guide contents
Finance Student CV examples
Structuring and formatting your CV
Writing your CV profile
Detailing work experience
Your education
Skills required for your Finance Student CV

Finance Student CV example 1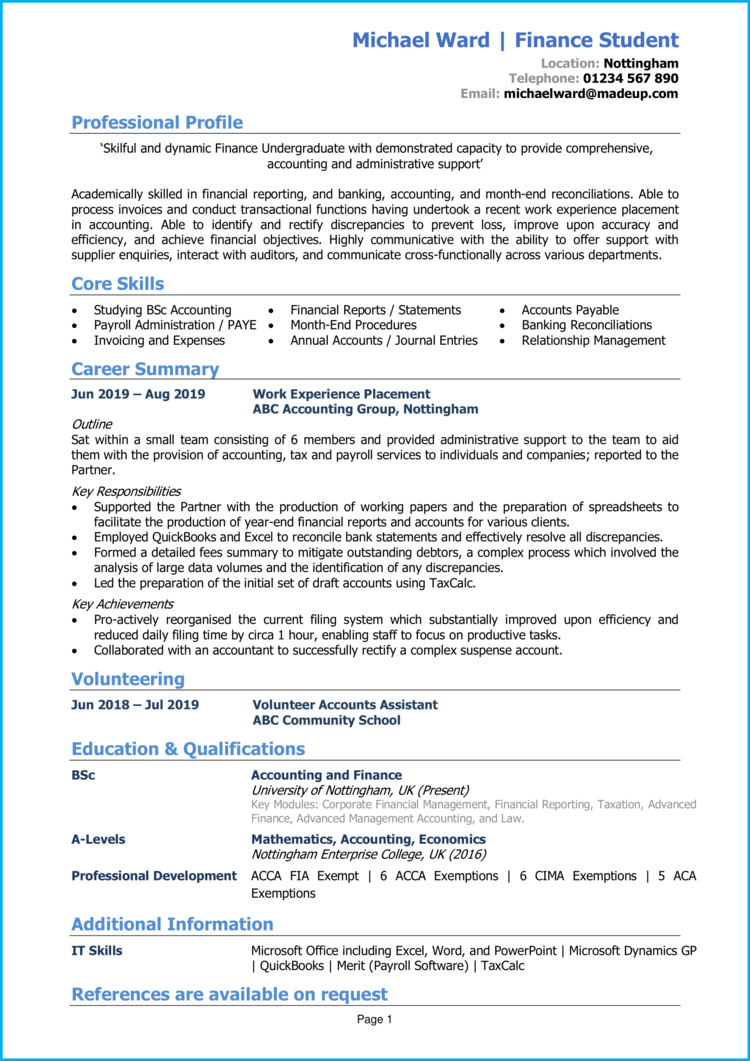 Finance Student CV example 2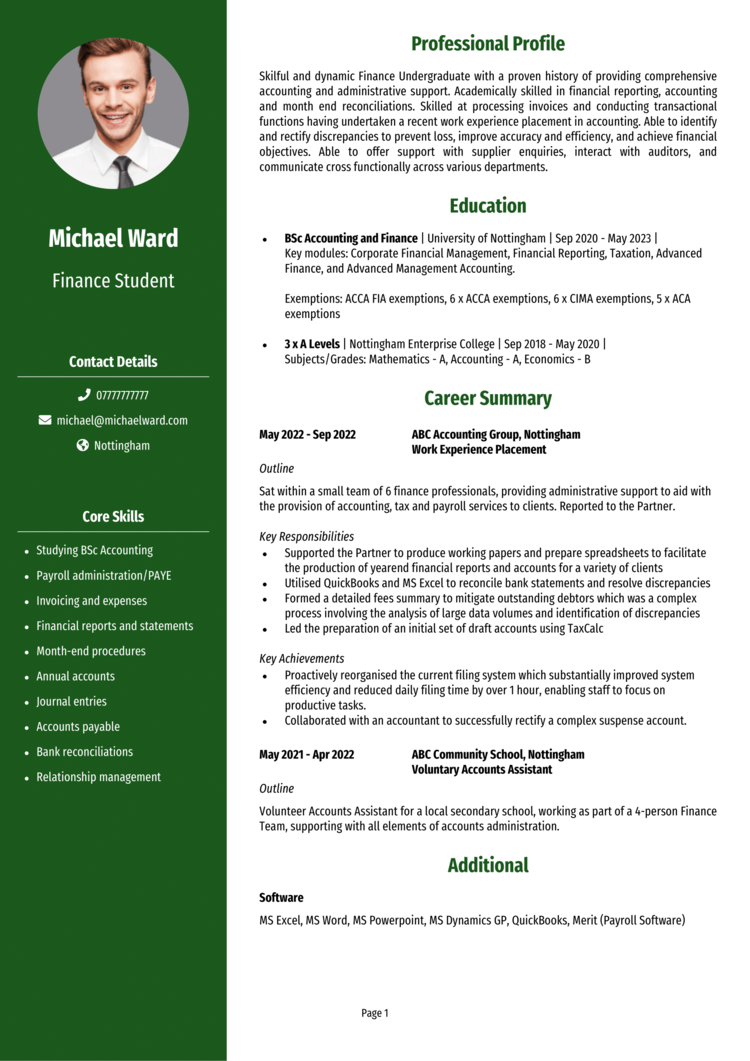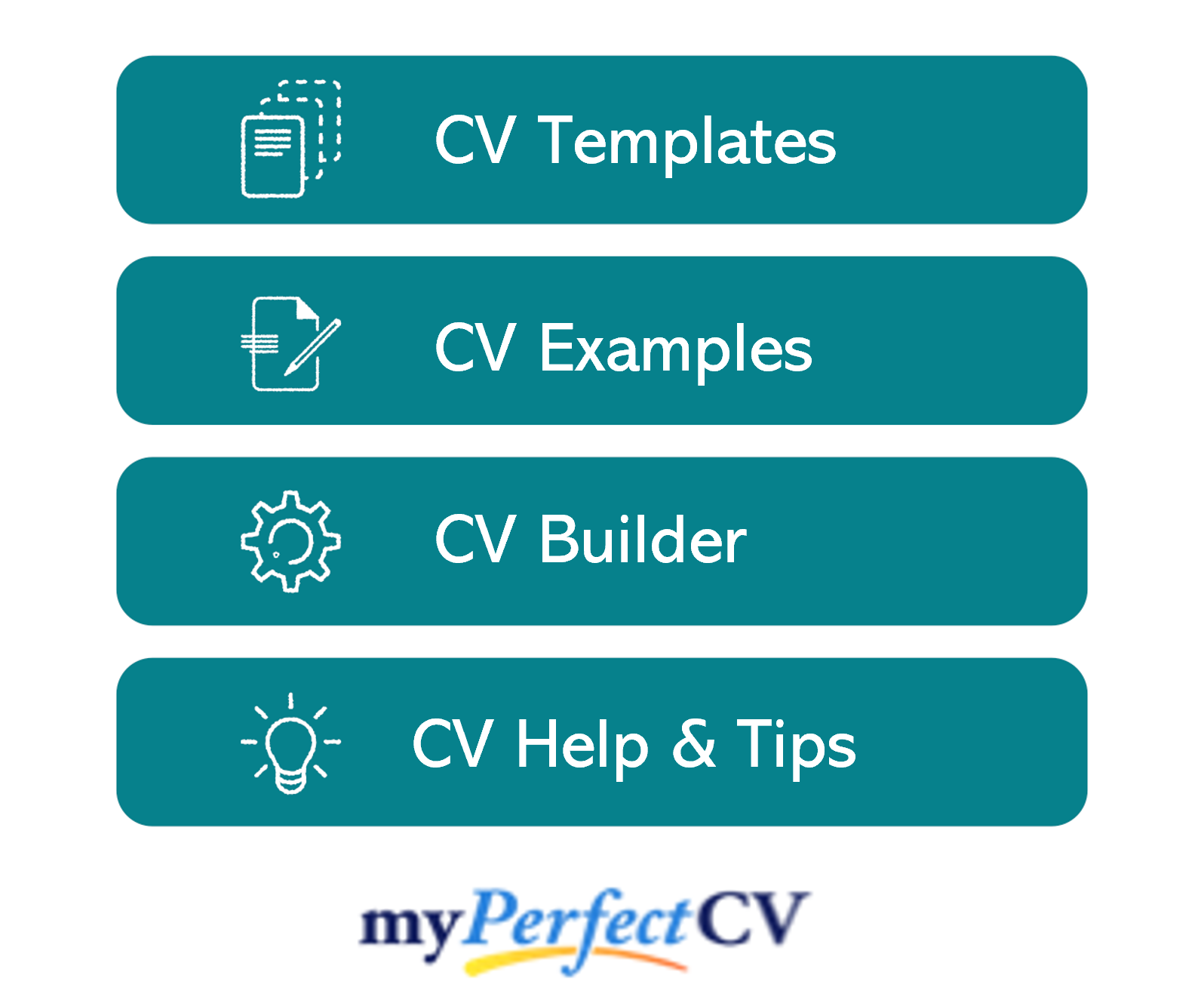 The above CV example demonstrates the type of info you should be including within your Finance Student CV, as well as how to display this information in a way which looks professional and is easy for time-strapped recruiters to read.
This is the standard you should be aiming for, so remember to refer back to it throughout the CV writing process.
Finance Student CV structure and format
If you focus on the written content of your CV but ignore how it actually looks, your efforts could end up wasted.
No matter how suitable you are for the role, no recruiter wants to spend time squinting and trying to navigate a badly designed and disorganised CV.
Instead, make sure to organise your content into a simple structure and spend some time formatting it for ease of reading – it'll get you in recruiter's good books from the get-go!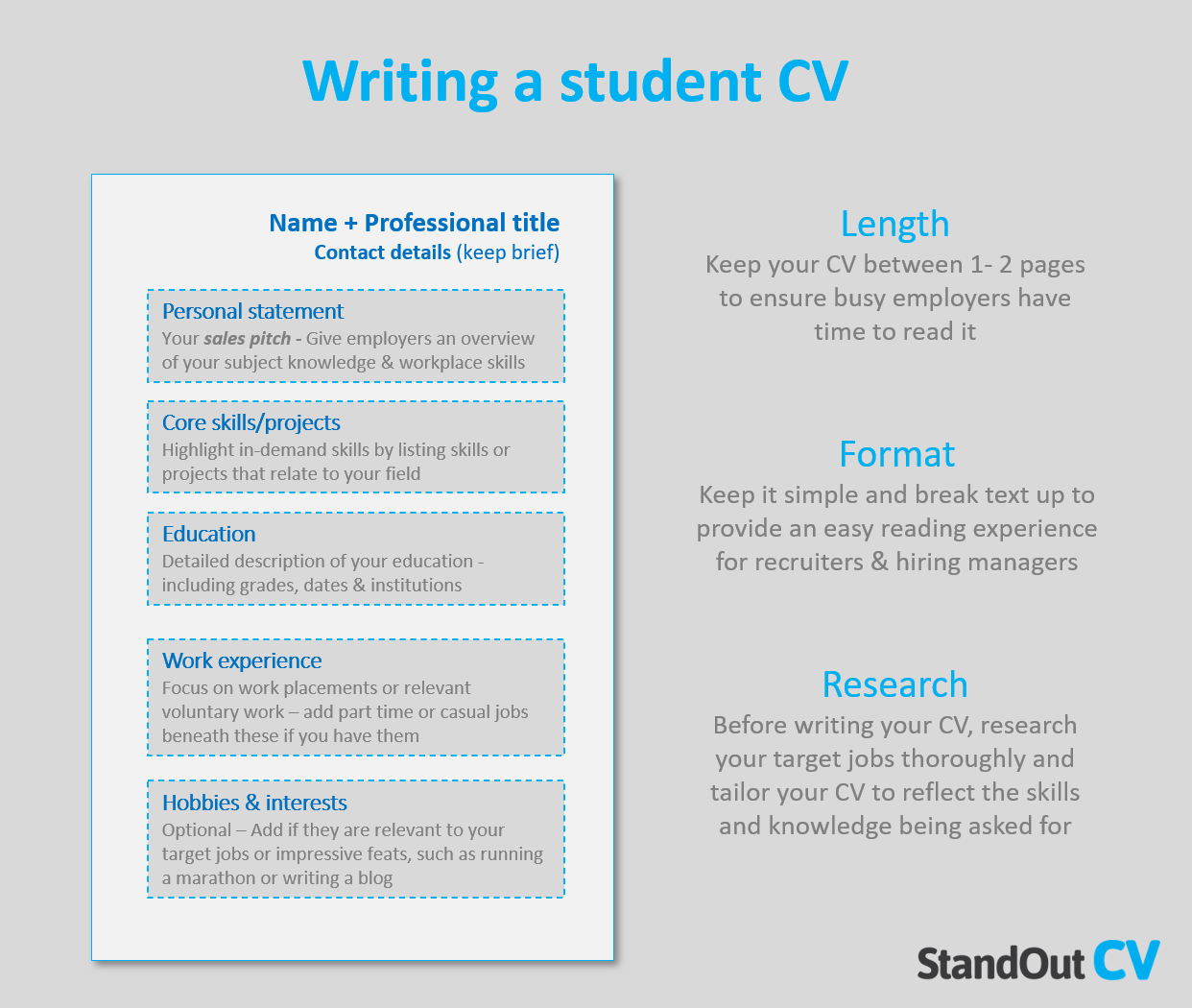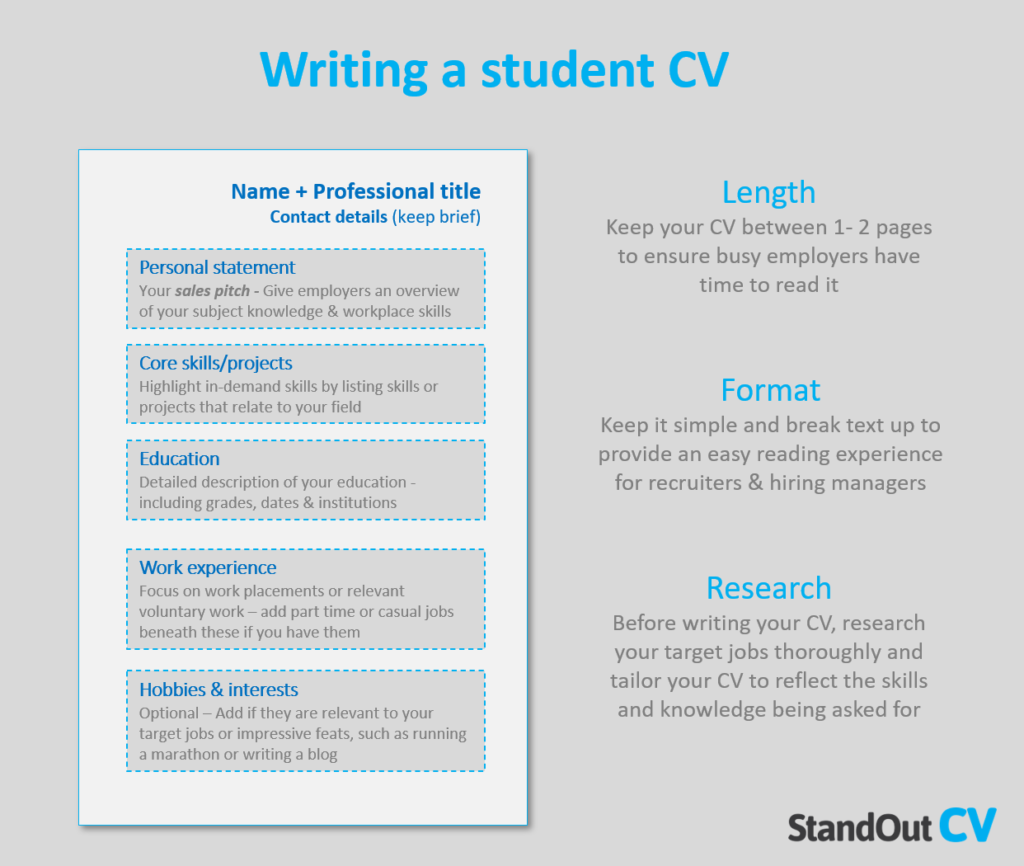 Formatting Tips
Length: Whether you've got one year or three decades of experience, your CV should never be more than two sides of A4. Recruiters are busy people who're often juggling numerous roles and tasks, so they don't have time to read lengthy applications. If you're a recent graduate or don't have much industry experience, one side of A4 is fine.
Readability: By clearly formatting your section headings (bold, or a different colour font, do the trick) and breaking up big chunks of text into snappy bullet points, time-strapped recruiters will be able to skim through your CV with ease.
Design: Don't waste time adding fancy designs to your CV. It generally adds no value to your application and may even end up distracting recruiters away from the important written content.
Avoid photos: Ditch logos, images or profile photos. Not only do they take up valuable space, but they may even distract recruiters from your important written content.

Structuring your CV
Divide your CV into the following major sections when writing it:
Name and contact details – Head your CV with your name and contact details, to let the reader know who you are and how to contact you.
CV profile – A brief paragraph which summarises your skills and experience and highlights why you're a good match for the role.
Core skills list – A snappy, bullet-pointed list of your most relevant skills.
Work experience – A structured list of your work experience in reverse chronological order.
Education – A summary of any relevant qualifications or professional training you've completed.
Hobbies and interests – An optional section, which should only be used if your hobbies are relevant to the jobs you're applying to.
Now I'll guide you through exactly what you should include in each CV section.
CV Contact Details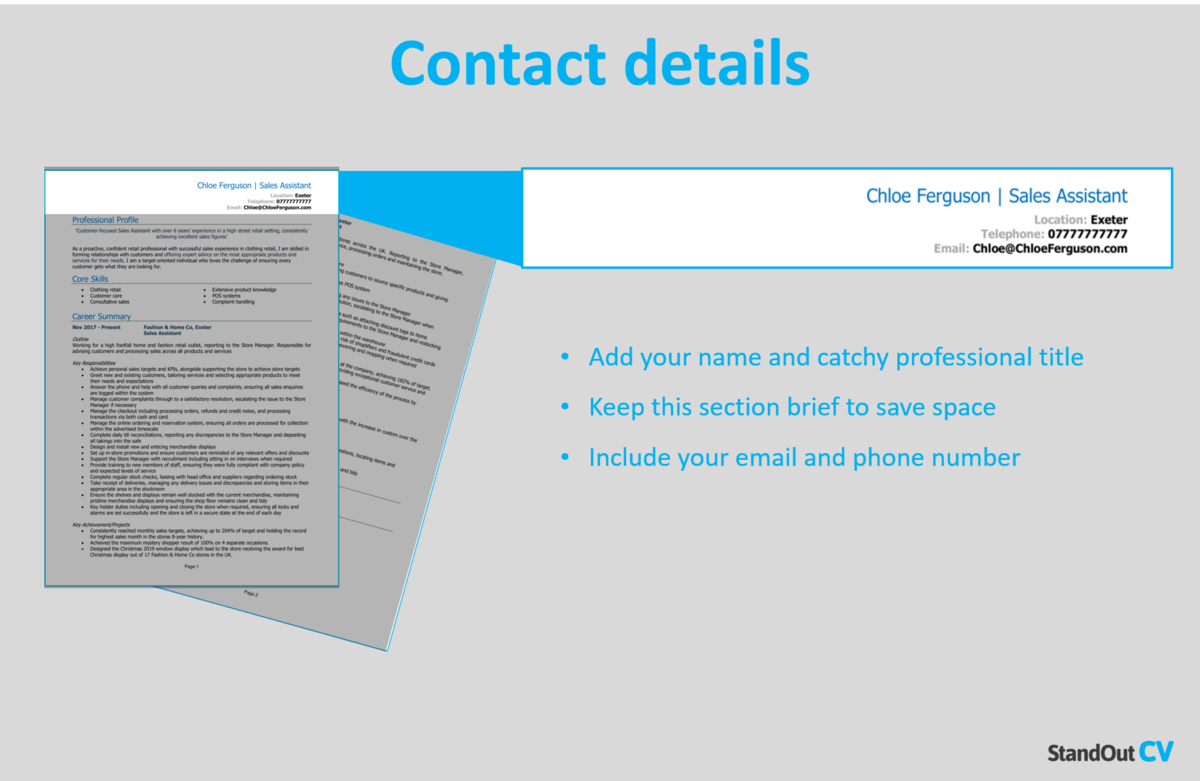 Begin by sharing your contact details, so it's easy for employers to give you a call.
Keep to the basics, such as:
Mobile number
Email address – It should sound professional, with no slang or nicknames. Make a new one for your job applications if necessary.
Location – Simply share your vague location, for example 'Manchester', rather than a full address.
LinkedIn profile or portfolio URL – Remember to update them before you send your application.
Finance Student CV Profile
Your CV profile is basically a short introductory paragraph, which summarises your key selling points and highlights why you'd make a good hire.
So, write a well-rounded summary of what you do, what your key skills are, and what relevant experience you have.
It needs to be short, snappy and punchy and, ultimately, entice the reader to read the rest of your CV.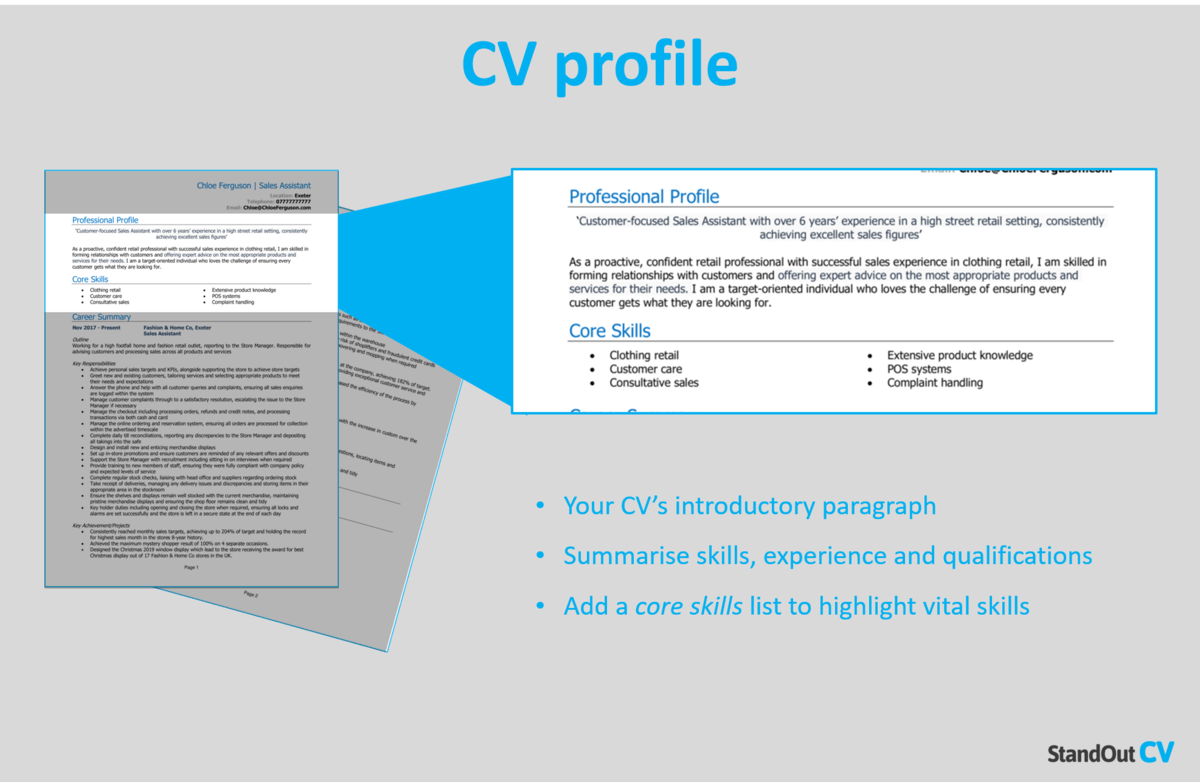 Tips for creating an impactful CV profile:
Keep it brief: Recruiters have piles of CVs to read through and limited time to dedicate to each, so it pays to showcase your abilities in as few words as possible. 3-4 lines is ideal.
Tailor it: Not tailoring your profile (and the rest of your CV) to the role you're applying for, is the worst CV mistake you could make. Before setting pen to paper, look over the job ad and make a note of the skills and experience required. Then, incorporate your findings throughout.
Don't add an objective: Avoid discussing your career goals in your CV profile – if you think they're necessary, briefly mention them in your cover letter instead.
Avoid cliches: If there's one thing that'll annoy a recruiter, it's a clichè-packed CV. Focus on showcasing your hard skills, experience and the results you've gained in previous roles, which will impress recruiters far more.
What to include in your Finance Student CV profile?
Summary of experience: Recruiters will want to know what type of companies you've worked for, industries you have knowledge of, and the type of work you've carried out in the past, so give them a summary of this in your profile.
Relevant skills: Make your most relevant Finance Student key skills clear in your profile. These should be tailored to the specific role you're applying for – so make sure to check the job description first, and aim to match their requirements as closely as you can.
Essential qualifications: If the jobs you are applying to require candidates to have certain qualifications, then you must add them in your profile to ensure they are seen by hiring managers.
Quick tip: If spelling and grammar are not a strong point of yours, Use our partner's CV builder to add pre-written content that has been created by recruitment experts, and proofread by our team.
Core skills section
Your CV is the very first impression you'll make on a potential employer.
A disorganised, cluttered and barely readable CV could seriously decrease your chances of landing interviews, so it's essential to make sure yours is slick, professional and easy to navigate.
You can do this by employing a clear structure and formatting your content with some savvy formatting techniques – check them out below: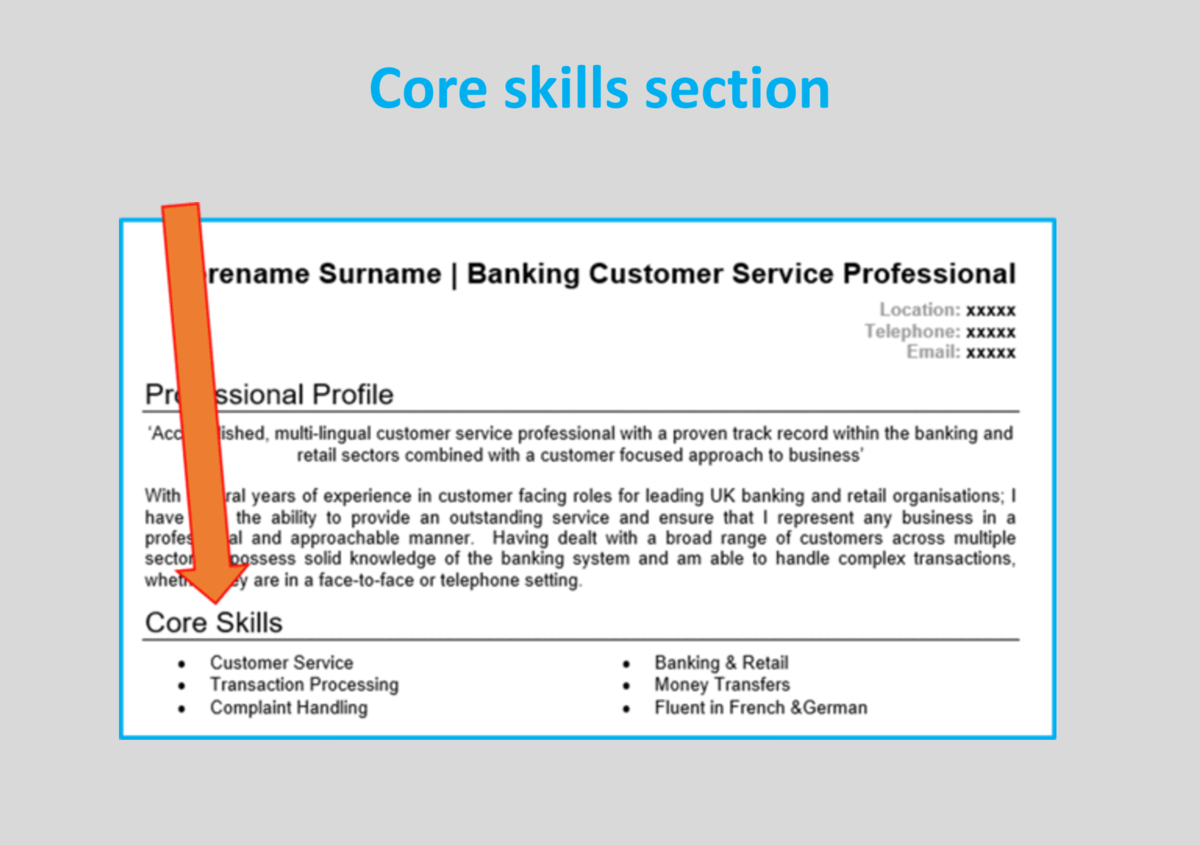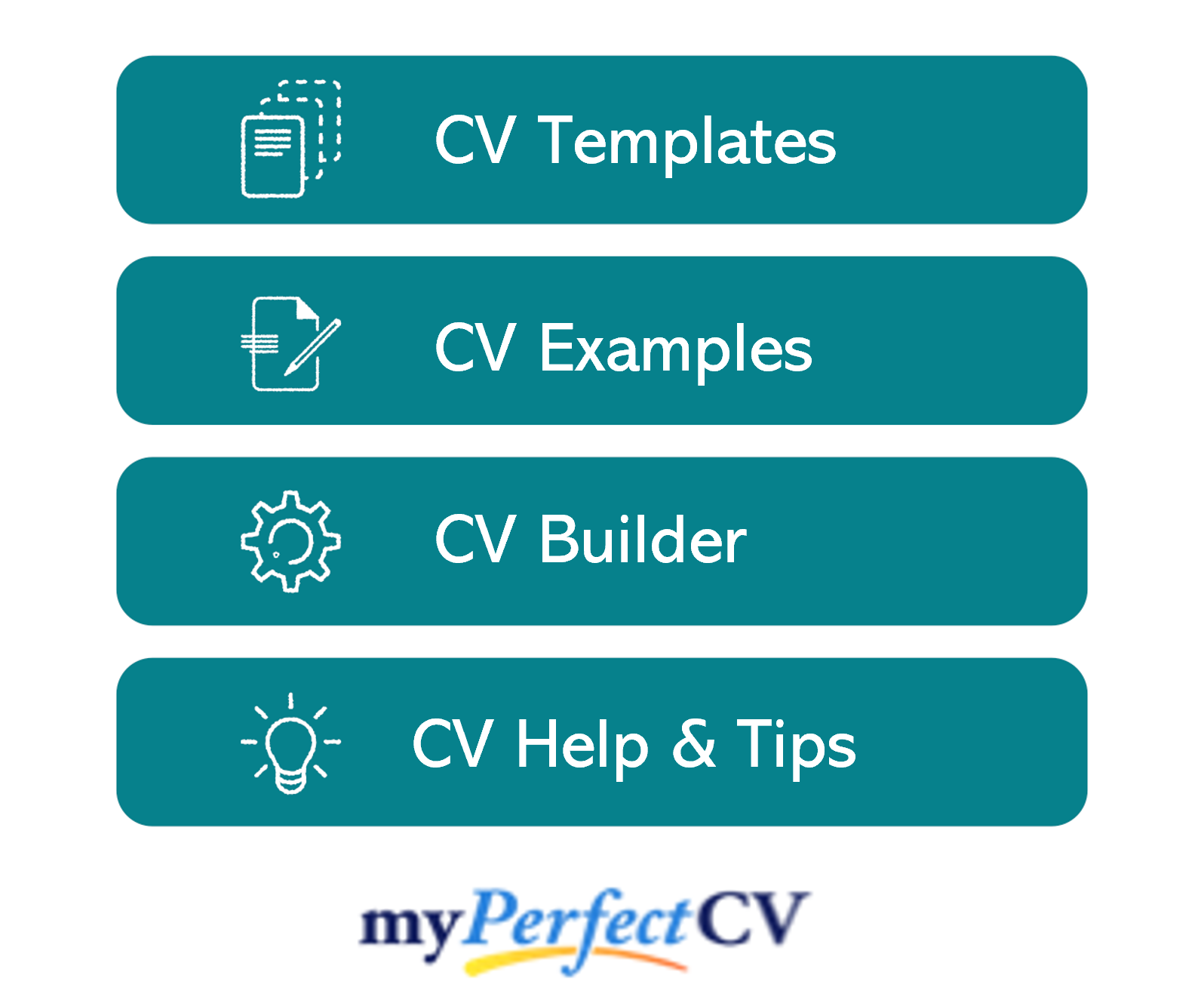 Work experience/Career history
Now it's time to get stuck into your work experience, which should make up the bulk of your CV.
Begin with your current (or most recent) job, and work your way backwards.
If you've got too much experience to fit onto two pages, prioritise space for your most recent and relevant roles.
Structuring your roles
Lengthy, unbroken chunks of text is a recruiters worst nightmare, but your work experience section can easily end up looking like that if you are not careful.
To avoid this, use my tried-and-tested 3-step structure, as illustrated below:
Outline
Start with a brief summary of your role as a whole, as well as the type of company you worked for.
E.g.
Sat within a small team consisting of 6 members and provided administrative support to the team to aid them with the provision of accounting, tax and payroll services to individuals and companies; reported to the Partner.
Key responsibilities
Follow with a snappy list of bullet points, detailing your daily duties and responsibilities.
Tailor it to the role you're applying for by mentioning how you put the target employer's desired hard skills and knowledge to use in this role.
E.g.
Supported the Partner with the production of working papers and the preparation of spreadsheets to facilitate the production of year-end financial reports and accounts for various clients.
Employed QuickBooks and Excel to reconcile bank statements and effectively resolve all discrepancies.
Key achievements
To finish off each role and prove the impact you made, list 1-3 stand out achievements, results or accomplishments.
This could be anything which had a positive outcome for the company you worked for, or perhaps a client/customer.
Where applicable, quantify your examples with facts and figures.
E.g.
Pro-actively reorganised the current filing system which substantially improved upon efficiency and reduced daily filing time by circa 1 hour, enabling staff to focus on productive tasks.
Education
After your work experience, your education section should provide a detailed view of your academic background.
Begin with those most relevant to Finance Student jobs, such as vocational training or degrees.
If you have space, you can also mention your academic qualifications, such as A-Levels and GCSEs.
Focus on the qualifications that are most relevant to the jobs you are applying for.
Interests and hobbies
Although this is an optional section, it can be useful if your hobbies and interests will add further depth to your CV.
Interests which are related to the sector you are applying to, or which show transferable skills like leadership or teamwork, can worth listing.
On the other hand, generic hobbies like "going out with friends" won't add any value to your application, so are best left off your CV.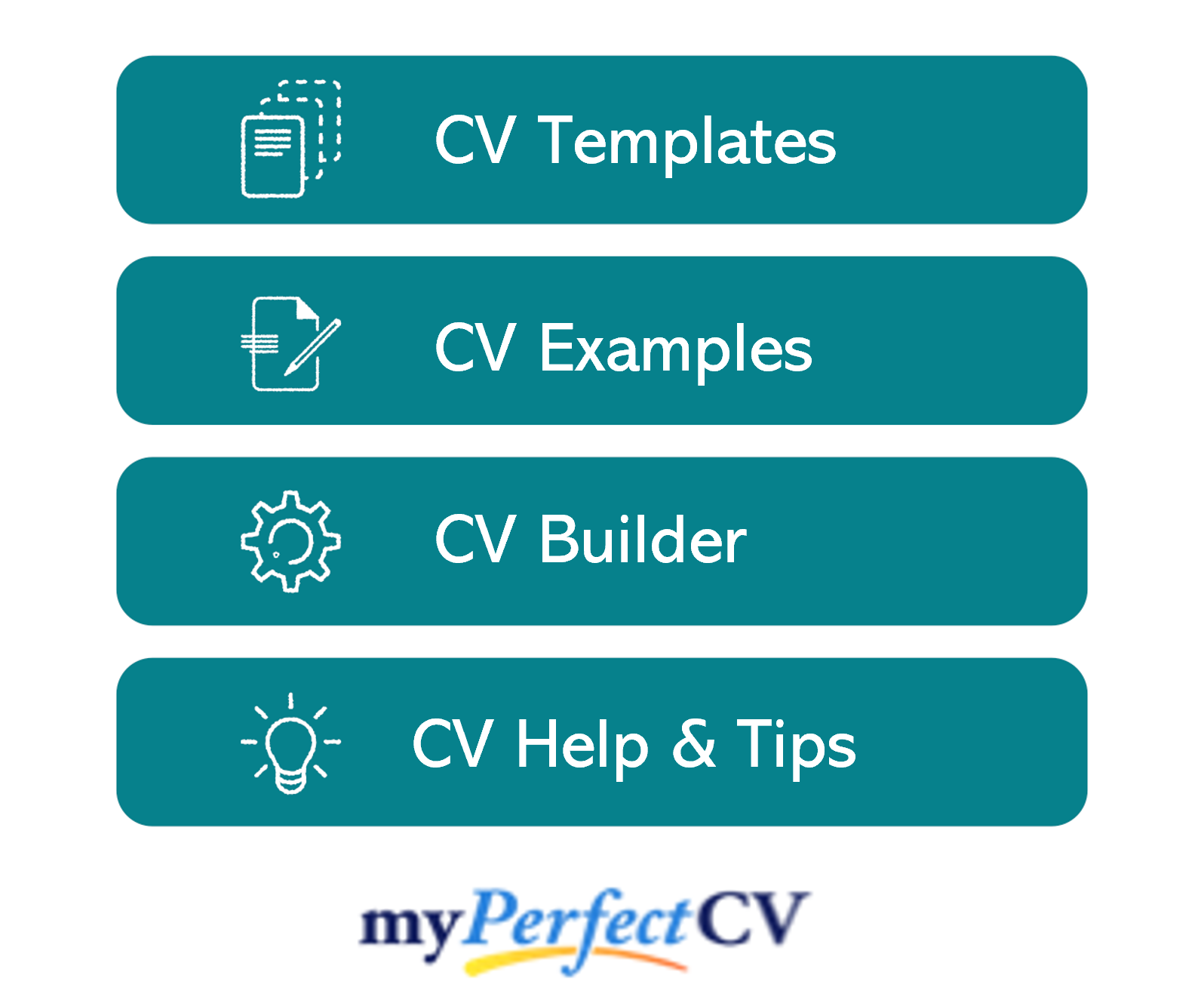 Essential skills for your Finance Student CV
Tailoring your CV to the roles you are applying for is key to success, so make sure to read through the job descriptions and tailor your skills accordingly.
However, commonly desired Finance Student skills include:
Reporting – Strong financial reporting skills are in high demand and can not only help you in the job but can help you to stand out from the competition.
Financial awareness – It pays to understand marketplace trends and where the business fits into these. This can help with analysing data and forecasting future trends.
IT skills and software – You must have an understanding of the most common financial systems and tools such as databases and accounting software.
Analysing data – Finance students must be able to demonstrate their analytical skills and ability to think laterally.
Problem-solving – You might be proficient in the relevant financial tools but you must also be able to quickly tackle any unsuspected financial problems that may arise.
Writing your Finance Student CV
Once you've written your Finance Student CV, you should proofread it several times to ensure that there are no typos or grammatical errors.
With a tailored punchy profile that showcases your relevant experience and skills, paired with well-structured role descriptions, you'll be able to impress employers and land interviews.
Good luck with your next job application!