Marketing skills will boost your CV and show employers you have what it takes to increase leads and sales.
So, we've laid out 50 essential marketing skills that will get you noticed by recruiters and help you to land those all-important job interviews.

Essential marketing skills

There are a variety of roles within the marketing industry, all of which require different skills. However, there are some vital skills that will always stand you in good stead in the marketing industry. Therefore, employers will often ask for:
Copywriting – e.g. "Created a range of copy for the digital marketing team, including social media, email marketing content and white papers"
Creativity – e.g. "Creative digital marketing professional with five years experience in the recruitment sector"
Communication – e.g. "Wrote monthly email newsletters, one for employees and one for clients, to carefully convey any important company news or updates"
Market research – e.g. "Conducted thorough market research to help the sales team create detailed customer personas"
Social media marketing – e.g. "Managed multiple social media platforms, including Facebook, Twitter and LinkedIn, creating regular content to share"
Video production – e.g. "Proficient in using video editing software, including Adobe Premiere Pro and Apple Final Cut Pro X"
Search Engine Optimisation (SEO) – e.g. "Created a variety of keyword optimised content for the company blog, increasing organic traffic by 35% in the first month"
Content marketing – e.g. "Planned and executed a content marketing strategy that increased reach by 36% and engagement by 20%"
Attention to detail – e.g. "Spotted and corrected several spelling and grammatical errors within product descriptions on the company website"
User Experience (UX) – e.g. "Used market research to create detailed user personas in order to plot user journeys and site maps, and improve overall user experience"

Campaign management skills

From inception to planning and then delivery, all marketing campaigns must be carefully managed and evaluated. As such, employers are looking for candidates with strong campaign management skills, including:
Email marketing – e.g. "Used email marketing automation tools such as MailChimp and HubSpot, to send out email content to thousands of customers"
Project management – e.g. "Managed multiple content marketing projects for several of our clients in the travel sector"
Data analysis – e.g. "Gathered and analysed data from Google Analytics to determine which type of content achieved the most engagement"
AB testing – e.g. "Conducted A/B tests across different social media platforms and types of content to test, learn and create the best possible campaigns"
Customer Relationship Management (CRM) – e.g. "Implemented end-to-end CRM campaigns to build stronger relationships with existing customers, increasing retention by 34%"
Strategic planning – e.g. "Before the end of the year, created a strategic roadmap outlining all email and social media ad campaigns to run through January to March"
Conversion Rate Optimisation (CRO) – e.g. "Collaborated with the development team to revamp and rebrand the company's app, increasing conversions by 56% in the first 4 months"
Lead capture – e.g. "Envisioned and created a social media ad campaign run across Facebook and Instagram that generated over 150 leads, 40% of which converted to sales"
Measuring ROI – e.g. "Gathered data to analyse and evaluate the ROI of the Christmas marketing campaign"
Marketing automation – e.g. "Proficient in using marketing automation tools, including Autopilot, TextMagic and Marketo"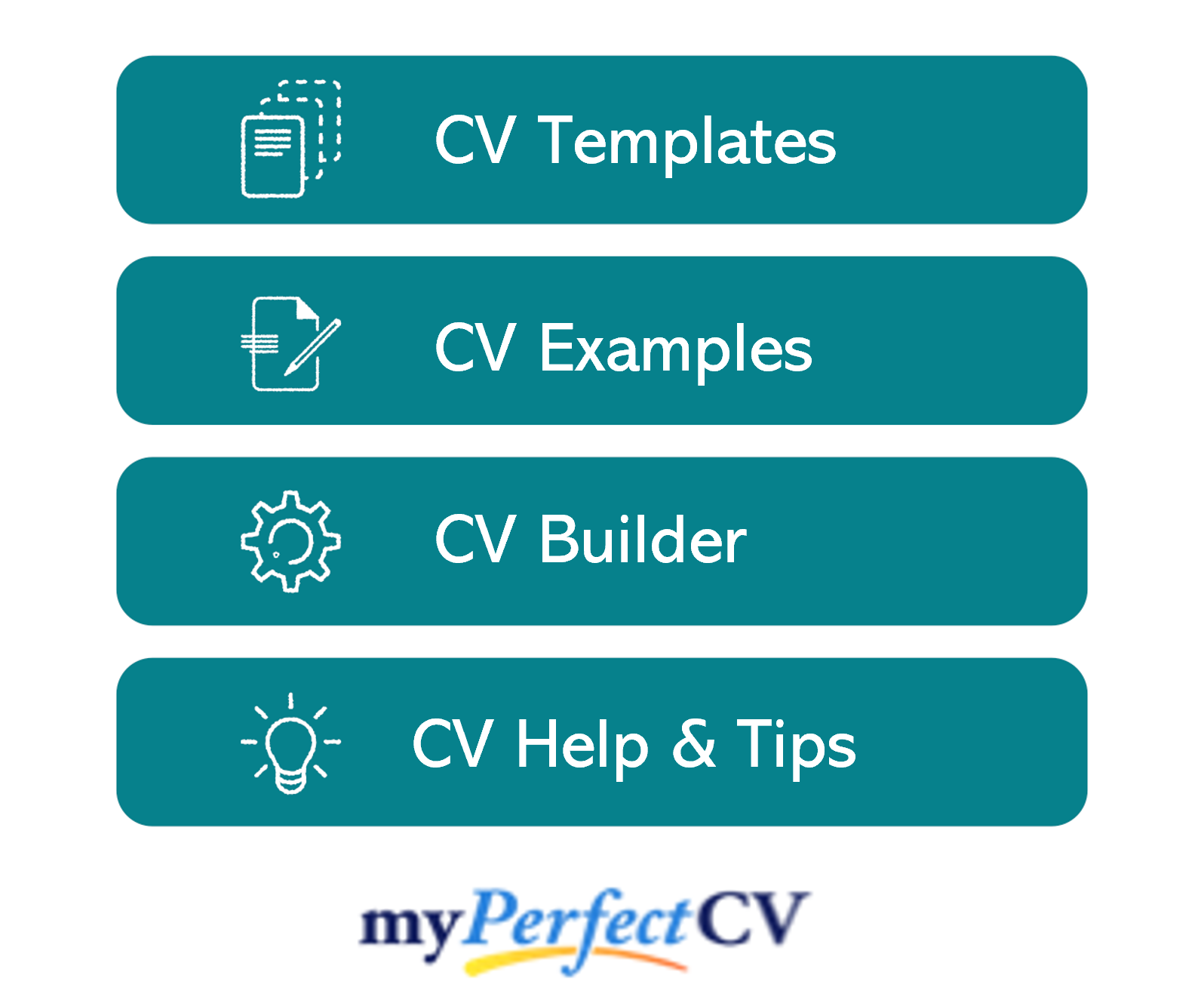 Search Engine Optimisation skills

Search engine optimisation is crucial for increasing visibility and driving traffic to a company's website and content. As such, there are some highly sought-after SEO skills that employers love to see on a CV, these include:
Keyword research – e.g. "Researched relevant keywords to use throughout the company's website, content and all marketing materials"
Link building – e.g. "Liaised with other businesses and online blogs to secure link-building opportunities, increasing organic traffic by 40%"
SEO software – e.g. "Proficient using a range of SEO software and tools, including Moz, SEMRush and Ahrefs"
Pay Per Click (PPC) – e.g. "Ran pay-per-click (PPC) campaigns, increasing revenue by £5,000 through sponsored ads in the first 2 months"
Industry knowledge – e.g. "Subscribed to SEO blogs and kept up to date on the latest algorithm trends in order to keep up with the ever-changing SEO industry and rules"
Content outreach – e.g. "Oversaw the outreach program and managed a network of 15 guest writers to secure guest posts on high authority websites"
Planning – e.g. "Developed and implemented detailed SEO roadmaps for clients, keeping them informed at every stage of the process"
Google Analytics – e.g. "Used both Google Analytics and Facebook Insights for web analytics reporting"
Collaboration – e.g. "Collaborated with the communications and digital marketing teams to manage the SEO strategy and ensure everyone understood their role in boosting visibility"
On-site SEO – e.g. "Worked with the communication team to re-write all web content to include keywords, improving rankings from page 2 to the top 5 search results for 5+ high-competition keywords"
Digital marketing skills

Thanks to the digital world we live in, lots of areas of marketing now fall under the digital marketing sphere. In order to showcase your understanding of the internet and online platforms as marketing tools, be sure to show off the following skills:
Web design – e.g. "Teamed up with the design team to create and add banners to the website to assist with visuals and draw attention to the latest deals"
Adobe Creative Suite – e.g. "Used Photoshop to edit pictures for the company's social media profiles. These received 3 times the engagement of our usual images"
Coding – e.g. "Passionate digital marketing graduate with experience using multiple programming languages, including Python and Javascript"
Content Management System (CMS) – e.g. "Used WordPress to upload content to the company blog, including editing and scheduling posts from guest writers"
Reporting – e.g. "Created accurate and detailed reports to share with clients, offering insights from their recent email marketing campaign"
Press relations (PR) – e.g. "Crafted a press release about the brand's latest project launch, resulting in over 20 pieces of online press coverage"
Interpersonal skills – e.g. "Regularly arranged meetings with departmental heads to discuss the latest content, social and email strategies and how these helped to support their departments and wider business goals"
Digital media – e.g. "Liaised with multiple digital marketing ad agencies to assist with the execution of a paid media advertising campaign"
Mobile marketing – e.g. "Worked on an SMS marketing campaign that enabled the administration team to quickly and easily interact with customers via mobile"
Adaptability – e.g. "Creative marketing professional with 5+ years experience, able to quickly adapt to ever-changing technologies and digital marketing trends"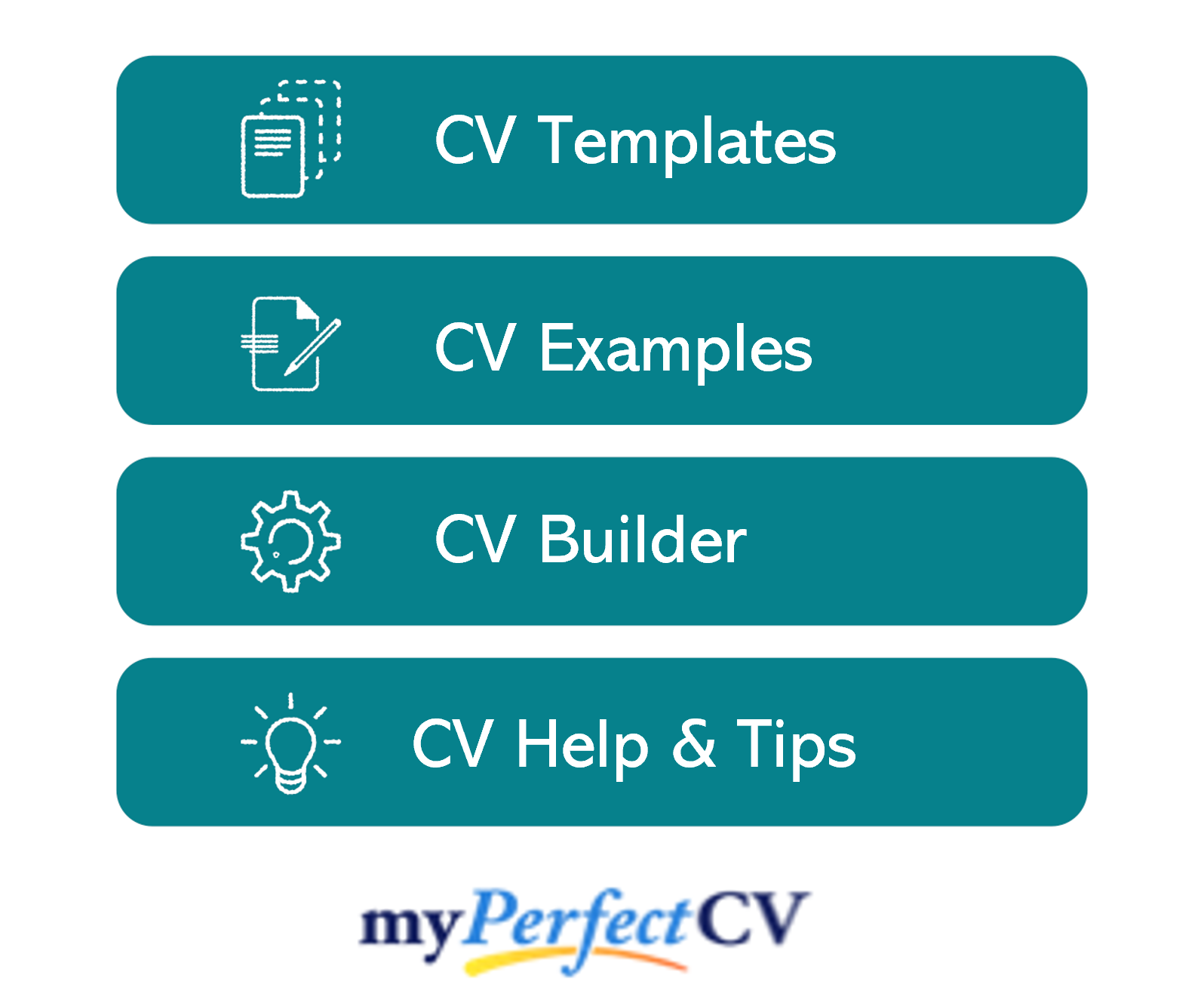 Social media skills

Social media has become one of the most powerful marketing tools in the digital world, and it requires a lot of skill to master these platforms. As such, you need to showcase your social media skills on your CV as effectively as possible, skills like:
Social media management – e.g. "Managed the company's 4 social media accounts, including Facebook, Twitter, Instagram and Tiktok"
Content creation – e.g. "Produced a wide variety of content to share across the different channels, including video, infographics and memes"
PPC (Pay per click) advertising – e.g. "Set up, monitored and analysed paid ad campaigns across Facebook and Instagram"
Link tracking – e.g. "Used Google Campaign URL Builder to create UTM links, in order to track and analyse the success of different social media campaigns"
Community engagement – e.g. "Increased engagement across multiple platforms, increasing Facebook likes by 78% and growing Instagram followers from 5,000 to 20,000"
Scheduling – e.g. "Scheduled up to a week's worth of content at any time using social media management tools including Hootsuite and Sprout"
Written communication – e.g. "Created copy for the different social channels, tailoring this each time to better reflect the platform and target audience
Graphic design – e.g. "Used graphic design tool Canva, to create infographics, memes and other branded content to share across Facebook and Instagram"
Critical thinking – e.g. "Analysed 3 different social media campaigns, including a range of content, to identify areas of strength and weakness and find out how to improve for the next campaign"
Organisation – e.g. "Organised monthly social media strategy meetings to discuss content and campaigns for the month ahead"
What are marketing skills?
Marketing skills are any skills that help a business to generate awareness of its products and services, and drive leads and sales.
What's more, there are several different aspects to marketing, such as digital marketing, advertising, events and PR, all of which require a different set of soft and hard marketing skills. These are the skills that make it possible for professionals in the industry to do their jobs effectively and make an impact.
For example, communication, organisation, planning and all of the technical skills we've outlined in this guide.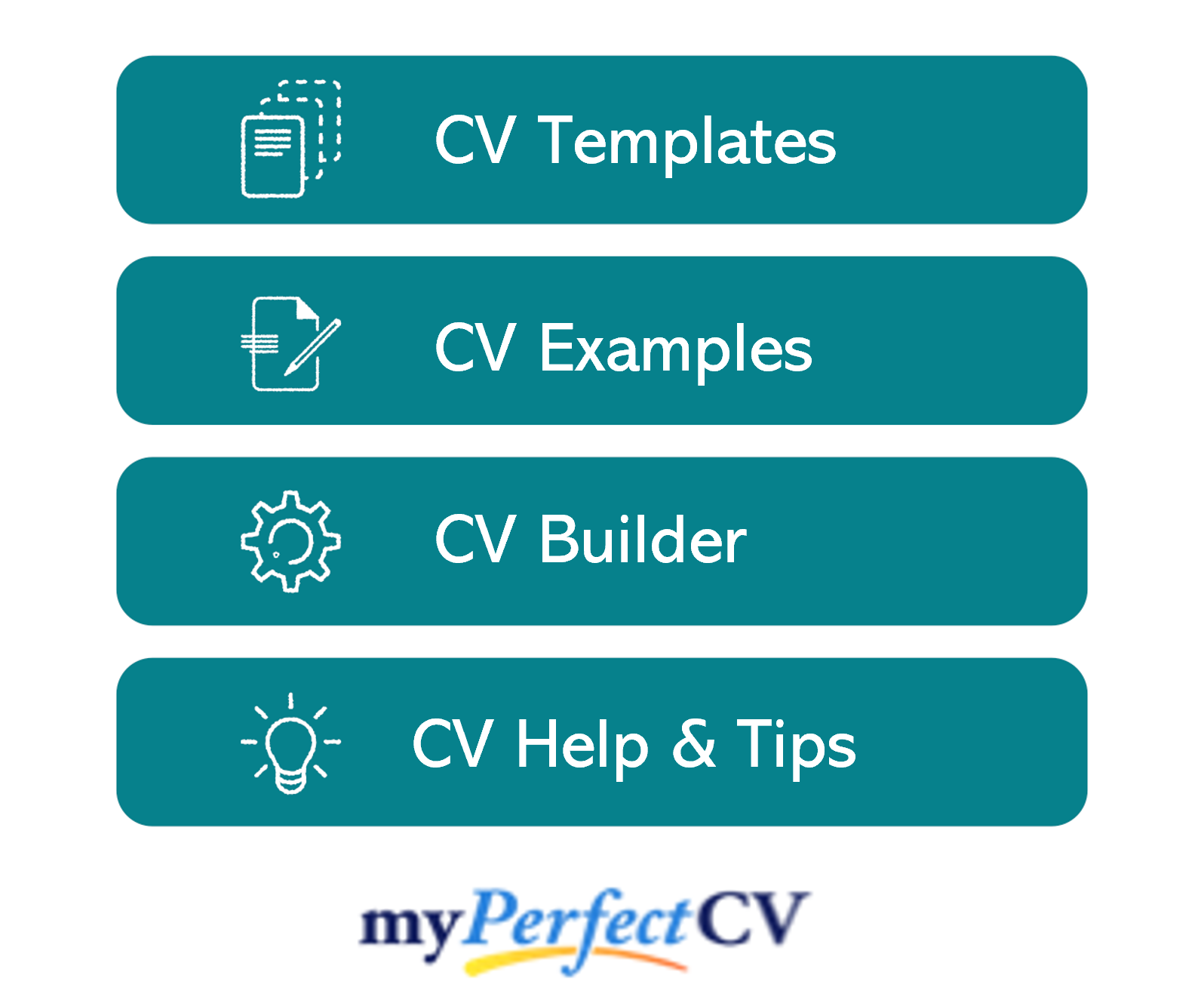 Why are marketing skills important?
Having the right marketing skills is important for a number of reasons, not least of all because these are vital for doing your job effectively. But more than this, the marketing landscape is always changing, and these skills are important for staying up to date with the latest trends and technologies.
Plus, every business relies on marketing to sell its goods or services; without it, the business can only go so far. Therefore, marketing skills are extremely important to employers who want their business to continue growing.
How to include marketing skills on your CV
As a marketing professional, you want to sell your skills effectively and prove to potential employers that you've got what it takes. Luckily, there are serval ways you can do this, as we've outlined below.
In your CV profile
First and foremost, you should use your personal profile to showcase your most important or impressive marketing skills and achievements. The best way to do this is to skim through the job description and highlight the key skills the employer is looking for.
You can then carefully sprinkle these keywords throughout your personal profile and grab the recruiter's attention early on, as you can see in the example below.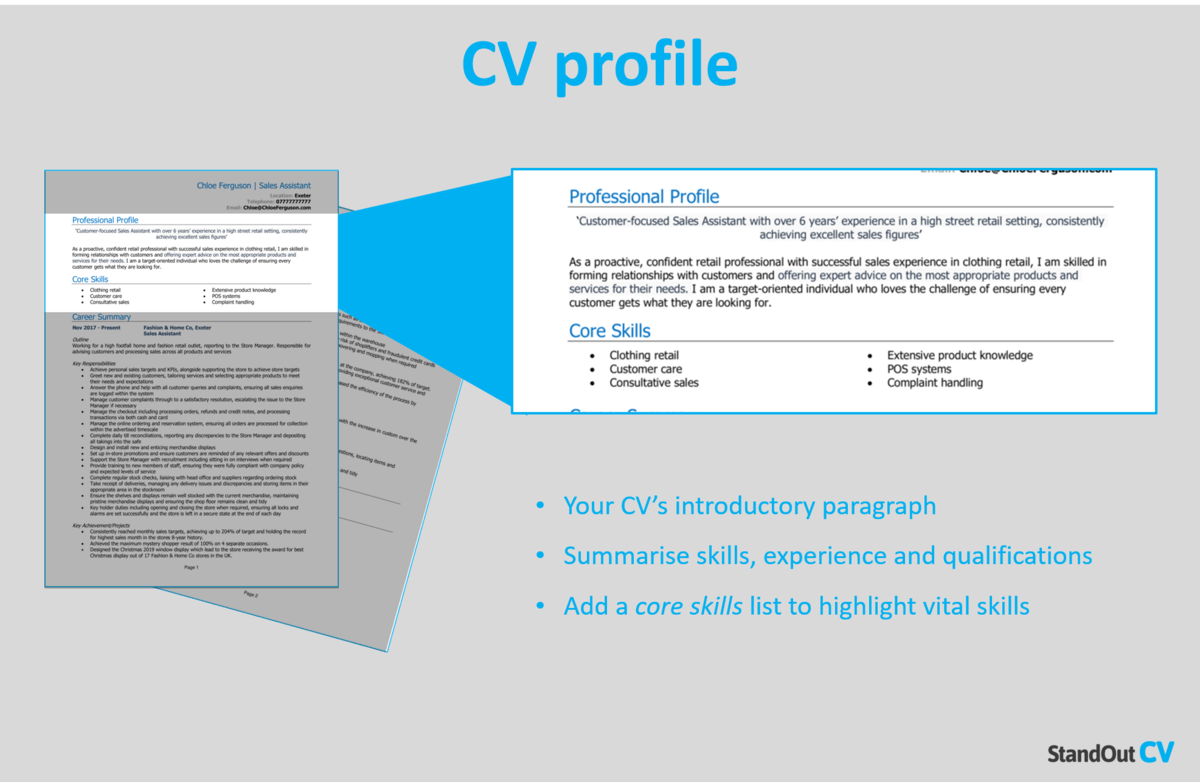 In your jobs
Your employment history is not just a chance to detail your key responsibilities; it's also your chance to show off your biggest achievements and outline real results you've achieved in the past.
Don't simply list your responsibilities. Instead, prove what skills were involved and how you put these to good use. You can see how this is done in the example below.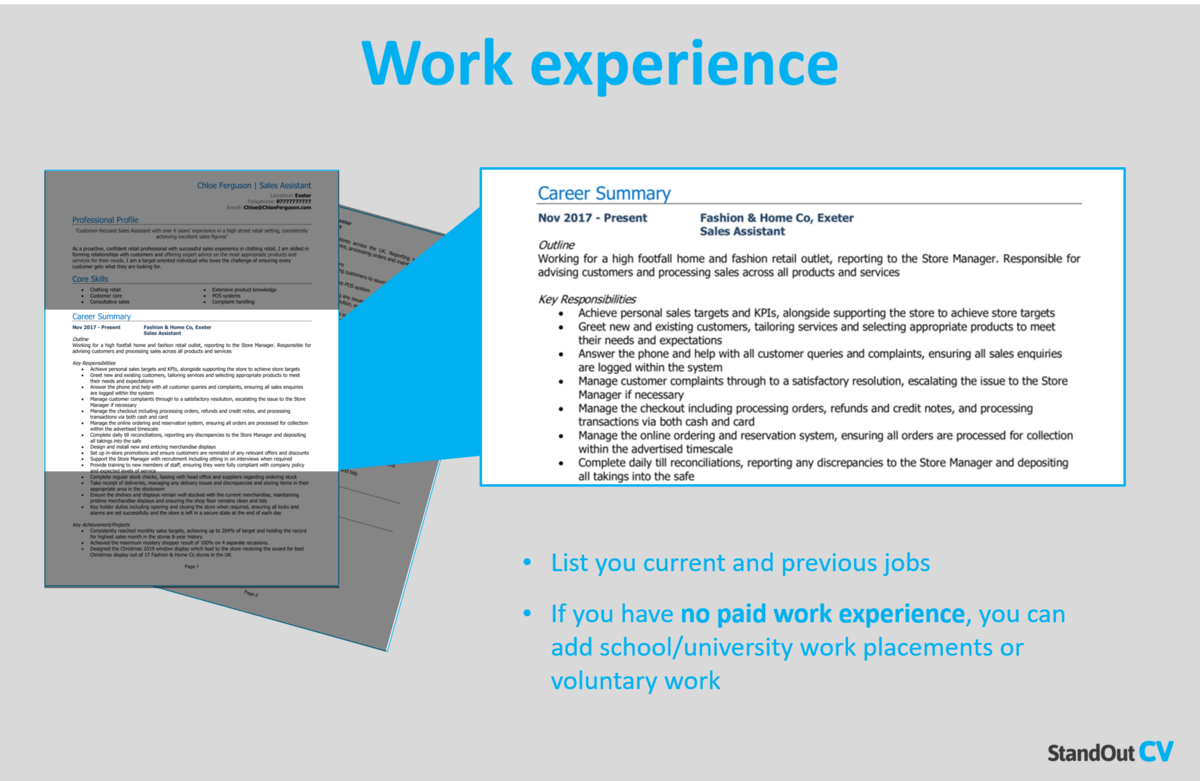 In your skills
Finally, the core skills section on your CV is the perfect opportunity to highlight the hard and soft skills that match the employer's requirements. Carefully select the most important skills and use bullet points to break these up and make them quicker and easier to digest.