Candidate experience has become a hugely important factor for employers when trying to attract the best talent to their organisation.
But what exactly is candidate experience, how important is it, and how can it be measured, reported and improved?
This guide will tell you everything you need to know about candidate experience, and how to create an outstanding one that will help your own recruitment efforts.
Contents
What is candidate experience?
Candidate experience is the journey that job seekers go through as they interact with your company during your job application process. It runs all the way from them searching and applying to your vacancies, to interviewing and onboarding.
Candidate experience is comprised of the numerous interactions that the candidate has with your business, known as touchpoints. Every one of these interactions help candidates to build a perception of your company as an employer, and will play an important role in helping them to decide whether or not to accept a job offer from you.

Components of candidate experience
The candidate experience can take days, weeks, or months, and consists of the following components:
Job search
The first step in your candidate experience is when a person encounters your brand at some point during their job search.
This could come in the form of:
Finding your job advert on a job website
Seeing a post about a vacancy from one of your staff on LinkedIn
Seeing a television advert about your career opportunities
Spotting your stall at a careers fair
A friend making them aware of opportunities at your company
At this stage of the candidate experience, candidates want to be made aware of your organisation and suitable opportunities as easily and quickly as possible.
Job application
Once candidates have discovered opportunities with your organisation, the next step is to apply for them.
Candidates can apply for roles in a number of ways:
Job websites adverts and application forms
Company website and application forms
Direct email
LinkedIn job board or recruiter contact
External recruitment agency process
At this stage, candidates want clear information about the role and remuneration, and they want to be able to apply quickly and easily.

Communication
Once a candidate has applied for a role, they require regular communication to update them on the status of their application and required next steps.
Communication involves steps like:
Providing initial confirmation that a job application has been received
Discussing the role over a telephone conversation
Emailing to arrange interview dates and times
At this stage, candidates expect professionalism and timely responses.
Feedback
Feedback differs slightly to general communication as it is more specifically involved with informing a candidate whether or not they have been successful at each stage of the application.
This involves steps like:
Rejection emails following an application
Informing a candidate that they have been shortlisted
Inviting a candidate to interview
Informing candidates of an unsuccessful interview
Making initial informal job offers
At this stage candidates expect to hear feedback within a reasonable time, and this become more important, the further they progress through the process.
Interview
For candidates recaching the later stages of your recruitment process, interviews are an important stage of the candidate journey, and give them a deep insight into your company culture.
Interviews can be carried out in numerous formats, including:
Face-to-face
Telephone
Video conference
Group
Assessment days
At this stage candidates expect interviews to be arranged promptly and run on time – and whilst some pressure is inevitable during interviews, they don't want to feel like they're being interrogated.
Onboarding
The final stage of the candidate experience is the process of officially bringing your new employees into your organisation.
Onboarding involves:
Making a job offer
Organising a start date
Team introductions
Software setup
Providing new-starter information
At this stage candidates want to feel welcome and receive all the information they need to integrate into the company.
Why is candidate experience important?
Providing a good candidate experience is vital for companies because it increases the chances of successful candidates accepting a job offer.
Whilst there are many other factors involved in accepting or rejecting a job offer, (salary, benefits, location etc.) the experience a candidate receives during the recruitment process will have a sizeable impact on their decision.
If a candidate receives a seamless candidate experience where applications are made with ease, appointments happen on time, and recruiters are welcoming and professional, then that candidate is going to be more likely to accept an offer than a candidate who found the application process difficult and frosty.
Benefits of a good candidate experience
The benefits of providing a better candidate experience include;
Attracting more applicants – A better experience will mean more candidates complete the application process.
Improving employer brand – When candidates have a positive experience in your recruitment process they will spread the word .
Reducing cost per hire – Increasing the percentage of accepted job offers will reduce recruitment costs.
Reducing time to hire – A streamlined candidate application and interview process will allow offers to be made quickly.
Improving onboarding rates – Reducing the likelihood of offers being declined.
Increasing candidate referrals – A good candidate experience will make candidate's more inclined to recommend applying to work with you.

Candidate experience statistics
The following statistics from well-known brands and hiring studies, show us just how important candidate experience is to companies.
65% of candidates say a bad interview experience makes them lose interest in the job – LinkedIn
Virgin Media estimate that bad candidate experience was once costing them £4.4 million per year – Virgin Media
69% of candidates who received poor treatment from a company would never apply to the same company again – Talentegy
A positive candidate experience makes candidates 38% more likely to accept a job offer – IBM
Lengthy applications can cause 60% of your candidates to drop out of your recruiting process – Workopolis
72% of candidates who have a negative experience will tell others about it – Forbes
81% of candidates will share a positive experience with their direct network – Workopolis
51% of candidates will share their positive experience online through social media, Glassdoor, and LinkedIn – Workopolis
Negative Glassdoor reviews will keep 55% of candidates from applying to your company- HCI
What makes a good candidate experience?
A good candidate experience is one where the candidate can find and apply to work with you easily and quickly, and where they feel comfortable, engaged and well-managed throughout the process.
Candidate experience metrics
There are several metrics you use to define and measure your own candidate experience. Some are tangible, quantifiable and easy to measure, where as others are purely based on the opinion of candidates.
Awareness and perception of your (employer) brand
Are people aware of your company and your employer brand (your organisation's reputation as an employer)?
Measuring methods:
Volume of applications
Brand awareness metrics (social following, email list numbers etc.)
Employer review scores on sites like Glassdoor
Candidate feedback surveys
Understanding of job vacancies
When job seekers see your job adverts online, can they easily understand what the jobs entail, or what the requirements and remuneration are?
Measuring methods:
Candidate feedback surveys
Internal reviews
Ease and speed of applications
Once candidates have found your jobs, how quickly and easily can they apply for them?
Measuring methods:
Internal testing (recording application times)
Candidate feedback surveys
Timing and quality of feedback
At each stage of your application process, how quickly are candidates receiving feedback, and is it sufficient?
Measuring methods:
ATS (applicant tracking systems)
Tracking and recording feedback
Candidate feedback surveys
Efficiency of interview process
Once candidates reach interview stage, are interview being arranged promptly? Is all information communicated correctly to attending parties? Are cancellations and rearrangements handled swiftly?
Measuring methods:
ATS (applicant tracking systems)
Tracking and recording interview process and attendance
Candidate feedback surveys
Perception of interviews
When candidates are interviewing with your team members, are they being made to feel welcome, treated with respect and professionalism?
Measuring methods:
Candidate feedback surveys
Percentage of offers accepted
Internal observation and scoring
Speed and effectiveness of onboarding process
When successful candidates complete your recruitment process, how efficient is the process of offering the job and integrating them into the business.
Measuring methods:
Employee feedback surveys
Tracking of time from successful interview to offer, acceptance and start date
Management feedback on new-starter process
Creating a positive candidate experience
To creative a positive candidate experience and reap all of the benefits associated with doing so, you need to ensure  that your recruitment and onboarding process are providing pleasant and frictionless interactions at every stage of the candidate journey.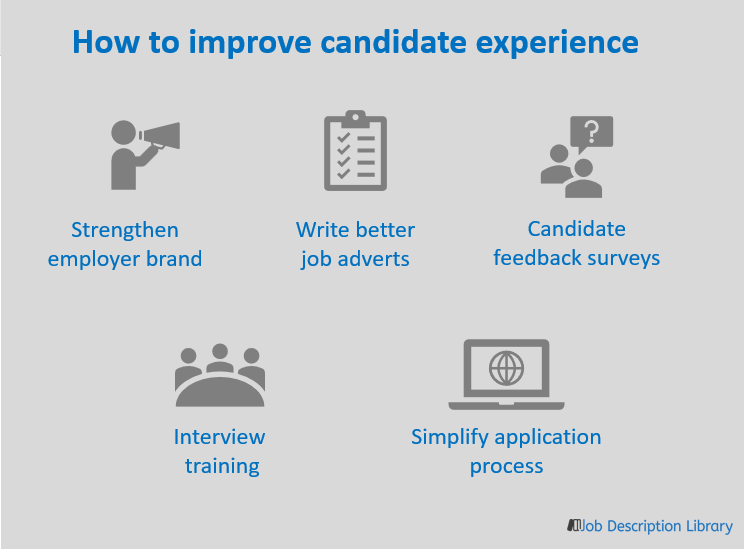 How to improve candidate experience
Here are some tips for improving your own candidate experience:
Strengthen your employer brand
Your employer brand is your company's reputation in the job market – or the perception people have of what it's like to go through your recruitment process and work for you. Improving this means ensuring that more people are aware of you as an employer, and that they view you as a good employer.
Tips for improving employer brand:
Increase your presence: Find out where your target candidates are found and ensure your brand is there to be seen by them. This can mean anything from posting content on the right social channels and advertising on targeted job boards, to advertising on TV channels, websites or radio stations that your target candidates are using.
Monitor employer review sites: Sites like Glassdoor allow people to write reviews about companies as employers, and the findings have a big effect on candidate decisions. Check out your company's reviews to find out what candidates are saying about you, and use feedback to identify and correct poor-performing areas.
Create more employer content – Create careers pages on your website to give candidates an insight into your work culture, you can also create content on external sites and social media to further extend the reach of this content and get it front of the right candidates.
Write better job descriptions and adverts
The more detailed and accurate your job descriptions are, the more suitable candidates you will attract. Vague descriptions that lack coherent details on salary are a sure-fire way to repel job seekers, so ensure yours are better.
Tips for improving job descriptions:
Liaise with the team – Speak with the hiring manager and team members to get an accurate picture of the job responsibilities before writing up the content
Be thorough – Tell candidates exactly what the job entails
Specify remuneration – Get a budget for the role and specify the salary range in the advert along with any company perks
Simplify your job application process
An lengthy job application process where a candidate has to submit a CV, complete 10 pages of questions and create a login account, will decrease the amount of people willing to apply. Streamline your application process to make it quick and easy.
Tips for simplifying job application process:
Don't ask for the same info twice – If a candidate has already submitted their CV, don't ask them to provide their job history in a separate form.
Provide multiple options – Providing options to apply via job websites, email, or LinkedIn allows them to choose what's easiest for them
Reduce the amount of steps required – Move away from lengthy forms with multiple pages, and towards one-page forms that collect only vital information
Improve interview technique
A bad interview can kill the candidate experience at the penultimate moment and leave a candidate with long-lasting negative opinions about your company. To avoid this from happening, ensure that all of your staff are prepared to provide a positive interview experience.
Tips for improving interview technique:
Train interviewing staff – Provide any staff who are likely to be interviewing candidates, with adequate training to do so.
Prepare front-of-house staff – Train all staff who may come into contact with candidates on how to treat them well.
Monitor interview performance – Perform interview observations and provide feedback to help interviewing staff improve.
Send candidate experience surveys
Sending out question surveys to candidates who have been through your recruitment process is a great way to gain valuable insights and get a deeper understanding of what candidates like and dislike about your current approach.
Candidate experience survey questions
How likely are you to recommend our company to other candidates?
How easy did you find our application process?
Did your interviewer make you feel welcome and comfortable?
On a scale of 1-10 – how helpful did you find your new-starter pack
How would rate the interview feedback process? (Good, average, poor)
Did the job advert match the role you discussed at interview?
Candidate experience tools
There are a number of software programmes which can help businesses to improve candidate experience and save time in doing so.
ATS (Applicant Tracking Systems)
Applicant tracking software allows companies to store candidates' information and track their progress in relation to vacancies.
Email auto-responders
Auto-responders send out emails to candidates advising them of their current status within a job application, and can be configured to send out certain mails based on actions the candidate makes. For example, if a candidate provided an incorrect answer to a screening question, an automatic email could send a rejection email.
Career page builders
Career page builders allow non-technical staff to create professional-looking and functional career pages for their website.
Survey software
Software which allows users to quickly and easily create surveys, mail them out and collect and analyse responses.
Sources
https://www.linkedin.com/business/talent/blog/talent-acquisition/candidates-share-what-will-make-interview-process-stand-out
https://www.linkedin.com/business/talent/blog/talent-acquisition/bad-candidate-experience-cost-virgin-media-5m-annually-and-how-they-turned-that-around
https://www.talentegy.com/2019cxreport
https://www.ibm.com/downloads/cas/YMOARJJG
https://hiring.workopolis.com/article/5-ways-to-improve-your-job-application-process/
https://www.forbes.com/sites/lisaquast/2017/06/26/your-companys-candidate-journey-sucks-heres-why-and-what-you-can-do-to-improve-it/#38ec27a82a23
https://hiring.workopolis.com/article/everything-need-know-candidate-experience/
http://www.hci.org/blog/statistics-rethink-your-candidate-experience-or-ruin-your-brand