When you're looking to craft the perfect job advert, it helps to have some good examples to guide and inspire you.
So, we've complied 16 of the best job adverts from job sites, social media, career pages and beyond.
We've also added some hints and tips to help you steal strategies from these job postings, so that you can craft great job adverts that will attract the best candidates to your business.
Enjoy.
Contents
Creative job adverts

McDonalds – no experience

Bud Light – Meme Officer

MailChimp – Napoloeon Dynamite

Job website postings

Clear accountabilities

Detailed rewards

Speak to the candidate

Break up the info

Careers page ads

Hubspot

Deloitte

CV Library

Video adverts

Fiverr – Generic recruitment

Facebook – Remote jobs

Amazon – Look inside

Social media ads

Life at Google

Hubspot employee rewards

Nando's staff stories

Aldi employer awards
Creative job adverts
Non-traditional job adverts are a great way to capture the attention of the candidates you are trying to reach. Whether it's a funny billboard or a viral social campaign, they can generate lots of views and captivate their audiences.
Here are some examples of global brands who have mastered the art of the creative job advert.
McDonalds – No experience needed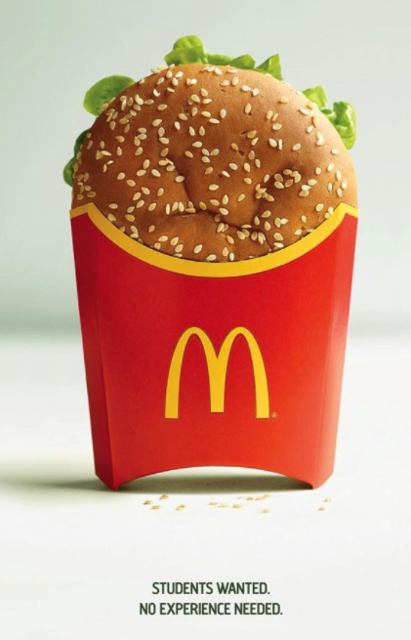 Fast food heavyweights McDonalds created an eye-catching successful recruitment campaign with their hilarious poster campaign showing some examples of big mistakes that new employees might make – such as hamburger being stuffed into a fries box.
Although the pictures are funny, the message is serious. McDonalds are looking for staff and they are happy to take on inexperienced people. This will have undoubtedly encouraged junior staff to apply in their thousands.

Bud Light – Chief Meme Officer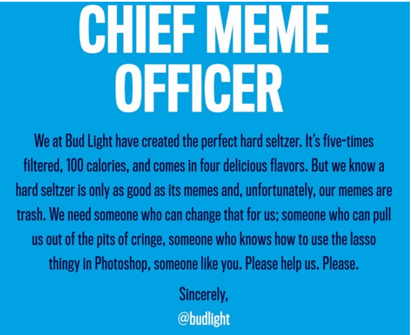 Bud Light's recruitment team proved they can be humorous and effective with their advert for a "Chief Meme Officer".  Whilst the job on offer was probably a broader social media management role, this playful approach went viral and pulled in plenty of serious applications.
MailChimp – Napoleon Dynamite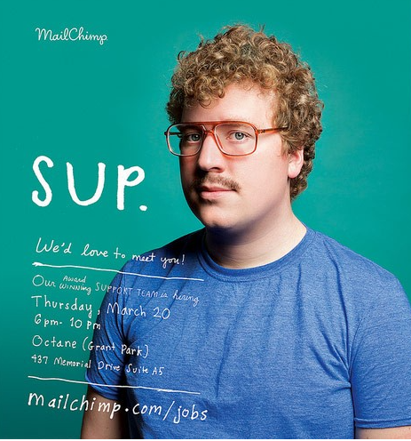 Email marketing company MailChimp used this Napoleon Dynamite spoof to catch the eyes of the quirky and creative candidates they want to attract.
And it worked. By using this image to advertise a recruitment day, they doubled the amount of attendees from the previous year.

Job site postings
Plain text job adverts on job websites like Reed and CV Library may seem a bit boring compared to social media and video adverts, but a well-crafted job posting has the potential to pull in tons of suitable applicants.
These examples of traditional job adverts show you exactly how to write a persuasive and engaging job advert that will attract plenty of top talent to your vacancy.
Clear accountabilities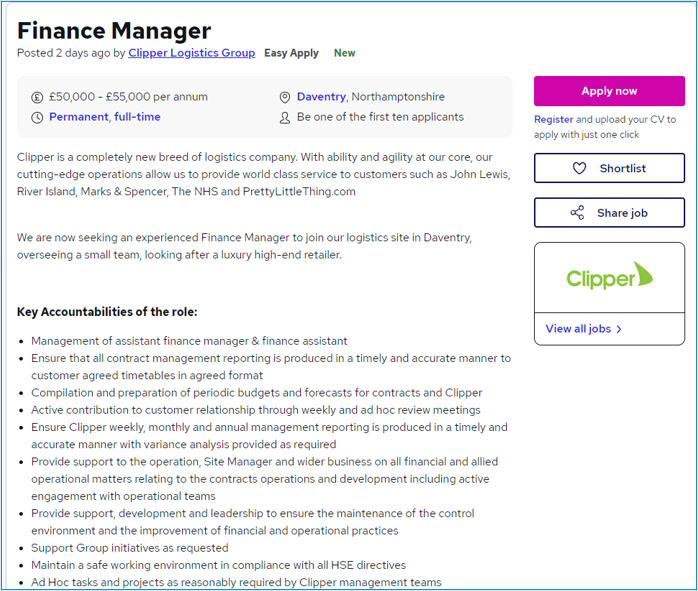 When candidates are browsing through dozens of relevant job descriptions on a job site, they want to see the important information quickly – and one of the crucial pieces of info they need, is what will be expected of them in the job.
This job posting from Clipper gives candidates an instant understanding of the job requirements by providing a list of bullet pointed responsibilities that can be quickly skim read.
Key takeaway: Provide a bullet pointed list of job responsibilities to quickly engage candidates and ensure they don't skip past your job advert.
Detailed rewards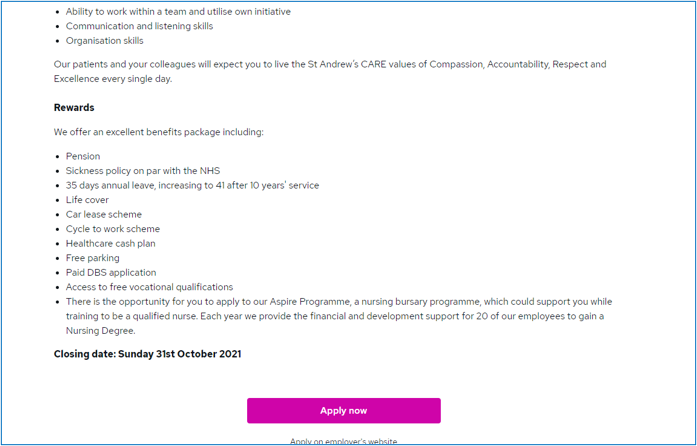 When trying to attract the best candidates to apply for your vacancy, you need to be clear about what you are offering them in return for their services. Too many employers post vague salary details or simply state "competitive salary"… this will discourage good people from applying.
This job advert has a long and clear list of benefits that can't be missed, which will really impress potential applicants and make them much more interested in the role.
Key takeaway: Don't skimp on pay and reward details. The best candidates want to be well rewarded, so be transparent about what you are offering.
Speaking to the candidate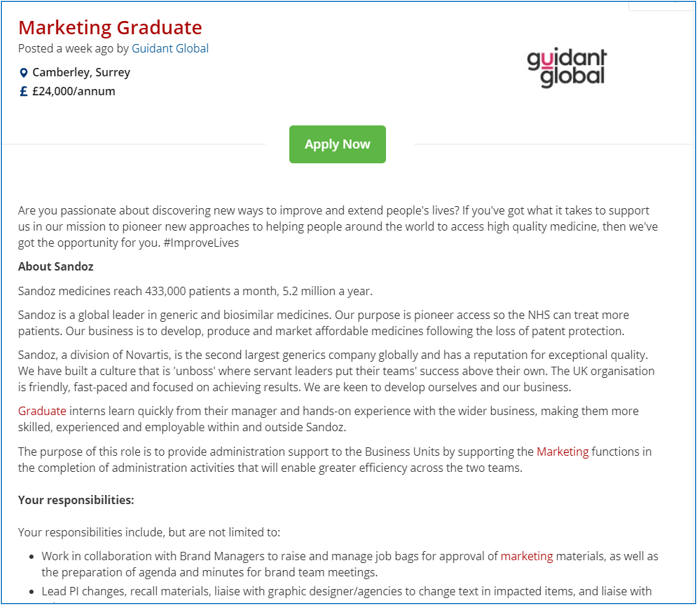 When writing a job posting it's important to remember that it will be read by real people. Too many job adverts are written in a boring formal tone, and they fail to connect with readers.
This job post from Guidant Global engages with readers by speaking directly to them, asking them questions, and lowering the formality. This style of writing will create a much more emotional response from candidates and get them more excited about applying for the job.
Key takeaway: add a human touch to your job adverts by speaking directly to candidates and engaging them on a personal level.
Breaking up the info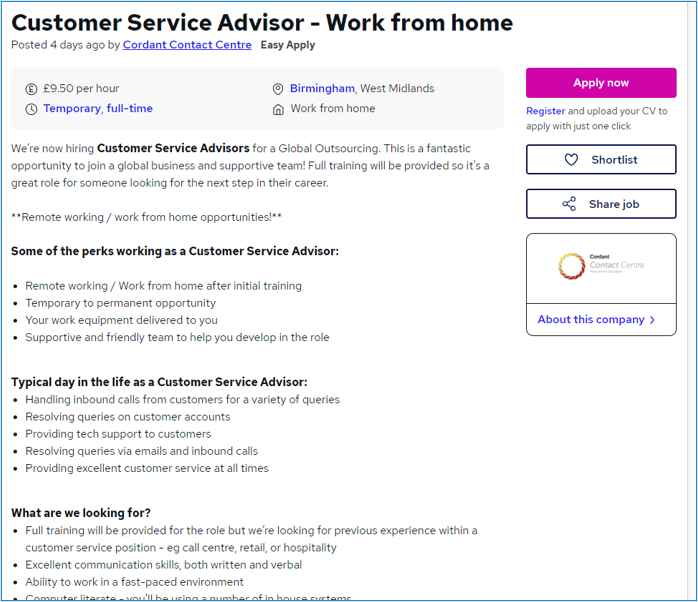 When candidates are scanning through pages of job adverts, they need to see key information quickly. This job advert from Cordant Contact Centre breaks the information up into clear sections headed by bold titles, and bullet points to break each section up further. This allows candidates to skim read the information and jump to the parts they need easily.
Key takeaway: Don't give candidates a headache by throwing all of your job info into one lengthy paragraph – break in text up and make it easy for them to find what they want.
Careers pages job adverts
Your company careers page can be a game changer when it comes to attracting the best staff in your industry. These examples of effective career pages show you how some of the best employer brands in the world are doing theirs right now.
Hubspot careers page
Marketing software firm Hubspot's career page is both attractive and functional, meaning it probably generates plenty of job applications.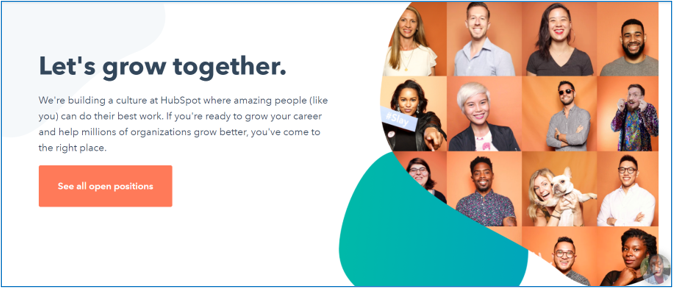 The homepage shares a pictures of their employees showing off their fun side, with the title "Let's grow together". This makes creates a very inviting picture, and they follow-up with a large call-to-action which encourages viewers to search their open jobs.
This button takes you to a page where you can search all of their current vacancies, and filter on a large number of factors, making it very easy to find a job that suits all of your needs.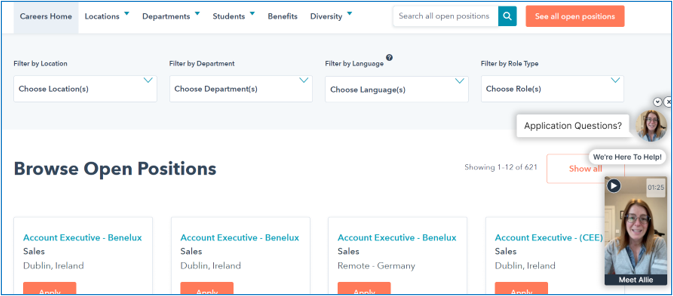 This blend of inviting design and functionality makes for an excellent candidate attraction tool.
Deloitte Careers page
Accounting giant Deloitte do a great job of promoting inclusivity and ensuring they attract talent across a wide range of demographics. Their homepage lists a huge range of opening types, but they divide them by the type of people they are looking to welcome, as opposed to job titles.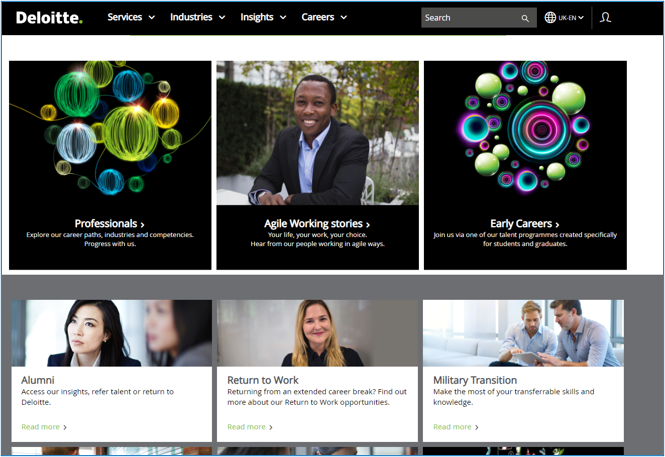 For example rather then listing accountants or project managers on the page, they list:
Alumni
Return to work
Military transition
Early careers
By showing that their doors are open to people from all walks of life and various career stages, they are able to attract a diverse talent pool from across the globe.
CV Library careers page
UK jobs giant CV Library provide an open and honest look into life at their Hampshire office by showcasing a number of personal stories from their employees. Each story has a dedicated page detailing the staff member's story from their perspective and what they enjoy about working at CV Library – they also include photos which give you a glimpse into life in the office and team events.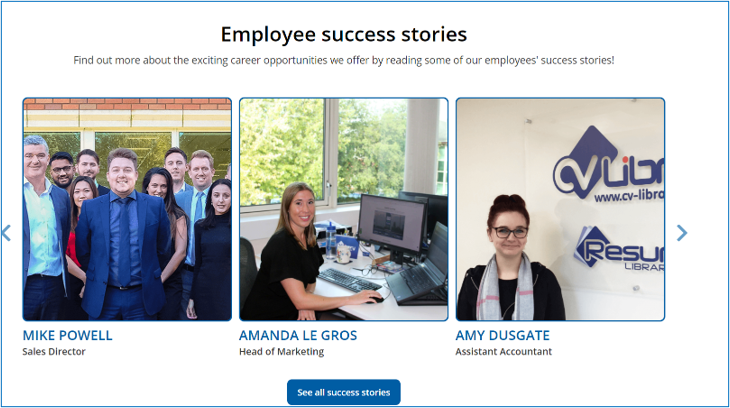 This approach gives candidates a real idea of what its like to work with them and shows off their enticing work culture.
Video job adverts
If you want to break the mould and stand out from the competition, a video advert is the way to go.
Here are some great examples of how employers are getting creative and crafting attractive and attention-grabbing video adverts for their vacancies.
Fiverr – Another generic recruitment video
Freelance site Fiverr really bucked the trend with this video, by essentially making fun of every other recruitment video out there. Titled "Another generic recruitment video" they've made a playful spoof of a typical corporate recruitment advert with a strong call-to-action for good candidates to apply to work with them at the end.
The funny nature of the video has helped it to gain over 100k views on YouTube and get in front of plenty of suitable candidates.

Facebook – Remote opportunities
Over the last couple of years, remote work has become increasingly popular and feasible for companies and candidates alike.
Facebook jumped on the chance to attract more remote talent by creating a video which highlights the benefits of working remotely for them. Instead of focusing on salary and career progression, they share clips of employees working from, playing with their children and enjoying a great work-life balance.
This emotive video will really appeal to candidates who are looking to benefit from remote work and has no doubt helped Facebook to attract the type of talent they need.
Amazon – life at Amazon
Online shopping behemoth Amazon provide a simple but effective inside look into life working in their operations department. They interview a broad range of operations staff from admin staff to project managers and get a good perspective on what its like to work with Amazon.
Social media job adverts
With millions of active users across the globe, social media platforms like Facebook and Twitter are a great way to reach potential candidates for your vacancies.
Not to mention that almost 80% of candidates actively use social media in their job search.
Take a look at these winning examples of social job adverts to see how its done.
1. Life at Google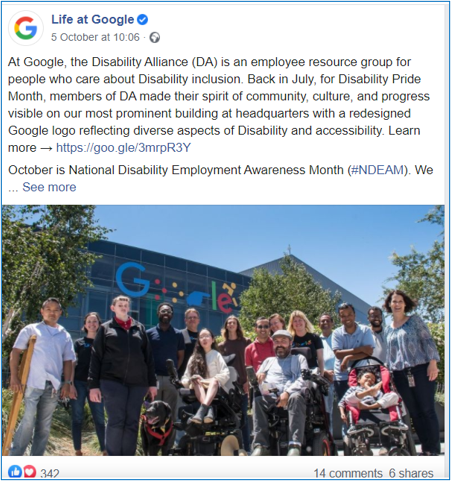 Google have a number of social accounts dedicated to giving job seekers a sneak-preview of what it's like working at Google
They share plenty of posts to show-off the benefits of working at Google including:
Work diaries – Videos made by employees, documenting what they do within their working day
Employee stories – Stories from employees, showing when they joined Google and how they have progressed in their careers
Inclusion statements – Showing their diverse workforce and celebrations of inclusion
Ongoing projects – Details of products and services they are currently developing
Why it works
Google give a transparent look into working in their business, sharing real stories of employees, showing off the exciting work on offer and the fun culture where everyone's welcome – a great way of enticing new people to join the company.
How you can copy
Share some insights of working in your business via your social media channels, whether it's simply posting about an eventful working day or welcoming a new starter to the team. It all helps to build a positive welcoming image and boost your employer brand.
2. Hubspot employee awards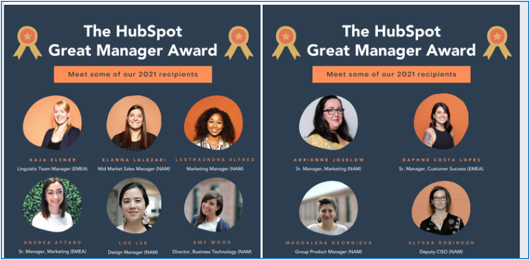 Marketing software firm Hubspot use their social platforms to show off the awards given to their employees and heap plenty of praise on them.
They post these award results regularly, giving viewers a good idea of how the value and reward their employees – not just privately but publicly.
Why it works
People like to feel valued at work and they like to receive recognition. This open display of Hubspot's employee rewards will show candidates that they will be appreciated if they move to Hubspot.
How you can copy
Even if you only have one employee – give them some public praise on Facebook, LinkedIn or any of social channels. It tells candidates that your business looks after its staff, which is an attractive benefit.
3. Nando's staff progression stories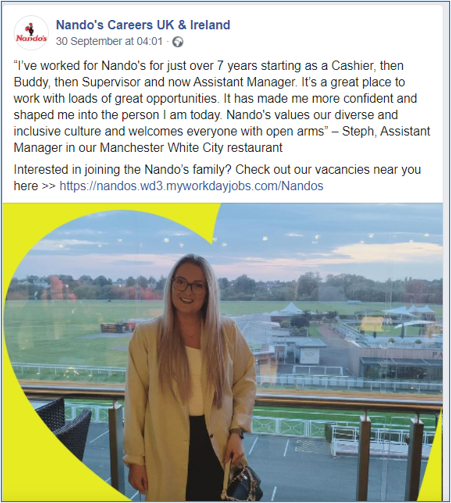 Not only do Nando's do great chicken, but they also do impressive candidate attraction techniques on social media.
They post real-life examples of their staff's career progression, written by the staff themselves. They talk about how they started at Nando's, what level they started at, and how they've progressed into senior jobs (like managers and area managers) as well as what they enjoy about working at Nando's.
Why it works
When candidates consider applying for a job with a company, they are interested in more than the job that's on offer now – they want to know how far they could take their career with the company. These intimate personal stories of progression and success within Nando's allow candidates to get a clear picture of where they could be within 5 or 10 years working at the firm.
How you can copy
Show off your staff's progression in any way possible on your social channels, whether you document detailed stories or simply write a small post congratulating every promotion that happens – it all helps candidates to imagine working and progressing with you.
4. Aldi employer recognition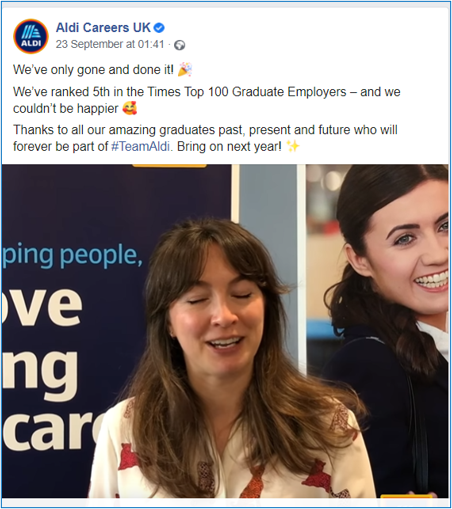 Aldi use their social channels to promote their employer awards such as 5th best graduate employer in the Times newspaper.
Why it works
Showcasing their awards this way shows candidates that they are highly regarded as an employer, giving them social proof and trust.

How you can copy
Has your company received any awards or recognition recently? If so, shout about it on social media to show potential new joiners that you are well-respected employer.
See also: Average graduate salary UK – Job satisfaction statistics
Key lessons
Whether you are creating a job advert on a traditional job posting, a video or any other means, implement the following strategies from the examples above:
Understand your target candidate – Know exactly who they are, what they value and where to find them.
Make your advert easy to understand – speak in plain simple language and make the information easy to digest
Highlight your benefits – Candidates want to know how they will be rewarded when working for you, so make your remuneration package clear.