Ever wanted to know how long it would take to land the highest-paying jobs in the UK if you started from scratch? Let us satisfy your curiosity with our latest data analysis looking at how to earn the highest average salaries in the UK.
Using data from the Office for National Statistics, we've taken the jobs with the highest average salaries and worked out how many years it would take to get to that position and reach that salary.
We worked with a range of experts and datasets to discover what 'typical' career paths and training could look like for each job and plotted them on a timeline.
If you're in one of these fields you can even see how your salary and job title compares against industry averages.
Contents:
Key statistics
Over 20 years, pilots will earn the most (£1,132,500) when accounting for debt and salaries.
Whilst senior police officers are the 10th highest paid in the ONS analysis, with an average salary of £56,665, they do earn the most in the first 10 years of their career due to a lack of loan debt.
Out of the top jobs in the UK, CEOs have the 2nd highest average salary (£85,239), but accumulate less in 20 years than pilots, financial managers, PR directors, and senior police officers.
Financial managers and PR directors are the two career paths likely to reach a salary of £100,000 or more the quickest at 18 years.
Pilots and those in the legal career field hit £100,000 an average of one year later, at 19, whilst those in the police and medical services would require at least 25 years or more.
UK's highest paying jobs over 20 years
The below table has analysed the 10 highest paying jobs in the UK (according to the ONS), and how much money an individual would accumulate over 20 years.
It also deducts training and qualifications costs, including student debts and private loans to give a true indication of total earnings over time.
For specific salary information and training costs for each job, please see individual sections below or use the contents links above.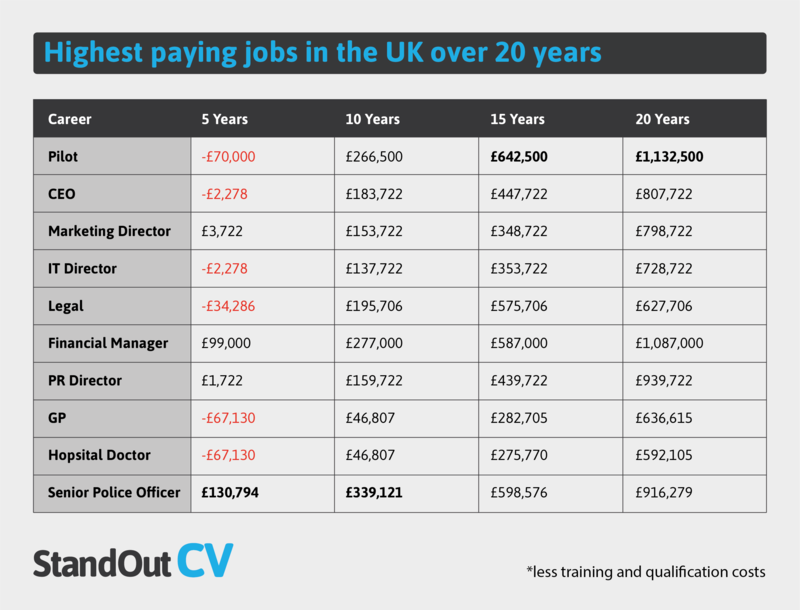 Whilst pilots are the highest-paid jobs on average in the UK, for the first 10 years, senior police officers would actually earn more in total. This is due to police officers not requiring student loans and earning straight away from year 1, compared to a pilot's average debt of £95,000.
Interestingly, those on a CEO career path (most of whom start their career within graduate sales positions) earn less over 20 years than pilots, financial managers, PR directors, and senior police officers. This is of course based on averages across their careers, with some CEOs earning much more than the average salary and having the largest variety of career paths in this analysis.
For medical professionals, the choice can be whether to work in a community setting or a hospital environment. According to our analysis, those who become GPs will earn more over 20 years than those who work in a hospital environment, however this does reverse at 24 years with hospital doctors and specialists earning more than GPs.
Training and qualification costs for the UK's highest paying jobs
As you can see in our 20 year financial breakdown, some careers require some upfront training costs, for some it is optional, and others it is simply not required.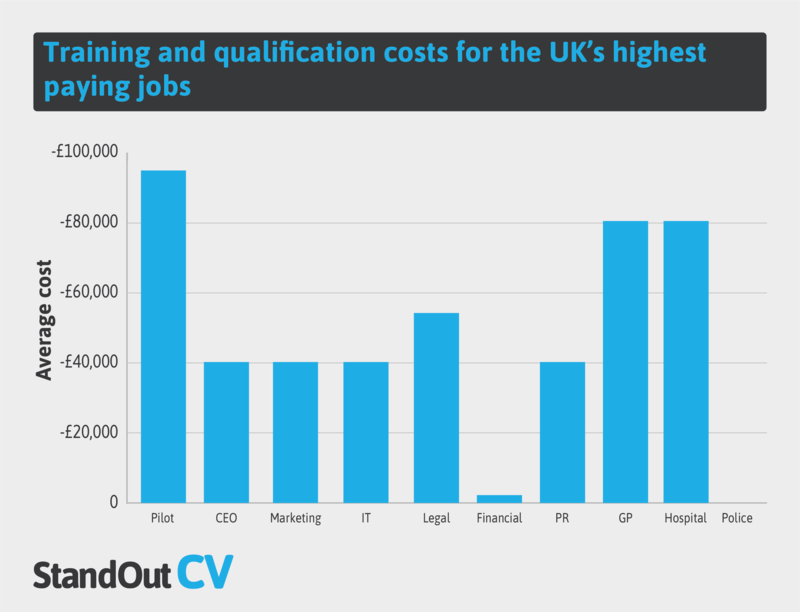 Pilots, GPs, hospital specialists, and those in the legal profession require qualifications to enter the field. For the rest having a degree or any prior paid-for qualifications is optional, however where we have indicated debt in the graph above, this data is based on the average person in this field.
The police force will provide training internally and the average person working in this career will not have a degree.
For the financial career, we took the average costs for accountants in training. For many of these fields like marketing, PR, and finance, there may be extra costs later down the line if the individual pursues chartered status for example.
It's also important to note that many school leavers will join such careers (that don't require a degree) in training capacities with little to no costs through apprenticeships or internships.
Aircraft pilot
Aircraft Pilots are currently the highest paid workers in the UK, according to ONS data when ordered by average annual full-time salary.
For a new starter in this field, it would take just under 17 years, from initial training to Captaincy and beyond, to make the £92,330 average salary from the ONS. It would only take another 2 years to achieve a salary of over £100,000.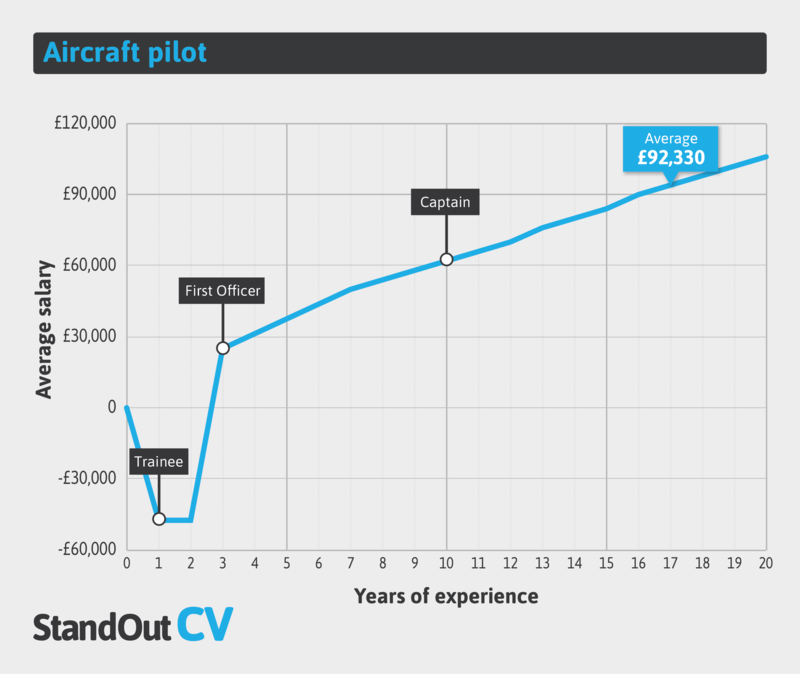 While this looks like quite an astronomical growth in salary for a short amount of time, pilots carry an average debt of £95,000 creating an incredibly tough barrier to entry.
Not all pilots will take out a loan, with some having the funds to pay for the training, however, for the average person this is simply not an option. A degree is not required to be a pilot but A-levels and GCSEs are near-essential. Due to the 2020 pandemic, many airlines also naturally reduced their pilot intake making this an even harder career path in years to come.
From 2019 – 2020 Government figures show pilots had an average of 17.5% increase in salaries, the largest increase in the top occupations, 2021 figures will almost certainly not follow this trend.
Chief Executive Officer (CEO)
CEOs are the top managers of large companies and make the big decisions. With such a broad role, the background of those who become CEOs is incredibly challenging to define, with experience typically ranging from finance, marketing, sales and operations – some people even start their own business and become CEO that way too.
This complex career path is further shown by the fact that 60% of CEOs will take a smaller role at some point in their career to develop their experience. With that, we've focused on a business development background as a LinkedIn study of 12,000 CEOs found this to be the first most common job for CEOs.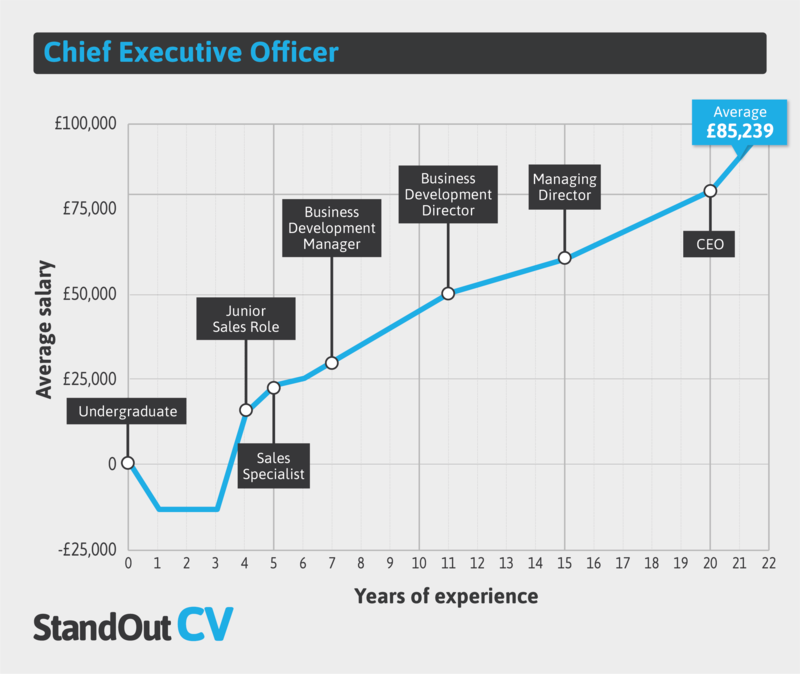 To reach the ONS average salary for CEOs (£85,239) it would take an average of 20.5 years including 3 in undergraduate studies in a relevant field such as business or management. Having a degree may not be a stated requirement to be a CEO but most people in such roles do and the Government's careers service recommends this too.
Marketing Director
Marketing Directors oversee the marketing operations of a business, be that online, offline, or a combination of both.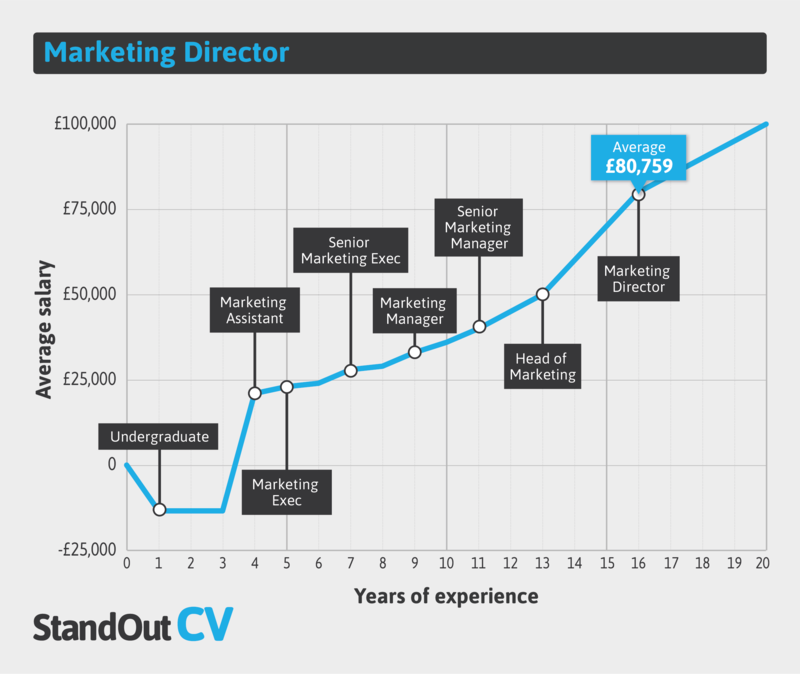 It would take the average person just over 16 years to achieve the ONS average salary of £80,759, this includes 3 years getting a degree. Most Marketing Directors are educated to a degree-level, however, many people enter marketing through apprenticeships or entry-level work after formal education. Both are viable, with the latter removing the need for a student loan.
IT Director
IT Directors are in charge of everything relating to technology usage and implementation in an organisation. IT Directors have seen a 1.2% increase in salaries from 2019-2020, with the new average salary being £69,814.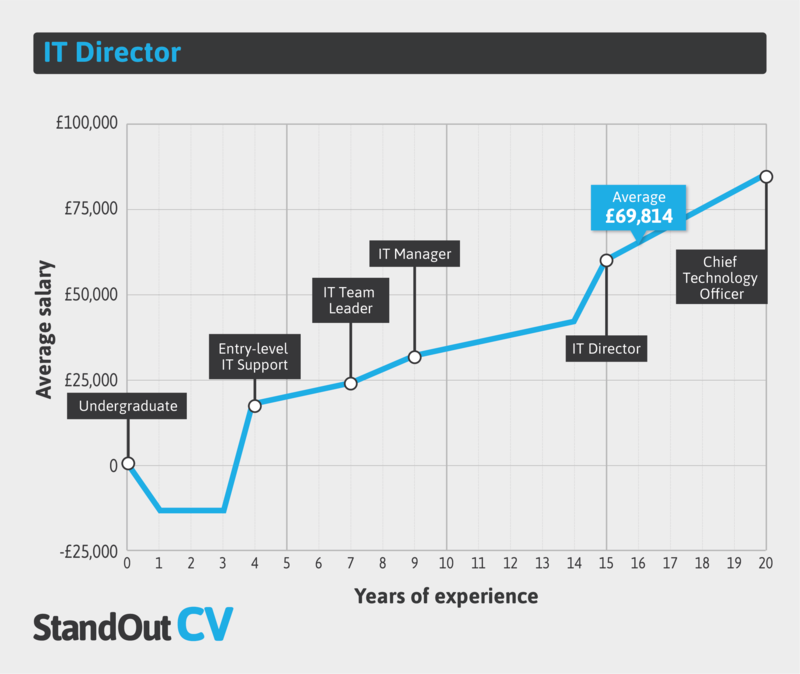 To achieve this salary of almost £70,000, it would take an individual an average of 17 years, with 3 of those years being in the IT Director role itself, and another 3 spent in degree-level education.
Legal Profession
For our analysis of legal professionals we used a solicitor career path, eventually promoting to Senior Partner. The average salary for senior legal professionals according to the ONS is £77,212, using our analysis of an 'average' career, we can see it would take just under 17 years to achieve this salary, including 3 years as an undergraduate and a 2 year training contract.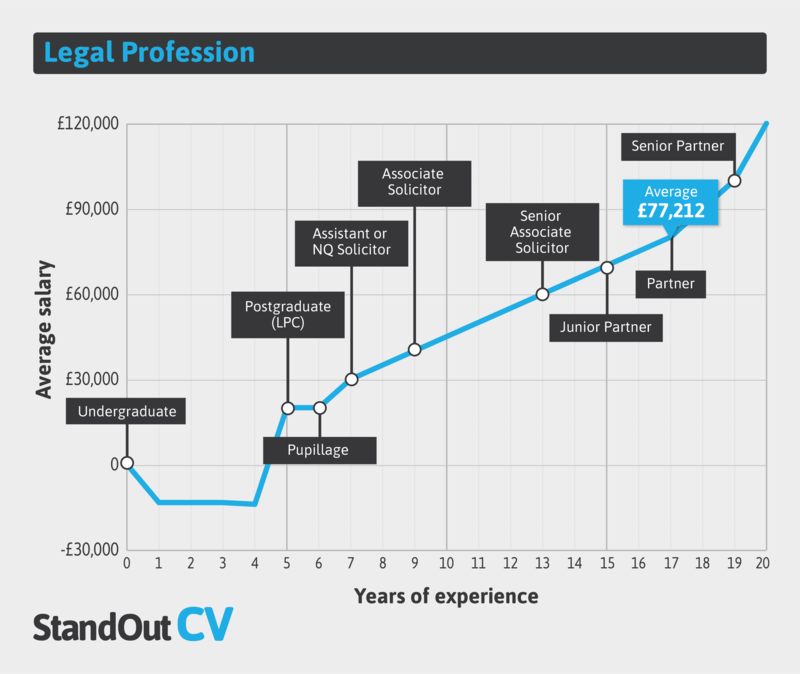 Average salaries vary greatly between London and the rest of the UK, for this analysis an average salary has been taken for outside the capital.
Financial Managers
The ONS states 'Financial Managers and Director's as one category, with an average salary of £67,114. Our analysis indicates that average Financial Directors would earn significantly more than this, and the average salary would actually be achieved at a role similar to a Financial Controller.
It would take the average person in finance around 14 years to achieve the ONS average salary of just over £67,000, which is an increase of 1.1% compared to 2019's figures.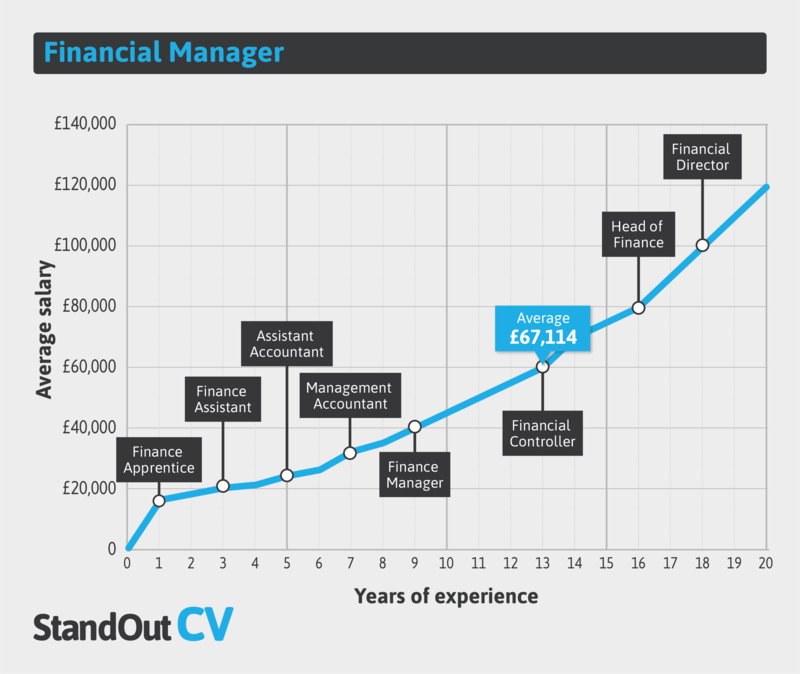 Having a degree is not required to start a finance career and many top firms have moved away from this as a requirement, therefore, our analysis uses the vocational entry into this career starting with accounts assistant roles.
PR Directors
Public Relations (PR) professionals help businesses work with journalists to earn media coverage through interesting stories. PR Directors would head up this strategy for a business, with the ONS stating that they achieve an average salary of £63,362.
Using our analysis, we can see that it would take a PR employee just over 14 years to achieve this salary, which would also be within their first year as a PR Director.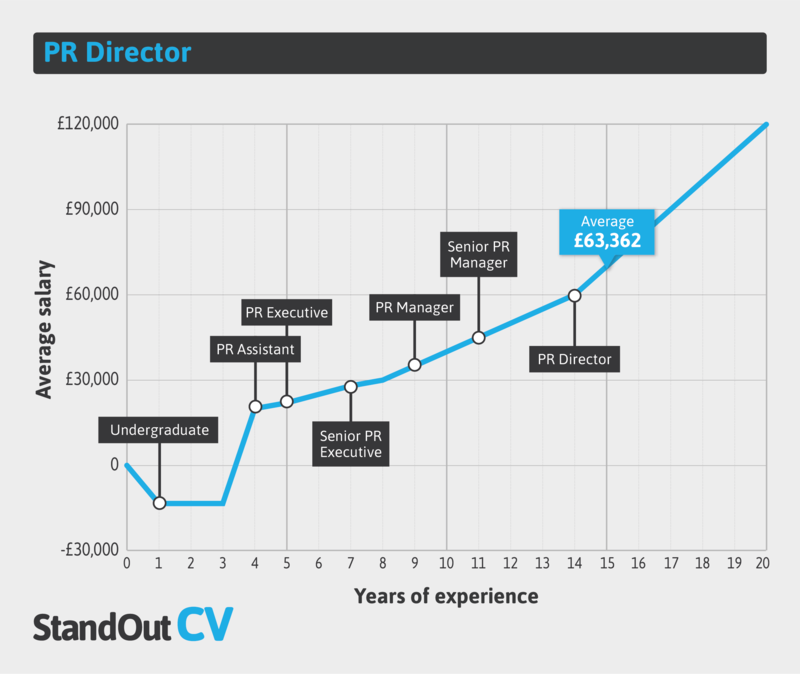 Having a degree is seen as essential but it does not need to be a PR degree, with many arts and humanities graduates moving into the field after university.
Medical Practitioners
'Medical Practitioners' as defined by the ONS could mean a range of roles, for comparative purposes though, we have created an analysis for both GPs and Hospital Doctors below. To achieve the average salary of £62,219, one would need to spend 17/18 years in the industry, dependent upon if the path led to a GP or Hospital Doctor position.
This is also encompassing the 7 years required medical education and accompanying £52,000 debt.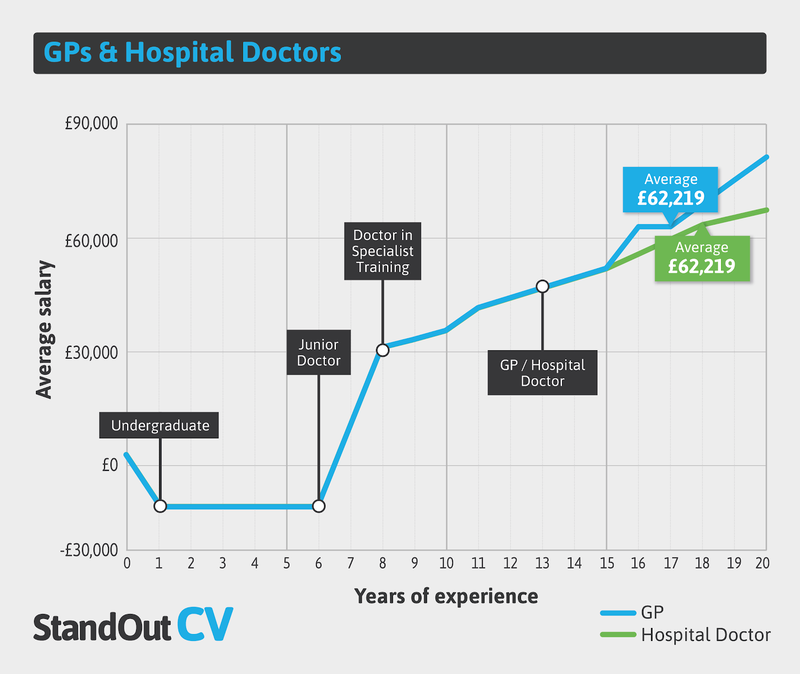 Senior Police Officers
According to the ONS, the average salary of senior police officers is £56,665, 3.6% less than 2019's figures.
Our analysis shows this salary sits towards the end of an Inspector role, 1 year before the average officer achieves Chief Inspector status, which would happen after around 15 years. There is also no debt required for prior qualifications or training as it is all given on the job.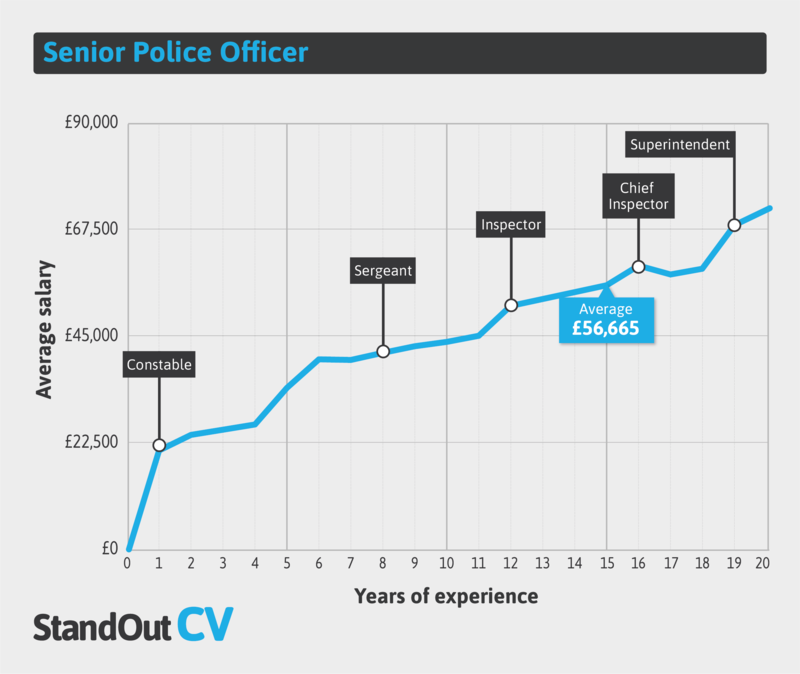 Methodology
Using the latest ASHE report from ONS (November 2020) we analysed the highest-paying job titles and their average salaries.
Using these titles as a starting point we reviewed sector-specific reports, 3rd party salary analyses, and first-hand expertise from UK recruitment experts. Average salaries were taken from a range of sources including jobs board listings, recruiter insight, and a range of salary reports.
'Functional Director' is classed as one of the highest paying job roles in the UK in the ONS report, however, it was removed from this analysis due to it being hard to define and lacking any form of distinct career path.
Sources
Special thanks to James Calder, CEO at Distinct Recruitment and David Holden, Senior Divisional Manager, Legal at Search.co.uk for providing insights into career paths and expected progression.