Having a strong and diverse set of digital skills is essential if you want to be competitive in the modern job market.
If you're wondering how to add digital skills to your CV, it's easier than you think.
In this article, we're going to give you 40+ digital skills and examples, so you can show off your digital fluency to any recruiter and bag your dream job.

Technology Skills

Having basic technology skills is important for almost any modern job. Here are the top technology skills you'll want to highlight in your CV:
Web – e.g. "Carried out correspondence with customers and clients using our online website and instant messaging service."
Email– e.g. "Composed and sent all emails responding to customer enquiries, press inquiries and PR enquiries."
Social media – e.g. "Produced long-term strategies for our social media content, working across all major platforms including Twitter, YouTube and Facebook."
Databases – e.g. "Managed database administration and troubleshooting, working to optimise our SQL and performance tuning."
Microsoft Office – e.g. "Managed office Rota, weekly work schedules and presentations using Microsoft PowerPoint and Microsoft Excel."
Point of sale software – e.g. "Helped streamline our point-of-sale software for an optimised customer experience."
Adobe software – e.g. "Created restaurant menus, flyers, promotional images, Instagram images and all company branding using Adobe Photoshop and InDesign."
Google software – e.g. "Conducted a freelance team of 8 writers, organising content and work schedules using Google docs and Google sheets."
Typing – e.g. "Carried out all administrative duties, took phone calls and recorded all company minutes, averaging a typing rate of 50 words per minute."
Data handling – e.g. "Analysed customer buying trends using Google analytics and our on-site customer tracking, using the date to optimise our PPC advertising strategy."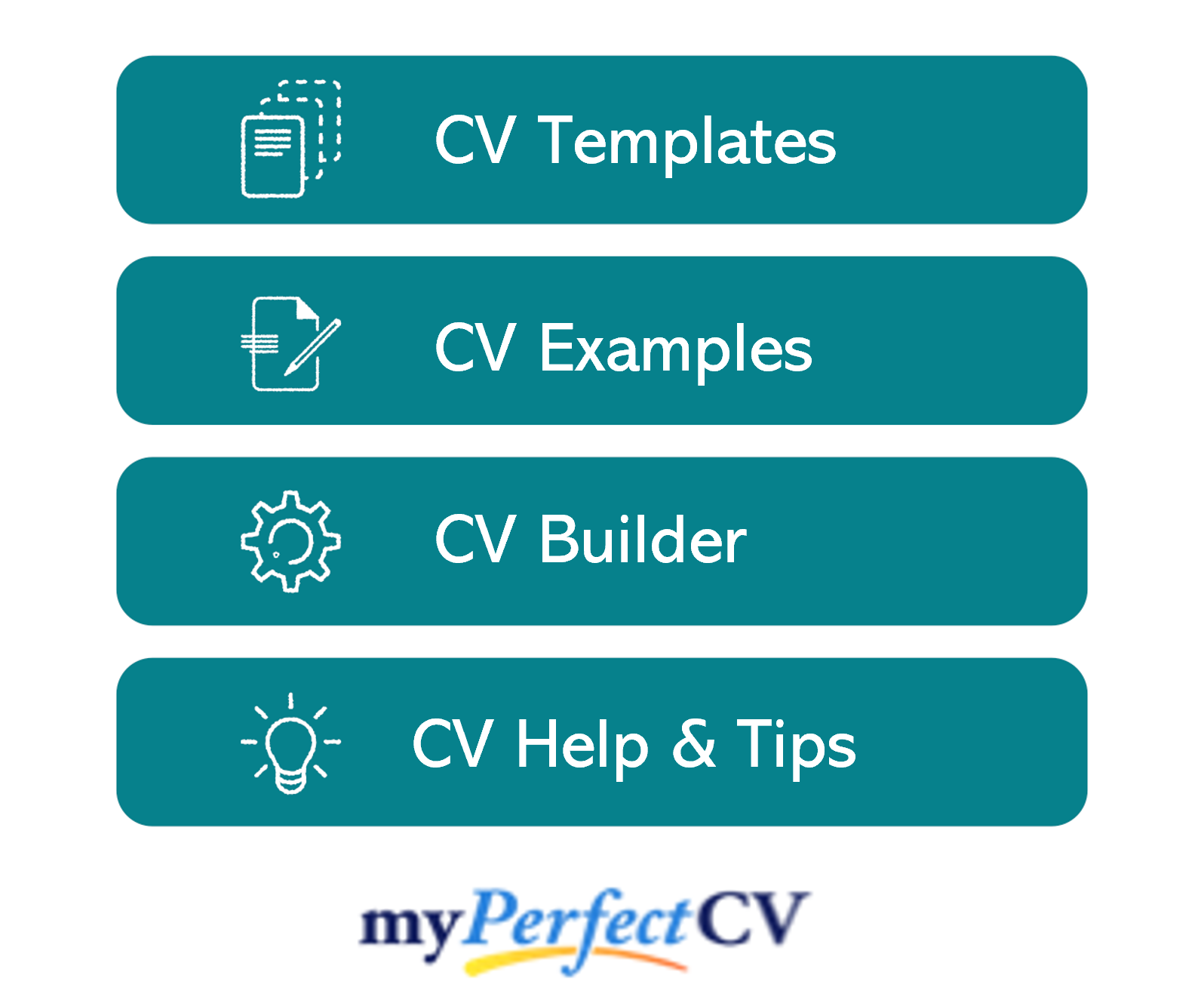 Web design skills

With almost all business conducted online, having web design skills is a major plus for any CV. Here's how to include web design skills on your CV:
WordPress – e.g. "Created WordPress website from scratch to replace earlier model, optimised the site for SEO purposes and achieved an enhanced user experience shown from early data."
JavaScript– e.g. "Worked in a freelance capacity as a JavaScript consultant for 3 years, working with high-profile clients and local businesses."
Copywriting – e.g. "Re-wrote all company landing pages, product descriptions and category descriptions, increasing our customer conversion rate from 11% to 27%."
HTML – e.g. "Helped team of software engineers translate all necessary HTML before moving to cross-platform system."
CMS – e.g. "Overhauled our company's CMS system, optimising office workflow, increasing communications between management and staff and minimising unnecessary time loss."
Self-motivation – e.g. "Managed an average number of 16 unique clients per month, delivering all specs before deadline with no extra changes needing to be made."
CSS – e.g. "Proficient in cross-platform testing, W3C Standards, coding and development."
Cybersecurity – e.g. "Performed risk analysis and Python scripting, with a focus on vulnerability assessments and network intrusion detection."
Attention to detail – e.g. "Re-designed [X] company website from top to bottom and re-branded visually, resulting in a more user-friendly experience and higher retention of customers."
Visual design – e.g. "Created custom theme for company website, integrating company branding into a user-friendly affiliate marketing system via HTML."
Digital marketing skills

Digital marketing is the process of identifying and attracting customers online. Here are some of the top digital marketing skills to include on your CV:
SEO – e.g. "Performed keyword research, created content briefs for writing team and tracked SEO optimization using SEMrush and Google analytics."
Social media advertising– e.g. "Developed our social media strategy, working with the communications team to increase unique impressions."
PPC (pay per click) – e.g. "Switched from organic marketing to PPC advertising, resulting in increased revenue of 310%."
Storytelling – e.g. "Created our advertising campaign for our new skincare product, using influencer marketing rather than a traditional campaign."
Marketing funnels– e.g. "Overhauled our AIDA strategy by focusing on customer retention, creating loyalty schemes for returning customers."
SEM (Search engine marketing) – e.g. "Optimised our SEM strategy via paid advertising, resulting in 522% increase in unique monthly visitors."
Sales – e.g. "Increased unique sales after overhauling our SEO and Sem strategy and including PPC in our advertising budget."
Campaign planning – e.g. "Organised our new make-up item to launch the week of black Friday, resulting in an 800% increase of estimated sales."
Copywriting – e.g. "Wrote SEO-optimised blog posts, landing pages and FAQs pages, increasing organic traffic and reducing company dependence on paid SEM advertising."
Branding – e.g. "Using Adobe Photoshop and InDesign to create company branding for our website, social media channels and all paper merchandise."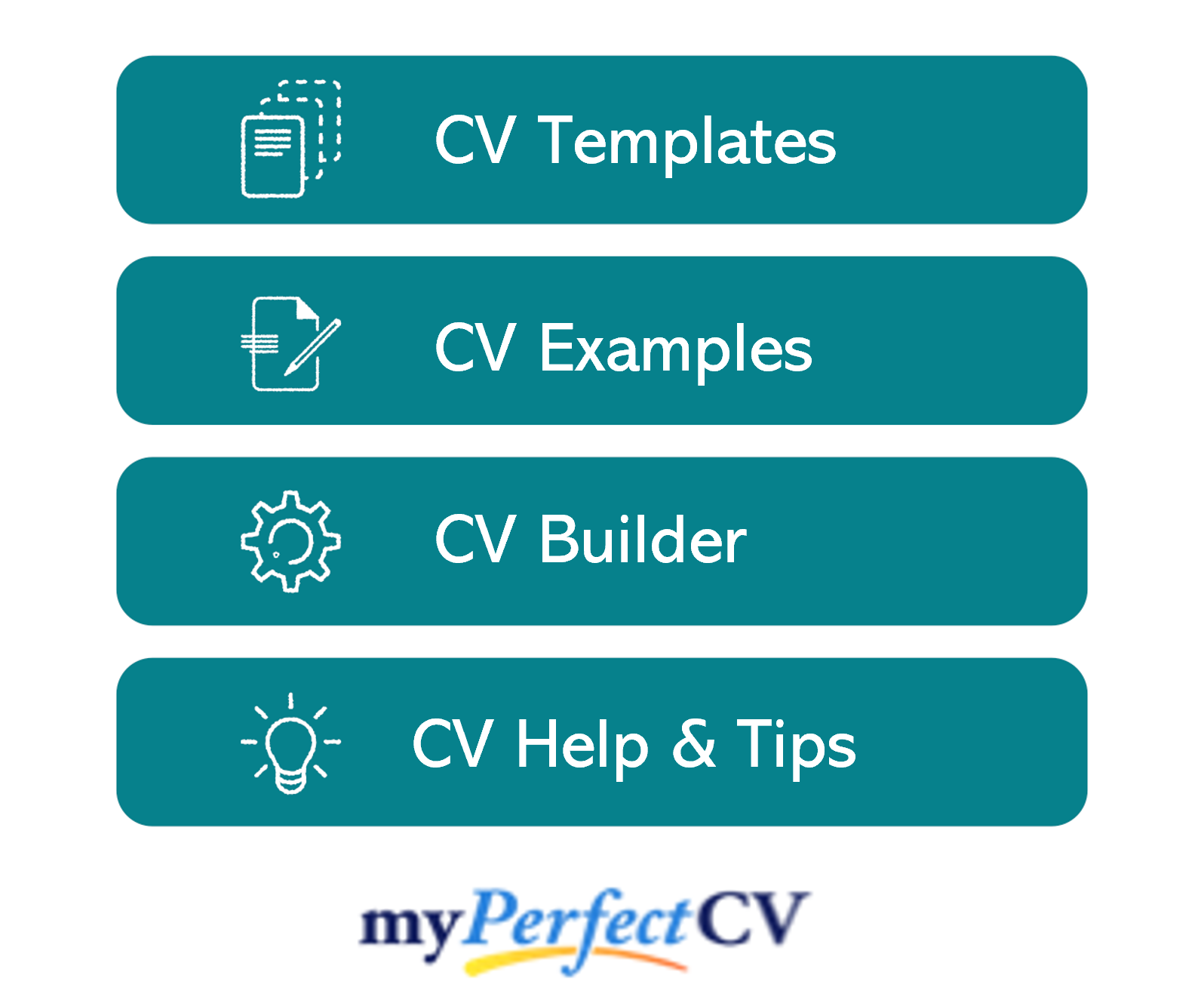 Graphic design and video

If you're skilled in graphic design and video, here are some of the top design and video skills you'll want to include on your CV:
Adobe creative studio – e.g. "3+ years using Adobe creative studio to create posters and leaflets for local businesses. Portfolio available upon request."
UX/UI– e.g. "Increased website user-friendliness through UX optimisation, resulting in a seamless experience for customers and higher click-through rate."
Final cut pro – e.g. "Used Final cut pro to create 2 ten-minute video campaigns for client in the education sector."
Typography – e.g. "Created fonts for wedding invitations, menus, point-of-sale systems and branding for local businesses in Illustrator."
Photography – e.g. "4+ years' experience using a Nikon Z6 II to photograph wildlife, weddings and various natural landscapes, portfolio available upon request."
Visual communication – e.g. "Worked as senior visual merchandiser on the ground floor of the department store, changing the front window display to reflect seasonal trends and promotions."
Colour Theory – e.g. "Re-designed and re-coloured local school's website to increase online enrolment and encourage parent-teacher communication."
Video editing – e.g. "Worked on the visual editing team to edit and produce three hour-long episodes of BBC documentary on UK voting behaviour."
Prototyping – e.g. "Created sketches, 3D diagrams and prototypes for all item packaging and designs."
Wireframing– e.g. "Helped create wireframe structures and assisted marketing team in prioritising content according to predicted behaviours."
What are digital skills?
Digital skills concern all that is technology and digital: this includes basic technology such as email and office software, as well as more advanced technology such as design software and cybersecurity systems.
When it comes to listing your digital skills on your cv, you can include skills that you developed during your former roles and work experience. You can also list qualifications that you obtained in various digital software, whether you obtained these qualifications online or in higher education.
When listing your competence in any given digital software or tool, make sure to be precise ab out how long you've been using the technology, e.g. (Adobe Illustrator, 9+ years.)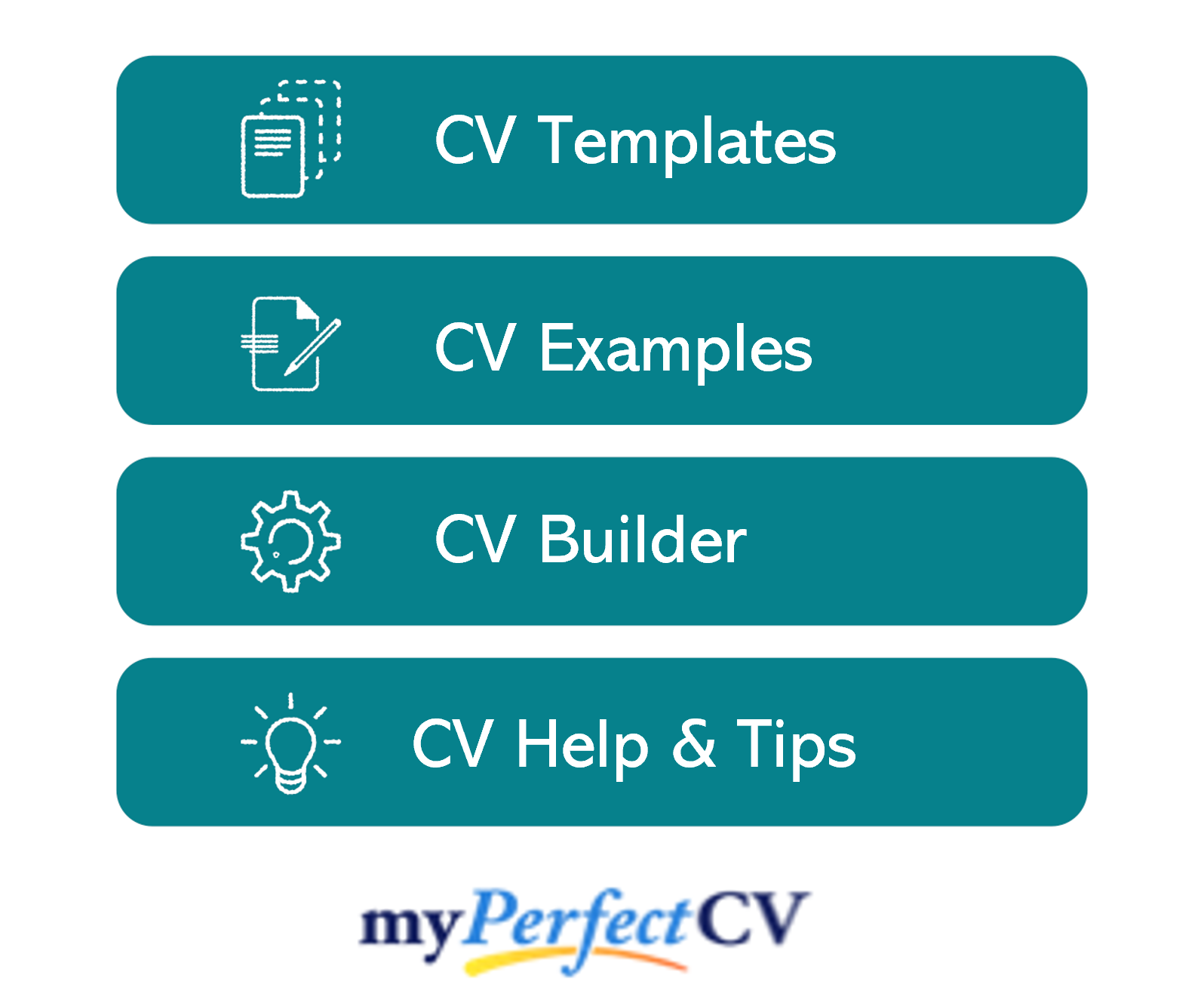 Why are digital skills important?
As the business world relies heavily on digital communication, demonstrating a solid set of digital skills is important if you want to your CV to be competitive and land interviews.
It's no longer sufficient to just have a basic fluency in Microsoft or Google software; companies want to employ candidates with well-rounded digital literacy.
For jobs in the marketing and advertising sectors, having strong digital skills isn't just a preference but a strong requirement. If you want to succeed in marketing, social media management or other creative industries, digital skills are a must-have.
How to include digital skills on your CV
Digital skills can be demonstrated on your CV in two ways. You can either highlight your key digital skills in your CV core profile, and you can simply expand on your digital skills in the jobs section of your CV.
In your CV profile
If you're targeting jobs in the creative industries or business sectors that concern marketing and advertising, it's a good idea to list your digital skills in your CV profile. Your CV profile is the stand-out feature of any CV, where the recruiter will have seconds to gage your suitability for your chosen role.
If you're trying to land jobs in one specific sector, it's a good idea to tailor and customise your CV profile to reflect your skills and experience in this sector. By highlighting your key skills in your profile, the recruiter can see right away that you're a viable candidate for the role.
You can add your digital skills to your CV profile as demonstrated in the example image below: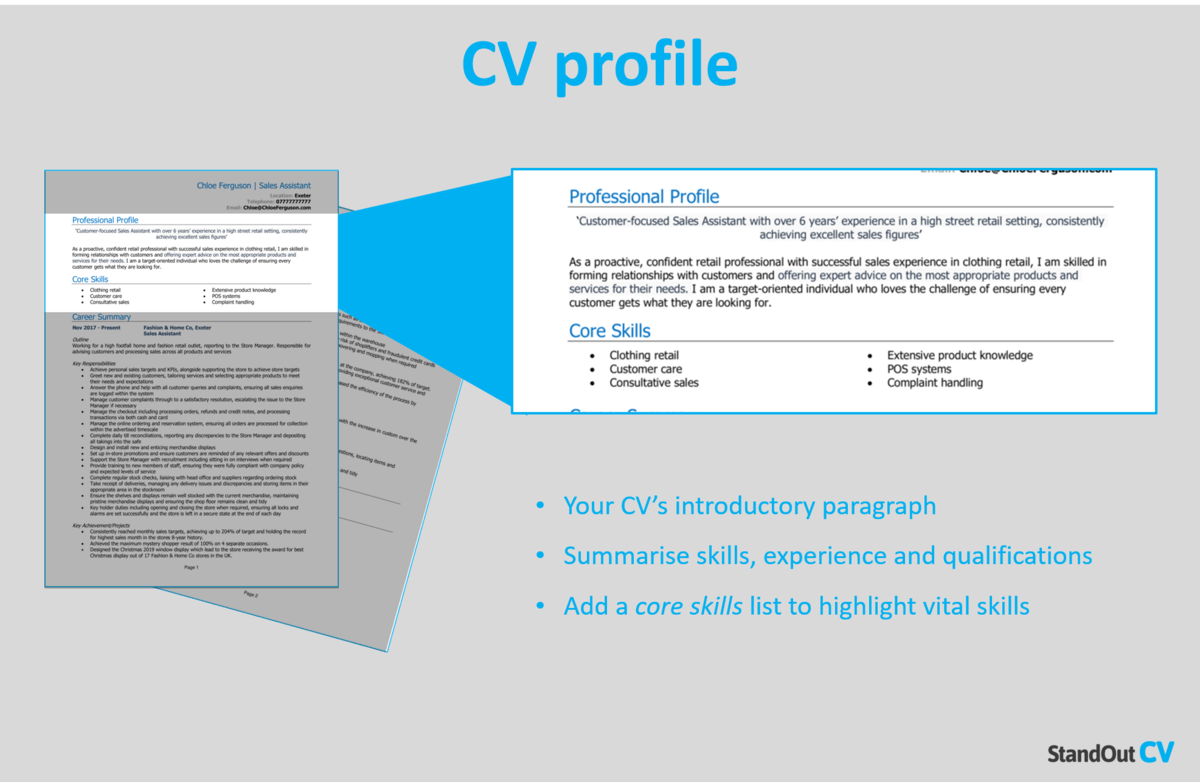 In your jobs
If you're not necessarily applying to digital roles or if your professional profile caters to a completely different industry, you can still include digital skills on your CV. You can include your digital skills in the section of your CV dedicated to work experience, where you list your roles and responsibilities.
Make sure to highlight only the most relevant digital skills to your jobs section, especially if you're applying to a job in a completely different sector. Always check the job description for any skills or software requirements/preferences, and list them where appropriate.
You can add your digital skills to your jobs section as demonstrated in the example image below: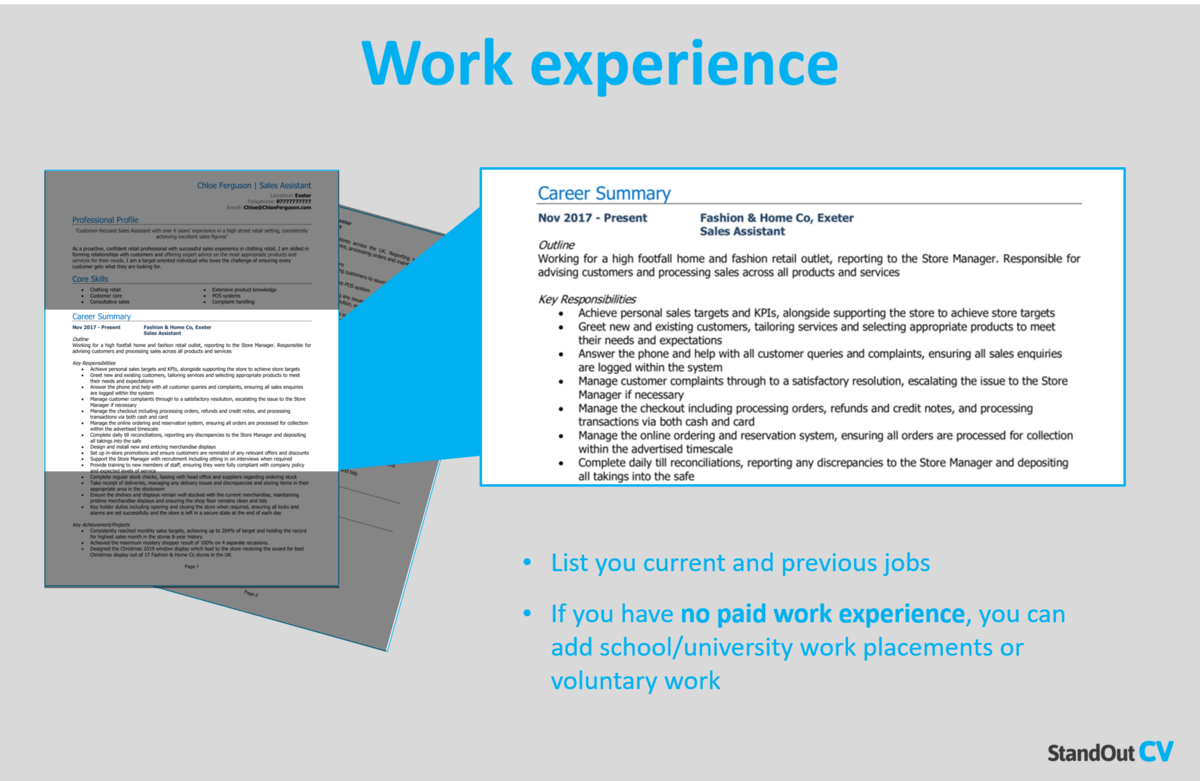 What to avoid
When describing your digital skills in your CV, make sure to avoid listing too many different types of software, especially those you only have a minimal understanding of. The best way to list your software skills is in order of importance and competence. For example, Adobe InDesign (6+ years), JavaScript (3+ years.)
Make sure to also avoid clichés or buzzwords, such as "social media skills" or "Microsoft word". Use more sophisticated phrases such as "Microsoft Office (15+ years)", when describing your various technology skills.
If you're going to include your digital skills in your CV profile, make sure to back these claims up in your job descriptions. Always make sure that a recruiter can find evidence of your core skills in your work experience.