As an animal lover, it doesn't get much better than the role of zookeeper. You get to assist with the animals, prepare their food, look after them and keep their enclosures clean and safe.
But before you get the role, you have to address the elephant in the room… your CV.
In our step-by-step guide below, we'll teach you how to write an impressive application that will secure you an interview. You can also check out our zookeeper CV example to help you.
Contents
| | |
| --- | --- |
| How to write a Zookeeper CV | |

Zookeeper CV example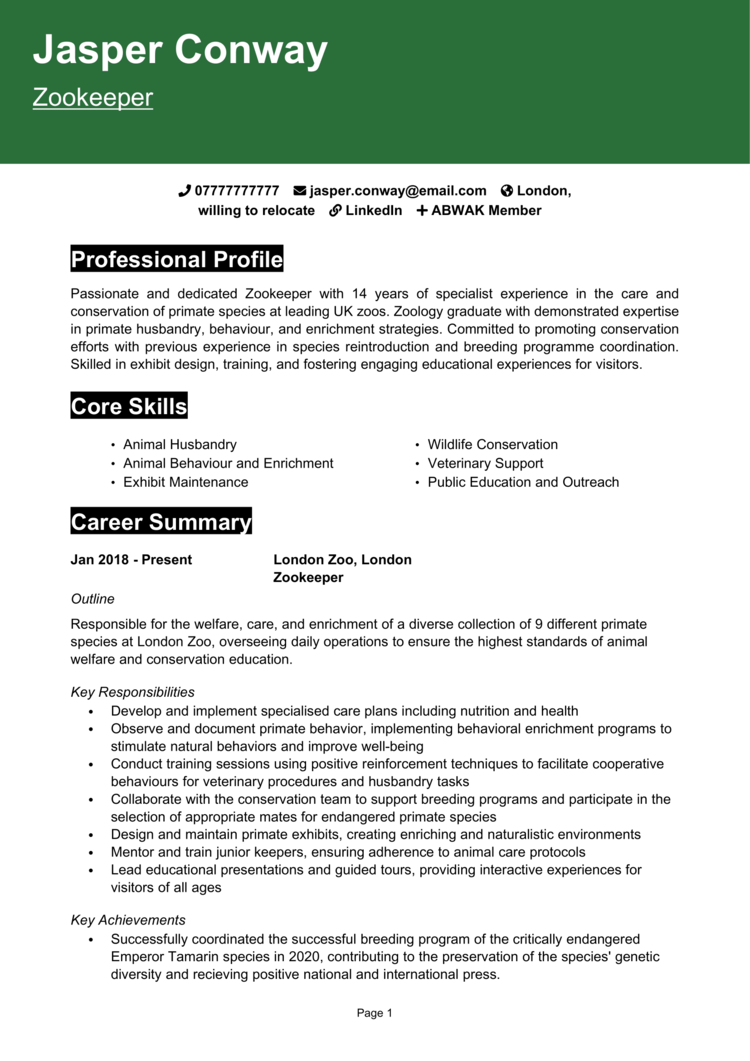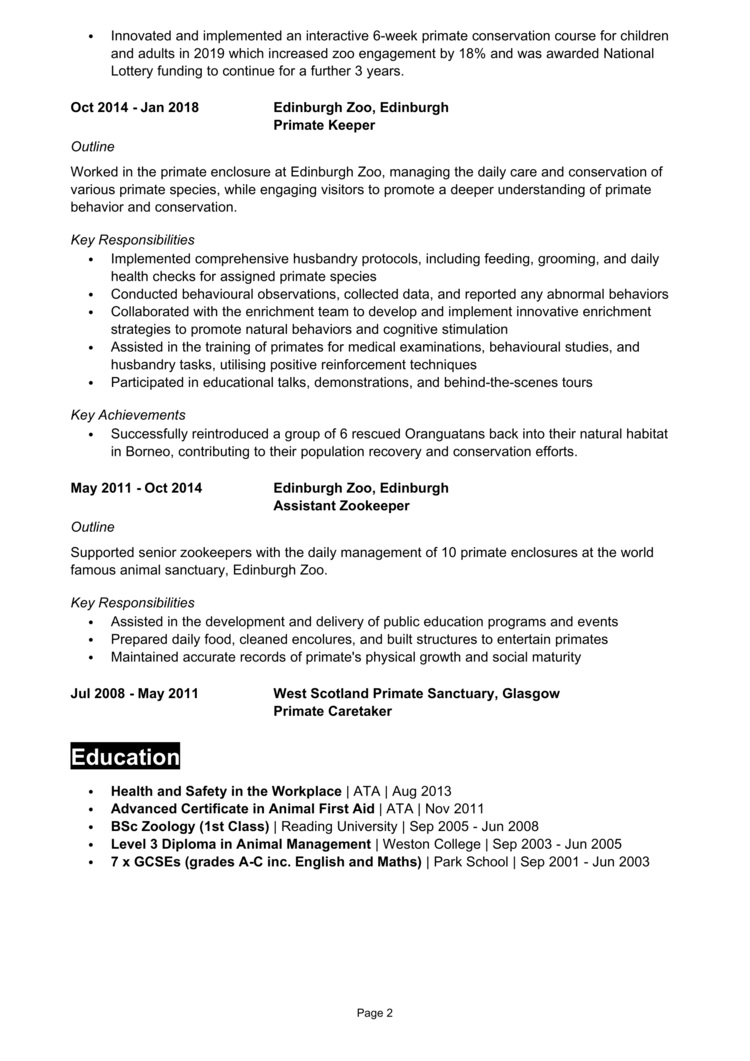 Before you start writing your CV, take a look at the example Zookeeper CV above to give yourself a good idea of the style and format that works best in today's job market.
Also, take note of the type of content that is included to impress recruiters, and how the most relevant information is made prominent, to ensure it gets noticed.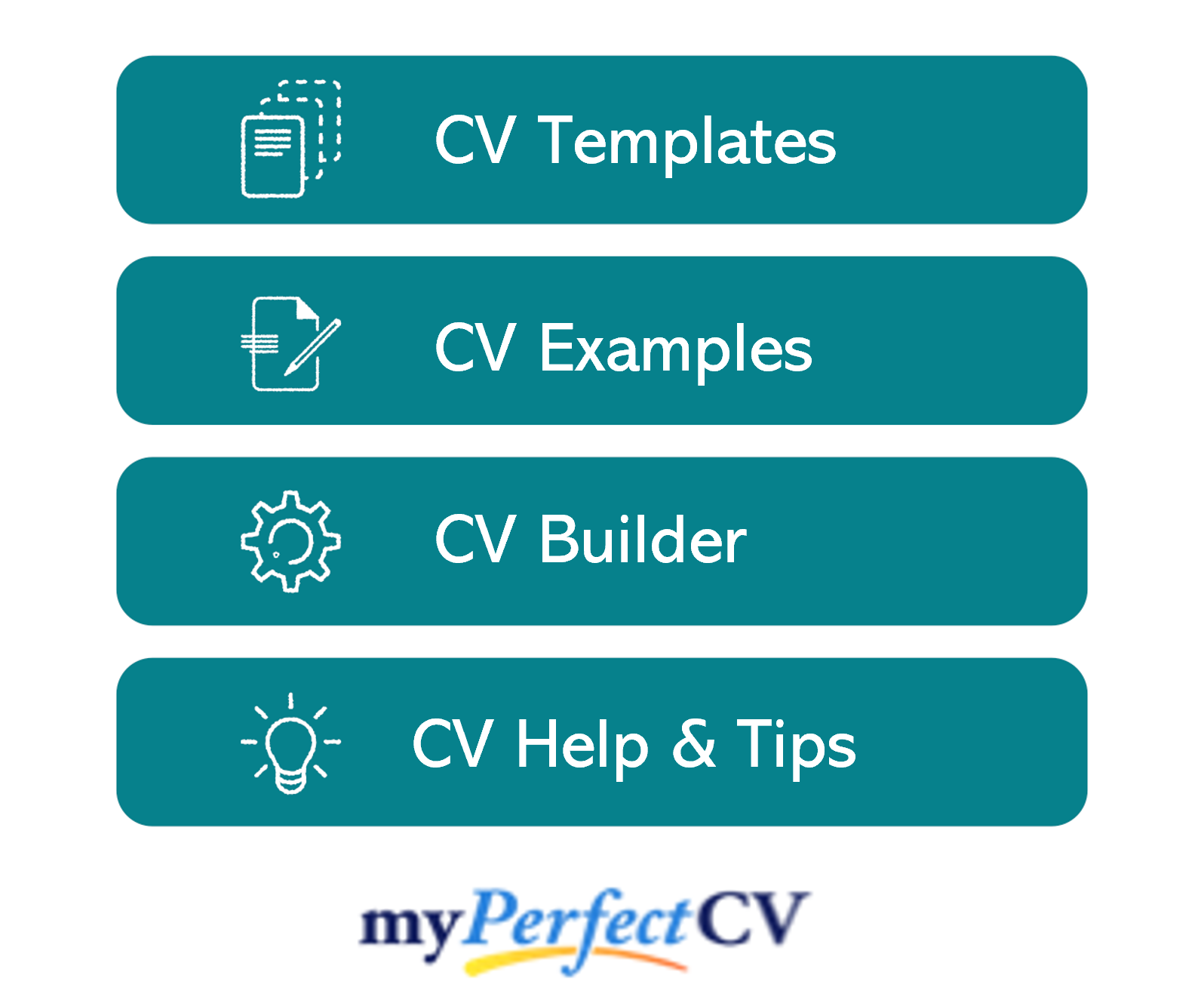 Zookeeper CV format and structure
In a highly competitive job market, recruiters and employers are often inundated with applications. If they can't find what they're looking for in your CV quickly, they may skip past your application and move on to the next one in their inbox
So, it's crucial to structure and format your CV in a way that enables them to find your essential details with ease, even if they're pressed for time.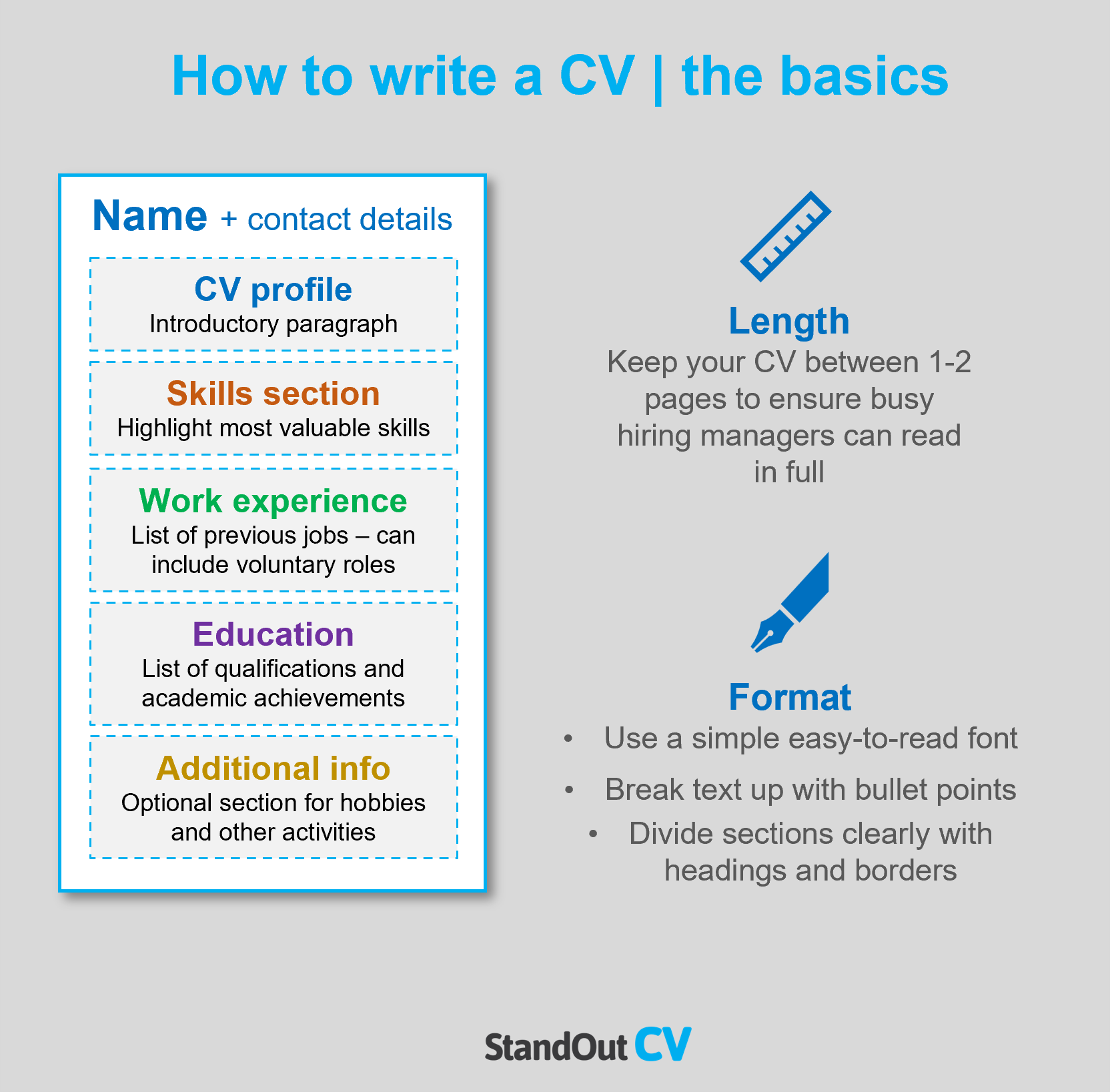 Tips for formatting your Zookeeper CV
Length: Two sides of A4 makes for the the perfect CV length, though one page is okay for less experienced applicants. This forces you to make sure that every single sentence adds value to your CV and ensures you avoid unnecessary  info.
Readability: To help recruiters quickly skim through your CV, it's important to format your section headings with bold or a different colour font and break up lengthy paragraphs into short sharp bullet points. This enables them to easily identify important information and assess your suitability.
Design & format: Your CV needs to look professional, sleek and easy to read. A subtle colour palette, clear font and simple design are generally best for this, as fancy designs are often harder to navigate.
Photos: Don't add profile photos to your CV unless you work in an industry or region which prefers to see them. Most employers in the UK will not need to see one.
Quick tip: Creating a professional CV style can be difficult and time-consuming when using Microsoft Word or Google Docs. To create a winning CV quickly, try our partner's CV Builder and use one of their eye-catching professional CV templates.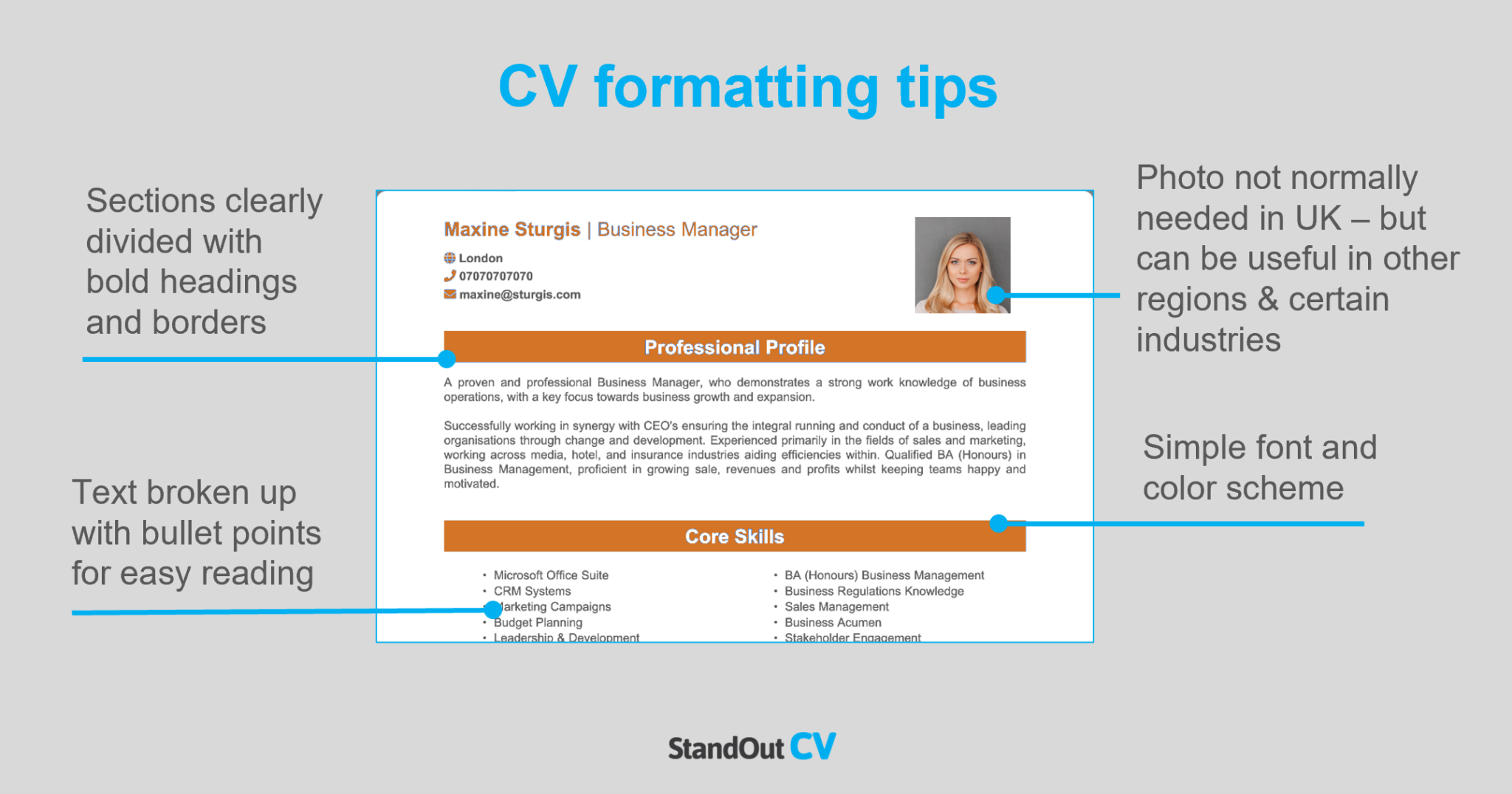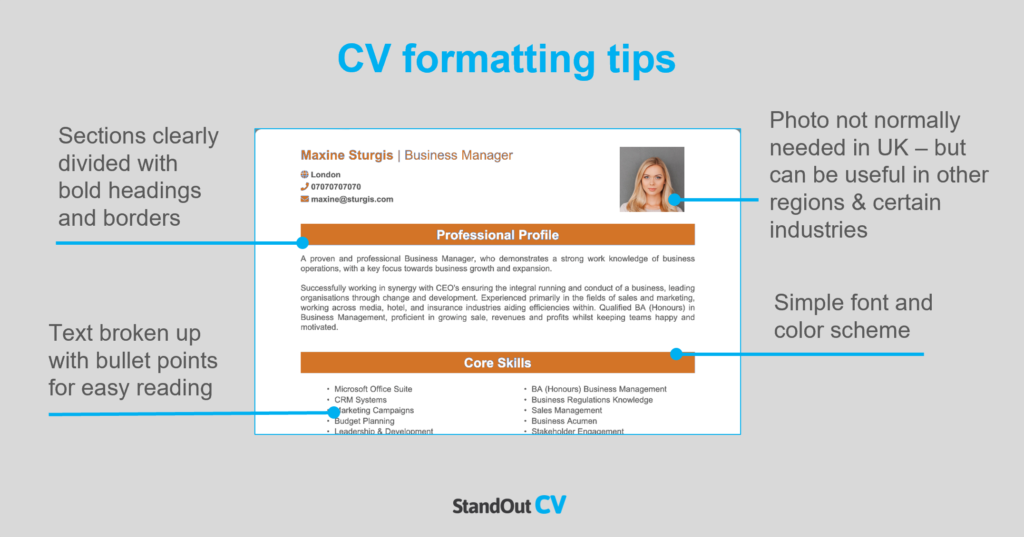 CV structure
When writing your CV, break up the content into the following key sections, to ensure it can be easily digested by busy recruiters and hiring managers:
Contact details – Always list these at the very top of your CV – you don't want them to be missed!
Profile – An introductory paragraph, intended to grab recruiters attention and summarise your offering.
Work experience / career history – Working from your current role and working backwards, list your relevant work experience.
Education – Create a snappy summary of your education and qualifications.
Interest and hobbies – An optional section to document any hobbies that demonstrate transferable skills.
Now you understand the basic layout of a CV, here's what you should include in each section of yours.
Contact Details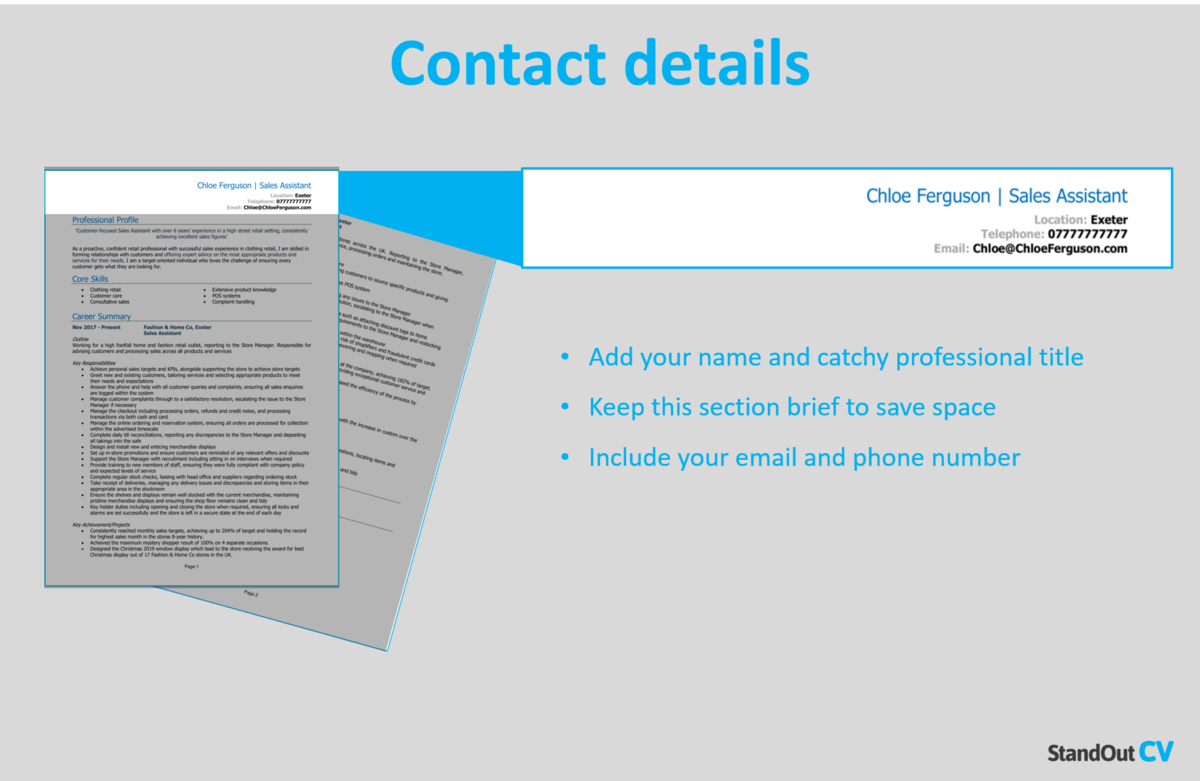 Kick-start your CV with your contact details, so recruiters can get in touch easily.
Here's what you should include:
Mobile number
Email address – Make sure it's professional, with no silly nicknames.
Location – Your town or city is sufficient, rather than a full address.
LinkedIn profile or portfolio URL – Ensure they've been updated and are looking slick and professional.
Quick tip: Avoid listing your date of birth, marital status or other irrelevant details – they're unnecessary at this stage.
Zookeeper CV Profile
To immediately capture the attention of recruiters, begin your CV with a powerful profile (or personal statement for junior applicants).
This is a brief introductory paragraph that summarises your skills, experience, and knowledge.
It should position you as the ideal candidate for the job and encourage recruiters to read on.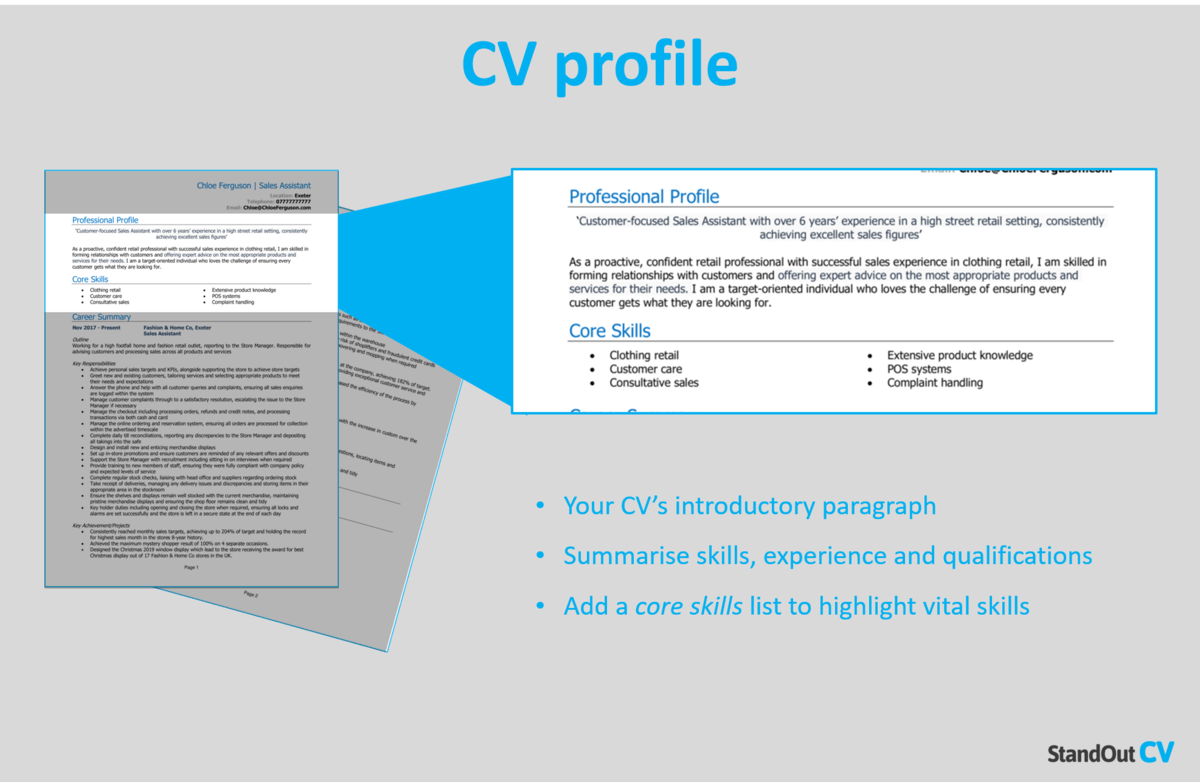 How to write a good CV profile:
Make it short and sharp: When it comes to CV profile length, less is more, as recruiters are often time-strapped. Aim for around of 3-5 persuasive lines.
Tailor it: The biggest CV mistake? A generic, mass-produced document which is sent out to tens of employers. If you want to land an interview, you need to tailor your CV profile (and your application as a whole) to the specific roles you're applying for. So, before you start writing, remember to read over those job descriptions and make a list of the skills, knowledge and experience the employers are looking for.
Don't add an objective: Career goals and objectives are best suited to your cover letter, so don't waste space with them in your CV profile.
Avoid generic phrases: Cheesy clichès and generic phrases won't impress recruiters, who read the same statements several times per day. Impress them with your skill-set, experience and accomplishments instead!
Example CV profile for Zookeeper
Passionate and dedicated Zookeeper with 14 years of specialist experience in the care and conservation of primate species at leading UK zoos. Zoology graduate with demonstrated expertise in primate husbandry, behaviour, and enrichment strategies. Committed to promoting conservation efforts with previous experience in species reintroduction and breeding programme coordination. Skilled in exhibit design, training, and fostering engaging educational experiences for visitors.
What to include in your Zookeeper CV profile?
Experience overview: To give employers an idea of your capabilities, show them your track record by giving an overview of the types of companies you have worked for in the past and the roles you have carried out for previous employers – but keep it high level and save the details for your experience section.
Targeted skills: Highlight your skills which are most relevant to Zookeeper jobs, to ensure that recruiters see your most in-demand skills as soon as they open your CV.
Important qualifications: If you have any qualifications which are highly relevant to Zookeeper jobs, then highlight them in your profile so that employers do not miss them.
Quick tip: If you are finding it difficult to write an attention-grabbing CV profile, choose from hundreds of pre-written profiles across all industries, and add one to your CV with one click in our partner's CV Builder. All profiles are written by recruitment experts and easily tailored to suit your unique skillset.
Core skills section
Add a core skills section below your profile to draw attention to your most applicable skills and make them stand out to readers.
This should consist of 2-3 columns of bullet points that emphasise your relevant skills.
Before creating this section, review the job description and compile a list of any specific skills, specializations, or knowledge needed. Incorporate these findings into your list to portray yourself as the ideal candidate for the position.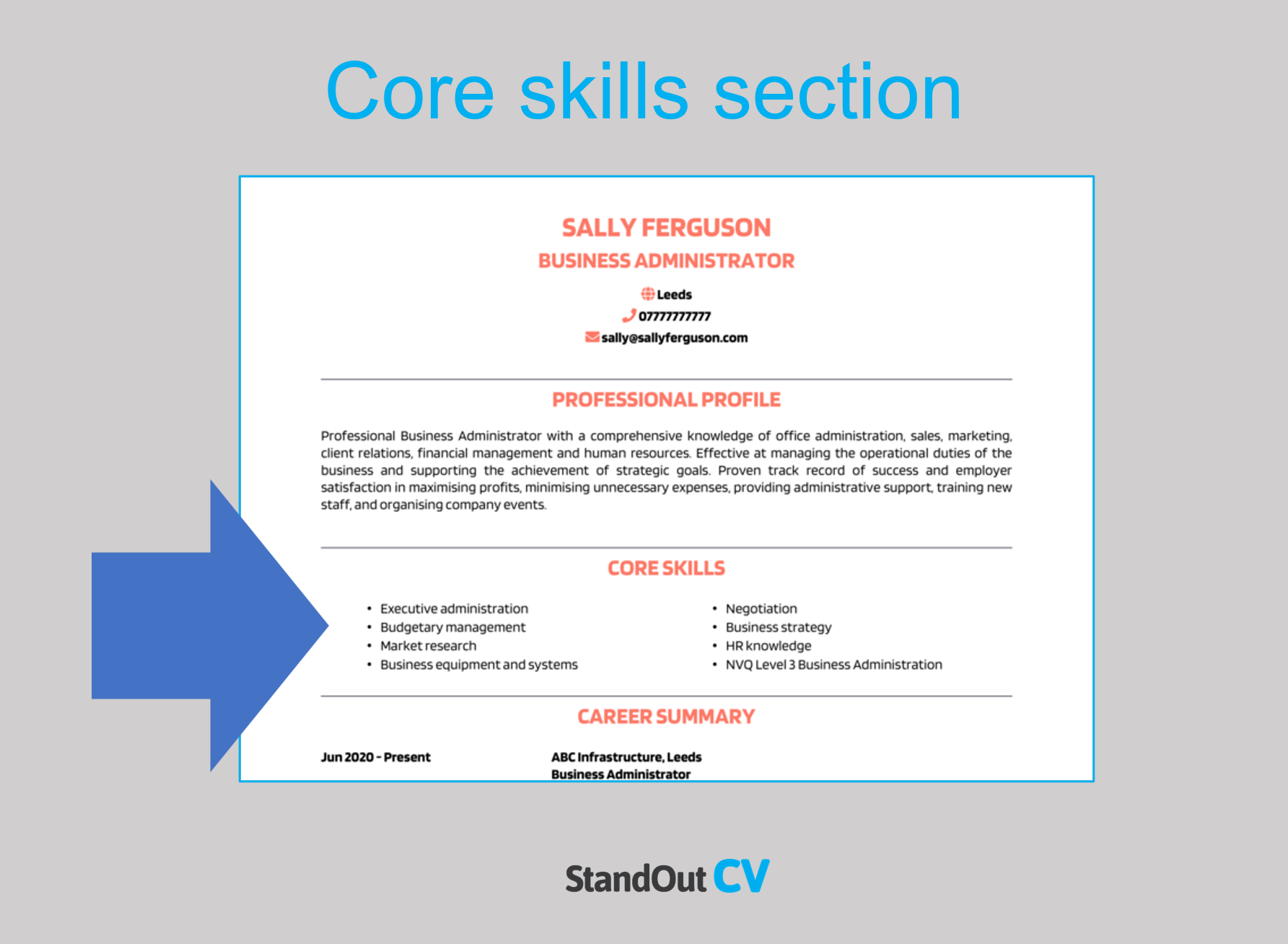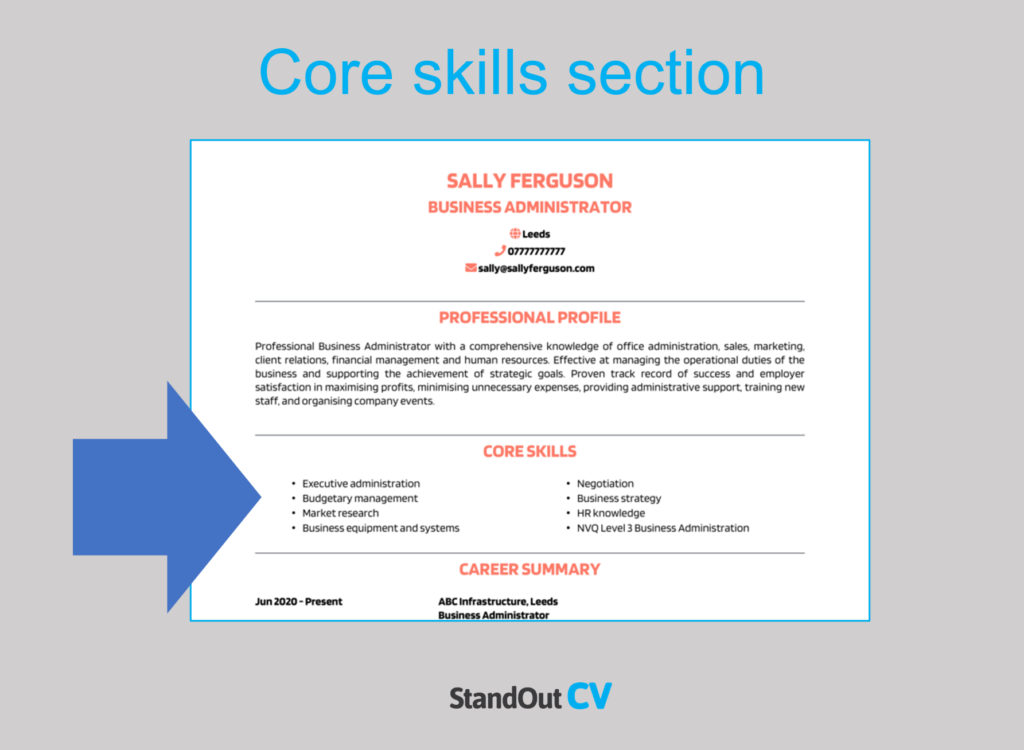 Important skills for your Zookeeper CV
Animal Care and Husbandry – Providing daily care for animals, including feeding, watering, cleaning enclosures, and ensuring their overall well-being.
Animal Behaviour – Utilising knowledge of animal behaviour, instincts, and social dynamics to effectively monitor and assess the health, welfare, and interactions of zoo animals.
Species-Specific Expertise – Maintaining an in-depth knowledge of the specific species in the zoo's collection, including their natural habitat, diet, behaviours, and specific care requirements.
Safety Protocols – Adhering to strict safety protocols to protect both animals and humans, including knowledge of animal handling techniques, proper use of protective gear, and emergency response procedures.
Enrichment and Environmental Enrichment – Developing and implementing enrichment programs and activities to stimulate natural behaviours, encourage mental and physical exercise, and promote overall well-being for zoo animals.
Animal Health Monitoring – Monitoring animal health and identifying signs of illness or distress, working closely with veterinary staff to ensure timely and appropriate medical care.
Record-Keeping and Documentation – Maintaining accurate and detailed records of animal behaviour, health, and environmental conditions to effectively communicate this information to relevant stakeholders.
Conservation and Education – Utilising knowledge of conservation principles to engage and educate visitors about the importance of biodiversity, conservation efforts, and the role of zoos in wildlife preservation.
Physical Stamina – Maintaining a level of physical fitness to handle physically demanding tasks, working outdoors in various weather conditions, and adapting to the physical demands of the role.
Quick tip: Our partner's CV Builder has thousands of in-demand skills for all industries and professions, that can be added to your CV in seconds – This will save you time and ensure you get noticed by recruiters.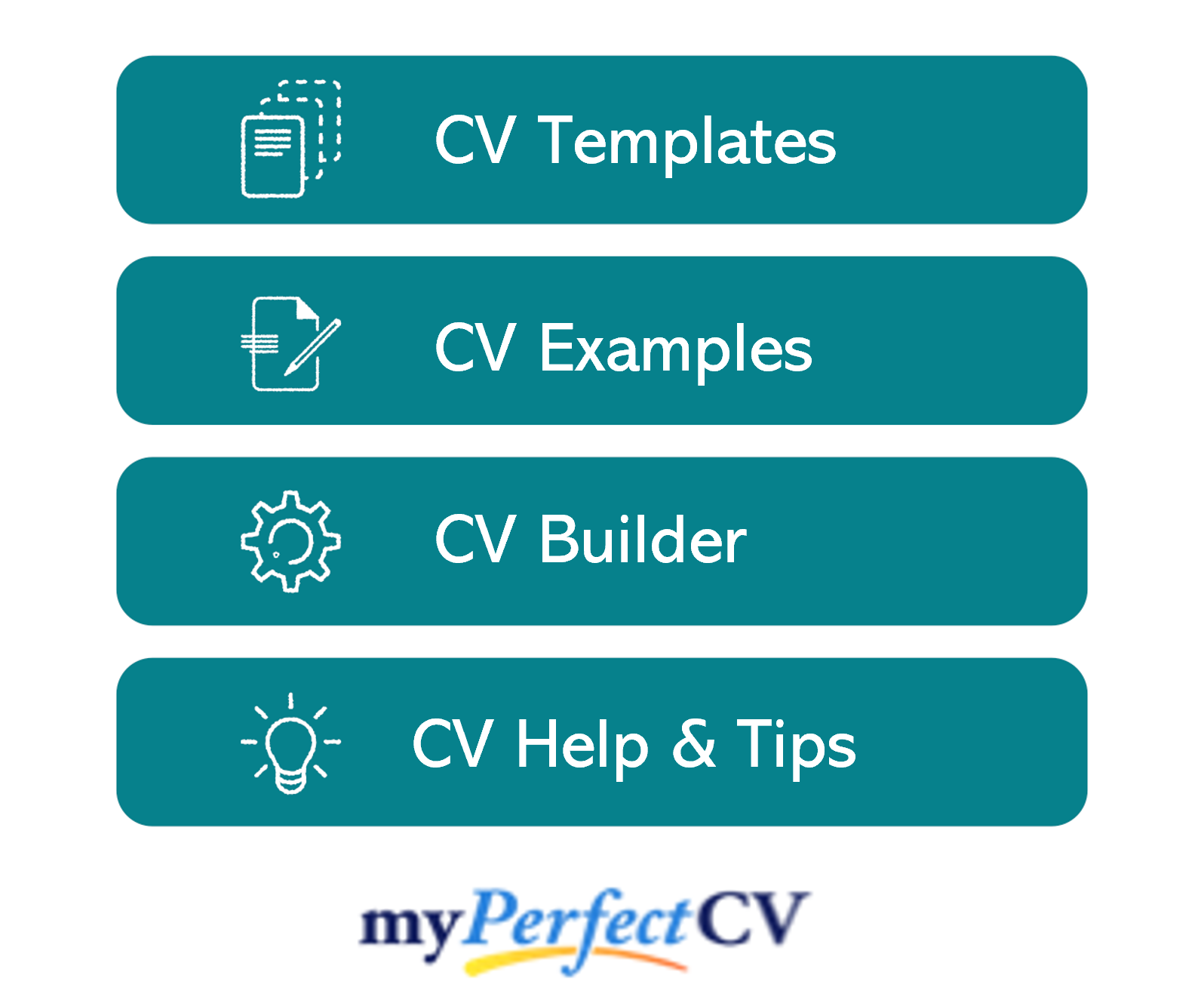 Work experience
Now that recruiters have a good overview of your skills and abilities, you need to jump into the detail of your career history.
Give them a more thorough insight into what you can do by creating a detailed list of your relevant experience.
Start with your current role, and work backwards through all the relevant positions you've held.
This could be freelance, contract or voluntary work too; as long as it's related to the role you're applying for.
Structuring each job
The structure of your work experience section can seriously affect its impact.
This is generally the biggest section of a CV, and with no thought to structure, it can look bulky and important information can get lost.
Use my 3-step structure below to allow for easy navigation, so employers can find what they are looking for:
Outline
Provide a brief overview of the job as a whole, such as what the overriding purpose of your job was and what type of company you worked for.
Key responsibilities
Using easy-to-read bullet points, note down your day-to-day responsibilities in the role.
Make sure to showcase how you used your hard sector skills and knowledge.
Key achievements
Finish off by showcasing 1-3 key achievements made within the role.
This could be anything that had a positive effect on your company, clients or customers, such as saving time or money, receiving exemplary feedback or receiving an award.
Sample job description for Zookeeper CV
Outline
Responsible for the welfare, care, and enrichment of a diverse collection of 9 different primate species at London Zoo, overseeing daily operations to ensure the highest standards of animal welfare and conservation education.
Key Responsibilities
Develop and implement specialised care plans including nutrition and health
Observe and document primate behaviour, implementing behavioural enrichment programs to stimulate natural behaviours and improve wellbeing
Conduct training sessions using positive reinforcement techniques to facilitate cooperative behaviours for veterinary procedures and husbandry tasks
Collaborate with the conservation team to support breeding programs and participate in the selection of appropriate mates for endangered primate species
Quick tip: Create impressive job descriptions easily in our partner's CV Builder by adding pre-written job phrases for every industry and career stage.

Education section
Next up, you should list your education and qualifications.
This can include your formal qualifications (a degree, A-Levels and GCSEs), as well as sector-specific Zookeeper qualifications and/or training.
While school leavers and recent grads should include a lot of detail here to make up for the lack of work experience, experienced candidates may benefit from a shorter education section, as your work experience section will be more important to recruiters.
Hobbies and interests
The hobbies and interests CV section isn't mandatory, so don't worry if you're out of room by this point.
However, if you have an interesting hobby, or an interest that could make you seem more suitable for the role, then certainly think about adding.
Be careful what you include though… Only consider hobbies that exhibit skills that are required for roles as a Zookeeper, or transferable workplace skills.
There is never any need to tell employers that you like to watch TV and eat out.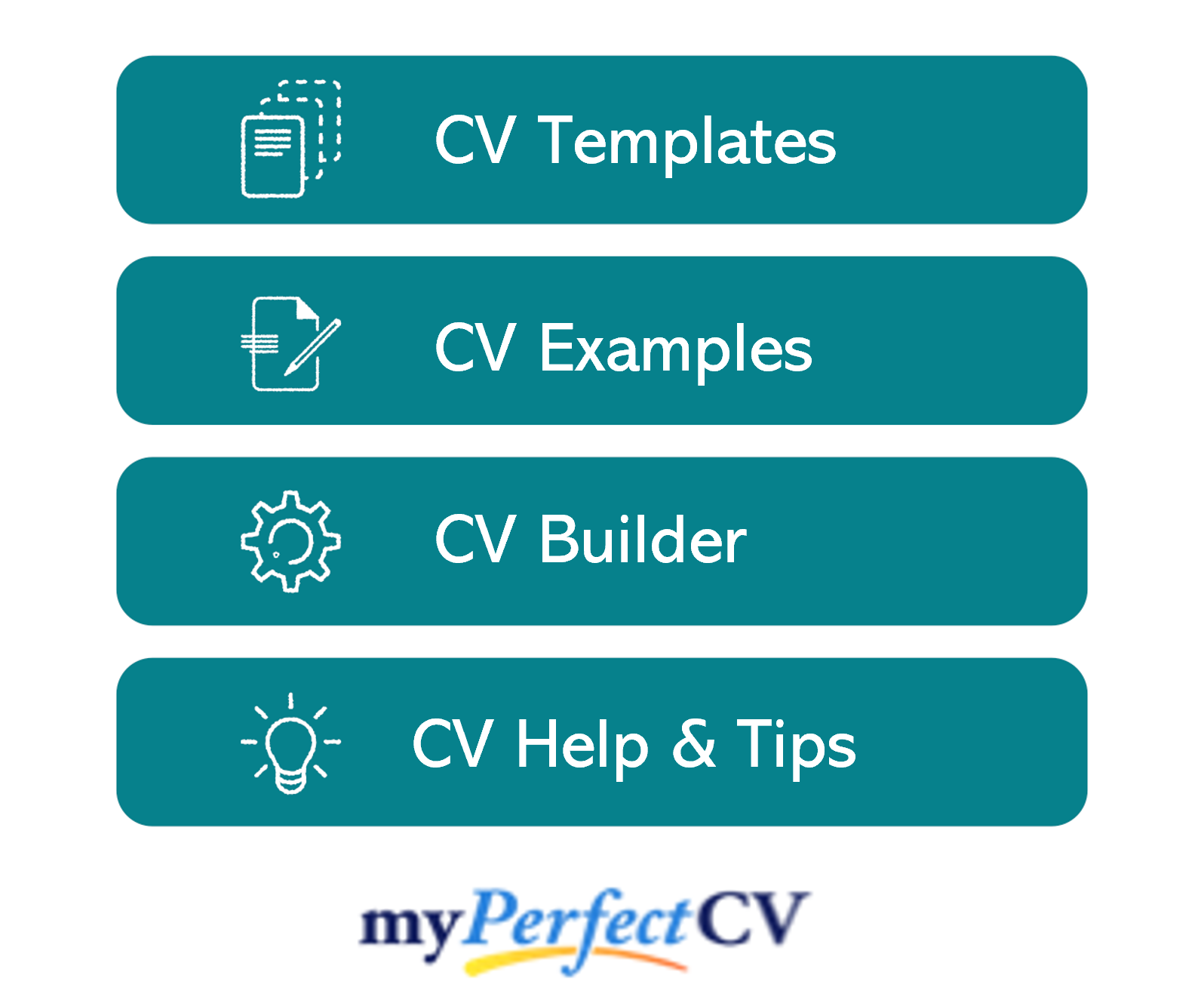 When putting together your Zookeeper CV, there are a few key points to remember
Always tailor your CV to the target role, even if it means creating several versions for different roles.
Additionally, remember that the structure and format of your CV needs just as much attention as the content.
Good luck with your job search!