You understand the importance of maintaining clean water and waste services, as well as helping to prevent environmental damage, such as floods.
Your CV is your chance to advertise these crucial skills and experience to the recruiter; you just need to know how.
Check out our top tips below, and use our detailed water engineer CV example to guide you.
Contents
| | |
| --- | --- |
| How to write a Water Engineer CV | |

Water Engineer CV example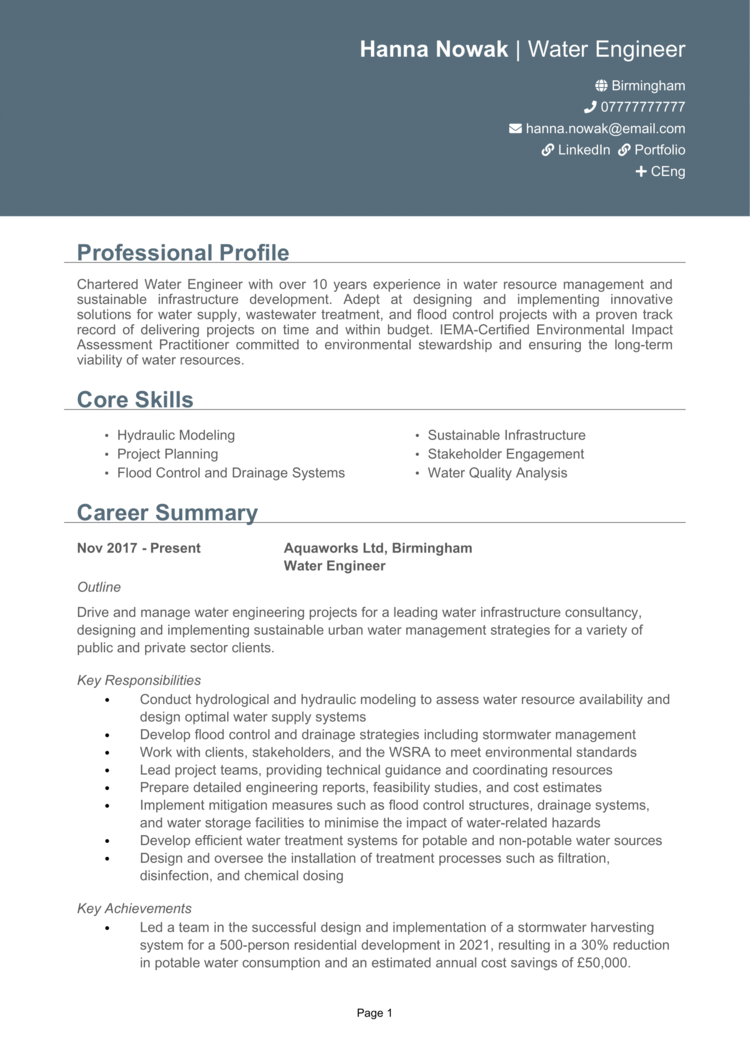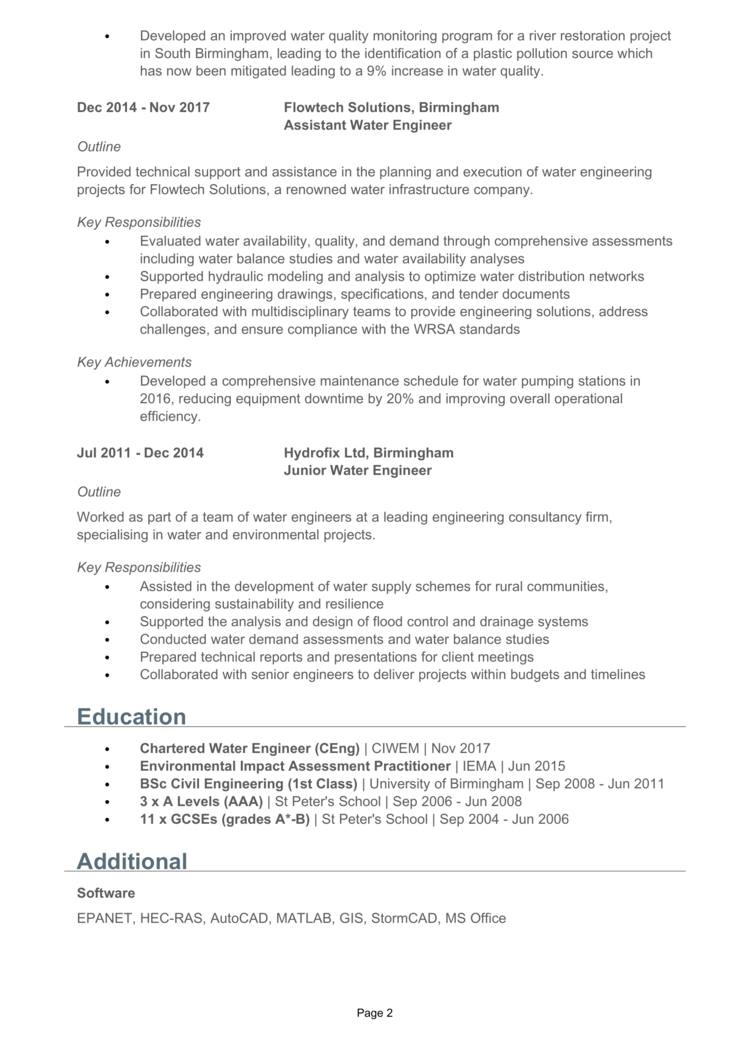 This is a good example of a Water Engineer CV which is professionally formatted, and structured in a way that allows recruiters to easily find and understand the candidate's key selling points.
Take some time to look at this CV and refer to it throughout the writing of your own CV for best results.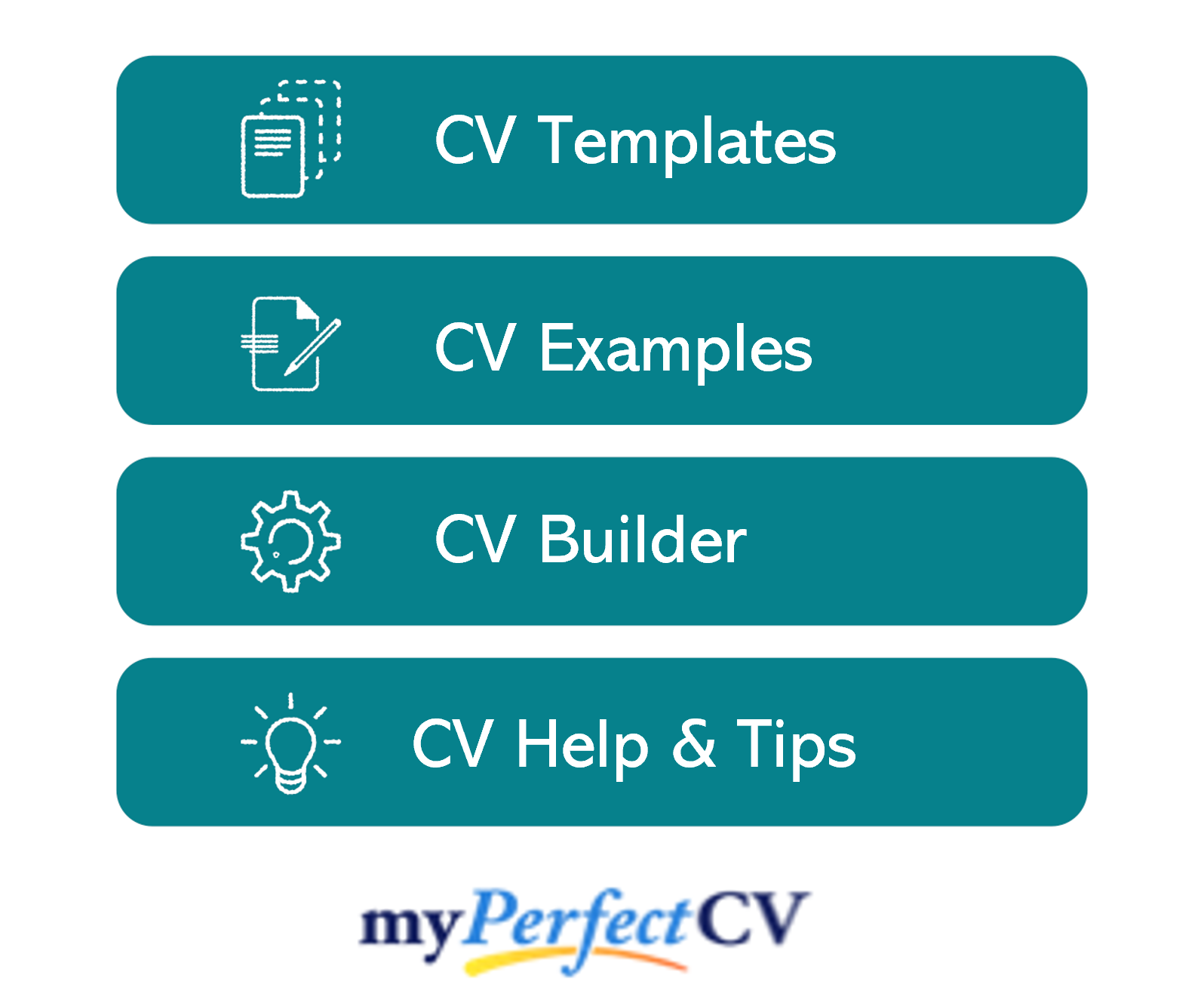 Water Engineer CV format and structure
Recruiters and employers are busy, and if they can't find the information they're looking for in a few seconds, it could be game over for your application.
You need to format and structure your CV in a way which allows the reader to pick out your key information with ease, even if they're strapped for time.
It should be clear, easily legible, well-organised and scannable – check out some simple tips and tricks below: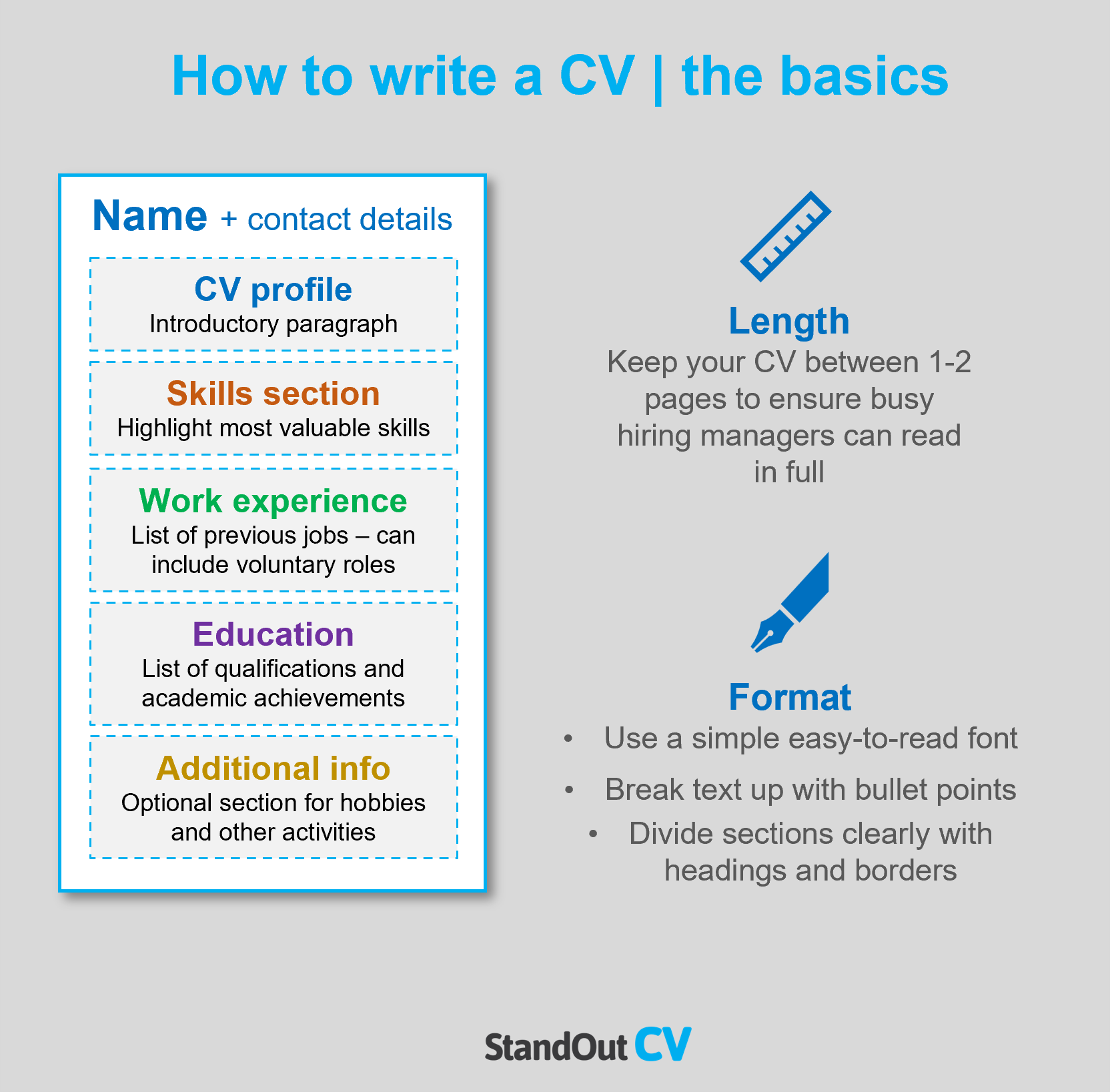 Tips for formatting your Water Engineer CV
Length: Two sides of A4 makes for the the perfect CV length, though one page is okay for less experienced applicants. This forces you to make sure that every single sentence adds value to your CV and ensures you avoid unnecessary  info.
Readability: By formatting your section headings with bold or a different colour font and using bullet points to break up large blocks of text, you can help busy recruiters quickly scan through your CV. This makes it easier for them to find important details without wasting time.
Design & format: While it's okay to add your own spin to your CV, avoid overdoing the design. If you go for something elaborate, you might end up frustrating recruiters who, above anything, value simplicity and clarity.
Photos: Headshot photos aren't requiered in a CV by most employers, but some creative and artistic industries like to see them. If you decide to inclide one, make sure you look smart and professional in the picture.
Quick tip: Creating a professional CV style can be difficult and time-consuming when using Microsoft Word or Google Docs. To create a winning CV quickly, try our partner's CV Builder and use one of their eye-catching professional CV templates.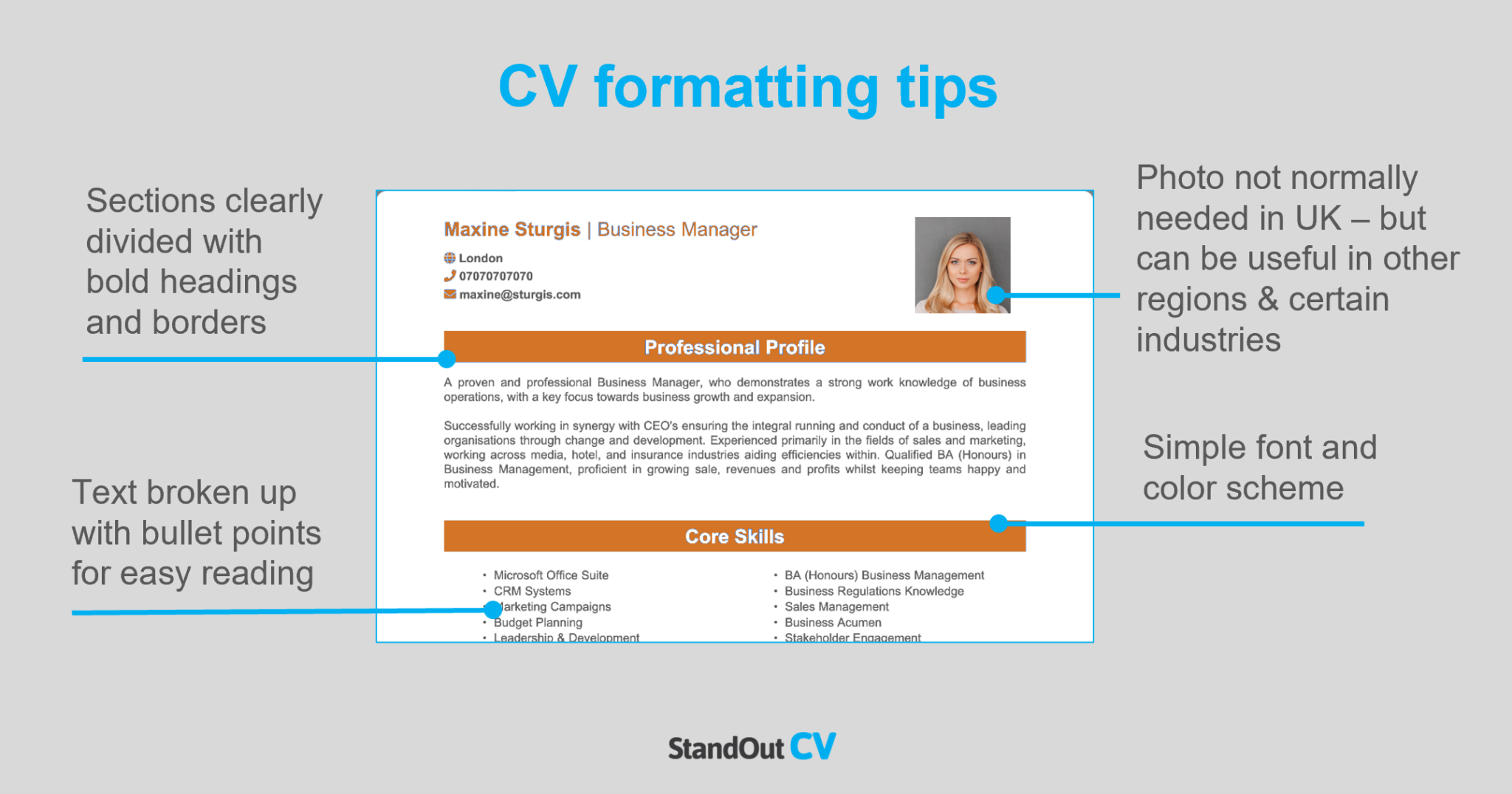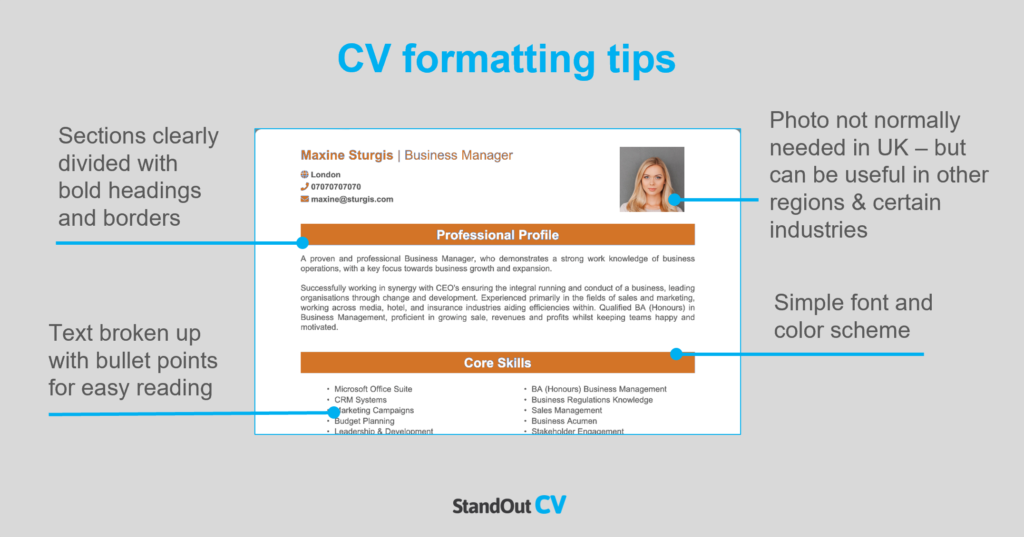 CV structure
Divide your CV into the following major sections when writing it:
Name and contact details – Head your CV with your name and contact details, to let the reader know who you are and how to contact you.
CV profile – A brief paragraph which summarises your skills and experience and highlights why you're a good match for the role.
Core skills list – A snappy, bullet-pointed list of your most relevant skills.
Work experience – A structured list of your work experience in reverse chronological order.
Education – A summary of any relevant qualifications or professional training you've completed.
Hobbies and interests – An optional section, which should only be used if your hobbies are relevant to the jobs you're applying to.
Now you understand the basic layout of a CV, here's what you should include in each section of yours.
Contact Details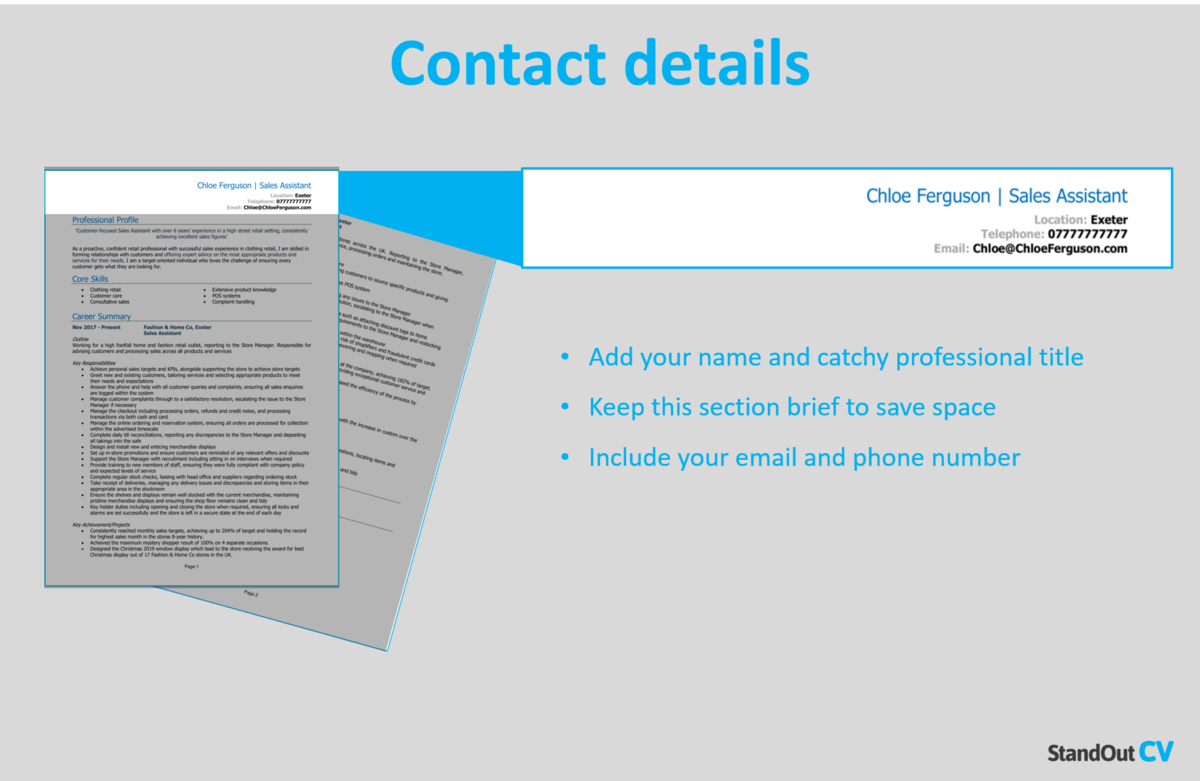 Make it easy for recruiters to get in touch, by heading your CV with your contact details.
There's no need for excessive details – just list the basics:
Mobile number
Email address – Use a professional address with no nicknames.
Location – Just write your your general location, such as 'London' or 'Cardiff' – there's no need to put your full address.
LinkedIn profile or portfolio URL
Water Engineer CV Profile
Make a strong first impression with recruiters by starting your CV with an impactful profile (or personal statement for junior applicants).
This short introduction paragraph should summarise your skills, experience, and knowledge, highlighting your suitability for the job.
It should be compelling enough to encourage recruiters to read through the rest of your CV.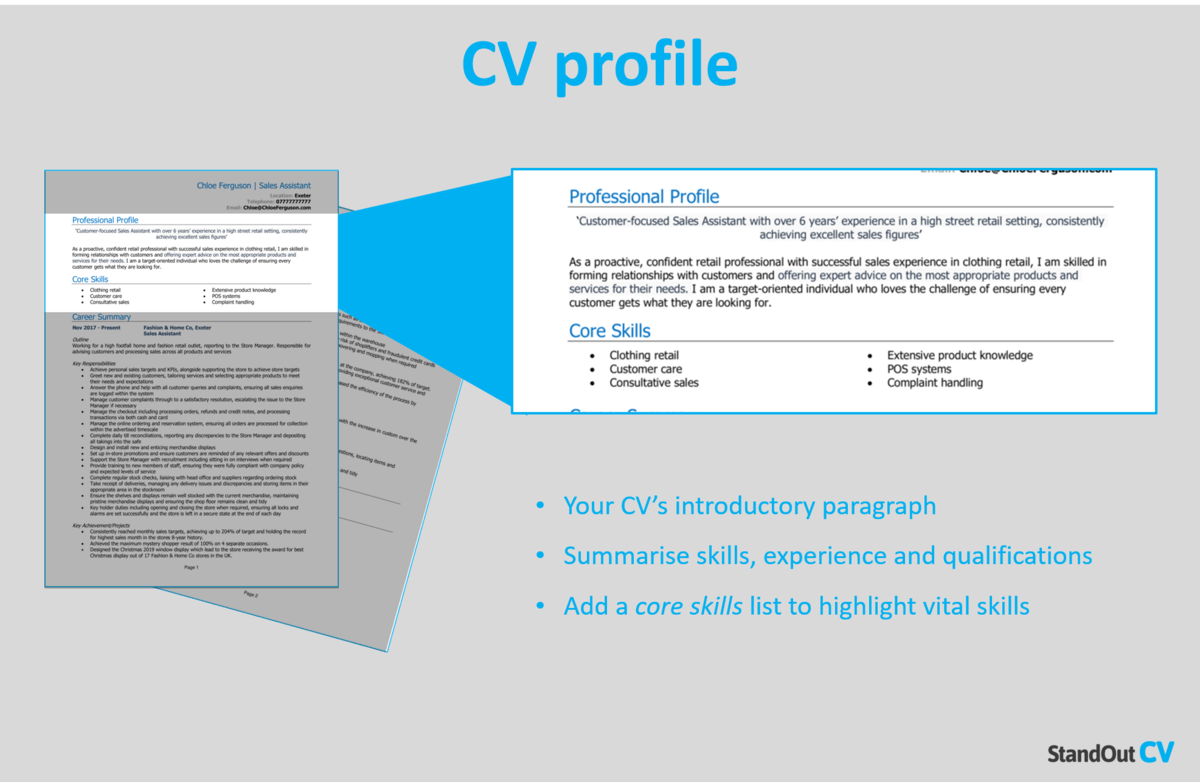 How to write a good CV profile:
Make it short and sharp: It might be tempting to submit a page-long CV profile, but recruiters won't have the time to read it. To ensure every word gets read, it's best to include high-level information only; sticking to a length of 3-5 lines.
Tailor it: No matter how much time you put into your CV profile, it won't impress if it's irrelevant to the role you're applying for. Before you start writing, make a list of the skills, knowledge and experience your target employer is looking for. Then, make sure to mention them in your CV profile and throughout the rest of your application.
Don't add an objective: Want to talk about about your career goals and objectives? While the profile may seem like a good space to do so, they're actually much better suited to your cover letter.
Avoid generic phrases: Clichés like "blue-sky thinker with a go-getter attitude" might sound impressive to you, but they don't actually tell the recruiter much about you. Concentrate on highlighting hard facts and skills, as recruiters are more likely to take these on board.
Example CV profile for Water Engineer
Chartered Water Engineer with over 10 years' experience in water resource management and sustainable infrastructure development. Adept at designing and implementing innovative solutions for water supply, wastewater treatment, and flood control projects with a proven track record of delivering projects on time and within budget. IEMA-Certified Environmental Impact Assessment Practitioner committed to environmental stewardship and ensuring the long-term viability of water resources.
What to include in your Water Engineer CV profile?
Experience overview: To give employers an idea of your capabilities, show them your track record by giving an overview of the types of companies you have worked for in the past and the roles you have carried out for previous employers – but keep it high level and save the details for your experience section.
Targeted skills: Make your most relevant Water Engineer key skills clear in your profile. These should be tailored to the specific role you're applying for – so make sure to check the job description first, and aim to match their requirements as closely as you can.
Important qualifications: If the job postings require specific qualifications, it is essential to incorporate them in your profile to ensure visibility to hiring managers.
Quick tip: If you are finding it difficult to write an attention-grabbing CV profile, choose from hundreds of pre-written profiles across all industries, and add one to your CV with one click in our partner's CV Builder. All profiles are written by recruitment experts and easily tailored to suit your unique skillset.
Core skills section
In addition to your CV profile, your core skills section provides an easily digestible snapshot of your skills – perfect for grabbing the attention of busy hiring managers.
As Water Engineer jobs might receive a huge pile of applications, this is a great way to stand out and show off your suitability for the role.
It should be made up of 2-3 columns of bullet points and be made up of skills that are highly relevant to the jobs you are targeting.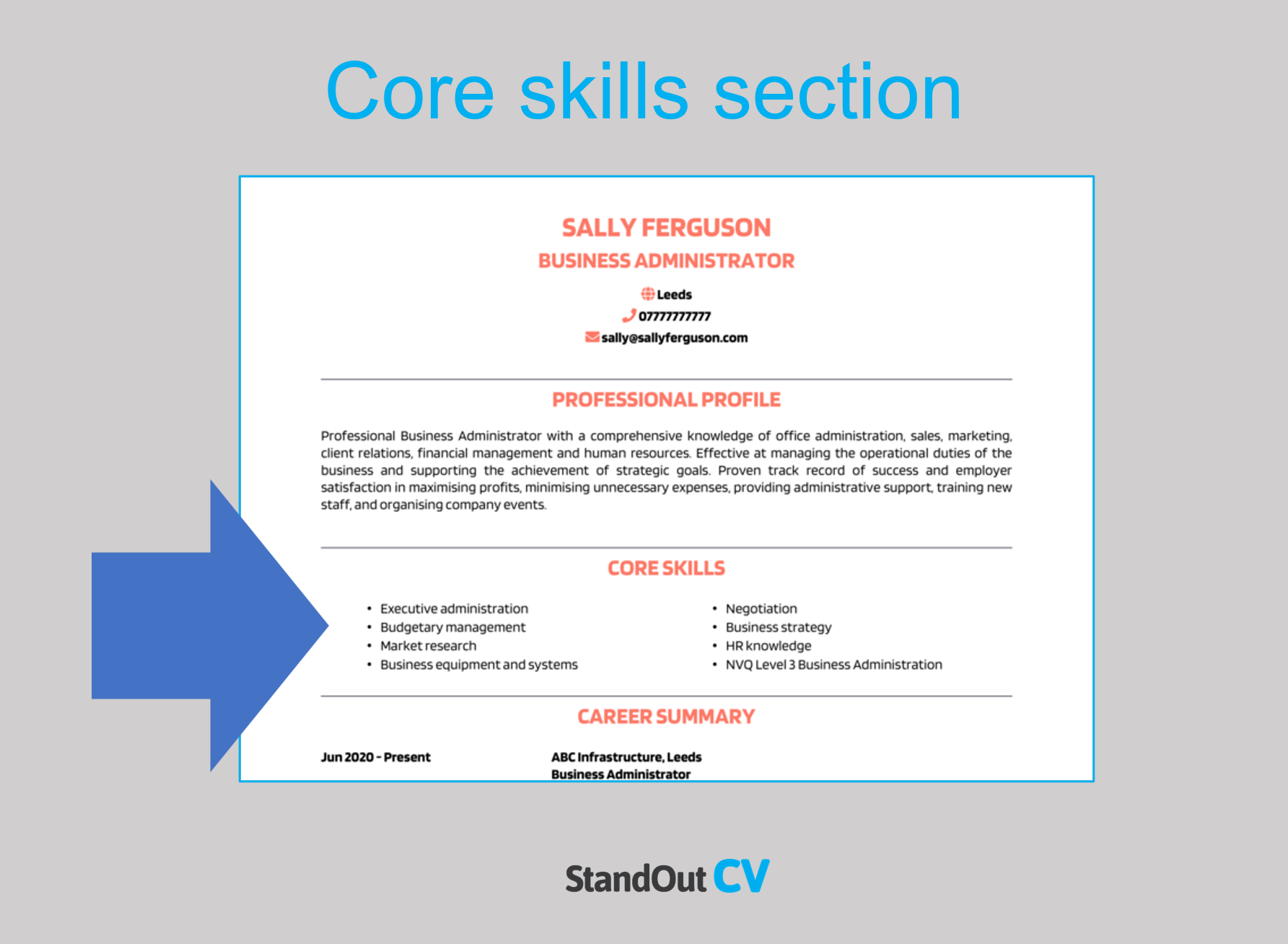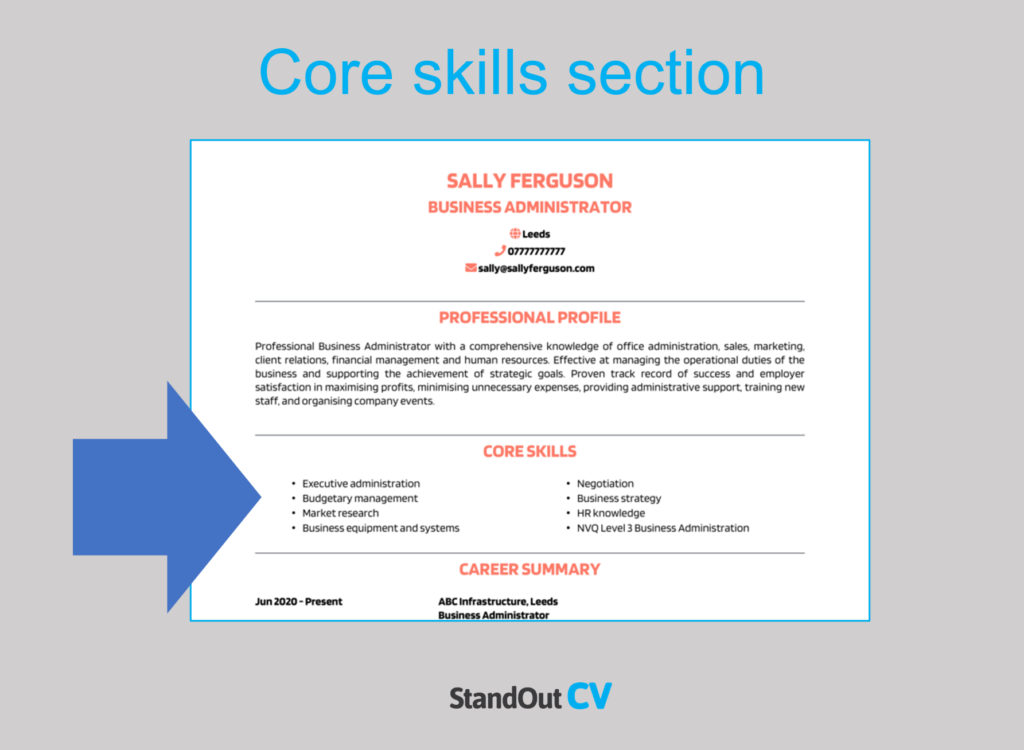 Important skills for your Water Engineer CV
Water Supply and Distribution – Designing, implementing, and maintaining water supply and distribution systems to ensure reliable and safe water access.
Water Treatment – Utilising knowledge of water treatment processes, including disinfection, filtration, and chemical treatment, to ensure water quality compliance.
Hydraulic Modelling – Utilising hydraulic modelling software to analyse and optimise water flow, pressure, and distribution within water networks.
Water Resource Management – Utilising knowledge of water resource management principles, including water conservation, sustainable use, and source protection.
Drainage and Flood Management – Designing and implementing effective drainage systems and flood management strategies to mitigate flood risks and ensure proper drainage.
Water Quality Assessment – Conducting water quality assessments, including water sampling, analysis, and interpretation of results to ensure compliance with regulatory standards.
Project Management – Planning, executing, and overseeing water engineering projects, including budgeting, scheduling, and resource allocation.
Environmental Compliance – Utilising knowledge of environmental regulations and standards related to water engineering projects, including pollution prevention and environmental impact assessment.
Stakeholder Engagement – Engaging with stakeholders, including clients, government agencies, and community members, to address their concerns and ensure project success.
Technical Report Writing – Preparing clear and concise technical reports and documentation, including project proposals, feasibility studies, and engineering design specifications.
Quick tip: Our partner's CV Builder has thousands of in-demand skills for all industries and professions, that can be added to your CV in seconds – This will save you time and ensure you get noticed by recruiters.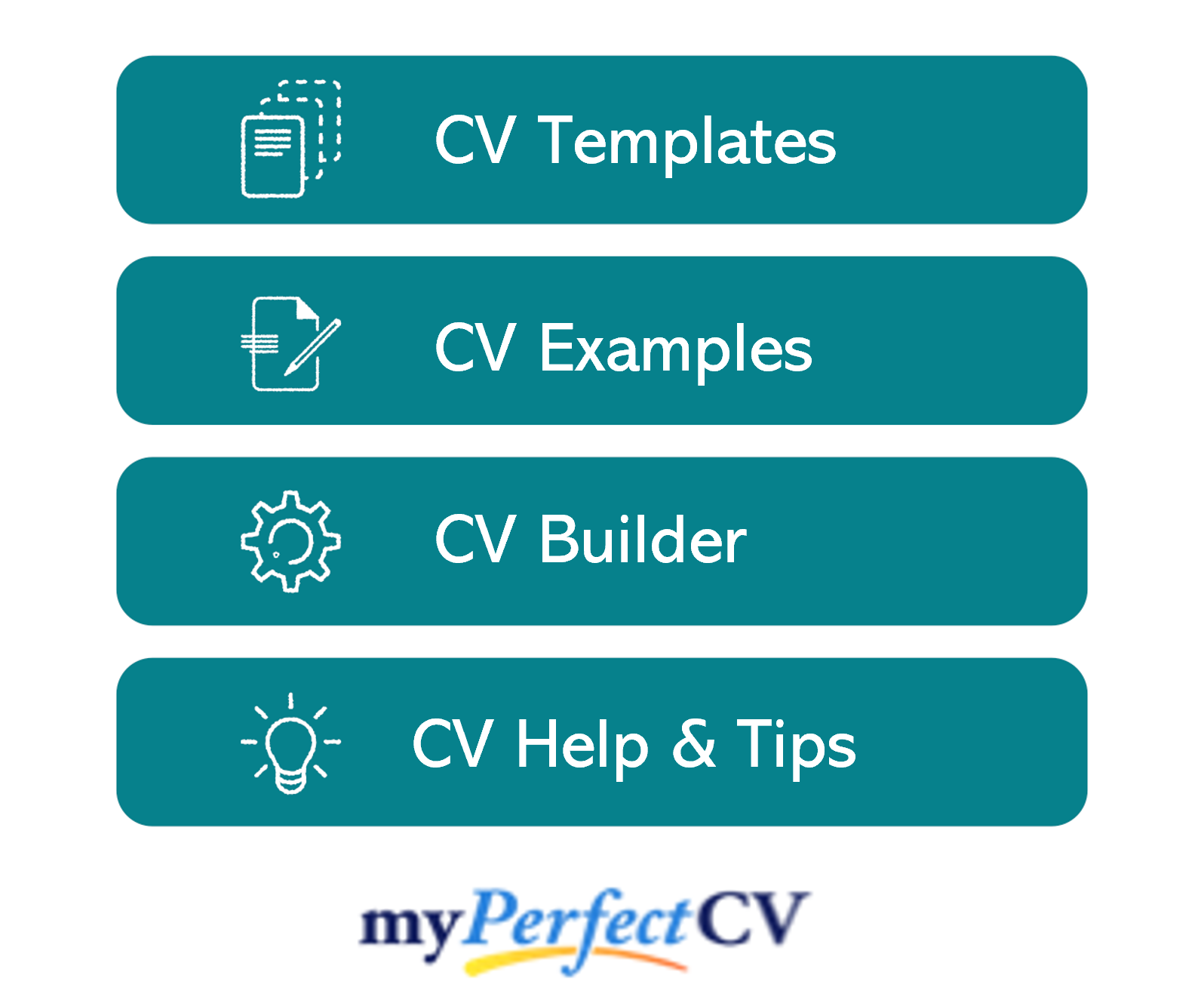 Work experience
By this point, employers will be keen to know more detail about you career history.
Starting with your most recent role and working backwards, create a snappy list of any relevant roles you've held.
This could be freelance, voluntary, part-time or temporary jobs too. Anything that's relevant to your target role is well-worth listing!
Structuring each job
Your work experience section will be long, so it's important to structure it in a way which helps recruiters to quickly and easily find the information they need.
Use the 3-step structure, shown in the below example, below to achieve this.
Outline
Start with a 1-2 sentence summary of your role as a whole, detailing what the goal of your position was, who you reported to or managed, and the type of organisation you worked for.
Key responsibilities
Follow with a snappy list of bullet points, detailing your daily duties and responsibilities.
Tailor it to the role you're applying for by mentioning how you put the target employer's desired hard skills and knowledge to use in this role.
Key achievements
To finish off each role and prove the impact you made, list 1-3 stand out achievements, results or accomplishments.
This could be anything which had a positive outcome for the company you worked for, or perhaps a client/customer.
Where applicable, quantify your examples with facts and figures.
Sample job description for Water Engineer CV
Outline
Drive and manage water engineering projects for a leading water infrastructure consultancy, designing and implementing sustainable urban water management strategies for a variety of public and private sector clients.
Key Responsibilities
Conduct hydrological and hydraulic modelling to assess water resource availability and design optimal water supply systems
Develop flood control and drainage strategies including stormwater management
Work with clients, stakeholders, and the WSRA to meet environmental standards
Lead project teams, providing technical guidance and coordinating resources
Quick tip: Create impressive job descriptions easily in our partner's CV Builder by adding pre-written job phrases for every industry and career stage.

Education section
In your education section, make any degrees, qualifications or training which are relevant to Water Engineer roles a focal point.
As well as mentioning the name of the organisation, qualification titles and dates of study, you should showcase any particularly relevant modules, assignments or projects.
Hobbies and interests
The hobbies and interests CV section isn't mandatory, so don't worry if you're out of room by this point.
However, if you have an interesting hobby, or an interest that could make you seem more suitable for the role, then certainly think about adding.
Be careful what you include though… Only consider hobbies that exhibit skills that are required for roles as a Water Engineer, or transferable workplace skills.
There is never any need to tell employers that you like to watch TV and eat out.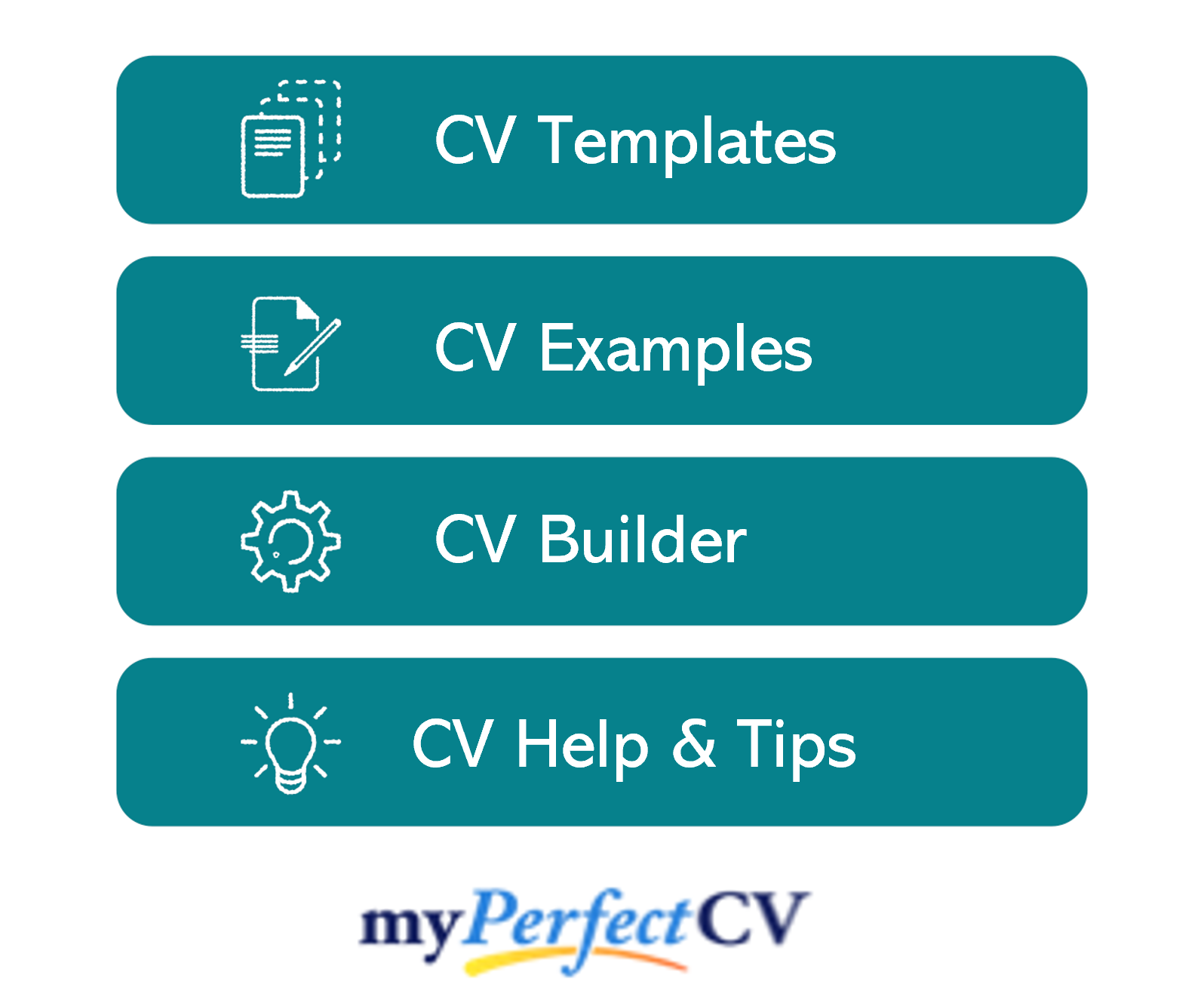 When putting together your Water Engineer CV, there are a few key points to remember.
Always tailor your CV to the target role, even if it means creating several versions for different roles.
Additionally, remember that the structure and format of your CV needs just as much attention as the content.
Good luck with your job search!