As an animal lover, the role of a veterinary assistant is the perfect way to spend your days caring for sick or injured animals, whilst also gaining valuable experience.
But in order to land the role, you need to prove to the recruiter that you've got what it takes to support the vet and ensure the safety of all your furry patients.
To do this, you need a CV that outlines your skills and qualifications, and you can use our writing guide and veterinary assistant CV example to create yours.
Contents
| | |
| --- | --- |
| How to write a Veterinary Assistant CV | |

Veterinary Assistant CV example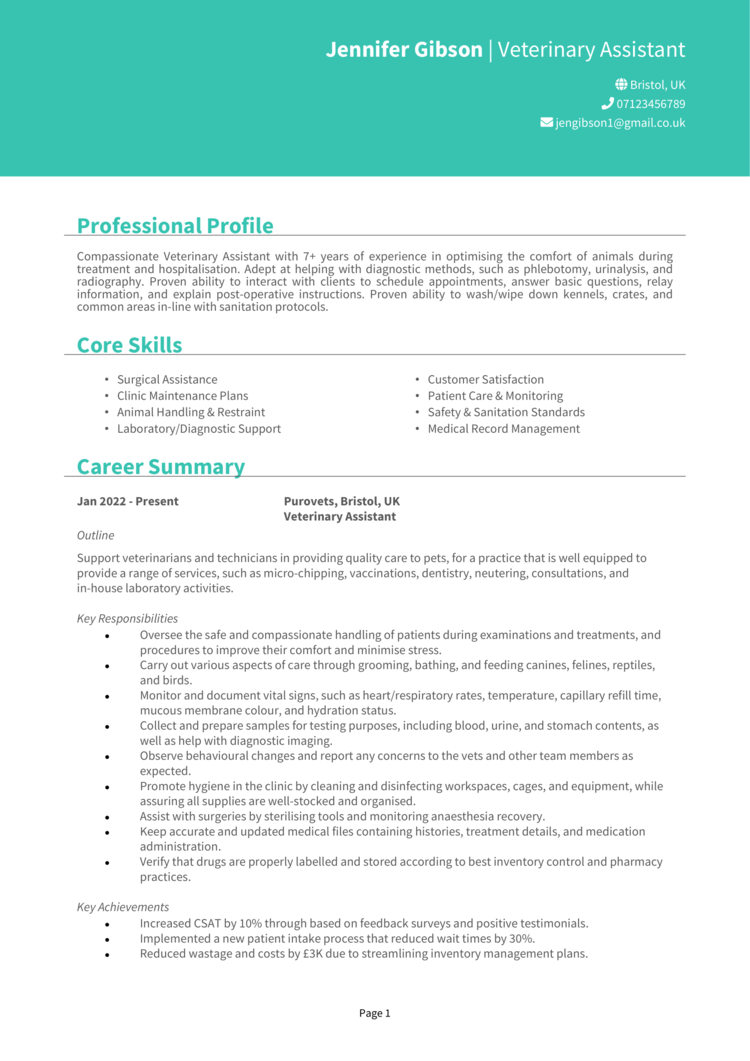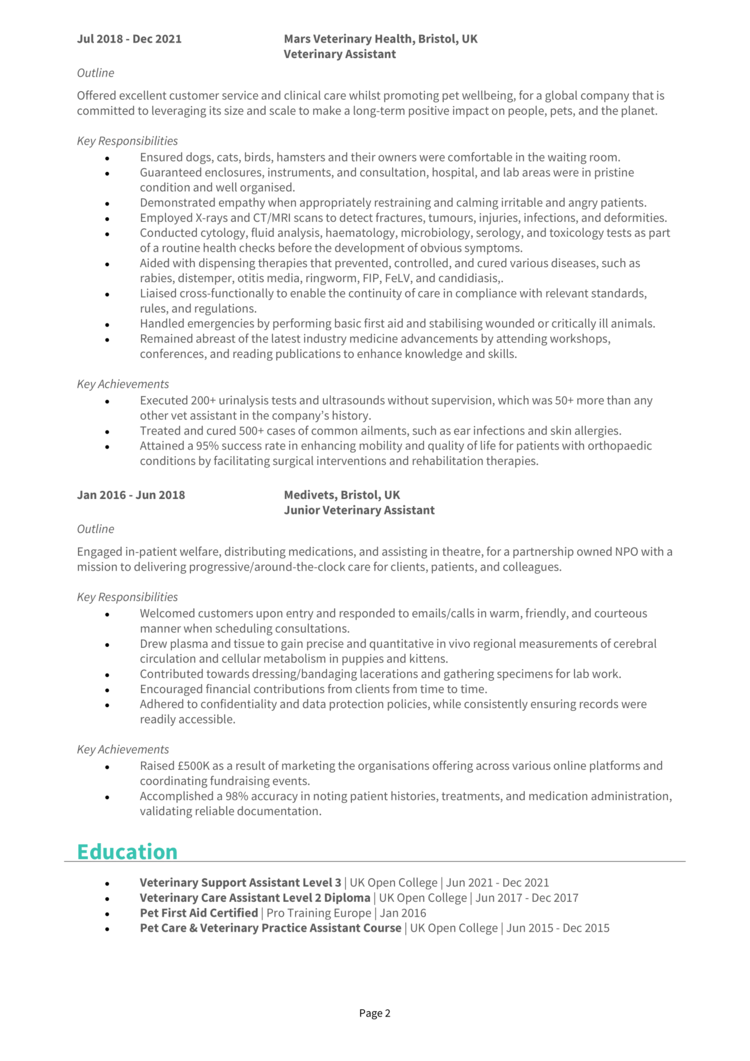 This CV example illustrates the ideal structure and format for your Veterinary Assistant CV, making it easy for busy hiring managers to quickly identify your suitability for the jobs you're applying for,
It also gives some guidance on the skills, experience and qualifications you should emphasise in your own CV.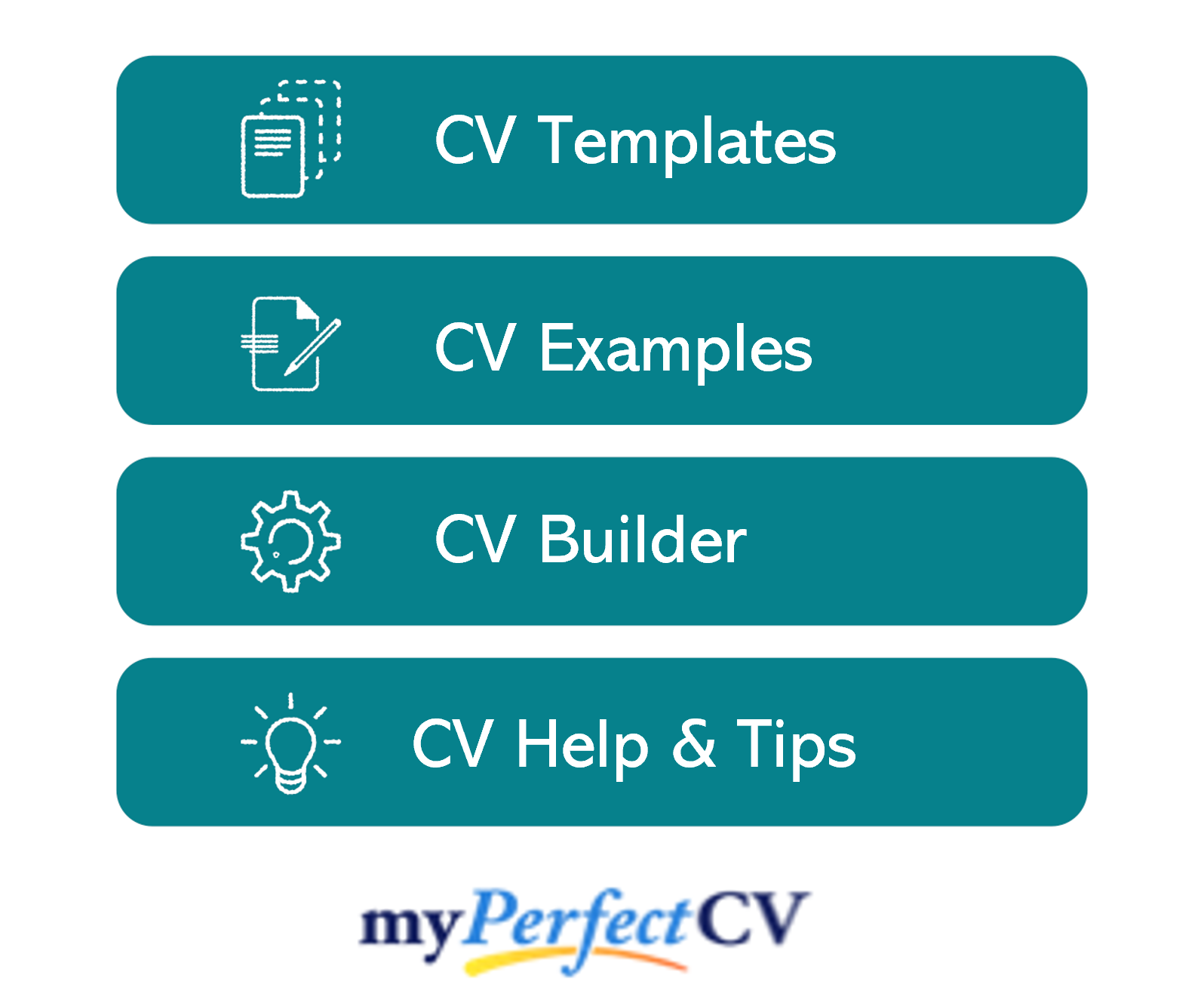 Veterinary Assistant CV format and structure
In today's fast-paced job market, recruiters and employers are often short on time. If they can't locate the information they're searching for within a few seconds, it could result in them overlooking your application.
To avoid this happening, it's critical to structure and format your CV in a way that allows them to quickly identify your key skills and offerings, even when they're pressed for time.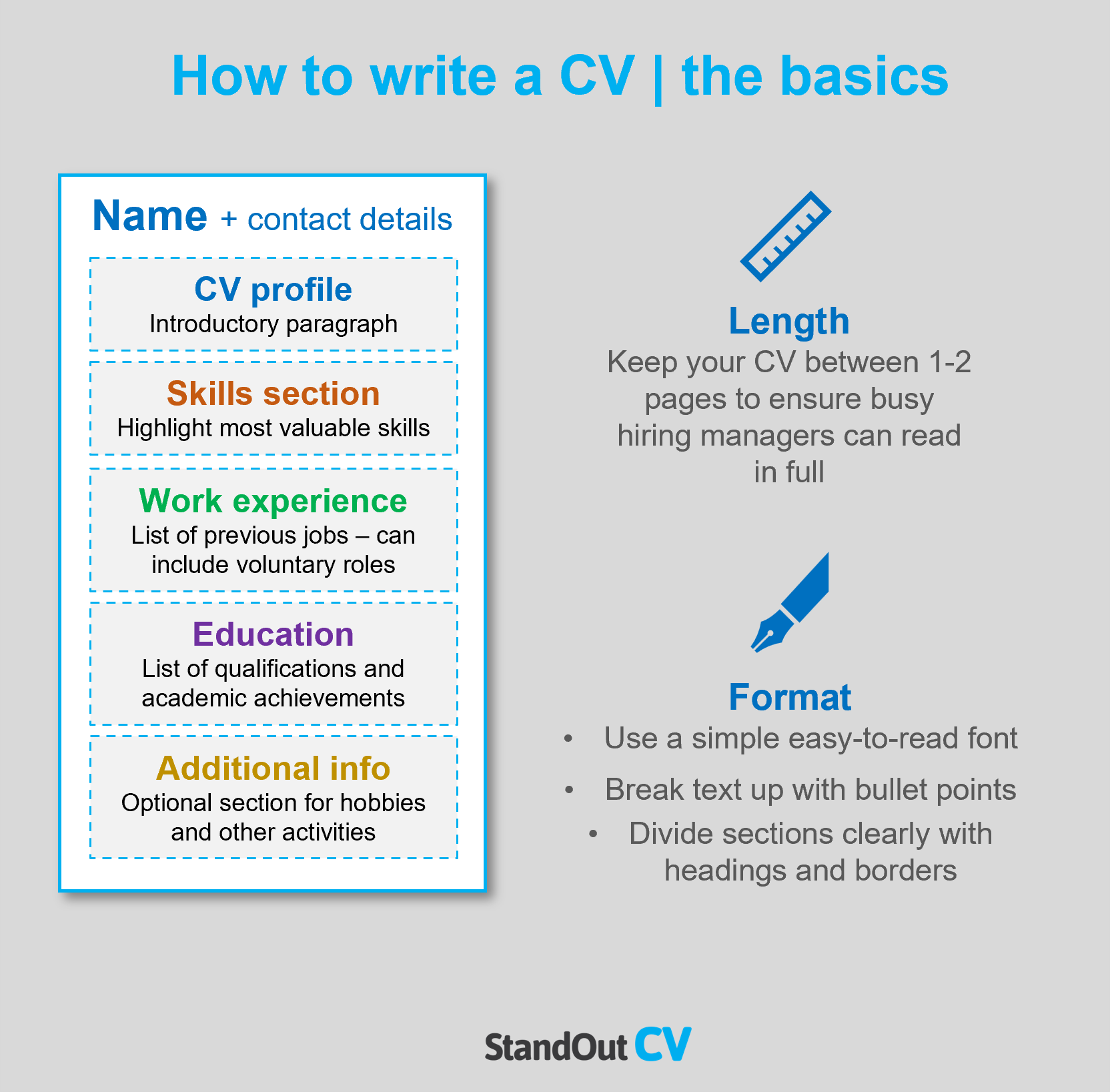 Tips for formatting your Veterinary Assistant CV
Length: Two sides of A4 makes for the the perfect CV length, though one page is okay for less experienced applicants. This forces you to make sure that every single sentence adds value to your CV and ensures you avoid unnecessary  info.
Readability: Help out time-strapped recruiters by formatting your CV for easy reading. Using lots of bullet points and lists will help them to skim through your info, while clearly formatted headings will allow them to navigate towards the content which is most useful to them.
Design & format: While it's okay to add your own spin to your CV, avoid overdoing the design. If you go for something elaborate, you might end up frustrating recruiters who, above anything, value simplicity and clarity.
Photos: Don't add profile photos to your CV unless you work in an industry or region which prefers to see them. Most employers in the UK will not need to see one.
Quick tip: Creating a professional CV style can be difficult and time-consuming when using Microsoft Word or Google Docs. To create a winning CV quickly, try our partner's CV Builder and use one of their eye-catching professional CV templates.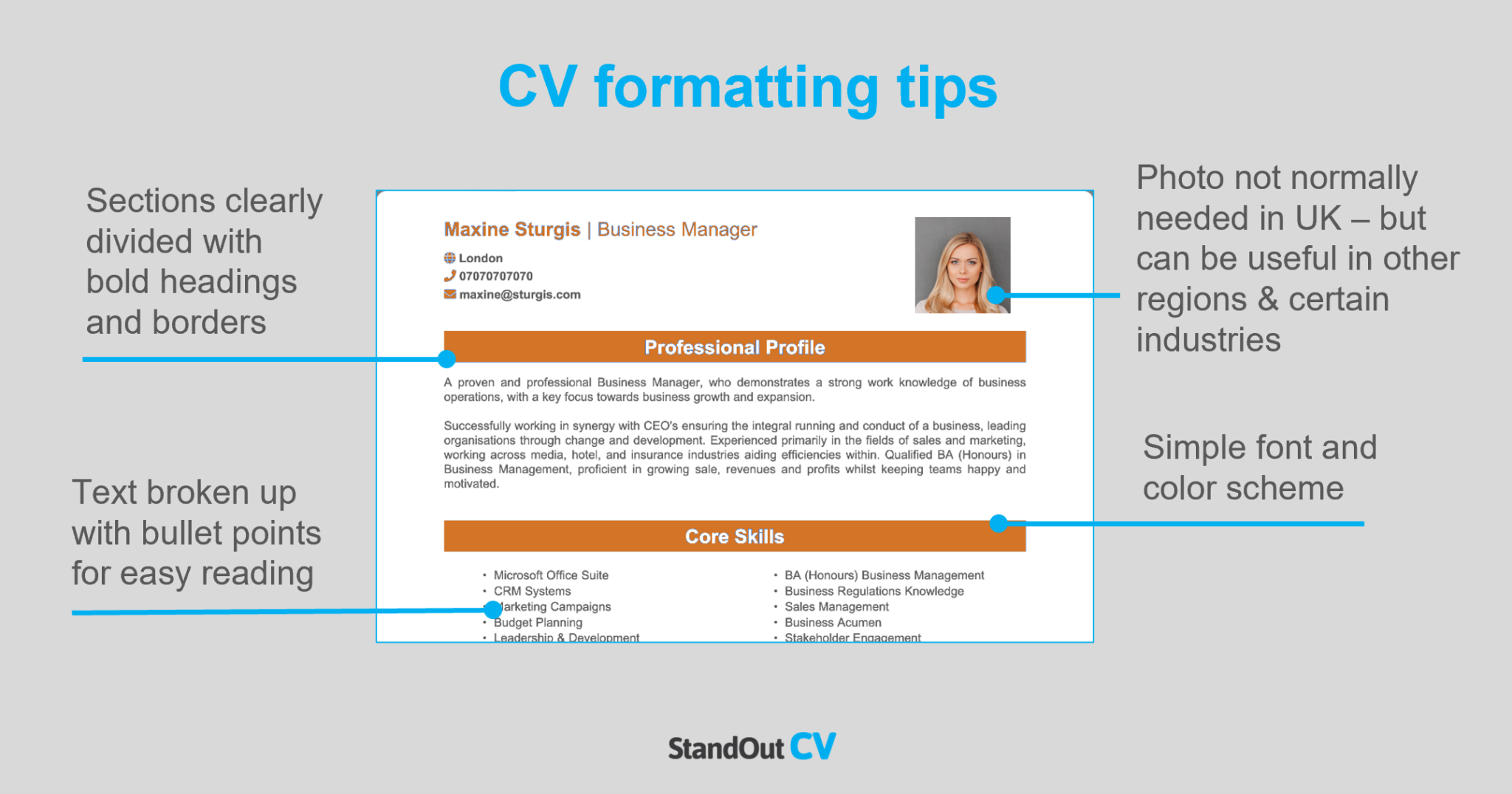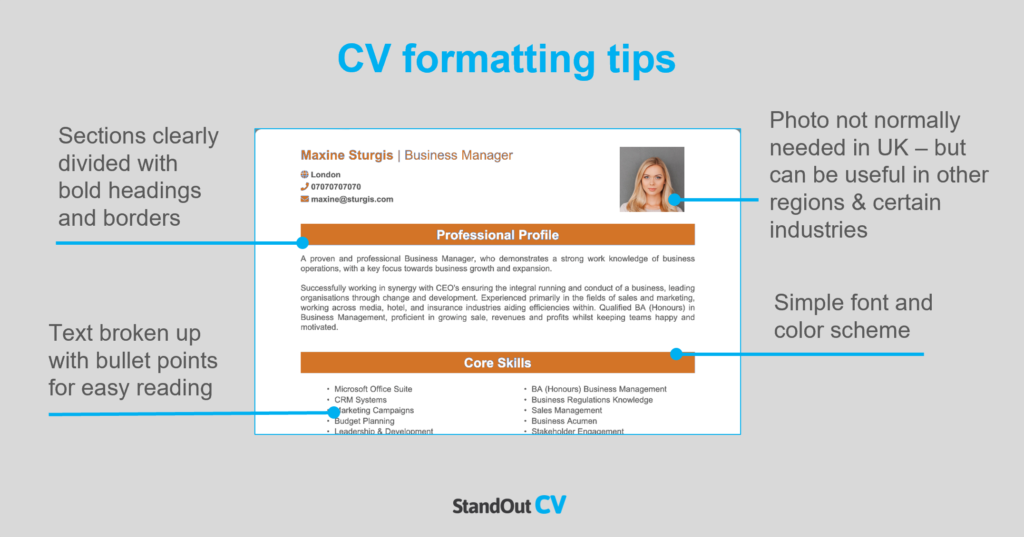 CV structure
As you write your CV, divide and sub-head into the following sections:
Name and contact details – Always start with these, so employers know exactly how to get in touch with you.
CV profile – Add a short summary of your relevant experience, skills and achievements, which highlights your suitability.
Core skills section – A 2-3 columned list of your key skills.
Work experience – A detailed list of any relevant work experience, whether paid or voluntary.
Education – An overview of your academic background and any training you may have completed.
Hobbies and interests – A brief overview of your hobbies and interests, if they're relevant (optional).
Now you understand the basic layout of a CV, here's what you should include in each section of yours.
Contact Details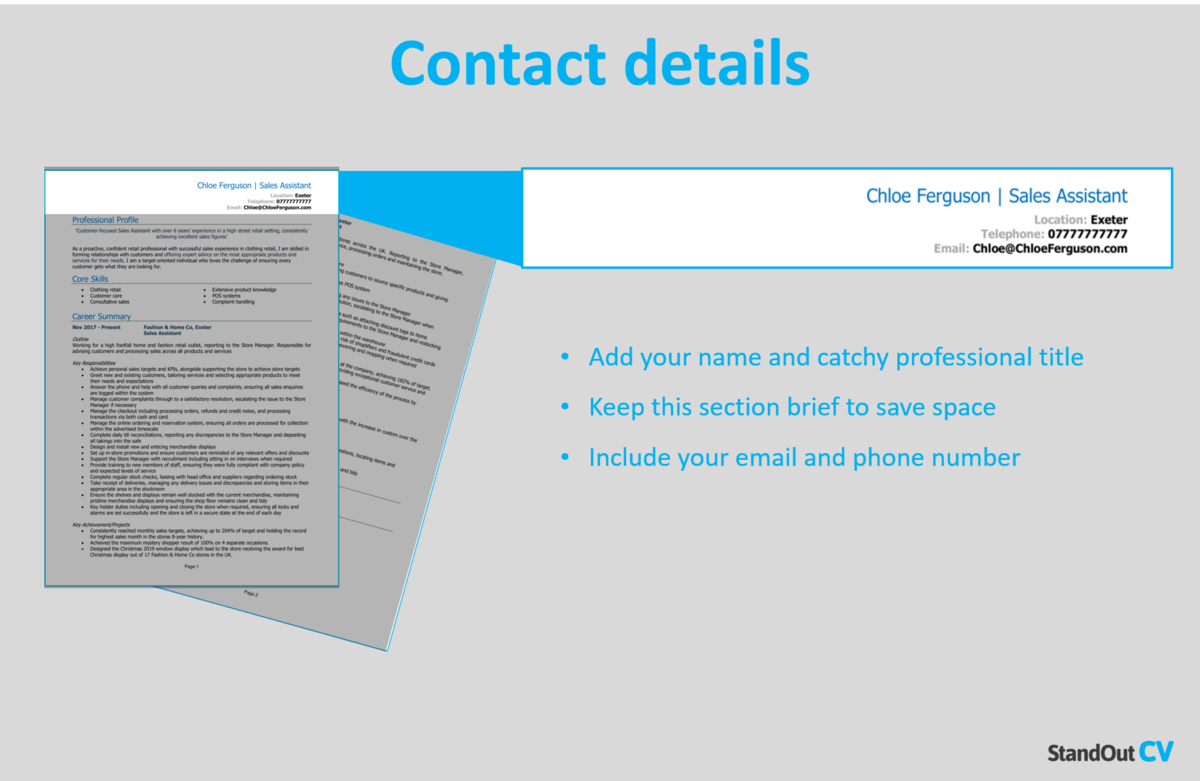 Make it easy for recruiters to get in touch, by heading your CV with your contact details.
There's no need for excessive details – just list the basics:
Mobile number
Email address – Use a professional address with no nicknames.
Location – Just write your your general location, such as 'London' or 'Cardiff' – there's no need to put your full address.
LinkedIn profile or portfolio URL
Veterinary Assistant CV Profile
Grab the reader's attention by kick-starting your CV with a powerful profile (or personal statement, if you're a junior applicant).
This is a short introduction paragraph which summarises your skills, knowledge and experience.
It should paint you as the perfect match for the job description and entice recruiters to read through the rest of your CV.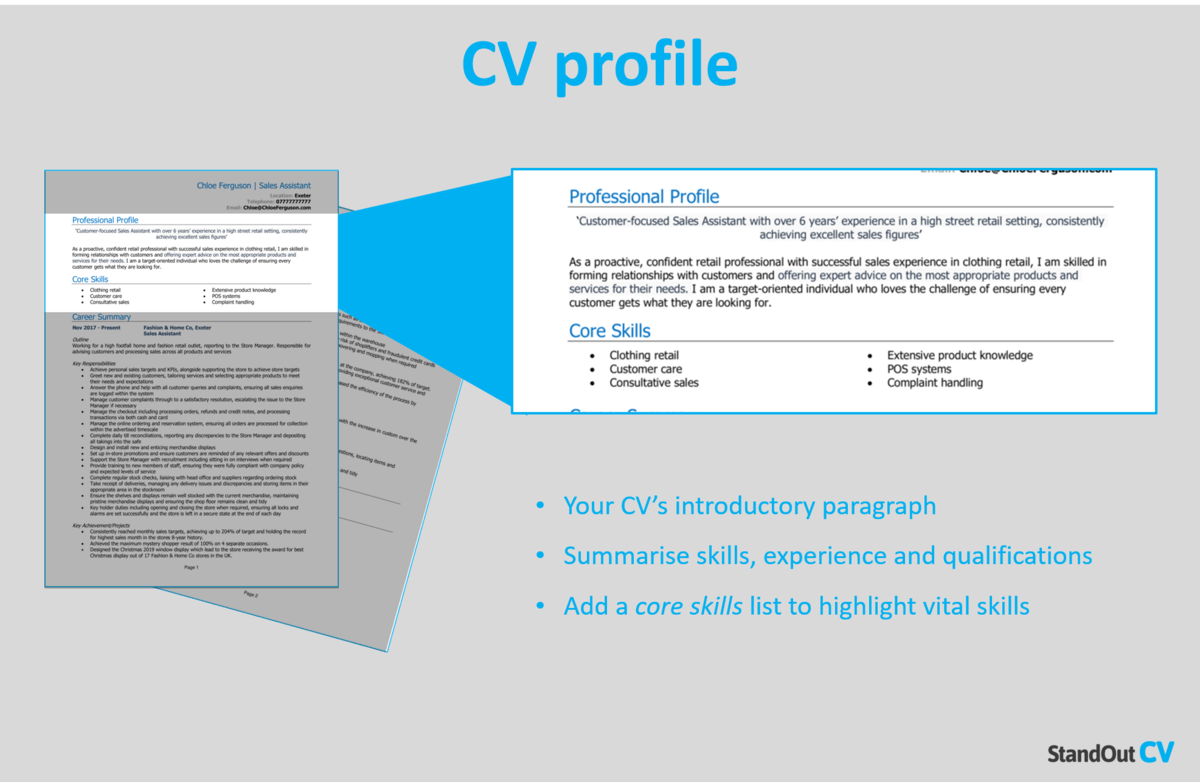 How to write a good CV profile:
Make it short and sharp: Recruiters have piles of CVs to read through and limited time to dedicate to each, so it pays to showcase your abilities in as few words as possible. 3-4 lines is ideal.
Tailor it: No matter how much time you put into your CV profile, it won't impress if it's irrelevant to the role you're applying for. Before you start writing, make a list of the skills, knowledge and experience your target employer is looking for. Then, make sure to mention them in your CV profile and throughout the rest of your application.
Don't add an objective: You only have a small space for your CV profile, so avoid writing down your career goals or objectives. If you think these will help your application, incorporate them into your cover letter instead.
Avoid generic phrases: Focus on fact, not fluff. Phrases like "Committed and enthusiastic thought-leader" and "Dynamic problem solver" might sound fancy, but they'll do nothing for your application. Not only do they sound cheesy, but they have no substance – stick to real skills and facts
Example CV profile for a Veterinary Assistant
Compassionate Veterinary Assistant with 7+ years of experience in optimising the comfort of animals during treatment and hospitalisation. Adept at helping with diagnostic methods, such as phlebotomy, urinalysis, and radiography. Proven ability to interact with clients to schedule appointments, answer basic questions, relay information, and explain post-operative instructions. Proven ability to wash/wipe down kennels, crates, and common areas in-line with sanitation protocols.
What to include in your Veterinary Assistant CV profile?
Experience overview: To give employers an idea of your capabilities, show them your track record by giving an overview of the types of companies you have worked for in the past and the roles you have carried out for previous employers – but keep it high level and save the details for your experience section.
Targeted skills: Make your most relevant Veterinary Assistant key skills clear in your profile. These should be tailored to the specific role you're applying for – so make sure to check the job description first, and aim to match their requirements as closely as you can.
Important qualifications: If the job postings require specific qualifications, it is essential to incorporate them in your profile to ensure visibility to hiring managers.
Quick tip: If you are finding it difficult to write an attention-grabbing CV profile, choose from hundreds of pre-written profiles across all industries, and add one to your CV with one click in our partner's CV Builder. All profiles are written by recruitment experts and easily tailored to suit your unique skillset.
Core skills section
Create a core skills section underneath your profile to spotlight your most in-demand skills and grab the attention of readers.
This section should feature 2-3 columns of bullet points that emphasise your applicable skills for your target jobs. Before constructing this section, review the job description and compile a list of any specific skills, specialisms, or knowledge required.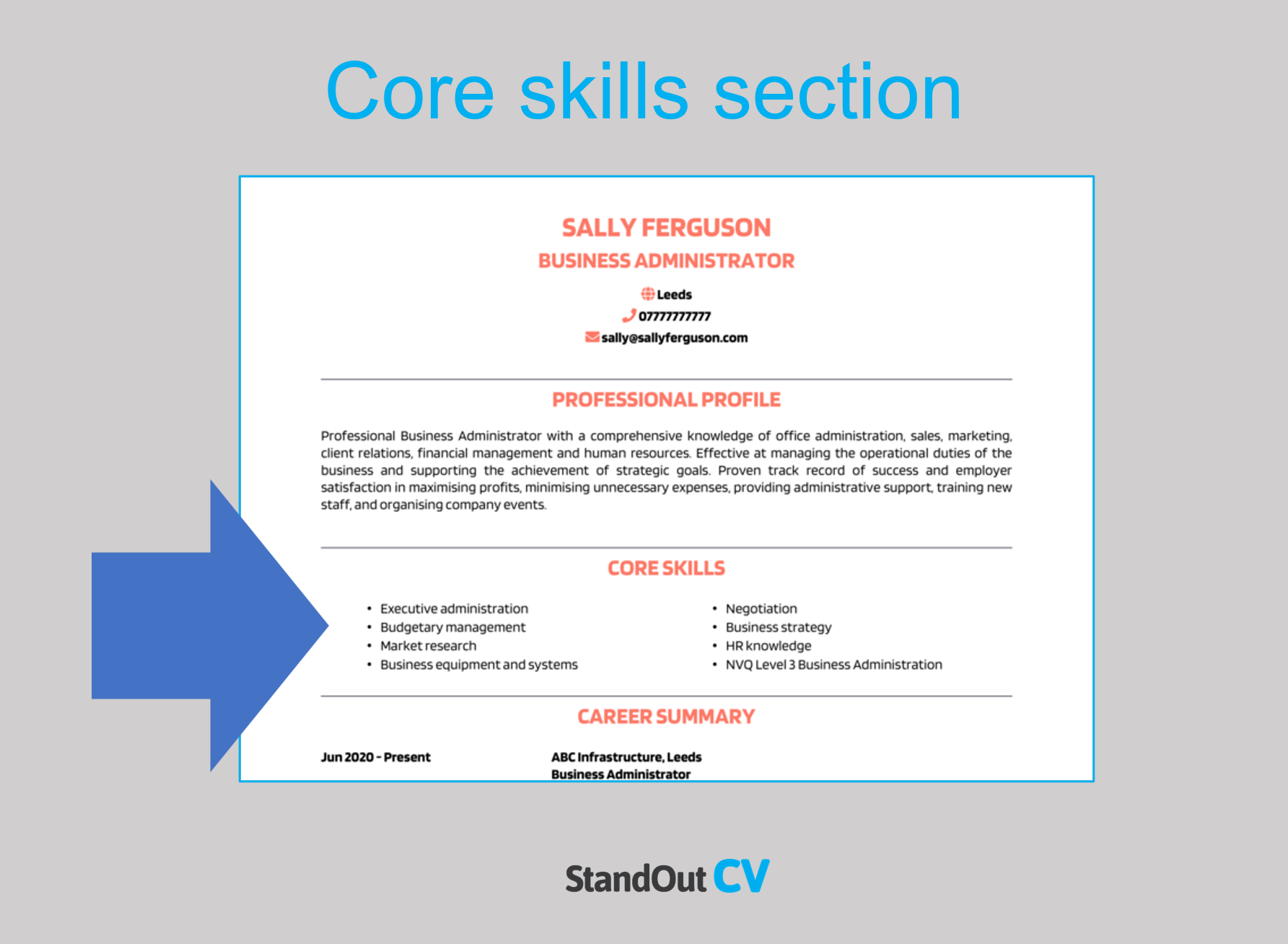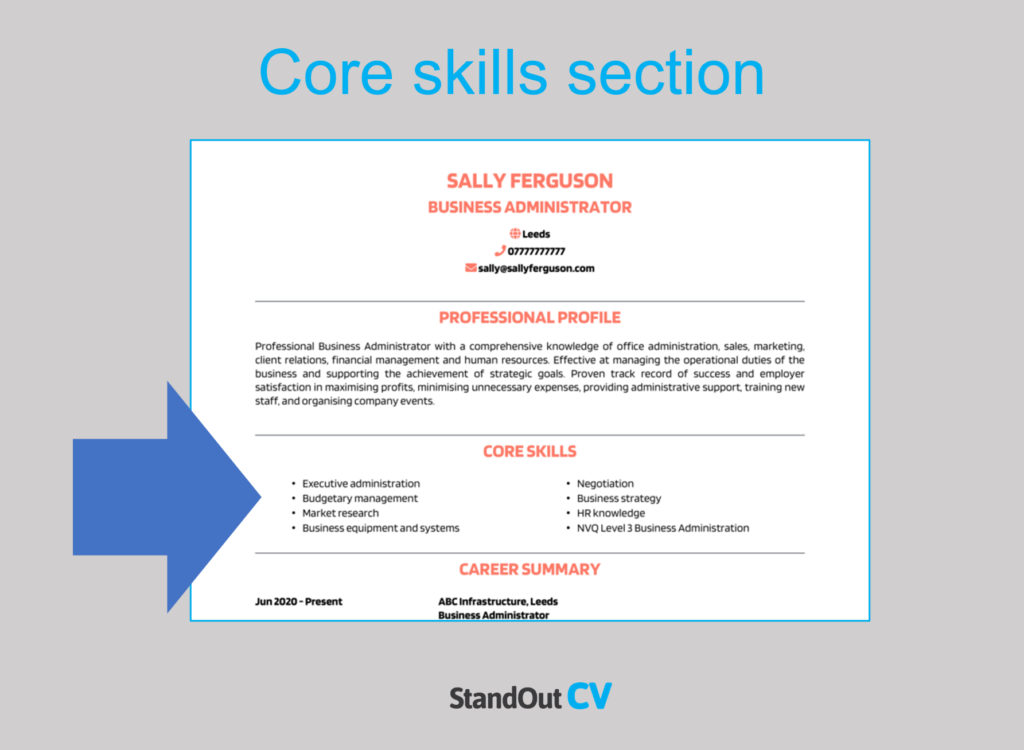 Important skills for your Veterinary Assistant CV
Animal Handling – Safely and confidently handling animals, including restraining, lifting, and positioning them for various procedures.
Clinical Procedures – Utilising knowledge of common clinical procedures such as taking vital signs, administering medications, drawing blood, and assisting with diagnostic tests.
Patient Care – Providing basic animal care, including feeding, grooming, bathing, and monitoring overall well-being.
Medical Terminology – Utilising knowledge of veterinary medical terminology to effectively communicate with veterinarians and other members of the healthcare team.
Laboratory Procedures – Performing routine laboratory procedures, such as sample collection, preparation, and basic analysis.
Sterilisation Techniques – Utilising knowledge of proper sterilisation techniques for equipment, instruments, and surgical supplies to maintain a clean and safe environment.
Radiography – Positioning animals for X-rays and assisting with radiographic imaging processes.
Record-Keeping – Accurately and efficiently documenting patient information, treatments, and procedures in electronic or paper medical records.
Client Communication – Interacting with pet owners, providing them with information, instructions, and answering basic questions about their pet's health and care.
Emergency Response – Remaining calm and assist during emergencies, such as providing first aid, stabilising patients, and supporting veterinarians in critical situations.
Quick tip: Our partner's CV Builder has thousands of in-demand skills for all industries and professions, that can be added to your CV in seconds – This will save you time and ensure you get noticed by recruiters.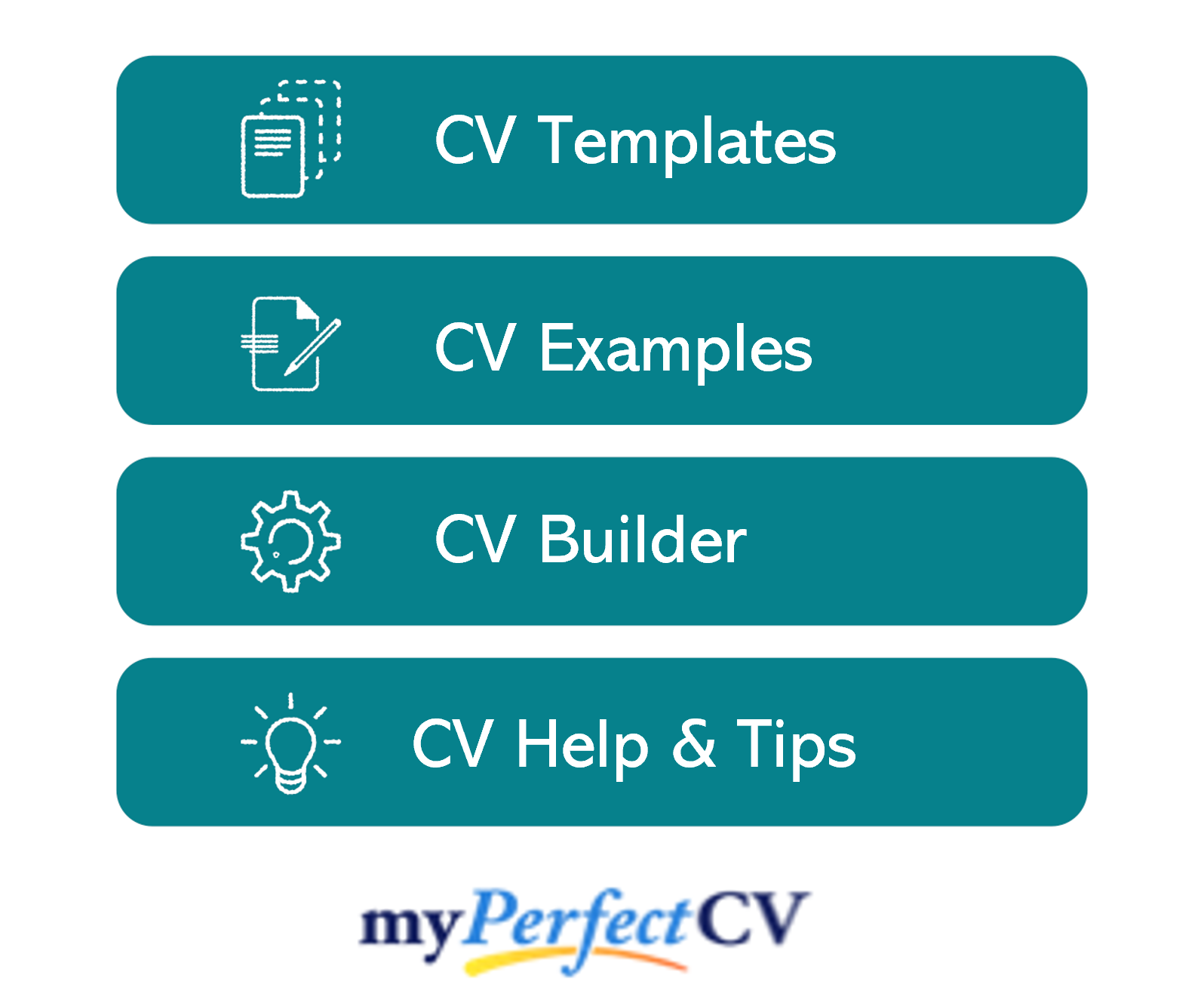 Work experience
Now it's time to get stuck into your work experience, which should make up the bulk of your CV.
Begin with your current (or most recent) job, and work your way backwards.
If you've got too much experience to fit onto two pages, prioritise space for your most recent and relevant roles.
Structuring each job
Lengthy, unbroken chunks of text is a recruiters worst nightmare, but your work experience section can easily end up looking like that if you are not careful.
To avoid this, use my tried-and-tested 3-step structure, as illustrated below:
Outline
Firstly, give the reader some context by creating a punchy summary of the job as a whole.
You should mention what the purpose or goal of your role was, what team you were part of and who you reported to.
Key responsibilities
Use bullet points to detail the key responsibilities of your role, highlighting hard skills, software and knowledge wherever you can.
Keep them short and sharp to make them easily digestible by readers.
Key achievements
Finish off by showcasing 1-3 key achievements made within the role.
This could be anything that had a positive effect on your company, clients or customers, such as saving time or money, receiving exemplary feedback or receiving an award.
Sample job description for Veterinary Assistant CV
Outline
Support veterinarians and technicians in providing quality care to pets, for a practice that is well equipped to provide a range of services, such as micro-chipping, vaccinations, dentistry, neutering, consultations, and in-house laboratory activities.
Key Responsibilities
Oversee the safe and compassionate handling of patients during examinations and treatments, and procedures to improve their comfort and minimise stress.
Carry out various aspects of care through grooming, bathing, and feeding canines, felines, reptiles, and birds.
Monitor and document vital signs, such as heart/respiratory rates, temperature, capillary refill time, mucous membrane colour, and hydration status.
Collect and prepare samples for testing purposes, including blood, urine, and stomach contents, as well as help with diagnostic imaging.
Quick tip: Create impressive job descriptions easily in our partner's CV Builder by adding pre-written job phrases for every industry and career stage.

Education section
At the bottom of your CV is your full education section. You can list your formal academic qualifications, such as:
As well as any specific Veterinary Assistant qualifications that are essential to the jobs you are applying for. Note down the name of the qualification, the organisation at which you studied, and the date of completion.
Hobbies and interests
Although this is an optional section, it can be useful if your hobbies and interests will add further depth to your CV.
Interests which are related to the sector you are applying to, or which show transferable skills like leadership or teamwork, can worth listing.
On the other hand, generic hobbies like "going out with friends" won't add any value to your application, so are best left off your CV.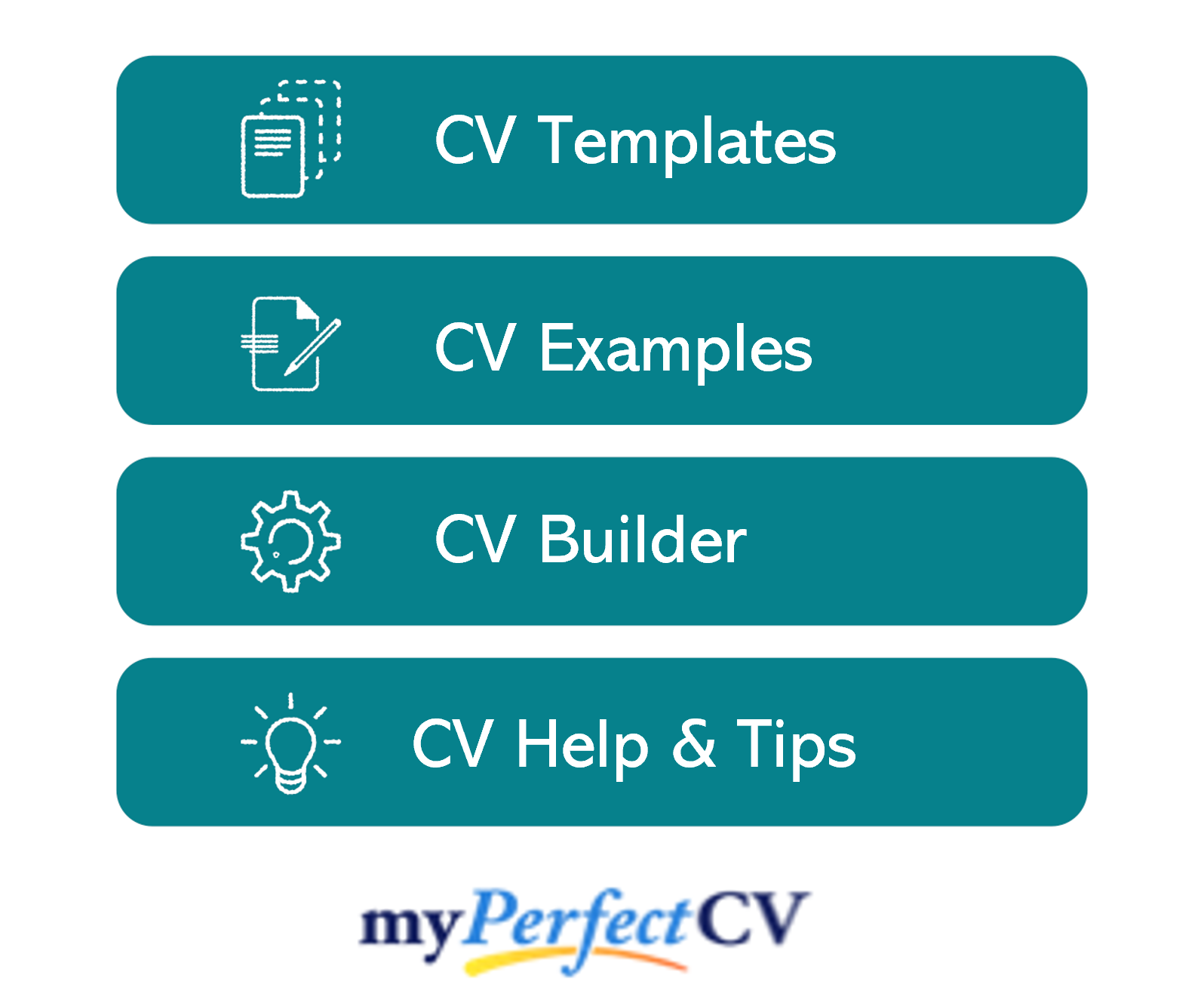 A strong, compelling CV is essential to get noticed and land interviews with the best employers.
To ensure your CV stands out from the competition, make sure to tailor it to your target role and pack it with sector-specific skills and results.
Remember to triple-check for spelling and grammar errors before hitting send.
Good luck with the job search!