You love animals, and you're so good at taking care of them that you could give Doctor Dolittle a run for his money.
And OK, maybe those aren't the words you should use on your CV, but you certainly need to highlight your training and skills if you want to bag your next veterinary role.
If you're unsure where to start, check out our UK Vet CV example below. Complete with some of our best advice for creating a top-notch application.

UK Vet CV example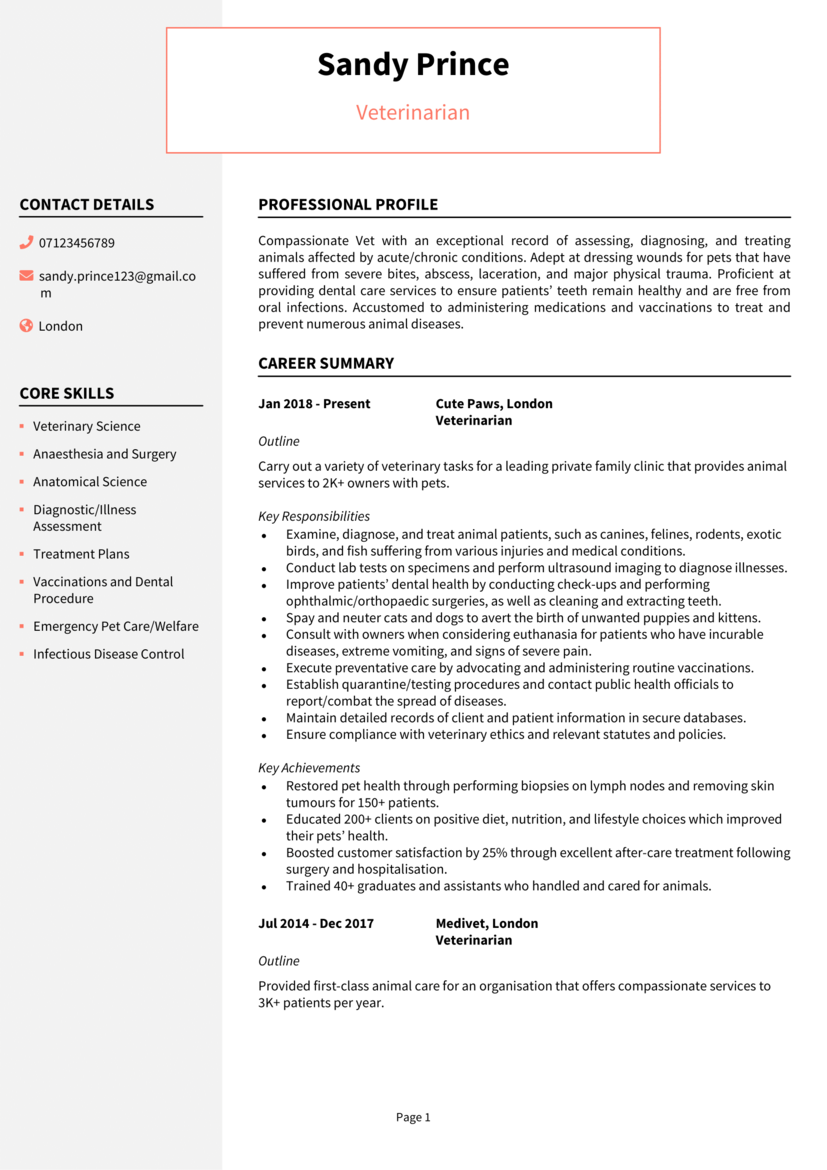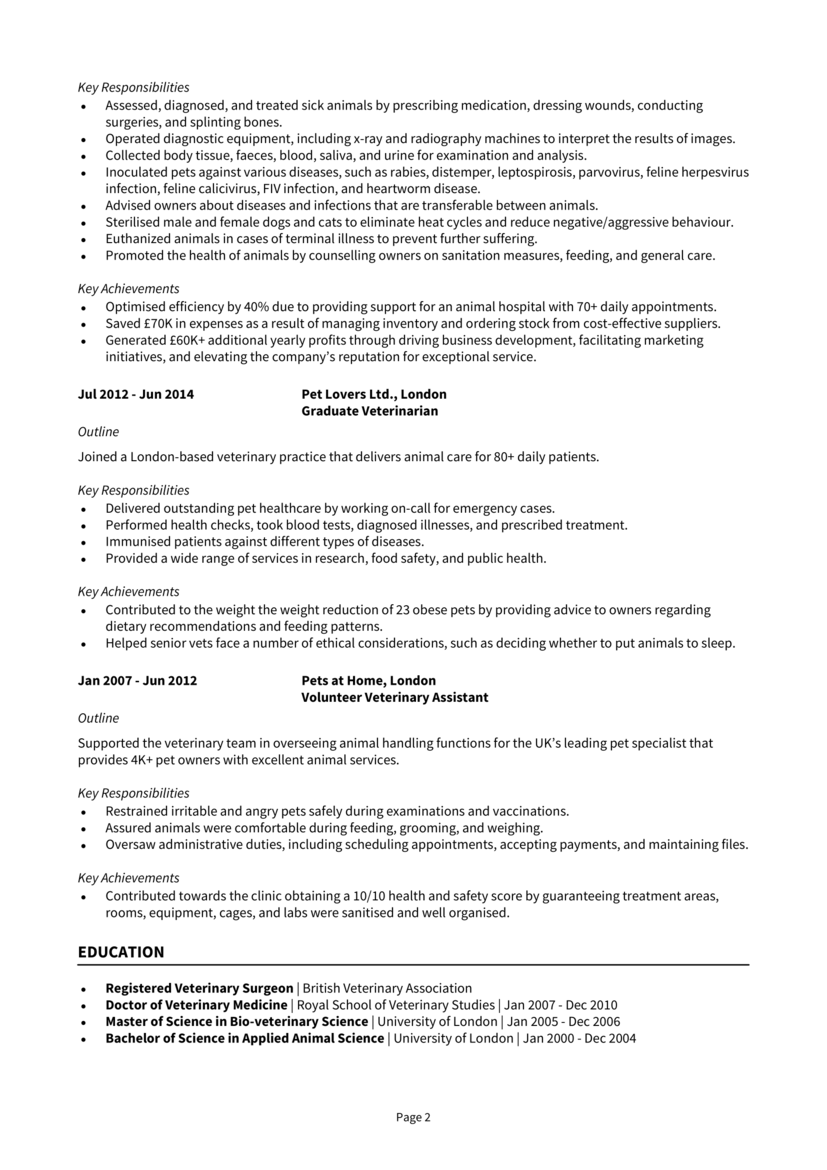 This CV example demonstrates the type of info you should be including within your UK Vet CV, as well as how to format and layout the content in a way which looks professional and is easy for time-strapped recruiters to read.
This is the look and feel you should be aiming for, so remember to refer back to it throughout your CV writing process.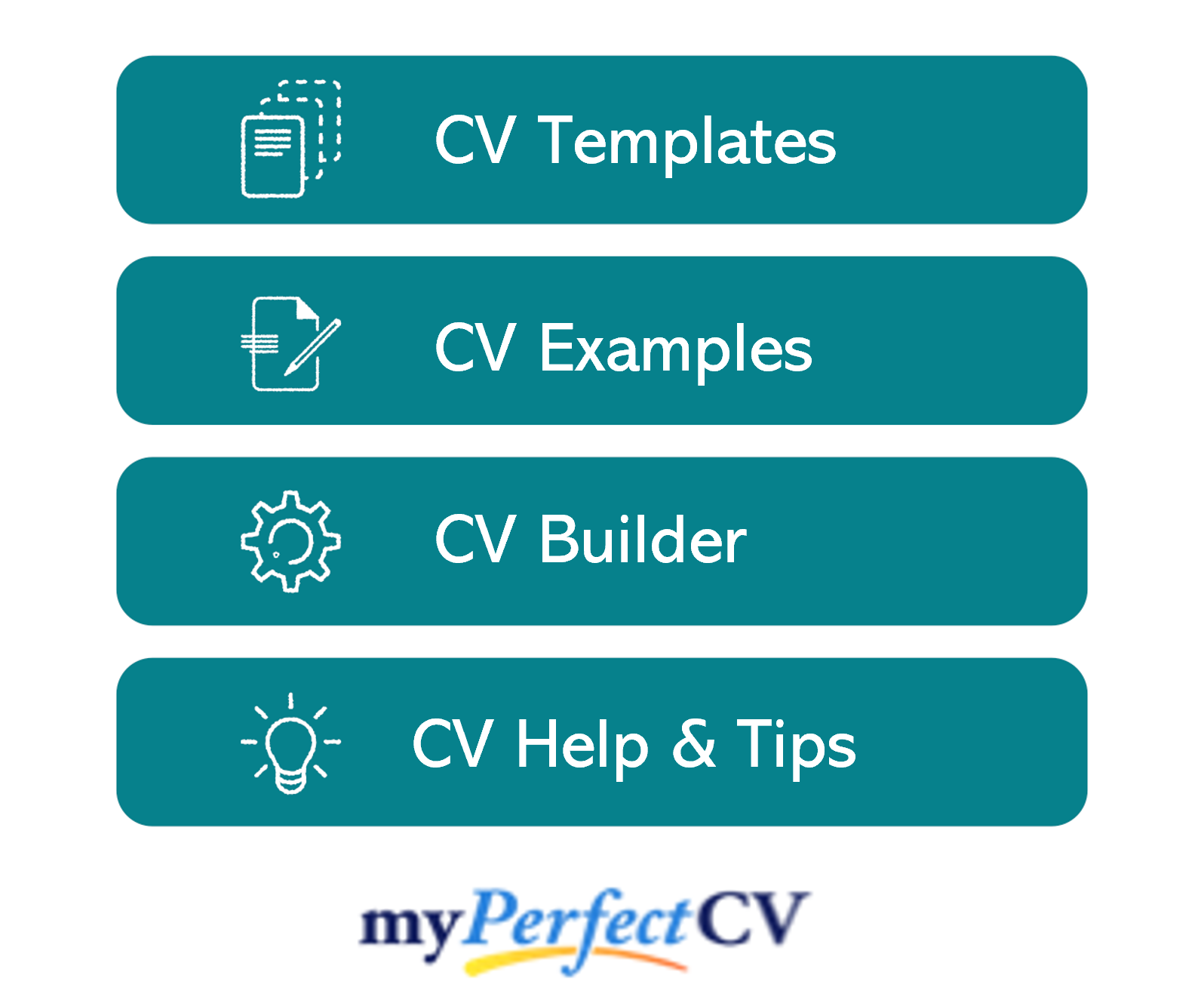 UK Vet CV structure & formatting
Your CV is the first impression you'll make on anybody who reads it.
A disorganised, cluttered and barely-readable CV could seriously decrease your chances of landing interviews, so it's essential to make sure yours is slick, professional and easy to navigate.
You can do this by using a clear structure and formatting your content with some savvy formatting techniques – check them out below: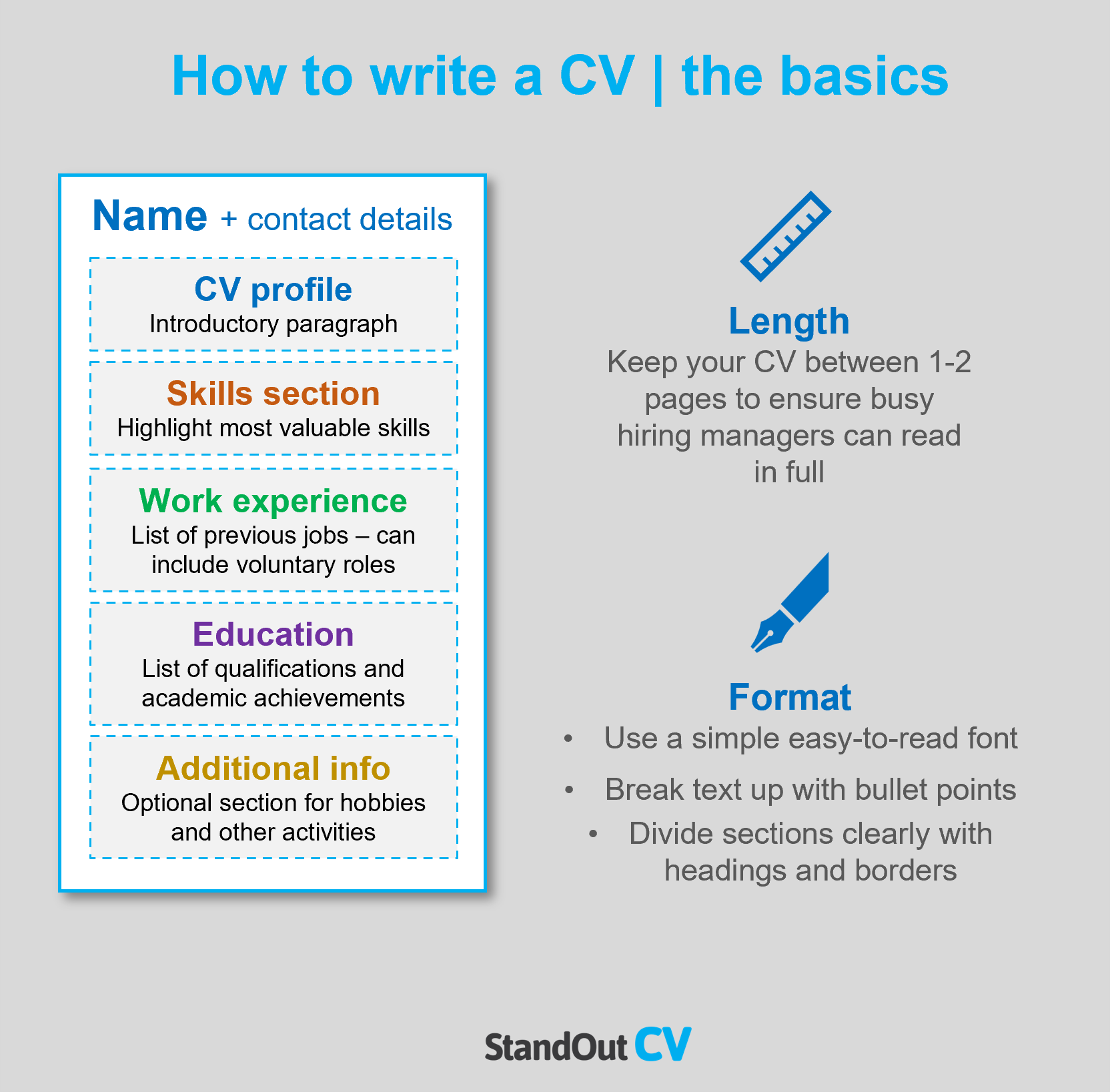 How to format your CV
Length: While there's no 'official' CV length rule, the majority of recruiters agree that less is more. Aim for two pages of A4 or less. This is just enough room to showcase your suitability to the role, without overwhelming recruiters with irrelevant or excessive content.
Readability: Columns, lists, bullet points, bold text and subtle colour can all help to aid the readability of your CV. Your overarching goal should be to make the content as easy to read and navigate as possible, whilst also aiming to make your key skills and achievements stand out.
CV design: When it comes to CV design, it's best to keep things simple and sleek. While elaborate designs certainly command attention, it's not always for the right reasons! Readability is key, so whatever you choose to do, make sure you prioritise readability above everything.
Photographs: Profile photos or aren't a requirement for most industries, so you don't need to add one in the UK – but if you do, just make sure it looks professional
Quick tip: Creating a professional CV style can be difficult and time-consuming when using Microsoft Word or Google Docs. To create a winning CV quickly, try our partner's CV builder and use one of their eye-catching professional CV templates.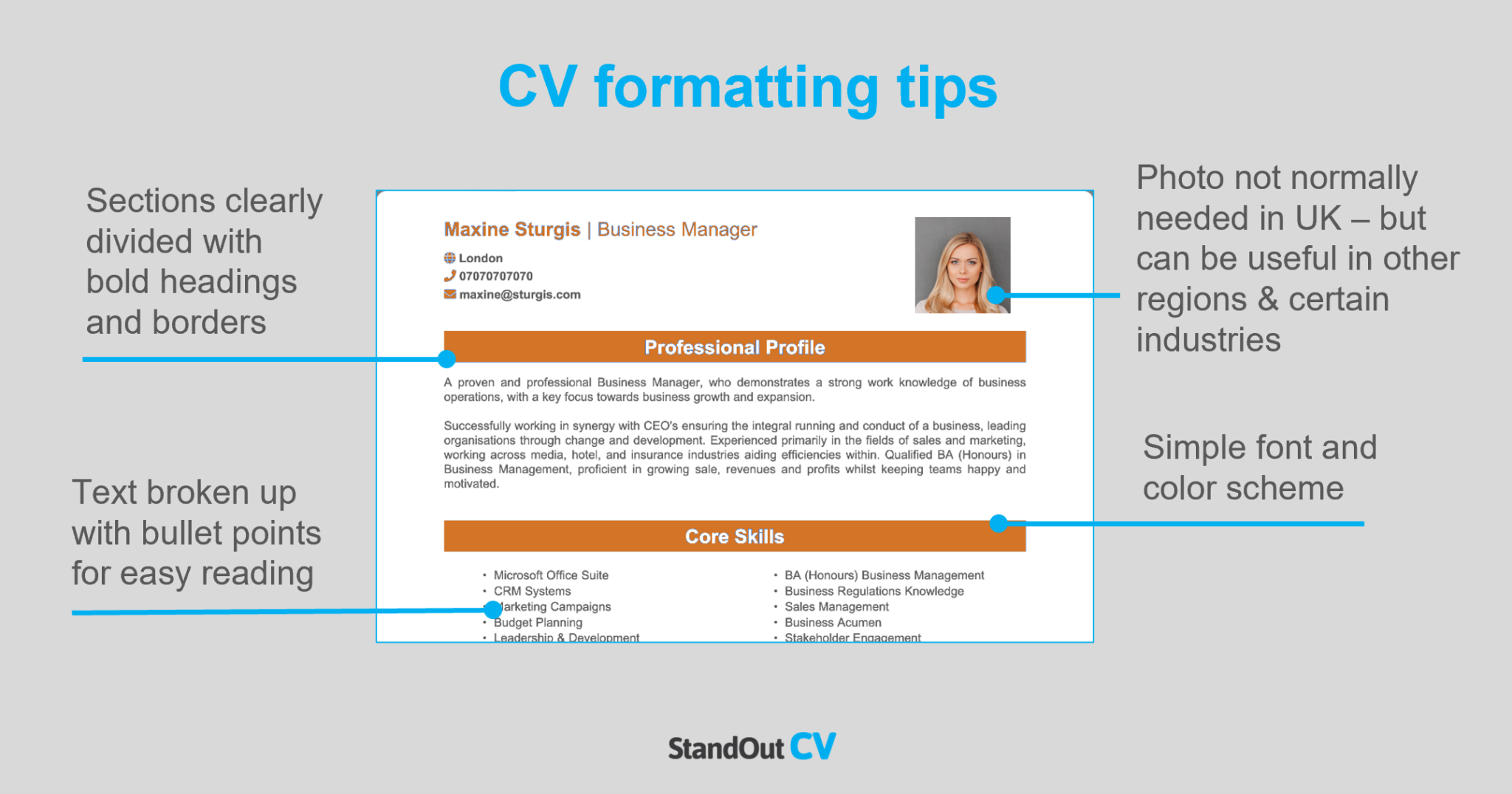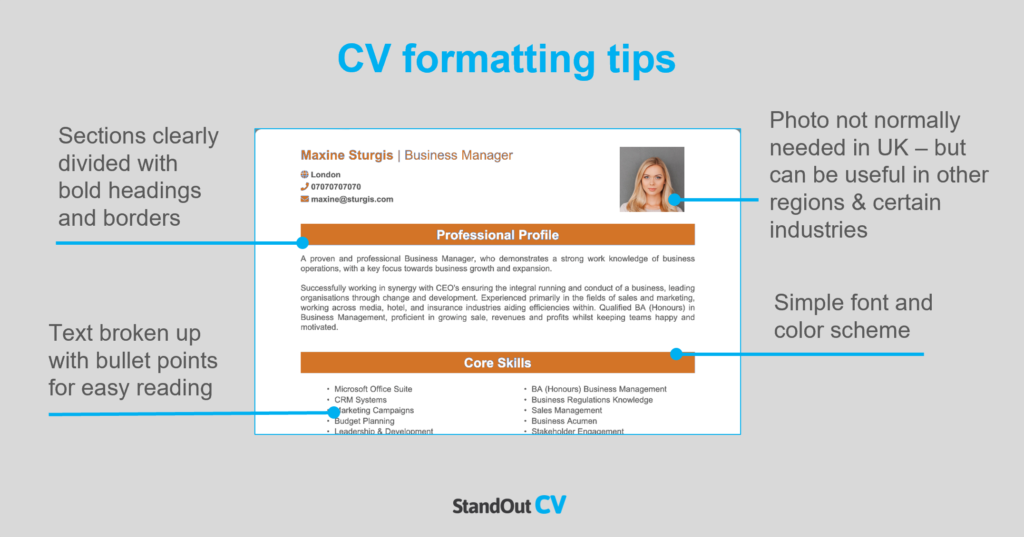 CV structure
Divide your CV into the following major sections when writing it:
Name and contact details – Head your CV with your name and contact details, to let the reader know who you are and how to contact you.
CV profile – A brief paragraph which summarises your skills and experience and highlights why you're a good match for the role.
Core skills list – A snappy, bullet-pointed list of your most relevant skills.
Work experience – A structured list of your work experience in reverse chronological order.
Education – A summary of any relevant qualifications or professional training you've completed.
Hobbies and interests – An optional section, which should only be used if your hobbies are relevant to the jobs you're applying to.
Now, let's take a closer look at what you should include in each section of your CV.
CV Contact Details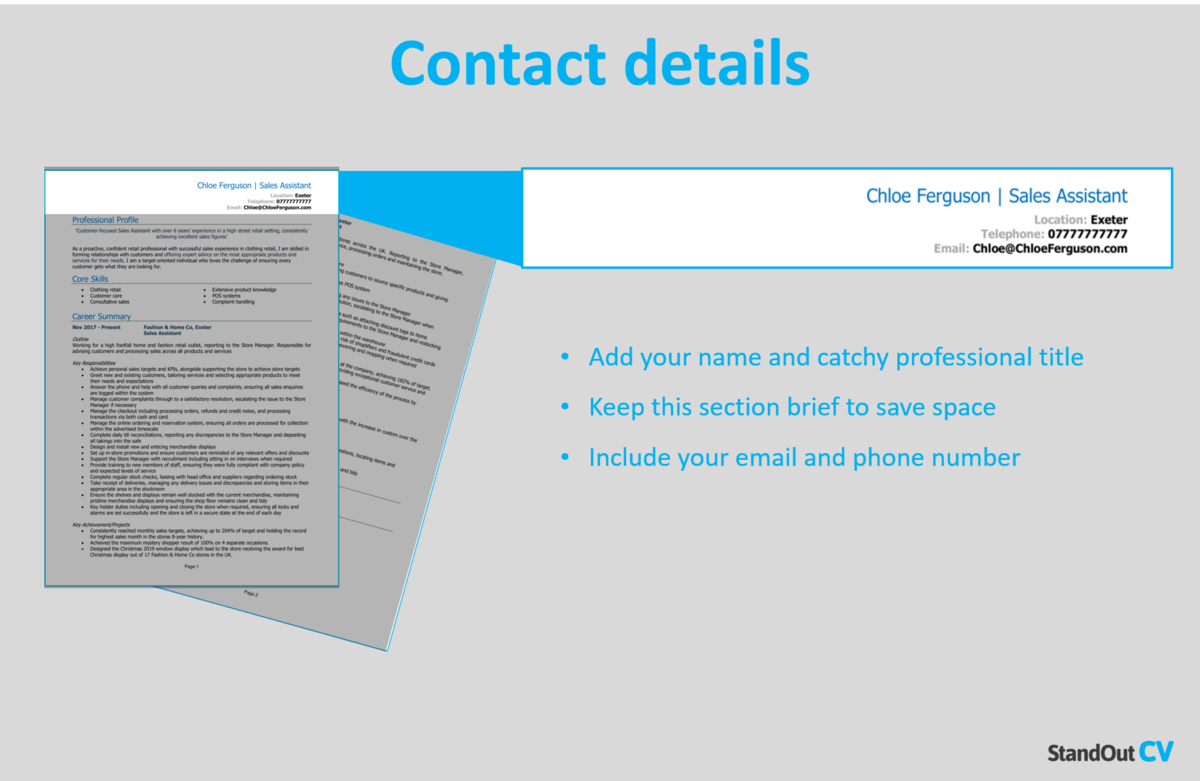 Kick-start your CV with your contact details, so recruiters can get in touch easily.
Here's what you should include:
Mobile number
Email address – Make sure it's professional, with no silly nicknames.
Location – Your town or city is sufficient, rather than a full address.
LinkedIn profile or portfolio URL – Ensure they've been updated and are looking slick and professional.
Quick tip: Avoid listing your date of birth, marital status or other irrelevant details – they're unnecessary at this stage.
UK Vet CV Profile
Your CV profile (or personal statement, if you're an entry-level applicant) provides a brief overview of your skills, abilities and suitability for a position.
It's ideal for busy recruiters and hiring managers, who don't want to waste time reading unsuitable applications.
Think of it as your personal sales pitch. You've got just a few lines to sell yourself and prove you're a great match for the job – make it count!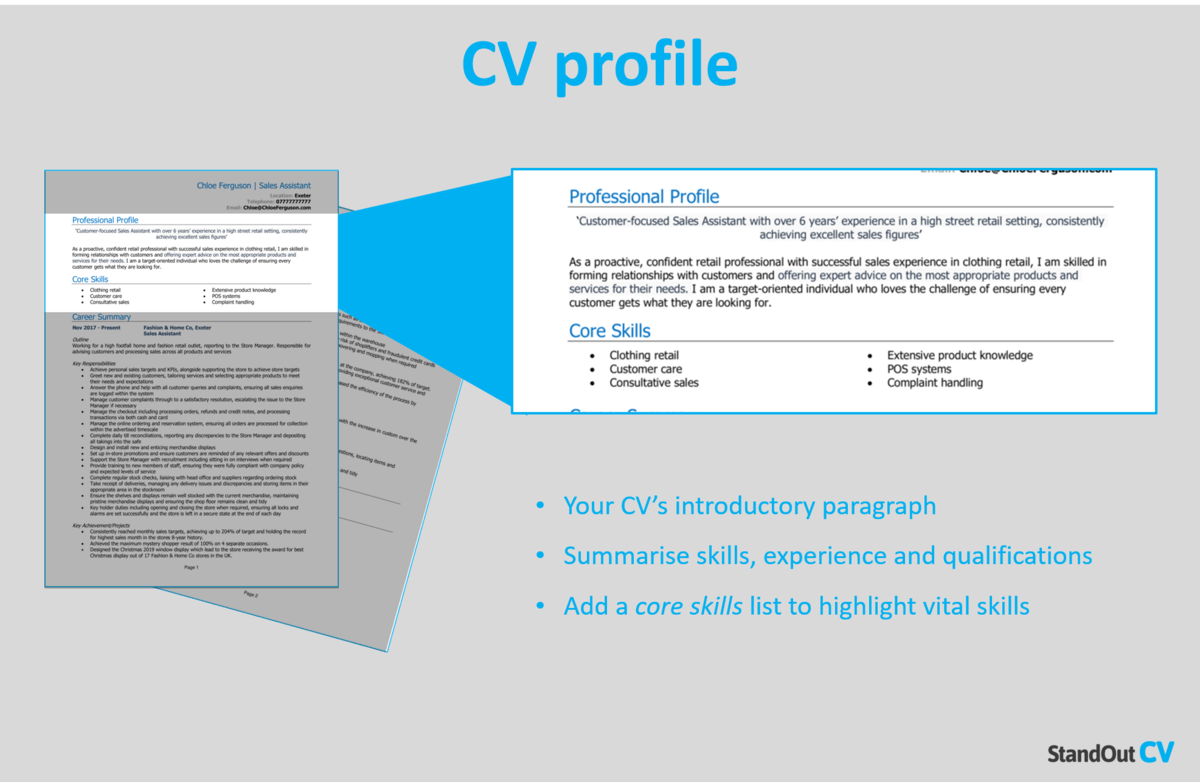 CV profile writing tips:
Make it short and sharp: Recruiters have piles of CVs to read through and limited time to dedicate to each, so it pays to showcase your abilities in as few words as possible. 3-4 lines is ideal.
Tailor it: The biggest CV mistake? A generic, mass-produced document which is sent out to tens of employers. If you want to land an interview, you need to tailor your CV profile (and your application as a whole) to the specific roles you're applying for. So, before you start writing, remember to read over those job descriptions and make a list of the skills, knowledge and experience the employers are looking for.
Don't add an objective: Leave your career objectives or goals out of your profile. You only have limited space to work with, so they're best suited to your cover letter.
Avoid generic phrases: Cheesy clichès and generic phrases won't impress recruiters, who read the same statements several times per day. Impress them with your skill-set, experience and accomplishments instead!
Example CV profile for UK Vet
Compassionate Vet with an exceptional record of assessing, diagnosing, and treating animals affected by acute/chronic conditions. Adept at dressing wounds for pets that have suffered from severe bites, abscess, laceration, and major physical trauma. Proficient at providing dental care services to ensure patients' teeth remain healthy and are free from oral infections. Accustomed to administering medications and vaccinations to treat and prevent numerous animal diseases.
What to include in your UK Vet CV profile?
Summary of experience: Start with a brief summary of your relevant experience so far. How many years experience do you have? What type of companies have you worked for? What industries/sectors have you worked in? What are your specialisms?
Relevant skills: Employers need to know what skills you can bring to their organisation, and ideally they want to see skills that match their job vacancy. So, research your target roles thoroughly and add the most important Veterinarian skills to your profile.
Vital qualifications: If the jobs you are applying to require candidates to have certain qualifications, then you must add them in your profile to ensure they are seen by hiring managers.
Quick tip: If you are finding it difficult to write an attention-grabbing CV profile, choose from hundreds of pre-written profiles across all industries, and add one to your CV with one click in our partner's CV builder. All profiles are written by recruitment experts and easily tailored to suit your unique skillset.
Core skills section
Next, you should create a bullet pointed list of your core skills, formatted into 2-3 columns.
Here, you should focus on including the most important skills or knowledge listed in the job advertisement.
This will instantly prove that you're an ideal candidate, even if a recruiter only has time to briefly scan your CV.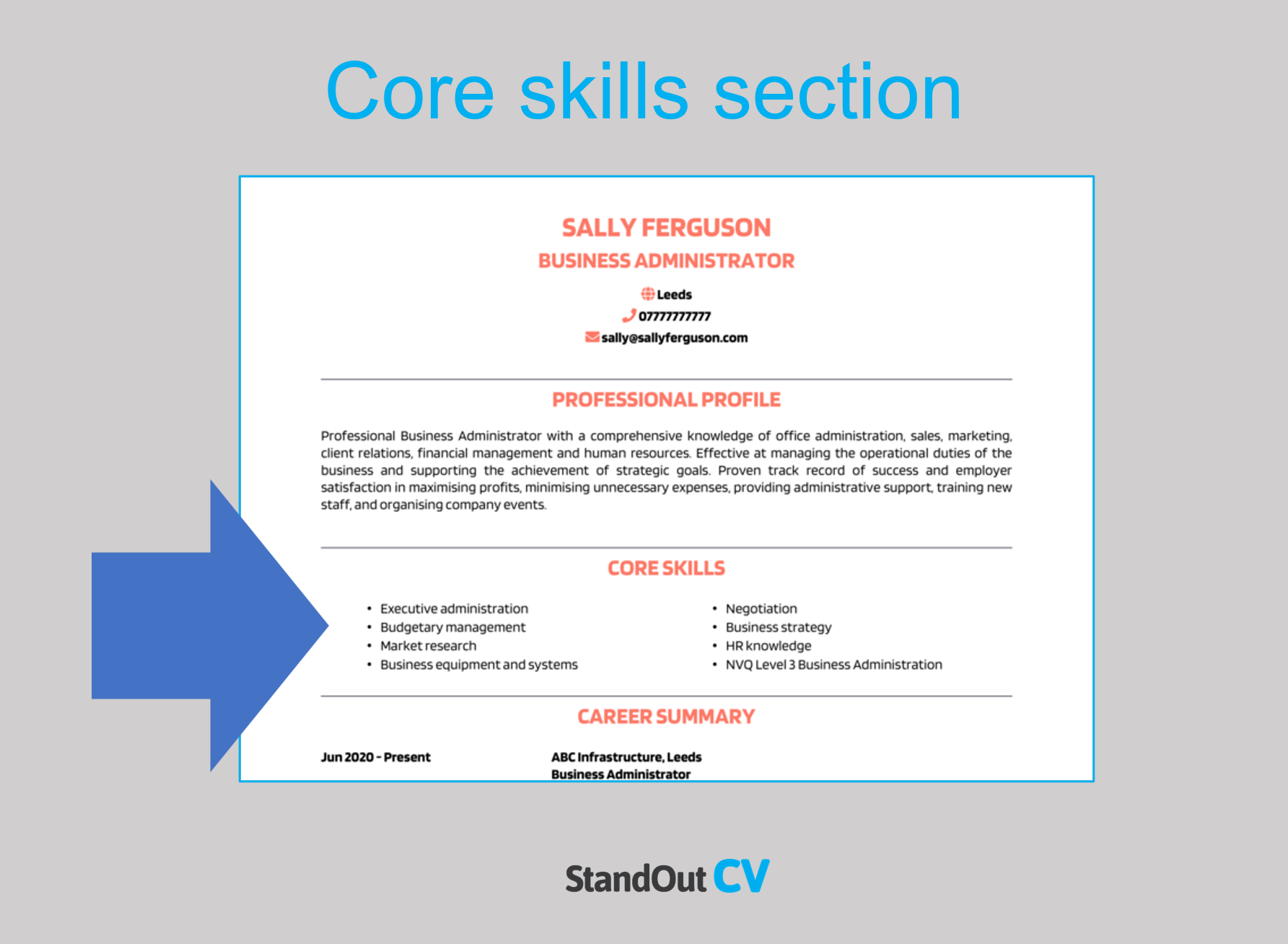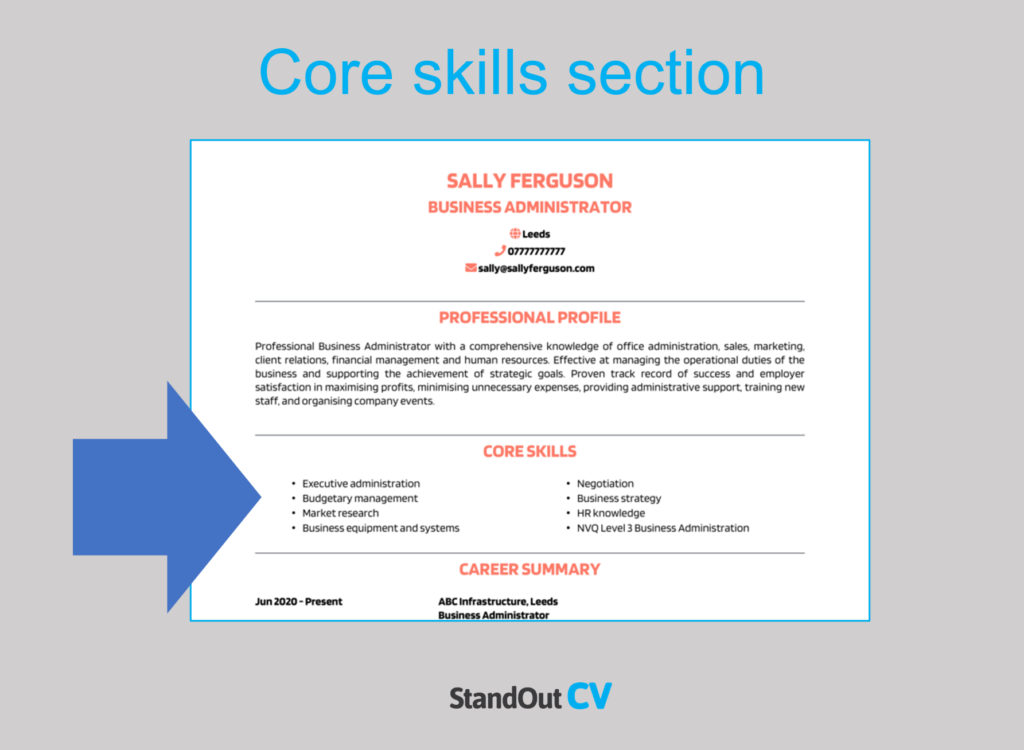 Vital skills for your UK Vet CV
Veterinary Science – maintaining a detailed knowledge and understanding of the branch of medicine concerned with disease, disorders and injury in animals.
Anaesthesia and Surgery – administering appropriate levels of anaesthetic to undertake surgical procedures such as dental work, spaying and neutering.
Diagnostic/Illness Assessment – completing a variety of complex tests and/or examinations to determine a diagnosis.
Treatment Plans – planning appropriate treatments over an agreed period.
Emergency Pet Care/Welfare – ensuring the safety, emotional and physical wellbeing of each animal including being able to react quickly and provide emergency medical attention to ill or injured animals.
Quick tip: Our partner's CV builder has thousands of in-demand skills for all industries and professions, that can be added to your CV in seconds – This will save you time and ensure you get noticed by recruiters.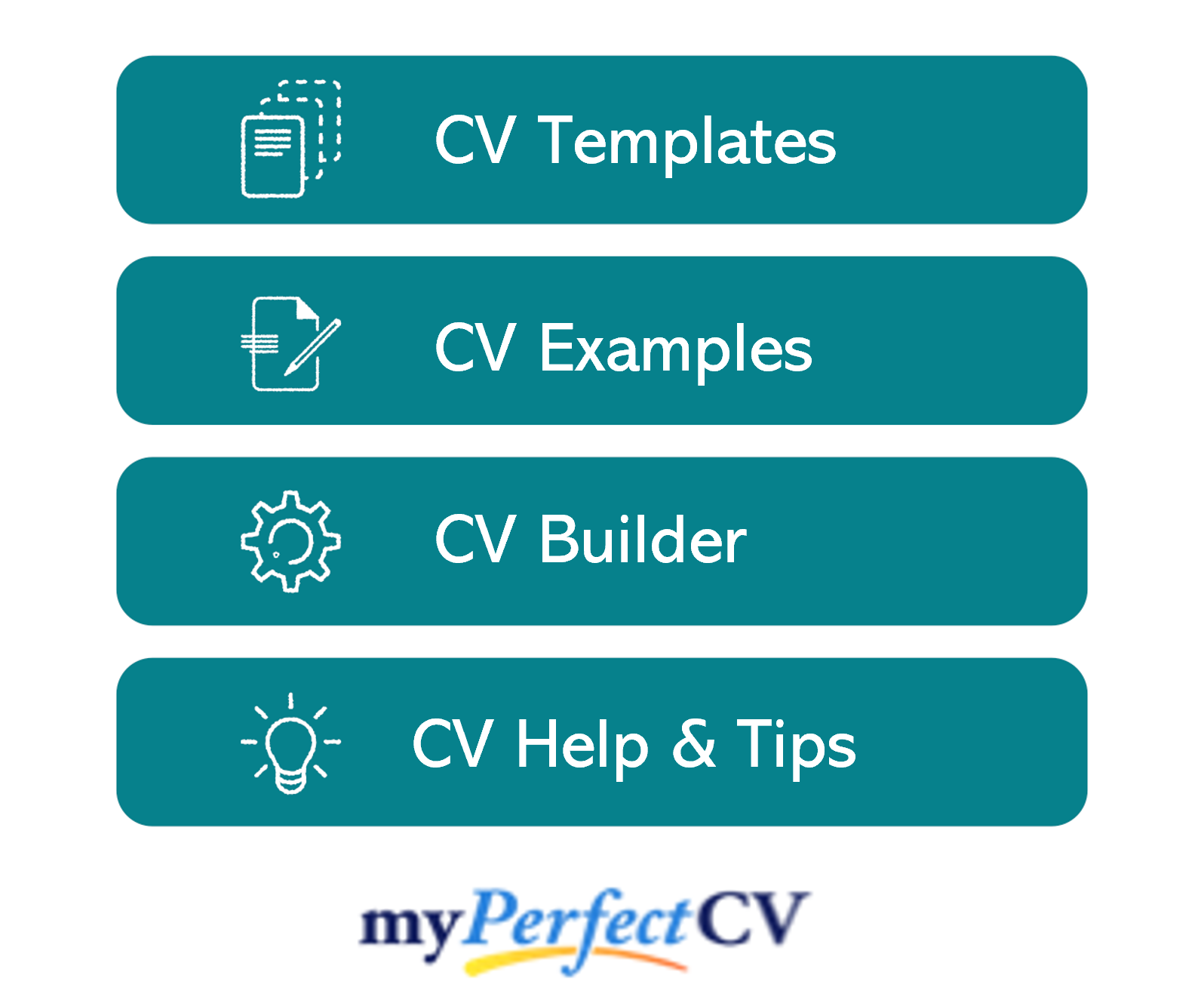 Your work experience section
By now, you'll have hooked the reader's attention and need to show them how you apply your skills and knowledge in the workplace, to benefit your employers.
So, starting with your most recent role and working backwards to your older roles, create a thorough summary of your career history to date.
If you've held several roles and are struggling for space, cut down the descriptions for your oldest jobs.
Structuring each role
Lengthy, unbroken chunks of text is a recruiters worst nightmare, but your work experience section can easily end up looking like that if you are not careful.
To avoid this, use my tried-and-tested 3-step structure, as illustrated below:
Outline
Provide a brief overview of the job as a whole, such as what the overriding purpose of your job was and what type of company you worked for.
Key responsibilities
Use bullet points to detail the key responsibilities of your role, highlighting hard skills, software and knowledge wherever you can.
Keep them short and sharp to make them easily digestible by readers.
Key achievements
Round up each role by listing 1-3 key achievements, accomplishments or results.
Wherever possible, quantify them using hard facts and figures, as this really helps to prove your value.
Sample job description for UK Vet CV
Outline
Carry out a variety of veterinary tasks for a leading private family clinic that provides animal services to 2K+ owners with pets.
Key Responsibilities
Examine, diagnose, and treat animal patients, such as canines, felines, rodents, exotic birds, and fish suffering from various injuries and medical conditions.
Conduct lab tests on specimens and perform ultrasound imaging to diagnose illnesses.
Improve patients' dental health by conducting check-ups and performing ophthalmic/orthopaedic surgeries, as well as cleaning and extracting teeth.
Spay and neuter cats and dogs to avert the birth of unwanted puppies and kittens.
Quick tip: Create impressive job descriptions easily in our partner's CV builder by adding pre-written job phrases for every industry and career stage.

Education and qualifications section
In your education section, make any degrees, qualifications or training which are relevant to UK Vet roles a focal point.
As well as mentioning the name of the organisation, qualification titles and dates of study, you should showcase any particularly relevant modules, assignments or projects.
Hobbies and interests
This section is entirely optional, so you'll have to use your own judgement to figure out if it's worth including.
If your hobbies and interests could make you appear more suitable for your dream job, then they are definitely worth adding.
Interests which are related to the industry, or hobbies like sports teams or volunteering, which display valuable transferable skills might be worth including.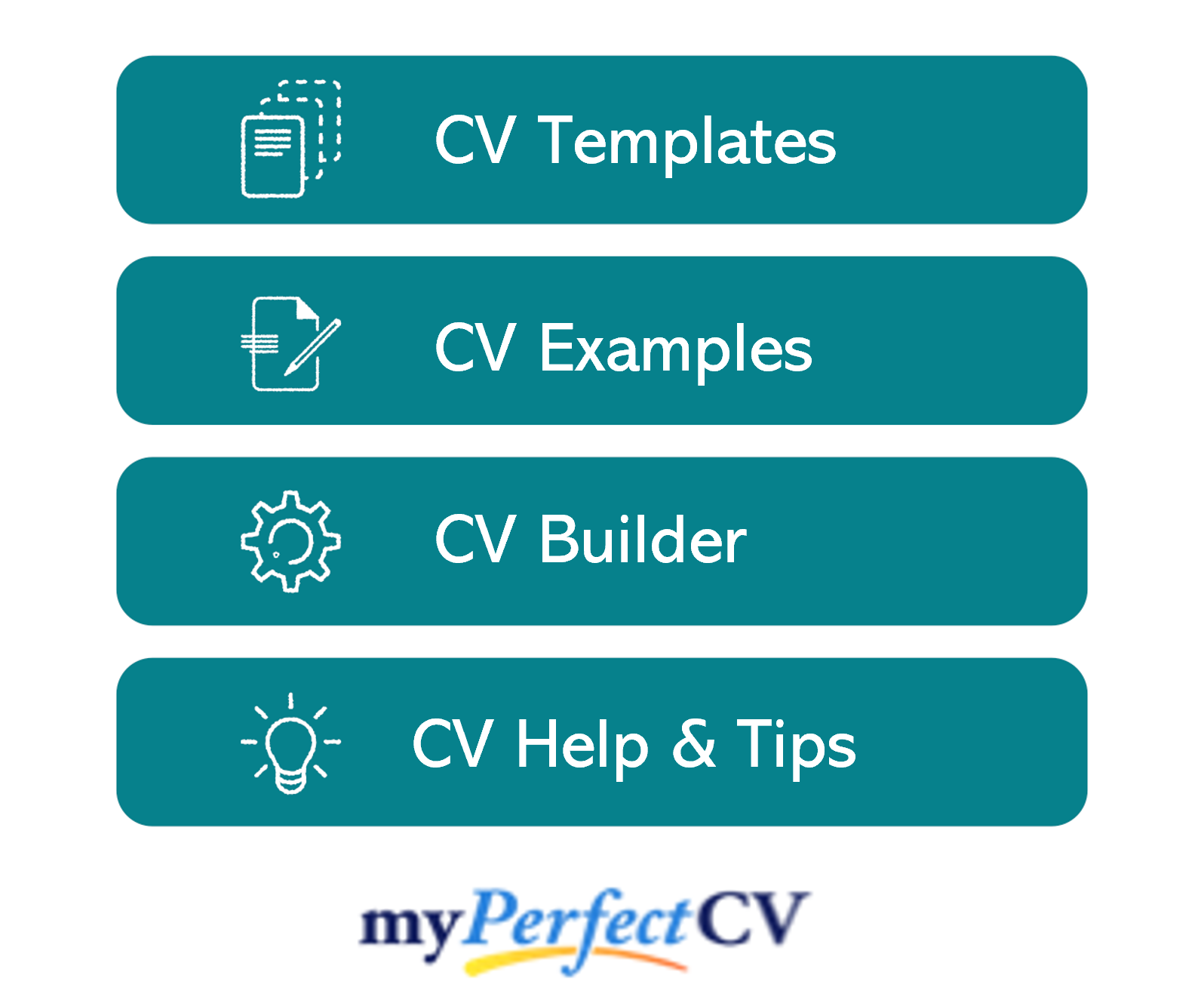 Writing your UK Vet CV
An interview-winning CV for a UK Vet role, needs to be both visually pleasing and packed with targeted content.
Whilst it needs to detail your experience, accomplishments and relevant skills, it also needs to be as clear and easy to read as possible.
Remember to research the role and review the job ad before applying, so you're able to match yourself up to the requirements.
If you follow these guidelines and keep motivated in your job search, you should land an interview in no time.
Best of luck with your next application!