You've graduated with a degree in geography – congratulations! That is going to look great on your CV.
But how do you go about highlighting your new qualifications and all the interesting coursework you completed at university?
Well, you can find out using our geography graduate CV example and step-by-step guide below.
Contents
| | |
| --- | --- |
| How to write a Geography Graduate CV | |

Geography Graduate CV example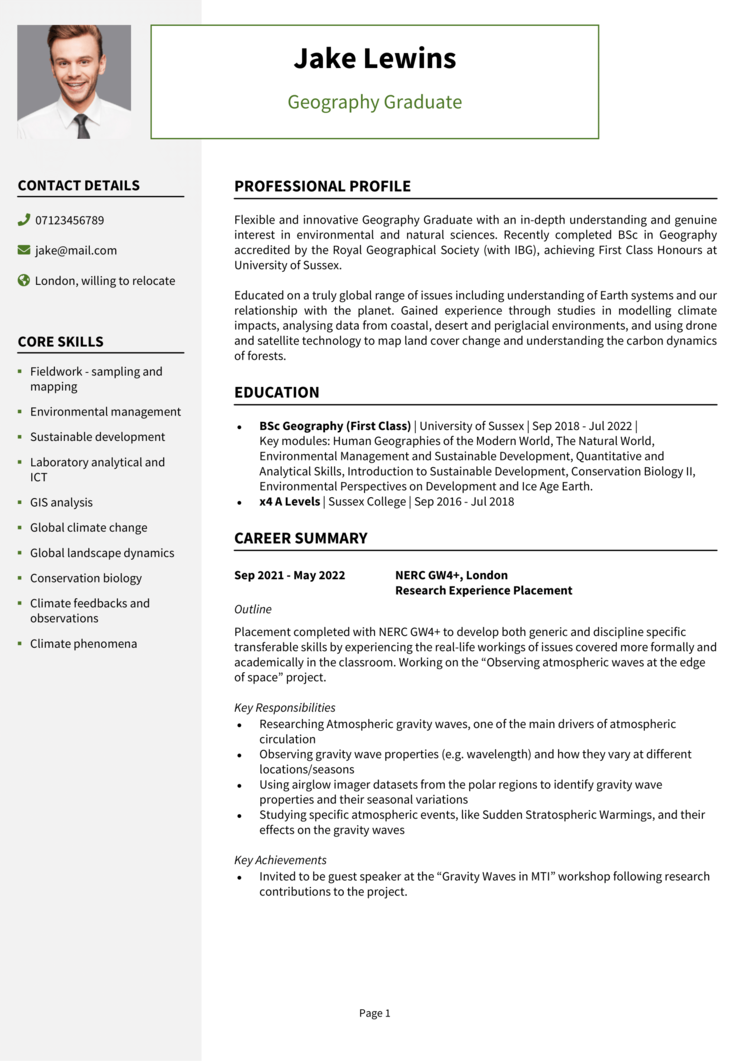 This CV example demonstrates the type of info you should be including within your Geography Graduate CV, as well as how to format and layout the content in a way which looks professional and is easy for time-strapped recruiters to read.
This is the look and feel you should be aiming for, so remember to refer back to it throughout your CV writing process.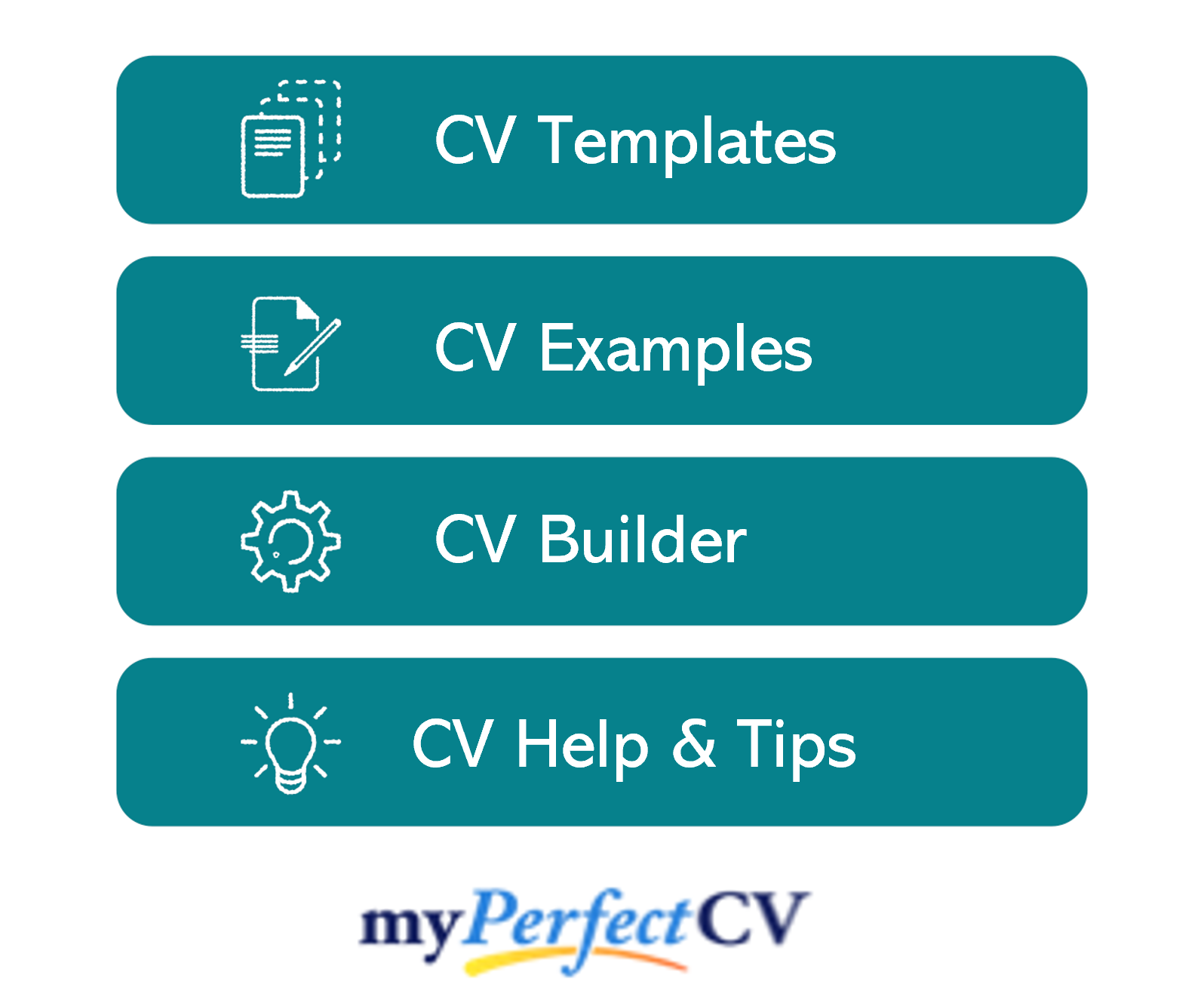 Geography Graduate CV layout and format
The format and structure of your CV is important because it will determine how easy it is for recruiters and employers to read your CV.
If they can find the information they need quickly, they'll be happy; but if they struggle, your application could be overlooked.
A simple and logical structure will always create a better reading experience than a complex structure, and with a few simple formatting tricks, you'll be good to go.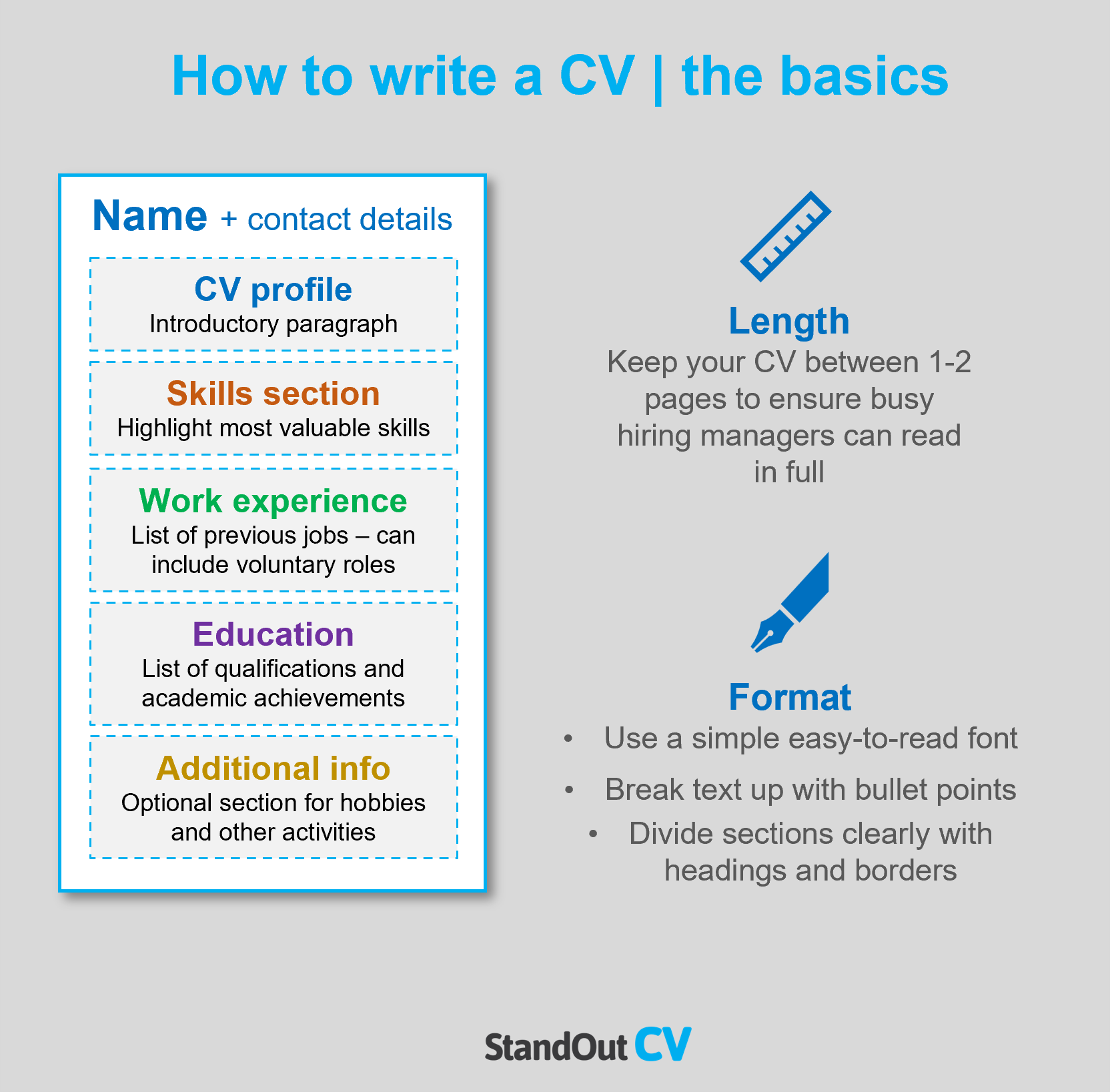 Tips for formatting your Geography Graduate CV
Length: It's essential to keep your CV concise, regardless of whether you have one year or thirty years of experience. Recruiters are frequently managing multiple roles and responsibilities and do not have the luxury of reading lengthy CVs. Therefore, limit your CV to two sides of A4. If you have little industry experience, one page is sufficient.
Readability: By formatting your section headings with bold or a different colour font and using bullet points to break up large blocks of text, you can help busy recruiters quickly scan through your CV. This makes it easier for them to find important details without wasting time.
Design: While it's important that your CV design looks good, it also needs to be functional (which means easy for recruiters to read) Keep the design simple to achieve a good balance between looking good and reading well.
Photos: You can add a profile photo to your CV, if you want to add some personality to it, but they are not a requirement the UK, so you don't have to.
Quick tip: Creating a professional CV style can be difficult and time-consuming when using Microsoft Word or Google Docs. To create a winning CV quickly, try our partner's CV Builder and use one of their eye-catching professional CV templates.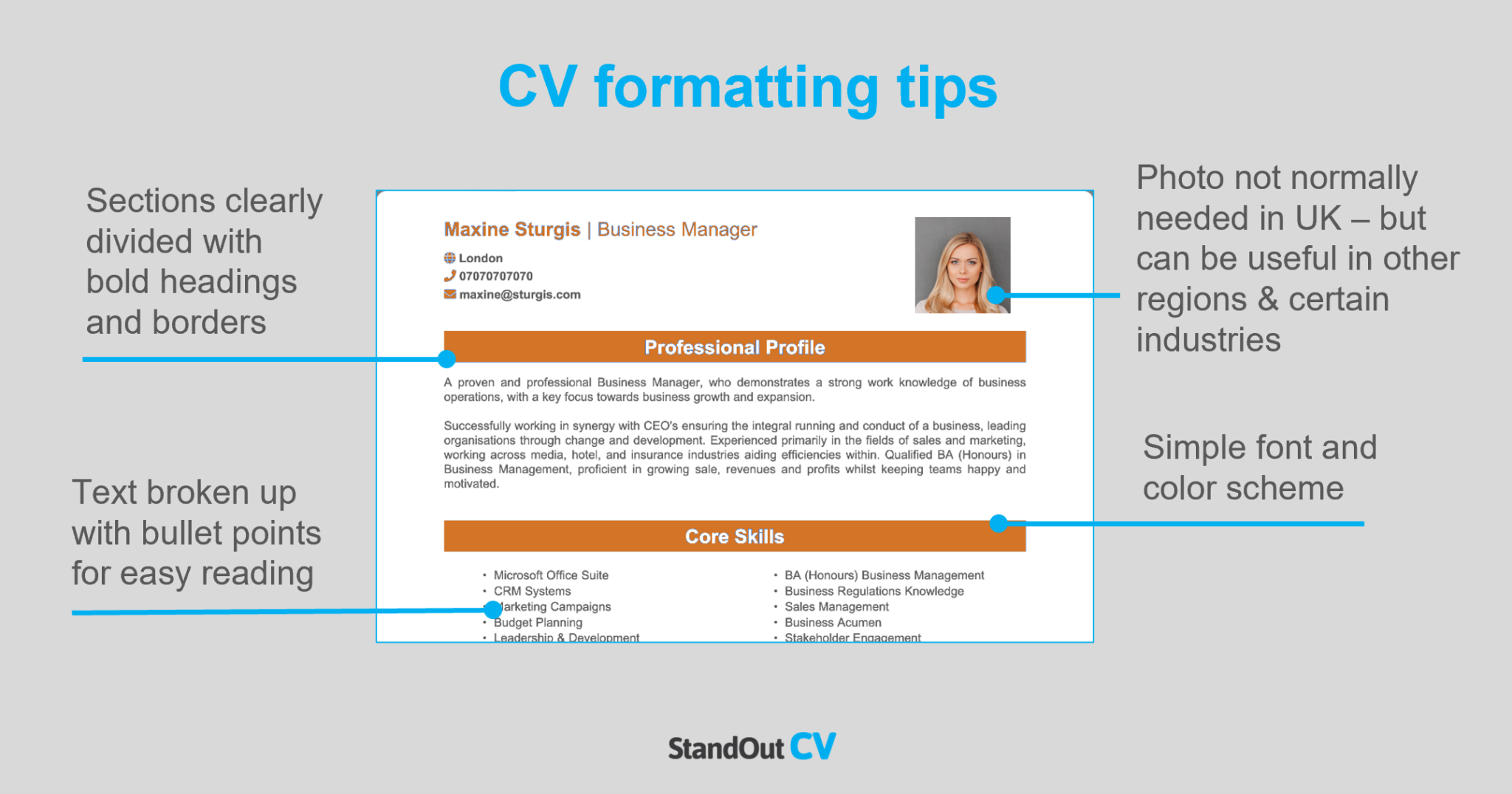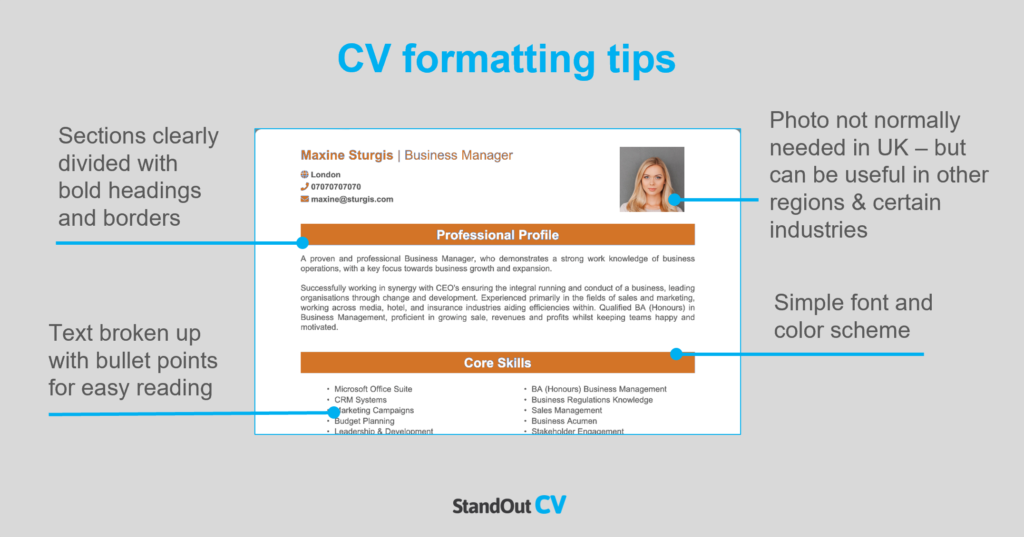 CV structure
As you write your CV, divide and sub-head into the following sections:
Name and contact details – Always start with these, so employers know exactly how to get in touch with you.
CV profile – Add a short summary of your relevant experience, skills and achievements, which highlights your suitability.
Core skills section – A 2-3 columned list of your key skills.
Work experience – A detailed list of any relevant work experience, whether paid or voluntary.
Education – An overview of your academic background and any training you may have completed.
Hobbies and interests – A brief overview of your hobbies and interests, if they're relevant (optional).
Now you understand the basic layout of a CV, here's what you should include in each section of yours.
Contact Details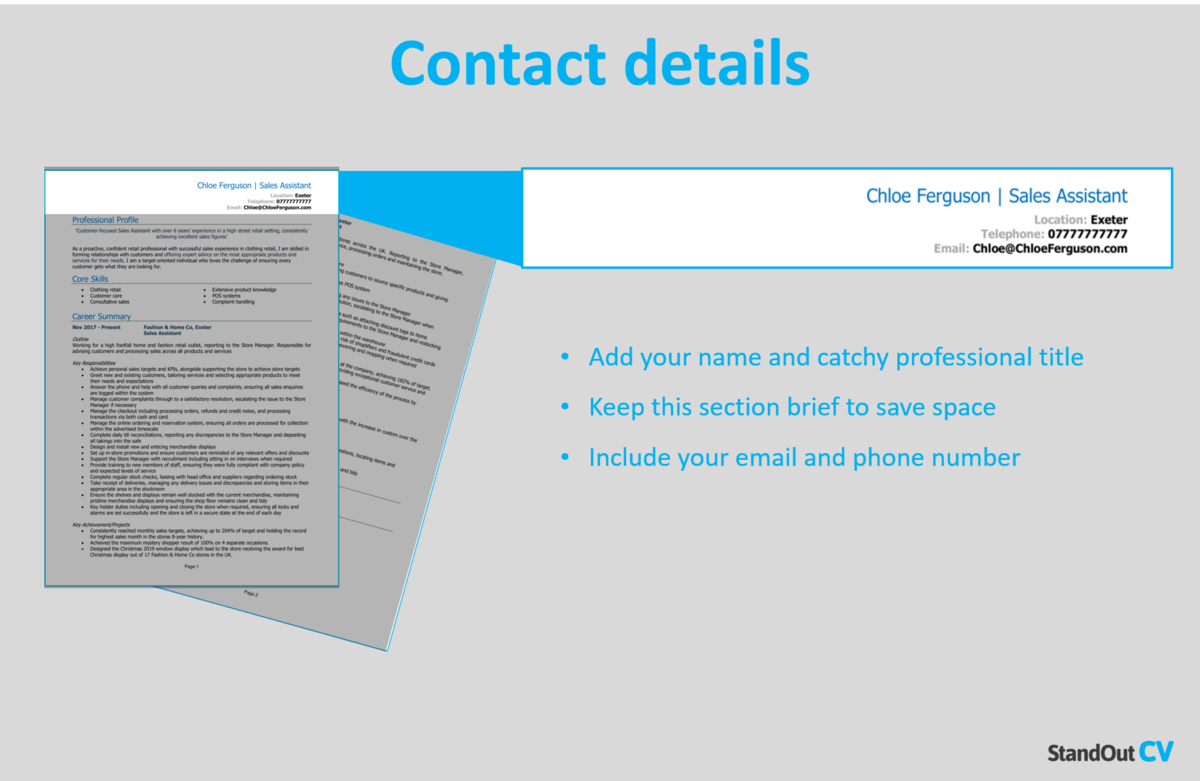 Start off your CV with a basic list of your contact details.
Here's what you should include:
Mobile number
Email address – It's often helpful to make a new email address, specifically for your job applications.
Location – Share your town or city; there's no need for a full address.
LinkedIn profile or portfolio URL – Make sure the information on them is coherent with your CV, and that they're up-to-date
Quick tip: Delete excessive details, such as your date of birth or marital status. Recruiters don't need to know this much about you, so it's best to save the space for your other CV sections.
Geography Graduate CV Profile
To immediately capture the attention of recruiters, begin your CV with a powerful profile (or personal statement for junior applicants).
This is a brief introductory paragraph that summarises your skills, experience, and knowledge.
It should position you as the ideal candidate for the job and encourage recruiters to read on.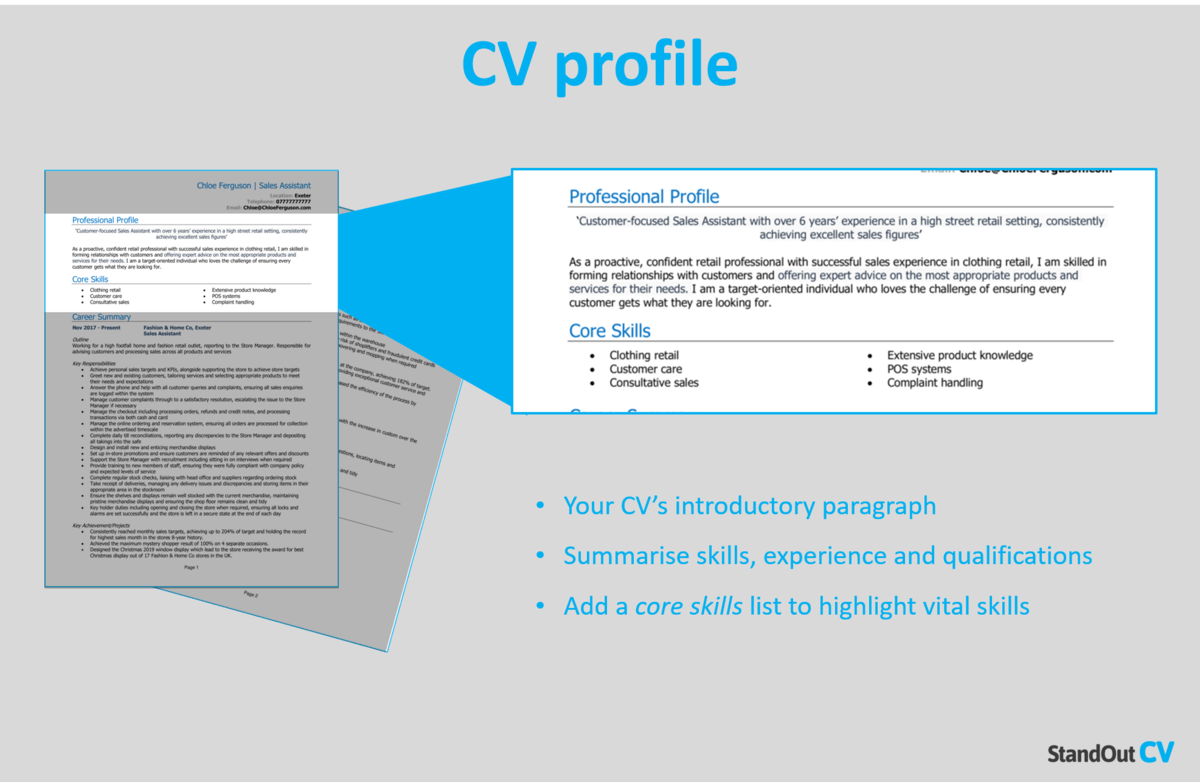 CV profile writing tips:
Make it short and sharp: Aim for a short, snappy paragraph of 3-5 lines. This is just enough room to showcase why you'd make the perfect hire, without going into excessive detail and overwhelming busy recruiters.
Tailor it: If recruiters don't see your suitability within a few seconds, they may close your CV straight away. Your CV profile should closely match the essential requirements listed in the job ad, so make sure to review them before you write it.
Don't add an objective: You only have a small space for your CV profile, so avoid writing down your career goals or objectives. If you think these will help your application, incorporate them into your cover letter instead.
Avoid generic phrases: "Determined team player who always gives 110%" might seem like a good way to fill up your CV profile, but generic phrases like this won't land you an interview. Recruiters hear them time and time again and have no real reason to believe them. Instead, pack your profile with your hard skills and tangible achievements.
Example CV profile for a Geography Graduate
Flexible and innovative Geography Graduate with an in-depth understanding and genuine interest in environmental and natural sciences. Recently completed BSc in Geography accredited by the Royal Geographical Society (with IBG), achieving First Class Honours at University of Sussex. Educated on a truly global range of issues including understanding of Earth systems and our relationship with the planet. Gained experience through studies in modelling climate impacts, analysing data from coastal, desert, and periglacial environments, and using drone and satellite technology to map land cover change and understanding the carbon dynamics of forests.
What to include in your Geography Graduate CV profile?
Experience overview: Showcase your aptitude for the job you are aiming for by giving a brief summary of your past work history, including the industries you have worked in, the kinds of employers you have served, and the roles you have held.
Targeted skills: Highlight your skills which are most relevant to Geography Graduate jobs, to ensure that recruiters see your most in-demand skills as soon as they open your CV.
Key qualifications: If you have any qualifications which are highly relevant to Geography Graduate jobs, then highlight them in your profile so that employers do not miss them.
Quick tip: If you are finding it difficult to write an attention-grabbing CV profile, choose from hundreds of pre-written profiles across all industries, and add one to your CV with one click in our partner's CV Builder. All profiles are written by recruitment experts and easily tailored to suit your unique skillset.
Core skills section
Create a core skills section underneath your profile to spotlight your most in-demand skills and grab the attention of readers.
This section should feature 2-3 columns of bullet points that emphasise your applicable skills for your target jobs. Before constructing this section, review the job description and compile a list of any specific skills, specialisms, or knowledge required.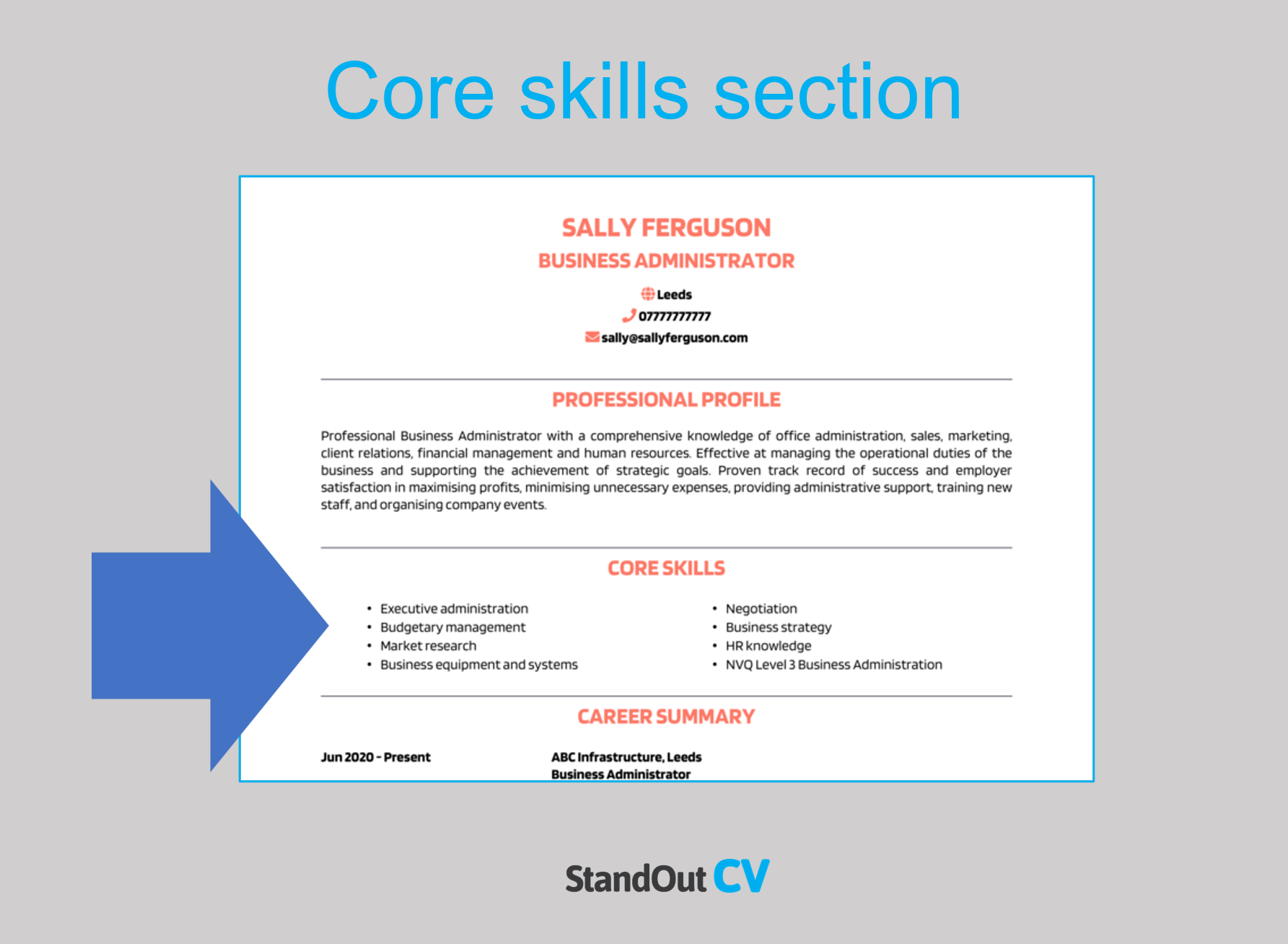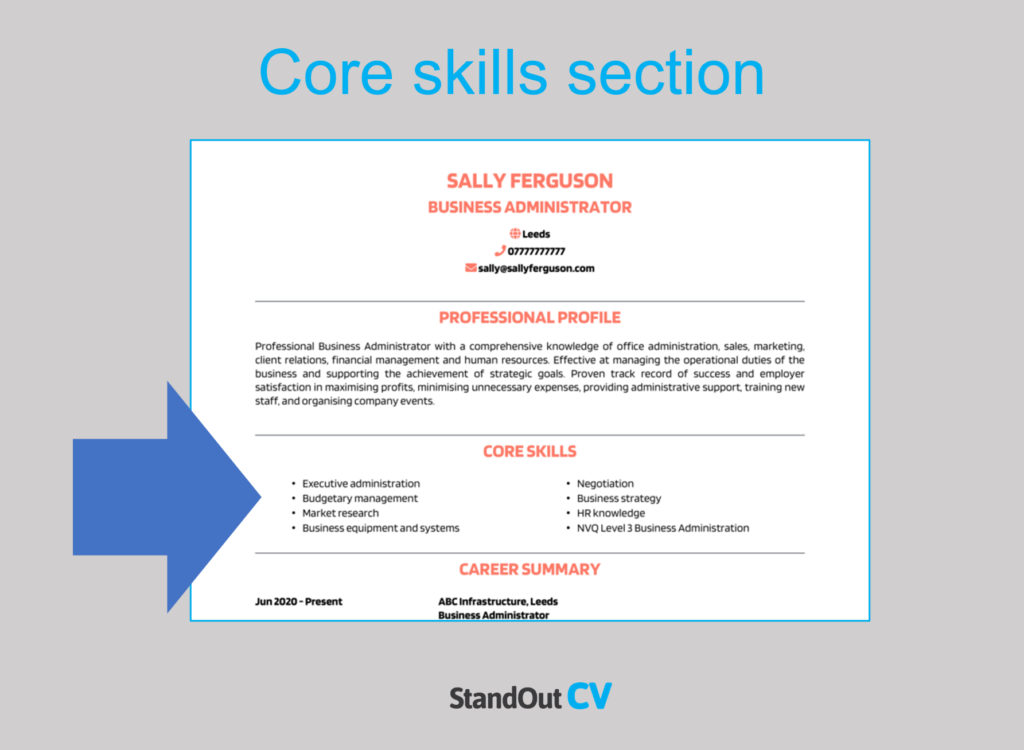 Important skills for your Geography Graduate CV
Research – Gathering and analysing data from a variety of sources to form a clear picture of a given location or region.
Data analysis – Using statistical methods and GIS software to analyse geographical data and identify patterns and trends.
Complex communication – Communicating complex geographical information clearly and effectively to a variety of audiences.
Problem resolution – Identifying and addressing problems in a geographical context, using critical thinking and creativity to develop solutions.
Cartography – Creating maps and using mapping software to visualize and present geographical data.
Spatial reasoning – Thinking and reasoning about space and spatial relationships, including the ability to mentally rotate and manipulate maps and other spatial representations.
Fieldwork – Conducting fieldwork and collecting data in a variety of settings, including physical and human environments.
Environmental knowledge – Utilising a deep understanding of environmental issues and their impact on people and places.
Cultural awareness – Utilising an understanding of cultural diversity and its impact on the ways people interact with the physical and social environment.
Project management – Managing projects effectively, including planning, organizing, and coordinating resources and stakeholders to achieve objectives.
Quick tip: Our partner's CV Builder has thousands of in-demand skills for all industries and professions, that can be added to your CV in seconds – This will save you time and ensure you get noticed by recruiters.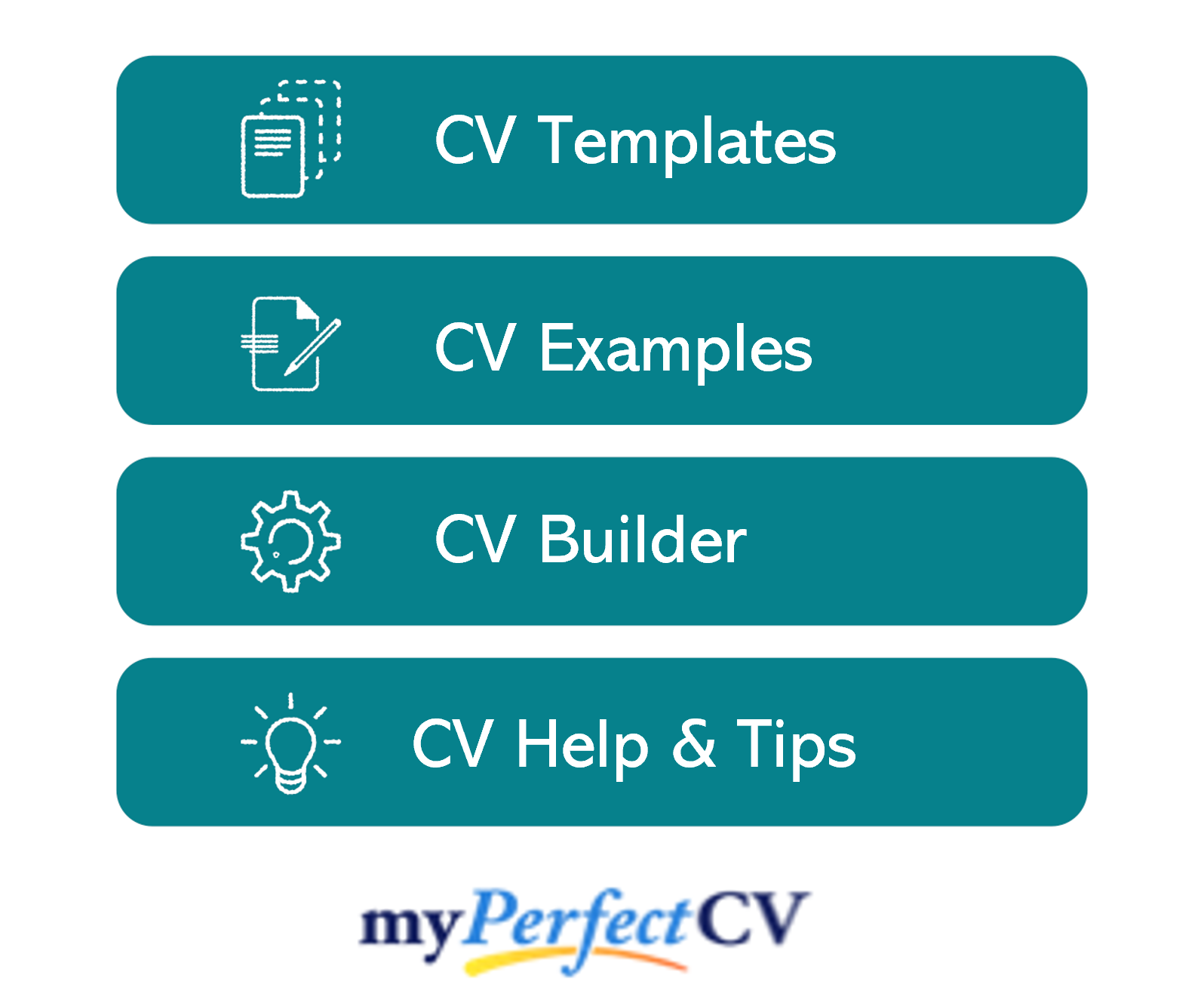 Work experience section
Next up is your work experience section, which is normally the longest part of your CV.
Start with your current (or most recent) job and work your way backwards through your experience.
Can't fit all your roles? Allow more space for your recent career history and shorten down descriptions for your older roles.
Structuring each job
Your work experience section will be long, so it's important to structure it in a way which helps recruiters to quickly and easily find the information they need.
Use the 3-step structure, shown in the below example, below to achieve this.
Outline
Start with a solid introduction to your role as a whole, in order to build some context.
Explain the nature of the organisation you worked for, the size of the team you were part of, who you reported to and what the overarching purpose of your job was.
Key responsibilities
Use bullet points to detail the key responsibilities of your role, highlighting hard skills, software and knowledge wherever you can.
Keep them short and sharp to make them easily digestible by readers.
Key achievements
To finish off each role and prove the impact you made, list 1-3 stand out achievements, results or accomplishments.
This could be anything which had a positive outcome for the company you worked for, or perhaps a client/customer. Where applicable, quantify your examples with facts and figures.
Sample job description for Geography Graduate CV
Outline
Placement completed with NERC GW4+ to develop both generic and discipline specific transferable skills by experiencing the real-life workings of issues covered more formally and academically in the classroom. Working on the "Observing atmospheric waves at the edge of space" project.
Key Responsibilities
Researching Atmospheric gravity waves, one of the main drivers of atmospheric circulation
Observing gravity wave properties (e.g. wavelength) and how they vary at different locations/seasons
Using airglow imager datasets from the polar regions to identify gravity wave properties and their seasonal variations
Studying specific atmospheric events, like Sudden Stratospheric Warmings, and their effects on the gravity waves
Quick tip: Create impressive job descriptions easily in our partner's CV Builder by adding pre-written job phrases for every industry and career stage.

Education and qualifications
After your work experience, your education section should provide a detailed view of your academic background.
Begin with those most relevant to Geography Graduate jobs, such as vocational training or degrees.
If you have space, you can also mention your academic qualifications, such as A-Levels and GCSEs.
Focus on the qualifications that are most relevant to the jobs you are applying for.
Hobbies and interests
Although this is an optional section, it can be useful if your hobbies and interests will add further depth to your CV.
Interests which are related to the sector you are applying to, or which show transferable skills like leadership or teamwork, can worth listing.
On the other hand, generic hobbies like "going out with friends" won't add any value to your application, so are best left off your CV.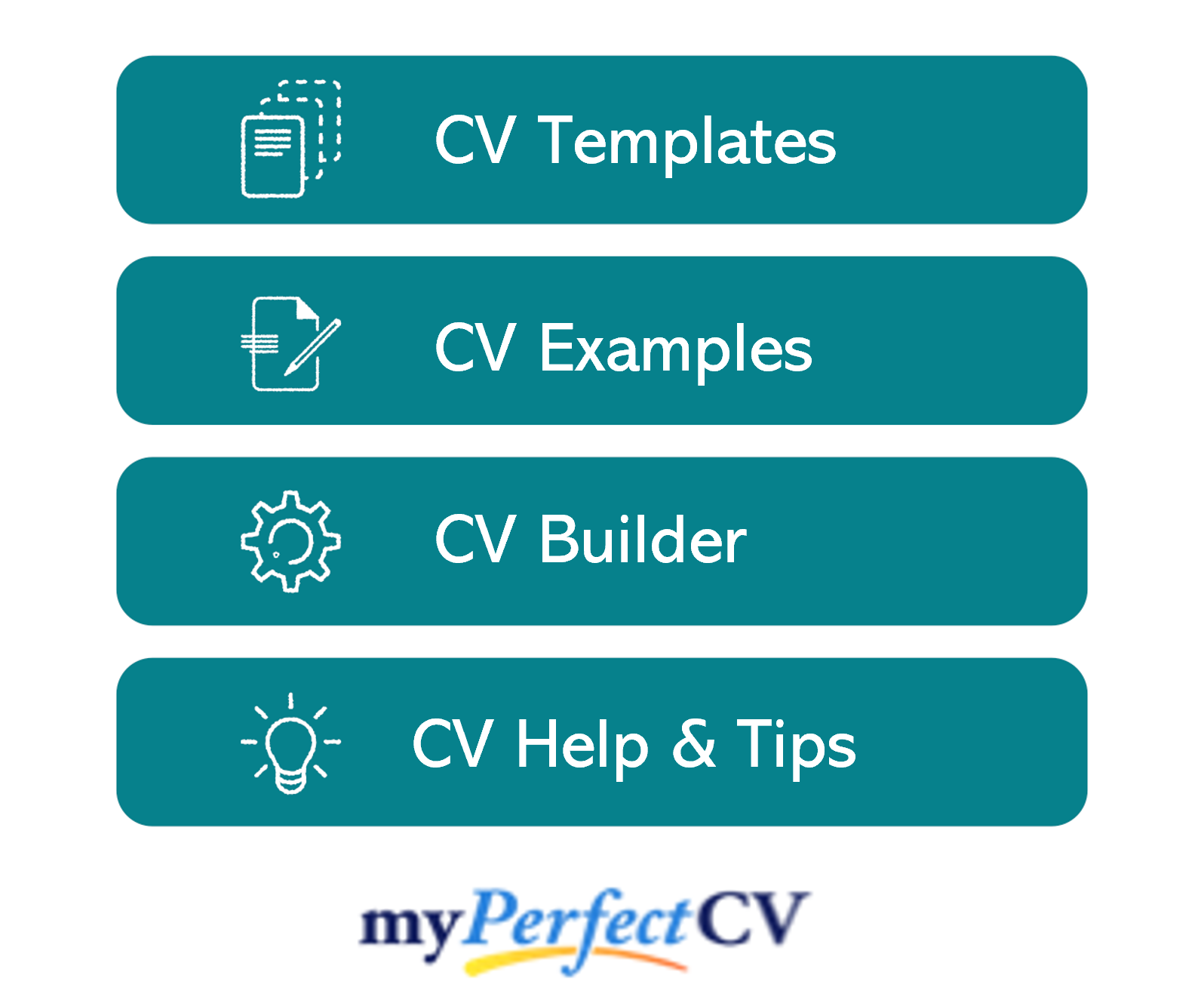 Once you've written your Geography Graduate CV, you should proofread it several times to ensure that there are no typos or grammatical errors.
With a tailored punchy profile that showcases your relevant experience and skills, paired with well-structured role descriptions, you'll be able to impress employers and land interviews.
Good luck with your next job application!