It's not enough for you to repair structures, recover goods or run clean-up operations, you want to do all of that, but underwater.
That's a lot of pressure. But if you know you've got what it takes to do the job, you don't want to tank your chances by submitting a poor application.
So, to help you succeed, we've put together a step-by-step writing guide, complete with a commercial diver CV example.
Contents
| | |
| --- | --- |
| How to write a Commercial Diver CV | |

Commercial Diver CV example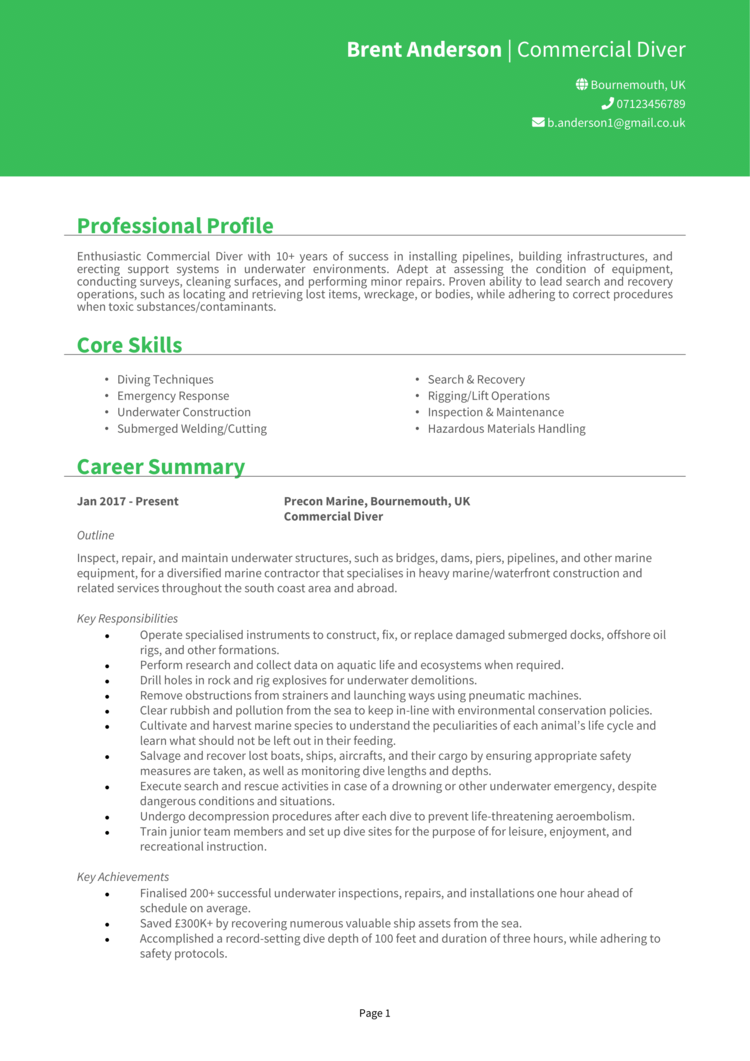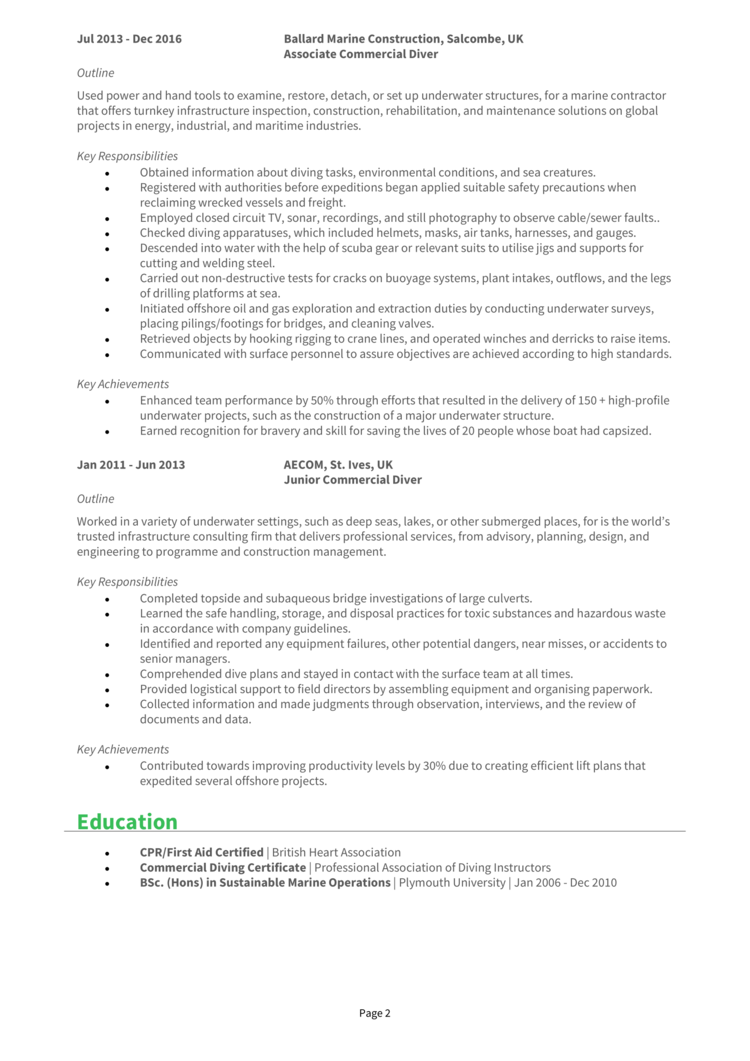 This is a good example of a Commercial Diver CV which contains all of the information that a hiring manager will need to be impressed, and presents it in a well- structured, easy-to-read format.
Take some time to study and understand this CV, and refer to it throughout the writing of your own CV for best results.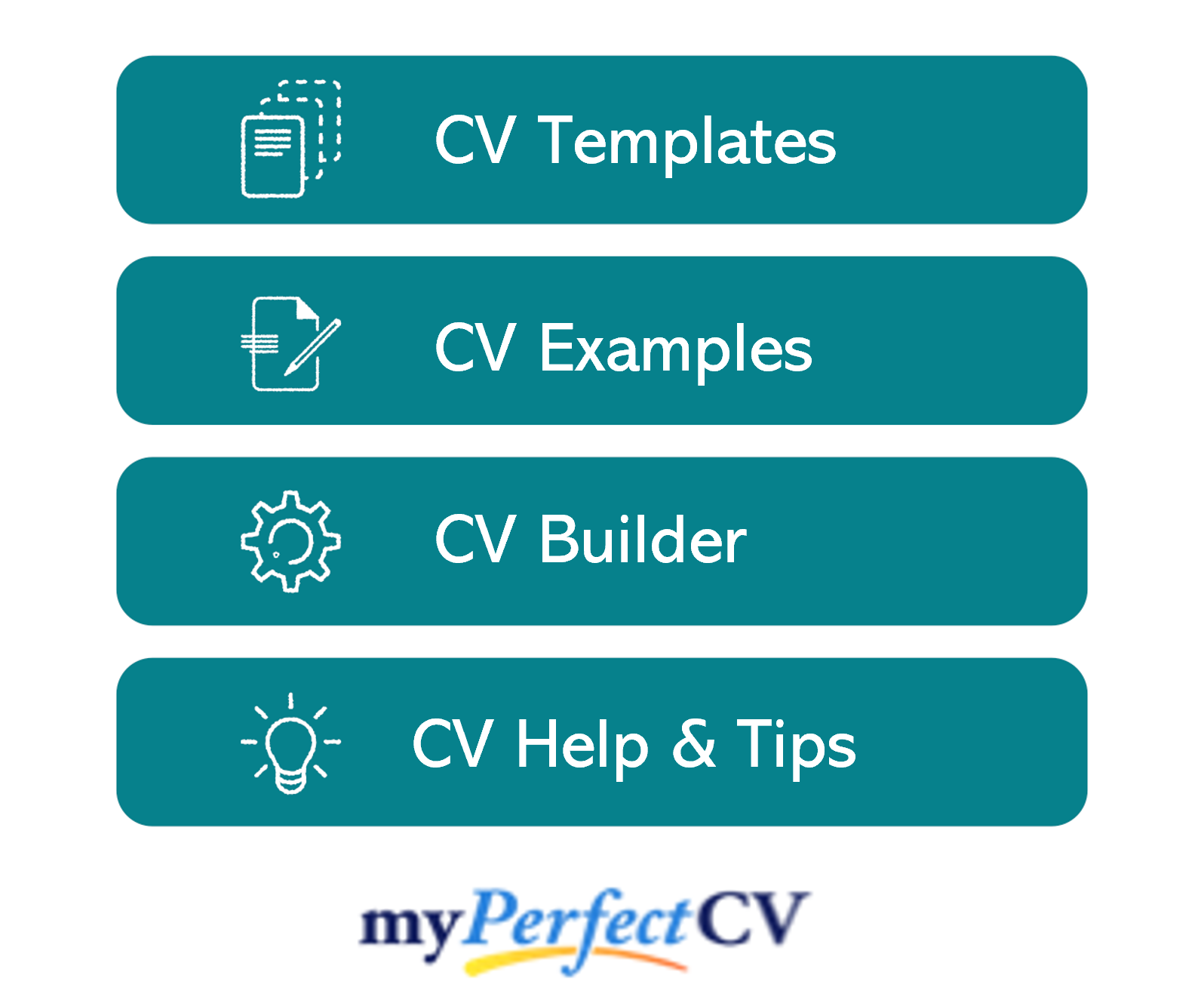 Commercial Diver CV format and structure
Hiring managers and recruiters are frequently overloaded with applications, and if they can't identify the relevant information in your CV within a few seconds, your application may be overlooked.
To avoid this, it's essential to format and structure your CV in a manner that makes it simple to pick out the most important information, even if the reader is in a rush.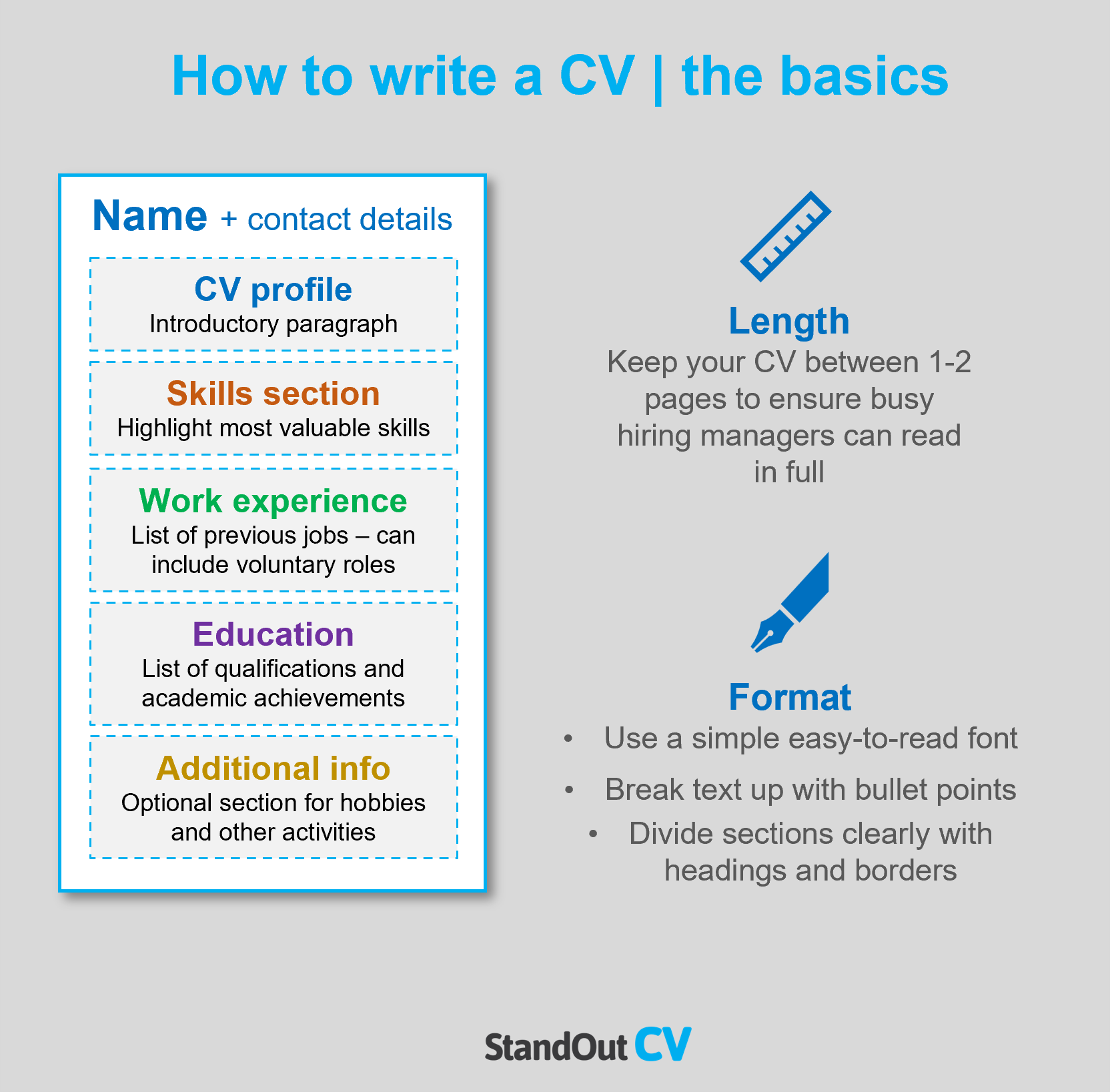 Tips for formatting your Commercial Diver CV
Length: Two sides of A4 makes for the the perfect CV length, though one page is okay for less experienced applicants. This forces you to make sure that every single sentence adds value to your CV and ensures you avoid unnecessary  info.
Readability: Make sure your CV is easy to read and looks professional by applying some simple formatting tricks. Bullet points are great for making large paragraphs more digestible, while formatting your headings with bold or coloured text will help the reader to find the information they need, with speed.
Design & format: When it comes to CV design, it's best to keep things simple and sleek. While elaborate designs certainly command attention, it's not always for the right reasons! Readability is key, so whatever you choose to do, make sure you prioritise readability above everything.
Photos: Recruiters can't factor in appearance, gender or race into the recruitment process, so a profile photo is not usually needed. However, creative employers do like to see them, so you can choose to include one if you think it will add value to your CV .
Quick tip: Creating a professional CV style can be difficult and time-consuming when using Microsoft Word or Google Docs. To create a winning CV quickly, try our partner's CV Builder and use one of their eye-catching professional CV templates.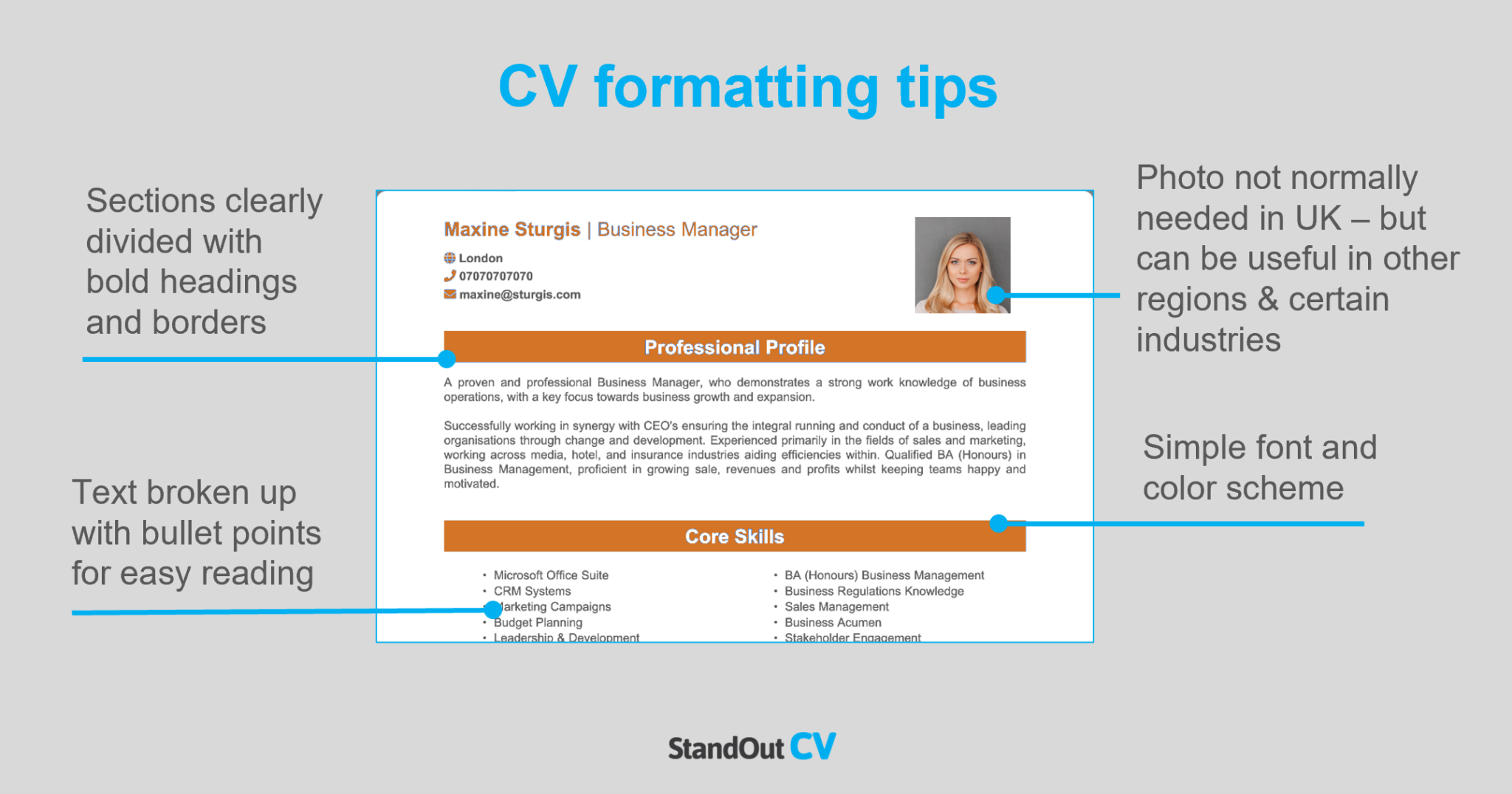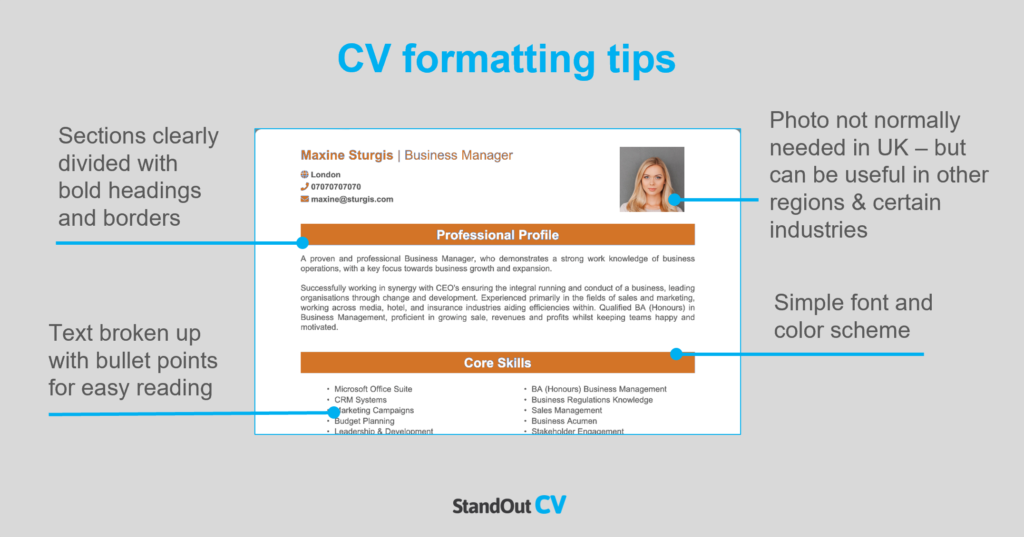 CV structure
To make it easy for busy recruiters and hiring managers to digest your CV, divide the content into several key sections when writing it:
Contact details: Always list your contact details at the very top to avoid them being missed.
Profile: Start with an introductory paragraph that catches recruiters' attention and summarises your offerings.
Work experience/career history: List your relevant work experience in reverse chronological order, starting with your current position.
Education: Provide a concise summary of your education and qualifications.
Interests and hobbies: You can include an optional section to showcase any hobbies that demonstrate transferable skills.
Now you understand the basic layout of a CV, here's what you should include in each section of yours.
Contact Details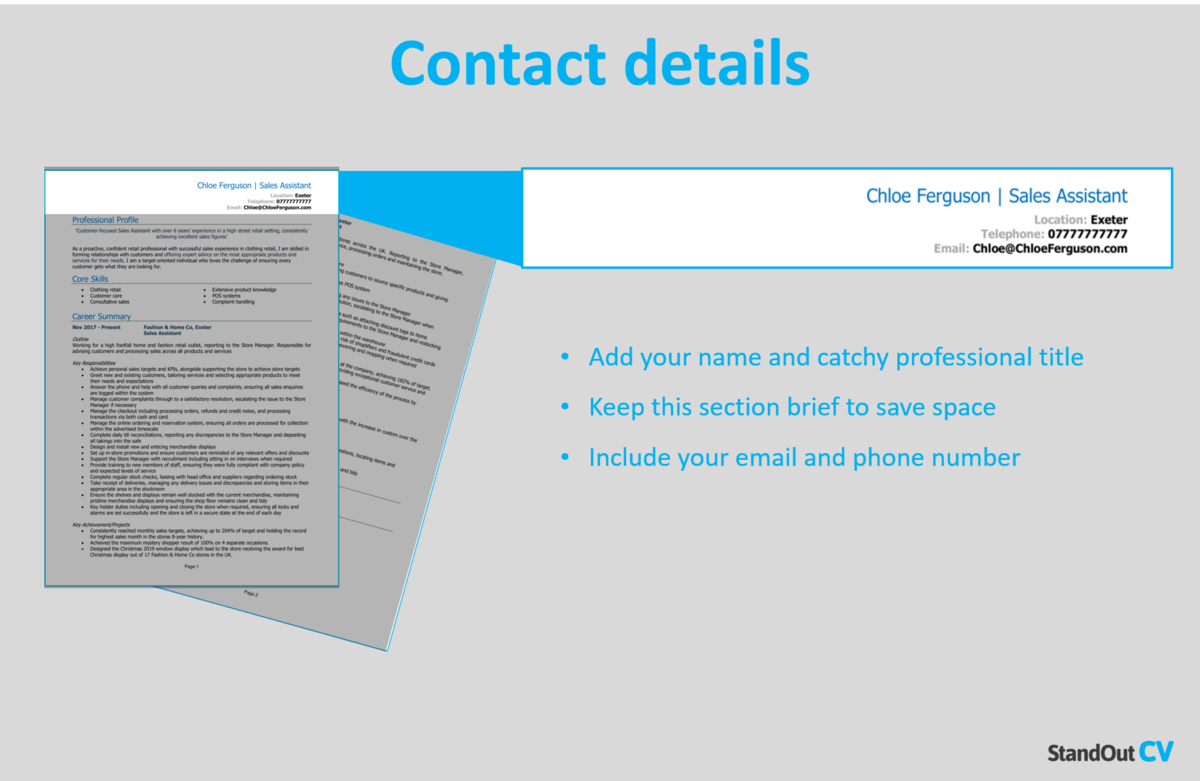 Start off your CV with a basic list of your contact details.
Here's what you should include:
Mobile number
Email address – It's often helpful to make a new email address, specifically for your job applications.
Location – Share your town or city; there's no need for a full address.
LinkedIn profile or portfolio URL – Make sure the information on them is coherent with your CV, and that they're up-to-date
Quick tip: Delete excessive details, such as your date of birth or marital status. Recruiters don't need to know this much about you, so it's best to save the space for your other CV sections.
Commercial Diver CV Profile
Grab the reader's attention by kick-starting your CV with a powerful profile (or personal statement, if you're a junior applicant).
This is a short introduction paragraph which summarises your skills, knowledge and experience.
It should paint you as the perfect match for the job description and entice recruiters to read through the rest of your CV.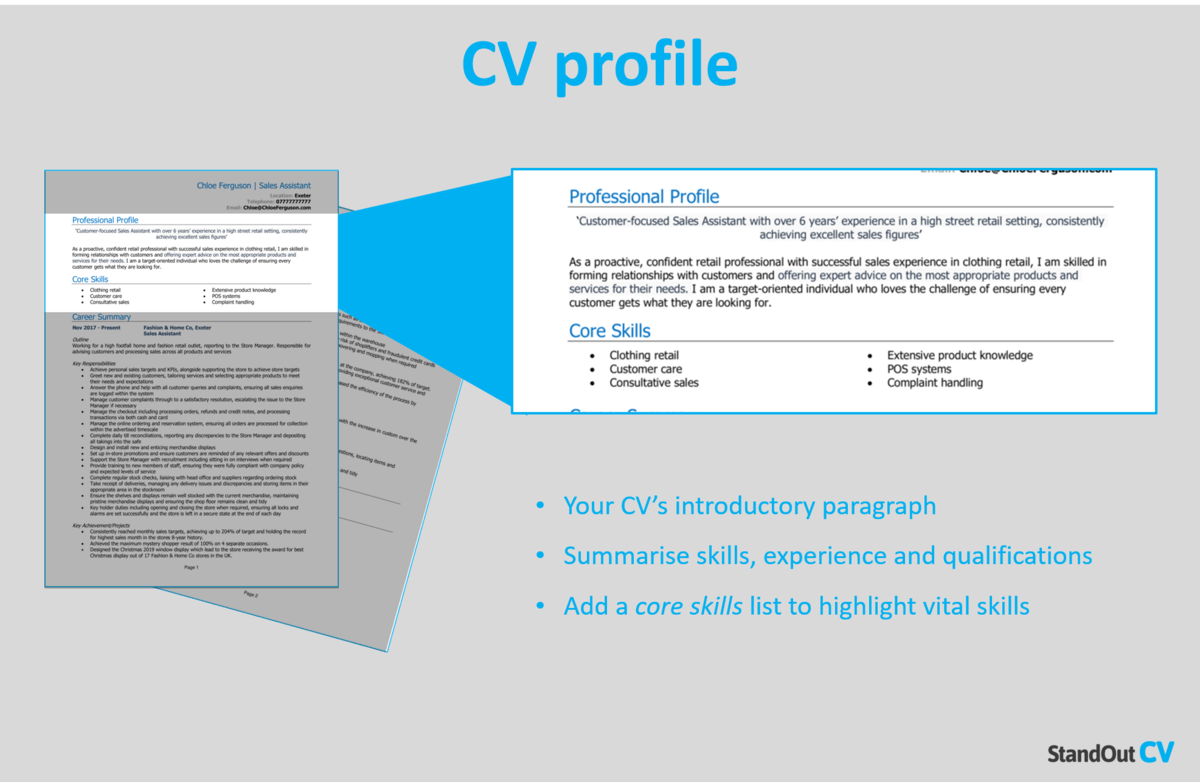 How to write a good CV profile:
Make it short and sharp: Recruiters are busy, so to ensure your profile is actually read, it's best to keep it short and snappy. 3-5 punchy lines makes for the perfect profile.
Tailor it: Before writing your CV, make sure to do some research. Figure out exactly what your desired employers are looking for and make sure that you are making those requirements prominent in your CV profile, and throughout.
Don't add an objective: You only have a small space for your CV profile, so avoid writing down your career goals or objectives. If you think these will help your application, incorporate them into your cover letter instead.
Avoid generic phrases: If your CV is riddled with clichès like "Dynamic thought-leader", hit that delete button. Phrases like these are like a broken record to recruiters, who read them countless times per day. Hard facts, skills, knowledge and results are sure to yield far better results.
Example CV profile for Commercial Diver
Enthusiastic Commercial Diver with 10+ years of success in installing pipelines, building infrastructures, and erecting support systems in underwater environments. Adept at assessing the condition of equipment, conducting surveys, cleaning surfaces, and performing minor repairs. Proven ability to lead search and recovery operations, such as locating and retrieving lost items, wreckage, or bodies, while adhering to correct procedures when toxic substances/contaminants.
What to include in your Commercial Diver CV profile?
Experience overview: Demonstrate your suitability for your target jobs by giving a high level summary of your previous work work experience, including the industries you have worked in, types of employer, and the type of roles you have previous experience of.
Targeted skills: Make your most relevant Commercial Diver key skills clear in your profile. These should be tailored to the specific role you're applying for – so make sure to check the job description first, and aim to match their requirements as closely as you can.
Important qualifications: Be sure to outline your relevant Commercial Diver qualifications, so that anyone reading the CV can instantly see you are qualified for the jobs you are applying to.
Quick tip: If you are finding it difficult to write an attention-grabbing CV profile, choose from hundreds of pre-written profiles across all industries, and add one to your CV with one click in our partner's CV Builder. All profiles are written by recruitment experts and easily tailored to suit your unique skillset.
Core skills section
Next, you should create a bullet pointed list of your core skills, formatted into 2-3 columns.
Here, you should focus on including the most important skills or knowledge listed in the job advertisement.
This will instantly prove that you're an ideal candidate, even if a recruiter only has time to briefly scan your CV.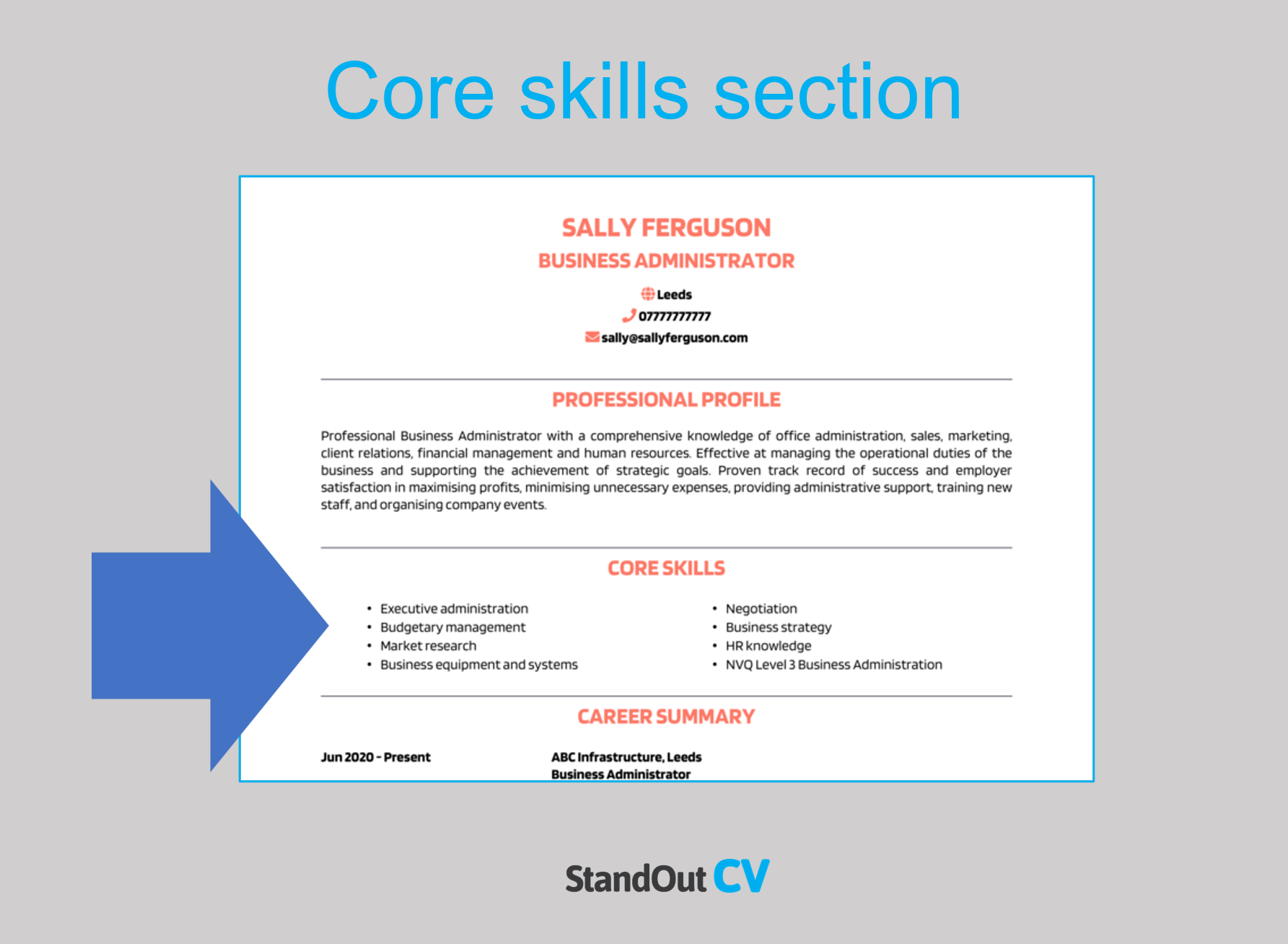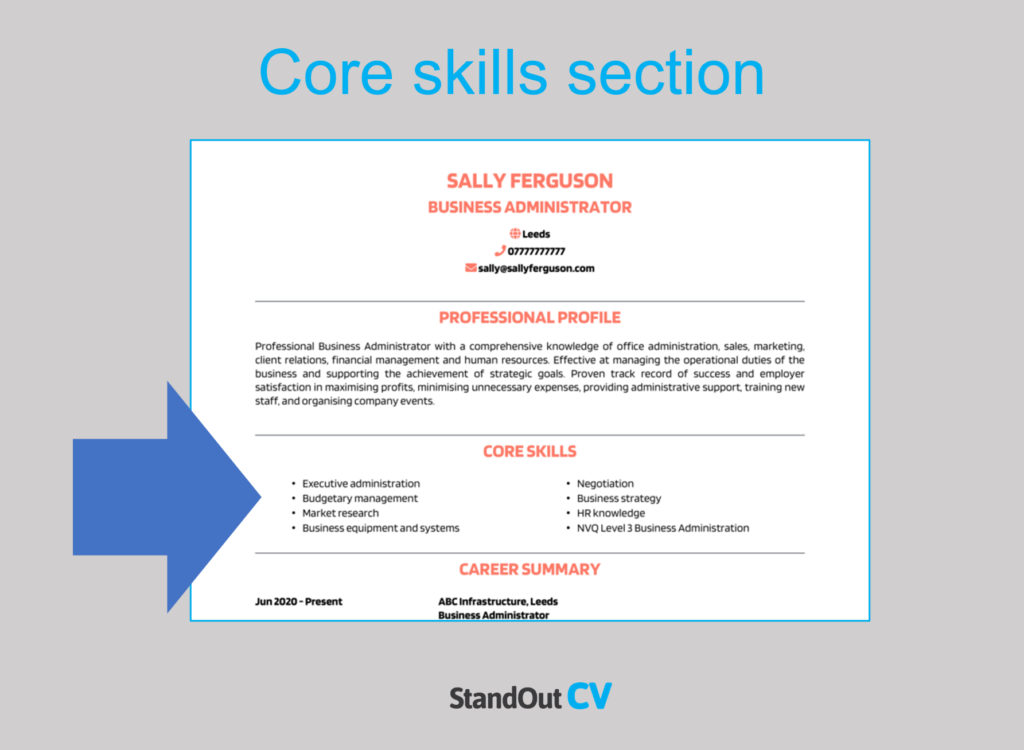 Important skills for your Commercial Diver CV
Diving Techniques – Utilising various diving techniques, including scuba diving, surface-supplied diving, and saturation diving, to safely perform underwater tasks.
Underwater Welding and Cutting – Utilising underwater welding and cutting techniques, such as shielded metal arc welding (SMAW) and oxy-fuel cutting, to perform repairs and maintenance on underwater structures.
Construction and Inspection – Participating in underwater construction projects, including the installation and inspection of pipelines, offshore platforms, and other underwater structures.
Hazard Identification and Mitigation – Utilising knowledge of potential hazards and risks associated with underwater work to identify and implement appropriate safety measures and protocols.
Underwater Navigation – Utilising underwater navigation techniques, including the use of compasses and underwater mapping tools, to accurately navigate and locate specific underwater sites.
Equipment Maintenance and Repair – Maintaining and repairing diving equipment, such as diving suits, helmets, regulators, and communication systems, to ensure their proper functioning during underwater operations.
Dive Planning and Decompression – Calculating decompression times, monitoring gas mixtures, and ensuring adherence to dive tables or computer algorithms for safe ascent and decompression.
Emergency Response – Utilising knowledge of emergency procedures to respond effectively in case of equipment failure, entanglement, or other underwater emergencies to ensure diver safety.
Environmental Awareness – Utilising knowledge of marine environments, including marine life, ecosystems, and conservation practices, to minimise the impact of diving activities and promote environmental sustainability.
Quick tip: Our partner's CV Builder has thousands of in-demand skills for all industries and professions, that can be added to your CV in seconds – This will save you time and ensure you get noticed by recruiters.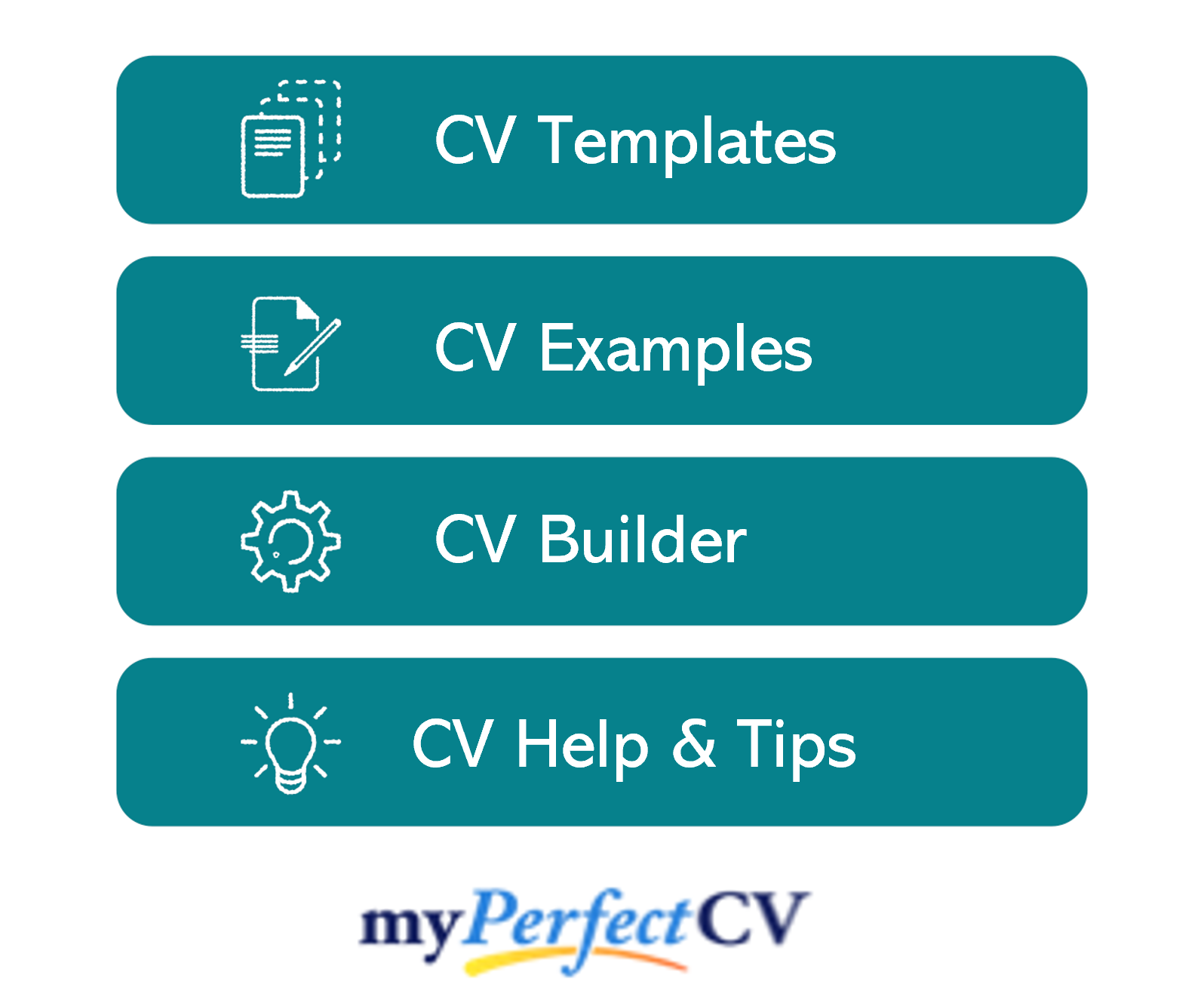 Work experience
By this point, employers will be keen to know more detail about you career history.
Starting with your most recent role and working backwards, create a snappy list of any relevant roles you've held.
This could be freelance, voluntary, part-time or temporary jobs too. Anything that's relevant to your target role is well-worth listing!
Structuring each job
Whilst writing your CV, it's essential to look at it from the eyes of a recruiter.
If they're met with giant blocks of text which are impossible to navigate, they might get frustrated and skip onto the next CV.
Instead, make use of the 3-step structure shown below, to give them a pleasant reading experience.
Outline
Start with a brief summary of your role as a whole, as well as the type of company you worked for.
Key responsibilities
Use bullet points to detail the key responsibilities of your role, highlighting hard skills, software and knowledge wherever you can.
Keep them short and sharp to make them easily digestible by readers.
Key achievements
Round up each role by listing 1-3 key achievements, accomplishments or results.
Wherever possible, quantify them using hard facts and figures, as this really helps to prove your value.
Sample job description for Commercial Diver CV
Outline
Inspect, repair, and maintain underwater structures, such as bridges, dams, piers, pipelines, and other marine equipment, for a diversified marine contractor that specialises in heavy marine/waterfront construction and related services throughout the south coast area and abroad.
Key Responsibilities
Operate specialised instruments to construct, fix, or replace damaged submerged docks, offshore oil rigs, and other formations.
Perform research and collect data on aquatic life and ecosystems when required.
Drill holes in rock and rig explosives for underwater demolitions.
Remove obstructions from strainers and launching ways using pneumatic machines.
Quick tip: Create impressive job descriptions easily in our partner's CV Builder by adding pre-written job phrases for every industry and career stage.

Education section
After your work experience, your education section should provide a detailed view of your academic background.
Begin with those most relevant to Commercial Diver jobs, such as vocational training or degrees.
If you have space, you can also mention your academic qualifications, such as A-Levels and GCSEs.
Focus on the qualifications that are most relevant to the jobs you are applying for.
Hobbies and interests
Although this is an optional section, it can be useful if your hobbies and interests will add further depth to your CV.
Interests which are related to the sector you are applying to, or which show transferable skills like leadership or teamwork, can worth listing.
On the other hand, generic hobbies like "going out with friends" won't add any value to your application, so are best left off your CV.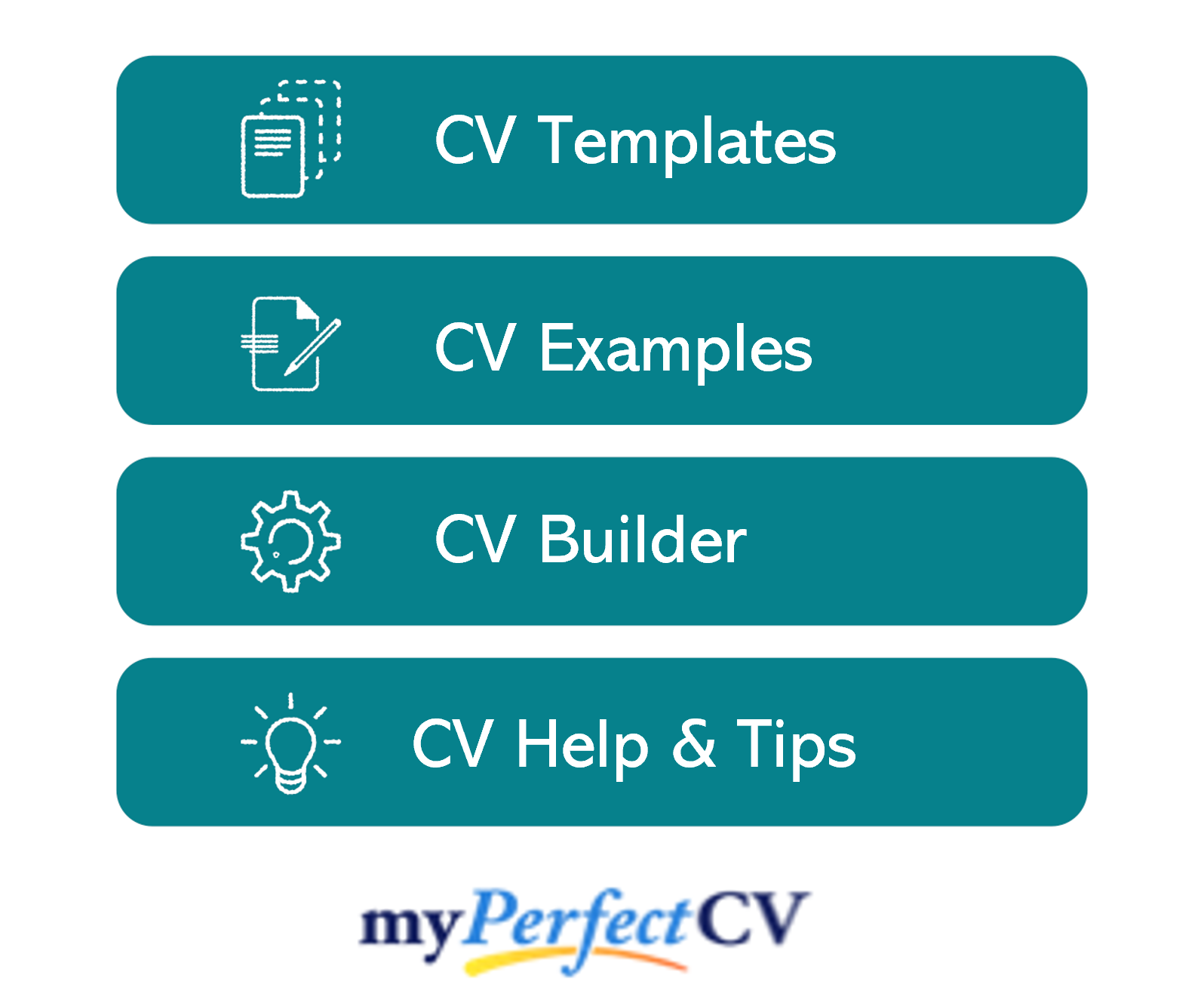 A strong, compelling CV is essential to get noticed and land interviews with the best employers.
To ensure your CV stands out from the competition, make sure to tailor it to your target role and pack it with sector-specific skills and results.
Remember to triple-check for spelling and grammar errors before hitting send.
Good luck with the job search!