Are you looking for your next opportunity in bioinformatics?
Then you need a strong CV that showcases your relevant qualifications and experience in the field.
In this guide, we'll teach you how to create an impressive application that showcases your top achievements. You can also check out our bioinformatics CV example for more support.
Contents
| | |
| --- | --- |
| How to write a Bioinformatics CV | |

Bioinformatics CV example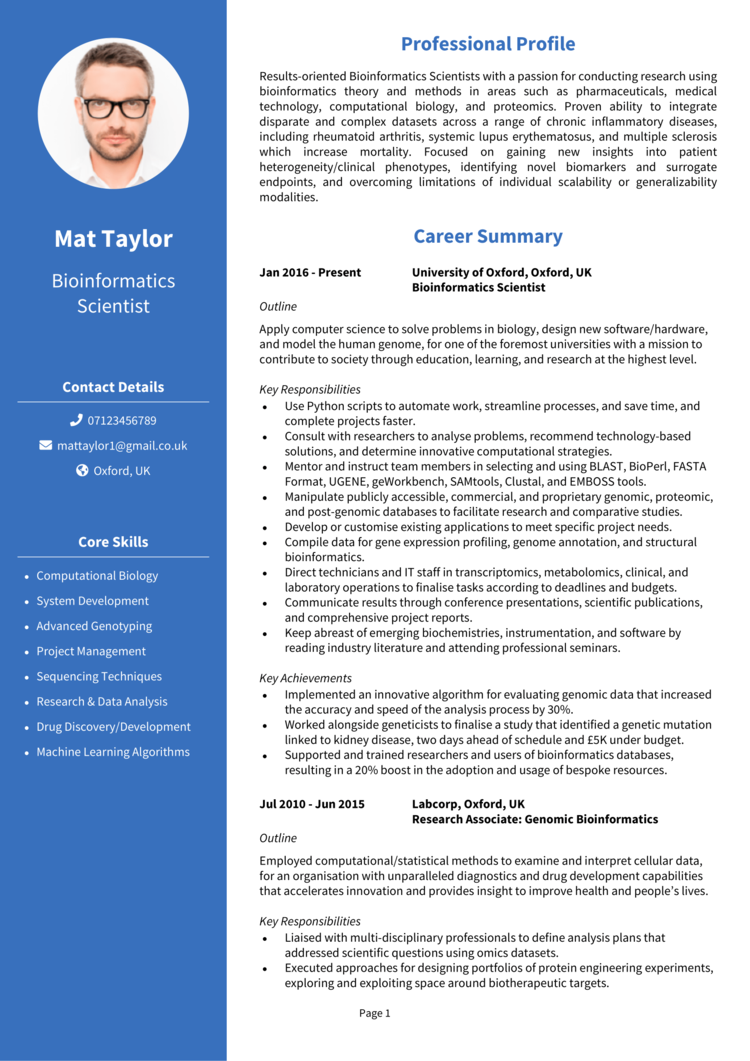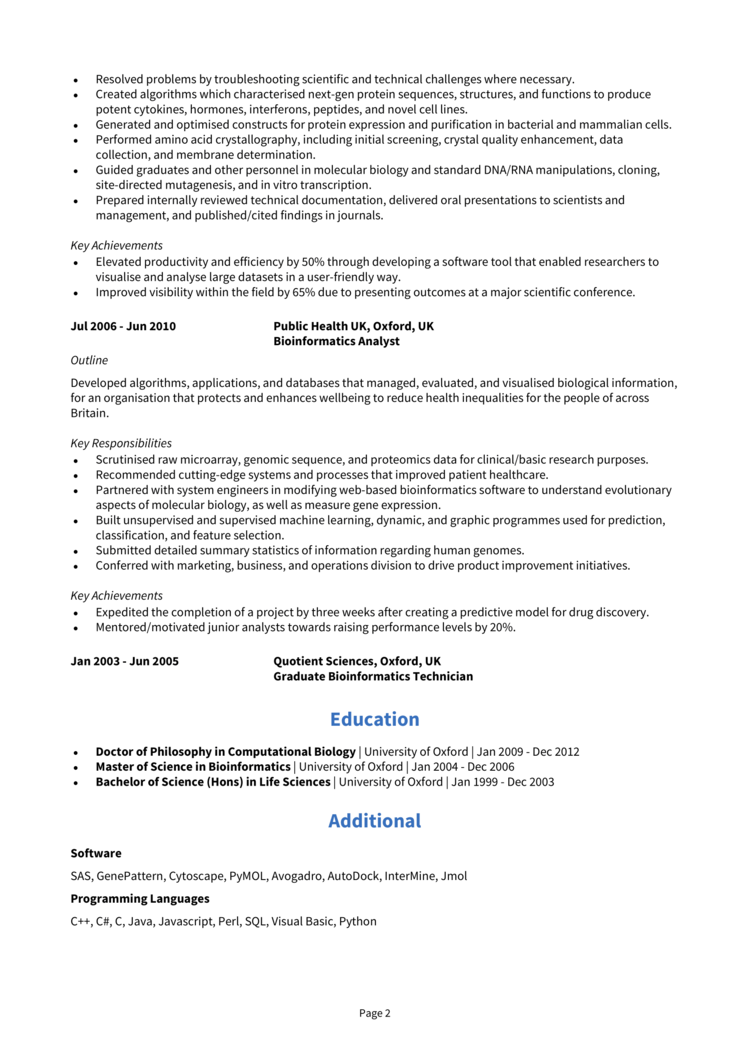 Unsure of what your Bioinformatics CV should look like?
Have a look at the CV example above to get familiar with the structure, layout and format of a professional CV.
As you can see, it provides plenty of relevant information about the applicant but is still very easy to read, and brief – which will please busy recruiters and hiring managers.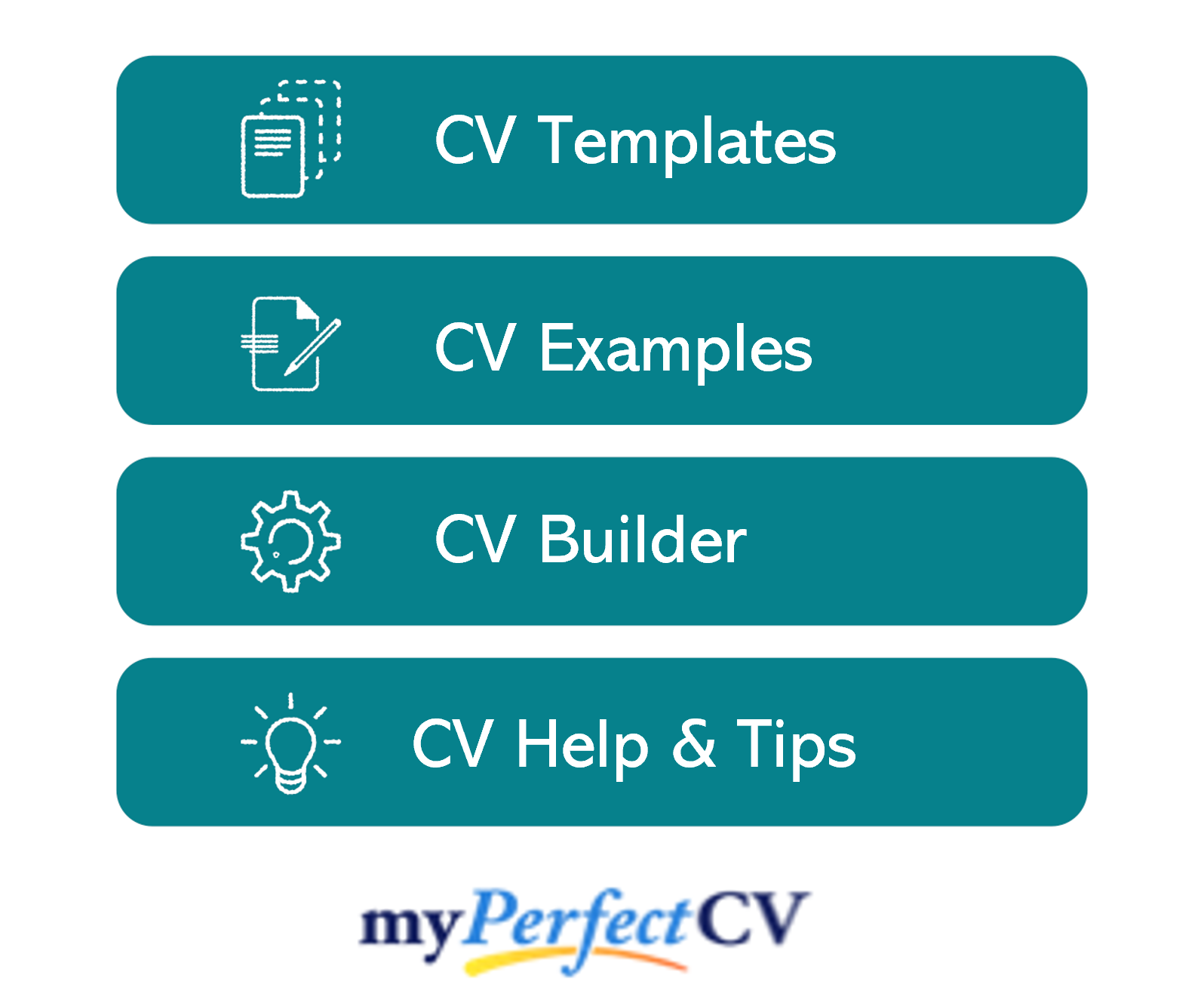 Bioinformatics CV format and structure
In today's fast-paced job market, recruiters and employers are often short on time. If they can't locate the information they're searching for within a few seconds, it could result in them overlooking your application.
To avoid this happening, it's critical to structure and format your CV in a way that allows them to quickly identify your key skills and offerings, even when they're pressed for time.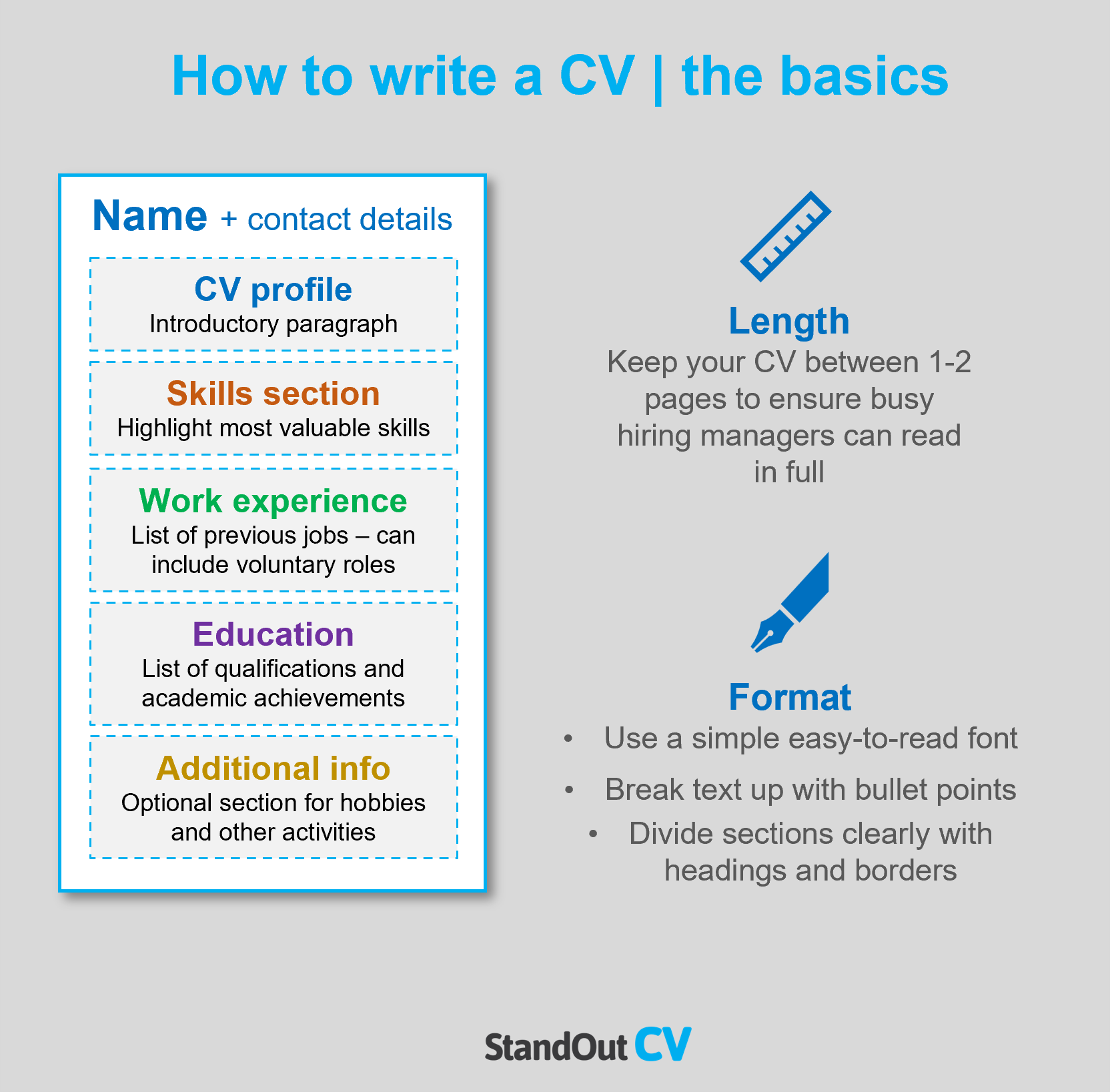 Tips for formatting your Bioinformatics CV
Length: Your CV should always be limited to two sides of A4, regardless of whether you have a year or three decades of experience. With recruiters juggling multiple responsibilities, they don't have time to sift through lengthy applications.
Readability: By formatting your section headings with bold or a different colour font and using bullet points to break up large blocks of text, you can help busy recruiters quickly scan through your CV. This makes it easier for them to find important details without wasting time.
Design & format: Your CV needs to look professional, sleek and easy to read. A subtle colour palette, clear font and simple design are generally best for this, as fancy designs are often harder to navigate.
Photos: You can add a profile photo to your CV, if you want to add some personality to it, but they are not a requirement the UK, so you don't have to.
Quick tip: Creating a professional CV style can be difficult and time-consuming when using Microsoft Word or Google Docs. To create a winning CV quickly, try our partner's CV Builder and use one of their eye-catching professional CV templates.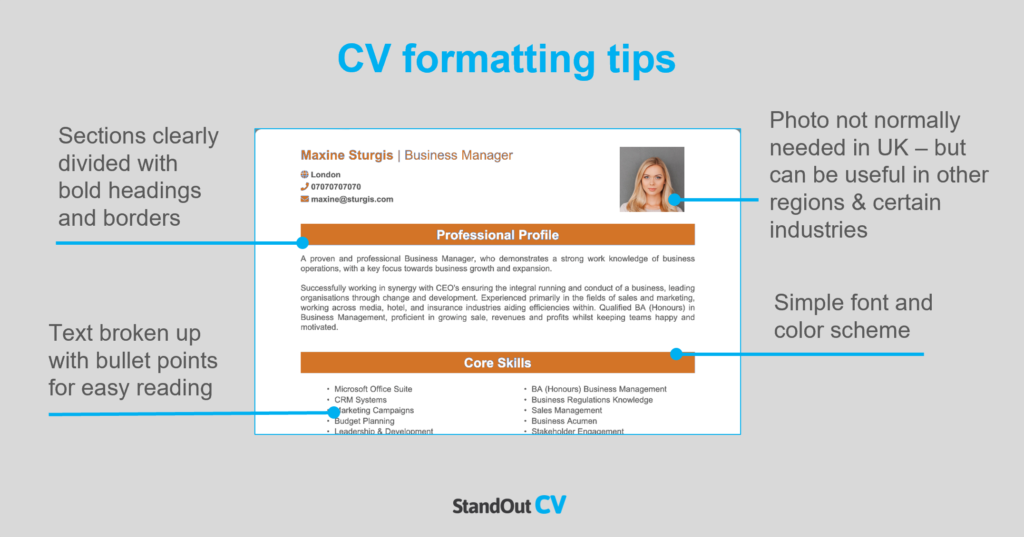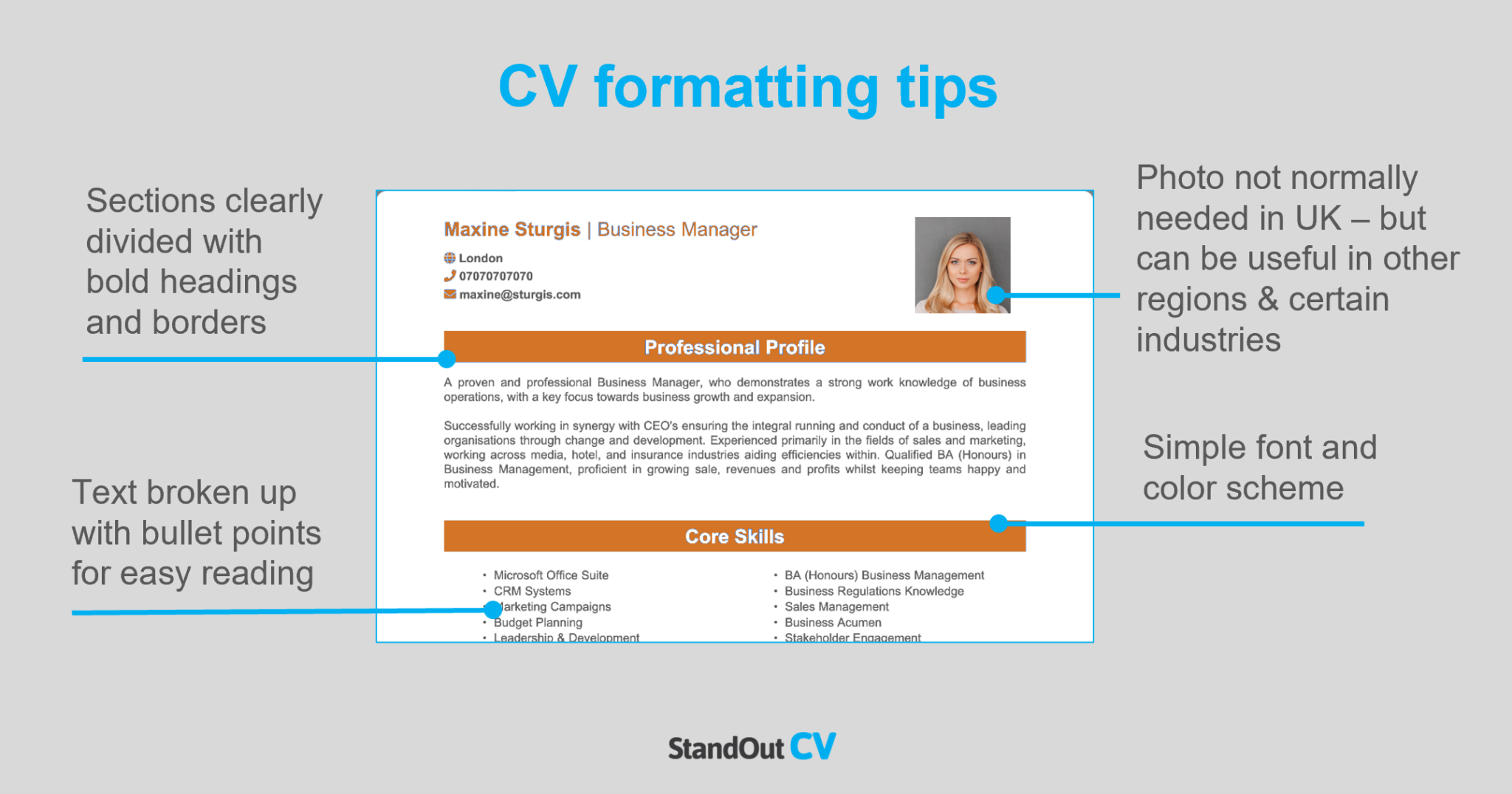 CV structure
When writing your own CV, break up your CV content into the following key sections:
Name and contact details – Place them at the top of your CV, so that employers can easily get in touch.
CV profile – A punchy sales pitch of your key experience, skills and achievements to reel readers in.
Core skills section – A bullet-pointed snapshot of your abilities.
Work experience – A well-structured list of your relevant work experience.
Education – An overview of any relevant qualifications or professional training you have.
Hobbies and interests – A short description of any relevant hobbies or interests (optional).
Now you understand the basic layout of a CV, here's what you should include in each section of yours.
Contact Details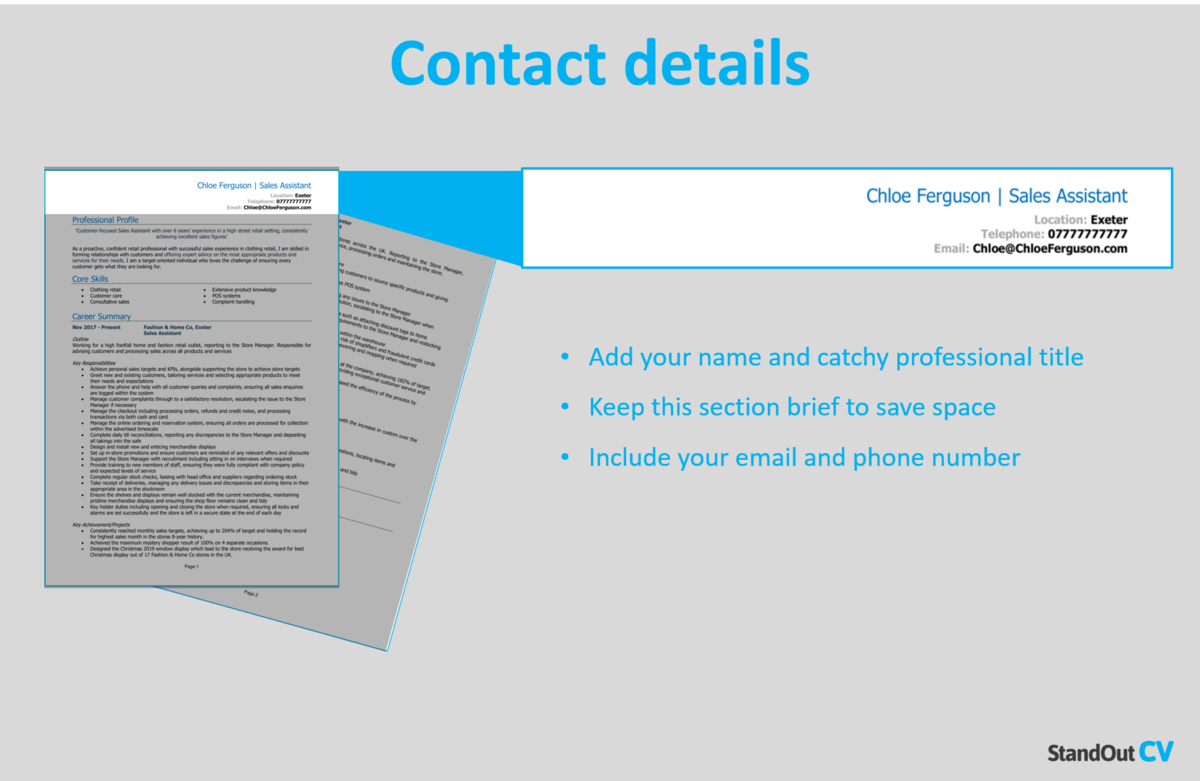 Begin by sharing your contact details, so it's easy for employers to give you a call.
Keep to the basics, such as:
Mobile number
Email address – It should sound professional, with no slang or nicknames. Make a new one for your job applications if necessary.
Location – Simply share your vague location, for example 'Manchester', rather than a full address.
LinkedIn profile or portfolio URL – Remember to update them before you send your application.
Bioinformatics CV Profile
Your CV profile is the first thing recruiters will read – so your goal is to give them a reason to read onto the end of the document!
Create a short and snappy paragraph that showcases your key skills, relevant experience and impressive accomplishments.
Ultimately, it should prove to the reader that you've got what it takes to carry out the job.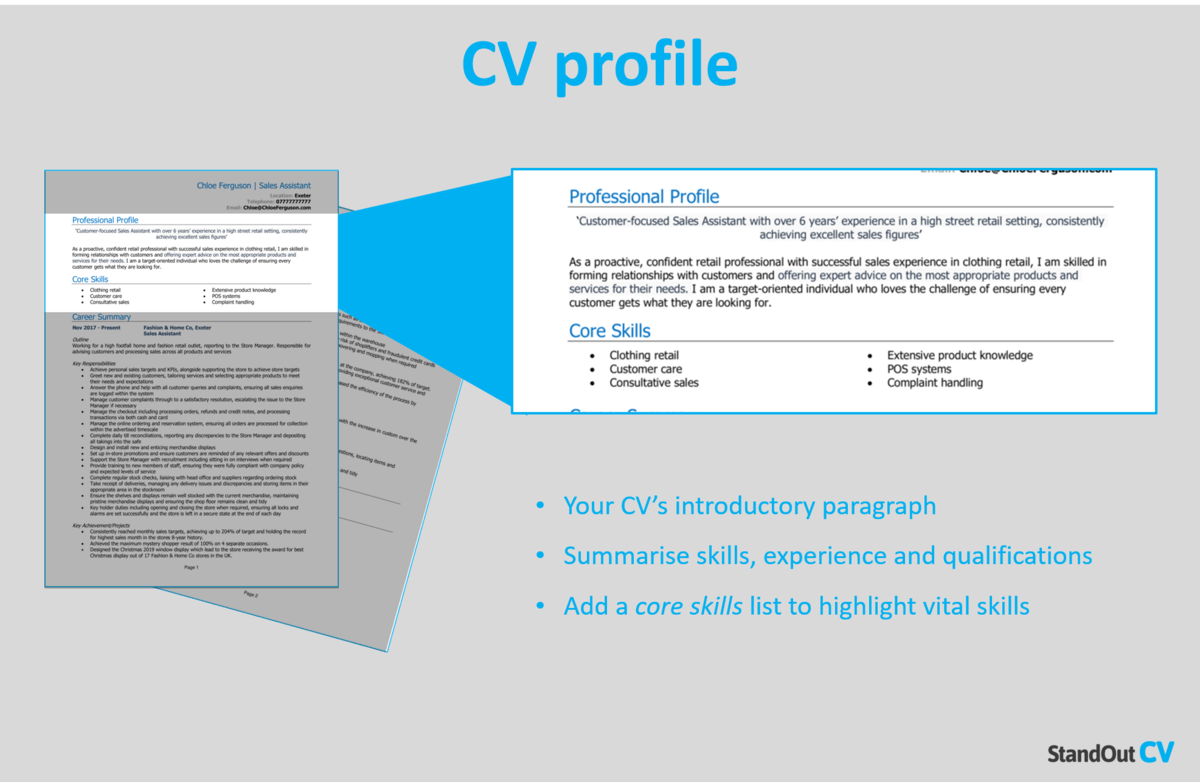 How to write a good CV profile:
Make it short and sharp: Recruiters are busy, so to ensure your profile is actually read, it's best to keep it short and snappy. 3-5 punchy lines makes for the perfect profile.
Tailor it: If recruiters don't see your suitability within a few seconds, they may close your CV straight away. Your CV profile should closely match the essential requirements listed in the job ad, so make sure to review them before you write it.
Don't add an objective: If you want to discuss your career objectives, save them for your cover letter, rather than wasting valuable CV profile space.
Avoid generic phrases: Clichés like "blue-sky thinker with a go-getter attitude" might sound impressive to you, but they don't actually tell the recruiter much about you. Concentrate on highlighting hard facts and skills, as recruiters are more likely to take these on board.
Example CV profile for a Bioinformatics Scientist
Results-oriented Bioinformatics Scientist with a passion for conducting research using bioinformatics theory and methods in areas such as pharmaceuticals, medical technology, computational biology, and proteomics. Proven ability to integrate disparate and complex datasets across a range of chronic inflammatory diseases, including rheumatoid arthritis, systemic lupus erythematosus, and multiple sclerosis which increase mortality. Focused on gaining new insights into patient heterogeneity/clinical phenotypes, identifying novel biomarkers and surrogate endpoints, and overcoming limitations of individual scalability or generalisability modalities.
What to include in your Bioinformatics CV profile?
Experience overview: Start with a brief summary of your relevant experience so far. How many years experience do you have? What type of companies have you worked for? What industries/sectors have you worked in? What are your specialisms?
Targeted skills: Ensure that your profile highlights your key skills that are most relevant to Bioinformatics, and tailor them to match the specific job you are applying for. To do this, refer to the job description to closely align your skills with their requirements.
Important qualifications: If the jobs you are applying to require candidates to have certain qualifications, then you must add them in your profile to ensure they are seen by hiring managers.
Quick tip: If you are finding it difficult to write an attention-grabbing CV profile, choose from hundreds of pre-written profiles across all industries, and add one to your CV with one click in our partner's CV Builder. All profiles are written by recruitment experts and easily tailored to suit your unique skillset.
Core skills section
Underneath your profile, write a core skills section to make your most relevant skills jump off the page at readers.
It should be made up of 2-3 columns of bullet points of your relevant skills.
Before you do this, look over the job description and make a list of any specific skills, specialisms or knowledge required.
Then, make sure to use your findings in your list. This will paint you as the perfect match for the role.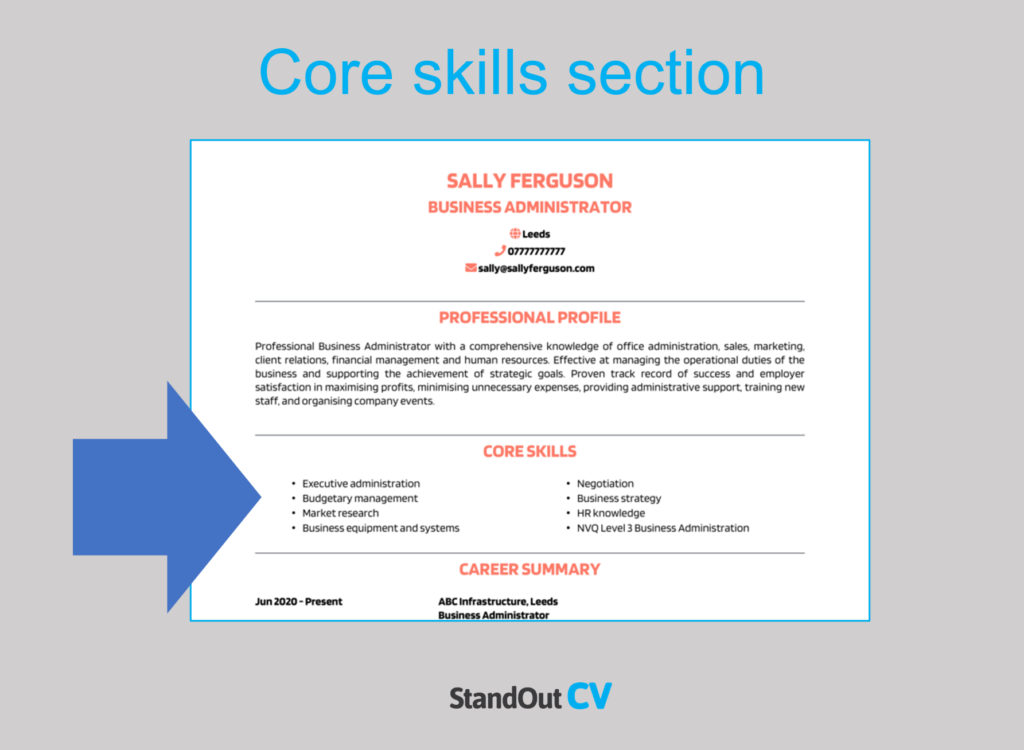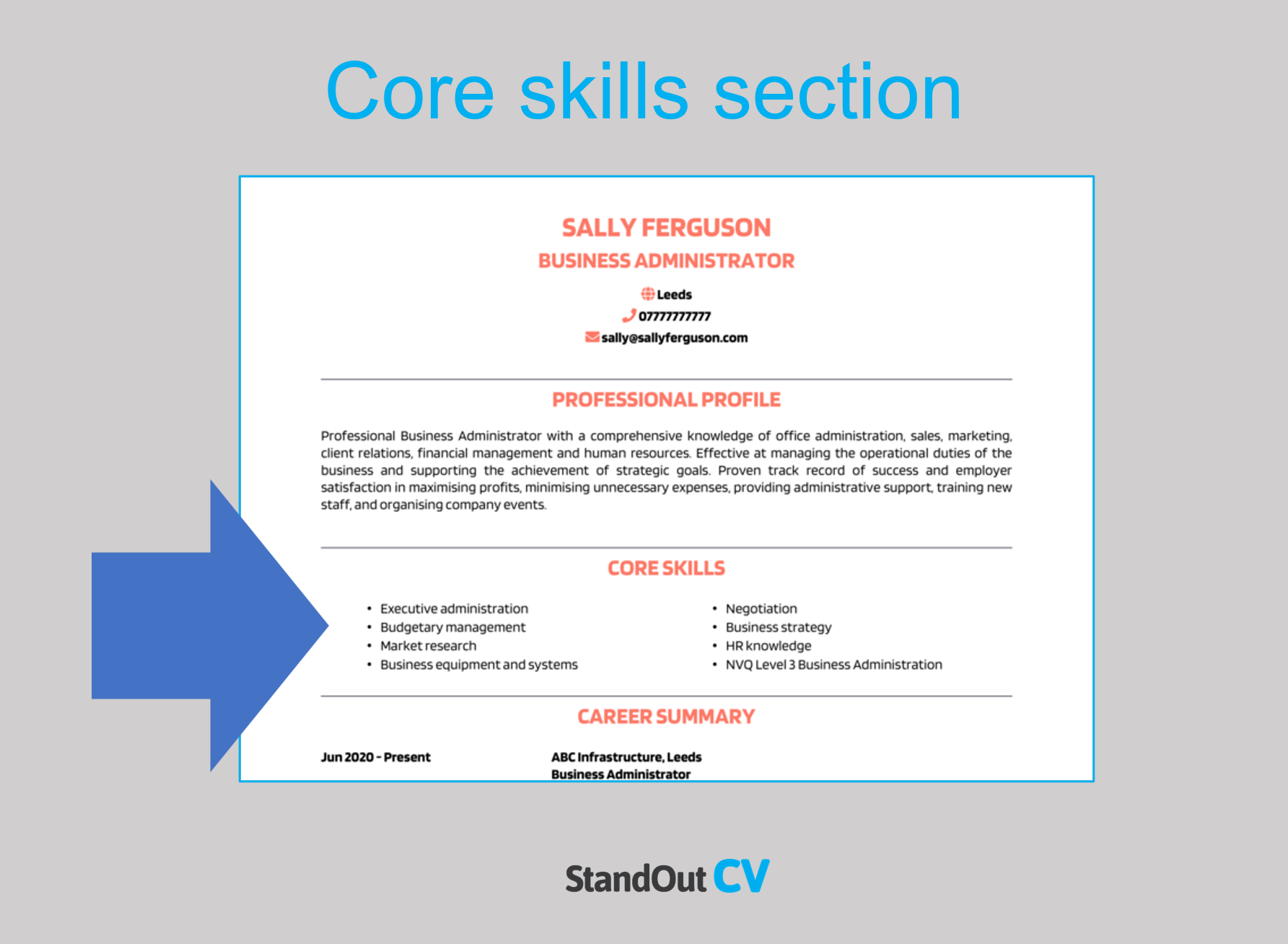 Important skills for your Bioinformatics CV
Data Analysis – Analysing and interpreting large biological datasets using statistical methods and bioinformatics tools.
Programming – Utilising programming languages such as Python, R, or Perl, to develop algorithms and scripts for data manipulation and analysis.
Genomics – Utilising knowledge of genomics data analysis, including genome assembly, variant calling, and functional annotation.
Transcriptomics – Utilising transcriptomics data analysis techniques, such as RNA-seq and differential gene expression analysis.
Proteomics – Analysing proteomics data, including protein identification, quantification, and protein-protein interaction analysis.
Data Visualisation – Visually representing complex biological data using tools such as R, matplotlib, or Tableau for effective communication.
Machine Learning – Utilising machine learning algorithms and applications such as classification, clustering, and prediction.
Database Management – Managing and querying biological databases, such as NCBI, Ensembl, or UniProt, for data retrieval and integration.
Algorithm Development – Developing novel algorithms and computational approaches to solve bioinformatics problems and optimise data analysis workflows.
Research Collaboration – Collaborating with researchers from different disciplines and contributing to multidisciplinary projects.
Quick tip: Our partner's CV Builder has thousands of in-demand skills for all industries and professions, that can be added to your CV in seconds – This will save you time and ensure you get noticed by recruiters.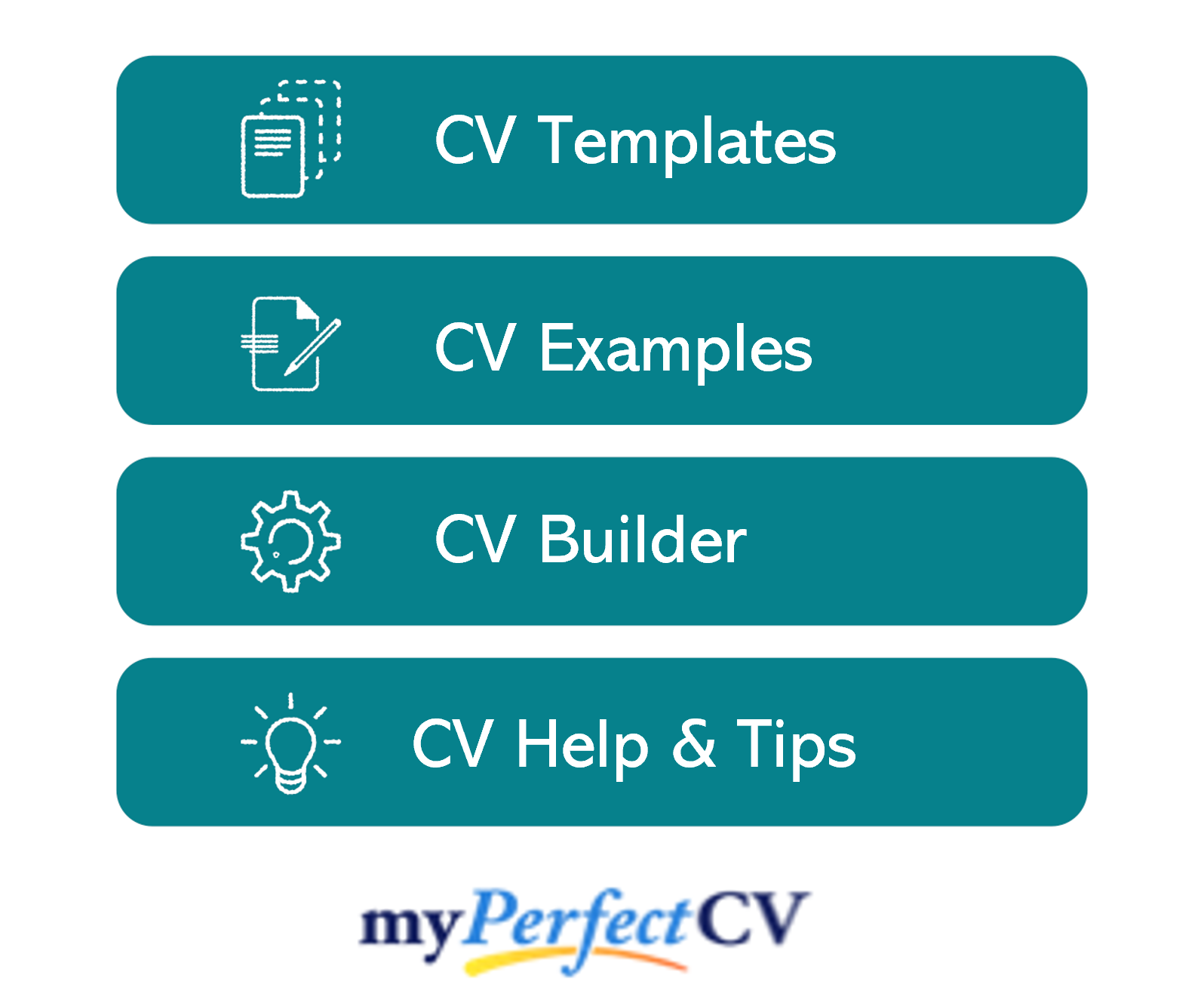 Work experience
By now, you'll have hooked the reader's attention and need to show them how you apply your skills and knowledge in the workplace, to benefit your employers.
So, starting with your most recent role and working backwards to your older roles, create a thorough summary of your career history to date.
If you've held several roles and are struggling for space, cut down the descriptions for your oldest jobs.
Structuring each job
Recruiters will be keen to gain a better idea of where you've worked and how you apply your skill-set in the workplace.
However, if they're faced with huge, hard-to-read paragraphs, they may just gloss over it and move onto the next application.
To avoid this, use the simple 3-step role structure, as shown below:
Outline
Firstly, give the reader some context by creating a punchy summary of the job as a whole.
You should mention what the purpose or goal of your role was, what team you were part of and who you reported to.
Key responsibilities
Use bullet points to detail the key responsibilities of your role, highlighting hard skills, software and knowledge wherever you can.
Keep them short and sharp to make them easily digestible by readers.
Key achievements
Finish off by showcasing 1-3 key achievements made within the role.
This could be anything that had a positive effect on your company, clients or customers, such as saving time or money, receiving exemplary feedback or receiving an award.
Sample job description for your Bioinformatics CV
Outline
Apply computer science to solve problems in biology, design new software/hardware, and model the human genome, for one of the foremost universities with a mission to contribute to society through education, learning, and research at the highest level.
Key Responsibilities
Use Python scripts to automate work, streamline processes, and save time, and complete projects faster.
Consult with researchers to analyse problems, recommend technology-based solutions, and determine innovative computational strategies.
Mentor and instruct team members in selecting and using BLAST, BioPerl, FASTA Format, UGENE, geWorkbench, SAMtools, Clustal, and EMBOSS tools.
Manipulate publicly accessible, commercial, and proprietary genomic, proteomic, and post-genomic databases to facilitate research and comparative studies.
Quick tip: Create impressive job descriptions easily in our partner's CV Builder by adding pre-written job phrases for every industry and career stage.

Education section
At the bottom of your CV is your full education section. You can list your formal academic qualifications, such as:
As well as any specific Bioinformatics qualifications that are essential to the jobs you are applying for. Note down the name of the qualification, the organisation at which you studied, and the date of completion.
Hobbies and interests
The hobbies and interests CV section isn't mandatory, so don't worry if you're out of room by this point.
However, if you have an interesting hobby, or an interest that could make you seem more suitable for the role, then certainly think about adding.
Be careful what you include though… Only consider hobbies that exhibit skills that are required for roles in Bioinformatics, or transferable workplace skills.
There is never any need to tell employers that you like to watch TV and eat out.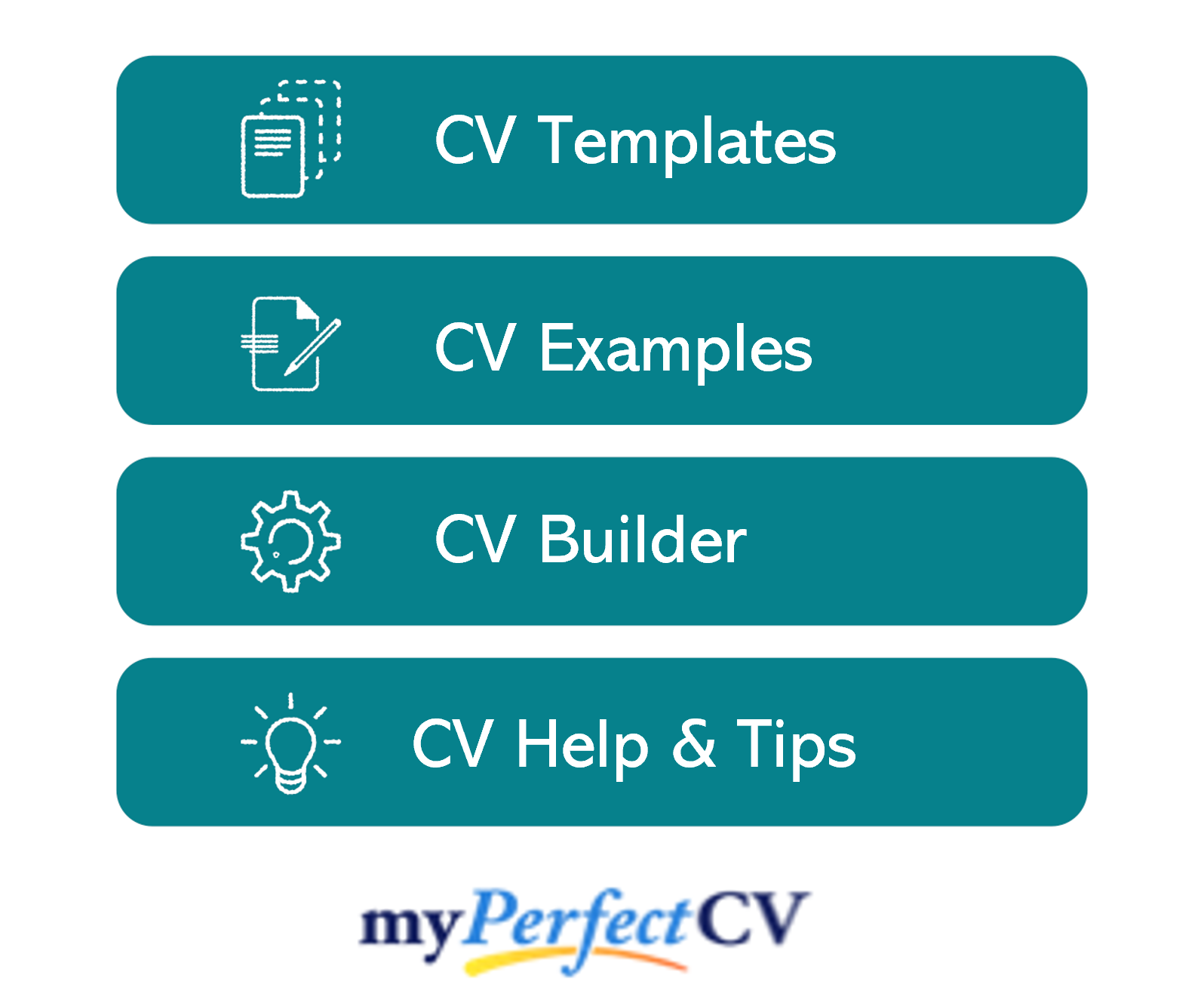 When putting together your Bioinformatics CV, there are a few key points to remember
Always tailor your CV to the target role, even if it means creating several versions for different roles.
Additionally, remember that the structure and format of your CV needs just as much attention as the content.
Good luck with your job search!