Whether it's serving customers, supervising staff or writing schedules, you can turn your hand to anything in order to support the store manager.
But to prove this, you need to showcase your retail experience and varied skill set on your CV.
If you're not sure where to start, this guide is for you. Check out all our top tips, along with our assistant store manager CV example below.
Contents
| | |
| --- | --- |
| How to write a Assistant Store Manager CV | |

Assistant Store Manager CV example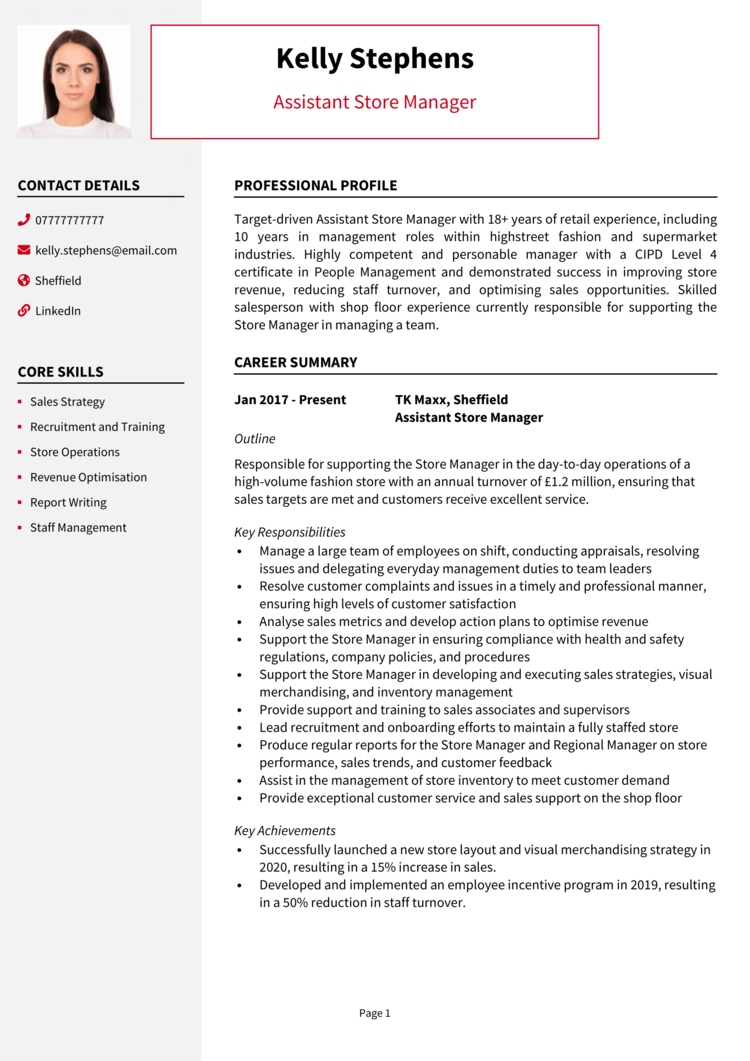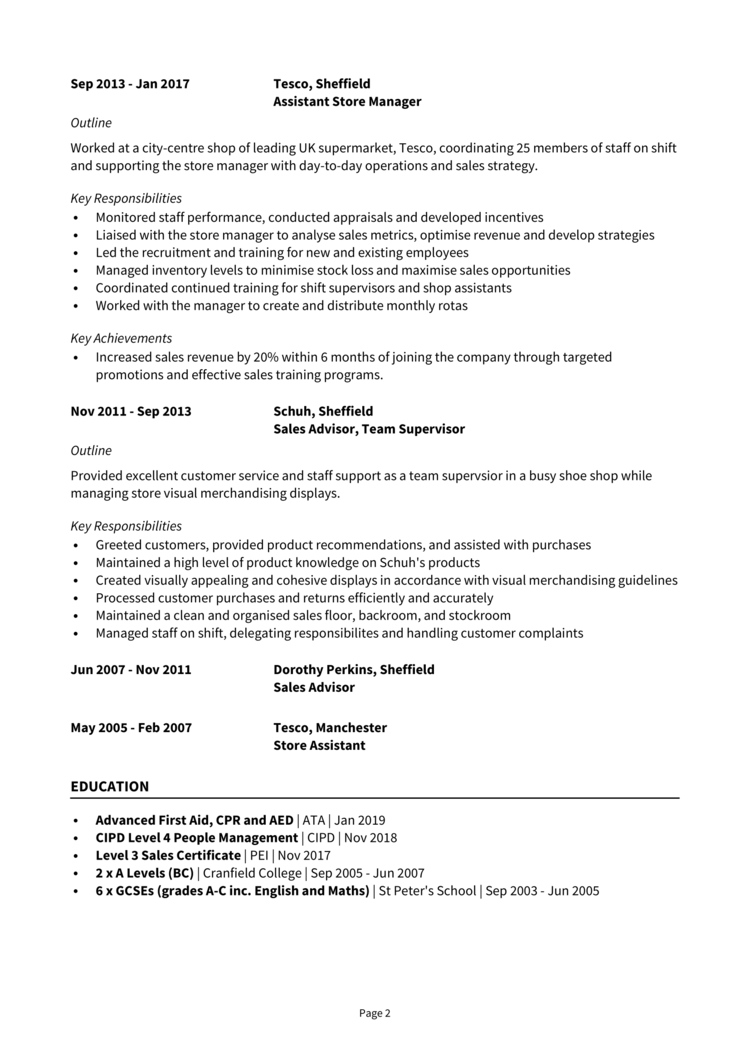 This is a good example of a Assistant Store Manager CV which contains all of the information that a hiring manager will need to be impressed, and presents it in a well- structured, easy-to-read format.
Take some time to study and understand this CV, and refer to it throughout the writing of your own CV for best results.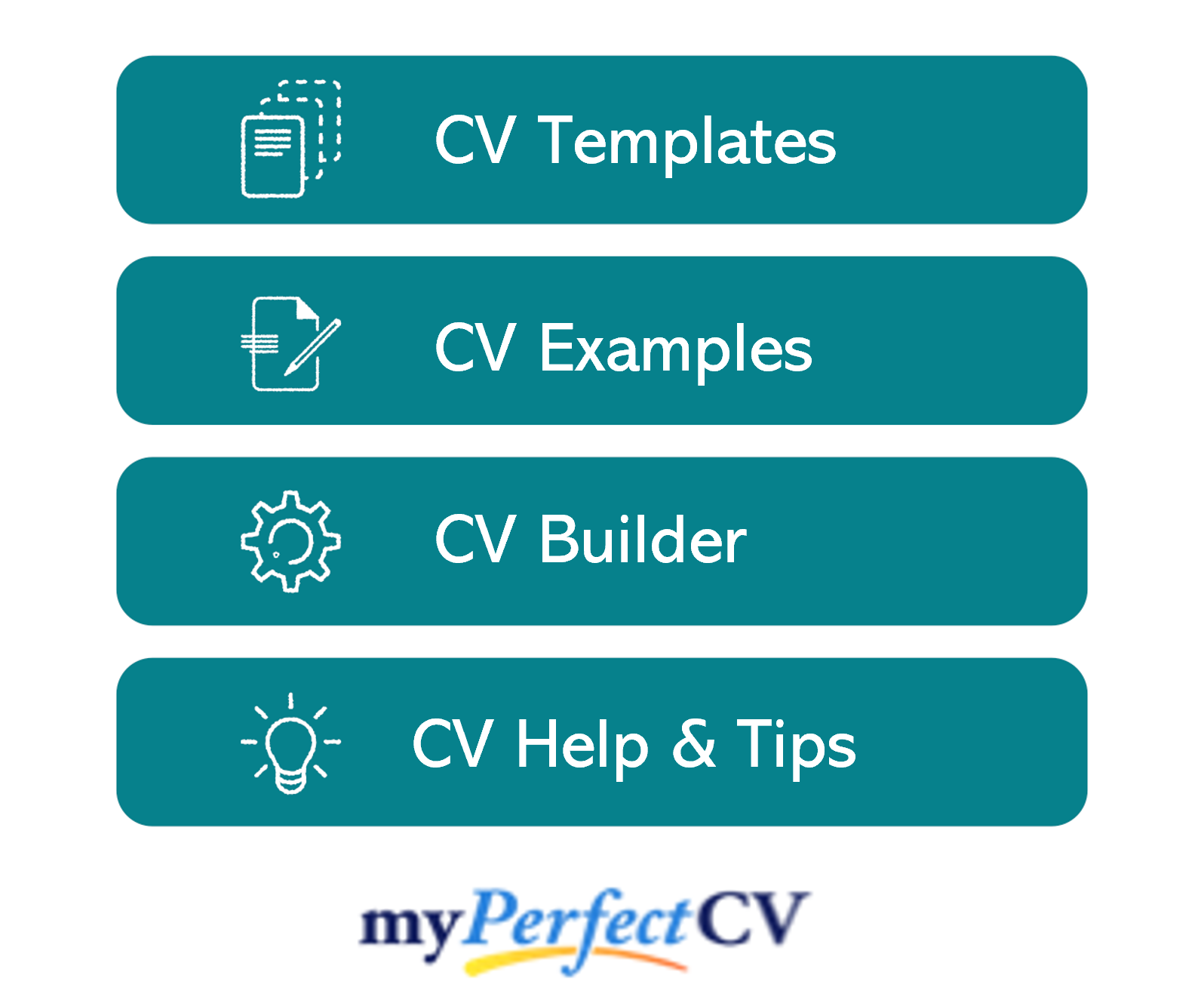 Assistant Store Manager CV format and structure
Hiring managers and recruiters are frequently overloaded with applications, and if they can't identify the relevant information in your CV within a few seconds, your application may be overlooked.
To avoid this, it's essential to format and structure your CV in a manner that makes it simple to pick out the most important information, even if the reader is in a rush.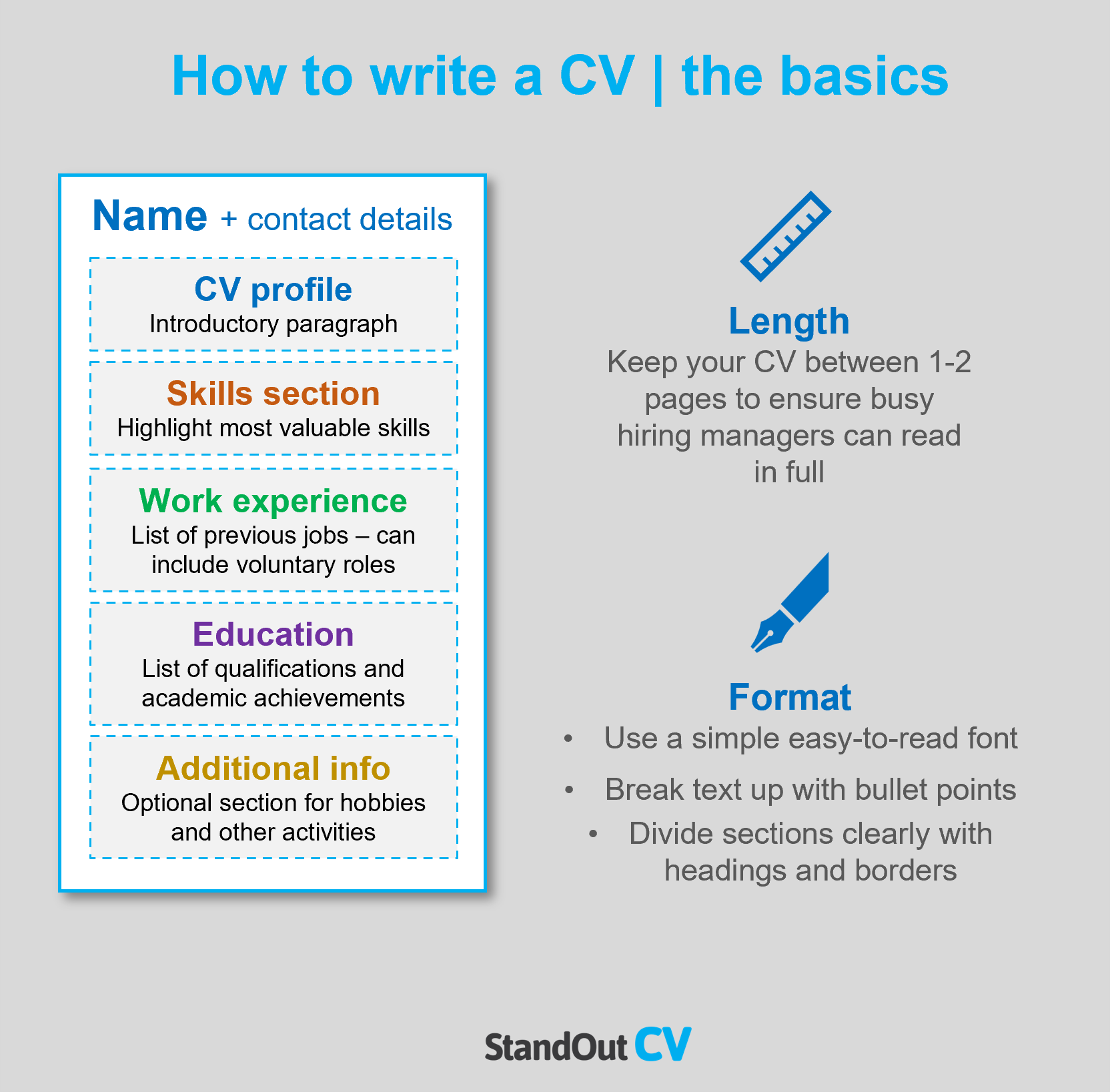 Tips for formatting your Assistant Store Manager CV
Length: Even if you've got tons of experience to brag about, recruiters don't have time to read through overly lengthy CVs. Keep it short, concise and relevant – a CV length of 2 sides of A4 pages or less is perfect for the attention spans in today's job market.
Readability: By clearly formatting your section headings (bold, or a different colour font, do the trick) and breaking up big chunks of text into snappy bullet points, time-strapped recruiters will be able to skim through your CV with ease.
Design & format: It's generally best to stick to a simple CV design, as funky or elaborate designs rarely add any value to your application. A clear, modern font and a subtle colour scheme work perfectly and allow your skills, experience and achievements to speak for themselves.
Photos: Headshot photos aren't requiered in a CV by most employers, but some creative and artistic industries like to see them. If you decide to inclide one, make sure you look smart and professional in the picture.
Quick tip: Creating a professional CV style can be difficult and time-consuming when using Microsoft Word or Google Docs. To create a winning CV quickly, try our partner's CV Builder and use one of their eye-catching professional CV templates.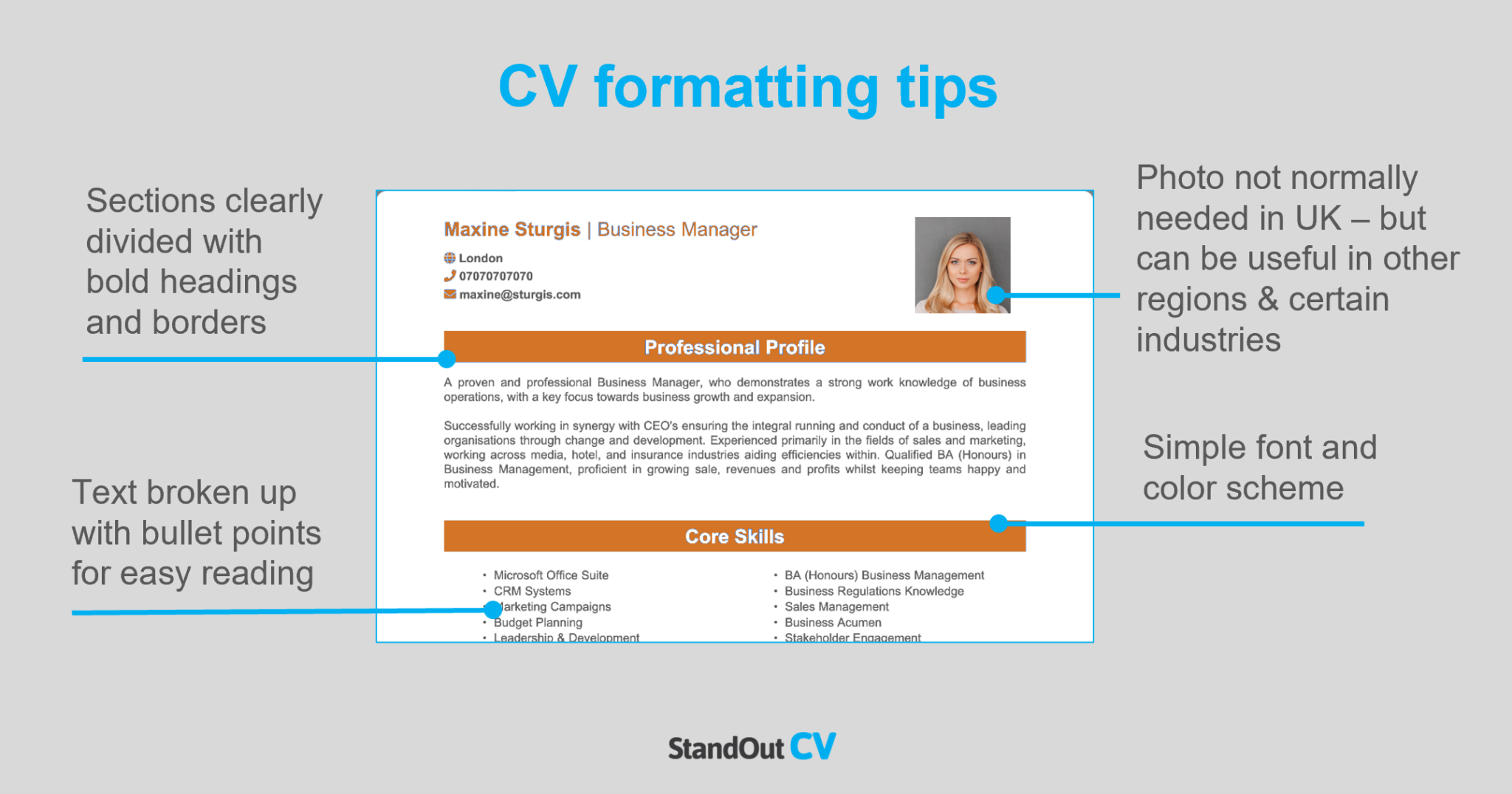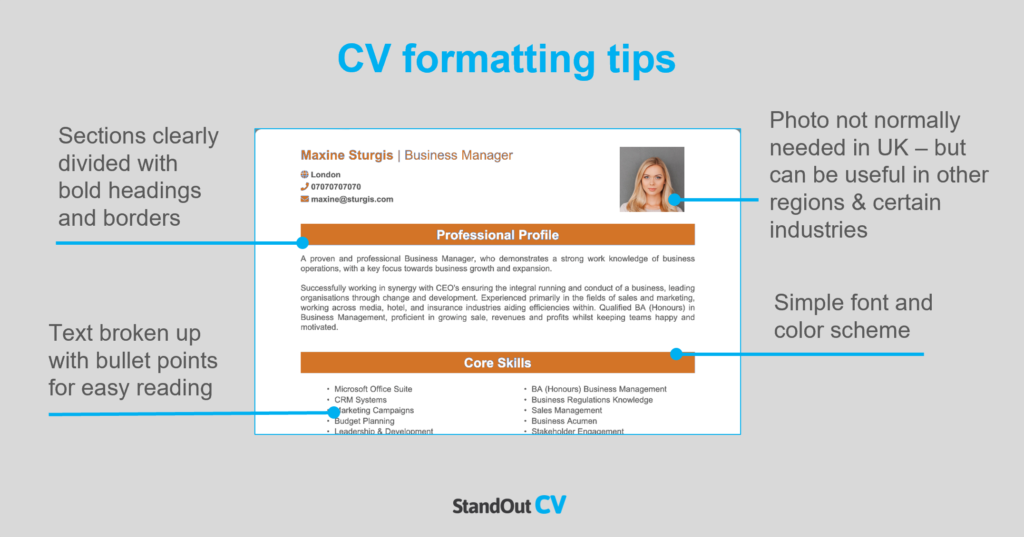 CV structure
When writing your own CV, break up your CV content into the following key sections:
Name and contact details – Place them at the top of your CV, so that employers can easily get in touch.
CV profile – A punchy sales pitch of your key experience, skills and achievements to reel readers in.
Core skills section – A bullet-pointed snapshot of your abilities.
Work experience – A well-structured list of your relevant work experience.
Education – An overview of any relevant qualifications or professional training you have.
Hobbies and interests – A short description of any relevant hobbies or interests (optional).
Now you understand the basic layout of a CV, here's what you should include in each section of yours.
Contact Details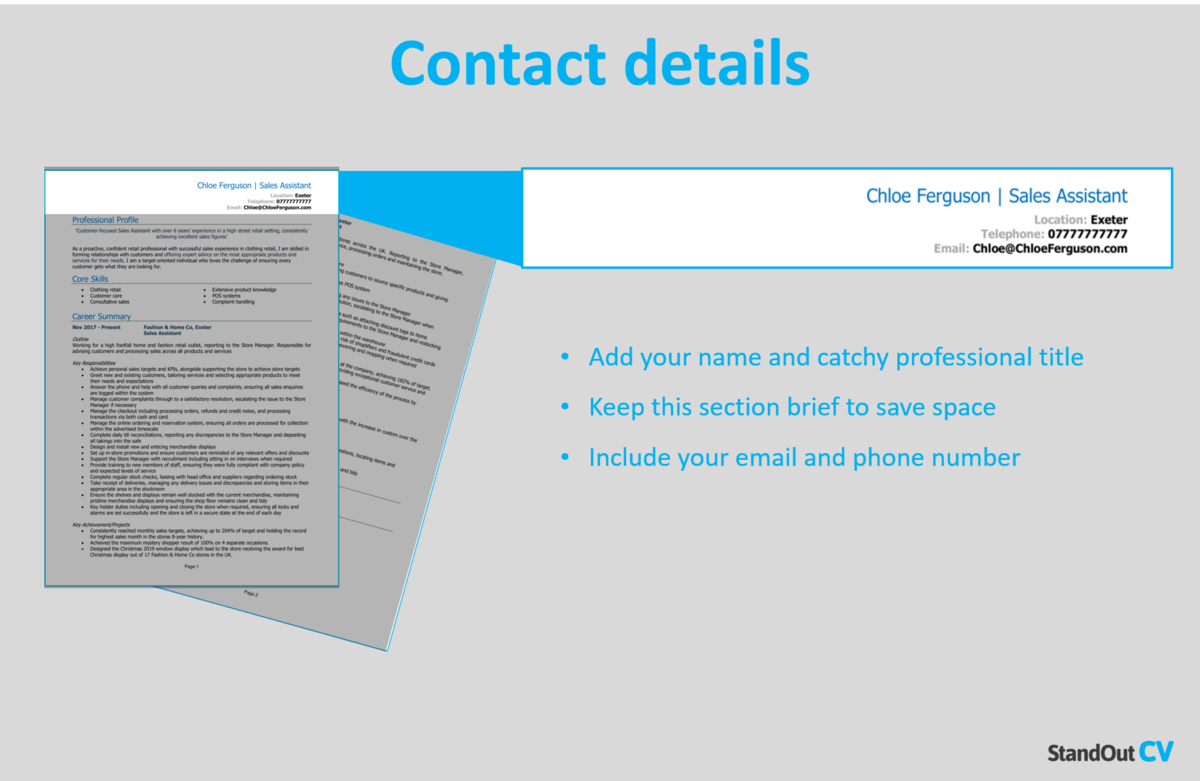 Begin by sharing your contact details, so it's easy for employers to give you a call.
Keep to the basics, such as:
Mobile number
Email address – It should sound professional, with no slang or nicknames. Make a new one for your job applications if necessary.
Location – Simply share your vague location, for example 'Manchester', rather than a full address.
LinkedIn profile or portfolio URL – Remember to update them before you send your application.
Assistant Store Manager CV Profile
To immediately capture the attention of recruiters, begin your CV with a powerful profile (or personal statement for junior applicants).
This is a brief introductory paragraph that summarises your skills, experience, and knowledge.
It should position you as the ideal candidate for the job and encourage recruiters to read on.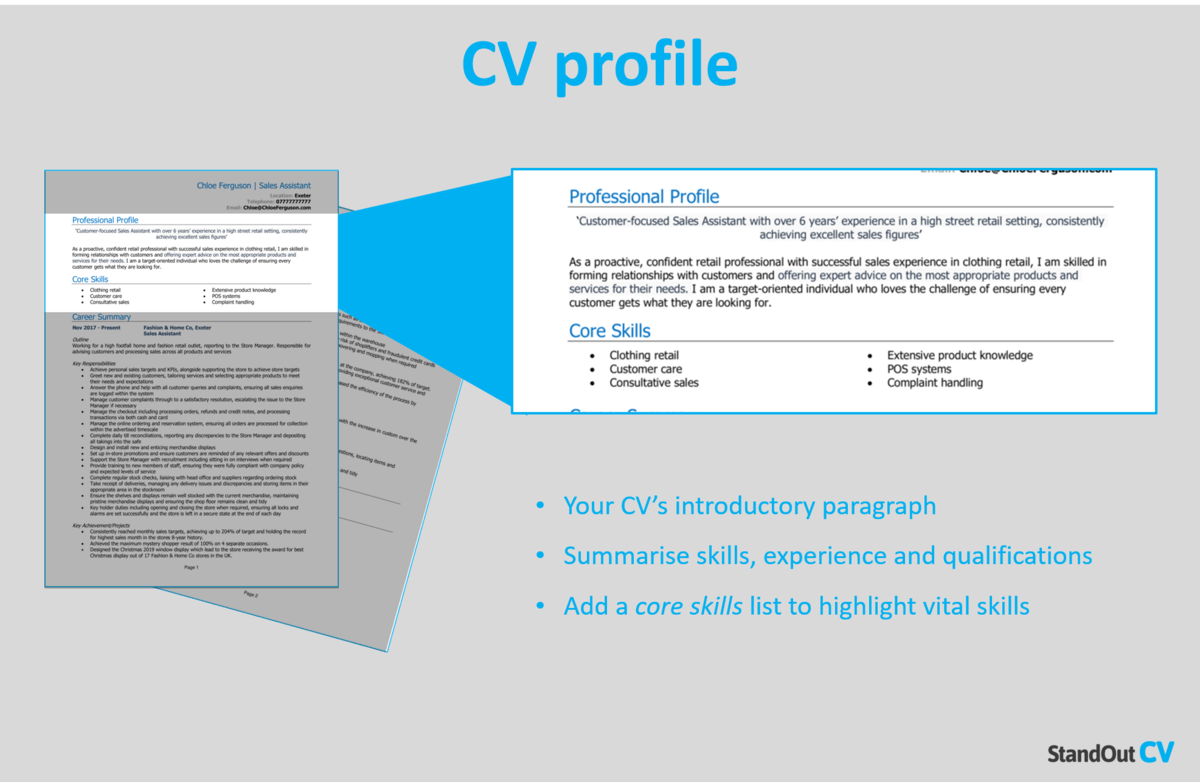 How to write a good CV profile:
Make it short and sharp: Recruiters are busy, so to ensure your profile is actually read, it's best to keep it short and snappy. 3-5 punchy lines makes for the perfect profile.
Tailor it: Before writing your CV, make sure to do some research. Figure out exactly what your desired employers are looking for and make sure that you are making those requirements prominent in your CV profile, and throughout.
Don't add an objective: Want to talk about about your career goals and objectives? While the profile may seem like a good space to do so, they're actually much better suited to your cover letter.
Avoid generic phrases: "Determined team player who always gives 110%" might seem like a good way to fill up your CV profile, but generic phrases like this won't land you an interview. Recruiters hear them time and time again and have no real reason to believe them. Instead, pack your profile with your hard skills and tangible achievements.
Example CV profile for Assistant Store Manager
Target-driven Assistant Store Manager with 18+ years of retail experience, including 10 years in management roles within high street fashion and supermarket industries. Highly competent and personable manager with a CIPD Level 4 certificate in People Management and demonstrated success in improving store revenue, reducing staff turnover, and optimising sales opportunities. Skilled salesperson with shop floor experience currently responsible for supporting the Store Manager in managing a team.
What to include in your Assistant Store Manager CV profile?
Experience overview: Start with a brief summary of your relevant experience so far. How many years experience do you have? What type of companies have you worked for? What industries/sectors have you worked in? What are your specialisms?
Targeted skills: Make your most relevant Assistant Store Manager key skills clear in your profile. These should be tailored to the specific role you're applying for – so make sure to check the job description first, and aim to match their requirements as closely as you can.
Important qualifications: Be sure to outline your relevant Assistant Store Manager qualifications, so that anyone reading the CV can instantly see you are qualified for the jobs you are applying to.
Quick tip: If you are finding it difficult to write an attention-grabbing CV profile, choose from hundreds of pre-written profiles across all industries, and add one to your CV with one click in our partner's CV Builder. All profiles are written by recruitment experts and easily tailored to suit your unique skillset.
Core skills section
Add a core skills section below your profile to draw attention to your most applicable skills and make them stand out to readers.
This should consist of 2-3 columns of bullet points that emphasise your relevant skills.
Before creating this section, review the job description and compile a list of any specific skills, specializations, or knowledge needed. Incorporate these findings into your list to portray yourself as the ideal candidate for the position.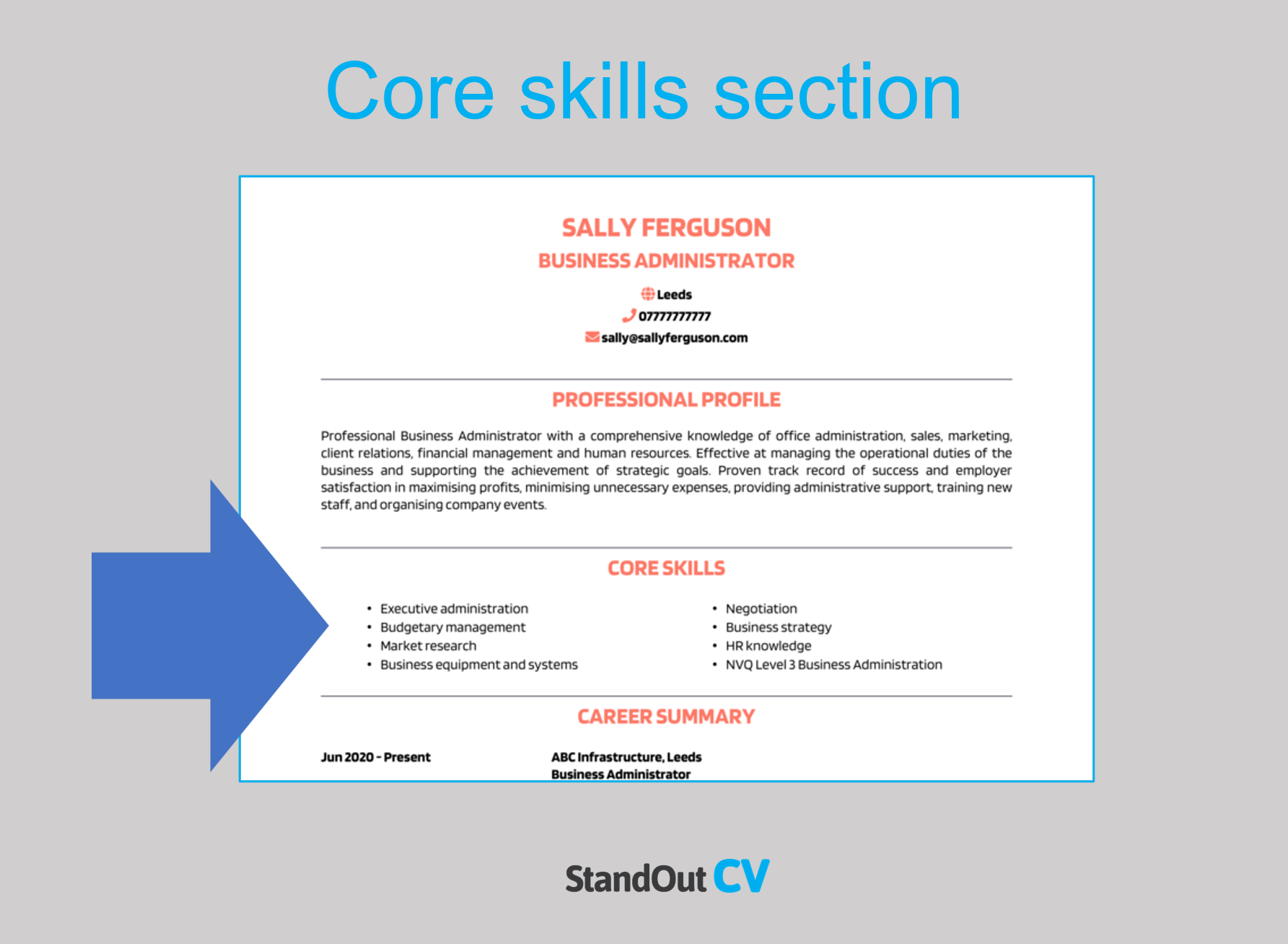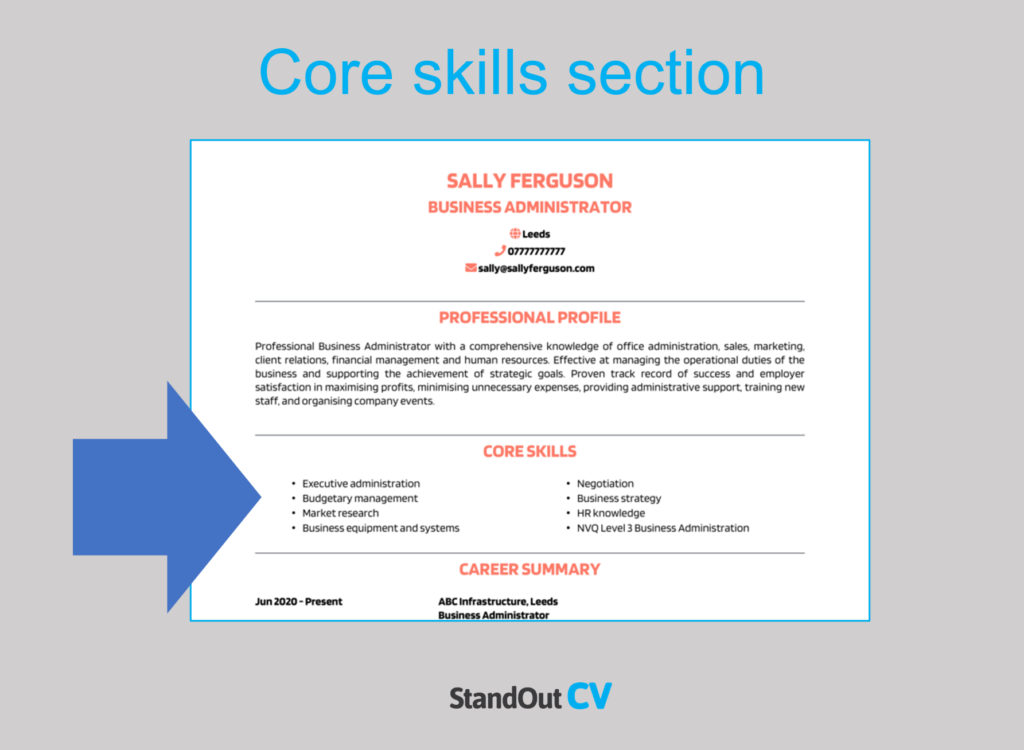 Important skills for your Assistant Store Manager CV
Retail Operations Management – Managing day-to-day store operations, including inventory management, visual merchandising, customer service, and staff supervision.
Sales and Revenue Generation – Driving sales and achieving revenue targets through effective sales techniques, customer engagement, and upselling strategies.
Team Leadership – Leading and motivating a team of store employees, delegating tasks, providing feedback, and fostering a positive work environment.
Customer Service – Ensuring exceptional customer experiences, handling customer inquiries and complaints, and resolving issues promptly and effectively.
Inventory Management – Utilising knowledge of inventory control systems, stock replenishment processes, and inventory analysis to optimise stock levels, minimise shrinkage, and maximise sales opportunities.
Visual Merchandising – Utilising knowledge of visual merchandising principles to create appealing store displays, promote products effectively, and enhance the overall shopping experience.
Problem Resolution – Addressing operational challenges, resolving conflicts, and making informed decisions that align with store objectives.
Sales Analysis – Analysing sales data, identifying trends, and using insights to drive strategic decision-making and implement effective sales strategies.
Staff Training and Development – Training new hires, conducting performance evaluations, and providing ongoing coaching and development opportunities to enhance staff skills and performance.
Compliance and Safety – Utilising knowledge of health and safety regulations, legal compliance requirements, and security protocols to ensure a safe and secure store environment for customers and employees.
Quick tip: Our partner's CV Builder has thousands of in-demand skills for all industries and professions, that can be added to your CV in seconds – This will save you time and ensure you get noticed by recruiters.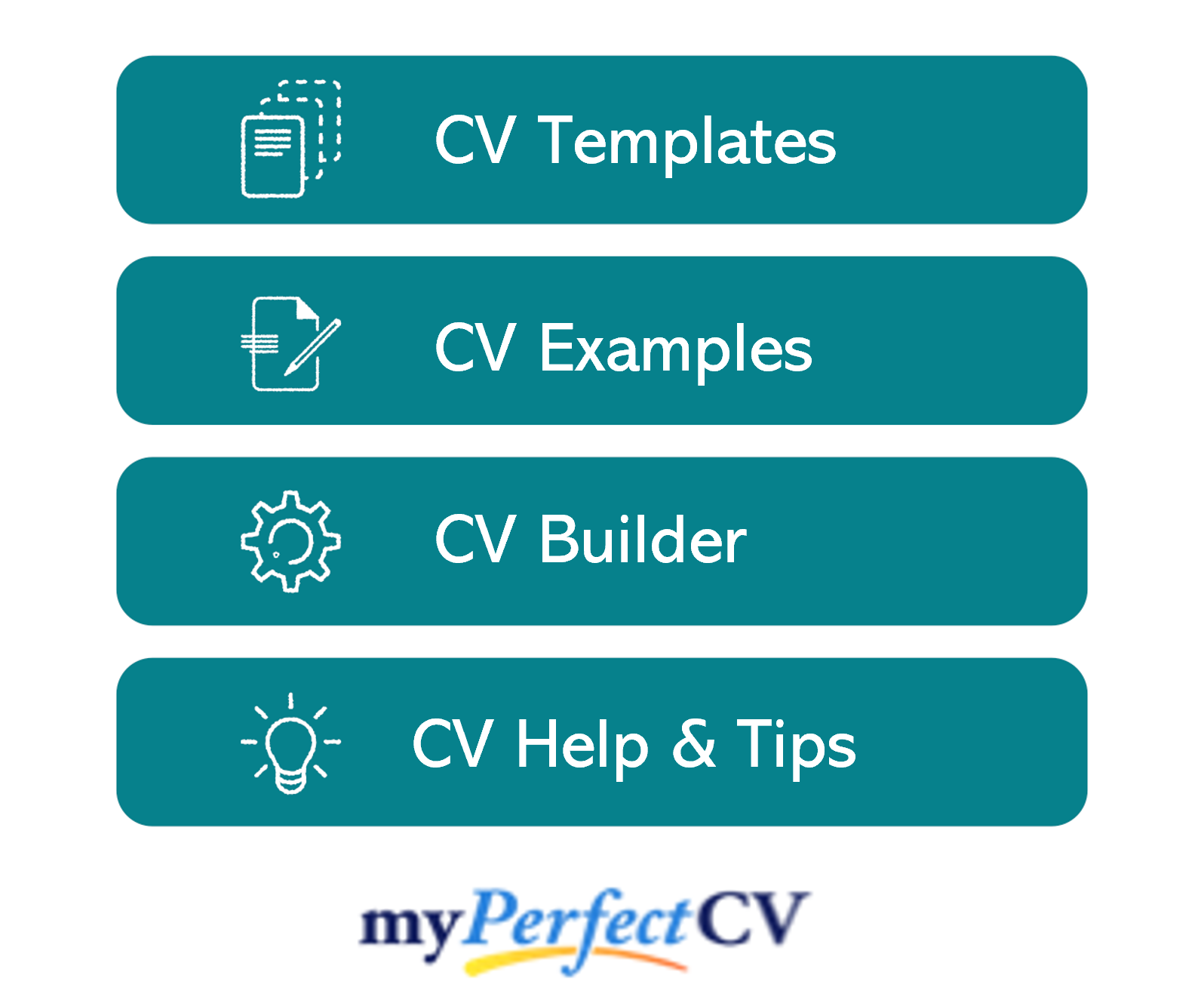 Work experience
By this point, employers will be keen to know more detail about you career history.
Starting with your most recent role and working backwards, create a snappy list of any relevant roles you've held.
This could be freelance, voluntary, part-time or temporary jobs too. Anything that's relevant to your target role is well-worth listing!
Structuring each job
The structure of your work experience section can seriously affect its impact.
This is generally the biggest section of a CV, and with no thought to structure, it can look bulky and important information can get lost.
Use my 3-step structure below to allow for easy navigation, so employers can find what they are looking for:
Outline
Start with a brief summary of your role as a whole, as well as the type of company you worked for.
Key responsibilities
Using easy-to-read bullet points, note down your day-to-day responsibilities in the role.
Make sure to showcase how you used your hard sector skills and knowledge.
Key achievements
To finish off each role and prove the impact you made, list 1-3 stand out achievements, results or accomplishments.
This could be anything which had a positive outcome for the company you worked for, or perhaps a client/customer.
Where applicable, quantify your examples with facts and figures.
Sample job description for Assistant Store Manager CV
Outline
Responsible for supporting the Store Manager in the day-to-day operations of a high-volume fashion store with an annual turnover of £1.2 million, ensuring that sales targets are met, and customers receive excellent service.
Key Responsibilities
Manage a large team of employees on shift, conducting appraisals, resolving issues, and delegating everyday management duties to team leaders
Resolve customer complaints and issues in a timely and professional manner, ensuring high levels of customer satisfaction
Analyse sales metrics and develop action plans to optimise revenue
Support the Store Manager in ensuring compliance with health and safety regulations, company policies, and procedures
Quick tip: Create impressive job descriptions easily in our partner's CV Builder by adding pre-written job phrases for every industry and career stage.

Education section
Next up, you should list your education and qualifications.
This can include your formal qualifications (a degree, A-Levels and GCSEs), as well as sector-specific Assistant Store Manager qualifications and/or training.
While school leavers and recent grads should include a lot of detail here to make up for the lack of work experience, experienced candidates may benefit from a shorter education section, as your work experience section will be more important to recruiters.
Hobbies and interests
The hobbies and interests CV section isn't mandatory, so don't worry if you're out of room by this point.
However, if you have an interesting hobby, or an interest that could make you seem more suitable for the role, then certainly think about adding.
Be careful what you include though… Only consider hobbies that exhibit skills that are required for roles as a Assistant Store Manager, or transferable workplace skills.
There is never any need to tell employers that you like to watch TV and eat out.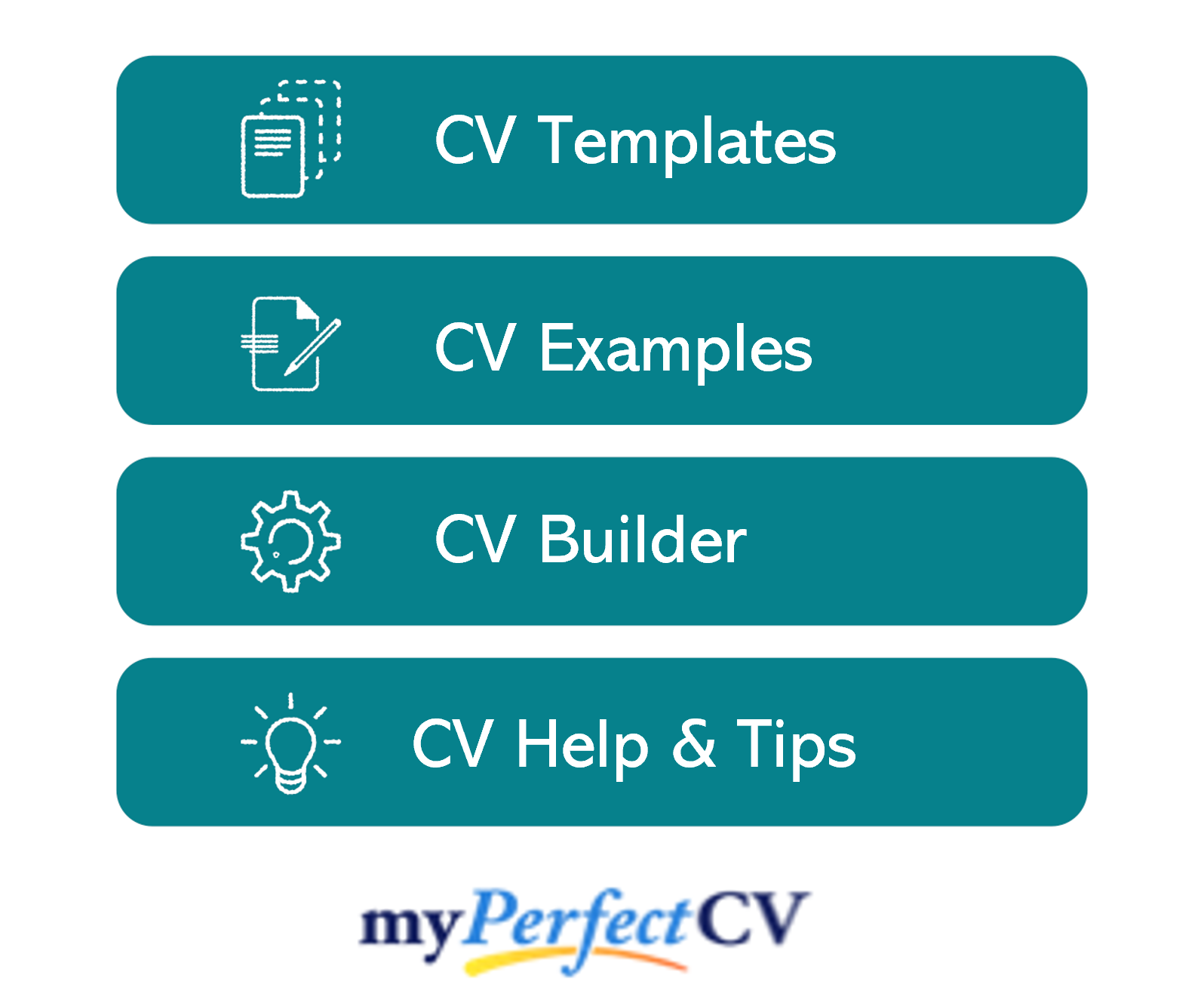 Creating a strong Assistant Store Manager CV requires a blend of punchy content, considered structure and format, and heavy tailoring.
By creating a punchy profile and core skills list, you'll be able to hook recruiter's attention and ensure your CV gets read.
Remember that research and relevance is the key to a good CV, so research your target roles before you start writing and pack your CV with relevant skills.
Best of luck with your next application!