You can write thousands of words on complicated medical topics, so why does writing a cover letter feel like such a big challenge?
The truth is, it's hard to find the words to sell yourself when a job is on the line. So let us help.
Check out our step-by-step guide below, complete with medical writer cover letter examples to help you get past that writer's block.

Medical Writer cover letter example 1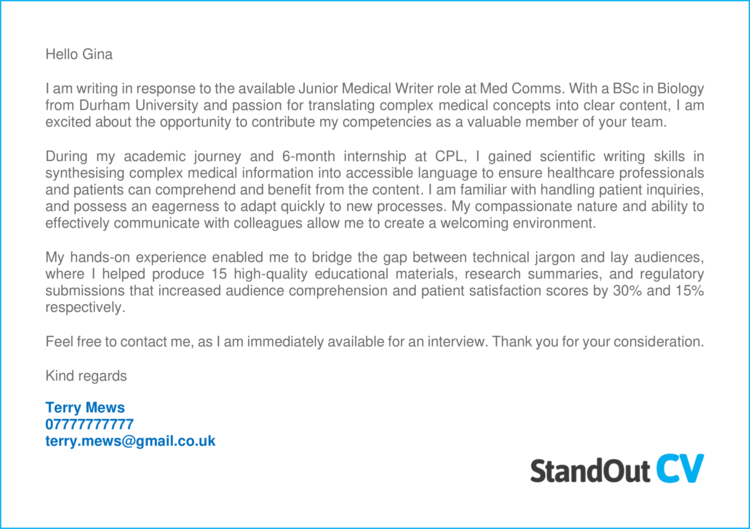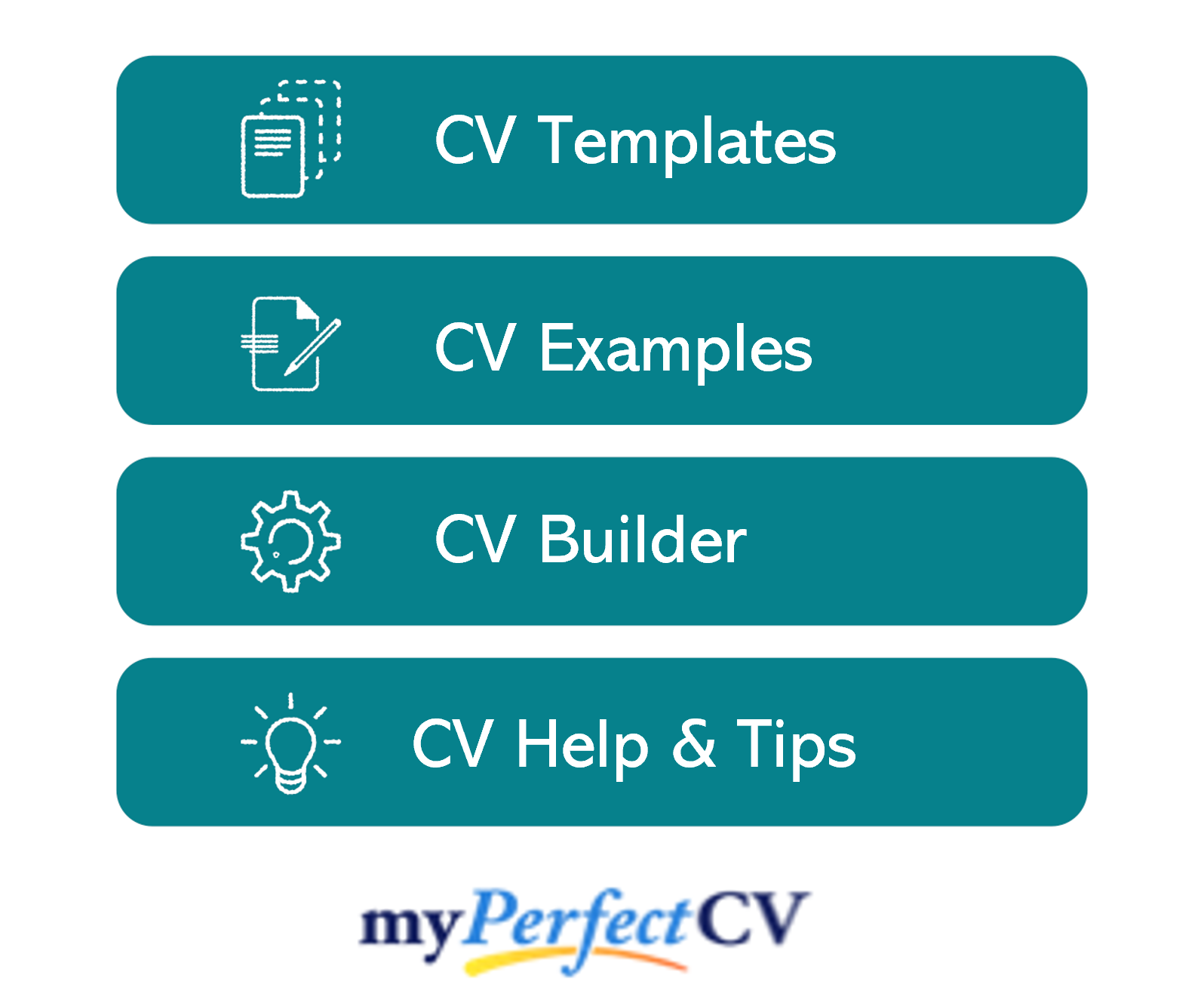 Medical Writer cover letter example 2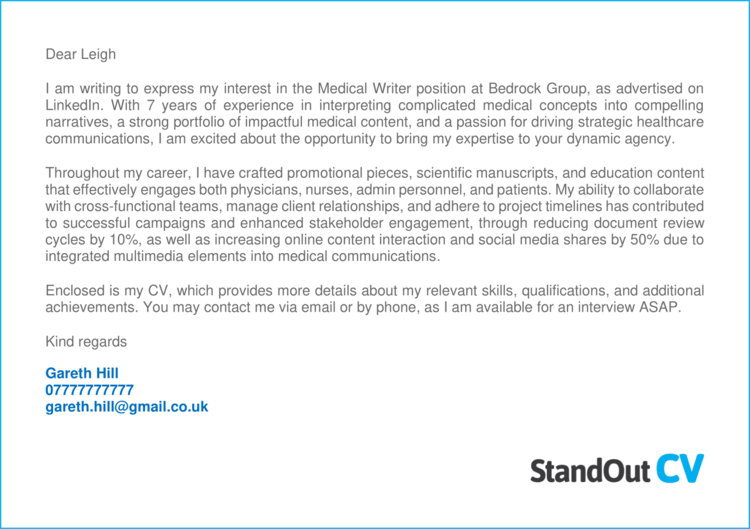 Medical Writer cover letter example 3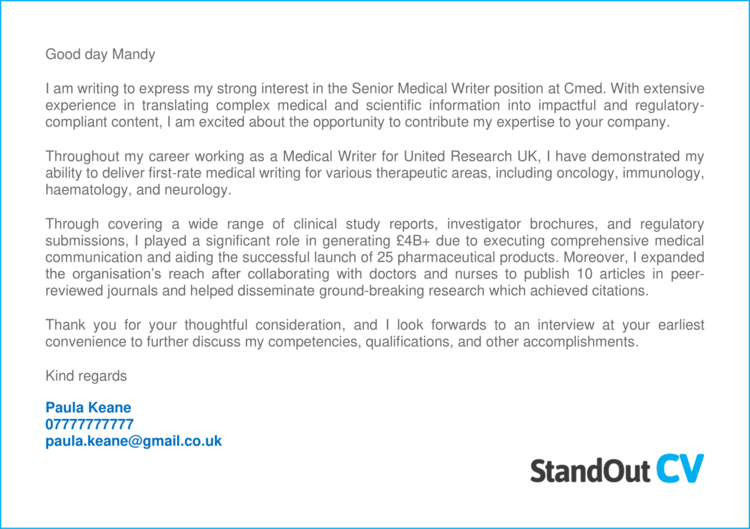 These Medical Writer cover letter examples provide you with some guidance and inspiration for writing a cover letter that gets noticed and ensures your CV will get opened.
But if you really want to master the art of writing a winning cover letter, then follow our step-by-step cove letter writing guide below.
How to write a Medical Writer cover letter
Here's a simple process to write your own interview-winning cover letter.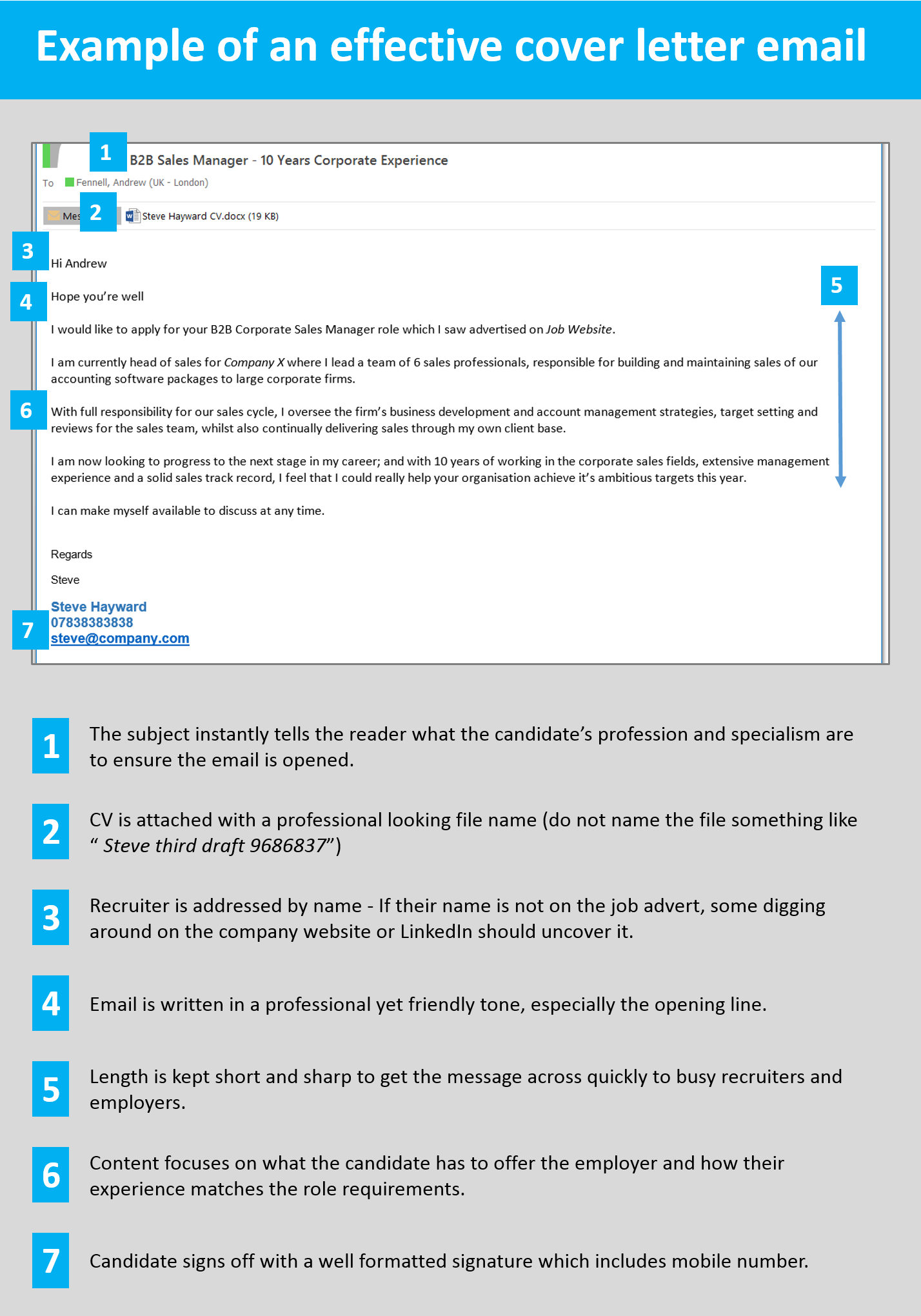 Write your cover letter in the body of an email/message
When writing your Medical Writer cover letter, it's best to type the content into the body of your email (or the job site messaging system) and not to attach the cover letter as a separate document.
This ensures that your cover letter gets seen as soon as a recruiter or employer opens your message.
If you attach the cover letter as a document, you're making the reader go through an unnecessary step of opening the document before reading it.
If it's in the body of the message itself, it will be seen instantly, which hugely increases the chances of it being read.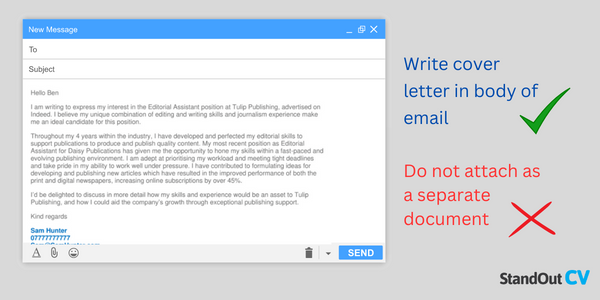 Start with a friendly greeting

To kick your cover letter off, start with a friendly greeting to build rapport with the recruiter instantly.
Your greeting should be personable but professional. Not too casual, but not too formal either
Go with something like…
Hi
Hi [insert recruiter name]
Hi [insert department/team name]
Avoid old-fashioned greetings like "Dear sir/madam" unless applying to very formal companies.
How to find the contact's name?
Addressing the recruitment contact by name is an excellent way to start building a strong relationship. If it is not listed in the job advert, try these methods to find it.
Check out the company website and look at their About page. If you see a hiring manager, HR person or internal recruiter, use their name. You could also try to figure out who would be your manager in the role and use their name.
Head to LinkedIn, search for the company and scan through the list of employees. Most professionals are on LinkedIn these days, so this is a good bet.
Identify the role you are applying for
After you have greeted the recruiter, it's important to state the job you are applying to.
Recruiters are often managing multiple vacancies, so they need to know exactly which job you are referring to.
Be as specific as possible and use a reference number if you can find one.
Here are some examples you can use;
I am interested in applying for the role of admin assistant with your organisation.
I would like to apply for the role of Sales assistant (Ref: 4057393)
I would like to express my interest in the customer service vacancy within your retail department
I saw your advertisement for a trainee project manager on Reed and would like to apply for the role.
Highlight your suitability
The sole objective of your cover letter is to motivate recruiters into to opening your CV. And you achieve this by quickly explaining your suitability to the roles you are applying for.
Take a look at the job descriptions you are applying to, and make note of the most important skills and qualifications being asked for.
Then, when crafting your cover letter, make your suitability the central focus.
Explain why you are the best qualified candidate, and why you are so well suited to carry out the job.
This will give recruiters all the encouragement they need to open your CV and consider you for the job.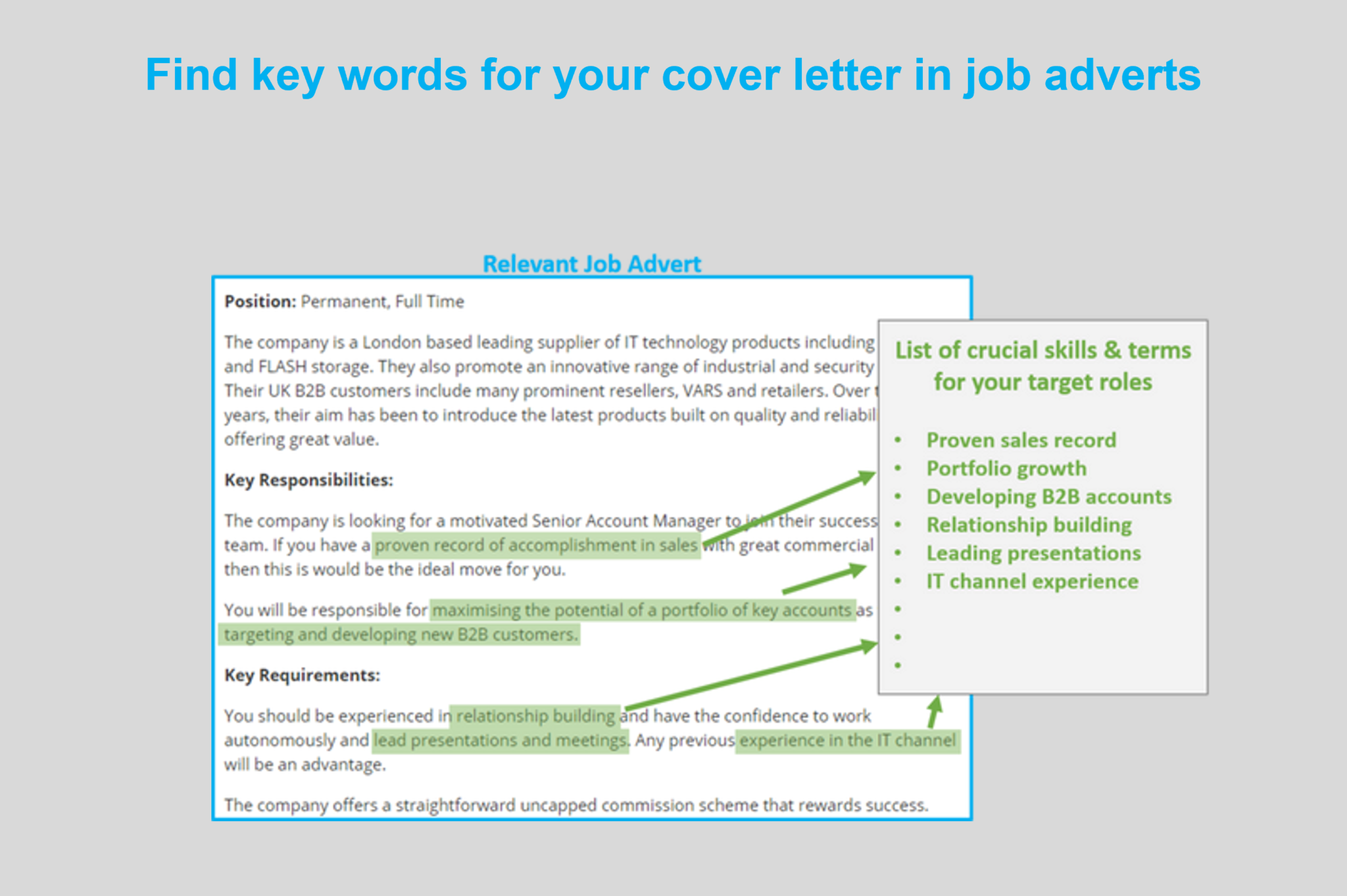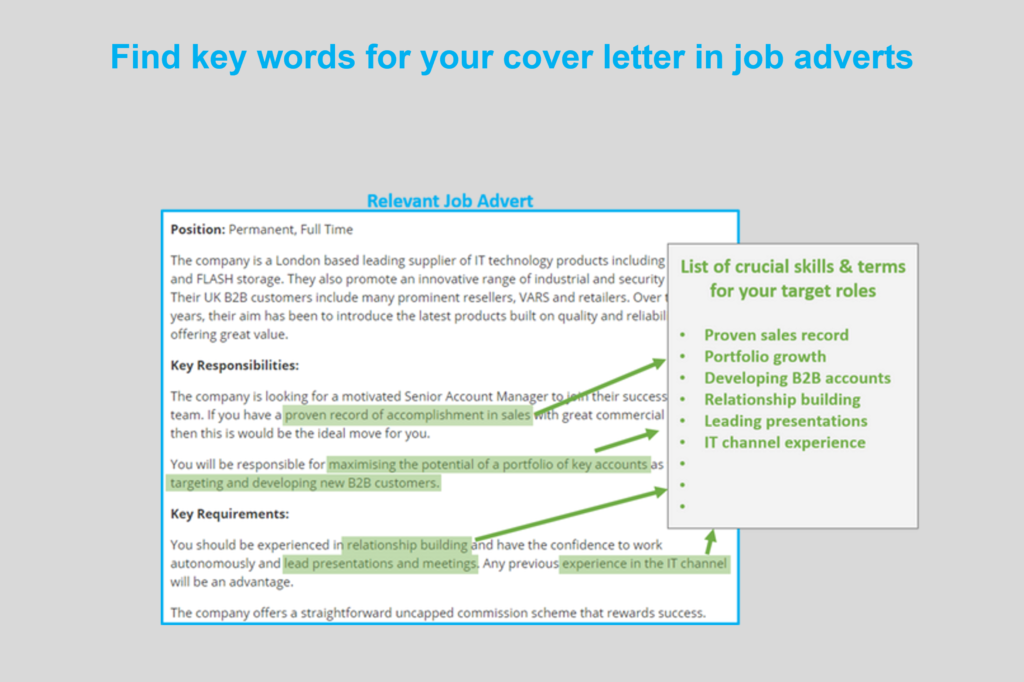 Keep it short and sharp
A good cover letter is short and sharp, getting to the point quickly with just enough information to grab the attention of recruiters.
Ideally your cover letter should be around 4-8 sentences long – anything longer will risk losing the attention of time-strapped recruiters and hiring managers.
Essentially you need to include just enough information to persuade the reader to open up your CV, where the in-depth details will sit.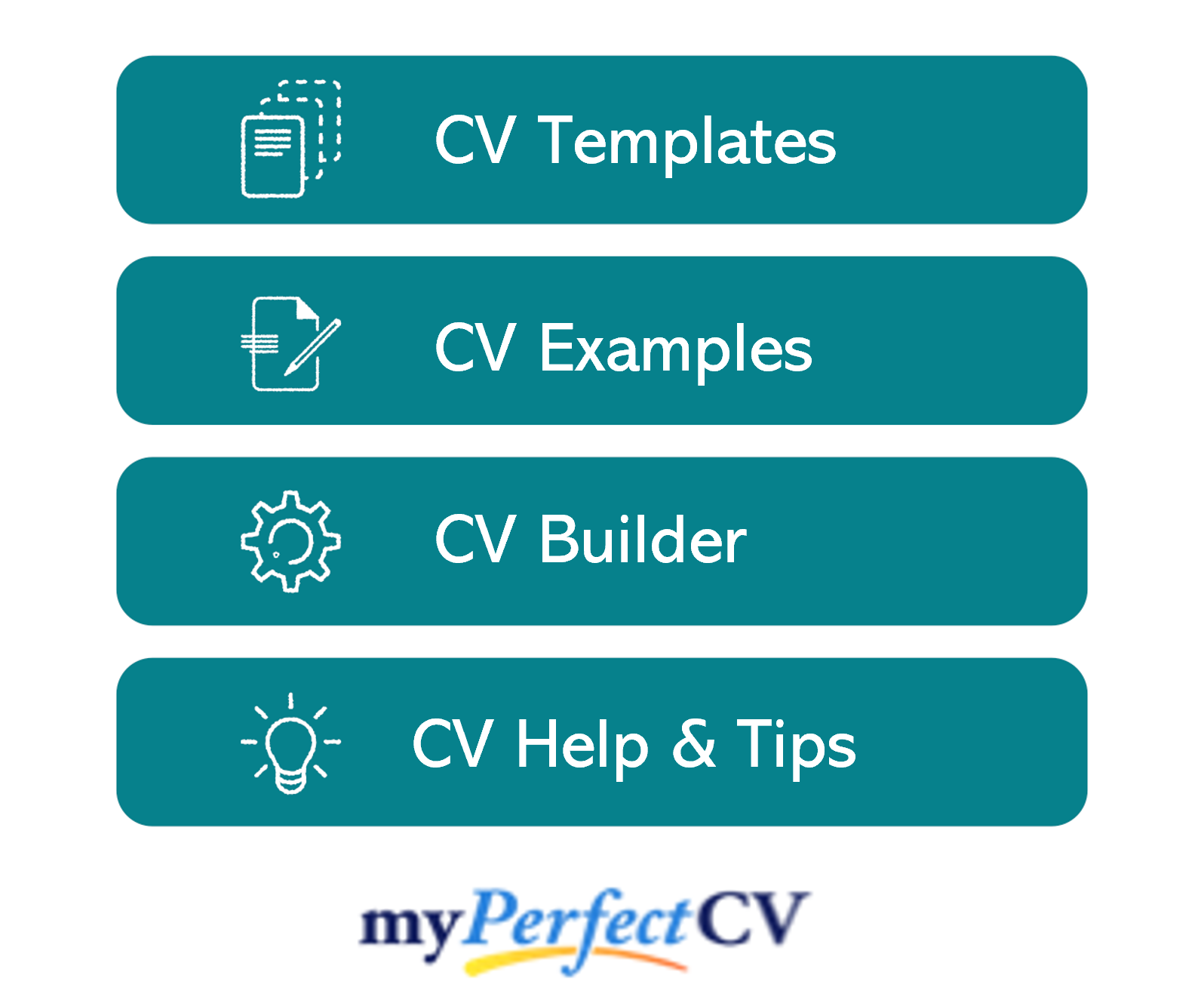 Sign off professionally
To finish off your cover note, add a professional signature to the bottom, stating your important contact details and information.
This not only provides recruiters with multiple means of contacting you, but it also adds a nice professional appearance to the cover letter, which shows that you know how to conduct yourself in the workplace.
Include the following points;
A friendly sign off – e.g. "Warm regards"
Your full name
Phone number (one you can answer quickly)
Email address
Optional
Profession title
Professional social network – e.g. LinkedIn
Here is an example signature;
Warm regards,
Aaron Smith
Customer service professional
075557437373
Aaron@smith.com
LinkedIn
Quick tip: To save yourself from having to write your signature every time you send a job application, you can save it within your email drafts, or on a separate document that you could copy in.

What to include in your Medical Writer cover letter
So, what type of information should you write about in your Medical Writer cover letter?
The specifics will obviously depend on your profession and the jobs you are applying to, but these are the key areas you should be covering.
Your industry experience – Tell recruiters the types of companies you have been working for and the roles you have held in the past.
Your qualifications – Highlight your most important relevant qualifications to show employers you are qualified to do the roles you are applying for.
The impact you have made – Demonstrate the positive impact you have made for employers in previous jobs. Have you saved money? Improved processes? Made customers happy?
Your reasons for moving – Employers will want to know why you are leaving your current/previous role, so provide them with a brief explanation here.
Your availability – When will you be able to start a new job? Check your current contract to find out your notice period if you are in a position already.
Medical Writer cover letter templates
Copy and paste these Medical Writer cover letter templates to get a head start on your own.
Template 1
Hello Gina
I am writing in response to the available Junior Medical Writer role at Med Comms. With a BSc in Biology from Durham University and passion for translating complex medical concepts into clear content, I am excited about the opportunity to contribute my competencies as a valuable member of your team.
During my academic journey and 6-month internship at CPL, I gained scientific writing skills in synthesising complex medical information into accessible language to ensure healthcare professionals and patients can comprehend and benefit from the content. I am familiar with handling patient inquiries and possess an eagerness to adapt quickly to new processes. My compassionate nature and ability to effectively communicate with colleagues allow me to create a welcoming environment.
My hands-on experience enabled me to bridge the gap between technical jargon and lay audiences, where I helped produce 15 high-quality educational materials, research summaries, and regulatory submissions that increased audience comprehension and patient satisfaction scores by 30% and 15% respectively.
Feel free to contact me, as I am immediately available for an interview. Thank you for your consideration.
Kind regards
Terry Mews
Template 2
Dear Leigh
I am writing to express my interest in the Medical Writer position at Bedrock Group, as advertised on LinkedIn. With 7 years of experience in interpreting complicated medical concepts into compelling narratives, a strong portfolio of impactful medical content, and a passion for driving strategic healthcare communications, I am excited about the opportunity to bring my expertise to your dynamic agency.
Throughout my career, I have crafted promotional pieces, scientific manuscripts, and education content that effectively engages both physicians, nurses, admin personnel, and patients. My ability to collaborate with cross-functional teams, manage client relationships, and adhere to project timelines has contributed to successful campaigns and enhanced stakeholder engagement, through reducing document review cycles by 10%, as well as increasing online content interaction and social media shares by 50% due to integrated multimedia elements into medical communications.
Enclosed is my CV, which provides more details about my relevant skills, qualifications, and additional achievements. You may contact me via email or by phone, as I am available for an interview ASAP.
Kind regards
Gareth Hill
Template 3
Good day Mandy
I am writing to express my strong interest in the Senior Medical Writer position at CMed. With extensive experience in translating complex medical and scientific information into impactful and regulatory-compliant content, I am excited about the opportunity to contribute my expertise to your company.
Throughout my career working as a Medical Writer for United Research UK, I have demonstrated my ability to deliver first-rate medical writing for various therapeutic areas, including oncology, immunology, haematology, and neurology.
Through covering a wide range of clinical study reports, investigator brochures, and regulatory submissions, I played a significant role in generating £4B+ due to executing comprehensive medical communication and aiding the successful launch of 25 pharmaceutical products. Moreover, I expanded the organisation's reach after collaborating with doctors and nurses to publish 10 articles in peer-reviewed journals and helped disseminate ground-breaking research which achieved citations.
Thank you for your thoughtful consideration, and I look forwards to an interview at your earliest convenience to further discuss my competencies, qualifications, and other accomplishments.
Kind regards
Paula Keane
Writing a strong attention-grabbing cover letter is a vital step in landing a good Medical Writer job.
Use the tips, strategies and examples above to get more responses from you job applications and start lining job interview up.
Good luck with your job search!