Do you want to spend your days taking care of some of the world's most impressive and wonderful animals?
Then a career as a zookeeper is perfect for you.
But in order to land the role, you first need to write a resume that will captivate the recruiter. You can do this using our top tips and zookeeper resume example below.
Contents
| | |
| --- | --- |
| How to write a Zookeeper resume | |

Zookeeper Resume Example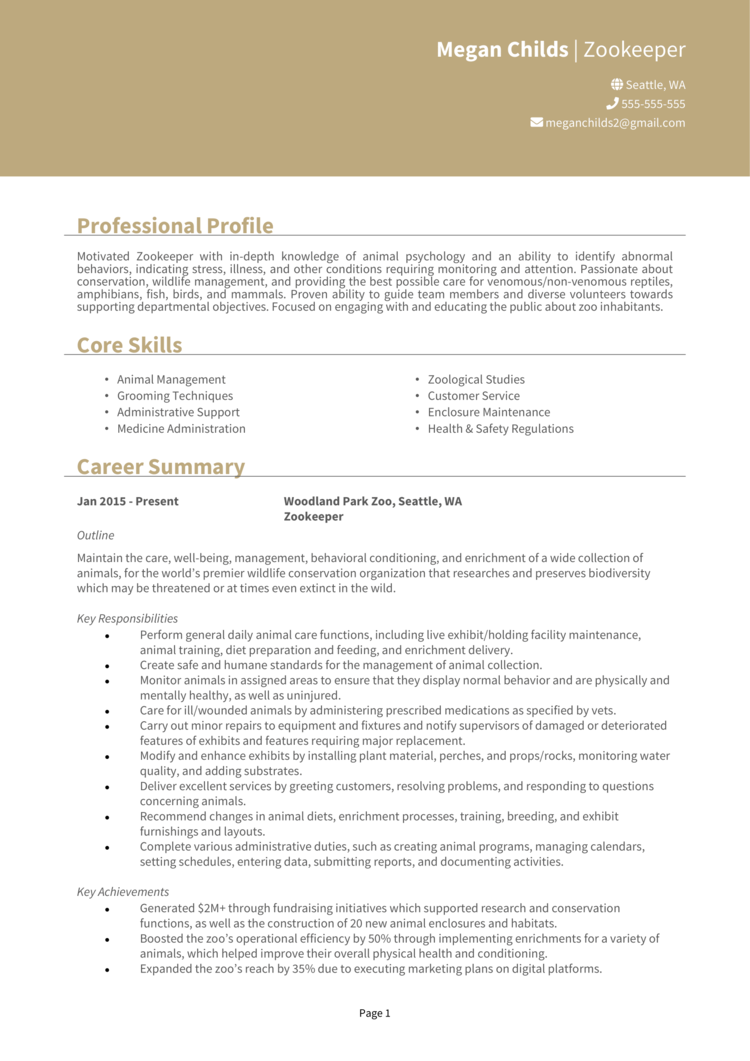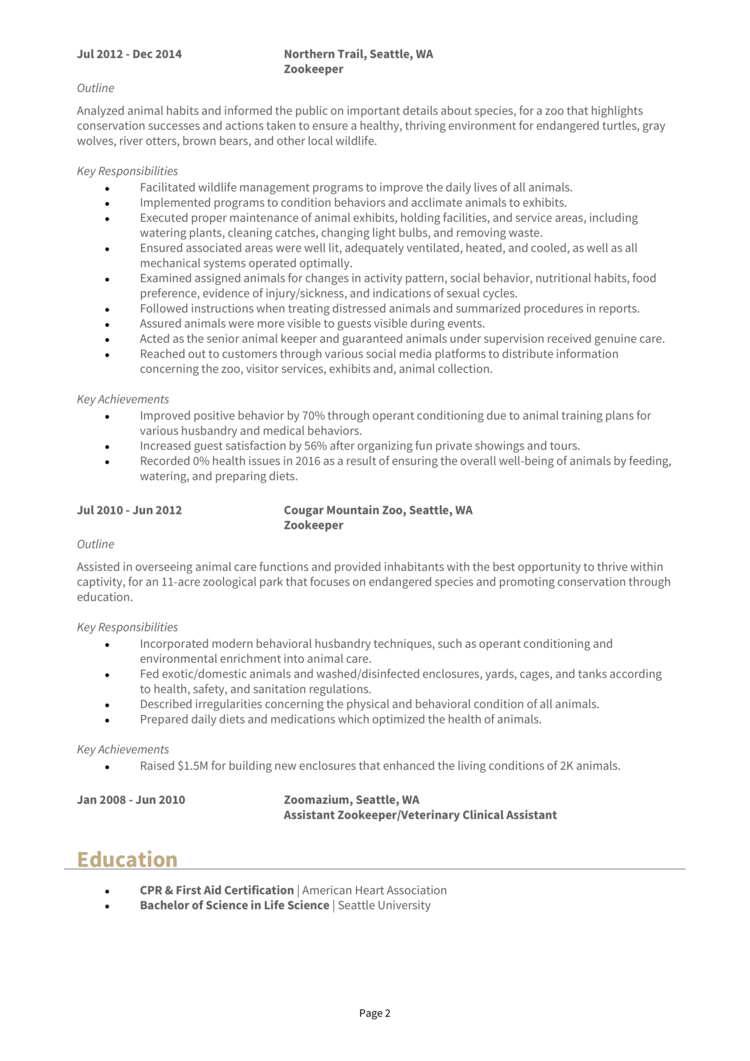 From the Zookeeper resume example above, you can see the kind of information your resume will need to include, and the layout you will need to create for an easy-reading experience.
The rest of this guide will show you how to apply this format to your own unique situation, and create a resume that will attract the best employers in your industry.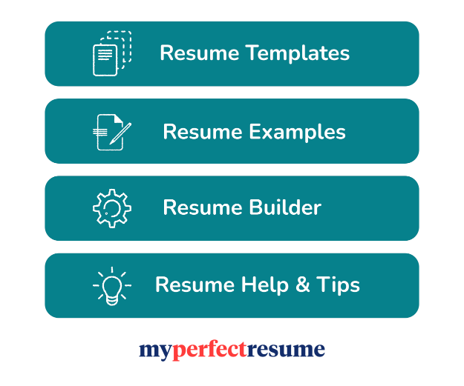 Zookeeper resume layout and format
When it comes to holding the attention of recruiting managers, the format and layout of your resume play a key role.
Your resume needs to strike a perfect balance between looking awesome, and being easy for recruiters to read (which is not always easy to achieve)
Use the following formatting tips to get started.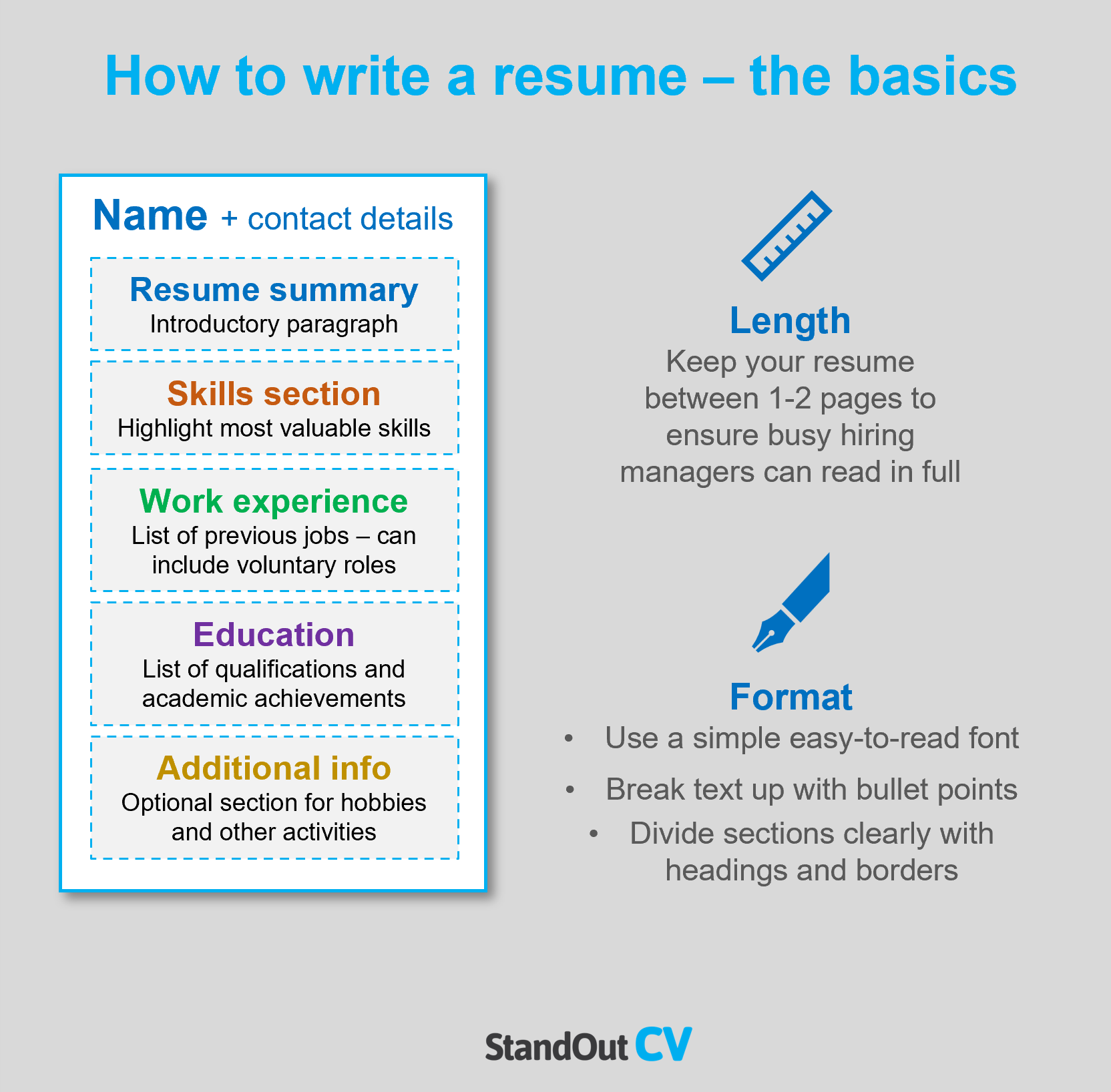 Formatting your resume for success
Length: Think that submitting a 10 page resume will impress recruiters? Unfortunately it won't… Even if you've got tons of experience to brag about, recruiters don't have time to read essays, so keep it brief – around 2 pages is the sweet spot.
Font & readability: A readable resume is crucial if you want recruiters to see your important skills. Ensure yours is easy to read by using a simple, clear font and breaking up the text with bullet points and short paragraphs.
Layout & Structure: While creating an attractive resume, it is crucial not to compromise functionality for design. To ensure both, use bold headings and borders to structure the page into clear sections.
Photos: You don't have to add a photo to your resume in the States, but some regions and industries like to see them.
Quick tip: Achieving a professional look for your resume can be difficult and time-consuming. If you want to create an attractive resume quickly, try our partner's Resume Builder and use one of their eye-catching resume templates.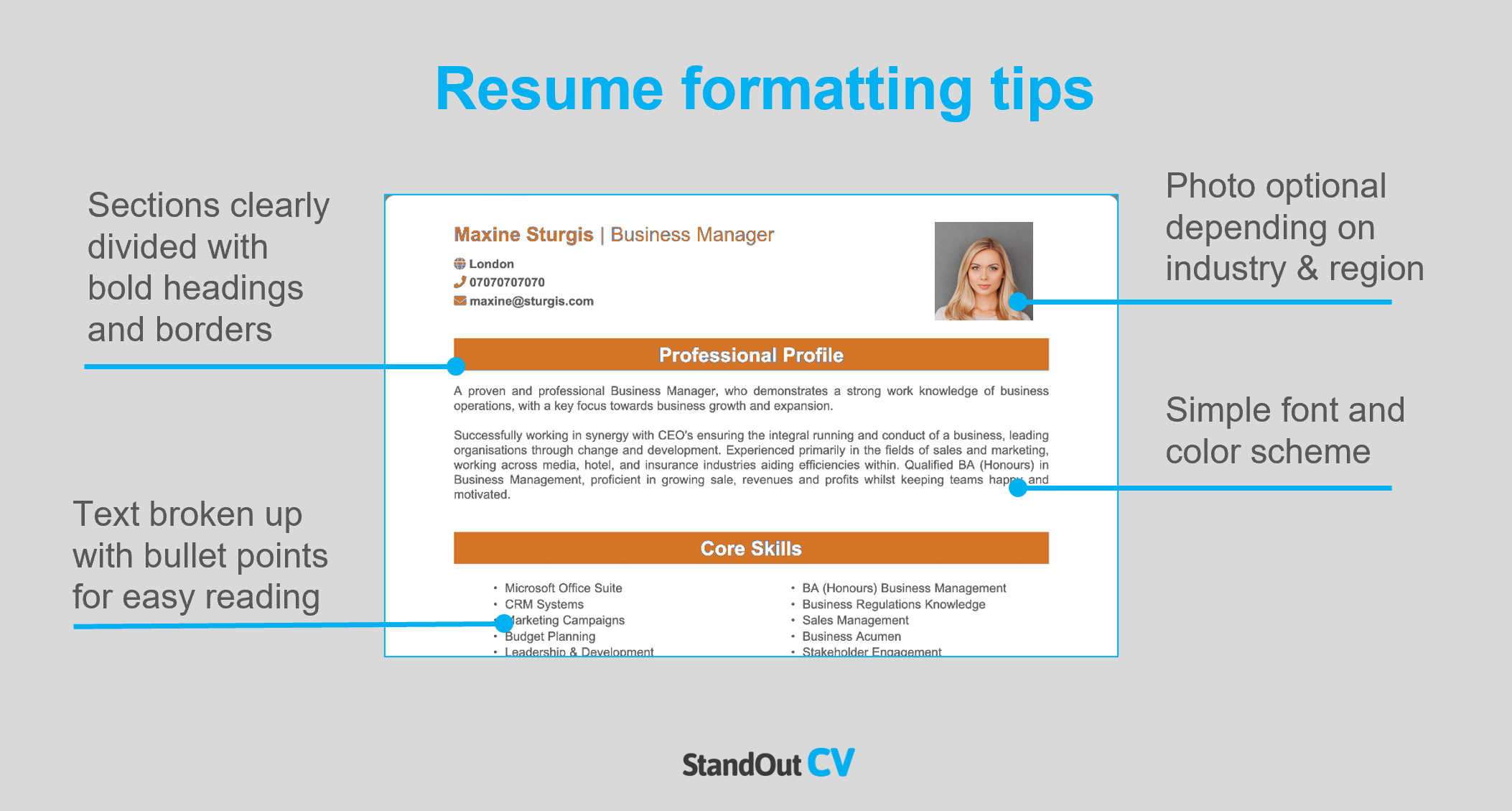 Resume layout
Divide the page into these sections when you write your own resume.
Name and contact details – Simply state who you are, and how to get in touch with you.
Resume summary – An introductory paragraph at the very top of your resume which summarizes your skills, experience and suitability for your target jobs.
Core skills section – A bullet-pointed list of your skills that relate most to your target jobs.
Work experience – A list of your current and previous jobs, including all of your responsibilities and achievements.
Education – A section that showcases all of your education and academic achievements.
Additional info (optional) – Here you can add an extra section for things like hobbies and interests, or anything else that might be relevant to your target jobs.
Here's what to include in each part of your resume.
Contact Details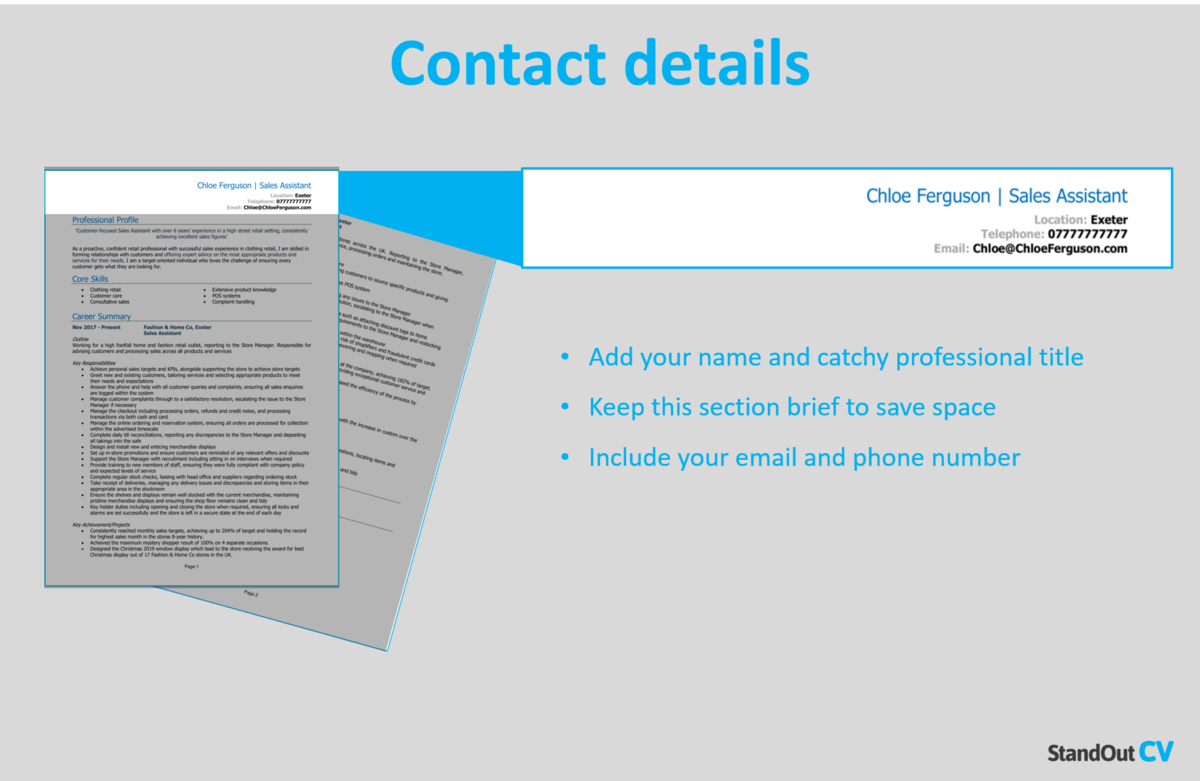 Make it easy for hiring managers to contact you by adding your contact details to the top of your resume.
Keep this section small to save space and include the following.
Name and profession title
Telephone number – Ideally your cell phone so you can answer quickly.
Location – Add your general location such as LA or New York
Email address – Use a professional looking one with no nicknames.
You can add a link to your LinkedIn profile if you have one – you do not need to include personal details like date of birth or marital status.
Zookeeper Resume Summary
Your resume summary is like an elevator pitch. It's your chance to sell yourself to employers within a short space of time.
Achieve this by summarizing your skills and expertise, whilst highlighting your abilities that closely match the jobs you are aiming for.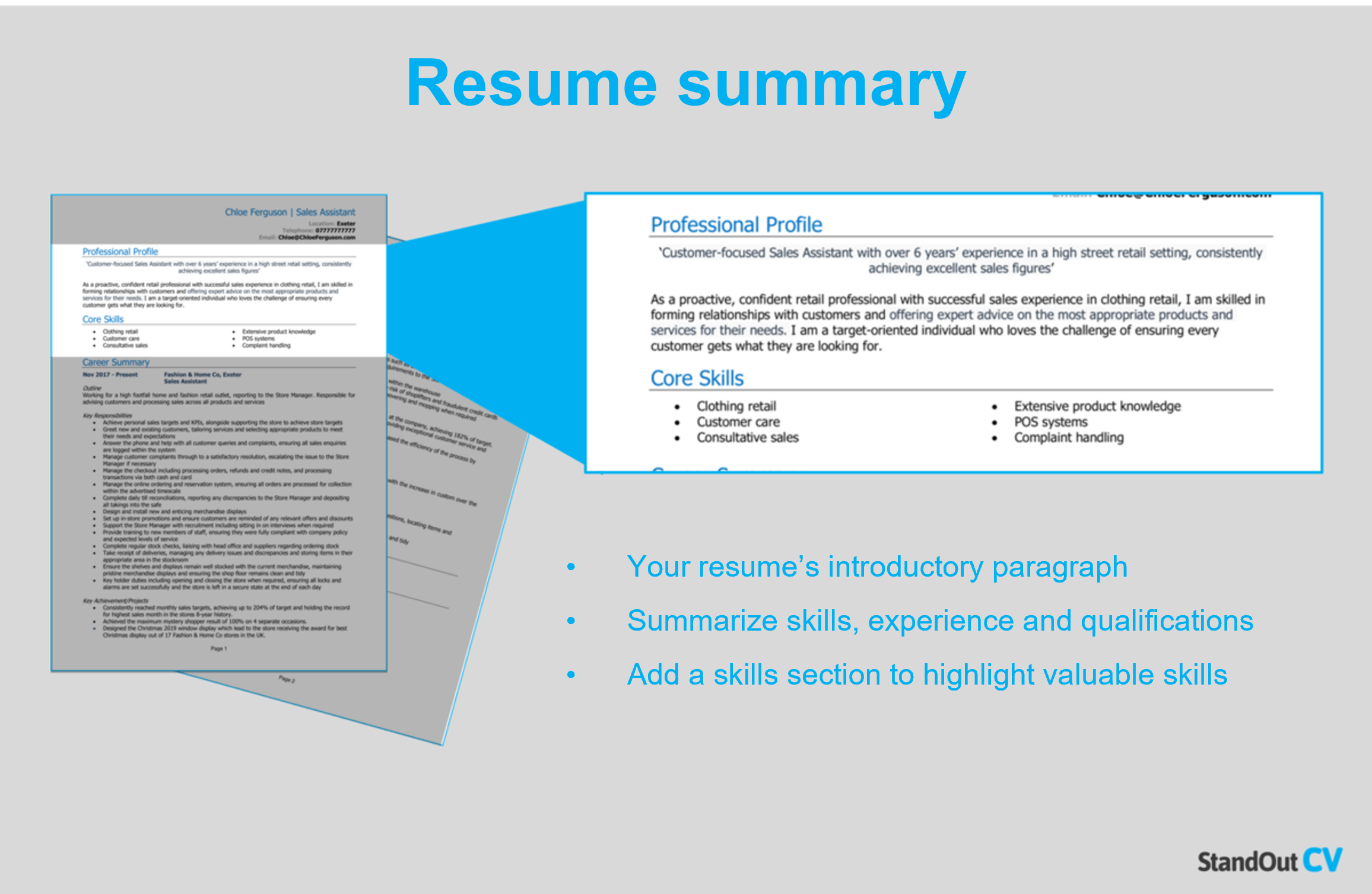 How to create a resume summary that will get you noticed:
Keep it short: Attention spans are short in the job market, so keep your summary brief and high-level at around 4-7 lines – This is just enough to catch the eye of rushed hiring managers.
Tailor to target jobs: To mirror your target jobs, scrutinize the job description and include as many relevant skills as possible in your resume.
Avoid using cliches: Recruiters look for facts in resumes, such as hard skills and qualifications – so, leave out the meaningless cliches like "hard worker who works well in a team and individually"
Example resume summary for Zookeeper
Motivated Zookeeper with in-depth knowledge of animal psychology and an ability to identify abnormal behaviors, indicating stress, illness, and other conditions requiring monitoring and attention. Passionate about conservation, wildlife management, and providing the best possible care for venomous/non-venomous reptiles, amphibians, fish, birds, and mammals. Proven ability to guide team members and diverse volunteers towards supporting departmental objectives. Focused on engaging with and educating the public about zoo inhabitants.
What to include in your Zookeeper resume summary?
Summary of experience: What kind of companies have you worked for in the past? And which jobs have you carried out?
Relevant skills: Scatter your most in-demand Zookeeper skills through your summary to ensure they are noticed quickly by hiring managers.
Qualifications: Mention any Zookeeper qualifications that are important to your profession in the summary briefly, to show you are qualified to carry out the role.
Quick tip: Choose from hundreds of pre-written summaries across all industries, and add one to your resume with one-click in our partner's Resume Builder. All written by recruitment experts and easily tailored to suit your unique skillset and style.
Core skills section
Sitting just underneath your resume summary, your core skills section gives recruiters 4-10 of your most in-demand skills in just a glance.
As Zookeeper jobs may get hundreds of applications, this is a great way to stand out and quickly grab hiring managers' attention.
It should be made up of 2-3 columns of bullet points and highlight attributes that are hyper-relevant to the jobs you are aiming for.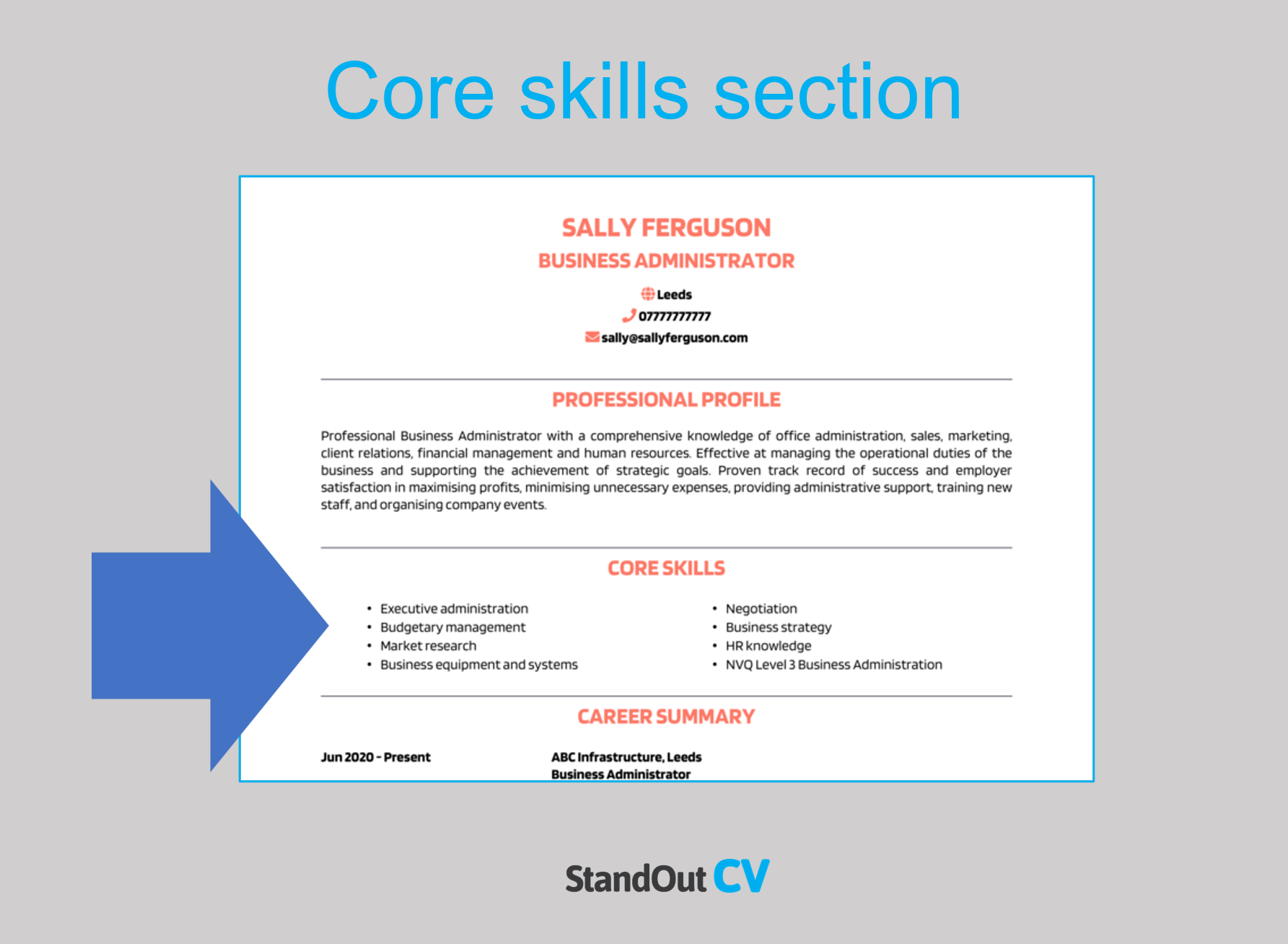 Best skills for your Zookeeper resume
Animal Care – Providing high-quality care for animals, including feeding, cleaning, and monitoring their health.
Animal Training – Training animals for exhibits, shows, and research, including using positive reinforcement techniques to teach new behaviors.
Safety Procedures – Maintaining complex knowledge of safety procedures for working with animals, including knowledge of animal behavior and emergency response protocols.
Record Keeping – Keeping detailed and accurate records of animal behavior, health, and diet, as well as environmental conditions and other pertinent information.
Knowledge of Animal Behavior – Maintaining detailed knowledge of animal behavior and husbandry, including understanding the needs of different species, recognizing abnormal behavior, and addressing health and environmental concerns.
Customer Service – Providing excellent customer service, including interacting with visitors, answering questions, and providing educational programming.
Maintenance and Repair – Performing maintenance and repair tasks, including maintaining enclosures, cleaning exhibits, and repairing equipment.
Quick tip: Our partner's Resume Builder contains thousands of in-demand skills for every profession that can be added to your resume in seconds – saving you time and greatly improving your chances of landing job interviews and getting hired.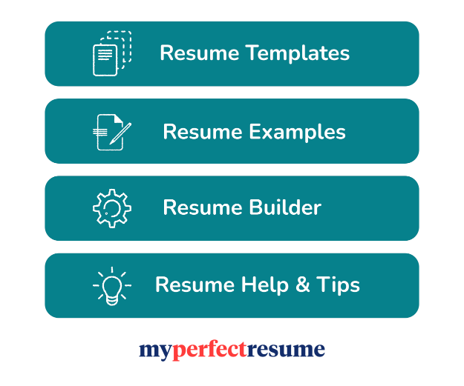 Work experience
Once you've hooked the hiring manager with your summary, you can really blow them away with you work experience.
List your previous jobs from newest to oldest to show the impact you made at each organization.
If you have years of experience, you can leave out some of the older jobs, and if you have little/no experience, you can bulk this section up with voluntary work and college placements.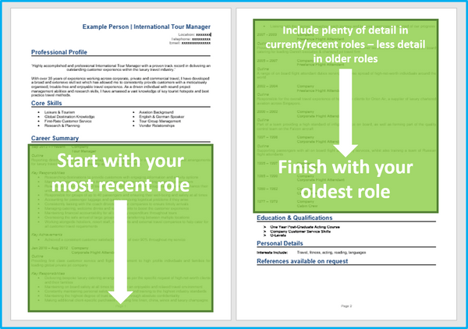 Structuring your jobs
You probably do a lot in your job, so its vital to break all of that information down into a good structure.
Structure your jobs as follows to make it easy for recruiters to skim through and pinpoint the essential info.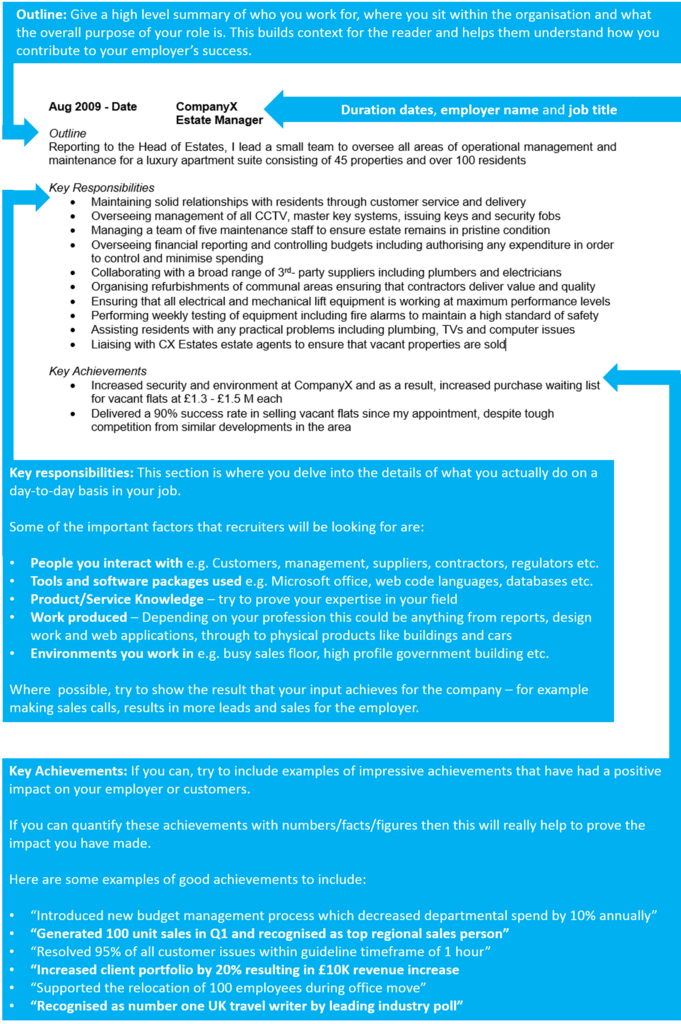 Job outline
Begin each job with a short summary of who the organization is, where you sit within it, and what the main goal of your position is.
Key responsibilities
List your notable responsibilities in short sharp bullet points to demonstrate your input and how you contributed to the organization's success.
Highlight the skills that are most important to the roles you are applying for.
Key achievements
Finish each role by highlighting some impressive achievements you made whilst in the role.
Anything that benefited the employer can be included from making financial savings, to winning new customers.
Quantify your achievements with facts and figures if you can, e.g. "reduced call wait time by 10%"
Example job for Zookeeper resume
Outline
Maintain the care, well-being, management, behavioral conditioning, and enrichment of a wide collection of animals, for the world's premier wildlife conservation organization that researches and preserves biodiversity which may be threatened or at times even extinct in the wild.
Key Responsibilities
Perform general daily animal care functions, including live exhibit/holding facility maintenance, animal training, diet preparation and feeding, and enrichment delivery.
Create safe and humane standards for the management of animal collection.
Monitor animals in assigned areas to ensure that they display normal behavior and are physically and mentally healthy, as well as uninjured.
Care for ill/wounded animals by administering prescribed medications as specified by vets.
Quick tip: Create impressive job descriptions easily in our partner's Resume Builder by adding pre-written job phrases for every industry and career stage.

Education section
Nearing the end of your resume, your education/qualifications section should be added.
In a well-structured list, add all of your qualifications and certifications that qualify you to perform a typical Zookeeper role.
If you have plenty of work experience, keep this section brief – if not, add lots of detail to make up for your lack of experience.
Additional information
If you have anything else to add which is relevant to the jobs you are applying for, the additional info section is the place to add it.
Perhaps you have a hobby which involves relevant skills, or maybe you have some awards or publications worth mentioning.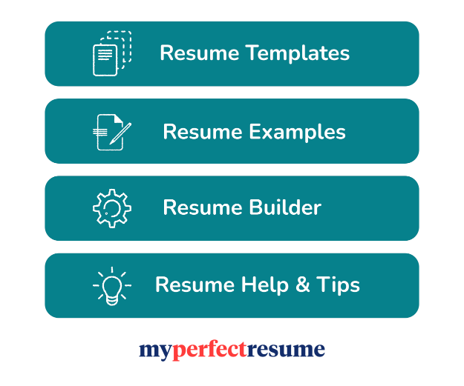 Writing your own Zookeeper resume
A winning Zookeeper resume should look great, read well, and sell your skillset to hiring managers.
If you follow the steps above, you should be able to bag yourself a top job in no time.
And don't forget you can use our partner's Resume Builder if you want to save time and ensure your resume contains the very best content.
Good luck with your job search!