Cartoons, video games, commercials, movie trailers, radio, you can do it all, but the best way to secure your next voice role is with an impressive resume and portfolio.
To help you with your application, we've created a step-by-step guide that speaks volumes.
Find out how to write a standout resume using our top tips and voice actor resume example below.
Contents
| | |
| --- | --- |
| How to write a Voice Actor resume | |

Voice Actor Resume Example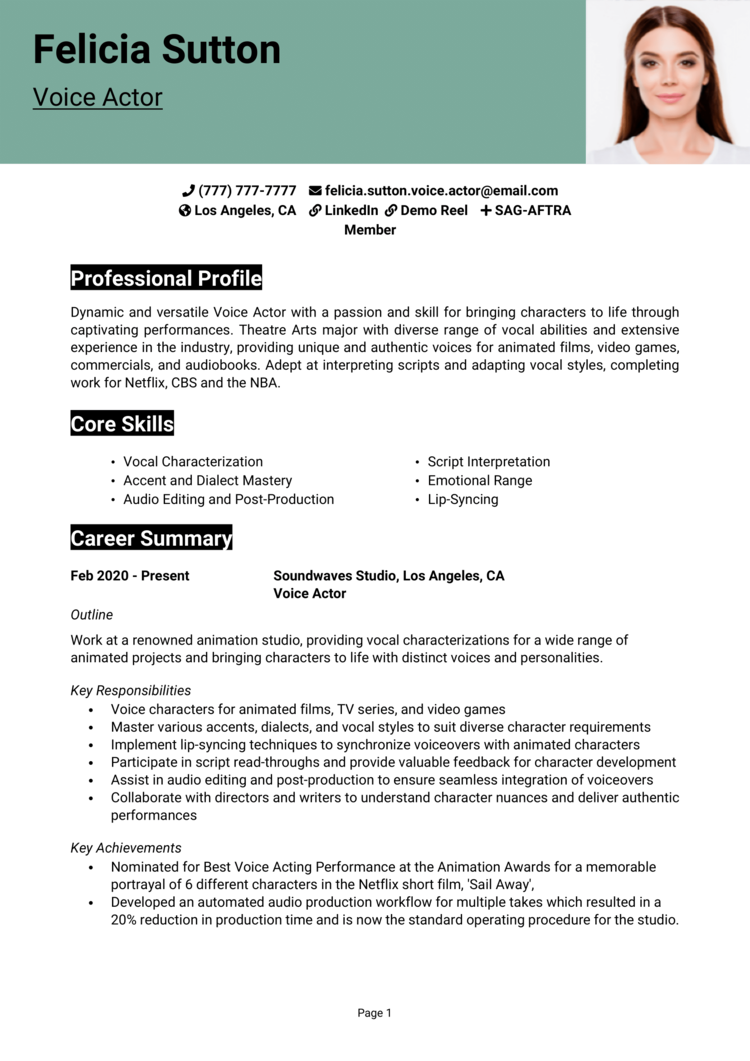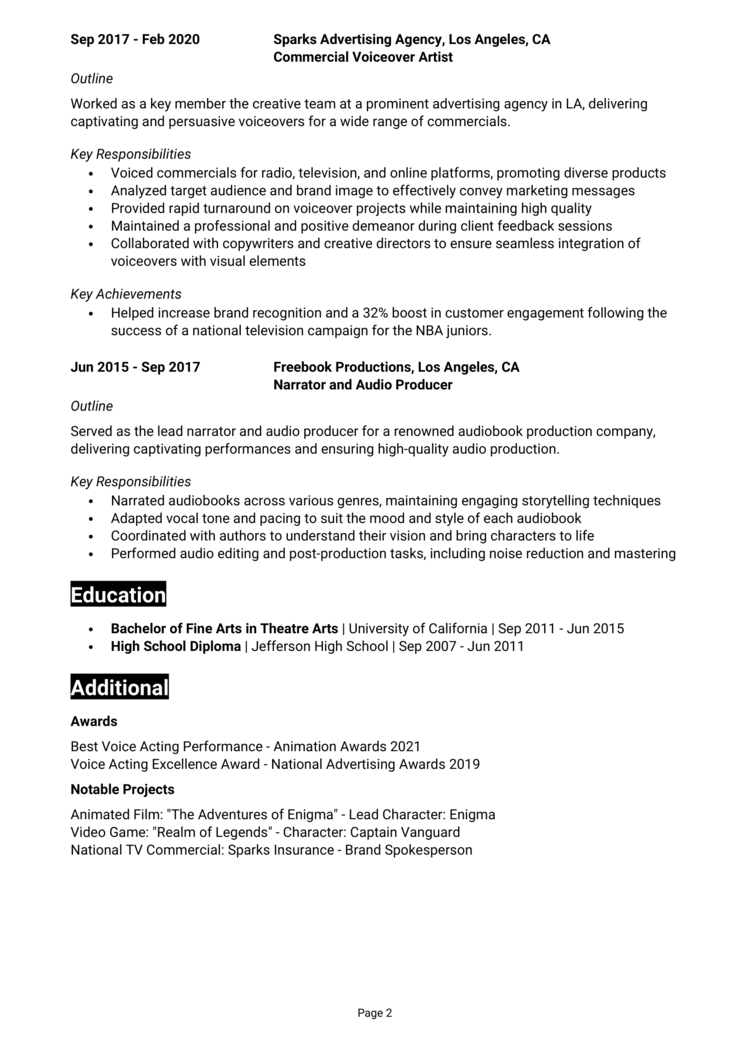 The example Voice Actor resume above shows you how a professional resume should look, along with the type of content it should contain.
You can see that the information is well-organized across the page and its easy for busy recruiters to see the candidate's important skills.
Keep this in mind when writing your own resume.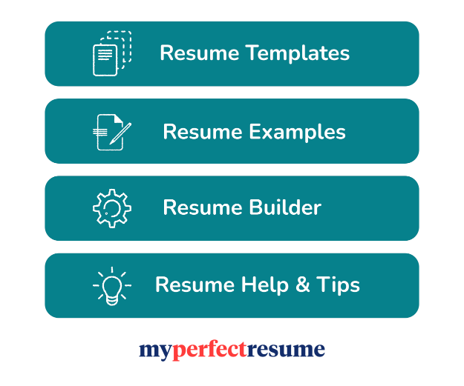 Voice Actor resume layout and format
If you want to get noticed in the job market, you have to pay attention to the format and layout of your resume.
Essentially your resume needs to look highly polished, and provide hiring managers with an easy reading experience.
Use these resume formatting tips to get a head start on this.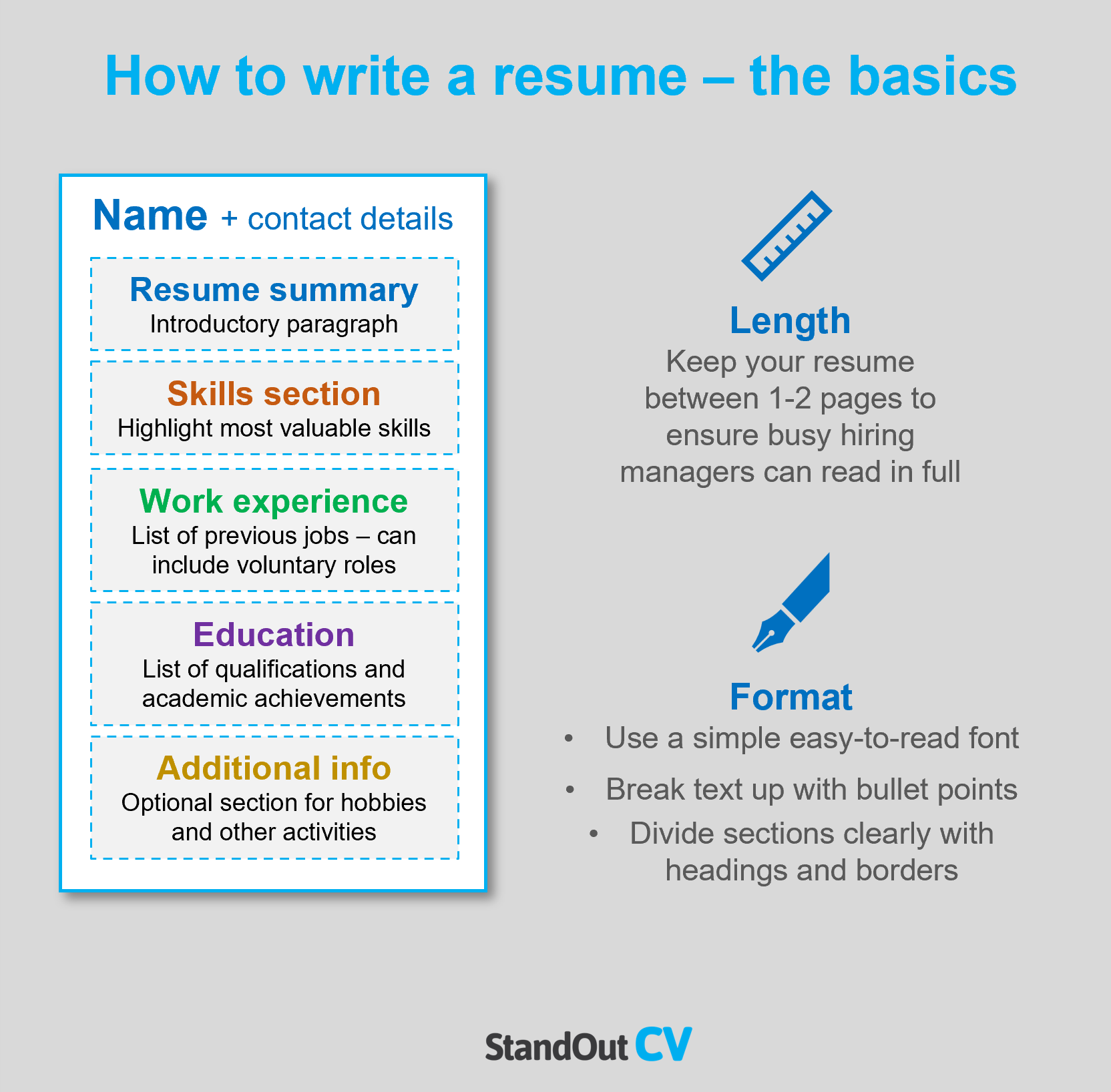 Formatting your resume
Length: Think that submitting a 10 page resume will impress recruiters? Unfortunately it won't… Even if you've got tons of experience to brag about, recruiters don't have time to read essays, so keep it brief – around 2 pages is the sweet spot.
Font & readability: To create a resume that is easily digestible for hiring managers, it's essential to use an uncomplicated font and structure your content with bullet points and short paragraphs.
Layout & Structure: A well-designed resume is not just visually pleasing, but it must also be functional. To achieve a functional design, use bold headings and borders to separate the content into clear sections.
Photos: Although it's not mandatory to include a photo on your resume in the United States, it may be a good idea to do so in certain regions and industries where it is preferred.
Quick tip: Achieving a professional look for your resume can be difficult and time-consuming. If you want to create an attractive resume quickly, try our partner's Resume Builder and use one of their eye-catching resume templates.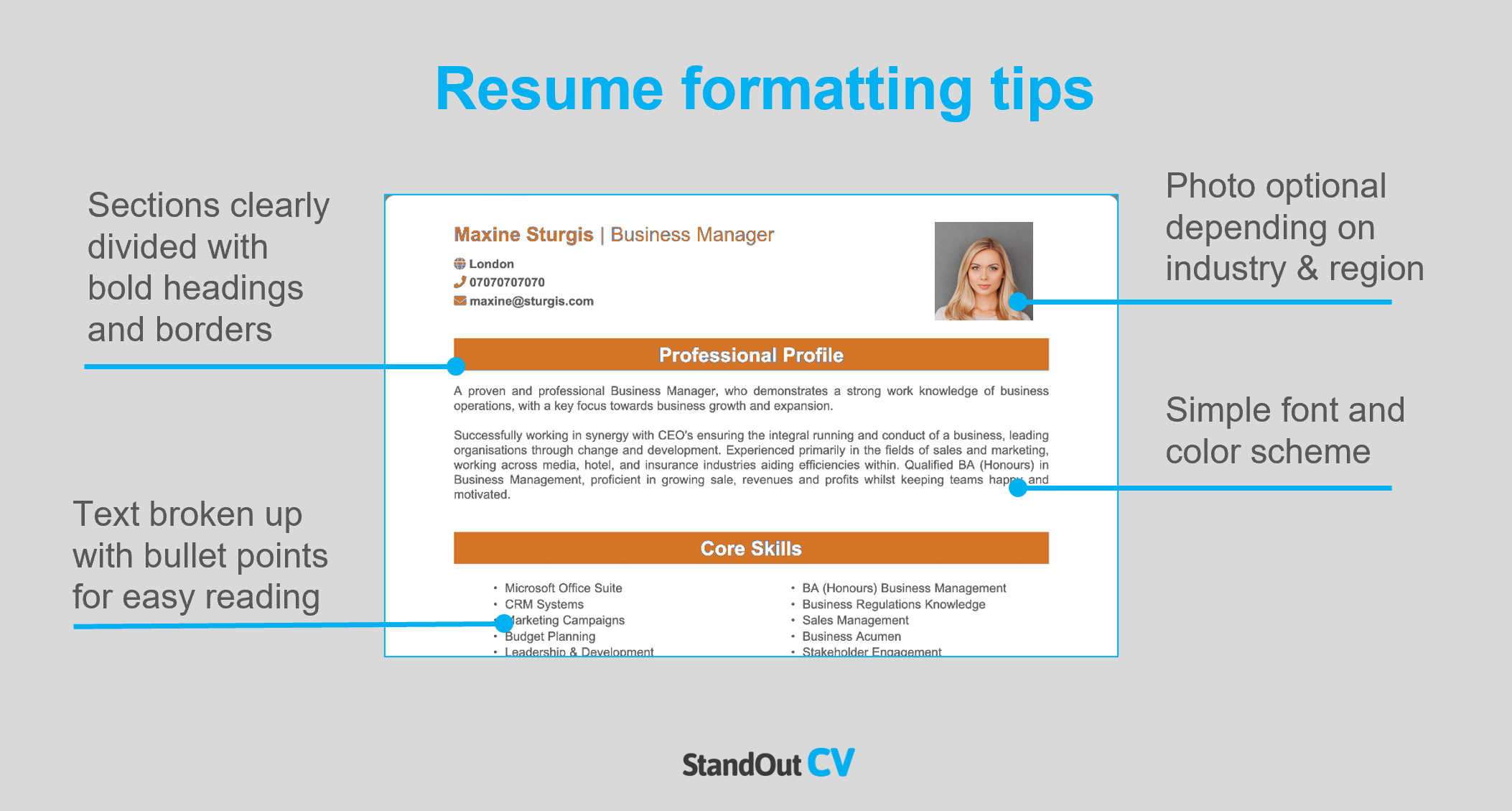 Resume layout
When you write your resume, include the sections below.
Name and contact details – Pop these at the very top to ensure recruiters know how to contact you.
Resume summary – An eye-catching paragraph which summarizes your most valuable attributes – placed near the top of your resume
Skills section – A bullet pointed list of your most in-demand skills, enabling recruiters to see your suitability from a glance.
Work experience – List some or all of your previous jobs in reverse chronological order – voluntary work and college placements can be included if you have no paid experience.
Education – A summary of your professional training and academic qualifications.
Additional info – An optional section for anything that may boost your application, such as relevant hobbies and interests
Here's what to include in each part of your resume.
Contact Details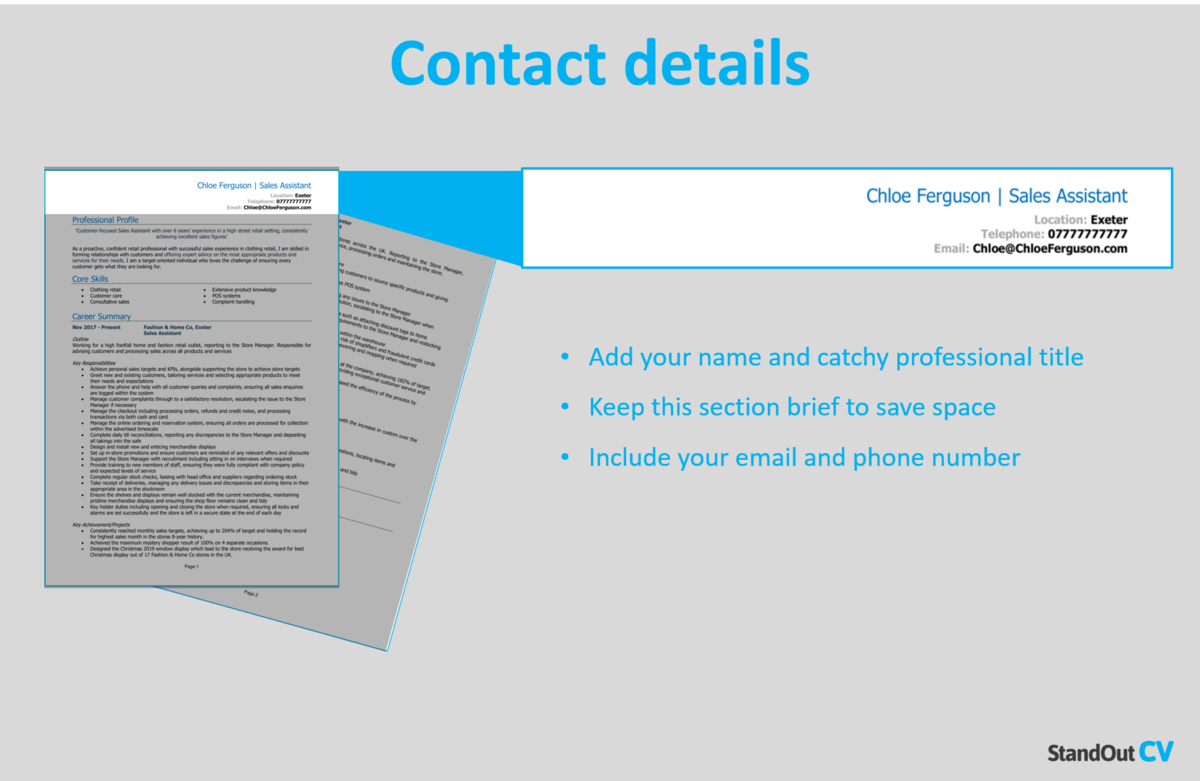 Add your name and contact details to the header of your resume, so that anybody reading can easily see how to contact you.
Name and profession title
Cell phone number – or any number you are easily reachable on
Location – Add your local area such as Washington or San Diego – not your full address as that will take up too much space.
Email address – Use a professional looking address.
You can add a link to your LinkedIn profile if you have one – you do not need to include personal details like date of birth or religion.
Voice Actor Resume Summary
The resume summary is a short paragraph at the top of your resume, and it's purpose is to grab recruiter's attention and make sure they keep reading it.
To make your summary work, ensure that you provide a high-level summary of your skills and experience – and tailor it to reflect the requirements of the jobs you are applying for.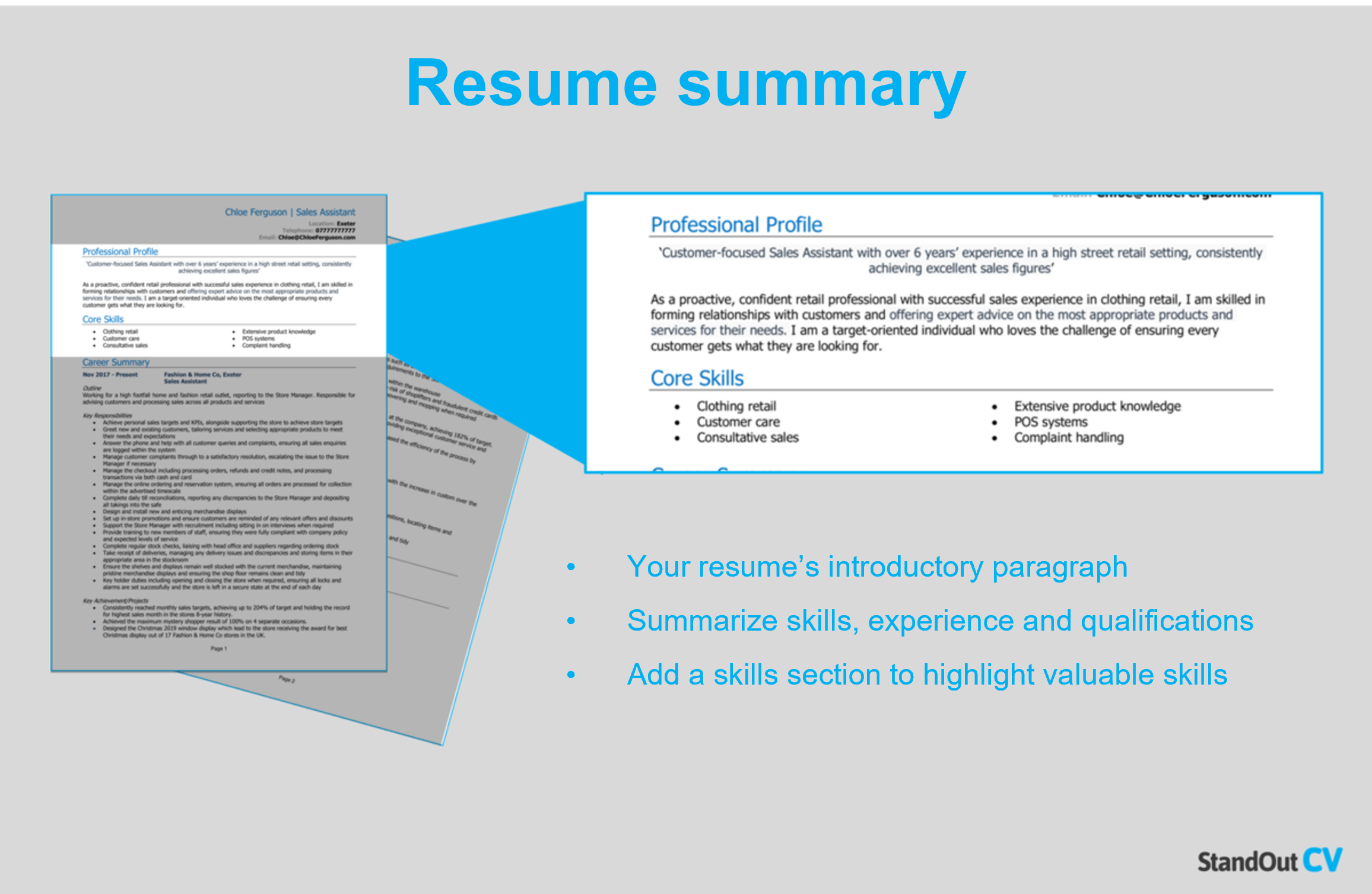 How to create a resume summary that will excite recruiters:
Keep it short: To capture a recruiter's attention and keep them interested in your resume, limit your summary to 4-7 lines as you only have a few seconds to make an impression
Tailor to target jobs: Recruiters will be scanning for the skills and knowledge they mentioned in the job description, so add as many as you can to your summary.
Avoid using cliches: Although you may believe that you're a "team player who always gives 110%," these kinds of cliches don't communicate much about your skills and qualifications to potential employers. It's more effective to stick to factual information in your resume.
Voice Actor resume summary example
Dynamic and versatile Voice Actor with a passion and skill for bringing characters to life through captivating performances. Theatre Arts major with diverse range of vocal abilities and extensive experience in the industry, providing unique and authentic voices for animated films, video games, commercials, and audiobooks. Adept at interpreting scripts and adapting vocal styles, completing work for Netflix, CBS and the NBA. 
What to include in your Voice Actor resume summary?
Summary of your experience: Provide an overview of the type of work you have done in the past and the impact you have made at previous employers.
Relevant skills: Incorporate your highly relevant skills for Voice Actor jobs to exhibit your suitability as soon as your resume is opened.
Qualifications: Mention any Voice Actor qualifications that are important to your profession in the summary briefly, to show you are qualified to carry out the role.
Quick tip: Choose from hundreds of pre-written summaries across all industries, and add one to your resume with one-click in our partner's Resume Builder. All written by recruitment experts and easily tailored to suit your unique skillset and style.
Core skills section
Underneath your summary, write a core skills section to make your most relevant skills jump off the page at readers.
It should be made up of 2-3 columns of bullet points of your relevant skills.
Before you do this, look over the job description and make a list of any specific skills, specialisms or knowledge required.
Then, make sure to use your findings in your list. This will paint you as the perfect match for the role.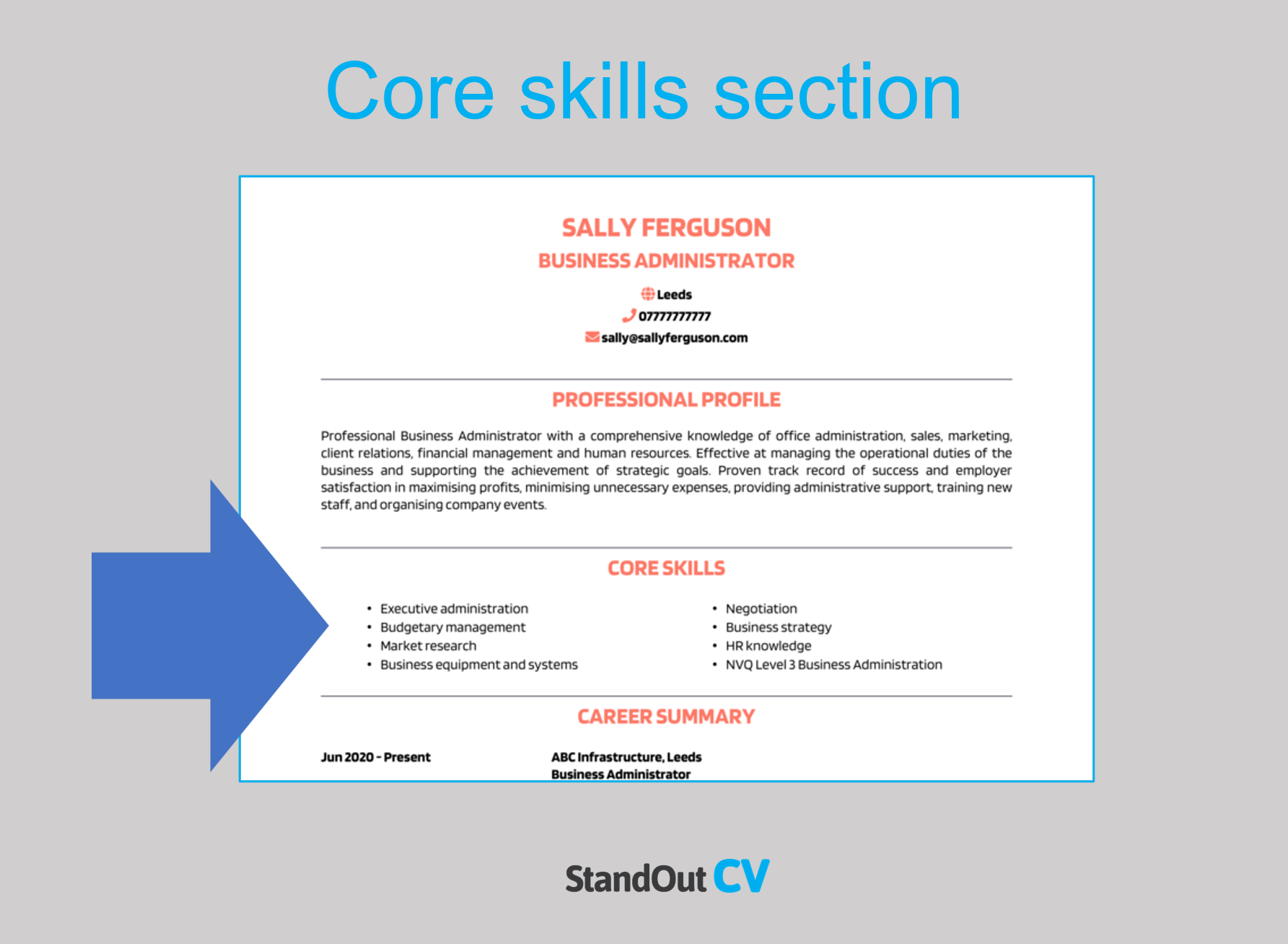 Best skills for your Voice Actor resume
Voice Acting Techniques – Utilizing a variety of voice acting techniques, including voice modulation, projection, breathing, and articulation, to deliver compelling performances.
Character Development – Bringing characters to life through vocal expression, capturing their personality, emotions, and unique traits.
Vocal Range and Flexibility – Adapting voice and tone to portray diverse characters and genres, ranging from animation and video games to commercials and audiobooks.
Script Interpretation – Interpreting scripts and understanding the intended tone, emotion, and message to effectively convey the desired performance.
Accents and Dialects – Imitating and accurately portraying different accents, dialects, and regional speech patterns.
Voiceover Editing and Recording – Utilizing knowledge of audio recording techniques, microphone usage, and proficiency in editing voiceover recordings to deliver high-quality audio.
Project Management – Meeting tight deadlines and managing multiple voiceover projects simultaneously while maintaining professionalism and quality.
Industry Knowledge – Utilizing knowledge of the voiceover industry, including current trends, casting processes, and best practices for auditioning and marketing oneself as a voice actor.
Business and Marketing – Utilizing knowledge of self-promotion, branding, networking, and marketing strategies to secure voiceover opportunities and build a successful voice acting career.
Project Collaboration – Taking direction from clients, directors, and producers, and working effectively as part of a team to achieve the desired outcome.
Quick tip: Our partner's Resume Builder contains thousands of in-demand skills for every profession that can be added to your resume in seconds – saving you time and greatly improving your chances of landing job interviews and getting hired.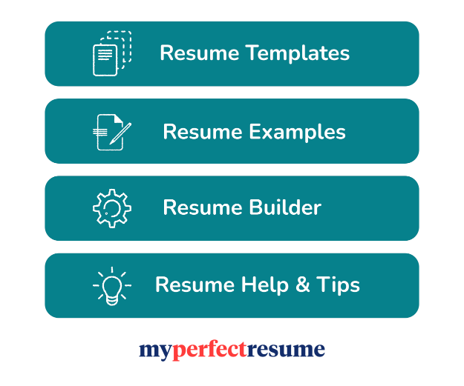 Work experience
So, you've got the recruiter interested with your catchy summary… Great work.
Now it's time to show them the impact you make in the workplace by listing out your previous jobs and what you achieved in each one.
If you have tons of experience, you can condense this part down to the last few years – if you are junior, then you should include as much possible (even volunteering and school work placements)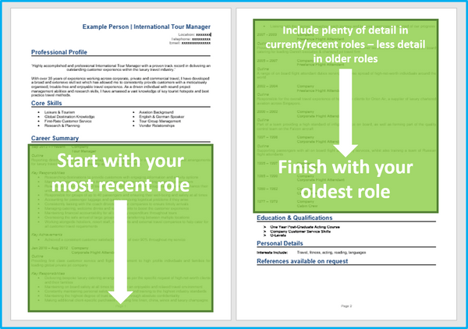 Structuring your jobs
It's easy to overwhelm readers when writing about a job you have been doing for years or even months.
Break the information up like this to keep it simple for recruiters to understand.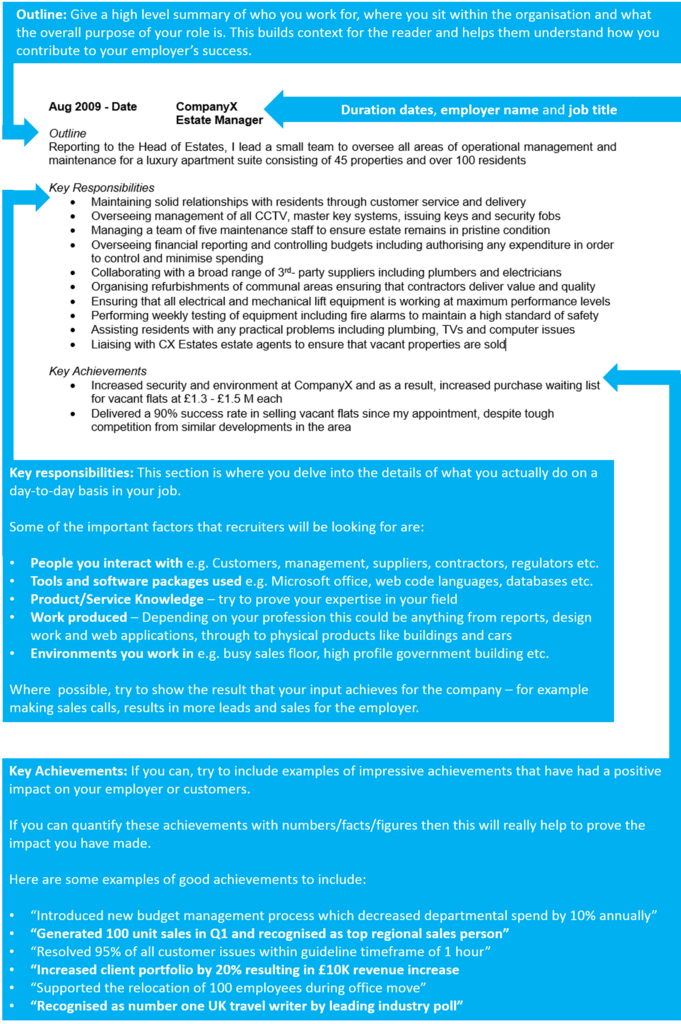 Job outline
Begin each job with a short summary of who the organization is, where you sit within it, and what the main goal of your position is.
Key responsibilities
The bulk of the role description should be comprised of bullet points that explain all of your duties in the job.
Keep the sentences short and simple to make them easy for recruiters to digest.
Key achievements
Finish each role by highlighting some impressive achievements you made whilst in the role.
Anything that benefited the employer can be included from making financial savings, to winning new customers.
Quantify your achievements with facts and figures if you can, e.g. "reduced call wait time by 10%"
Example job for Voice Actor resume
Outline
Work at a renowned animation studio, providing vocal characterizations for a wide range of animated projects and bringing characters to life with distinct voices and personalities.
Key Responsibilities
Voice characters for animated films, TV series, and video games
Master various accents, dialects, and vocal styles to suit diverse character requirements
Implement lip-syncing techniques to synchronize voiceovers with animated characters
Participate in script read-throughs and provide valuable feedback for character development
Quick tip: Create impressive job descriptions easily in our partner's Resume Builder by adding pre-written job phrases for every industry and career stage.

Education section
Towards the bottom of your resume, add your education section.
Here you should list your professional qualifications and academic record, such as high school diplomas or college degrees.
If you have lots of work experience, you can keep this section brief (because recruiters will be more interested in your career. If you have little/no experience then you should bulk this section up with plenty of detail.
Additional information
The bottom of your resume is a place to add any "additional info"
Any other info that didn't fall into any of the previous sections can be added here.
If you have hobbies that are related to your profession or any awards or publications – add them here.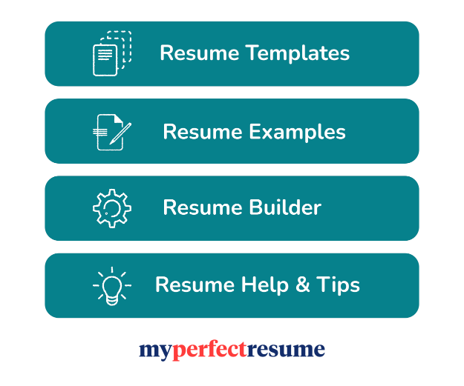 Writing your own winning Voice Actor resume
By tailoring your resume to the specific job and industry you are targeting and ensuring that it effectively communicates your professional value, you can position yourself as a top candidate for all Voice Actor positions.
Good luck with your job search!