You've got your license and your artwork is second to none.
Sadly you can't prove this by giving the hiring manager a tattoo, so your resume needs to impress them instead.
But if you work better with needles than pens, this can feel tricky.
That's why we've created this step-by-step guide and tattoo artist resume example, to help and inspire you.
Contents
| | |
| --- | --- |
| How to write your Tattoo Artist resume | |

Tattoo Artist Resume Example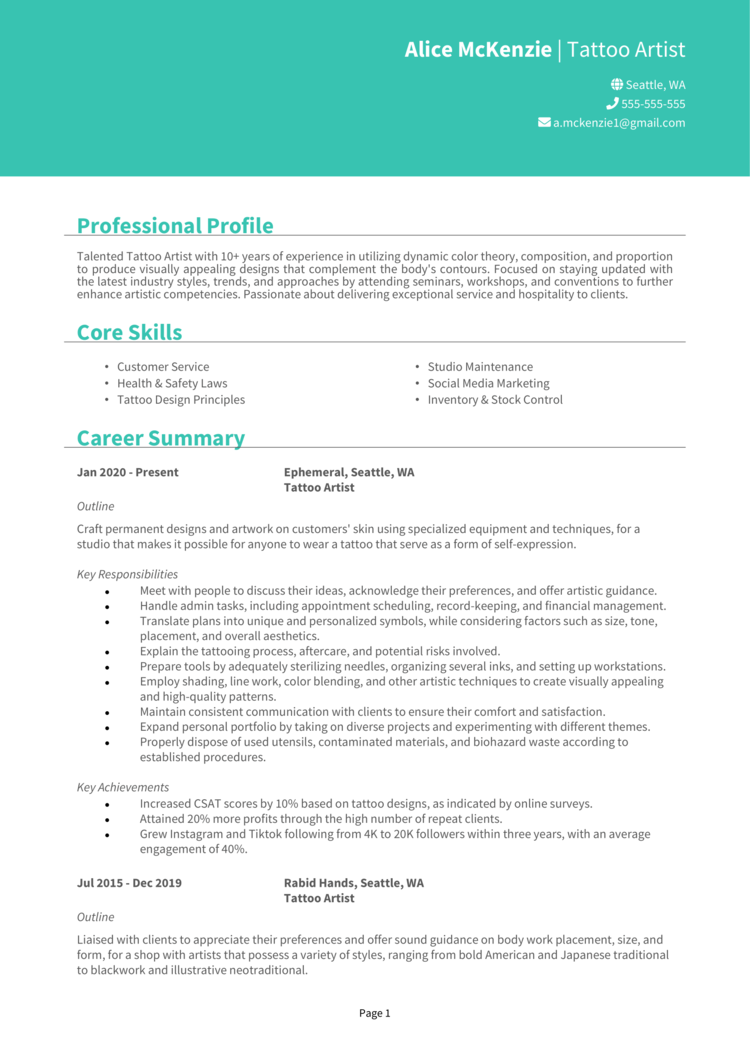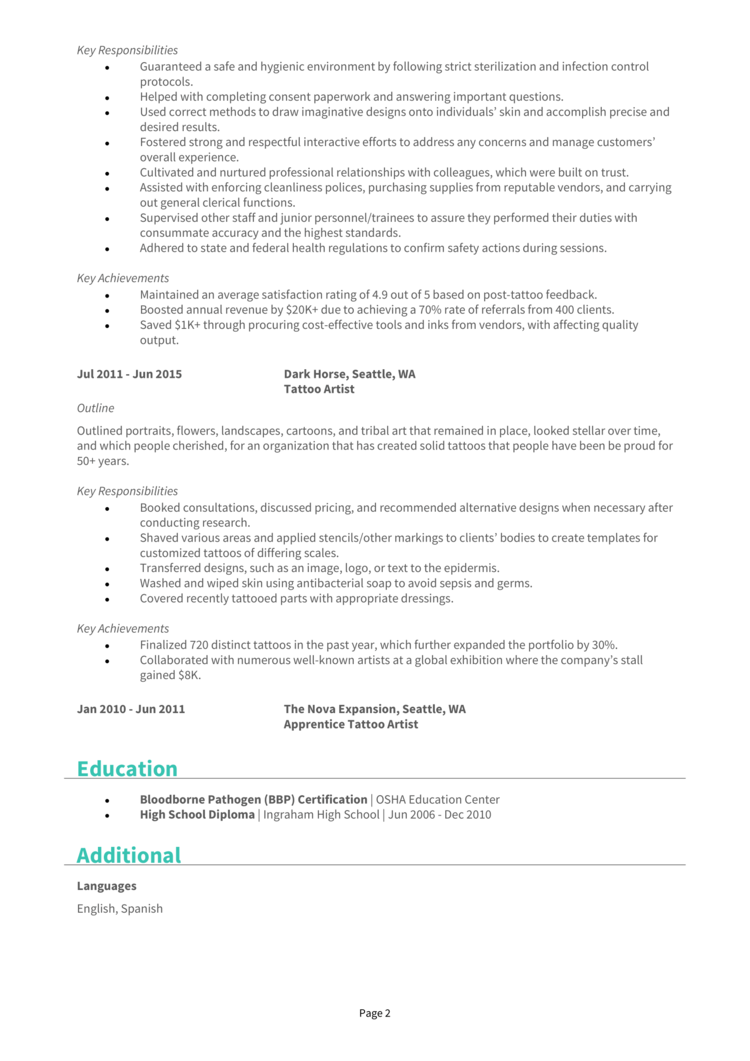 This example Tattoo Artist resume is well-structured to provide a pleasant reading experience for recruiters, and contains all of the crucial information they want to see.
The rest of the guide will show you exactly how you can achieve this in your own resume.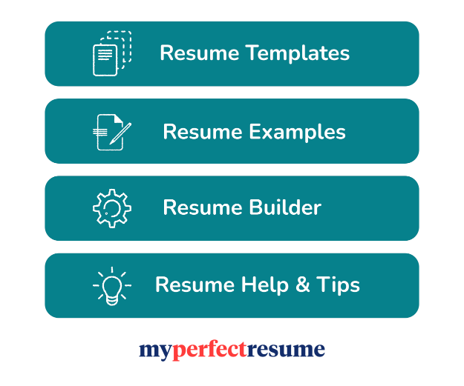 Tattoo Artist resume layout and format
When it comes to holding the attention of recruiting managers, the format and layout of your resume play a key role.
Your resume needs to strike a perfect balance between looking awesome, and being easy for recruiters to read (which is not always easy to achieve)
Use the following formatting tips to get started.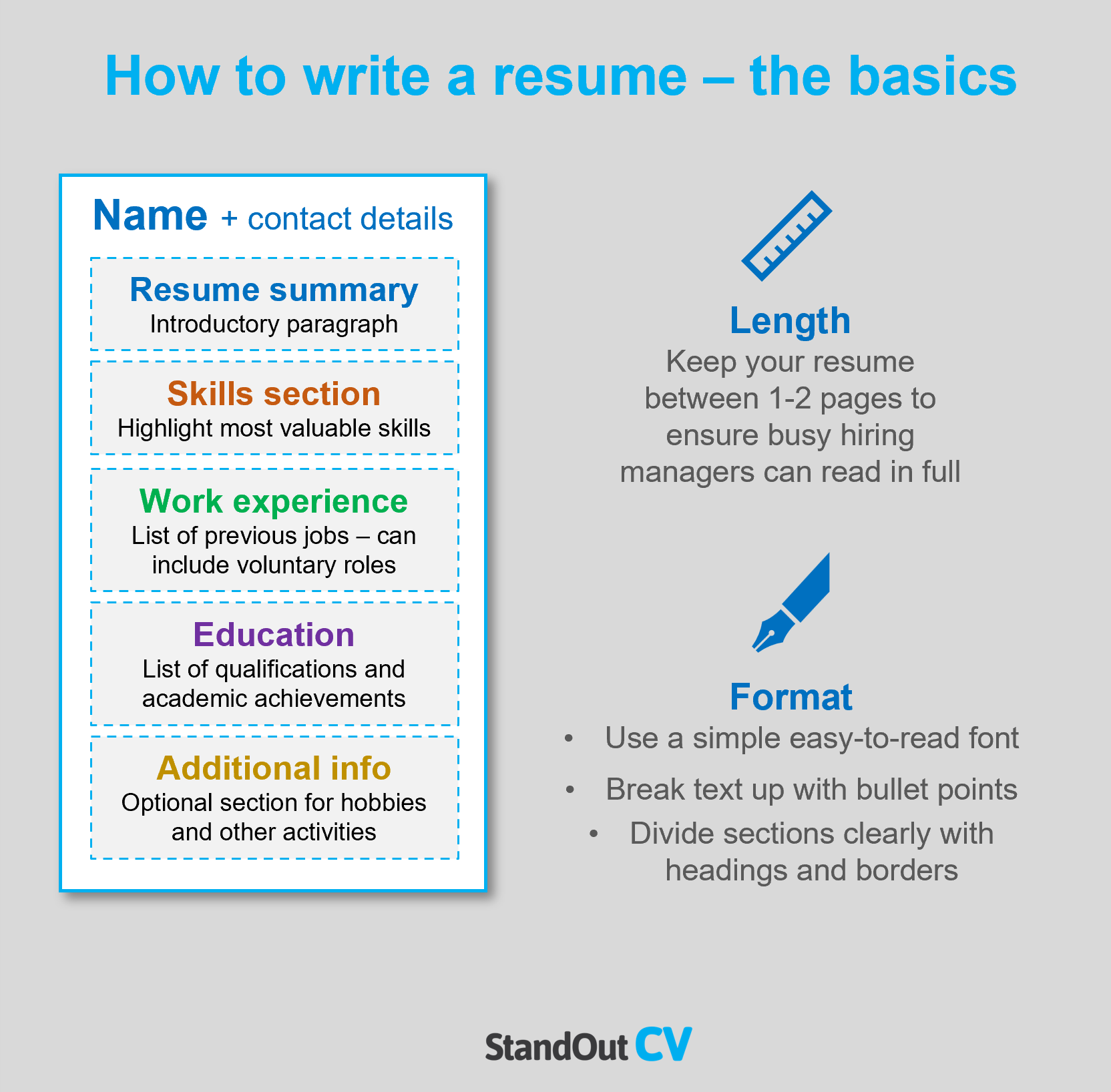 Formatting your resume
Length: To ensure that your resume gets proper attention from recruiters, it is best to keep it at 2 pages or less. Recruiters are often inundated with hundreds of resumes to review on a daily basis, so they want to read each one quickly as possible.
Font & readability: Simplicity and a pleasant reading experience are crucial if you want to highlight your most valuable skills to recruiters. Use a clear font (avoid fancy ones) and break up the text in your resume with bullet points to ensure information can be easily consumed.
Layout: Your resume's design must strike a balance between aesthetics and functionality. Using bold headings and borders to organize the page into clear sections is an effective way to achieve both.
Photos: It's not mandatory to add a photo to your resume in the USA but it if you're applying to organizations within the creative fields, it can be beneficial.
Quick tip: Achieving a professional look for your resume can be difficult and time-consuming. If you want to create an attractive resume quickly, try our partner's Resume Builder and use one of their eye-catching resume templates.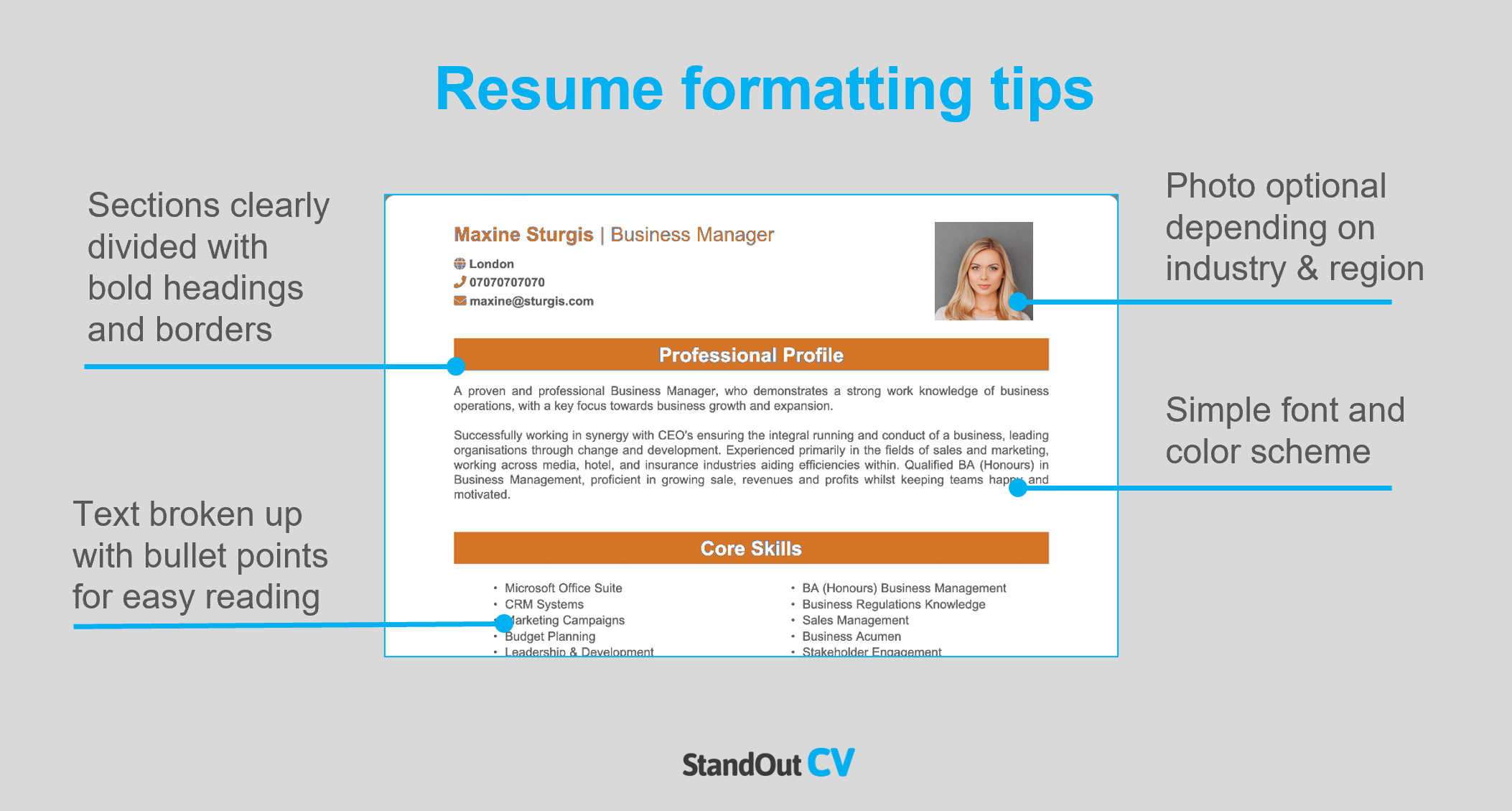 Resume layout
Your resume should include the following sections to give recruiters the information they require:
Name and Contact Details – Place your contact information at the top of your resume to make it easy for employers to get in touch with you.
Resume Summary – Write a brief introduction at the beginning of your resume that summarizes your most important qualifications and highlights why you are the ideal candidate for the job.
Skills Section – Include a concise list of your most relevant and impressive skills to quickly grab the attention of potential employers.
Work Experience – List your previous work experiences in reverse chronological order, including any volunteer work or college placements.
Education – List your educational qualifications and any professional training you have received.
Additional Information – This section is optional, but you can include details about your interests, hobbies, or any other relevant information that can make you stand out from other applicants.
Here's what to add to each section of your Tattoo Artist resume.
Contact Details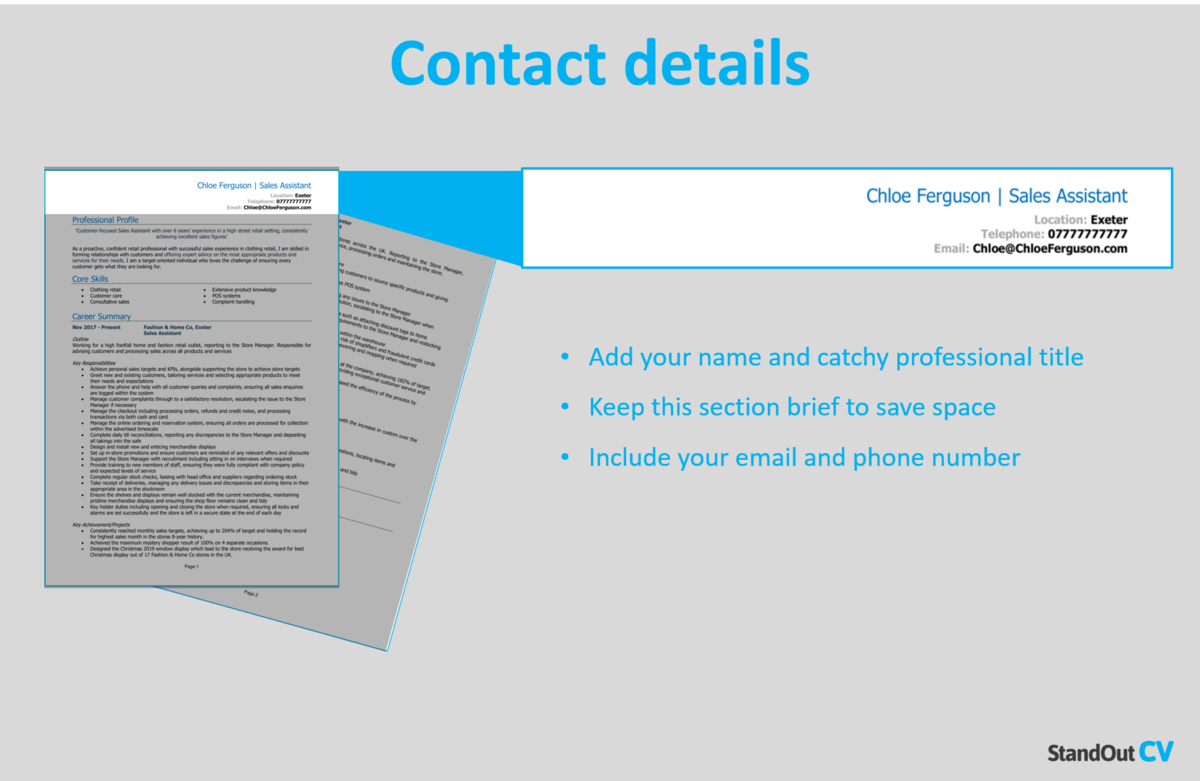 Make it easy for hiring managers to contact you by adding your contact details to the top of your resume.
Keep this section small to save space and include the following.
Name and profession title
Telephone number – Ideally your cell phone so you can answer quickly.
Location – Add your general location such as LA or New York
Email address – Use a professional looking one with no nicknames.
You can add a link to your LinkedIn profile if you have one – you do not need to include personal details like date of birth or marital status.
Tattoo Artist Resume Summary
Your resume summary is like an elevator pitch. It's your chance to sell yourself to employers within a short space of time.
Achieve this by summarizing your skills and expertise, whilst highlighting your abilities that closely match the jobs you are aiming for.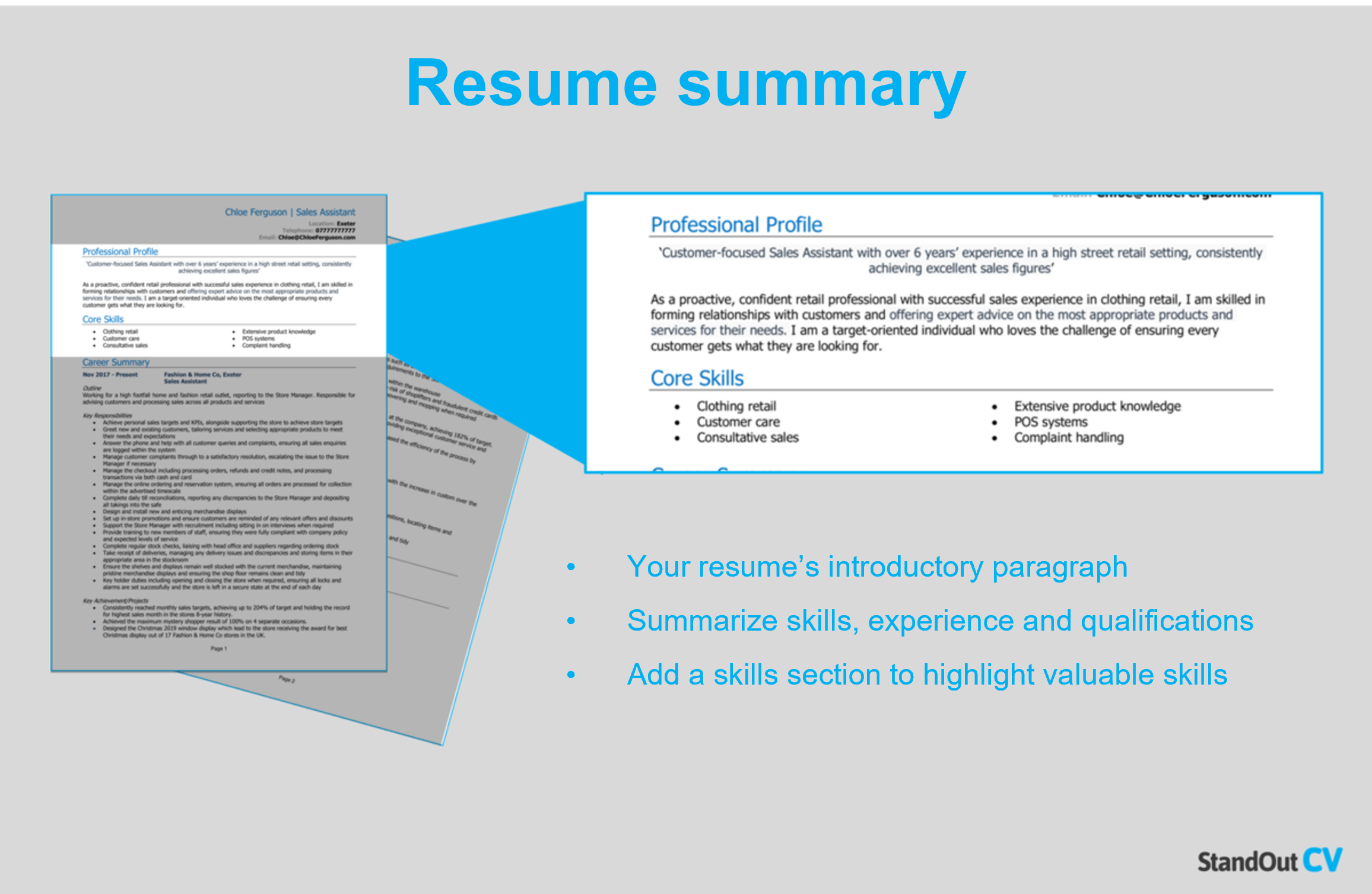 How to create a resume summary that will excite recruiters:
Keep it short: To capture a recruiter's attention and keep them interested in your resume, limit your summary to 4-7 lines as you only have a few seconds to make an impression
Tailor to target jobs: To make your resume more relevant to your target jobs, analyze the job description and include as many matching skills as possible.
Avoid using cliches: Recruiters always see cringey cliches like "hardworking guru who works well in a team or individually" – they don't mean much to anyone, so focus your summary on tangible skills and experience.
Tattoo Artist resume summary example
Talented Tattoo Artist with 10+ years of experience in utilizing dynamic color theory, composition, and proportion to produce visually appealing designs that complement the body's contours. Focused on staying updated with the latest industry styles, trends, and approaches by attending seminars, workshops, and conventions to further enhance artistic competencies. Passionate about delivering exceptional service and hospitality to clients. 
What to include in your Tattoo Artist resume summary?
Summary of your experience: What kind of companies have you worked for in the past? And which jobs have you carried out?
Relevant skills: Highlight your skills which are most relevant to Tattoo Artist jobs, to ensure that recruiters see your most in-demand skills as soon as they open your resume.
Qualifications: To make a strong impression on potential employers when applying for Tattoo Artist jobs, be sure to mention any relevant qualifications in your summary.
Quick tip: Choose from hundreds of pre-written summaries across all industries, and add one to your resume with one-click in our partner's Resume Builder. All written by recruitment experts and easily tailored to suit your unique skillset and style.
Core skills section
Next, you should create a bullet pointed list of your core skills, formatted into 2-3 columns.
Here, you should focus on including the most important skills or knowledge listed in the job advertisement.
This will instantly prove that you're an ideal candidate, even if a recruiter only has time to briefly scan your resume.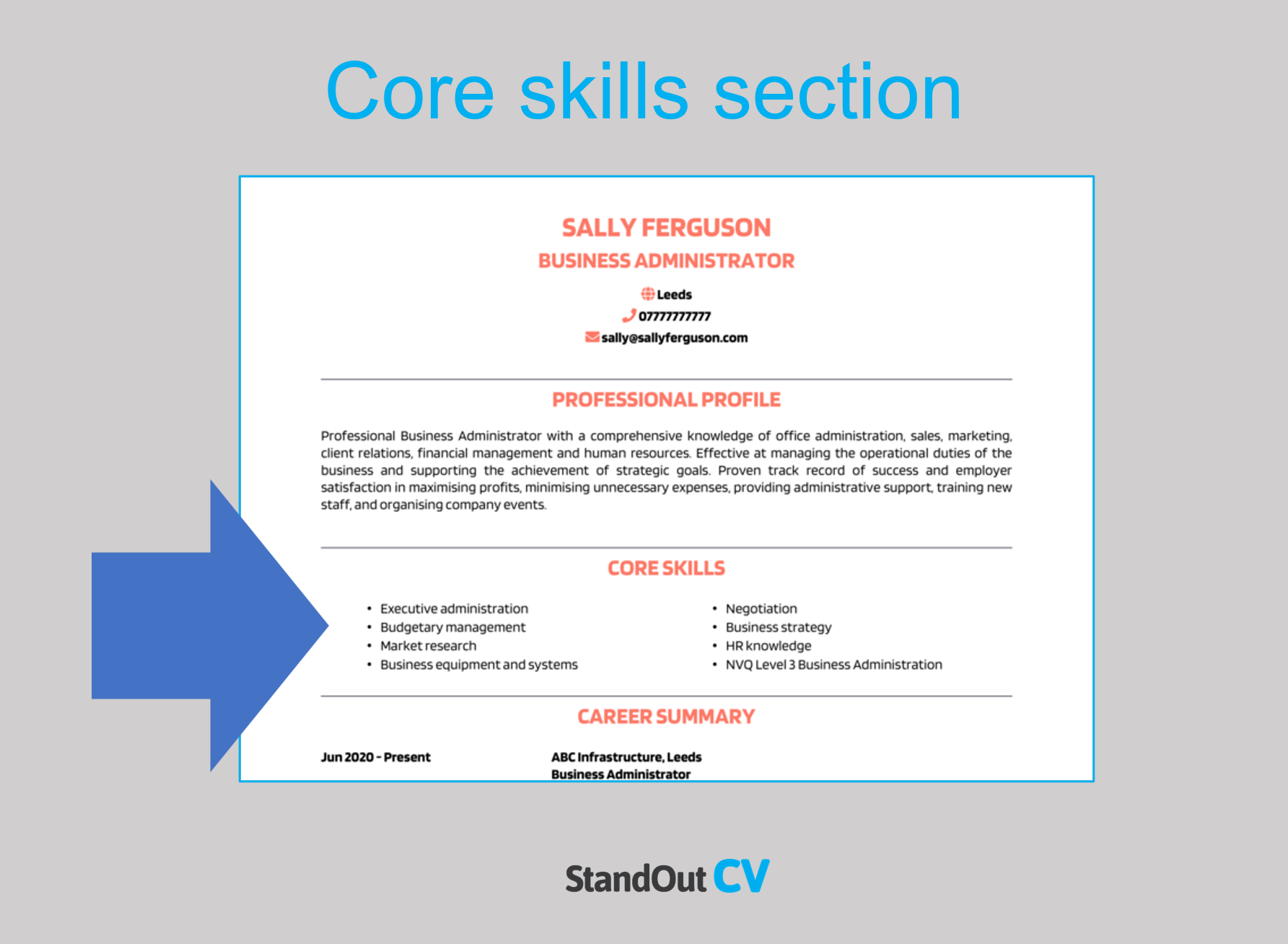 Best skills for your Tattoo Artist resume
Tattooing Techniques – Maintaining proficiency in various tattooing styles, such as traditional, realism, watercolor, and blackwork, to apply them accurately and skillfully on clients.
Artistic Creativity – Designing custom tattoos that meet clients' preferences and expectations while ensuring they are visually appealing and unique.
Sterilization and Safety Procedures – Adhering to proper sterilization techniques, sanitation, and hygiene protocols to maintain a safe and clean working environment for clients.
Tattoo Machine Maintenance – Utilizing knowledge of tattoo machine mechanics, cleaning, and regular maintenance to ensure the equipment operates efficiently and safely during tattooing sessions.
Pain Management – Managing clients' pain and discomfort during tattooing, providing a comfortable experience through effective communication and techniques.
Attention to Detail – Ensuring that the tattoo lines, shading, and colors are accurate and well-executed to create a polished and professional appearance.
Communication and Consultation – Consulting with clients, understanding their tattoo ideas, providing professional advice, and addressing any concerns before beginning the tattooing process.
Session Management – Efficiently managing appointments, adhering to schedules, and completing tattoos within the estimated time frame while maintaining high-quality standards.
Skin Tone and Composition – Utilizing knowledge of how different skin tones and body compositions affect the outcome of tattoos, ensuring that designs complement the client's features and look visually appealing.
Client Relations – Building rapport with clients, creating a comfortable atmosphere, and providing a positive and memorable tattooing experience to encourage repeat business and referrals.
Quick tip: Our partner's Resume Builder contains thousands of in-demand skills for every profession that can be added to your resume in seconds – saving you time and greatly improving your chances of landing job interviews and getting hired.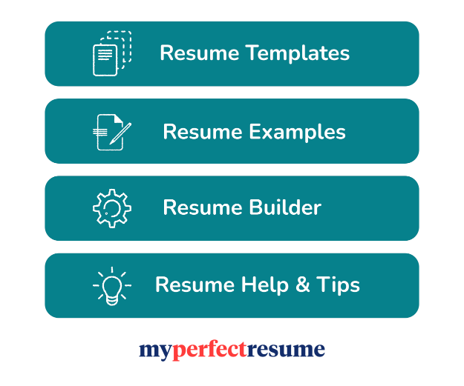 Work experience
Once you've got recruiters interested with your impactful summary, your work experience is where the real detail will lie.
Lay out your previous jobs from current to oldest, detailing what you contributed and achieved in each one.
If you're highly experienced you can cut this section down to your most recent few years of work, but if you are junior you can bulk this up with voluntary work and college placements.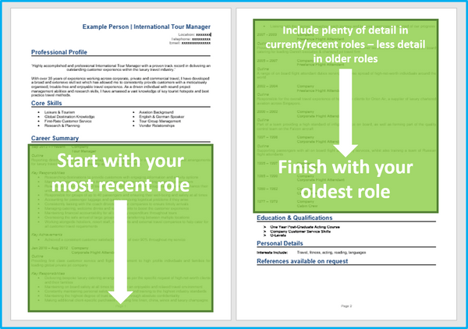 Structuring your jobs
You probably do a lot in your job, so its vital to break all of that information down into a good structure.
Structure your jobs as follows to make it easy for recruiters to skim through and pinpoint the essential info.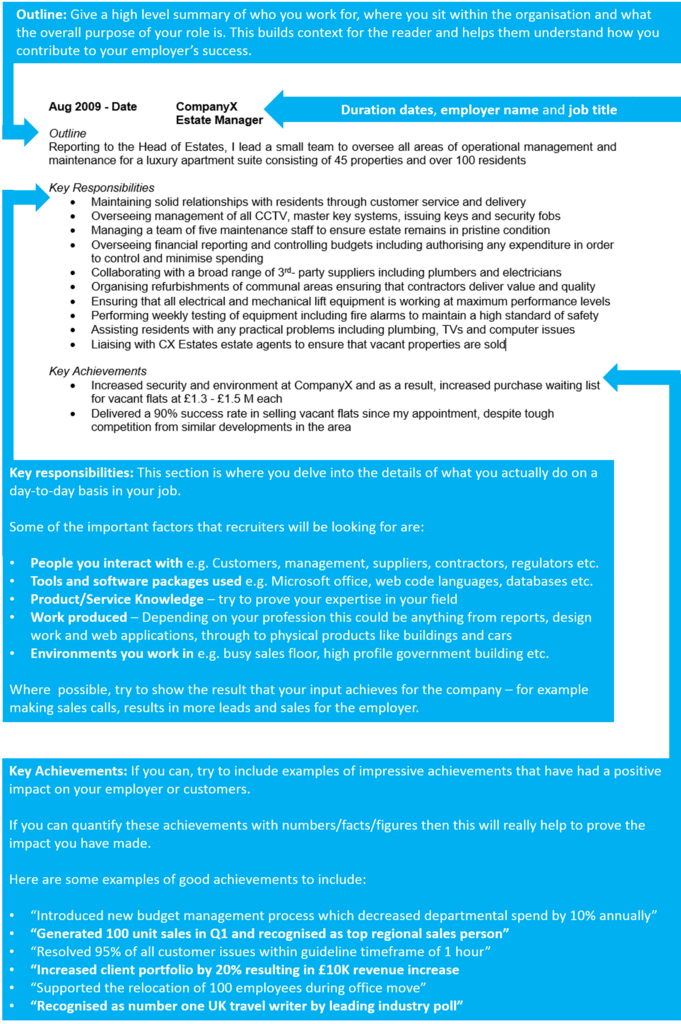 Job outline
Starting each job with a brief summary of the organization, your position within it, and the primary goal of your role can help recruiters quickly understand the context of your work.
Key responsibilities
Then delve into the detail of your job by listing out easy-to-read bullet points which show how you apply your skills in the workplace.
Tailor these bullet points to focus on the skills and knowledge that are required in the jobs you are applying for.
Key achievements
Finish each role by highlighting some impressive achievements you made whilst in the role.
Anything that benefited the employer can be included from making financial savings, to winning new customers.
Quantify your achievements with facts and figures if you can, e.g. "reduced call wait time by 10%"
Example job for Tattoo Artist resume
Outline
Craft permanent designs and artwork on customers' skin using specialized equipment and techniques, for a studio that makes it possible for anyone to wear a tattoo that serve as a form of self-expression.
Key Responsibilities
Meet with people to discuss their ideas, acknowledge their preferences, and offer artistic guidance.
Handle admin tasks, including appointment scheduling, record-keeping, and financial management.
Translate plans into unique and personalized symbols, while considering factors such as size, tone, placement, and overall aesthetics.
Explain the tattooing process, aftercare, and potential risks involved.
Quick tip: Create impressive job descriptions easily in our partner's Resume Builder by adding pre-written job phrases for every industry and career stage.

Education section
After your work experience, add your education section.
If you are an experienced professional, you can keep this part short – adding basic details of each qualification.
If you have little or no experience, bulk this section up by adding more detail and highlight important skills and knowledge for your target jobs.
Additional information
The additional info section is optional but can be useful if you have anything else to add that could benefit your application.
For example, you may have some hobbies and interests that are relevant to your job – or you might have awards or publications to shout about.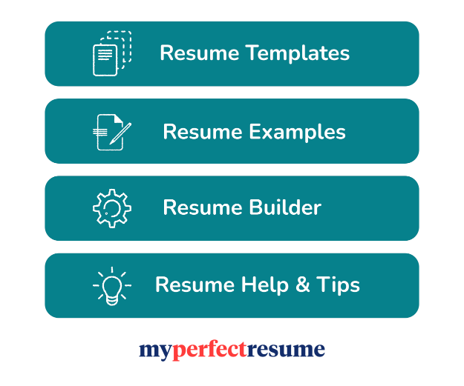 Writing your own winning Tattoo Artist resume
Crafting a strong Tattoo Artist resume can be a daunting task, but implementing the steps outlined above will significantly increase your chances of securing multiple interview opportunities.
Good luck with your job search!