Google searches for advice relating to faking resumes and job references are up an average of 48% and 52% respectively in the last 12 months.[1] Candidates in today's market surrounded by the ripples of the pandemic and cost of living crisis are looking for more ways to give them the edge in the job application process.
To help reveal the true extent of this misinformation problem in the hiring process today, we surveyed over 1,700 Americans to ask them about lies they may have told to get a job. In addition to this, we also conducted further research into the world of fake job references and fraudulent college degrees and transcripts, and how much it would cost someone looking to lie their way to an interview.
Key findings:
Over half (55%) of people surveyed said they had lied on their resume at least once, which could mean 42.5 million Americans lied their way to a job in 2022.
Men are more likely to lie on a resume with 59.9% of men admitting to lying, compared to 50.6% of women.
Younger people are more likely to lie on a resume than older people, 66.6% of 18-25-year-olds said they had lied, compared to 26.2% of those aged 65.
1 in 6 (16.9%) have used fake job reference services, costing an average of $145 per reference, involving fake employers, and paid actors.
2 in 5 (41%) have lied about their college degree on their resume, with almost a quarter (24.5%) telling employers they had a degree when they didn't.
Fake college degree certificates and transcripts can be bought online and cost an average of $270.
3 in 10 (30%) say they haven't been caught regarding their job application lies.
Lying on resumes, or job applications could be considered fraud, and employees can be made to pay fines to their employer.
How many people have lied on their resume?
Our survey found that on average, 55% of Americans have lied about their personal details, skills, experience, or references on their resumes at least once. Taking recent figures of the number of people hired in 2022,[2] this could mean that an estimated 42.5 million Americans may have lied on their resume to get a job in 2022. This figure could be even higher for those who lie unsuccessfully and don't get hired.
Which industries lie the most?
Those working in manufacturing were the most likely to lie (72%), followed by those working in healthcare (64%) and arts and creative roles (64%). It will likely be more challenging for those working in healthcare to land a job without the right qualifications, so it's likely the lies told here relate more to skills, or is from those in non-patient-facing roles.
The graph below reveals all industries analyzed and how much they lie on their resumes: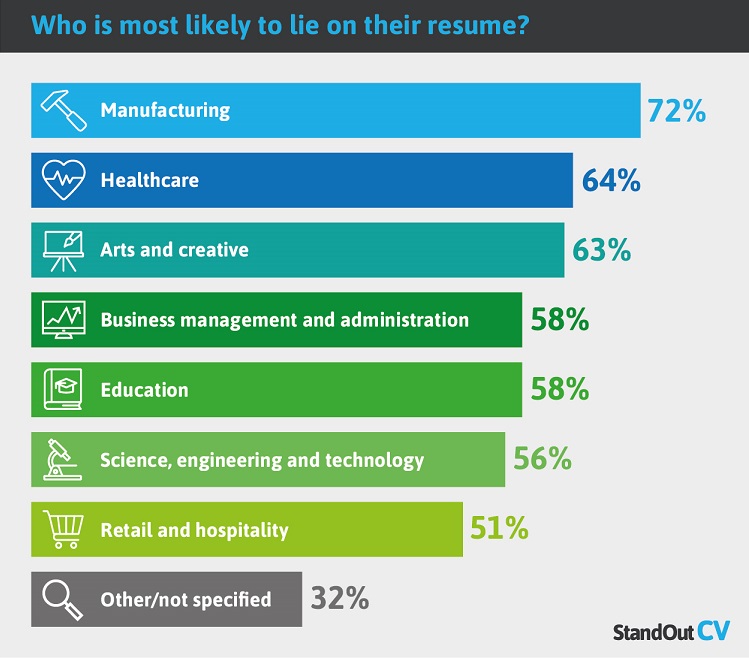 Lying on resumes by gender
Our survey also discovered that men were more likely to have lied on their resumes than women.
For women, it was almost an even split with 50.6% saying they had lied, and 49.4% saying they hadn't. Whereas for men, 59.9% admitted to lying on their resume compared with 40.1% who said they had never lied.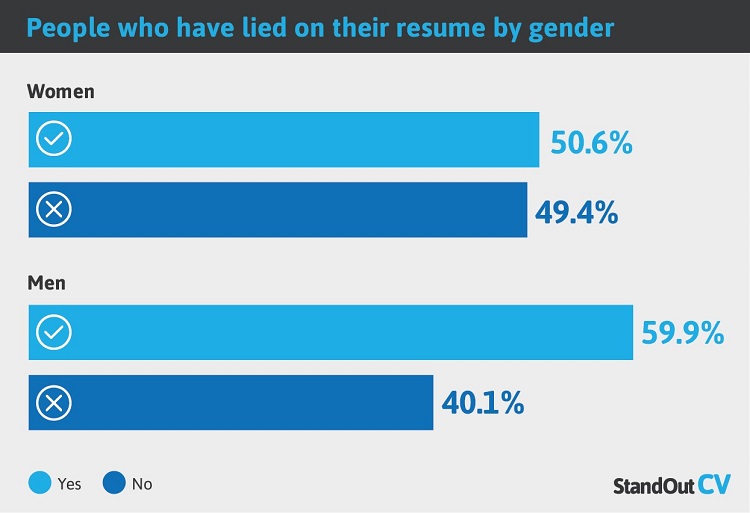 Lying on resumes by age
When looking at age ranges, our study found that younger people were more likely to have lied on their resumes than older people. People aged 18-25 were most likely to have lied, with two-thirds (66.6%) admitting to lying on their resume.
Those in the middle age groups were more likely to be evenly split, with 50.2% of 36-45-year-olds saying they had lied, and 49.8% saying they hadn't. For those aged over 65, there was a clear difference with 73.8% saying they had never lied on a resume.
This is likely due to younger job hunters having resumes with no experience, making it very difficult to get their first job and the first step on the career ladder.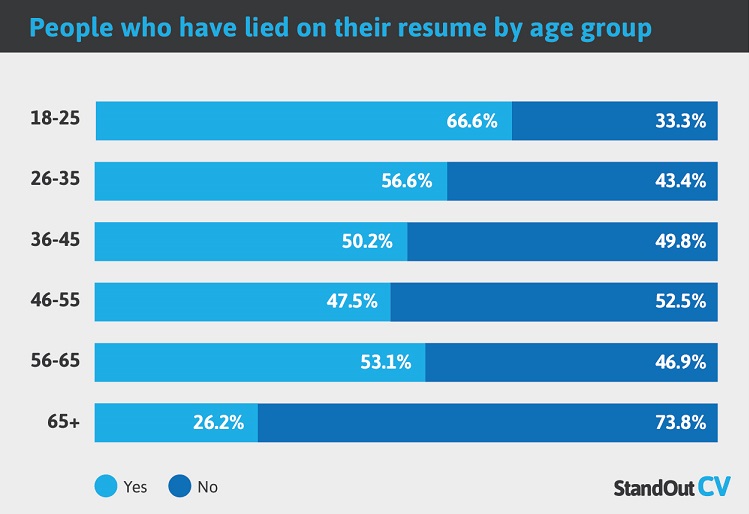 The kind of lies people tell to get a job
When it came to the specific things people lied about, our respondents were able to choose more than one answer. The most common thing people had lied about was their previous work experience (55.4%), followed by their skills (43.1%), and information about their college degree (41%).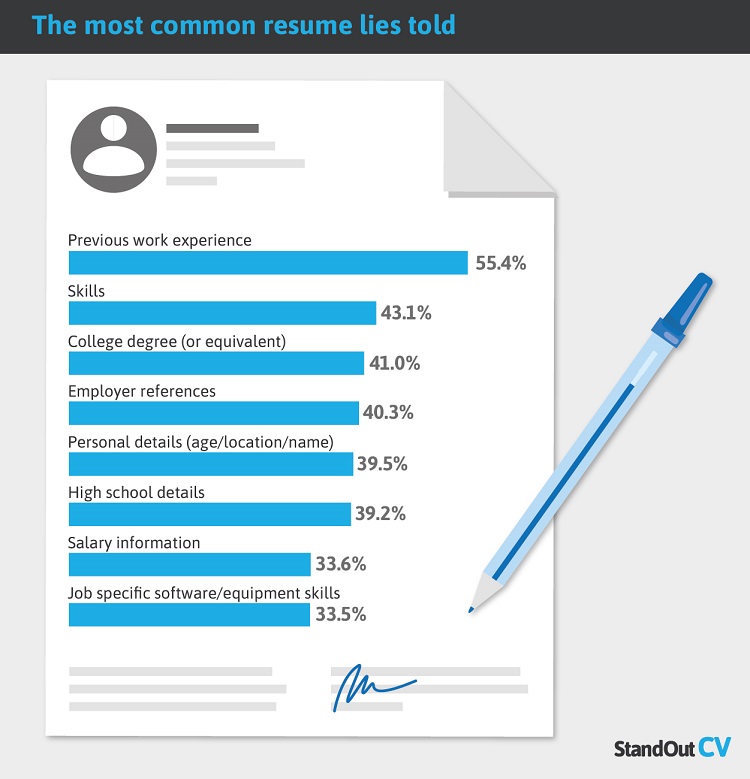 Why would job applicants lie about personal details?
One personal detail people may lie about is their age. Age discrimination is a very real issue and putting your date of birth on your resume can lead to hiring managers consciously or subconsciously removing you from the hiring process, especially those nearing typical retirement ages.
Another reason someone may lie about their personal details is to avoid racial discrimination. One study from the University of Toronto [3] found that names with Indian, Pakistani, or Chinese origin were 28% less likely to get an interview compared to anglo-sounding names, and that's with identical qualifications and experience.
We always tell candidates to include their full name, email address, cell number, and location on their resume. The city you're currently based in is fine, there is no need to put your full address.
It is illegal in the U.S. for employers to ask about age, race, ethnicity, religion, marital status, gender, sexual orientation, or disabilities, so you also don't need to include these on your resume. [4]
Lying about college degrees when applying for a job
As we mentioned, two in five (41%) said they had lied about the college degree on their resume when applying for a job. This is likely because candidates believe they will never be questioned on the topic or asked to provide a real certificate. We took a closer look at this to see what the reality may be.
Of those who included false information about their college degree, over a third (36.2%) said that they did have a degree, but they lied about what subject their degree was in. Almost a quarter (24.5%) said they had a degree when they weren't actually a college graduate, more than 1 in 5 (23.8%) lied about the grade they got, and 10.5% even lied about which college they attended.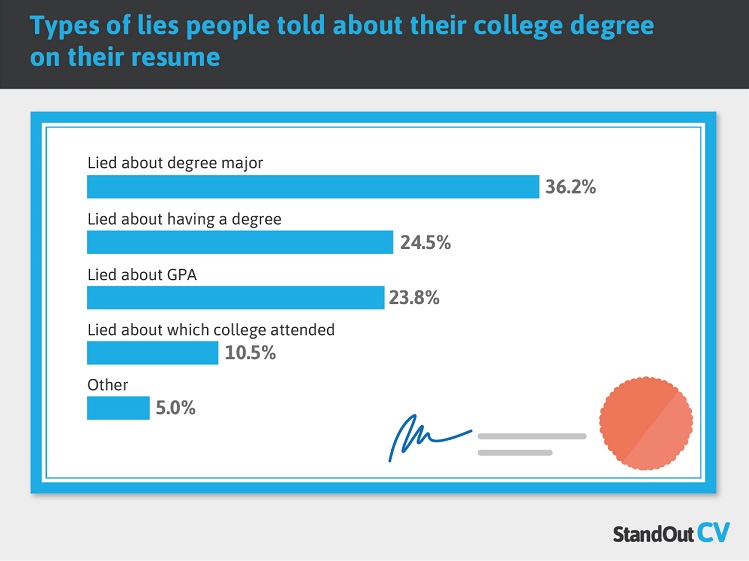 Fake college degrees and transcripts
With two in five lying about their college degrees to boost their chances of landing a job or internship, some may take this further and look to buy a fake college certificate and/or transcript online. Our own research of online fake (advertised as 'novelty') degree companies conducted alongside this survey found that for a fake degree and transcript from your chosen college, job hunters would need to pay an average of $270.
Almost half (49%) of American employers undertake some form of education verification,[5] to what extent they do this would determine how effective a fake degree would be. If it was simply a request for the certificate, perhaps candidates could get away with this fraud, however, it is simple to check with the college or university, which would cause the lie to become unraveled quickly.
Using fake references on a resume
Overall, 2 in 5 (40.3%) said they had lied specifically about the references on their resume. Most commonly, people use a friend or family member (47%), with over a third (34.3%) making someone up, and 16.9% said they used an online service to create a fake reference.
Fake job reference services
As over 1 in 6 are engaging in online reference services, we wanted to learn more about this industry. There are a variety of businesses online supplying this trend, and gig economy sites such as Fiverr have only made it easier to access in recent years.
What is included in a fake job reference?
Typically, customers will get a minimum of an email and phone call package with someone posing as their past employer. They will normally have a phone call to discuss the candidate's skills, responsibilities, and salary based on the information given. While packages vary between businesses the following were found to be typical of a fake reference service:
One month of answered phone calls with voicemail pretending to be your ex-employer
Fake company-branded faxes, emails, letters
Fake company websites and social media
Structured call-center style phone operator to direct recruiters to 'relevant department' of fake business
Fake pay stubs from ex-employer
Coaching for interviews is typically offered for an extra fee
How much does a fake job reference cost?

From our own research into fake job reference services available online, we found that they typically cost between $145-$275 depending on how many references the candidate wants and how complex they want the fake employer to appear.
On average, one individual reference costs $145, which typically gives the candidates an email and phone service from the fake employer set up by the service seller. For two references, most companies provide some form of discount, our study found it costs an average of $275 for two references.
For those who want to take this further with voicemail services, call operator directing services, employer websites, and even fax systems, all quoted as 'verifiable by recruiters', this tends to cost an average of $218 for one reference. Some systems can appear hyperrealistic with actors as 'receptionists' putting recruiters on hold as they are passed to the fake boss.
Those who are caught lying on their resume
While 55% of people admitted to lying on their resume at least once, not all of these people were caught in the lie. Of those who said they had lied, 70% said they had been caught out at some point, and 30% were never caught.
For those who were caught, most lies are uncovered before the job. The most common stage was during the interview process, with 38.4% of people being found to have lied on their resume during a job interview. Interestingly, 6.6% of people said they had been caught lying on their resume after starting the job and working at the company for some time.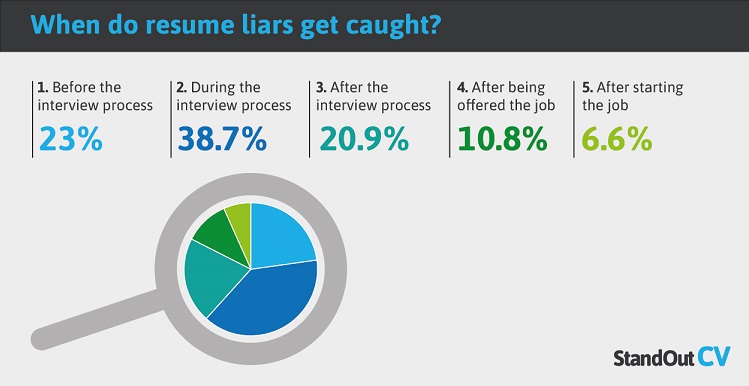 The consequences of lying on a job application
We asked respondents who had been caught in the lie to tell us what the consequences were. The most common answer was that they got fired/had an offer withdrawn (54.9%), some were investigated by the police (14.5%), and others received a fine (13.4%). However, 15.9% of respondents said that even though they had been caught, no action was taken against them. This could be applicable if it was a small lie about knowing a software thoroughly for example.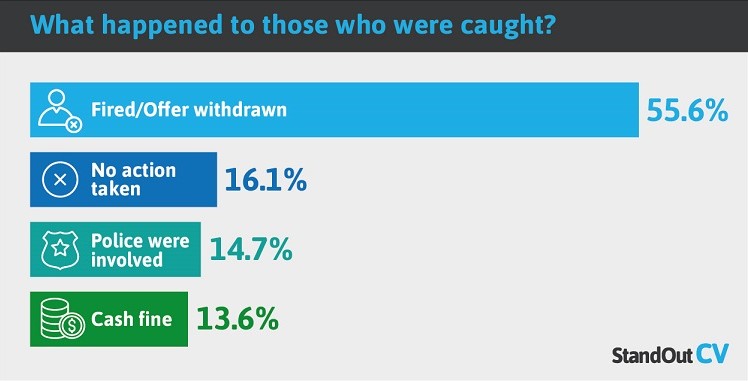 Performing the tasks of a job after lying
With 43.1% lying about their skills specifically, and 33.5% lying about their ability with equipment and software, there are likely various employees in a job they're not equipped to do.
However, 88.4% of people who accepted a job offer after lying said that they could still complete the daily tasks of the job with no problems. This is a testament to a successful job interview process to remove anyone without the necessary skills, but also likely reflects those who told smaller lies that wouldn't affect their competency at work.
Would people lie in the future?
When asked if they would or wouldn't lie to get a job they really wanted in the future, it was almost an even split between those who would lie (45.7%) and those who wouldn't (42.5%), although 11.8% said they didn't know if they would or not.
Despite this, people could agree more when it came to their finances, specifically the increasing cost of living and inflation. In the fall of 2022, groceries had increased in price by 12.4% compared to the previous year.[6] Over half (56.9%) of our respondents said that rising costs and inflation would make them more likely to lie on a resume if it helped them to get a job.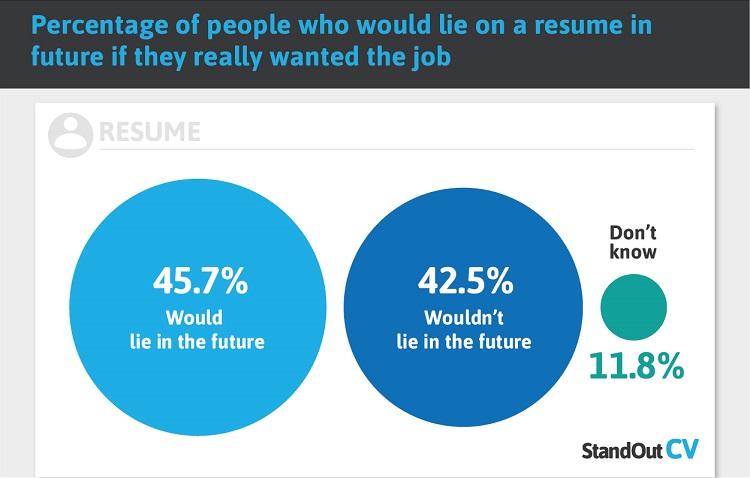 Lying in a job interview
As well as those who said they had provided false information on their resumes or job applications, just over half (50.4%) of our respondents said they had lied in a job interview.
The most common things people lied about in interviews were the same as the common lies on resumes; 32.5% had lied about their previous work experience, and 26.1% had lied about their personal skills.
We also asked all of our respondents how likely they would be to lie at their next job interview on a scale of 1 to 5, regardless of if they had lied before or not.
Over a third (35.2%) said they would be not likely at all to lie at their new interview, however, 17.9% said they would be very likely to lie at the next job interview they had.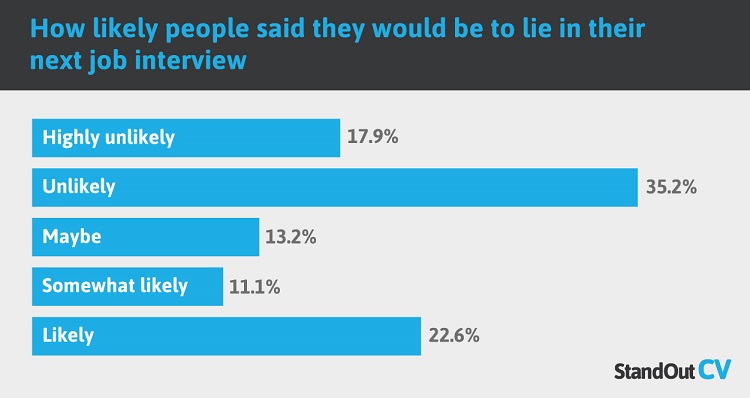 Legal implications of lying to get a job
With 55% prepared to lie about some element of the job application process, there could be a lot of Americans prepared to get in trouble with their lies, which could be considered fraud.
While we are resume experts, legal matters are another thing. So to better understand the legal implications of lying in an interview, on a resume, or falsifying references, we spoke to Mark Sadaka, Principal Attorney and Founder of Sadaka Law based in New Jersey and New York.
Sadaka said that "An employee faking a job reference will immediately be rejected. In some cases, the company may even blacklist them. This means that they can never apply for any job position at the company again." He told us that "employees can be made to pay back their salary. However, it's more common to just fire them."
Sadaka continues stating that "Faking a resume is considered fraud. Thus, it is a criminal activity in most states. This means that the company could file a complaint against you. But because it's a minor offense, there are a lot of ifs and buts attached to it."
As for how this affects the law in each state, Sadaka stated that "The laws differ from state to state, with some being a bit lenient. They may not file a complaint, or even if they do, the police may not investigate it. Still, it's not a gamble worth taking."
Is lying during the job application process worth it?
As we now know, there are possible legal implications, and ultimately, you're more likely to get fired, removed from the hiring process, or blacklisted completely. In short, it's not worth it to lie on your resume, references, or job interview.
It's better to properly learn how to write a resume, better represent your existing skills and put your best foot forward for your next job application.
Methodology
We surveyed 1,785 adults in the U.S. who have previously been employed or who are currently employed between October 12th and October 26th. Part of the analysis focuses on a core sample of 981 Americans who stated they had lied on their resume and job application. Respondents were asked questions relating to lying on resumes, interviews, and references.
Survey respondents were primarily women (52%), men (47.5%), non-binary (0.2%), other/prefer not to say (0.3%). The age ranges of the people we surveyed were:
18-25 (19%)
26-35 (37.5%)
36-45 (23.4%)
46-55 (12.4%)
56-65 (5.4%)
Over 65 (2.4%)
Fake reference services and college degrees
To calculate the average cost of fake reference services and college degree and transcript services, we reviewed the top ten services on Google for each product and took the average cost in USD. Searches such as 'fake job reference' and 'fake college degree' or 'replica college degree' were made.
We specifically looked for U.S. job references and physical college certificates and transcripts delivered for U.S. institutions. This cost data was sourced 11/11/22.
Sources
Google Ads Keyword Planner, search volume, YoY comparison, for October 2022 (https://ads.google.com/home/tools/keyword-planner/)
U.S. Bureau of Labor Statistics, 'Hires levels and rates by industry and region, seasonally adjusted' (https://www.bls.gov/news.release/jolts.t02.htm)
Robert F. Harney Progam in Ethnic, Immigration and Pluralism Studies, 'DO LARGE EMPLOYERS TREAT RACIAL MINORITIES MORE FAIRLY? A NEW ANALYSIS OF CANADIAN FIELD EXPERIMENT DATA' (https://hireimmigrants.ca/wp-content/uploads/Final-Report-Which-employers-discriminate-Banerjee-Reitz-Oreopoulos-January-25-2017.pdf)
U.S. Equal Employment Opportunity Commission, 'Prohibited Employment Policies/Practices' (https://www.eeoc.gov/prohibited-employment-policiespractices)
SHRM, 'Conducting Background Investigations and Reference Checks' (https://www.shrm.org/resourcesandtools/tools-and-samples/toolkits/pages/conductingbackgroundinvestigations.aspx)
U.S. Bureau of Labor Statistics, 'Consumer Price Index Summary', November 10, 2022 (https://www.bls.gov/news.release/cpi.nr0.htm)

This work is licensed under a Creative Commons Attribution-ShareAlike 4.0 International License.
Further reading: Resume statistics 2023