Can you provide strategic, unbiased advice to help businesses to achieve their goals?
If so, you could be the consultant they are looking for. Providing you can effectively showcase your skills and experience on your resume, that is.
To help you do this, we've put together a strategy consultant resume example and a step-by-step guide to inspire your own.
Contents
| | |
| --- | --- |
| How to write your Strategy Consultant resume | |

Strategy Consultant Resume Example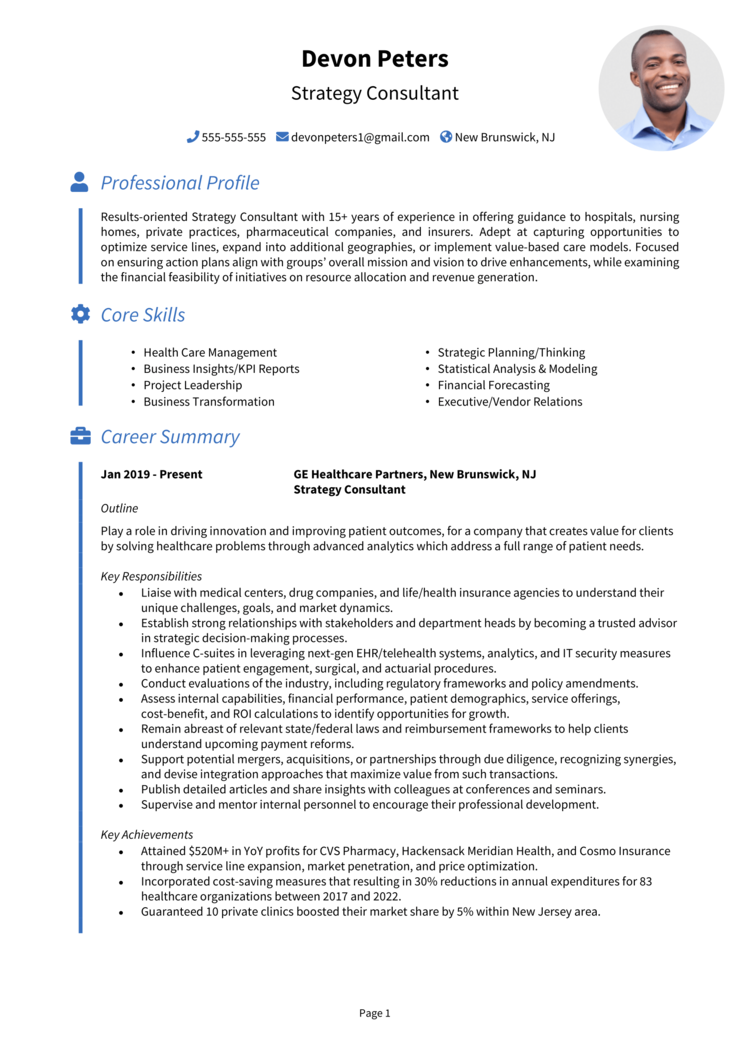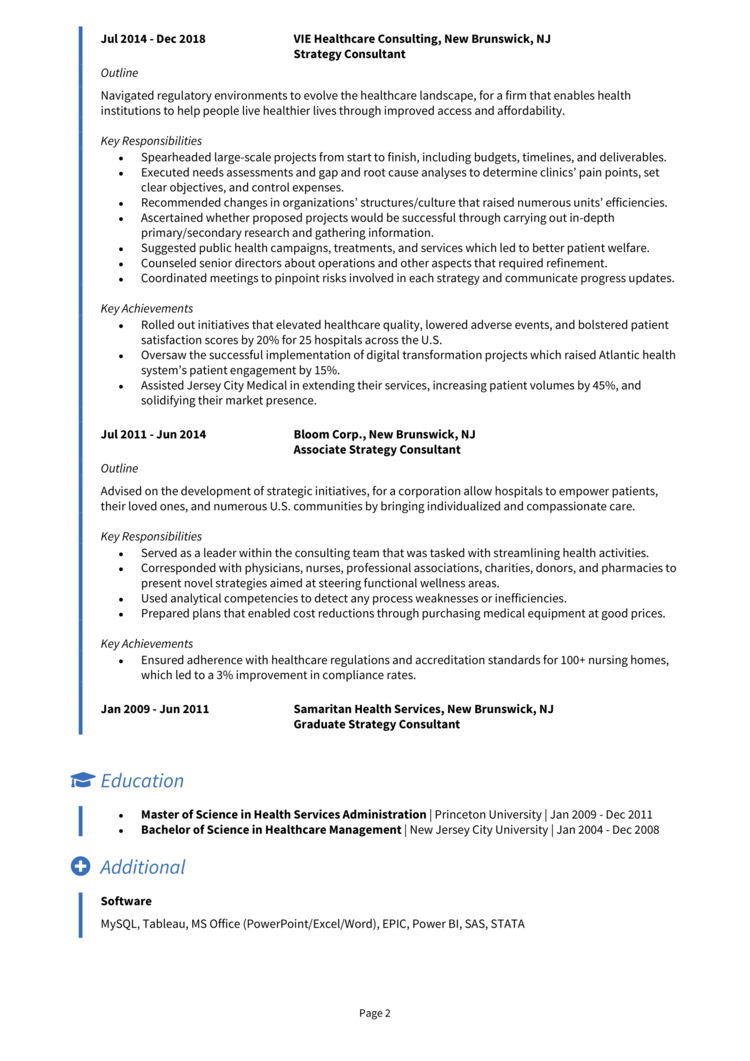 This example Strategy Consultant resume is well-structured to provide a pleasant reading experience for recruiters, and contains all of the crucial information they want to see.
The rest of the guide will show you exactly how you can achieve this in your own resume.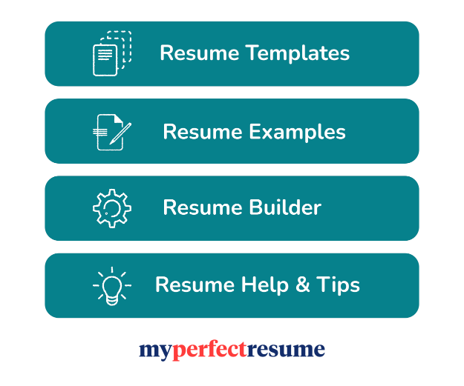 Strategy Consultant resume layout and format
Formatting is often overlooked when writing resume, but it's a crucial element of it"s success.
Creating a document that not only looks good, but is easily comprehended, is the key to gaining and holding the attention of busy hiring managers.
Use these formatting tips for best results.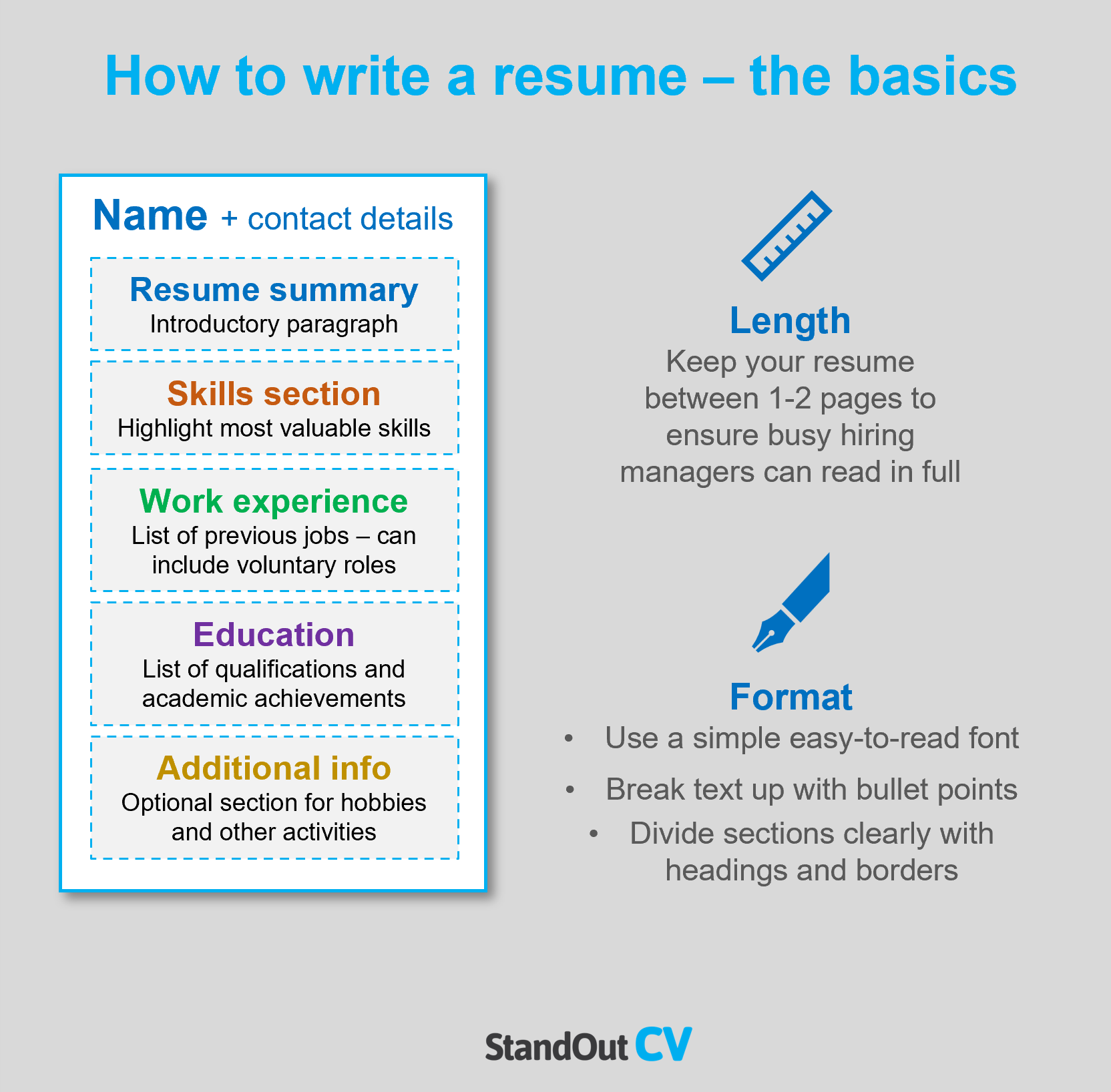 Formatting your resume
Length: Think that submitting a 10 page resume will impress recruiters? Unfortunately it won't… Even if you've got tons of experience to brag about, recruiters don't have time to read essays, so keep it brief – around 2 pages is the sweet spot.
Font & readability: Simplicity and a pleasant reading experience are crucial if you want to highlight your most valuable skills to recruiters. Use a clear font (avoid fancy ones) and break up the text in your resume with bullet points to ensure information can be easily consumed.
Layout: When it comes to designing your resume, it's essential to make it visually appealing, but it's equally important not to overlook functionality. To achieve this, you should organize the page into clear sections using bold headings and borders.
Photos: It's not mandatory to add a photo to your resume in the USA but it if you're applying to organizations within the creative fields, it can be beneficial.
Quick tip: Achieving a professional look for your resume can be difficult and time-consuming. If you want to create an attractive resume quickly, try our partner's Resume Builder and use one of their eye-catching resume templates.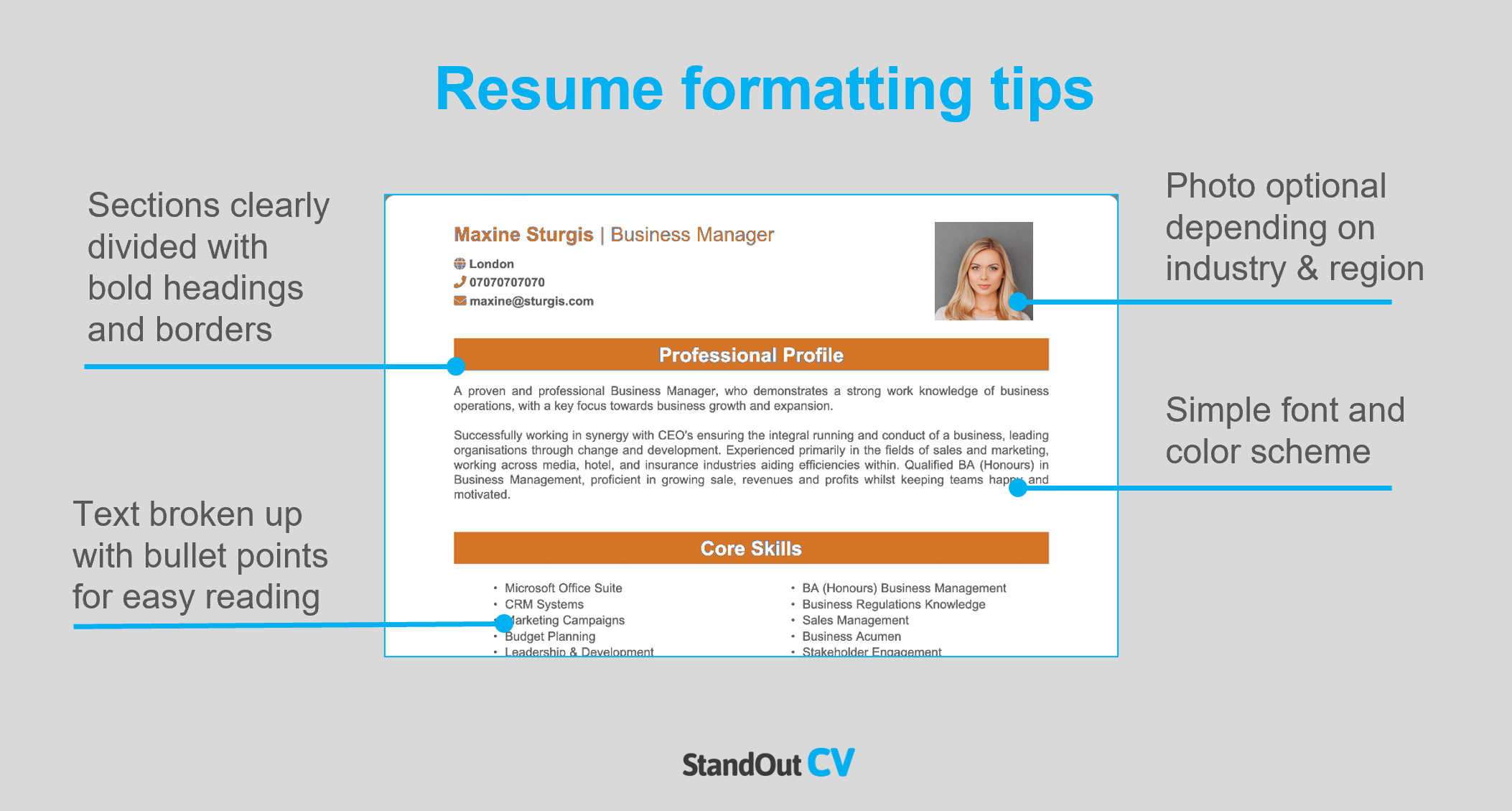 Resume layout
Here's an overview of the sections you should add when writing your resume.
Name and contact details – Stick these details at the top, so they are easy to find.
Resume summary – A punchy paragraph summarizing your skills and knowledge, enticing recruiters to read more of your resume.
Skills section – Short list of your most valuable skills, enabling recruiters to quickly spot your suitability.
Work experience – Showcase your previous employment, starting with your most recent roe and working backwards – voluntary work and college placements can be included if you have no paid experience.
Education – A summary of your most relevant qualifications and academic achievements
Additional info – An optional section for that other attributes that may boost your application, such as hobbies or clubs
Here's what to add to each section of your Strategy Consultant resume.
Contact Details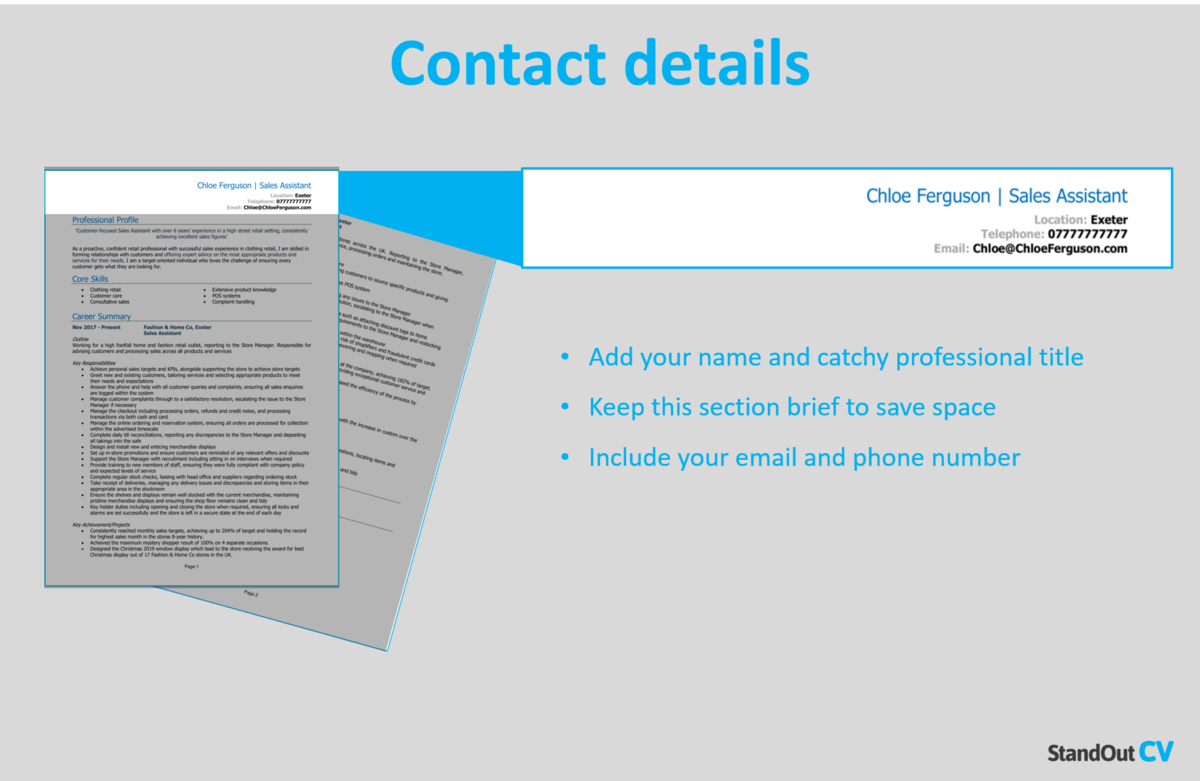 Keep your contact details short to save resume space and include the following.
Name and profession title
Cell phone number
Location – Add your local area such as Silicon Valley or New York, unless you are looking for work in a different location
Email address – Keep it professional and don't use an old address that you thought was cool in high school, but now looks a bit embarrassing.
You can add a link to your LinkedIn profile if you have one – you do not need to include personal details like date of birth or marital status.
Strategy Consultant Resume Summary
Your resume summary is like an elevator pitch. It's your chance to sell yourself to employers within a short space of time.
Achieve this by summarizing your skills and expertise, whilst highlighting your abilities that closely match the jobs you are aiming for.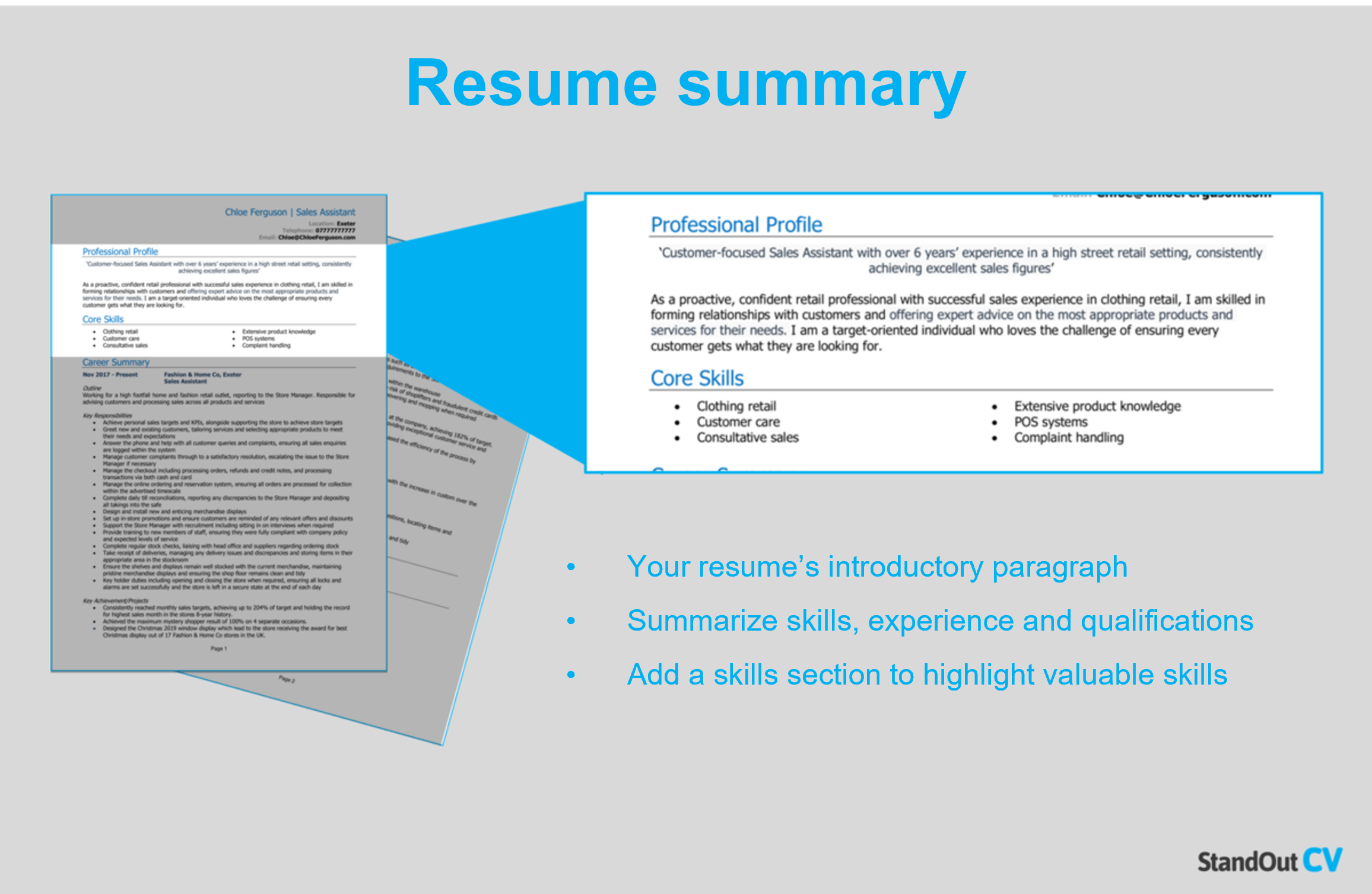 How to create a resume summary that will excite recruiters:
Keep it short: Attention spans are short in the job market, so keep your summary brief and high-level at around 4-7 lines – This is just enough to catch the eye of rushed hiring managers.
Tailor to target jobs: To make your resume more relevant to your target jobs, analyze the job description and include as many matching skills as possible.
Avoid using cliches: You may be a "team player who always give 110%" but generic phrases don't tell employers much about you in reality – stick to factual information.
Strategy Consultant resume summary example
Results-oriented Strategy Consultant with 15+ years of experience in offering guidance to hospitals, nursing homes, private practices, pharmaceutical companies, and insurers. Adept at capturing opportunities to optimize service lines, expand into additional geographies, or implement value-based care models. Focused on ensuring action plans align with groups' overall mission and vision to drive enhancements, while examining the financial feasibility of initiatives on resource allocation and revenue generation.
What to include in your Strategy Consultant resume summary?
Summary of your experience: Briefly describe the work you have performed in the past and the contributions you have made to the organizations you have worked for.
Relevant skills: Include your skills which are hyper relevant to Strategy Consultant jobs to instantly show your suitability.
Qualifications: If your job requires any qualifications such as a professional course or a college degree, mention it briefly in your summary.
Quick tip: Choose from hundreds of pre-written summaries across all industries, and add one to your resume with one-click in our partner's Resume Builder. All written by recruitment experts and easily tailored to suit your unique skillset and style.
Core skills section
Next, you should create a bullet pointed list of your core skills, formatted into 2-3 columns.
Here, you should focus on including the most important skills or knowledge listed in the job advertisement.
This will instantly prove that you're an ideal candidate, even if a recruiter only has time to briefly scan your resume.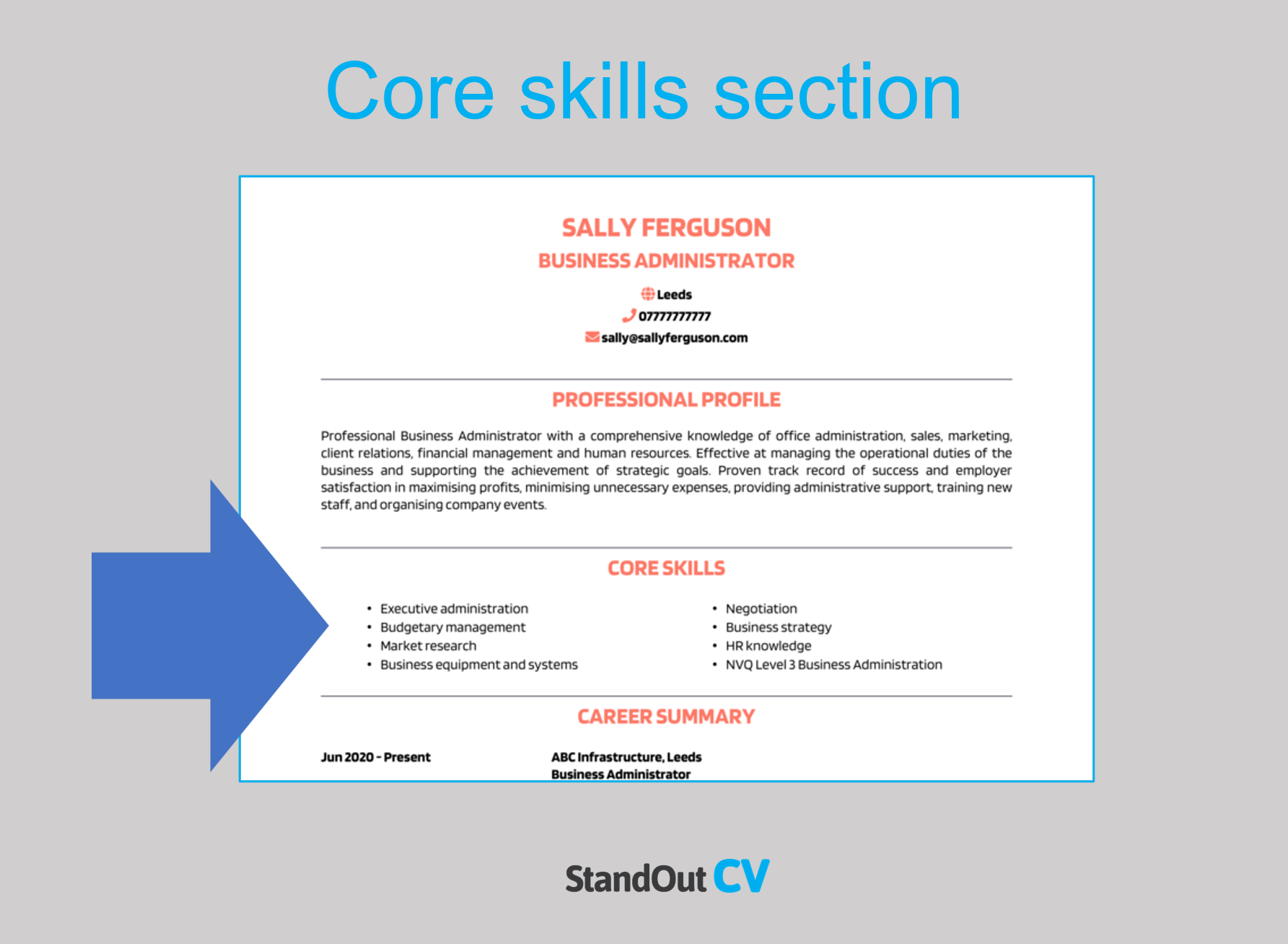 Best skills for your Strategy Consultant resume
Strategic Analysis – Conducting thorough analysis of business data, market trends, and industry insights to identify strategic opportunities and challenges.
Financial Analysis – Creating financial models, analyzing financial statements, and evaluating the financial viability of potential strategies.
Data Visualization – Presenting complex data and insights through clear and visually compelling charts, graphs, and reports to aid decision-making.
Market Research – Gathering and interpreting data on customer behavior, market trends, and competitive landscape.
Business Strategy Development – Formulating and developing effective business strategies that align with organizational goals and drive growth.
Problem Resolution – Identifying business issues, designing innovative solutions, and addressing client challenges.
Project Management – Leading and managing strategic projects, ensuring timelines, budgets, and objectives are met within set parameters.
Stakeholder Engagement – Building relationships with clients, executives, and cross-functional teams.
Change Management – Utilizing knowledge of change management principles to guide organizations through successful strategy implementation.
Industry Expertise – Maintaining a deep understanding of specific industries and sectors, enabling tailored strategies that consider unique market dynamics.
Quick tip: Our partner's Resume Builder contains thousands of in-demand skills for every profession that can be added to your resume in seconds – saving you time and greatly improving your chances of landing job interviews and getting hired.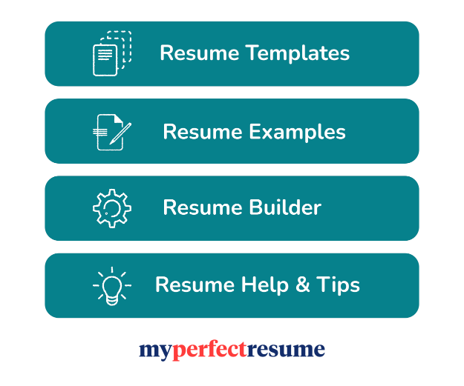 Work experience
So, you've got the recruiter interested with your catchy summary… Great work.
Now it's time to show them the impact you make in the workplace by listing out your previous jobs and what you achieved in each one.
If you have tons of experience, you can condense this part down to the last few years – if you are junior, then you should include as much possible (even volunteering and school work placements)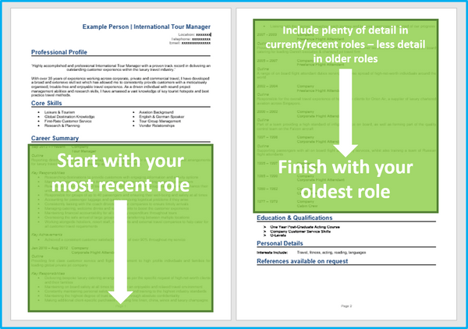 Structuring your jobs
Without a good structure, your job description can look messy and overwhelming to anyone reading them.
Make it easy for recruiters to read your work experience by structuring your roles like this.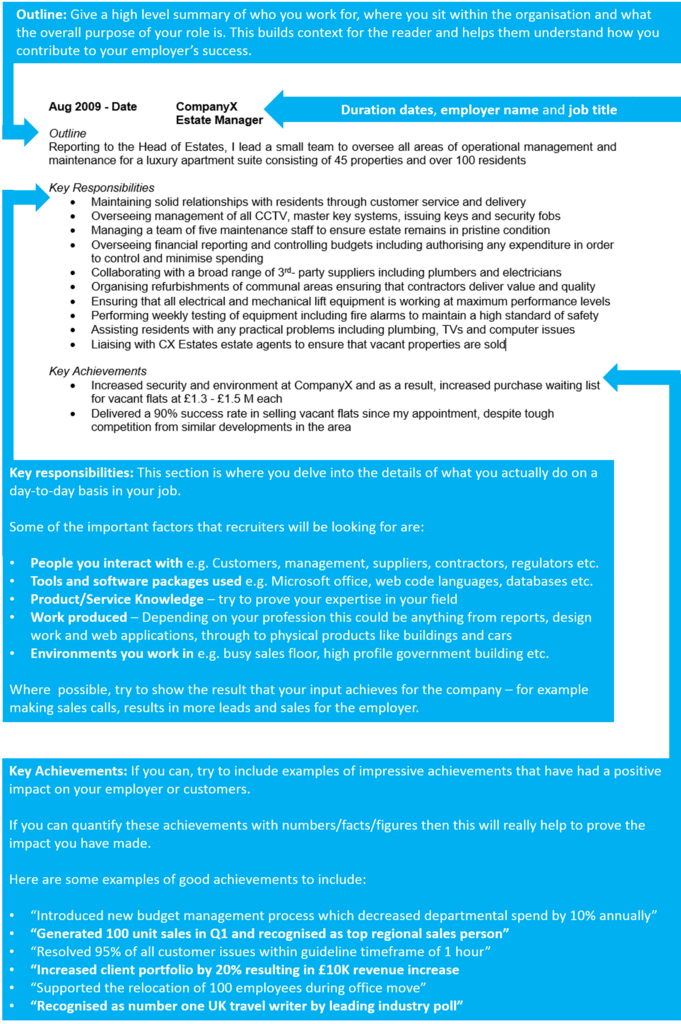 Job outline
Starting each job with a brief summary of the organization, your position within it, and the primary goal of your role can help recruiters quickly understand the context of your work.
Key responsibilities
Next, write up a punchy list of your daily duties and responsibilities, using short bullet points.
Describe how you apply your skills and contribute to the running of the employer's business – highlighting skills which are applicable to your target jobs.
Key achievements
Round off each job by adding some impressive achievements you made in the role.
Anything you've done that has made a big impact on your employer will make a good impression, think; generating revenue, saving costs, or improving a product.
Quantify your achievements with number where possible e.g. "reduced call wait time by 10%"
Example job for Strategy Consultant resume
Outline
Play a role in driving innovation and improving patient outcomes, for a company that creates value for clients by solving healthcare problems through advanced analytics which address a full range of patient needs.
Key Responsibilities
Liaise with medical centers, drug companies, and life/health insurance agencies to understand their unique challenges, goals, and market dynamics.
Establish strong relationships with stakeholders and department heads by becoming a trusted advisor in strategic decision-making processes.
Influence C-suites in leveraging next-gen EHR/telehealth systems, analytics, and IT security measures to enhance patient engagement, surgical, and actuarial procedures.
Conduct evaluations of the industry, including regulatory frameworks and policy amendments.
Quick tip: Create impressive job descriptions easily in our partner's Resume Builder by adding pre-written job phrases for every industry and career stage.

Education section
After your work experience, add your education section.
If you are an experienced professional, you can keep this part short – adding basic details of each qualification.
If you have little or no experience, bulk this section up by adding more detail and highlight important skills and knowledge for your target jobs.
Additional information
If you have anything else to add which is relevant to the jobs you are applying for, the additional info section is the place to add it.
Perhaps you have a hobby which involves relevant skills, or maybe you have some awards or publications worth mentioning.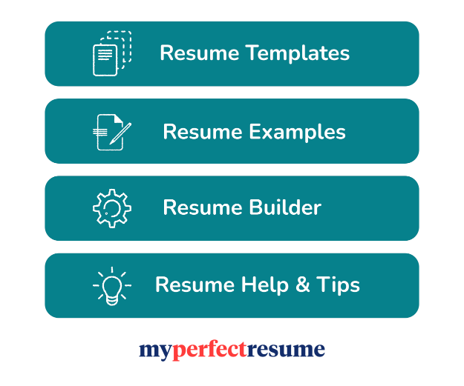 Writing your own winning Strategy Consultant resume
Following the steps in this guide will help you to create a winning Strategy Consultant resume and bag lots of interviews.
Good luck with your job search!