Are you looking for your next role as a site reliability engineer (SRE)?
If you've got what it takes to monitor and observe software, find problems, and create code to fix them, then you need to prove it to the recruiter with a standout application.
To help you do this, we've put together an SRE resume example and writing guide. You can check them out below.
Contents
| | |
| --- | --- |
| How to write your SRE resume | |

SRE Resume Example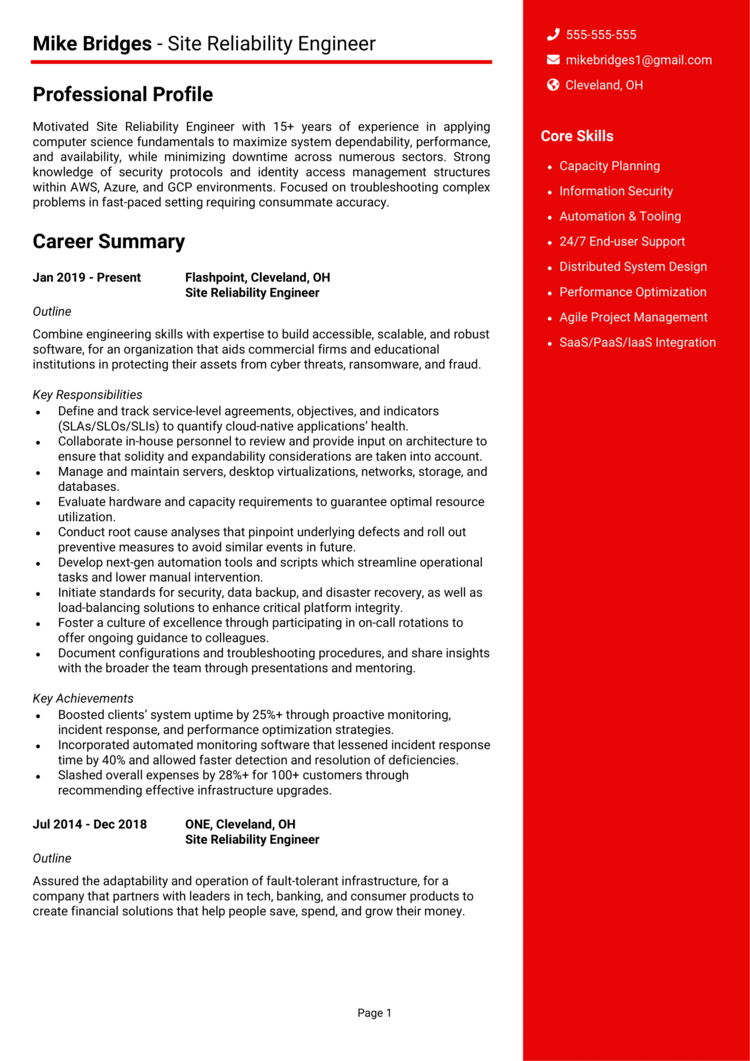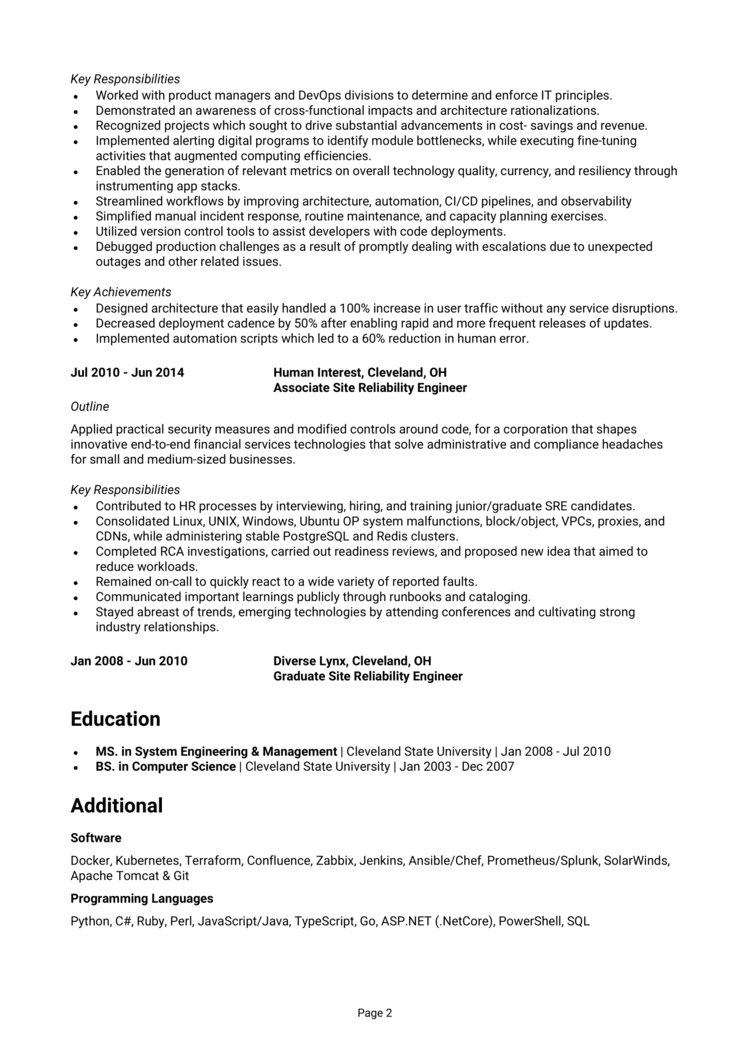 This SRE resume example shows you the most effective layout for a resume in today's job market, along with the type of content you need to include.
Stick closely to these guidelines as you write your own resume, to boost your chances of getting lots of responses, interviews and job offers.
Now lets dive into the details of how you write your own eye-catching resume…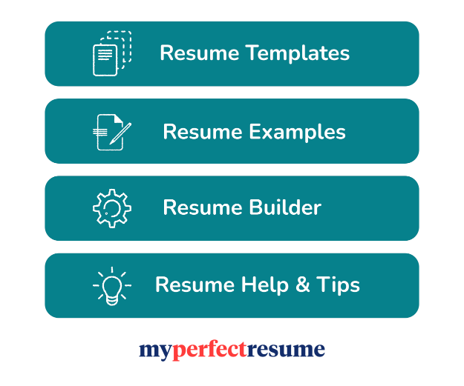 SRE resume layout and format
The format and layout of your resume can make or break its success.
Sure, it's great to pack your resume with lots of impressive skills and knowledge, but if the page is not structured clearly, hiring managers will struggle to find the important stuff!
Above all, your resume should be easy-to-read and professional looking.
Follow these formatting tips to get noticed.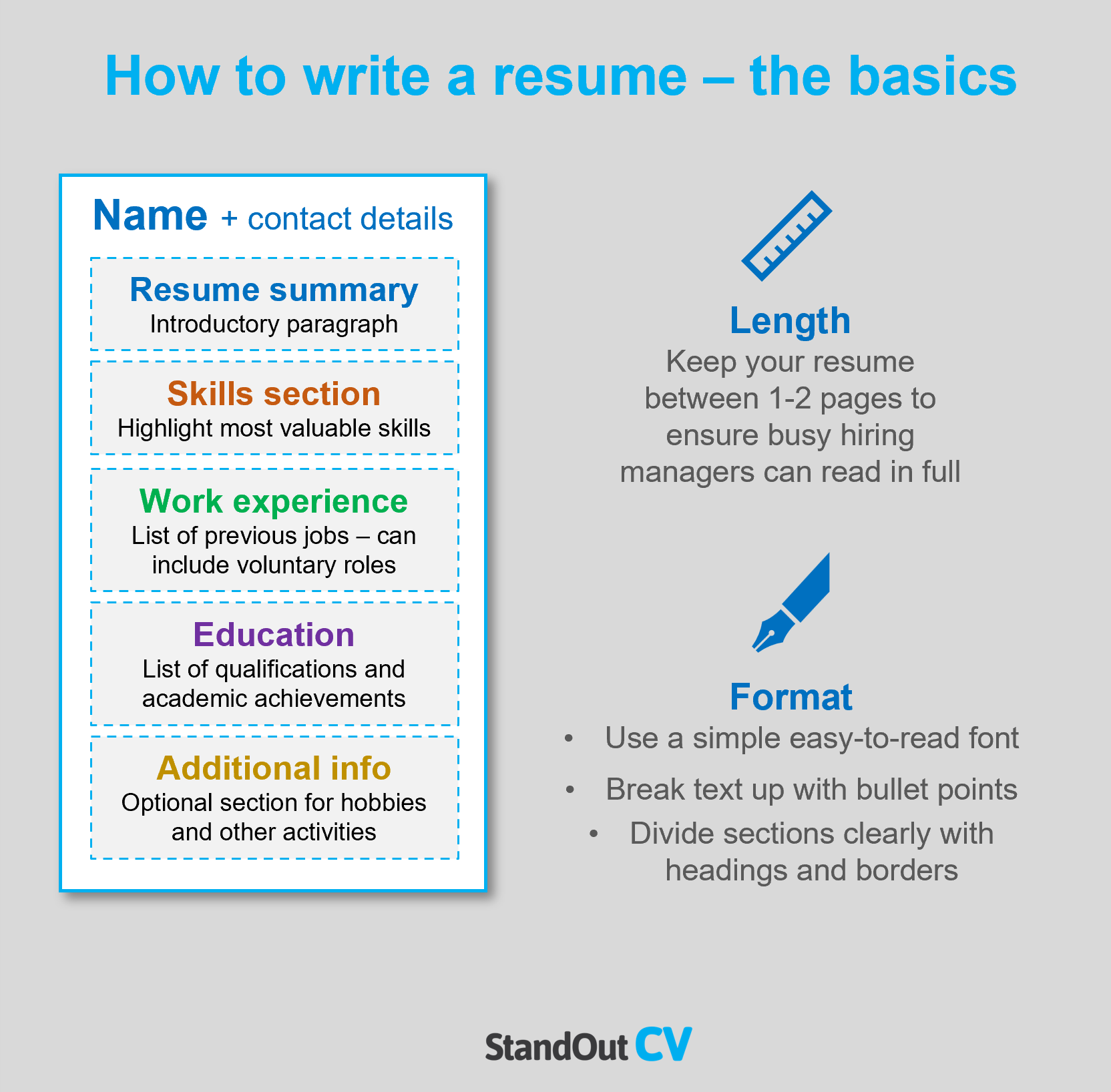 Formatting your resume
Length: Attention spans in recruitment are notoriously short, so keep your resume short and sweet. There's no exact rule for resume length, but aim for 2 pages or less if you want to ensure yours gets read in full.
Font & readability: A readable resume is crucial if you want recruiters to see your important skills. Ensure yours is easy to read by using a simple, clear font and breaking up the text with bullet points and short paragraphs.
Layout: Go with a resume design that looks good, but also allows for easy reading and navigation for employers. Ensure the page is clearly split up into sections by adding large font headings and dividing borders. Keep the color scheme simple and don't overcrowd the page.
Photos: Including a photo on your resume is not obligatory in the United States, but it may be a good idea in some regions and industries where it is customary.
Quick tip: Achieving a professional look for your resume can be difficult and time-consuming. If you want to create an attractive resume quickly, try our partner's Resume Builder and use one of their eye-catching resume templates.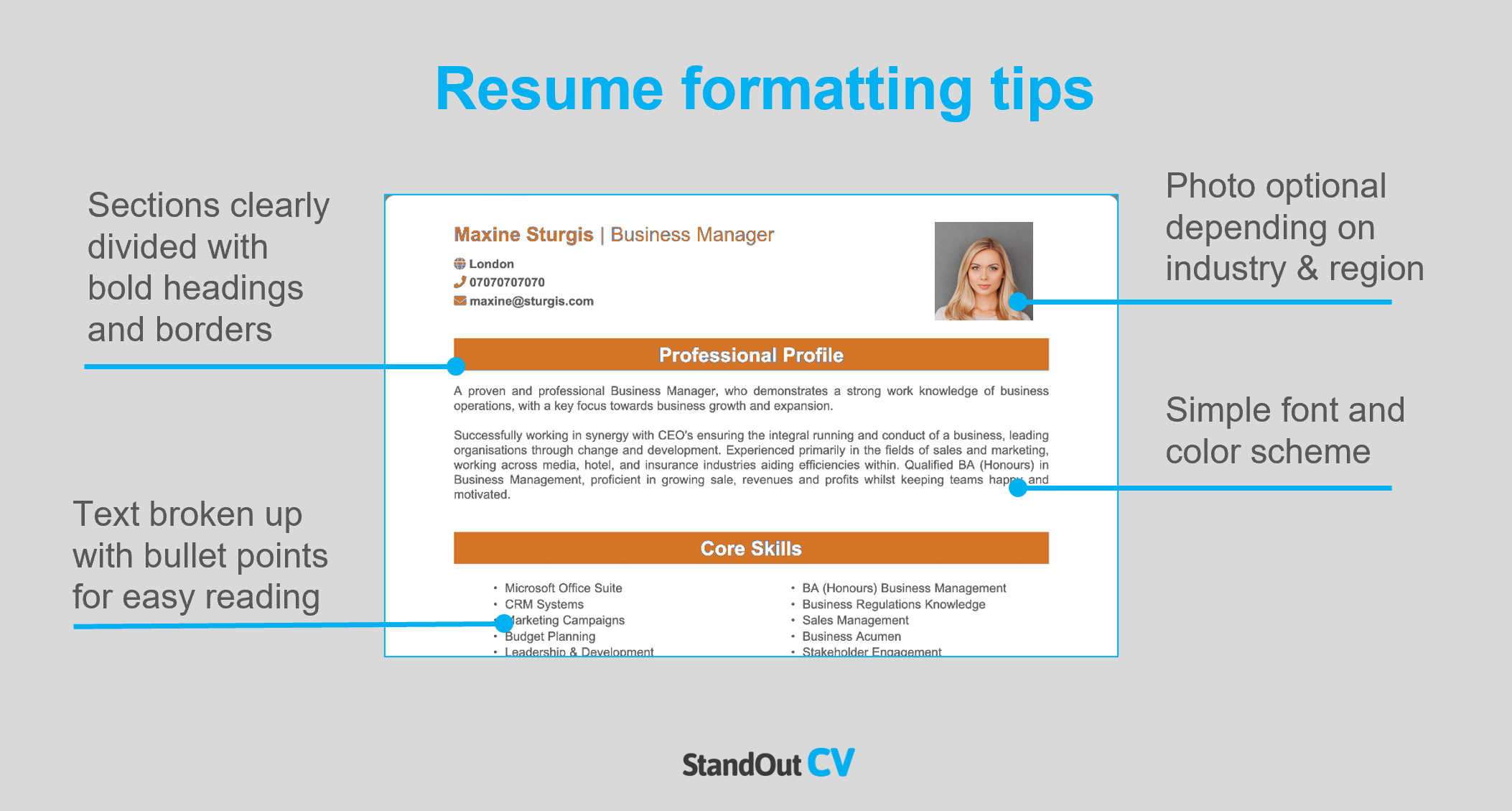 Resume layout
Divide the page into these sections when you write your own resume.
Name and contact details – Simply state who you are, and how to get in touch with you.
Resume summary – An introductory paragraph at the very top of your resume which summarizes your skills, experience and suitability for your target jobs.
Core skills section – A bullet-pointed list of your skills that relate most to your target jobs.
Work experience – A list of your current and previous jobs, including all of your responsibilities and achievements.
Education – A section that showcases all of your education and academic achievements.
Additional info (optional) – Here you can add an extra section for things like hobbies and interests, or anything else that might be relevant to your target jobs.
Here's what to add to each section of your SRE resume.
Contact Details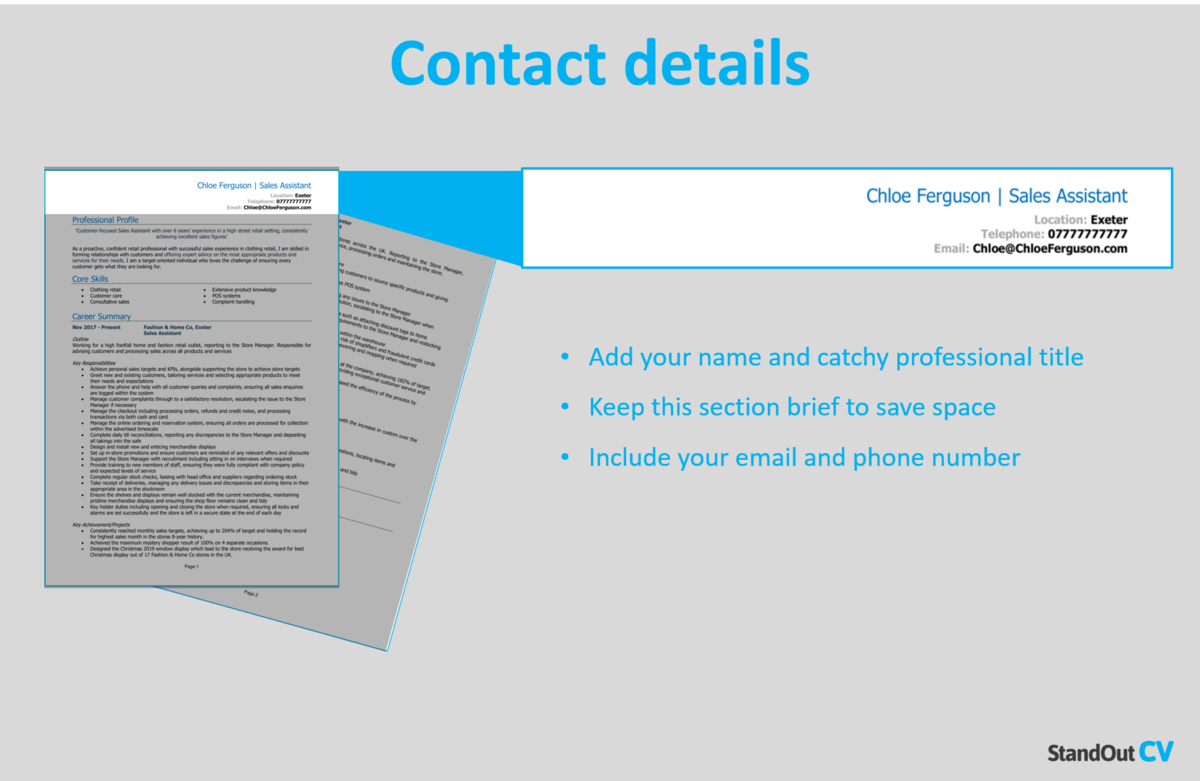 Add your name and contact details to the header of your resume, so that anybody reading can easily see how to contact you.
Name and profession title
Cell phone number – or any number you are easily reachable on
Location – Add your local area such as Washington or San Diego – not your full address as that will take up too much space.
Email address – Use a professional looking address.
You can add a link to your LinkedIn profile if you have one – you do not need to include personal details like date of birth or religion.
SRE Resume Summary
Your resume summary is like your introduction to the recruiter or hiring manager – it should grab their attention and leave them eager to read more about you.
Achieve this by writing a snappy overview of your skills, knowledge and what value you can bring to an employer.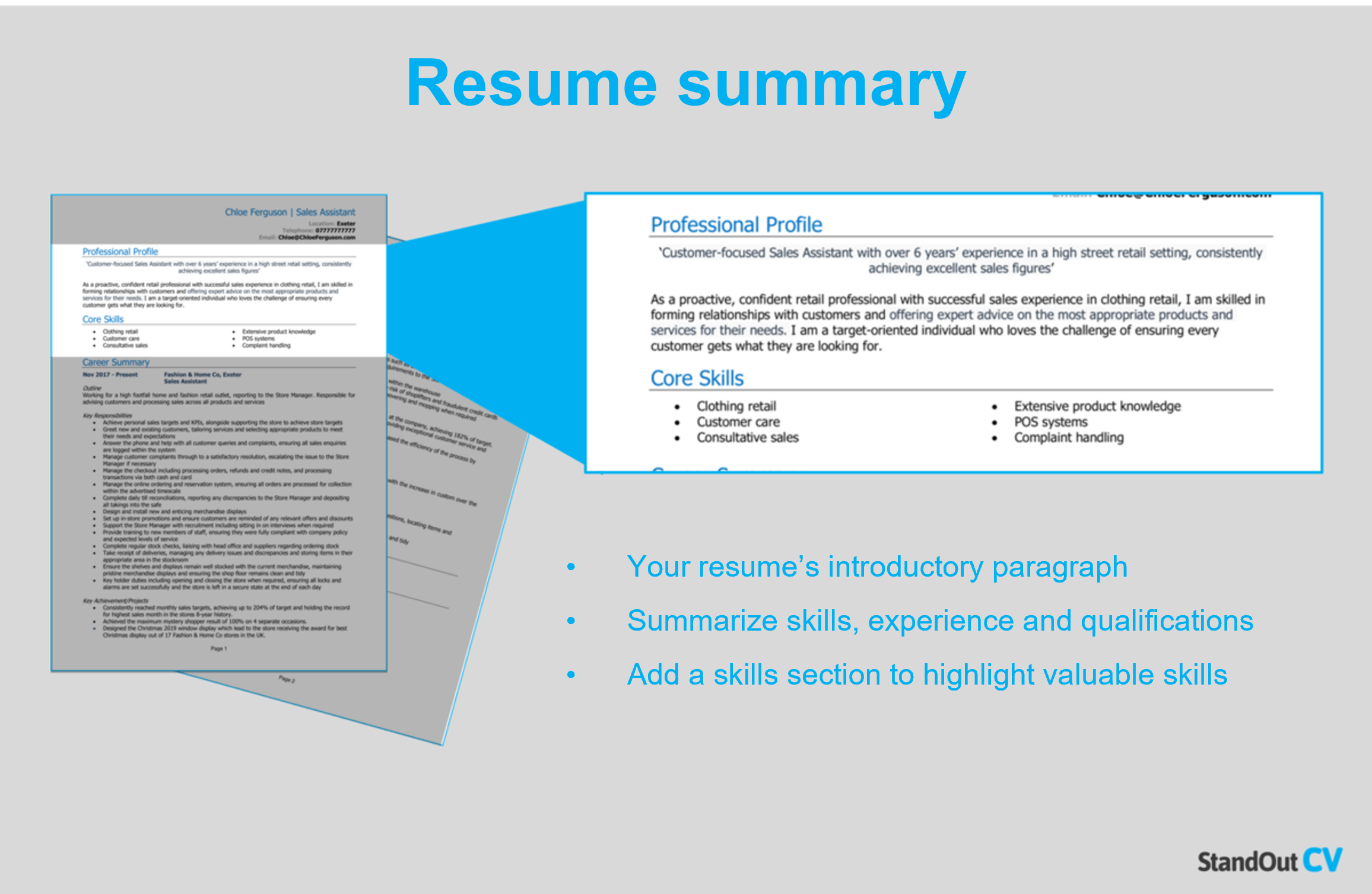 How to create a resume summary that will excite recruiters:
Keep it short: A concise and focused resume summary is essential for capturing a recruiter's attention and keeping them engaged. Limiting your summary to 4-7 lines ensures that you make a strong impression in the first few seconds of them opening the document.
Tailor to target jobs: To tailor your resume to your target jobs, it's essential to closely analyze the job description and include as many relevant skills as possible.
Avoid using cliches: Although you may believe that you're a "team player who always gives 110%," these kinds of cliches don't communicate much about your skills and qualifications to potential employers. It's more effective to stick to factual information in your resume.
SRE resume summary example
Motivated Site Reliability Engineer with 15+ years of experience in applying computer science fundamentals to maximize system dependability, performance, and availability, while minimizing downtime across numerous sectors. Strong knowledge of security protocols and identity access management structures within AWS, Azure, and GCP environments. Focused on troubleshooting complex problems in fast-paced setting requiring consummate accuracy.
What to include in your SRE resume summary?
Summary of your experience: Provide a summary of the kind of work you have previously done, along with the benefits you have delivered to the organizations you worked with.
Relevant skills: Scatter your most in-demand SRE (site reliability engineer) skills through your summary to ensure they are noticed quickly by hiring managers.
Qualifications: Any qualifications that are important to the SRE jobs you are applying for, should be mentioned in the summary.
Quick tip: Choose from hundreds of pre-written summaries across all industries, and add one to your resume with one-click in our partner's Resume Builder. All written by recruitment experts and easily tailored to suit your unique skillset and style.
Core skills section
Sitting just underneath your resume summary, your core skills section gives recruiters 4-10 of your most in-demand skills in just a glance.
As SRE jobs may get hundreds of applications, this is a great way to stand out and quickly grab hiring managers' attention.
It should be made up of 2-3 columns of bullet points and highlight attributes that are hyper-relevant to the jobs you are aiming for.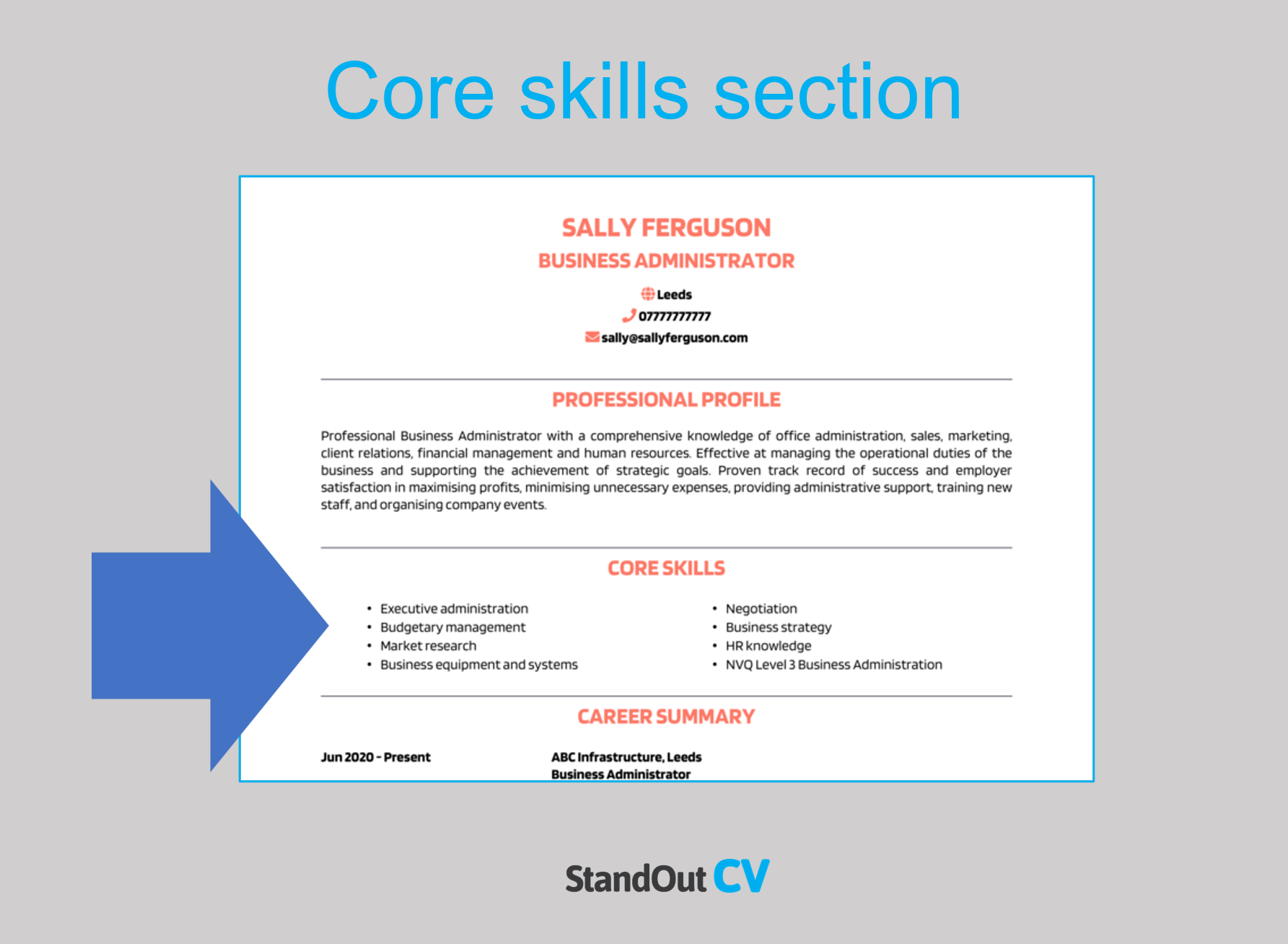 Best skills for your SRE resume
System Administration – Utilizing system administration tasks, including server configuration, maintenance, and troubleshooting to ensure smooth and reliable operation of services.
Automation and Scripting – Automating repetitive tasks and writing scripts (e.g., Python, Bash) to streamline processes and improve efficiency.
Cloud Computing – Managing and optimizing cloud infrastructure (e.g., AWS, Azure, Google Cloud) to deploy scalable and resilient applications.
Monitoring and Alerting – Utilizing monitoring tools (e.g., Prometheus, Grafana) to track system performance and set up alerts for identifying and addressing issues proactively.
Incident Management – Responding to and resolving incidents promptly, minimizing downtime and impact on end-users through effective incident management practices.
Load Balancing and Scaling – Utilizing load balancing techniques and horizontal scaling to distribute traffic evenly and accommodate increased demand.
Security Best Practices – Utilizing knowledge of security measures and best practices to ensure the integrity and confidentiality of data and systems.
Continuous Integration and Continuous Deployment (CI/CD) – Implementing CI/CD pipelines to automate the deployment process and maintain a reliable release cycle.
Performance Optimization – Identifying and resolving performance bottlenecks in applications and infrastructure to maintain optimal system performance.
Collaboration and Communication – Working with cross-functional teams, developers, and stakeholders to achieve common goals and objectives.
Quick tip: Our partner's Resume Builder contains thousands of in-demand skills for every profession that can be added to your resume in seconds – saving you time and greatly improving your chances of landing job interviews and getting hired.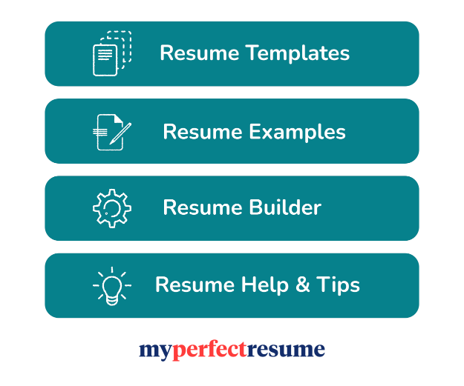 Work experience
Congratulations on successfully capturing the recruiter's interest with your attention-grabbing summary! Now, it's time to showcase your workplace impact by providing a detailed list of your previous job experiences and achievements.
If you have significant experience, consider highlighting the most recent few years to condense this section. However, for junior job seekers, it's essential to include as much relevant experience as possible, including volunteering and school work placements.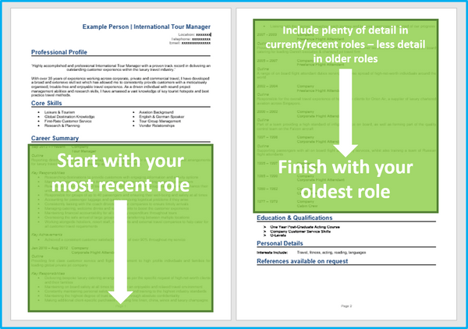 Structuring your jobs
Your job description probably includes tons of information, so it's vital to organize it well when writing about it on your resume.
Structure your jobs as like the example below to make skim-reading easy for recruiters and hiring managers.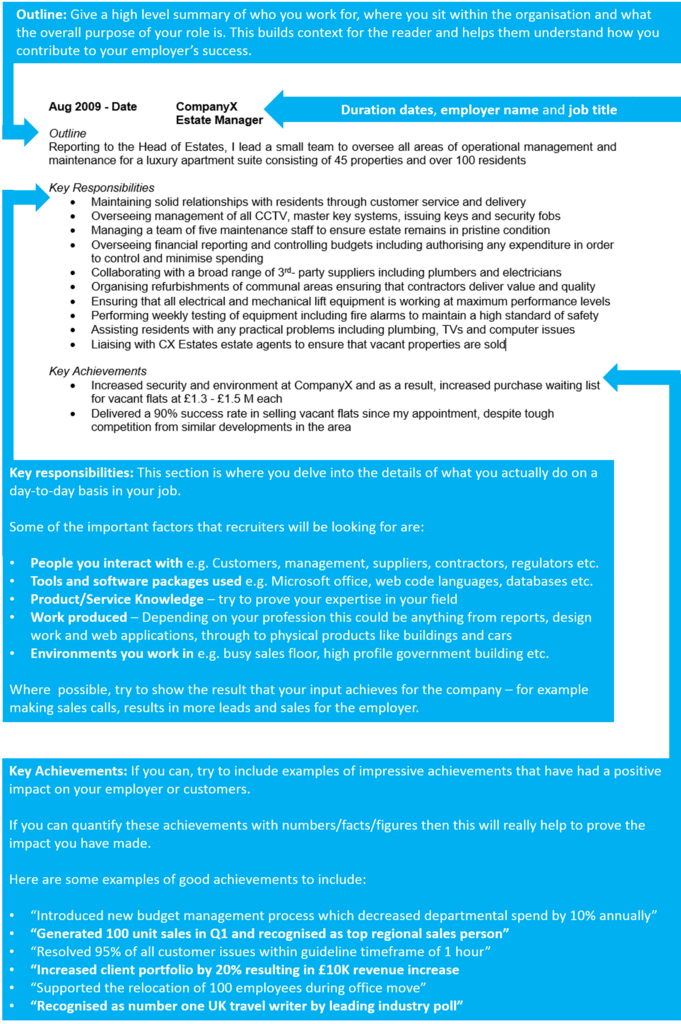 Job outline
To provide context to your jobs, begin each job with a concise summary of the organization, your role within it, and the main objectives of your position.
Key responsibilities
Next, write up a punchy list of your daily duties and responsibilities, using short bullet points.
Describe how you apply your skills and contribute to the running of the employer's business – highlighting skills which are applicable to your target jobs.
Key achievements
Finish each role by highlighting some impressive achievements you made whilst in the role.
Anything that benefited the employer can be included from making financial savings, to winning new customers.
Quantify your achievements with facts and figures if you can, e.g. "reduced call wait time by 10%"
Example job for SRE resume
Outline
Combine engineering skills with expertise to build accessible, scalable, and robust software, for an organization that aids commercial firms and educational institutions in protecting their assets from cyber threats, ransomware, and fraud.
Key Responsibilities
Define and track service-level agreements, objectives, and indicators (SLAs/SLOs/SLIs) to quantify cloud-native applications' health.
Collaborate in-house personnel to review and provide input on architecture to ensure that solidity and expandability considerations are considered.
Manage and maintain servers, desktop virtualizations, networks, storage, and databases.
Evaluate hardware and capacity requirements to guarantee optimal resource utilization.
Quick tip: Create impressive job descriptions easily in our partner's Resume Builder by adding pre-written job phrases for every industry and career stage.

Education section
Towards the bottom of your resume, add your education section.
Here you should list your professional qualifications and academic record, such as high school diplomas or college degrees.
If you have lots of work experience, you can keep this section brief (because recruiters will be more interested in your career. If you have little/no experience then you should bulk this section up with plenty of detail.
Additional information
If you have anything else to add which is relevant to the jobs you are applying for, the additional info section is the place to add it.
Perhaps you have a hobby which involves relevant skills, or maybe you have some awards or publications worth mentioning.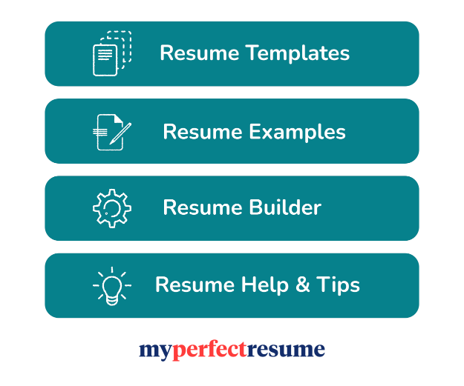 Writing your own winning SRE resume
By tailoring your resume to the specific job and industry you are targeting and ensuring that it effectively communicates your professional value, you can position yourself as a top candidate for all SRE (site reliability engineer) positions.
Good luck with your job search!