Teaching others to speak a foreign language can be a very rewarding career path.
But in order to prove your credentials, you need a resume that showcases both your Spanish and teaching abilities.
So, for a resume that is muy bueno, make the most of our Spanish teacher resume example below, along with our top writing tips.
Contents
| | |
| --- | --- |
| How to write a Spanish Teacher resume | |

Spanish Teacher Resume Example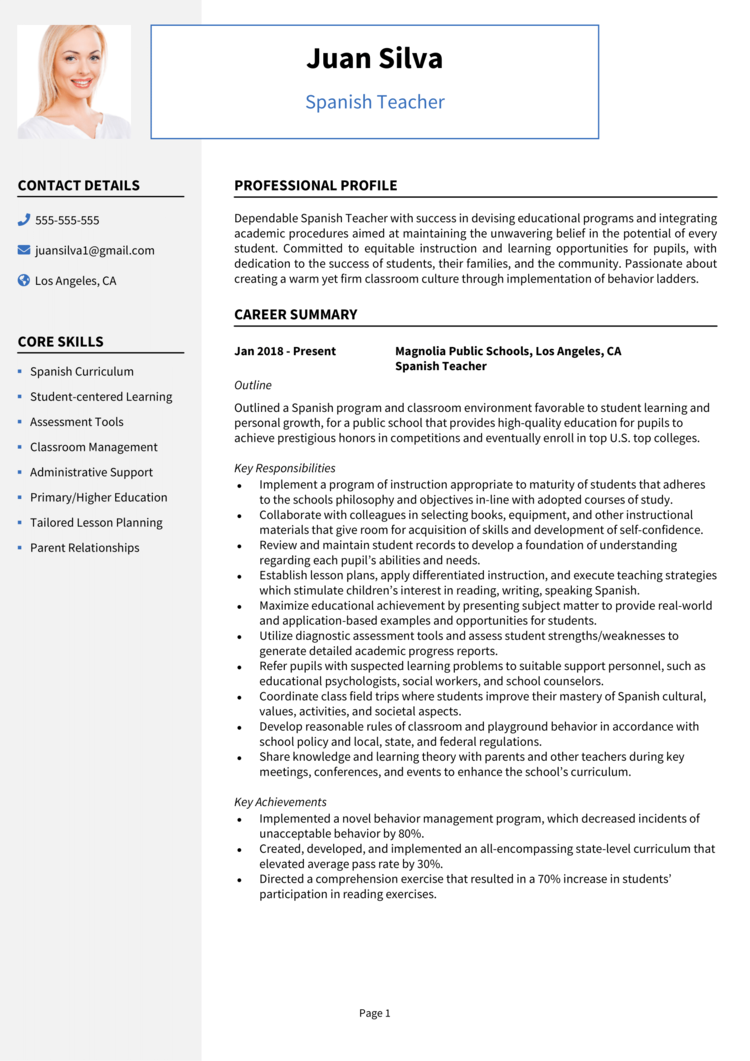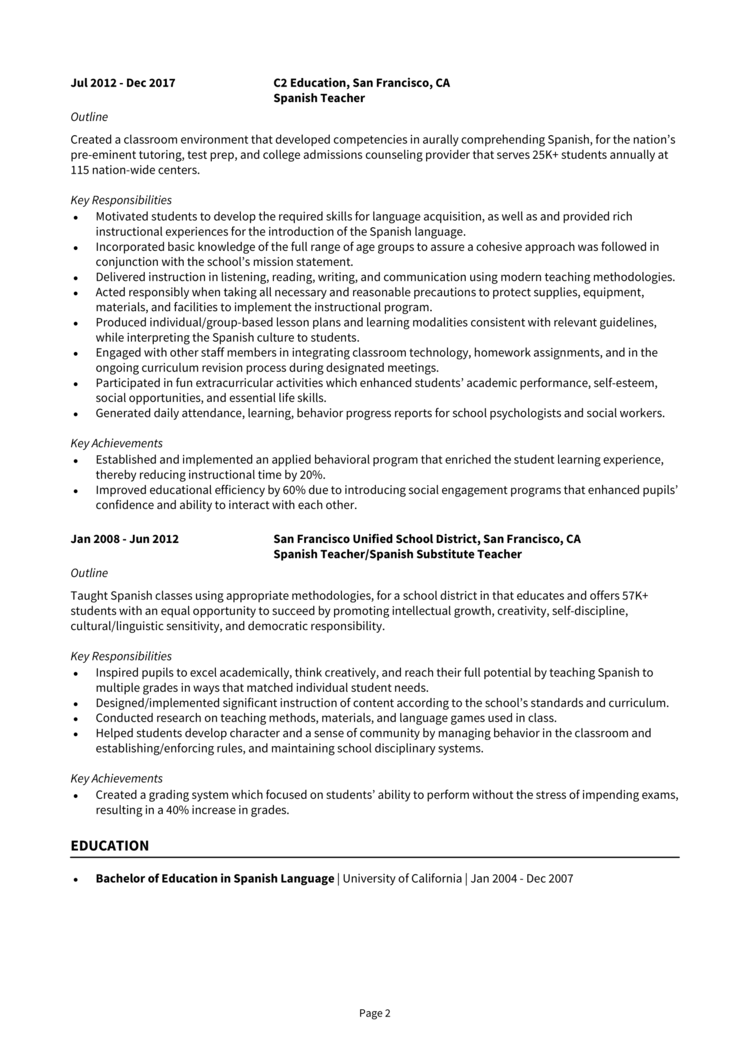 This Spanish Teacher resume example gives you a good idea of how a good Spanish Teacher resume should look and read.
The information is presented professionally and the content is well structured to ensure that time-strapped recruiters and hiring managers can find the important skills and knowledge quickly.
Refer to this example as you write your own resume.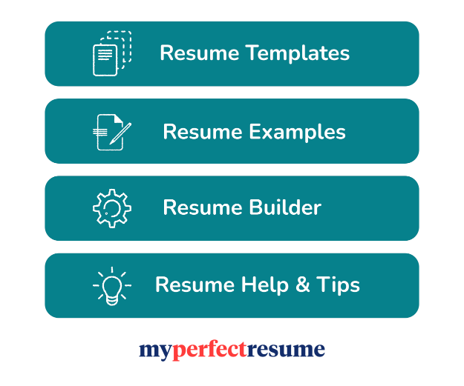 Spanish Teacher resume layout and format
The format and layout of your resume can make or break its success.
Sure, it's great to pack your resume with lots of impressive skills and knowledge, but if the page is not structured clearly, hiring managers will struggle to find the important stuff!
Above all, your resume should be easy-to-read and professional looking.
Follow these formatting tips to get noticed.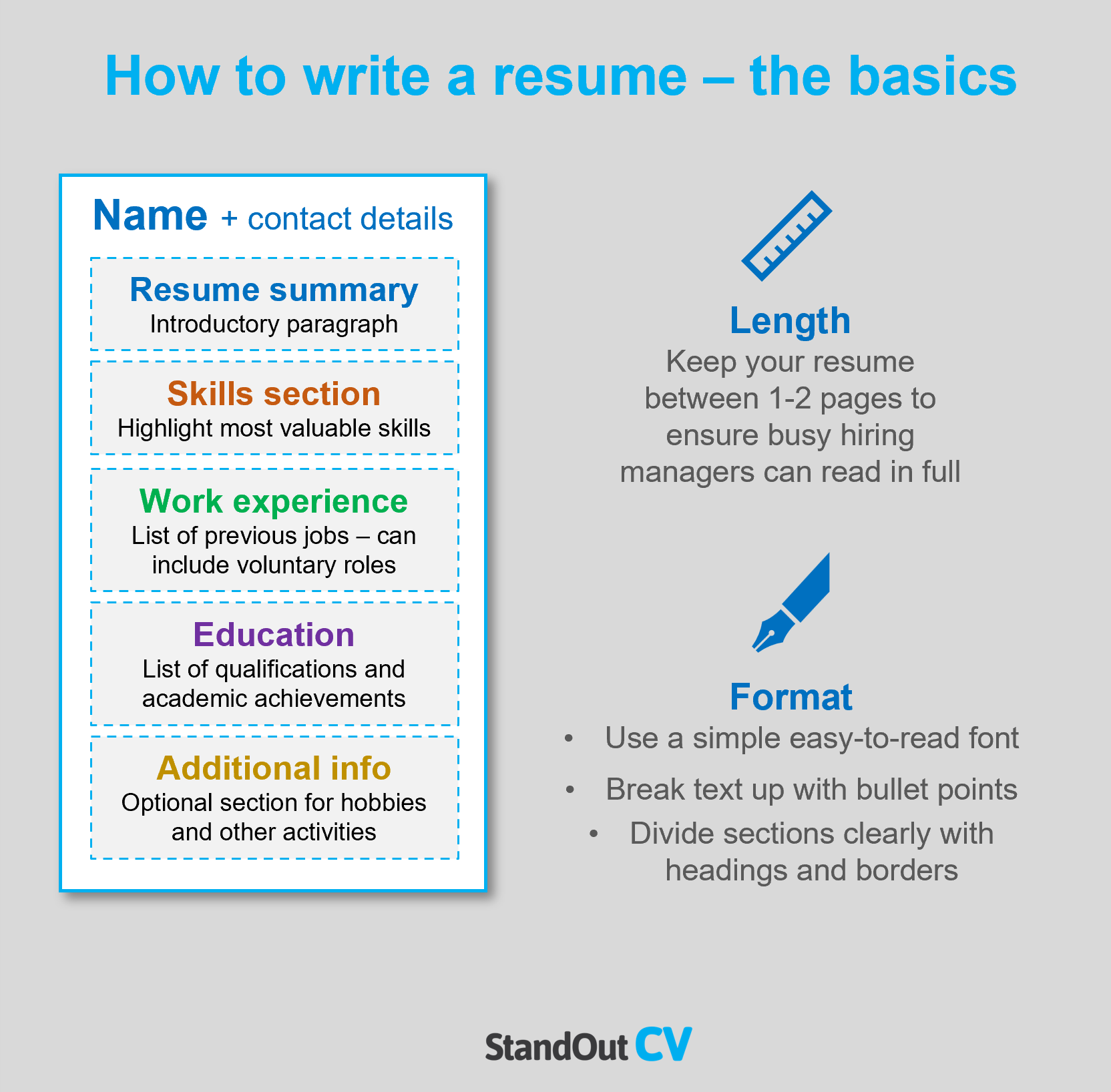 Formatting your resume for success
Length: Think that submitting a 10 page resume will impress recruiters? Unfortunately it won't… Even if you've got tons of experience to brag about, recruiters don't have time to read essays, so keep it brief – around 2 pages is the sweet spot.
Font & readability: A readable resume is crucial if you want recruiters to see your important skills. Ensure yours is easy to read by using a simple, clear font and breaking up the text with bullet points and short paragraphs.
Layout & Structure: Hiring managers should be able to skim through your resume easily and pinpoint the information they want quickly. To help them do this, organize the page into clear sections with bold headings and dividing borders. The design should be clutter-free and professional-looking, with a calm color scheme.
Photos: In the USA adding a photo to your resume is optional – you don't have to do it, but it can be a nice way to get your personality across.
Quick tip: Achieving a professional look for your resume can be difficult and time-consuming. If you want to create an attractive resume quickly, try our partner's Resume Builder and use one of their eye-catching resume templates.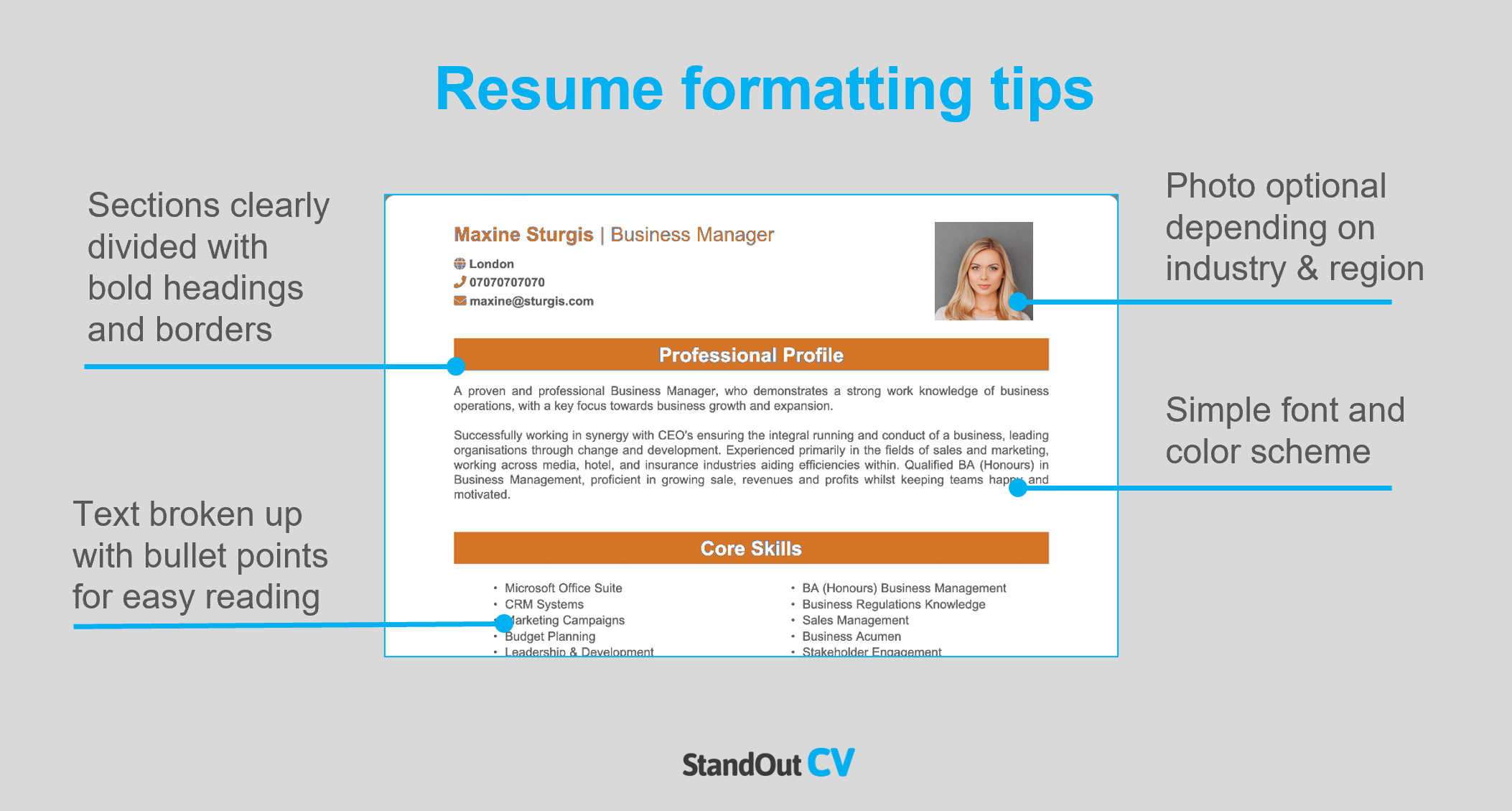 Resume layout
When you write your resume, include the sections below.
Name and contact details – Pop these at the very top to ensure recruiters know how to contact you.
Resume summary – An eye-catching paragraph which summarizes your most valuable attributes – placed near the top of your resume
Skills section – A bullet pointed list of your most in-demand skills, enabling recruiters to see your suitability from a glance.
Work experience – List some or all of your previous jobs in reverse chronological order – voluntary work and college placements can be included if you have no paid experience.
Education – A summary of your professional training and academic qualifications.
Additional info – An optional section for anything that may boost your application, such as relevant hobbies and interests
Here's what to include in each part of your resume.
Contact Details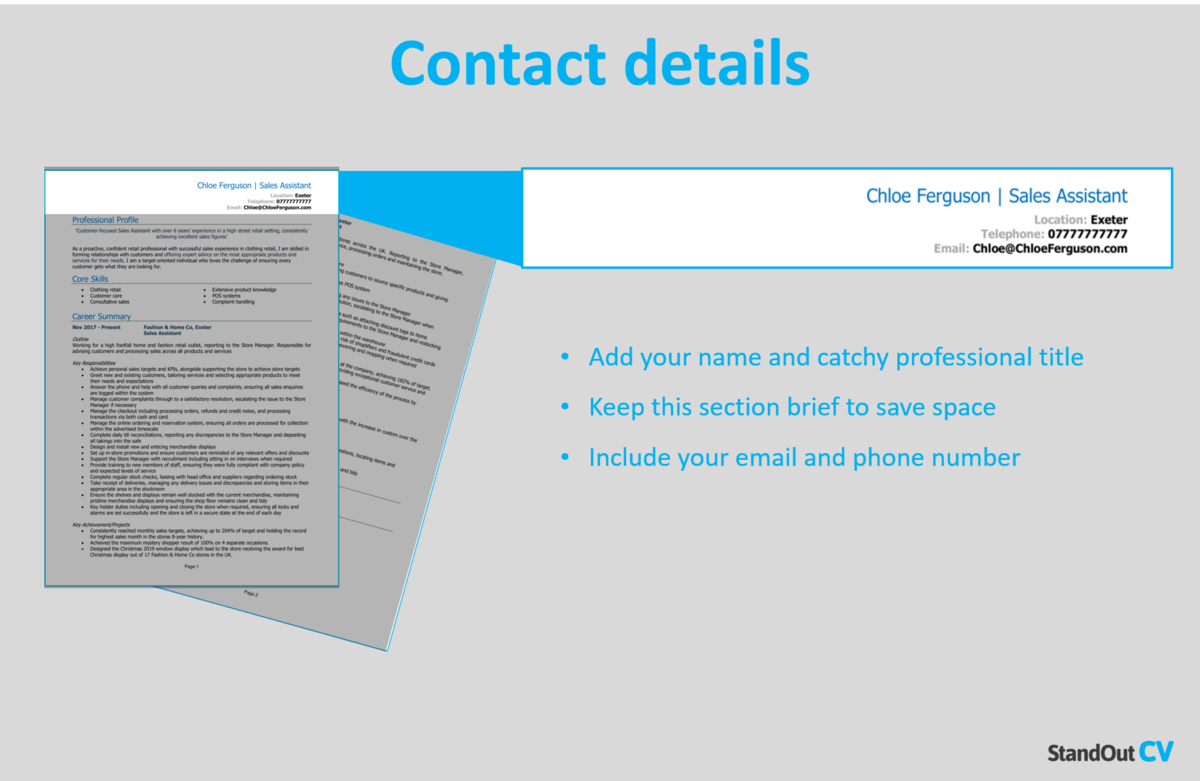 Keep your contact details short to save resume space and include the following.
Name and profession title
Cell phone number
Location – Add your local area such as Silicon Valley or New York, unless you are looking for work in a different location
Email address – Keep it professional and don't use an old address that you thought was cool in high school, but now looks a bit embarrassing.
You can add a link to your LinkedIn profile if you have one – you do not need to include personal details like date of birth or marital status.
Spanish Teacher Resume Summary
Your resume summary is like your introduction to the recruiter or hiring manager – it should grab their attention and leave them eager to read more about you.
Achieve this by writing a snappy overview of your skills, knowledge and what value you can bring to an employer.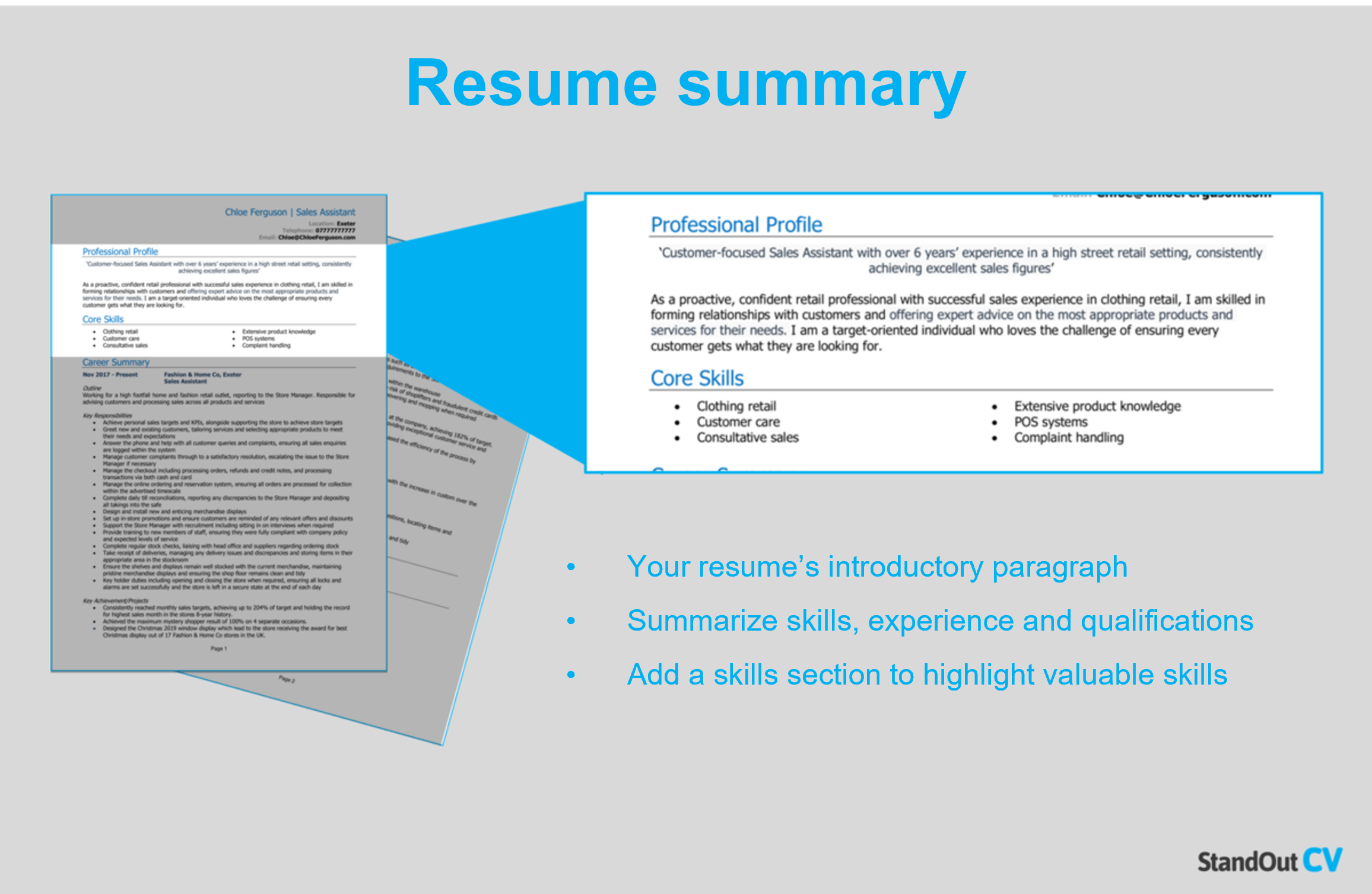 How to create a resume summary that will get you noticed:
Keep it short: You only have a few seconds to grab a recruiters' attention and make them commit to your resume, so keep your summary between 4 – 7 lines.
Tailor to target jobs: Ensure your profile makes an impact by matching it closely to the requirements of the job description, copying as many key terms as possible.
Avoid using cliches: Recruiters look for facts in resumes, such as hard skills and qualifications – so, leave out the meaningless cliches like "hard worker who works well in a team and individually"
Example resume summary for Spanish Teacher
Dependable Spanish Teacher with success in devising educational programs and integrating academic procedures aimed at maintaining the unwavering belief in the potential of every student. Committed to equitable instruction and learning opportunities for pupils, with dedication to the success of students, their families, and the community. Passionate about creating a warm yet firm classroom culture through implementation of behavior ladders.
What to include in your Spanish Teacher resume summary?
Summary of experience: Provide an overview of the type of work you have done in the past and the impact you have made at previous employers.
Relevant skills: Incorporate your highly relevant skills for Spanish Teacher jobs to exhibit your suitability as soon as your resume is opened.
Qualifications: Showcase your level of education with a quick mention of any qualifications that are essential for the Spanish Teacher roles you are applying to.
Quick tip: Choose from hundreds of pre-written summaries across all industries, and add one to your resume with one-click in our partner's Resume Builder. All written by recruitment experts and easily tailored to suit your unique skillset and style.
Core skills section
Sitting just underneath your resume summary, your core skills section gives recruiters 4-10 of your most in-demand skills in just a glance.
As Spanish Teacher jobs may get hundreds of applications, this is a great way to stand out and quickly grab hiring managers' attention.
It should be made up of 2-3 columns of bullet points and highlight attributes that are hyper-relevant to the jobs you are aiming for.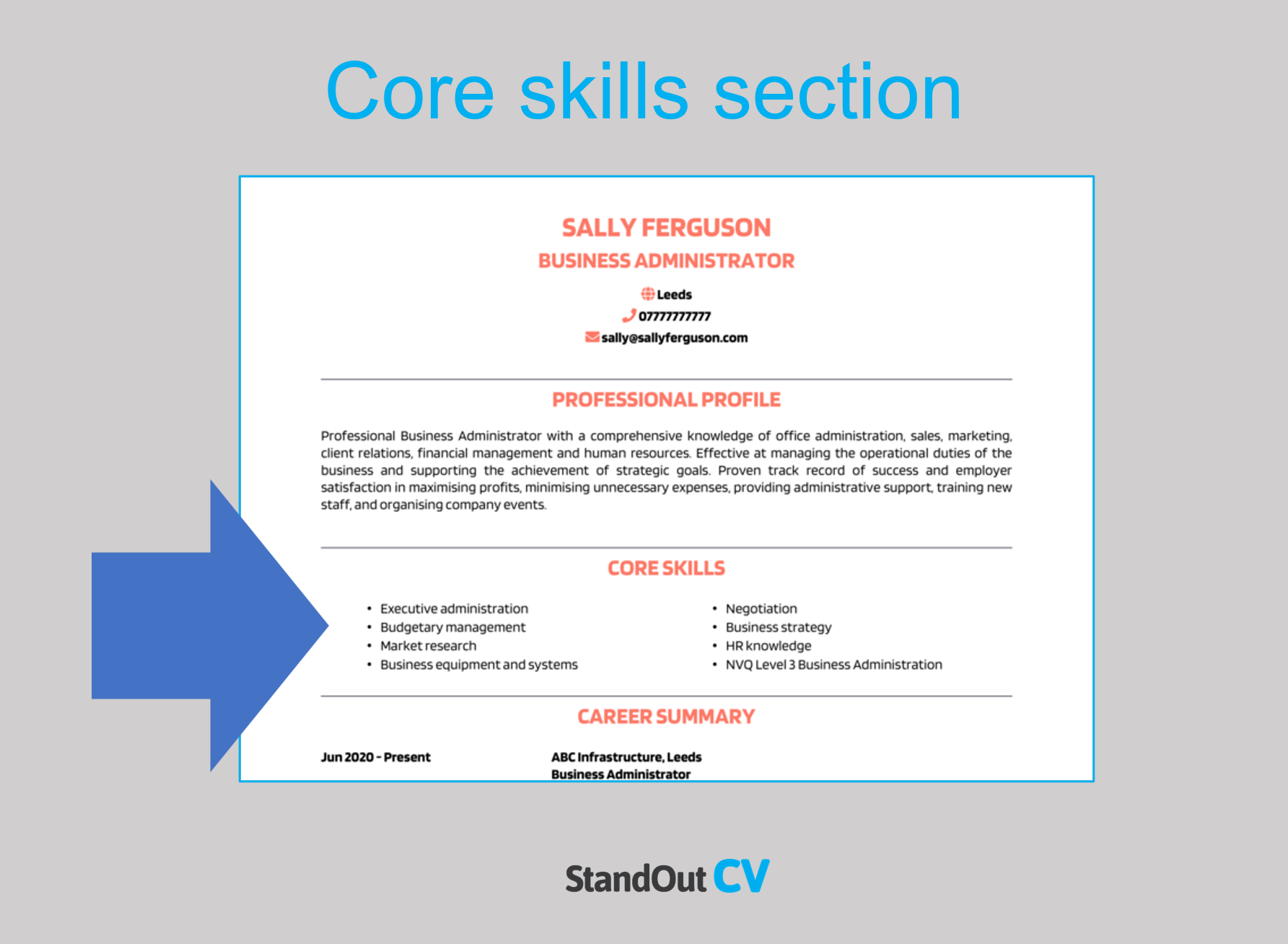 Best skills for your Spanish Teacher resume
Bilingualism – Being fluent in both Spanish and English with strong written and verbal communication skills in both languages.
Classroom management – Maintaining a productive and orderly learning environment, as well as fostering positive student-teacher relationships.
Curriculum development – Creating and developing engaging lesson plans and instructional materials that align with state standards and learning objectives.
Cultural competency – Maintaining an understanding of the cultural and historical context of the Spanish-speaking world and integrating these into instruction.
Differentiated instruction – Tailoring instruction to meet the individual needs and learning styles of diverse students.
Language proficiency testing – Administering and interpreting results of language proficiency tests such as the ACTFL (American Council on the Teaching of Foreign Languages).
Listening comprehension – Understanding spoken Spanish at different levels of complexity and accents and assisting students in developing their listening skills.
Reading comprehension – Reading and interpreting written Spanish texts, as well as teaching strategies for developing students' reading skills.
Writing skills – Teaching writing in Spanish, including grammar, sentence structure, and organization.
Quick tip: Our partner's Resume Builder contains thousands of in-demand skills for every profession that can be added to your resume in seconds – saving you time and greatly improving your chances of landing job interviews and getting hired.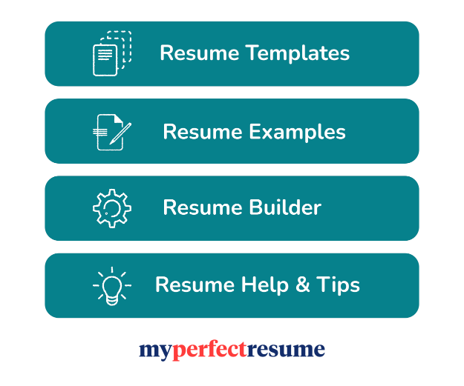 Work experience
So, you've grabbed the recruiters' attention with your summary, now it's time to show them what you're really capable of in your work experience section.
List your previous jobs from current to oldest, showing off the impact you made at each organization.
If you have tons of experience, you should just list the most recent an relevant jobs – but if you have little or no experience, add it all and even consider putting in voluntary work.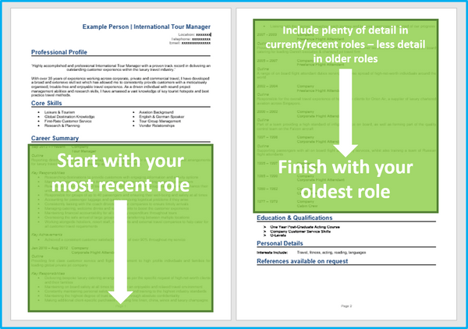 Structuring your jobs
Without a good structure, your job description can look messy and overwhelming to anyone reading them.
Make it easy for recruiters to read your work experience by structuring your roles like this.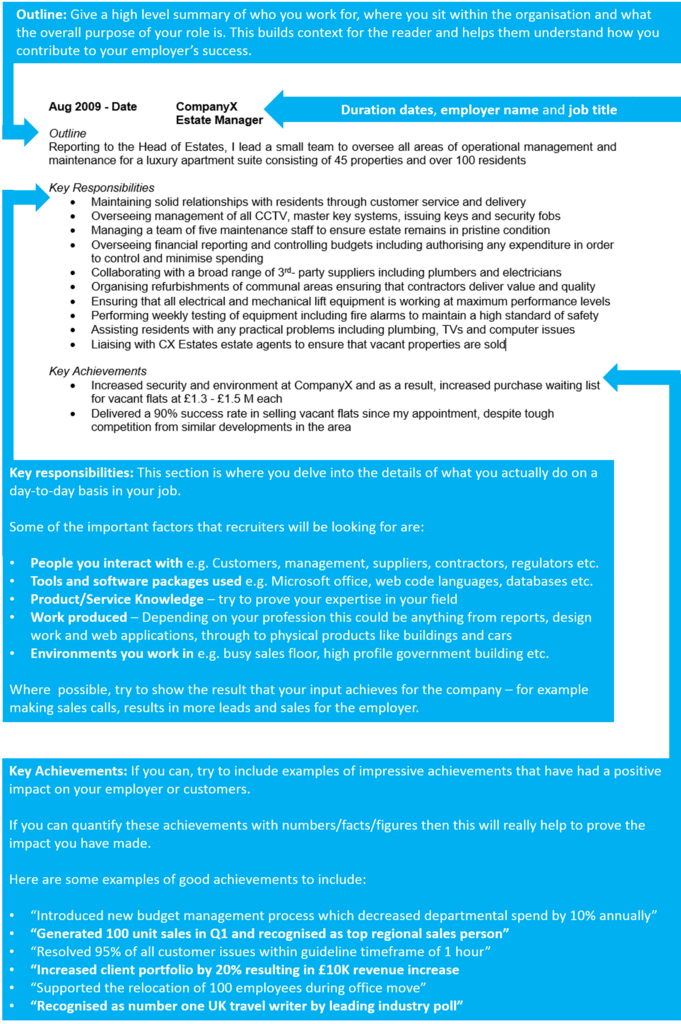 Job outline
Begin each job with a short summary of who the organization is, where you sit within it, and what the main goal of your position is.
Key responsibilities
List your notable responsibilities in short sharp bullet points to demonstrate your input and how you contributed to the organization's success.
Highlight the skills that are most important to the roles you are applying for.
Key achievements
Finish each role by highlighting some impressive achievements you made whilst in the role.
Anything that benefited the employer can be included from making financial savings, to winning new customers.
Quantify your achievements with facts and figures if you can, e.g. "reduced call wait time by 10%"
Example job for Spanish Teacher resume
Outline
Outlined a Spanish program and classroom environment favorable to student learning and personal growth, for a public school that provides high-quality education for pupils to achieve prestigious honors in competitions and eventually enroll in top U.S. top colleges.
Key Responsibilities
Implement a program of instruction appropriate to maturity of students that adheres to the school's philosophy and objectives in-line with adopted courses of study.
Collaborate with colleagues in selecting books, equipment, and other instructional materials that give room for acquisition of skills and development of self-confidence.
Review and maintain student records to develop a foundation of understanding regarding each pupil's abilities and needs.
Establish lesson plans, apply differentiated instruction, and execute teaching strategies which stimulate children's interest in reading, writing, speaking Spanish.
Quick tip: Create impressive job descriptions easily in our partner's Resume Builder by adding pre-written job phrases for every industry and career stage.

Education section
Nearing the end of your resume, your education/qualifications section should be added.
In a well-structured list, add all of your qualifications and certifications that qualify you to perform a typical Spanish Teacher role.
If you have plenty of work experience, keep this section brief – if not, add lots of detail to make up for your lack of experience.
Additional information
If you have anything else to add which is relevant to the jobs you are applying for, the additional info section is the place to add it.
Perhaps you have a hobby which involves relevant skills, or maybe you have some awards or publications worth mentioning.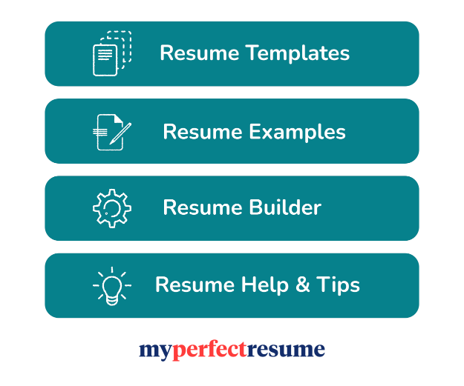 Writing your own Spanish Teacher resume
A winning Spanish Teacher resume should look great, read well, and sell your skillset to hiring managers.
If you follow the steps above, you should be able to bag yourself a top job in no time.
And don't forget you can use our partner's Resume Builder if you want to save time and ensure your resume contains the very best content.
Good luck with your job search!