Are you hoping to secure your next role as a spa manager, but you're lacking a coherent and engaging resume?
Well, take a deep breath and relax because we can help.
In this detailed guide, we'll walk out through how to write an impressive application that showcases your experience. You should also make use of our spa manager resume example to inspire your own.
Contents
| | |
| --- | --- |
| How to write a Spa Manager resume | |

Spa Manager Resume Example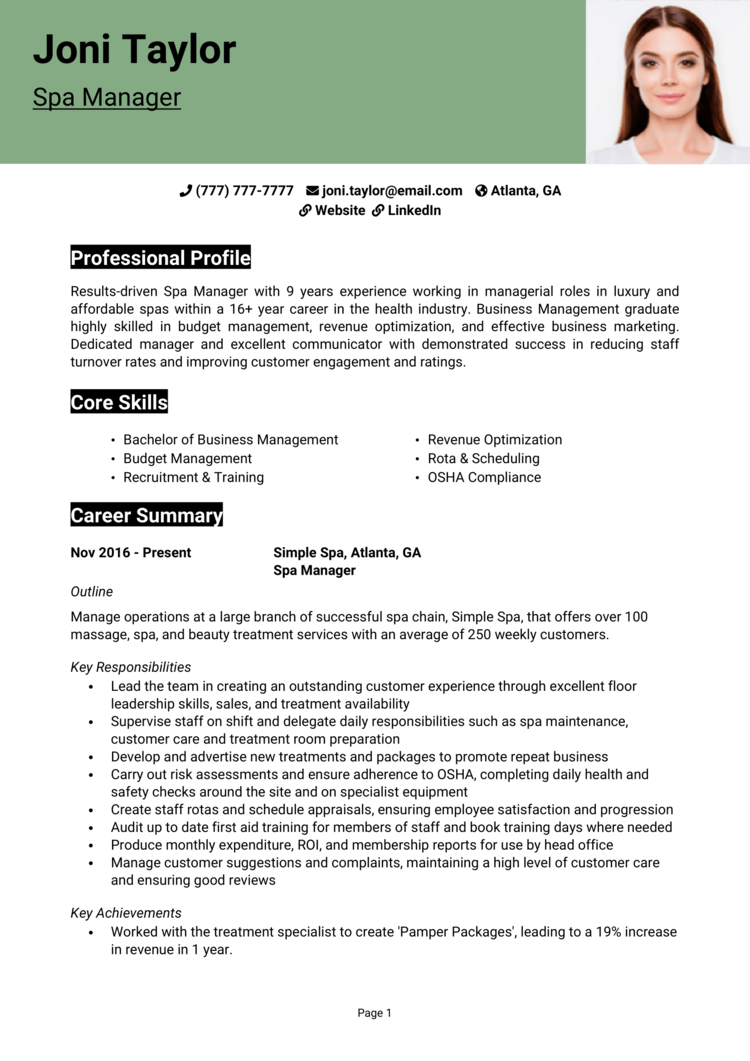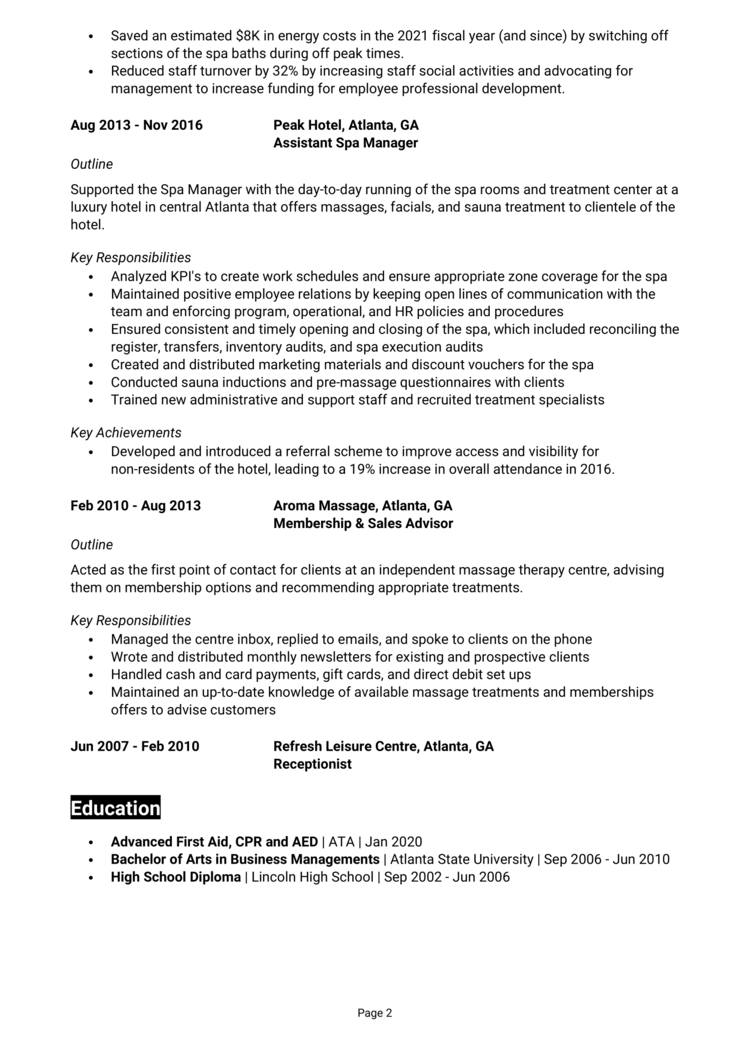 From the Spa Manager resume example above, you can see the kind of information your resume will need to include, and the layout you will need to create for an easy-reading experience.
The rest of this guide will show you how to apply this format to your own unique situation, and create a resume that will attract the best employers in your industry.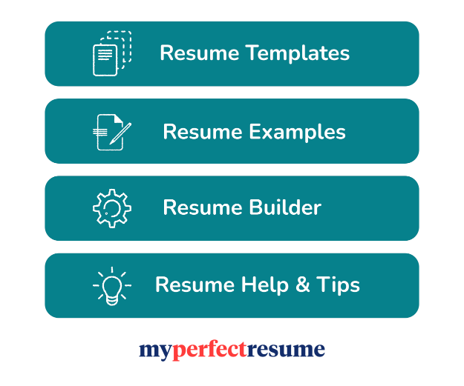 Spa Manager resume layout and formatting
The format and layout of your resume can make or break its success.
Sure, it's great to pack your resume with lots of impressive skills and knowledge, but if the page is not structured clearly, hiring managers will struggle to find the important stuff!
Above all, your resume should be easy-to-read and professional looking.
Follow these formatting tips to get noticed.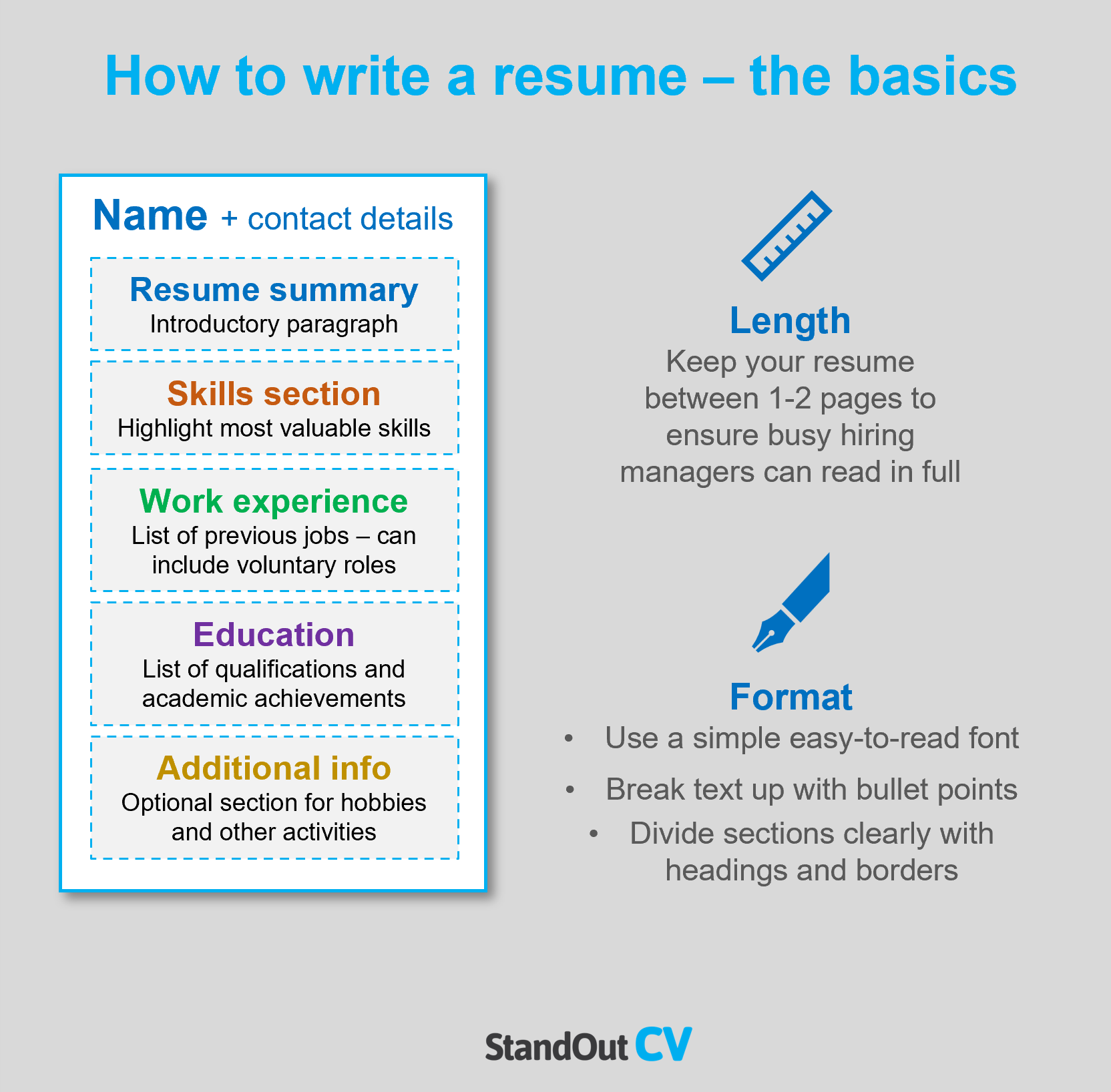 Formatting your resume
Length: Keep your resume to 2 pages or under. You've probably heard that recruiters and hiring managers don't have lots of time to read every resume, so keep yours brief if you want to ensure that they read all of the important info in yours.
Font & readability: To create a resume that is easily digestible for hiring managers, it's essential to use an uncomplicated font and structure your content with bullet points and short paragraphs.
Layout & Structure: Allow recruiters to skim through your resume with ease, by dividing the page into clear sections with headings and borders. The design of your resume should be eye-catching but not overly complex – keep the style and color scheme simple and clean.
Photos: Although it is not compulsory to include a photo in your resume in the USA, it can be advantageous if you are applying to companies in creative industries.
Quick tip: Achieving a professional look for your resume can be difficult and time-consuming. If you want to create an attractive resume quickly, try our partner's Resume Builder and use one of their eye-catching resume templates.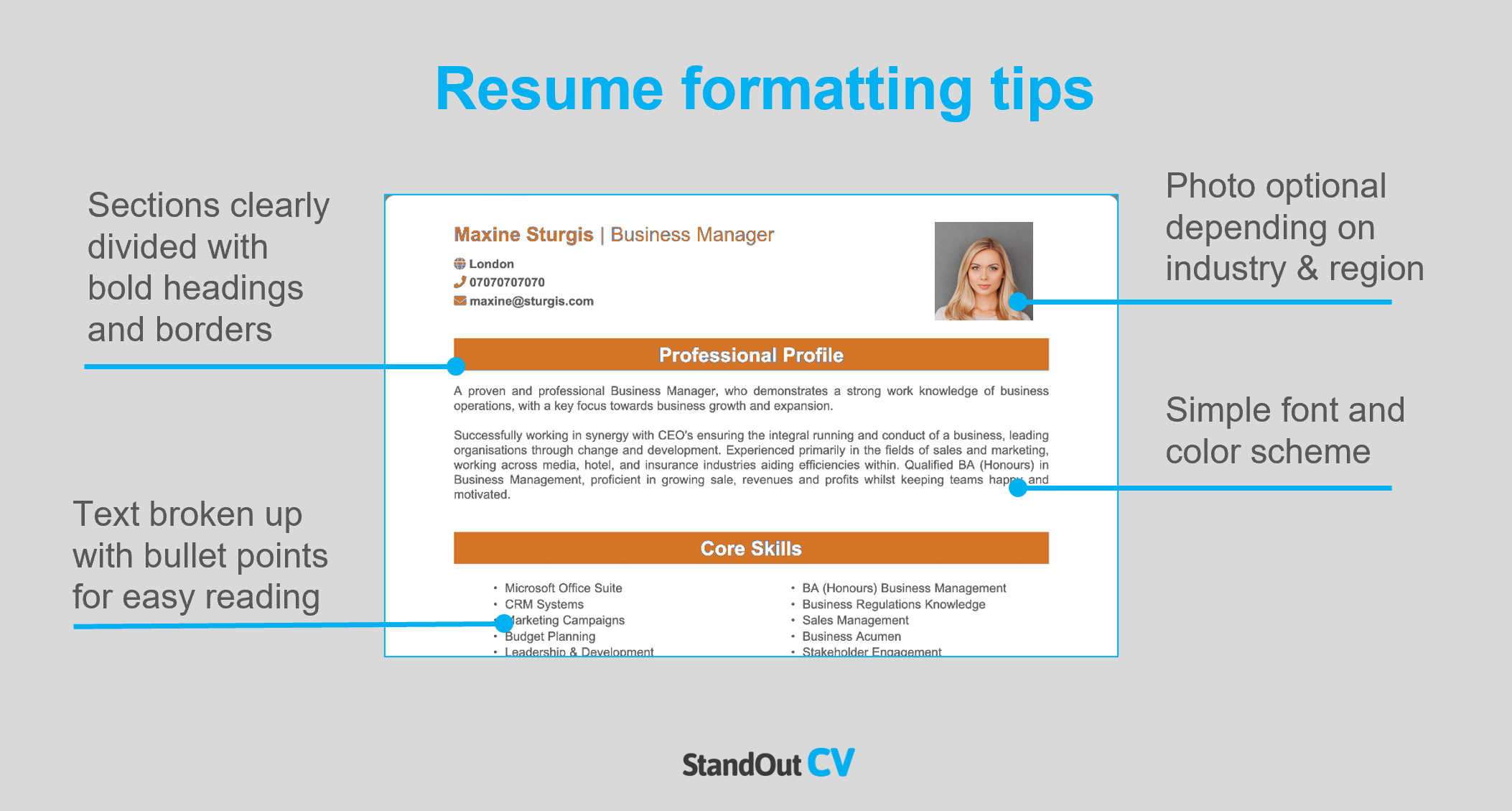 Resume layout
Your resume should include the following sections to give recruiters the information they require:
Name and Contact Details – Place your contact information at the top of your resume to make it easy for employers to get in touch with you.
Resume Summary – Write a brief introduction at the beginning of your resume that summarizes your most important qualifications and highlights why you are the ideal candidate for the job.
Skills Section – Include a concise list of your most relevant and impressive skills to quickly grab the attention of potential employers.
Work Experience – List your previous work experiences in reverse chronological order, including any volunteer work or college placements.
Education – List your educational qualifications and any professional training you have received.
Additional Information – This section is optional, but you can include details about your interests, hobbies, or any other relevant information that can make you stand out from other applicants.
Here's what to include in each part of your resume.
Contact Details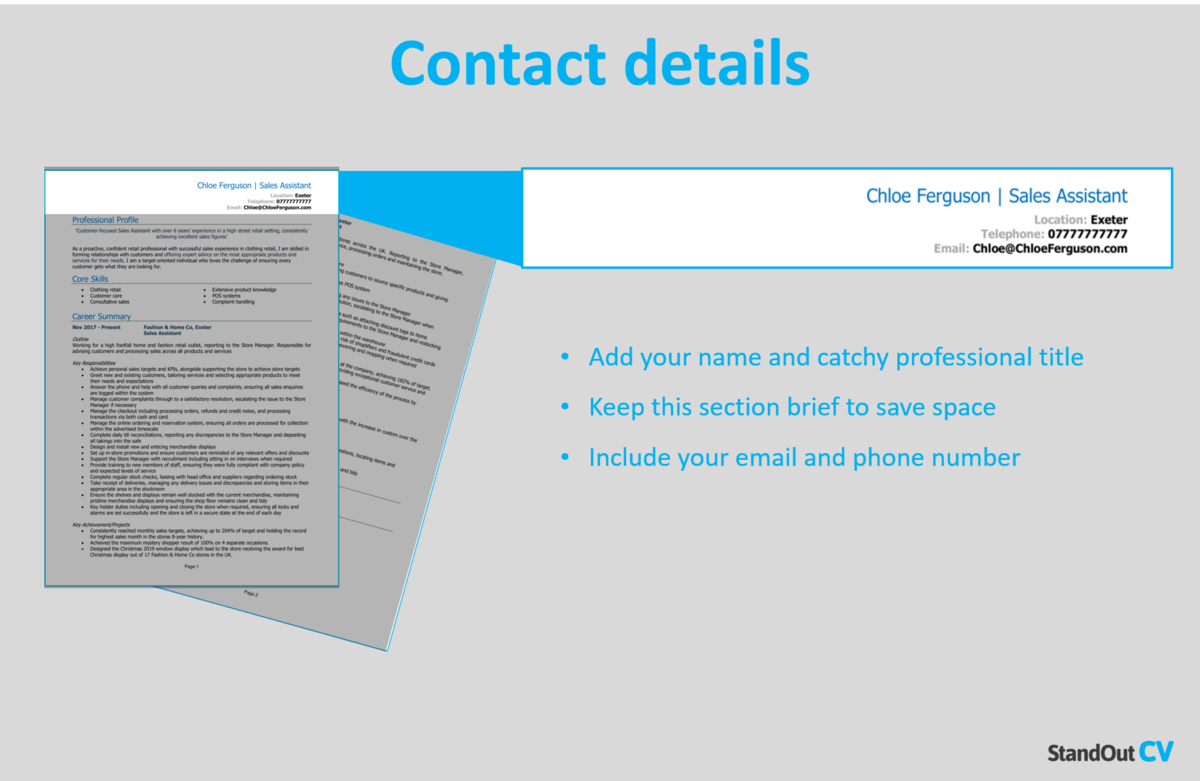 Keep your contact details short to save resume space and include the following.
Name and profession title
Cell phone number
Location – Add your local area such as Silicon Valley or New York, unless you are looking for work in a different location
Email address – Keep it professional and don't use an old address that you thought was cool in high school, but now looks a bit embarrassing.
You can add a link to your LinkedIn profile if you have one – you do not need to include personal details like date of birth or marital status.
SPA Manager Resume Summary
Your resume summary is like your introduction to the recruiter or hiring manager – it should grab their attention and leave them eager to read more about you.
Achieve this by writing a snappy overview of your skills, knowledge and what value you can bring to an employer.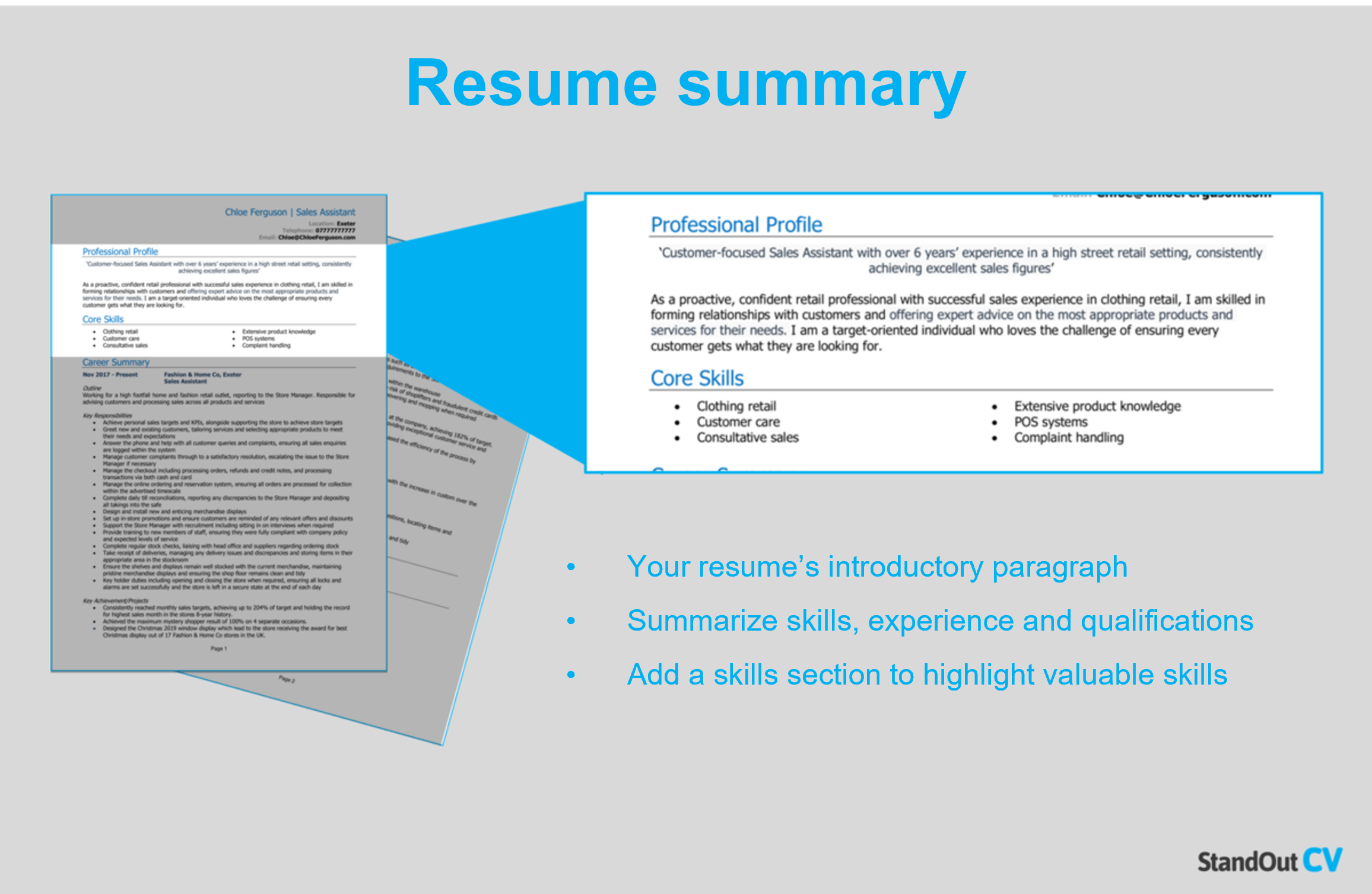 How to create a resume summary that will excite recruiters:
Keep it short: You only have a few seconds to grab a recruiters' attention and make them commit to your resume, so keep your summary between 4 – 7 lines.
Tailor to target jobs: To better align your resume with your target jobs, it's important to scrutinize the job description and identify as many relevant skills as possible to include in your resume.
Avoid using cliches: Although you may believe that you're a "team player who always gives 110%," these kinds of cliches don't communicate much about your skills and qualifications to potential employers. It's more effective to stick to factual information in your resume.
Spa Manager resume summary example
Results-driven Spa Manager with 9 years' experience working in managerial roles in luxury and affordable spas within a 16+ year career in the health industry. Business Management graduate highly skilled in budget management, revenue optimization, and effective business marketing. Dedicated manager and excellent communicator with demonstrated success in reducing staff turnover rates and improving customer engagement and ratings. 
What to include in your Spa Manager resume summary?
Summary of your experience: Provide a summary of the kind of work you have previously done, along with the benefits you have delivered to the organizations you worked with.
Relevant skills: To quickly showcase your suitability for Spa Manager jobs, ensure that your summary emphasizes your most relevant skills to the jobs you are applying for.
Qualifications: To make a strong impression on potential employers when applying for Spa Manager jobs, be sure to mention any relevant qualifications in your summary.
Quick tip: Choose from hundreds of pre-written summaries across all industries, and add one to your resume with one-click in our partner's Resume Builder. All written by recruitment experts and easily tailored to suit your unique skillset and style.
Core skills section
Your core skills section, positioned just below your resume summary, provides recruiters with a quick glance at 4-10 of your most in-demand skills.
For Spa Manager jobs, where hiring managers may receive hundreds of applications, this section can help you stand out and immediately grab their attention.
To be effective, this section should consist of 2-3 columns of bullet points that highlight attributes that are highly relevant to the jobs you are targeting.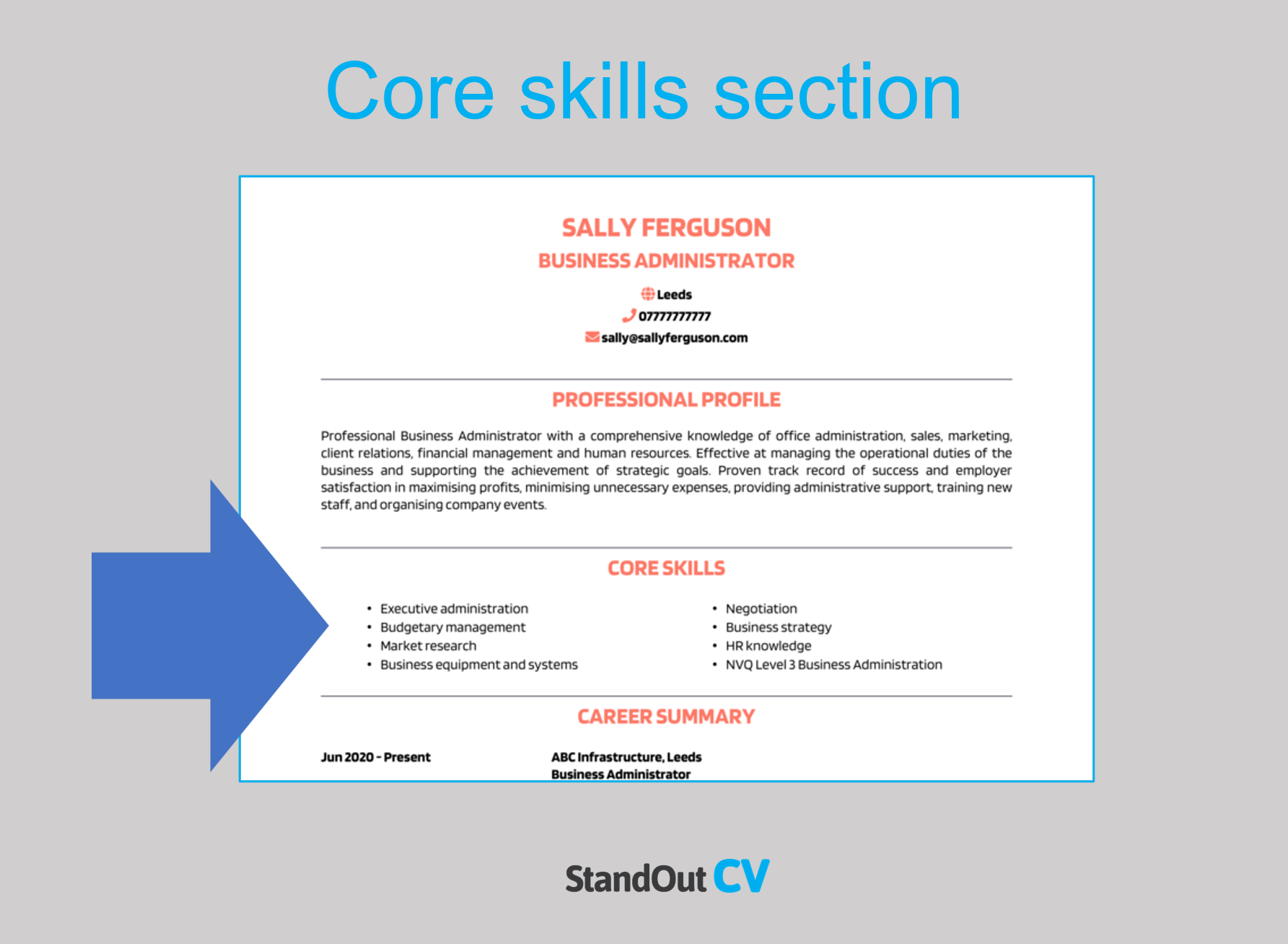 Best skills for your Spa Manager resume
Business management – Overseeing the daily operations of a spa, including financial management, employee scheduling, and marketing.
Customer service – Providing exceptional customer service to guests and addressing their needs and concerns.
Staff management – Hiring, training, and managing spa staff, ensuring high levels of customer satisfaction and employee morale.
Sales strategy – Developing and implementing sales strategies to increase revenue and meet business goals.
Effective communication – Communicating effectively with staff, guests, and vendors to maintain a positive working environment and ensure smooth operations.
Inventory management – Tracking and ordering inventory, ensuring that the spa is well-stocked with necessary supplies and products.
Facility maintenance – Ensuring the cleanliness and proper functioning of spa facilities, equipment, and amenities.
Scheduling – Managing time effectively to ensure that appointments are scheduled appropriately, and that staff are effectively utilized.
Health and safety – Maintaining a safe and healthy environment for staff and guests, adhering to all health and safety regulations and guidelines.
Industry knowledge – Staying up to date on industry trends and innovations and making recommendations for changes or improvements to keep the spa competitive.
Quick tip: Our partner's Resume Builder contains thousands of in-demand skills for every profession that can be added to your resume in seconds – saving you time and greatly improving your chances of landing job interviews and getting hired.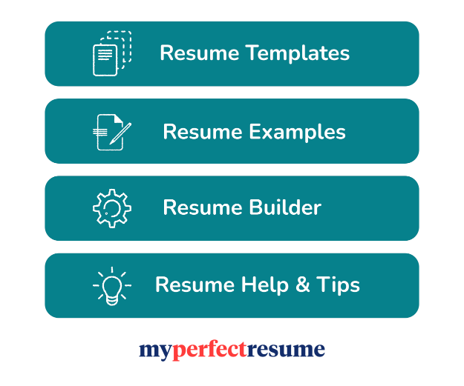 Work experience
Once you've got recruiters interested with your impactful summary, your work experience is where the real detail will lie.
Lay out your previous jobs from current to oldest, detailing what you contributed and achieved in each one.
If you're highly experienced you can cut this section down to your most recent few years of work, but if you are junior you can bulk this up with voluntary work and college placements.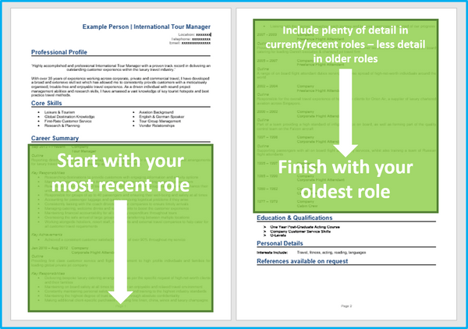 Structuring your jobs
It's easy to overwhelm readers when writing about a job you have been doing for years or even months.
Break the information up like this to keep it simple for recruiters to understand.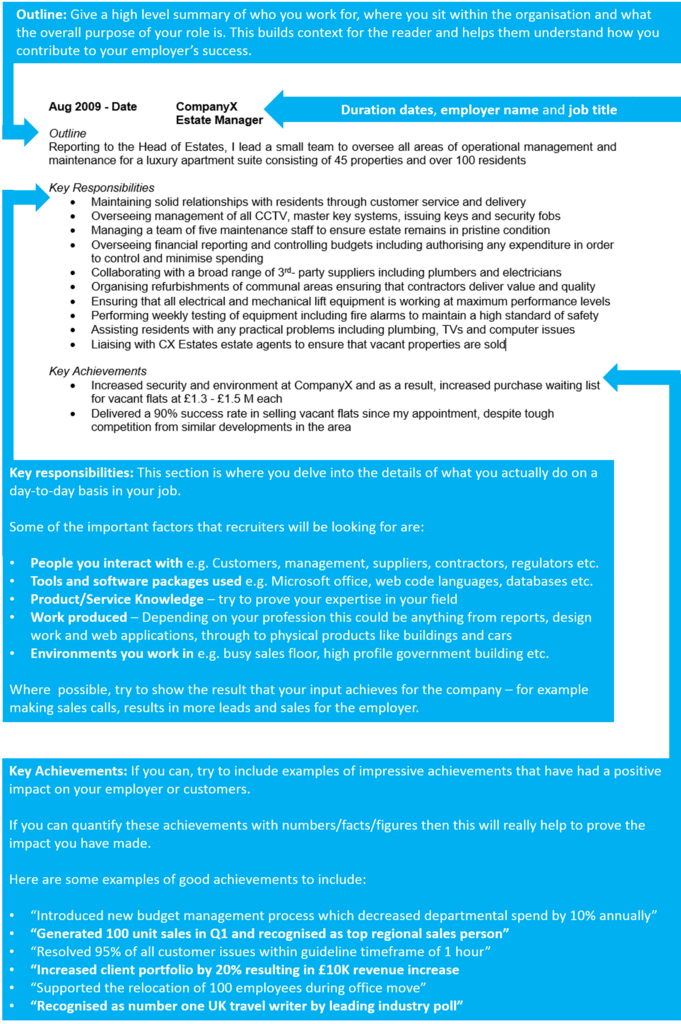 Job outline
Begin each job with a short summary of who the organization is, where you sit within it, and what the main goal of your position is.
Key responsibilities
Next, write up a punchy list of your daily duties and responsibilities, using short bullet points.
Describe how you apply your skills and contribute to the running of the employer's business – highlighting skills which are applicable to your target jobs.
Key achievements
Round off each job by adding some impressive achievements you made in the role.
Anything you've done that has made a big impact on your employer will make a good impression, think; generating revenue, saving costs, or improving a product.
Quantify your achievements with number where possible e.g. "reduced call wait time by 10%"
Example job for Spa Manager resume
Outline
Manage operations at a large branch of successful spa chain, Simple Spa, that offers over 100 massage, spa, and beauty treatment services with an average of 250 weekly customers.
Key Responsibilities
Lead the team in creating an outstanding customer experience through excellent floor leadership skills, sales, and treatment availability
Supervise staff on shift and delegate daily responsibilities such as spa maintenance, customer care and treatment room preparation
Develop and advertise new treatments and packages to promote repeat business
Carry out risk assessments and ensure adherence to OSHA, completing daily health and safety checks around the site and on specialist equipment
Quick tip: Create impressive job descriptions easily in our partner's Resume Builder by adding pre-written job phrases for every industry and career stage.

Education section
Towards the bottom of your resume, add your education section.
Here you should list your professional qualifications and academic record, such as high school diplomas or college degrees.
If you have lots of work experience, you can keep this section brief (because recruiters will be more interested in your career. If you have little/no experience then you should bulk this section up with plenty of detail.
Additional information
At the end of your resume, you can add any extra information that might be relevant to the jobs you are applying for.
This could be hobbies, interests, publications, clubs or memberships.
This section is optional and doesn't need to be added if you have nothing more relevant to add.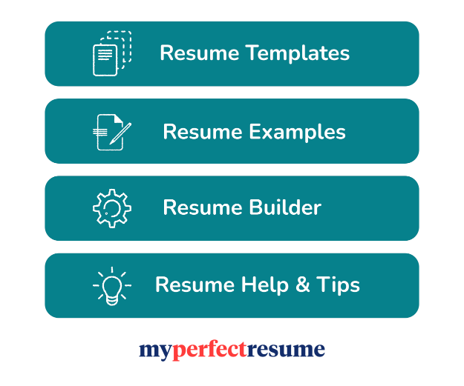 Writing your own winning Spa Manager resume
By tailoring your resume to the specific job and industry you are targeting and ensuring that it effectively communicates your professional value, you can position yourself as a top candidate for all Spa Manager positions.
Good luck with your job search!