Are you hoping to land an exciting new sound engineer role?
If so, you need an engaging application that's going to strike a chord with the recruiter and win them over.
But if you haven't heard, we can help you to do just that. Check out all our top tips below, complete with a sound engineer resume example to guide you.
Contents
| | |
| --- | --- |
| How to write your Sound Engineer resume | |

Sound Engineer Resume Example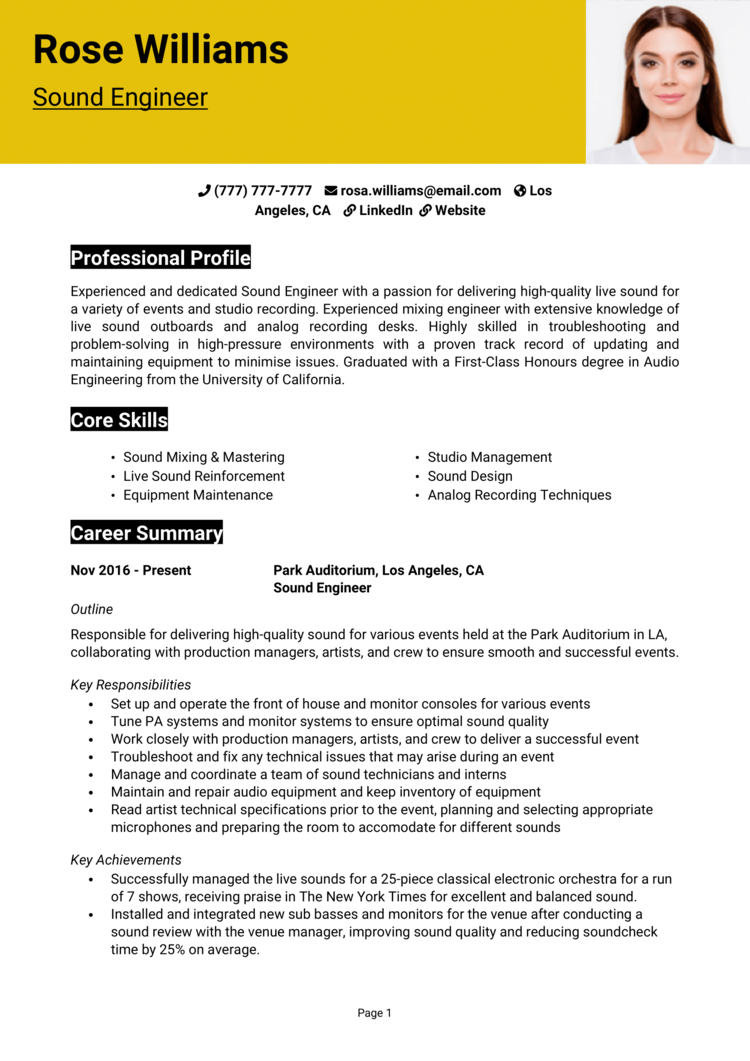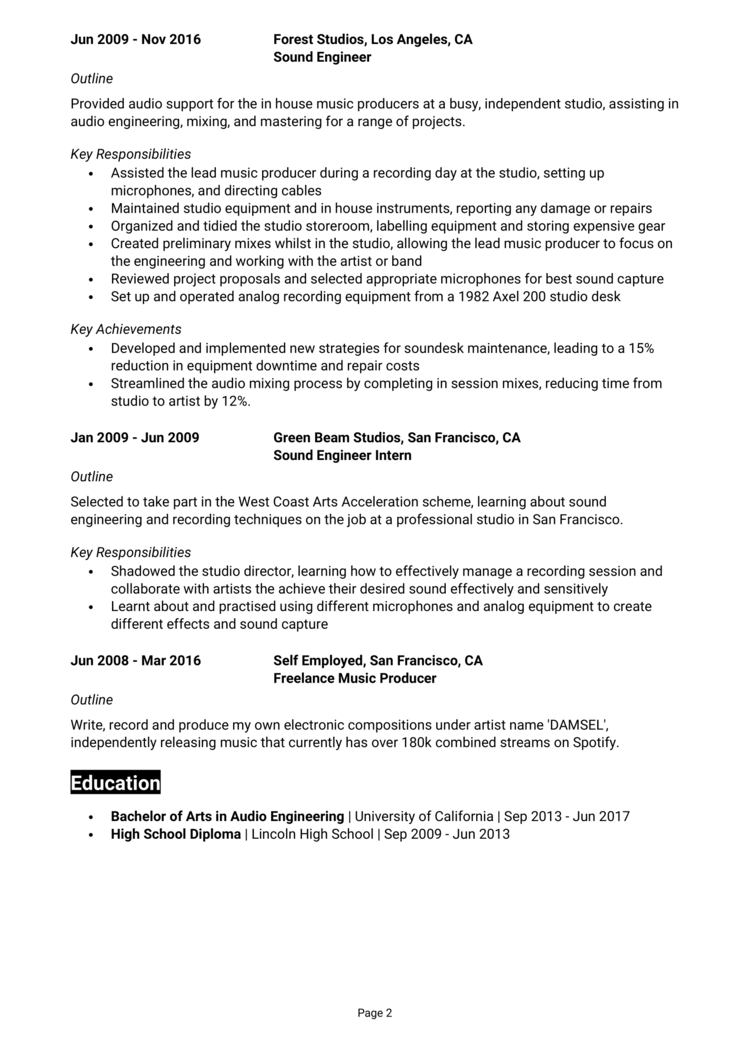 This Sound Engineer resume example shows you the most effective layout for a resume in today's job market, along with the type of content you need to include.
Stick closely to these guidelines as you write your own resume, to boost your chances of getting lots of responses, interviews and job offers.
Now lets dive into the details of how you write your own eye-catching resume…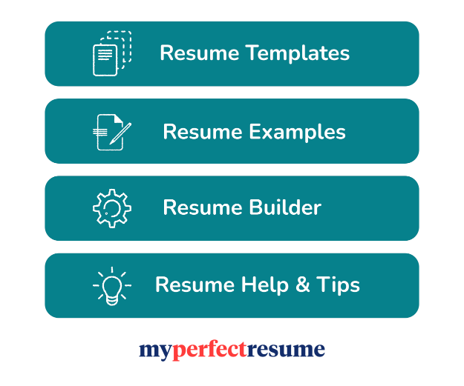 Sound Engineer resume layout and format
Your resume layout and format will play a big role in helping hiring managers to take notice of your resume and stay glued to it.
Shoot for a simple yet professional look to ensure you make a strong first impression, and organize the page in a way that is easy for readers to digest the information.
The following formatting tips should help.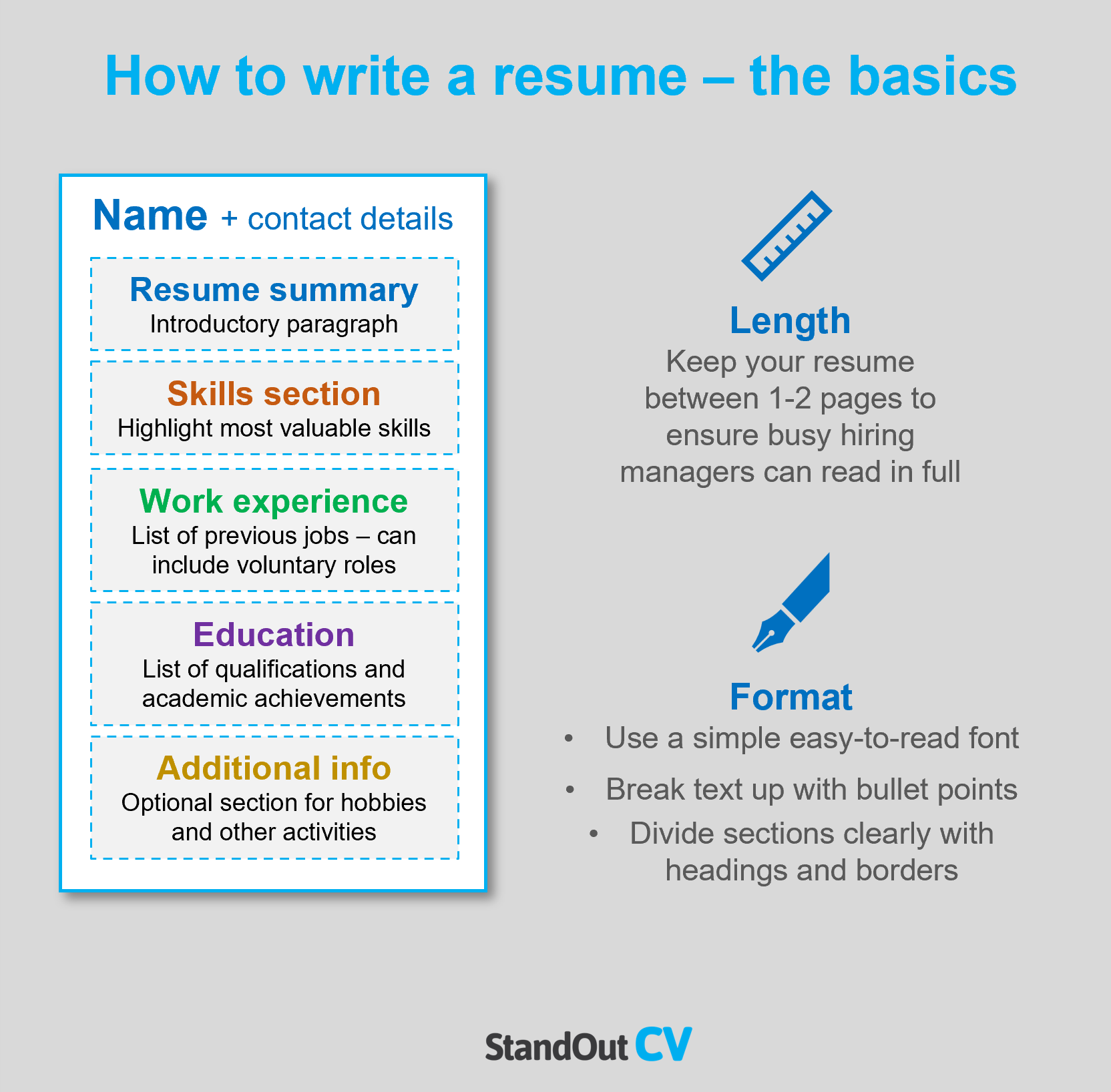 Formatting your resume
Length: To ensure that recruiters will read all of your resume, limit its length to 2 pages – as they someteimes read hundreds of resumes daily.
Font & readability: Simplicity and a pleasant reading experience are crucial if you want to highlight your most valuable skills to recruiters. Use a clear font (avoid fancy ones) and break up the text in your resume with bullet points to ensure information can be easily consumed.
Layout: Your resume should look appealing – but don't overlook functionality when it comes to design. Organise the page into clear sections using bold headings and borders.
Photos: In the USA adding a photo to your resume is optional – you don't have to do it, but it can be a nice way to get your personality across.
Quick tip: Achieving a professional look for your resume can be difficult and time-consuming. If you want to create an attractive resume quickly, try our partner's Resume Builder and use one of their eye-catching resume templates.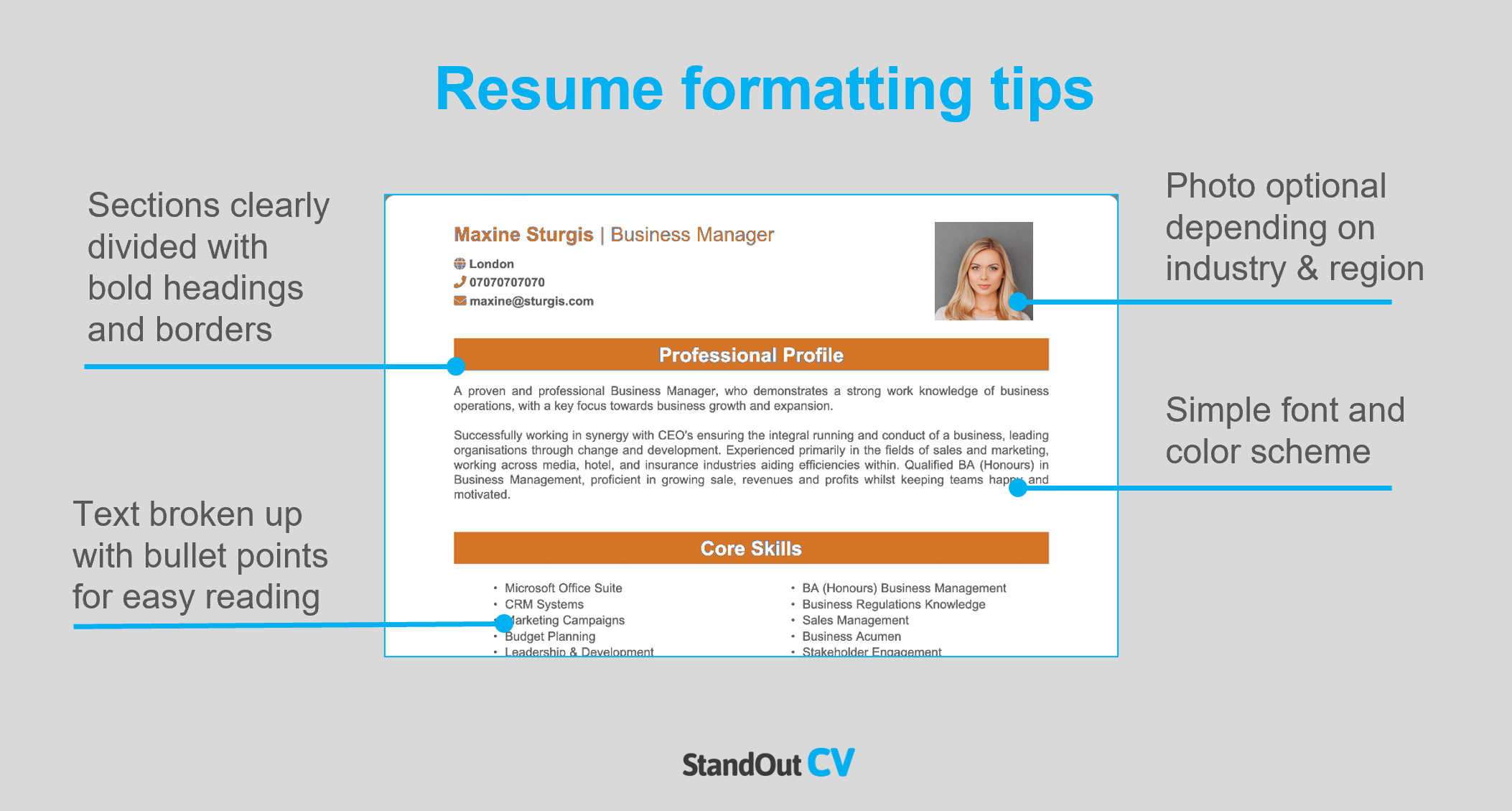 Resume layout
Your resume should include the following sections to give recruiters the information they require:
Name and Contact Details – Place your contact information at the top of your resume to make it easy for employers to get in touch with you.
Resume Summary – Write a brief introduction at the beginning of your resume that summarizes your most important qualifications and highlights why you are the ideal candidate for the job.
Skills Section – Include a concise list of your most relevant and impressive skills to quickly grab the attention of potential employers.
Work Experience – List your previous work experiences in reverse chronological order, including any volunteer work or college placements.
Education – List your educational qualifications and any professional training you have received.
Additional Information – This section is optional, but you can include details about your interests, hobbies, or any other relevant information that can make you stand out from other applicants.
Here's what to add to each section of your Sound Engineer resume.
Contact Details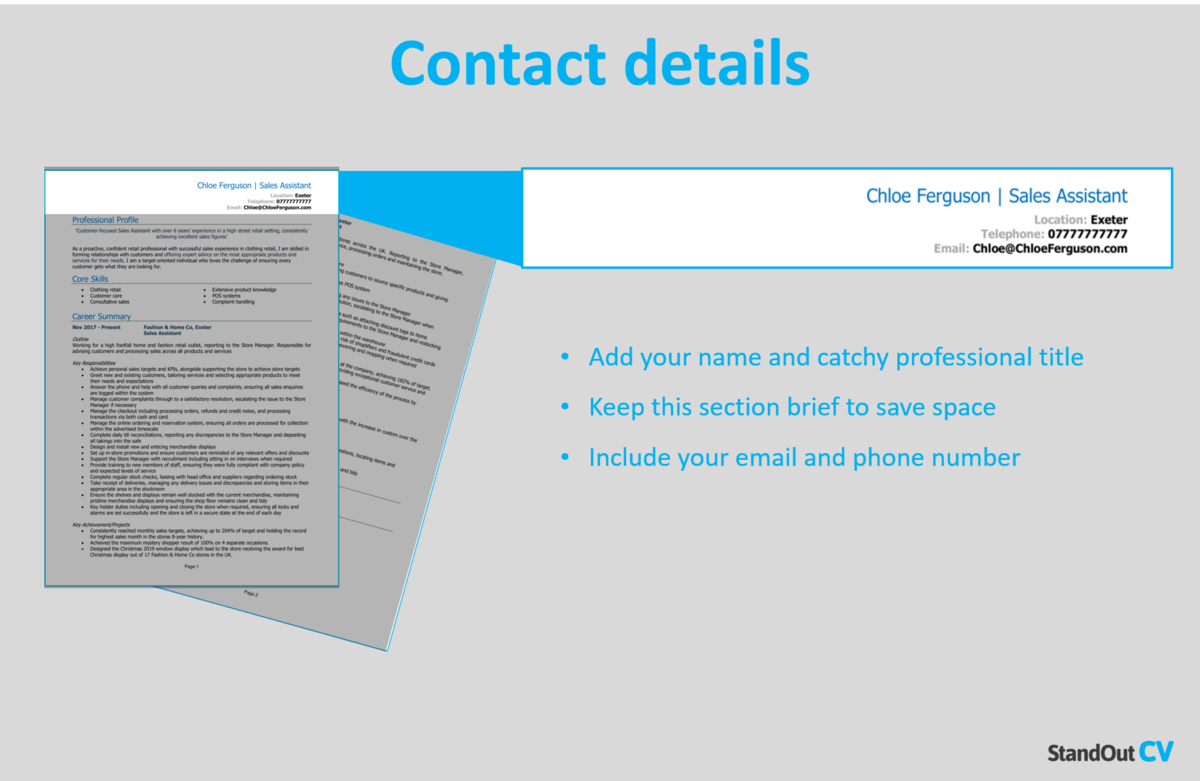 Make it easy for hiring managers to contact you by adding your contact details to the top of your resume.
Keep this section small to save space and include the following.
Name and profession title
Telephone number – Ideally your cell phone so you can answer quickly.
Location – Add your general location such as LA or New York
Email address – Use a professional looking one with no nicknames.
You can add a link to your LinkedIn profile if you have one – you do not need to include personal details like date of birth or marital status.
Sound Engineer Resume Summary
Start your resume with a bang by adding a powerful summary to the top, summarizing your most valuable skills and experience.
This short paragraph is your chance to show recruiters why you are a perfect fit for the job and encourage them to read more of your resume.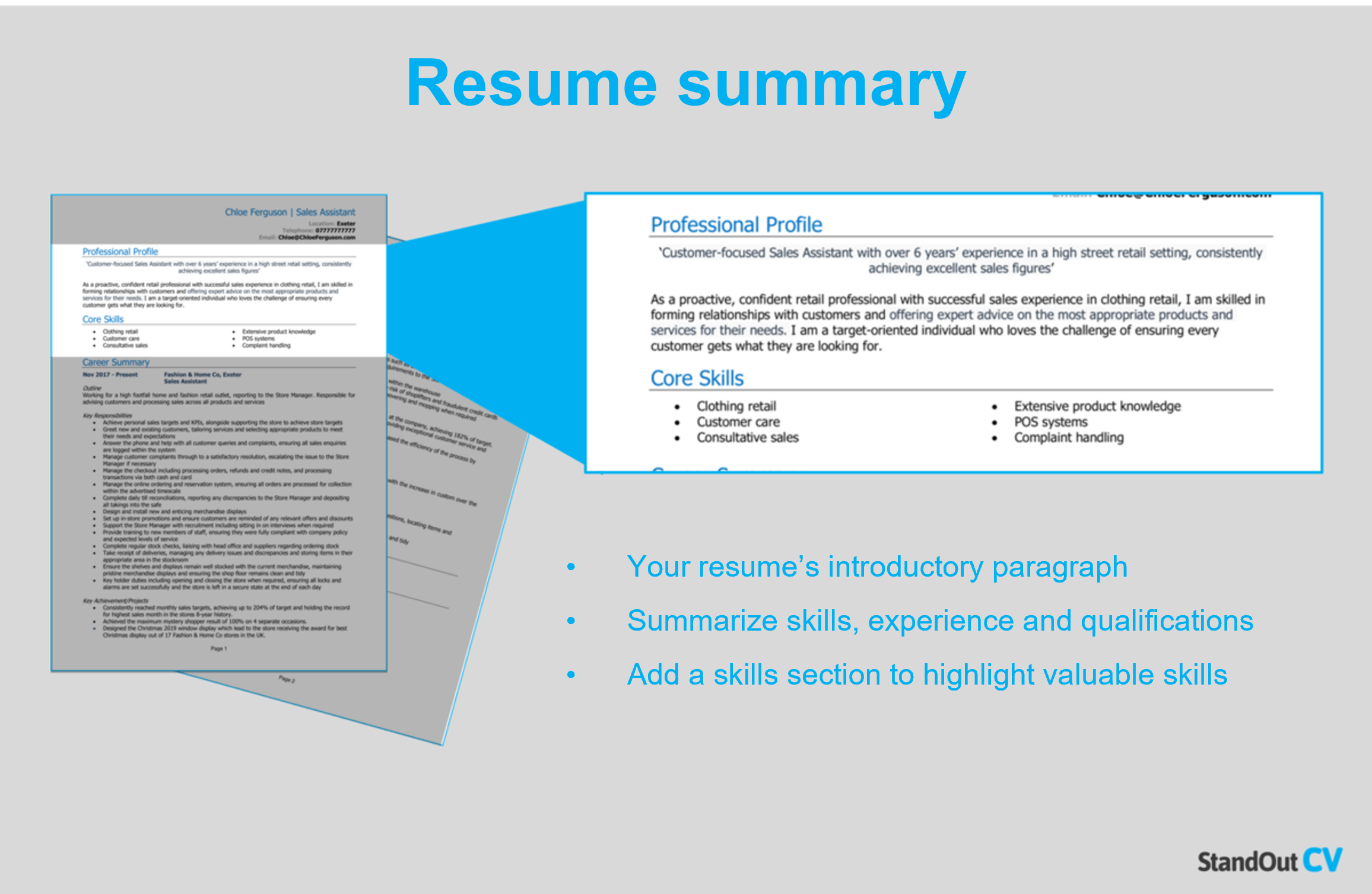 How to create a resume summary that will excite recruiters:
Keep it short: Aim for a short punchy paragraph of 4-7 lines. This is just enough info to showcase why you'd make the perfect hire, without going into excessive detail and overwhelming busy recruiters at such an early stage in the resume.
Tailor to target jobs: By carefully reviewing the job description and incorporating as many relevant skills as possible, you can customize your resume to better match your target jobs.
Avoid using cliches: To capture the attention of recruiters you must provide factual information, such as hard skills and qualifications, and avoid using empty phrases like "Go-getter who thinks outside the box."
Sound Engineer resume summary example
Experienced and dedicated Sound Engineer with a passion for delivering high-quality live sound for a variety of events and studio recording. Experienced mixing engineer with extensive knowledge of live sound outboards and analog recording desks. Highly skilled in troubleshooting and problem-solving in high-pressure environments with a proven track record of updating and maintaining equipment to minimise issues. Graduated with a First-Class Honours degree in Audio Engineering from the University of California.
What to include in your Sound Engineer resume summary?
Summary of your experience: Provide a summary of the kind of work you have previously done, along with the benefits you have delivered to the organizations you worked with.
Relevant skills: Highlight your skills which are most relevant to Sound Engineer jobs, to ensure that recruiters see your most in-demand skills as soon as they open your resume.
Qualifications: Showcase your level of education with a quick mention of any qualifications that are essential for the Sound Engineer roles you are applying to.
Quick tip: Choose from hundreds of pre-written summaries across all industries, and add one to your resume with one-click in our partner's Resume Builder. All written by recruitment experts and easily tailored to suit your unique skillset and style.
Core skills section
In addition to your resume summary, your core skills section provides an easily digestible snapshot of your skills – perfect for grabbing the attention of busy hiring managers.
As Sound Engineer jobs might receive a huge pile of applications, this is a great way to stand out and show off your suitability for the role.
It should be made up of 2-3 columns of bullet points and be made up of skills that are highly relevant to the jobs you are targeting.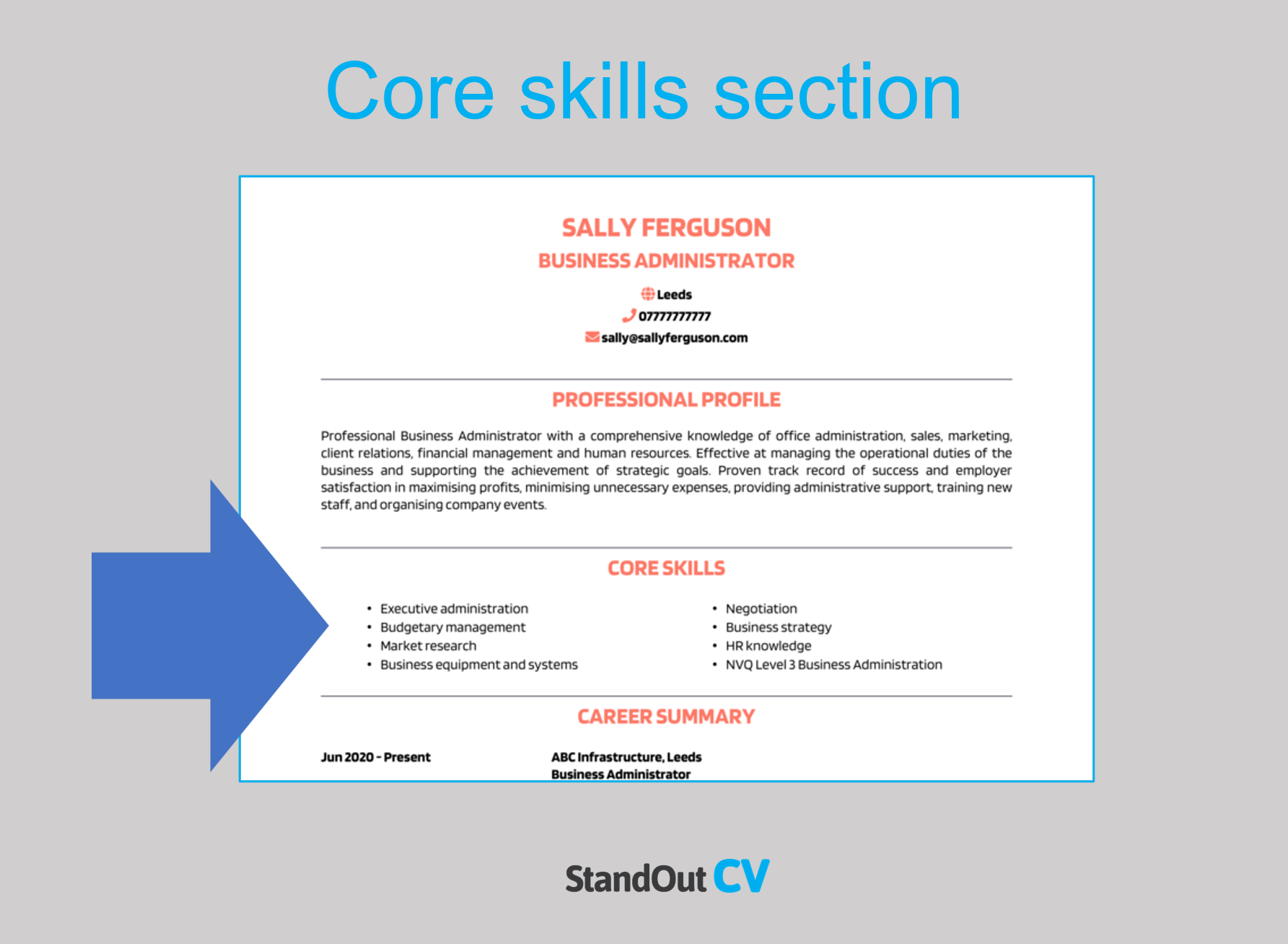 Best skills for your Sound Engineer resume
Audio Recording and Editing – Recording sound using various equipment and software to edit and manipulate audio files to achieve desired results.
Mixing and Mastering – Combining multiple audio tracks to create a balanced and polished final mix, followed by mastering to optimize the sound for distribution.
Knowledge of Sound Equipment – Utilizing audio equipment such as microphones, mixers, amplifiers, and audio interfaces, to set up and operate them effectively.
Acoustics and Sound Design – Utilizing knowledge of acoustics principles and sound design concepts to create optimal listening environments and shape the overall sonic experience.
Digital Audio Workstations (DAWs) – Using DAW software (e.g., Pro Tools, Logic Pro, Ableton Live) to record, edit, and produce audio tracks and projects.
Live Sound Reinforcement – Setting up and operating sound systems for live events such as concerts, conferences, and performances to ensure clear and balanced sound.
Audio Effects and Plugins – Utilizing audio effects and plugins (e.g., reverb, delay, compression) to enhance audio quality and add creative elements to recordings.
Troubleshooting and Problem Resolution – Identifying and resolving technical issues related to sound equipment and software during recording and production processes.
Collaboration and Communication – Communicating and collaborating effectively with artists, producers, and other team members to understand their creative vision and deliver the desired sound.
Audio Post-Production – Completing post-production tasks such as audio restoration, sound mixing for film and video, and synchronizing audio with visuals.
Quick tip: Our partner's Resume Builder contains thousands of in-demand skills for every profession that can be added to your resume in seconds – saving you time and greatly improving your chances of landing job interviews and getting hired.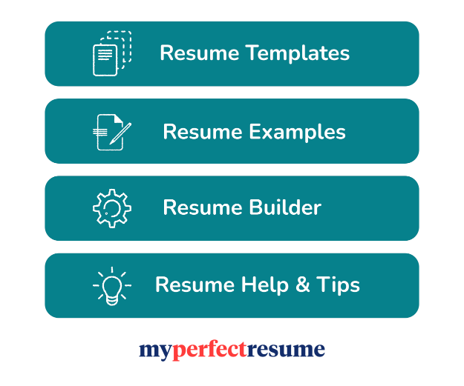 Work experience
Now that you've reeled recruiters in with your awesome summary, it's time to delve into your work experience.
Here you'll list your previous jobs (starting with your most recent and working backward) and showcase how you apply your skills in the workplace.
Provide lots of detail in recent jobs, and less in older roles.
If you have no relevant paid experience, you can include voluntary work and placements – but if you have lots of experience, you can leave out some of the really old jobs.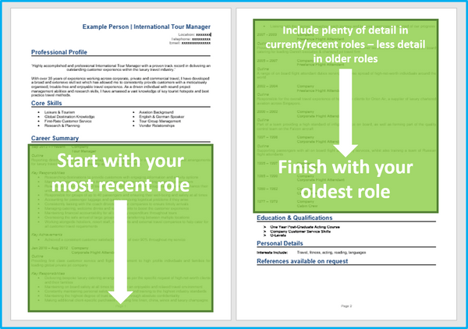 Structuring your jobs
You probably do a lot in your job, so its vital to break all of that information down into a good structure.
Structure your jobs as follows to make it easy for recruiters to skim through and pinpoint the essential info.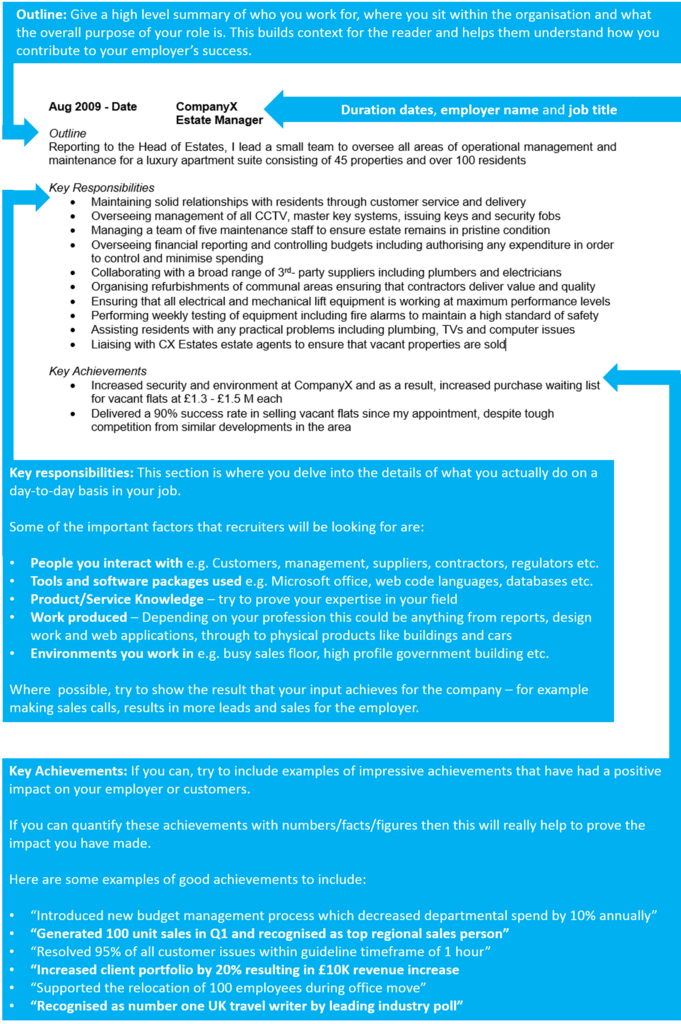 Job outline
To provide context to your jobs, begin each job with a concise summary of the organization, your role within it, and the main objectives of your position.
Key responsibilities
Then delve into the detail of your job by listing out easy-to-read bullet points which show how you apply your skills in the workplace.
Tailor these bullet points to focus on the skills and knowledge that are required in the jobs you are applying for.
Key achievements
Finish each role by highlighting some impressive achievements you made whilst in the role.
Anything that benefited the employer can be included from making financial savings, to winning new customers.
Quantify your achievements with facts and figures if you can, e.g. "reduced call wait time by 10%"
Example job for Sound Engineer resume
Outline
Responsible for delivering high-quality sound for various events held at the Park Auditorium in LA, collaborating with production managers, artists, and crew to ensure smooth and successful events.
Key Responsibilities
Set up and operate the front of house and monitor consoles for various events
Tune PA systems and monitor systems to ensure optimal sound quality
Work closely with production managers, artists, and crew to deliver a successful event
Troubleshoot and fix any technical issues that may arise during an event
Quick tip: Create impressive job descriptions easily in our partner's Resume Builder by adding pre-written job phrases for every industry and career stage.

Education section
After your work experience, add your education section.
If you are an experienced professional, you can keep this part short – adding basic details of each qualification.
If you have little or no experience, bulk this section up by adding more detail and highlight important skills and knowledge for your target jobs.
Additional information
At the end of your resume, you can add any extra information that might be relevant to the jobs you are applying for.
This could be hobbies, interests, publications, clubs or memberships.
This section is optional and doesn't need to be added if you have nothing more relevant to add.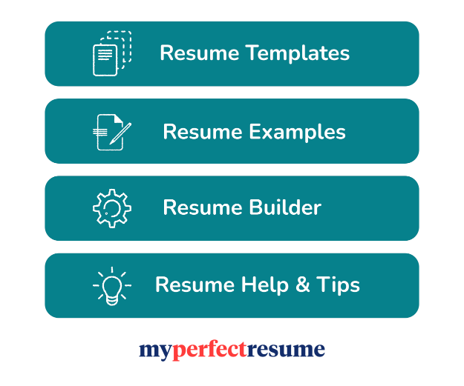 Writing your own winning Sound Engineer resume
By tailoring your resume to the specific job and industry you are targeting and ensuring that it effectively communicates your professional value, you can position yourself as a top candidate for all Sound Engineer positions.
Good luck with your job search!