When sitting down to write your resume, you've probably wondered, "Should my resume be written in the past or present tense?
Well, the answer is actually both.
Different sections of your resume will require different tenses.
This guide will show you where to use which tense in your resume and how to write in them.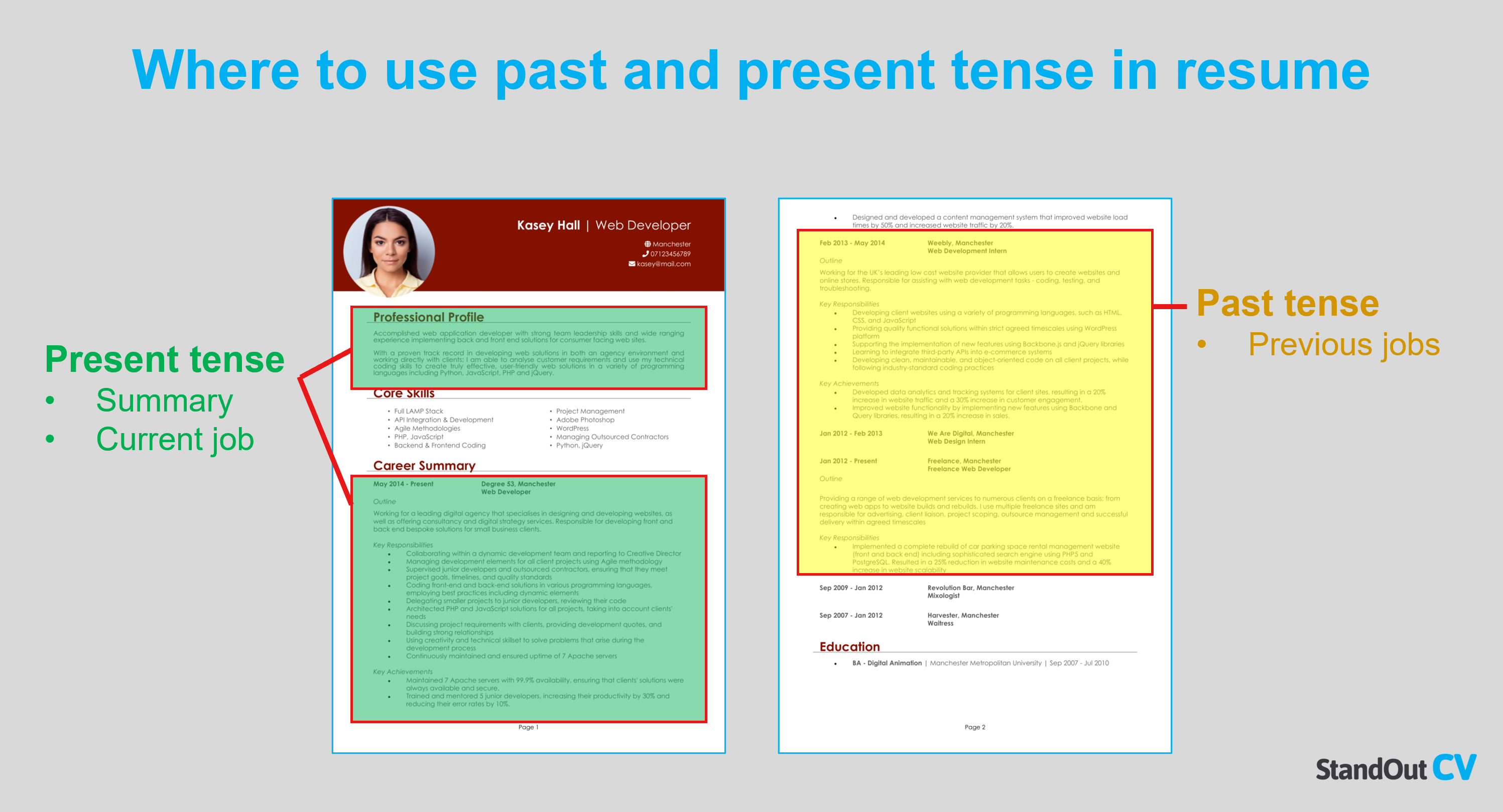 Where to use present tense in your resume
You should use the present tense in 2 key areas of your resume:
Your resume summary (the opening paragraph)
Your current job position, if you are in a job right now
In these 2 sections you are explaining what you are currently doing, and what your abilities are in this current period of time.
So, it's important to use the present tense here.
Your summary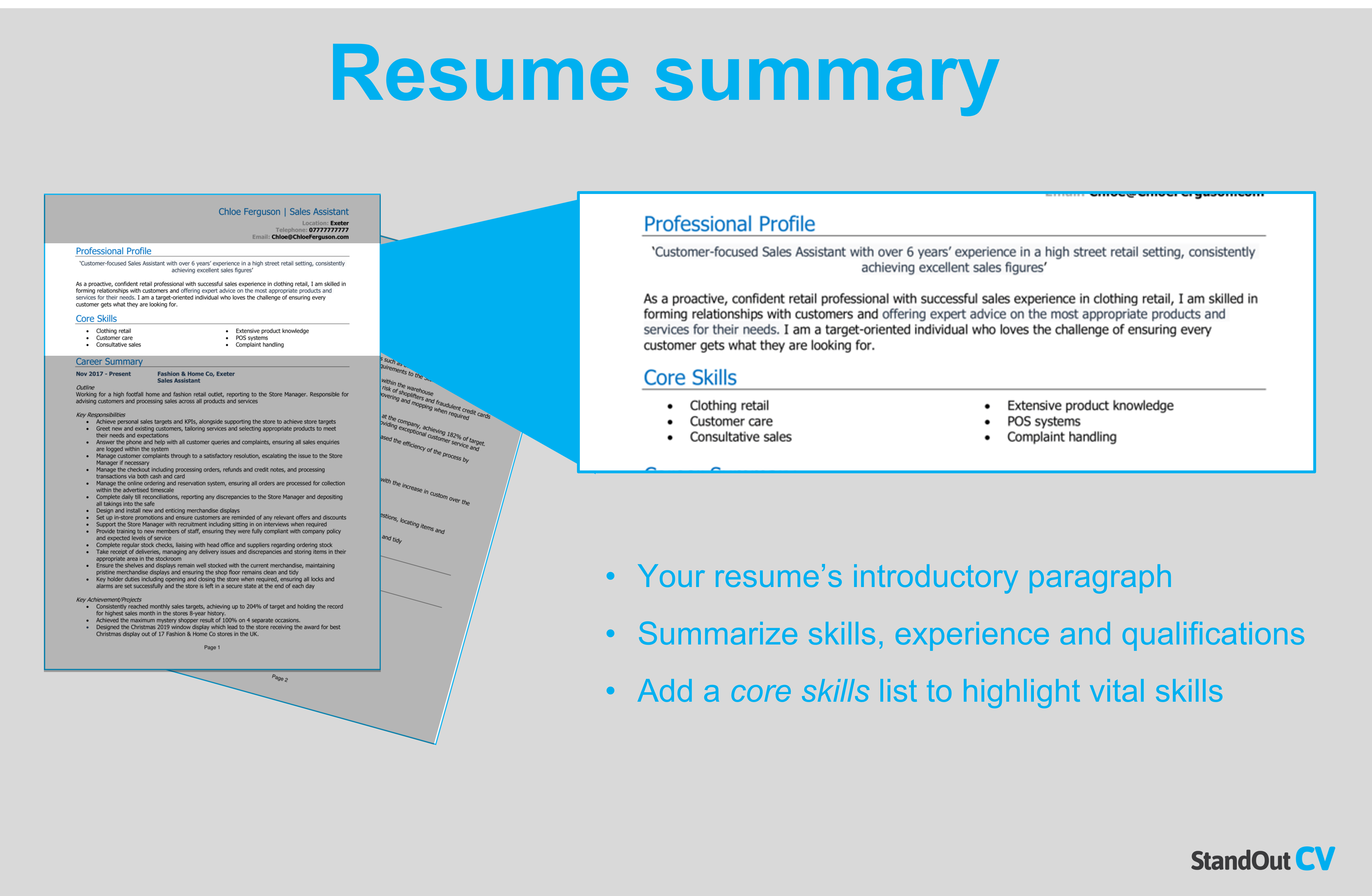 Your resume summary sits at the top of the first page and is your chance to introduce yourself to the recruiter with a short paragraph.
Your summary is a high-level overview of what skills you currently posses, and what you can offer employers
Because you are talking about who you are and what you do right now, you need to use the present tense in your resume summary.
For example;
Do write: "An accomplished administrator with practical knowledge of Microsoft Office"
Don't write: "I have previous admin experience an have used Microsoft Word"
Here are some example to show you how to do this:
Example resume summaries
Example 1
 Detail-oriented Account Coordinator with 13+ years' experience cultivating and maintaining client accounts and relationships for internal and external marketing teams. Certified Google Analytics Professional highly skilled in monitoring project progress and implementing optimization strategies. Highly organised individual with demonstrated success in coordinating paperwork compliance and end-to-end post-sales support for high-value accounts.
Example 2
Assistant Controller with experience in reconciliations, AP/AR, reporting, P&L analysis, and management of general accounting functions. Proficient at collaborating with teams to solve variances, clarify forecasts, and identify profit opportunities. Accustomed to handling numerous projects and meeting auditing deadlines within fast-paced environments requiring consummate accuracy. Focused on incorporating technology and best principles to enhance the effectiveness of accounting practices across all business areas.
Example 3
Passionate and creative Assistant Brand Manager with over 6 years' experience strategizing, developing, and maintaining a company's brand image and implementing effective strategies which increase brand awareness. Skilled at expanding the brand's reach while improving customer experience and upholding the company's brand reputation. Committed to demonstrating strategic creative thinking and developing and implementing business-building ideas that drive growth.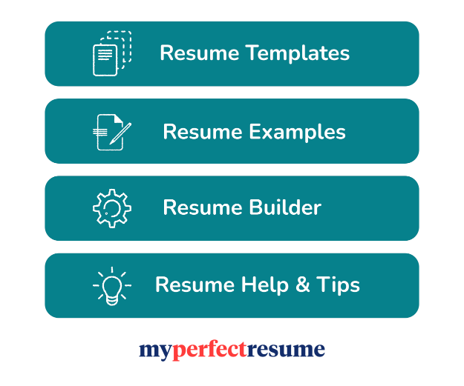 Your current job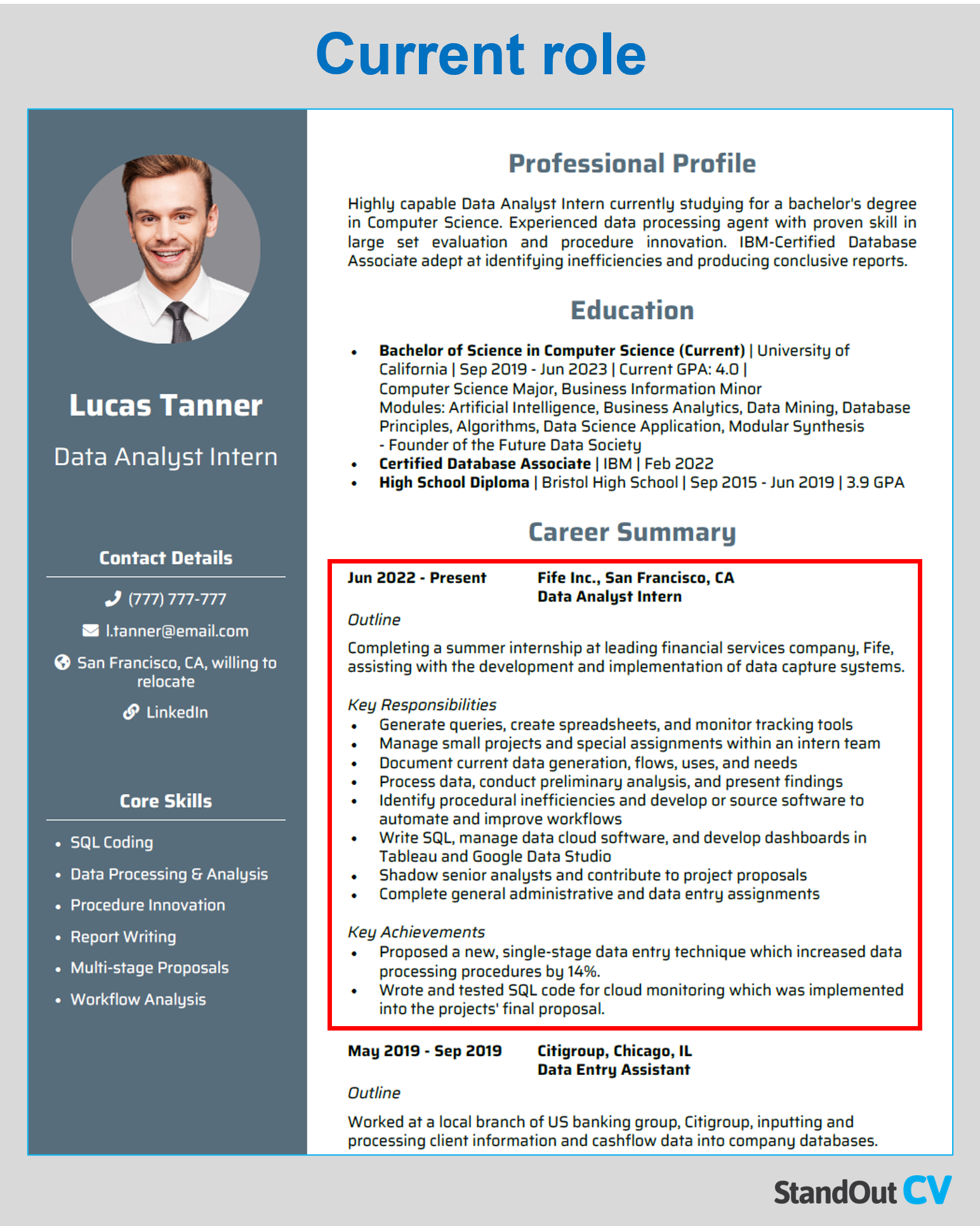 Your resume work experience is where you describe your current and previous jobs.
If you are currently employed, then your current job must be written in the present tense to show recruiters that you are actively carrying out the responsibilities and achievements you are writing about.
For example:
Do write: "Supporting a team of sales reps and providing regular reports to management"
Don't write: "I supported a team of sales reps and provided regular reports to management"
Check out some examples of how to do this below:
Example resume current jobs
Example 1
Outline
Provide administrative support for hiring managers and recruiters at a national office recruitment firm company based in California, finding and screening applicants for up to 200 temporary and permanent vacancies annually.
Compose, publish, and update job advertisements for vacancies to online job boards.
Work closely with managers to fill positions quickly and accurately.
Source candidates and conduct comprehensive background checks.
Manage multiple vacancies at one time using Trello software to ensure KPIs are met.
Example 2
Outline
Administer IV medication and fluid therapies for paediatric patients at Seattle Children's Hospital, working alongside doctors and Registered Nurse's to coordinate and execute acute and long term patient treatment plans.
Key Responsibilities
Provide comprehensive nursing assessment of patients before, during and after procedure.
Establish IV access for infusion patients, monitor IV and document all actions and assessments appropriately in EMR.
Accurately prepare and administer IV therapies per physician orders.
Anticipate and proactively plan for educational needs of patients and families.
Example 3
Outline
Handle cages and platforms to move supplies, for one of the leading rigging companies that specializes in rigging and moving heavy machinery and industrial equipment, such as HVAC systems, generators, and CNC machines.
Key Responsibilities
Operate various material-moving equipment according to schedule and instructions from project managers.
Drive pilings into earth to provide support for buildings and other structures.
Set-up the correct cranes and hoist objects to complete tasks efficiently, while responding to questions and instructions clearly and quickly.
Inspect machines and tools, perform routine maintenance processes, and initiated additional repair requests from mechanics when necessary.

Where to use past tense in your resume
As lots of the information you're providing in your resume is based on past employment, studies, or accomplishments, there will be sections that require you to use the past tense when writing it.
These sections mainly include your previous jobs and education section.
Your previous jobs
When talking about your previous job roles, you need to write each job's details in the past tense to show the work was done in the past.
This means that when listing your key responsibilities and accomplishments during your time in that particular job or company, you use language that lets the employer know this was something you used to do, or that you once achieved – not something you are still doing.
The same applies to your education, achievements, or hobbies sections. If these were completed in the past or you no longer take part in these activities, they must be written in the past tense.
Example previous jobs on resume
Example 1
Outline
Worked for a private mental health clinic in Houston with 3,200 patients from across the state, supporting office staff with daily administration and patient file management.
Key Responsibilities
Informed clients of required documentation needed for their appointments.
Processed client contacts, insurance providers and information changes.
Transcribed doctor's notes and provided administrative support for all written correspondence.
Prepared and completed office reports as projects as assigned by the office coordinator including prebilling and insurance audits.
Example 2
Outline
Worked on a variety of programs which included broadcast programs and television dramas to capture enchanting pictures, for a media company that produces and distributes engaging national news, sports, and entertainment content across TV, streaming, and digital platforms.
Managed and operated picture cameras to record scenes related to TV broadcasts, advertisements, and motion films.
Executed each shot according to technical aspects, such as light, lenses, camera film, and filters to accomplish desired effects.
Decided on camera placement to capture pictures, compose shots, and shoot scenes.
Communicated with the director of photography, make-up artists, lighting crew, and sound employees to create the finest optical effects.
Example 3
Outline
Dispatched appropriate service providers in a manner that was consistent with the mission and goals of King County, for an organization with 10K+ employees that provides ambulance, patient relocation, law enforcement, and fire response services via air, land, and sea transportation.
Processed all incoming 911 and non-emergency telephone calls to calmly determine necessary steps in a multitude of circumstances.
Dispatched calls for nine police divisions, eight fire departments, four ambulance services and other emergency/non-emergency providers.
Created electronic records and logs of activity using dispatch CAD systems.
Established precedence of importance in seeking and passing on information and coordinating action.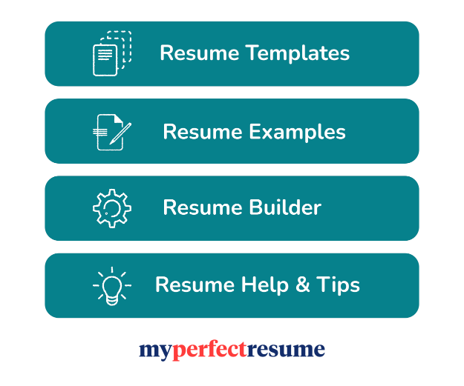 What is present tense?
Tense refers to the use of verbs that allow you to show or express time (or when something happened) when writing.
Present tense means using language to express an action that is happening now or something that is ongoing.
So, in your resume, the present tense is used when writing about work that you are currently doing, or to explain that you are currently qualified in a profession.
For example: "I am currently providing business consulting services and am Prince2 qualified."
What is past tense?
The past tense is when you're using language to discuss something that has already happened or the previous state of something.
It is the verb form you use for an event that has passed, for example, describing something that happened yesterday, last year, or 10 years ago.
In your resume, you would use the past tense to write about previous jobs, or achievements you made in studies.
For example: "Led an experienced research team and created a number of published reports"