You're a strong leader and you're able to juggle multiple responsibilities to ensure everything runs smoothly throughout the shift.
You'll be the ideal shift leader and the team will truly appreciate having you in charge.
So, if you're ready for your next leading role, check out our detailed guide and shift lead resume example below.
Contents
| | |
| --- | --- |
| How to write a Shift Lead resume | |

Shift Lead Resume Example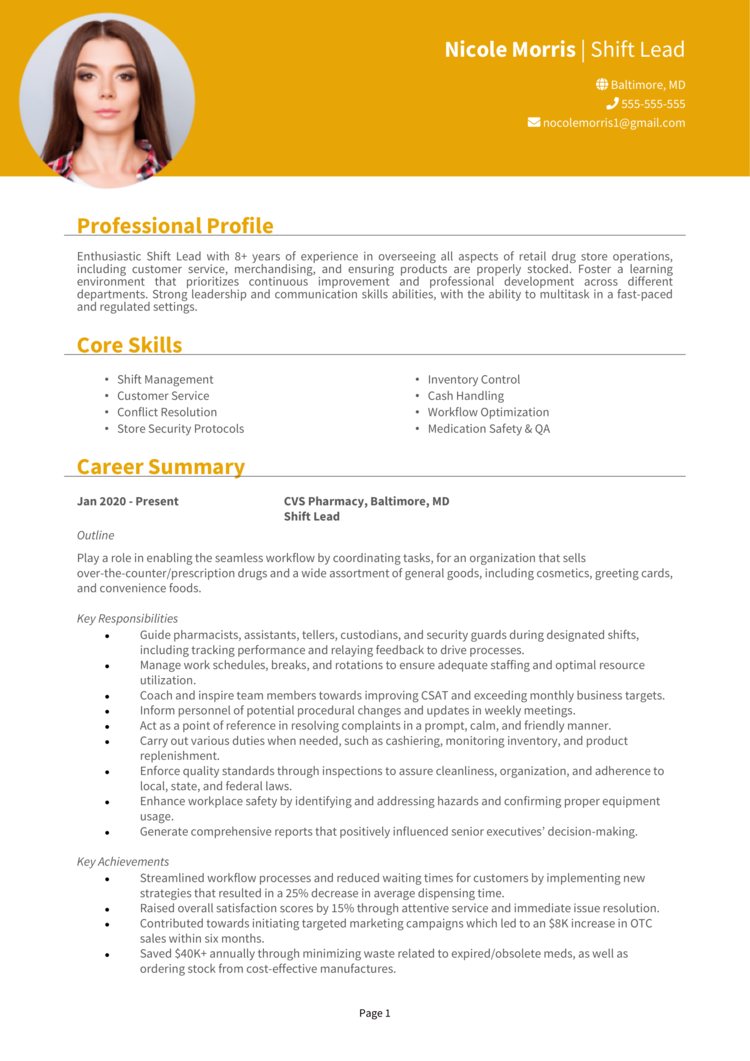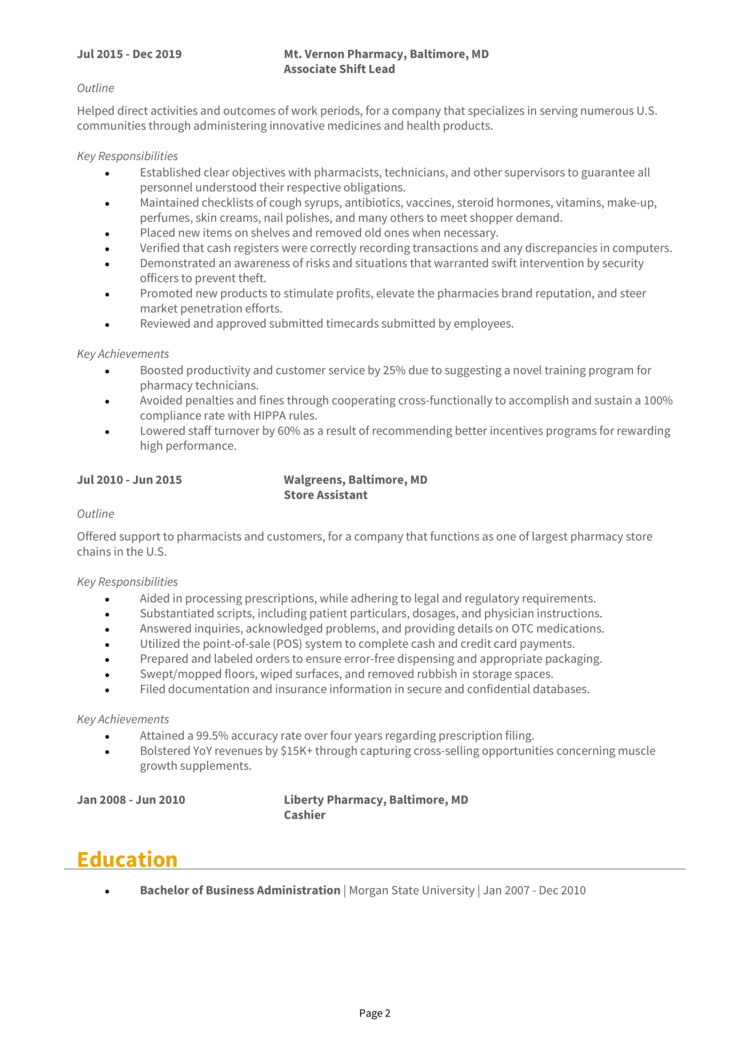 This Shift Lead resume example shows you the most effective layout for a resume in today's job market, along with the type of content you need to include.
Stick closely to these guidelines as you write your own resume, to boost your chances of getting lots of responses, interviews and job offers.
Now lets dive into the details of how you write your own eye-catching resume…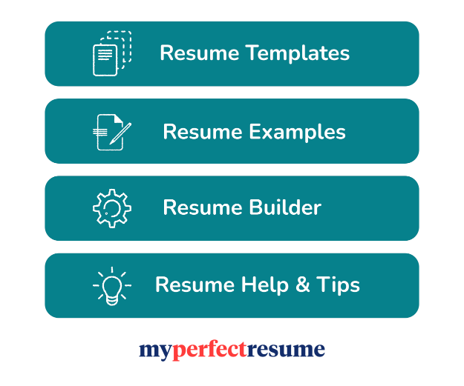 Shift Lead resume layout and format
Formatting and structuring your resume correctly is key to landing job interviews.
Your resume needs to look attractive, but more importantly it needs to be easy for recruiters and hiring managers to read and digest the information.
These tips will help you to do that: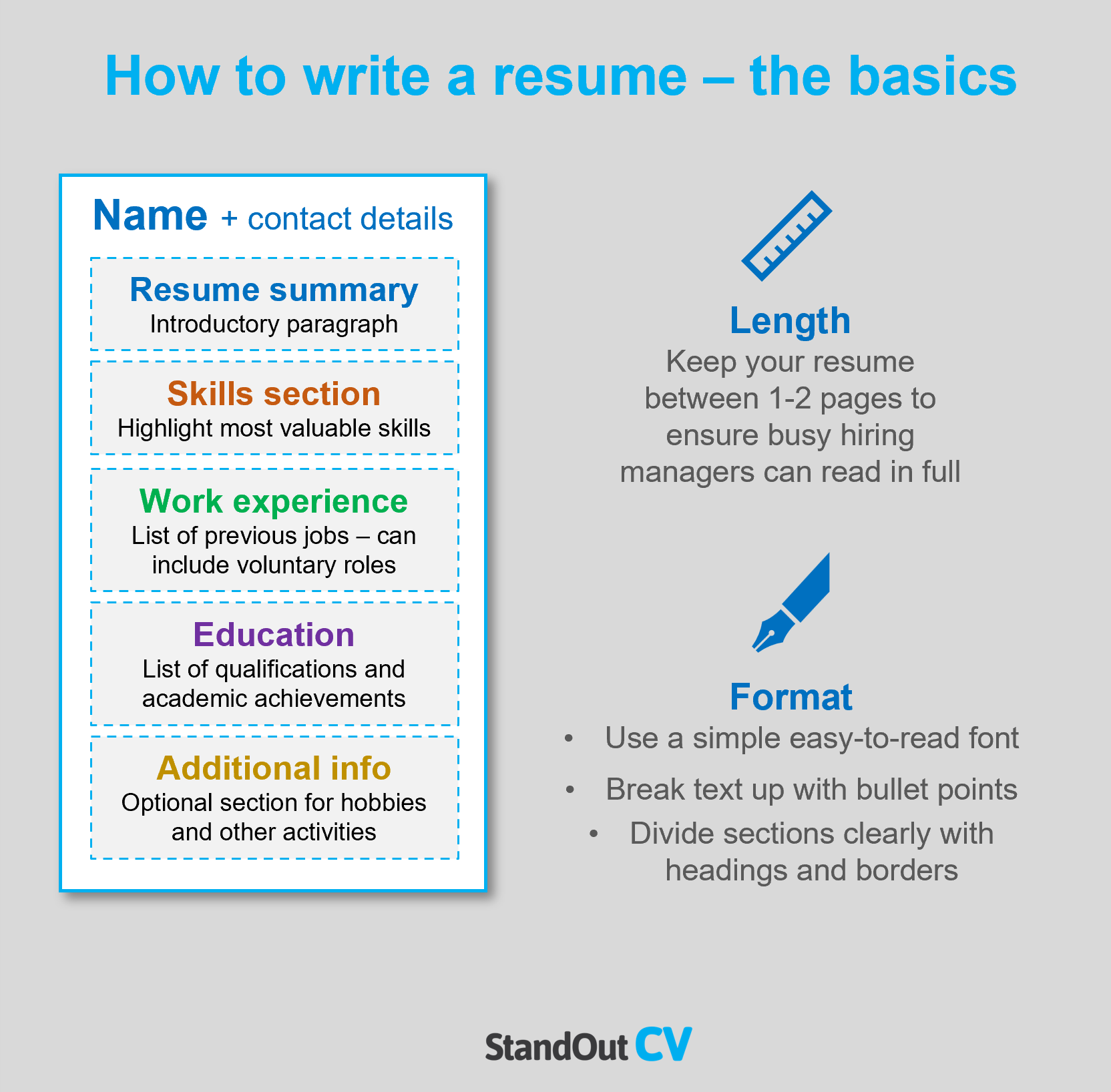 Formatting your resume
Length: To ensure that recruiters will read all of your resume, limit its length to 2 pages – as they someteimes read hundreds of resumes daily.
Font & readability: The key to an effective resume is its readability, so it's best to use a clear and simple font and format it with bullet points and short paragraphs to make it easy for recruiters to read through quickly.
Layout & Structure: Your resume should look appealing – but don't overlook functionality when it comes to design. Organise the page into clear sections using bold headings and borders.
Photos: While adding a photo to your resume is not mandatory in the USA, it can be beneficial if you are applying to organizations in creative industries.
Quick tip: Achieving a professional look for your resume can be difficult and time-consuming. If you want to create an attractive resume quickly, try our partner's Resume Builder and use one of their eye-catching resume templates.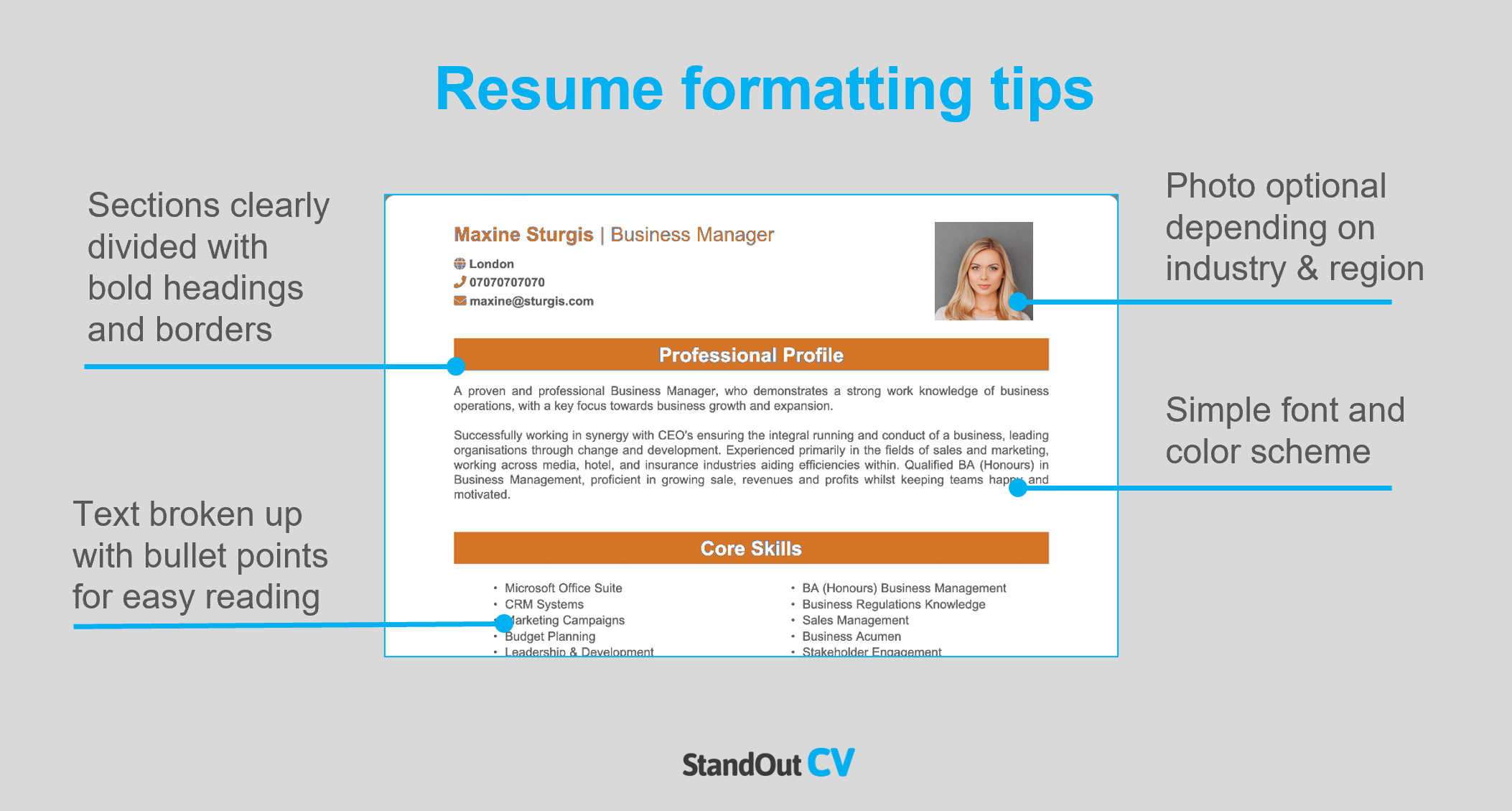 Resume layout
Include the following sections when you write your resume.
Name and contact details – Make it easy for employers to contact you, by putting these at the top.
Resume summary – An intro paragraph sitting at the top of your resume, summarizing the reasons why you should be hired.
Skills section – A short snappy list of your most important skills, that can be quickly digested
Work experience – Reverse chronological list of your previous jobs – voluntary work and college placements can be included if you have no paid experience.
Education – List your qualifications and professional training.
Additional info – An optional section for things like hobbies and interests.
Here's what to include in each part of your resume.
Contact Details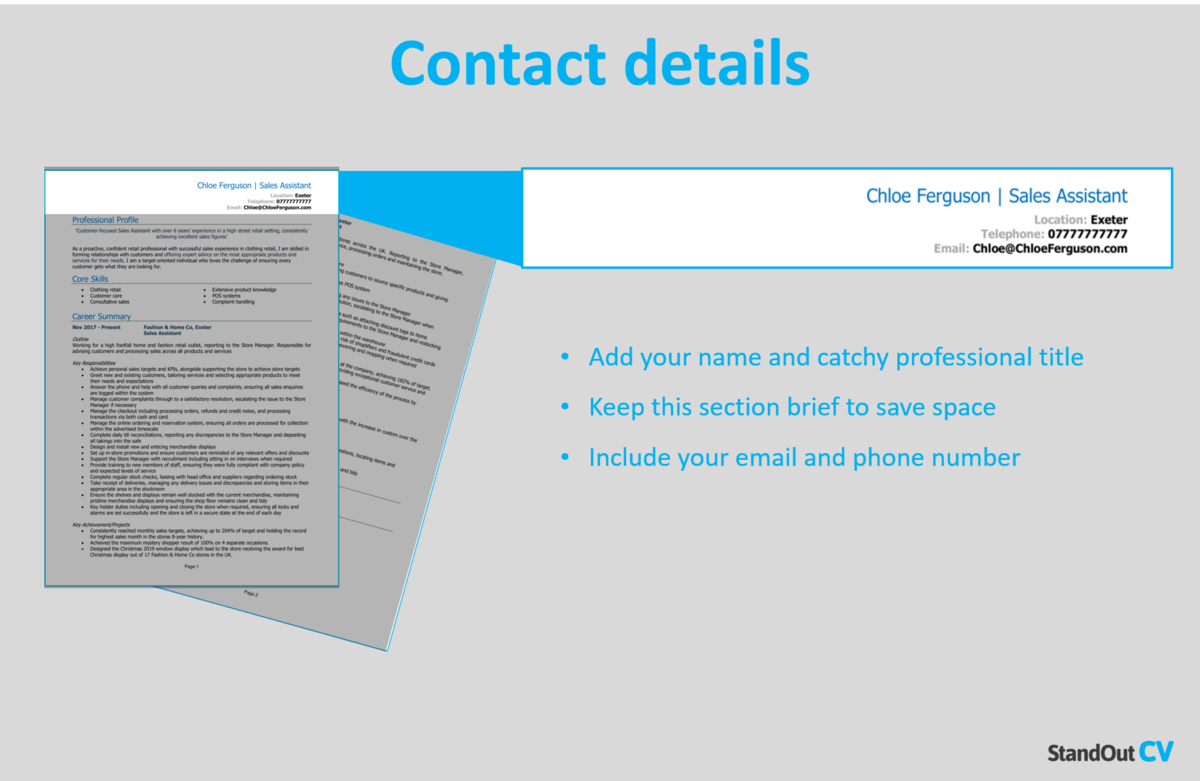 Keep your contact details short to save resume space and include the following.
Name and profession title
Cell phone number
Location – Add your local area such as Silicon Valley or New York, unless you are looking for work in a different location
Email address – Keep it professional and don't use an old address that you thought was cool in high school, but now looks a bit embarrassing.
You can add a link to your LinkedIn profile if you have one – you do not need to include personal details like date of birth or marital status.
Shift Lead Resume Summary
Start your resume with a bang by adding a powerful summary to the top, summarizing your most valuable skills and experience.
This short paragraph is your chance to show recruiters why you are a perfect fit for the job and encourage them to read more of your resume.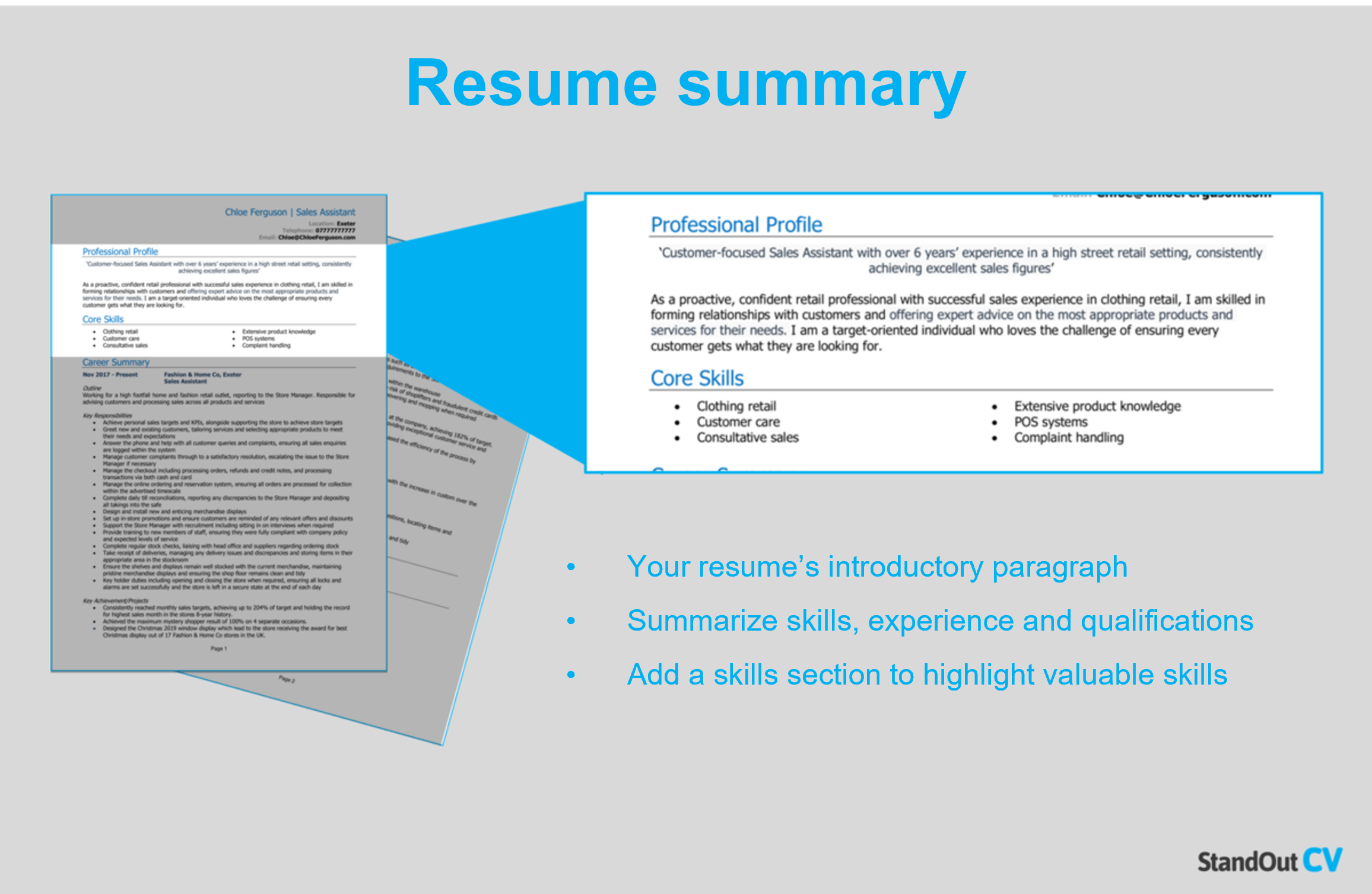 How to create a resume summary that will excite recruiters:
Keep it short: To capture a recruiter's attention and keep them interested in your resume, limit your summary to 4-7 lines as you only have a few seconds to make an impression
Tailor to target jobs: To make your resume more relevant to your target jobs, analyze the job description and include as many matching skills as possible.
Avoid using cliches: Recruiters always see cringey cliches like "hardworking guru who works well in a team or individually" – they don't mean much to anyone, so focus your summary on tangible skills and experience.
Shift Lead resume summary example
Enthusiastic Shift Lead with 8+ years of experience in overseeing all aspects of retail drug store operations, including customer service, merchandising, and ensuring products are properly stocked. Foster a learning environment that prioritizes continuous improvement and professional development across different departments. Strong leadership and communication skills abilities, with the ability to multitask in a fast-paced and regulated settings. 
What to include in your Shift Lead resume summary?
Summary of your experience: Summarize the type of work you have done in the past and the benefits you have delivered for the organizations you worked at.
Relevant skills: Scatter your most in-demand Shift Lead skills through your summary to ensure they are noticed quickly by hiring managers.
Qualifications: Any qualifications that are important to the Shift Lead jobs you are applying for, should be mentioned in the summary.
Quick tip: Choose from hundreds of pre-written summaries across all industries, and add one to your resume with one-click in our partner's Resume Builder. All written by recruitment experts and easily tailored to suit your unique skillset and style.
Core skills section
Next, you should create a bullet pointed list of your core skills, formatted into 2-3 columns.
Here, you should focus on including the most important skills or knowledge listed in the job advertisement.
This will instantly prove that you're an ideal candidate, even if a recruiter only has time to briefly scan your resume.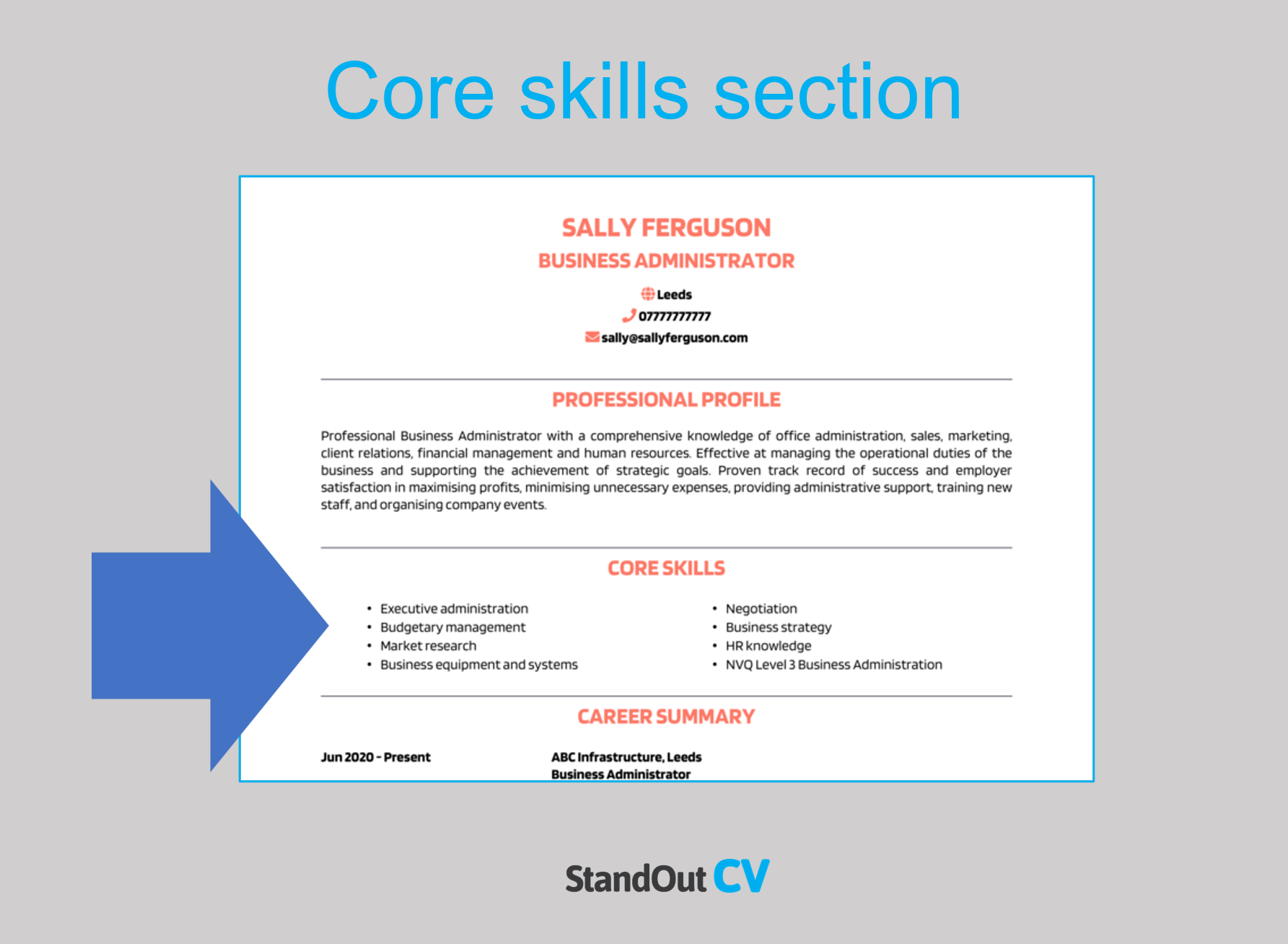 Best skills for your Shift Lead resume
Shift Leadership – Effectively leading and managing a team, delegating tasks, and providing guidance and support to team members.
Stakeholder Communication – Effectively conveying information, instructions, and feedback to team members and other stakeholders.
Operational Decision Making – Making quick and sound decisions, considering available information, and considering the impact on operations and team performance.
Problem Resolution – Identifying and resolving problems or challenges that arise during the shift, utilizing critical thinking and analytical skills to find practical solutions.
Customer Service – Delivering exceptional customer service, addressing customer inquiries, resolving issues, and ensuring customer satisfaction.
Conflict Resolution – Effectively resolving conflicts or disputes that may arise among team members or with customers, promoting a positive and harmonious work environment.
Operational Knowledge – Utilizing knowledge of the specific operations and processes related to the industry or field, including adherence to standard operating procedures and safety protocols.
Quick tip: Our partner's Resume Builder contains thousands of in-demand skills for every profession that can be added to your resume in seconds – saving you time and greatly improving your chances of landing job interviews and getting hired.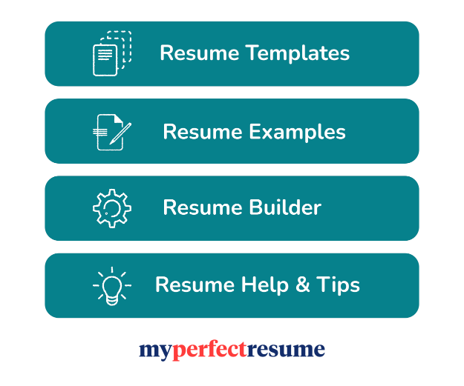 Work experience
Once you've got recruiters interested with your impactful summary, your work experience is where the real detail will lie.
Lay out your previous jobs from current to oldest, detailing what you contributed and achieved in each one.
If you're highly experienced you can cut this section down to your most recent few years of work, but if you are junior you can bulk this up with voluntary work and college placements.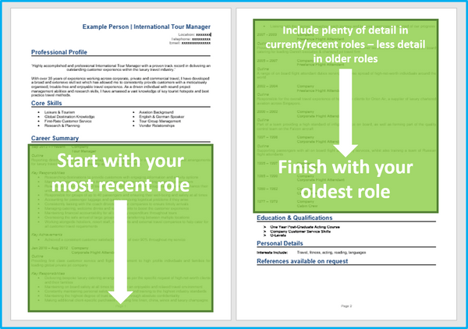 Structuring your jobs
Without a good structure, your job description can look messy and overwhelming to anyone reading them.
Make it easy for recruiters to read your work experience by structuring your roles like this.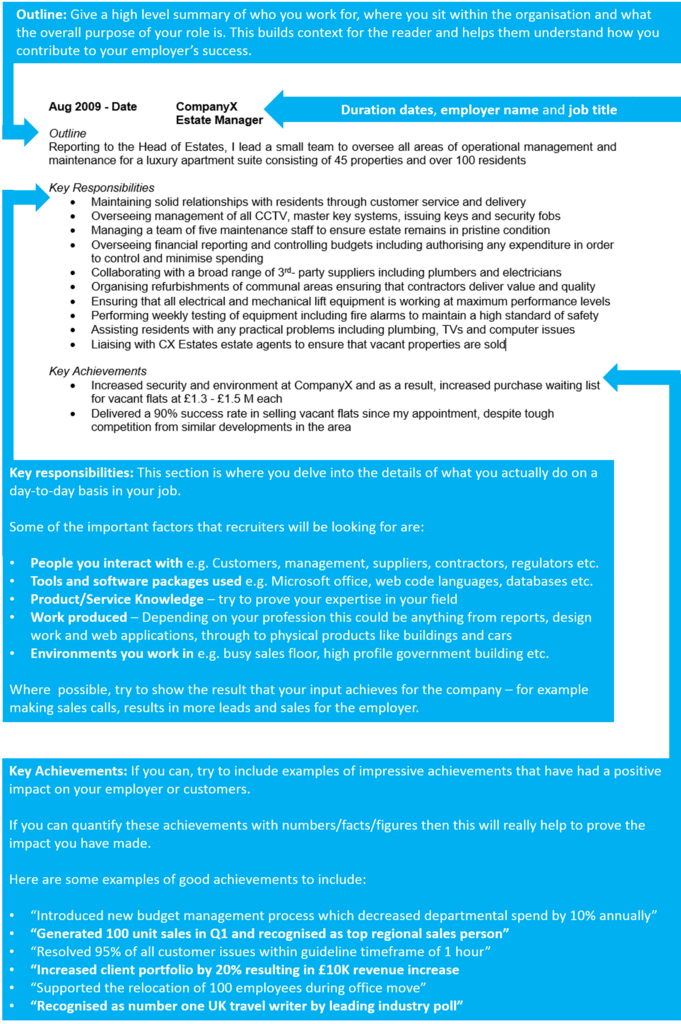 Job outline
Start with a 1-2 sentence outline of the role, summarizing what the goal of your position was, who you reported to (or managed) and the type of organization you worked for.
Key responsibilities
List your notable responsibilities in short sharp bullet points to demonstrate your input and how you contributed to the organization's success.
Highlight the skills that are most important to the roles you are applying for.
Key achievements
Round off each job by adding some impressive achievements you made in the role.
Anything you've done that has made a big impact on your employer will make a good impression, think; generating revenue, saving costs, or improving a product.
Quantify your achievements with number where possible e.g. "reduced call wait time by 10%"
Example job for Shift Lead resume
Outline
Play a role in enabling the seamless workflow by coordinating tasks, for an organization that sells over the counter/prescription drugs and a wide assortment of general goods, including cosmetics, greeting cards, and convenience foods.
Key Responsibilities
Guide pharmacists, assistants, tellers, custodians, and security guards during designated shifts, including tracking performance and relaying feedback to drive processes.
Manage work schedules, breaks, and rotations to ensure adequate staffing and optimal resource utilization.
Coach and inspire team members towards improving CSAT and exceeding monthly business targets.
Inform personnel of potential procedural changes and updates in weekly meetings.
Quick tip: Create impressive job descriptions easily in our partner's Resume Builder by adding pre-written job phrases for every industry and career stage.

Education section
Towards the bottom of your resume, add your education section.
Here you should list your professional qualifications and academic record, such as high school diplomas or college degrees.
If you have lots of work experience, you can keep this section brief (because recruiters will be more interested in your career. If you have little/no experience then you should bulk this section up with plenty of detail.
Additional information
At the end of your resume, you can add any extra information that might be relevant to the jobs you are applying for.
This could be hobbies, interests, publications, clubs or memberships.
This section is optional and doesn't need to be added if you have nothing more relevant to add.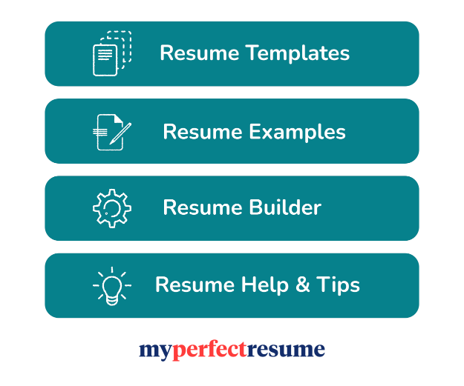 Writing your own winning Shift Lead resume
Following the steps in this guide will help you to create a winning Shift Lead resume and bag lots of interviews.
Good luck with your job search!