As well as helping to design plans, liaise with clients, and maintain processes, you are also ready to take charge of the team and ensure every project is within budget.
You've got what it takes to fulfill the senior role and achieve the best results for the business, you just need to prove this to the recruiter.
But with just a couple of pages to do so, writing a standout application can be tricky. So check out our top tips and senior engineer resume example in the guide below.
Contents
| | |
| --- | --- |
| How to write a Senior Engineer resume | |

Senior Engineer Resume Example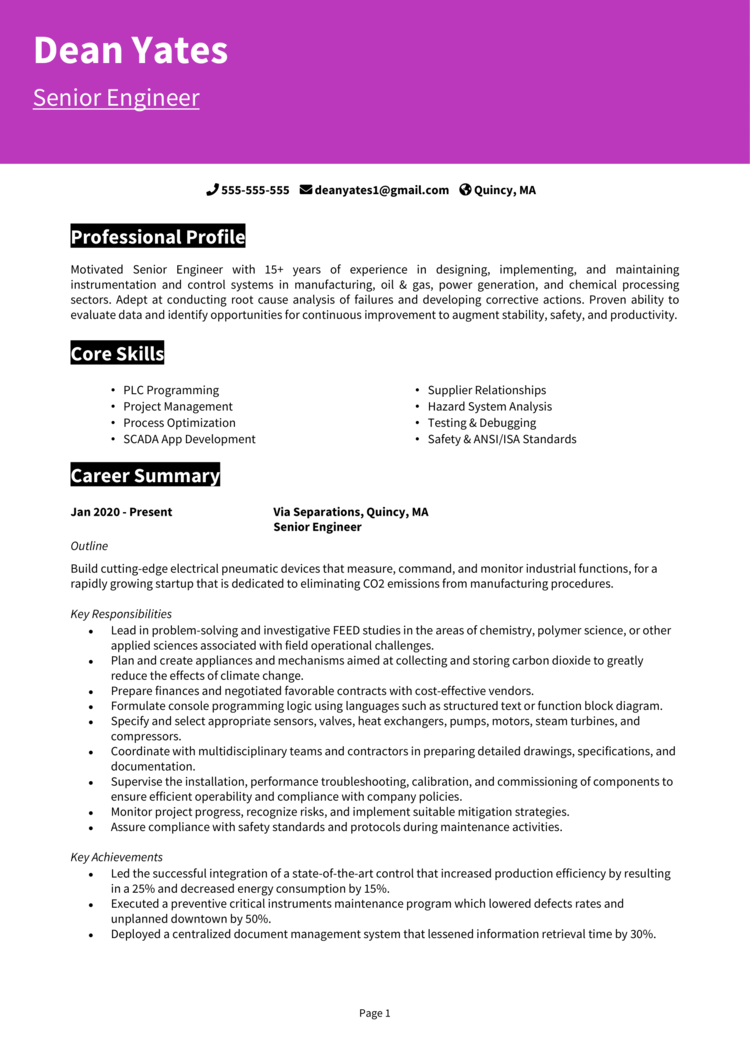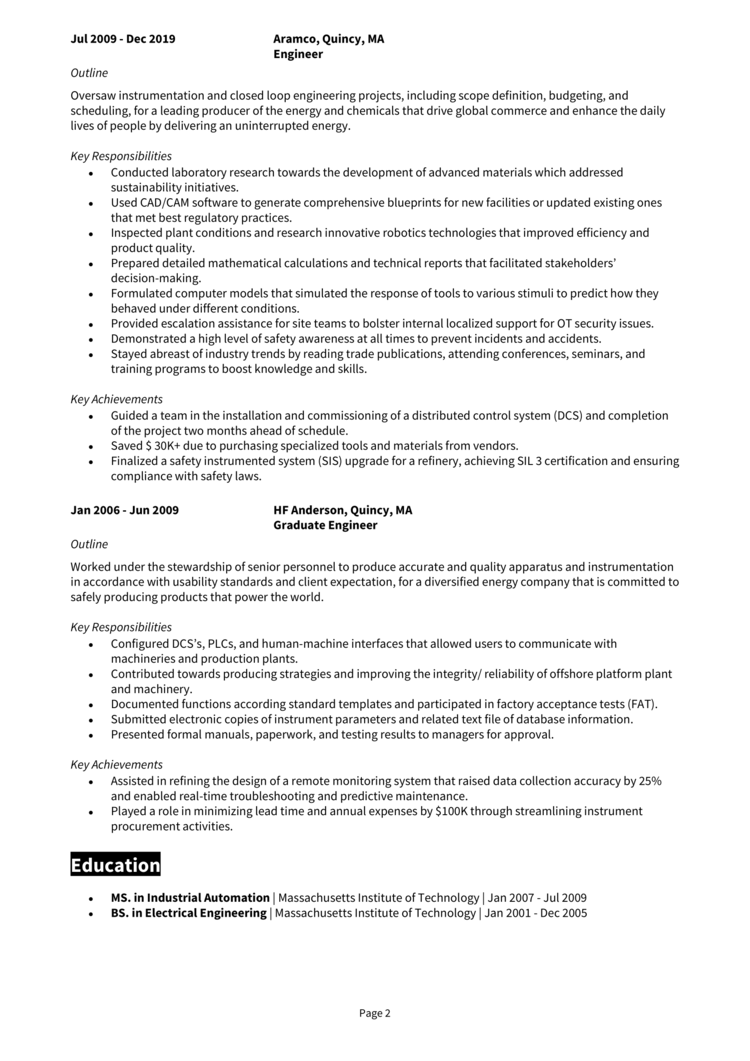 The example Senior Engineer resume above shows you how a professional resume should look, along with the type of content it should contain.
You can see that the information is well-organized across the page and its easy for busy recruiters to see the candidate's important skills.
Keep this in mind when writing your own resume.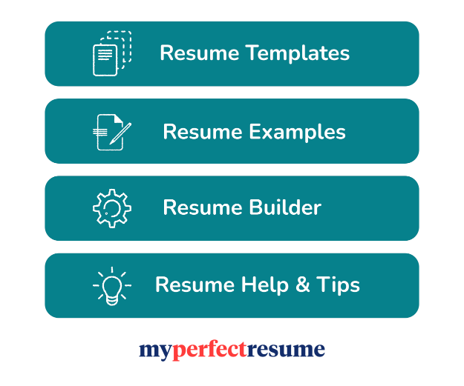 Senior Engineer resume layout and format
If you want to get noticed in the job market, you have to pay attention to the format and layout of your resume.
Essentially your resume needs to look highly polished, and provide hiring managers with an easy reading experience.
Use these resume formatting tips to get a head start on this.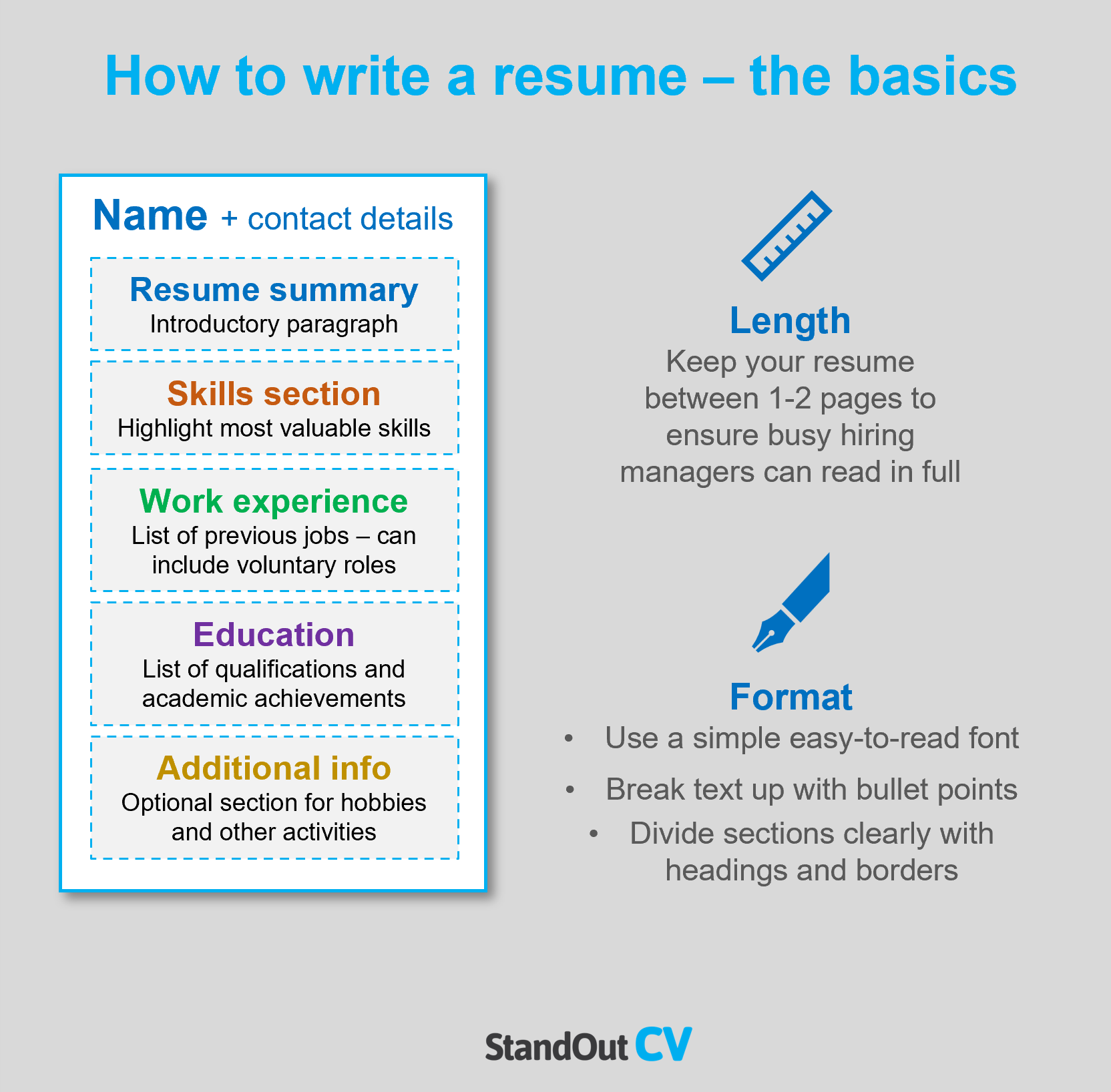 Formatting your resume
Length: Think that submitting a 10 page resume will impress recruiters? Unfortunately it won't… Even if you've got tons of experience to brag about, recruiters don't have time to read essays, so keep it brief – around 2 pages is the sweet spot.
Font & readability: Complex fonts are a readers' worst nightmare and will leave recruiters struggling to understand your message. Use a clear simple lean font in a color that stands out against the page, and break your text up with bullet points to make the content easily digestible.
Layout & Structure: A visually appealing resume is important, but don't forget about functionality. To ensure a functional design, use bold headings and borders to organize the page into clear sections.
Photos: While adding a photo to your resume is not mandatory in the USA, it can be beneficial if you are applying to organizations in creative industries.
Quick tip: Achieving a professional look for your resume can be difficult and time-consuming. If you want to create an attractive resume quickly, try our partner's Resume Builder and use one of their eye-catching resume templates.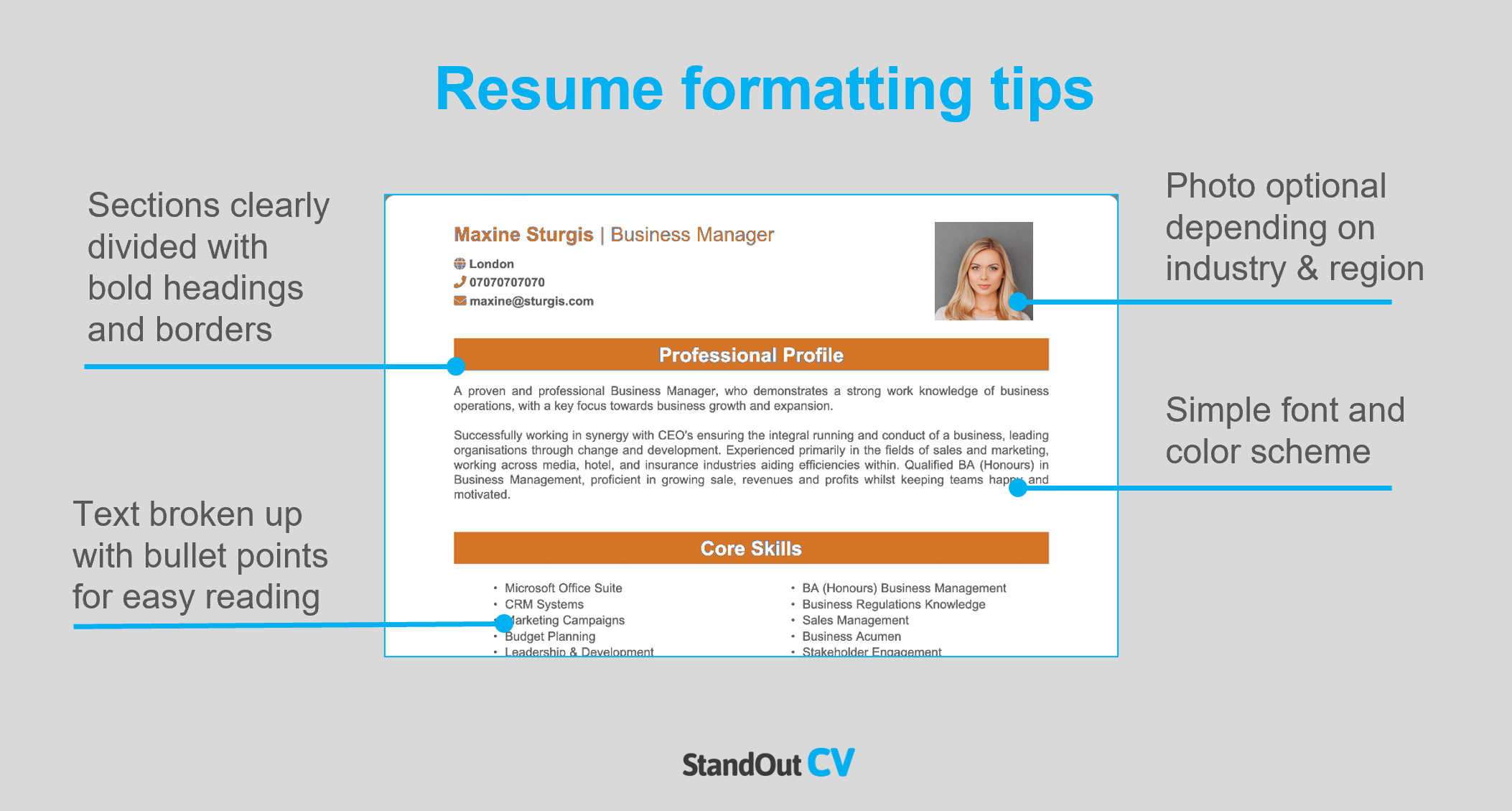 Resume layout
When writing your resume, you should always include the following sections:
Name and Contact Details – Place this information at the top of your resume to make it easy for employers to contact you.
Resume Summary – Write a brief introductory paragraph at the top of your resume summarizing why you are the best candidate for the job.
Skills Section – Create a concise list of your most important skills that can be quickly skimmed over by potential employers.
Work Experience – List your previous jobs in reverse chronological order, including volunteer work and college placements if you have no paid experience.
Education – List your educational qualifications and any professional training you have received.
Additional Information – This is an optional section for including details about hobbies, interests, or any other relevant information that may help distinguish you from other candidates.
Here's what to include in each part of your resume.
Contact Details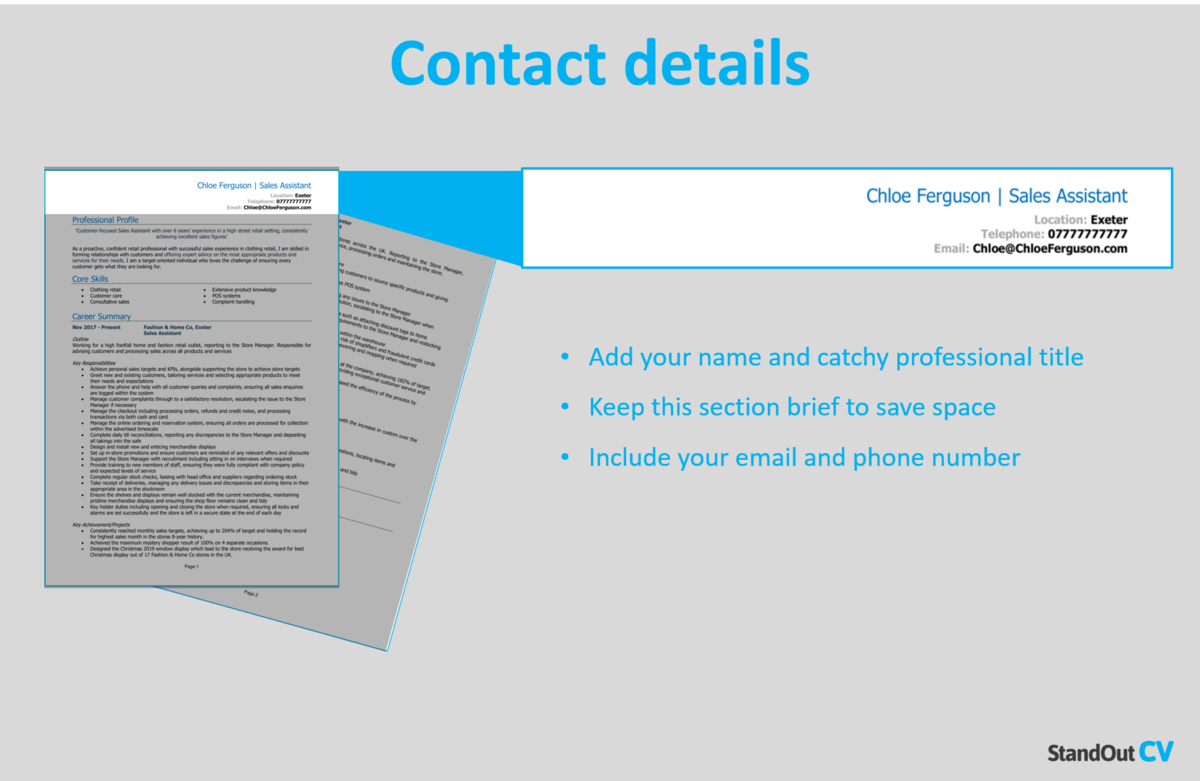 Add your name and contact details to the very top of your resume, making it easy for recruiters to get in touch
Name and profession title
Cell phone number – or another number you can answer quickly
Location – Add your local area such as San Diego or New York – not your full address as that will take up too much space.
Email address – Use your name or close variation – no nicknames from high school.
You can add a link to your LinkedIn profile if you have one – you do not need to include personal details like date of birth or marital status.
Senior Engineer Resume Summary
The resume summary is a short paragraph at the top of your resume, and it's purpose is to grab recruiter's attention and make sure they keep reading it.
To make your summary work, ensure that you provide a high-level summary of your skills and experience – and tailor it to reflect the requirements of the jobs you are applying for.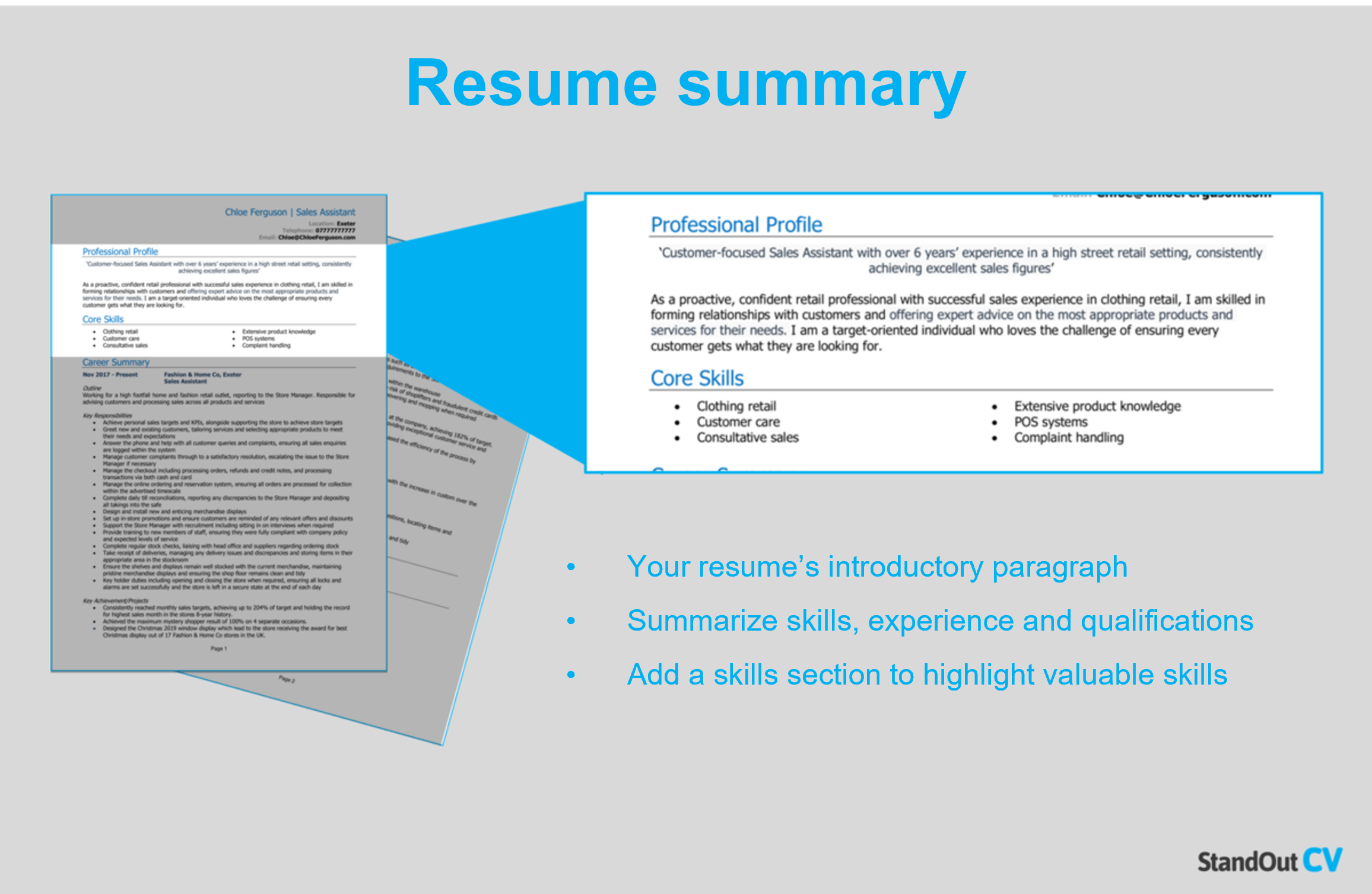 How to create a resume summary that will excite recruiters:
Keep it short: To effectively capture a recruiter's attention, it's crucial to keep your resume summary brief and to the point, limiting it to 4-7 lines as this provides enough detail without overwhelming them at this early stage.
Tailor to target jobs: To tailor your resume to your target jobs, it's essential to closely analyze the job description and include as many relevant skills as possible.
Avoid using cliches: You may be a "team player who always give 110%" but generic phrases don't tell employers much about you in reality – stick to factual information.
Senior Engineer resume summary example
Motivated Senior Engineer with 15+ years of experience in designing, implementing, and maintaining instrumentation and control systems in manufacturing, oil & gas, power generation, and chemical processing sectors. Adept at conducting root cause analysis of failures and developing corrective actions. Proven ability to evaluate data and identify opportunities for continuous improvement to augment stability, safety, and productivity.
What to include in your Senior Engineer resume summary?
Summary of your experience: What kind of companies have you worked for in the past? And which jobs have you carried out?
Relevant skills: Incorporate your highly relevant skills for Senior Engineer jobs to exhibit your suitability as soon as your resume is opened.
Qualifications: Showcase your level of education with a quick mention of any qualifications that are essential for the Senior Engineer roles you are applying to.
Quick tip: Choose from hundreds of pre-written summaries across all industries, and add one to your resume with one-click in our partner's Resume Builder. All written by recruitment experts and easily tailored to suit your unique skillset and style.
Core skills section
Sitting just underneath your resume summary, your core skills section gives recruiters 4-10 of your most in-demand skills in just a glance.
As Senior Engineer jobs may get hundreds of applications, this is a great way to stand out and quickly grab hiring managers' attention.
It should be made up of 2-3 columns of bullet points and highlight attributes that are hyper-relevant to the jobs you are aiming for.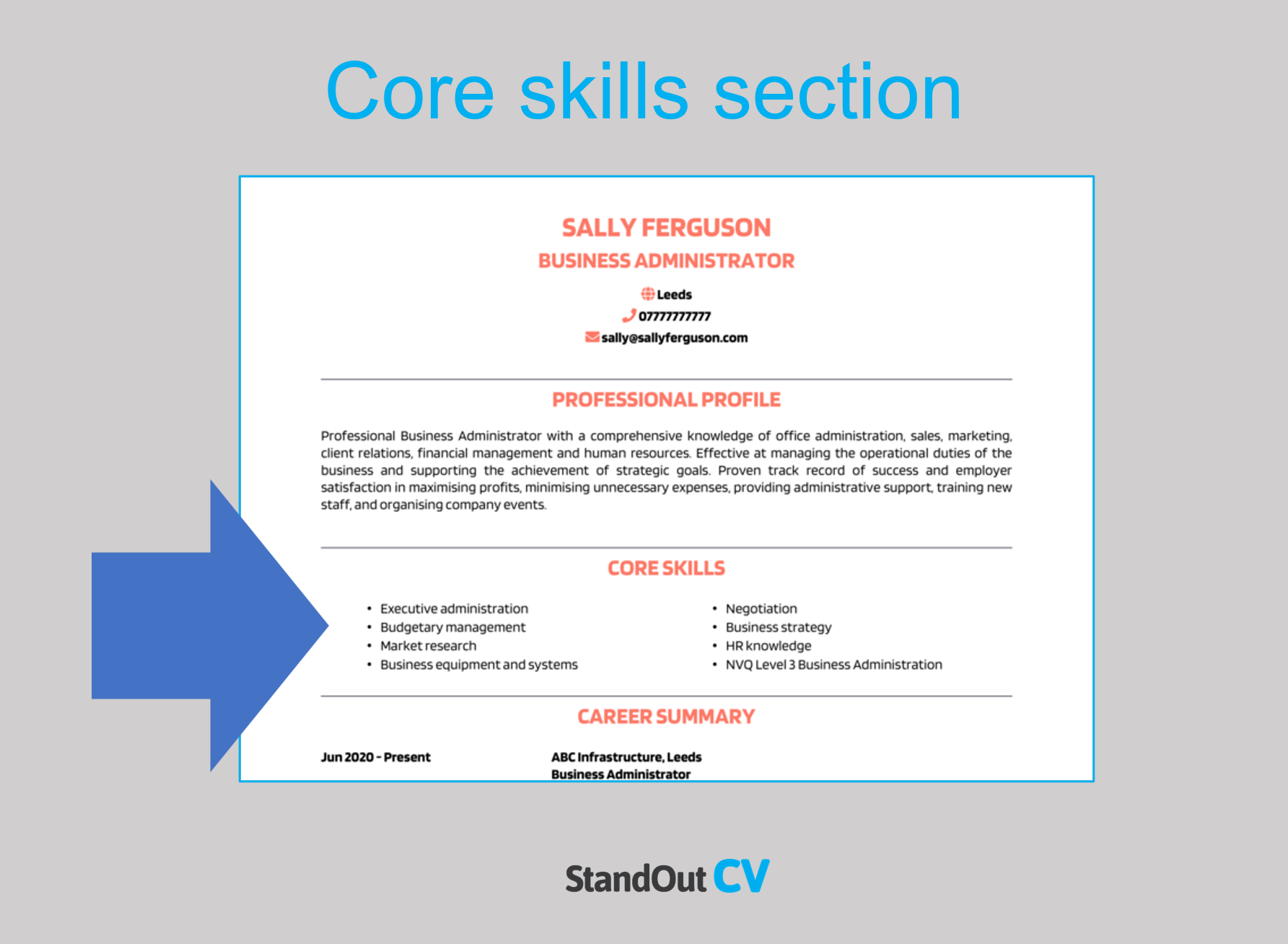 Best skills for your Senior Engineer resume
Technical Expertise – Maintaining mastery of technical skills and knowledge in a specific engineering discipline, allowing for advanced problem-solving and decision-making.
Project Management – Managing complex engineering projects from initiation to completion, including planning, scheduling, budgeting, and resource allocation.
Leadership – Leading and mentoring junior engineers, providing guidance, support, and technical expertise to ensure successful project execution and team performance.
Risk Assessment and Mitigation – Identifying potential risks and developing strategies to mitigate them, ensuring project success and minimizing potential setbacks.
Data Analysis – Analyzing and interpreting complex data, maknig data-driven decisions, and solving technical problems effectively.
Continuous Improvement and Innovation – Thinking outside the box, generating innovative solutions, and continuously improving engineering processes, products, or services.
Cross-functional Collaboration – Collaborating with cross-functional teams, stakeholders, and clients, and effectively communicating technical information to both technical and non-technical audiences.
Quality Assurance – Implementing quality assurance processes, ensuring compliance with industry standards and regulations, and maintaining high-quality engineering deliverables.
Technical Documentation – Creating accurate and detailed technical documentation, including specifications, drawings, and reports, to ensure proper project documentation and knowledge transfer.
Continuous Learning – Staying updated with the latest advancements in the engineering field, attending conferences, participating in professional development activities, and continuously expanding technical knowledge.
Quick tip: Our partner's Resume Builder contains thousands of in-demand skills for every profession that can be added to your resume in seconds – saving you time and greatly improving your chances of landing job interviews and getting hired.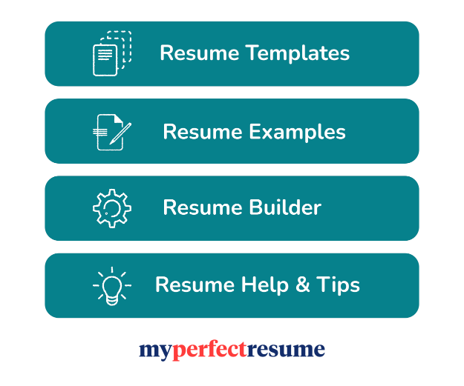 Work experience
Once you've got recruiters interested with your impactful summary, your work experience is where the real detail will lie.
Lay out your previous jobs from current to oldest, detailing what you contributed and achieved in each one.
If you're highly experienced you can cut this section down to your most recent few years of work, but if you are junior you can bulk this up with voluntary work and college placements.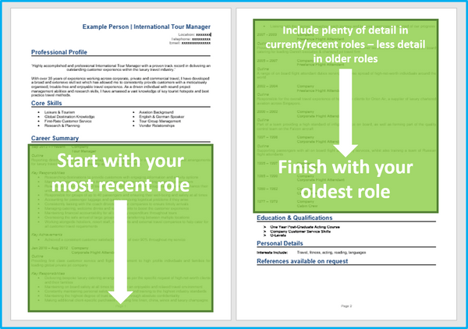 Structuring your jobs
Resume job descriptions contain lots of information, so its crucial to structure them well.
Use the structure below to ensure hiring managers can consume the information easily.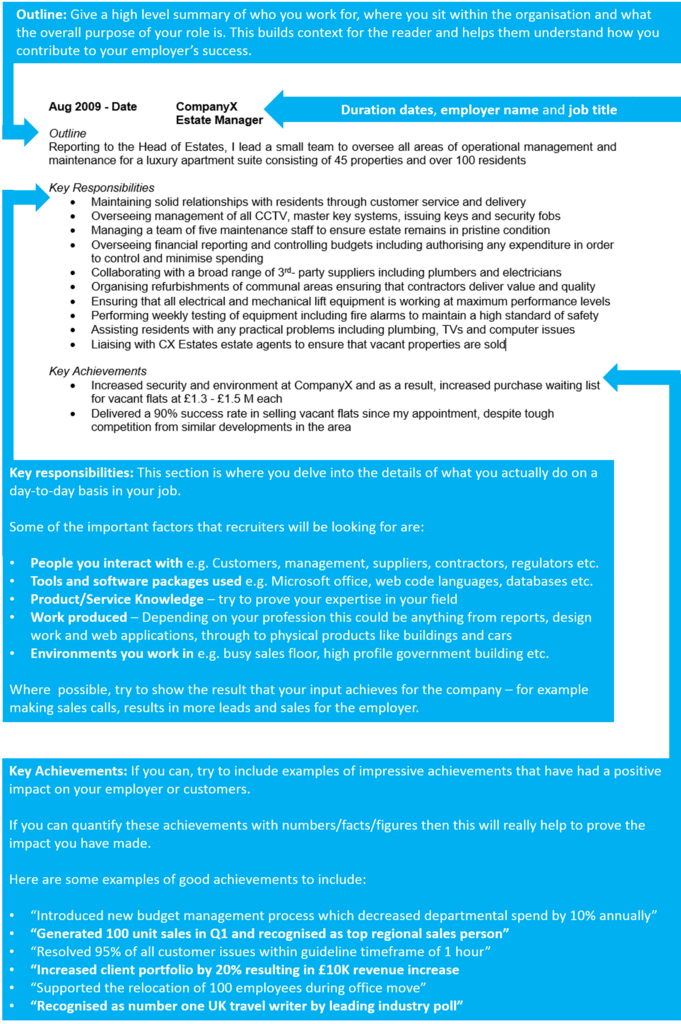 Job outline
Start with a 1-2 sentence outline of the role, summarizing what the goal of your position was, who you reported to (or managed) and the type of organization you worked for.
Key responsibilities
The bulk of the role description should be comprised of bullet points that explain all of your duties in the job.
Keep the sentences short and simple to make them easy for recruiters to digest.
Key achievements
Show employers the value you can bring to them by adding a few achievements to your jobs.
Whether you've saved the company money or improved an internal process, let recruiters know
Add some numbers to give readers a real scale of the impact, e.g. "reduced call wait time by 10%"
Example job for Senior Engineer resume
Outline
Build cutting-edge electrical pneumatic devices that measure, command, and monitor industrial functions, for a rapidly growing startup that is dedicated to eliminating CO2 emissions from manufacturing procedures.
Key Responsibilities
Lead in problem-solving and investigative FEED studies in the areas of chemistry, polymer science, or other applied sciences associated with field operational challenges.
Plan and create appliances and mechanisms aimed at collecting and storing carbon dioxide to greatly reduce the effects of climate change.
Prepare finances and negotiated favorable contracts with cost-effective vendors.
Formulate console programming logic using languages such as structured text or function block diagram.
Quick tip: Create impressive job descriptions easily in our partner's Resume Builder by adding pre-written job phrases for every industry and career stage.

Education section
Near the end of your resume add your education section.
Experienced candidates should keep it brief and focus on professional qualifications – and junior candidates can include high school diplomas, college degrees etc.
Additional information
The bottom of your resume is a place to add any "additional info"
Any other info that didn't fall into any of the previous sections can be added here.
If you have hobbies that are related to your profession or any awards or publications – add them here.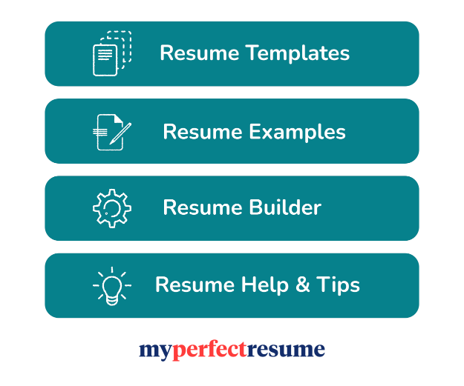 Writing your own winning Senior Engineer resume
A winning Senior Engineer resume should look great, read well, and sell your skillset to hiring managers.
If you follow the steps above, you should be able to bag yourself a top job in no time.
Good luck with your job search!