Are you ready to take on the responsibility of being the security supervisor for the whole business?
If so, you need a resume that's stronger than a Vivint security system to help you lock down that interview.
To help you create a winning application, we've put together our top resume writing tips, along with a security supervisor resume example to guide you.
Contents
| | |
| --- | --- |
| How to write a Security Supervisor resume | |

Security Supervisor Resume Example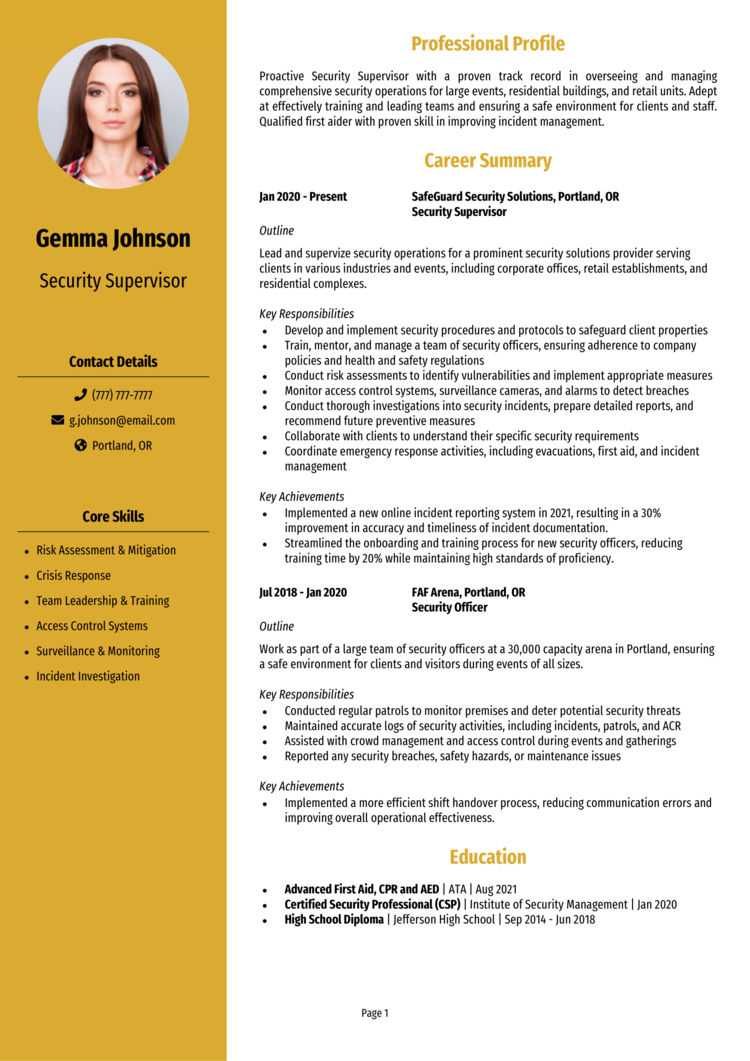 This Security Supervisor resume example shows you the most effective layout for a resume in today's job market, along with the type of content you need to include.
Stick closely to these guidelines as you write your own resume, to boost your chances of getting lots of responses, interviews and job offers.
Now lets dive into the details of how you write your own eye-catching resume…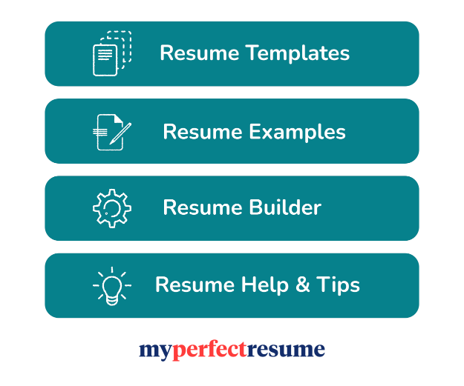 Security Supervisor resume layout and format
If you want to get noticed in the job market, you have to pay attention to the format and layout of your resume.
Essentially your resume needs to look highly polished, and provide hiring managers with an easy reading experience.
Use these resume formatting tips to get a head start on this.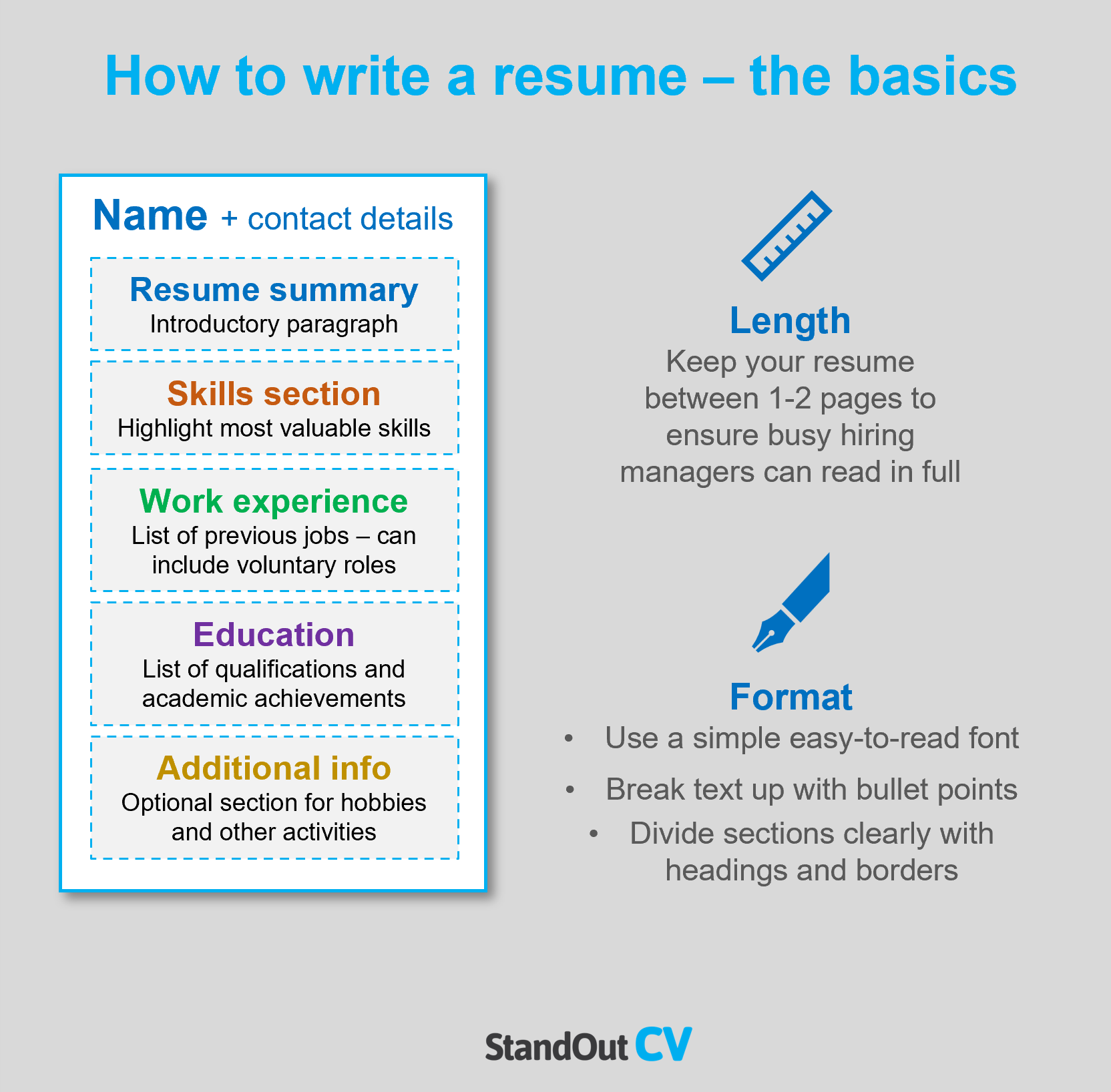 Formatting your resume
Length: As recruiters have a limited amount of time to review each resume they see, keep your resume to 2 pages or less to increase the chances of it being thoroughly reviewed.
Font & readability: A readable resume is crucial if you want recruiters to see your important skills. Ensure yours is easy to read by using a simple, clear font and breaking up the text with bullet points and short paragraphs.
Layout & Structure: Your resume should look appealing – but don't overlook functionality when it comes to design. Organise the page into clear sections using bold headings and borders.
Photos: Although it is not compulsory to include a photo in your resume in the USA, it can be advantageous if you are applying to companies in creative industries.
Quick tip: Achieving a professional look for your resume can be difficult and time-consuming. If you want to create an attractive resume quickly, try our partner's Resume Builder and use one of their eye-catching resume templates.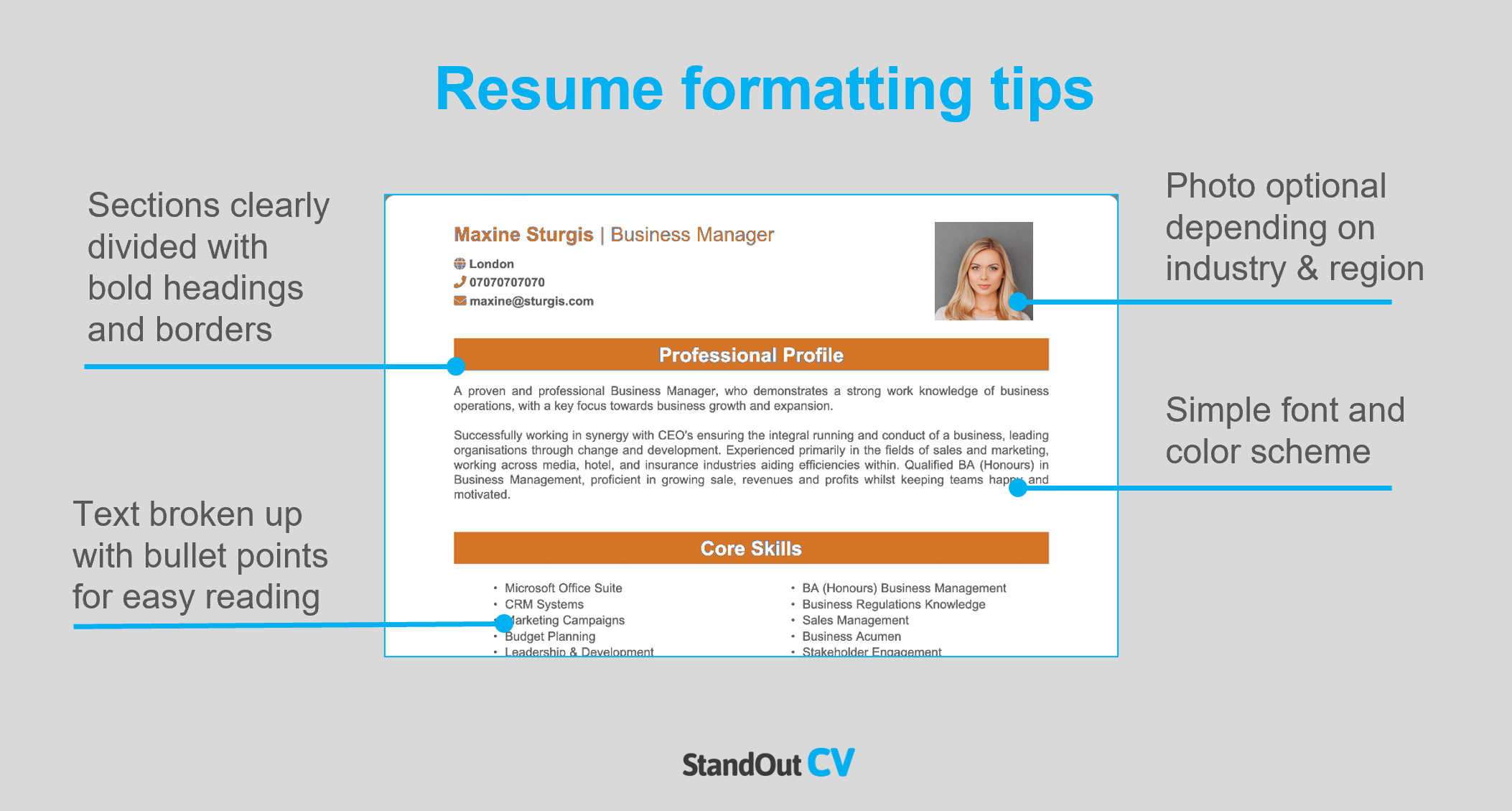 Resume layout
Add the following sections when you write your resume.
Name and contact details – Add to the very top of your resume to introduce yourself and make it super-easy for recruiters to get in touch.
Resume summary – Reel hiring managers in with an "elevator pitch" style paragraph which sums up your suitability for the job.
Skills section – A short and sharp list of your most important skills, that can be quickly skim-read.
Work experience – List your previous jobs (from newest to oldest) detailing the skills learnt and applied in each.
Education – List your qualifications and professional training.
Additional info – If it helps your application, you can add an extra section for things like hobbies and interests.
Here's what to include in each part of your resume.
Contact Details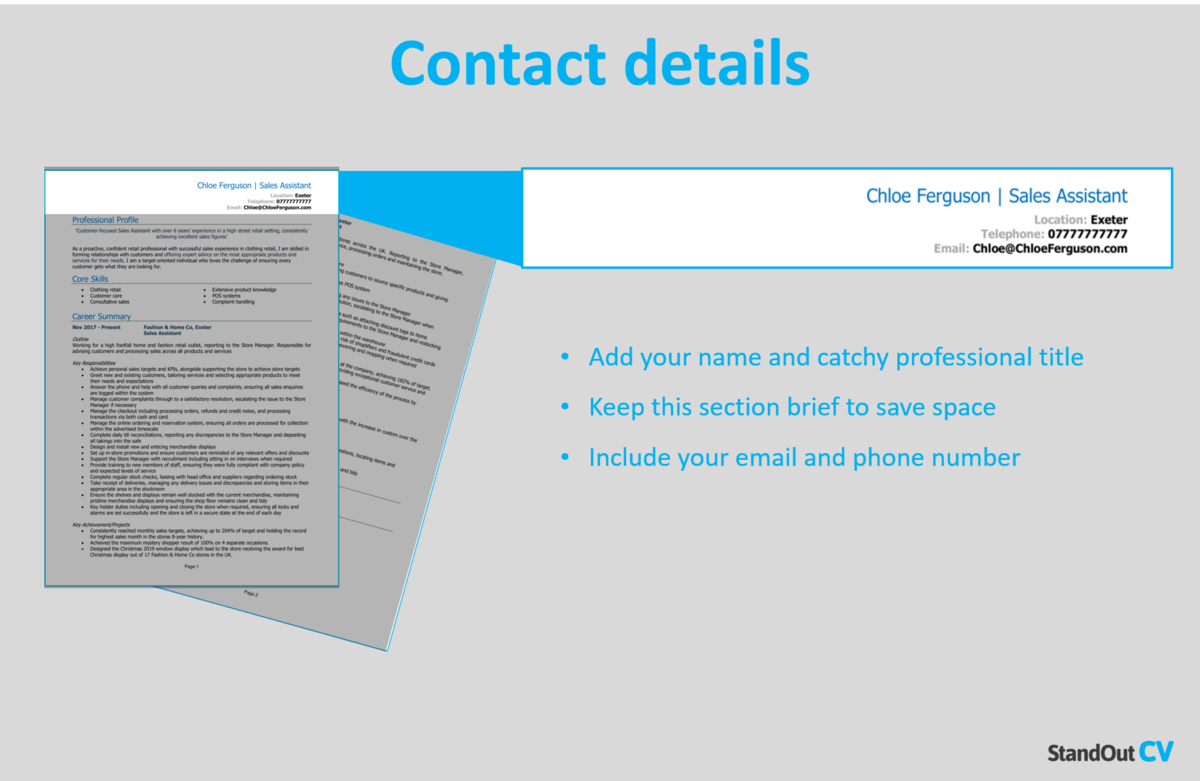 Add your name and contact details to the very top of your resume, making it easy for recruiters to get in touch
Name and profession title
Cell phone number – or another number you can answer quickly
Location – Add your local area such as San Diego or New York – not your full address as that will take up too much space.
Email address – Use your name or close variation – no nicknames from high school.
You can add a link to your LinkedIn profile if you have one – you do not need to include personal details like date of birth or marital status.
Security Supervisor Resume Summary
Your resume summary is like your introduction to the recruiter or hiring manager – it should grab their attention and leave them eager to read more about you.
Achieve this by writing a snappy overview of your skills, knowledge and what value you can bring to an employer.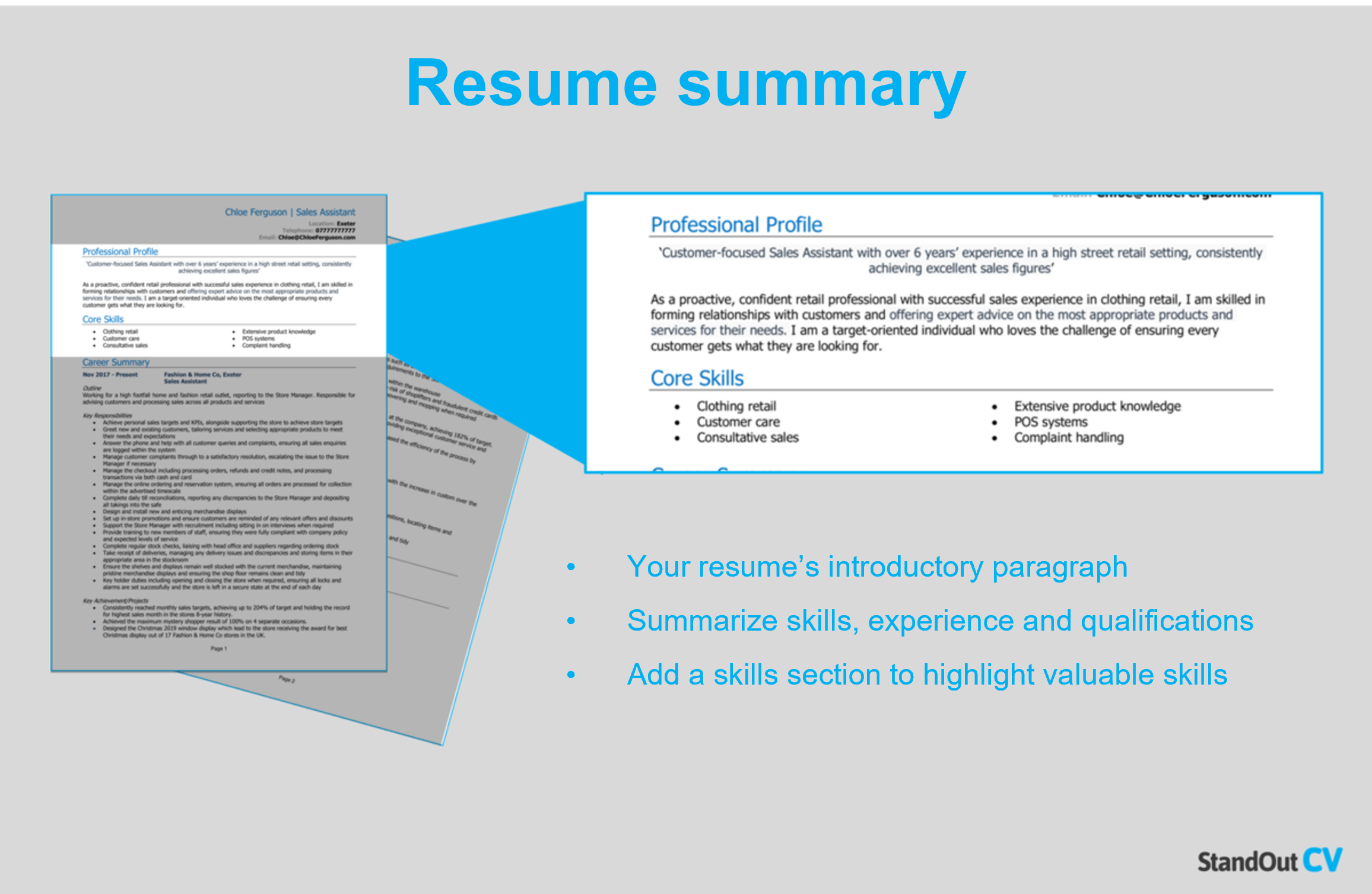 How to create a resume summary that will excite recruiters:
Keep it short: Your summary is intended to be a high-level introduction to hook readers' attention, so keep it brief (4-7 lines) – save the details for later in your resume.
Tailor to target jobs: To mirror your target jobs, scrutinize the job description and include as many relevant skills as possible in your resume.
Avoid using cliches: To capture the attention of recruiters you must provide factual information, such as hard skills and qualifications, and avoid using empty phrases like "Go-getter who thinks outside the box."
Security Supervisor resume summary example
Proactive Security Supervisor with a proven track record in overseeing and managing comprehensive security operations for large events, residential buildings, and retail units. Adept at effectively training and leading teams and ensuring a safe environment for clients and staff. Qualified first aider with proven skill in improving incident management.
What to include in your Security Supervisor resume summary?
Summary of your experience: Provide a summary of the kind of work you have previously done, along with the benefits you have delivered to the organizations you worked with.
Relevant skills: Skills that are highly relevant to Security Supervisor work should be made prominent throughout your summary.
Qualifications: If your job requires any qualifications such as a professional course or a college degree, mention it briefly in your summary.
Quick tip: Choose from hundreds of pre-written summaries across all industries, and add one to your resume with one-click in our partner's Resume Builder. All written by recruitment experts and easily tailored to suit your unique skillset and style.
Core skills section
Underneath your summary, write a core skills section to make your most relevant skills jump off the page at readers.
It should be made up of 2-3 columns of bullet points of your relevant skills.
Before you do this, look over the job description and make a list of any specific skills, specialisms or knowledge required.
Then, make sure to use your findings in your list. This will paint you as the perfect match for the role.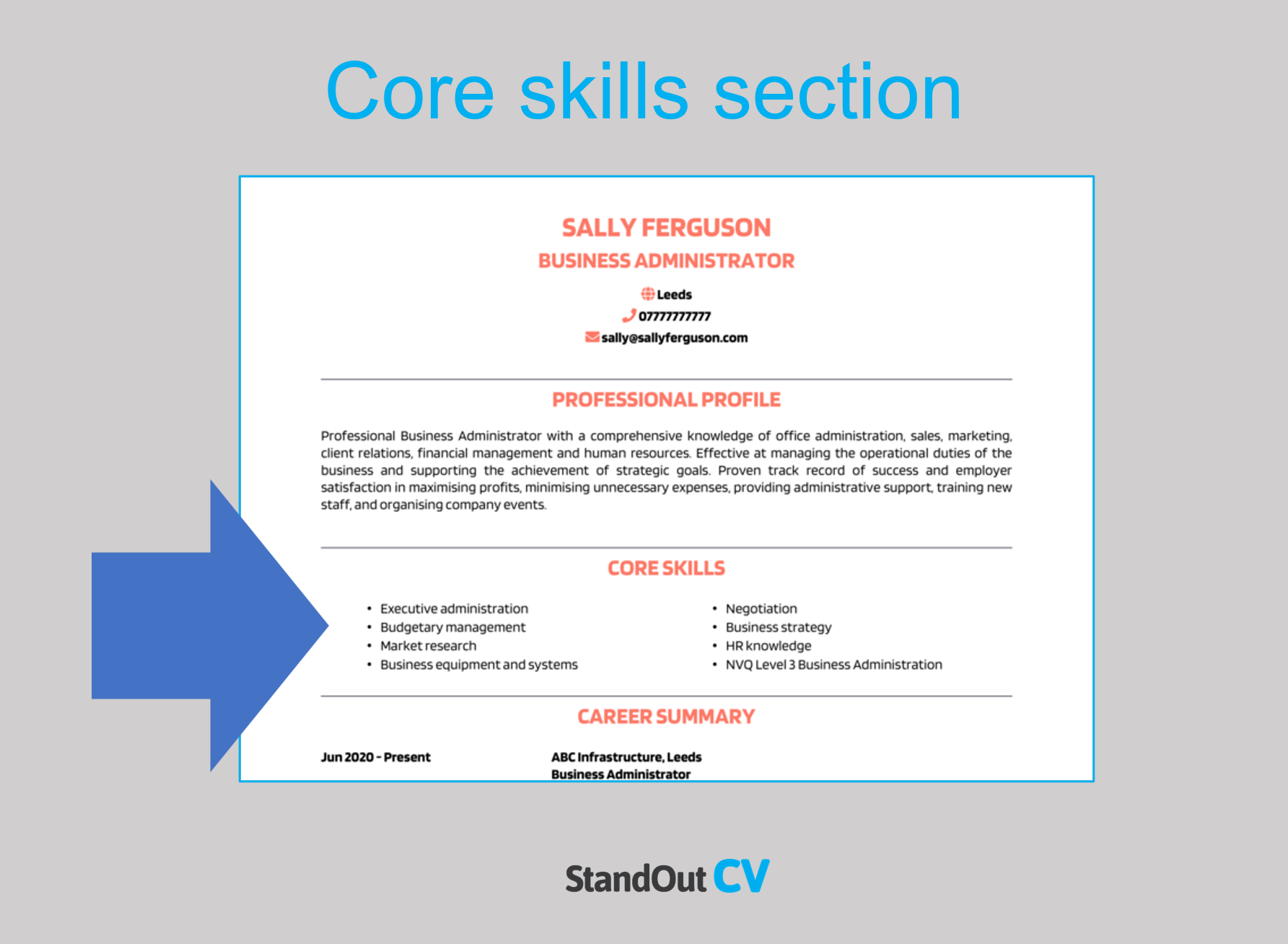 Best skills for your Security Supervisor resume
Security Operations – Managing and coordinating security operations, including access control, alarm systems, video surveillance, and incident response, to ensure the safety and security of personnel and assets.
Emergency Response – Developing and implementing emergency response plans, conducting drills and exercises, and effectively managing crises and emergencies to minimize risks and protect lives and property.
Team Leadership – Leading and motivating a security team, assigning duties, providing guidance and training, and ensuring adherence to policies and procedures, fostering a culture of professionalism and accountability.
Risk Assessment and Management – Conducting risk assessments, identifying potential security threats and vulnerabilities, and developing and implementing appropriate risk mitigation strategies to protect against security breaches.
Security Technology – Utilizing knowledge of security systems and technology, such as access control systems, CCTV surveillance, and intrusion detection systems, to effectively manage and utilize these tools for enhanced security.
Regulatory Compliance – Utilizing knowledge of relevant security regulations and compliance requirements, such as HIPAA, PCI-DSS, and OSHA, to ensure compliance within the organization's security practices.
Incident Reporting and Documentation – Accurately documenting security incidents, preparing incident reports, and maintaining detailed records to aid in investigations, legal proceedings, and security audits.
Crisis Management – Effectively managing crisis situations, including coordinating with law enforcement and emergency services, implementing incident response protocols, and providing guidance and support to staff and visitors.
Security Training and Education – Developing and delivering security training programs to educate employees on security protocols, emergency response procedures, and best practices to enhance security awareness and preparedness.
Client Relations – Building and maintaining positive relationships with clients, addressing their security concerns and requirements, and providing regular communication and updates on security matters.
Quick tip: Our partner's Resume Builder contains thousands of in-demand skills for every profession that can be added to your resume in seconds – saving you time and greatly improving your chances of landing job interviews and getting hired.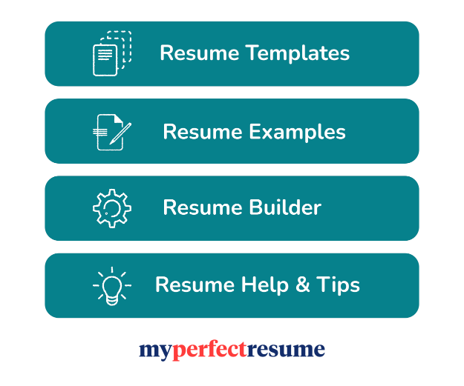 Work experience
So, you've got the recruiter interested with your catchy summary… Great work.
Now it's time to show them the impact you make in the workplace by listing out your previous jobs and what you achieved in each one.
If you have tons of experience, you can condense this part down to the last few years – if you are junior, then you should include as much possible (even volunteering and school work placements)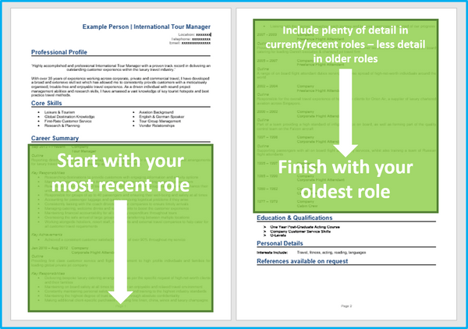 Structuring your jobs
Resume job descriptions contain lots of information, so its crucial to structure them well.
Use the structure below to ensure hiring managers can consume the information easily.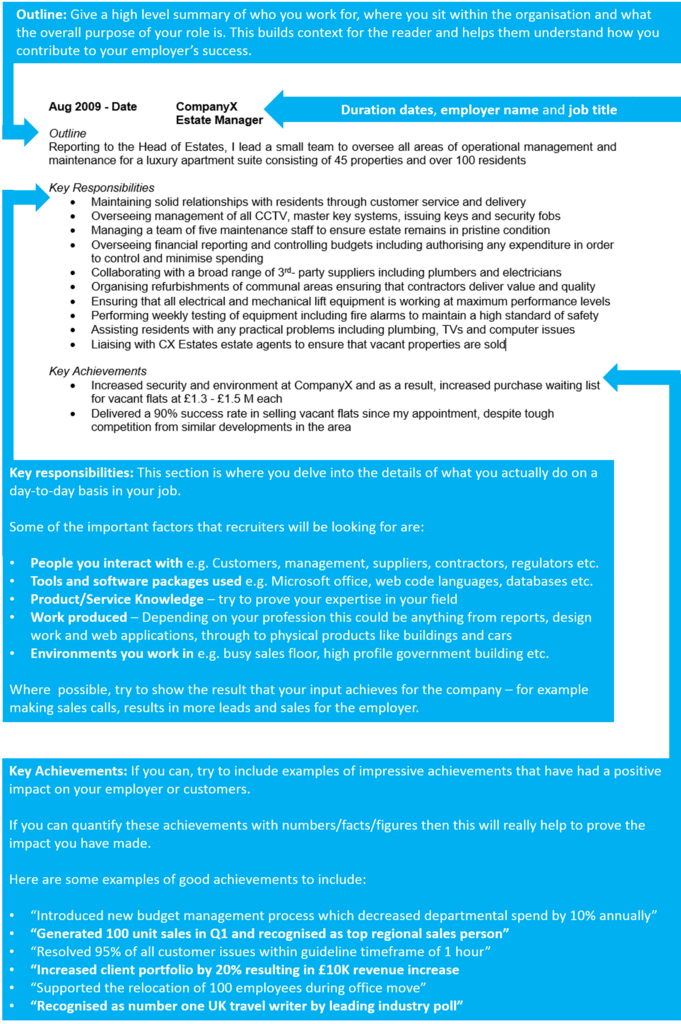 Job outline
Start with a 1-2 sentence outline of the role, summarizing what the goal of your position was, who you reported to (or managed) and the type of organization you worked for.
Key responsibilities
Then delve into the detail of your job by listing out easy-to-read bullet points which show how you apply your skills in the workplace.
Tailor these bullet points to focus on the skills and knowledge that are required in the jobs you are applying for.
Key achievements
Finish each role by highlighting some impressive achievements you made whilst in the role.
Anything that benefited the employer can be included from making financial savings, to winning new customers.
Quantify your achievements with facts and figures if you can, e.g. "reduced call wait time by 10%"
Example job for Security Supervisor resume
Outline
Lead and supervise security operations for a prominent security solutions provider serving clients in various industries and events, including corporate offices, retail establishments, and residential complexes.
Key Responsibilities
Develop and implement security procedures and protocols to safeguard client properties
Train, mentor, and manage a team of security officers, ensuring adherence to company policies and health and safety regulations
Conduct risk assessments to identify vulnerabilities and implement appropriate measures
Monitor access control systems, surveillance cameras, and alarms to detect breaches
Quick tip: Create impressive job descriptions easily in our partner's Resume Builder by adding pre-written job phrases for every industry and career stage.

Education section
Near the end of your resume add your education section.
Experienced candidates should keep it brief and focus on professional qualifications – and junior candidates can include high school diplomas, college degrees etc.
Additional information
If you have anything else to add which is relevant to the jobs you are applying for, the additional info section is the place to add it.
Perhaps you have a hobby which involves relevant skills, or maybe you have some awards or publications worth mentioning.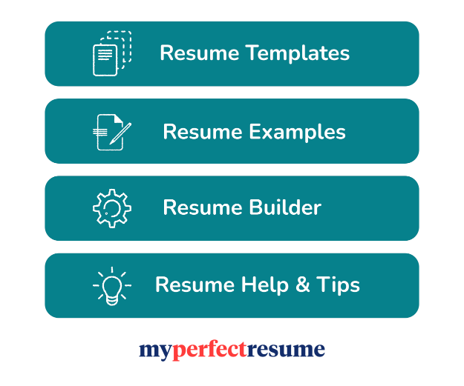 Writing your own winning Security Supervisor resume
By tailoring your resume to the specific job and industry you are targeting and ensuring that it effectively communicates your professional value, you can position yourself as a top candidate for all Security Supervisor positions.
Good luck with your job search!