Are you looking for your next exciting position as a salon manager?
Then you need a resume that will make the cut!
If you want to learn how to write a standout application, check out our step-by-step guide, complete with a salon manager resume example below.
Contents
| | |
| --- | --- |
| How to write a Salon Manager resume | |

Salon Manager Resume Example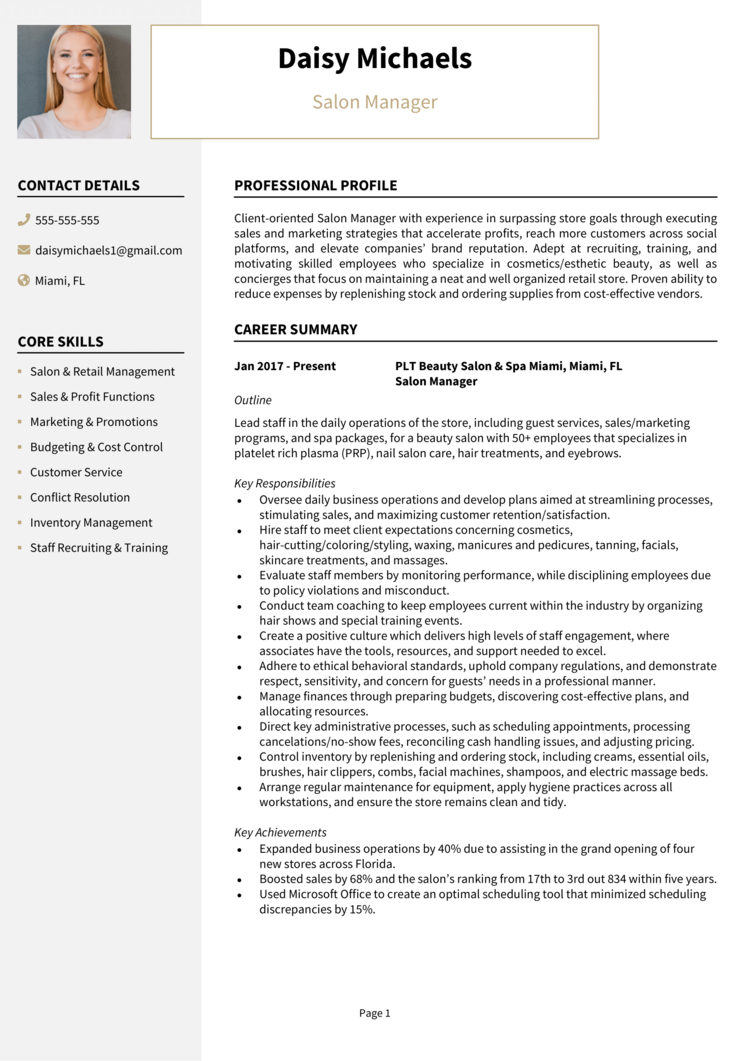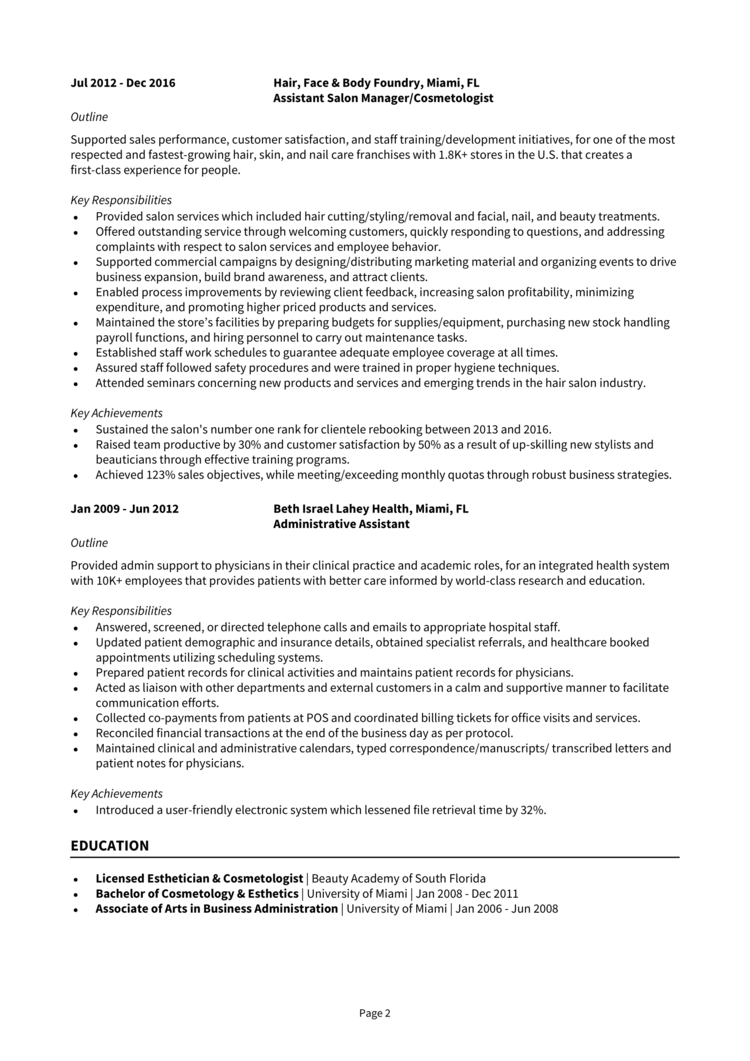 This Salon Manager resume example shows you the most effective layout for a resume in today's job market, along with the type of content you need to include.
Stick closely to these guidelines as you write your own resume, to boost your chances of getting lots of responses, interviews and job offers.
Now lets dive into the details of how you write your own eye-catching resume…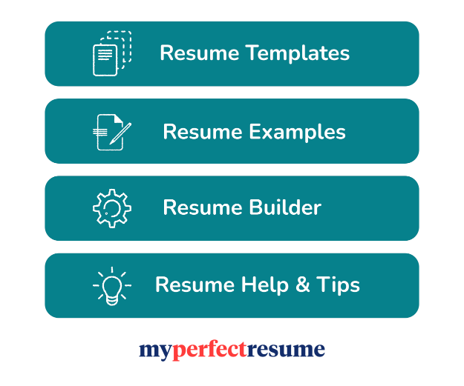 Salon Manager resume layout and format
If you want to get noticed in the job market, you have to pay attention to the format and layout of your resume.
Essentially your resume needs to look highly polished, and provide hiring managers with an easy reading experience.
Use these resume formatting tips to get a head start on this.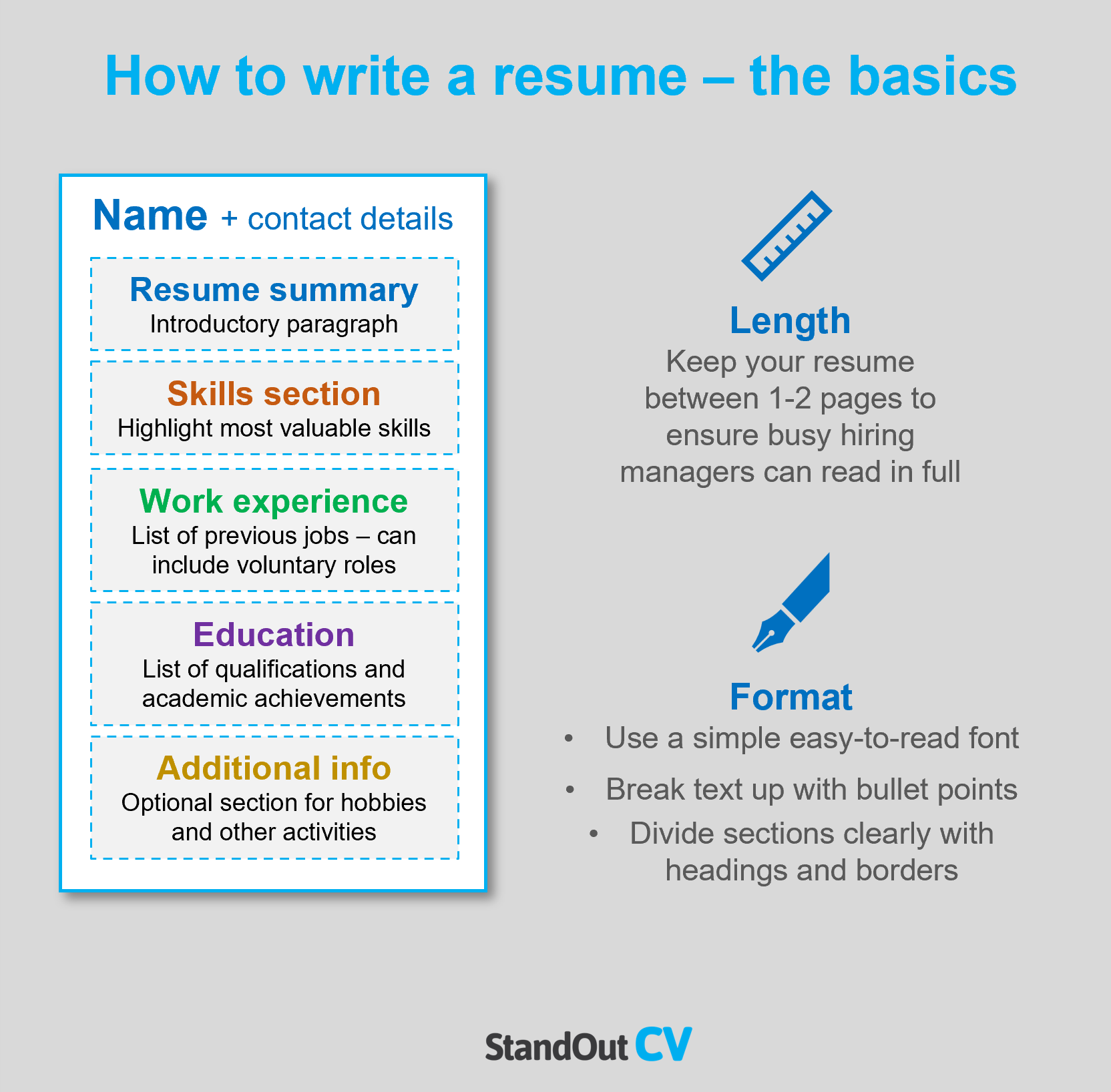 Formatting your resume for success
Length: Think that submitting a 10 page resume will impress recruiters? Unfortunately it won't… Even if you've got tons of experience to brag about, recruiters don't have time to read essays, so keep it brief – around 2 pages is the sweet spot.
Font & readability: A readable resume is crucial if you want recruiters to see your important skills. Ensure yours is easy to read by using a simple, clear font and breaking up the text with bullet points and short paragraphs.
Layout & Structure: Allow recruiters to skim through your resume with ease, by dividing the page into clear sections with headings and borders. The design of your resume should be eye-catching but not overly complex – keep the style and color scheme simple and clean.
Photos: You don't have to add a photo to your resume in the States, but some regions and industries like to see them.
Quick tip: Achieving a professional look for your resume can be difficult and time-consuming. If you want to create an attractive resume quickly, try our partner's Resume Builder and use one of their eye-catching resume templates.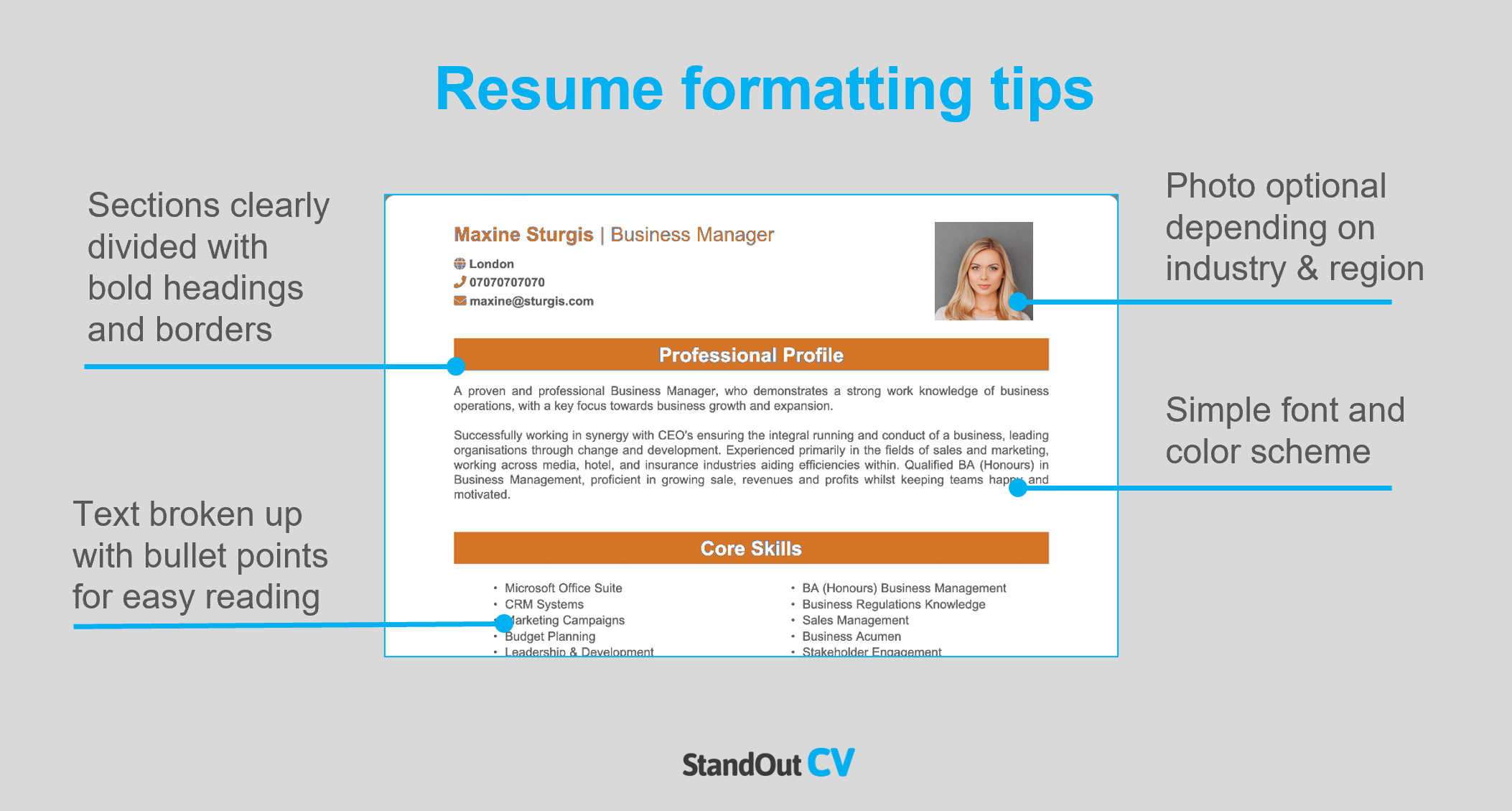 Resume layout
Here's an overview of the sections you should add when writing your resume.
Name and contact details – Stick these details at the top, so they are easy to find.
Resume summary – A punchy paragraph summarizing your skills and knowledge, enticing recruiters to read more of your resume.
Skills section – Short list of your most valuable skills, enabling recruiters to quickly spot your suitability.
Work experience – Showcase your previous employment, starting with your most recent roe and working backwards – voluntary work and college placements can be included if you have no paid experience.
Education – A summary of your most relevant qualifications and academic achievements
Additional info – An optional section for that other attributes that may boost your application, such as hobbies or clubs
Here's what to include in each part of your resume.
Contact Details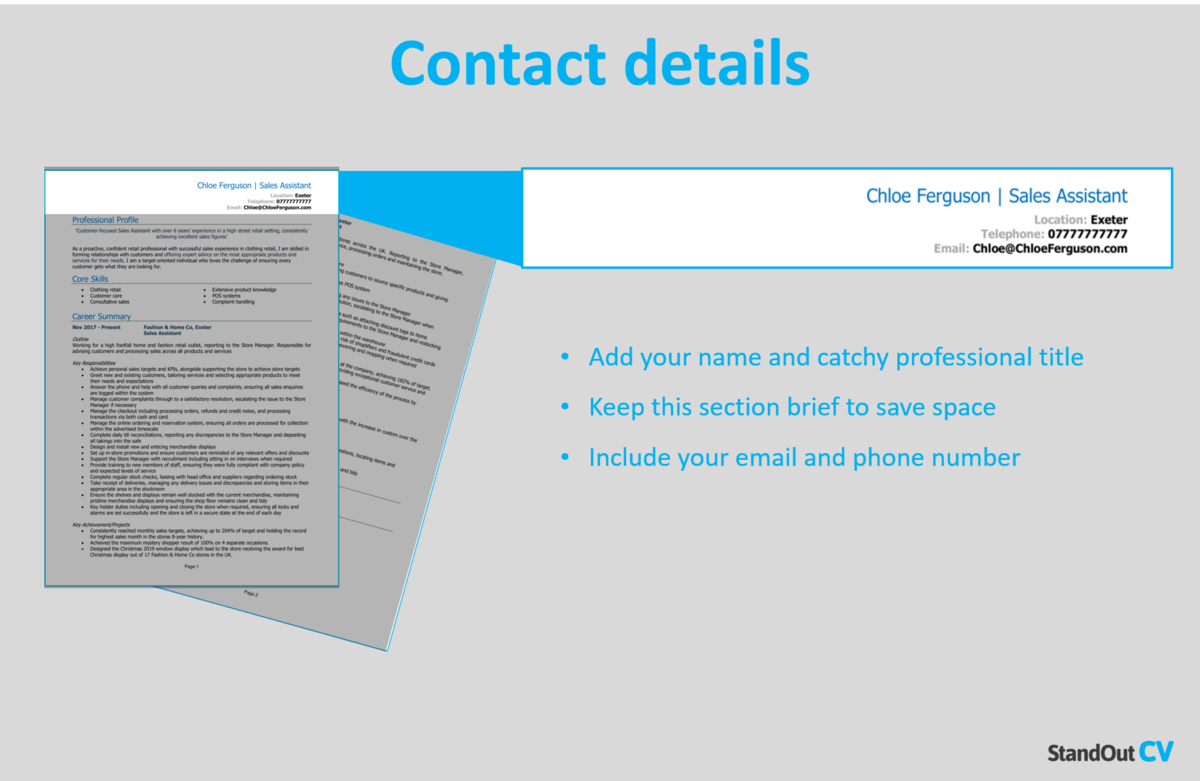 Add your name and contact details to the very top of your resume, making it easy for recruiters to get in touch
Name and profession title
Cell phone number – or another number you can answer quickly
Location – Add your local area such as San Diego or New York – not your full address as that will take up too much space.
Email address – Use your name or close variation – no nicknames from high school.
You can add a link to your LinkedIn profile if you have one – you do not need to include personal details like date of birth or marital status.
Salon Manager Resume Summary
Start your resume with a bang by adding a powerful summary to the top, summarizing your most valuable skills and experience.
This short paragraph is your chance to show recruiters why you are a perfect fit for the job and encourage them to read more of your resume.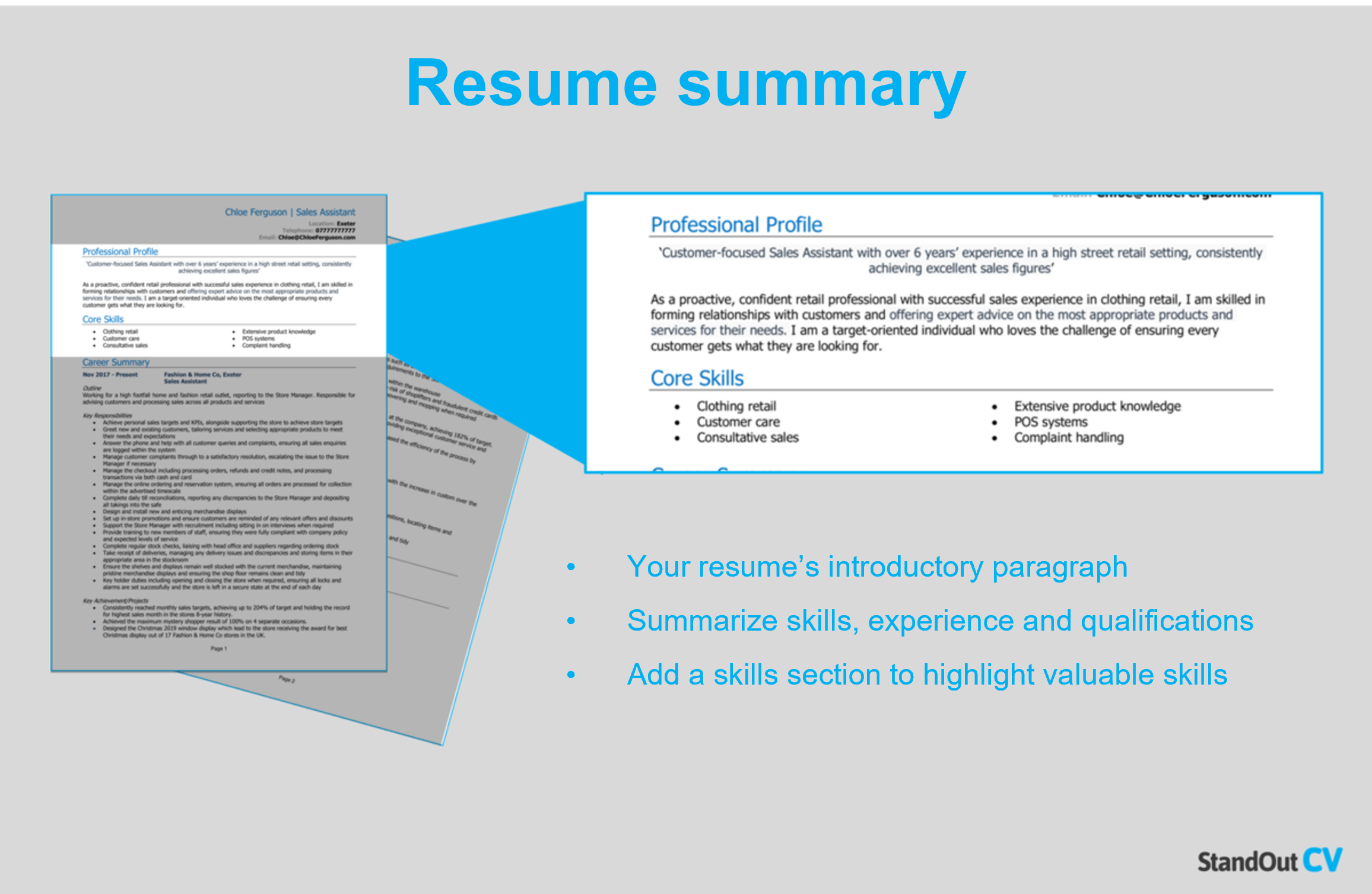 How to create a resume summary that will get you noticed:
Keep it short: Attention spans are short in the job market, so keep your summary brief and high-level at around 4-7 lines – This is just enough to catch the eye of rushed hiring managers.
Tailor to target jobs: Optimize your summary to match the requirements of your target jobs, by mirroring the key words from the job description as closely as possible.
Avoid using cliches: You might be a "highly motivated go-getter who thinks outside the box" but generic meaningless cliches like that don't tell employers much about you – stick to factual information in your summary.
Example resume summary for Salon Manager
Client-oriented Salon Manager with experience in surpassing store goals through executing sales and marketing strategies that accelerate profits, reach more customers across social platforms, and elevate companies' brand reputation. Adept at recruiting, training, and motivating skilled employees who specialize in cosmetics/aesthetic beauty, as well as concierges that focus on maintaining a neat and well organized retail store. Proven ability to reduce expenses by replenishing stock and ordering supplies from cost-effective vendors.
What to include in your Salon Manager resume summary?
Summary of experience: What type of organizations have you worked at? What types of roles have you done and what have you contributed to previous employers?
Relevant skills: Scatter your most in-demand Salon Manager skills through your summary to ensure they are noticed quickly by hiring managers.
Qualifications: Showcase your level of education with a quick mention of any qualifications that are essential for the Salon Manager roles you are applying to.
Quick tip: Choose from hundreds of pre-written summaries across all industries, and add one to your resume with one-click in our partner's Resume Builder. All written by recruitment experts and easily tailored to suit your unique skillset and style.
Core skills section
Sitting just underneath your resume summary, your core skills section gives recruiters 4-10 of your most in-demand skills in just a glance.
As Salon Manager jobs may get hundreds of applications, this is a great way to stand out and quickly grab hiring managers' attention.
It should be made up of 2-3 columns of bullet points and highlight attributes that are hyper-relevant to the jobs you are aiming for.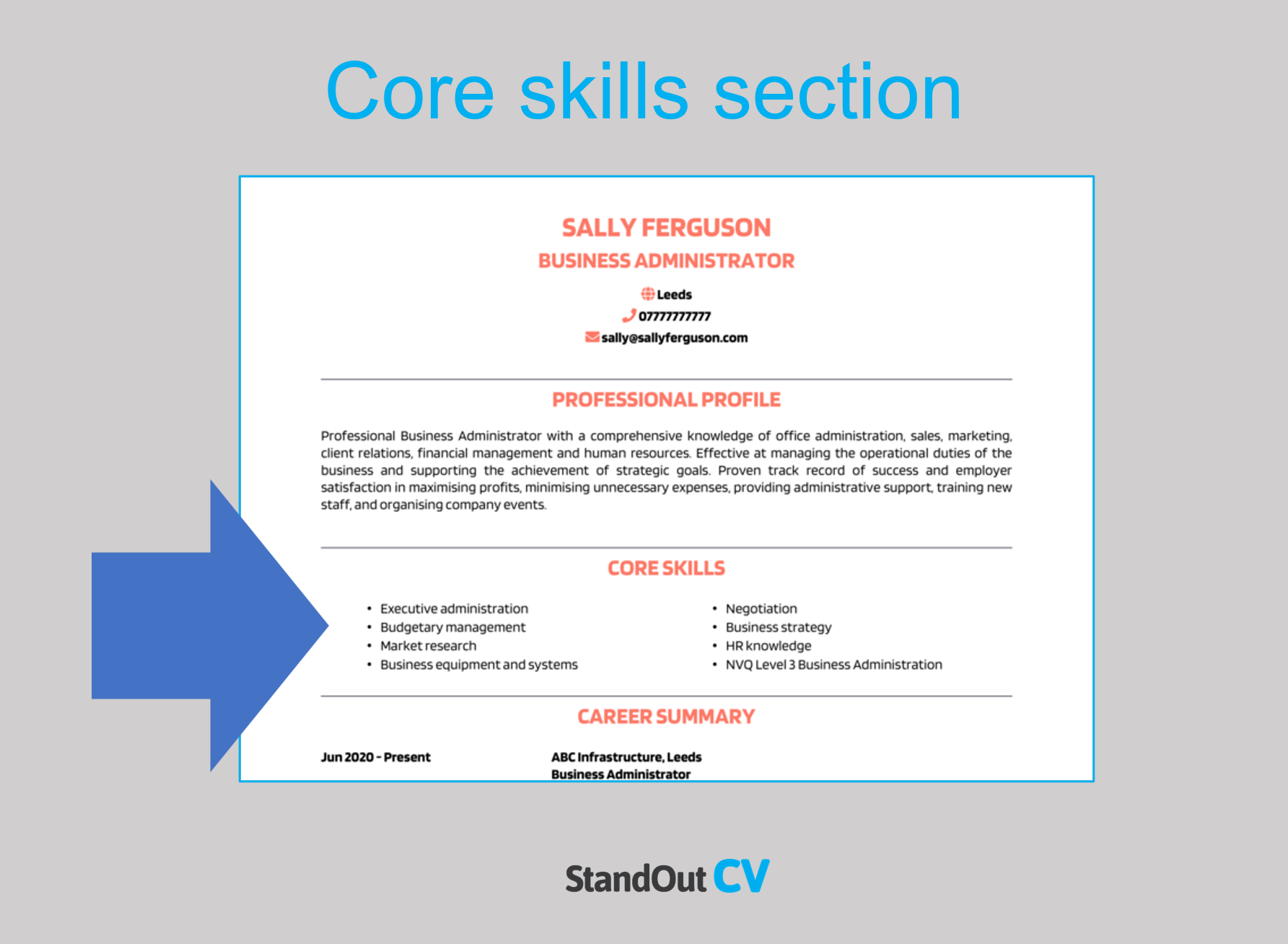 Best skills for your Salon Manager resume
Staff Management – Hiring, training, and managing a team of stylists and other salon staff to provide excellent customer service.
Business Management – Using knowledge of accounting, budgeting, and financial management to ensure that the salon runs smoothly and profitably.
Customer Service – Building strong relationships with clients and providing excellent customer service to ensure client satisfaction.
Marketing – Using marketing strategies and techniques to promote the salon and attract new clients.
Product Knowledge – Maintaining detailed knowledge of salon products, including hair care products and styling tools, to provide expert advice to clients and staff.
Sales – Selling salon services and products to clients and motivate staff to meet sales goals.
Inventory Management – Managing inventory levels and ensuring that products and supplies are ordered and stocked as needed.
Staff Training – Training staff on new techniques and trends in the beauty industry to provide excellent service to clients.
Safety and Sanitation – Maintaining knowledge of safety and sanitation protocols to ensure that the salon is clean and safe for clients and staff.
Problem Resolution – Handling unexpected challenges that may arise in the salon, such as scheduling conflicts or customer complaints.
Quick tip: Our partner's Resume Builder contains thousands of in-demand skills for every profession that can be added to your resume in seconds – saving you time and greatly improving your chances of landing job interviews and getting hired.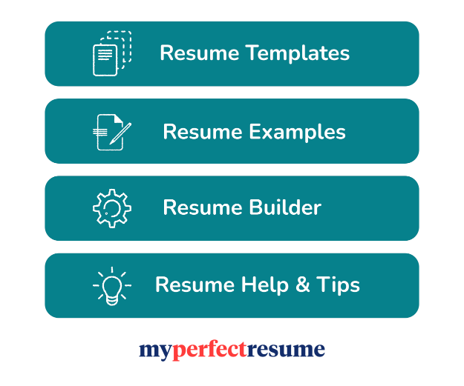 Work experience
Once you've hooked the hiring manager with your summary, you can really blow them away with you work experience.
List your previous jobs from newest to oldest to show the impact you made at each organization.
If you have years of experience, you can leave out some of the older jobs, and if you have little/no experience, you can bulk this section up with voluntary work and college placements.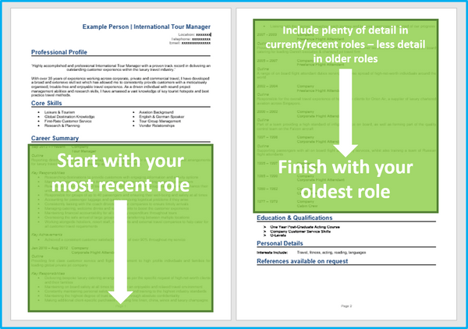 Structuring your jobs
You probably do a lot in your job, so its vital to break all of that information down into a good structure.
Structure your jobs as follows to make it easy for recruiters to skim through and pinpoint the essential info.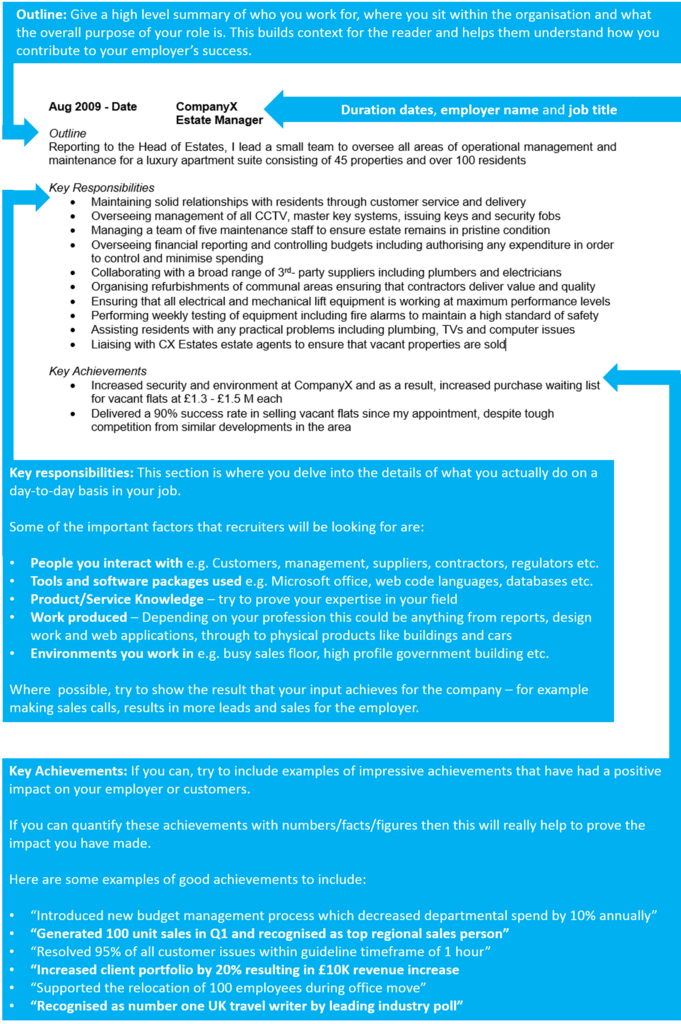 Job outline
Begin each job with a short summary of who the organization is, where you sit within it, and what the main goal of your position is.
Key responsibilities
List your notable responsibilities in short sharp bullet points to demonstrate your input and how you contributed to the organization's success.
Highlight the skills that are most important to the roles you are applying for.
Key achievements
Show employers the value you can bring to them by adding a few achievements to your jobs.
Whether you've saved the company money or improved an internal process, let recruiters know
Add some numbers to give readers a real scale of the impact, e.g. "reduced call wait time by 10%"
Example job for Salon Manager resume
Outline
Lead staff in the daily operations of the store, including guest services, sales/marketing programs, and spa packages, for a beauty salon with 50+ employees that specializes in platelet rich plasma (PRP), nail salon care, hair treatments, and eyebrows.
Key Responsibilities
Oversee daily business operations and develop plans aimed at streamlining processes, stimulating sales, and maximizing customer retention/satisfaction.
Hire staff to meet client expectations concerning cosmetics, hair-cutting/coloring/styling, waxing, manicures and pedicures, tanning, facials, skincare treatments, and massages.
Evaluate staff members by monitoring performance, while disciplining employees due to policy violations and misconduct.
Conduct team coaching to keep employees current within the industry by organizing hair shows and special training events.
Quick tip: Create impressive job descriptions easily in our partner's Resume Builder by adding pre-written job phrases for every industry and career stage.

Education section
Towards the bottom of your resume, add your education section.
Here you should list your professional qualifications and academic record, such as high school diplomas or college degrees.
If you have lots of work experience, you can keep this section brief (because recruiters will be more interested in your career. If you have little/no experience then you should bulk this section up with plenty of detail.
Additional information
If you have anything else to add which is relevant to the jobs you are applying for, the additional info section is the place to add it.
Perhaps you have a hobby which involves relevant skills, or maybe you have some awards or publications worth mentioning.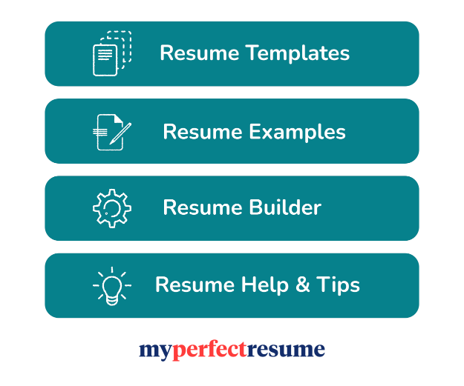 Writing your own Salon Manager resume
A winning Salon Manager resume should look great, read well, and sell your skillset to hiring managers.
If you follow the steps above, you should be able to bag yourself a top job in no time.
And don't forget you can use our partner's Resume Builder if you want to save time and ensure your resume contains the very best content.
Good luck with your job search!